Most people outside of California know Pasadena for the Rose Bowl, JPL, and its "Little Old Lady"… however, you'll have do your own research on those, because this is all about the food in Pasadena!
Like the broader LA County, Pasadena is a multicultural area. On the same boulevard, you can find a dim sum house, a Mediterranean cafe, a taqueria, and a pizzeria (good ones at that).
If you are overwhelmed and need help deciding or are just looking for a new place to eat in Pasadena, read on. These places have varying price points and flavors for everyone.
Best Places to Eat in Pasadena: Restaurants You'll Love
Bone Kettle
Described on their website as an "open love letter to Southeast Asia," Bone Kettle takes tradition and builds on it.
Their signature beef bone broth is boiled for 36 hours with fresh and dried spices. It's hearty and comforting without being too rich.
You can have it alone to sip or add your choice of protein – there is also a mushroom dashi broth available for vegans and vegetarians.
Their small plates, entrées, and rotating specials give lots of choice as well as some delicious dessert and drink options.
Recommendations: The Broth, Chicken Satay, Dragonfruit Lychee Lemonade
Address: 67 N. Raymond Ave, Pasadena, CA 91103
Website: bonekettle.com
Pho Banh Mi Che Cali
There's so much to choose from here and it's all affordable. Students from PCC tend to flock here and it's easy to see why! Heads up: wait times vary, so be patient.
You can get quality banh mi for under $6, and the egg rolls served with a side salad make a great large snack or even a small meal.
Boba milk teas and pre-prepared meals are also available. This is a reliable no-frills place that lots of people (including me!) come back to time and again.
Recommendations: Pan-fried Tofu with Lemongrass Banh Mi, Veggie Eggrolls, Banh Ranh (fried sesame ball with taro)
Address: 1525 E. Colorado Blvd, Pasadena, CA 91106
Gale's Restaurant
At Gale's, you'll find the Italian influence throughout, done with a self-described "California style" (I'm not sure what that exactly means, but I agree with it and the food is delicious!).
Entrees are easily split and come with your choice of two sides: the Yukon gold mashed potatoes and sautéed spinach are always a great bet.
Best of all, freshly baked bread (soft on the inside with a great crust) is served with every meal.
There are also gluten-free options for pizza/pasta dishes available for those who want them. They have a pretty extensive wine selection, too, if you're looking for a Pasadena restaurant that offers a great date night option.
Recommendations: Steamed Artichoke, Herb Roasted Chicken, Cappellini Pomodoro, Coconut Creme Cake
Address: 452 S. Fair Oaks Ave, Pasadena, CA 91105
Website: galesrestaurant.com
Plate 38
In their farm-to-table approach, Plate 38 prioritizes seasonal and locally grown produce at this beloved Pasadena restaurant.
Aside from their main dishes, they have happy hour specials at various times six days a week with "bar bites" and appetizer-style charcuterie.
Their brunch menu has some great picks and there are rotating daily specials to check out. Most items come a la carte.
Though several dishes have higher price points, you can find a more affordable meal in a sandwich, breakfast burrito, or burger (prices of those start at $13).
Recommendations: Grist & Toll Creamy Polenta, Herb Roasted Turkey Melt, Bread Pudding
Address: 2361 E. Colorado Blvd, Pasadena, CA 91107
Website: plate38.com
Tea Spots
There are lots of good tea houses/boba places in Pasadena and most surrounding areas, but Tea Spots is a favorite!
They are known for their super-size, which boasts 32 ounces. They have loads of drinks (customizable with boba, etc.) ranging from basic and flavored teas to smoothies, icees, and fruit milks.
If you're overwhelmed, the classic or jasmine milk tea is always a go-to (though taro is also a safe bet!).
There are also plenty of meal and snack options… ramen included!
Recommendations: Lychee Icee, Taro Milk Tea, Red Bean Smoothie, Zucchini Fries, Crispy Tofu Salad
Address: 1443 E. Colorado Blvd, Pasadena, CA 91106
Real Food Daily
With three locations in Los Angeles County, RFD is a longtime vegan favorite. Established in 1993, it's become a go-to for delicious, fresh food.
Those with dietary restrictions won't have trouble finding which items are or can be modified as gluten, nut, or soy-free as the menu is clearly marked.
Though not up there with the most affordable places to eat in Pasadena, slightly more affordable meals can be found in a combination of soup & cornbread ($10-13), an all-day breakfast (starting at $14), or a bowl (build your own starting at $11).
Their dessert selection never disappoints… ever!
Recommendations: Sea Cake, Caribbean Quesadilla, BLTLA Sandwich, Penne Alfredo
Address: 899 E. Del Mar Blvd, Pasadena, CA 91106
Website: realfood.com
Perry's Joint Cafe
Perry's Joint is an absolute staple restaurant in Pasadena when it comes to cheap eats. A fresh bagel with cream cheese will only dent your pocket $3, and sandwiches start at $5.50.
Nachos and hot dogs are on the menu as well as diner staple desserts like a banana split and shakes.
The music pun sandwich names are peak dad humor in the best way. Favorites include 'The Egg from Ipanema' and 'Hey Joe!'
Perry's is a Black-owned tried and true cafe that gives back to the local community (read about Perry's story and their community action on their site!) while giving us tasty food with quality we can rely on.
Recommendations: Bagel with Cream Cheese, Pastrami No Chaser
Address: 2051 Lincoln Ave, Pasadena, CA 91103
Website: perrysjoint.com
All India Cafe
You can find Indian staples done well here at this popular Indian restaurant in Pasadena.
The vegetarian options here are incredibly solid and you are even able to substitute paneer (homemade cheese) in dishes like Palak Paneer for tofu. The Tofu Tikka Masala ordered with a side of basmati rice makes for a hearty two-person vegan meal.
Their Samosas and Onion Naan make great appetizers and the rose flavored Sweet Lassi is amazing!
It's best to order take-out rather than delivery and give a bit more time to prepare as they can get very busy–especially during the evening rush. Deals are sometimes available if you place an order directly from their site!
Other Recommendations: Baingain Bharta, Malai Kofta, Gaajar Halwa (carrot pudding)
Address: 39 S. Fair Oaks Ave, Pasadena, CA 91105
Website: allindia.cafe
Father Nature Bistro
Father Nature has rightfully been recognized as having some of the best Mediterranean food in Pasadena. The restaurant got its start in 1984 and has been beloved ever since.
They truly have something for everyone–different wraps, salads, plates, omelets… even sides that can be enjoyed as satisfying small bites.
Meat-lovers and vegans alike can appreciate the food here. Their classic salad vinaigrette, tahini, and flaky (vegan!) baklava are all made in house.
Pick-up and delivery should be ordered directly through the Father Nature site to support them directly and avoid unnecessary fees.
Recommendations: Eggplant Press, Grilled Veggie Wrap, Famous Father Fries
Address: 17 N. De Lacey Ave, Pasadena, CA 91103
Website: fathernaturelavashwraps.weebly.com
Daisy Mint
Daisy Mint is a pan-Asian spot spanning many international cuisines including Thai, Japanese, and Korean.
The Vietnamese dishes are special–the same couple who owns Daisy Mint had a Vietnamese/French restaurant (beloved in Pasadena) called Abricott that sadly closed in 2017.
If you want something different than a typical vegetable or meat curry, the lunch special Panang Curry Pumpkin is great.
There are also plenty of flavorful sides to choose from, as well as great beverages. If you're a fan of Thai Iced Tea, get theirs!
Recommendations: Tofu Delight, Mushroom & Ginger, Hot Honey Barley Tea
Address: 1218 E. Colorado Blvd, Pasadena, CA 91106
Website: daisy-mint.square.site
How to Support Pasadena Restaurants During Covid-19
Note: This post contains affiliate links, which earn me a small commission at no extra cost to you if you make a purchase using one of these links. Thank you for supporting this free content!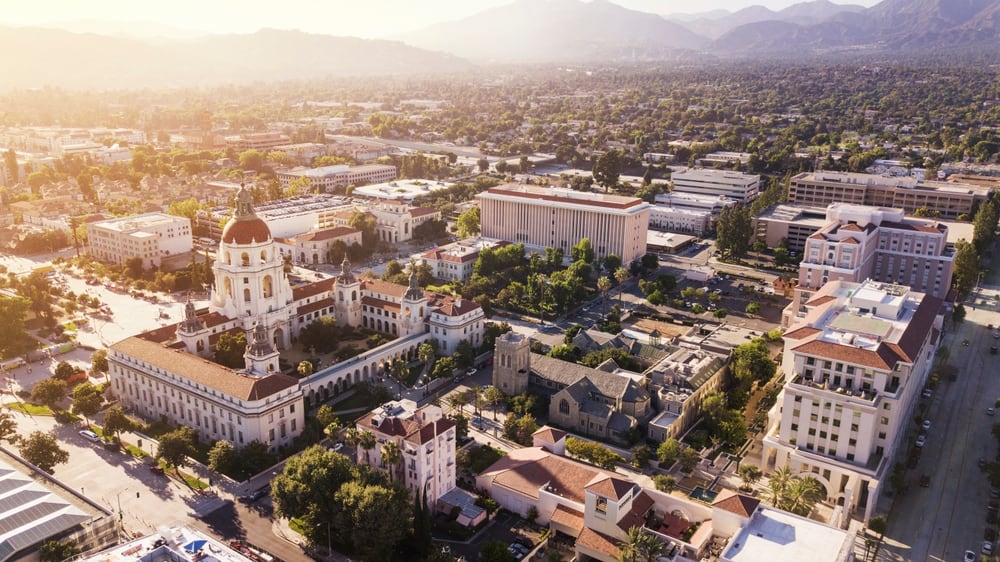 If you decide to support and enjoy these restaurants while the COVID-19 pandemic has not yet subsided, I encourage either calling to order for pickup, takeout, or directly from the locations' websites.
This ensures as much goes toward the business as possible — third party apps can take up to 30% of the order as a fee to the restaurant!
Though dining indoors is something greatly missed by so many of us, simply put, it's an activity that is easy to forego during this time that puts yourself, employees, and those around you at higher risk of spreading or contracting the virus — even if protocols are in place.
Opt for outdoor dining (spaced appropriately and following protocols) or do takeout or delivery instead.
Tip accordingly! Workers are putting themselves at risk daily to keep themselves afloat, and many are having to take more shifts than usual. 20% should be the minimum you tip during a pandemic.