San Francisco may not be the first city that comes to mind when you think about pizza, but there are dozens of high-quality pizzerias in San Francisco.
From classic eateries with the oldest pizza oven in the state to newcomers making a name for themselves through quality ingredients and craftsmanship, SF has become a destination for pizza enthusiasts near and far.
The Long-Time Classics
Tommaso's Ristorante Italiano 
Note: This post contains affiliate links, which earn me a small commission at no extra cost to you if you make a purchase using one of these links. Thank you for supporting this free content!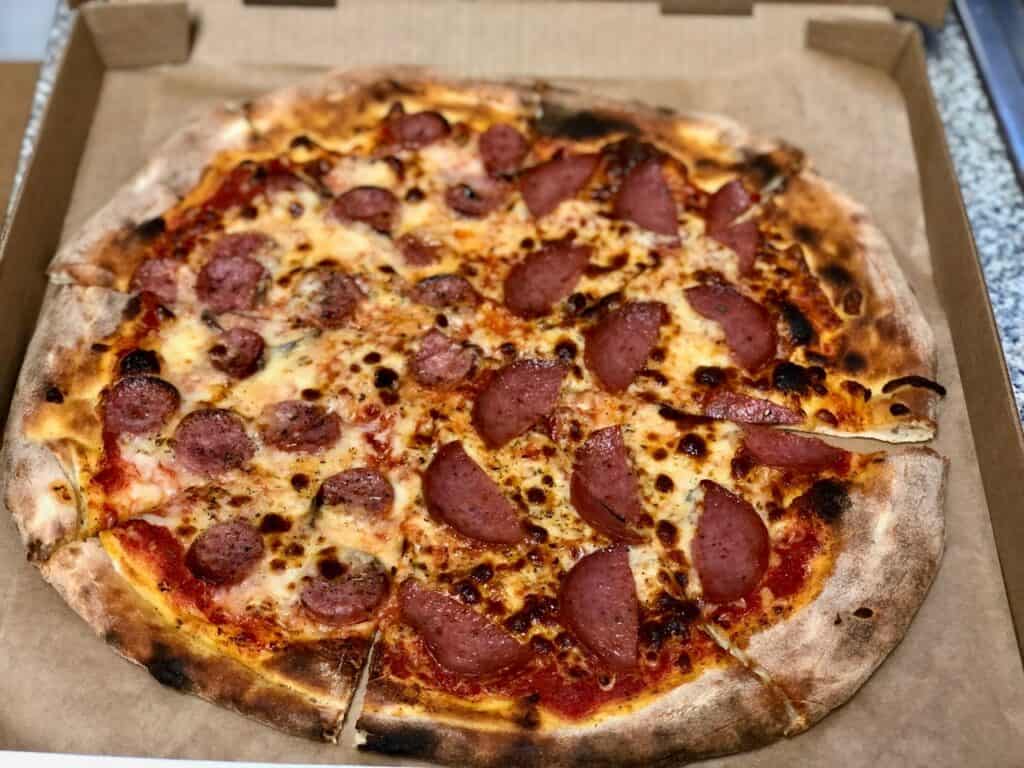 You cannot talk about pizza in San Francisco without mentioning Tommaso's.
When entering the door of the iconic green and white facade, you step downstairs to a dining room flanked by cozy booths and murals of coastal Italy.
However, the kitchen is the main attraction as the brick oven was built in 1935, making it the oldest wood-fired pizza oven in California.
The pizzas come out fast, and the dough is a perfect harmony of a crispy, flaky exterior and an airy, light interior.
The mozzarella is fresh, the sauce rustic and the near-perfect sweet Italian sausage is the meat topping you want to order.
Giorgio's Pizzeria
The Richmond District in San Francisco is home to several pizzerias that rank among the city's oldest, and Giorgio's is one of them.
Founded 40 years ago in 1972, Giorgio's is the picture that comes to mind when you think family-friendly neighborhood pizza joint.
Though currently being renovated, the dining room is spacious and inviting.
Checkered table cloths, comfortable booths, and green and white tiled floors are part of the charm here.
The pizzas are a little more doughy than some may prefer, but you are welcome to request them rolled out thinner or cooked until they are well done.
(Food is available to-go during renovation).
Gaspare's Pizza House
A little further out in the Richmond District is Gaspare's Pizza House.
Since opening its doors in 1985, Gaspare's Pizzeria has been a favorite for San Francisco residents and tourists alike.
They have since opened a location in San Rafael in Marin County.
The pizzas here are American-Italian style and lean towards classic combinations.
What makes Gaspare's particularly memorable is the decor, highlighted by the personal jukeboxes at every booth in the restaurant.
Golden Boy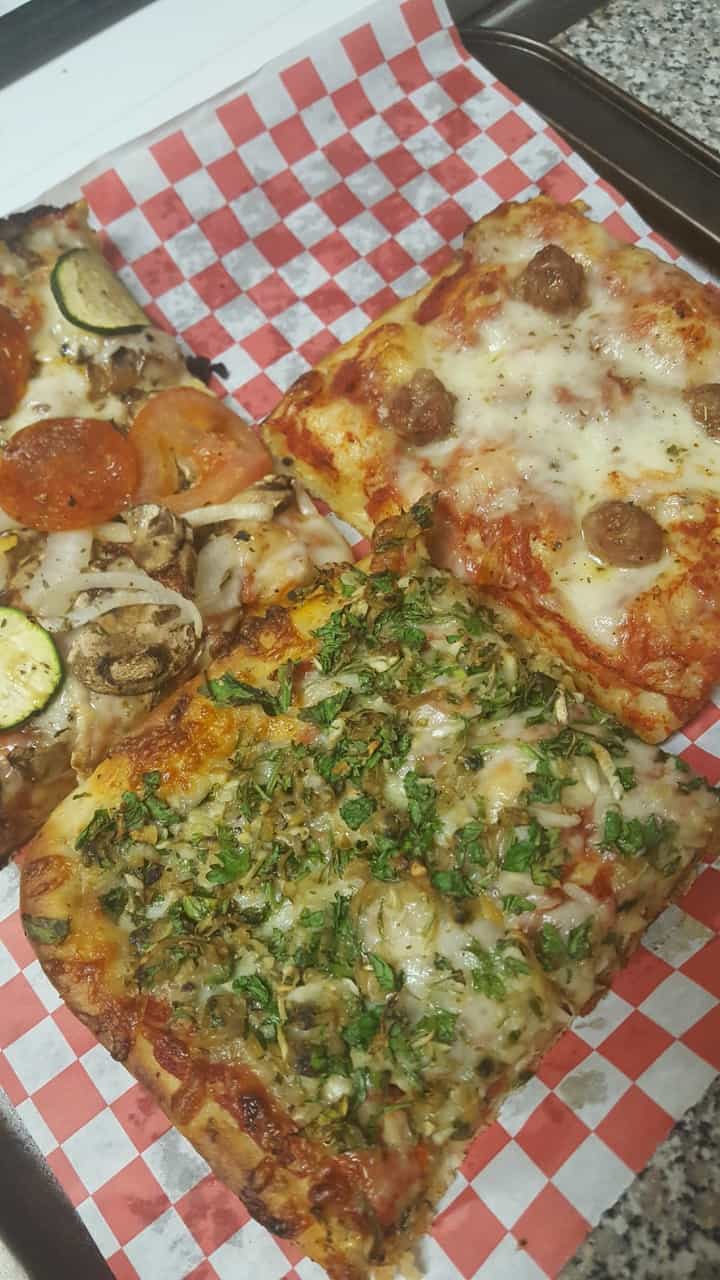 Perhaps the first pizza to come to mind for many when they think about San Francisco is Golden Boy.
If you've ever been bar-hopping in North Beach, you have probably seen the line down Green Street with people of all ages waiting eagerly for a slice or two of Sicilian pizza (some call it focaccia pizza).
The bottom is crispy and buttery from the well-greased pan, the inside is fluffy and light, and the toppings, while limited, are delicious.
Locals love the clam and garlic, loaded with intense amounts of garlic, clams, and parsley.
Victor's Pizzeria
Victor's has been a pizzeria since 1954. Under different ownership now than its first several decades, Victor's still makes a good pizza.
Watch the pizzas made from the large window on Polk Street.
It's an affordable slice you can grab quickly and take with you wherever you're heading in this bustling neighborhood.
Catch the cable car on nearby Hyde Street while you are snacking for an iconic SF experience.
Arinell Pizza
Technically the second Arinell location (the first location co-founded by Airnell San Francisco's owner in Berkeley) is one of the best NY-style slices you'll find in the Bay Area.
Since 1989, this small storefront on Valencia street has served up thin and crispy round pies and slightly thicker Sicilian squares.
Keep your toppings simple, try one of each style, and don't forget to add some of those jalapeños located above the display case.
More Recent Classics
San Francisco has had a resurgence in top-notch pizzas over the past 10-15 years.
Neapolitan, Chicago deep-dish and cracker-thin, Detroit-style, and sourdough pizza are all abundant, with many delicious options to choose from for every type.
Il Casaro Pizzeria & Mozzarella Bar
Probably the closest thing you'll find to authentic Neapolitan-style pizza in San Francisco is Il Casaro.
A beautiful restaurant with an emphasis on the very best in cheeses, with the imported Italian burrata being the big draw for many.
They have a gorgeous brick oven center stage in this airy, well-lit, and comfortably designed space. Get the Margarita and add burrata!
Tony's Pizza Napoletana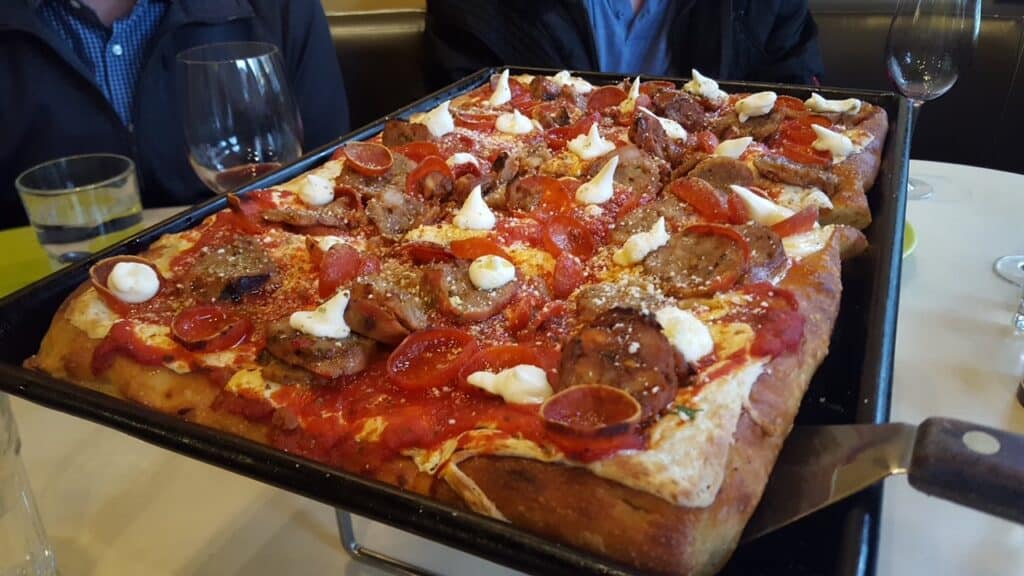 If you were to get a consensus on the very best all-around pizzeria in San Francisco, it would most likely be Tony's Pizza Napoletana.
Tony Gemignani has made a name for himself in San Francisco and worldwide over the past decade or two.
He has won countless awards and owns a small pizza empire in California and Nevada.
His flagship restaurant in North Beach deserves the 2-3 hour wait times.
It is like an amusement park for pizza with multiple styles made in various ovens that allow for the best execution of just about every type of crust you can imagine.
Capo's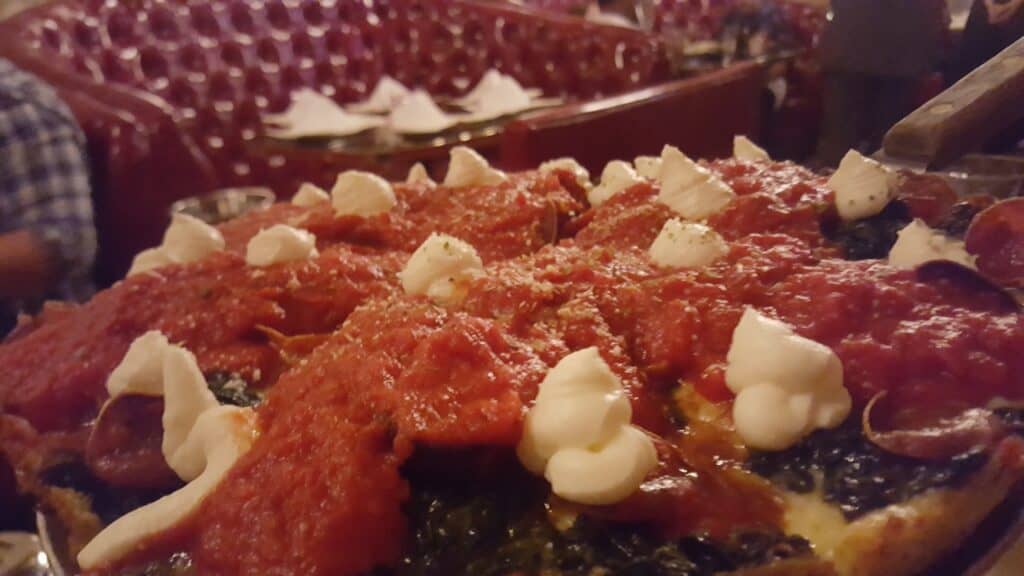 Capo's is most likely the closest to Chicago-style pizza in San Francisco.
It is also another member of Tony Gemignani's local pizza empire.
They specialize in various Chicago-style pizzas, but our favorites are the cracker-thin and the cast iron pies.
It's a great place to have a family meal in the oversized booths with old Chicago decor lining the walls.
The restaurant feels quite a bit older than it is, and it has an excellent bar where you could sit next to an exciting range of San Francisco locals and tourists.
Little Star Pizza
Little Star Pizza has been around for nearly 20 years and has grown to become a small local chain.
The original location on Divisidero street is still our favorite. They specialize in Chicago-style deep-dish pizzas with a cornmeal crust.
The sauce is excellent, tasting like the tomatoes were stewed all day long.
The combination pizzas lean towards classic toppings, but everything is fresh and delicious.
We prefer the deep-dish with its buttery, thick but not overly dense crust.
The mixed salad is also a must-order.
Cellarmaker House Of Pizza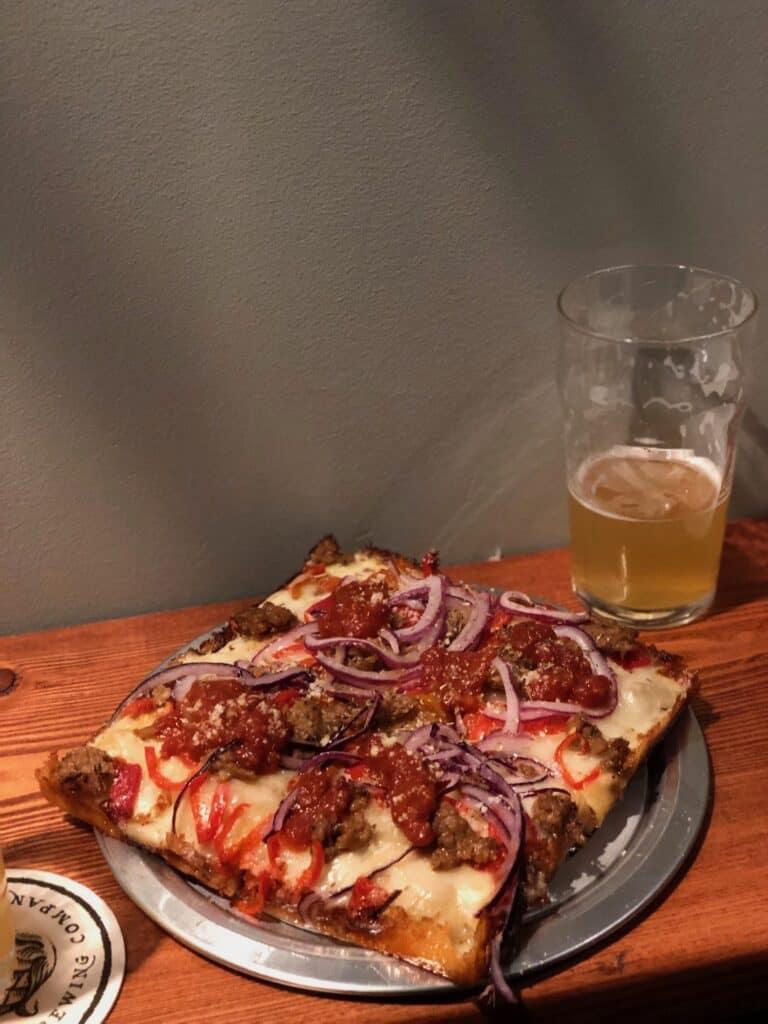 You can't make mention pizza now without mentioning a Detroit-style pie.
Famous for its crispy cheese edges, it has quickly gained popularity nationwide.
Near the corner of Mission and Valencia is Cellarmaker House of Pizza.
Local beer icons Cellarmaker opened the restaurant in 2019.
Specializing in Detroit-style pizza, Cellarmaker dishes out perfectly crushable 8" X8" pies with imaginative toppings and the best Detroit-style crust in town.
The Dank Dabs, their version of cheese bread, is also highly recommended. A new location in Oakland is coming soon.
Long Bridge Pizza Co.
Located in the mostly industrial neighborhood near the SF Bay in the Dogpatch is Long Bridge Pizza Co.
They specialize in sourdough pizzas and serve mostly thin-crust pizzas, though they now do specialty pies on certain days.
Long Bridge Pizza Co. is a perfect pregame meal just blocks away from Chase Center.
Order your pizza and a pint from an excellent beer list at the counter, take your number and enjoy some of the best thin-crust pizza in town.
Casey's Pizza
Casey's Pizza is also on the southeast side of San Francisco in Mission Bay.
These are some of the best New York-style pies in San Francisco.
Casey began his pizza-making business in a food truck but soon after got a permanent location near Oracle Stadium.
Most pies are limited to just a few ingredients, all of the superior quality.
The crust is nearly perfect, and the attention to detail makes every pizza on the menu worth trying.
Pizza Hacker
What began as a fabled one-person operation on a Weber grill serving pizzas in the park has now morphed into two permanent locations, the original being in Bernal Heights, San Francisco.
Consistency can be an issue here at times.
But when the pies are at their best, Pizza Hacker is among the very best in San Francisco.
Flour and Water Pizzeria
Another option closest to New York-style pizza in San Francisco is Flour and Water.
The legendary Mission restaurant opened this pizzeria a few years ago, and it has some of the best in the city.
The crust has the perfect chew but maybe a touch salty for some. Their sandwiches have also recently made a name for themselves.
Ragazza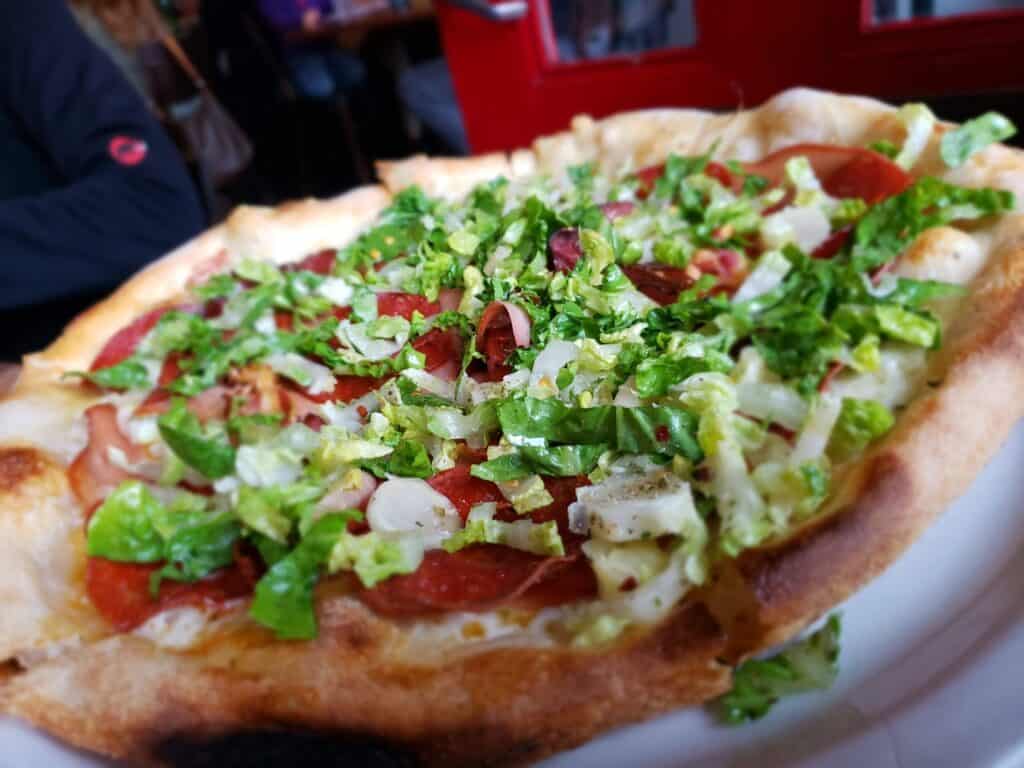 From the same owner as Gialina is Ragazza, which serves the best pizza on the south end of Divisidero street.
The interior is cozy, and there is a beautiful patio outback.
The pizzas here are excellent.
Rotating specials tend to be some of the best offerings, but the standard options are also above average.
These pies are much better to eat at the restaurant than at home.
Fiorella
Another option for one of the best Neapolitan-style pizzas in San Francisco is Fiorella.
The burrata pie is very good, as is the marinara pie if you want to try something a little different.
Fiorella currently features the Alamo Elementary Pie, donating 15% of sales to a local elementary school's music and arts program.
Little Original Joes
While Little Original Joes have only been around for about one year, this restaurant is an instant classic.
The pizzas are excellent despite it being the first time the Original Joe's franchise has attempted the craft.
Go with a combination of your choice, but do not forget to try the garlic knots and chicken wings.
Both are among the best in town!
If You Just Want A Slice
Many restaurants on this list only sell their pizzas by the whole pie (with a few exceptions).
San Francisco has several great options if you want to grab a slice on the go.
In addition to Golden boy, Flour and Water, Victor's, and Arinell, there are some other great slice shops in the city.
Tony's Slice House has several locations, and each specializes in a variety of pizzas.
Escape From New York Pizza is an SF classic on Haight Street with unique and tasty specialty combinations.
The Pizza Shop on 24th street in the Mission District is where many East Coast transplants will tell you to get an authentic New York Style slice.
Finally, Gioia also offers an excellent New York-style slice!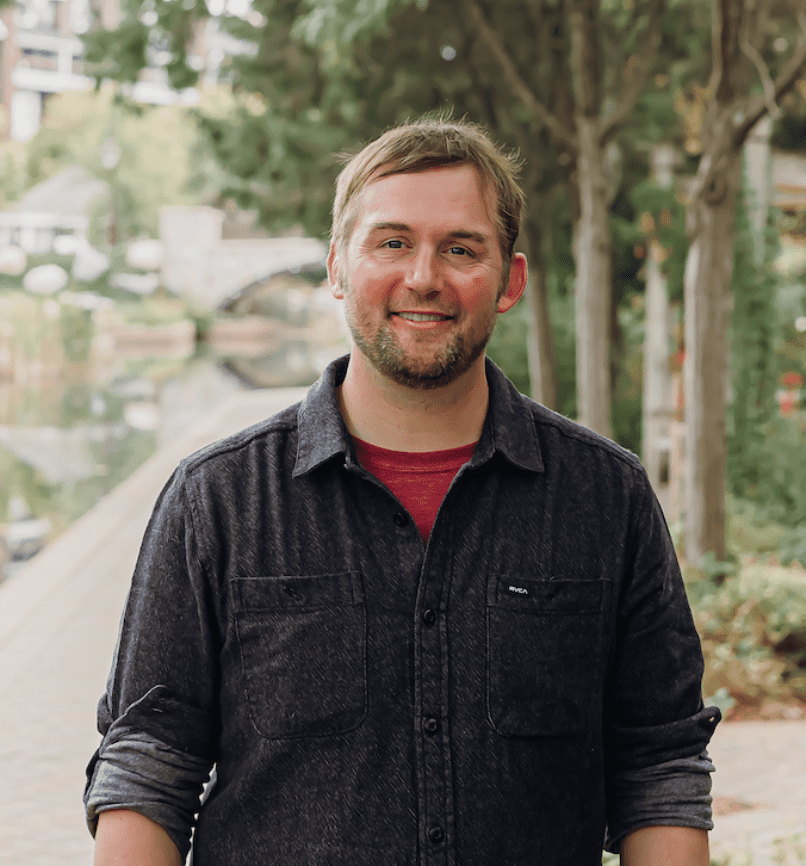 Deric is a freelance copywriter and content manager living in San Francisco, CA. Deric is a proud father, home cook, avid hiker, former bartender, and SF resident since 2006.