Gualala, known by the locals as Walala, is named for a Native American phrase that means "where the water flows down". 
This charming coastal town is located along PCH about three hours north of San Francisco and boasts a population of scarcely over 2,000, making it a heavenly escape from the hustle and bustle of the Bay Area. 
If you like hiking, camping, and a thriving arts scene, Gualala is a hidden jewel by the sea that will bring you endless enjoyment.
The Best Things To Do in Gualala, CA
Note: This post contains affiliate links, which earn me a small commission at no extra cost to you if you make a purchase using one of these links. Thank you for supporting this free content!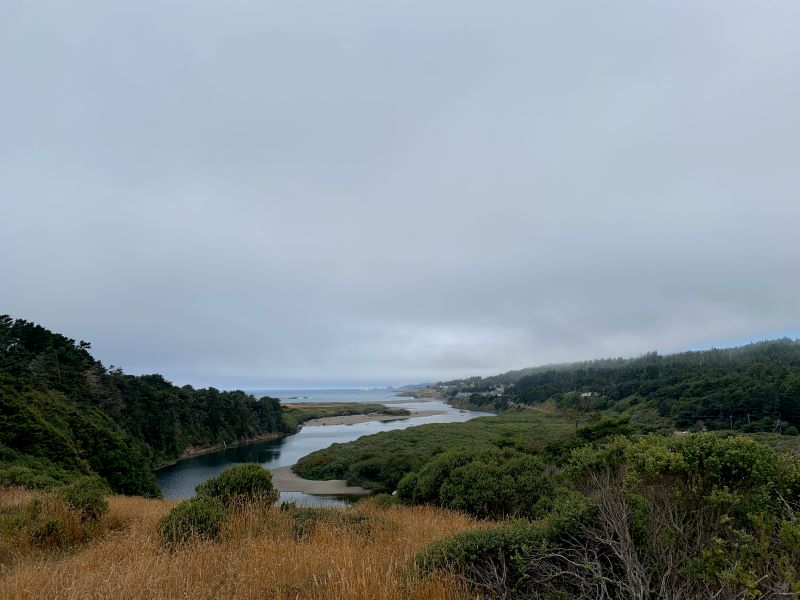 Gualala is known for its rugged coastal trails, bluffs, and driftwood-strewn beaches, and the Gualala Point Regional Park is the best place to get a sense of the natural beauty this region offers.
Accessible off of Highway 1, the Gualala Point Regional Park offers something for every nature lover, including hiking, biking, fishing, camping, birding, and paddling.
Keep an eye out for the stunning ceremonial posts, known as the Serge Posts.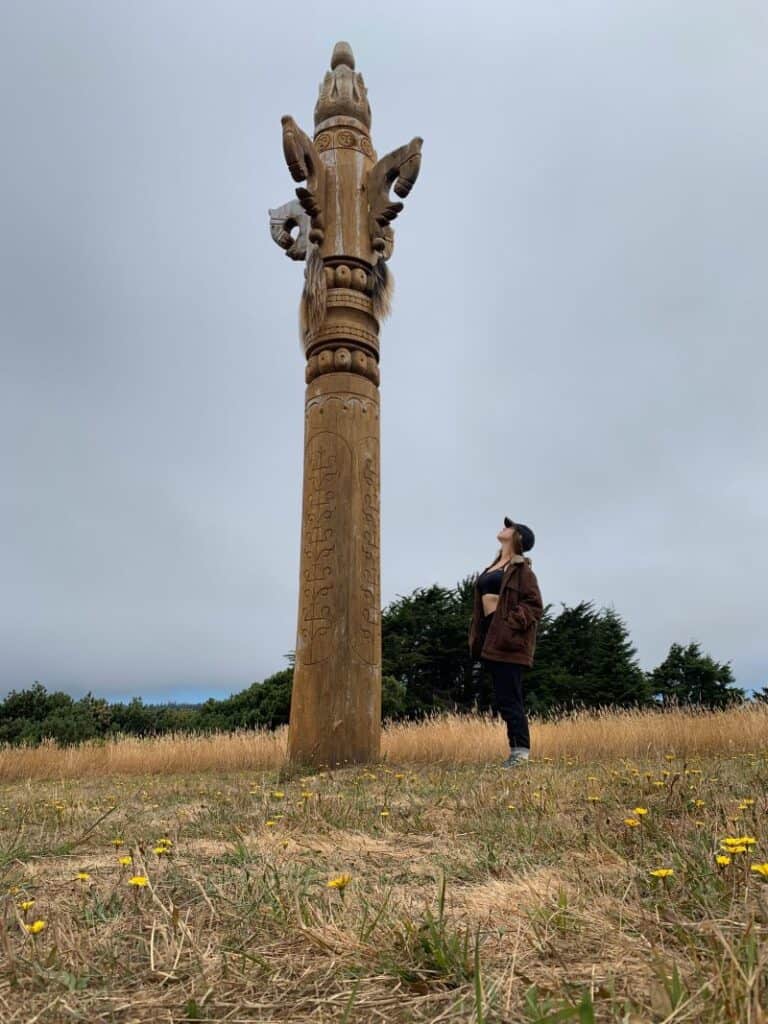 They were made from a Douglas fir by woodcarvers at a cultural festival in 2014, and pay tribute to the unique presence the Russian Sakha people had in Sonoma County.
Gualala Point Regional Park is also dog-friendly, so if you're traveling with your pet, they'll be sure to enjoy the fresh air with you.
Insider tip: bring $7.00 in cash to park. This fee is an honors system only but goes towards maintaining and protecting this beautiful patch of wilderness, so please be sure to contribute if you visit!
Craving some breakfast or desserts?
Take the winding Highway 1 up to Point Arena and find Franny's Cup and Saucer.
Located in the heart of this quaint downtown, Franny's offers an unparalleled variety of delectable pastry options.
An insider tip?
Try their bacon twists or bacon slippers (both amazing choices), butterscotch pudding, and lavender lattes.
Everything on the menu is good, though, so you can't go wrong.
Be sure to get there early, though – many items sell out quickly because of their popularity with the locals.
Kayak Along the Gualala River
Pack or rent a kayak and set off on the serene Gualala River. Surrounded by redwoods, the shores of the Gualala River are the ideal place for a picnic lunch, wading, and kayaking.
The calm waters are ideal for first-time canoers and kayakers. It's also safe enough for some summertime swimming.
Keep a careful eye on the water and the trees: you might see otters swimming in the river or the nests of bald eagles high up in the branches.
If you're looking for a company that rents out kayaks, reach out to Adventure Rents.
They offer single kayaks, tandem kayaks, and 16' canoes, so you'll find the boat that is perfect for you.
Enjoy Authentic Mexican Cuisine at The Black Door
The Black Door single-handedly proves that cities like Los Angeles and San Diego don't corner the market on California's best Mexican food.
The Black Door is a locally owned, family-run Mexican restaurant in the heart of Gualala, serving plates of enchiladas and fajitas alongside pollo con mole and camarones a la diabla.
As if its fresh flavors and authentic recipes weren't enough, the locals are proud to support The Black Door because one of their own high school students is a proud co-owner alongside his parents.
And if you're feeling like a drink, try The Black Door's signature michelada or their beer and wine selection.
Walk Along Pristine Beaches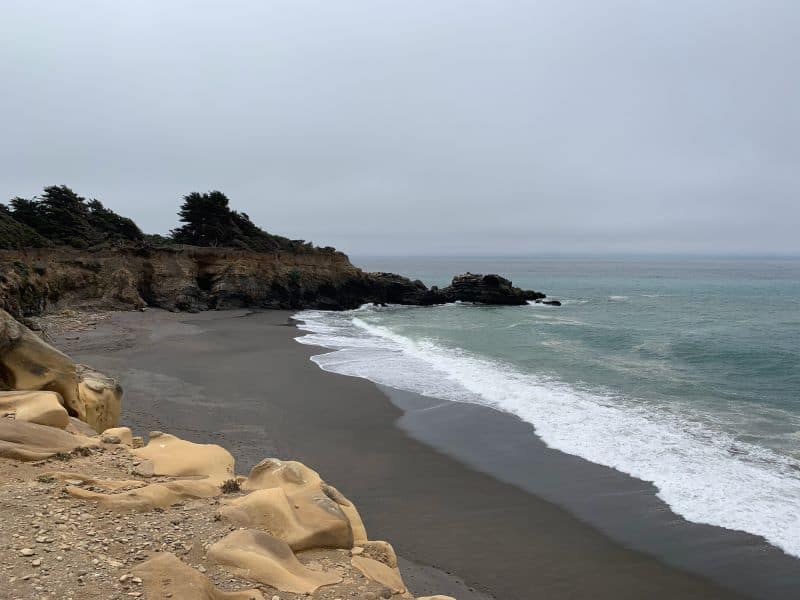 The California coast is known for its stunning beaches, and Gualala's coast is no exception.
Take a walk along Cooks Beach, a locals' favorite in the town.
Cooks Beach was not always open to the public, but in 2003 a generous family partnered with the Sonoma Land Trust to make it accessible to everyone.
It's located right off of Highway 1 on a beautiful crescent-shaped swath of coastline and has fine, soft sand – unusual for the often rocky and rugged shores of Mendocino County.
Gorgeous bluffs overlook the ocean, making it the perfect destination for relaxation whether you're on or off the shore.
If you're feeling adventurous, explore the Sea Cave and Battleship Rock that Cook Beach is known for.
Be sure not to miss Bowling Ball Beach at the northern end of Schooner Gulch State Park.
Aptly named for its large, bowling ball-like boulders, this beach is known for its tidepooling and sunset photography.
Enjoy Food, Pastries And Local Goods At Trinks Cafe
On the hunt for a satisfying meal to start your morning?
Visit Trinks, a family-run local favorite of Gualala residents.
Trinks offers breakfast and lunch all day, alongside charcuterie boards, homemade goods, and premium beverages.
Trinks also has a selection of delicious cookies and cupcakes – their signature snickerdoodle is a local favorite – and no-nonsense coffee drinks to warm you up before a day of exploring.
Hike Through the Redwoods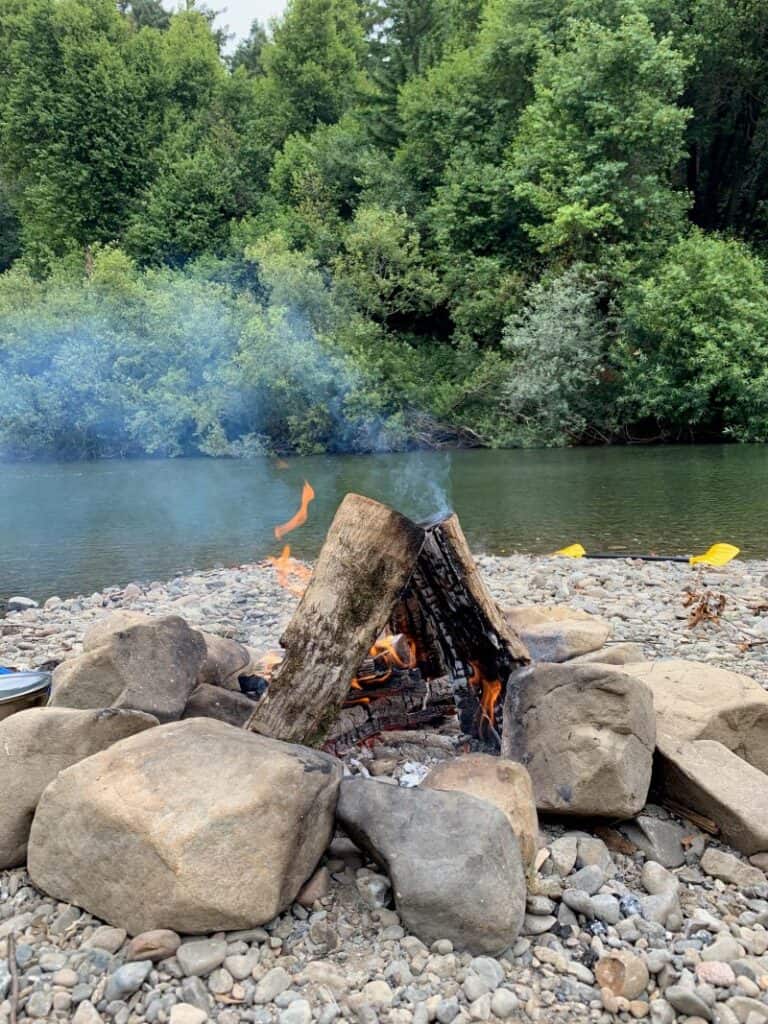 Gualala is known for its redwood forests as much as it's known for its beaches, so take advantage and hike through these breathtaking trees.
While you're walking, listen carefully for the sound of running water.
Many streams run through these ancient forests and form waterfalls when they flow over the rocks, making for a magical experience.
For a unique and lesser-known experience, visit the Pygmy Forest in Salt Point State Park just a few miles south of Gualala.
This forest is populated with tiny centuries-old trees, including redwoods, that stand just a few feet tall due to inhospitable growing conditions.
If you're visiting Gualala over a weekend, mark your itineraries for a Saturday farmer's market excursion.
Gualala's passionate community of farmers and craftsmen sell their goods, including organic fresh produce, stone-milled bread, locally roasted coffee, wild-crafted kombucha, and even local handpicked seaweed!
If you enjoy cider, look for a stand run by Oz Farms, a quirky local commune, and local retreat center.
Their orchard-based blends are traditionally crafted and enriched by Mendocino's unique soil – truly a sip of your relaxing vacation!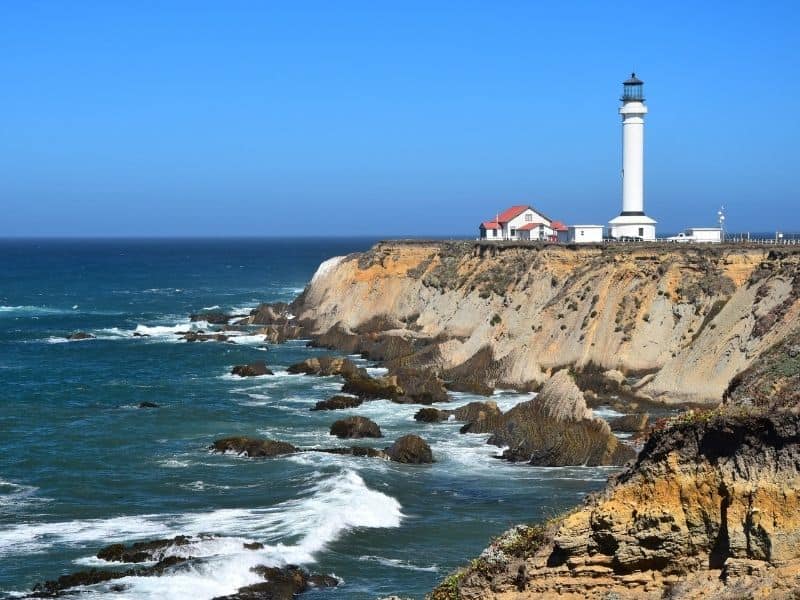 Appreciate the breathtaking migration of gray whales from a beautiful historical location in the town of Point Arena, just a few miles north of Gualala.
Many visitors have reported seeing whales, making it a great stop on your whale watching expedition. Be sure to pack your binoculars!
The Point Arena Lighthouse is still fully operational after 152 years of service and offers tours to the top of the building.
It also has a charming gift shop where you can find presents and souvenirs from your adventure!
Passionate about the arts and local craftsmanship?
Look no further than the Gualala Arts Center, a unique cultural facility that houses art exhibitions, performances, and community events.
Their Dolphin Gallery in particular is a must-see.
You'll find art and fine crafts available for purchase so you can bring a bit of Gualala home with you.
It also features art exhibits created by artists in residency at the Arts Center.
The Gualala Arts Center also hosts events year-round, so check their calendar and plan a visit during your stay.
It's sure to awaken your inner artist or at least spark appreciation for the artists who live in the area.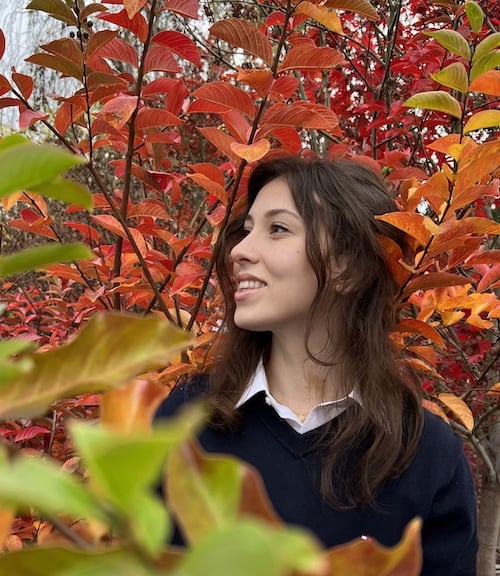 Hannah McKelson is a content writer and California-based adventurer hiking and camping her way across the West Coast. She loves tracking down the best-kept secrets of the beaches, forests, and mountains in her home state while sharing her adventures through her writing. You can follow her travels on social media @hannahmckelson and on her website at hannahmckelson.com.