The Colorado and Mojave Desert come together to bring you the sandy terrain, diverse desert plants, and rock formations that make up Joshua Tree National Park.
The park is named after the funky Joshua trees that grow here but there is so much more to see and do!
Check out these one-of-a-kind hikes in Joshua Tree National Park to see all of what this park has to offer, from its many geological features to the remnants of old mine towns.
Don't forget to book a reservation if you want to grab food after a day of exploring. This town gets packed around dinner time!
Best Joshua Tree National Park Hikes
Barker Dam
Note: This post contains affiliate links, which earn me a small commission at no extra cost to you if you make a purchase using one of these links. Thank you for supporting this free content!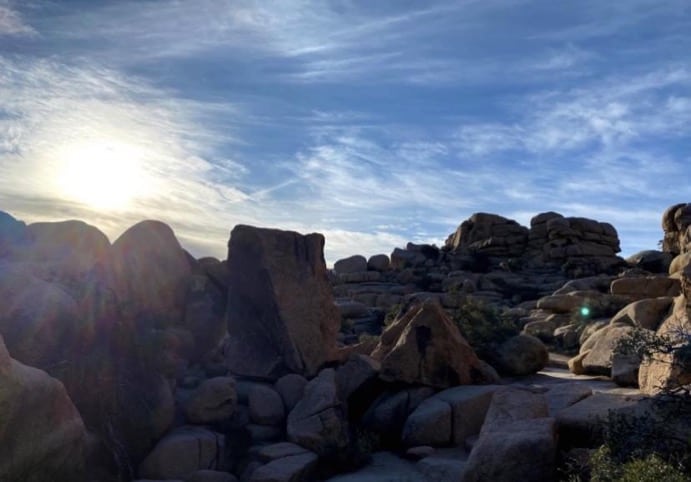 Distance: 1.3 mile loop
Elevation Gain: 62 feet
Trail Conditions: Check hiker updates on AllTrails
The Barker Dam is one of the most loved hikes in Joshua Tree National Park and with good reason. Its short distance makes this trail suitable for all skill levels and the views are nothing short of amazing.
About half of a mile into the hike, you enter what feels like an amphitheater of rocks. Be sure to visit in winter or spring to see the dam at its full potential, as the water tends to dry out in the warmer months.
After a bit of elementary rock climbing, the trail comes to an end as hikers walk amongst desert plants and views of ancient petroglyphs.
Plan to hike this trail during sunrise for the best chance to catch the bighorn sheep in action! (and I mean, would any trip to the park be complete without spotting one of these iconic creatures?)
If that's not convincing enough, arriving early also means beating the crowds that flock to this popular spot. Nothing like an empty parking lot and a quiet trail to make you feel like you have the park all to yourself!
Want to keep going? Check out the Walls Street Mill Trail located just a few feet away and walk through one of the most well-preserved gold mills in all of Joshua Tree National Park.
Ryan Mountain Trail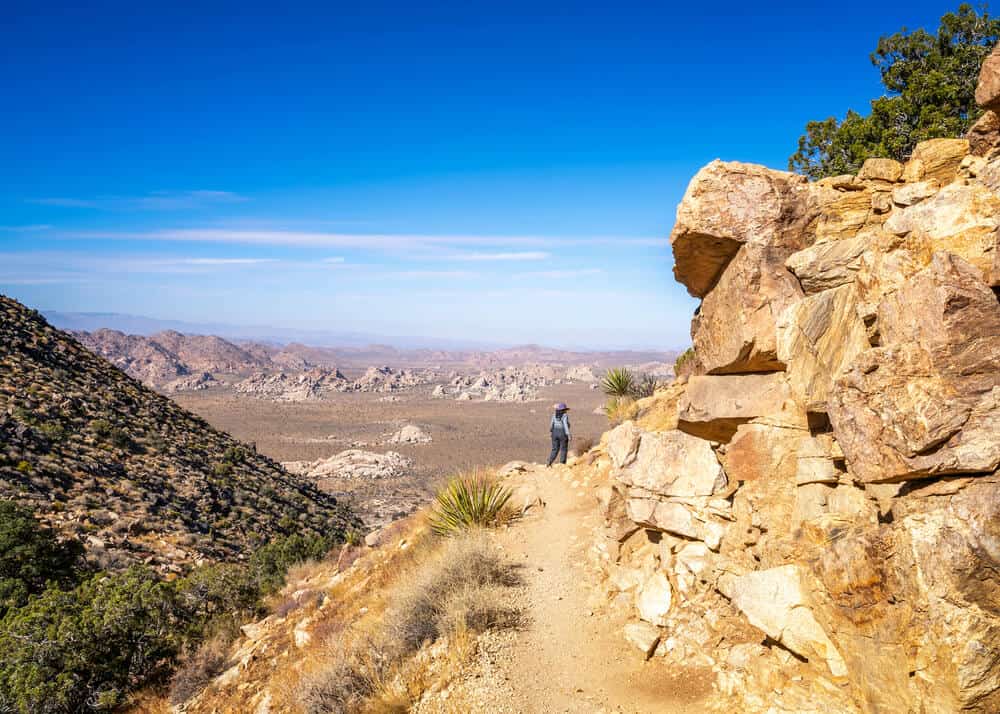 Distance: 3 miles out-and-back
Elevation Gain: 1,069 feet
Trail Conditions: Check hiker updates on AllTrails
Stand atop a 5,457-foot mountain and take in the breathtaking, panoramic views of Joshua Tree and its many rock formations.
This short Joshua Tree hike is manageable for just about all skill levels, but don't expect to trek up this mountain without breaking a sweat (and it gets cold up here). The 1.5-mile journey up is a steady incline with an elevation gain of over 1,000 ft packed in over very little time.
Put those stair climber sessions to good use as you make your way along the natural staircase that takes you right up to the top!
Don't forget to watch your step amongst the rocky terrain and do your feet a favor by wearing a good pair of hiking shoes.
Although the views from the top are considered the main attraction, and reasonably so, be sure to take time to admire the landscape from different angles along the way up and back down.
Boy Scout Trail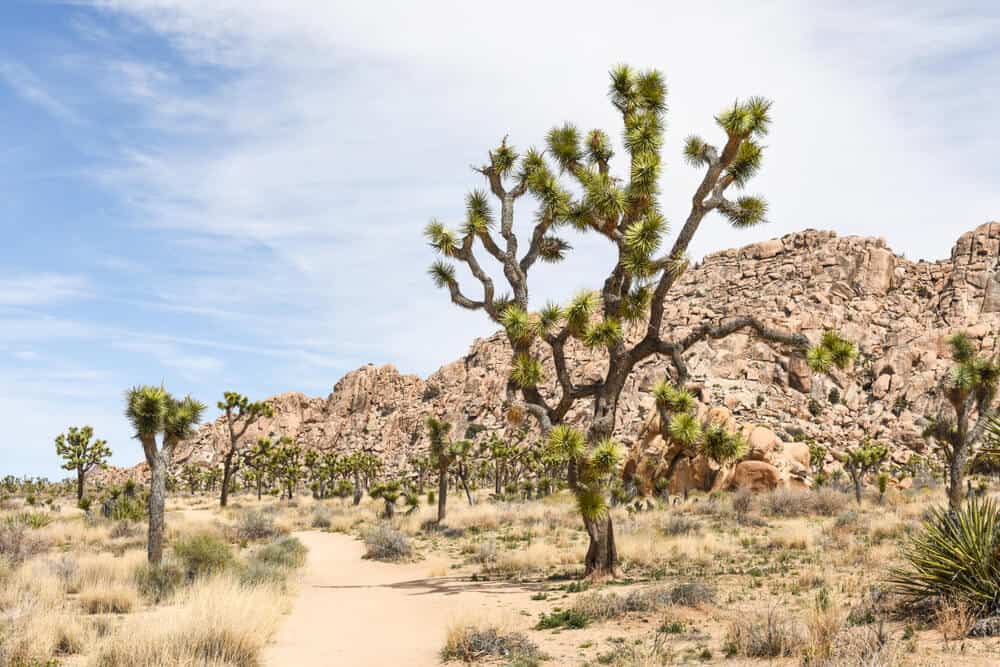 Distance: 7.8 miles point-to-point (15.6 miles roundtrip)
Elevation Gain: 1,700 feet
Trail Conditions: Check updates from hikers on AllTrails
To all of my veteran hikers and motivated first-time backpackers, this one's for you.
Get the best of both worlds as you get to travel across a vast desert landscape before working your way into the famous Wonderland of Rocks and back again.
This backcountry trail has a variety of deviations to choose from but they all have one thing in common, a strenuous journey with rewarding views.
The good news is that camping is allowed along the entire route (but do check online for specific guidelines) so you can take as much time as you need.
Backcountry camping also means added privacy so you can sit back, admire the stars, and take in the beautiful silence that is backcountry living.
Add an extra day to your trip and head down Willow Hole Trail, located about a mile in from the Key West trailhead, for the best opportunity to see wildlife gathered around the watering hole.
Most importantly, bring LOTS of water. The only places to fill up are at Indian Cove and Key West, which are 8 miles apart from each other. Staying hydrated is essential, especially in the desert sun!
Rattlesnake Canyon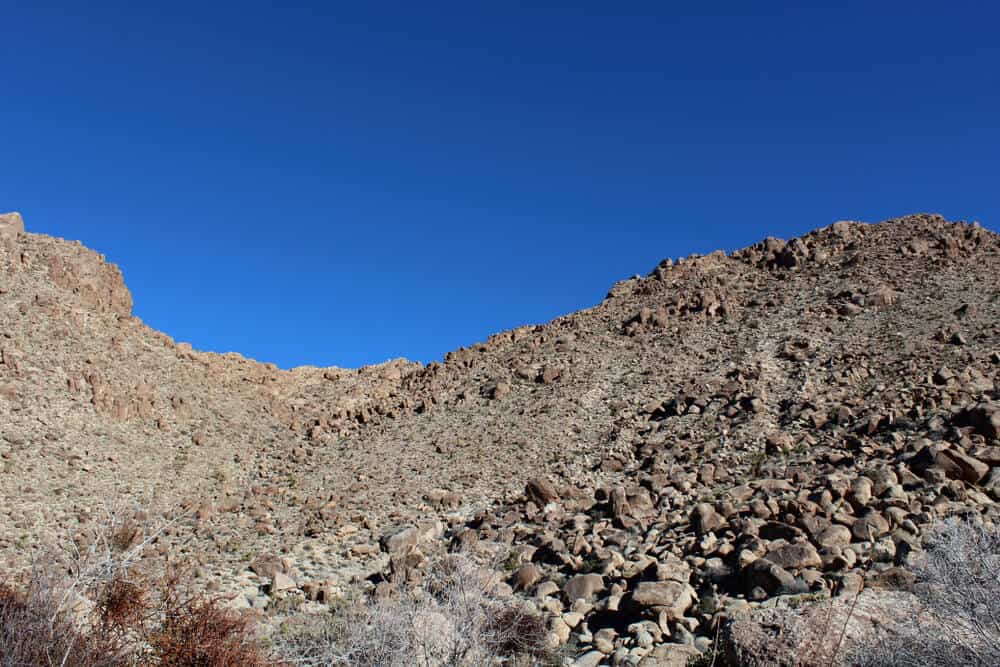 Distance: 2.8 miles out-and-back (starting from Indian Cove)
Elevation Gain: 396 feet
Trail Conditions: Check hiker updates on AllTrails
More of a scramble than an actual Joshua Tree hiking trail, this is definitely off the beaten path and makes for an awesome adventure.
Trek amongst the rocks that make up part of the famous Wonderland of Rocks.
Small pools of water form in the wetter months so keep your eyes peeled to avoid ending up with wet feet.
Get your hands dirty or opt for some gloves as you will need to climb on all fours in some spots and I mean c'mon that's half the fun.
The Canyon is also located right next to Indian Cove Campground so when you end up falling in love with the area (and you will), you can set up camp here beneath the stars.
Ryan Ranch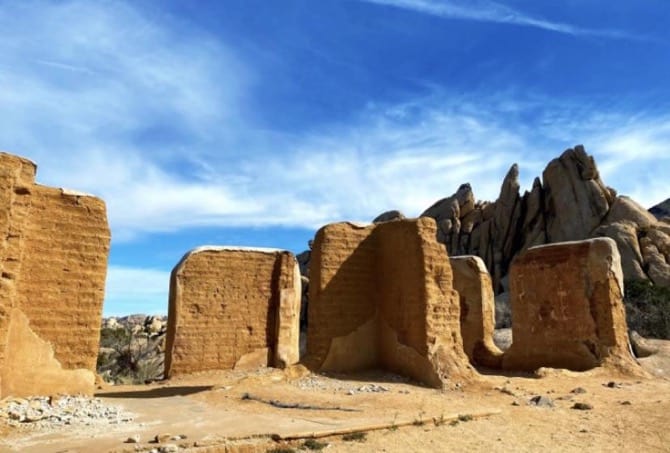 Distance: 1.5 mile loop
Elevation Gain: 134 feet
Trail Conditions: Check hiker updates on AllTrails
Stand amongst the ruins and imagine what life was like for ranchers who called this place home in the late 1800s.
This short trail is a must for history enthusiasts as there is an abundance of artifacts to ponder upon.
Walk between the remaining walls of a multi-room homestead, check out the blades of an old windmill, and venture off to find a gravesite and ancient petroglyphs.
Even if history isn't your thing, this hike provides stunning views of the many rock formations that surround you.
Plan your visit around sunset to see how the golden sky compliments the colors of the clay and adobe brick used to build the walls of this homestead. They don't call it the gold brick house for nothing.
Although you won't see any signs saying "look but don't touch", it is the unspoken rule. Please be respectful and help to preserve this historical monument for years to come.
Live Oak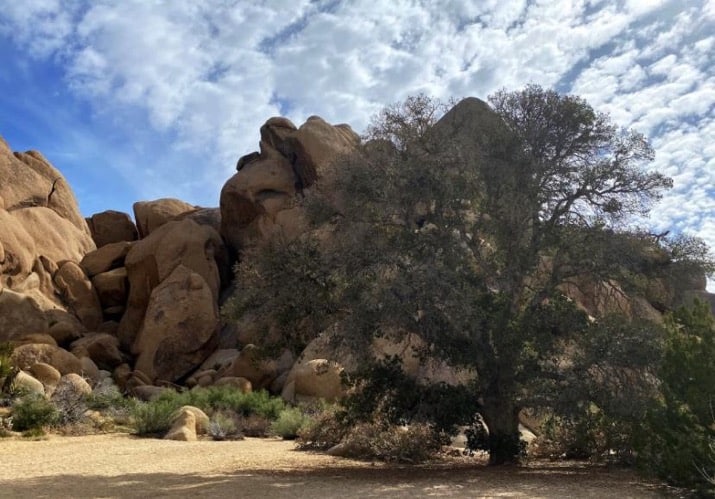 Distance: 1.5 mile loop
Elevation Gain: 131 feet
Trail Conditions: Check hiker updates on AllTrails
Stop for a picnic or take the loop trail to get up close and personal with this completely out of the ordinary oak tree that has somehow found a way to survive in the middle of a desert.
The oak tree is located right off the parking lot and can be seen from your car, but to really appreciate it you should walk over and spend a moment under the miraculous shade it provides.
Plus the trail isn't well known so you'll probably have the whole area to yourself or even better, you'll be able to see rock climbers scaling the massive rock formations that surround you.
The trail markers can get a bit spotty so just keep an eye out to make sure you stay on track using GPS or by being extra careful. You will eventually find yourself at an ancient dam with 3 tanks that can fill up with water after a big storm.
Desert Queen Mine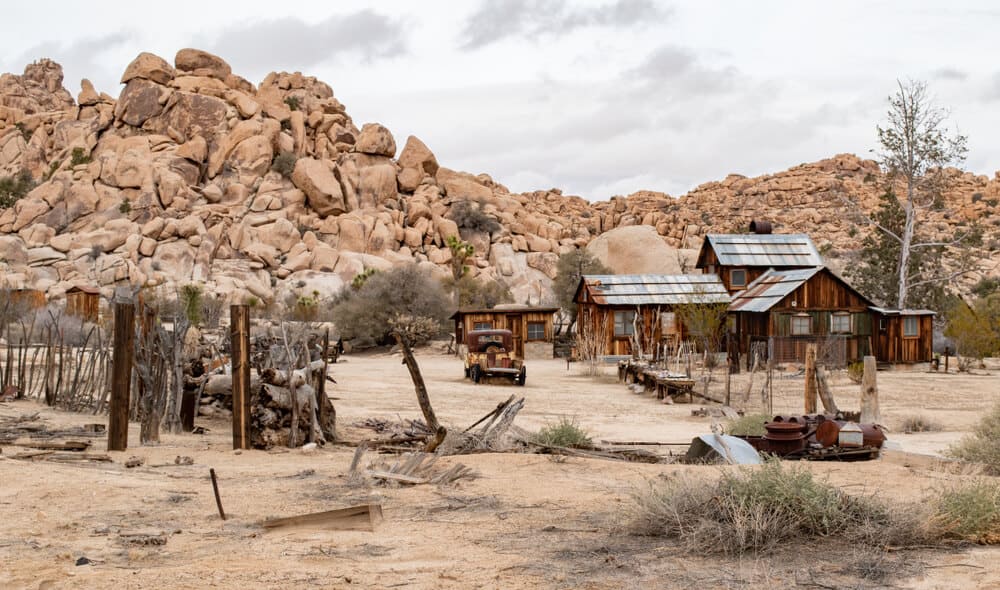 Distance: 4.3 mile loop
Elevation Gain: 580 feet
Trail Conditions: Check hiker updates on AllTrails
This Joshua Tree trail takes you through ruins unlike any others in the park!
With nearly 20 mine shafts to locate, random artifacts scattered all across the trail, and countless stories of outlaw Jim Mchaney, you could easily spend all day here.
The trail itself is relatively short but there are so many places to venture off and explore!
Right away you'll run into an old bed frame, winch, and parts of a car. Following this, you will enter a stone village (or more like what's left of it).
Make sure to take a close look at the walls. Rifle slots tell the story of what life was once like on the mine.
Most of the mines have been closed off one way or another but it's still pretty cool to take a peek into them. I do not recommend standing on the grates as some of the shafts go straight down.
These are just a few of the many different things waiting to be discovered!
Mastodon Peak Trail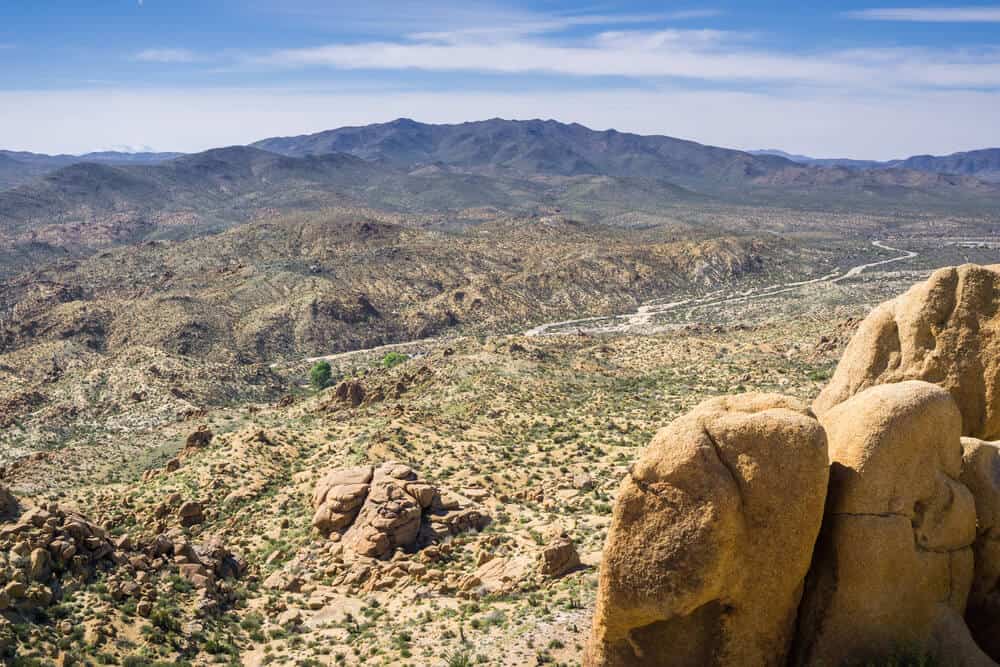 Distance: 2.6 mile loop
Elevation Gain: 406 feet
Trail Conditions: Check hiker updates on AllTrails
Get a glimpse of everything Joshua Tree has to offer as you walk amongst the Mojave desert, scramble up the many rock formations, and explore the ruins of a mining town.
A spring visit could even mean the chance to see a variety of different wildflowers in bloom. A rare sight in the sandy terrain.
Certain parts of this trail require you to squeeze through narrow sections and make your way up a tiny staircase. But in all honesty, that only makes this trail that much cooler!
When you reach the highest point, enjoy the breathtaking views of Joshua Tree, the San Bernardino, and San Jacinto Mountains….and if you're lucky, the Salton Sea far out in the distance.
On your journey back down you will encounter two sets of ruins. The first is the Mastodon Mine where you can check out an old mine shaft. It is important to note that you should not attempt to enter the mine. Aside from the importance of its preservation, the mine is unstable and any attempt to enter it could be deadly.
The second set of ruins is the Winona Mill. Here you can walk amongst a ghost town of cement foundations and imagine what once was.
Did I mention this trail starts at Cottonwood Spring Oasis? It's a popular location to see Cottonwood and large fan palm trees in a park dedicated to Joshua trees.
Double up on the adventure by hitting the Lost Palms Oasis trail to see the many native palm tree giants of California.
Pin This Guide to Joshua Tree Hikes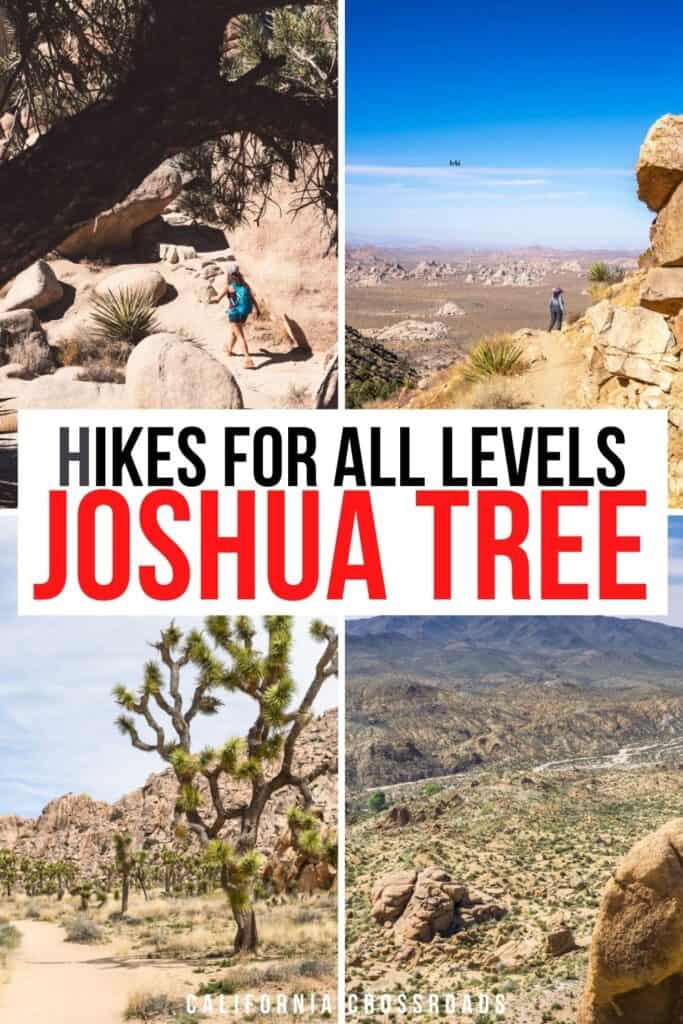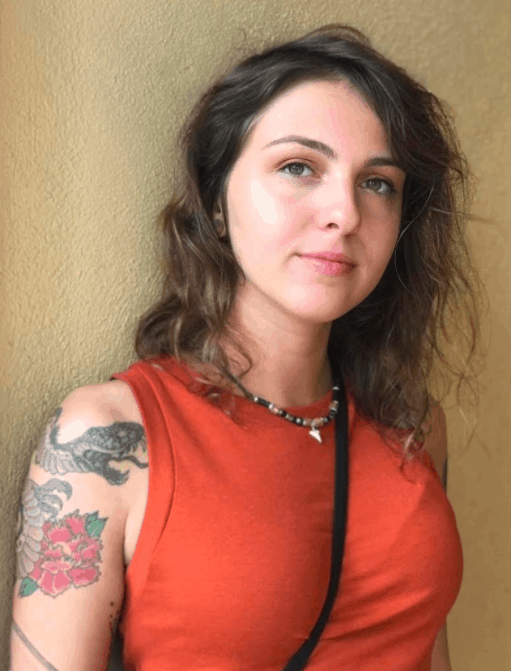 Nicole is a freelance travel writer who lives in Upstate NY, but her heart lies in the beautiful state of California. She loves to travel to new destinations, eat at all the best local restaurants and explore all the world has to offer. Her favorite place is just about anywhere where snow-peaked mountains can be seen in the distance.