No matter how undeniably exciting it is to live near Southern California's Pacific Coast, sometimes a getaway is needed.
Sometimes, visiting a destination that provides a vastly different experience and landscape is more than necessary.
After all, we are creatures of habit — and it's important to break those habits from time to time.
Fortunately, the gorgeous state of California has more up its sleeve than its beautiful coasts, and this Joshua Tree day trip getaway provides a quirky desert adventure – perfect for all of Southern California's artsy, free and adventurous spirits.
Whether you're feeling ungrounded, looking for inspiration, or just in need of a quick breather — a road trip to Joshua Tree for a day of desert landscapes will set your mind at ease.
Escape inland for the day to clear any creative blocks by immersing yourself in the vast intersection of the Mojave and Colorado Deserts in Joshua Tree National Park.
Ditch the cell service and dive into Joshua Tree National Park's rich history of Native American and post-colonial civilizations, fascinating array of desert biodiversity, and its namesake Joshua trees (also called yucca brevifolias).
We promise you that the grounding energies of nature that help you momentarily escape the concerns of your day-to-day!
When To Plan a Joshua Tree Day Trip
Note: This post contains affiliate links, which earn me a small commission at no extra cost to you if you make a purchase using one of these links. Thank you for supporting this free content!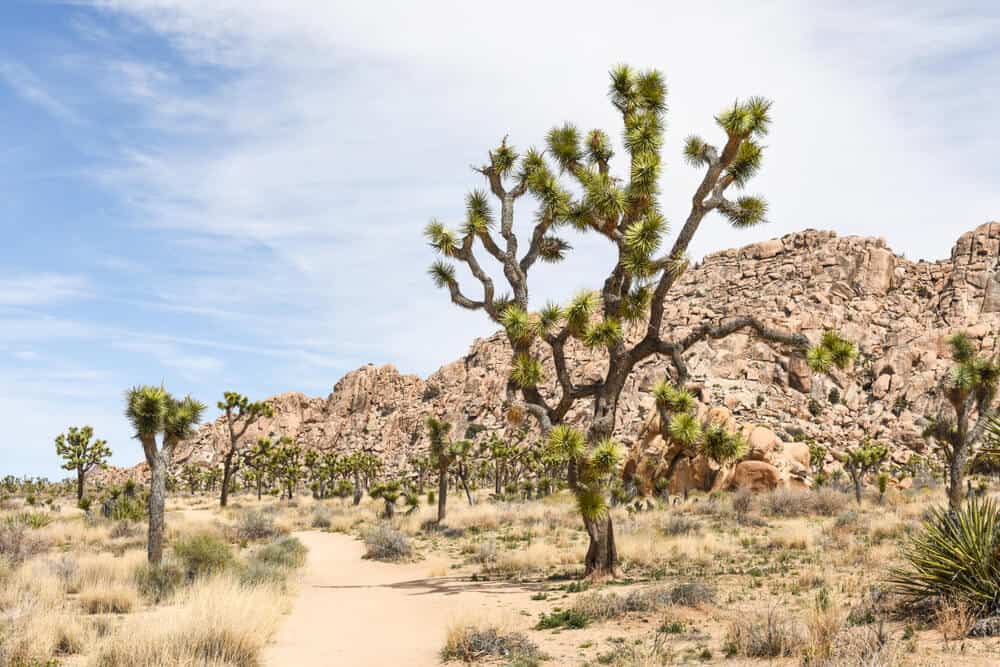 Considering time of year is very important when planning your Joshua Tree day trip!
Because temperatures can reach up to the 100s in the summer and drop to the low 30s at night in the winter, the best seasons to visit would be the spring or fall where the weather is more comfortable and stable.
Spring also has the benefit of beautiful wildflowers in certain parts of the desert!
However, the national park attracts crowds year-round. As long as you're prepared, you can run off on this quick and rejuvenating getaway any time you need!
If you visit in summer months, plan for your hikes to take place in the early morning hours — we're talking sunrise wake-ups to make the most of the few non-scorching hours of day.
And if you visit in winter, be sure you bring plenty of layers, especially if you are camping in the park — and be prepared for early sunset times!
How to Get to Joshua Tree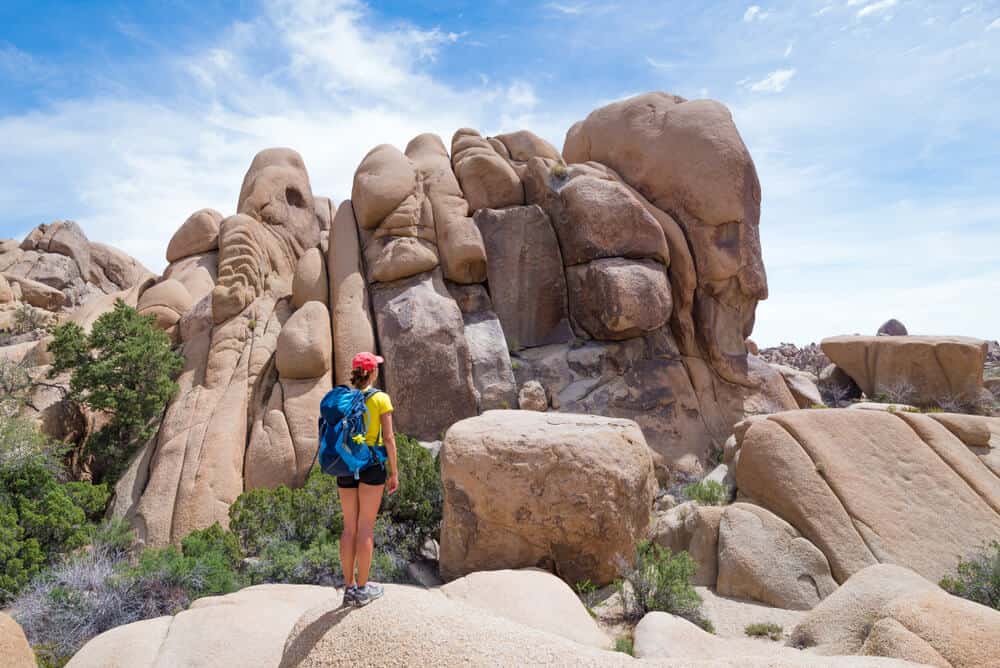 A quick note before discussing routes because this applies for both LA and OC natives – music is probably the greatest companion on long drives, especially if you know you'll have to sit through some traffic as you make your way inland.
If you're particular about this too, be sure to have your favorite playlists downloaded!
You may lose signal during the desert portion of the drive and inside the national park, and let's be real, you want to keep that rhythm going!
Now: onto directions!
How to Get to Joshua Tree from Los Angeles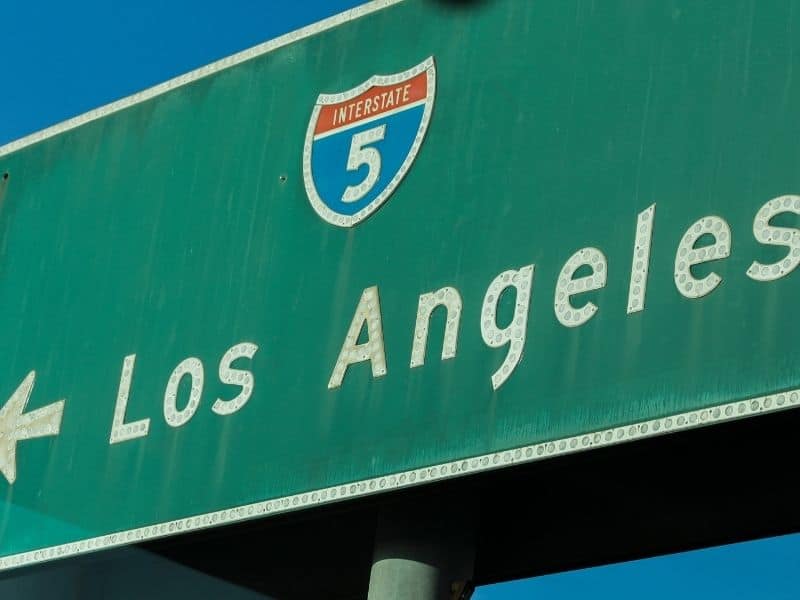 The drive from Los Angeles takes only around 2.5 hours (131 miles) without traffic.
I strongly suggest that you head out before the break of dawn to avoid the morning rush (7am-10am)…
The pain of dealing with the infamous LA traffic daily might even the reason you need this getaway, so try your best to avoid it!
The route is fairly simple – depending on where you are, head on the 101 or 5 freeway to get on the I-10 E, which you'll be on for approximately 100 miles. (Note: options to pump gas will become sparser after you pass the San Bernardino and Redlands area).
Take Exit 117 for CA-62 toward Twentynine Palms/Yucca Valley.
Continue onto the 62 E (29 Palms Hwy) for the last 30 miles, and you'll be guided straight into Joshua Tree. From there, you'll find easy-to-follow signs that direct you to the West Entrance of the National Park.
How to Get to Joshua Tree from Orange County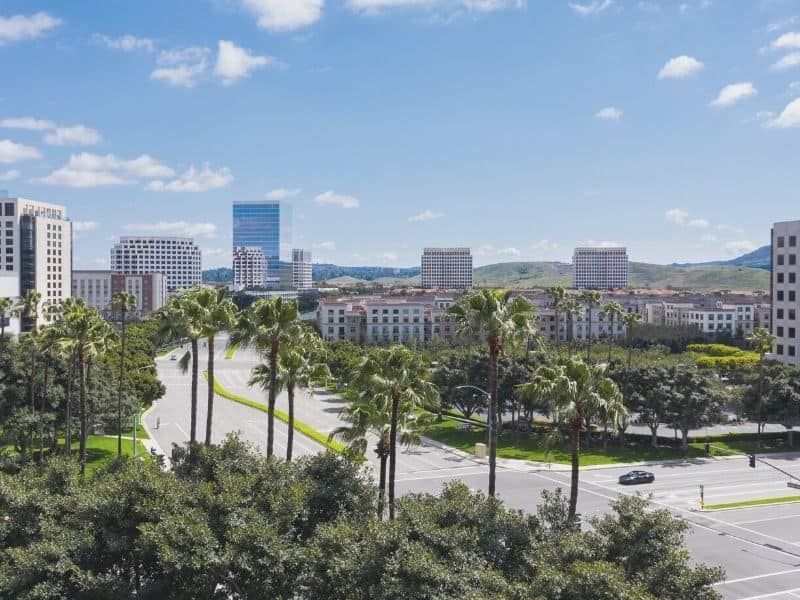 Slightly closer than LA, the route from Orange County takes around 2 hours (118 miles) without traffic.
Wake up bright and early to avoid the morning rush as traffic even in the suburbs can get pretty bad as well.
Depending on where you are, find your way onto the 91 E through the 55 N or 57 N. Drive approximately 30 miles.
Follow signs to take exit 65B to merge onto the 60 E, which you'll be on for about 25 miles. (Note: options to pump gas for this drive tend to become sparser after Moreno Valley).
Then keep left for the I-10 E and drive for another 25 miles.
Take Exit 117 for CA-62 toward 29 Palms/Yucca Valley.
Continue onto the 62 E (29 Palms Hwy) for the last 30 miles, and you'll be guided straight into Joshua Tree. From there, you'll find easy-to-follow signs that direct you to the West Entrance Station of the National Park.
How to Get to Joshua Tree from San Diego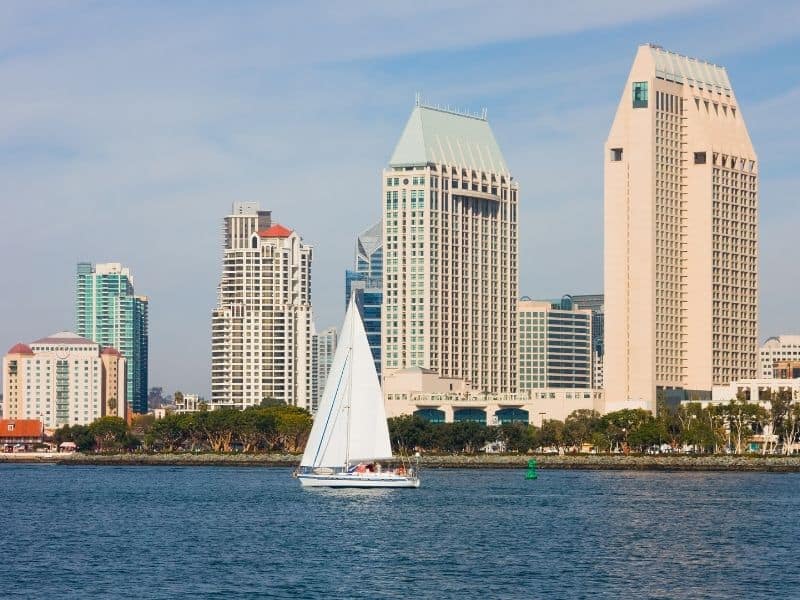 Further away than either LA or the OC, but still doable as a day trip, you can get to Joshua Tree from San Diego in about 3 hours.
Drive up I-15 towards Temecula, where it soon after turns into I-215. From there, jog east on Route 79 until you hit Beaumont.
After Beaumont, the road will become I-10. Then, you'll turn on Route 62 where you can enter via the West Entrance or the North Entrance in Twentynine Palms.
Another route you may want to take is more inland via Route 78, where you'll reach the Salton Sea. From there, you'll jog up Route 86, which brings you to the South Entrance (near Cottonwood Visitor Center)
What to Pack for One Day in Joshua Tree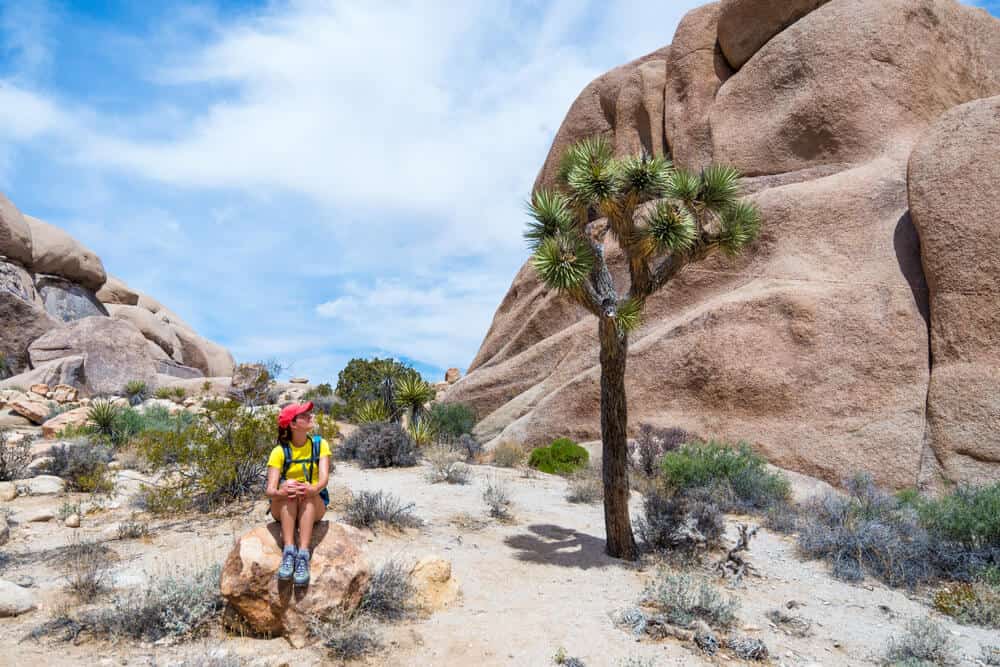 If you're going to spend the whole day out in Joshua Tree's wilderness, preparation is key to ensure that you don't have to leave it for any reason.
The plan is to explore as much of the 1,235 square miles it has to offer. Let's go over the essentials!
Lots of water – It's no secret that the desert can become unbearably hot during the spring and summer seasons, and dehydration can be serious, even potentially life-threatening, when you find yourself on a long hike without access to it.

The national park has seen several cases of people fainting and even passing from dehydration. Don't mess around!

There are only 3 places to fill up in the park – Cottonwood, Black Rock and Indian Cove – so stock up that trunk with plenty of water, as well as a refillable water bottle! That's one thing not to forget.
Extra Layers – The temperatures in the desert tend to fluctuate a lot. If you're spending the whole day there and would like to stay in the park after dark to stargaze, then pack some extra layers to keep in your trunk, especially for the fall and winter seasons.
Food, Snacks and utensils
Sunscreen / Hats
Ice Box for Food and Water
First Aid Kit
Natural Bug Repellent
Flashlight
Hiking boots / Comfortable Shoes
Portable Battery Charger
Jumper cables / Battery Starter
Optional:
Hiking Poles – if you prefer to have them while hitting the hiking trails
Camping Gear – if you end up staying the night at one of the campsites
Rock Climbing Gear – not specified in this itinerary, but if that's your thing, bring them along since there are soooo many opportunities for rock climbers and boulderers!
Keep in mind that this list covers the basics, but it's crucial to use your imagination and contemplate your specific needs for the day.
One Day Joshua Tree Itinerary: Day Trip Stops
Bonus for the Extra Ambitious: Catch the Scenic Sunrise at Keys View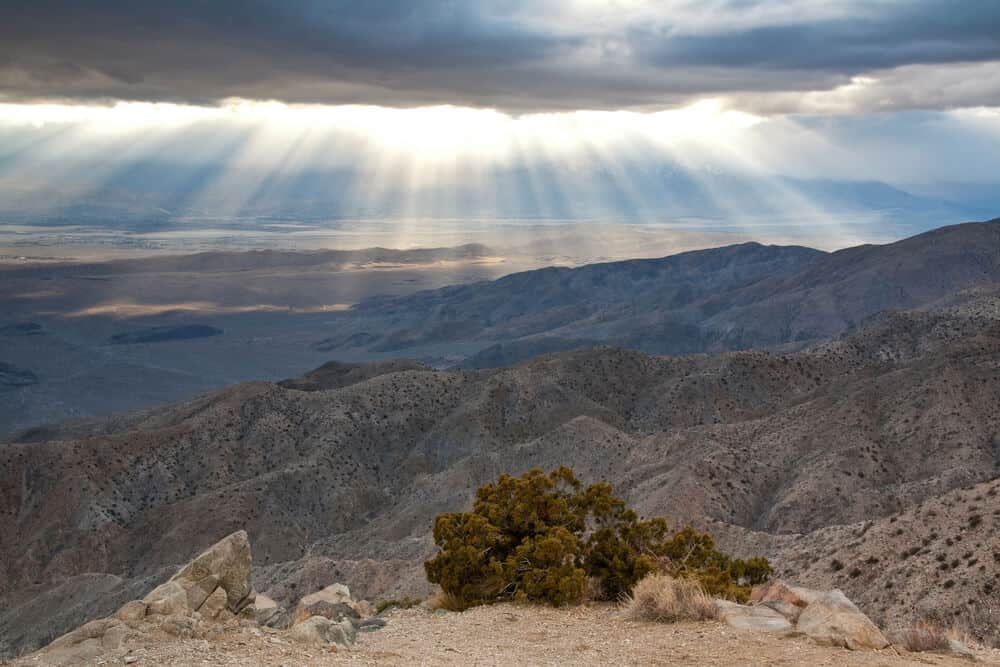 This is listed as a bonus because this quick and scenic early morning activity can understandably be skipped for a day trip to Joshua Tree.
Making the sunrise at Joshua Tree would mean having to head out around 3 AM or so to make it in time for the sunrise (between 5:30 AM – 6:30 AM, depending on the season).
Having said all of that, basking in the sunrise of Keys View is a breathtaking, fairly private and memorable experience!
Of course, you can choose to watch the sunrise at any part of the national park you wish, but Keys View offers the most convenient experience as it doesn't involve parking inside a lot or hiking, and it's only 24 minutes away from the West Entrance.
Keys View has a reputation as the most popular sunset viewing location in the park because of its deep panoramic views of the mountains, mesas and valleys that glow with soft hues against a pastel sky… as if they're just waiting to be captured on film.
Getting to this viewpoint is so easy – another part of why it's littered with crowds during sunset (but blissfully quiet at sunrise!)
Just follow signs for Keys View Road and drive to the roundabout and park. You can watch it all go down from the hood of your car. Really!
Start your Day with Breakfast and Finishing Touches on Preparation in Joshua Tree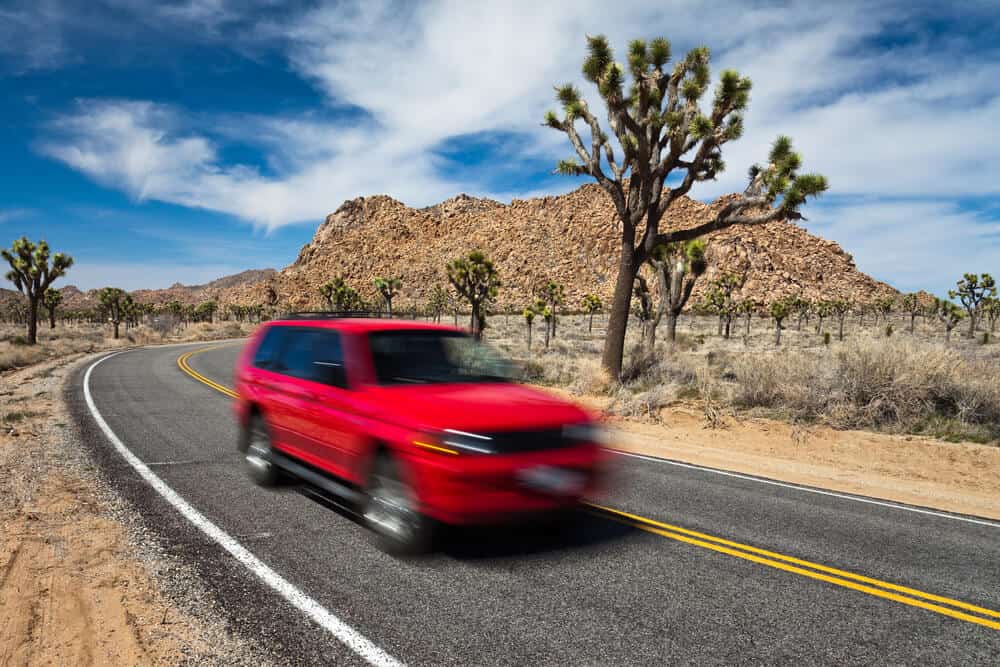 If you didn't make it for the bonus activity, begin your day in the charming town of Joshua Tree.
Before you head straight off into the park, have a slow start to the morning in town to pick up items or snacks you forgot to pack the night before at any of the local grocery stores.
There's also the Joshua Tree Visitor Center in town in case you want to ask rangers any questions before you enter the park.
Don't forget to stop by the gas station and fill up your tank too. This cannot be stressed enough since the park is massive and time is limited. It would be a shame to have to cut your day short because of low fuel!
After all the closed ends are tied away, enjoy a mouth-watering and energizing breakfast at one of the cafes in town, such as Crossroads Cafe, JT Country Kitchen, and The Natural Sisters Cafe that offer classic breakfast staples and open at 7 am or 8 am.
If you aren't feeling any of those, there are also several alternatives in the neighboring town of Yucca Valley.
Alternatively, if you packed a breakfast, the first hike of this itinerary also has a picnic area at the entrance of the trail.
Entering the Park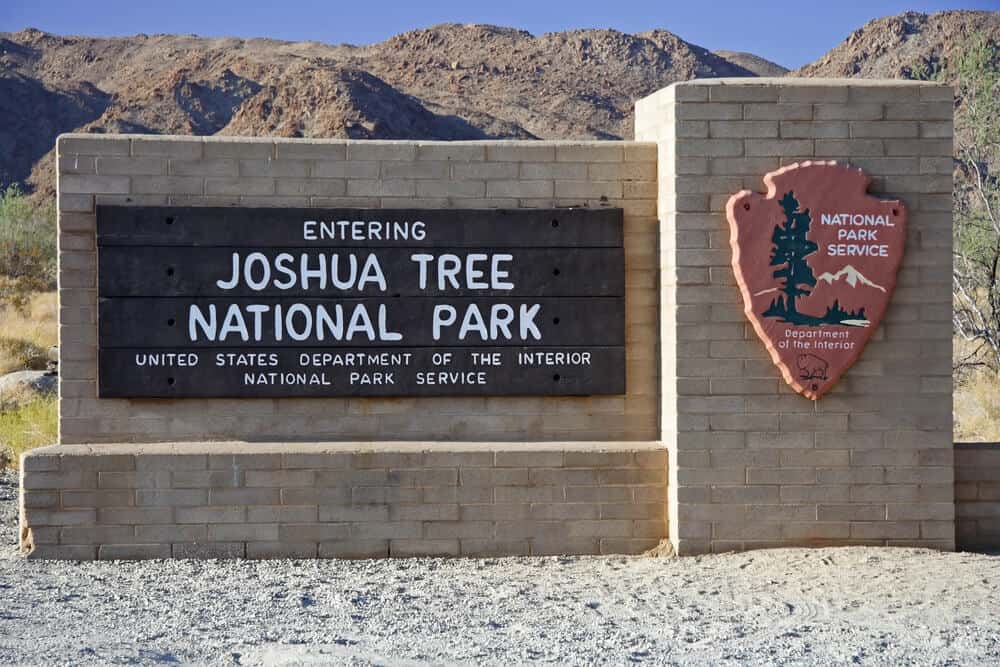 Assuming that you left around dawn and were relatively prepared, you should be starting to visit Joshua Tree National Park around 8:00 or 8:30 AM.
The entrance fee per vehicle costs $35 for a 7-day entrance pass. If you visit several national parks yearly, you might want an annual national park pass like the America the Beautiful pass, which costs $80 per year and can be bought online.
When you enter Joshua Tree, they also should provide you with a map after you pay for entrance.
Pay at the kiosk in the West Entrance where you'll enter from Joshua Tree by driving on Quail Springs Rd, which becomes Park Boulevard once you're inside.
Take Your First Steps on the National Park by Discovering the Hidden Valley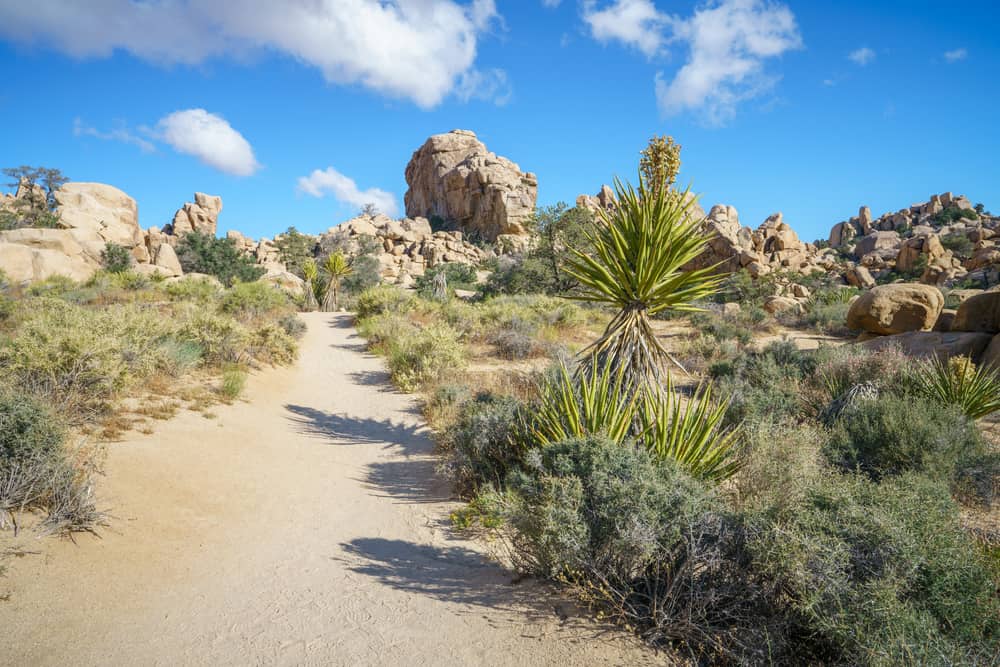 Length: 1-mile loop
Duration: ~ 30 minutes
Drive on Park Blvd and follow signs for the Hidden ValleyPicnic Area that take you south to the parking lot that's in front of the trail.
It should take only about 15 minutes to reach this destination from the West Entrance. Any longer may indicate that you've missed the turn!
(Note: if you packed your own breakfast, there are picnic tables right in front of the parking lot, so you can enjoy your morning feast before you head out.)
Once you've parked your car, you'll find the Hidden Valley Trailhead between two large boulders.
This pathway was man-made by pioneers and cattlemen of the American frontier who blasted through this large boulder to use this area as a hideout to protect their cattle from potential predators.
The trail itself is a relatively flat, easy 1-mile loop, which you can take clockwise or counter-clockwise and should only take about 30 minutes to complete.
You'll be surrounded by large rock formations that encourage you to climb with their deeply set grooves and a variety of flora that are native to the Mojave Desert.
There are placards throughout the trail that help you identify the different desert plant species throughout the trail.
Get creative interacting with the surrounding environment and imagine yourself back in time discovering this valley amongst the protective rock formations.
The latter section of this itinerary breaks off into two options – the first option is better suited for beginner hikers since the trails are shorter, shadier and easier as well as history buffs looking for a taste of the Wild West.
The second option is better for the more avid hikers, those who prefer more intense hikes with incline and the viewpoint chasers.
Option 1: Tracing Back to the American Frontier
Explore the Remnants of the American Frontier History in Barker Dam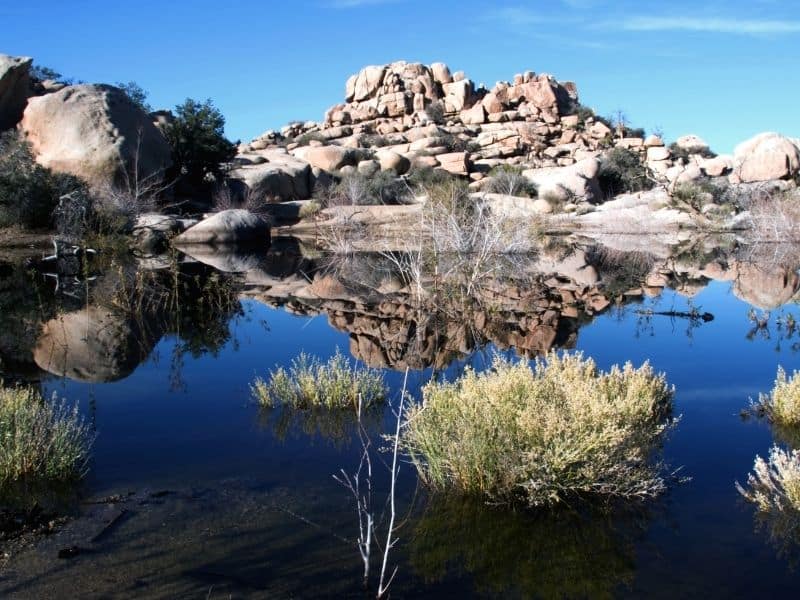 Length: 1.4 mile loop
Duration: ~ 35 minutes
Now that you've stepped back in time to appreciate some of the remnants of the pioneers, follow their footsteps to witness more of the history of these 1800s cattlemen – only a 6 minute drive from Hidden Valley.
Head out of Hidden Valley and drive back onto the main road, Park Blvd, where you'll make a right.
Almost immediately, you'll make a left onto Barker Dam Rd that takes you North of the park and follow signs for Barker Dam trail to find the parking lot.
The trailhead can also be found between two boulders, follow signs that lead the way. Barker Dam is a heavily trafficked and popular trail due to its stunning views of the man-made oasis with clear, blue waters that reflect its stunning environment.
The hike itself is only 1.4 mile loop around a relatively flat trail and should only take you around 35 minutes to complete.
There's some shade along the way and rocks to climb while you look for the best view of this captivating creation that was made for survival of the previous settlers and their cattle, much like the Hidden Valley.
It's amazing what they had to do, isn't it?
Discover Miner History during the Gold Craze at Wall Street Mill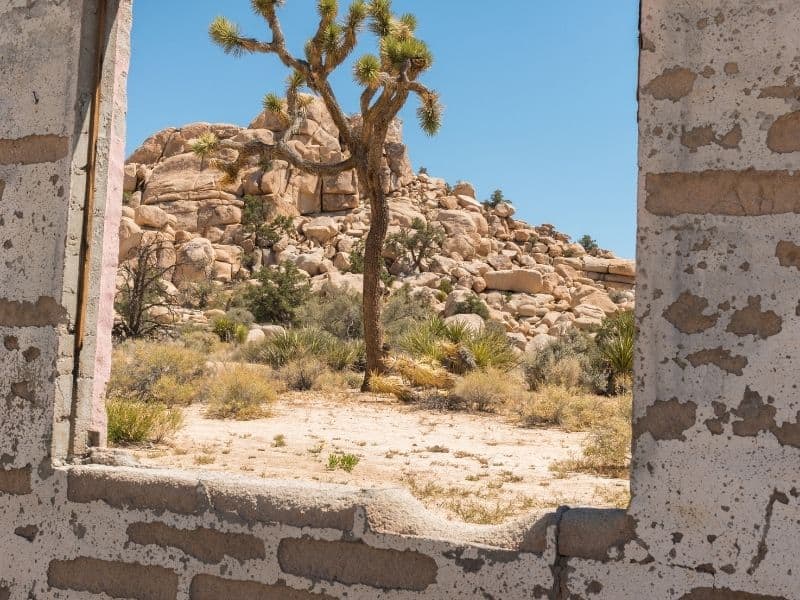 Length: 2 miles out-and-back
Duration: ~50 minutes
A rich part of California's history is the famous Gold Rush, where pioneers headed West in huge numbers to try their luck to strike rich in the search for gold!
Funnily enough, moving to the West to potentially make it is still a common practice today… Hollywood anyone?
The next trailhead is only a brief 5 minute walk, even less away from the Barker Dam trailhead. You can leave your car parked in the location that you did and follow signs for Wall Street Mill after heading back on Queen Valley Rd.
If you need to use the restrooms, make sure to use the ones near Barker Dam parking lot because you won't find any in the next hike.
The Wall Street Mill trail takes you through the Mojave to find a deserted car from the 1900s and mill that was used to stamp and process the raw pieces of gold.
It's a 2 mile out-and-back trail that should take around 50 minutes to complete.
(Note: There's not much shade along the way, so be sure to bring plenty of water.)
Surprisingly, it's also one of the lesser known trails, so it can serve as a nice break from the crowds of Barker Dam.
Option 2: Hike to the Highest Point of Joshua Tree National Park
Bask in the Famous 360 View of the National Park at Ryan Mountain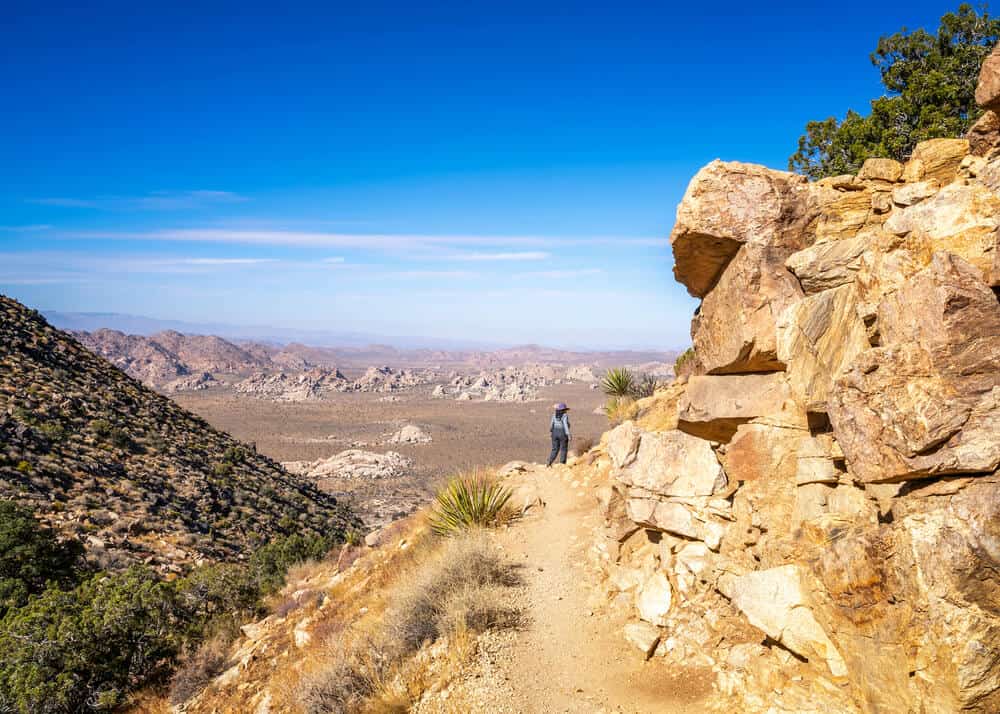 Length: 3 miles with 1,070 ft elevation gain
Duration: ~1.5 to 2 hours
If you enjoy basking in scenic views that allow you to see through great distances or if you're just simply looking to build more strength in your legs, then the hike up Ryan Mountain is the choice for you!
Leave the Hidden Valley trailhead area and find yourself onto the main road of Park Blvd, where you'll make a right. Drive 8 minutes (4.1 miles) and follow signs for Ryan Mountain Trail. The parking lot can be found on the left, but trailhead will be across the street.
Ryan Mountain is rated as a strenuous hike due to the 1,070 ft elevation gain and also due to the lack of shade. If you're going during the summer seasons, make sure you bring plenty of water!
The hike is about a 3 mile out and back trail that takes you to the summit, which offers spectacular views of the park and valleys of inland California beyond. It should take about 1.5 to 2 hours to complete.
It's also best to plan this one on a clear day to take full advantage of the incredible 360 panoramic views that the summit has to offer.
The route itself can be quite steep and involve some light rock climbing and scrambling, but most of the trail is well-paved and offer stone steps in the steep incline.
As one of the most famous trails in Joshua Tree, you'll probably find that you're sharing the summit view with other hikers.
Explore the summit, climb between boulders to find an isolated place that allows you to soak in the view in privacy before you head back around.
(Note: It can get cold and windy at the summit during the fall and winter, so bring an extra layer or two, so you can fully enjoy the views.)
Have a Lunch Picnic and See Beautiful but Bizarre Rock Formations at Split Rock Trail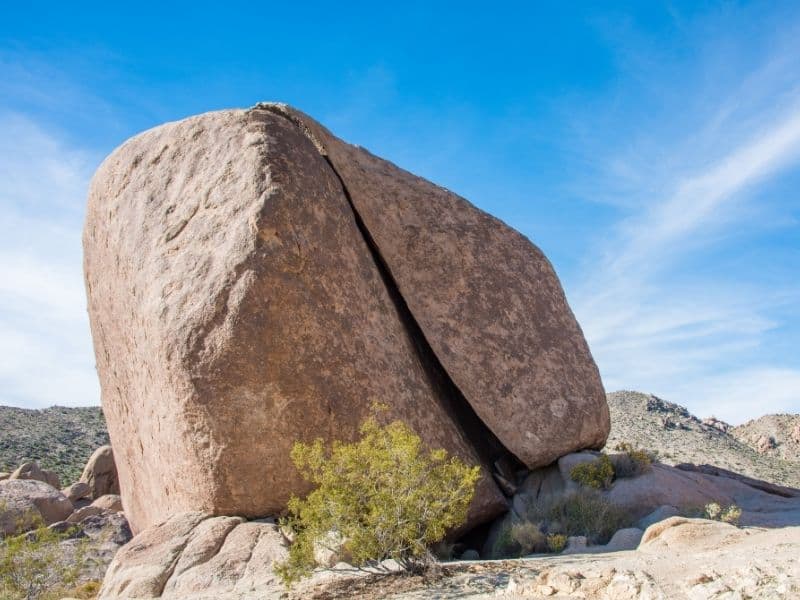 Length: 1.9 mile loop
Duration: 1.25 hours
Regardless of the option you chose, it should be around lunchtime (around 12:00 or 12:30 pm) by the time you're done.
Thankfully, the next destination has a beautiful picnic area to recharge before the next adventure!
From the Barker Dam parking area, the drive takes about 18 minutes. Get back Park Blvd and follow signs for Split Rock Picnic Area, where you'll make a left on Split Rock.
From the Ryan Mountain Parking lot, the drive takes about 12 minutes. Head left from the parking lot to get back on Park Blvd and follow signs for Split Rock Picnic Area, where you'll make a left on Split Rock.
Note: Feel free to stop along the way to take pictures ofSkull Rock, which you'll see on your passenger side.
You won't miss spotting this one – it's an enormous rock that looks like a human skull. There will be a crowd surrounding it as well! It's located near the Jumbo Rocks Campground.
The Split Rock Picnic Area sits before the trailhead of Split Rock Trail and offers a small and serene space to enjoy lunch amongst some of the finest rock formations in the park.
After you've rested and fueled up, find Split Rock Trail, which starts to the left of Split Rock. There are also signs placed to guide you.
Get inspired as you meet the quirky, unique, natural rock formations found along your way.
Some of them bear such a resemblance to faces and animals that you might even start questioning if there truly is a spirit within the forces of nature! (I think so)
If not, it's a fascinating phenomenon that's sure to stimulate your creativity!
One of the most famous is Face Rock, which takes you a little off the main trail, but it adds about an extra 10-15 minutes to your hike. Highly recommend!
Another one you'll encounter towards the end is the Sleeping Turtle…. Adorable!
The length of Split Rock is relatively flat 1.9 mile loop and should take around an hour to 1.25 hrs to complete, depending on whether you decide to see Face Rock.
Because the trail is surrounded by boulders, this is an especially great opportunity to rock climb or boulder, so bring your gear along if that's your thing!
Step Carefully as You Cross into the Colorado Desert at the Cholla Cactus Garden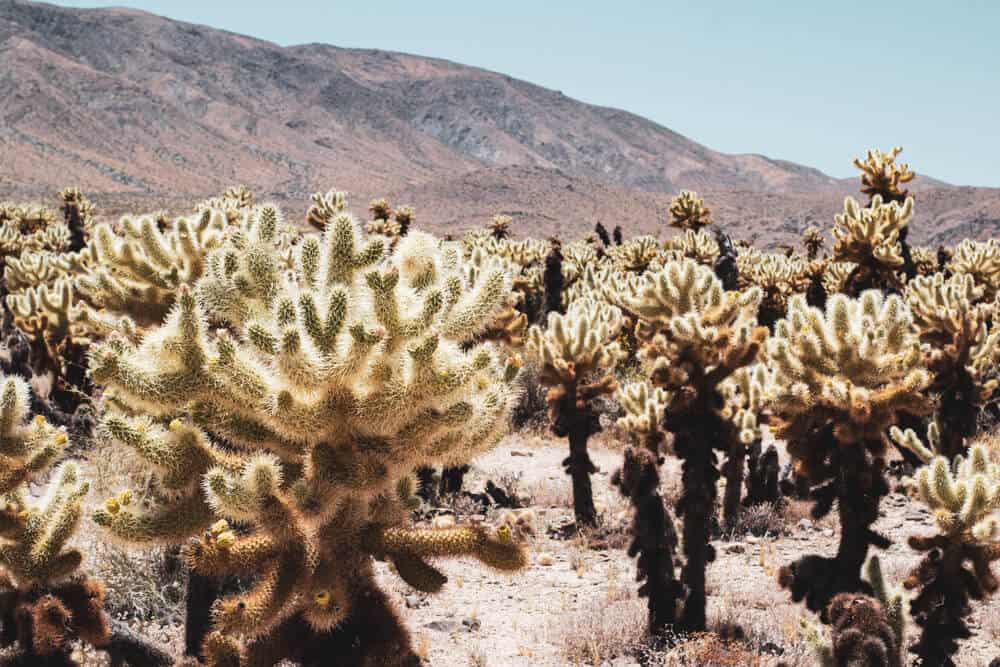 Length: 0.2 miles
Duration: 5 minutes
Note: On your way to the Cholla Cactus Garden, feel free to stop at Arch Rock for a hike to one of the park's most famous rock formations! It's located on Pinto Basin Road between the Skull Rock area and the Cholla Cactus Garden.
This is deemed as one of the most dangerous hikes in the whole national park for the same reason you should visit – the Cholla Cacti (also misleadingly named the Teddy Bear Cholla)!
As adorable as they may be, they are unforgiving – ready to prick at the slightest touch, a characteristic that's essential for their survival!
Just be very cautious and always stick to the trail as their pricks detach and hurt quite a bit. Don't be fooled by their sweet-sounding names; you won't want to give these guys a squeeze!
Only a 20 minute drive from the Split Rock Picnic Area, making a left to head East on Park Blvd. Follow signs for Cholla Cactus Garden that should take you right on Pinto Basin Rd, where you'll find the parking lot.
Though the Cholla Cactus Garden Nature Trail itself is only 0.2 miles long and could take as short as 5 minutes to complete, it provides a surreal and otherworldly experience as it safely guides you through a highly dense area of funky looking cacti.
The area of the garden is unique from others within the park because the land has an abundant amount of water supply that allows these species to thrive in great numbers. It's a spectacular natural phenomenon to encounter!
(Note: This spot is particularly photogenic and is one of our favorite photography spots on Joshua Tree!)
Experience the Joy of Finding an Oasis after a Long Day in the Desert at Mastodon Peak Loop Trail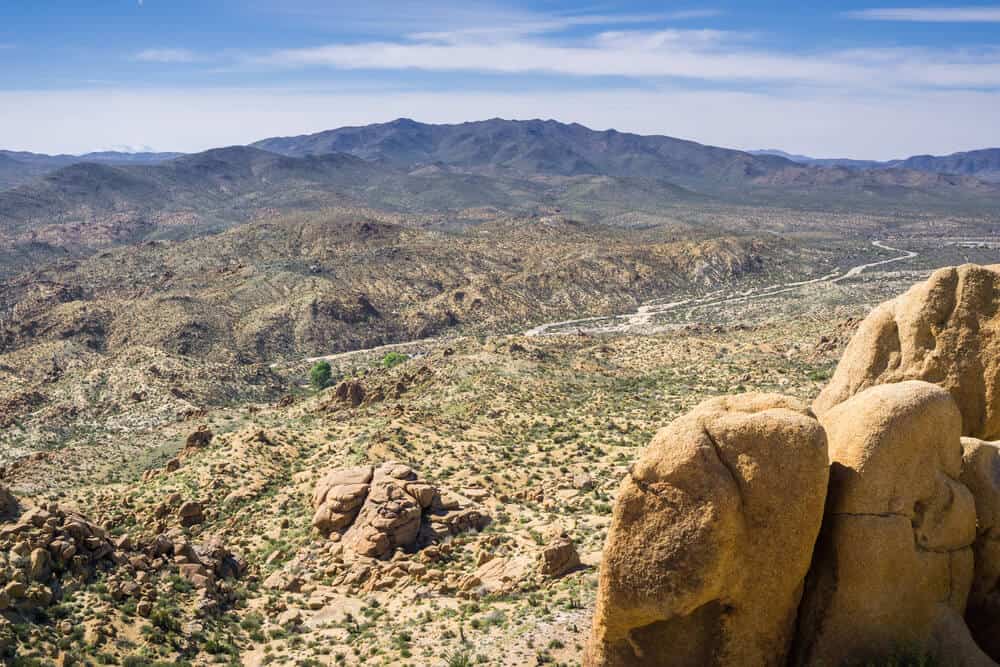 Length: 2.6 miles
Duration: 1.5 hours
Now it's time to dive deep into Colorado Desert away from the Joshua Trees (I know, sad right, but there's more to Joshua Tree than just its eponymous trees).
On this trail, you can witness the incredible existence of desert palm trees over 100 years old, standing healthy and proud.
The next destination is Mastodon Peak Loop Trail, which delivers refreshing views of the Colorado Desert, San Bernardino County, and the San Jacinto Mountains.
It's located on the South end of the national park about 30 minutes from Cholla Cactus Garden.
Similar to the other routes, just get back on Park Blvd and drive 20 miles to turn left on Cottonwood Oasis Spring, where you'll find the parking lot.
(Note: Before you head out, be sure to plan your time accordingly and bring a flashlight in case it happens to get dark on your way back.)
You'll begin your journey on the paved trail for Cottonwood Oasis Spring. After 0.7 miles, you'll see signs that will direct you towards Mastodon Peak Loop.
The trail is 2.6 miles and should take about 1.5 hours to complete, which should take you back just around or before sunset.
The elevation gain is also not as high as Ryan Mountain at about 506 ft, but there are areas in the trail that can be steep.
Wander through enormous desert palms and other exotic, fun international plant varieties, such as eucalyptus, on your way to its primary view.
Being along the South side of national park, it attracts relatively smaller crowds than the other hikes of the day, allowing you to admire the golden sunset and say your sweet goodbyes to the national park in privacy.
If you plan on staying at the summit to admire the sunset, then make sure you pack a flashlight to accompany you for your trek back to the car as it gets extremely dark.
Close off the Night Under the Infinite Sky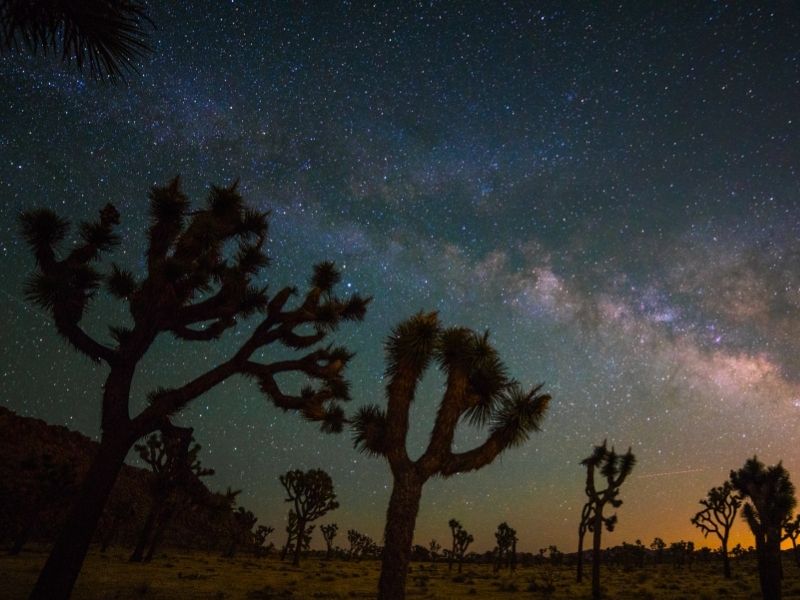 Once you've arrived back to your car at Cottonwood Springs, drive into its campgrounds to find a dark place to park.
Alternatively, drive along the Park Blvd to find the nearest turnout point where you can safely park on the side of the road. They are scattered throughout the park.
The South side of Joshua Tree is renowned for their pitch-black skies and majestic views of faraway galaxies and the Milky Way!
If stargazing is an activity that's on the top of your bucket list, then be sure to plan your trip on a night on during a New Moon and clear skies, so there's no moonlight or clouds to obstruct the enchanting rays of the stars.
The best season to catch the Milky Way is the summer and early fall (June-September) where the Milky Way is out during the whole night.
During April-May, it starts revealing itself around midnight! And it rarely makes an appearance during the months of October-March, so keep that in mind.
Either way, Joshua Tree National Park proudly wears its reputation for offering one of the darkest skies and best locations for stargazing in the whole state of California. Don't miss out!
After you've fully absorbed the magic and energy of the glittering night sky, head South on Park Blvd to exit out of the South Entrance, where you can easily find the 10 W back home.
Options for Staying Overnight Near Joshua Tree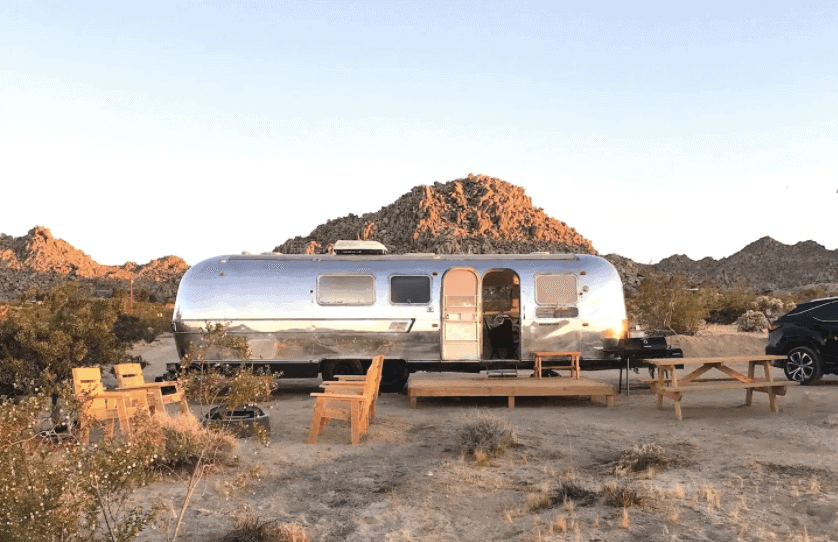 There are many options for where to stay in the Joshua Tree area if you choose to visit as an overnight trip instead of just a day trip.
There are tons of glamping options all over the Coachella Valley — here is a guide to glamping options near Joshua Tree.
You may also want to stay in one of the awesome Airbnbs/VRBOs/vacation rentals you can find in Palm Springs.
They offer a fantastic desert escape mixed with beautiful architecture and wonderful amenities like pools and hot tubs
Of course, there are also a number of campgrounds in Joshua Tree — White Tank Campground, Cottonwood Campgrounds, Jumbo Rocks Campgrounds, etc.
Some are only reservable in advance through the NPS website (and they book up early!), whereas others are first-come, first-serve.