Considering the fact that you are reading this right now, it is safe to say that you have decided on a Southern California road trip so let me just start by saying, great choice!
In reality, there is no such thing as a bad road trip in California, but with so much to explore, it only makes sense that you find a way to optimize your time. That's where I come in!
I have made this journey many a times and to be frank, I have mastered the art of planning the perfect Southern California road trip itinerary!
So if you want a trip that encompasses everything that makes SoCal great, you have come to the right place.
From SoCal's many beachfront cities to its endless opportunities for outdoor exploration, this will be one of the best road trips you'll ever experience — and I say that with the utmost confidence.
So what are you waiting for? It's time to start planning! 
Your Southern California Road Trip Itinerary
Los Angeles 
Note: This post contains affiliate links, which earn me a small commission at no extra cost to you if you make a purchase using one of these links. Thank you for supporting this free content!
If you are planning a Southern California road trip, there is a pretty good chance that your journey will start at LAX (aka the largest airport in the state) so you might as well make the most of it!
Besides, you would really be doing yourself a disservice if you decided to hop in your rental car and flee south immediately. 
I mean, Los Angeles is literally the staple of California! No trip to the state would be complete without exploring some of its most popular attractions.
So grab yourself an In-and-Out burger (it's tradition, really), put on your tourist pants, and head out on the first of many adventures. 
Step one, check out the Hollywood Sign. Obviously. This is probably the most touristy thing you will do on your trip so you might as well embrace it.
Plus, there are a variety of short hikes that provide optimal viewing and it makes for a great way to stretch your legs after a long flight.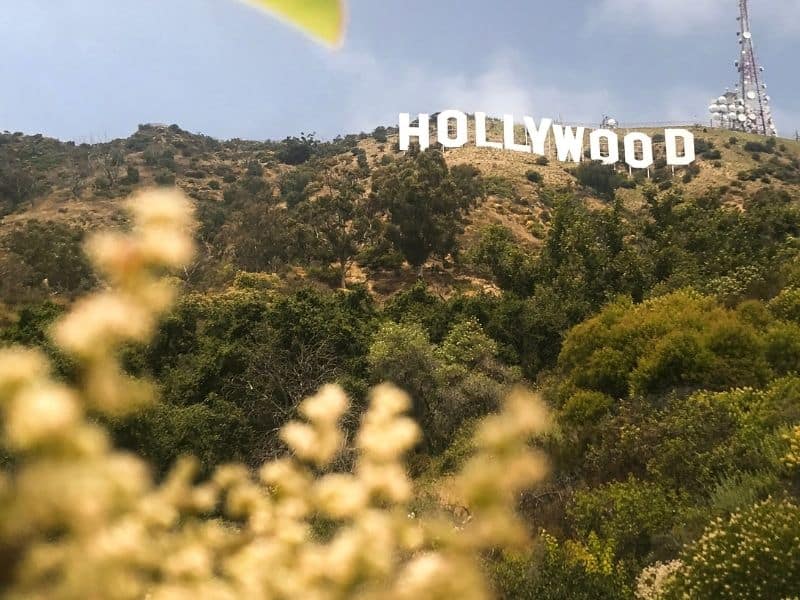 The most popular viewpoint is at the Griffith Observatory which also happens to be a classic L.A. destination in itself.
So if you are looking for the most strategic way to see the most of the city in one day, you should definitely go with this option.
Then do yourself a favor and head right to Venice Beach because who are we kidding?
You came to California dreaming of sandy shores and laid back vibes. Well, that is pretty much the definition of Venice Beach!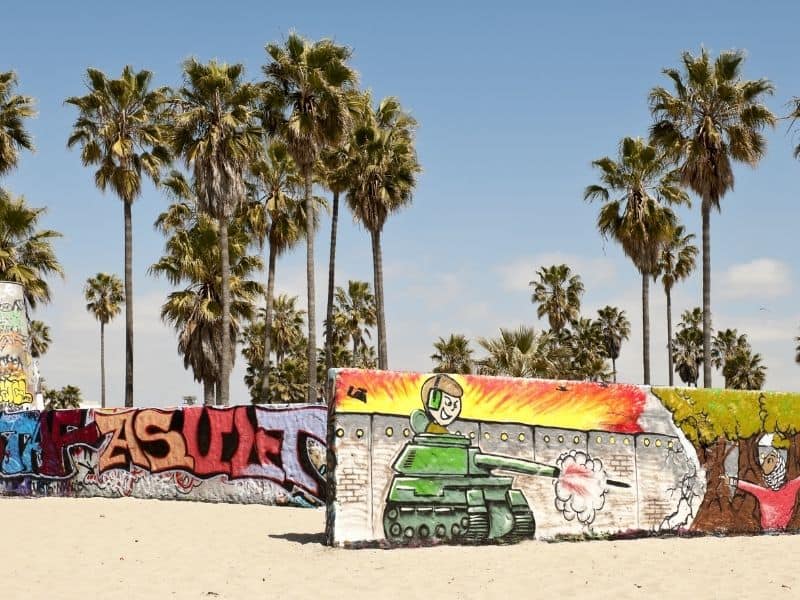 As long as you add in local musicians performing on the streets, artwork on display everywhere you look, and a strip of beachfront stores selling just about anything you can think of. 
It's a great place to deplete your social meter because once you head out, you'll be on your way to one of the most remote parts of California (and I mean that in the best way possible).
Death Valley National Park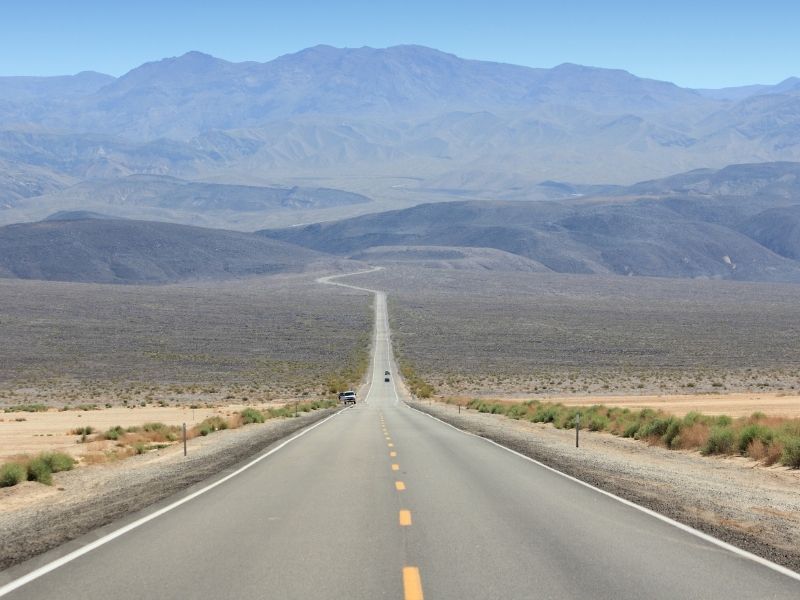 One of the most mesmerizing things about California is that it is home to a number of drastically different landscapes and Death Valley National Park is a prime example of that.
You can be staring out at a sea of sand dunes in one minute and walking amongst towering badlands the next.
From salt flats to mountain ranges, Death Valley is a traveler's dream!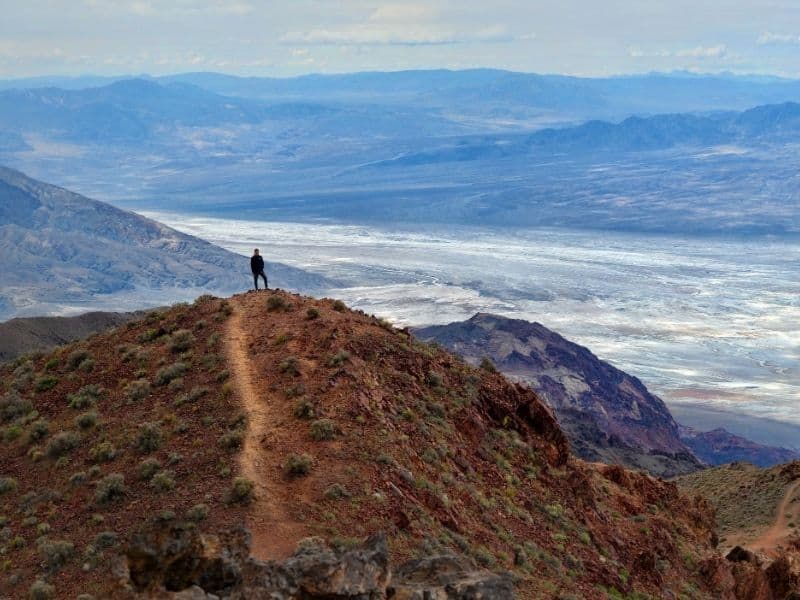 This national park is often forgotten about for reasons that I will never understand.
It easily ranks in my top five (which is saying something) and it is not just because the crowds are minimal…. although it definitely helps!
I mean I get it, the name Death Valley doesn't exactly have a ring to it but it is not every day that you get to visit the driest place in the country, the lowest point in the continent, and the hottest place in the world… all in one place.
Just remember to bring plenty of water and wear proper sunscreen…. And maybe try to avoid planning your trip during the summer months. 
(Editor's note: Like, really avoid this. As someone who drove through in July, I don't recommend it at all. There are lots of switchbacks and mountain passes where you'll need to turn off your air conditioning or risk overheating your engine, and a trying to arrange a tow out in Death Valley where phone service is minimal seems as hellacious as the summer temperatures.)
Death Valley is also the largest national park in the continental United States so the recreational opportunities are endless (think hikes, viewpoints, offroading, etc).
Sure, this means that you won't be able to see all of what the park has to offer during your visit but look on the bright side, it gives you a reason to come back!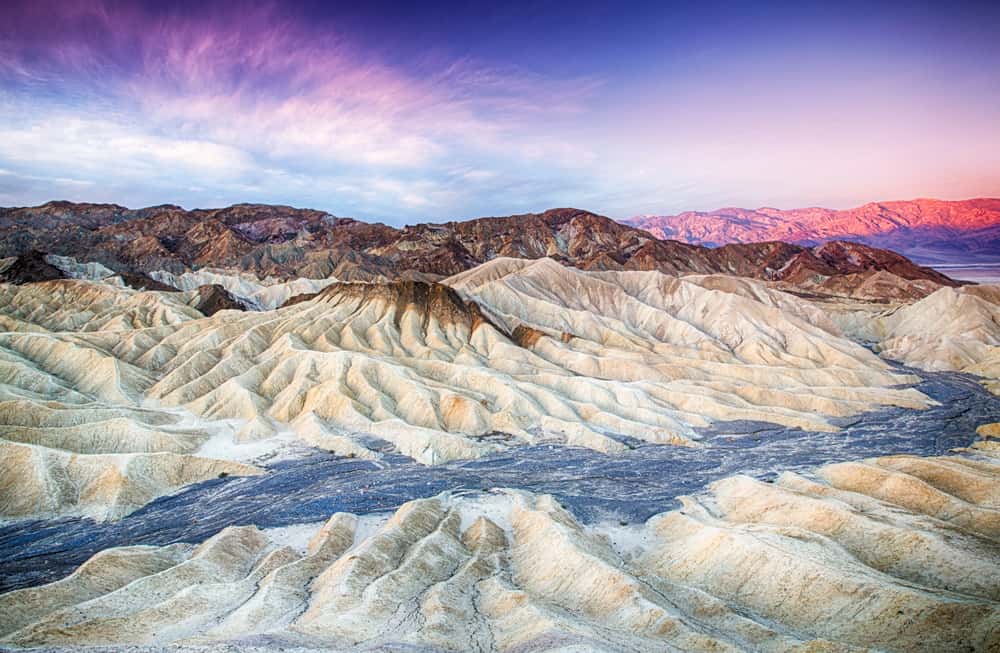 A few of the places we recommend most highly are the Mesquite Flat Sand Dunes, Badwater Basin, and Zabriskie Point.
For more recommendations on Death Valley, check out the best things to do and either our one-day or our two-day Death Valley itinerary.
Need a place to spend the night? You'd be surprised by how many different accommodations are available right in the park, ranging from luxury suites to scenic campgrounds, and most of them are fully equipped with bars, restaurants, and more! 
And of course… air conditioning.
Side trips: Check out Red Rock Canyon State Recreation Park on your way to Death Valley to give yourself a break from driving.
If you have some extra time on your hands, cross over into Nevada to visit exciting sites like Area 51 and the Ash Meadows National Wildlife Refuge.
Tecopa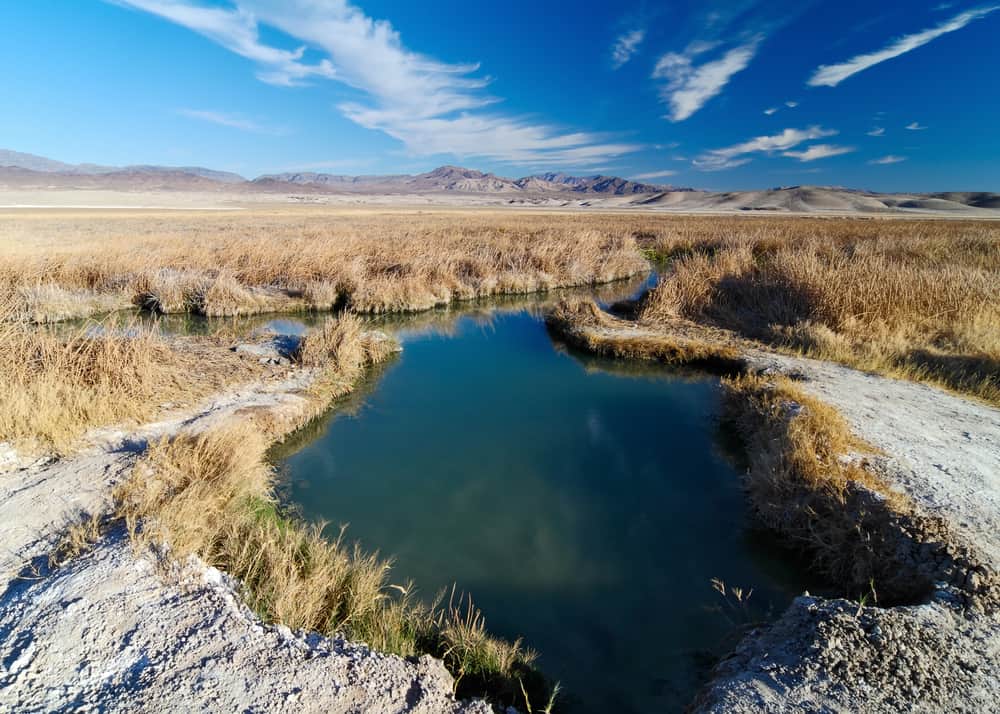 After spending so much time in isolation, a transition back into civilization will be in order and there is no better place than Tecopa to get the ball rolling.
Located along the southern edge of Death Valley, Tecopa has a population of less than two hundred people and is usually just used by travelers as a gas-up point. 
But anyone who has taken the time to explore some of this quaint little town knows that it is home to one of California's natural gems — hot springs.
Everybody loves a good hot spring and if you aren't smiling ear to ear at the thought of it, then you clearly have never been to one! 
I could go on and tell you the science behind the water but the bottom line is that it will make you feel great…. especially after a day of hiking and driving!
So just do yourself a favor and make the stop. Your body will thank you. 
Side trips: Since you'll be feeling rejuvenated after a day of soaking, you may be up to exploring some nearby attractions before heading to your next destination.
The South Nopah Range Wilderness Area is a great option for hikers and the Kingston Range Wilderness is an ideal location to spot native wildlife. 
Mojave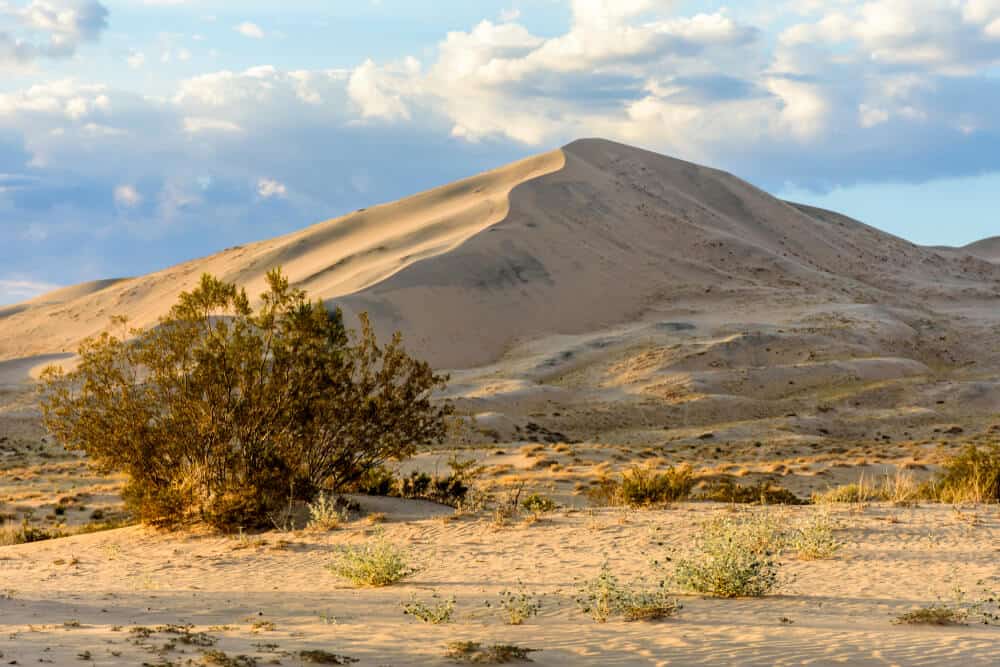 During my last Southern California road trip, I decided to stop at the Mojave National Preserve not really knowing what to expect but just really needing to stretch my legs.
And let me tell you, I was amazed! I could have stayed there all day and probably would have even set up camp if I had brought my tent along for the ride. I am talking about ultimate hidden gem status! 
For starters, there are plenty of hiking trails and even the popular options see very little foot traffic. (And I even wrote about them here)
A personal favorite of mine is the Hole-in-the-Wall trail (even if it did make me realize that I really need to work on my upper body strength) because you get to see a variety of interesting geological features and challenge yourself to climb up between a slot canyon using metal rings.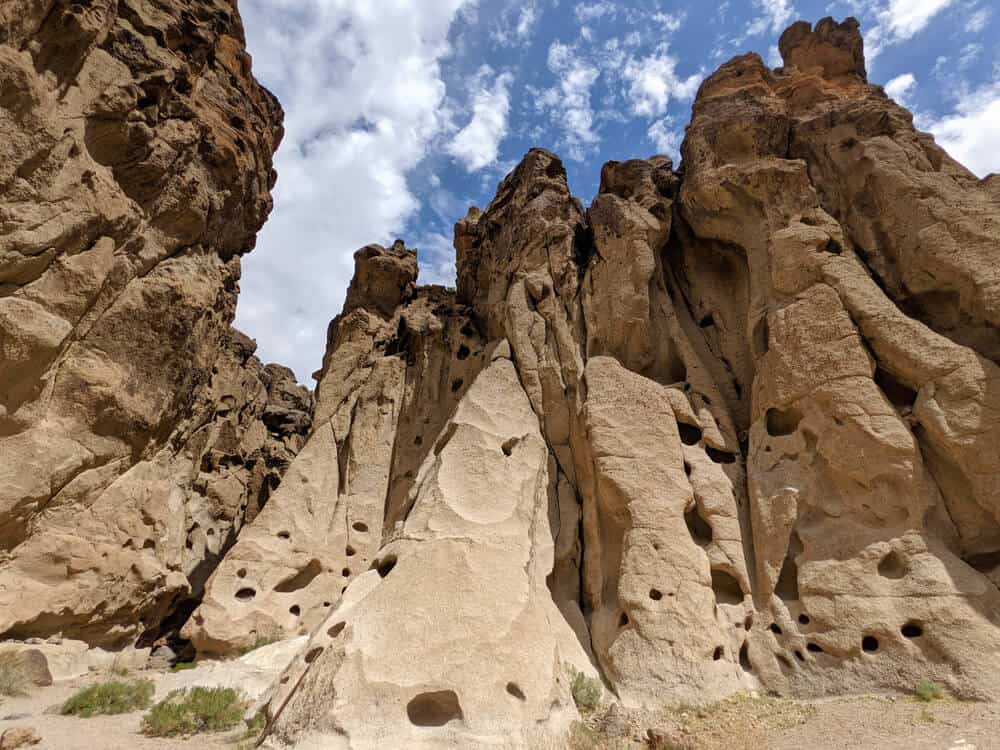 And I didn't even make it out to the more remote parts of the preserve where trails like the Lava Tube are said to be a photographer's dream!
Even when you are not hiking, there are plenty of other awesome things to do here. There is pretty much a backcountry road everywhere you look and you can spend the entire day just driving around taking in the sights.
Not sure if it was pure luck or if it just so happens to be their favorite place but we saw a road called Wild Horse Road and decided to take it because who wouldn't want to see a herd of these majestic beauties?
And lo and behold, after just a few minutes on the road we were greeted by more than a dozen wild horses and their trusty donkey buddy! Definitely the highlight of my trip. 
But it didn't stop there! The more we traveled through the area, the more wildlife we saw like a field of wild cattle and their calves. As a fellow animal lover, I was in my glory.
And I haven't even gotten around to talking about the Kelso Sand Dunes which deserve an entire rave of their own. Again I say, ultimate hidden gem status. You're welcome. 
Side trips: And just when you think this place can't get any better, you'll be blown away by the variety of nearby locations that can easily take your trip to the next level.
Hollow Hills Wilderness is like a Mojave National Preserve in training, Cima Road is the gift that keeps on giving, Kelso is literally a ghost town, and Amboy Crater is a work of art. 
Joshua Tree National Park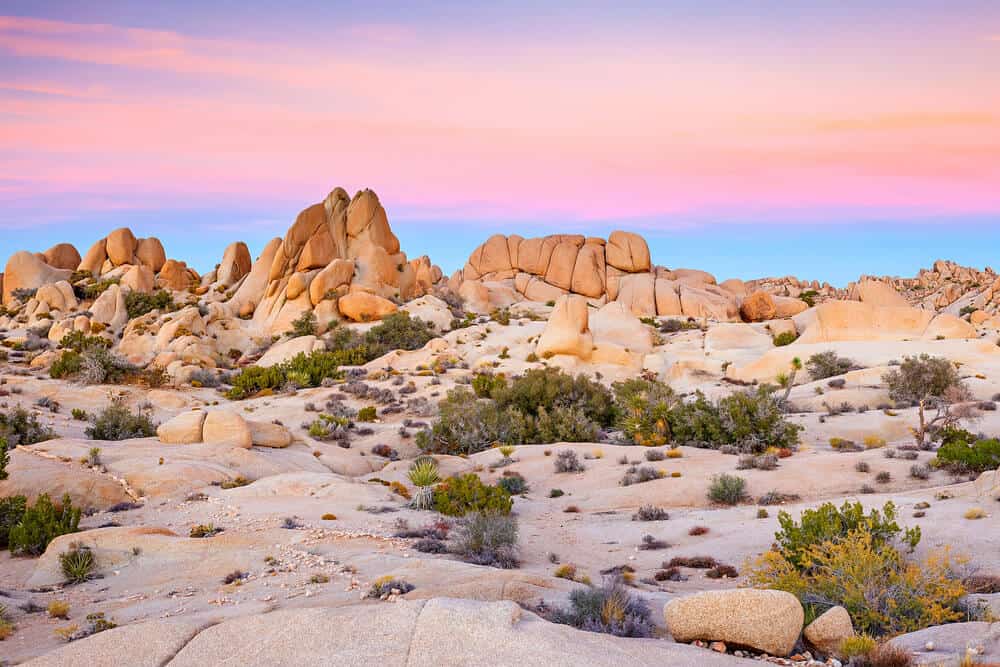 Now that you have gotten a taste of California's desert, it is time to see what other interesting features SoCal has in store for you.
Joshua trees, the answer is Joshua trees. 
You don't have to be an expert on trees to pick a Joshua tree from the bunch!
Just look for the strangely formed, somewhat ugly tree that almost looks like a mutilated cactus. (I'm kidding, sorta.)
But ironically, that's the beauty of it. It's a tree — well, a succulent, really- that has made its way to fame because of its odd appearance and now there is an entire national park dedicated to them!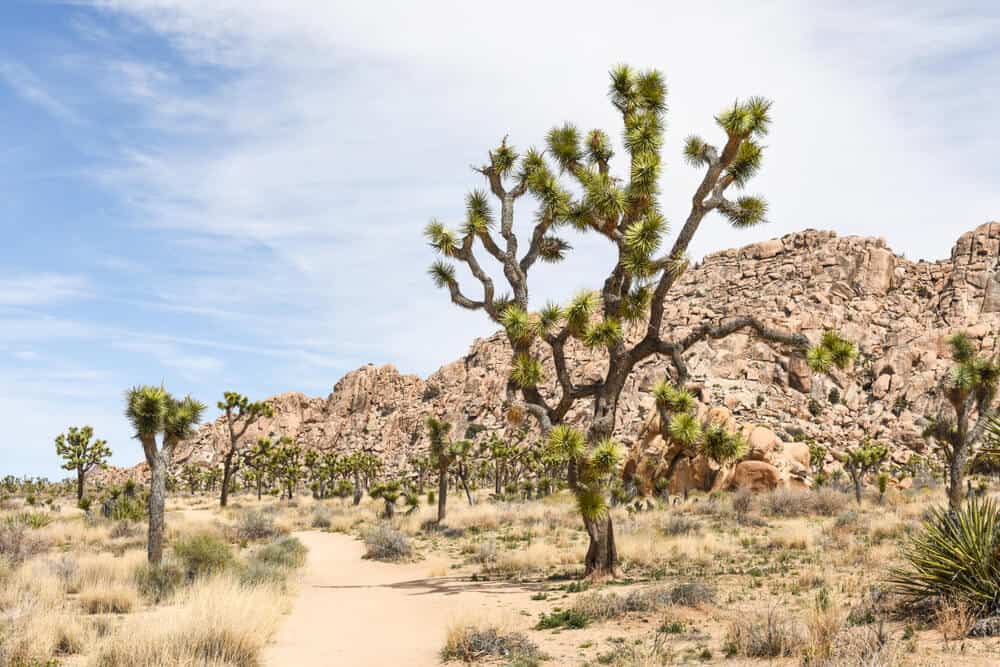 But Joshua trees aren't the only thing you'll find in this national park. There are plenty of reasons to love this place but my personal favorite is the rock formations (and the bighorn sheep that frequent them). 
Let your imagination run wild as you stare at towering formations that oddly resemble figures like skulls, elephants, and more.
Plus, you'll have the opportunity to dive into some history thanks to the many ruins that call the park home.
From mining camps to homesteads, Joshua Tree National Park gives travelers a taste of what life was like in Southern California centuries ago.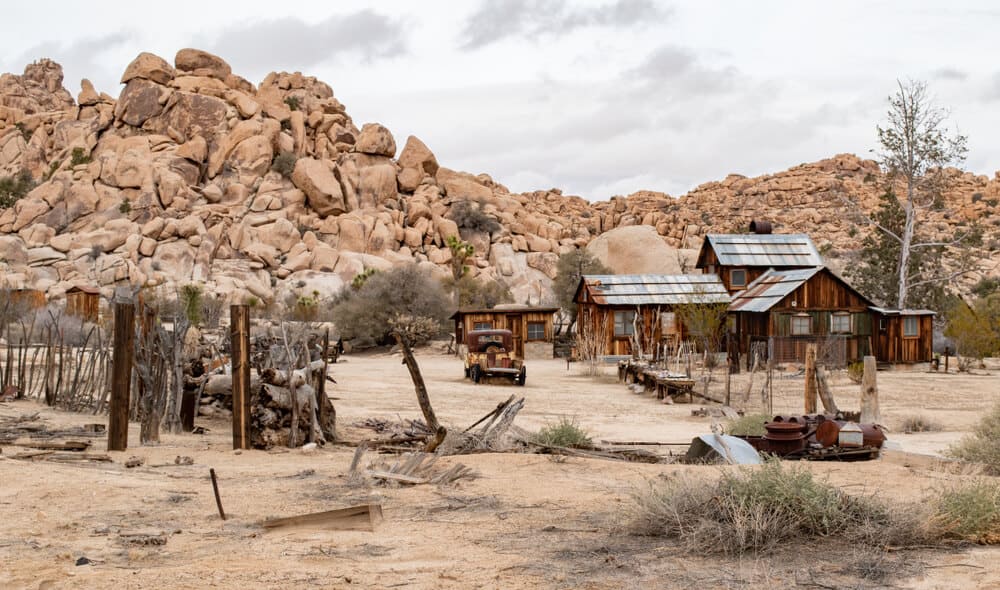 And when you are not hiking out to ruins or scrambling up rock formations, you can be admiring the snow-peaked mountain range out in the distance (yes, it snows in Southern California!). 
Just make sure to wear a good pair of hiking shoes because you'll find yourself on your feet more often than not (the views have a way of pulling you out of your car).
And always come prepared with more water than you think you'll need because let's be real here, you are in the middle of the desert!
For more tips on Joshua Tree, read our guides on things to do in Joshua Tree, our one day in Joshua Tree itinerary or our two-day Joshua Tree itinerary, and our guide to hiking in Joshua Tree!
Side trips: I wouldn't blame you if you wanted to designate all your time exploring the many wonders Joshua Tree has to offer but you should probably know about some of the other awesome opportunities in the area.
Desert Hot Springs has, well, hot springs. Coachella Valley is more than just a yearly party destination and Pioneer Town will transport you back in time. 
Palm Springs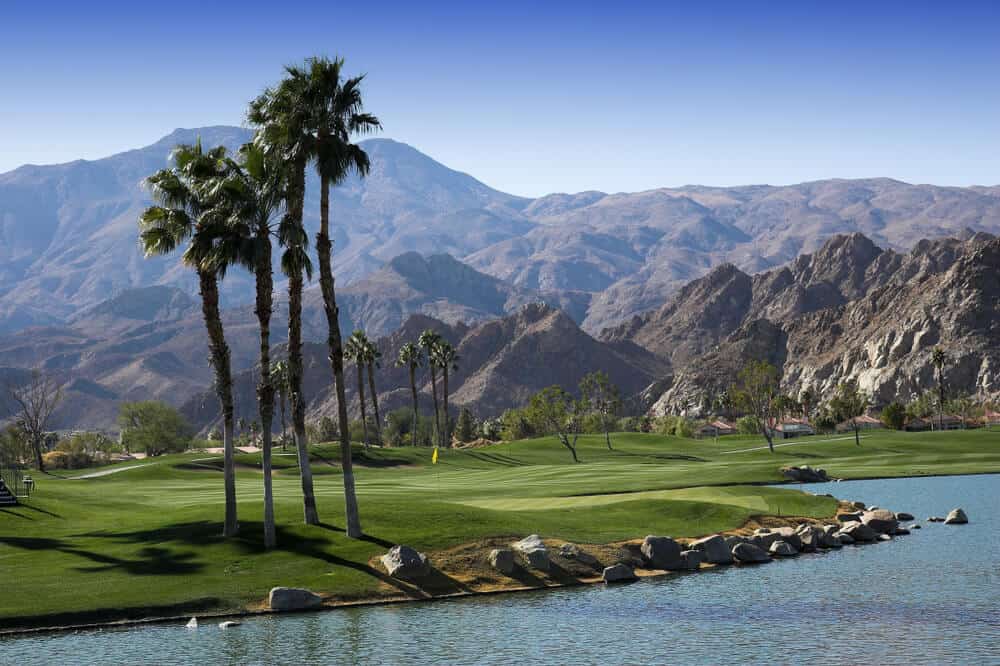 Palm Springs and Joshua Tree tend to go hand in hand but what many people don't realize is that the national park is just one of many fun things to do here!
Besides, your body may be needing a bit of a break after all of the adventuring you've been doing… and rejuvenation is this city's middle name! 
There is a reason that this place is one of the hottest destinations for celebrities looking for a weekend to escape their busy lives.
The beauty is unmatched and every attraction you see is designed with relaxation in mind!
So whether you are hanging back at the hotel pool or playing a round at the golf course, you are bound to have a smile on your face. 
But if relaxing on vacation just isn't your style, which I totally get, Palm Springs has a few exceptions to the rule just for you.
Nearby hiking trails will take you to highlights like waterfalls (in the middle of the desert!!) and the aerial tramway is your ticket up to the San Jacinto Mountains.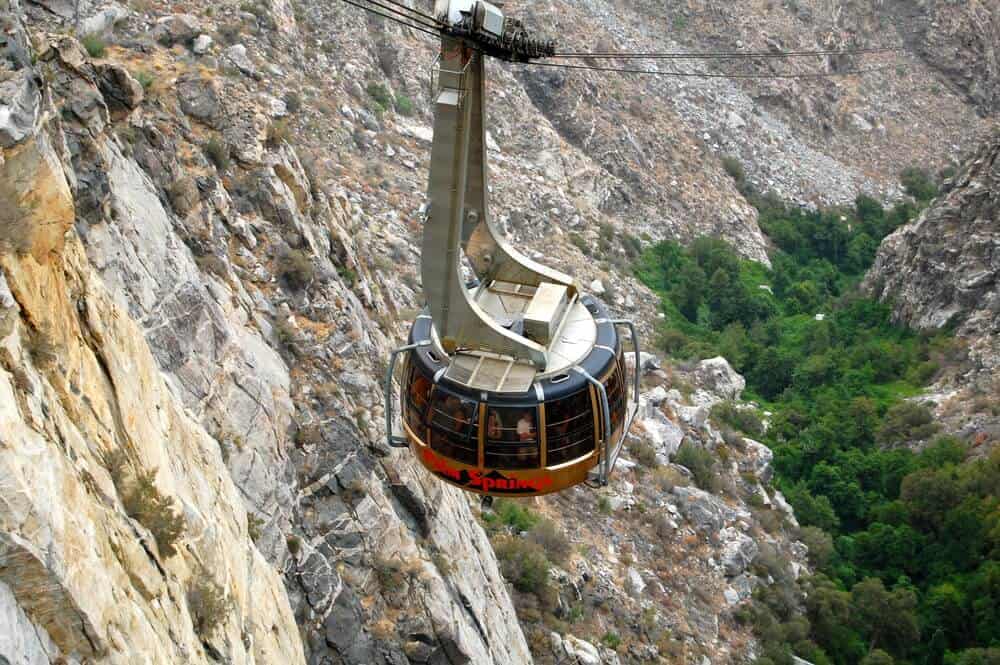 Plus, there are plenty of museums, and even a zoo that lets you feed giraffes, so there isn't a shortage of things to do in Palm Springs. 
Just don't underestimate the food scene here. Although the city appears to be completely carefree, they take their cuisine very seriously.
So the bottom line is that you will be faced with many hard decisions on where to eat but frequently rewarded with delicious options and stellar views.
That's right — you won't find a restaurant without a picturesque outdoor patio and many even encourage you to bring your furry friend along for the ride!
We have guides on where to stay in Palm Springs as well as a Palm Springs itinerary if you want more information on what to do while here.
Side trips: When you aren't poolside, you can be checking out nearby highlights like the luxurious Rancho Mirage, adventure-packed Mt San Jacinto State Park, and the popular Cathedral City.
Anza Borrego State Park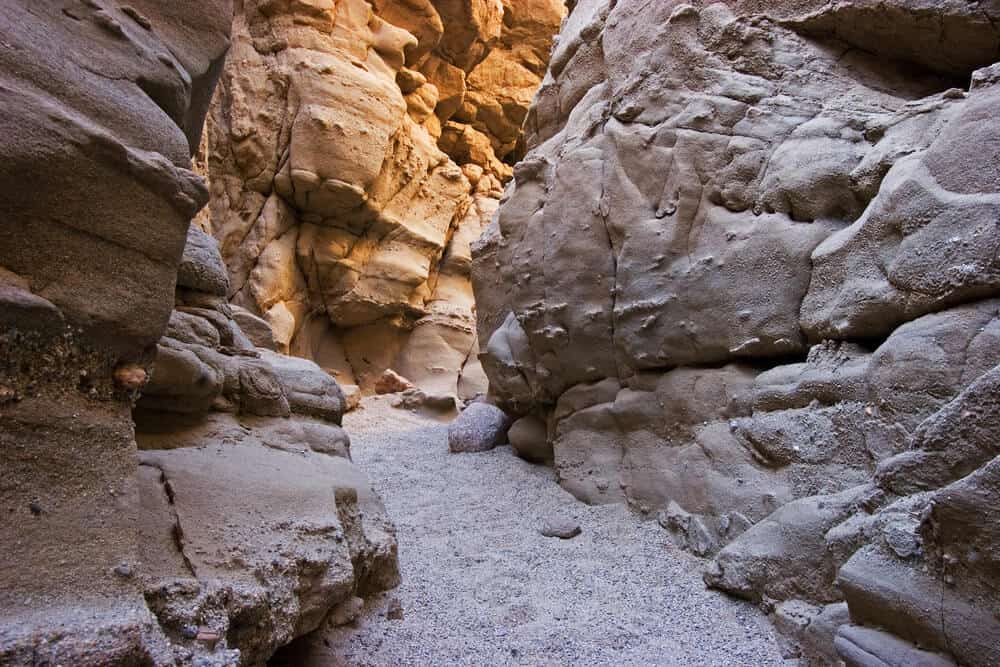 Visiting the largest national park in California is enough to rave home about but also visiting the largest state park in the same week?
Friends and family beware, because you may never stop talking about this road trip through Southern California!
Most people immediately associate Anza Borrego with its scrap metal artwork and who can blame them?
More than one hundred larger than life sculptures bring the desert to life with famous additions like the sea serpent begging for you to take its photo. The sculpture park alone is an Instagrammer's dream! 
While this alone is enough to warrant a visit, you should know that the park has so much more to offer (which is to be expected considering its the largest state park in the continental U.S.)
Its grand size allows for endless opportunities for exploration… not to mention the fact that, even with the more than one hundred thousand visitors it sees each year, it never feels crowded.
And it just so happens to be one of everybody's favorite words — free. From the camping to the interpretive programs and everything in between, you never have to reach for your wallet. Well, almost!
There are a couple of popular day-use areas that require a small payment but if you plan your trip out right, you can avoid them altogether while still making the most of your time. Can't beat it, amirite?
Actually, you can. Anza Borrego is also home to the natural wonder that is California's wildflower blooms.
Every spring in California, the park transforms into a wonderland of vibrant colors as a variety of flowers and cacti bloom for the season. It's a real sight to see!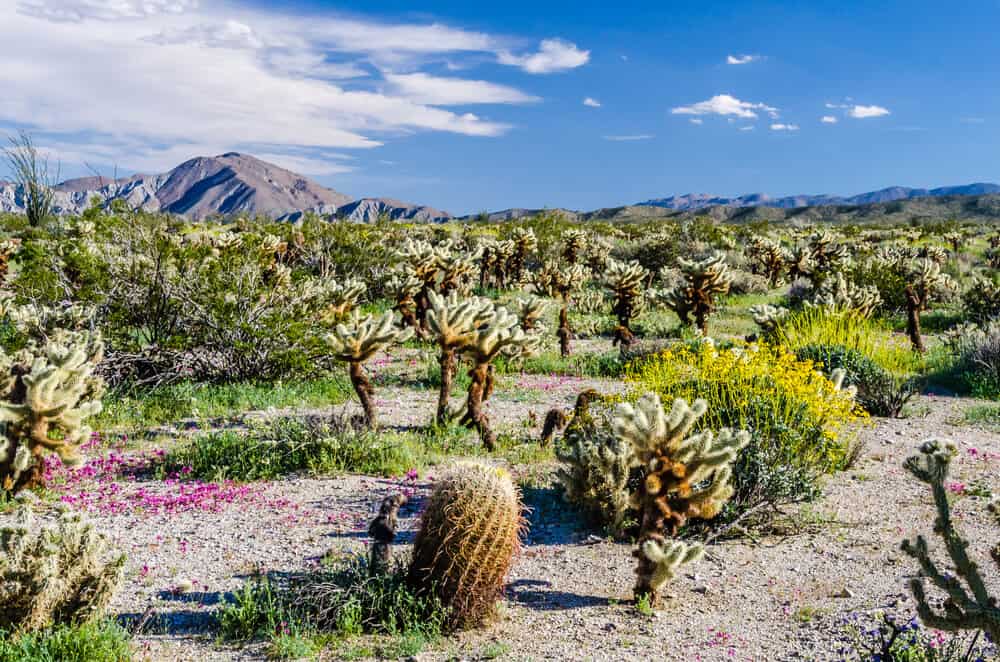 But even if flowers aren't your thing (although they very well might be after your visit here), you will still have plenty of exciting things to do and see (and hikes to take!)
We're talking one slot canyon after another, wildlife galore, and a night sky that'll leave you speechless (it is one of the best places for stargazing in California, as it is an International Dark Sky Park!)
Side trips: There is just something about artwork in the middle of the desert that draws people in, so if you've enjoyed what you've seen in Anza Borrego, then you have to check out its quirkier little sister — Bombay Beach near the Salton Sea.
Some other fun options include navigating through old mine tunnels in Julian and exploring the Arroyo Tapiado Mud Caves. 
San Diego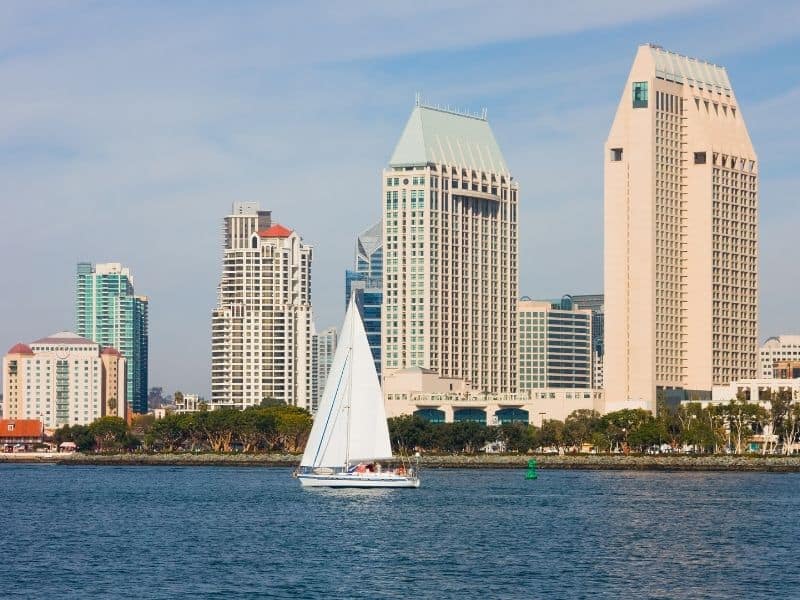 San Diego is the California city that will always have my heart!
It could be because of the countless sandy beaches or the many charming neighborhoods or even the epic food scene, but who knows? All I know is that I could stay here forever. 
The more time you spend here the better because there are so many things to do and not nearly enough time!
If I am being completely honest, I don't even know where to begin with my recommendations.
Should I start with the astonishing rugged cliffs and picturesque waterfront that make up the Torrey Pines Natural Reserve?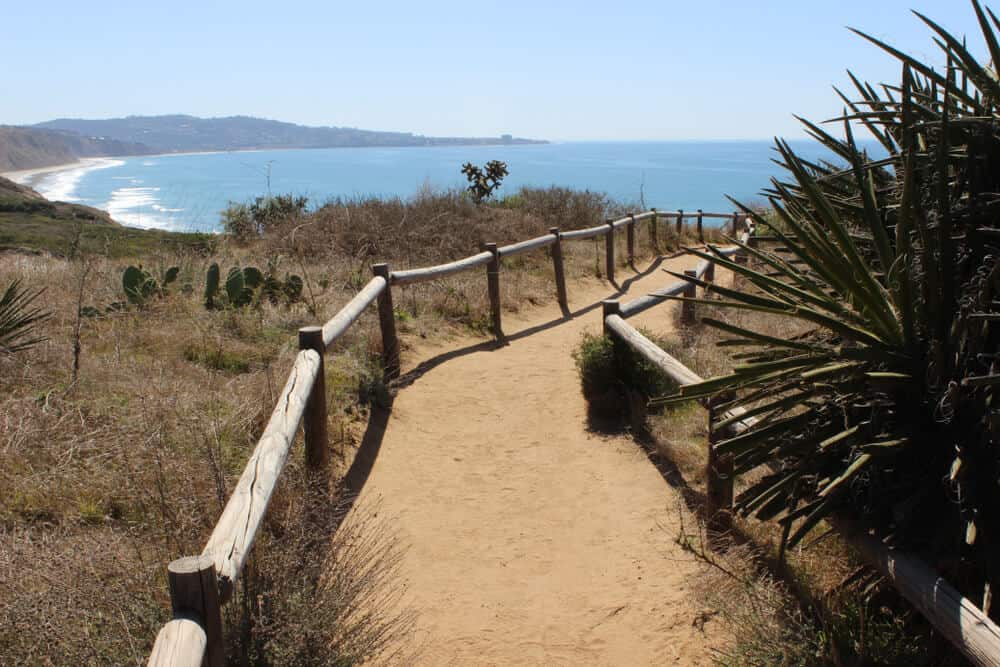 Or should I gush over the colony of sea lions that hang out in La Jolla?
Or how about I fill you in on the killer nightlife scene over in the Gaslamp District? 
Oh, I know. I should probably tell you about the heart of the city — Balboa Park.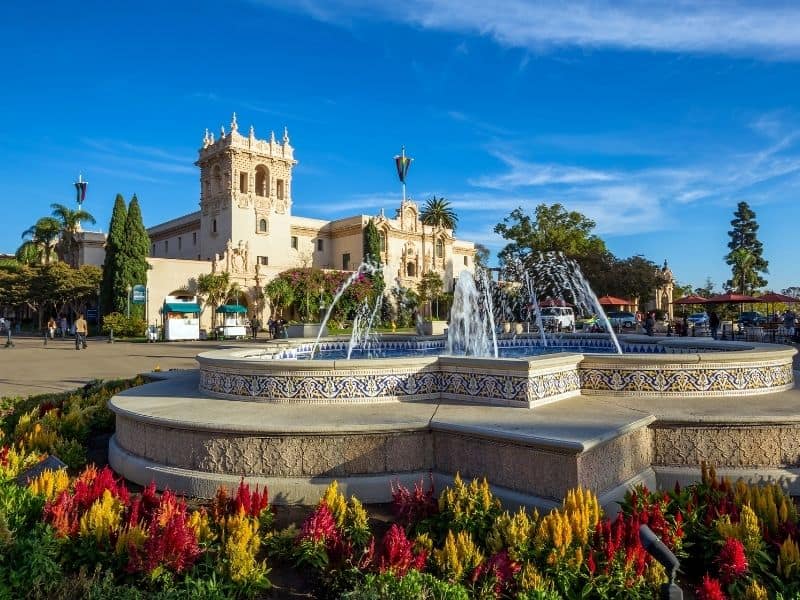 Stretching out over one thousand acres (larger than Central Park!), you can spend the duration of your time here just exploring the park alone and still never see it all.
With nearly twenty museums, a variety of restaurants, a collection of scenic gardens, plenty of seasonal festivals, and the world famous San Diego Zoo, Balboa Park is an absolute must during any (and every) visit to the city. 
But just don't forget to save time to hangout on the beach because there is no better place to sit back with a cocktail in hand.
There is a reason that this place is known for its sandy shores so even if you pick one of the 30+ beaches at random, you'll be guaranteed a great time (and an epic view).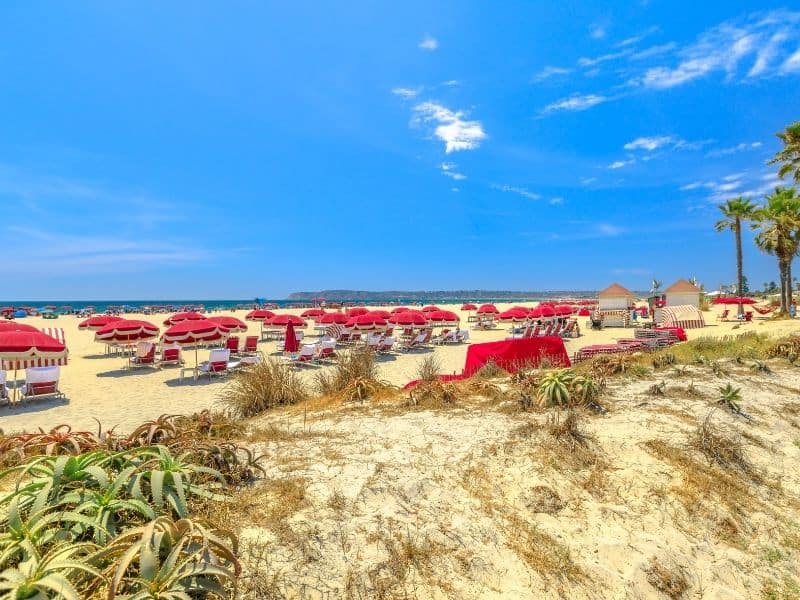 And of course, as a fellow foodie, I feel obligated to give you the inside scoop on the food scene.
As I was saying before, San Diego is home to a variety of neighborhoods and each specializes in their own form of cuisine.
Craving Italian? Head to Little Italy. Got Mexican on the mind? Old Town San Diego will have your fix. Looking for seafood and a view? La Jolla has got your back. 
We have tons of content on San Diego, including romantic things to do, things to do at night, a one-day itinerary, a two-day itinerary, as well as San Diego photo spots.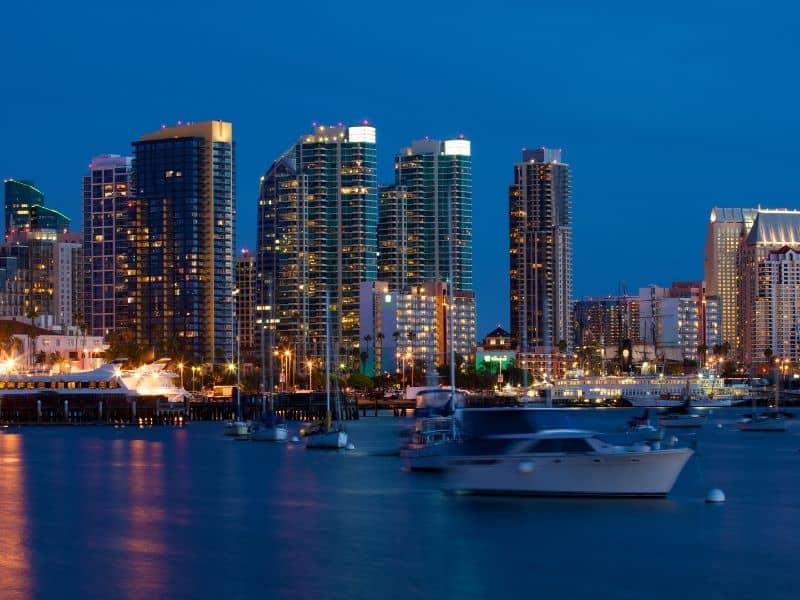 Side trips: If you can manage to pull yourself away from San Diego, you'll have plenty of fun side trips to choose from.
Head to Cardiff by the Sea for a quieter beach scene and the world's best donut (but that's a story for another day), Tijuana to get a taste of Mexico, or Temecula for all the wine you can drink and perhaps a hot air balloon over the vineyards if you're fancy.
Other Places to Consider for Your SoCal Road Trip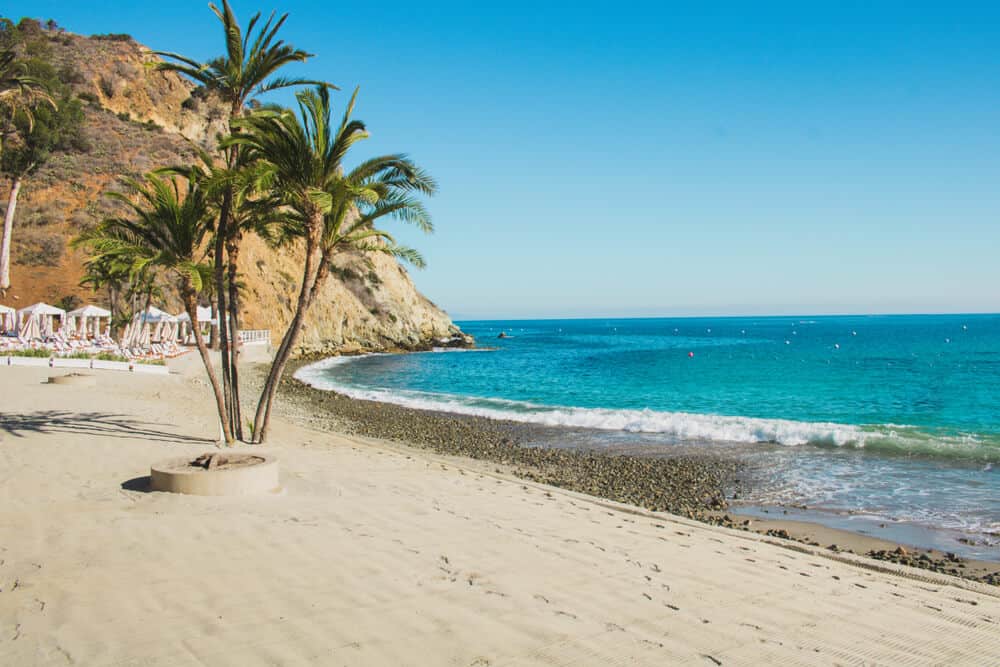 The hardest part about vacation is saying goodbye, so why not ease the pain a bit by checking out a few of California's famous destinations on your way home.
On your way back to LAX, you'll drive past so many little beach towns and scenic parks so feel free to explore at your leisure, but you should probably know about a few key locations! 
Long Beach may not live up to the vibes in San Diego, but it gets pretty close. Think beaches galore, more coffee shops than you can possibly imagine, and the famous Queen Mary. Read our weekend guide here.
Santa Monica is another beachfront oasis with plenty of popular attractions like the Santa Monica Pier, the Third Street Promenade, and of course, the Santa Monica Mountains.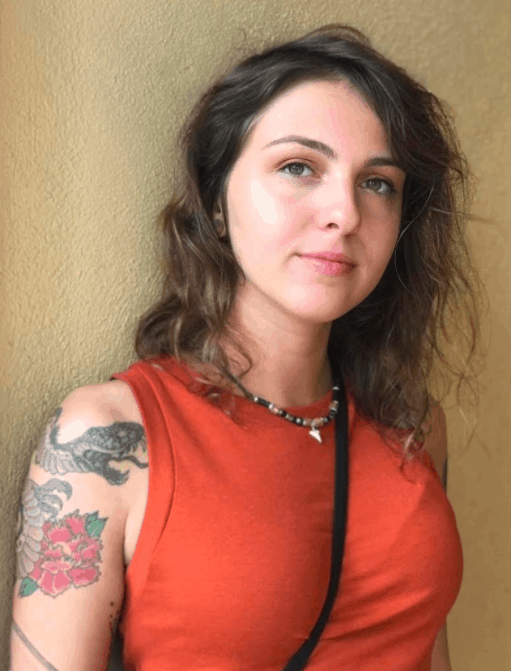 Nicole is a freelance travel writer who lives in Upstate NY, but her heart lies in the beautiful state of California. She loves to travel to new destinations, eat at all the best local restaurants and explore all the world has to offer. Her favorite place is just about anywhere where snow-peaked mountains can be seen in the distance.