While California may be the country's most populous state, there's no shortage of beautiful places in California to gaze at the night sky away from the light pollution of the cities.
Whether you visit a national park, remote mountain town, or even a city observatory, there are plenty of spots where you can go stargazing and see a glimpse of the stars and galaxies beyond our solar system.
If you're looking for some of the best places in California for dark skies, we've got you covered!
Whether you're trying to find a dark spot to enjoy a meteor shower or just hope to glimpse the Milky Way with your naked eye, here are some of the best stargazing experiences in California.
Best Stargazing in Northern California
Yosemite National Park
Note: This post contains affiliate links, which earn me a small commission at no extra cost to you if you make a purchase using one of these links. Thank you for supporting this free content!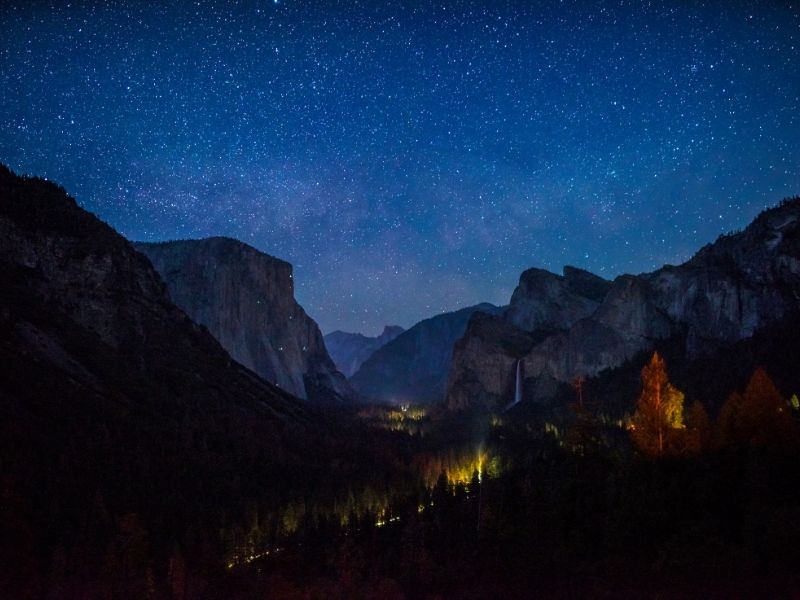 California's most beloved national park is also one of the best places in the state to go stargazing!
While not officially a Dark Sky Park, Yosemite National Park is working with the International Dark-Sky Association and has formed a Night Sky Team in order to reduce light pollution and preserve the natural light of the park as much as possible while still being accessible and safe.
The NPS organizes evening ranger programs during the summer at Glacier Point, Tuolumne Meadows, Yosemite Valley, and White Wolf (check here for current schedules), but you can also go stargazing on your own in less light-polluted areas.
Going backpacking in the Yosemite backcountry is also a fantastic way to get closer to the night sky!
Point Reyes National Seashore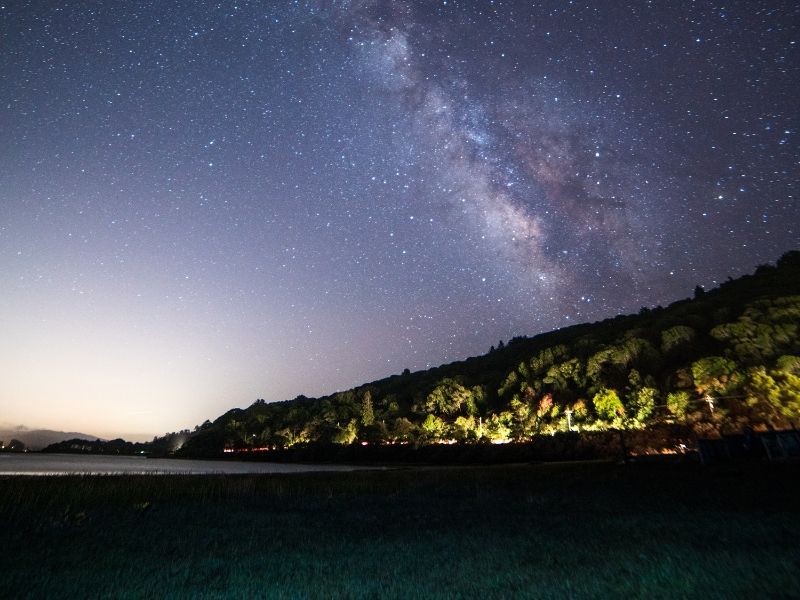 Another great place to go stargazing in Northern California is in the protected area of the Point Reyes National Seashore, a short drive from San Francisco.
This is the westernmost part of California, a dramatic cape stretching far out into the sea, away from the lights along the more developed coastline along the Pacific Coast Highway.
In general, the further west you get towards the lighthouse, the more the stars will come to life.
There are also lots of beautiful hike-in or boat-in campgrounds in Point Reyes that are far away from street lights and light pollution.
Mendocino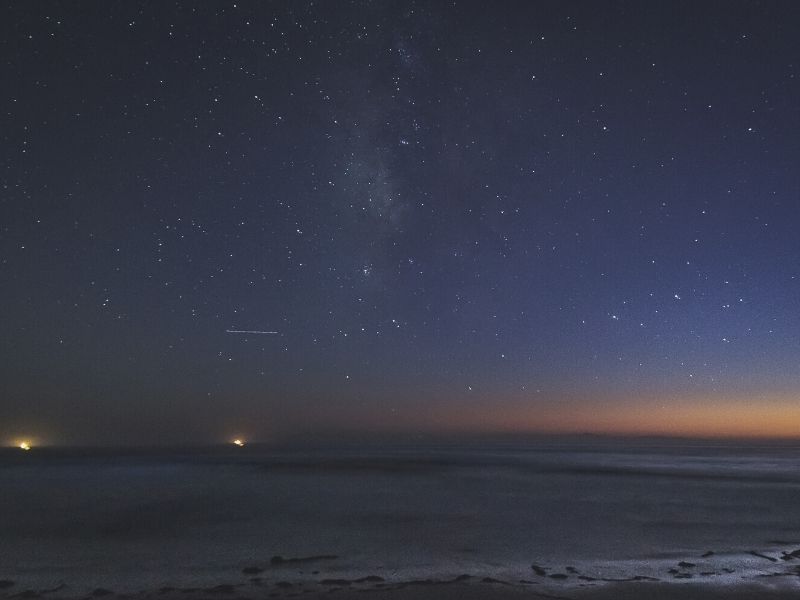 Up north along the Mendocino coastline, you'll find some of the darkest skies as soon as you get away from Mendocino village.
There are plenty of beautiful beaches along the Mendocino coast where you can see thousands upon thousands of stars on a clear night.
The state parks near Mendocino (Mendocino Headlands SP, Russian Gulch SP, and Van Damme SP) are all great places for clear skies and are some of the best places to stargaze in Northern California.
Big Sur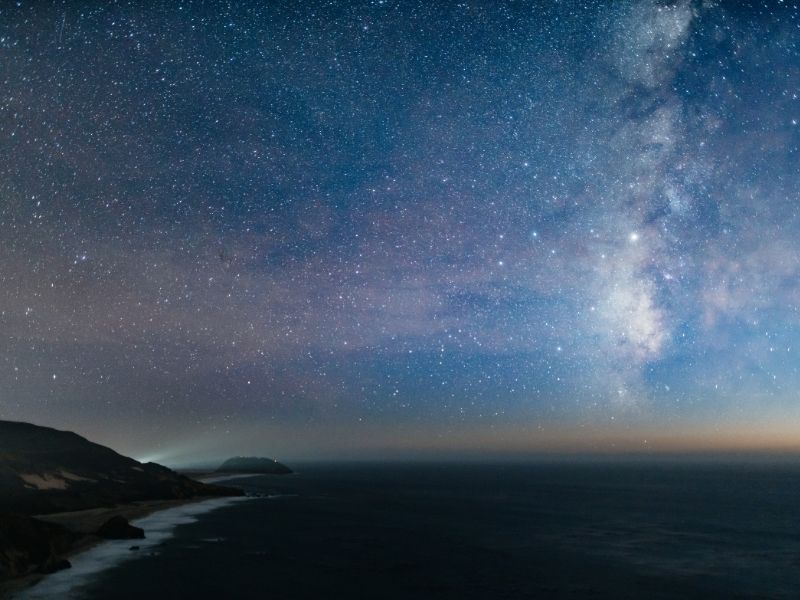 All up and down the Big Sur coastline, you'll see dramatic night skies far away from the city lights of more developed parts of California.
Once you escape the highway lights of the PCH, tons of stargazing spots emerge along Big Sur's 90+ miles of coast.
South of the town of Big Sur, there is less development between each town, and the turnouts on the highway can lead to some epic dark skies once your eyes adjust to the darkness.
However, remember that as with any coastal location, Big Sur can get foggy so sometimes the night sky can get socked in!
Lake Tahoe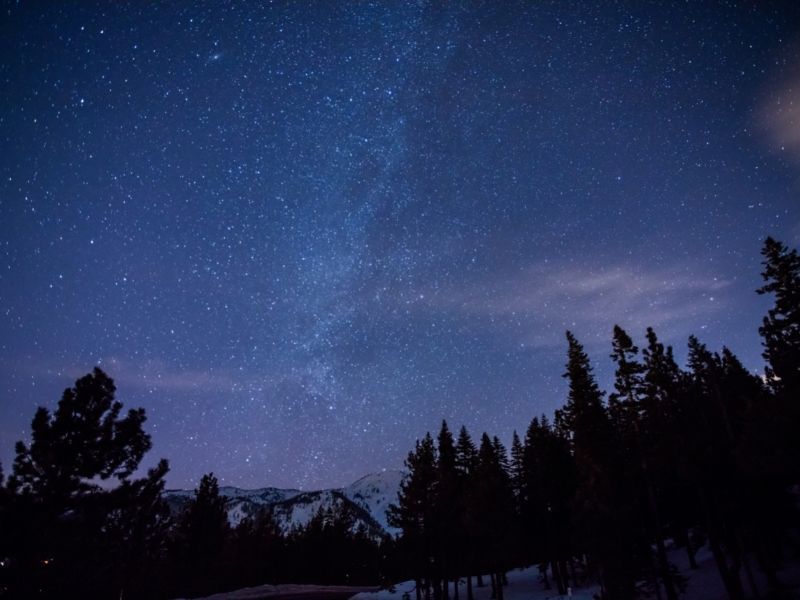 The entire Lake Tahoe area is fantastic for dark skies, but it's a huge area! 
Nestled deep in the Sierra Nevada Mountains, the combination of Lake Tahoe's high altitude and 300 nights of clear skies mean that the stars never looked closer.
While the Tahoe area is quite developed, there are still plenty of epic stargazing, and the Northstar Resort near Truckee even hosts stargazing tours on summer nights.
The area around southern Lake Tahoe has several state parks that have done their best to preserve the darkness of the night sky, such as D.L. Bliss State Park and Emerald Bay State Park.
There are also plenty of more remote areas you can go to escape the light pollution, like Sheep's Flat and the Stateline Fire Lookout which is accessible via a short hike.
Calaveras Big Tree State Park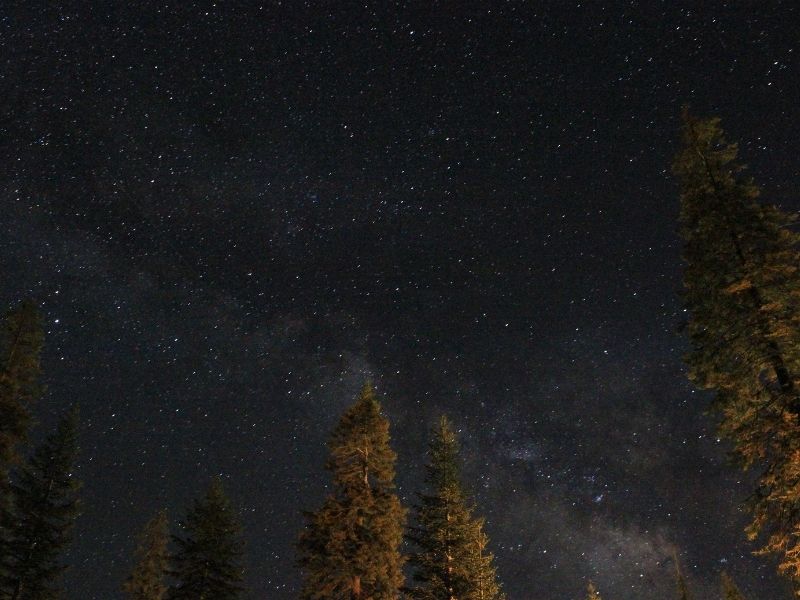 The beautiful, little-known Calaveras Big Tree State Park is one of the best non-national park places to spot giant sequoias in the Sierra Nevadas.
​But even fewer people know that it's also a great place for stargazing in the Golden State!
While you won't be able to see much from deep within a sequoia grove, the state park does host Astronomy Nights where you can experience the stars up close and personal through telescopes you can borrow.
If you're an amateur astronomer and don't have a telescope of your own yet, this is a great way to experience the stars!
Pigeon Point Lighthouse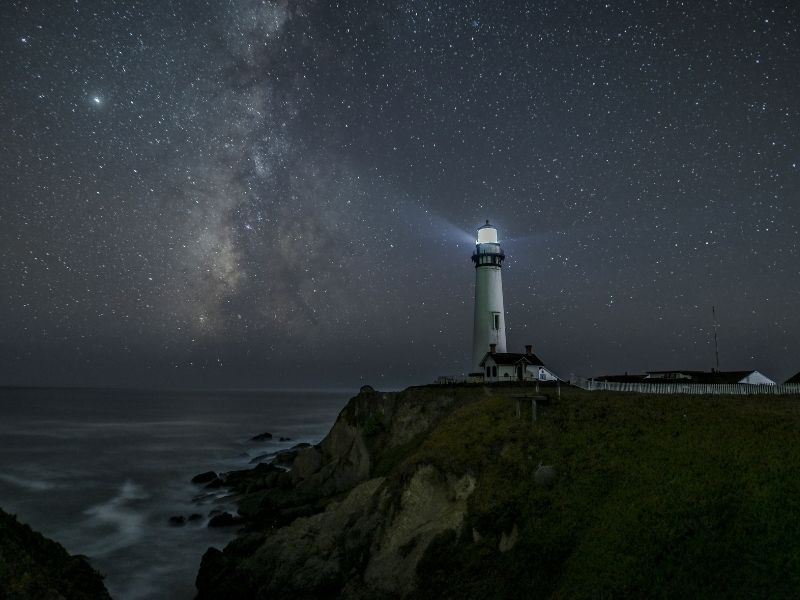 The San Francisco peninsula has quite a few great places for stargazing, so if you're looking for a great place to stare up at the night sky within a short road trip distance from SF, the area around Pescadero and the Pigeon Point Lighthouse is a great place to start!
This California lighthouse strategically placed its lighting so as not to compete with the beauty of the night sky, placing its bulbs face-down rather than face-up so that the light pollution effect is drastically minimized.
As a result, it's one of the best places for astrophotography in Northern California!
Best Stargazing in Southern California
Anza-Borrego Desert State Park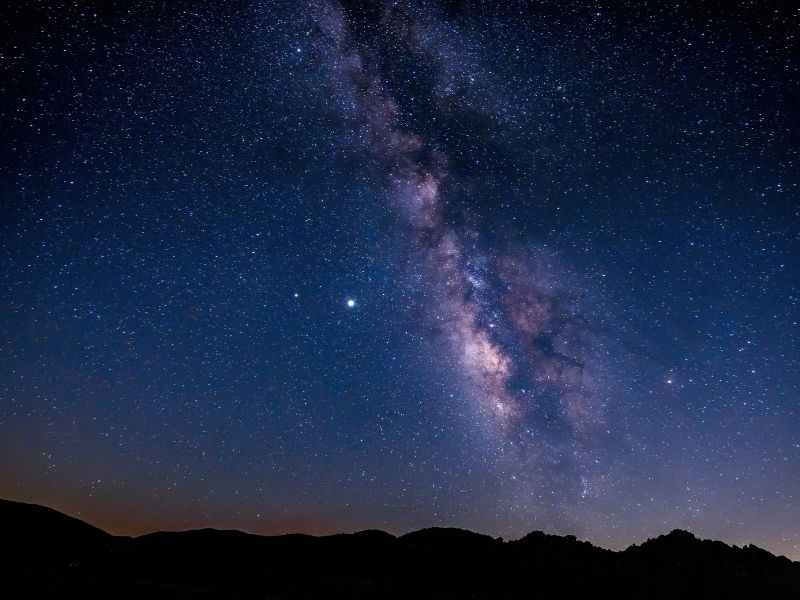 The beautiful Anza-Borrego Desert State Park became an International Dark Sky Park in 2018, but it's long been a great getaway in Southern California for those looking to enjoy the night sky.
The state park completely encircles the town of Borrego Springs, which is California's first International Dark Sky Community!
The town's efforts to reduce its light pollution effect ensure that Anza-Borrego Desert SP remains one of Southern California's premier stargazing sites.
Part of California's Low Desert, Anza-Borrego is home to great campsites, beautiful desert landscapes, and of course — great stargazing.
And as the largest state park in California, there's no shortage of places to spread out in!
Joshua Tree National Park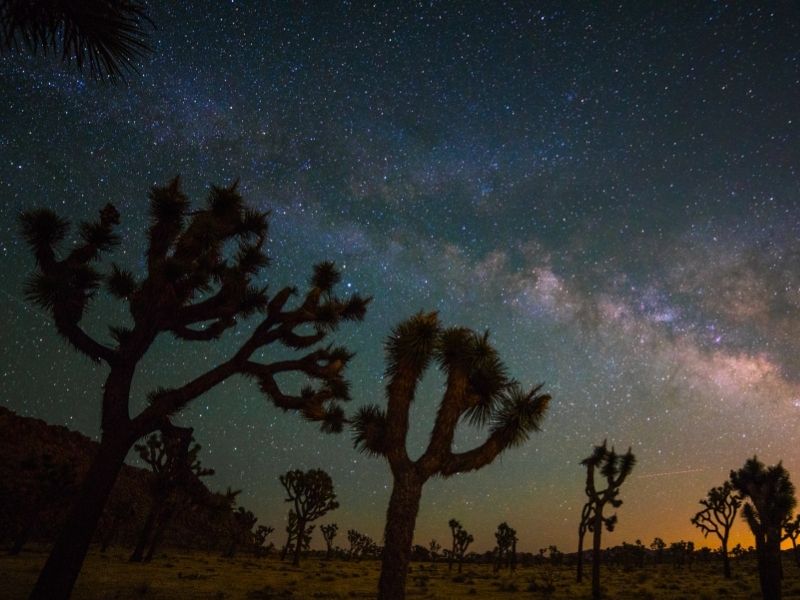 As an official International Dark Sky Park, Joshua Tree National Park is an obvious choice to the question "where can I go stargazing in California?"
They even have a Night Sky Festival dedicated to stargazing! This event is ticketed and requires advance reservations, but it allows you to check out the Sky's the Limit Nature Center and Observatory with a bunch of other astro enthusiasts.
If you're visiting at a different time of year, join the Twentynine Palms Astronomy Club for their "star parties" which are guided stargazing tours!
There is also ample opportunity for independent stargazing! The campgrounds around Joshua Tree are famous for being excellent places for exploring the night sky.
According to the NPS website, Cottonwood Campground has the darkest skies and is the best for would-be astronomers!
Death Valley National Park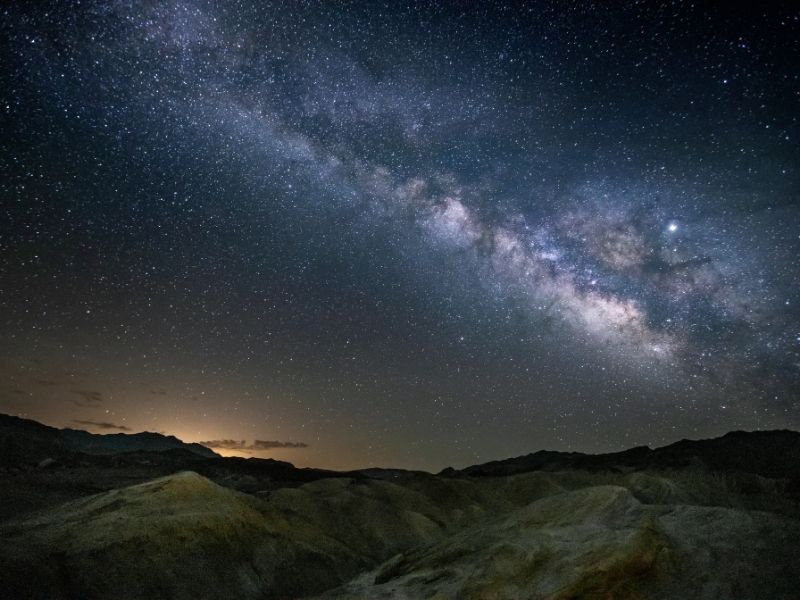 Another International Dark Sky Park, Death Valley is California's largest national park with plenty of room to spread out and enjoy the night sky.
You'll find lots of stargazers at Zabriskie Point and the Mesquite Flat Sand Dunes, but you can also join a star party hosted by the Oasis at Death Valley in Furnace Creek occasionally by joining one of their astronomer-led events.
Other great places to stargaze in Death Valley independently include the Borax Harmony Works area near Furnace Creek and Badwater Basin, the lowest point in North America!
Alabama Hills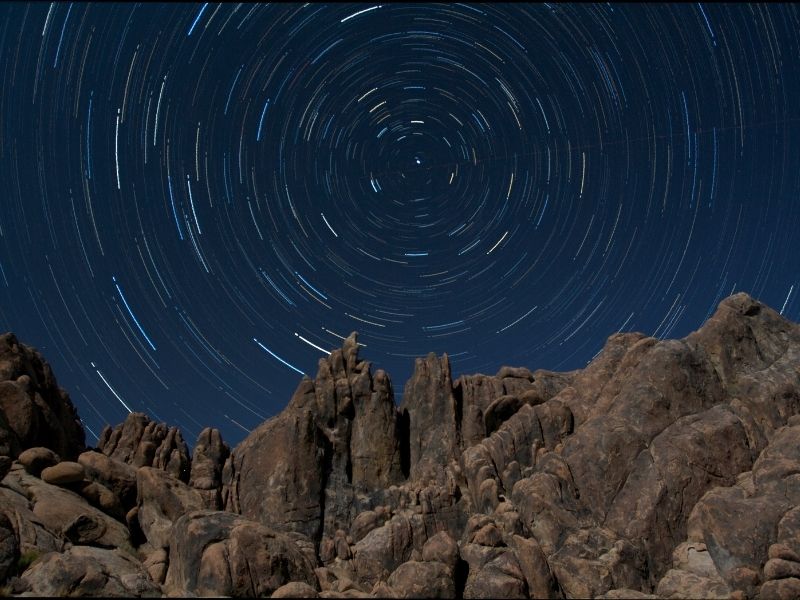 The beautiful Alabama Hills combines a remote destination, rugged rock formations, and a stunning view of Mt. Whitney that makes for incredible astrophotography and stargazing!
Due to its remoteness, you'll find some of the brightest stars lighting up the sky, juxtaposed beautifully against the landscape of the Sierra Nevadas.
On a moonless night, the stars become even more majestic, and there are plenty of places for dispersed camping where you can enjoy the stars all throughout the night.
Drive down iconic Movie Road, a scenic dirt road leading to the heart of the Alabama Hills, for epic views of the night sky.
Julian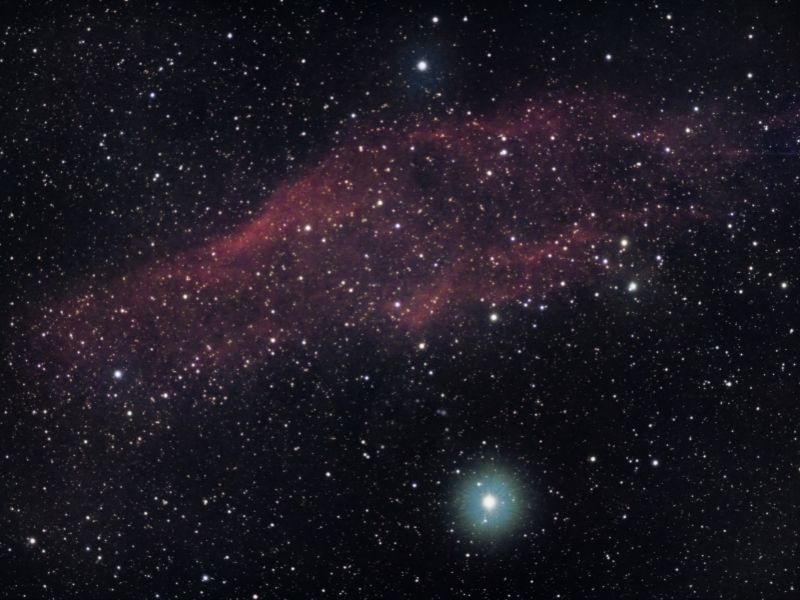 The apple capital of Southern California, Julian is also a fantastic place for stargazing and even has a B&B dedicated to stargazing, the Observer's Inn — which is also an observatory with research-grade telescopes!
You can take night sky tours led by passionate stargazers who will let you see the twinkling stars up close and personal through their incredible telescopes.
It's a rare opportunity to stay in a place that's also an observatory!
Mojave National Preserve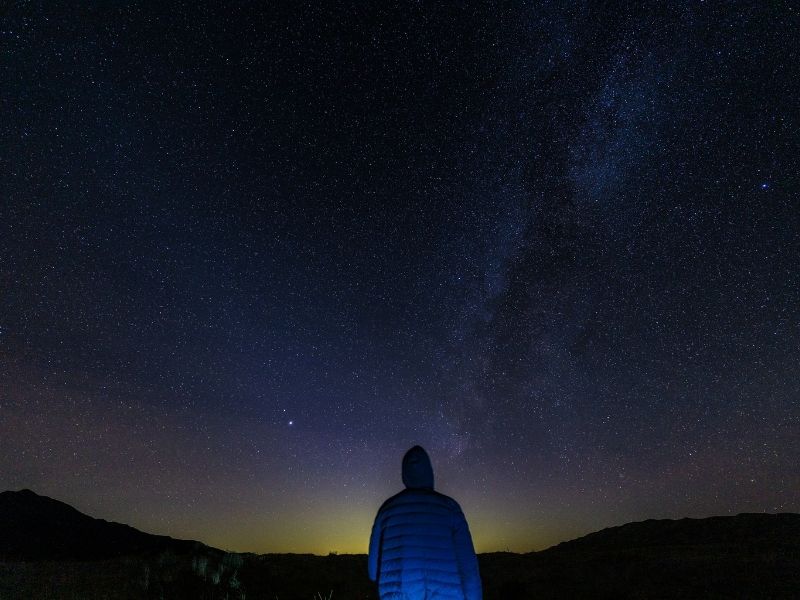 While not an official dark sky park, the Mojave National Preserve is very dark and remote and as a result, it has some fantastic opportunities for stargazers!
They have some ranger-led programs specifically designed to help amateur astronomers discover the night sky, but they are suspended due to Covid for the moment.
In the meantime, the Kelso Dunes area is a fantastic place to try your hand at stargazing independently — it'll make you feel like you're in the Sahara Desert!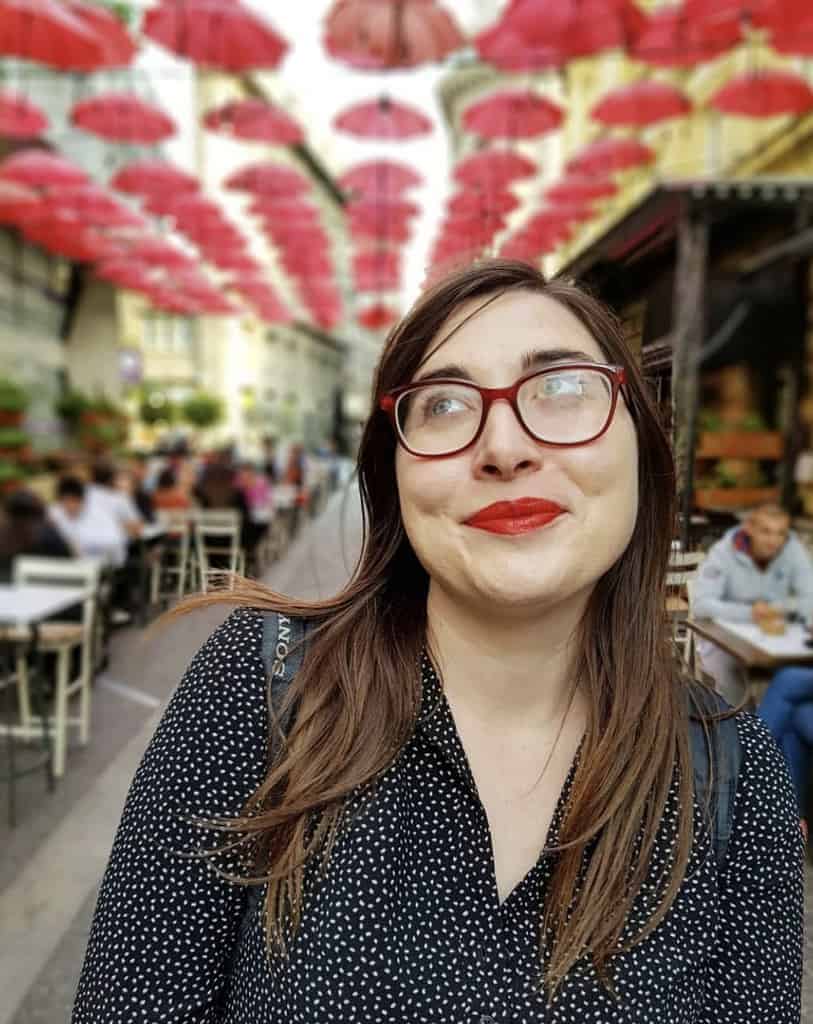 Allison Green is a travel blogger, writer, and podcaster who grew up in the Bay Area of California. She has spent time living in New York, Prague, and Sofia, but has returned to live in the East Bay. She has traveled to 60 countries before the age of 30 while running several digital travel publications. Her writing and podcast have been featured in Forbes, CBC Canada, National Geographic, the Huffington Post, and CNN Arabic, amongst others. She's obsessed with bouldering, houseplants, other people's pets, and anywhere she can see the ocean.