Joshua Tree, California, is one of those travel destinations that reminds you of an old western movie or even a trip to Mars. The small but exciting town has plenty of restaurants, shops, art galleries, and museums.
On your way to Joshua Tree, you'll drive through sun-drenched rolling hills and eventually emerge into a vast, seemingly endless desert of smooth rock and grappling Joshua trees, softly scattered as far as the eye can see.
It's not surprising that the Joshua Tree National Park was named after the biblical figure, Joshua, by Mormon travelers in the mid-19th century. Each tree appears hand placed alongside towering boulders, cascading mountain ranges, and deep valleys.
Take a peek at the Joshua Tree National Park map. You'll immediately notice mountain ranges hugging short canyons and long, winding roads. There is plenty to see and do in the park and in town, so make sure you plan for at least two or three days there to tackle all the best things to do in Joshua Tree
Directions to Joshua Tree
Joshua Tree is about one hour east of Palm Springs (and it's very easy to get from Palm Springs to Joshua Tree) and 140 miles east of Los Angeles, making it the perfect escape from any bustling tourist hubs.
Make sure not to use typical GPS when driving into Joshua Tree. Many GPS systems use alternate routes through backcountry roads that are challenging to navigate. The three entrances into the park are:
West Entrance: located five miles south of Highway 62 and Park Boulevard at Joshua Tree Village
North Entrance: located in Twentynine Palms, three miles south of Highway 62 and Utah Trail
South Entrance: situated near Cottonwood Spring and along Interstate 10
If flying in, the closest airport is Palm Springs Airport. You'll want to rent a car if you fly in, as the best way to see all there is to see in Joshua Tree is by car. There's not much in the way of public transit here. I recommend using Discover Cars as a search engine, as it compares over 500 rental partners to find the cheapest for you.
Here are the rental options for Palm Springs Airport as well as rentals from LAX, as many people opt to fly into LAX and make the drive as it's a good deal cheaper (as long as you don't mind dealing with LA's notorious traffic).
Where To Stay in Joshua Tree
While hotels, motels, and bed and breakfasts are abundant near Joshua Tree, many visitors prefer private stylish vacation homes. Costs range from $85 per night to over $500 per night, depending on size, amenities, and location. There are nine campgrounds and five hundred campsites fit for large RVs and tents of all sizes. Camping at Joshua Tree with dogs is permitted, but they must remain on a leash. Wildlife is prominent in the park, and off-lease pets can impede natural habitats.
Though camping is a highlight at the park, what sets Joshua Tree apart from other California travel destinations is the unique vacation homes. Real estate gurus and flipper fanatics have taken advantage of the beautiful desert landscape. They have created experienced-based stays that are often so wild you won't believe they're real.
Glamping in Joshua Tree & Experience-Based Stays:
Note: This post contains affiliate links, which earn me a small commission at no extra cost to you if you make a purchase using one of these links. Thank you for supporting this free content!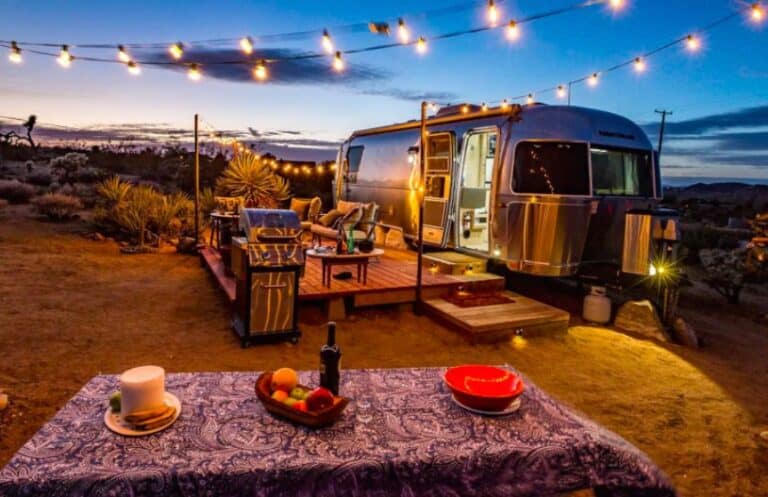 Magical Airstream: With a fully stocked kitchen, convertible seating, lovely fairy lights on the exterior, a gas grill, and picnic table for sharing a meal with friends, this Airstream Airbnb is really as magical as it seems! It doesn't get any more Instagrammable than this place. It's also got a lovely deck and even a dipping pool for cooling off in the desert heat. Book your Airbnb here!
Area 55 Futuro House: ET phone… Airbnb? This wacky Airbnb is so unique! It's a Futuro house that has been restored for desert glamping. There are only 85 Futuro houses in the world — 19 of them are in the USA, but only one that you can book a night in! It's off-the-grid… as you'd expect from a landed spaceship! — so forget about the WiFi, though you can enjoy solar power for your smaller devices. There's also a Bluetooth sound system, coffee maker, hot water outdoor showers, an outdoor kitchen area, and a fire pit: so you're hardly slumming it! As you'd expect for a place so unique, it books up quickly, so reserve your stay ASAP!
Chiquita On Flamingo: What's better than a chic RV in the middle of the Mojave Desert? A flamingo-themed RV in the middle of the desert, of course! This is glamping to the max: you've got hot water showers, electricity, WiFi, skylight, flush toilet, king-size bed, and even A/C and a heater! Plenty of cooking supplies and a fire pit make outdoor dining a breeze. Plus, it's dog-friendly! Reserve your stay here!
Love Egg: This adorable trailer is perfect for glamping! You've got a cozy outdoor kitchen, A/C in the summer, lovely little hammocks to watch the sunset from, fire pit, hot shower, BBQ, and a space heeater in winter. Plus, you can bring your fave four-legged friend! Reserve your stay on Airbnb.
Hawkeye Dome: This amazing geodesic dome is famous! It was featured on the front cover of design magazine Dwell in May of 2019. You've got a chef's kitchen inside and a BBQ outside, plus an outdoor fireplace for cool desert nights. Everything is unique and hand-crafted to the dome, so it's really a unique place. It was renovated in 2017 with a minimalist eye, but it keeps true to the original 60s vibe. It's off-grid, but there's solar power and batteries which means you can relax in comfort. This place goes quickly, so reserve your stay on Airbnb way in advance!
Stargazer Yurt: Have you ever stayed in a yurt? There's surprisingly so cool and cozy… even though Joshua Tree is pretty different than the Mongolian steppe where the yurt originated from! This yurt comes equipped with outdoor shower, fire pit, a window in the roof to stargaze from, a queen size bed, BBQ, a shaded area, and lounge chairs. Note that there is no electricity, but there is solar lights and headlamps provided, as well as running drinking water, a flush toilet, a tub, and a shower. Cooler available upon request, though there is no refrigerator. Reserve your stay on Airbnb.
Regardless of your personal preference, you'll find peaceful accommodations that fit your taste and style. See below for some of our favorites:
Luxury Accommodations: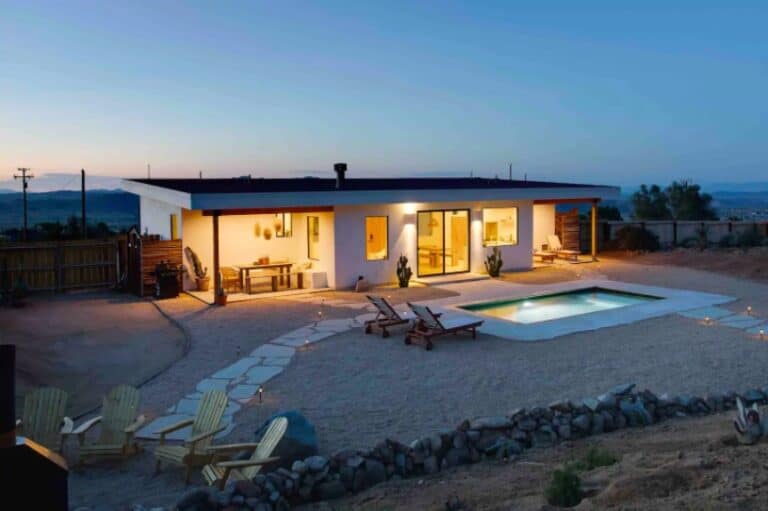 Desert Wild Joshua Tree: With a bright interior warmed up with wood furniture, this house really is 'desert wild.' You'll be spoiled with a pool and hot tub, a projector to watch movies on, and a gorgeous gas adobe fireplace for those surprisingly chilly desert nights. Privacy and luxury go hand in hand at this beautiful, quiet vacation home. Book on Airbnb here.
Sacred Sands: This chic guesthouse has everything you want! From gorgeous bedrooms with Moroccan-inspired decor to private patio areas with an outdoor bathtub and lounge area, you'd be forgiven for never wanting to stay beyond the walls of Sacred Sands during your stay in Joshua Tree — but if you do, all the park amenities are close at hand. Reserve your stay on Booking.com.
The Castle House Estate: A castle in the desert? Well, why not! With options from glamping tents to stay ing in. a "tower room" to a stand-alone container room, this is one of the ultimate places to socially distance in style. Reserve your stay on Booking.com
Mid-Range Accomodations
Pioneertown Motel: How does it sound to stay in a former film set? Well, Pioneertown is just that, and you can even spend the night in a classy hotel there! Pioneertown Motel is no-frills but still chic, with modern bathrooms, cozy Southwest-inspired design, and gorgeous wood beam ceilings. It's not too far from the park, either, though it's located in Pioneertown about 20 minutes away. Reserve your stay on Booking.com.
Oasis Inn & Suites: For a down-to-earth yet comfortable stay 15 minutes from the national park, Oasis Inn & Suites is a great choice. It's perfect for those who aren't comfortable with Airbnb, but you also get great amenities like a hot tub, fitness center, and heated outdoor pool. Rooms aren't fancy, but rather modern and comfortable. Reserve your stay on Booking.com.
Budget Accommodations
Camping Platform Avocado Deck: Happy to BYOT (bring your own tent)? You'll love this. This cool little set-up on a horse ranch (rides available by donation!) has a comfortable riser for your own bed, hammocks, and plenty of lounge areas plus a cool trampoline set up to bounce around on! It's super-cheap and great if you want just a bit more than your standard camping-on-the-ground set up. Book on Airbnb.
Busway to Heaven: Glamping in a school bus…. is that… scamping? Bamping? Forgive the dad jokes, but this place is actually really cool and a great choice for travelers on a budget who don't have their own tent set-up. It's a well-appointed, well-loved place with so much attention to detail… you'd be surprised how comfortable a converted bus set-up can be! Book on Airbnb.
Campgrounds in Joshua Tree National Park
When staying at Joshua Tree, almost everyone camps in one way or another. Joshua Tree camping is what draws the crowds.
The stars shine brighter than you'll find anywhere in the world, and without bright glaring city lights, the stars light up the earth like spotlights.
For each of the nine campgrounds, the entrance fee costs $30 per car, $22 per motorcycle, and lasts for seven days. Annual passes to Joshua Tree are $55. If you are an avid national camper, the America The Beautiful Pass includes entrance to over 2,000 parks around the U.S. and costs only $80.
There is no access to water or food within Joshua National Park, so bring enough for your entire stay.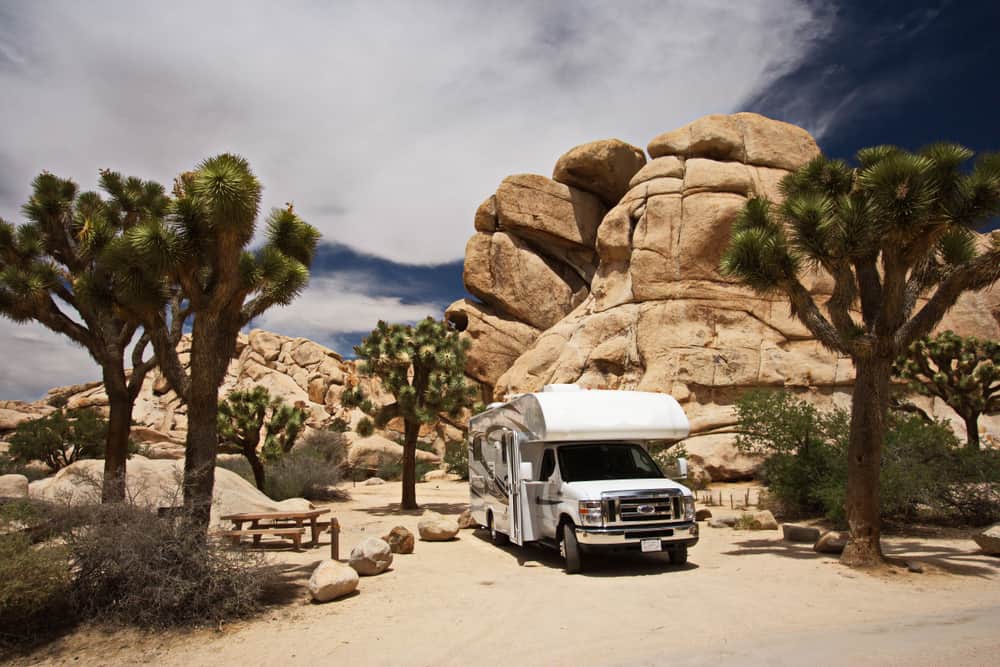 Some campgrounds are first-come-first-served, some are reservation-only. They book up very quickly, so make sure to plan accordingly.
#1 Hidden Valley Campground (pictured)
Best Hikes in Joshua Tree National Park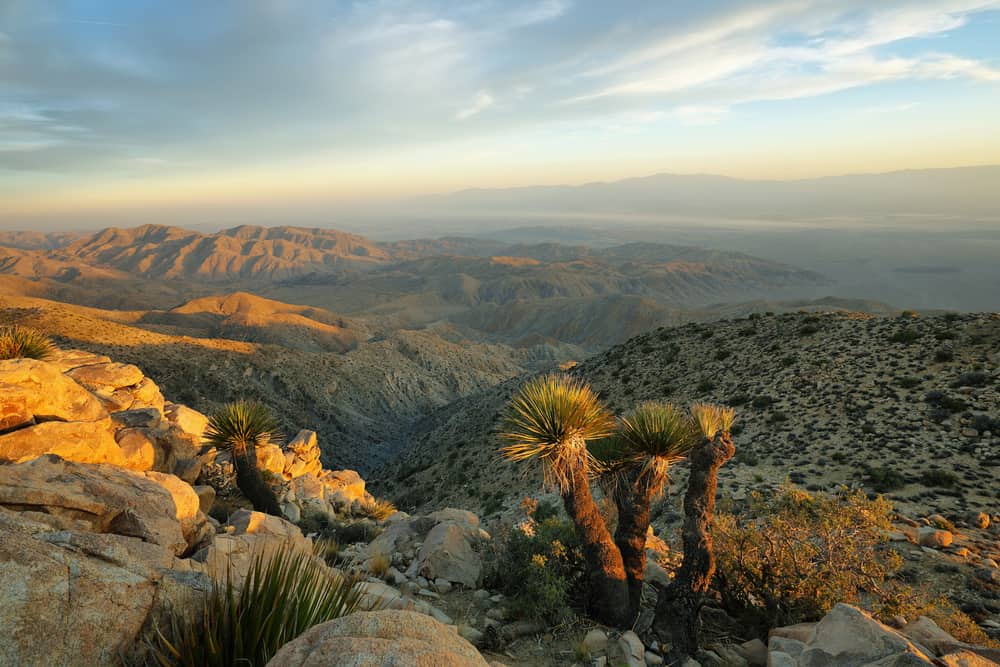 Joshua Tree National Park has incredible hikes for adventurers of all skill levels. Whether you're looking to break a sweat or take photos of the cinematic views, there is a hike for everyone.
Hiking Joshua Tree in October and November are often the most secluded months, and the best time to visit as the heat is lower.
Intense heat soaks the desert most of the year, so make sure to bring plenty of sunscreen, multiple water bottles, and great hiking shoes.
Sunstroke and heat exhaustion can occur if you're not prepared, so opting for a hiking backpack with a water bladder is the smartest way to go.
Our Top Three Joshua Tree Hikes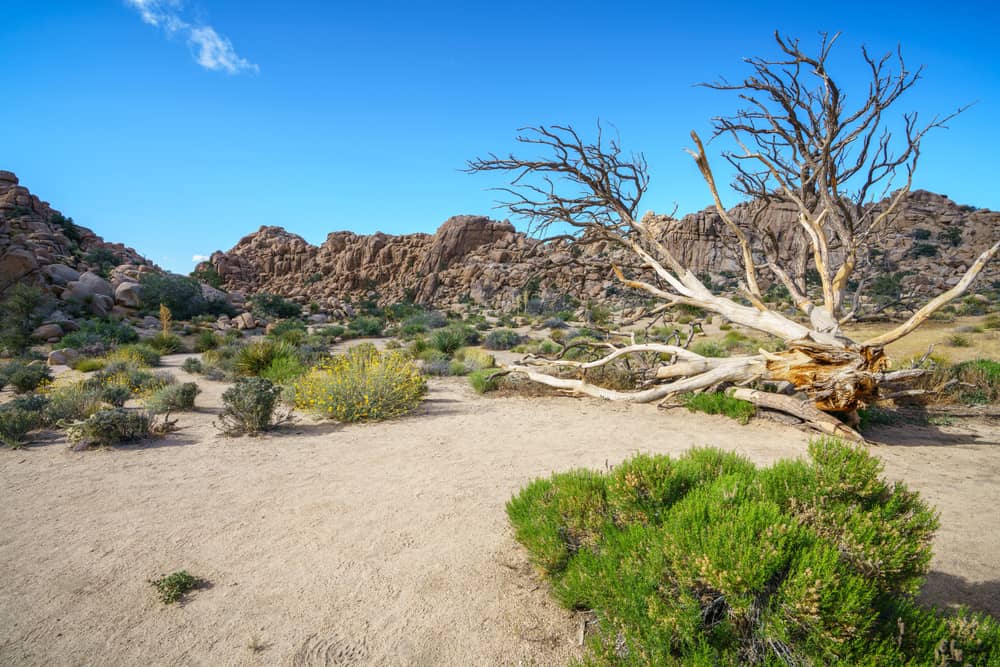 Difficulty: Easy
This trail is one of the most popular at Joshua Tree National Park due to its short duration, so it's perfect for a burning hot day.
The one-mile loop trail winds through towering boulders and shadowed paths for a gentle walk. A narrow pathway eventually opens to the expansive, Hidden Valley along the route.
Don't forget to keep your eyes peeled for squirrels, lizards, chipmunks, and desert birds!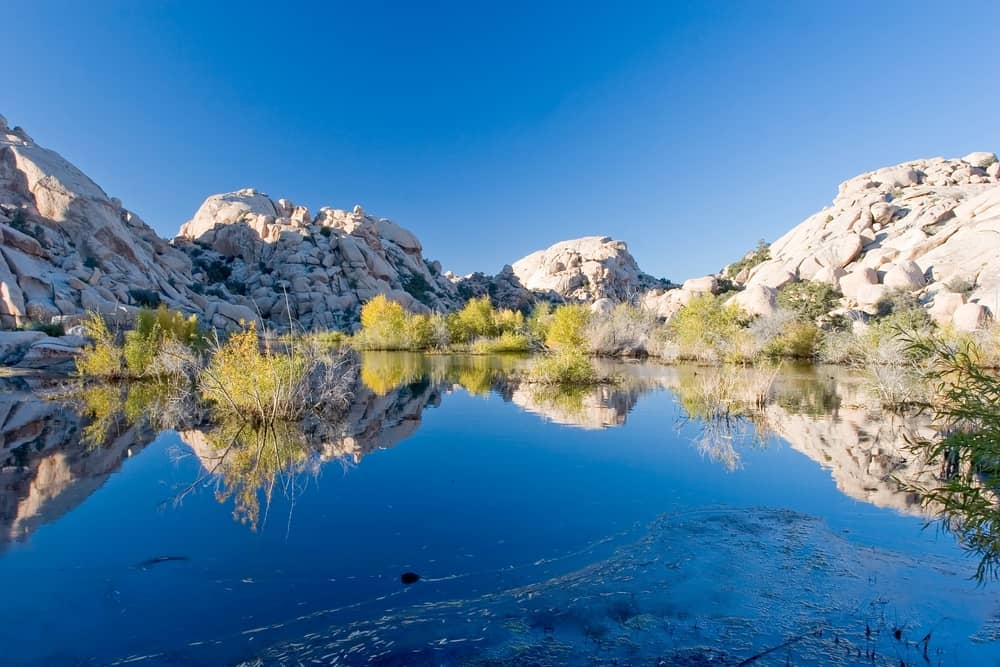 Difficulty: Easy
There's nothing like finding water in the desert, especially if you've been glistening all day long during a weekend campout. This easy, 1.3-mile hike takes about 45 minutes.
California experiences droughts, so there is a slight chance the dam could be dry; however, this hike is still one of the most entertaining regardless of water levels!
Keep an eye out for the detour that leads to the indigenous pictographs and petroglyphs, and bring plenty of water!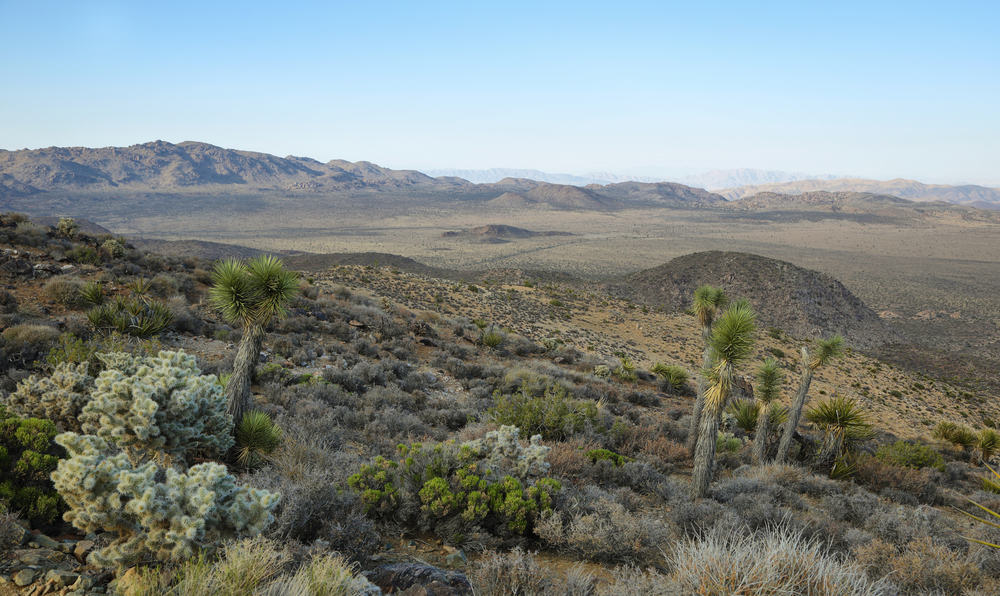 Difficulty: Moderate
Ryan Mountain Trail is for those who don't mind putting in some work for unforgettable views.
The incline begins at the very beginning of the trailhead, so the difficulty varies nicely. A 3-mile hike in total, the entire adventure shouldn't last more than 2-3 hours. With an elevation of 5,457 feet, this route is more challenging than some.
This trail is a great workout and is an excellent adventure for families. Sunrise and sunset are the best times of day to do this hike because the heat is more bearable, and the trail is far less crowded. Witness 360-degree panoramic views at the top, perfect for those Insta-worthy photos!
Joshua Tree Restaurants and Bars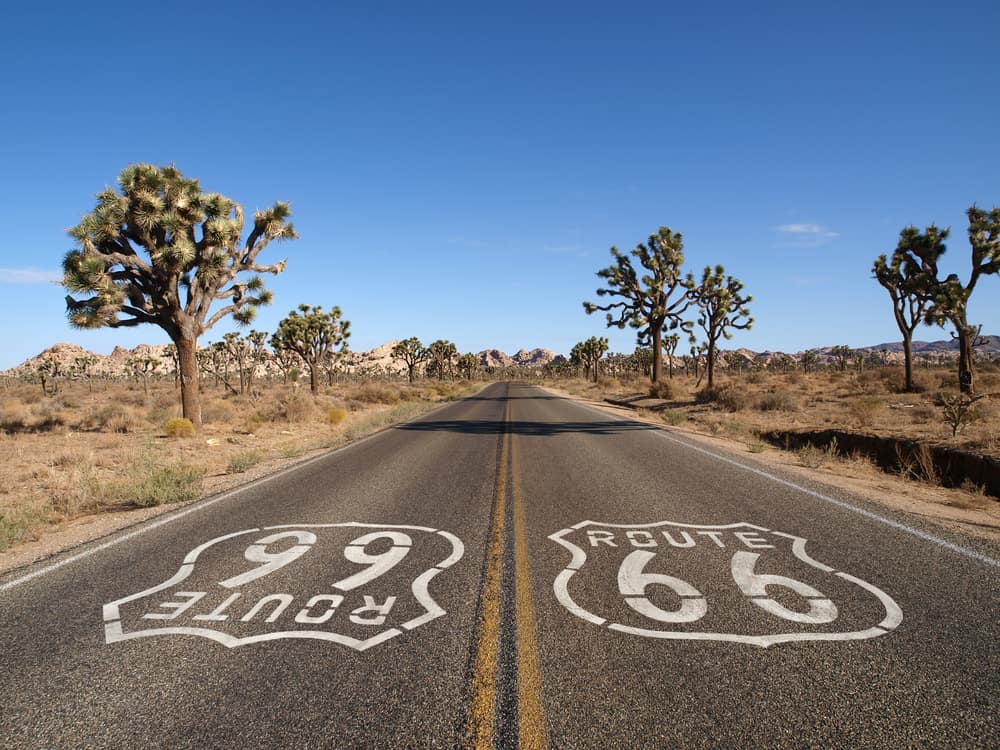 Budget: $
Ask any local, traveler or Joshua Tree junkie what their favorite spot near Joshua Tree is. Without a doubt, it's Pappy & Harriet's.
You can't experience Joshua Tree without visiting this iconic saloon, bar, restaurant, and outdoor music venue!
Built in the 1940s, Pappy & Harriet's was initially designed to be the backdrop for 1800s-inspired Hollywood films. You'll come for the contagious energy and kind staff, and you'll stay for the mouthwatering BBQ. It's about 40 minutes outside of Joshua Tree, so plan accordingly!
Budget: $
If you're feeling a bit more local than Pappy & Harriet's, Joshua Tree Saloon is where your desert watering hole dreams come true.
Humble and welcoming, this bustling joint is half indoor, half outdoor, and a local favorite.
Hungry? No problem. The menu is complete with your typical bar bites, including burgers, large piles of meat, sandwiches, and of course, whiskey.
Budget: $$
There are plenty of great places to grab a bite in Joshua Tree before you venture on your hike or outdoor adventure. Still, you should skip the rest and go immediately to Natural Sisters!
Located right at the entrance to Joshua Tree National Park, they offer healthy sandwiches, smoothies, salads, and even delicious all-natural carrot cake.
The line can get somewhat lengthy, and if it's a weekend, plan on waiting. This spot is a must!
Budget: $$$
Walk inside La Copine, and you'll forget that you're in the desert. Located 20 minutes north of Joshua Tree National Park, this small, quaint restaurant appeals to the casual food snob.
Don't expect regular chicken or a simple seafood entree at La Copine. The small but mighty menu offers unexpected dishes like spicy lemon gazpacho and chicken liver paté and includes a wine list selected to match the menu perfectly.
***
Whatever you decide to do while visiting Joshua Tree, make sure to bring your camera. You might even make some friends while visiting, as many locals and tourists are kind and eager to assist travelers.
If you're seeking a spectacular astrological performance, March through May and October to November is the best time of year at Joshua Tree for stargazing.
Joshua Tree is very popular, so plan your trip well in advance to ensure campground and hotel vacancies. The park and trails can get very crowded!
Remember, Joshua Tree National Park has been a victim of 2020's fire season and may be affected by COVID-19. Research local news reports and visit Joshua Tree National Park Alerts and Conditions for updates and closure details.
Pin This Ultimate Joshua Tree Travel Guide!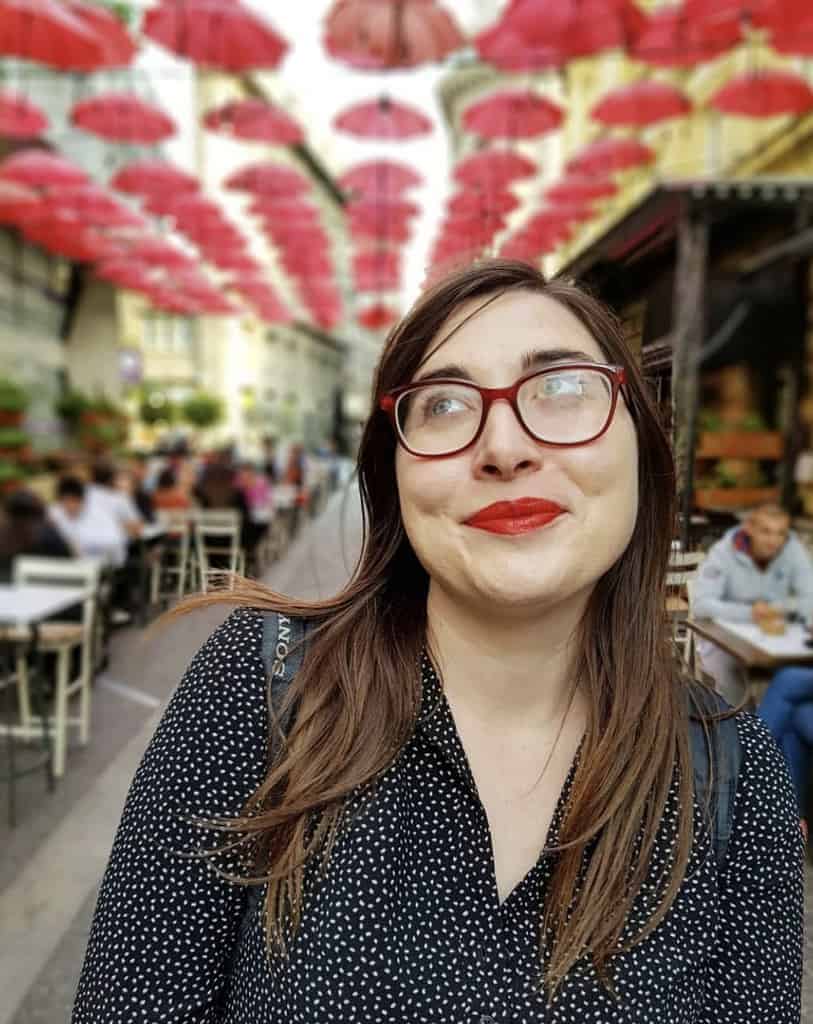 Allison Green is a travel blogger, writer, and podcaster who grew up in the Bay Area of California. She has spent time living in New York, Prague, and Sofia, but has returned to live in the East Bay. She has traveled to 60 countries before the age of 30 while running several digital travel publications. Her writing and podcast have been featured in Forbes, CBC Canada, National Geographic, the Huffington Post, and CNN Arabic, amongst others. She's obsessed with bouldering, houseplants, other people's pets, and anywhere she can see the ocean.