If you're planning a trip to Joshua Tree, be sure to bring your camera along!
This charming part of the California desert will inspire you in ways you never though possible: the way the light plays in the desert, the unique Joshua trees like something out of a Dr. Seuss novel, the brilliant candy-pink sunsets that set the rocks on fire.
If you've come to Joshua Tree National Park with the plans of snapping a few of the best Instagram spots in Joshua Tree, relax — I've got you covered.
Here are my favorite photo spots in Joshua Tree!
Wherever you can find a Joshua tree!
Note: This post contains affiliate links, which earn me a small commission at no extra cost to you if you make a purchase using one of these links. Thank you for supporting this free content!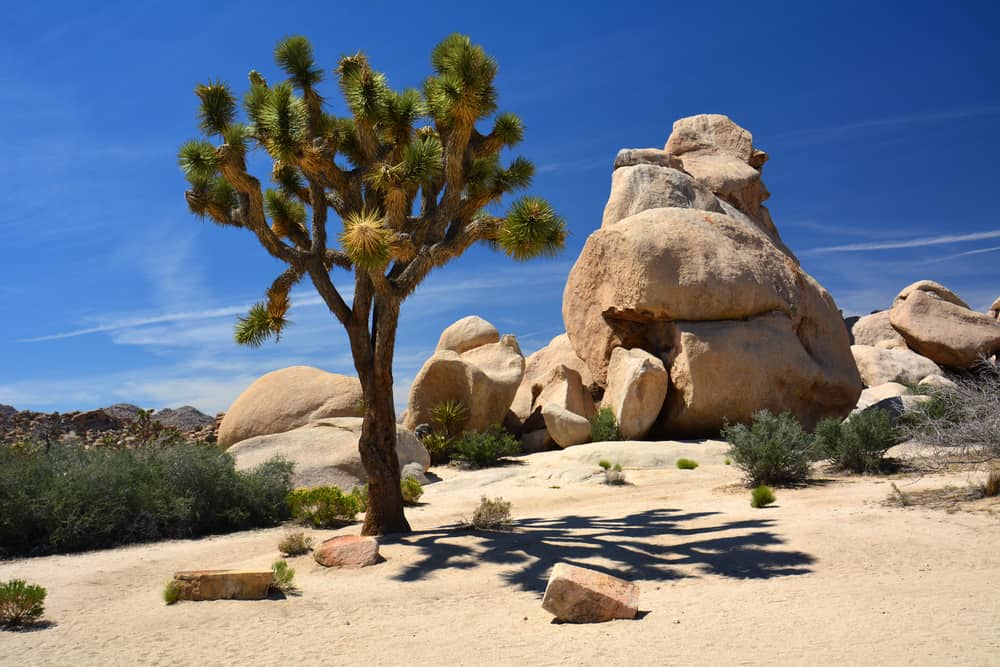 As the name suggests, Joshua trees are quite literally everywhere within the park… you're not going to have trouble finding one!
But I'd be remiss leaving a selfie with a Joshua tree off this list of Instagram spots in Joshua Tree NP, so here it goes!
Location: Literally basically anywhere in the park!
Cholla Cactus Garden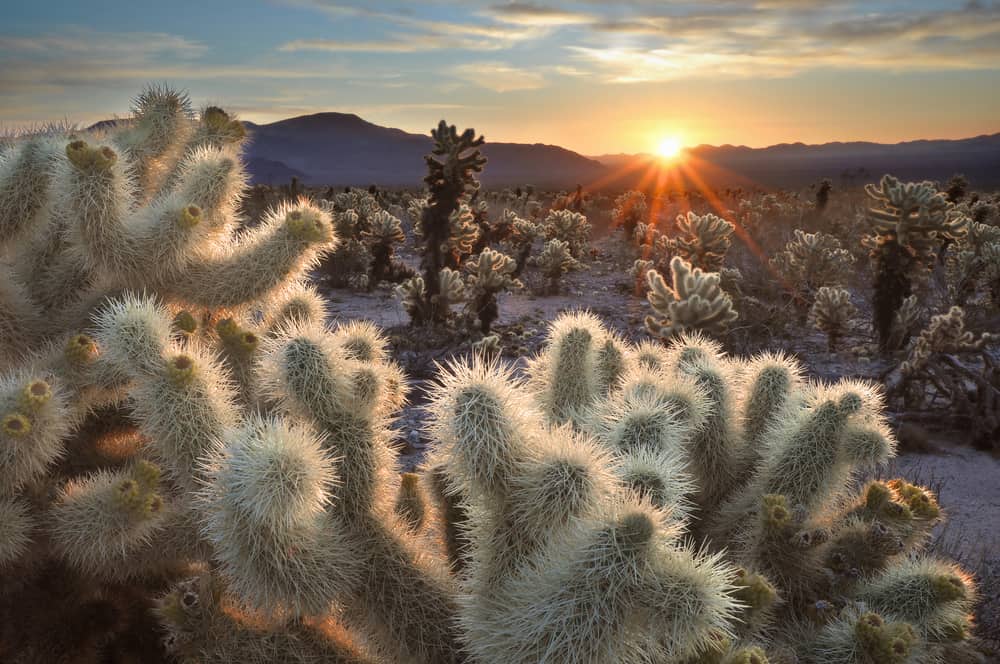 The Cholla Cactus Gardens are a unique place in Joshua Tree where the landscape differs dramatically and you can see the beautiful — and super prickly — cholla plants en masse.
This is a phenomenal sunset spot as the way the setting sun lights up the stickers of the cholla plants is simply beautiful.
Just don't pose too close to one!!
Location: Cholla Cactus Garden, Joshua Tree National Park
Skull Rock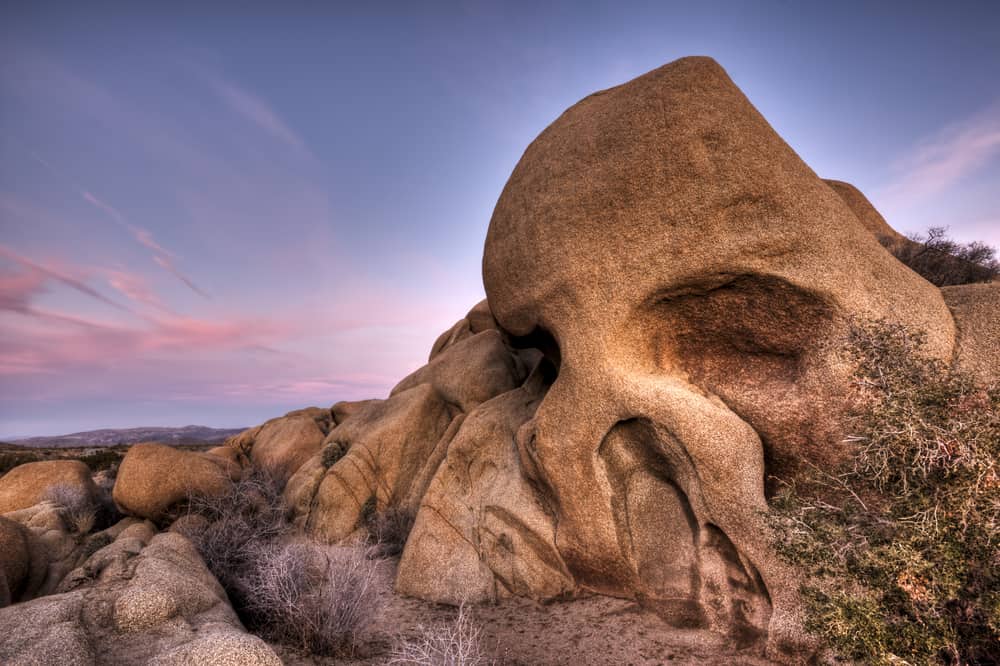 Skull Rock is named so for a pretty obvious reason — it looks like the top half of a skull, at least to me! The two depressions sort of look like hollowed-out eye sockets, which makes it look a bit spooky (Halloween snaps, anyone?)
This rock formation is a popular Instagram spot in Joshua Tree for its funky formation, and if you go at sunset, expect to see quite a few other fellow Joshua Tree Instagrammers!
Location: Skull Rock Trail, Joshua Tree National Park
Cap Rock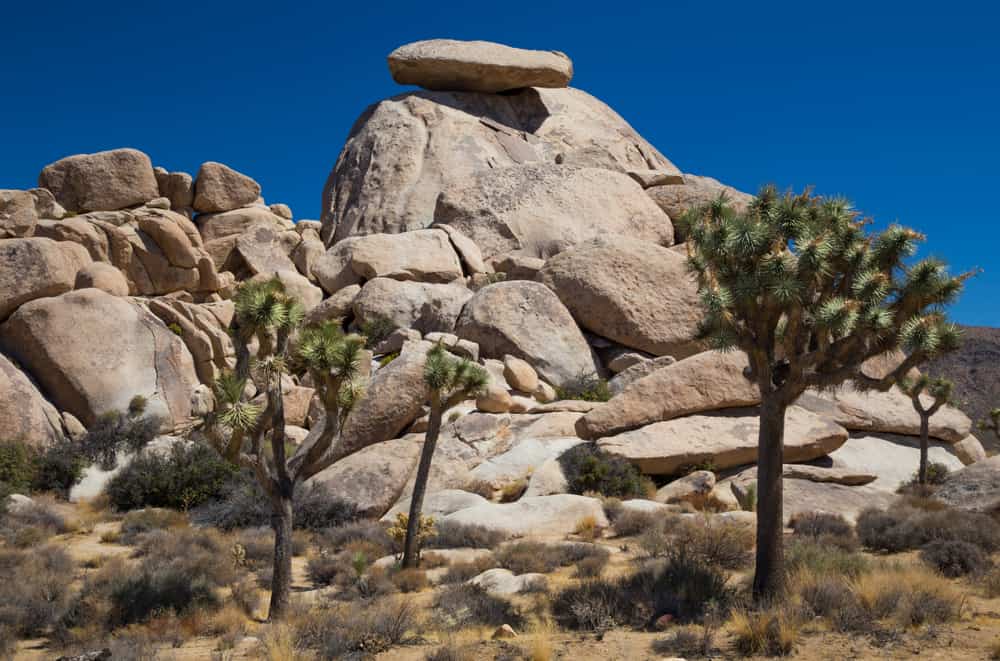 Can you see why this formation is called Cap Rock?
Located along the Cap Rock Nature Trail, this precariously balanced stop sits atop the other rocks like a hat, with Joshua trees framing its base. It's a great spot for whimsical desert photos (pair it with a beautiful desert quote to match!)
Location: Cap Rock Nature Trail, Joshua Tree National Park
Arch Rock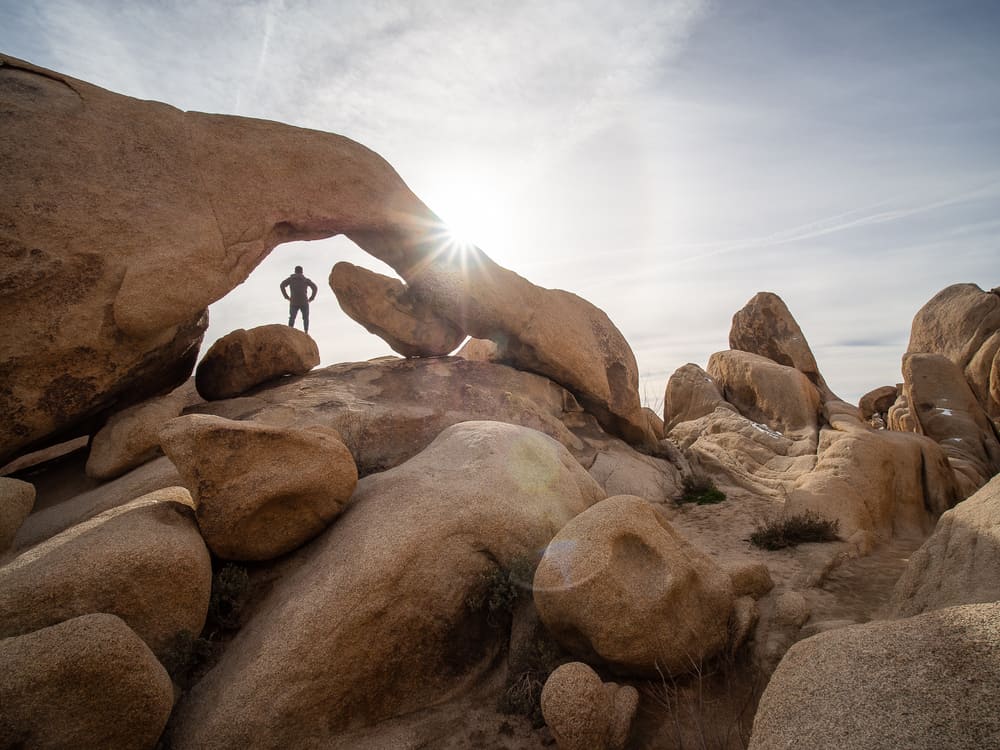 Move over, Utah — Joshua Tree's got arches of its own!
This awesome rock arch can be found on the Arch Rock Loop trail within the park, close to several other important points in the park. Here are exact directions to get to Arch Rock from a variety of starting points.
Location: Arch Rock Loop Trail
Keys View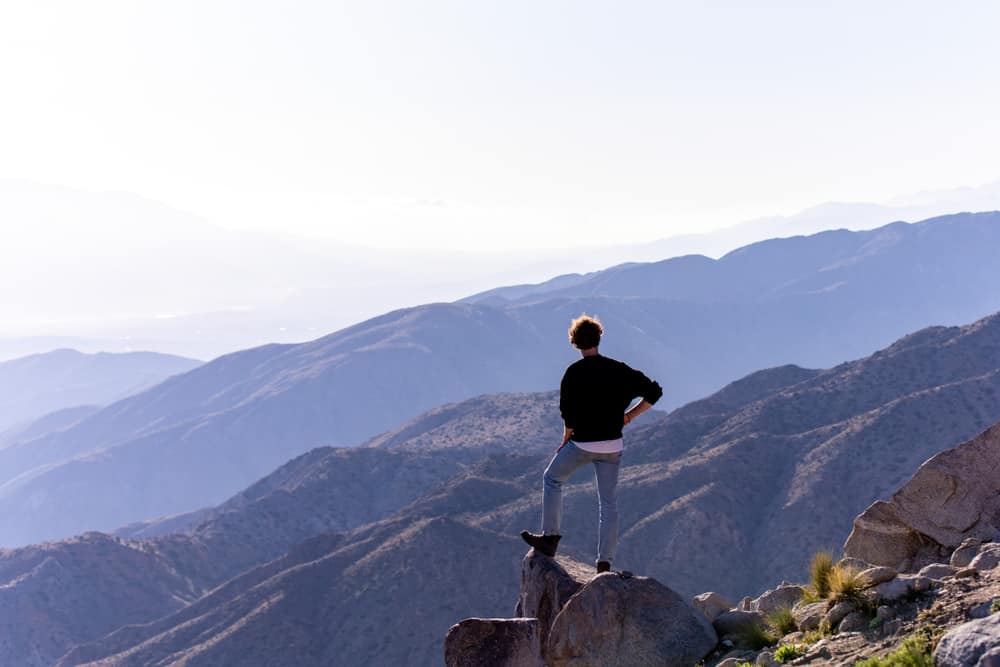 Keys View is one of the most popular Instagram spots in Joshua Tree — especially at sunset!
I suggest skipping sunset here and instead opting for late afternoon, w hen you can get gorgeous light without the sunset crowds (and for sunset, head to Inspiration Point instead)
Location: Keys View, Joshua Tree National Park
Inspiration Point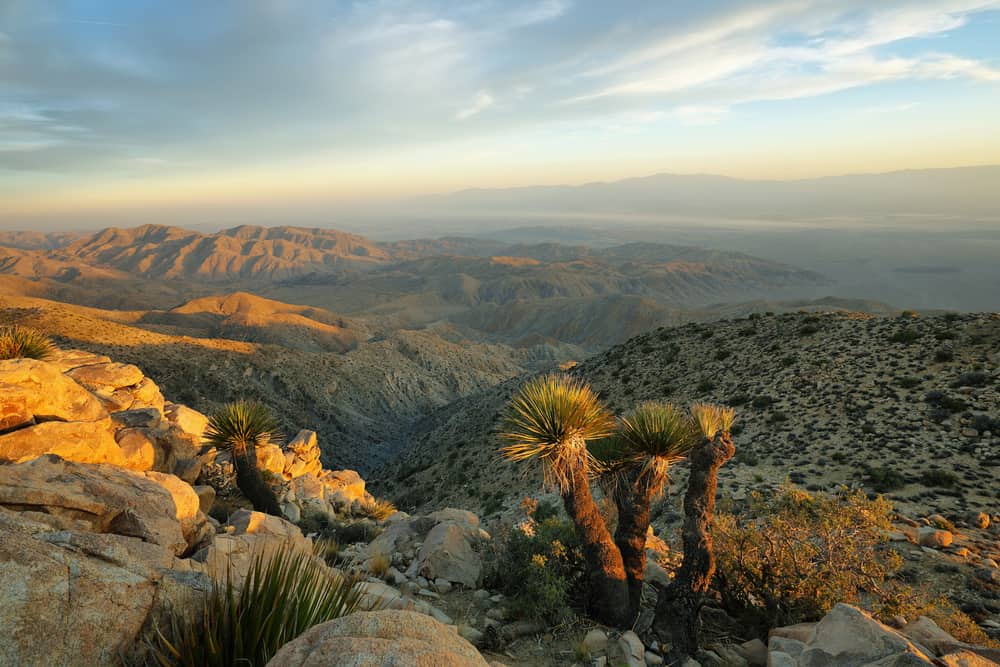 For a beautiful view without the crowds of Key's View, head to Inspiration Point! Because you can't just easily drive to Inspiration Point the way you can with Key's, it's much less crowded here. Though that's not to say there won't be some people with you at sunset, as it's not totally a "secret" spot!
From Key's View parking area, here's how to hike to Inspiration Point: worry not, it's only 1.2 miles round trip with 400 feet of elevation gain, so it's not too much of a sweat!
Location: Inspiration Point, Joshua Tree National Park
Barker Dam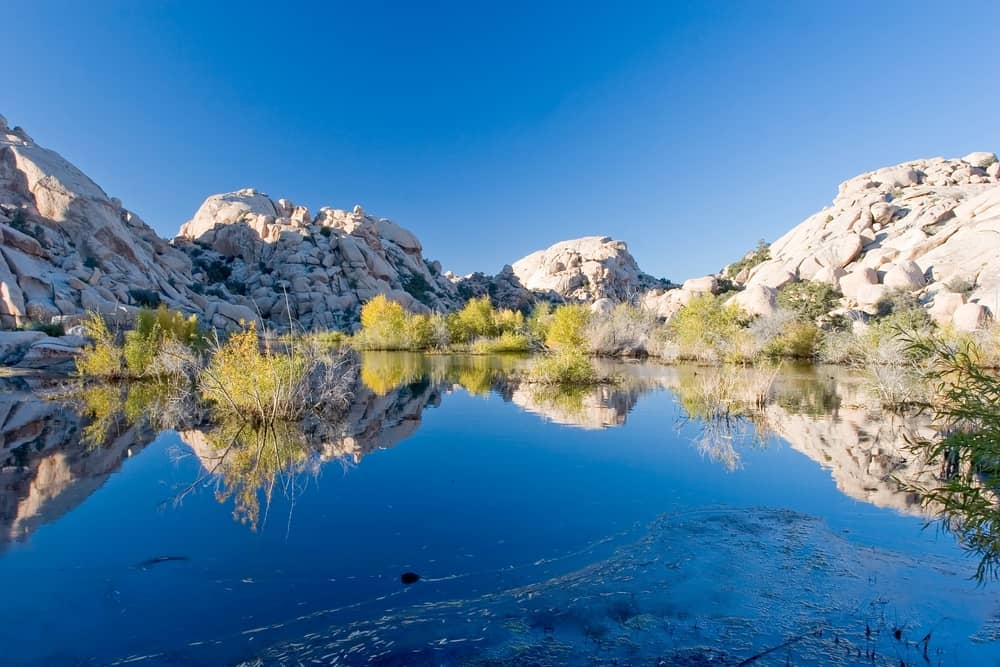 It might seem a bit strange to find what looks like a sapphire-blue lake in the middle of a desert landscape, but that's exactly what you'll find at Barker Dam!
It won't always be filled with water — think late winter and early spring — but when it is, you'll definitely find some more wildlife spotting opportunities here than in other parts of the park.
The trail to get here is easy: 1.5 miles long, but only 50 feet of elevation gain — very worth it for this beautiful and lesser-known Instagram spot in Joshua Tree!
Location: Barker Dam Trail, Joshua Tree National Park
 Lost Horse Mine Loop Trail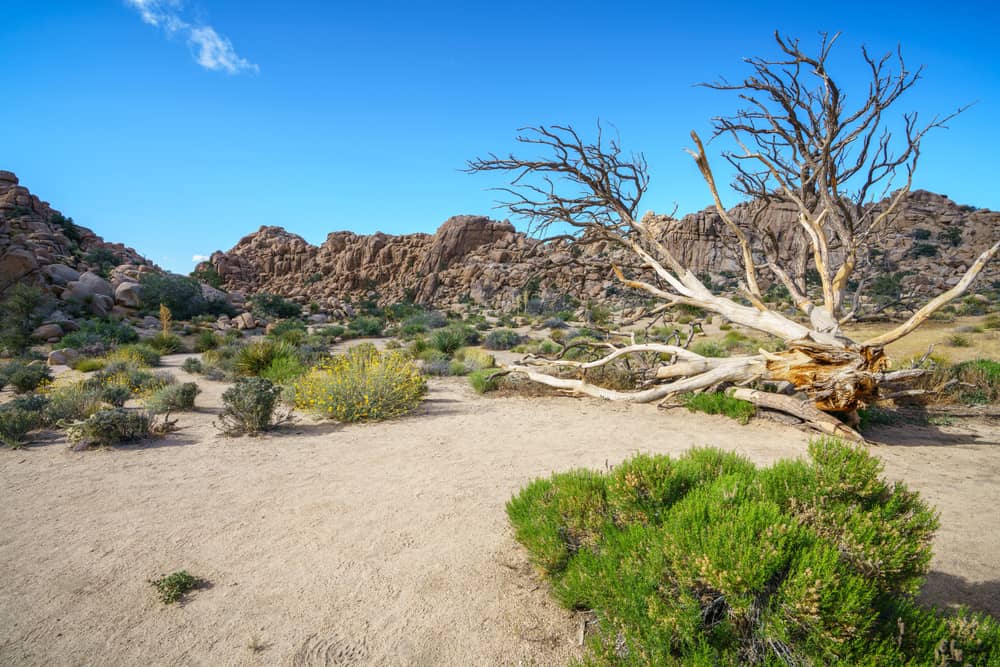 If you're looking for a longer hike to get away from the crowds and find your own unique Instagram shots of Joshua Tree, hit the  Lost Horse Mine Loop Trail (with plenty of water — at least 2 liters, and better off with 3, and sun protection!).
It's a 6.8 mile loop, so it'll take some time, but that gives you tons of time to explore unique angles and photograph without worrying about annoying other hikers. But beware of bees — they're said to love this trail!
Location:  Lost Horse Mine Loop Trail
Hidden Valley Campground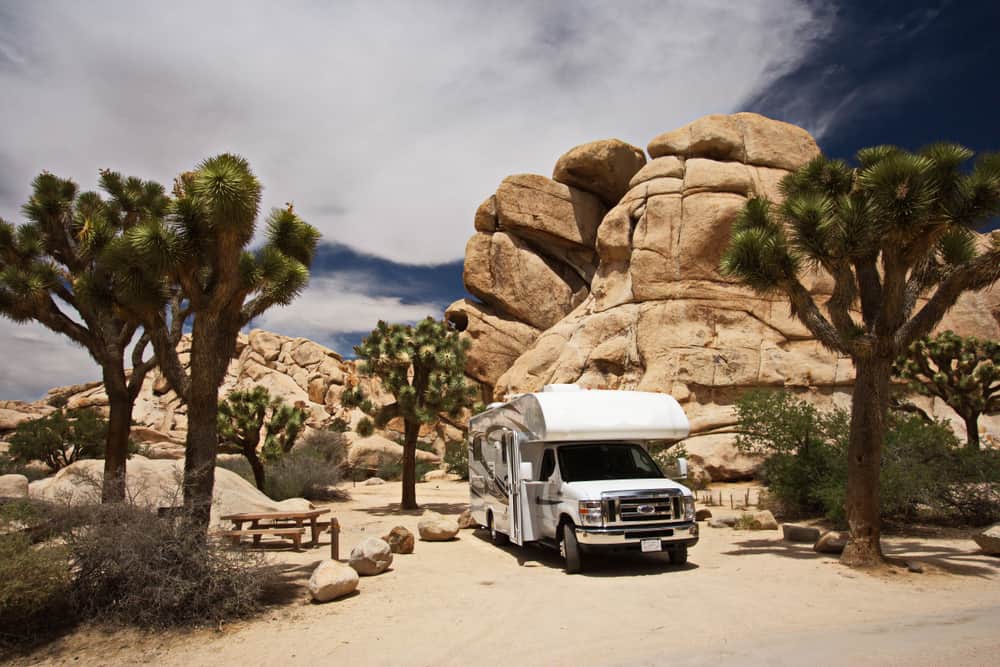 This is the most famous campground in Joshua Tree and you've likely seen it before in other Instagrams of Joshua Tree.
There are only 44 sites, and it's first-come, first-served, so come early as you can't reserve a spot. Note that there is a pit toilet and no running water so you'll be expected to pack in your own water. A campsite costs $15 for the night for up to two vehicles and up to 6 people (more info here).
So if you're looking for a camping or picnic Instagram pic in Joshua Tree — here's where I recommend snagging it!
Location: Hidden Valley Campground, Joshua Tree National Park
Cottonwood Spring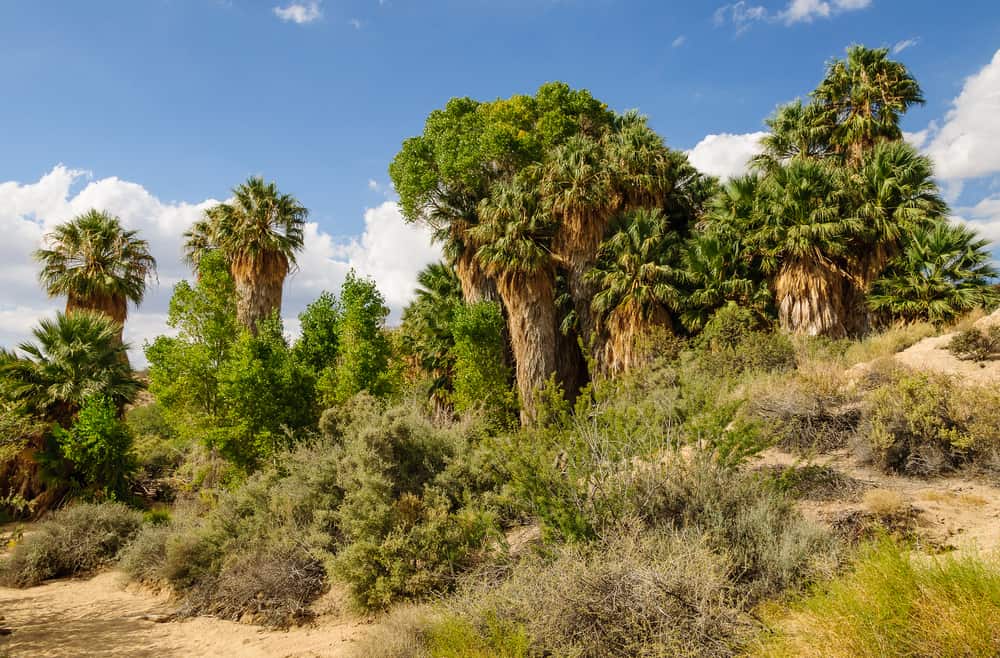 This is one of the more unique Joshua Tree photo spots because there's a spring running through here, making the vegetation a lot more lush and a lot less desert-like.
You'll find these unique hairy-looking palms aplenty here, which make a great background for your Joshua Tree Instagram snaps!
Location: Lost Palms Oasis Trail, Joshua Tree National Park
Keys Ranch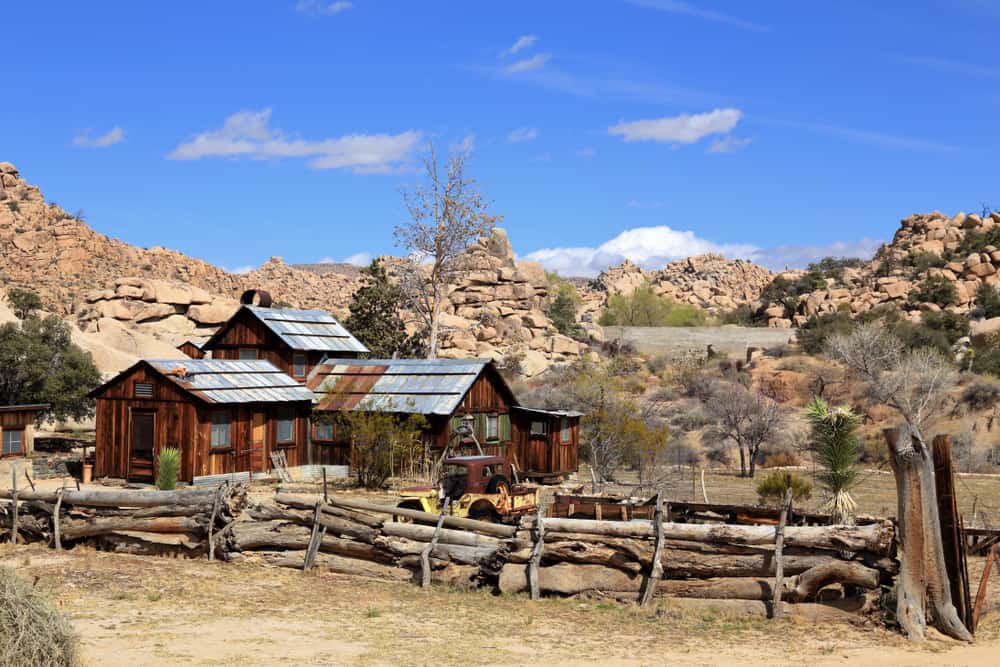 Keys Ranch was owned by Bill and Francis Key, two important figures in Joshua Tree's history, and you can still visit their ranch house ona guided tour.
The schoolhouse, store, and shed are still standing and are part of the guided tour. It is important to note that this part of your trip needs to be planned, as the only way to get there is by a 90-minute guided tour (after which you can take photos to your heart's content!). There is only one tour per day, and the tour costs $10 for adults and $5 for children aged 6-111 (in addition to the National Park fee)
Location: Keys Ranch, Joshua Tree National Park
Wall Street Mill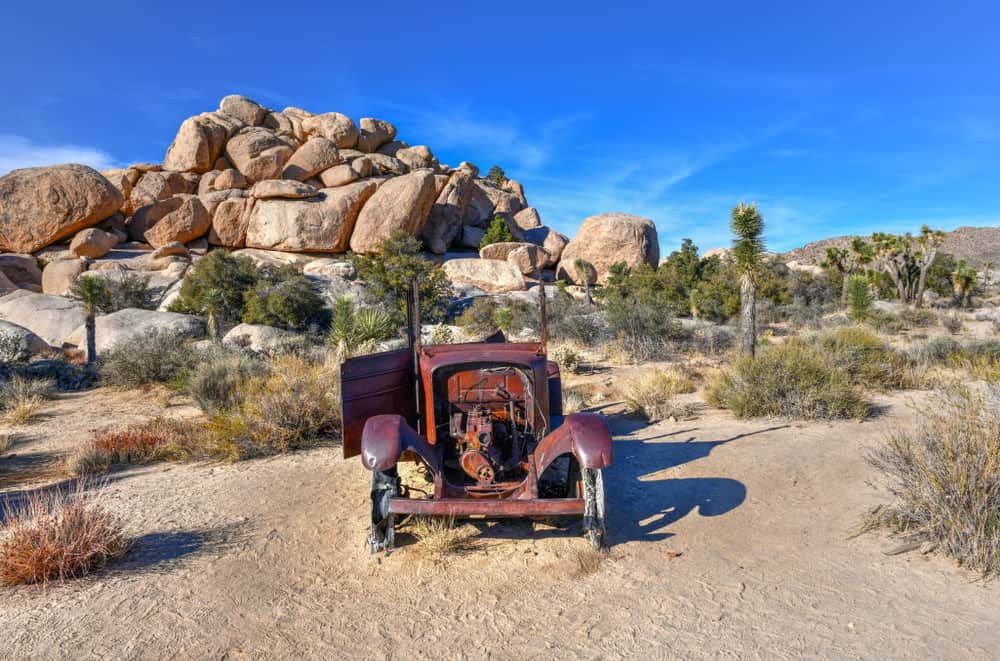 For another place to mix history and nature, hit the Wall Street Mill Trail to learn a bit about Joshua Tree's past while getting some cool, vintage-feeling desert shots.
The hike itself is about 2.2 miles round trip and pretty flat, so it's not too difficult. Just be aware that there is very limited shade, so bring lots of water if tackling it in the afternoon, and better yet, try to do this in the morning or evening.
Location: Wall Street Mill Trail, Joshua Tree National Park
Pioneertown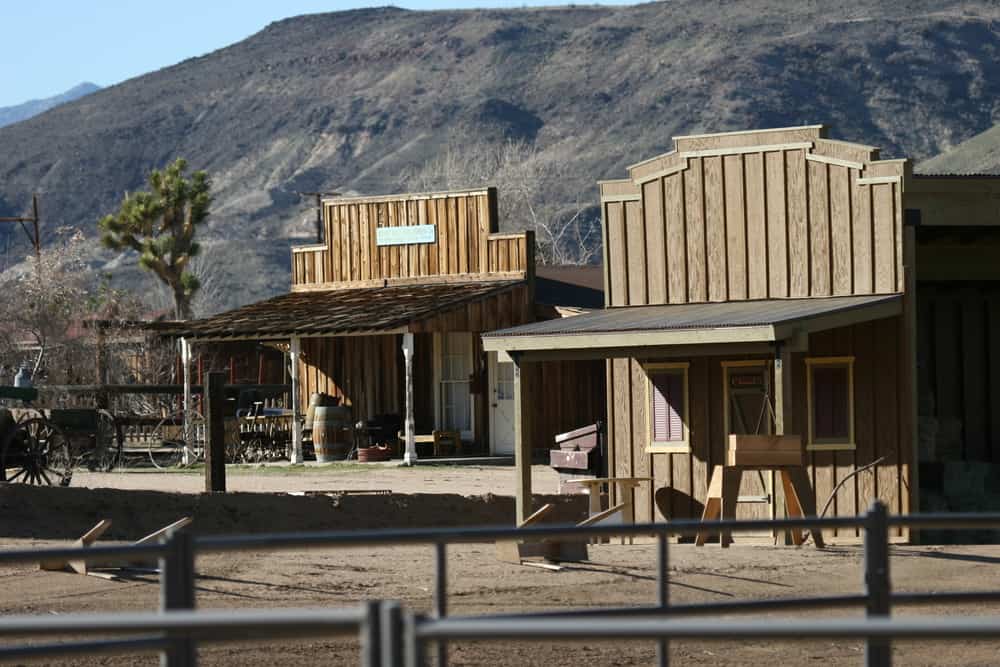 This quirky town was built in the 1940s as a Hollywood movie set, and over 50 films and shows were shot here. The idea was to create not only a film set, but a place that was also actually a town worth visiting. And that idea came to fruition!
Today, there are facades that resemble the late 1800s 'Western' style, but inside, there is plenty for visitors to do — from bowling to bars to live music and more! Hit "Mane Street" (their pun, not mine) and enjoy this film set turned Western town near Joshua Tree
Location: Pioneertown, California
Any Road with Joshua trees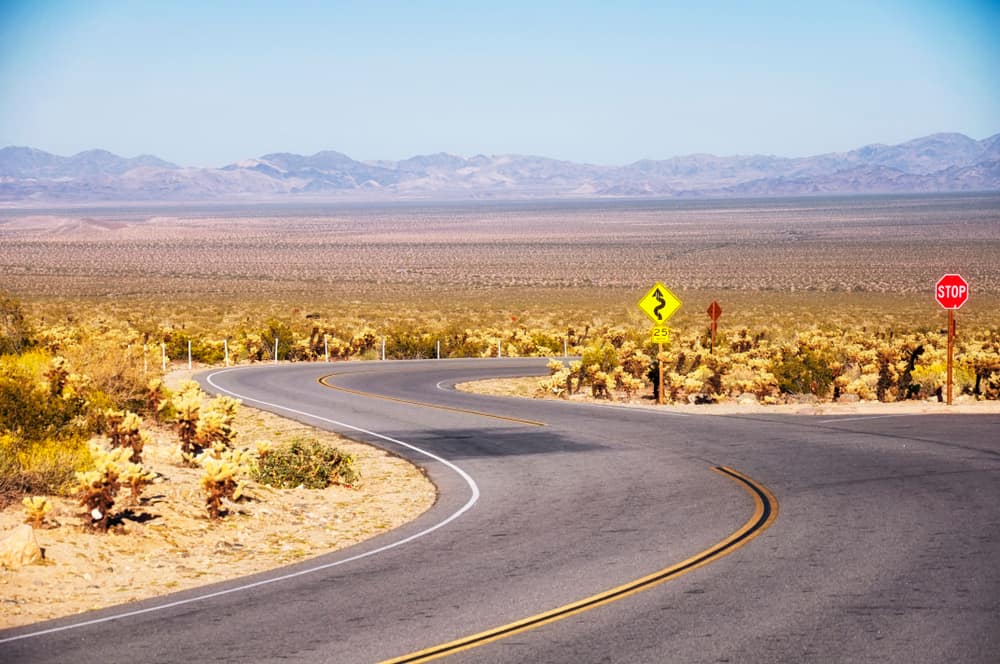 One of the classic Joshua Tree Instagram photos is standing on the road in the middle of the park!
Just be careful, find a patch of road where it's easy to be seen, and snap away, keeping plenty of attention for oncoming cars.
Route 66 with Joshua Trees!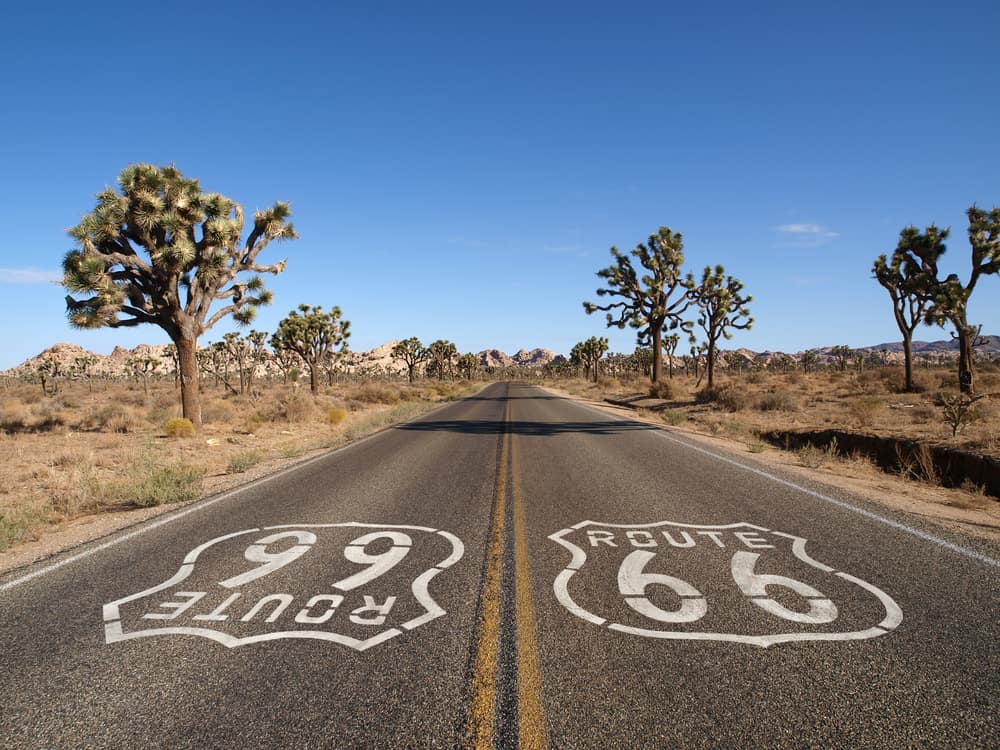 Take the Old 66 Loop through Ludlow and Amboy and you'll see plenty of Joshua Trees along the way as you drive historic Route 66! That's two American classics in one!
Bonus: The Milky Way!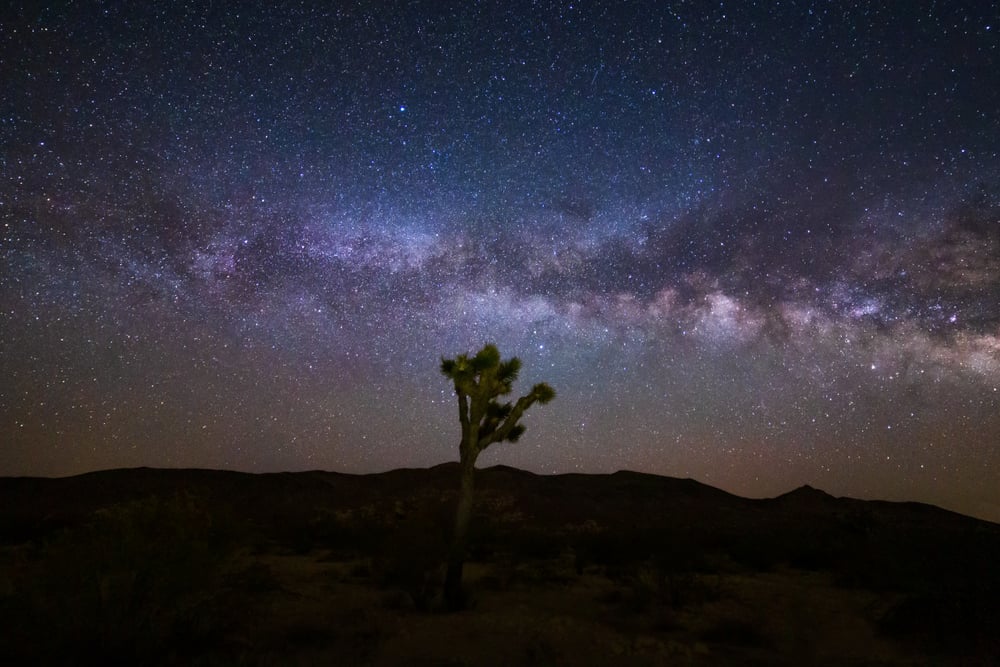 This one is a bit of a tough one for all but the most experienced photographers, but since Joshua Tree is a dedicated Dark Sky Park, you really ought to try to get some great astrophotography shots if you have a camera with the capability to do so!
You'll need a tripod, a camera with a self-timer or WiFi connection to your phone so you can release it without shaking the camera, and that camera also has to have manual settings that you are comfortable with changing.
For Milky Way shots, here's a great guide to getting the best shot you can!
Pin This Guide to Joshua Tree Instagram Spots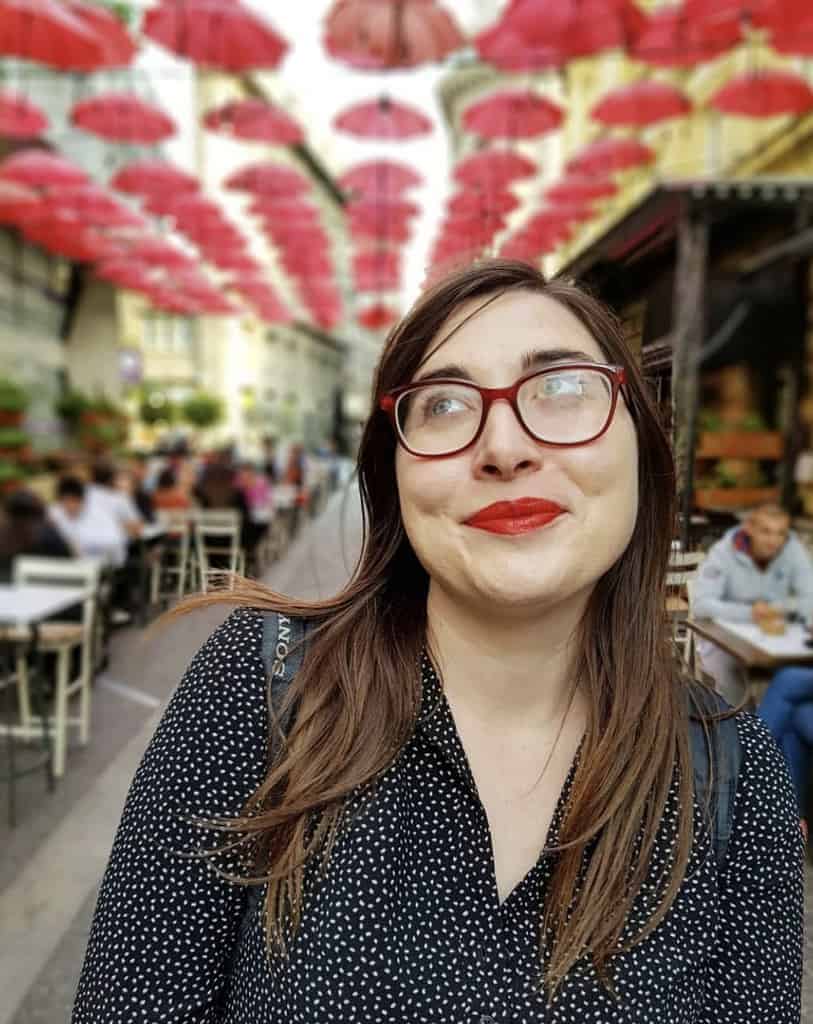 Allison Green is a travel blogger, writer, and podcaster who grew up in the Bay Area of California. She has spent time living in New York, Prague, and Sofia, but has returned to live in the East Bay. She has traveled to 60 countries before the age of 30 while running several digital travel publications. Her writing and podcast have been featured in Forbes, CBC Canada, National Geographic, the Huffington Post, and CNN Arabic, amongst others. She's obsessed with bouldering, houseplants, other people's pets, and anywhere she can see the ocean.