If you are looking for an escape to a gorgeous natural desert oasis, Joshua Tree National Park is your ticket. Joshua Tree has an incredibly unique landscape that, at times, will make you feel like you are on a different planet!
If you are someone who typically experiences serious FOMO (fear of missing out), you will be happy to know that you can experience most of the "must-see" attractions in one day in Joshua Tree. The park is easy to navigate, and of all the 9 national parks in California, it is quite perfect for a day trip. 
This natural beauty is about one hour east of Palm Springs, 2 hours from Orange County, and anywhere from 2.5 to 4 hours from LA — depending on traffic, of course. 
All of the major airports at these nearby cities will have rental cars for you, as you must have a car to get around Joshua Tree.
Not sure where to get the best deal on your rental? I've rented cars dozens of times through various search engines and have settled on Discover Cars as the best car rental search engine – it searches over 500 trusted rental companies to find the cheapest price for your rental! Compare prices for car rental from Los Angeles here.
Why Spend a Day in Joshua Tree National Park?
Note: This post contains affiliate links, which earn me a small commission at no extra cost to you if you make a purchase using one of these links. Thank you for supporting this free content!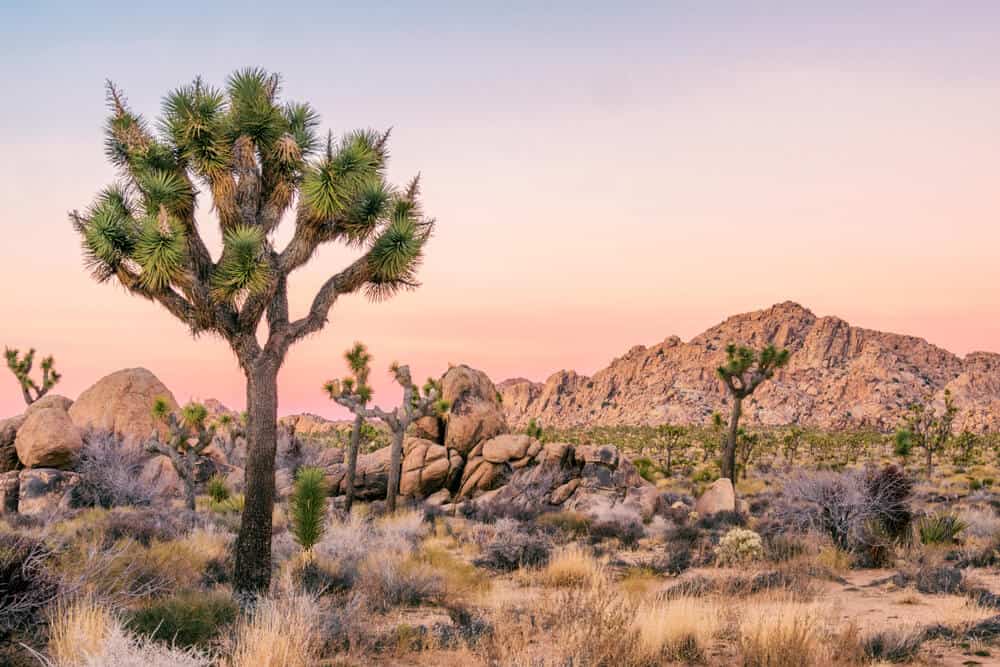 Joshua Tree is extremely special because it is the point where two deserts meet… The Colorado and the Mojave deserts. 
Each has profoundly contrasting landscapes that are home to unique species and Joshua Tree National Park is blessed enough to contain both ecosystems! 
North or South Joshua Tree?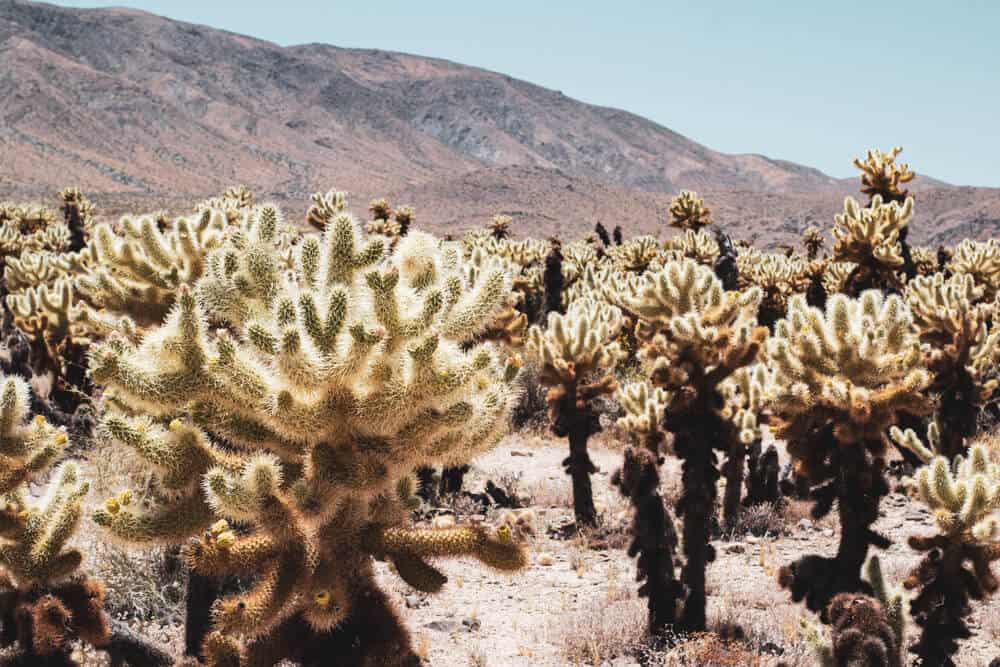 The Northern section of Joshua Tree National Park varies quite a bit from the South. The key to their differences is elevation. 
The Northern section of the park is the Mojave Desert (high desert) and includes popular hikes, massive rock piles, and the famous Joshua Trees that dot that entire landscape.
The Southern section is the Colorado Desert (low desert) which is a much flatter barren landscape, and the Joshua Trees give way to Ocotillo fields and Cholla Cacti.  
You will want to consider this as your plan your route for your day in Joshua Tree and decide: would you rather travel north to south or south to north?  
Consider the heat of the day and the lack of shade in the southern part desert, as well as the time of day you want to do more of the hiking.
It may make more sense to tackle the Southern part first early in the morning and then make your way to the North in the higher heat of the day, where the elevation can cool you down a bit.
Joshua Tree Travel Tips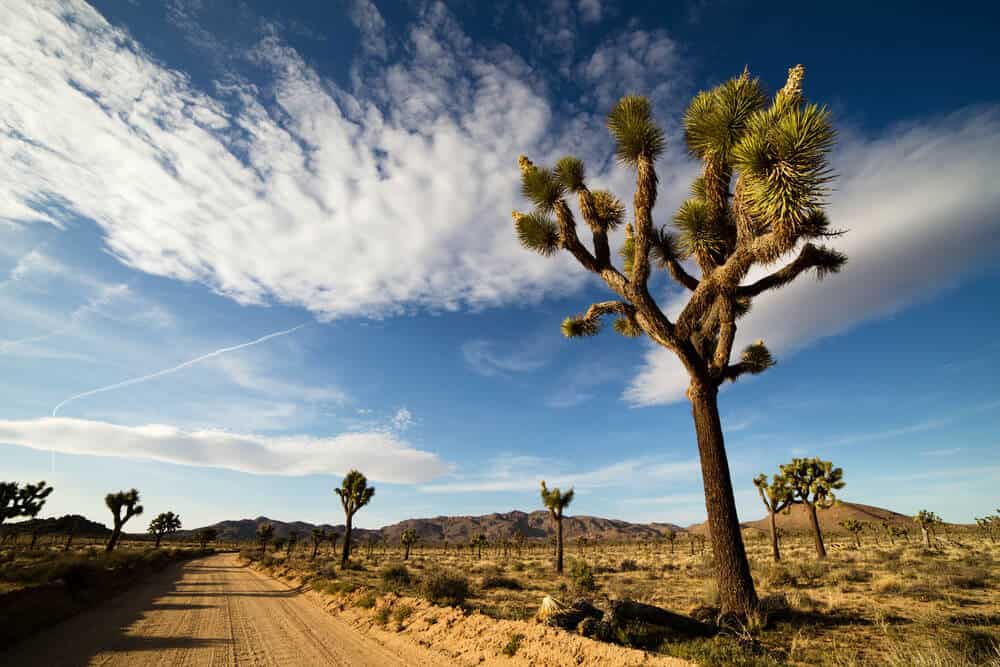 Here are some travel tips to make your experience at Joshua Tree both safe and fun!
Have a great Joshua Tree playlist: Hint — U2's Joshua Tree Album… you won't regret it!
Get on the road early: Depending on where you are coming from, traffic can get crazy.  You don't want to waste your time sitting on the highway. I'd recommend overnighting in Palm Springs or Joshua Tree the day before if you really want to get an early start in the park.
Bring plenty of water and snacks: Once you think you've packed enough water, pack more! One gallon per person per day is a good guide. If you are hiking or cycling, double that! I recommend protein-rich, lightweight snacks like these CLIF bars.
There are no places to get food, gas, or water within the park: There are a few locations around the park to refill water, but many are currently closed because of Covid-19, so be sure to check ahead of time. 
Pack a lunch/dinner if you can: From most places within Joshua Tree, it's a 30–45-minute drive out of the park to a nearby community or store. This obviously depends on your location, but you should plan 2-3 hours for a lunch break including travel time if you need to leave the park. So if you only have one day in Joshua Tree National Park, it's a much better idea to bring a picnic lunch.
There's no cell service in the park: Plan ahead by downloading a local map of the park using Google's offline Maps feature or print out a hard copy from the NPS website.
Dress in layers: The temperatures in the desert will change drastically quite often.  You can go from scorching hot to seeing snow in a matter of hours during the winter months. The desert also cools rapidly as soon as the sun sets, and yes, it can be freezing in the desert. Be prepared for anything!
What to Pack for a Day in Joshua Tree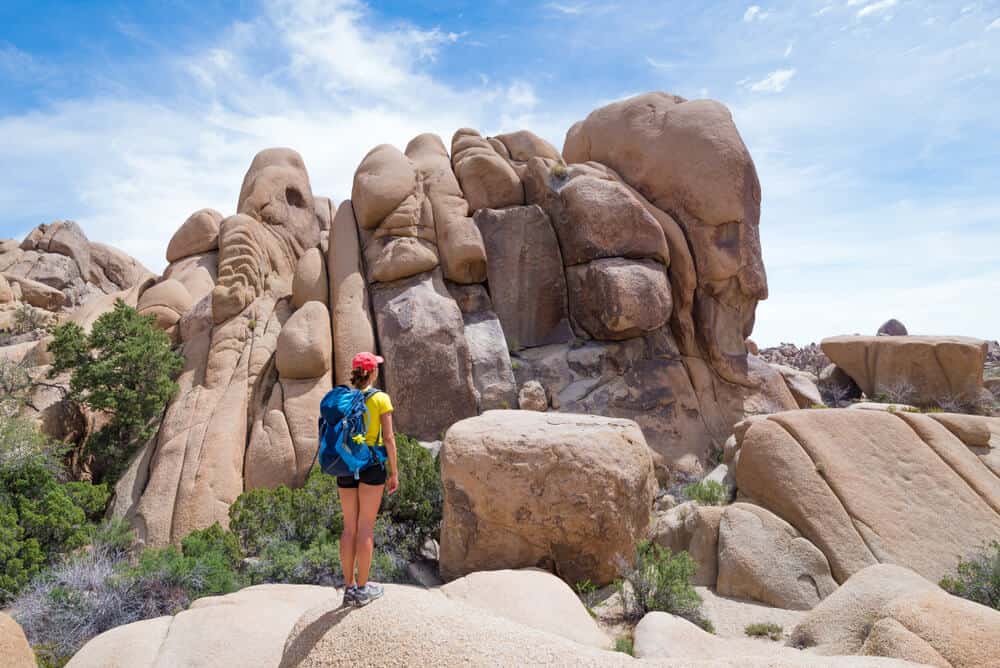 Sunhat: Wear a hat, even if you are not a hat person. There is not much shade and even in the cooler months, the sun will get very hot. I recommend a hat with a strap around your neck like this one.
Sunscreen: Be sure to bring extra sunscreen (I like this mineral, organic sunscreen) and reapply frequently.
Hiking shoes: Bring sturdy shoes to hike in the rocky landscape. I recommend a pair of hiking boots like these Ahnu Sugarpines, or sneakers with really good traction if you don't hike frequently enough to warrant a pair of hiking boots.
First aid kit: A small first aid kit is also key to have to take care of basic injuries, like scrapes, blisters, and cactus pricks!
Backpack: And of course, bring a backpack to carry all of your supplies. I recommend one with a mesh back panel so it wicks sweat and doesn't make your back soaking wet, like this Osprey day pack.
Driving and Parking in Joshua Tree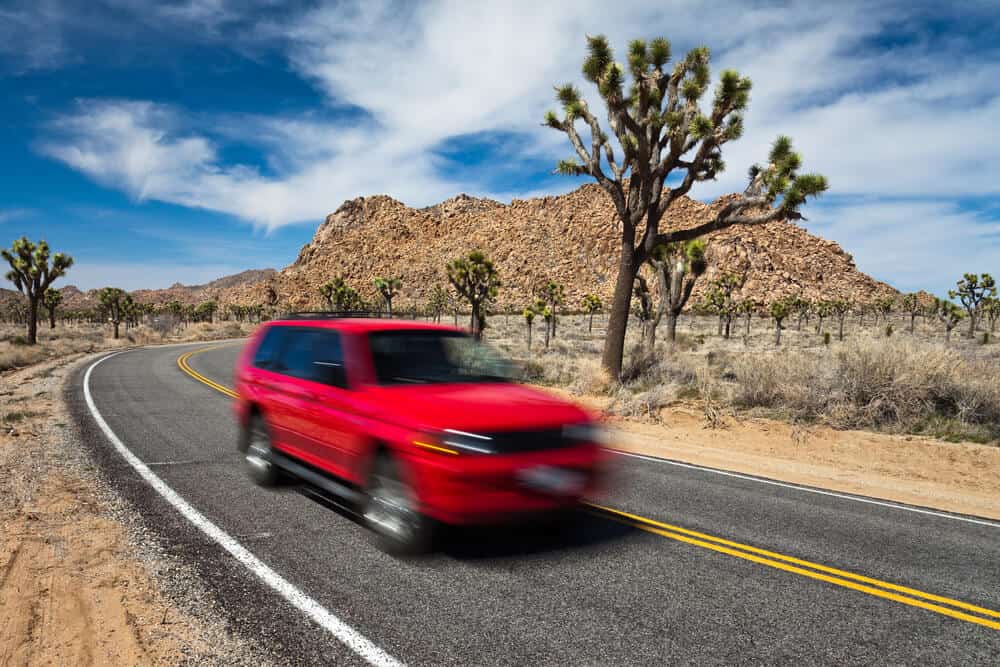 Joshua Tree is very easy to navigate. There are 3 main entrances into the park and two main roads to keep things simple!
Here are the 3 entrances (each with their own visitors center):
Joshua Tree (West)
Twentynine Palms (North)
Cottonwood (South)
There are two main roads going through the park, which are:
Park Boulevard. This runs from the park entrance near the town of Joshua Tree all the way to the entrance near Twenty-Nine Palms.
Pinto Basin Road. This connects to Park Boulevard in the North and runs south to the entrance near Chiriaco Summit. 
There are many easy roadside pull-outs to park and get easy access to rock formations and hiking trails. Like any national park, you cannot do any off-roading or park off the side of the road. 
Is Joshua Tree Pet-Friendly?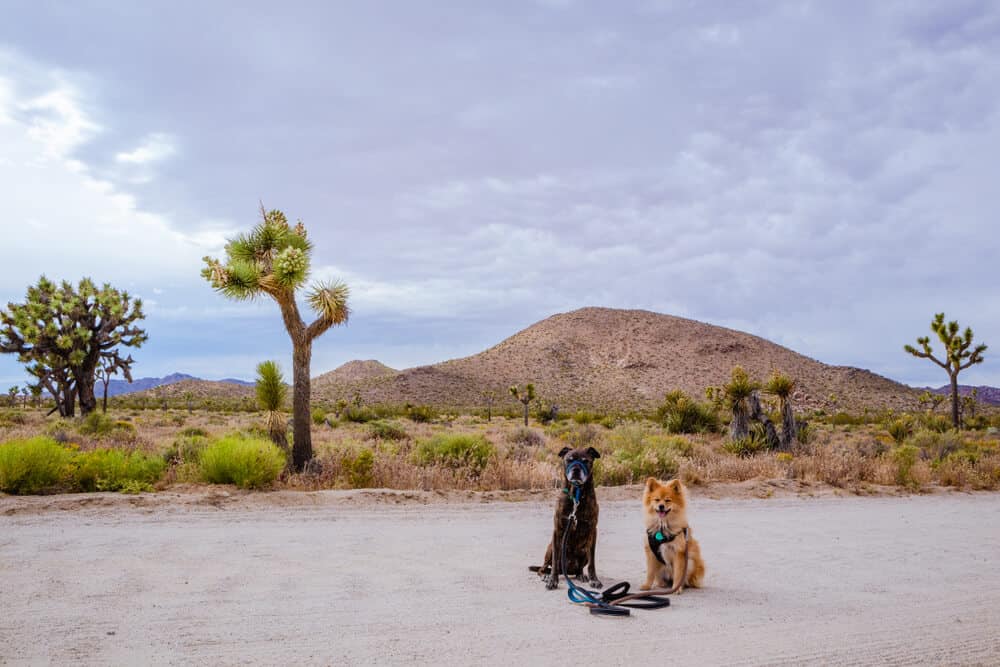 If you are traveling with your fur baby, please know that dogs are only allowed in certain areas, roads, and parking lots. 
Please clean up after your pet, dispose of their waste properly, and also be mindful of all the cacti and prickly things they could step on. 
Be sure to check the website for details to make sure both Mother Nature and your dog stay safe during your trip. 
Covid-19 Restrictions for Joshua Tree (Updated January 2021)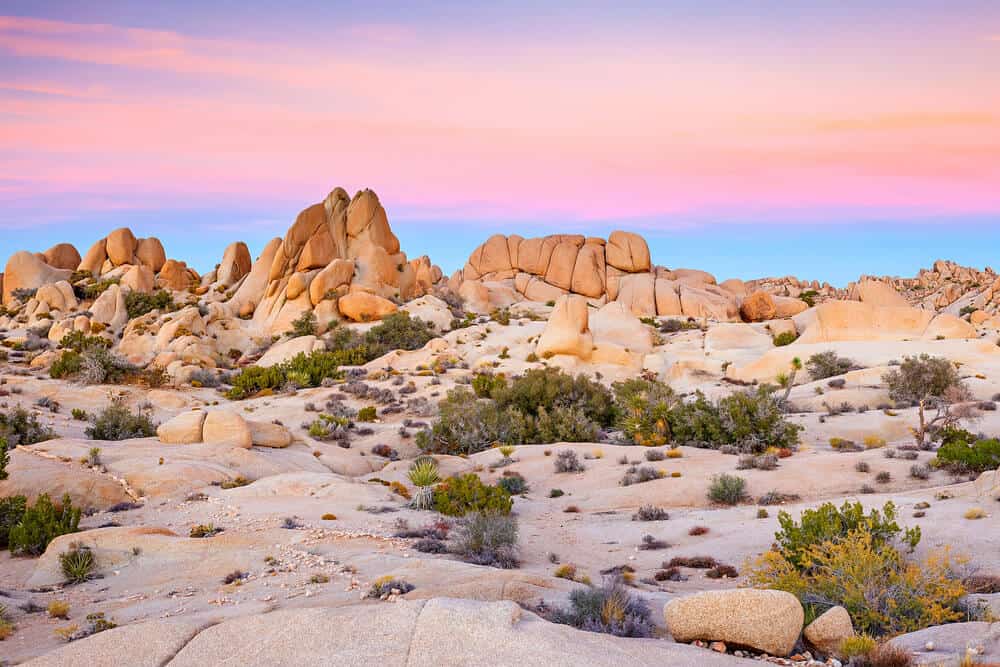 Note that in the context of the Covid-19 pandemic, there are several changes and closures at Joshua Tree. 
Currently, the main closures are that all campgrounds, park ranger programs, and all museum and exhibit portions of visitor centers are closed. 
The State of California requires everyone to wear a mask indoors or outdoors, so be sure to bring your mask and be courteous of social distancing.
Please be sure to check the National Park website before your trip to make sure that you are "in the know" on the current status of Covid restrictions at Joshua Tree National Park.
There are so many wonderful outdoor spaces to explore, you should be able to have a fantastic and safe experience by following the rules!
Do I Need a Permit to Spend a Day in Joshua Tree?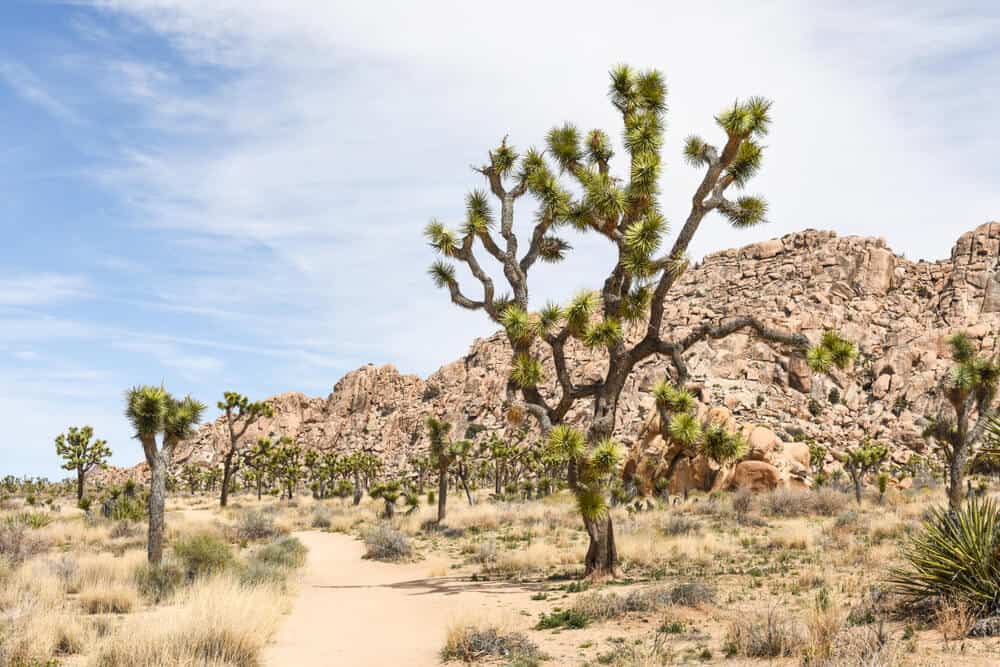 If you often read about permits or see signs when you are in any national park and have wondered why you might need one, look no further! Chances are if you are doing basic hiking, walking, sight-seeing you don't need to worry about any of this.  
Permits are typically for things like filming, certain kinds of rock climbing where you bolt into the rocks, tour groups, guided workshops, scientific research, scattering ashes, wedding & engagement photos, weddings, etc.
Be sure to check the website and seek a permit if needed.
How Do I Get Into Joshua Tree National Park?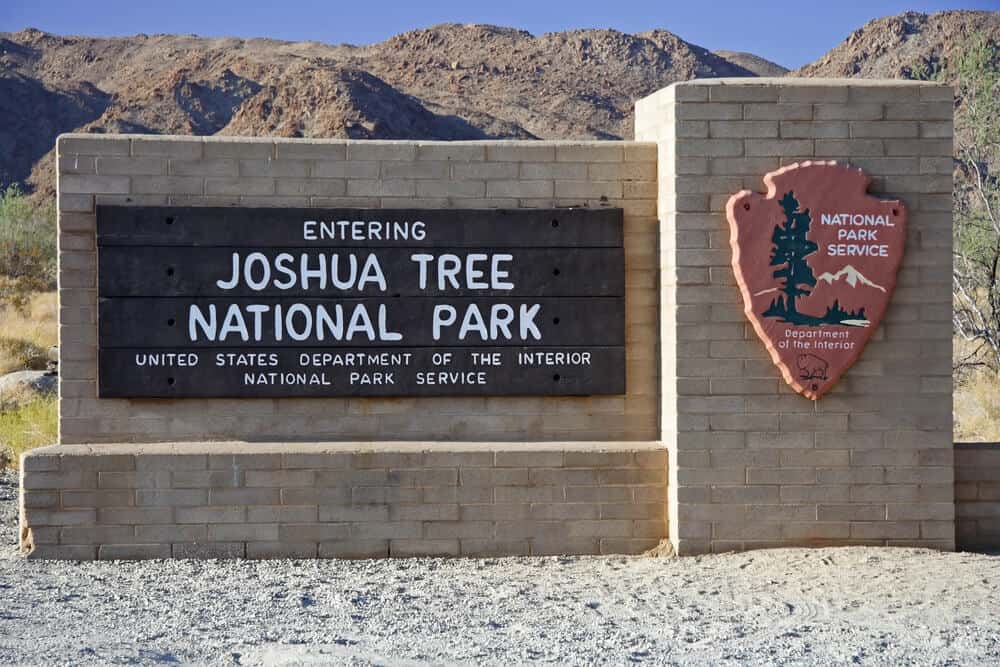 You will need a National Park Pass to enter Joshua Tree National Park. You can buy a park pass at any of the visitor centers or the North and West Entrance Station into the park. For a single car, the entrance fee is $30 and is good for up to 7 days. You can also walk or bike into the park for $15 per person. 
If you know you are going to visit more than one national park this year, or visit parks more than once, you should splurge on the America the Beautiful National Park Annual Pass. It is $80 and worth every penny if are an avid national park traveler. It also covers entry fees to 2,000 other nationally-managed sites, like National Seashores and National Forests. You can purchase the annual pass at federal recreation sites, your local REI, or the REI website before you leave.
Now that we have all the logistics out of the way, let's go explore and have some fun!!  
How to Spend One Day in Joshua Tree National Park: An Itinerary
Catch sunrise in the Cholla Cactus Garden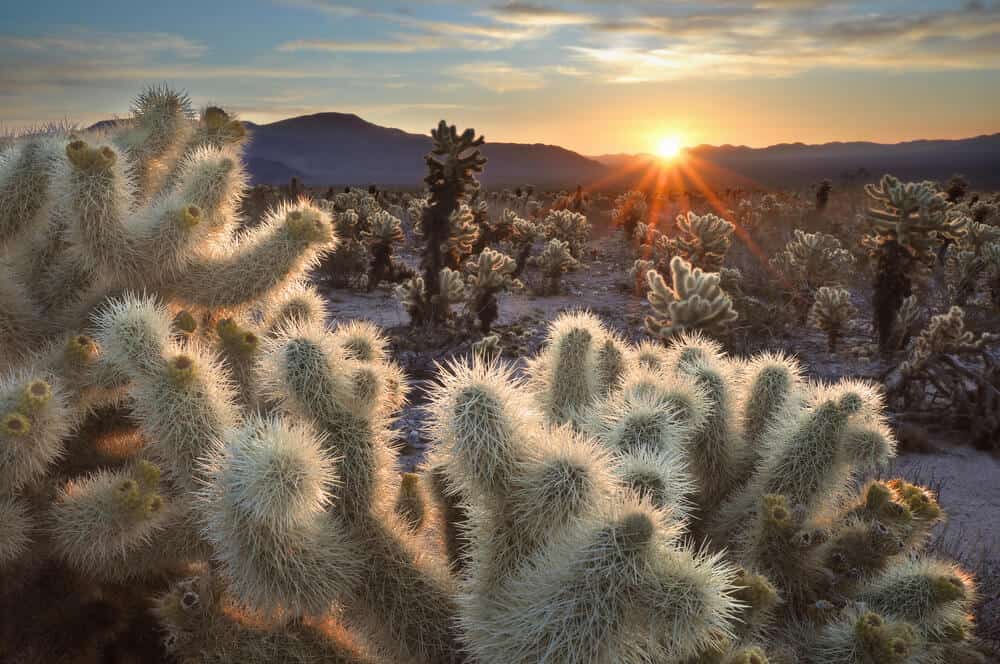 The Cholla Cactus garden is about 20 miles north of the Cottonwood Visitor Center and is an easy 0.25 mile loop that will take about 15-30 minutes to walk. 
This is the best place to see thousands of densely concentrated, naturally growing cholla cactus. It is such a unique experience to walk amongst these beauties and submerge yourself in that desert landscape. Be sure to stay on the trail, wear closed-toe shoes, and be aware of prickly cacti.
Explore Skull Rock and Split Rock Loop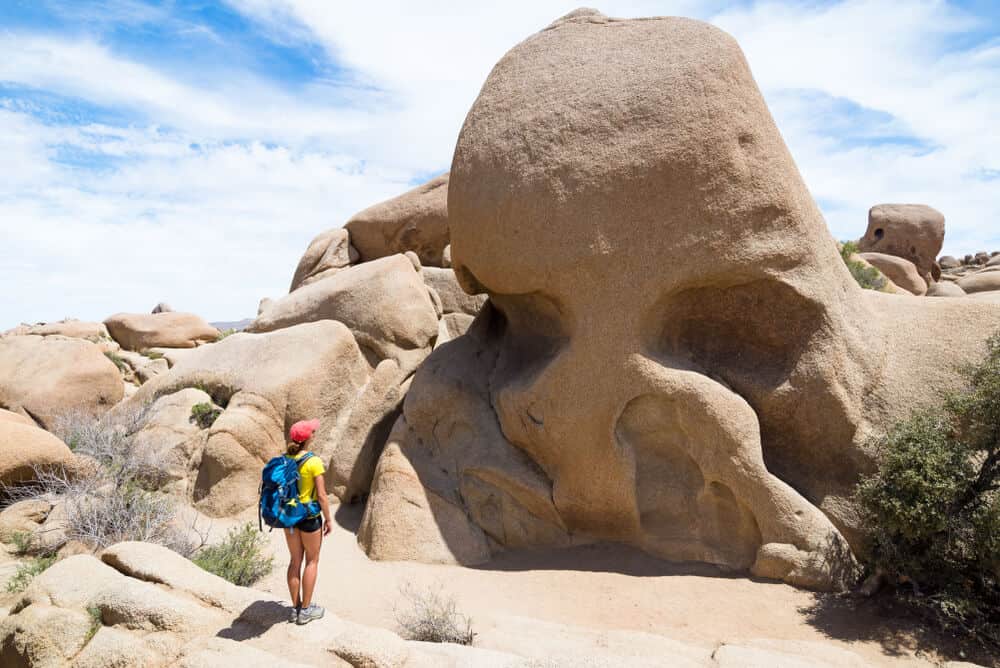 Pull into the Skull Rock parking area and catch the trailhead of the Discovery Trail.  This easy loop is about 0.7 miles long and will take about 30-45 minutes to complete.  
This trail connects the infamous Skull Rock and Split Rock Loop trails at Face Rock.  Plan some extra time to hike through the boulder piles and desert washes.  
This hike takes care of a few of the "must-see" places of Joshua Tree, if you have time for additional hikes or want to challenge yourself with something more strenuous check the list of trail info for details.
Take a selfie with a Joshua Tree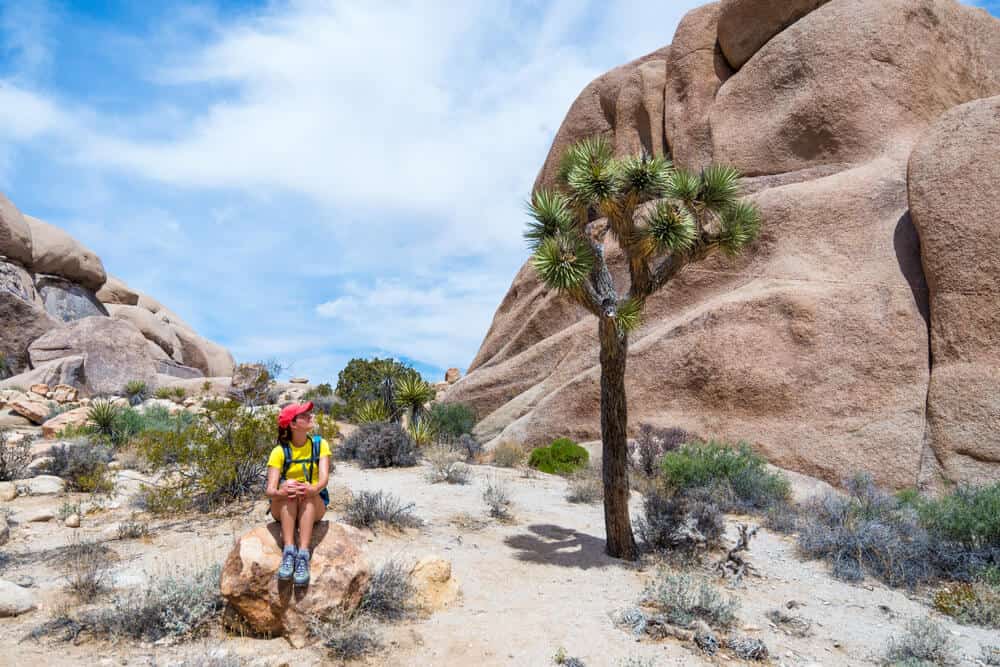 The Northern (Mojave) section of the park houses its most famous resident, the Joshua Trees. If you can visit in the spring between February and April, you will see these trees in bloom!
Named by Mormon settlers who crossed the Mojave Desert in the mid-1800s, the tree's unusual shape reminded them of the biblical story in which Joshua reaches his hands up to the sky in prayer. This was also the reason U2 named their album after this gorgeous tree!
Take in the sunset at Keys View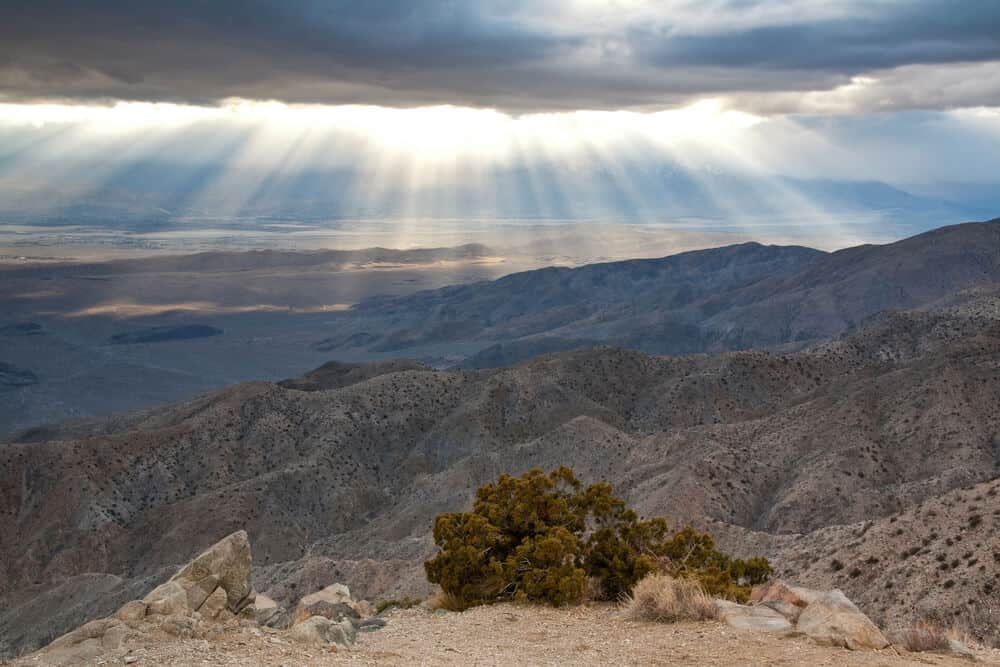 This breathtaking view is a must see and a perfect place to experience a gorgeous desert sunset.  This 0.25 mile short, paved loop path is steep but worth it. 
The views of the San Andreas Fault, Mount San Jacinto, Coachella Valley, Mount San Gorgonio, and the Salton Sea make for a memorable desert experience. 
If you can, try to stick around for the gorgeous dark sky views once the sun goes down!
Do some dark sky gazing!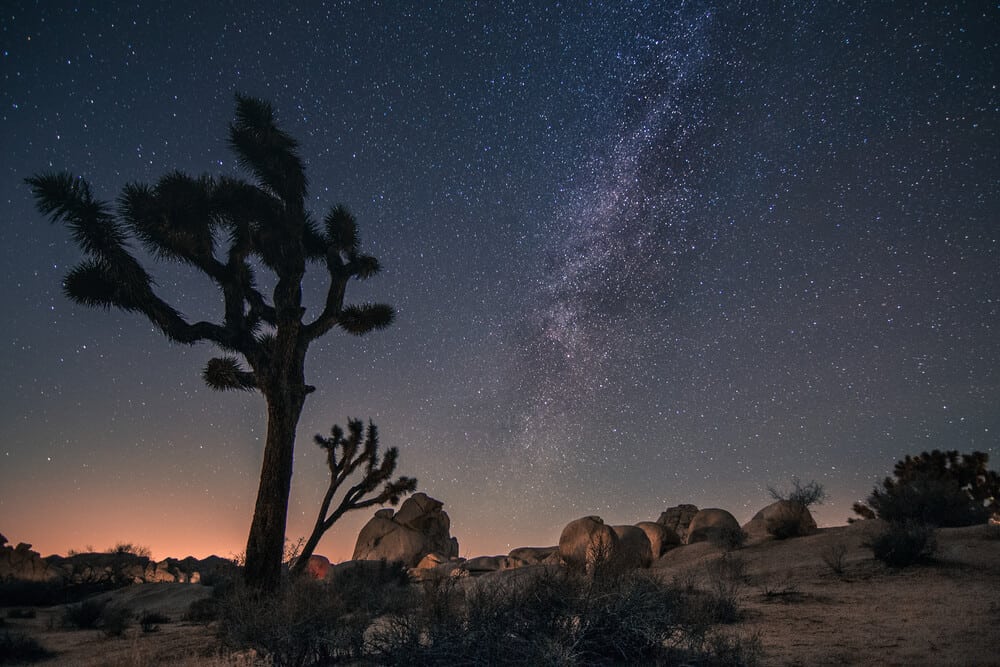 Joshua Tree has bragging rights as some of the darkest skies in Southern California due to its designation as an International Dark Sky Park. 
If your bucket list includes seeing the Milky Way, this is your chance! The best time to see the Milky Way is on a moonless summer night — the full moon will dim the Milky Way too much.
Tips for stargazing include using a red flashlight instead of white lights (that includes your phone — keep it off to keep your eyes sensitized properly), bring a comfortable chair, and check the moon's phase and rise times to avoid high moonlight.
The Night Sky Festival is an annual event that usually takes place in the fall and tickets go on sale in early summer. It was canceled in 2020 due to Covid-19, but you should put this on your future to-do list if you are a star lover.
Call it a night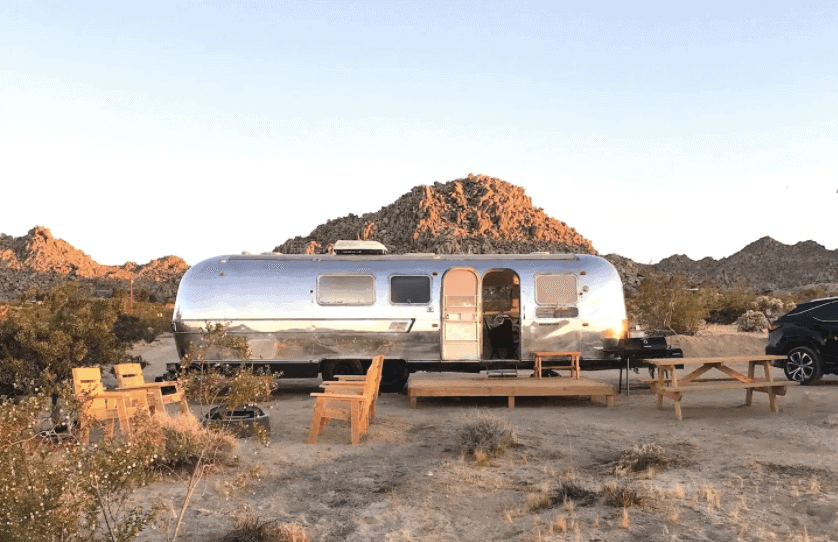 After a fun-filled day at Joshua Tree, you will be exhausted and will need to drive out of the park. Make sure to plan and set up sleeping accommodations ahead of time.
There are 9 campgrounds inside of Joshua Tree, all of which are closed during Covid. There is no other lodging available within Joshua Tree National Park, however, there are many hotels to stay at in nearby communities. 
A few unique housing experiences include a fun glamping experience at the nearby Castle House Estate!
Some super cool Airbnbs include this hip Airstream, the design-forward Roadhouse Ranch, or this one-of-a-kind Stargazing Cabin.
***
Whether you are hiking, biking, rock climbing, horseback riding, photographing wildflowers or the Milky Way, or just driving through to see the sights, a day in Joshua Tree will not disappoint!
Pin This Guide to One Day in Joshua Tree!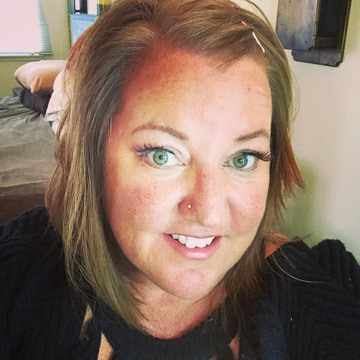 Rosie Queen is a travel blogger and creative writer who grew up on the South Side of Chicago. She has spent time living in Indianapolis, Dayton, New York City, London, Orlando, Boston, and most recently, Huntington Beach, CA. Rosie has been blessed to travel most of her life while being deeply involved in the performing/pageantry arts. She has enjoyed adventures in 48 U.S. states, Japan, Thailand, Mexico, Paris, London, Canada, and the Caribbean. Rosie is obsessed with her dogs, color guard/marching band, national parks, and traveling.