If a gorgeous desert oasis with stylish hotels, superb golf courses, indulgent spas, and vintage shopping is your jam, a weekend in Palm Springs is just what you need!
It does have an International airport if you are flying in and renting a car, but it's also a popular weekend getaway from the Los Angeles metropolitan area.
Just about a 2-hour drive from L.A., Palm Springs was once known as the "Playground of the Stars," as Hollywood royalty like Frank Sinatra, Dean Martin, and Elizabeth Taylor would relax and party here as an escape from their grueling film schedules.
It was a place the stars could escape to, but still a short drive from the studios if they were called into work on short notice.
Today, celebrities like Leonardo DiCaprio, Goldie Hawn and Kurt Russell, and the Kardashians all have homes in Palm Springs and if you are lucky, you might catch them enjoying a night on the town!
Where to Stay in Palm Springs
Note: This post contains affiliate links, which earn me a small commission at no extra cost to you if you make a purchase using one of these links. Thank you for supporting this free content!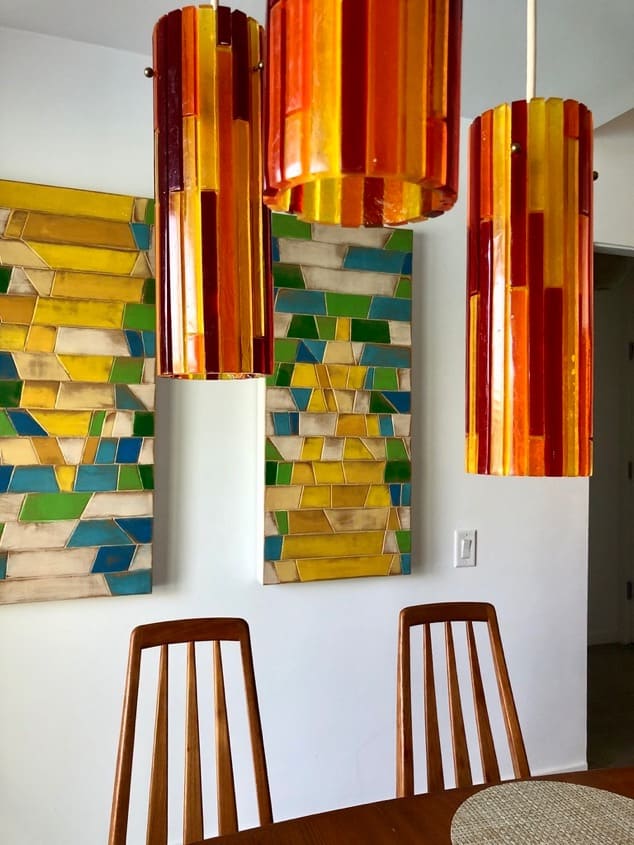 There are some incredible Airbnbs and VRBOs in Palm Springs that will immerse you in the incredible mid-century modern architecture and design style that Palm Springs is famous for.
In fact, Palm Springs has the largest concentration of mid-century modern residential architecture in the world! You will feel like you are traveling back in time as you're surrounded by Palm Springs' cool, signature style.
One of my favorite places to stay is this VRBO charmer that has a private pool, a huge backyard, sleeps 8, and allows you to bring your fur baby.  
The house even has an array of citrus and mango trees in the backyard for an afternoon snack while lounging at this beautiful pool.
>> Check out this chic VRBO in Palm Springs!
Most of the hotels and bungalows in Palm Springs are super stylish, kitschy, and have a lot of character.
If you are looking for something that's bit a more budget-friendly but still cute and located in the thick of Palm Springs, check out the Del Marcos Hotel: a chic adult's only property great for a girls' trip or a couple's getaway, with beautiful and streamlined vintage design.
>> Check out Del Marcos Hotel here!
Wanting to indulge and live big? Make reservations at the most iconic boutique hotel in Palm Springs, Parker Palm Springs, a stunner of a 5-star hotel with 3 pools (including an adults-only pool and a family pool and best of all, a stunning saline pool), a spa center, two restaurants, tennis courts, croquet courts, and more.
Palm Springs Airbnbs
There are also a plethora of incredible Palm Springs Airbnbs which will allow you plenty of space to socially distance at a budget-friendly price.
I've reviewed all my favorite Palm Springs Airbnbs here, if you want to check out the full post. I'll also list my top 3 favorites below.
Dream Home
This one bedroom charmer for two with a private pool and vibrant color scheme is a fantastic choice for a Palm Springs getaway on a budget.
With an exterior of white, blue, and turquoise and an interior with every color you can imagine, toned down by warm wooden details, this house oozes color, comfort, and personality. There's a great library with a reading chair, a spacious dining area with a view of the mountains, and the outdoor area also has a BBQ grill as well as its signature pool area. The Airbnb also comes with free bike rentals!
Dome House
Uniquely positioned in the middle of the vast desert surrounded by the trademark Palm Springs windmills, this architectural marvel will provide you with some of the most jaw-dropping views you'll ever see. This dome-shaped Airbnb is surprisingly spacious, fitting up to six guests in 3 bedrooms with 3 beds: perfect for a group of friends or a few couples traveling together. The living room is the true highlight, with epic views of the mountains and a helix staircase that adds architectural whimsy.
This is a great choice for those looking to socially distance, as you're located on 5 acres of open desert. That said, you're not that isolated: it's just 20 minutes from Palm Springs, and 30 minutes from Joshua Tree National Park, making it a perfectly reasonable choice for a weekend in Palm Springs where you want to cut down on travel time to and from your accommodations.
Best Airbnb for Boho Design: The Roseta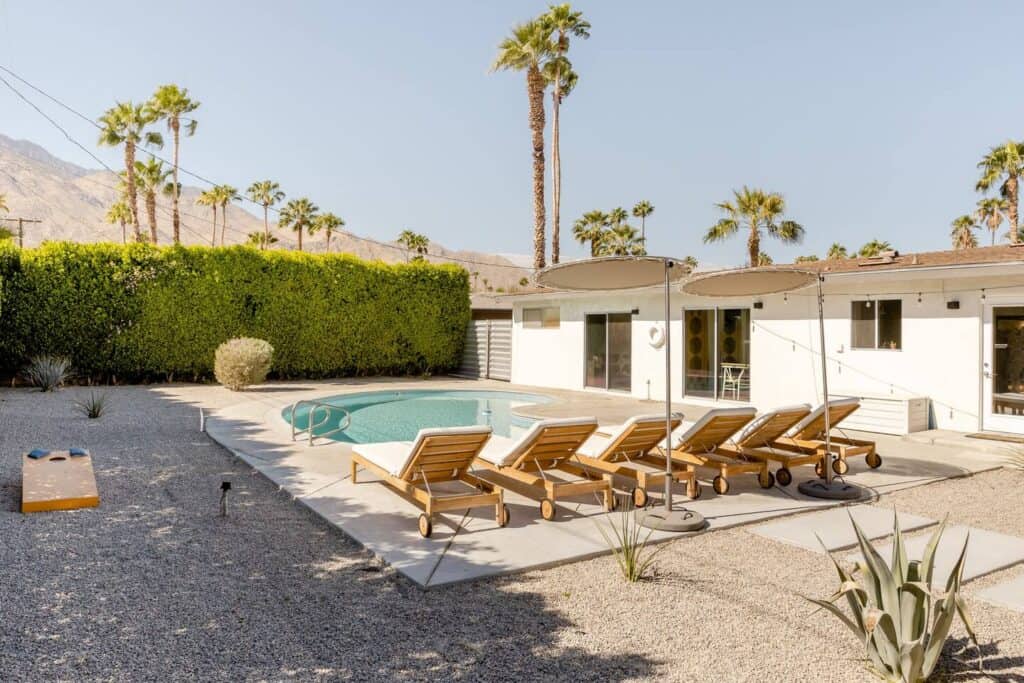 The Roseta is a beautiful home in the heart of Palm Springs, located only 5 minutes away from the best stores and eateries in town. This home has a lovely heart-shaped pool, sun loungers, BBQ grill, and a spacious outdoor covered cabana area with outdoor dining and lounging opportunities.
It fits up to six guests in three bedrooms (four beds). The bedrooms are spacious and well-designed, and the main room is an open-design living area complete with Bose speakers for jamming out to great tunes. The bathrooms are spacious as well with walk-in showers for the ultimate relaxation experience!
Day One of Your Weekend in Palm Springs Itinerary
Drive through the famous windmill farm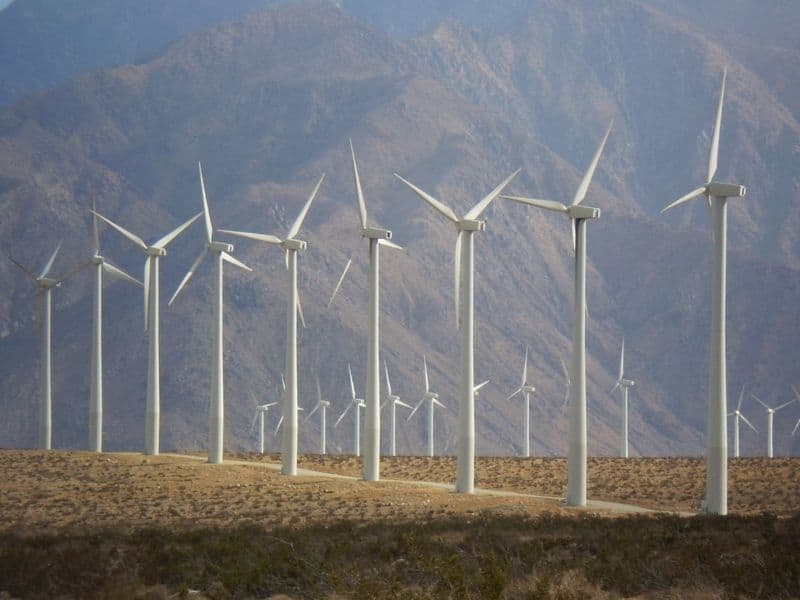 One of the best things about spending a weekend in Palm Springs is how "small town" and comfortable it feels almost instantly — unlike other destinations, you need almost no time at all to "settle in."
As you drive in from Interstate 10, you will drive through the world-famous "Windmill Farm." These windmills stacked up on the San Gorgonio Mountain Pass have become synonymous with the oasis, and they're a popular Instagram spot as well!
It is an incredible feast for the eyes to see over 2,100 wind turbines spinning around on the mountainside.
You can even sign up for a self-driving interactive tour of the windmills on your way in or out of town. The windmill farm is open from 9:00 AM until 1:00 PM daily, so I recommend doing this as the first thing on your Palm Springs itinerary as you're entering the area.
Indulge in a Retro Breakfast
Once you've arrived in town, it's time for breakfast at the King's Highway Restaurant nestled into the Ace Hotel.
It is formerly a Denny's that was converted into a "redefined roadside diner" that celebrates a bohemian spirit. This place features Stumptown coffee for a great wake-up call, and it has a breakfast bagel to die for!
On Monday nights it also hosts Fabulous Bingo with Shirley Claire (currently suspended due to Covid-19), so if you're planning a 3 day Palm Springs itinerary for a long weekend, make it a point to circle back here!
Visit a Succulent Lover's Dream at Moorten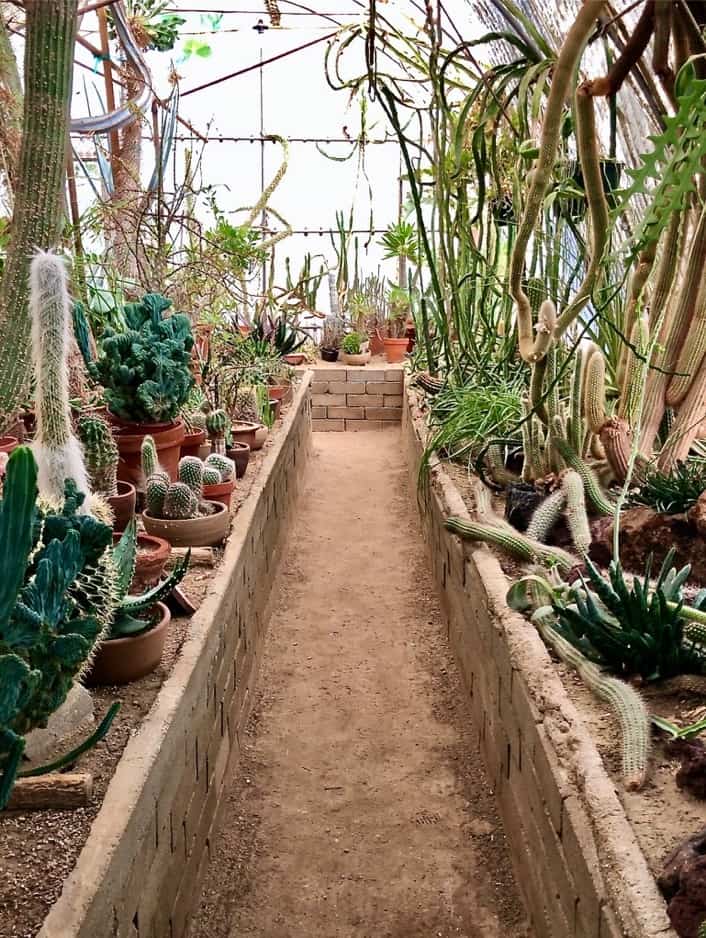 After filling your belly, make your way down the street to explore the succulent lovers paradise, the Moorten Botanical Garden.
They have the self-proclaimed "World's First Cactarium," a word coined by Moorten himself. You can explore a special exhibition of rare plants, purchase some of your own and take selfies with agave plants & cacti as big as you are!
Be sure to get there before it gets too hot, and check their hours beforehand because times are limited.
Have a Delicious Lunch in Town
Next up is lunch at the spectacular Chicken Ranch! With a 4-star Yelp rating, you must stop for a menu full of chicken specialties. The menu is simple but scrumptious!
The Chicken Ranch sandwich puts Popeye's to shame! Moist, tender, and billowing out from the brioche bun, the fried chicken filet is huge and tasty.
The super creamy mac & cheese is to die for, and the chicken fingers are so crispy and juicy, they're unforgettable.
Shop til you drop on Palm Canyon Drive
On your way back to your Palm Springs accommodation, stroll down Palm Canyon Drive and explore all of the unique shops.
It's the main shopping zone filled with cool vintage shops, kitschy unique home décor stores, one-of-a-kind souvenirs, and ice cream parlors where you can get a famous Palm Springs Date Shake on your way back to enjoy the refreshing pool.
Chill out at the pool
No matter where you choose to stay in Palm Springs, one thing is almost certain: a pool is never far away, as nearly every vacation rental and hotel will have their own pool.
In fact, Greater Palm Springs can boast that it has more pools per capita than anywhere else in the country with more than 50,000 pools in this small community!
Be sure to enjoy some R&R poolside with your friends, but don't forget to lather up on the sunscreen to avoid that desert sun burn.
Taste some tacos for dinner
Is all that chill out time making you hungry? Dinner time tacos at the Blue Coyote Grill will hit the spot!
This place was voted one of the top 100 Best Outdoor Restaurants in the nation — perfect for patio dining.
The Pollo Tenders appetizer is a tangy, Mexican-inspired spin on chicken fingers with an orange-chipotle-adobo sauce. The tacos are so flavorful, you can't just have one, and luckily since you're on vacation, you won't have to!
Try to win big at the casino
How better to round out your first full day in Palm Springs than by hitting the Agua Caliente Casino to see if you can win back some of your vacation money?
Table games, slot machines, and some amazing restaurants make this a fun place to end the first night of your weekend in Palm Springs.
Day Two of Your Weekend in Palm Springs Itinerary
Have breakfast at Koffi
Start your day by heading out to Palm Springs' premiere coffee destination: Koffi.
Voted Coachella Valley's best coffee shop, Koffi is a staple for the locals and tourists alike. There are four locations in Palm Springs, so one is likely not too far from your front door.
They have some tasty breakfast and brunch options including cinnamon rolls, grilled egg sandwiches, and fresh locally baked muffins. They also roast their own coffee that you might find served at some of the other local restaurants nearby, but why not indulge here?
Be sure to grab a carry-out sandwich or an extra muffin to bring with you for lunch at your next stop: Joshua Tree National Park.
Explore Joshua Tree National Park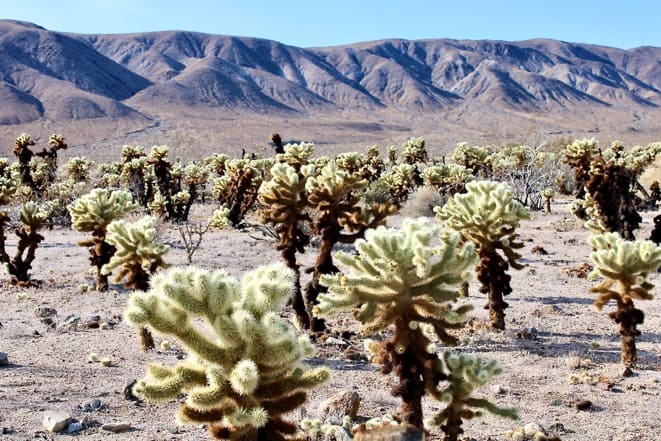 Joshua Tree National Park is where two surreal desert ecosystems come together, the Mojave and the Colorado.
It is an easy hour drive from Palm Springs: don't forget to blast U2's namesake album to get in the mood!
I also recommend loading the Gypsy Guide app onto your phone to give you a guided audio tour through this natural wonder. This fun guide uses your GPS to explain your surroundings and give you the lay of the land.
Alternately, if you don't want to drive yourself, you can take this half-day Jeep tour which departs from Palm Springs and shows you the best of Joshua Tree from a perspective you won't normally get to see on a guided off-road tour!
>> Book a half-day tour of Joshua Tree here
Depending on your schedule, you could easily spend an entire day at Joshua Tree or drive through to get a taste of it in a couple of hours. You might feel like you are on a different planet in this wonderland of desert rocks, sprinkled with dense bursts of the namesake yucca trees.
It will be hot, hot, hot, so bring plenty of water if you plan on hiking. Enjoy your packed lunch from Koffi while picnicking out in Mother Nature or while enjoying the air conditioning in your car if you're self-driving.
Take the Aerial Tramway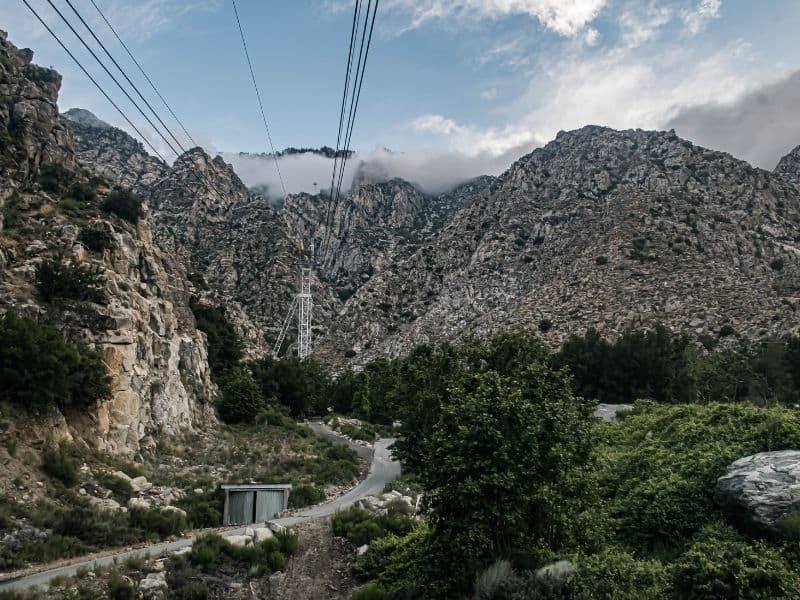 After lunch, I highly recommend checking out the Palm Springs Aerial Tramway (pre-book tickets online here)
You will ascend 2.5 miles to a pristine wilderness aboard the world's largest rotating tramcar along the breathtaking cliffs of Chino Canyon.
It takes about 10 minutes to get to the top, and the tram cars rotate slowly which offers picturesque views of the valley flow below.
You will feel like you are in the clouds, so take some deep breaths and enjoy the view.
Once at the top of the 8,516-foot-high mountain, you can enjoy two restaurants, several observation decks, a natural history museum, hiking trails, and a gift shop.
Go for dinner at Giuseppe's or Pig and Rooster
After exploring the great outdoors at Joshua Tree, head back into town for some dinner at this Chicago-inspired restaurant, Giuseppe's Pizza & Pasta.
The steamed baby clam appetizer gives you that buttery, garlic delicious flavor that is unmatched! Their huge plates of pasta are homemade and made to order, and the fresh California ingredients will rock your world.
They even have Chicago's famous pan pizza with a plethora of topping choices and using real Wisconsin mozzarella cheese.
Alternately, if you want some Asian food for dinner, enter Rooster and the Pig, a delicious modern Vietnamese restaurant.
Vietnamese cuisine is big on herbs and salads, with a focus on light flavors that interplay sour, sweet, and slightly spicy.
Don't miss their fresh rolls and banh xeo, a tasty turmeric-coconut flour crepe stuffed with all sorts of amazing Vietnamese goodness and eaten with fresh lettuce and herbs.
Enjoy some desert star-gazing
Wind down your busy weekend by star gazing at the Rancho Mirage Library & Observatory or book a star gazing tour at Skywatcher Star Tours.
Their state-of-the-art telescopes will let you experience the wonders of the night sky and appreciate the breathtaking views!
Bonus Palm Springs Travel Tips
Mask Up!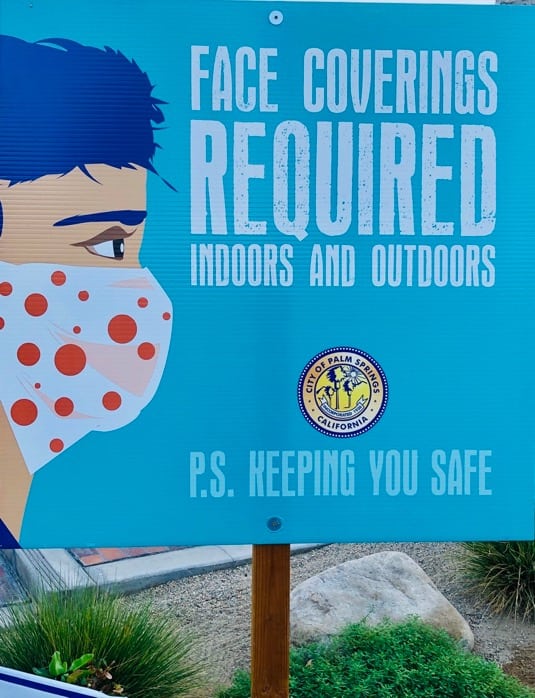 You should also know that Palm Springs takes Covid very seriously!
There were signs everywhere that you must wear a mask inside or outside, along Palm Canyon Drive, everywhere! I truly did not see one person without a mask on, so you can rest assured you'll have as safe a trip as possible given the current circumstances.
LGBTQ+ Travelers
Palm Springs has a thriving gay community and is known for its LGBTQ friendliness, and they even have hotels geared specifically toward the gay community like the Vista Grand Resort — a gay men's resort — or the Santiago Resort, a chic clothing-optional gay men's resort.
Of course, LGBTQ+ travelers are welcome at hotels throughout Palm Springs as well.
Money Saving Tips
Palm Springs can be a pricy getaway, but here's a major tip to save some serious money.
Travel during the "off season!" Since Palm Springs is literally the desert, June through September is when the temperatures easily average 100 degrees and the crowds typically stay home.
Prices for lodging will be much cheaper then, and with a hotel A/C and a smartly-planned schedule, you can beat the crowds if you can handle the heat.
Events
When life gets back to normal, if you want a special treat, visit in February during the Modernism Week celebration of the architecture and design style.
It is a super cool festival that will leave you feeling inspired!
You could also come to experience the trendy Coachella Music & Art Festival that is just a short 40-minute drive away from Palm Springs.
Pack Your Sunscreen
The one thing you can always count on in Palm Springs is that there will be an abundance of sunshine and the temperatures will be hot!
We are in the desert after all, so it truly is a "dry" heat, but you can expect scorching temperatures easily into the 100s depending on the time of year.
Bring sunscreen and a wide-brimmed hat to keep the sun's rays off your face!
Pin This Weekend in Palm Springs Itinerary!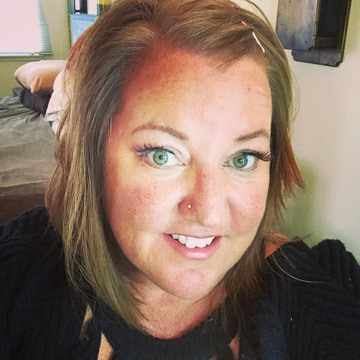 Rosie Queen is a travel blogger and creative writer who grew up on the South Side of Chicago. She has spent time living in Indianapolis, Dayton, New York City, London, Orlando, Boston, and most recently, Huntington Beach, CA. Rosie has been blessed to travel most of her life while being deeply involved in the performing/pageantry arts. She has enjoyed adventures in 48 U.S. states, Japan, Thailand, Mexico, Paris, London, Canada, and the Caribbean. Rosie is obsessed with her dogs, color guard/marching band, national parks, and traveling.