One of the best weekend getaways from Los Angeles is the beautiful desert oasis of Palm Springs, with its unique landscapes, brilliant mid-century architecture, and delicious dining options.
Palm Springs is one of those rare destinations where the place you stay is an integral part of the experience itself, as Palm Springs is one of the best examples of mid-century modern design, updated to reflect a uniquely California aesthetic and its desert environs.
While you could surely stay at one of the luxurious resorts in Palm Springs and enjoy some TLC and pampering, many people choose to rent an Airbnb in Palm Springs as it's the best way to appreciate the architectural uniqueness of this beautiful city in the heart of the Sonoran desert.
I'm a bit of an interior design geek and spend far too much time on Pinterest picking out beautiful future home decor, and I had too much fun curating this list of beautiful Palm Springs Airbnbs for you all — I hope you enjoy!
The Most Beautiful Airbnbs in Palm Springs
Best Palm Springs Home for Instagrammers: Desert Luna
Note: This post contains affiliate links, which earn me a small commission at no extra cost to you if you make a purchase using one of these links. Thank you for supporting this free content!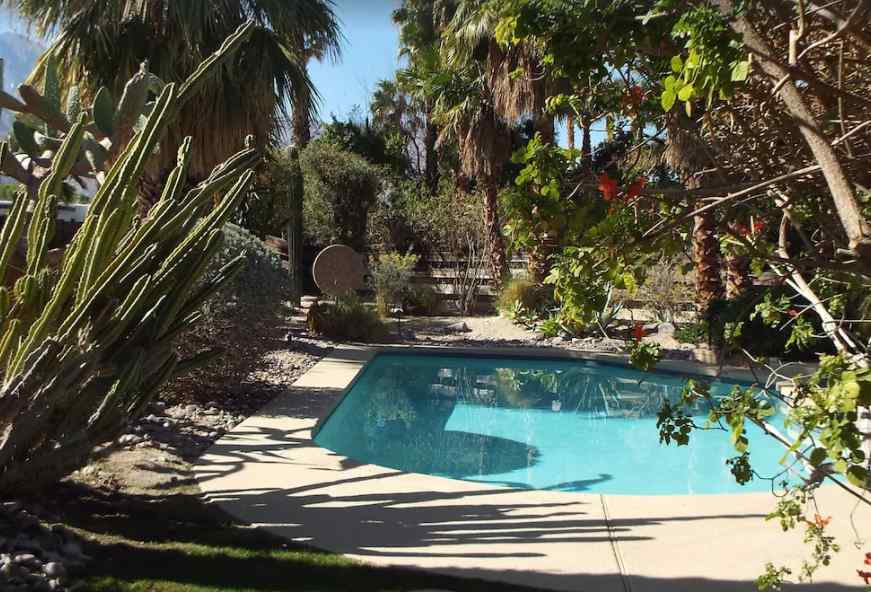 Staying at Desert Luna is bound to be an unforgettable experience, and you'd be hard-pressed to find a vacation home with more character in the Palm Springs area!
The first things you'll notice about the interior are the warm colors and wooden decorations that give it a cozy atmosphere
This comfy home with a private pool is located on a quiet cul-de-sac, minutes from downtown Palm Springs. It features two bedrooms and it's nothing but a perfect retreat.
Mature desert landscaping and mountain views make this home a great place to relax and enjoy the pool and large spa. Desert Luna comfortably accommodates up to four people.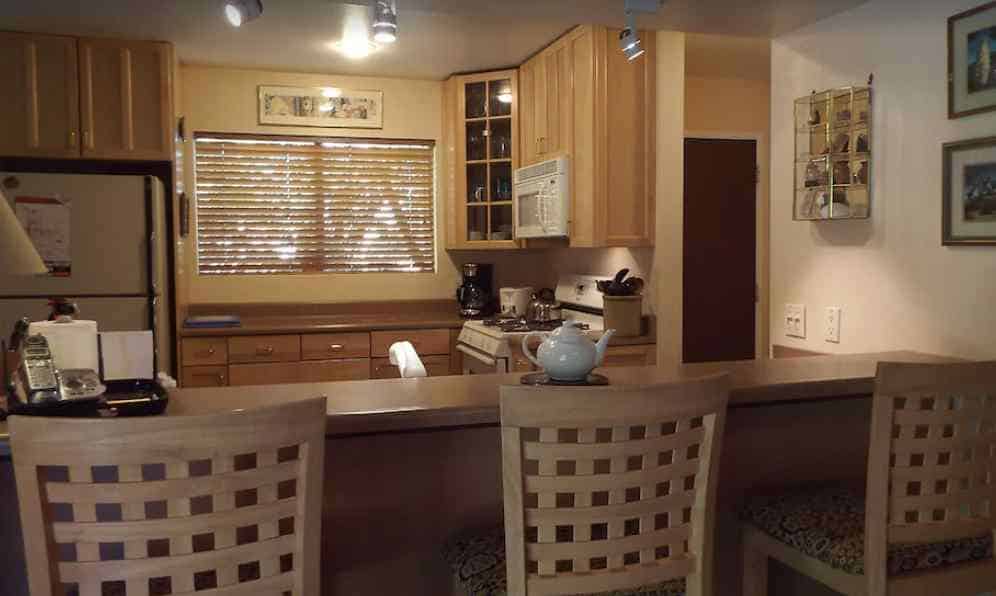 You can have a meal in the spacious dining area or by the pool as well as enjoy a great view of the mountains.
Every corner of the house is very thoughtfully decorated. The house is surrounded by a beautiful mature desert garden with palms, citrus, mesquite, ficus, and pepper trees, and a variety of cacti and flowering plants. There is a nice combination of sun and shade throughout the day. The yard is completely fenced and private and offers views of Mt. San Jacinto and the Santa Barbara Mountains.
The design of the house extends over into the exterior – there's a large swimming pool, a barbecue grill, and plenty of seating, making this a great spot for sunbathing and taking those envy-inducing Instagram snaps!
Best Palm Springs Home with a Hot Tub: Mid-Century In Downtown Palm Springs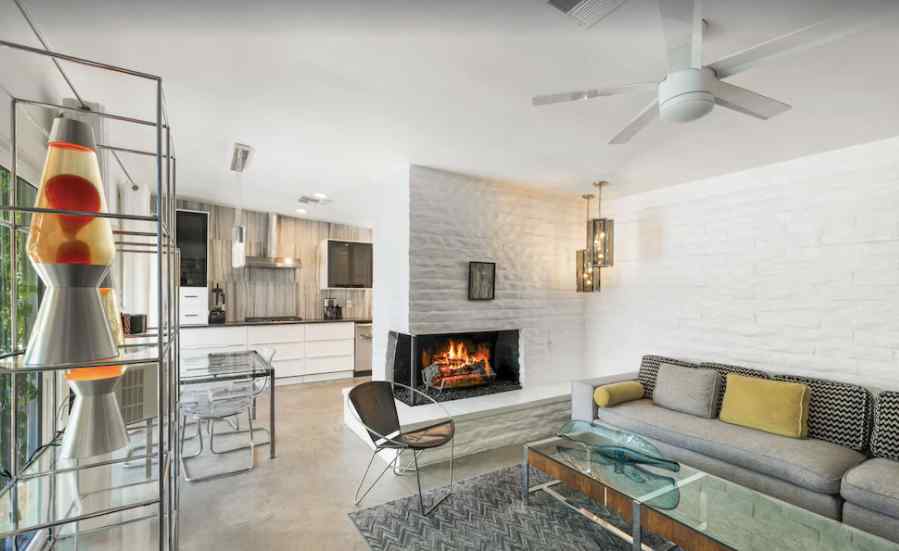 Ideally suited for a small group or a couple with 2 kids, this understated Palm Springs Airbnb is a beautiful throwback with a modern twist, and it's located only 5 minutes from downtown Palm Springs!
Save for the occasional touch of baby blue on some of the walls and furniture, the whole interior looks like a black-and-white Polaroid picture – the house effortlessly pulls off a retro design without anything looking out of place.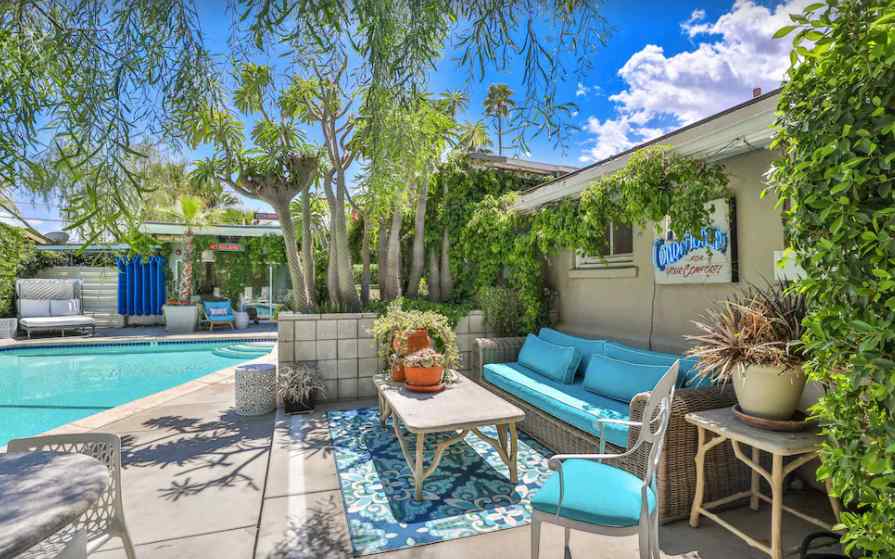 On top of being well-furnished and beautifully decorated, every room in the house is spacious, bright, and connected to the exterior in some way – the bedroom and dining area each have their own terrace, and the living room connects to the patio.
This is where you'll probably be spending most of your day, as you can fire up a barbecue grill, relax in the hot tub, or bask in the sun by the swimming pool, admiring the palm trees and the mountains off in the distance.
Best Budget Home in Palm Springs: Casa Ponderosa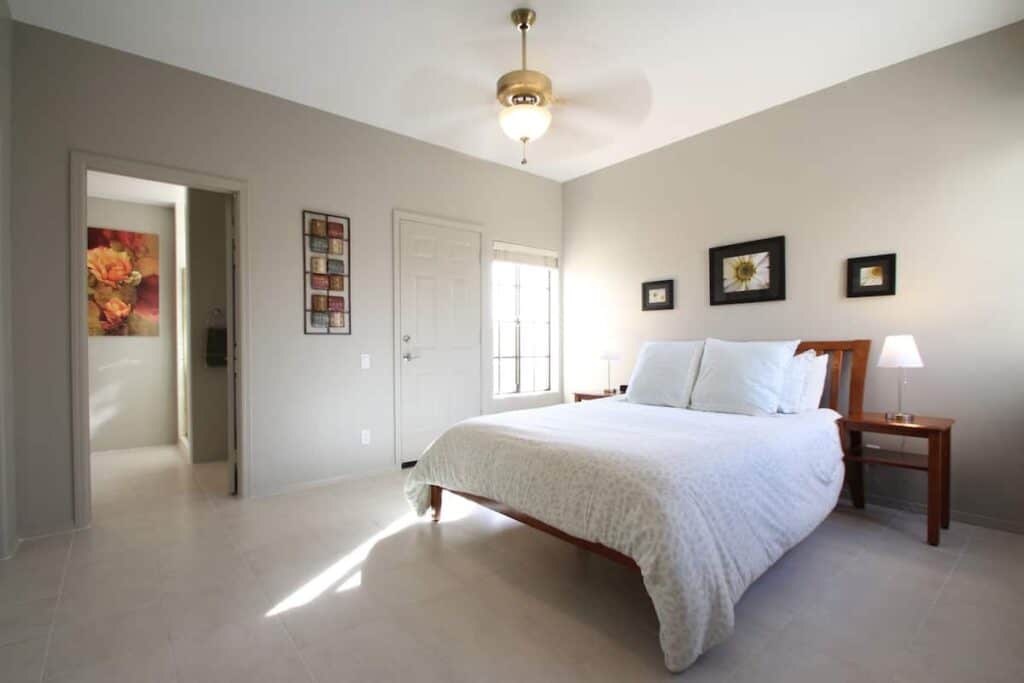 Casa Ponderosa is a heavenly casita that blends perfectly into the desert aesthetic, thanks to its simple yet effective white design.
The large bedroom is a great place to relax and watch TV, and it can double as a work station thanks to the tiny desk area — great for a workation.
The two private patios are a great place to take in the California sun, and they offer some great views – you can catch the beautiful sunrise from the back patio, and enjoy the view of Mt San Janchito from the front.
What's more, you can bring your dog with you, and it'll have no shortage of room to run around, both inside and outside.
The house is located in a peaceful cul-de-sac, and it's conveniently close to the airport, as well as downtown Palm Springs and various other towns.
If you're in the market for some outdoor activities in the area, the place is also right by Tahtquitz Creek Golf Course, as well as other great outdoor activities in Southern California.
Best Palm Springs Home for Vintage Design: House of Stardust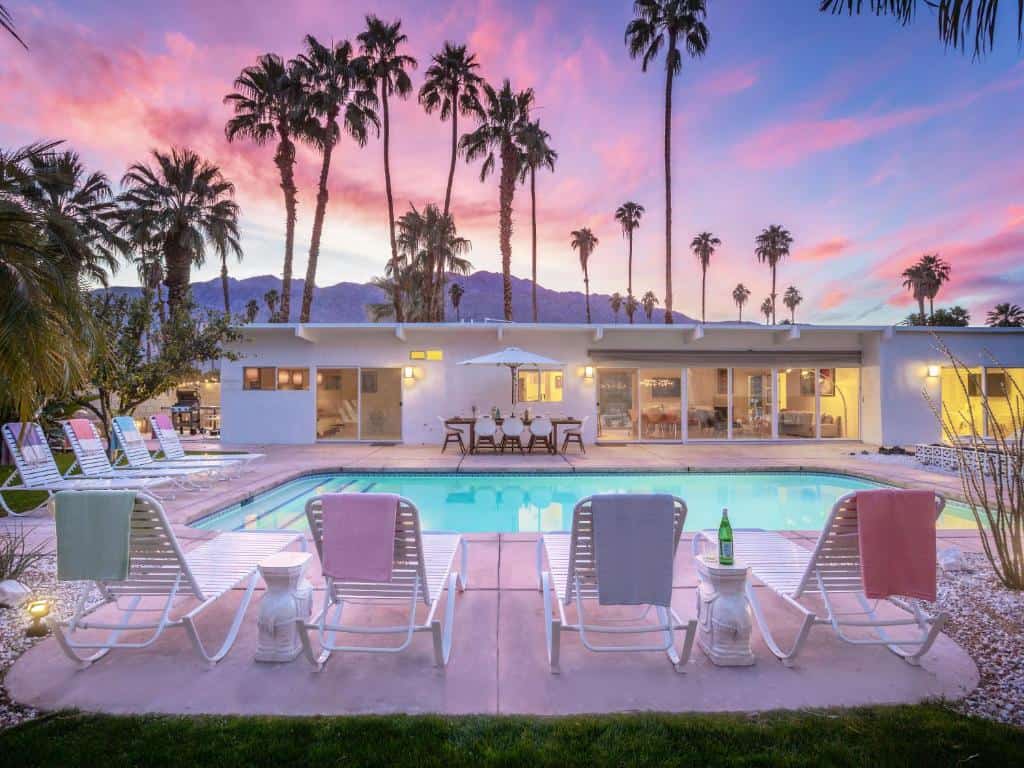 The House of Stardust is an architectural marvel that will leave you breathless from the moment you set foot on the property!
The mixture of different colors and textures on the bedroom walls and ceiling works incredibly well, and on top of keeping the room bright all through the day, the glass panels lead to a gorgeous patio with a view of the mountains.
The backyard is covered with beautiful desert flora, and even just relaxing in a chair outside right by the pool will set your mind at ease.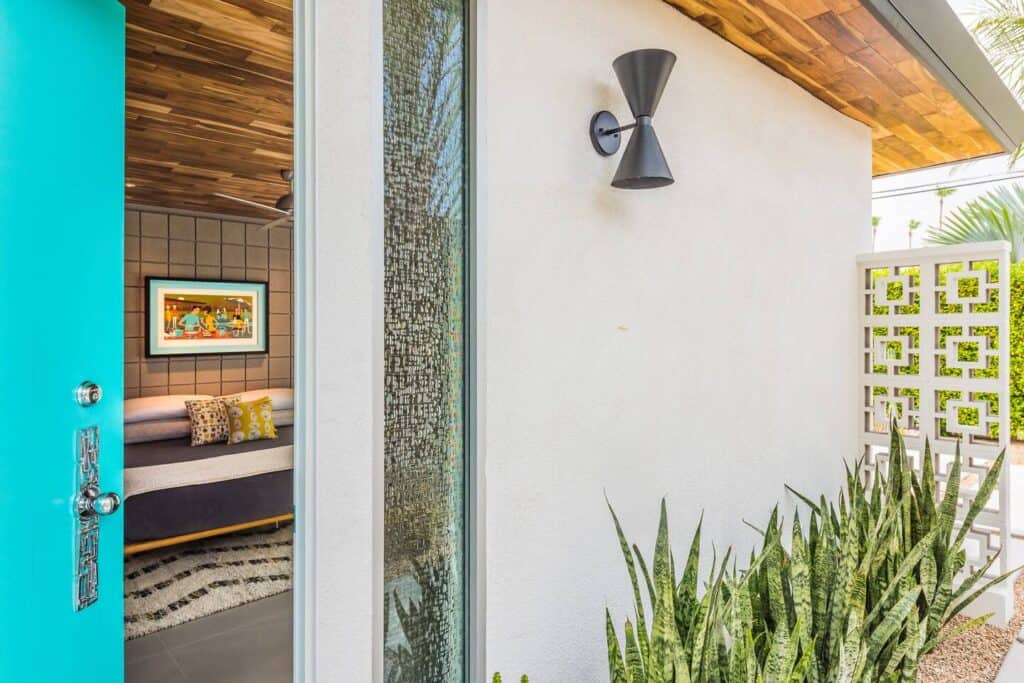 If you want to beat the heat, you can enjoy the pool in total privacy without worrying about the prying eyes of neighbors.
The Palm Springs area has a lot of interesting places to go, and the house is only a 5-minute drive from just about any place you'd want to visit!
Best Palm Springs Home for Groups: Mid-century Oasis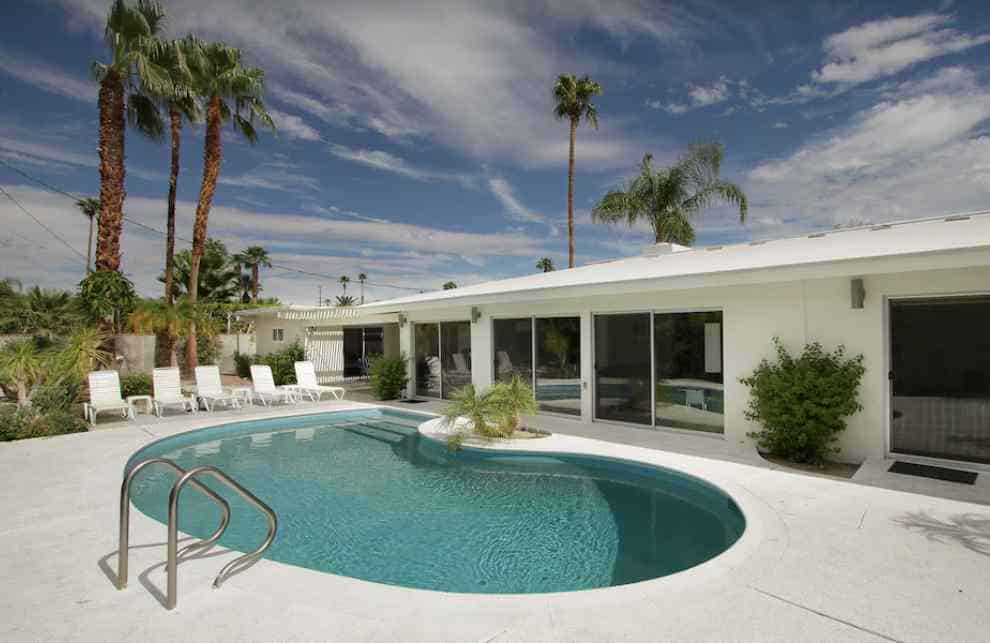 If you're looking for a unique rental that can house a decently sized group of people, staying at this Palm Springs home is an experience you won't soon forget!
The interior of the house has a quintessential mid-century feel, with its neutral grays and occasional splashes of red, and green, and an interior that blends seamlessly into the garden area.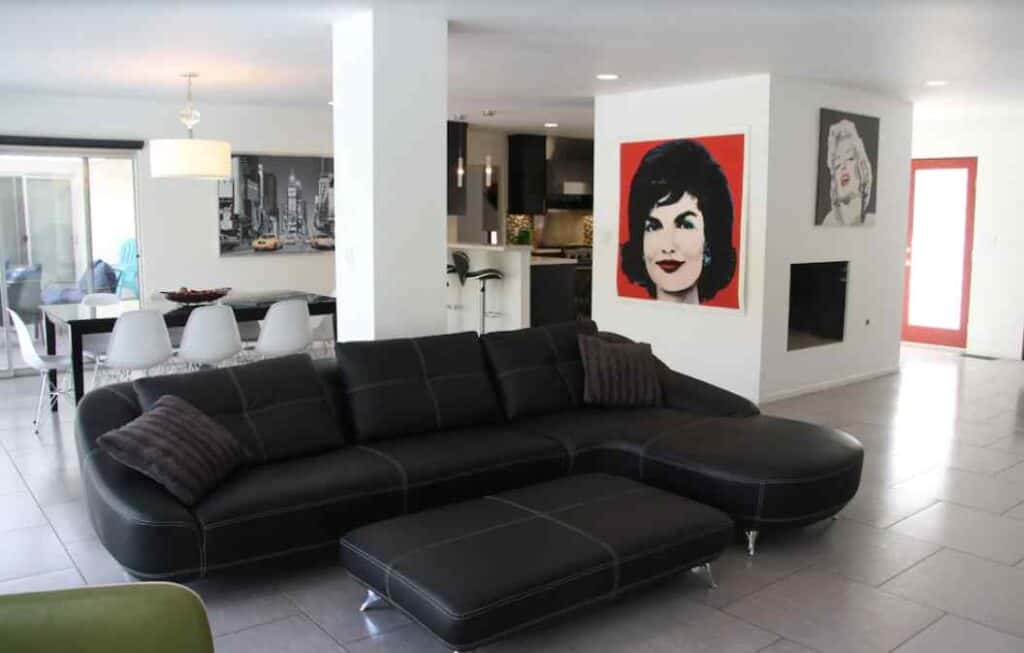 Thanks to the open-floor design, you'll have more space than you'll know what to do with, and you can also take the party to the patio and the large swimming pool with the mountain view.
The patio with barbecue is a great place to spend your evenings!
Location-wise, the house is a short drive from downtown Palm Springs and only 5 minutes from the airport.
Best Palm Springs Home for Families: Alexander Home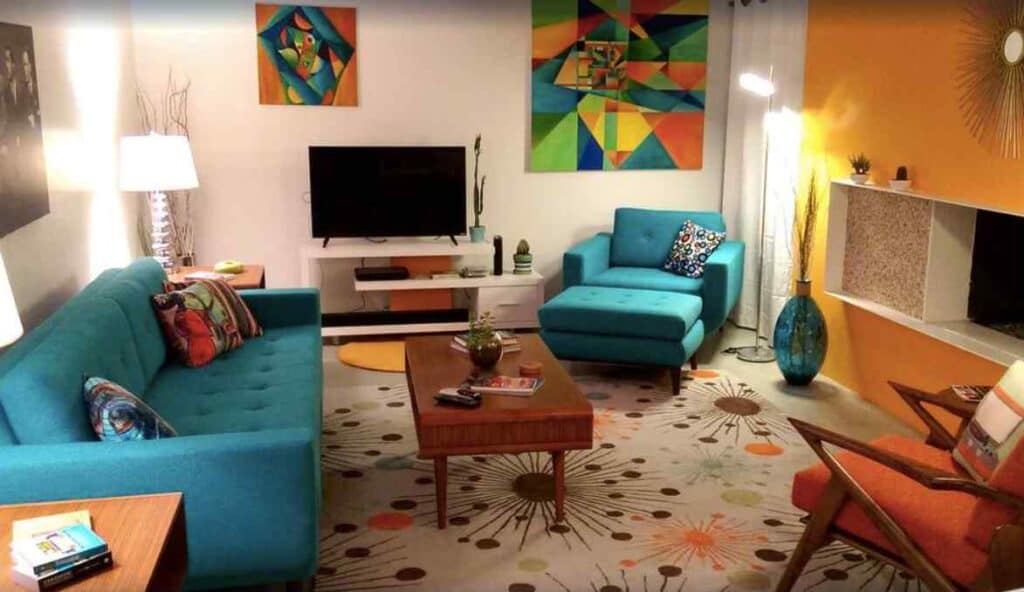 This gorgeous, highly acclaimed rental is a great pick for admirers of streamlined, beautiful architecture looking to visit Palm Springs with a group or family of up to 6 people.
The open-floor living/kitchen area is comfortable and elegantly furnished, undeniably stylish and attractive from every conceivable angle, and is very spacious to boot.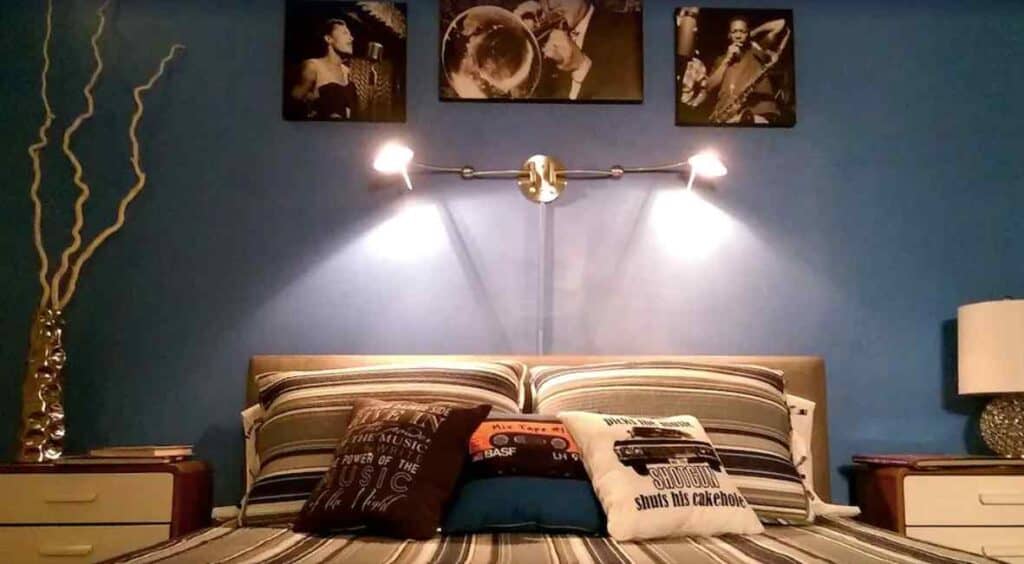 Classic and comfy furnishings inside and out with a fun music-themed decor.
The home features a fully stocked kitchen for cooking / entertaining, remodeled modern bathrooms, brand new beds with body-embracing memory foam mattresses as well as blackout curtains for late-morning sleep just for starters.
The location of the house is great, as it would take you 15 minutes at most to get to any location of interest in Palm Springs.
Most Unique Home in Palm Springs: House with Pool & Zen Garden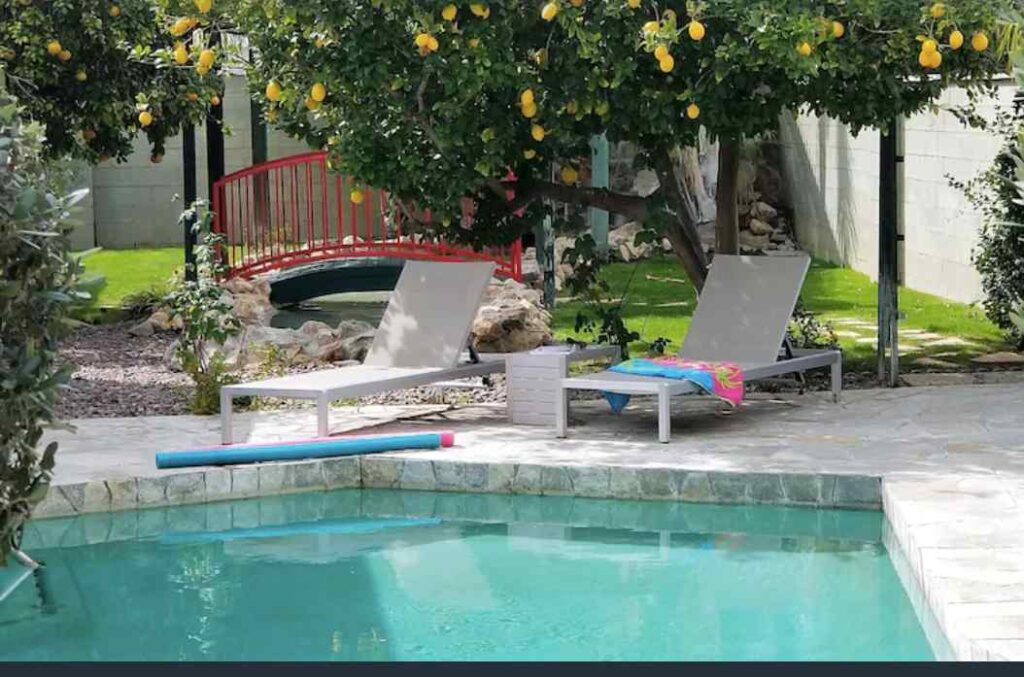 This beautiful home is located just minutes from the Tram and Downtown, an architectural marvel will provide you with some of the most relaxing moments for an unforgettable getaway.
This 1-story recently remodeled, air-conditioned home is airy and spacious, decorated with stylish accents, and features a large, open, gourmet kitchen. The living area which incorporates the dining room has lots of comfy seating.
The Zen backyard features a lovely private heated pool with a waterfall feature. A Japanese bridge with a pond leads to another cascading waterfall.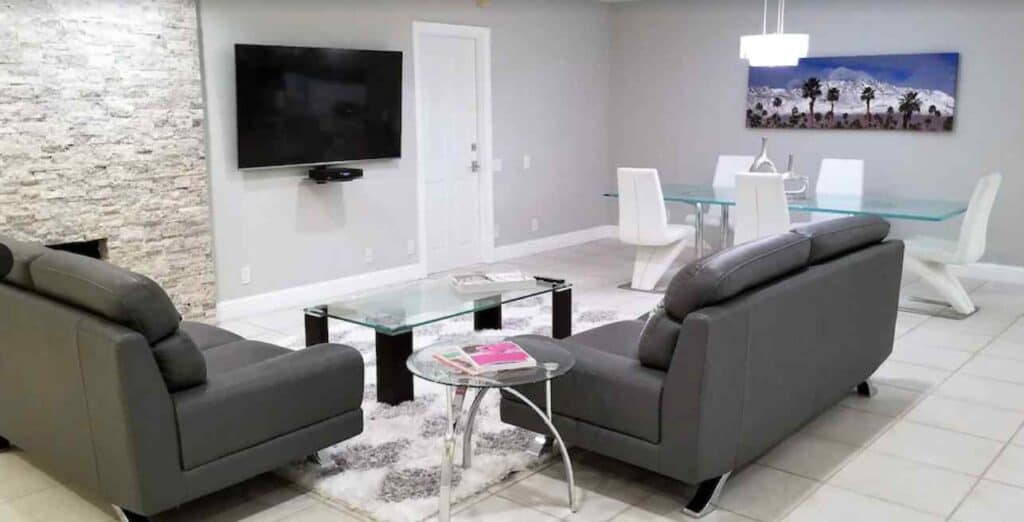 This Zen Escape is located in the Racquet Club West neighborhood. Here you'll feel like you've found a Hidden Treasure.
The house is minutes from all that Palm Springs has to offer . . . Tram, hiking, dining, antiquing, shopping, and gambling, to name just a few things.
Best Palm Springs Home for Hipster Design: Casitas Arenas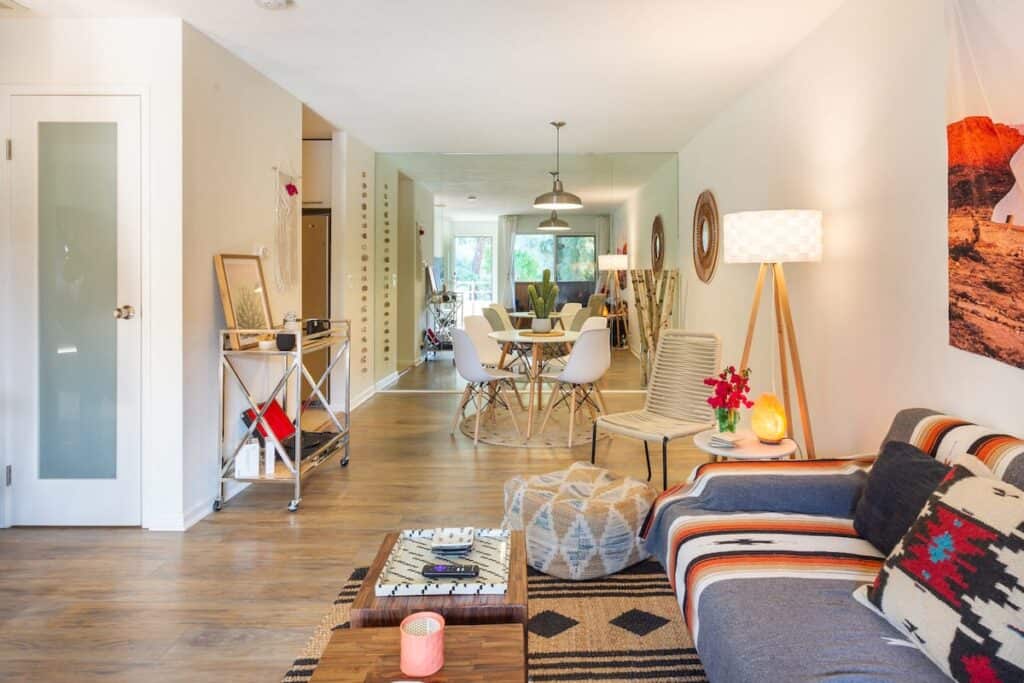 This charming casita manages to pack everything you need within a relatively small space, all without compromising on comfort.
Most of the interior is sleek and gray, with just enough color sprinkled in here and there to break up the monotony and help the furniture pop out. The house has two private patios, each with ample room and seating, as well as a pleasant view of the mountains.
The real highlight, however, is the spacious courtyard, which, thanks to the abundance of chairs and shady trees surround the swimming pool, is a great place to beat the California heat.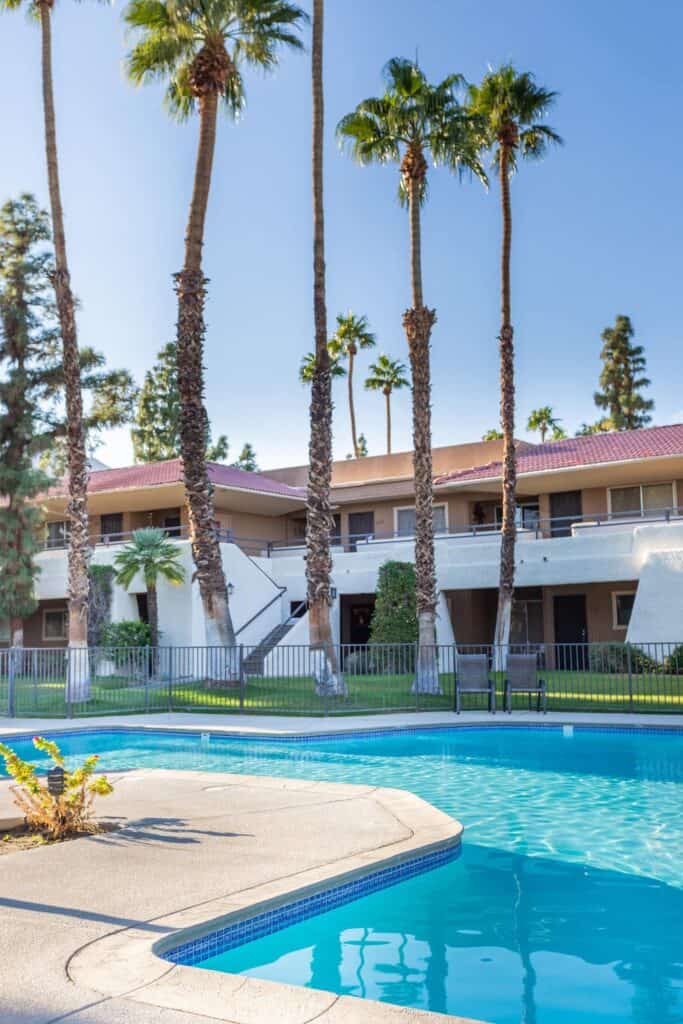 In the evening, you can gather around the grill and cook up a delicious outdoor meal, or go for a dip underneath the starry sky.
The house's location alone is reason enough to consider it if you're primarily interested in seeing as much of Palm Springs as possible – it's located in a very quiet area, but you can easily get to the downtown area on foot.
Best Palm Springs Home for Friends: Summer Vibes Condo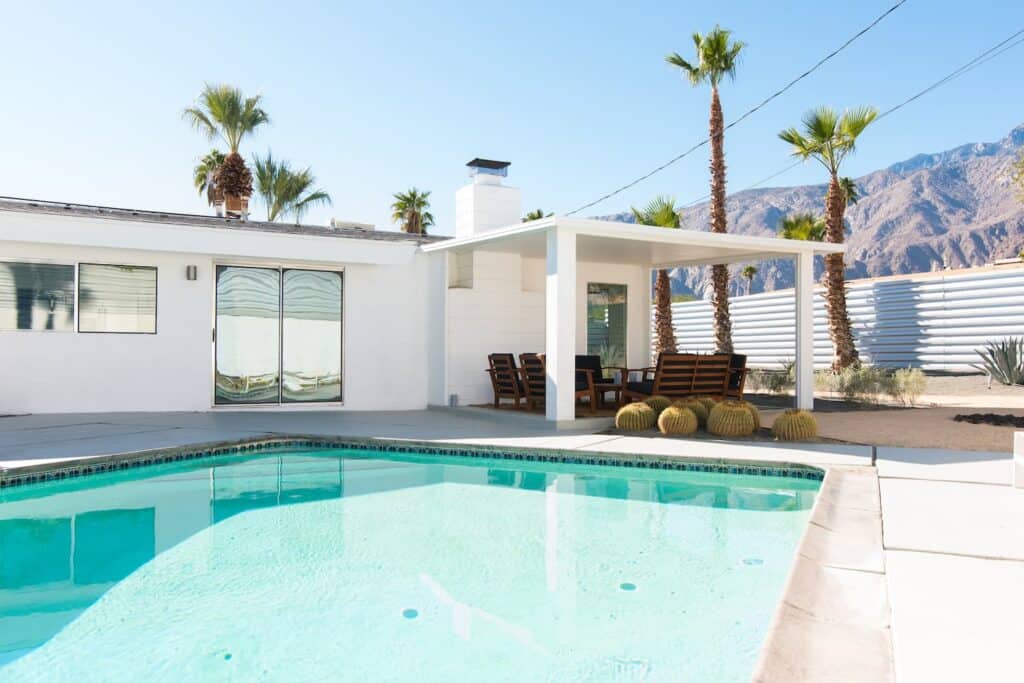 Few rentals have the style and authenticity of No 444, thanks to artistic touches from legends such as Warhol and Bertoia – this is a great property for those who like the prospect of staying in a house decorated and furnished with the works of eminent creatives.
Originally a mid-20th century design, the interior has since been spruced up to feature modern, eye-catching furniture, all while maintaining that trademark 50s aesthetic.
The living area is quite roomy, so you can pop on a vinyl from the house's collection and dance the evening away.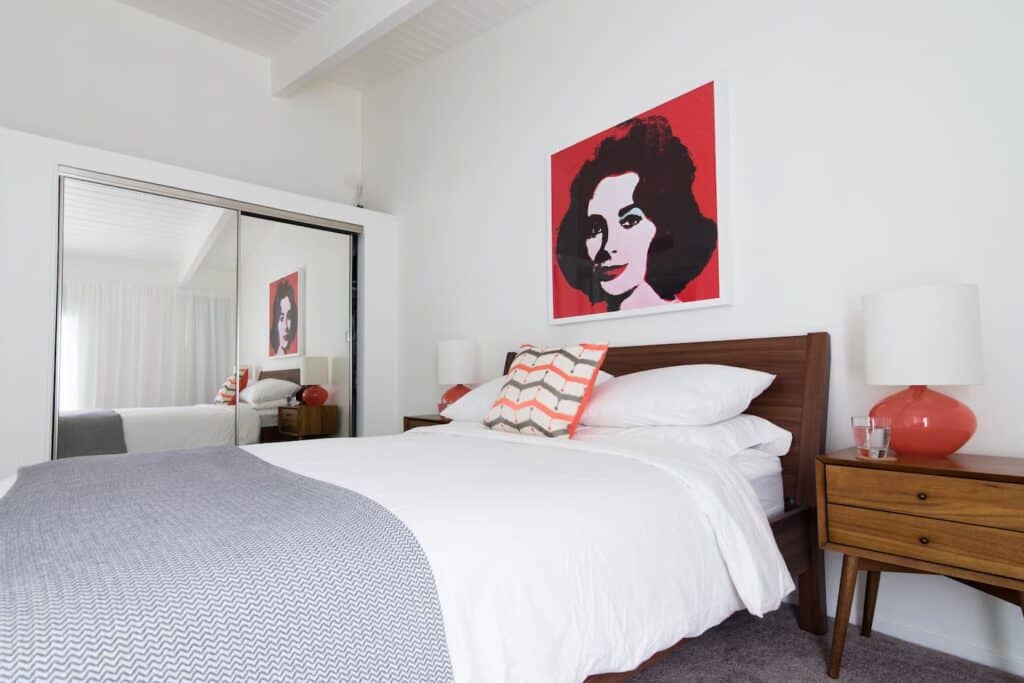 Stepping out onto the patio, you get a cozy outdoor sitting area with a great view of the San Jacinto mountains, as well as a swimming pool that can be heated (note that there is an additional $45/day fee for this) — which makes this a great choice for winter.
You can also bring your pets here – a very welcome addition to an already homely rental. The house is located about a mile from the center of Palm Springs and has a shuttle stop nearby, but you can also pre-book some of the property's private bicycles if you'd prefer to get around that way.
Best Indoor/Outdoor Concept Home in Palm Springs: Stylish & Modern Retreat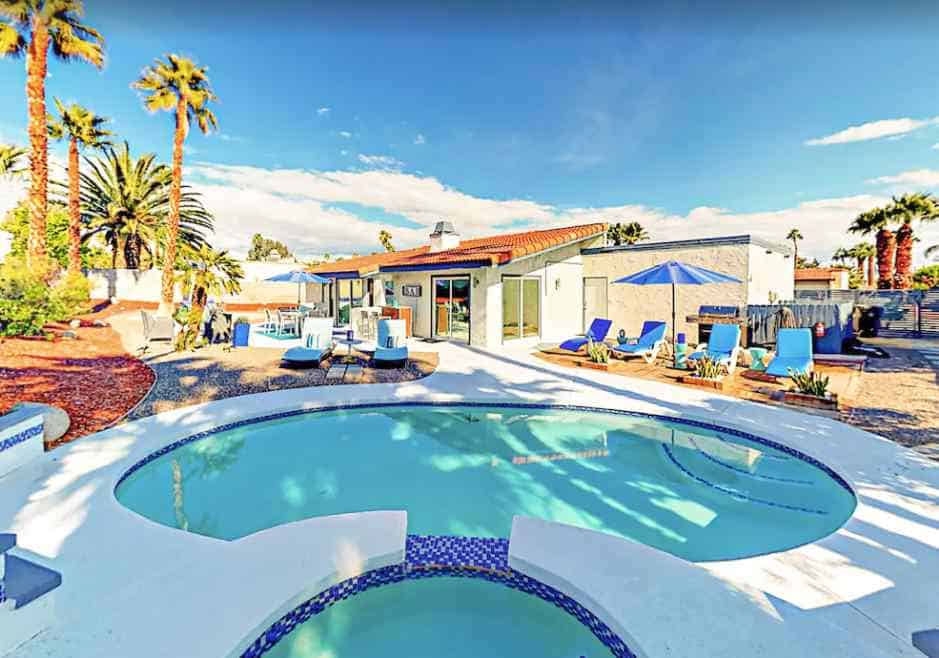 This stylish vacation home goes above and beyond in ensuring an unforgettable Palm Springs Airbnb for its guests – the house comes equipped with everything under the sun, and it gets progressively more enjoyable the larger your group is.
Aside from being great to look at, Stylish & Modern Retreat features nothing less than an outdoor oasis, a pool, a hot tub, and a fire pit.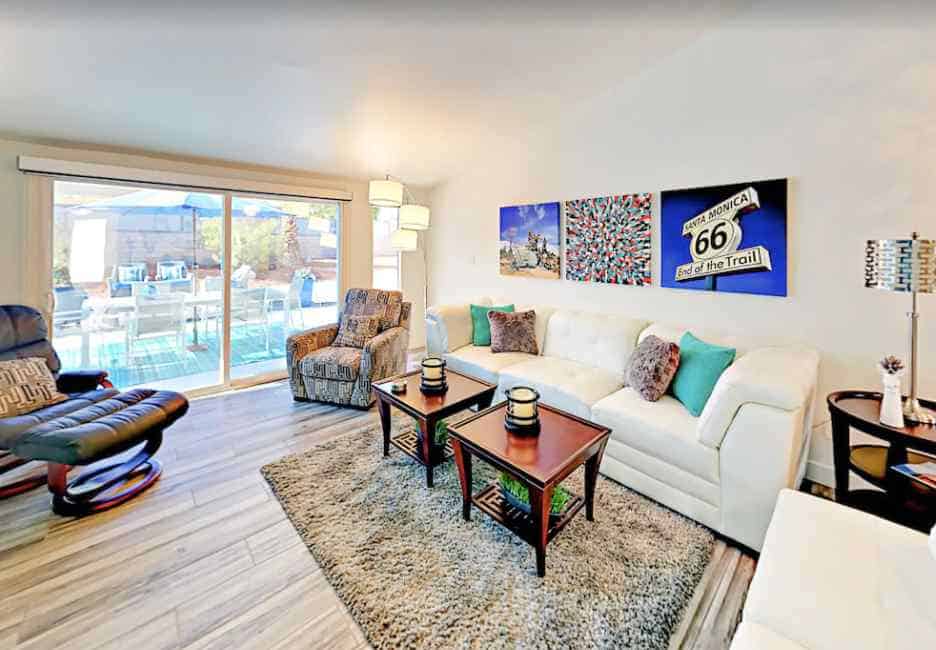 Host a movie night in the inviting living room, outfitted with a 72" TV and comfortable seating on two leather lounge chairs, an armchair, a white leather sofa, and a matching love seat.
A double-sided gas fireplace keeps things cozy on cool winter nights. Check your email at the convenience of the desk, or prepare a drink at the bar.
Craft delicious vacation meals in the fully equipped modern kitchen. High-end features include waterfall countertops and stainless steel appliances — including a five-burner gas range.
When dinner is ready, set the dining table for six. The breakfast bar offers additional seating for two.
Finally, the house's advantageous location makes it easy to get to virtually any location of interest in the area within just minutes!
Best Luxury Home in Palm Springs: Stunning Resort-Style Oasis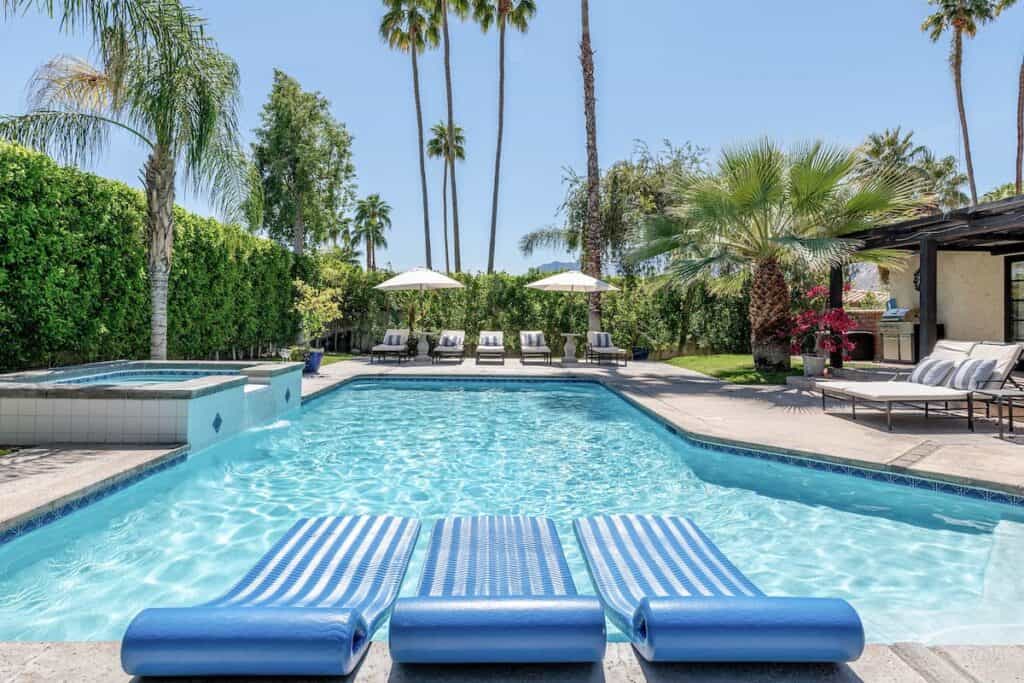 Gorgeous does not even begin to describe this particular house, as it is, in all likelihood, one of the most impressive properties in all of Palm Springs!
Stepping into the living room, you'll begin to get a taste of what makes this house so great – all the pieces of furniture complement each other extremely well, and the white and dark brown palette is very easy on the eyes.
This theme extends over into every room in the house, especially the beautifully illuminated bedrooms and dining area, all connected to the exterior.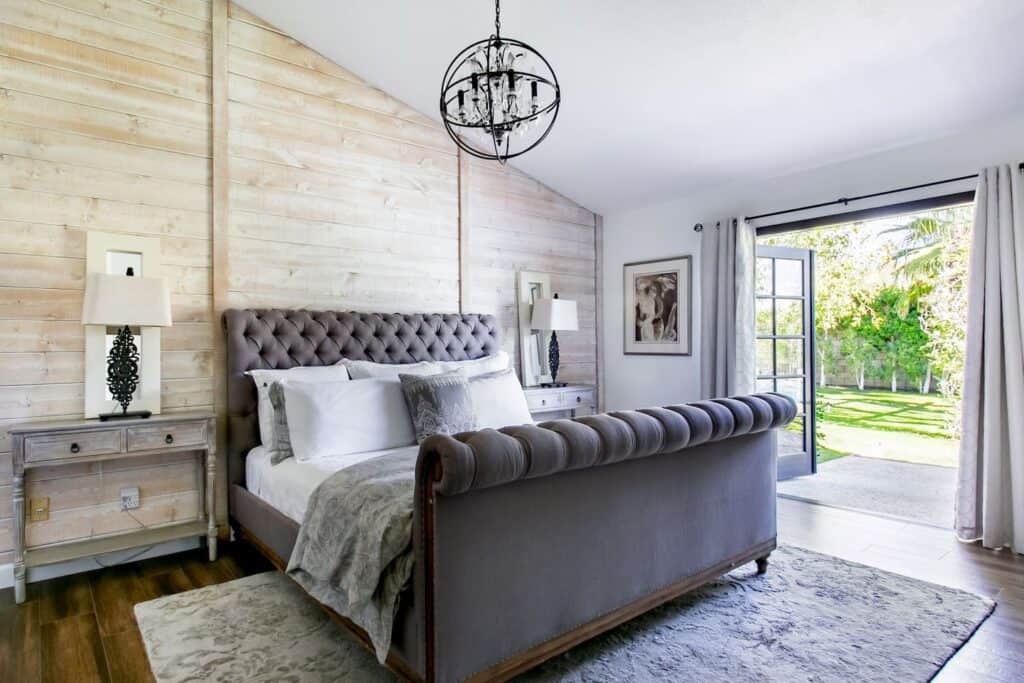 The yard area is nothing short of heavenly, and it's where you can relax on the loungers, take a dip in the hot tub and the large swimming pool, or huddle around the fire pit under the pergola.
This spot is particularly pleasant in the evening, and it makes for a great place to gather everyone and enjoy a barbecue. Whatever you're doing, you'll be surrounded by beautiful trees and foliage from every direction!
Best Home for Off-Grid Relaxation: Minimalist Modern Cabin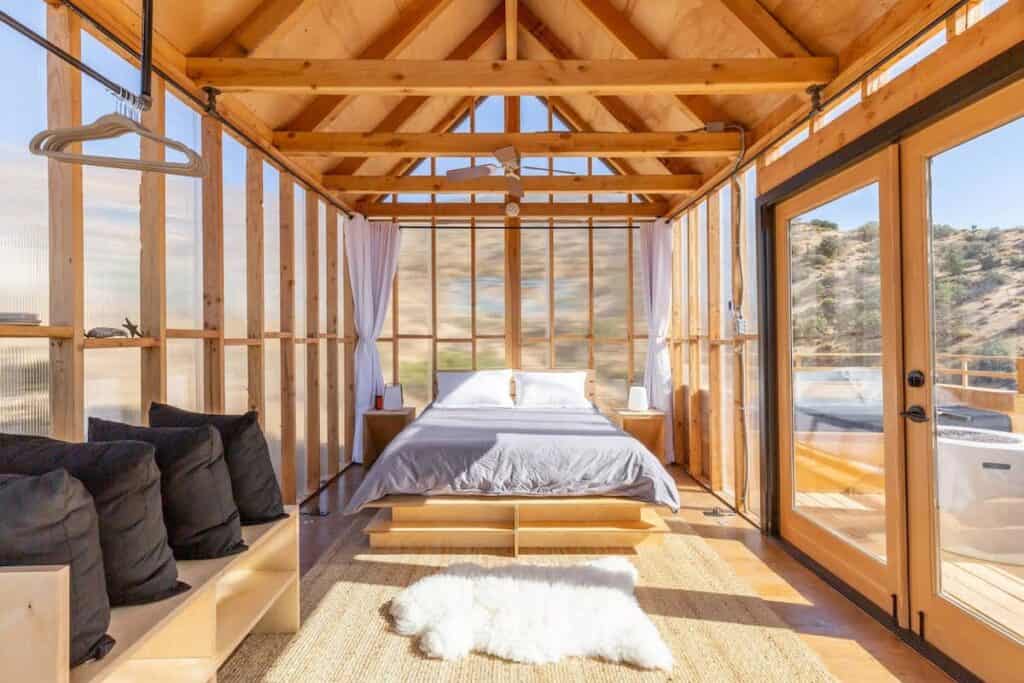 If you're looking for a unique place to call home while on vacation, chances are you've never seen a cabin quite like this, let alone stayed in one! Located just outside of Palm Springs in Morongo Valley, this off-grid Airbnb is an incredible place to get away from it all.
The cabin technically has no walls per se, as it's made of weathered steel and polycarbonate – you'll be able to see everything for miles around you from the comfort of your bed!
The kitchen and the bathroom are separate from the house but are only a short walk away, with the former being very well-equipped and the latter having a steady supply of hot water.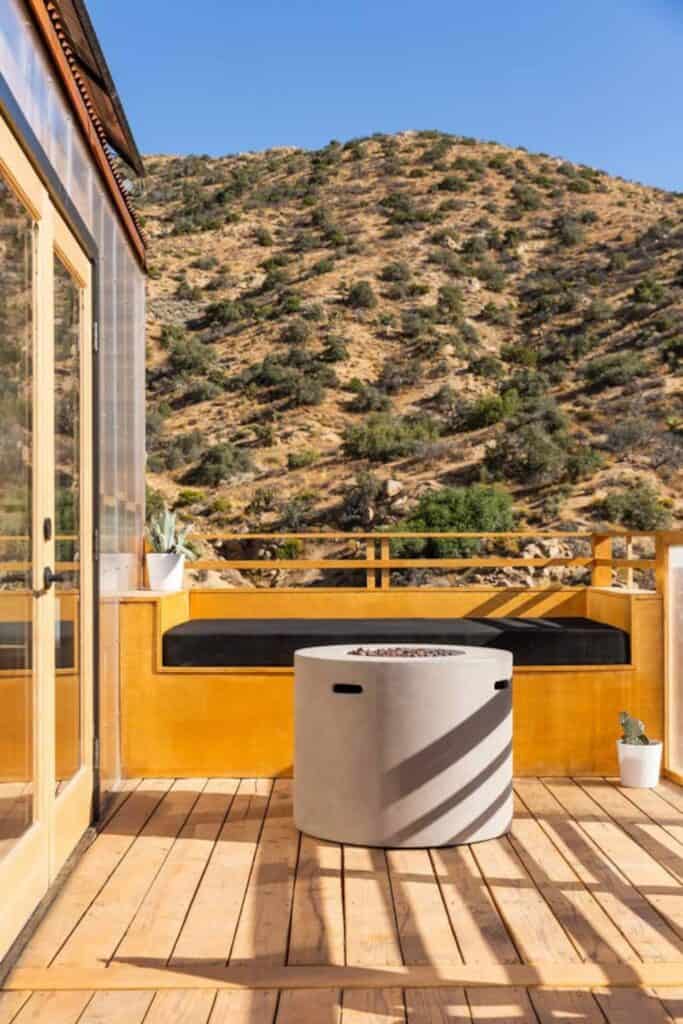 What's more, this is one of the more eco-friendly properties you can hope to find in the area, as almost everything operates on solar energy. However, note that solar energy is limited, so there is no refrigerator — but you can bring ice to use the provided coolers.
The house offers an amazing view of the surrounding Yucca Valley, so you can relax by the fire pit with a barbecued meal and just admire the scenery.
What's more, despite being relatively remote (save for a couple of nearby properties owned by the same host), the cabin is only a short drive from Pioneertown and Joshua Tree National Park, as well as several hiking trails that are right on the property's 100 acres.
Most Stylish Home in Palm Springs: Palm Springs Architectural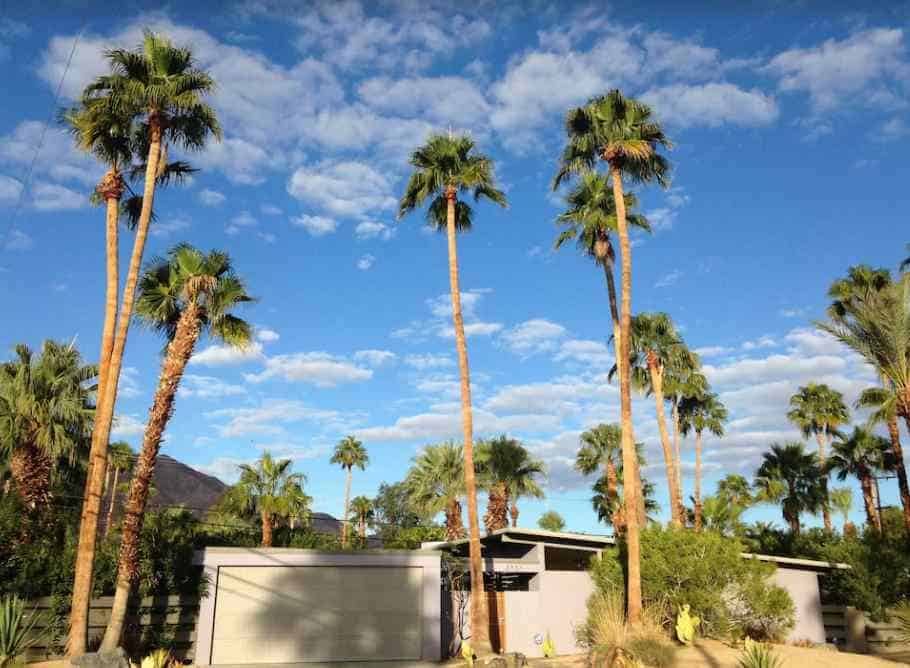 It's often the little, seemingly superficial aspects of a house that win you over, and when it comes to this minimal bungalow, design is the concept that first come to your mind.
By combining pieces of furniture in a variety of warm colors (mostly orange and turquoise) with sleek wooden surfaces and modern kitchen appliances, the interior takes the mid-century design 1950s concept and gives it a contemporary flair.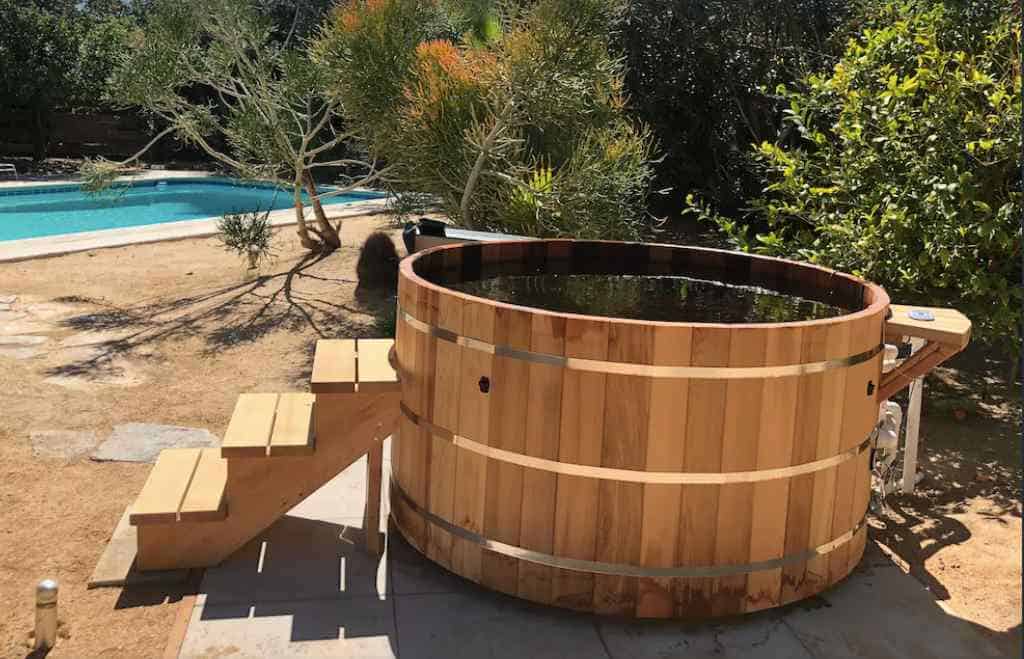 The exterior has no shortage of color itself thanks to the flowers, and it features a hot tub and a swimming pool too. 
This wonderful architectural home was built in the 60s and much of the original charm of the indoor/outdoor living is still intact. The beautiful heated pool in the backyard has a very fun colored light that makes nighttime dips snazzy!
Best Home for Boho Design: Meiselman Mid-Century Modern Home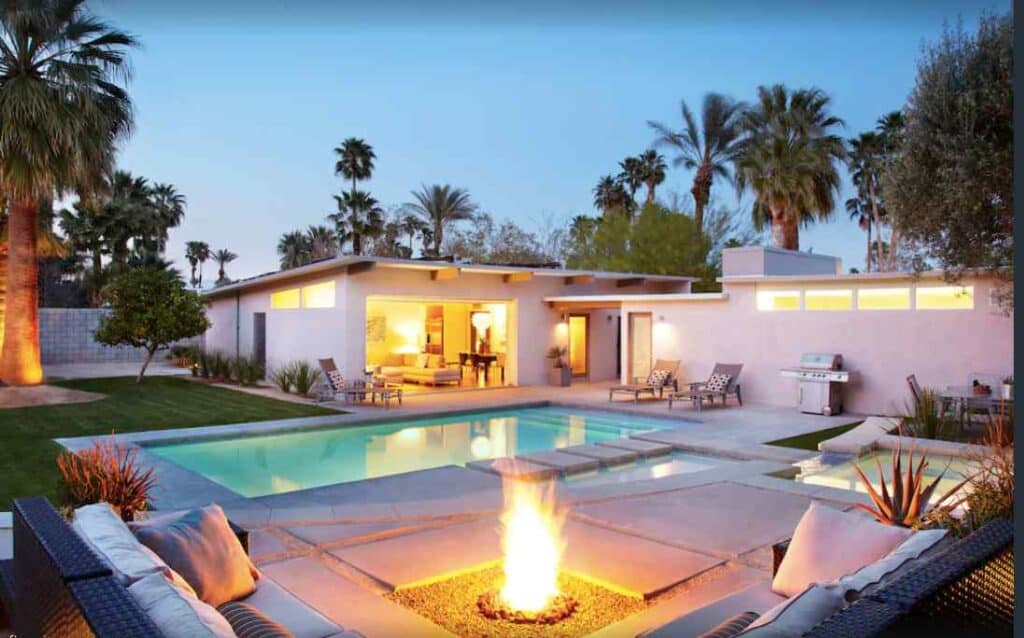 As you enter this Palm Springs vacation home, it's easy to feel the sunny atmosphere of living spaces arranged with great attention to design detail, so much that you may feel that you've stepped onto a beautifully created movie set in the sun.
This Palm Springs vacation oasis captures the essence of Palm Springs' living. This home's seamless integration of indoor and outdoor living spaces provides for optimal rest and relaxation – and splendid mountain views.
There's a beautiful multi-level pool, plus a spa and a waterfall, a wall of glass that opens onto the pool to feel as if you've walked onto a movie set.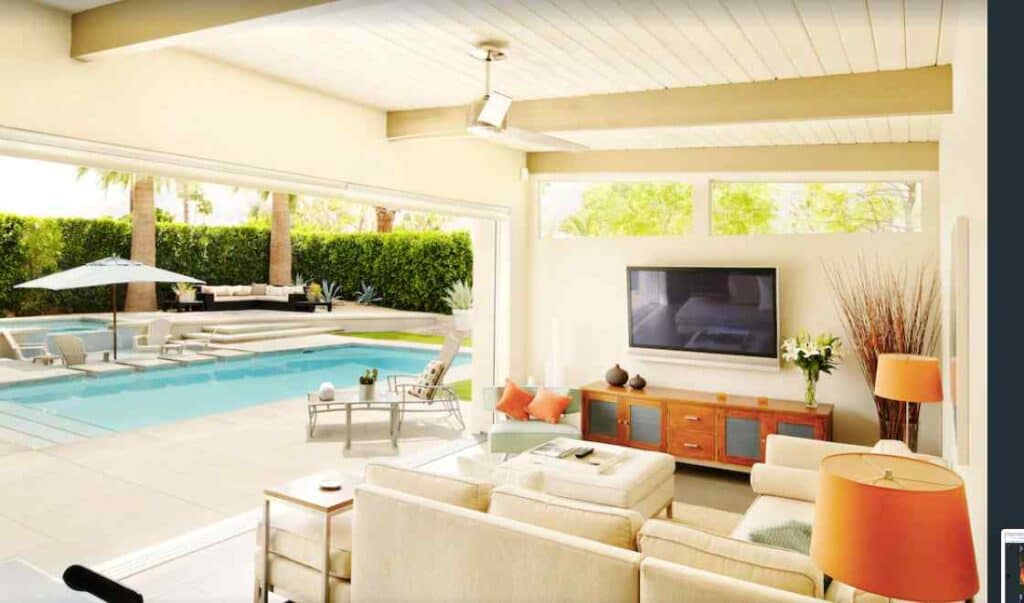 The beautiful Rivera Resort is within walking distance and the North Palm Springs art district is only minutes away.
Bicycles available for guests to ride into town or a hammock to relax after a swim in the salt water pool, one of the many special offerings of this home.
Natural gas barbeque and dining outside under the majestic olive tree is one of the many unique moments experienced in this cozy retreat.
Best Home for Quirky Design: Mid-Century Martini Weekend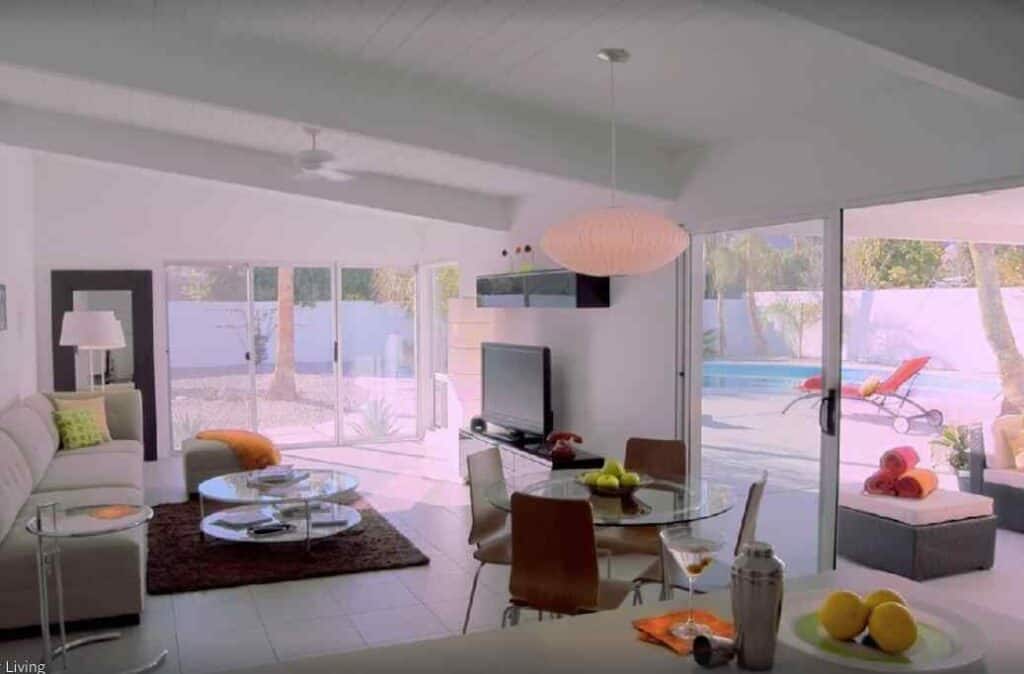 Stepping inside this unique house is like stepping into a time machine, as every piece of furniture and decoration has been carefully selected to take the mid-century aesthetic and combine it with something fresh and modern.
Besides black, white, and shades of gray, other colors are used sparingly but effectively, and the house is naturally very bright as a result.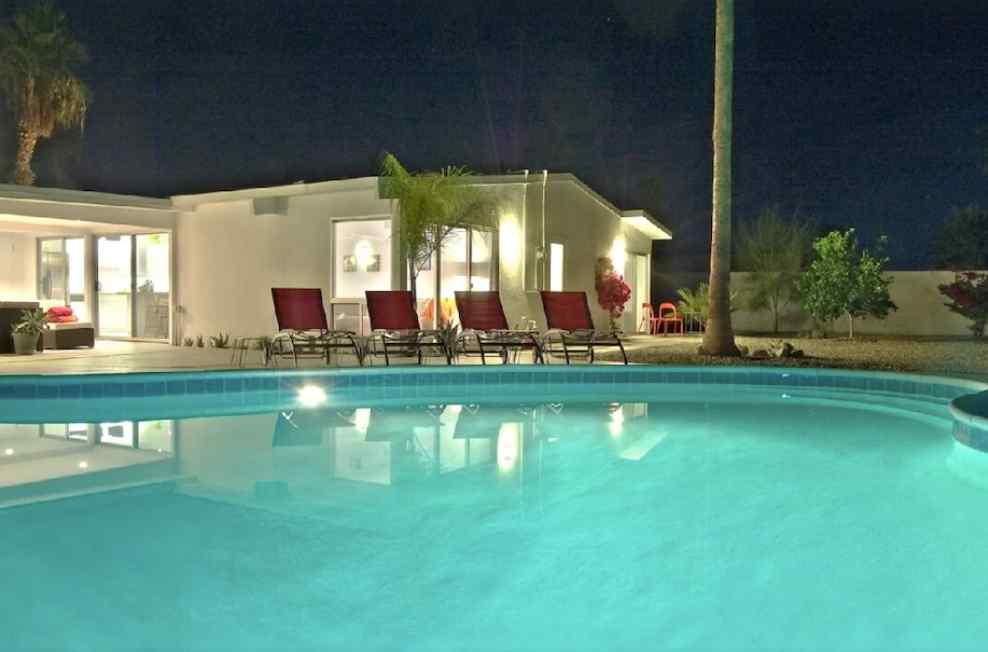 The exterior is a great place to hang out and relax, as it has a lot of shaded seating and several sun loungers.
An entertainer's floor plan features clerestory windows, period-inspired furnishings, high tongue-and-groove ceilings, and walls of glass that lead to the *private* resort-like backyard, sparkling heated saline pool, and breathtaking views of the mountains.
To top it all off, the house is right nearby entertainment such as a shaded park, a short walk to the nighttime hotspot The Riviera, and easy access to the Downtown Strip, featuring bars, restaurants, casinos, shopping, and more.
Pin These Palm Springs Airbnbs for Later!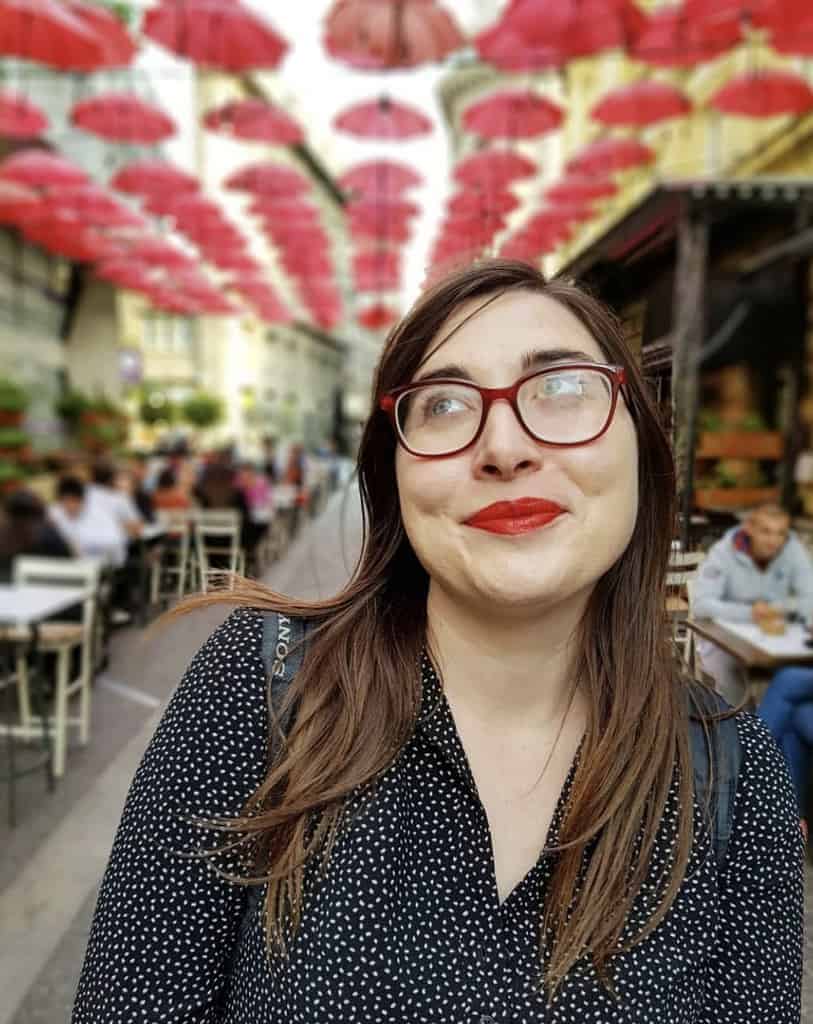 Allison Green is a travel blogger, writer, and podcaster who grew up in the Bay Area of California. She has spent time living in New York, Prague, and Sofia, but has returned to live in the East Bay. She has traveled to 60 countries before the age of 30 while running several digital travel publications. Her writing and podcast have been featured in Forbes, CBC Canada, National Geographic, the Huffington Post, and CNN Arabic, amongst others. She's obsessed with bouldering, houseplants, other people's pets, and anywhere she can see the ocean.