Wondering where to stay in Tahoe?
Whether you're coming for snowy winter visit or a summer beach getaway, these Airbnbs in Tahoe are sure to please.
I've picked a variety of Tahoe Airbnbs at different price points and occupancy sizes, so that whether you're visiting Tahoe for a solo getaway, romantic couple's trip, or a larger group trip, you'll be able to find what you're looking for.
From romantic tiny house Tahoe Airbnbs to gorgeous lakefront cabins with floor-to-ceiling windows, here are the best cabins and Airbnbs in Tahoe for your upcoming trip.
Best Tahoe Airbnbs & Cabins: Carnelian Bay
Charming A-Frame
Note: This post contains affiliate links, which earn me a small commission at no extra cost to you if you make a purchase using one of these links. Thank you for supporting this free content!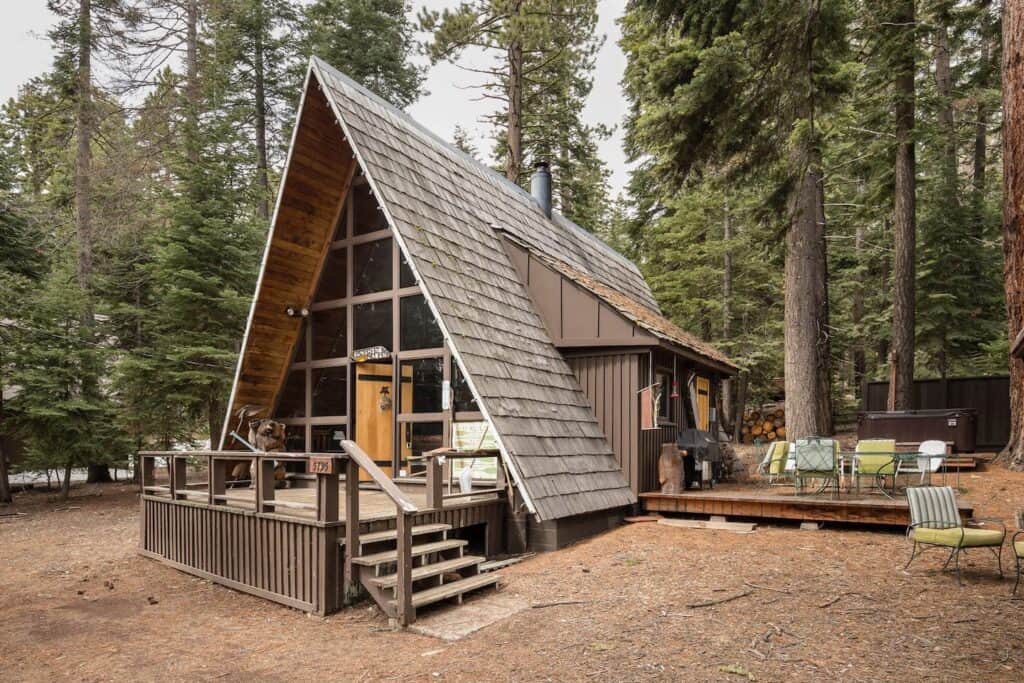 With its old-school wood design and homey interior, this beautiful A-frame epitomizes coziness. The entire house oozes with personality – just about everything apart from the kitchenware, fireplace, and bathroom tiles is made of wood. The front wall of the house is essentially just glass, giving you a full view of the local greenery, as well as a lot of natural light to offset the darker colors of the interior. The house has two decks, and one of them comes equipped with a gas grill, making it the perfect cookout spot for a larger group of people. In addition, the outdoor hot tub is available throughout the year.
Whether you're visiting in the winter or summer, there are plenty of places in the area worth visiting – you can chart a boat and go fishing, check out the local golf course, or go skiing in the Squaw Valley or the Alpine Meadows. The cabin is also within a few miles of several Lake Tahoe beaches – King's Beach, Patton Beach, and Carnelian Beach West.
Moose Cabin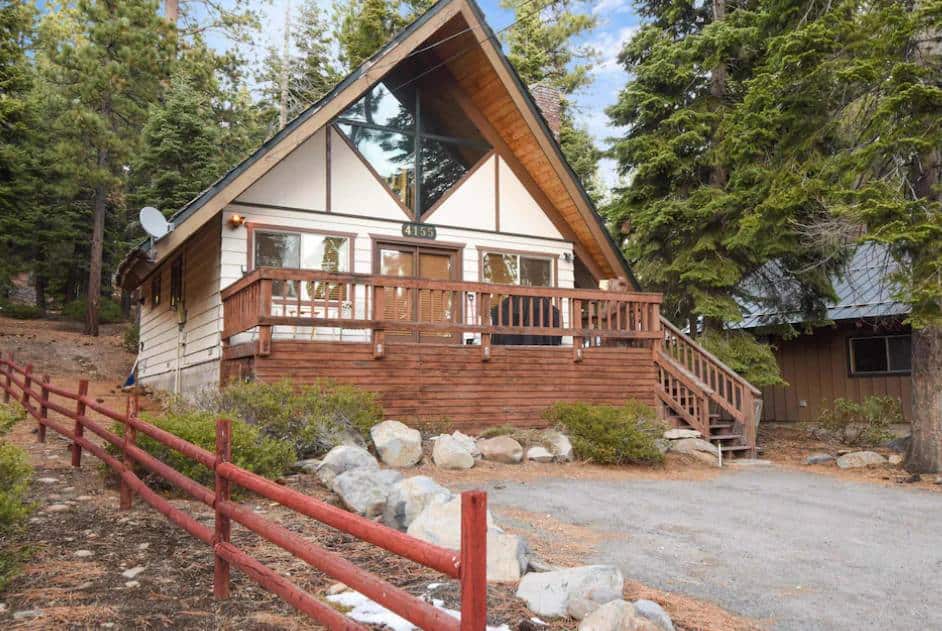 Tucked away in Carnelian Bay, Moose Cabin is a cozy getaway for a group of family and friends. This dog-friendly home is located just 1.5 miles from the pet-friendly Carnelian West Beach and about 3 miles from Lake Forest Beach.
Enjoy the feel of this traditional Tahoe-style cabin, with a high ceiling and a wood-burning fireplace, perfect to gather around with some hot cocoa and enjoy the authentic cabin feel after a long day on the slopes.
The kitchen is equipped with an electric stove/oven, drip coffee maker, toaster, microwave, and more. Grill up some burgers on the gas BBQ on the deck or if you don't feel like cooking, find amazing eateries nearby in Carnelian Bay. If you prefer, you can also dine in Tahoe City, less than 4 miles away.
Panoramic Lake View for two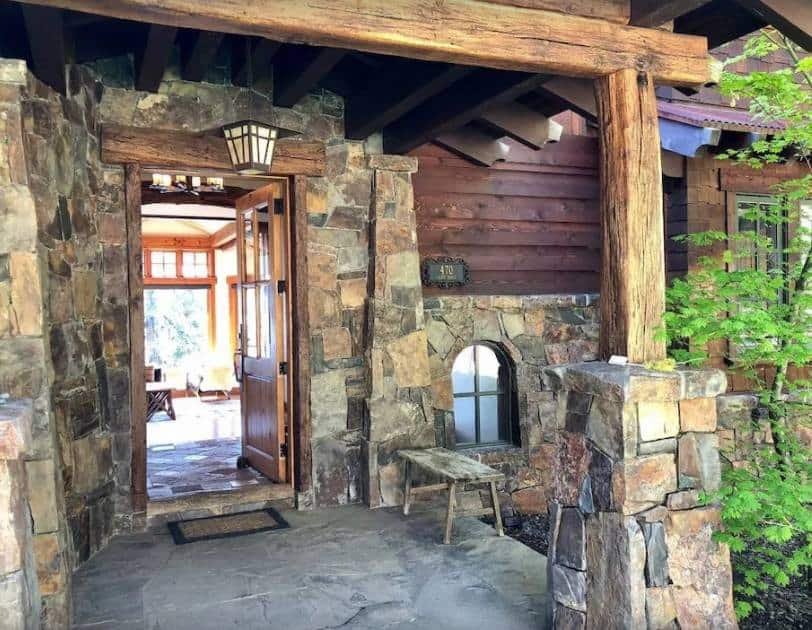 This beautiful little cabin is the perfect hub to spend your Lake Tahoe vacation in, especially if you're a lover of amazing vistas!
The interior is very fashionable, beautifully combining wooden elements, and the open-floor living room area is so comfortable and pleasing to the eye that, if it wasn't for the gorgeous outdoor spots, you would be hard-pressed to find an excuse to get out of the house.
This home has everything you are looking for in a North Lake Tahoe retreat: California rustic design with all top-shelf materials and finishes.
Guests can enjoy cooking in the gourmet custom kitchen and, after dinner, relax by the large, well-placed windows to catch the magnificent lake views.
This is a great luxury getaway for two adults, only a five-minute drive from Tahoe City and two minutes from a wonderful beach, as well as close to the best skiing in Tahoe.
Remodeled Cabin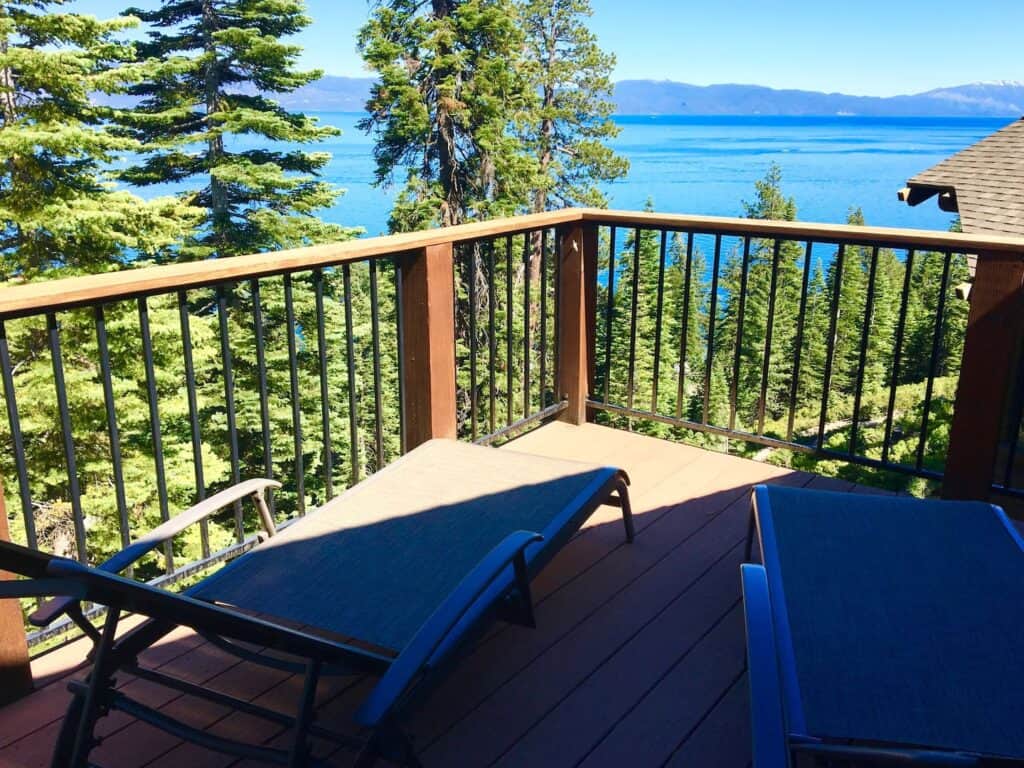 This beautiful forest cabin has a convenient location and a beautiful interior, and it's ideal for a couple looking to explore the Tahoe area.
The living/dining room is very homely and well-illuminated, on top of having a fireplace and a beautiful window view. There's also a gourmet kitchen and a bathroom with underfloor heating.
The kitchen and bedroom both come with a deck, each one with a beautiful view of the forest and Lake Tahoe. On top of being surrounded by beautiful scenery, the area is home to some amazing skiing resorts, including Northstar, Squaw, and Alpine.
The property is also near Carnelian Bay and Tahoe City, so you can relax after a long day of hiking, skiing, or sightseeing by visiting one of the local restaurants.
It's worth noting that the hosts live in the house next door, so they're likely to be available to address any concerns you may have at a moment's notice! At the same time, there are no shared spaces, so you can rest easily about having plenty of privacy.
Vintage Tahoe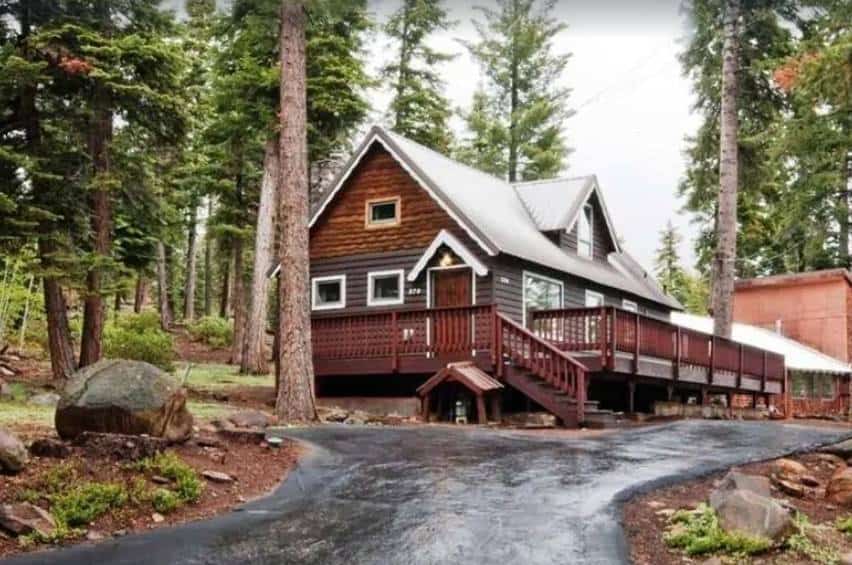 Vintage Tahoe is a beautiful forest getaway for families and friends looking to connect with nature on a budget. Everything about the house screams character, from its charming wooden construction to its compact interior.
The cabin is seven minutes from shopping in Tahoe City, 15 minutes from Squaw Valley or Northstar and only a 2-block walk to the lake's edge.
In this classic Tahoe cabin you can get a cozy wood fire going to spend the night in, or you can walk down to famous Gar Woods Restaurant and sip an afternoon cocktail on their open air deck. For more causal dining you must try the calzones at CB's Pizza.
The cabin features 2 bedrooms downstairs, a kids' bunk space with 3 single beds, and master bedroom with a wonderfully soft king-size bed. If other friends join you last minute, feel free to pull out the comfy convertible bed in the living room.
The area is perfect for hiking around Tahoe, but there's plenty of incentive to visit in the winter too for some cross-country skiing and snowshoeing – thanks to its amazing location, here's virtually no wrong time of year to book the Squirrel's Nest!
Best Tahoe Airbnbs & Cabins: Kings Beach
Smokeys Den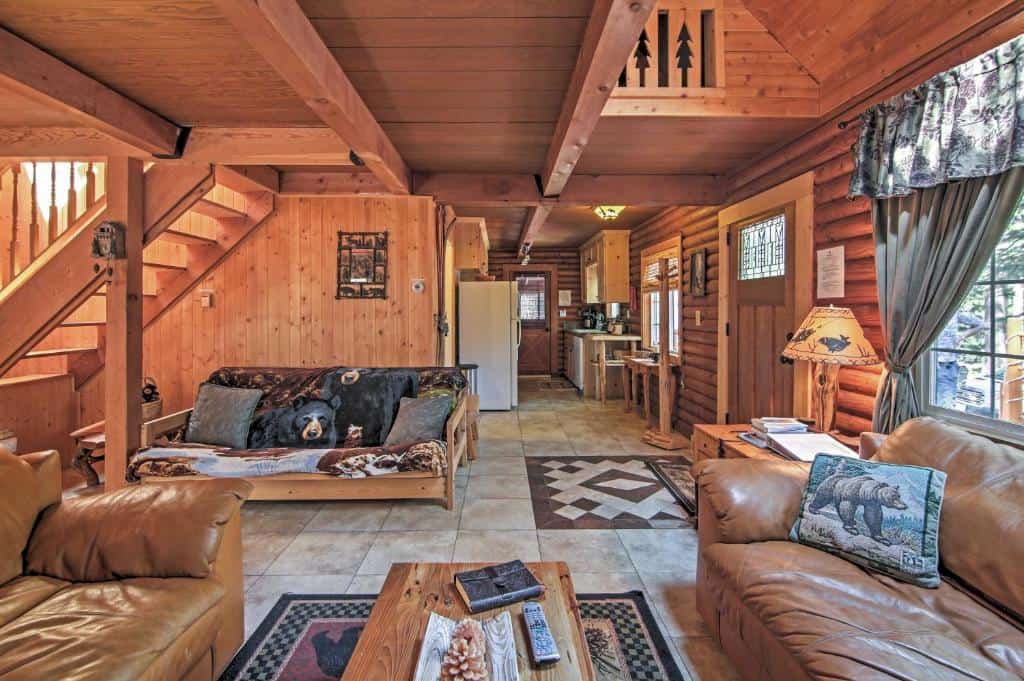 This beautiful, cozy cabin with a stunning hot tub is well-equipped and ideal for a getaway with friends.
On top of looking great, the ground floor is very cozy and spacious – this holiday home is fitted with 3 bedrooms, a living room and a fully equipped kitchen. A children's playground is available on site and skiing can be enjoyed within close proximity of the holiday home.
The outdoor area is very spacious, perfect for a dinner under the stars!
Beautiful Newer Home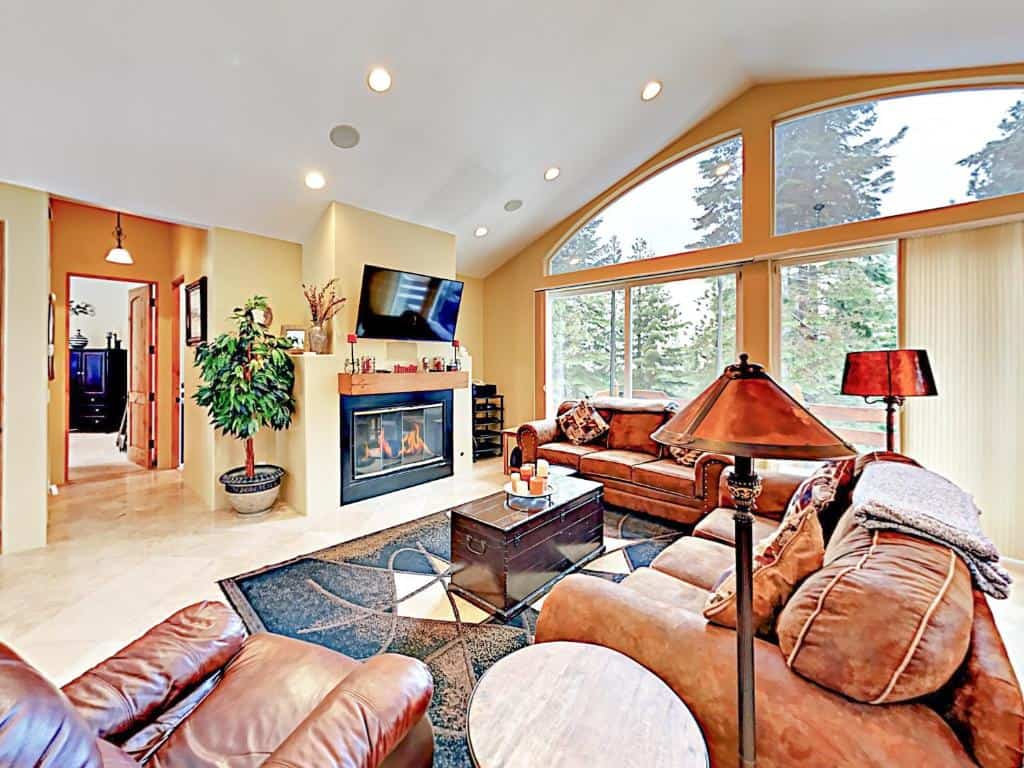 This beautiful place takes the bare essentials and integrates them into an incredible hub for explorers of the Tahoe area.
Everything in the living room area is comfortable and relaxing for a large group of friends, the home features plenty of open space although the rooms are both cozy and spacious at the same time – the sitting area is just perfect to take a rest by the fireplace and completely relax!
The deck can comfortably seat a larger group of people, and on top of getting a lot of light, it has gorgeous views.
The holiday home has 4 bedrooms, a TV with satellite channels, an equipped kitchen with a dishwasher and a microwave, a washing machine, and 3 bathrooms with a shower.
The real selling point of Cabin de Siewers is its amazing location – Tahoe Queen is 9 km from the holiday home, while Heavenly Ski Resort is 8 km from the property.
Adorable Tahoe Cabin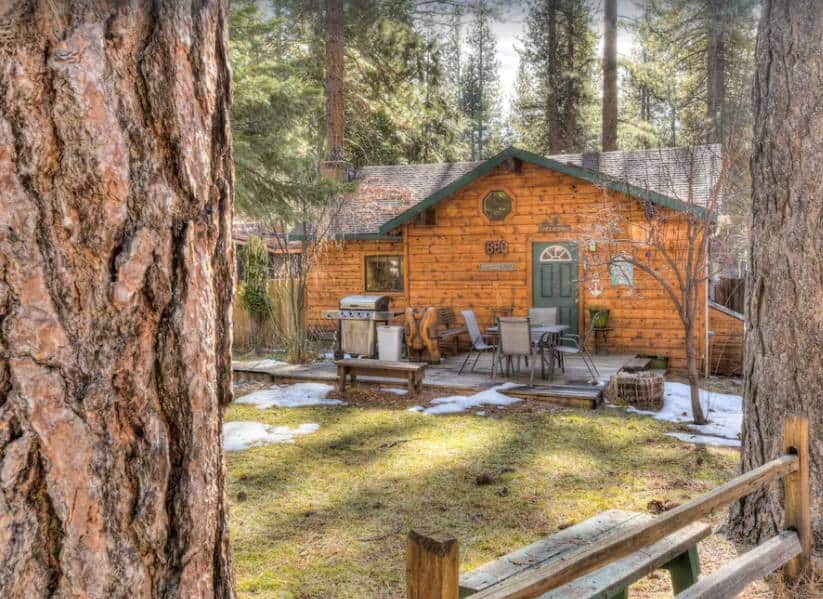 This Adorable Cabin is the perfect Tahoe getaway for two or for a small family! This cozy, warm, and inviting cabin is just 2 blocks away from the Kings Beach Recreation Area.
Nearby it's also possible to find a variety of stores, bars, and restaurants. It is indeed a perfect rental choice for a summer stay or ski get away!
The home features all the necessary for a comfy stay, including all kitchen cookware, a coffee maker, a microwave, and an ice maker too!
You can spend your time watching movies in the garden admiring the view.  
Thanks to its location in the heart of Kings Beach, the cabin is right by all the beaches and ski resorts.
Lake Tahoe Airbnbs & Cabins: Tahoma
Tucked Inn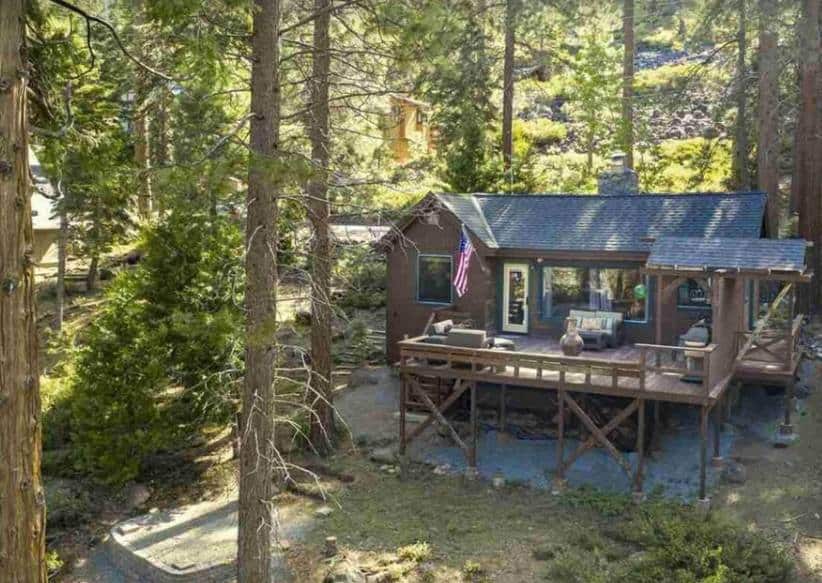 This vacation home is a charming Tahoe property tucked inside the Tahoma woods.
This cabin is on on a large double lot with gorgeous Lake Tahoe views! Guests can enjoy a comfortable bedroom, a bathroom, a galley style kitchen, and living room with vaulted ceilings.
There is also an enormous deck with views of the lake, with lots sunshine and great for relaxing. Walk into town or spend time relaxing on the sandy beaches, discover the nearby restaurants, or explore the world class trail system that goes for miles right out the back yard.
Close to all the major North Shore ski resorts and near Cal-Neva, this cabin in the woods is a great little Tahoe getaway!
Unforgettable Lake Tahoe Cabin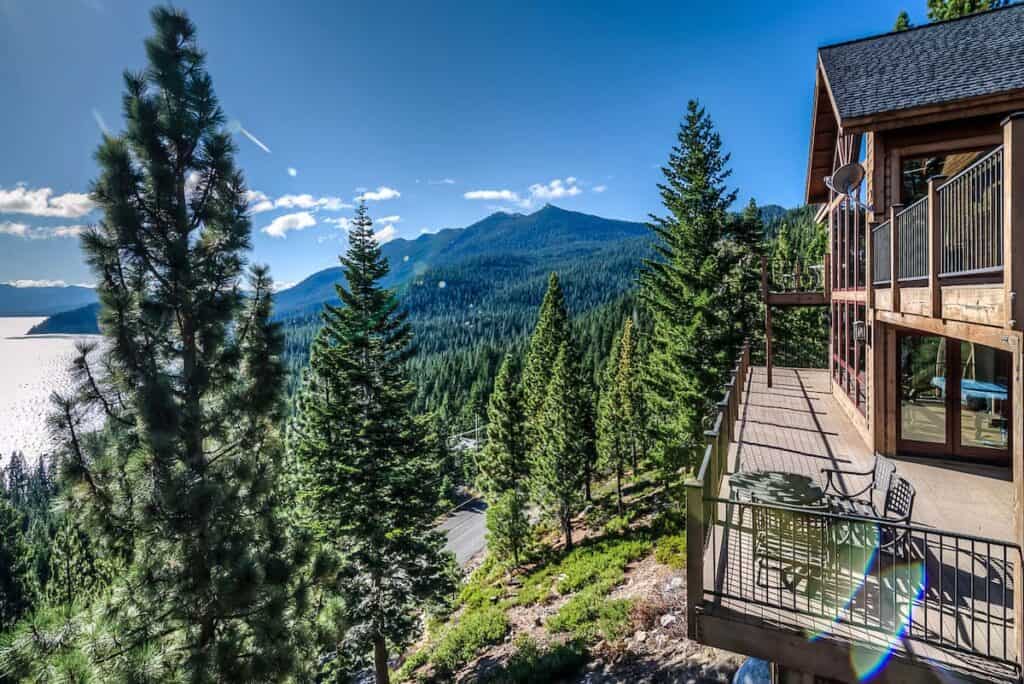 This incredible property rivals the gorgeous natural sights of the Tahoe area in terms of beauty, and it comes with every amenity under the sun.
The 2 living areas are beautifully lit and furnished, on top of having a breathtaking view of the lake and forest thanks to the window wall – this is where you can enjoy a game of pool or get a closer look at the surroundings with the telescope.
Down on the first floor, you'll find a shared deck with an amazing view and a hot tub. The bedrooms are just as impressive as the living area – the two master bedrooms each have their own private deck/balcony area, fireplace, and jetted tub, while the third bedroom has a unique circular window configuration that lets light in from virtually every angle.
If you want to get together with your friends and family, the fireplace in the living quarters and the large dining table are great spots, and you'll even have a home theater to enjoy all your favorite flicks in style.
As if all that weren't enough, the house's location is also brilliant, as it's very close to Meeks Bay, Vikingsholm Castle, and Emerald Bay State Park. If you can even get yourself to leave this amazing resort, the hiking trails adjacent to the house will lead you to some really amazing places.
Airbnbs & Cabins in Tahoe: South Lake Tahoe
The Prospector Cabin (Dog-Friendly Cabin)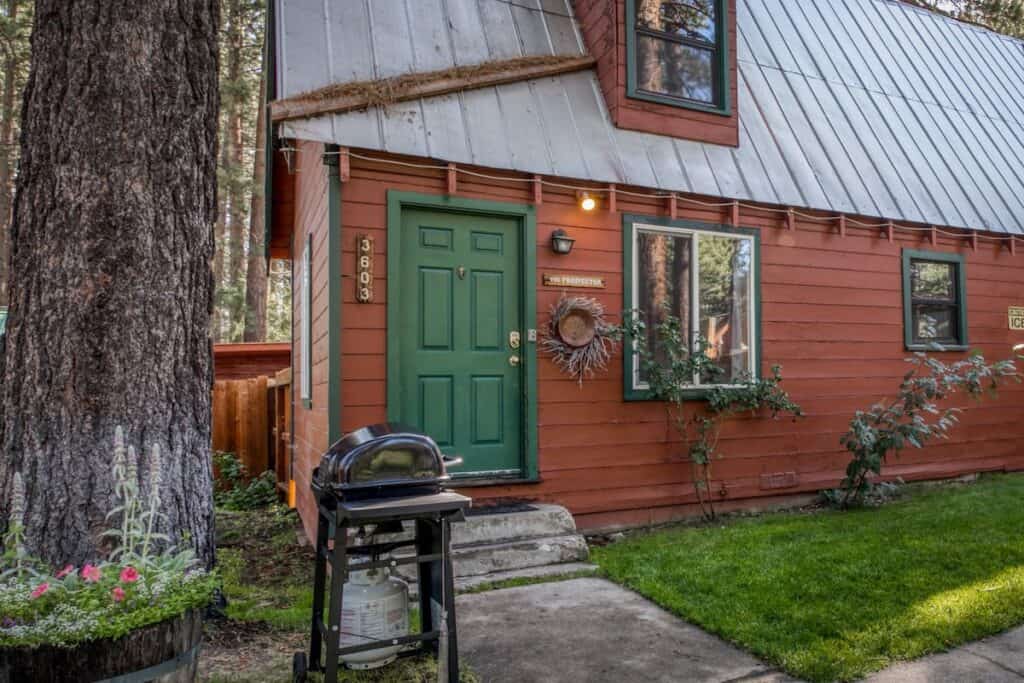 The Prospector Cabin is a great resort surrounded by nature, where man's best friend is welcomed with open arms. The two-floor cabin has a beautiful wooden design and a lot of character, largely thanks to its vintage furniture.
The bedroom on the second floor soaks in a lot of sunlight and has a nice view of the garden area, and positioned in the living area is the always-welcome fireplace for guaranteed warmth no matter the season.
It's also worth noting that there are a total of 7 cabins on this property, which can all be rented together to accommodate a group of up to 20 people!
The outdoor area comes equipped with a shared hot tub (currently unavailable for health and safety reasons) and the grassy yard makes for the perfect playing area for pets and young kids, while the adults enjoy a grill cookout and a tasty outdoor meal.
There's more than enough room and seating to accommodate everyone, and there's even a hammock for a relaxing outdoor nap.
In addition, you can walk to the nearby beaches, the Heavenly Ski Resort, shops, and restaurants – everything is nearby and convenient.
Updated Lake Tahoe House with Hot Tub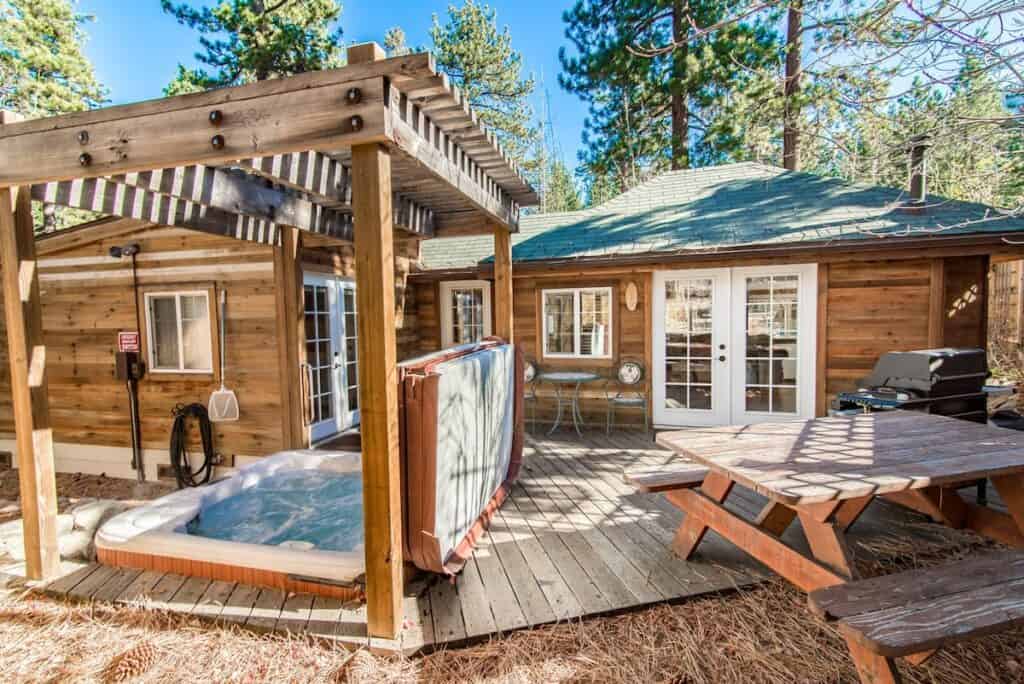 This house strikes the perfect balance between remote and connected – you get the benefits of staying in a quiet area, but thanks to the nearby bus stop, you can take a ride to a number of interesting places around Lake Tahoe (some of these are so close that you might as well just walk to them, though).
The main living area is open-floor, spacious, and homely, and it comes equipped with a fireplace for added winter comfort. The windows extend from one end of the living area wall to the other, giving you a beautiful panoramic view of your surroundings. You can step out on the patio and enjoy yourself in the hot tub, or gather around the grill for a delicious barbecue.
As far as basic necessities are concerned, the nearest shopping center is within walking distance. Needless to say, the house's location offers the optimal conditions for some mountain biking or a good hike.
If you're feeling adventurous, you can chart a boat and go wakeboarding or water skiing on Lake Tahoe, or hop in a car or bus and test the odds across the state line on the Nevada-side Tahoe casinos.
Best Lake Tahoe Airbnbs: Crystal Bay & Incline Village (Nevada)
Stargazer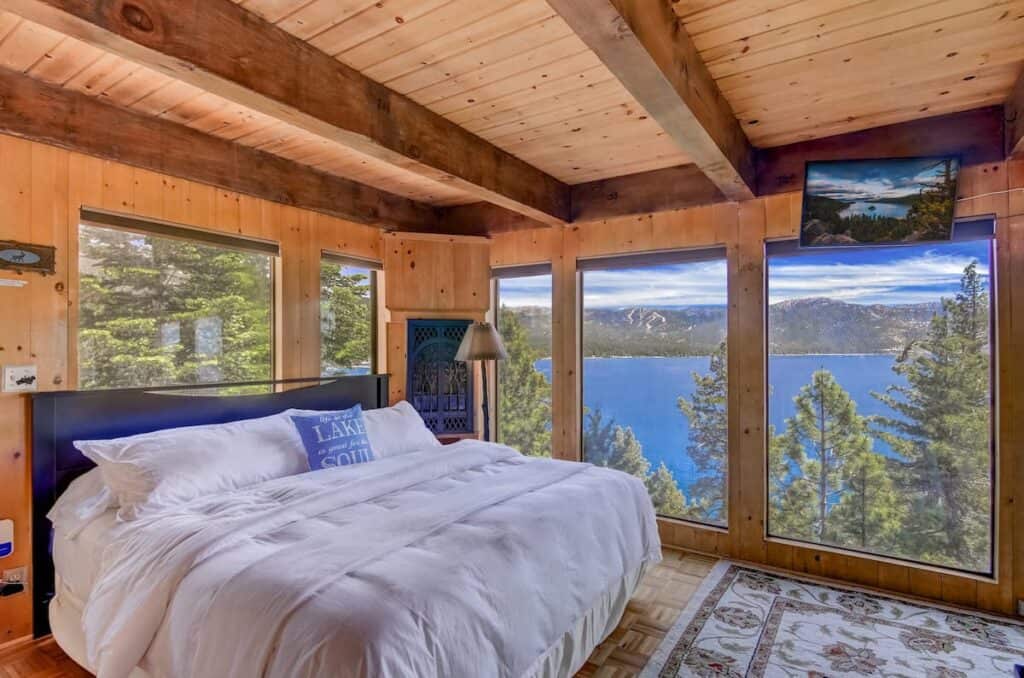 The Stargazer is a lakeside retreat for two by Lake Tahoe that truly lives up to its name – the view of the night sky from the balcony is breathtaking, as is the daytime view of the crystal-clear lake water, the surrounding forest, and the mountains off in the distance.
The balcony is also a perfect spot to catch some sun rays and fire up the grill for a nice barbecue. In addition, you'll have access to a fireplace and heater if you're visiting in the winter.
Thanks to the window-covered walls, you also get a great view of the outside from virtually anywhere in the studio, and all the natural light makes the wooden interior that much more lively.
The Stargazer is only a short ride away from Kings Beach, Incline Village, as well as several restaurants and other locales. A welcome addition to the experience is the local transport, in the event that you don't feel like driving. Similarly, wintertime visitors can arrange for transportation to the nearby ski resorts.
Incline Beach Condo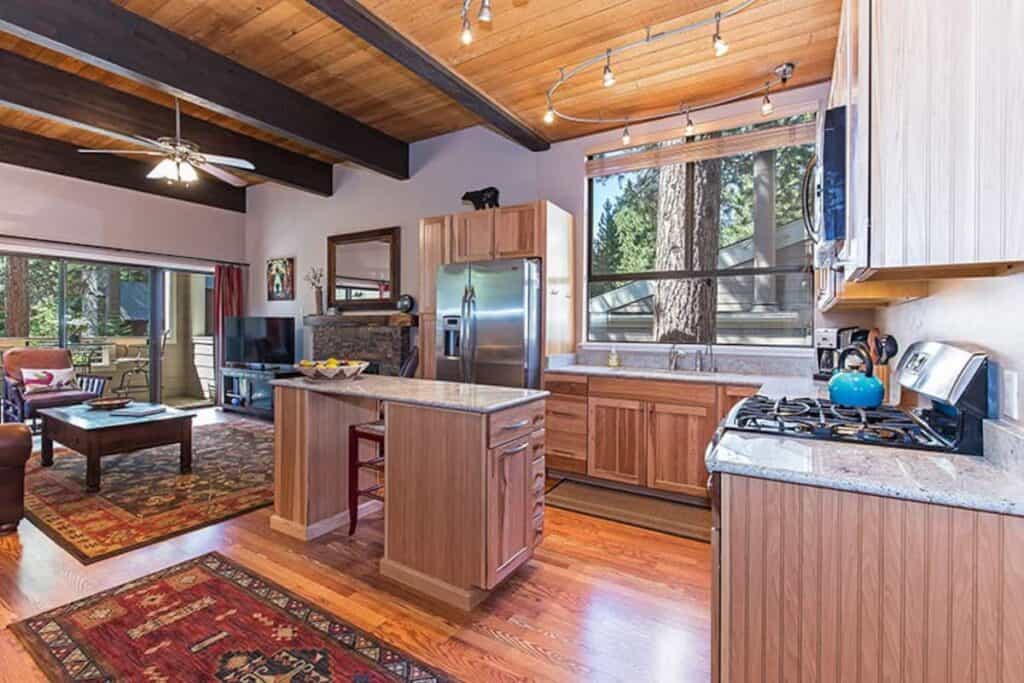 This breathtakingly beautiful condo is the quintessential Incline Beach experience. The rooms are laid out on the second floor and the view of the surroundings (from the windows and the balcony alike) is beautiful.
The open-floor area has a vintage wooden design, beautifully complemented by the carpets, tapestry, and furniture. The seating in the living room section is cozy and features a fireplace for maximum coziness. The balcony has seating and a barbecue grill, making it a great spot for an outdoor meal on hotter days.
The location of the condo is perfect for summer and winter visits, as it's close to Burnt Cedar and Incline Beach as well as several ski resorts, including Diamond Peak.
Other interesting activities in the area include mountain biking, golf, hiking, and tennis; shops and restaurants are also easily accessible. After you're done exploring for the day, you can relax in the community pool or the indoor hot tub.
Pin This Guide to the Best Airbnbs in Tahoe!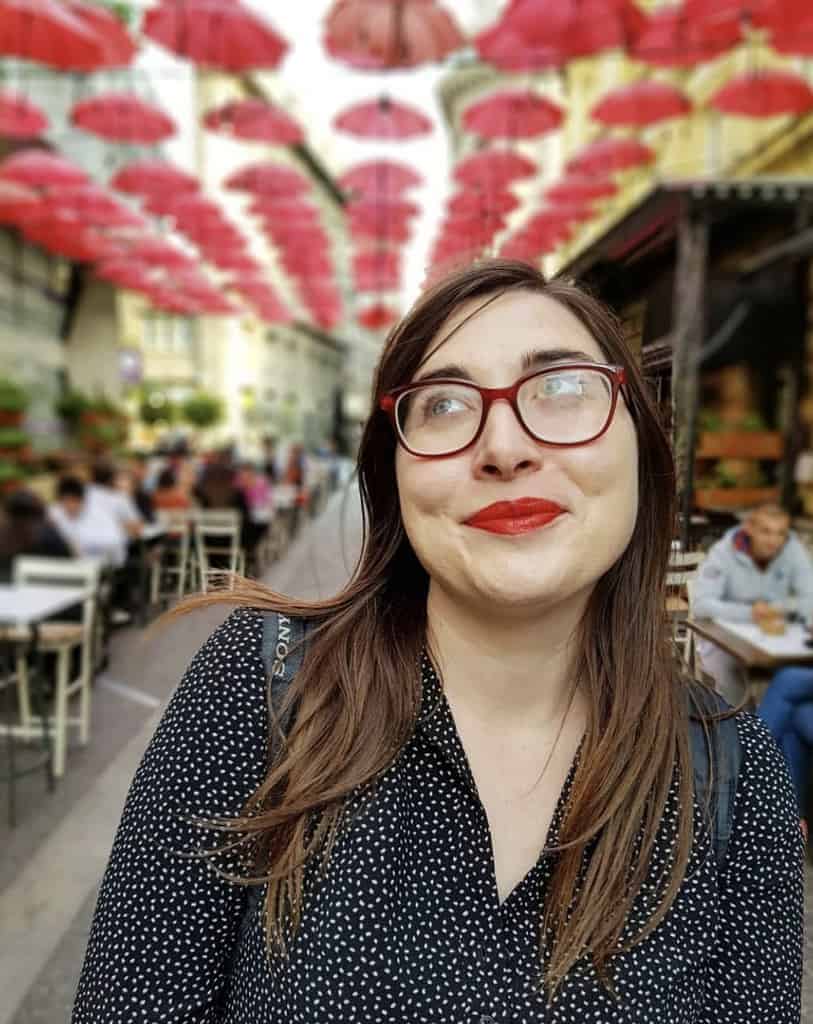 Allison Green is a travel blogger, writer, and podcaster who grew up in the Bay Area of California. She has spent time living in New York, Prague, and Sofia, but has returned to live in the East Bay. She has traveled to 60 countries before the age of 30 while running several digital travel publications. Her writing and podcast have been featured in Forbes, CBC Canada, National Geographic, the Huffington Post, and CNN Arabic, amongst others. She's obsessed with bouldering, houseplants, other people's pets, and anywhere she can see the ocean.