Ah, Lake Tahoe: one of the most beautiful lakes in California and in the world!
Tahoe is the deepest lake in California and Nevada and 2nd deepest (Crater Lake in Oregon is number one) in the country.
It is 22 miles long, 12 miles wide, and has 72 miles of shoreline to enjoy, from rocky alcoves to sandy beaches. Tahoe is the largest alpine lake in North America, residing in 2 states: mostly California but a bit of Nevada as well. It is a great destination any time of year, but it's perhaps best-known as a winter destination.
Winter is a particularly special season in Tahoe. The beaches are covered with snow, holiday lights are hung all around, and the smell of burning wood fires will find your nose regularly.
Of course, Tahoe is known for its world-class ski resorts. People travel from far and wide to hit the slopes at Heavenly Mountain or Kirkwood just outside of Tahoe. However, there is myriad of things to do in winter in Tahoe besides skiing — and we'll get into those in this post!
Things to Do in Lake Tahoe in Winter for Non Skiers
Explore the scenic resorts of South Lake Tahoe
Note: This post contains affiliate links, which earn me a small commission at no extra cost to you if you make a purchase using one of these links. Thank you for supporting this free content!
South Lake Tahoe really does winter right, especially for the Christmas season.
The beauty is comforting and transporting. Enjoy the traditional Scandinavian-inspired architecture you will see all around — it really sets the mood!
They decorate the resorts beautifully with holiday decor, and many of the resorts also offer sleigh rides. "Dashing through the snow, on a one horse open sleigh…": but literally!
In addition to sleigh rides, there are a couple of places to ice skate, sled, or snowshoe in the area, plus there are numerous places to hit for some comfort food that will warm your belly.
Explore a hidden castle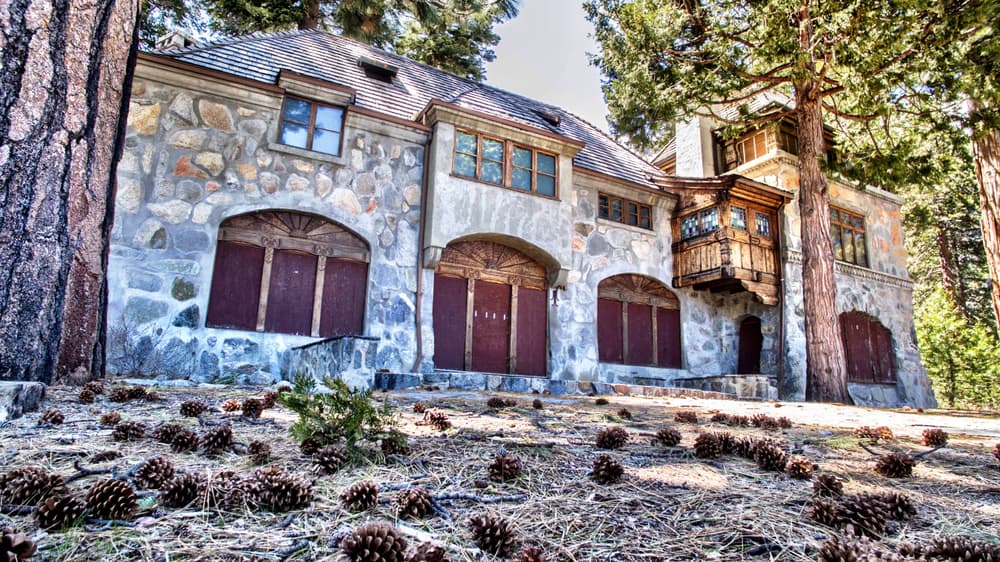 Bet you didn't think California had castles — but it has a few, and one is in Lake Tahoe!
For an extra serving of architecture, check out Vikingsholm Castle in Emerald Bay. There are no tours in winter, but it is still awesome to see.
Plus, you can add a little time in Emerald Bay Bay State Park. Use caution when hiking the one-mile trek to the Castle and the lake. Snowshoes are recommended as the snow can be deep.
There is no water available here from October to May (due to risk of frozen pipes), but there are restrooms.
Try your hand at cross-country skiing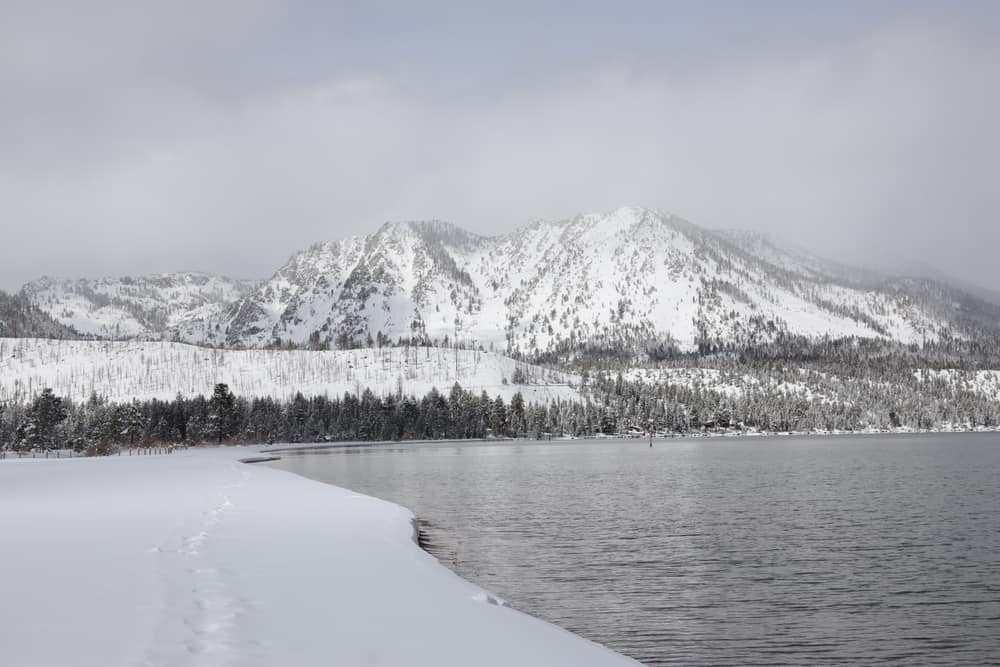 In addition to Emerald Bay, Tahoe is home to one of the world's largest collections of cross country ski trails, also known as Nordic skiing. I know, this is a guide of things to do in Tahoe for non-skiers, but to be fair, cross-country skiing is an entirely different ball game (read: far less terrifying and risky).
There are a whole bunch of places throughout the area for Nordic skiing. Try Baldwin Beach or Tallac Historic site.
We recommend heading to the north side of Lake Tahoe to enjoy cross country skiing on the snow-covered beaches. Talk about an adventure with a view — you can't beat Nordic skiing right on the lake!
You can rent snowshoes or skis at many locations. Try renting at Camp Richardson or grab some at Kirkwood.
Take the gondola at Heavenly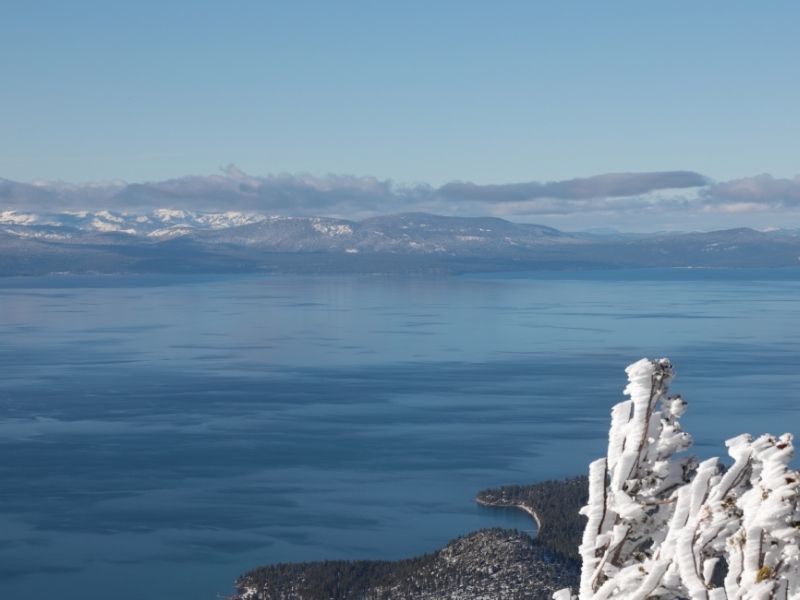 For those wanting a more relaxed experience with an awesome view, try the Heavenly Resort Gondola ride.
Travel 2.4 miles up the mountain in the comfort of a gondola. Stop at the observation deck on your way up! T
hey have a coffee bar and a souvenir shop, plus a great view. Continue up the mountain once satiated for the most epic vista point lookout over Lake Tahoe.
Heavenly Resort also offers the opportunity to make s'mores at your table. The Loft at Heavenly Village is a restaurant with the exact ambiance one might expect at a ski resort.
Enjoy the hot springs
Soothe sore muscles and enjoy the hot spring fed hot tubs at David Walley's Resort.
It is $50 for the day, which may feel pricey but you get access to the mineral hot tubs and a heated swimming pool, plus eucalyptus steam rooms, dry saunas, and luxury locker rooms. Despite the price tag, we think it's definitely well worth a visit.
Heal body, mind, and soul!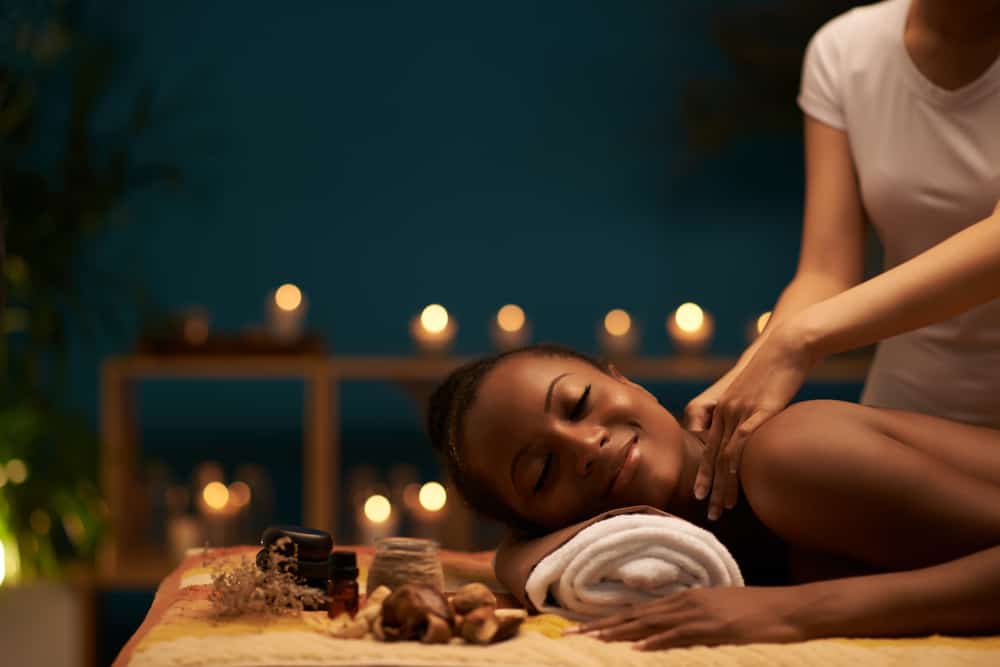 In addition to the hot springs, there are numerous other spas and healing centers in the Tahoe area.
Head to Fifth Element in North Lake Tahoe for reiki, energy healing, massage and tarot readings for a spiritual cleanse and physical healing.
Enjoy the apres-ski scene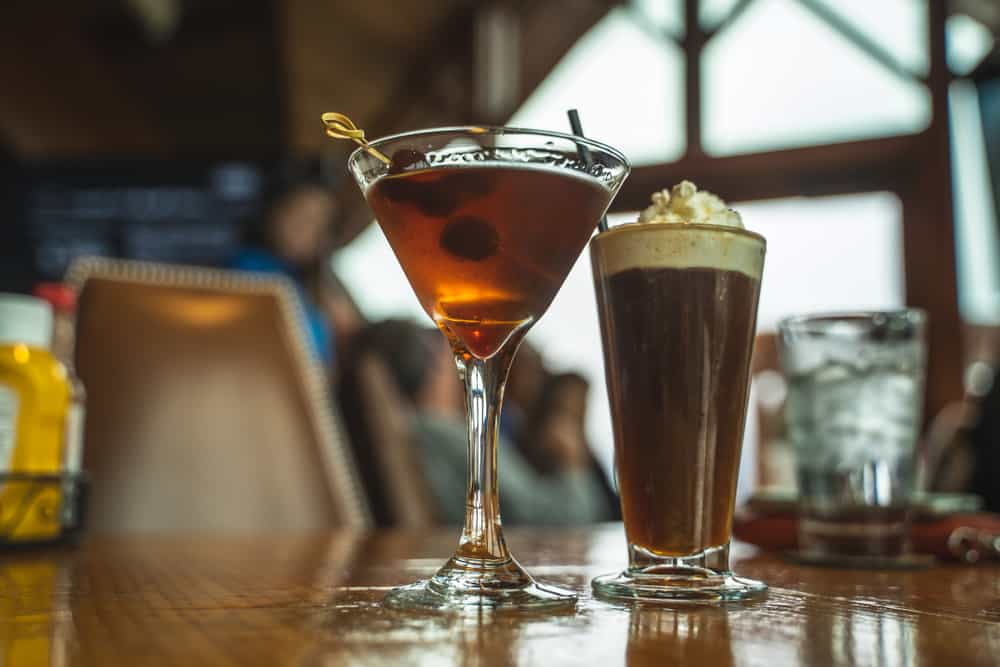 Not everyone wants to go get a massage, some of us want to party… and some of us like to do both (guilty, right here!).
Tahoe has plenty of options for some really nice places to get a drink once the sun goes down… whether you're team post-ski or post-spa!
Whether it's live music at Homewood Mountain Resort or a perfectly-pulled pint of Guinness at the Irish pub Auld Dubliner, there's no shortage of great places to enjoy a drink in Tahoe.
Chase the South Lake Tahoe Beer Trail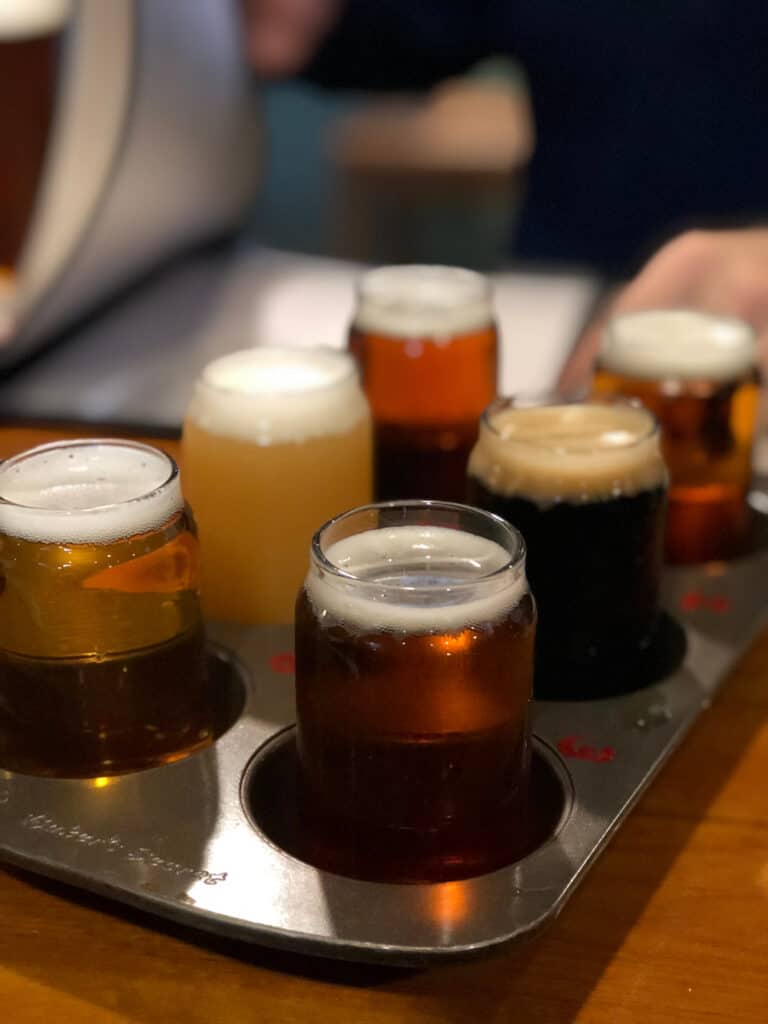 While there are a lot of great apres-ski places, there are especially a lot of breweries and places for beer-lovers in Tahoe.
There's even a South Lake Tahoe Beer Trail. It features 9 of Tahoe's best eateries, taprooms, and breweries!
Our personal favorite? Enjoy Cold Water Brewery and Grill for their handmade brews and seasonal menu. Also along the beer trail, you will also find The Hangar, a taproom complete with bocce, corn hole, a patio and even a dog park!
South of North Brewing Co. has fire pits to cozy up around while enjoying their brats and sausages.
Head out on a snowmobile tour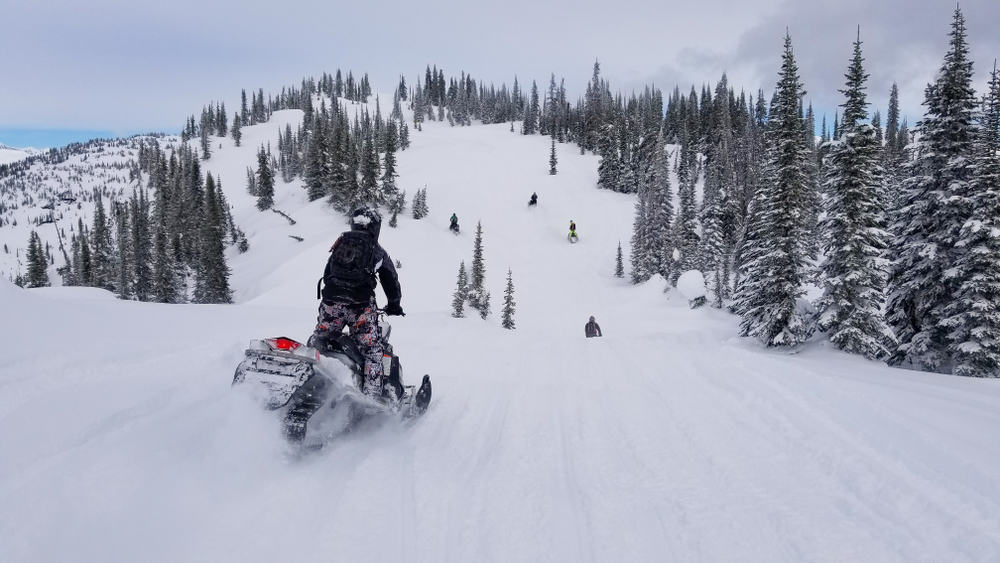 For more adventure, book a tour with Lake Tahoe Adventures. They offer snowmobile tours about 20 miles from South Lake Tahoe.
Traverse over 15 miles of groomed trails through the woods and along snow-laden meadows. They sometimes even offer moonlit tours if you're looking for some post-sunset fun!
If you're traveling as a family, venture out to Kirkwood for Thunder Mountain Kids Snowmobile Park. It's a thrilling adventure for any youngster! Note that the snowmobiles are suitable for kids under 125lbs only.
Sled down the slopes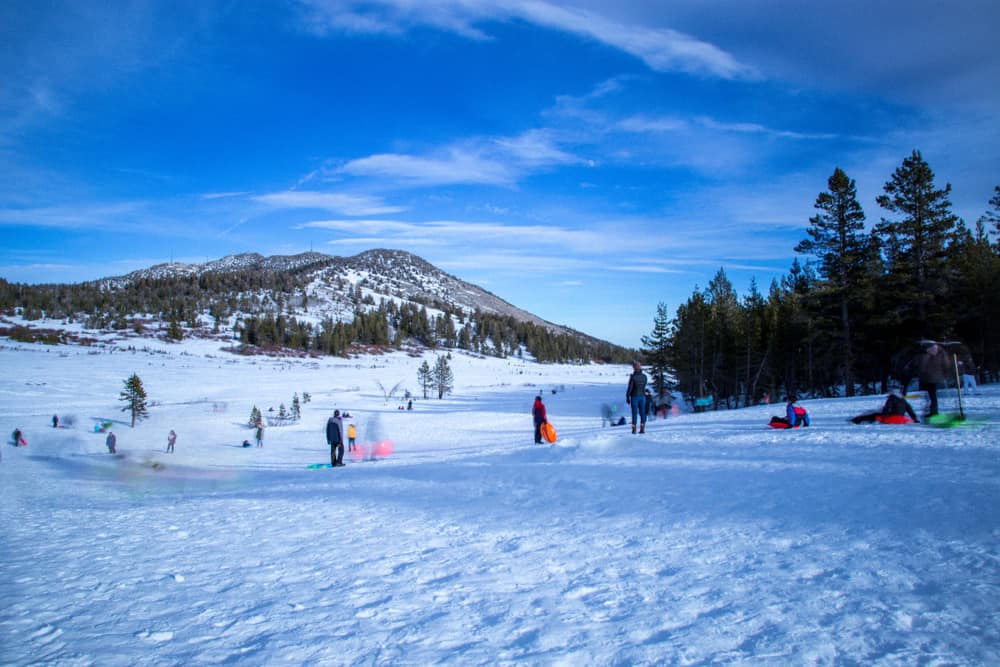 And of course, what is a list of things to do in Tahoe in winter without sledding figuring on it?
Granlibakken Tahoe offers sledding on their sled hill, as well as skiing and snowboarding.
Check out Tahoe City Winter Sports Park for more sledding! They also have an ice skating rink as well as Nordic skiing and snowshoeing trails.
For a unique winter activity, try out their Fat Bike rentals. They have trails to ride that are well maintained and suitable for the wide-wheeled fat bikes.
Learn Tahoe's history at the Donner Memorial State Park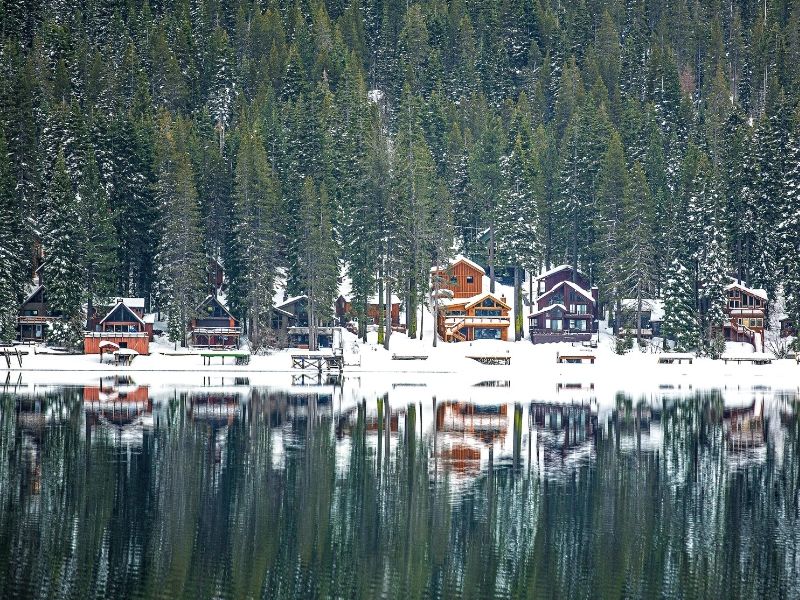 Donner Memorial State Park located on beautiful Donner Lake is another great Tahoe winter destination. The park has 5 different Nordic ski trails with beautiful views around the lake.
Plus there is a chance to experience history here (though, luckily, in a not-so-hands-on way!).
Learn about the infamous Donner Party and their struggle for survival, as well as the Native American history of the lands around Tahoe, at the Emigrant Trail Museum.
Visit the Tallac Historic Site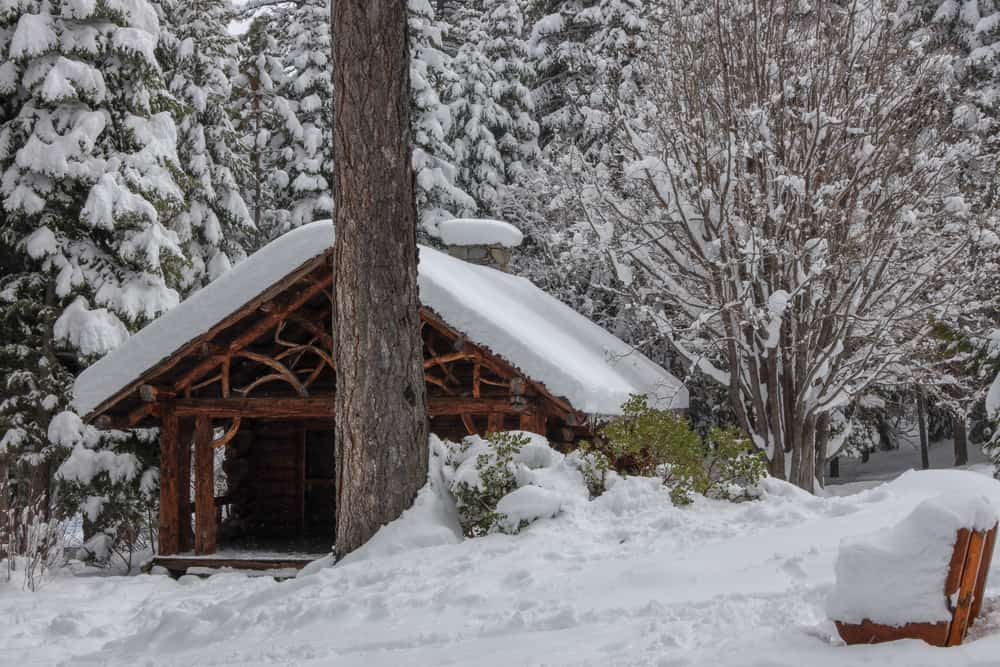 More than just a spot for cross country skiing, this destination hosts the remnants of 3 estates, all built between 1894 and 1930.
They are not open in winter, though you can still enjoy the buildings on a lovely walk.
They also have their "Winter Wanderland" weekend in conjunction with the Valhalla Holiday Faire.
See holiday lights while sitting by the fire with coffee or hot chocolate from the coffee and hot chocolate bar. Enjoy a sleigh ride and a serenade by carolers!
Check out Tahoe's thriving gallery scene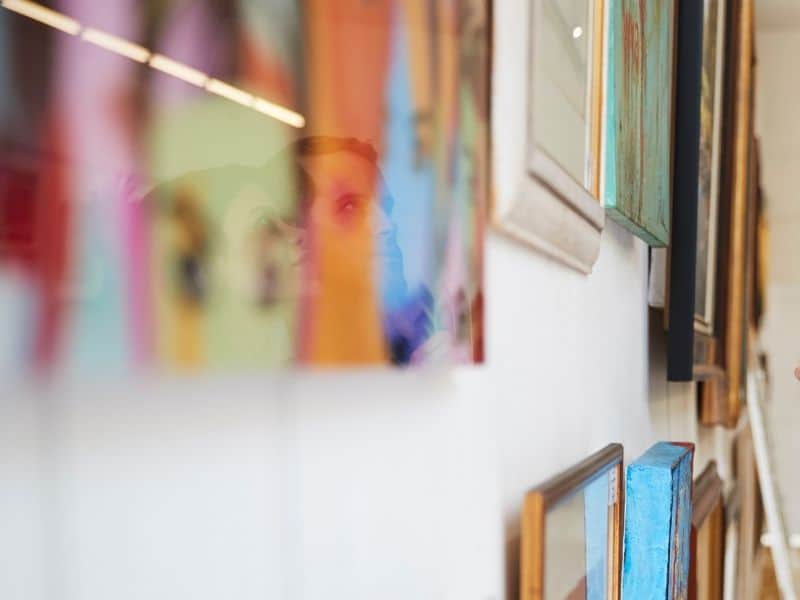 If you love art, you're in for a treat: the Tahoe region is home to several incredible local galleries.
Art lovers shouldn't miss the opportunity to check out the Marcus Ashley Fine Art Gallery, the Tahoe Art League, or the Wyland Galleries.
Live Olympics history in Squaw Valley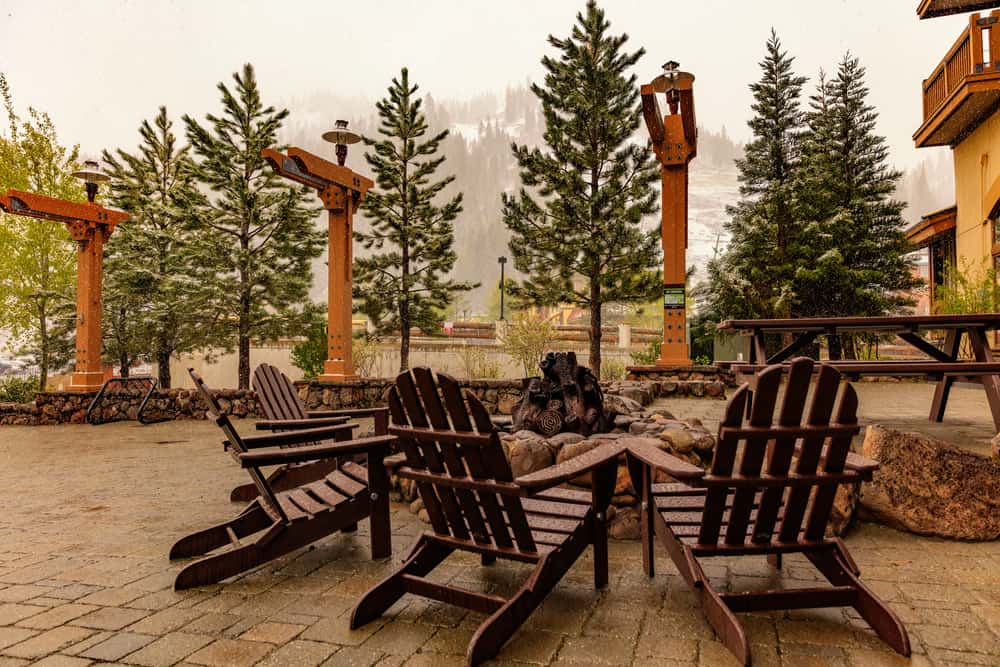 A visit to Tahoe is not complete without a visit to Squaw Valley!
This is where the 1960 Winter Olympics were held. Enjoy time in the Olympic Village and feel like you're part of history! Be sure to check out the museum.
Have drinks at the Tram Car Bar
While in Squaw Valley, be sure to save some time to have some fun at the Tram Car Bar, too!
It is a restored tram car from the 70s which makes for a really cool retro hang out spot. They have a great happy hour for your apres-ski drinks and snacks, from 3-4 PM… great for day drinkers and skiers alike!
Take the aerial tramway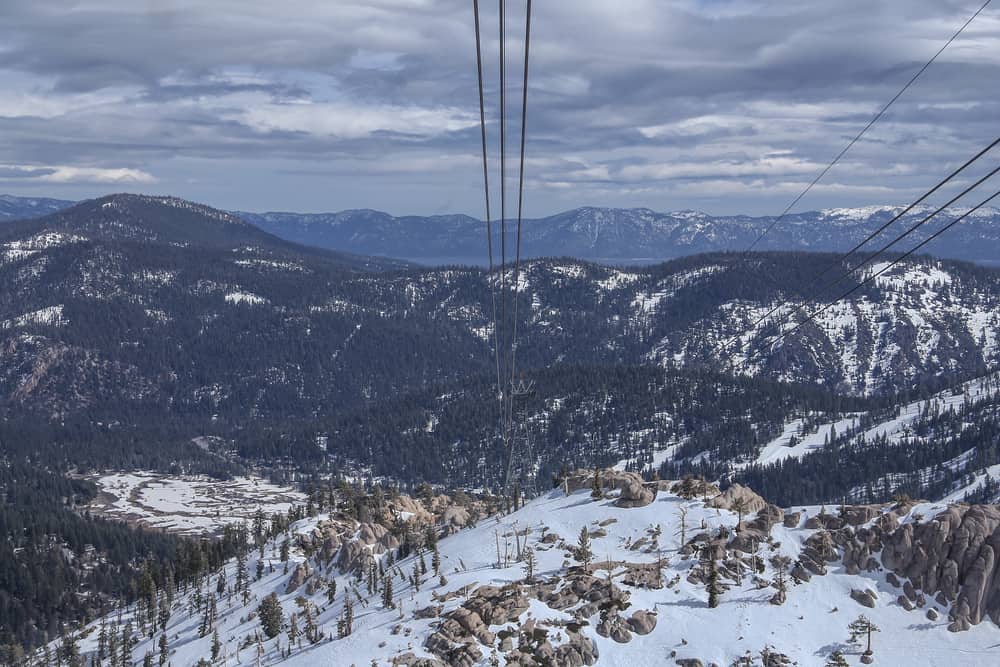 Take a ride on the Squaw Valley Aerial Tramway for wonderful views of Lake Tahoe suspended from the air.
At the top, enjoy a meal at Granite Bistro. You can also grab something to eat from High Camp Marketplace if you're on a budget and the bistro is too pricy. The marketplace is a great spot if you just want to grab a warm drink or some souvenirs.
Where to Stay in Tahoe in Winter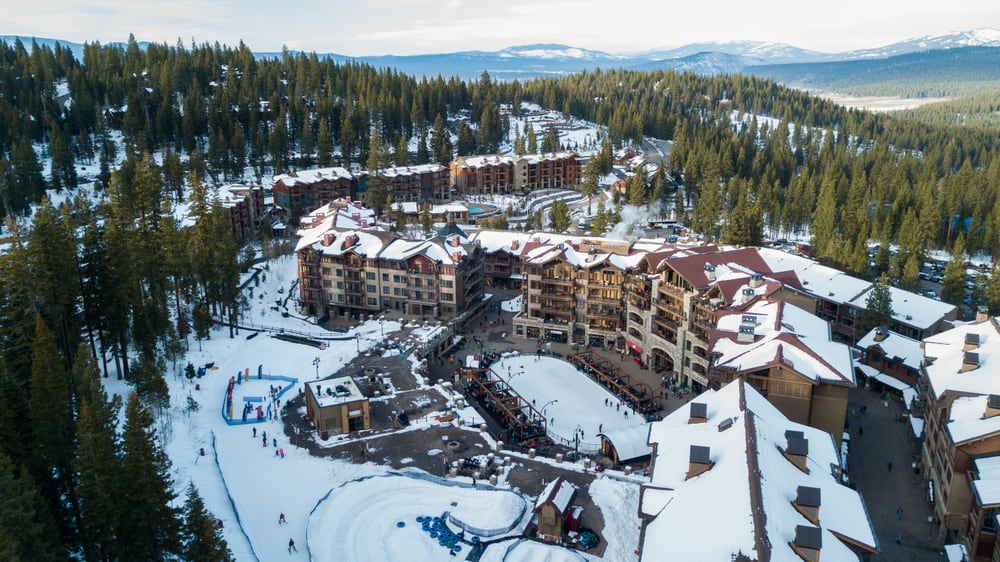 Squaw Valley Resort offers world-class lodging with all the amenities for a perfect winter in Tahoe! Squaw Valley Alpine Meadows was named the number one ski resort in North America 3 times in the last 5 years, so you're definitely in for a treat if you love to ski, but it's also a great escape for those who don't ski as well.
However, where accolades are high, so are the prices! There are other wonderful places to stay in and around Tahoe.
Check out some Tahoe Airbnbs for a classic cabin stay in the area. Get one with a hot tub for a truly relaxing home-away-from-home!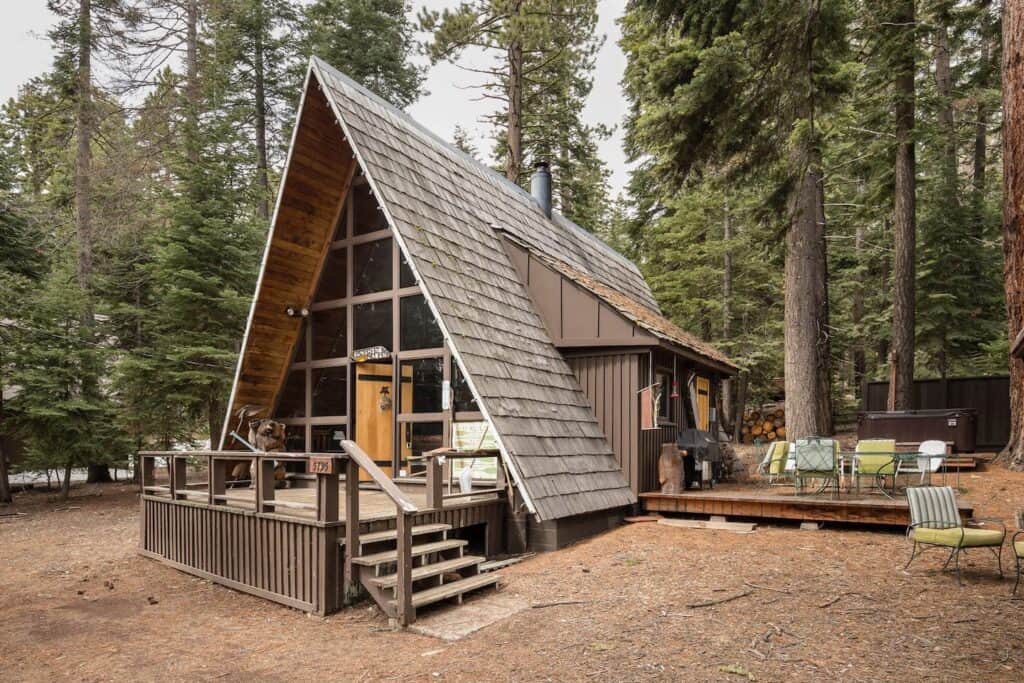 Here are my favorite Tahoe Airbnbs:
Charming A-Frame: This lovely Airbnb fits up to six guests with one bedroom, with one queen bed and two twin beds plus a sofa bed. It has a lovely charming old-school design with wood details and homey details, in a way that just epitomizes cozy winter travel. The front wall, however, features a lot of glass to allow in beautiful natural light and give you views of the gorgeous snowy vistas. Of course, being in Tahoe is all about being outdoors, so you can bundle up and enjoy a cookout on the gas grill or strip down to your bathing suit and enjoy the outdoor hot tub under the snow or stars!
Modern Mountain A-Frame: This cabin fits 4 guests in two bedrooms, each with their own queen bed, so there is plenty of room for two couples to enjoy while still having their own personal space. There is a well-stocked kitchen for cooking group meals and a TV room complete with a fireplace and a great speaker setup for impromptu dance parties. The outdoor area features a grill in case you want to do a winter cookout!
Unforgettable Lake Tahoe Cabin: The name truly says it all: this gorgeous cabin has unparalleled views of the Lake Tahoe area and is one of the best ways to see a panoramic view of Tahoe in winter with its peaks covered in snow and the beautiful lake like a jewel amidst the mountains. This massive cabin fits 9 guests in 4 bedrooms (5 beds), and there are two living areas complete with fireplaces so you can spread out or get together however you choose. The living area has a beautiful window wall where you can get a great view of the lake, or you can also play a game of pool or stargaze with the provided telescope. There's also a deck area with a hot tub, and each master bedroom has their own fireplace, private balcony, and bathtub with jets!
Tahoe Winter Safety Tips
Be warm, be waterproof!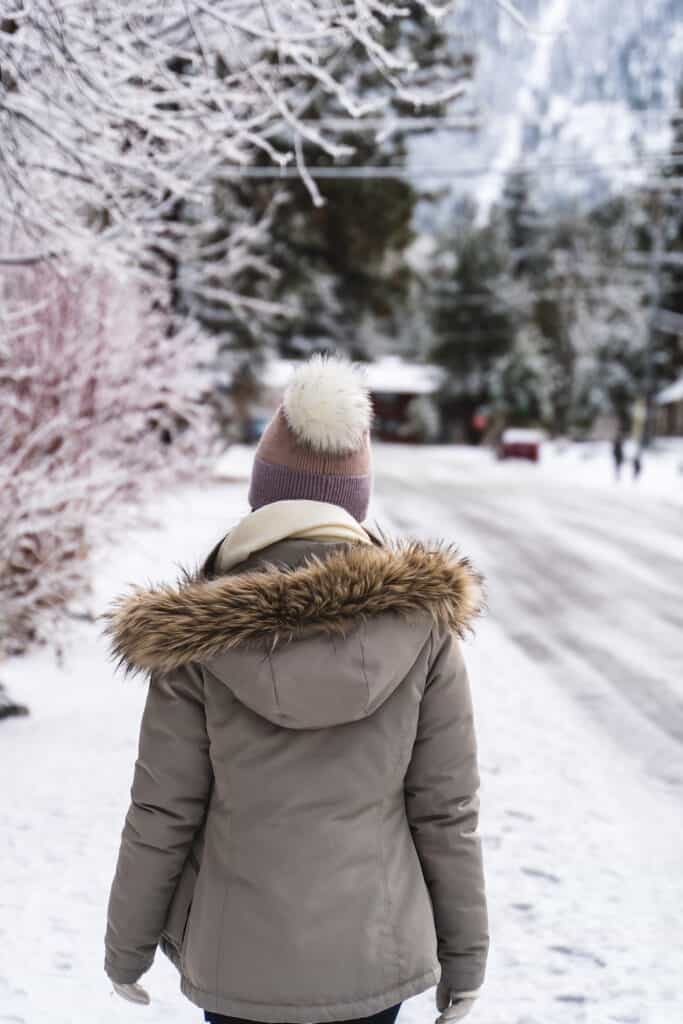 To avoid hypothermia, dress warmly and dress smart.
Use waterproof gear when venturing out into the snow. If you get wet, hypothermia is going to affect you way more quickly.
It is good practice to change into dry clothes as soon as they get wet to avoid hypothermia. Bring a dry bag to keep your dry clothes actually dry.
Being well-hydrated also helps the body stave off hypothermia, so bring plenty of water. Just because it's cold doesn't mean you don't have to hydrate!
Recreate responsibly
Always remember that winter activities can pose hazards, especially when heading into the backcountry for skiing, snowshoeing or snowboarding.
Avalanches can occur or you can fall through a snowbank. As a precaution, you should bring an avalanche beacon, probe, and shovel. They make collapsible emergency shovels, so this is not as much of a burden as it sounds.
The need to ever use these items is rare, but possible, so be prepared.
Road conditions in winter in Tahoe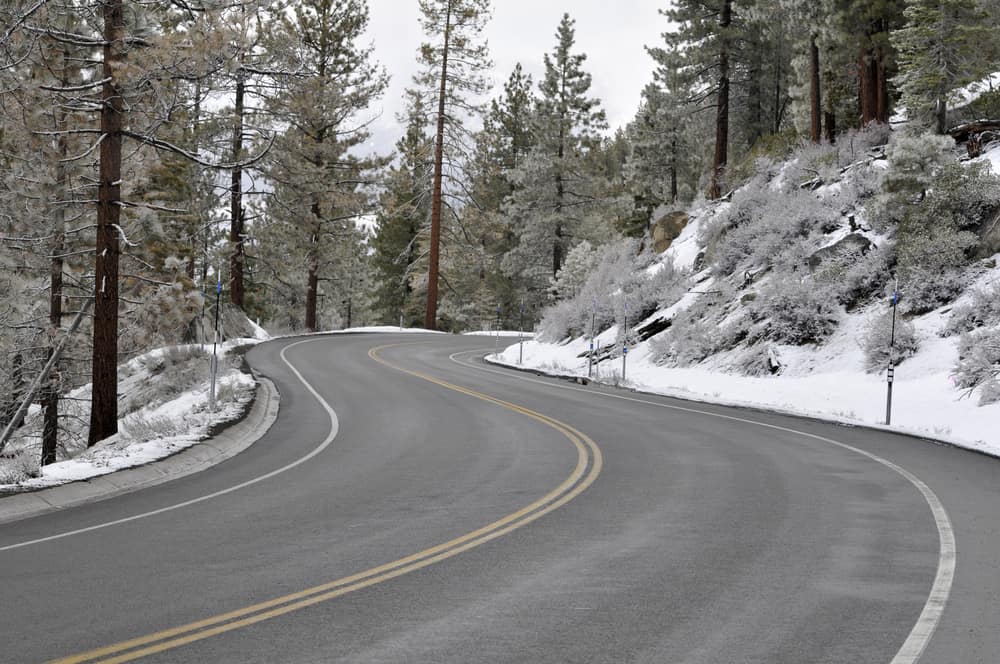 Some roads may be closed due to high snowfall or avalanches.
Cars may be required to use tire chains. Check here for updates on road conditions and closures.
Leave no trace
And as always, leave no trace. Leave any place, especially wild places, better than you found them.
Clean up your trash — no one likes a litter bug. Be respectful of the land as you are privileged to walk upon it to enjoy the awe-inspiring landscapes the world has to offer… especially Lake Tahoe.
***
Despite potential (and rare) hazards, Tahoe is truly a magical winter wonderland.
Hey, why not even build a snowman while you are there?! Let your inner child sing as you sled, ski, play, and wander.
Tahoe is an unbeatable winter destination. There are many fires to cozy up next to, dinners to indulge in and beautiful skies to engage your eyes, night or day.
Take care of the land, relax your body and mind, and enjoy your time in Tahoe!
Pin This Guide to Tahoe in Winter for Non Skiers!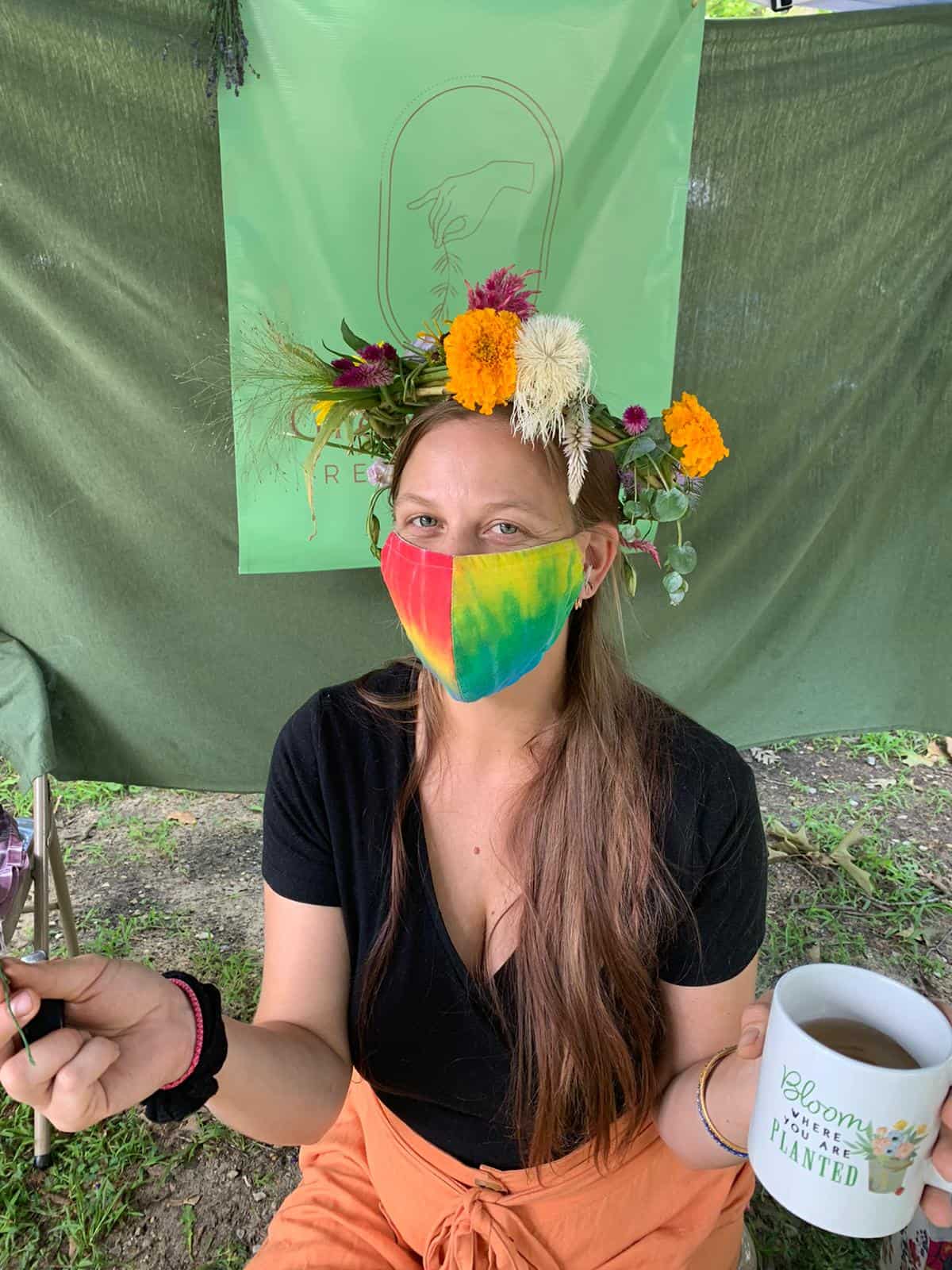 Allison is a writer, herbalist, musician, and lover of nature. She is an avid traveler and backpacker, having traveled throughout most of the United States and through parts of Asia and Europe. She has lived in Hawaii, Philadelphia, New Jersey, Boston, and of course, California. Allison has lived in California for 5 years, working on farms and in Yosemite National Park. She has been all over the state, enjoying many cities and of course, the many amazing outdoor wonders California offers. She currently resides in Aptos, Santa Cruz County, CA.