Sonoma County is beautiful any time of year, but personally, I love winter in Sonoma.
When I was living in New York or abroad, Christmas was always the time I'd come home and visit my family in Sonoma.
As a result, I have tons of wonderful memories of spending winters in Sonoma County near the Russian River.
One of the best things about visiting Sonoma in winter is that it's quiet and peaceful, lush and green after the winter rains.
The combination of warmish afternoon days, crisp cold nights perfect for sitting by the fireplace, and occasionally drizzly days is what Northern California winter is made of!
There's such a great mix of indoor and outdoor activities to do in Sonoma as well, so you can easily spend a rainy day enjoying cozy indoor pursuits like wine tasting and antique shopping or spend a sunny cool day on an epic hiking trail along the coast.
Fun Things to Do in Sonoma in Winter
Enjoy the best Sonoma Valley wineries.
Note: This post contains affiliate links, which earn me a small commission at no extra cost to you if you make a purchase using one of these links. Thank you for supporting this free content!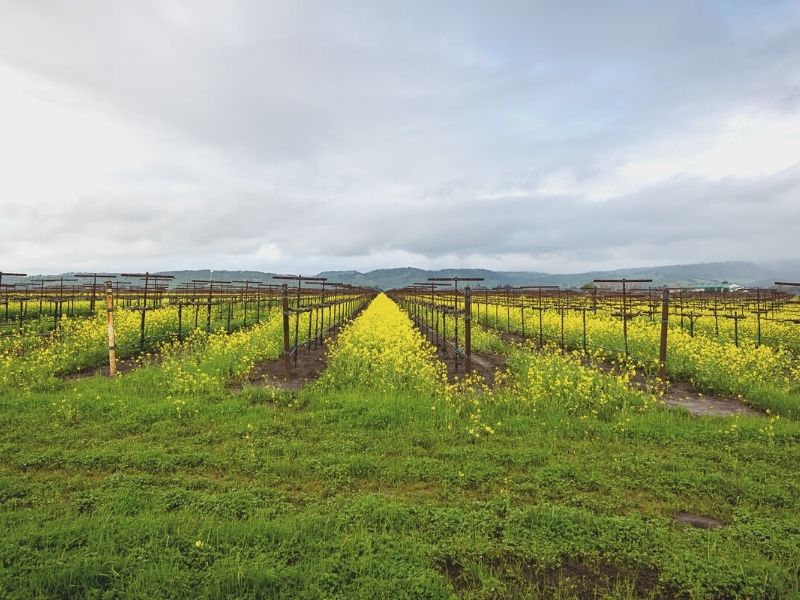 Sonoma County is world-renowned for its wineries and tasting rooms.
While it may not have as much name recognition as neighboring Napa Valley, I'd argue its wines compete beautifully — and perhaps even beat Napa in the showdown of Napa vs. Sonoma.
Sonoma County is massive, and Sonoma Valley refers only to a 17-mile long valley. But in this valley, there are five unique AVAs (American Viticultural Areas) — and that's not counting all the AVAs in Sonoma County outside of Sonoma Valley!
In Sonoma Valley alone, you have the AVAs of Bennett Valley, Carneros, Moon Mountain, Sonoma Mountain, and Sonoma Valley.
These are centralized around the city of Sonoma itself as well as Glen Ellen and Kenwood.
Some of my favorite award-winning Sonoma Valley wineries include Hanzell, Three Sticks (who source grapes from vineyards all over Sonoma, but have some vineyards in the valley are as well), and Gloria Ferrer Caves & Vineyards if you like sparkling wines!
Visit Sonoma's lesser-known wine countries.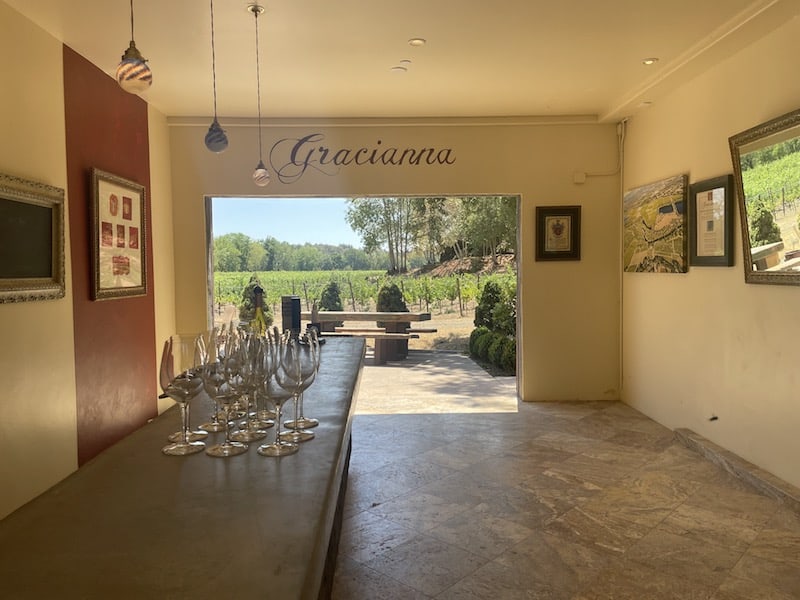 As I mentioned above, Sonoma Wine Country is much more than just Sonoma Valley!
Sonoma's West County, which includes Sebastopol, Guerneville, and other small towns nestled between Sonoma Valley and the Sonoma Coast, is one of my favorite places for wine tasting in California!
The Russian River Valley AVA is most famous for its Pinot Noirs, which you'll find around Sebastopol and Healdsburg. A few of my favorite winemakers creating delicious West County pinots are Scherrer and Halleck.
You can visit their wineries in person with reservations, but you can also taste their wines at Terroir. located in the Barlow in Sebastopol!
If you're more of a Chardonnay person, I recommend Gracianna on Westside Road which makes a marvelous Chardonnay!
There's also the Dry Creek Valley AVA which specializes in Zinfandels but also makes killer Sauvignon Blancs.
Another popular region is Alexander Valley which specializes in Bordeaux-style varietals like Cabernet Sauvignon and Chardonnay.
Watch migrating whales in Bodega Bay.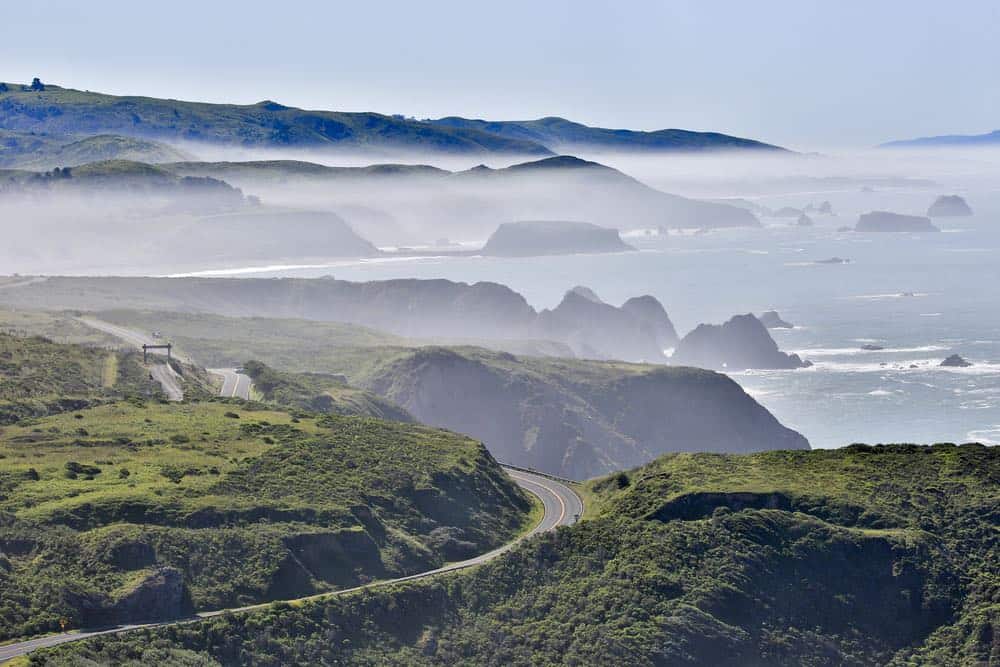 One of the most magical things about Northern California in winter is that gray whales migrate through the waters along the coast down to Baja California!
There are many places to go whale watching in California, but Bodega Bay is one of the best because you can whale watch from either land or sea!
The peninsula of Bodega Head juts out about 5 miles into the ocean, so from a spot on Bodega Head you can actually see the gray whales passing by fairly easily with nothing more than some hiking boots and a pair of binoculars!
Admire the sunset in Jenner.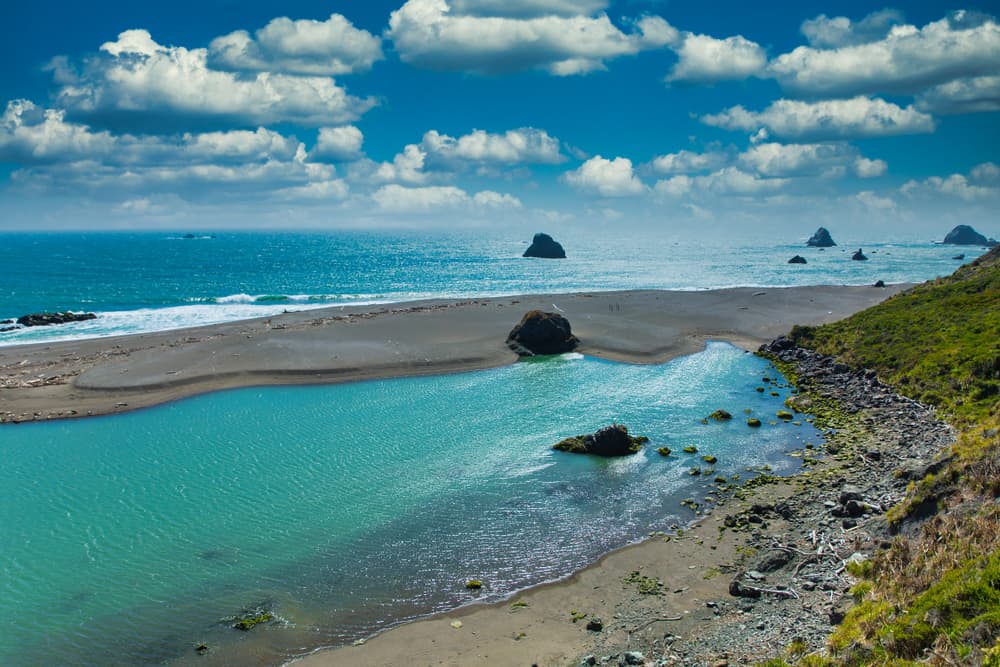 While the sun sets quite early in winter in Sonoma, before 5 PM on the shortest days of winter, that doesn't mean that winter sunsets are any less spectacular!
Head to Café Aquatica or better yet, the River's End Inn for a glass of wine overlooking the junction of the Russian River and the Pacific Ocean. It's one of the best sunset views you'll ever see, as long as the fog behaves!
Wander around Sonoma Plaza.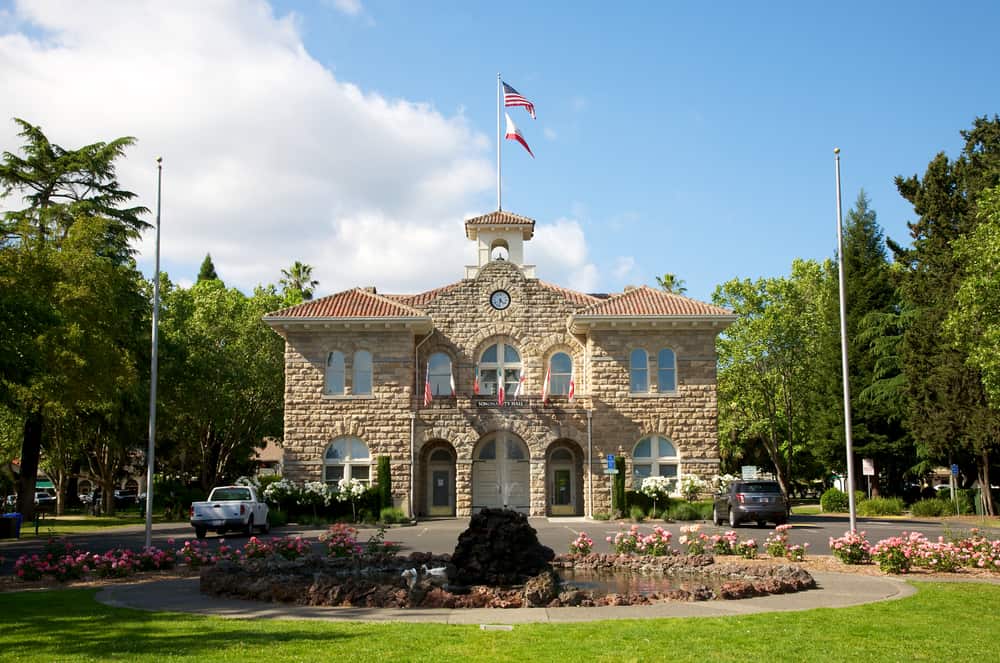 Sonoma Plaza is a great place to go for a winter walk, with tons of great boutiques lining the lively plaza where you'll often find live music and people-watching.
There are tons of tasting rooms serving up delicious glasses of wine from local Sonoma wineries as well as some of the best restaurants and eateries such as the girl and the fig located right on the Square!
Bonus — if you're visiting during the holiday season, you'll see it all dazzled up for the holidays with lots of lights and decorations!
Plus, here's where the historic Sonoma mission is, in case you are interested in checking out something historical during your stay.
Have a spa day at Osmosis.
Another great place to spend a rainy winter day in Sonoma is at the Osmosis Day Spa Sanctuary in Freestone.
This Japanese-inspired spa has wonderfully relaxing cedar enzyme baths (for which they are well known!) as well as massages, facials, and other treatments.
Best of all, after your treatment you can relax in their Zen gardens with a cup of tea!
Spend a morning at Cornerstone Sonoma.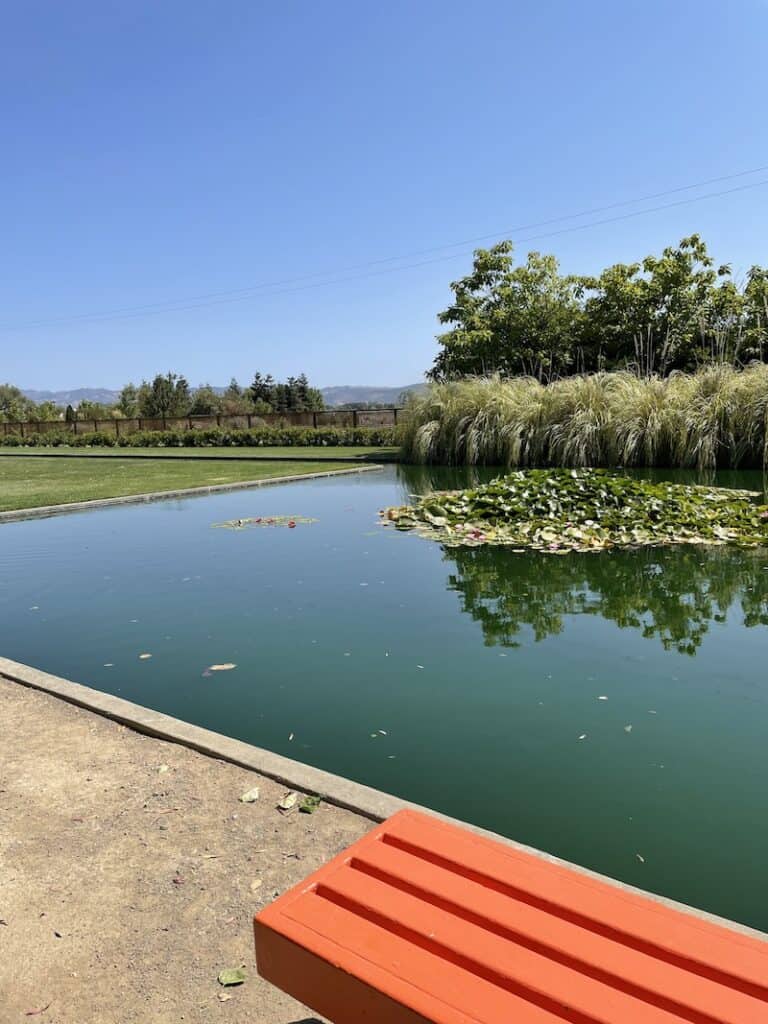 One of my favorite lesser-known spots in Sonoma is the Cornerstone Marketplace just outside of town, a short drive from Sonoma Square.
There are amazing boutiques here as well as Meadowcroft Wines, plus a beautiful garden area with a pond and meditative areas.
This is another great place to go Christmas shopping if you're visiting Sonoma in December! You're all but guaranteed to find something unique here.
Go antiquing in Sebastopol.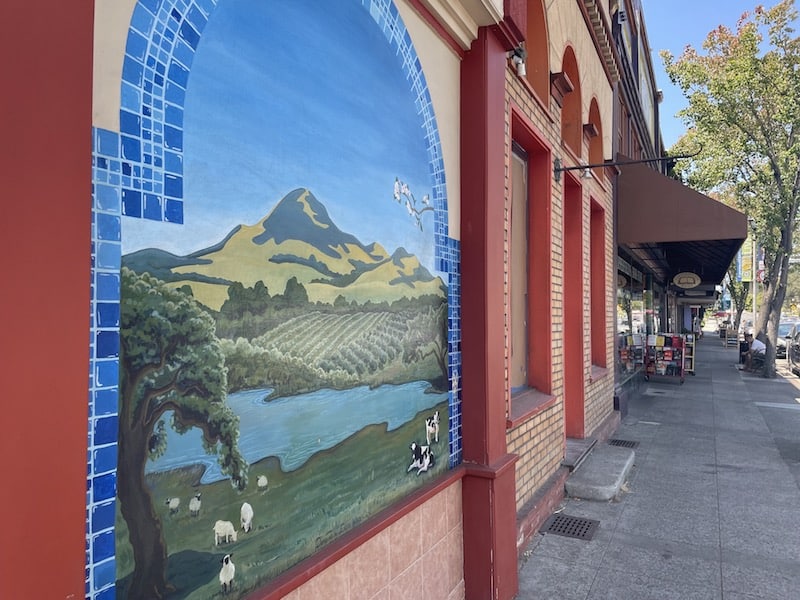 Sebastopol is one of my favorite quirky spots in Sonoma, and it's the unofficial antiquing capital of Sonoma.
You'll find all sorts of great secondhand wares in Sebastopol, whether it's used books, secondhand clothing stores, or Attico which specializes in consignment furniture.
But best of all is all the wonderful little antique shops on Highway 116 that just beg you to stop and pull over on a road trip!
Slurp some ramen at Ramen Gaijin.
Another great winter staple for me is ramen, and you can find that in downtown Sebastopol at Ramen Gaijin.
This is is one of my favorite places for ramen in the greater Bay Area — their spicy tan tan ramen is amazing, especially on a cold day!
Sip your way through the Barlow.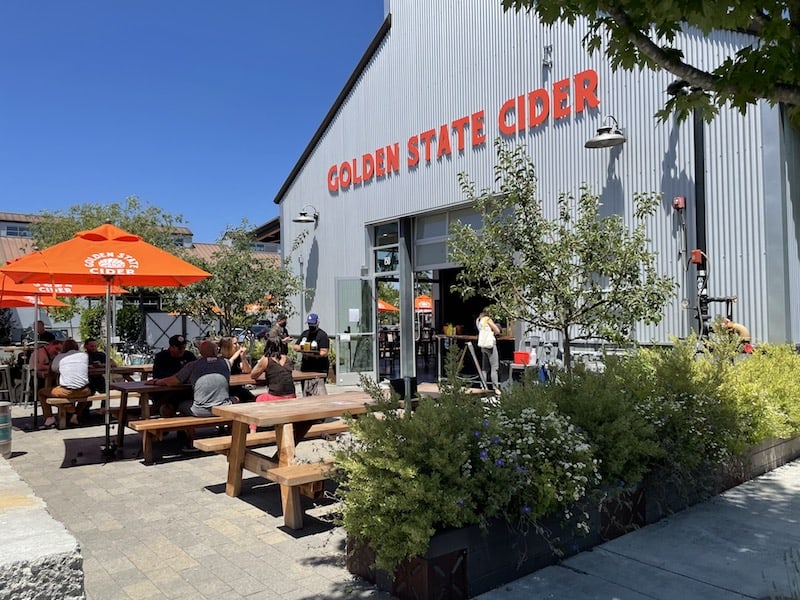 Another great place to visit in Sebastopol in winter is the Barlow.
Well really, it's great all year round but because it's such a great indoor-outdoor destination, with tons of great eateries and places to drink, it's perfect for winter.
Grab a cider at the Golden State Cider Taproom or beer at one of three breweries in the Barlow: Seismic Brewing, Woodfour Brewing, or Crooked Goat Brewing.
Break bread at Wildflour.
Nothing says winter like some carbs, and Wildflour in Freestone is unequivocally one of Sonoma County's favorite bakeries!
While Freestone is a tiny town, you'll undoubtedly find lines at Wildflour no matter when you go… but I promise you, once you taste their scones, you'll see why!
Visit the Charles M. Schulz Museum.
Santa Rosa is the largest city in Sonoma County and it has a wealth of great museums to choose from, but the coolest and most unique is definitely the Charles M. Schulz Museum — yes, a museum dedicated to the creator of the cartoon Peanuts!
This museum has changing galleries of different cartoon art, check out a recreation of Schulz's studio, and watch Peanuts animations in a 100-seat mini theater.
Walk amongst the redwoods.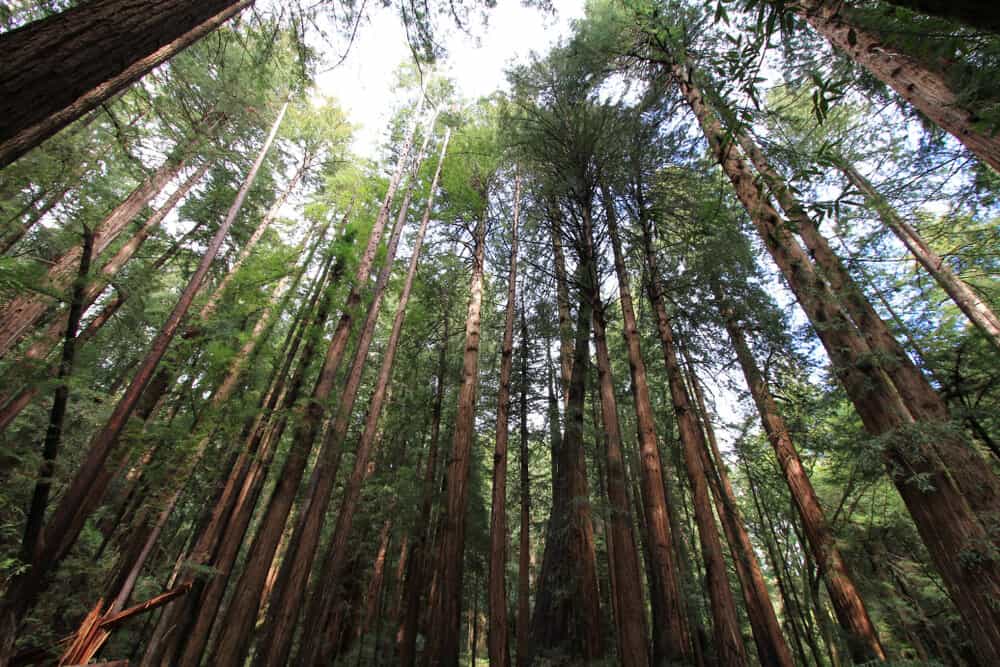 Another wonderful way to spend a day in winter in Sonoma is walking through the redwoods!
Unfortunately, my favorite redwood forest in Sonoma is currently closed after suffering fire damage in 2020 (Armstrong Woods), but there are plenty of other places to go for a hike amongst the redwoods.
One of the best redwood hikes in the area is the Islands in the Sky Vista Loop located near Duncans Mills.
Take a hike in Sonoma Coast State Park.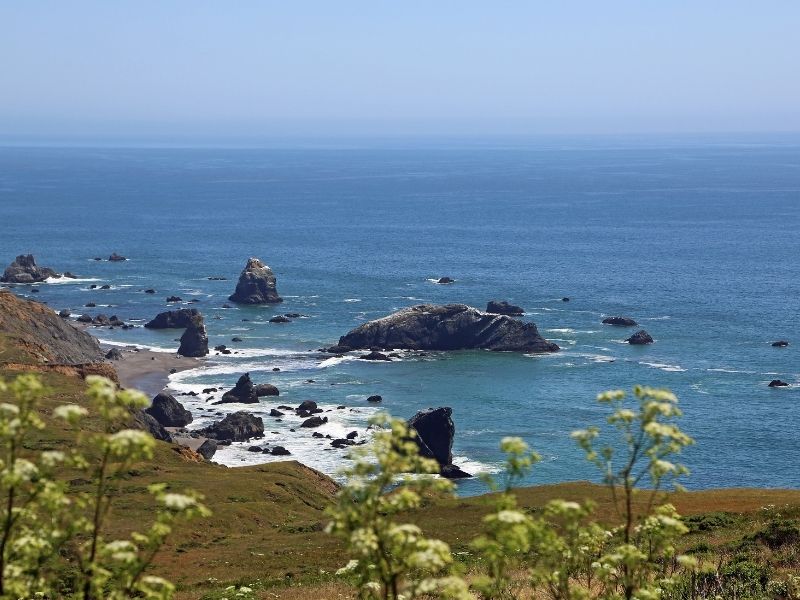 There are so many great hikes in Sonoma Coast State Park, including the above Islands in the Sky Trail.
There's also the Pomo Canyon to Red Hill Trail and the Kortum Trail which is a beautiful scenic coastal walk that's not too difficult. 
Just be remember to wait a few days after the rains before hiking as the trails can get really muddy!
Look for mustard and wildflowers.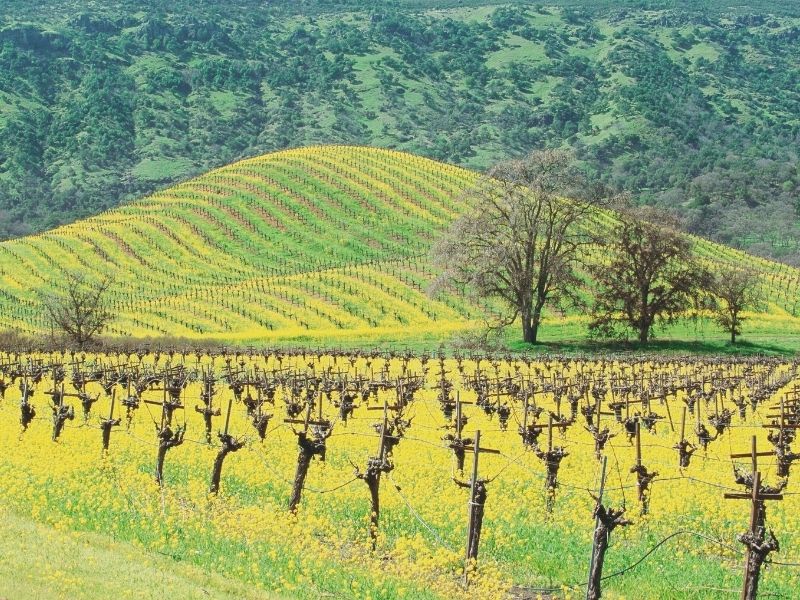 As soon as early January, you'll see wild mustard flowers popping up everywhere around Sonoma County, bright yellow against the freshly refreshed green grasses.
Other wildflowers start to appear later, around late February and March, in places such as Stillwater Cove Regional Park in Jenner and other places around Sonoma County.
Go for a getaway in Healdsburg.
Healdsburg is a great spot for a girls' getaway in Sonoma County.
Great wineries near at hand and tasting rooms should you not want to drive, excellent restaurants, and boutiques abound in this charming small city.
Pick up a pie at Petaluma Pie Company.
On your way back to the San Francisco Bay Area, be sure to stop by Petaluma to check out the Victorian architecture downtown — and one of the most delicious pies you'll find!
The Petaluma Pie Company serves up delicious sweet and savory pies perfect for enjoying on a cool winter day!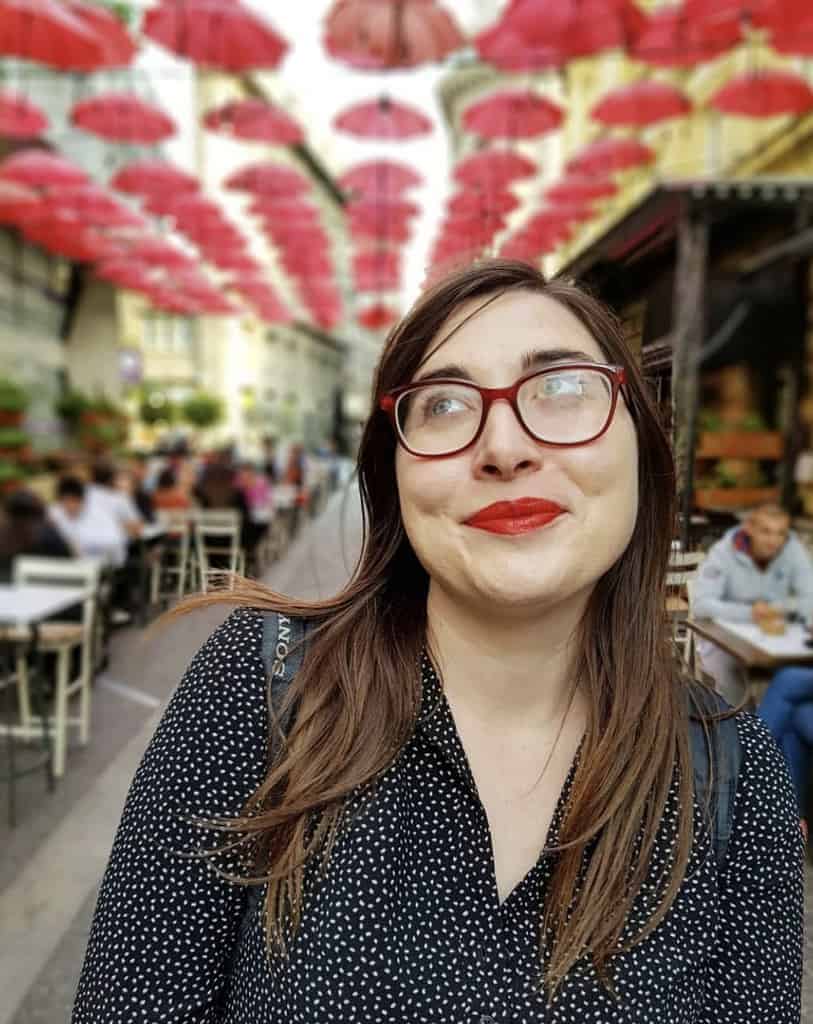 Allison Green is a travel blogger, writer, and podcaster who grew up in the Bay Area of California. She has spent time living in New York, Prague, and Sofia, but has returned to live in the East Bay. She has traveled to 60 countries before the age of 30 while running several digital travel publications. Her writing and podcast have been featured in Forbes, CBC Canada, National Geographic, the Huffington Post, and CNN Arabic, amongst others. She's obsessed with bouldering, houseplants, other people's pets, and anywhere she can see the ocean.