Christmas in Santa Barbara is a special time!
There are very few places that are as beautiful as Santa Barbara at any time of year, but Christmas is always an even more spectacular time to visit Santa Barbara.
With average highs of 65 degrees during the month of December, and only a handful of days of rain, you're almost guaranteed beautiful weather in Santa Barbara on Christmas day!
And there are so many Christmas events leading up to the day in Santa Barbara as well: here are a few of our favorites!
Christmas in Santa Barbara: Events & Things to Do!
Watch a beautiful Irish Riverdance.
Note: This post contains affiliate links, which earn me a small commission at no extra cost to you if you make a purchase using one of these links. Thank you for supporting this free content!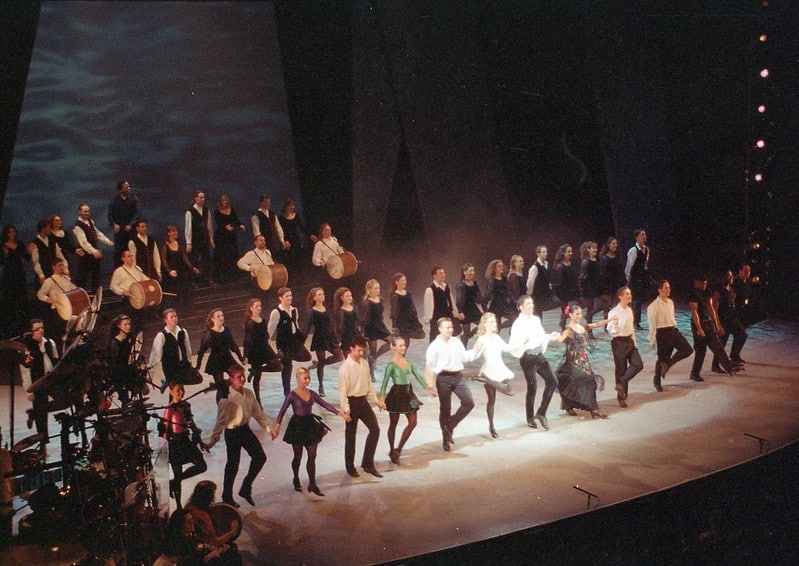 Website: An Irish Christmas
Date: December 5, 2021
This is a beautiful presentation of traditional Irish dancing (Riverdance) and music — it has even been featured on PBS!
You will enjoy the delightful atmosphere of an Irish Christmas in the historic Lobero Theater and watch a beautiful cultural expression of Christmas at the same time.
Join the performers to sing along with Christmas Carols and listen to the beautiful orchestral music presentation!
There are few things that are as fun as Irish dancing, especially at a Christmas show!
Marvel at the majestic lights of Casa del Herrero.
Website: Casa Del Herrero
Dates: Tours throughout December
This well-known architectural landmark in Montecito is always dressed with lights and festive cheer at this time of the season!
This home is built with a gorgeous Spanish Colonial Revival design aesthetic typical of Santa Barbara and it was designed in the 30s by George Washington Smith.
You can visit the Casa del Herrero any time during the year — it is managed as a house museum by a local historical organization — but it's best to visit at Christmas when it's all lit up!
There are limited dates to come and see this home during December (and tours come with a cup of cider!), so you should make sure that you call for reservations to be sure that you get to see it when you are in town or you are free!
Watch a Jane Austen play.
Website: The Wickhams: Christmas at Pemberley
Dates: December 2-19, 2021
If you love plays, this is the perfect event to make sure to attend when visiting Santa Barbara!
The classic Jane Austen humor of this classic show will put you in the Christmas mood – you will laugh, cry, and enjoy all of the fun that is on offer during this presentation!
This is a quality theater group that offers great performances that are second-to-none.
You will see Broadway-level performances when you visit this theater… in fact, you may end up leaving feeling like you did not pay enough for the show that you got to enjoy!
Spend the day on Arroyo Burro Beach.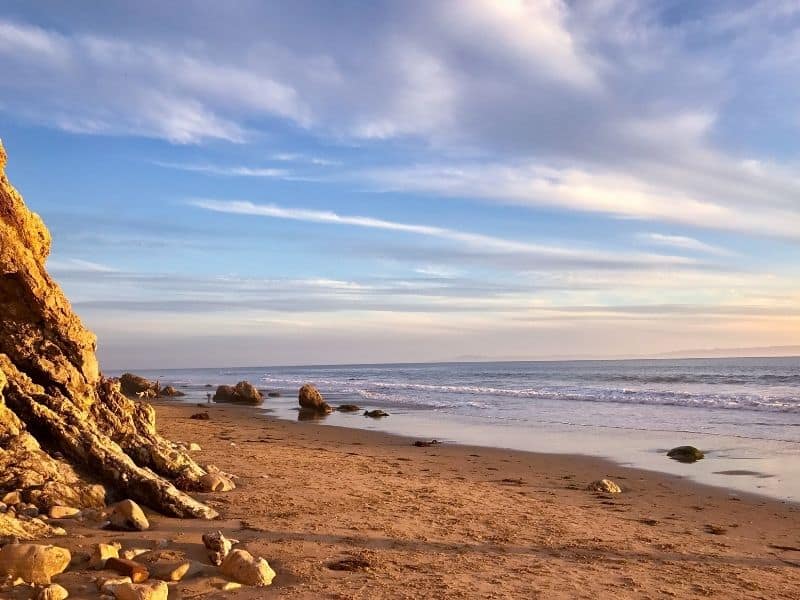 This is the best beach in Santa Barbara and there is something so special about heading to the beach on Christmas and watching the sunset over the ocean!
You will love the soft ocean breezes that you can enjoy even in the winter and you can walk along the sand or enjoy a fine dining experience at the Boathouse as the sun sets.
There is something magical about heading to the beach, watching a gorgeous sunset, and drinking a margarita surrounded by Christmas music and decorations!
Shop local with a beachy breeze.
Website: Holiday Makers Market
Date: December 11, 2021
This is a fun art fair and festival that offers you the chance to shop for handmade Christmas gifts among the stalls as you enjoy the breeze and the ocean ambiance!
This is a great place to buy local artists' wares and be able to gift these memories to your family during the holiday season.
Santa Barbara is well known for being full of artisans and creatives, and it's certain that you will get art that you cannot find anywhere else when you shop at this market!
Go on a winter wine walk.
Website: Ventura Winter Wine Walk & Holiday Street Fair
Date: December 11, 2021
This really fun event in nearby Ventura, CA offers a wine walk that is combined with shopping and more!
You can head down to Ventura to enjoy the sites and sounds near the beach and join the people that are shopping and wine tasting along the way.
Walk along the pretty streets of Ventura and find your Christmas gifts while also finding your new favorite wine!
This is a really fun combination of things to do during the holiday season and you will love every moment of your shopping experience at this street fair.
There are not many places that you can enjoy beautiful weather at an outdoor street fair in the winter, but Southern California is one of those places!
Take a festive trolley ride.
Website: Trolley of Lights
Dates: December 8th – December 21st, 2021
Do you love trolley rides? This is the perfect event for you if that is the case!
You will be able to climb onto these cute little trolleys and you will be able to see all the gorgeous lights and displays along the way!
Santa Barbara is a city that really goes all out during the holiday season with decorations, and you will have so much fun seeing these gorgeous scenes as you are driven around on a festive trolley.
The event lasts for 14 days and there are as many as 10 trolleys that run each night!
You can sit back and relax while you are ferried to see the lights and you can bring people of all ages to go with you on this adventure.
Tickets are $28.50 for adults and $15.50 for children under 12 (kids under 2 are free!).
Visit the Old Mission Santa Barbara.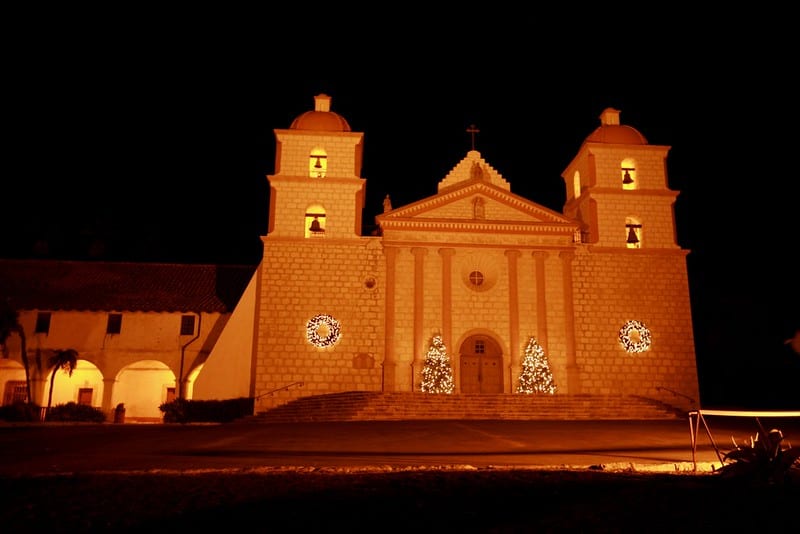 Of course, the historic Santa Barbara Mission is a beautiful place to visit at any time of the year.
During Christmas, when it's all lit up, there is something extra special about the Mission!
You will enjoy the Mission the most at night, when you can admire the Christmas lights and Christmas trees, and take part in the events that take place during the Christmas season.
Stroll around Stearns Wharf.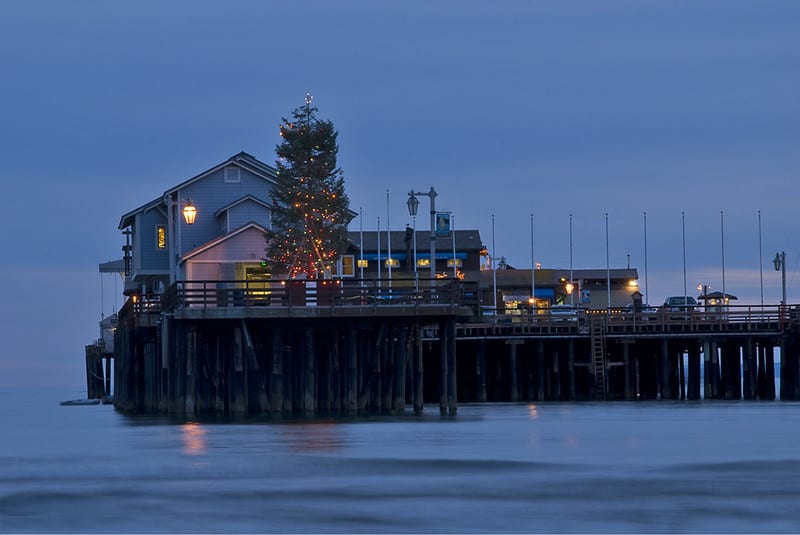 Website: Stearns Wharf
Stearns Wharf is lovely all year round, but in the winter, it's a great place to use as the jumping-off point for Christmassy explorations!
Stearns Wharf is the perfect place to enjoy fine dining in a festive environment as well as shopping and checking out Christmas lights.
Like most areas of Santa Barbara at Christmas, this area is decked out in Christmas finery and you will have a great holiday experience when you are in this area!
There are not many things that are as distinctly Santa Barbara as this location and you would be missing out if you did not visit!
Shop for a local Christmas tree.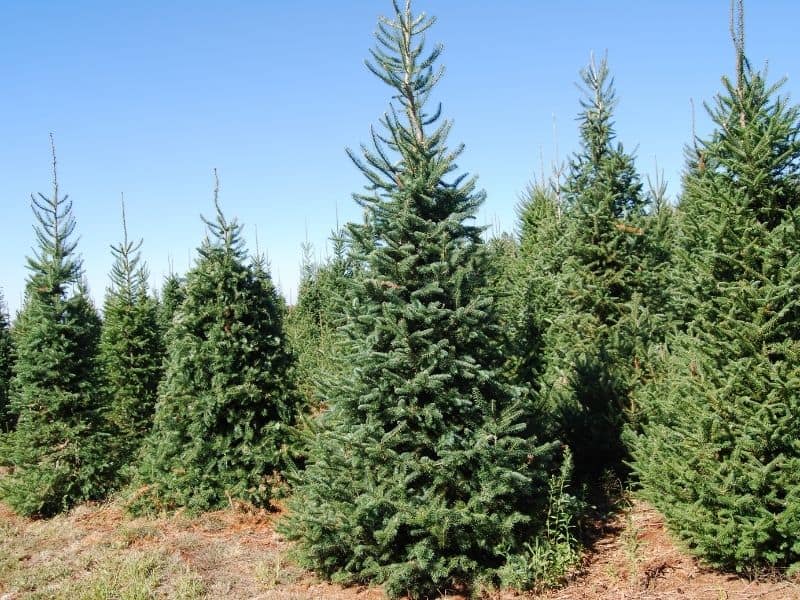 Website: Anthony's Christmas Trees
This Santa Barbara Christmas tree business has been open since 1954 and you will love picking out your own Christmas tree for your needs!
These trees come from Oregon and are some of the best Christmas trees in Southern California!
You will love the delightful fairgrounds location and festive atmosphere, while also being able to get a gorgeous Christmas tree for you and your family.
Go wine tasting at festively decorated vineyards.
There are not many places that offer as many great wines as Santa Barbara in wineries this beautiful!
You can taste all kinds of wines, both in town and at local vineyards, and you will love being able to enjoy the beautiful weather while finding your new favorite wine.
Santa Barbara is known as "little Napa", and you will not be disappointed with the delightful wines that you will enjoy when you decide to go wine tasting during your trip.
The vineyards nearby love to get all decorated for the holidays, making wine tasting feel special to the season!
***
Santa Barbara at Christmas is one of the most amazing places on earth!
Beach weather, combined with delightful Christmas fun, can make your trip to Santa Barbara for the holidays more fun than you could ever have imagined.
Spend some time on the water and then go to a Christmas performance, or enjoy a fun ride on the Christmas trolleys!
Christmas in Santa Barbara can look any way you like it, and you're basically guaranteed to have a fun and festive time.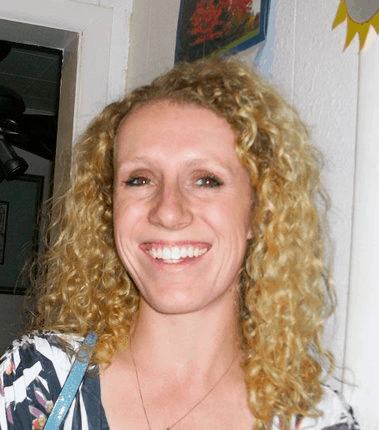 Brianna York has spent many years of her life traveling for work and pleasure, and grew up in Oregon in the gorgeous Pacific Northwest. She embraces each new place she visits and makes the most of seeing all the best that each city or place has to offer.  She is a published author and competes with her Arabian Show horses all over the United States. She embraces each day like a new adventure and is always ready for new experiences!