Rows of palm trees, sparkling blue water, tiled stairways, succulents and plants everywhere you look, and Spanish Colonial Revival architecture: no wonder there are so many Instagrammable places in Santa Barbara!
This charming seaside city nestled at the junction of California's Central Coast and Southern California offers so many wonderful photo spots in Santa Barbara to choose from.
I recently spent a weekend in Santa Barbara with my friend Paroma (who took many of these photos in this post — check out her dog-friendly guide to Santa Barbara).
In between drinking some of the best Santa Barbara wine, exploring the Funk Zone, and eating as much food as we could stomach in a short trip, we got up to lots of photo walks and wandering.
Here are some of my favorite Instagrammable spots in Santa Barbara!
Instagram Spots in Santa Barbara
Tiled Steps
Note: This post contains affiliate links, which earn me a small commission at no extra cost to you if you make a purchase using one of these links. Thank you for supporting this free content!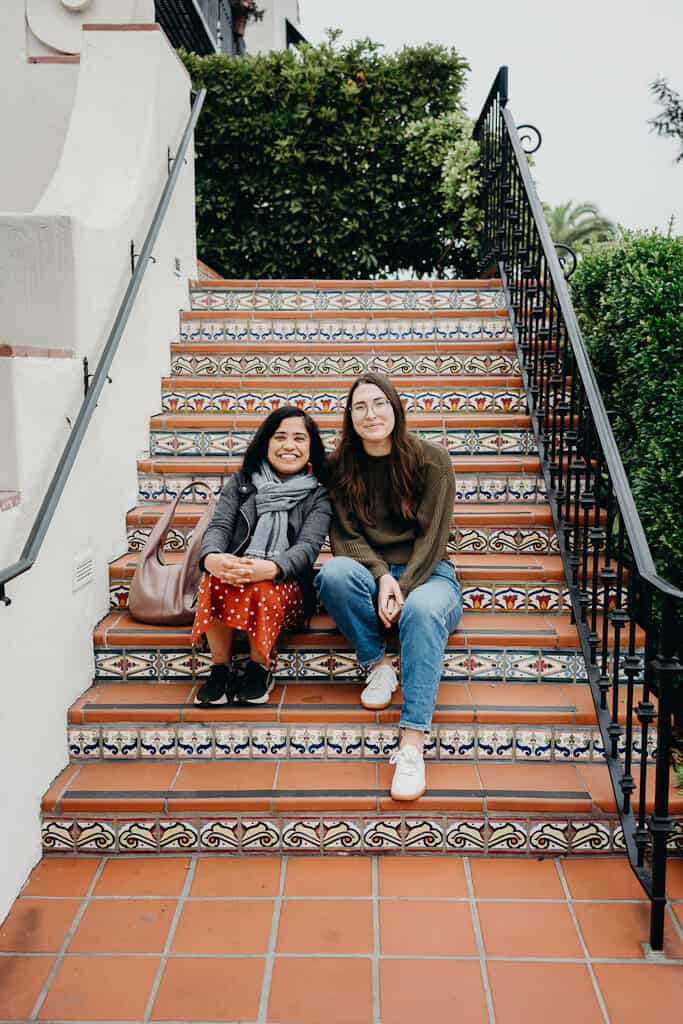 There are all sorts of wonderful tiled staircases around Santa Barbara, a nod to the Spanish Colonial Revival architecture for which the city is known and celebrated.
The colorful pops of Talavera tile between the terra cotta steps makes for great photo spots in Santa Barbara — and there are many of these kinds of staircases, so you can find a unique perspective for your own photos.
We found this staircase right outside a bank on State Street (I think it was the Wells Fargo, but I forgot to write it down).
However, without a doubt, the most famous tiled staircase is at Paseo Nuevo on Chapala Street!
The Boardwalk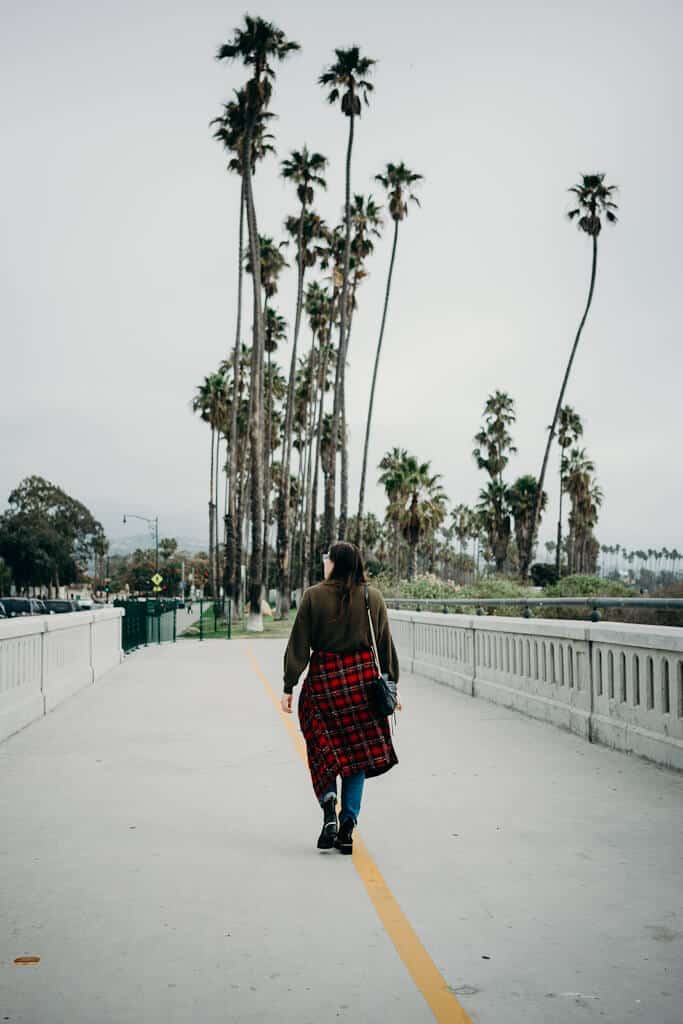 The Boardwalk between West Beach and East Beach runs parallel to Cabrillo Boulevard and is one of the best spots to snap a photo with the many palm trees that line the coast.
I joke that Santa Barbara probably has more palm trees than people, and while I couldn't find stats to back this up, I stand by it!
The Santa Barbara Courthouse (Garden Side)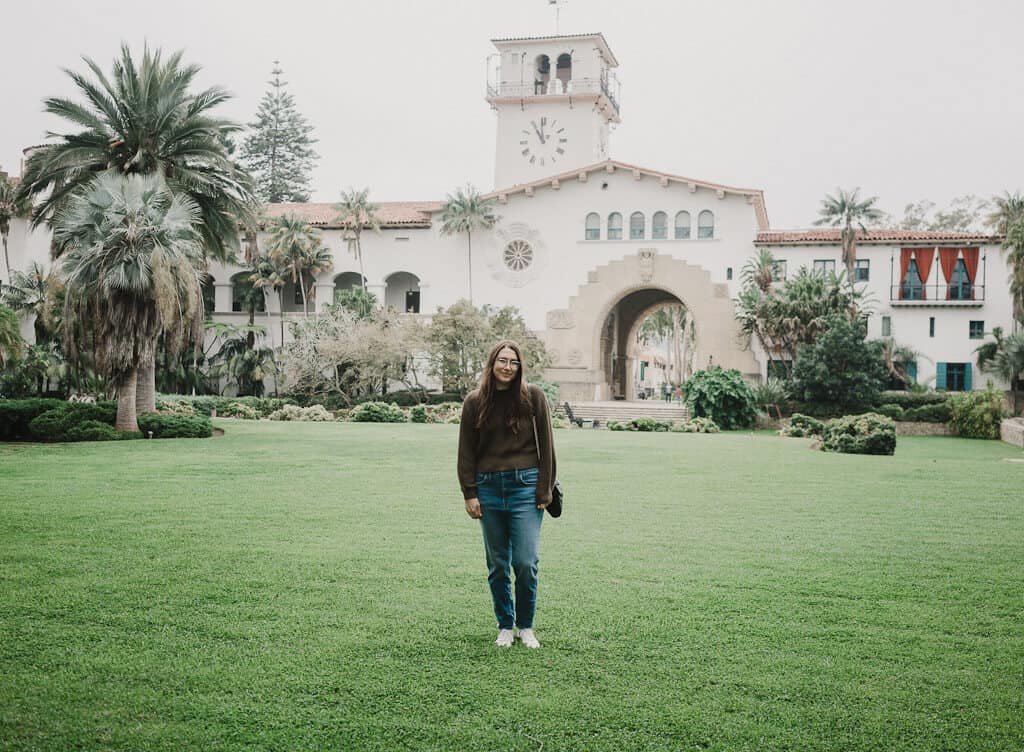 One of the most Instagrammable places in Santa Barbara is certainly the city's famous Courthouse — so much so, in fact, that I had to include it on this list not once but twice!
The back garden side (the Santa Barbara Street side) has so many beautiful spots, including a big green grassy lawn and tons of philodendrons, palms, and succulents that make for incredible photo spots!
The Santa Barbara Courthouse (Front Side/Anacapa Street)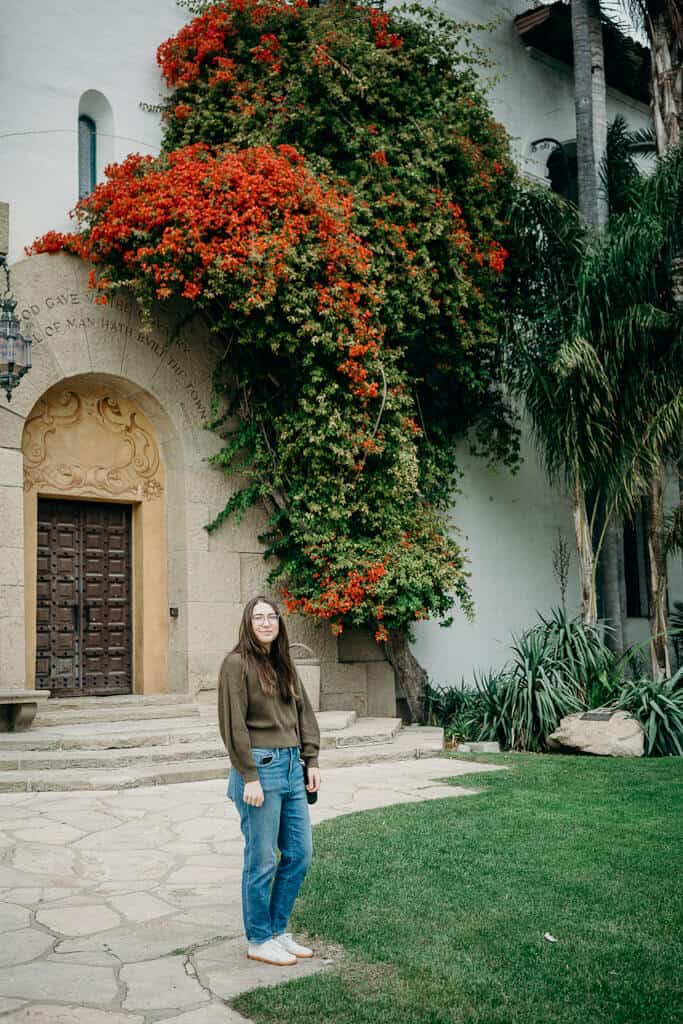 The most classic Instagram spot in Santa Barbara is probably this one of the Santa Barbara Courthouse on the Anacapa Street side.
I mean, it's got several elements that are just Instagram gold: a small staircase, an ornately carved wooden door, with a giant blooming red bougainvillea arching above it. Swoon!
Looking at this photo, it's hard to believe you're in California!
Mission Rose Garden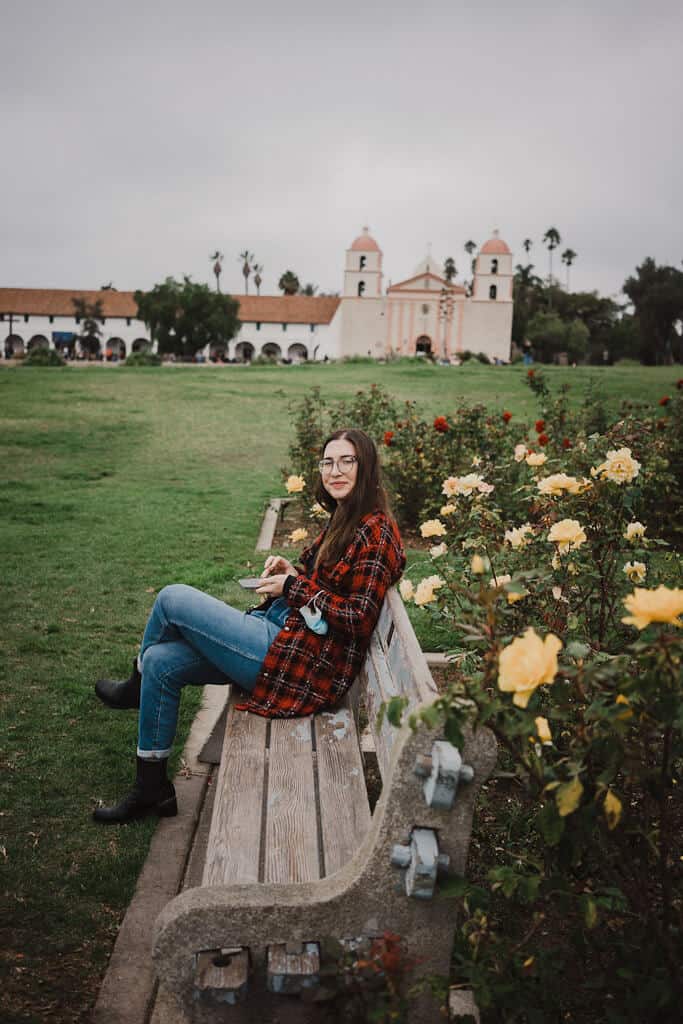 The Mission Rose Garden is one of my favorite Instagram spots in Santa Barbara — it's so peaceful and beautiful, and the roses were in full bloom even at the end of a cool, rainy October!
There are benches where you can sit for a posing shot, or you can frame a photo of the Mission with some roses in the foreground for a beautifully artsy composition.
The Mission Santa Barbara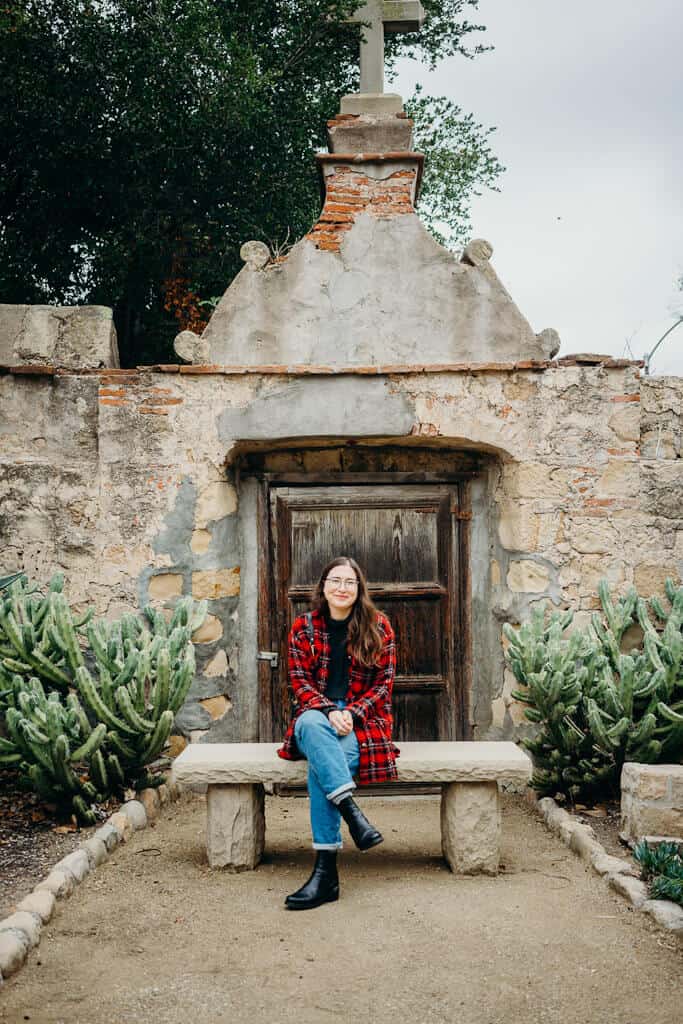 The Mission itself is also a great Instagram spot in Santa Barbara!
The interior garden in the courtyard is exquisite and a great photo spot, but I thought that the most photogenic part of the Mission is actually the cemetery, which is where the above photo was taken.
Mural outside of Tyger Tyger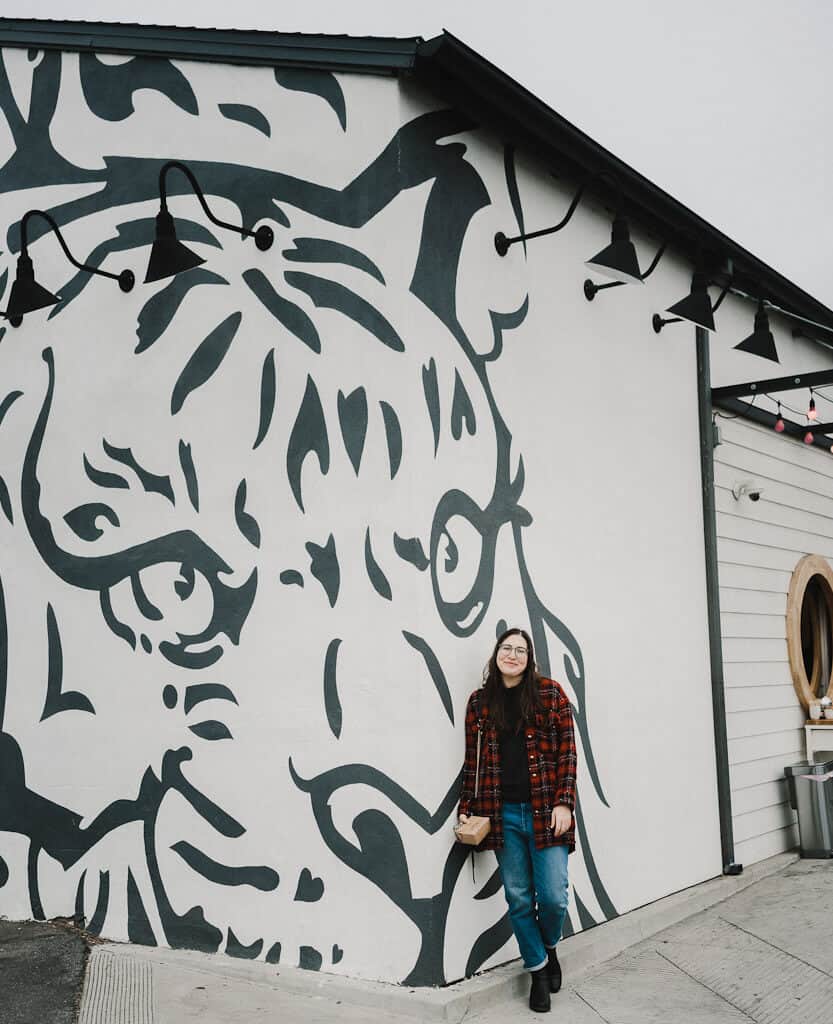 Santa Barbara has a number of beautiful murals, particularly in the wonderful Funk Zone neighborhood which is one of my favorite parts of the city.
This black-and-white tiger mural is, appropriately, gracing the front of the Southeast Asian restaurant Tyger Tyger, which serves up both Thai and Vietnamese dishes in a casual setting.
(Bonus points for the William Blake reference, which this English major nerd can truly appreciate.)
Lotus Mural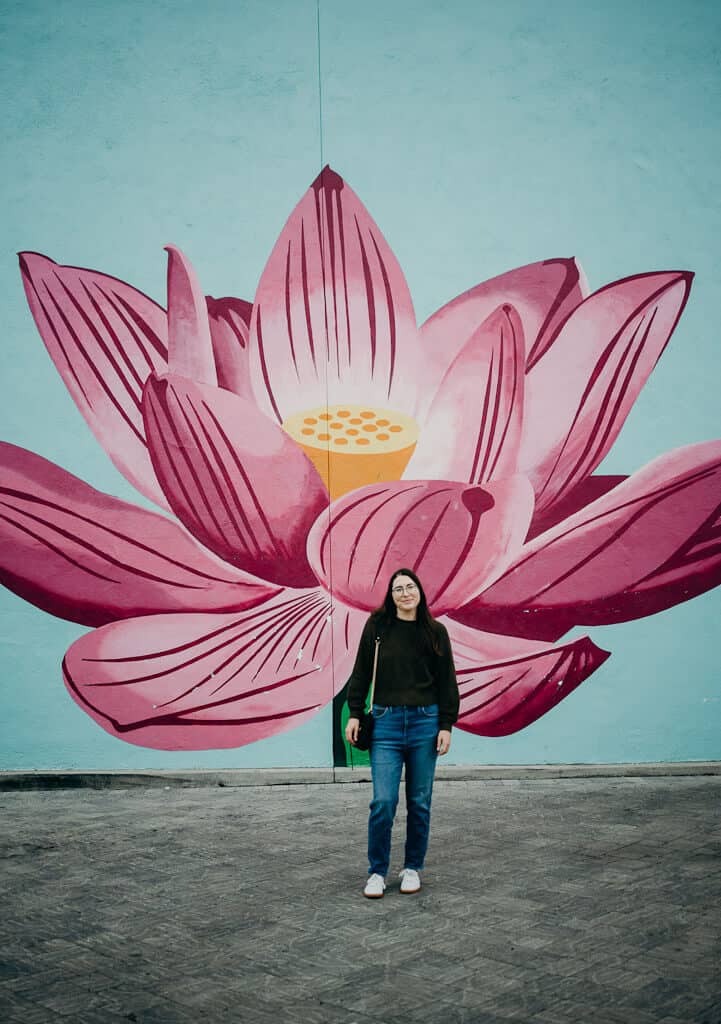 We totally stumbled across this Lotus mural without even trying while we were walking down State Street!
It's a little hard to find, but if you type in Modern Times Academy of Recreational Sciences into Google Maps, you'll find the alleyway where you can find this mural as well as a mural of a giant wave!
It also looked like they were adding more murals to this alleyway, so stay tuned!
Mural Outside the Blue Door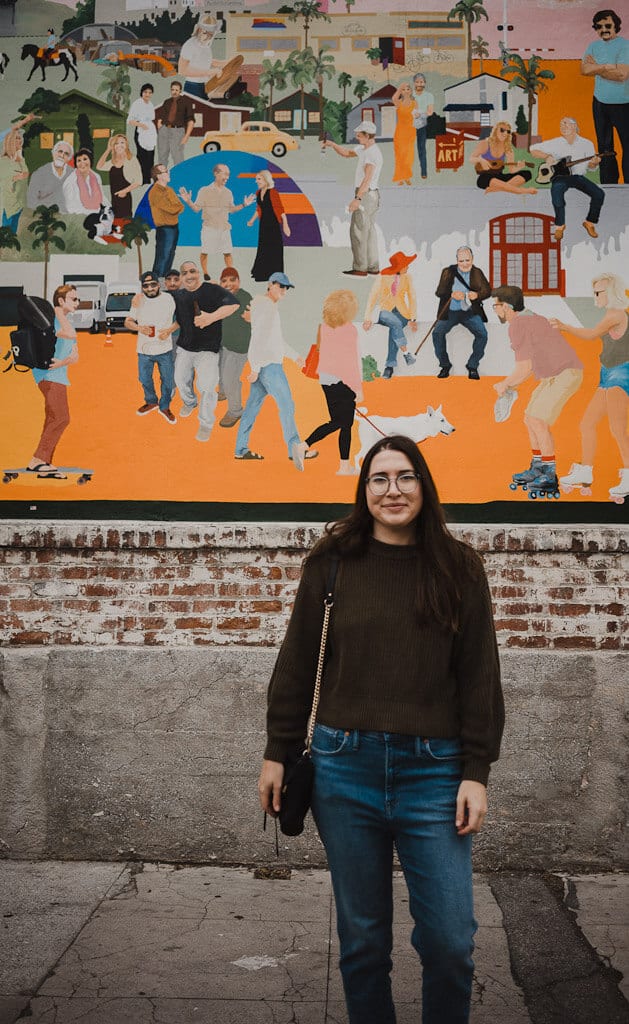 There is a two-panel beautiful mural next to the vintage store The Blue Door on Yanonali Street, across from the excellent restaurant Loquita.
I'm not sure of the name of this mural (feel free to let me know in the comments) but it's absolutely beautiful. I especially love the contrast of it with the brick!
Dolphins in front of Stearns Wharf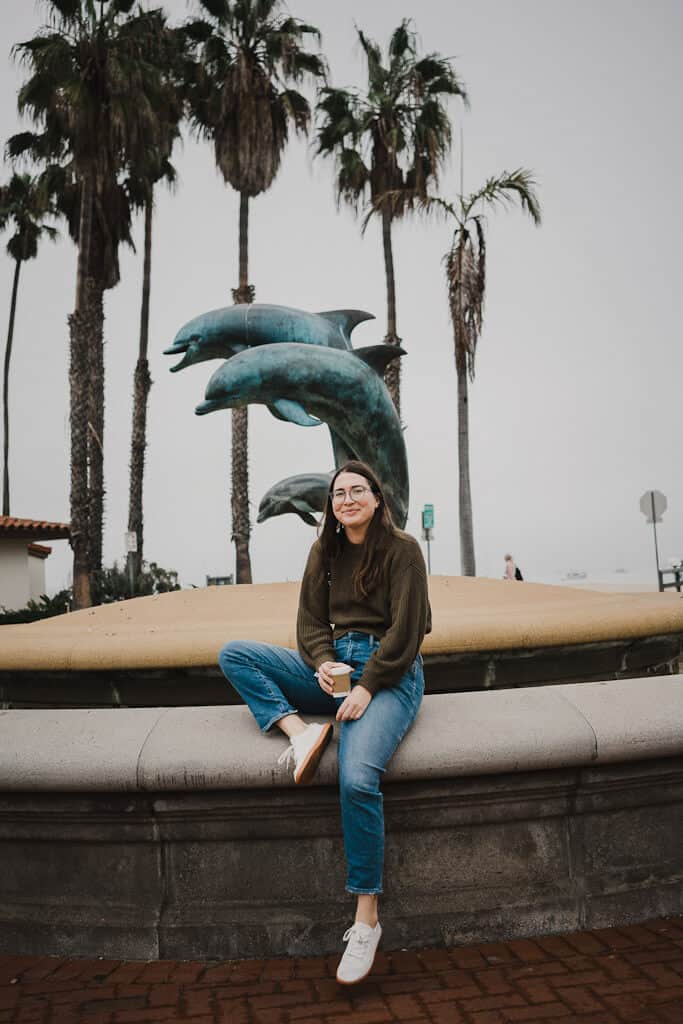 There is a small large fountain with three dolphins leaping in the air as you walk along the Boardwalk and reach Stearns Wharf.
You can find it at the intersection of the Boardwalk and State Street.
It's a great spot for a little photo with — what else? Palm trees in the background!
Stearns Wharf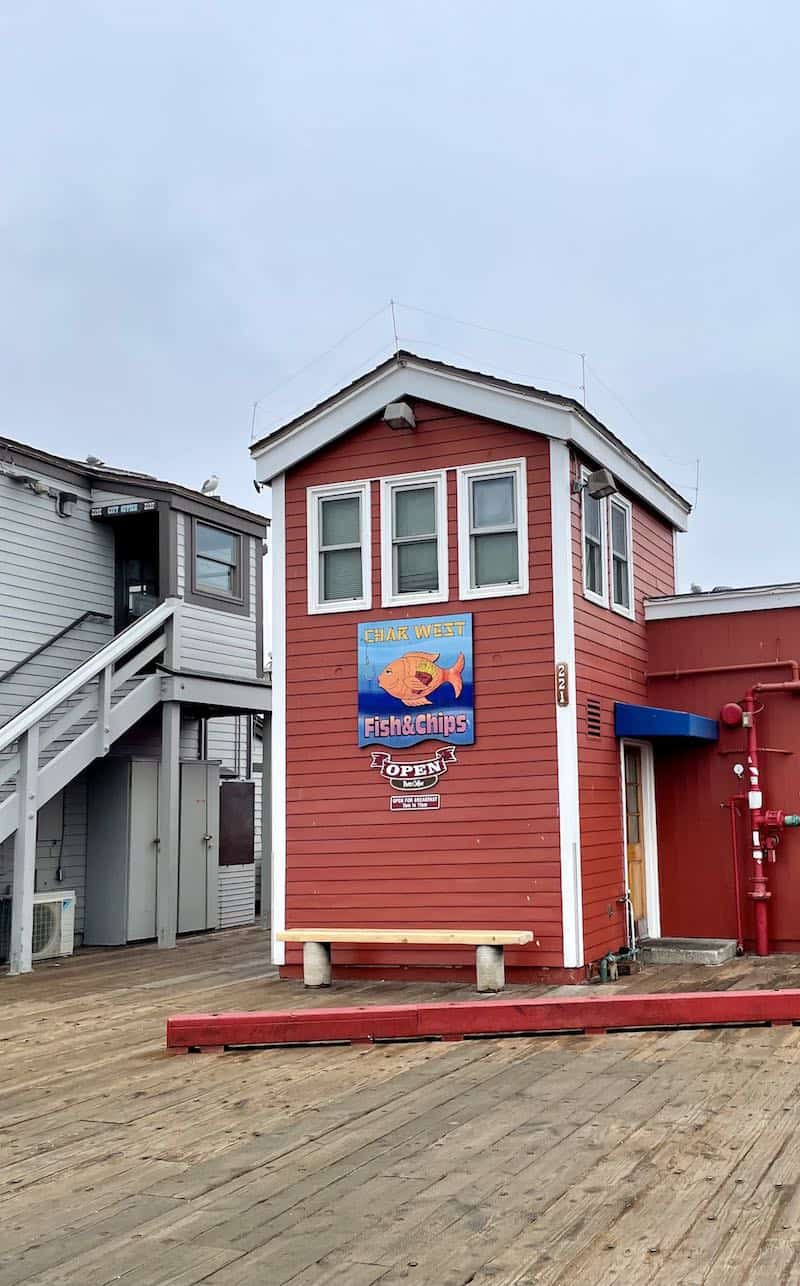 There are a lot of cute photo spots on Stearns Wharf, especially if you get lucky with a sunny day. We had fog and overcast days our entire time in Santa Barbara — hence the gloomy photos!
One spot that will always add a pop of color to your photos no matter the weather is the brick-red Char West Fish & Chips building, an adorable New England-style shop right on the pier.
Bluewater Grill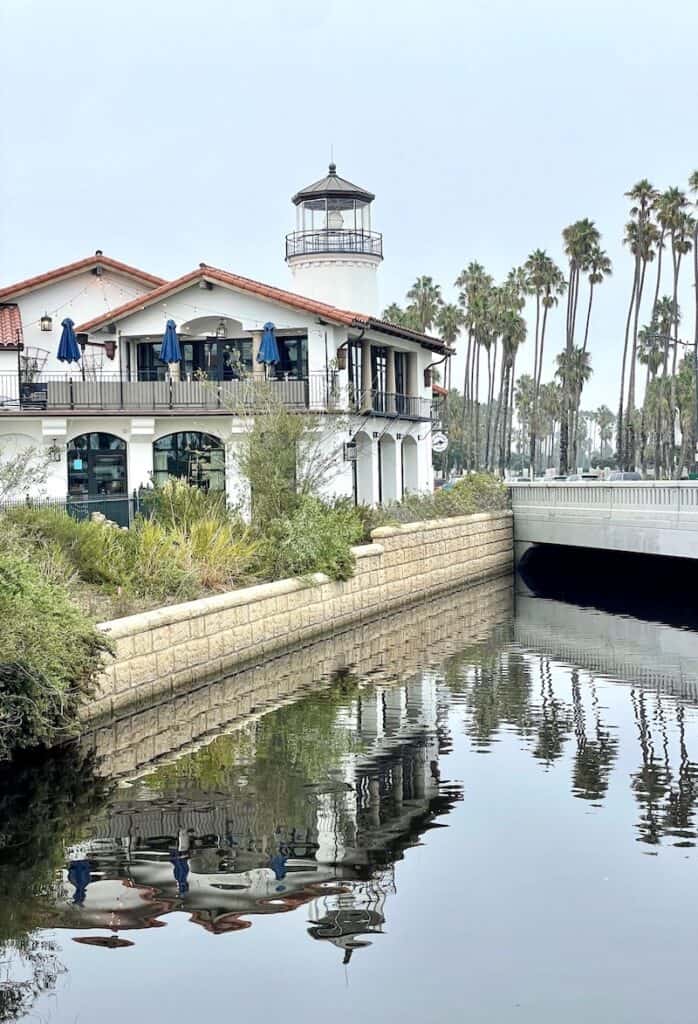 The Bluewater Grill is located in a converted historic lighthouse right on Stearns Wharf, and it's a Santa Barbara icon!
Personally, I think the coolest photo of it can be taken of it as you walk away from it down State Street, where you can catch a reflection of the lighthouse in the water of Mission Creek as it makes it way to the ocean.
Loquita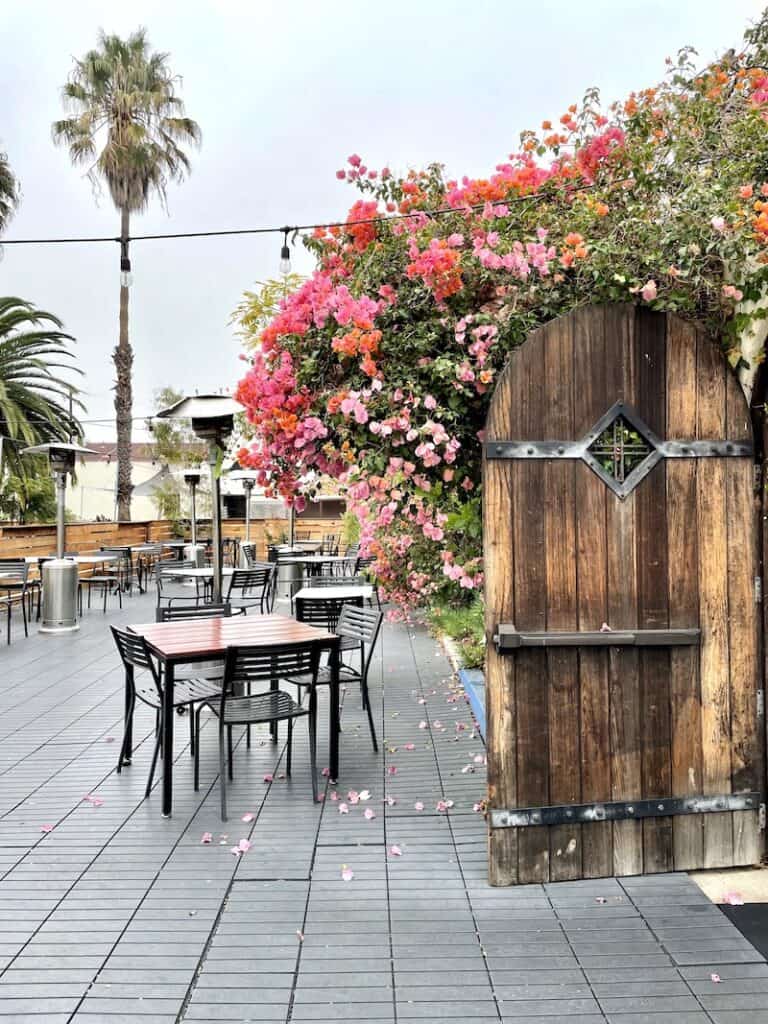 The Spanish tapas restaurant Loquita is a fantastic restaurant in Santa Barbara — we had amazing cocktails and paella here.
But it's also a great Instagram spot with that door on its patio and its massive blooming bougainvillea!
Ablitt Tower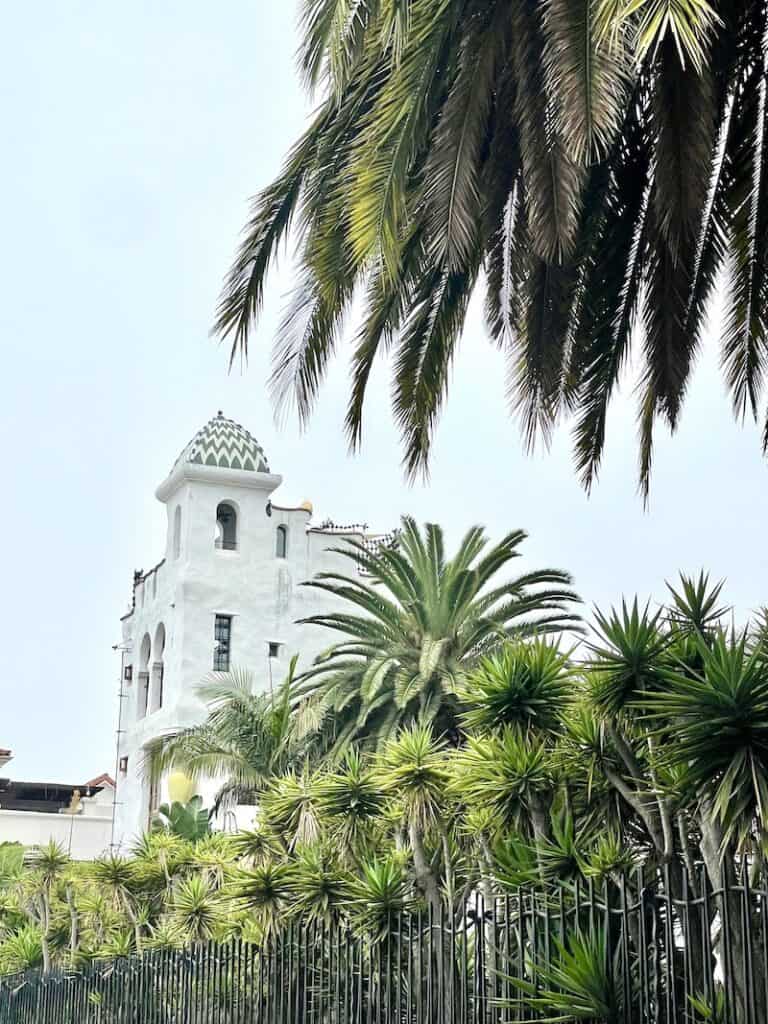 This was a lucky find — it ended up being one of my favorite photo spots in Santa Barbara, as it's so unique!
It was serendipitous to discover it — we only found it because we went to the bakery around the corner, Oat Bakery.
This tower reminds me of Gaudi's architecture style in Barcelona, and it was created by the architect Jeff Shelton on a 20-foot by 20-foot lot — hence its unique footprint, reaching up to the sky!
We Loaf You sign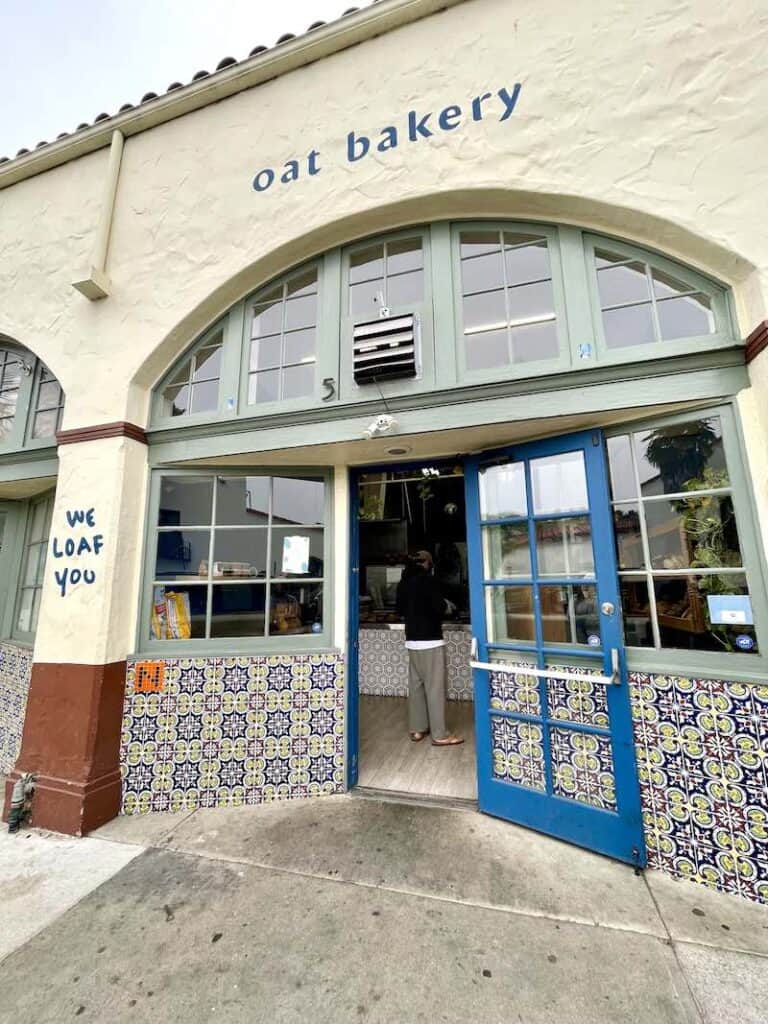 Of course, Oat Bakery is also quite instagrammable – with its Talavera tile facade, blue door, and "We Loaf You" graffiti-esque sign.
It reminds me of some of the murals in Austin, like the classic "You're my butter half" mural.
Bonus: this bakery serves up the most amazing olive focaccia! If they ask if you want a whole or half piece, go half — the whole piece is so enormous it took me literal days to finish!
Old Town Clock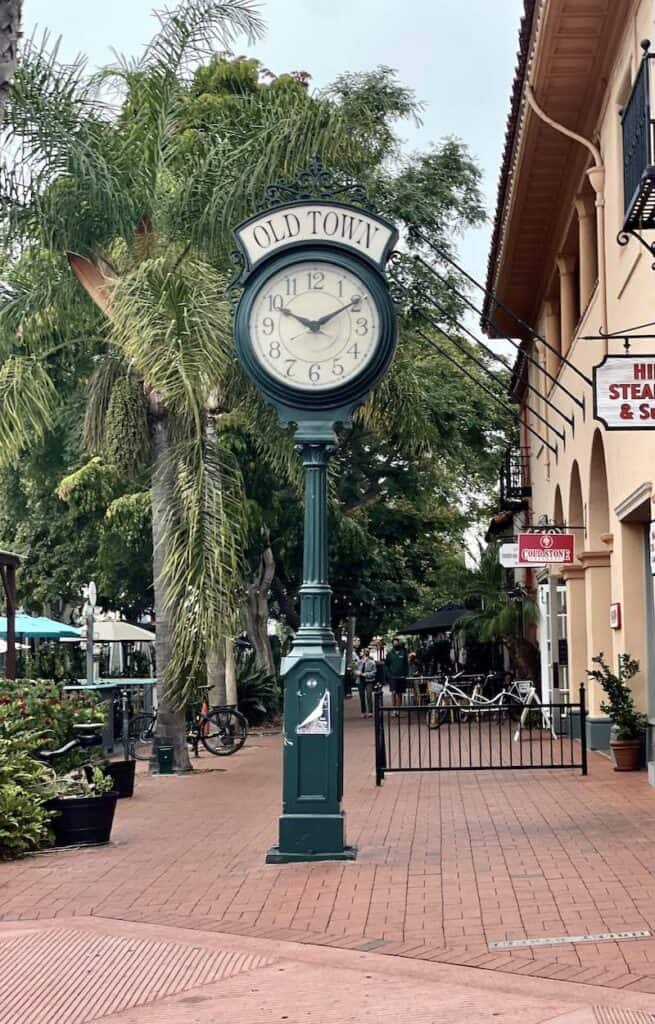 Located on State Street, you can't miss the Old Town Clock as you walk up the street towards the pedestrianized part of town.
I'm not quite sure of the age or history of the clock, but its vintage charm does it make it a great Santa Barbara photo spot.
Casa Covarrubias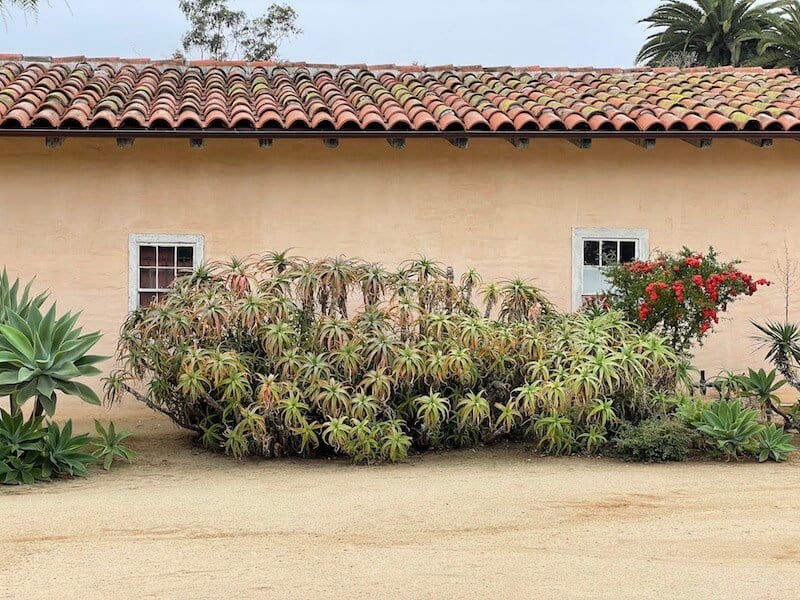 The Casa Covarrubias is a classic adobe-style house that is now part of the Santa Barbara Historical Museum.
It's one of the oldest houses in the city, dating back to 1817. A signpost marks it and tells a bit of the history, including how it was built by "Indian labor" — aka, the native Chumash peoples who called Santa Barbara home before European settlers arrived.
Santa Barbara Botanic Garden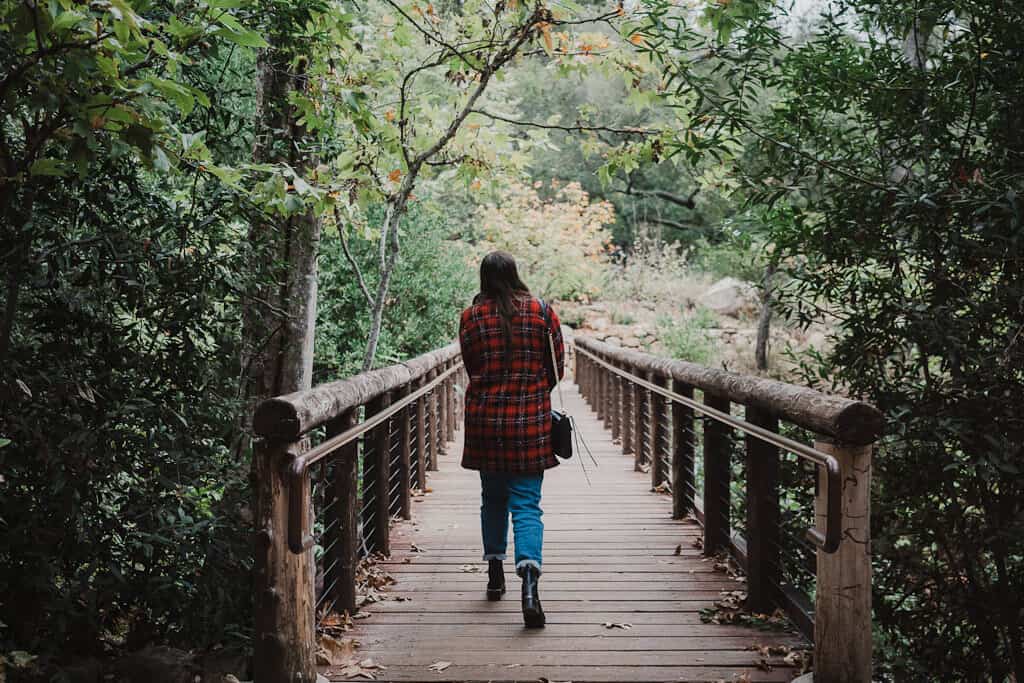 Another place for great photos in Santa Barbara is the Botanic Garden!
We went in late October so not a ton was currently blooming, but we loved seeing the succulent garden as well as the redwood forest.
Yes, there is a redwood forest in Santa Barbara! You can't find coastal redwoods in nature further south than Big Sur, but this is a planted redwood grove.
If you don't have the chance to go further north on your California trip, you can see the redwoods — on a smaller scale, of course — in Santa Barbara!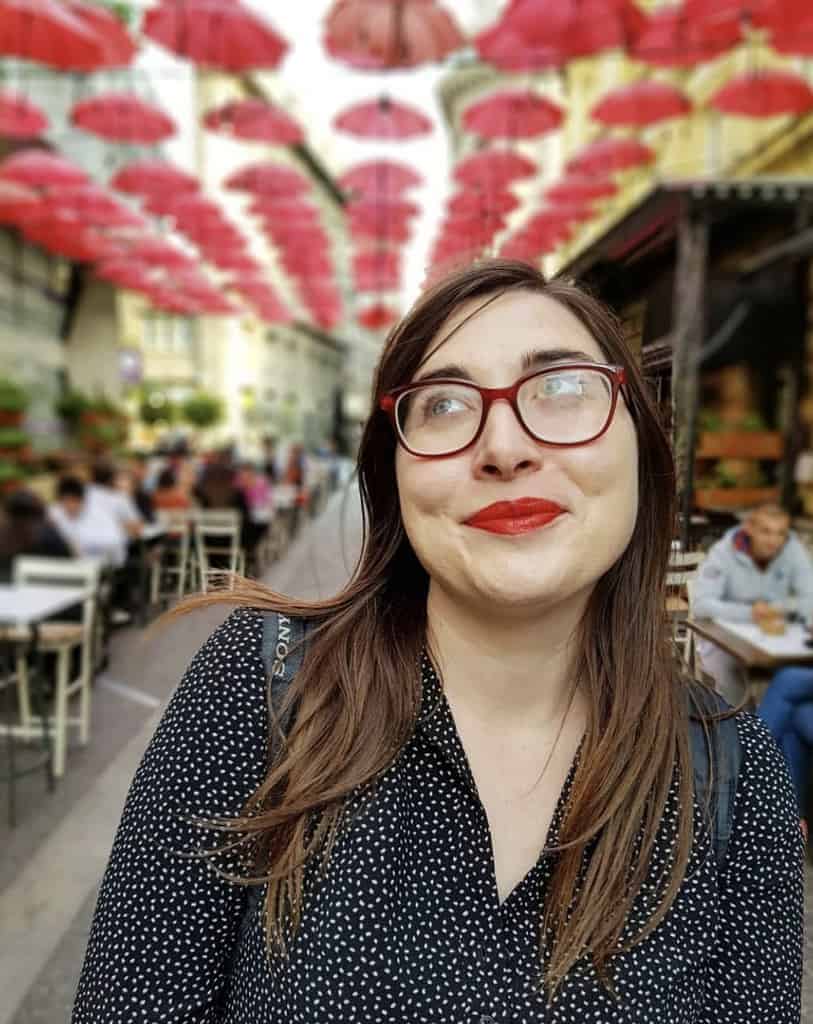 Allison Green is a travel blogger, writer, and podcaster who grew up in the Bay Area of California. She has spent time living in New York, Prague, and Sofia, but has returned to live in the East Bay. She has traveled to 60 countries before the age of 30 while running several digital travel publications. Her writing and podcast have been featured in Forbes, CBC Canada, National Geographic, the Huffington Post, and CNN Arabic, amongst others. She's obsessed with bouldering, houseplants, other people's pets, and anywhere she can see the ocean.