The phrase "Funk Zone" refers to a certain neighborhood of downtown Santa Barbara that's right next to the beach and filled with modern art, unique restaurants, boutique shops, and wonderful tasting rooms.
The name of this area is very fitting! This is one of Santa Barbara's funkiest, coolest neighborhoods. If you're just cruising around the district, you'll enjoy contemporary murals, peer into colorful shops, and walk past patios with inviting ambiances and live music.
The sense of community among the businesses in the Funk Zone is unlike anything I've ever seen before, as they all seem to be working together rather than competing against each other.
It's common to see a few different businesses sharing one large building, with each one getting their own corner and promoting each other!
Combining interesting, quirky businesses with a welcoming atmosphere and an ideal location next to the beach truly makes the Funk Zone a great place to spend the day. Here's some suggestions on how to make the most of it.
Where to Eat in the Funk Zone
One of the great things about restaurants in the Funk Zone is they all stand out, not just by the quality of their food, but how they all do something different than your average restaurant.
It's common to find Funk Zone restaurants containing pretty typical food, but with some sort of creative, delicious twist to it.
The Nook
The Nook has a pretty extensive burger menu, and while they do have a classic burger, they also have ingredients on some of their burgers that you would never expect to taste so good.
Their turkey burger has chimichurri on it, and some of their burgers come with pretzel buns!
You can also enjoy their food while seated in Topatopa or Lama Dog, which are the breweries they share a building with.
Loquita
An easy thing to find in the Funk Zone is authenticity. Loquita is a Spanish restaurant located inside a building with the old fashioned Spanish-style architecture that decorates many of the buildings in the area.
This is a lovely sit-down restaurant where you can enjoy classic Spanish dishes such as tapas and paella and drink deluxe drinks such as cocktails and sangria.
Shalhoob's Funk Zone Patio
The aptly named Shalhoob's Funk Zone Patio is a family-owned business that's been in the Funk Zone before it was even the Funk Zone.
Originally a butcher shop, Shalhoob's has always pledged to provide only the finest quality of meats to their customers.
Since the Funk Zone has grown into the fun, artsy neighborhood it is today, Shalhoob's decided to grow with it.
Since their opening in the '70s, they've continued to add elements to their business such as a state-of-the-art kitchen and an open-air patio restaurant that make it a wonderful place to spend time and dine on tasty food.
Where to Drink in the Funk Zone
The Funk Zone is a hot spot for both craft beers and premium wine.
With the recent microbrewery boom happening in southern California and the district's proximity to the fertile wine country of northern Santa Barbara County, you can find all sorts of interesting tasting and tap rooms littering the streets of the Funk Zone.
All you need to do to find a good drink is walk down the street, but there are some really phenomenal places to drink!
Area 5.1 Winery
With an 'out of this world theme,' you can definitely expect the wines at Area 5.1 winery to be exceptional.
I've never visited another winery with an alien-like, extraterrestrial ambiance, but it makes the tasting experience really fun!
Their wines are all blends from local Santa Barbara County vineyards, and their wine tenders are all very friendly and knowledgeable about the drinks.
Topatopa and Llamadog
While Topatopa and Lama Dog are two separate Santa Barbara breweries, they share a building space in the Funk Zone, making it really easy to visit both!
Topatopa is originally from Ventura, but their location in the Funk Zone embraces all of the same ideas of southern California culture that Santa Barbara does: surfing good waves, exploring beautiful mountains, appreciating local farms, and drinking good beer! They have 16 different types of beer on tap that change regularly, giving this tap room constant new flavors.
Lama Dog is a tap room that changes their menu every day. They always have 20 different craft beers from around the world and 4 different local wines on tap, and the bartenders are extremely knowledgeable about the various alcoholic beverages they serve. They even offer beer education classes, so this is a perfect place to visit if you're looking to learn more about craft beer.
Santa Barbara Winery
The Santa Barbara Winery, established in 1962, is the oldest winery in the county!
Their convenient location in the Funk Zone has a relaxed, inviting atmosphere. You can enjoy a glass of one of their award-winning wines in either their lush, greenery-filled patio or their rustic barrel room.
Make sure to spend some time at this historic winery in your visit to the Funk Zone!
Where to Shop in the Funk Zone
With the amount of interesting, creative shops in the Funk Zone, you'll have no trouble leaving Santa Barbara with the perfect gift or souvenir.
From vintage clothing to handmade home decor to high-end surfboards, there's some shopping for anyone to do.
Like any type of business in the Funk Zone, all you really have to do is walk through a few blocks to find what you're looking for, but here are some must see Funk Zone shops to visit while you're in the area!
Channel Islands Surfboards
The Channel Islands Surfboard company makes world renowned surfboards and has locations all over the world, but it originated right in Santa Barbara in the 1960s.
Surfing is a key part of Santa Barbara's culture, and visiting this store is a great way to explore it. Browse the various surfboard shapes and sizes, or try on the fun, beach styles of clothing at this characteristic Funk Zone store!
Loveworn
The Loveworn shop is as fitting as it gets when it comes to the Funk Zone. You can shop at their art gallery or in their clothing shop for creative pieces in both categories.
Some of the highlights of their clothing include graphic tees, vintage wear, and a huge variety of denim.They even do denim repairs! Their art pieces are colorful and represent important symbols of contemporary art.
Seaside Makers Collective
With a location in Carpinteria and one in the Funk Zone, the Seaside Makers Collective provides a wide variety of artisan gifts, mineral sunscreens, and skin and self-care products.
Visiting this shop is a great way to support small, local businesses near Santa Barbara and enjoy some quality, one of a kind products at the same time.
This collective is another great example of how businesses come together and support each other in the Funk Zone rather than compete against each other.
Where to Get Cultured in the Funk Zone
With all the creative energy around the Funk Zone, there's plenty of artsy companies to explore.
Contemporary art is the dominant style in the district, but you'll find tons of spin offs and a variety of activities to do.
Browsing galleries, taking informative tours, and interacting with the art exhibits are just a few of the many exciting ways to engage in the colorful culture of Santa Barbara's Funk Zone!
MOXI, The Wolf Museum of Exploration + Innovation
The MOXI is one of the most interesting modern establishments in Santa Barbara. This museum is dedicated to making the exploration of arts and sciences accessible to the public with 3 stories of interactive exhibits. These exhibits stimulate all five senses, and fall into 7 themes that revolve around science, technology, math, and art.
They have a giant guitar exhibit where you can experiment with the sounds that make guitar riffs and music and a rooftop sky garden with amazing views of Santa Barbara. MOXI is a fascinating part of the Funk Zone that's perfect for visitors of all ages.
Mason Street Gallery
If you want to view the local art scene beyond the colorful murals in the district, stop into the Mason Street Gallery.
This contemporary gallery has 5 working art studios, which are occupied by local Santa Barbara artists.
They are open to the public on Saturdays for guests to browse or purchase their featured pieces, and during art walks and special events they provide wine and snacks!
Eat This, Shoot That!
Yet another example in the Funk Zone of businesses supporting each other, with Eat This, Shoot That! you can combine a delicious food tour of restaurants around the neighborhood with a photography adventure.
This is an immersive way to explore the culture of the Funk Zone, not only since a large part of the culture is food-related, but your guide will take through lots of street art and tell you stories about each place you visit.
Furthermore, your guide will teach you how to boost your food photography skills and take artsy food pictures with just your phone!
Pin This Guide to the Santa Barbara Funk Zone
Note: This post contains affiliate links, which earn me a small commission at no extra cost to you if you make a purchase using one of these links. Thank you for supporting this free content!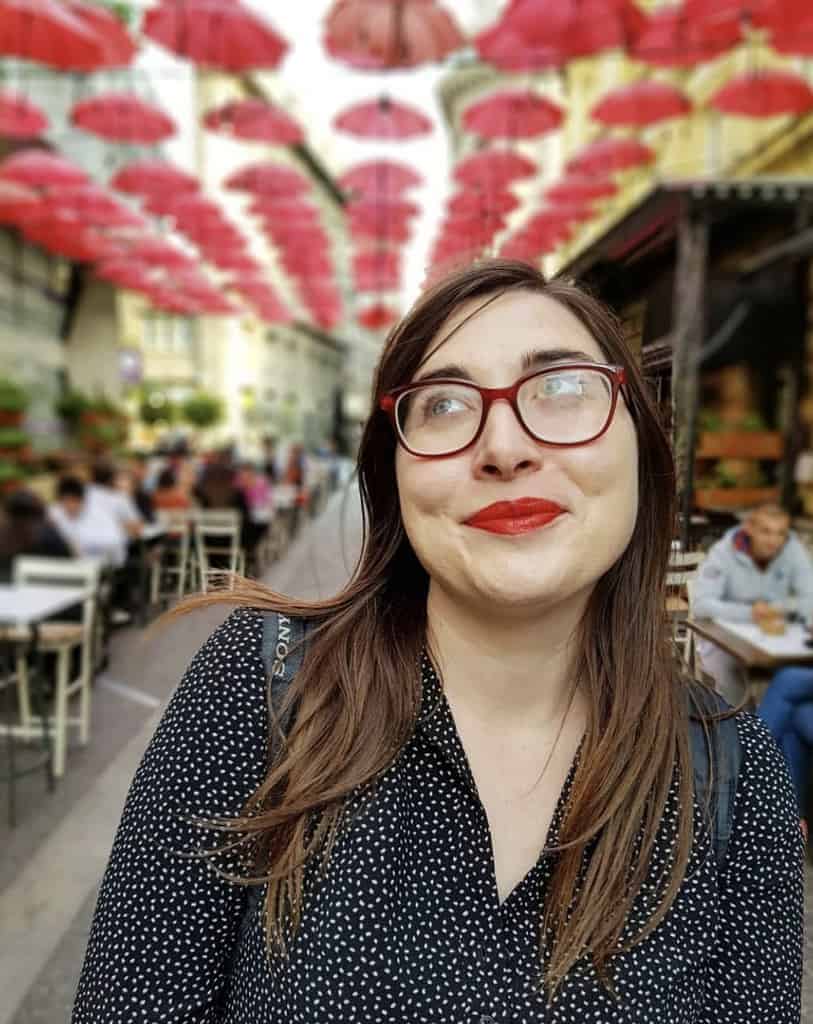 Allison Green is a travel blogger, writer, and podcaster who grew up in the Bay Area of California. She has spent time living in New York, Prague, and Sofia, but has returned to live in the East Bay. She has traveled to 60 countries before the age of 30 while running several digital travel publications. Her writing and podcast have been featured in Forbes, CBC Canada, National Geographic, the Huffington Post, and CNN Arabic, amongst others. She's obsessed with bouldering, houseplants, other people's pets, and anywhere she can see the ocean.