Even with all of the 2020 social distancing, the LA area has plenty of places with the holiday spirit to explore.
Cruise through festively light neighborhoods like Candy Cane Lane and Christmas Tree Lane, window shop along Rodeo Drive, or participate at a safe distance in one of the many Christmas tree lighting ceremonies around the area.
Below are some of the best locations to find those sparkling Christmas lights throughout the Los Angeles area. We have included addresses, dates, and times, along with a website to create a festive experience out of your holiday travels.
Los Angeles Christmas Lights: Where & How to Find The Most Festive Spots
Take a Drive Down Festive Rodeo Drive
Note: This post contains affiliate links, which earn me a small commission at no extra cost to you if you make a purchase using one of these links. Thank you for supporting this free content!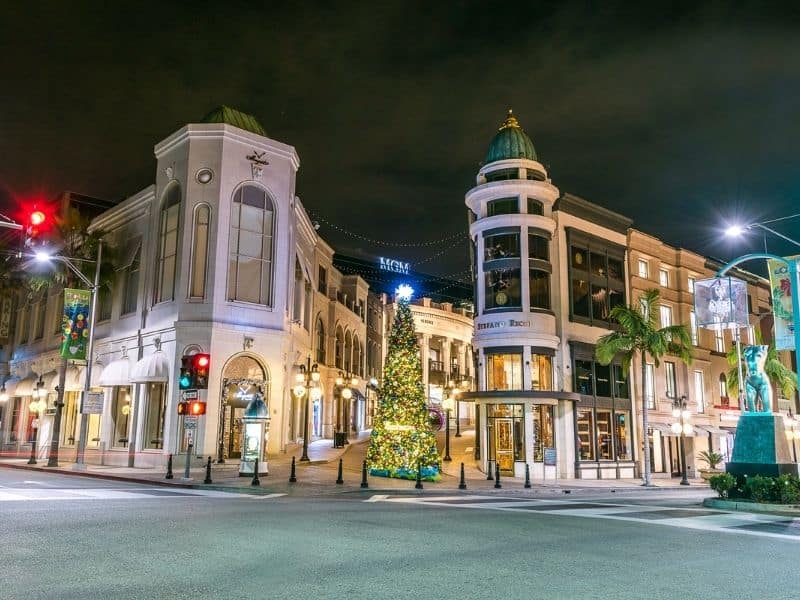 Address: Rodeo Drive from Santa Monica Blvd. to Wilshire Blvd.
Take the half-mile stroll or drive down Rodeo Drive to view the palm trees decked out in lights.
Continue down the street for photo opts on the Via Rodeo steps, the Beverly Wilshire hotel, and then complete your journey at the Beverly Cañon Gardens.
Walk through the Yolanda Tunnel of Lights in Reseda
Address: 7300 Yolanda Avenue, Reseda
Dates: Early December through the first weekend of January
Details: More information on their Website
After parking at the Reseda Elementary School on Valerio, mosey beneath the lit arches along the 7300 block of Yolanda Avenue.
As you walk, enjoy the festively decorated houses while listening to 89.1 FM for Christmas tunes to match the decorations!
In true 2020 style, the arches are placed 6 feet apart, so it's easy to keep your distance visually.
Stroll through El Segundo's Candy Cane Lane
Address: 1200 block of Acacia Street, El Segundo, CA
Dates: Second Saturday of December until Christmas 7:00 – 9:00 PM
Since 1949, this El Segundo neighborhood has been decked out in sparkling lights and displays for all to enjoy.
Here is the perfect place to take a short evening walk and enjoy seeing the unique displays along the street.
It's one of the best places to see Christmas lights in LA!
Take a Trip down Woodland Hills' Candy Cane Lane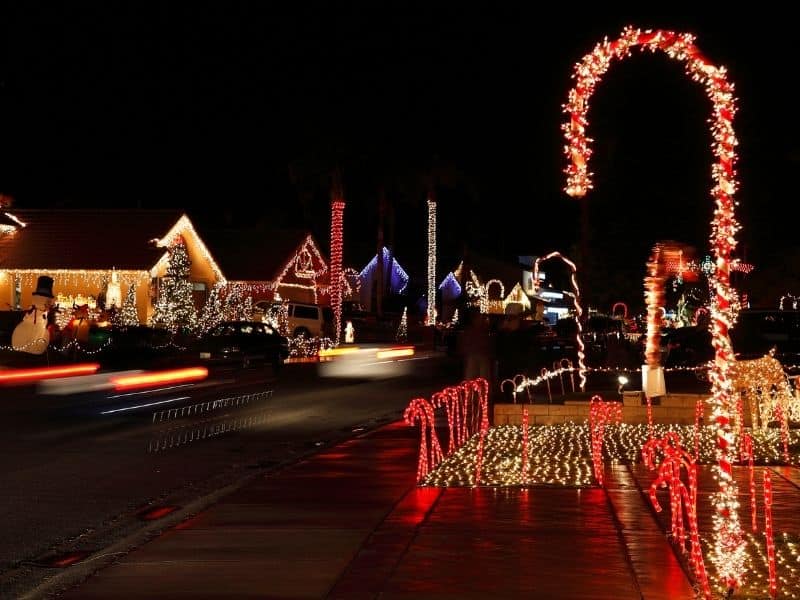 Address: Lubao and Oxnard Streets, Woodland Hills, CA
Dates: Second Saturday in December to the end of December, from dark to 10:00 PM weekdays and 11:00 PM on weekends
Details: Check their Website
The homeowner along Candy Cane Lane have taken their holiday decorating to the extremes for over 60 years, and now it's no wonder why this is widely considered to be one of the best non-commercial Christmas lights in Los Angeles.
Cruise the eight blocks of Woodland Hills to see the amazing light displays.
During 2020, you may want to stay in your car, but this is also a great place to get out and walk the neighborhood if it's not too crowded, so you can take in the lights and decorations, while not having to worry about driving.
Be prepared for a two-hour line if you wait until nearly Christmas to visit — this is a popular place for LA Christmas lights, hardly a hidden gem, so you won't be the only one!
Watch the annual Daisy Avenue Christmas Tree Lane Parade in Long Beach
Address: Daisy Avenue between Willow Street and PCH
Dates: Saturday, December 12, 2020 – 5:00 – 8:00 PM
Details: Check their Website
Take time to attend the 66th Annual Christmas Tree parade featuring Christmas villages, nativity scenes, and decorated Christmas trees.
This year, it is planned for Saturday the 12th starting at 5:00 PM.
Visit the USA's oldest large-scale display of lights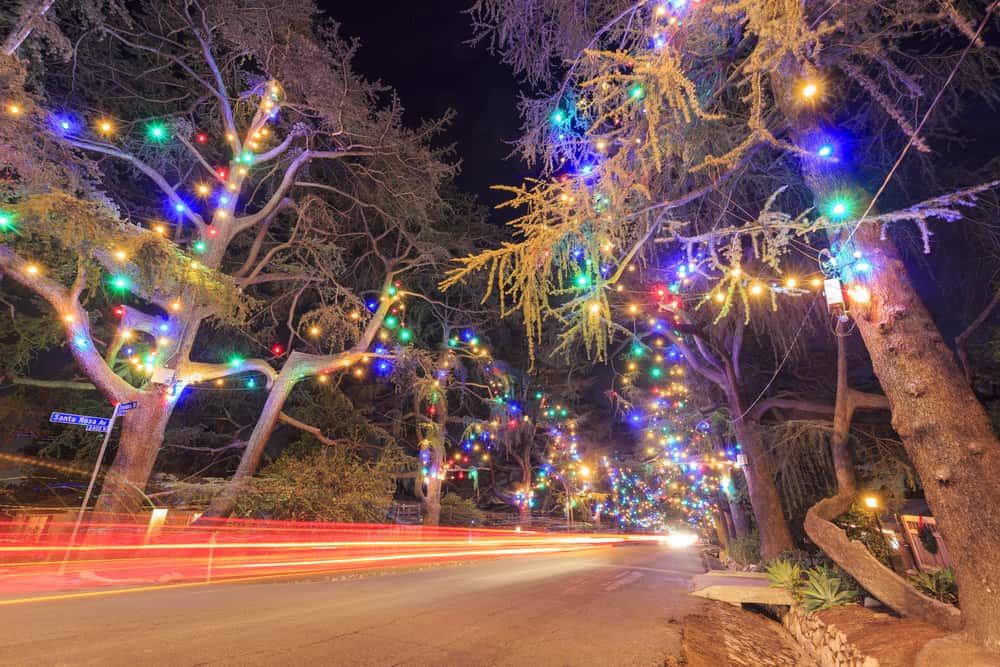 Address: Santa Rosa Avenue between Mariposa and Mendocino, Altadena, CA
Dates: 2nd Saturday of December through the end of the year beginning at 6:00 PM
Details: Check their Website
Cruise through Christmas Tree Lane in Altadena, Los Angeles!
The festively decorated one-mile of Altadena's cedar trees showcase thousands of twinkling Christmas lights in Los Angeles' most spectacular display.
In 1990, Christmas Tree Lane was declared a California Historical Landmark and added to the National Register of Historic Places.
While in the area, head over to 1960 Mendocino Lane in Altadena, whereGeorge Balian's 1922 Mediterranean-style mansion sits glowing from thousands of lights.
Stop and listen to the Christmas music and get a holiday snack from the vendors that are set up nearby.
Join in the Festivities at the Lights on Miracle Hill
Address: 18901 Amar Road at Miracle Hill, Walnut, CA 91789
Dates: December 6 – 22, 2020
Fridays 6:30 PM – 10:00 PM
Saturdays 5:30 PM – 10:00 PM
Sundays 5:30 PM – 9:00 PM
Details: Check their Website
Take part in this 5th annual community event as the lights tell the story of this joyous Christmas season.
Experience the magnificent light show that happens every 45 minutes throughout the evening.
See spectacular lighted trees along Old Pasadena's Christmas Tree Lane
Address: St Albans Road at Huntington Drive, San Marino, CA
Mosey down the San Marino streets past the brightly lit giant trees in front of the estate homes.
Choose to stay in your car and drive through this short route or get out and walk the street as you drink your hot chocolate.
Stroll the Festive Streets of Old Towne Orange
Address: Plaza at 127 North Atchison Street, Orange, CA
Dates: Thanksgiving through the end of the year
Details: Check their Website
Meander through the streets of this charming little town as they adorn the shops with wreaths, ribbons, and sparkling lights.
Enjoy seeing how the shop owners have created a festive display in their windows as you listen to strolling carolers sing out their favorite holiday tunes.
Continue down Cambridge Street to a variety of homes that offer a terrific display of holiday lights.
Grab a Seat and Enjoy the Christmas Boat Parade on Naples Bay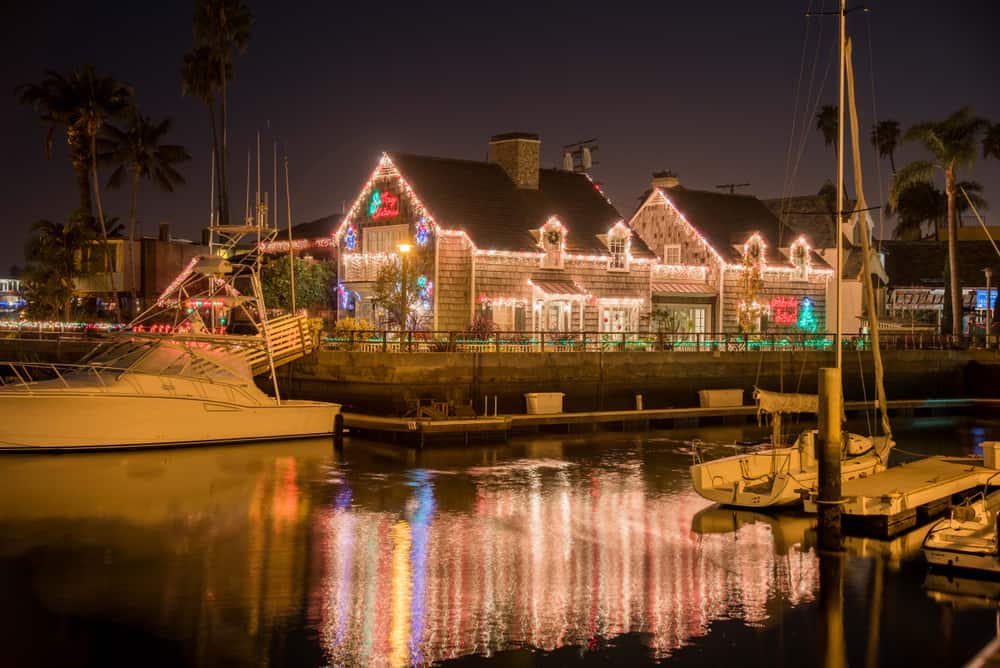 Address: Naples Bay, Long Beach, CA (Best view from Landings Park, Bayview Park, Naples City Dock)
Date: December 12, 2020 6:15 – 8:30 PM
Details: Check their Website
Set your chair along the bay for a superb view of not only the bay but a stunning display of all types of floating vessels.
They all will be alight to showing their Christmas spirit!
For parking options, think about parking at Marine Stadium, Mothers' Beach Lot, or at 54th and Bayshore.
Enjoy the 112th Newport Beach Christmas Boat Parade and Ring of Lights
Address: Newport Harbor, Newport Beach, CA 92663
Dates: December 16 – 20, 2020 6:30 PM
Details: Check their Website
For 111 years, the sailors have been decorating their sailing vessels for the boat parade.
Enjoy an evening of entertainment as you watch the decorate kayaks, canoes, boats, and yachts sail through Newport Harbor for the 112th time.
The parade begins and ends at the Tip of Lido Isle, so grab a prime spot at the Marina Park or anywhere along the Newport Harbor to watch roughly 100 boats pass by.
There are options for reserved seating, and local yacht charter companies will be hosting cruises for those who would like to view the parade from the water.
Take a walking tour through Sleepy Hollow's Christmas lights extravaganza
Address: Robert Rd, off of the Pacific Coast Hwy, Torrance, CA
Dates: Early December through January 1, 2021, 6:00 – 10:00 PM
Details: Check their Website
When you want to see Christmas lights near Los Angeles, head to this Torrance neighborhood where every tree and house is aglow.
Since 1985, roughly two miles of homes invite visitors to their neighborhood to view their elaborate work.
Choose to join the line of cars as they creep through the streets or park on the PCH or Prospect Avenue and get out and walk through the winter wonderland.
Along your route, you may even be able to pick up a sweet treat like churros and hot chocolate to add to the holiday spirit.
Experience the holiday lights throughout the Upper Hastings Ranch neighborhood
Address: Sierra Madre Blvd., Michillinda Ave., Hastings Ranch Blvd. and Riviera Pasadena
Date: December 12 – 31, 2020 6:00 – 10:00 PM
Details: Check their Website
When you need a break from the frenzy of the holidays, drive through this Pasadena neighborhood.
Enjoy how the neighbors go all-out decorating for Christmas!
The themed streets offer a variety of luminously glowing driveways, winter wonderlands, toy shops, and tons of lights to brighten your drive or walk.
Take your holiday shopping to new heights at The Grove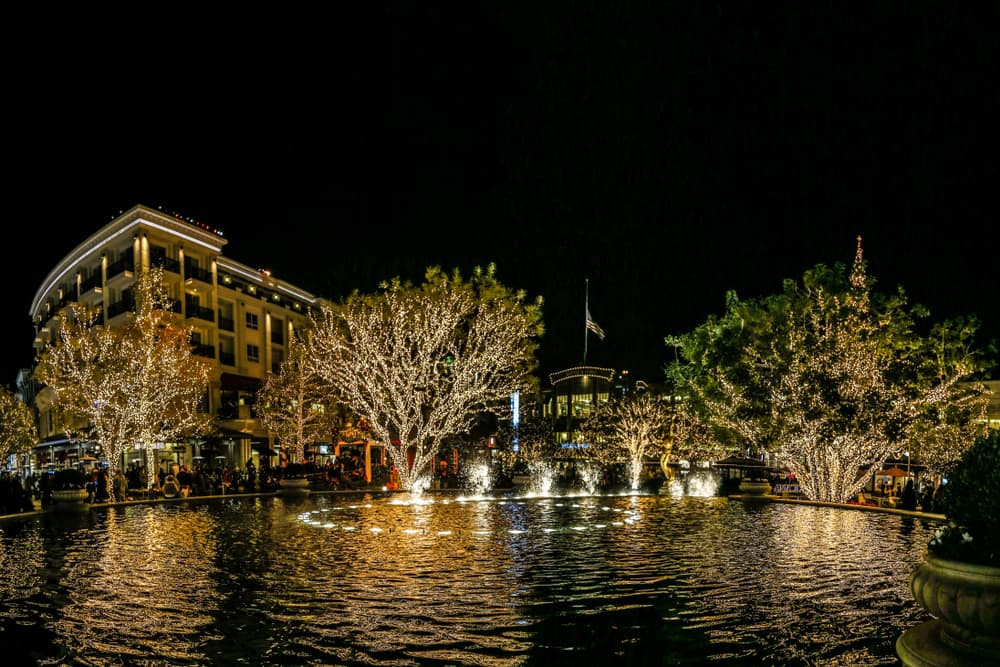 Address: 189 The Grove Dr, Los Angeles, CA 90036
Dates: Throughout December
Get your last-minute Christmas shopping done as you take in The Grove's festive decorations throughout this iconic mall.
Enjoy the sounds and sights of Christmas as you listen to the carolers and stroll this beautiful pedestrian pathway.
For the ultimate LA Christmas light experience, stand before the 100-foot towering Christmas tree as it lights up each night.
And who says it doesn't snow in LA? Catch a "snowflake" on your tongue each night at 7:00 and 8:00 PM.
Take part in the Venice Sign holiday lighting tradition
Address: Pacific Ave & Windward Ave, Venice, CA 90291
Date: December 4, 2020 (6:15 PM festivities begin, 8:00 PM sign lighting)
Come out and watch the Venice sign turn red and green for the Christmas holiday season.
Enjoy listening to local carolers, peruse local shops exhibits, and bring a toy or two for the Muscle Beach Toy Drive.
Wind your way through Wakefield Court's Winter Wonderland
Address: Wakefield Court between Seco and Haskell Canyon off Copper Hill Dr. and Courtland, Saugus, CA
Dates: Nightly December 1 through Christmas from 5:30 – 10:30 PM.
Head to northern Los Angeles to see the gingerbread house and Star Wars display, or take a walk through the story The Night Before Christmas.
The neighborhood also has a charity drive, so make Christmas brighter for someone and bring a toy to give away.
Pin This Los Angeles Christmas Lights Guide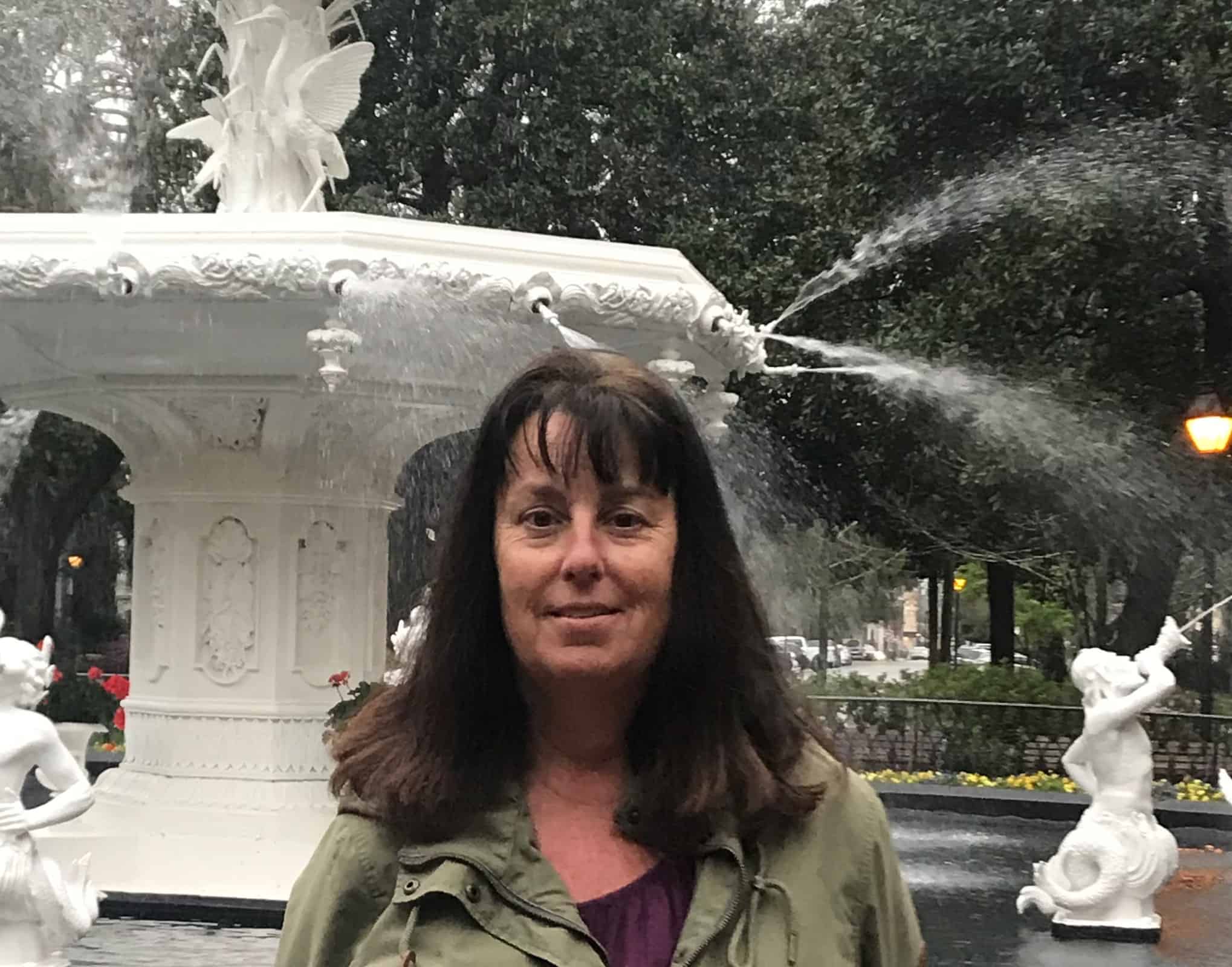 Laura Gray is a freelance writer and retired elementary teacher based in Norfolk, VA.  She spends her summers enjoying the shores of the Chesapeake Bay, traveling the world, and exploring the beautiful United States. Her favorite places to visit are National Parks, waterfalls, and lighthouses.