If you're looking for a delightful, snow-covered national park in winter, you'd be surprised to learn that California in winter has plentiful options!
In fact, four of California's eight national parks see snow virtually every year (Lassen, Sequoia, Kings Canyon, and Yosemite).
In this post, we'll be talking about Sequoia National Park in winter and what to do there, but we'll throw in a bit about Kings Canyon as well as the two parks are often visited together as they are so close together.
Weather in Sequoia National Park in Winter
Note: This post contains affiliate links, which earn me a small commission at no extra cost to you if you make a purchase using one of these links. Thank you for supporting this free content!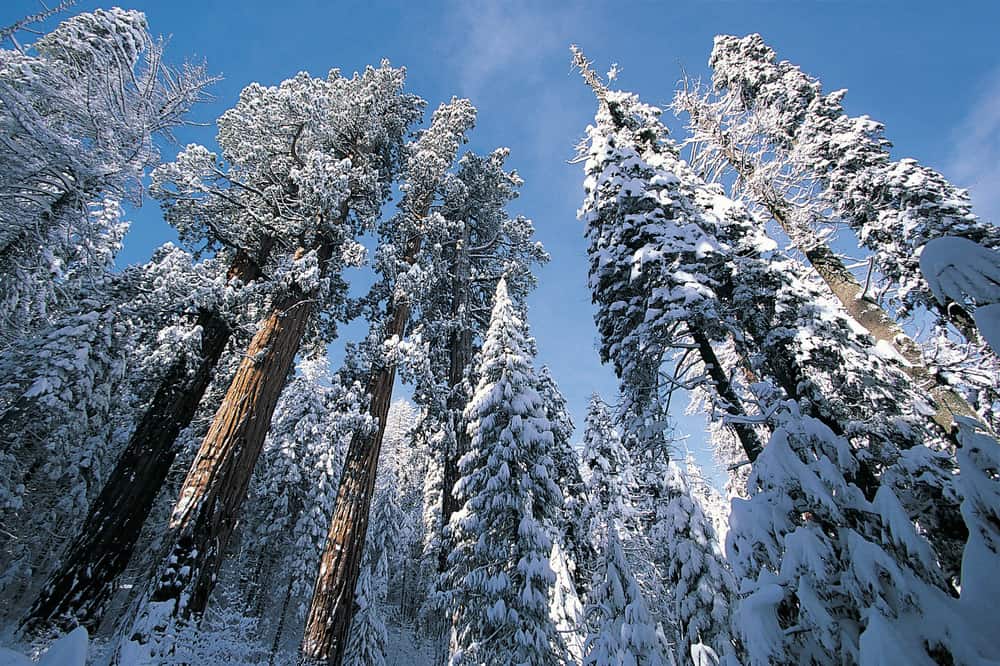 Due to its altitude, expect cold weather and snow, so be prepared by packing for weather that's below freezing.
Here are the average temperatures broken down by month from December through February.
December: Average high of 36° F, average low of 17° F
January: Average high of 37° F, average low of 18° F
February: Average high of 36° F, average low of 16° F
As you can see — daytime temperatures generally hover just above freezing and it drops down well below freezing at night! So dress nice and warm and you will enjoy — don't, and you'll be putting yourself in a bad position!
What to Pack for Winter in Sequoia National Park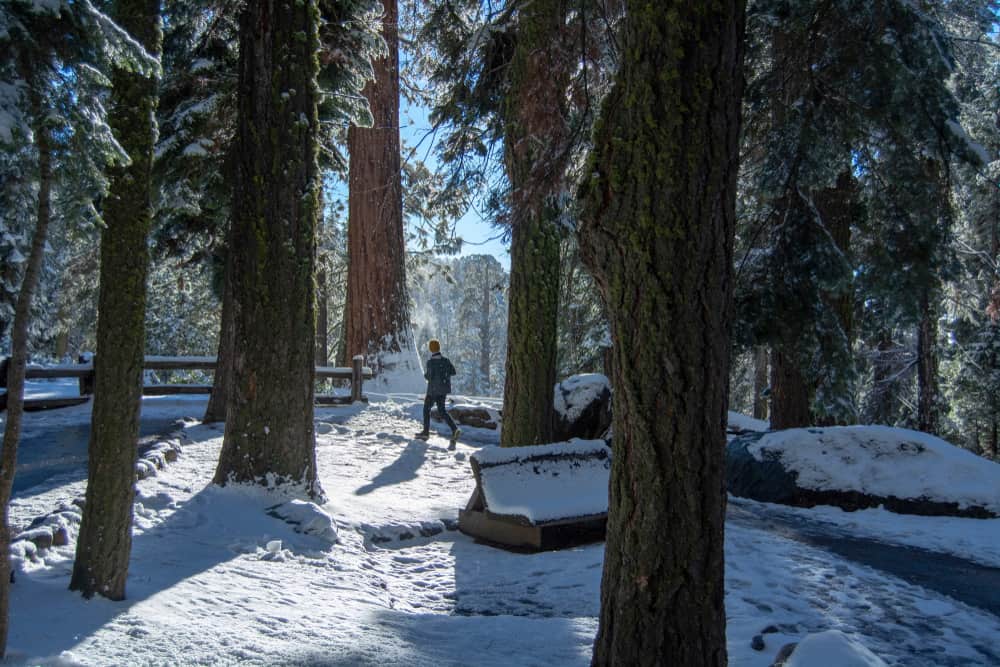 If you're going to do any winter hiking (or cross-country skiing or snowshoeing), you'll want to bring waterproof outer layers like snow pants or waterproof hiking pants as well as a waterproof jacket.
Underneath, you'll want lots of layers: think thermals, wool socks, and a cozy sweater. You'll also need proper snow boots and winter accessories.
If you have your own snowshoes, cross-country skis, etc., you may want to bring your own, though you can rent snowshoes at either Lodgepole Market or Grant Grove Gift Shop.
Waterproof Parka: In the snow of Sequoia, you'll want something like this wonderful North Face parka. I've had this one for ten years and it's held up beautifully from everything to biking in NYC in winter to visiting north of the Arctic circle in Tromso and Abisko. It'll certainly do you well in Sequoia National Park in winter!
Waterproof Pants: If you're doing any winter hiking, skiing, sledding, snowboarding (basically, anything more intense than just checking out viewpoints you can drive to) you'll want waterproof pants: trust me, jeans just won't do!
Thermal Layers: Underneath whatever clothes you choose to wear, you'll likely need some thermal layers to keep you warm in the Sequoia winter cold.
Snow Boots: For snow boots, I suggest these cute and cozy Sorel boots, which are waterproof and warm but also have plenty of traction. Add some Yaktrax to the bottom for grip on icy surfaces and pathways. These are a godsend!
Winter Accessories: No matter what the temperature, winter accessories like a hat, gloves, and scarf are always a good idea! They help you layer and protect your most sensitive parts (ears, head, fingers) from the cold.
Snowshoes: Many trails in Sequoia in winter will require proper snowshoes (different than snow boots!) if you want to do some winter trekking. Exceptions are paved high-traffic areas such as to General Sherman Tree.
Camera: You'll want a camera to capture all that California winter beauty! I use and love my Sony A6000! It's mirrorless, so it's lightweight and perfect for a high-quality camera that won't weigh your pack down.
Headlamp (and extra batteries): Sequoia National Park in winter can get dark early — and quickly. Bring a headlamp in case any hikes take longer than expected or if you are planning any sunset hikes. This Petzl headlamp is highly-rated and affordable.
Road Conditions in Winter in Sequoia National Park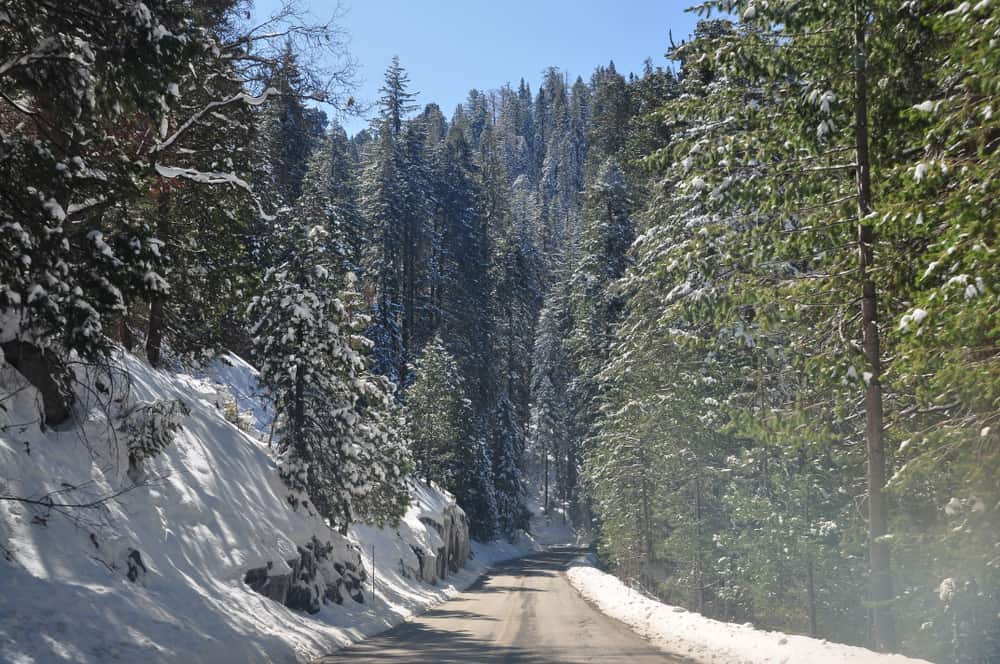 Tire chains are required most of the winter in Sequoia National Park (November through March) due to the heavy accumulation of snowfall that doesn't melt until spring (remember those well-below freezing nights?).
The roads do get plowed but often snowfall occurs throughout the day and accumulates so you'll need to be prepared to drive in snow and have snow chains at the ready in case you come across any signage indicating a need for chains/cables.
State law requires this: even if you have a 4-wheel drive, you'll need tire chains or cables.
Californians, I know you're probably not used to driving in snow, so brush up on these winter driving tips from the NPS before planning a winter visit to Sequoia.
Practice putting on your chains before arriving in Sequoia and make sure they fit and you can place them on your tires safely and easily. Note that the max speed limit is 25 MPH when there is a chain requirement in effect, even if the speed limit signs say otherwise.
Tire Chains for Sequoia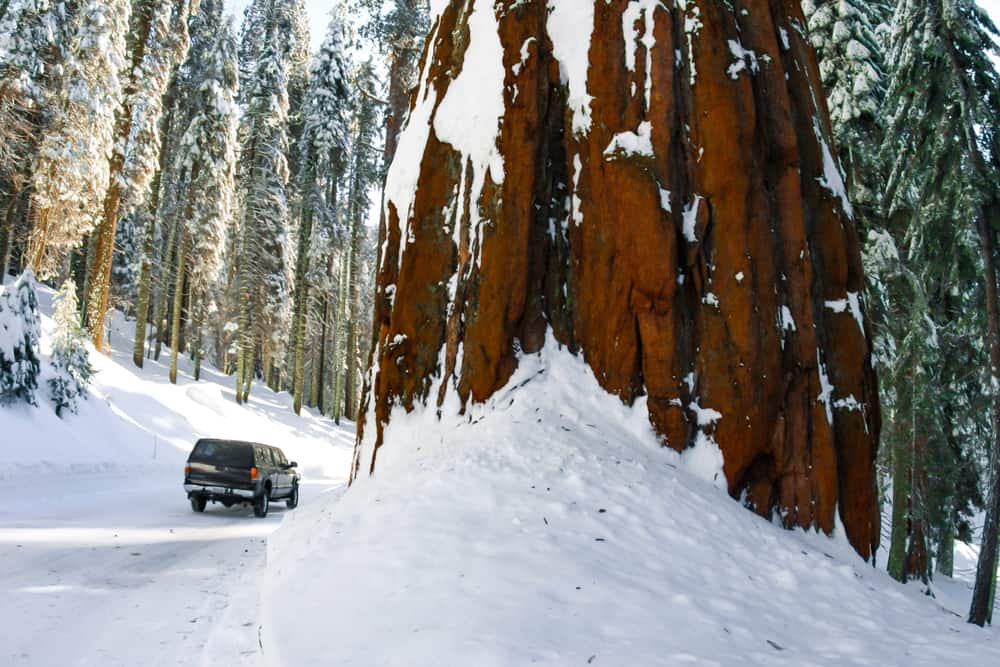 Don't have tire chains? Don't worry, you can rent or buy them at the following places:
A-1 Totem Market & Gifts: 1 mile west of Sequoia park entrance.
Chevron Gas Station: 6 miles west of park entrance.
Gateway Restaurant & Lodge: 0.5 miles west of park entrance,
Kaweah General Store: 9 miles west of park entrance
Princemart Gas Station: 12 miles west of park entrance
Vasquez Snow Chains: 4 miles west of park entrance
Is it Worth Visiting Sequoia in Winter?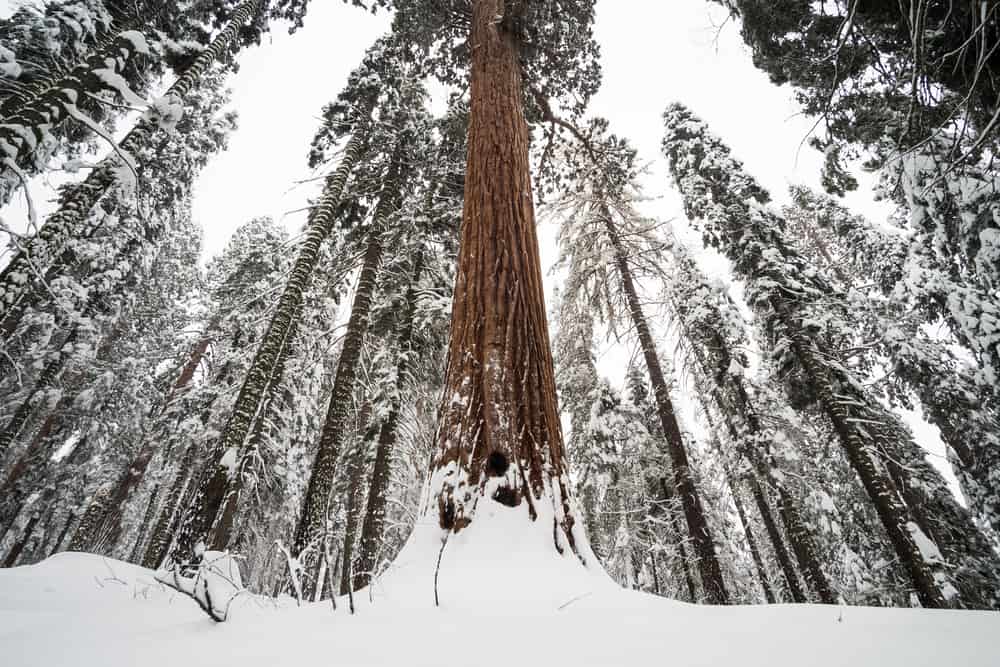 Absolutely! Freezing temperatures aside, the chance to see the largest trees on earth totally covered in snow like beautiful otherworldly icicles is a bucket list must.
There are also virtually no crowds in Sequoia in winter, whereas in the summer, places in Sequoia National Park can get insanely crowded, especially around General Sherman tree and other park must-sees.
So as long as you bundle up and are prepared to drive safely in the snow, Sequoia National Park in winter is a phenomenal idea!
Closures in Sequoia in Winter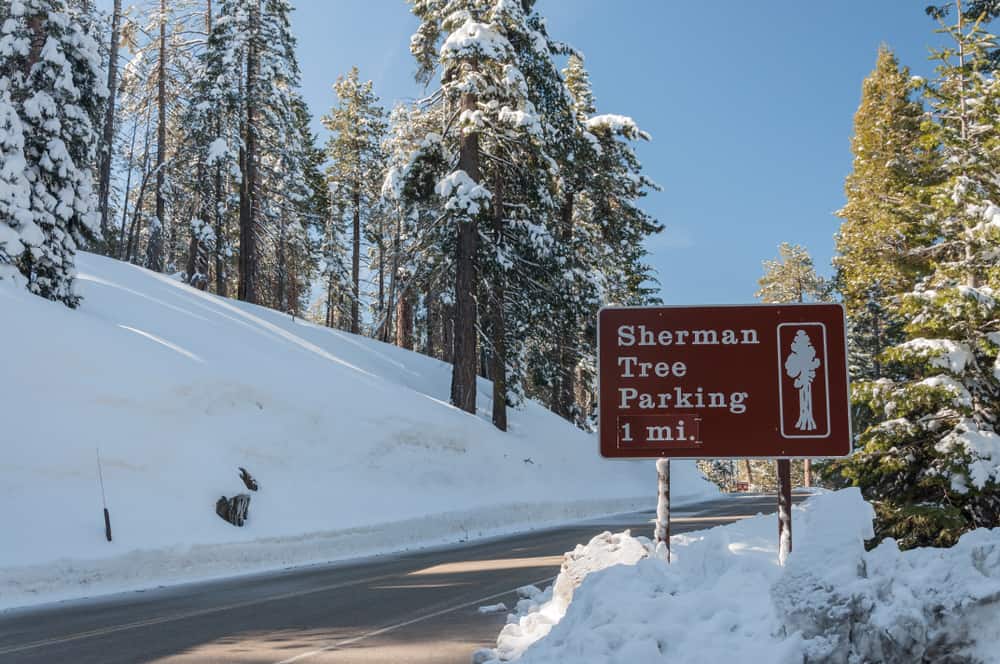 Some of Sequoia's most iconic trails and landmarks are closed during the winter, particularly worthy of noting is Moro Rock, the most beloved sunset spot in Sequoia.
Some smaller access roads like the road to Kings Canyon Panoramic Point are closed in winter. While you can still access the panorama point, you'd have to tack on extra hiking to the trailhead from where the road closure is, which can be a lot to ask in heavy snow!
Campgrounds are also closed inside the park due to the freezing temperatures at the park's high elevation.
However, you can camp outside the park (though be prepared to bring at least a 15 F rated sleeping bag and lots of winter camping gear). Potwisha Campground and others around it are open.
Best Places for Hiking in Sequoia in Winter
There are a few winter trails worth hiking in Sequoia in winter, depending on your skill level.
Note that winter hiking etiquette deems that you shouldn't step in any ski tracks you see — it makes it harder for returning cross-country skiers who follow their tracks back!
General Sherman Trail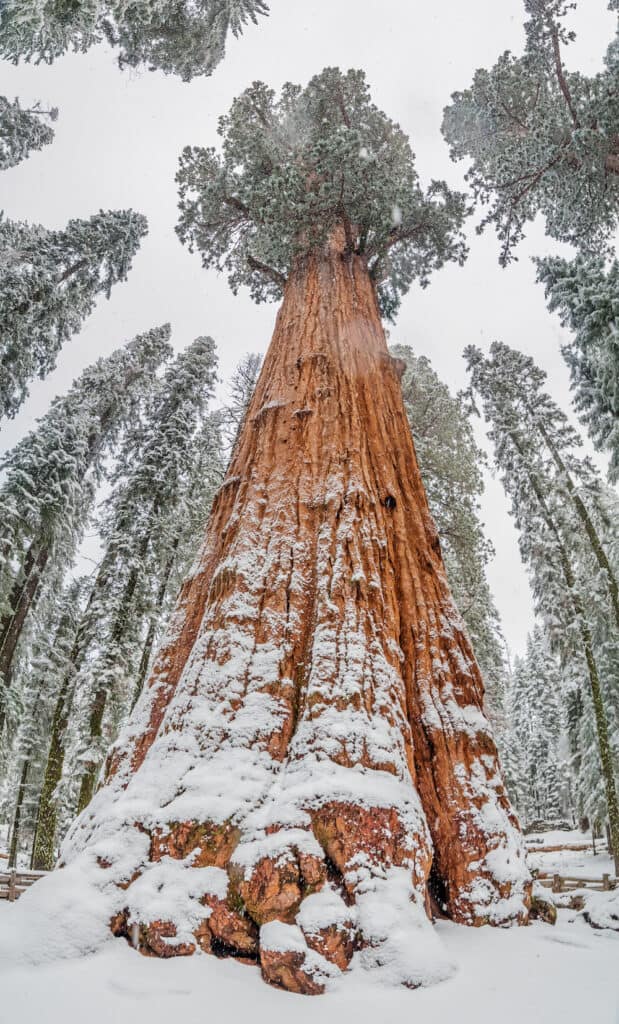 In winter, the accessible parking area on the Generals Highway is available for all since there are far fewer visitors (normally you have to park further away).
From there, the trail to General Sherman Tree is pretty easy, as it is not steep, but it can be icy (put on your crampons if so!) or snowy (lace up those snow boots!).
The trail is 0.5 miles each way, 1 mile round trip, and is fairly easy as long as there hasn't been a recent super-heavy snow, in which case you might need snowshoes.
Big Tree Trail
Big Tree Trail is a great choice for a winter hike in Sequoia since it's quite easy and the boardwalk path makes it easier to navigate in winter. Park near Round Meadow or Giant Forest Museum for this hike as it's not near General Sherman.
It's a wheelchair-accessible hike during the summer/fall season, but it's likely too icy/snowy for safe access in the winter.
It's only a 1.3 mile loop trail which means it's not too strenuous for a family to enjoy together or for beginner hikers who are only starting to get their feet wet (metaphorically, of course — wet feet in winter is no good!) with winter hiking.
Congress Trail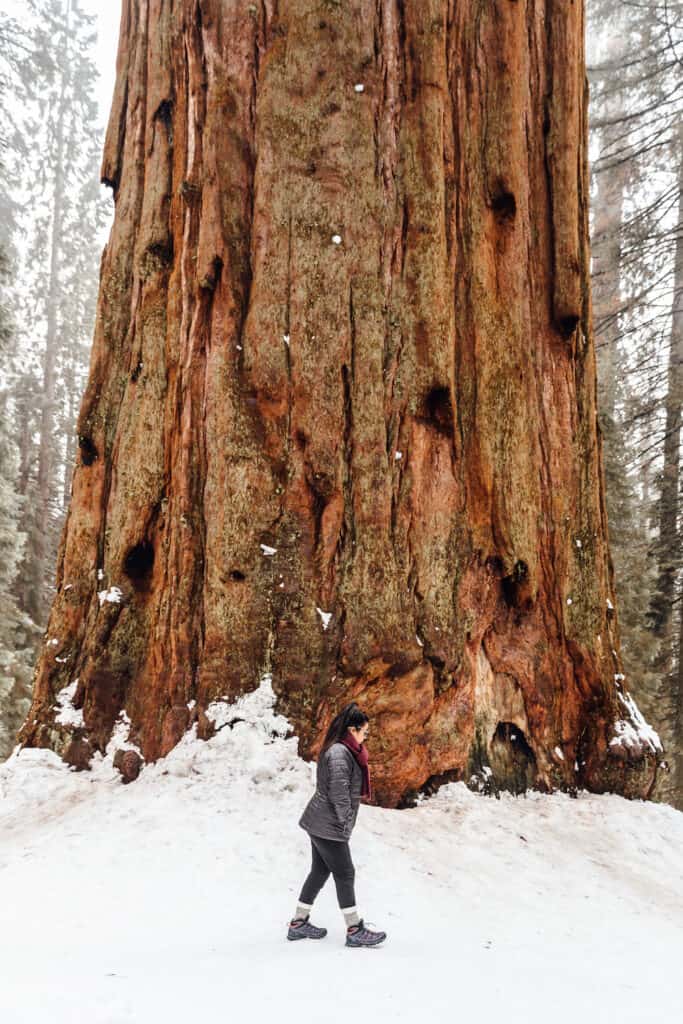 The Congress Trail is a wonderful winter hike in Sequoia. It is a paved 2-mile loop hike that begins right by General Sherman Tree.
You can see other trees such as "The President" (the 3rd largest tree in the world) and "the House" and "the Senate", two beautiful dense groves of giant sequoias that are overwhelming in their winter splendor.
Similar to General Sherman, the hike is not particularly steep or difficult, but the winter conditions may make it difficult, so prepare with either crampons if icy or snowboots or snowshoes if really snowy.
Tokopah Falls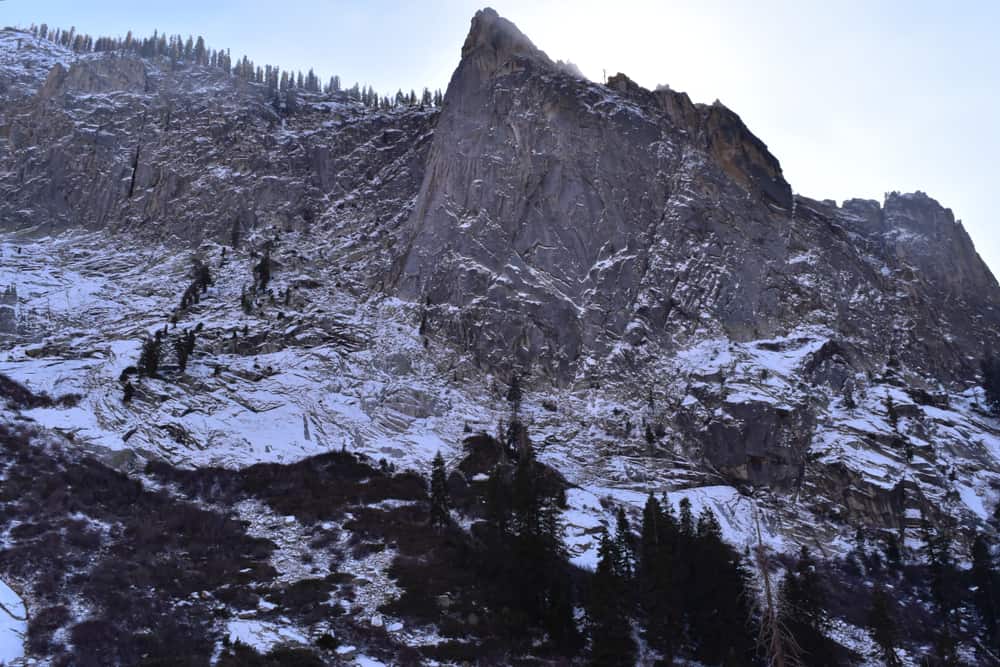 The Tokopah Falls trail isn't as popular as other winter hikes in Sequoia because there aren't any giant sequoias along the path, but it is still well worth it. It's so beautiful and it's relatively isolated with only a few X-country skiers and snowshoers traversing it each day.
You'll definitely need snowshoes or skis for this hike as it's not paved and it tends to gain a lot of snow. You should be a moderate X-country skier or snowshoer as this path is definitely not for beginners.
It's 4 miles roundtrip with 600 feet of elevation gain — easy in summer, but a real trek in the winter!
The hike features one of the most beautiful mountains in Sequoia NP, the Watchtower, as well as views of Tokopah Creek and the frozen-over Tokopah Falls.
Pear Lake
This Sequoia winter hike is extremely difficult and should only be undertaken by highly experienced winter hikers and never alone.
This trail starts at Wolverton Meadow (7,200 feet elevation) and climbs 2,000 feet over six steep miles of snow-covered trail until you reach Pear Lake. Access is only via cross-country ski or snowshoe due to the deep snow.
There is an overnight hut, Pear Lake Winter Hut, about half a mile away from Pear Lake. You can stay the night here with a reservation made in advance. It costs $50 per person per night and can sleep 10 in a basic hut with a wood-pellet stove (pellets are provided so you don't have to carry them). Note that the hut is closed for the 2020-2021 season.
Where to Stay in Sequoia in Winter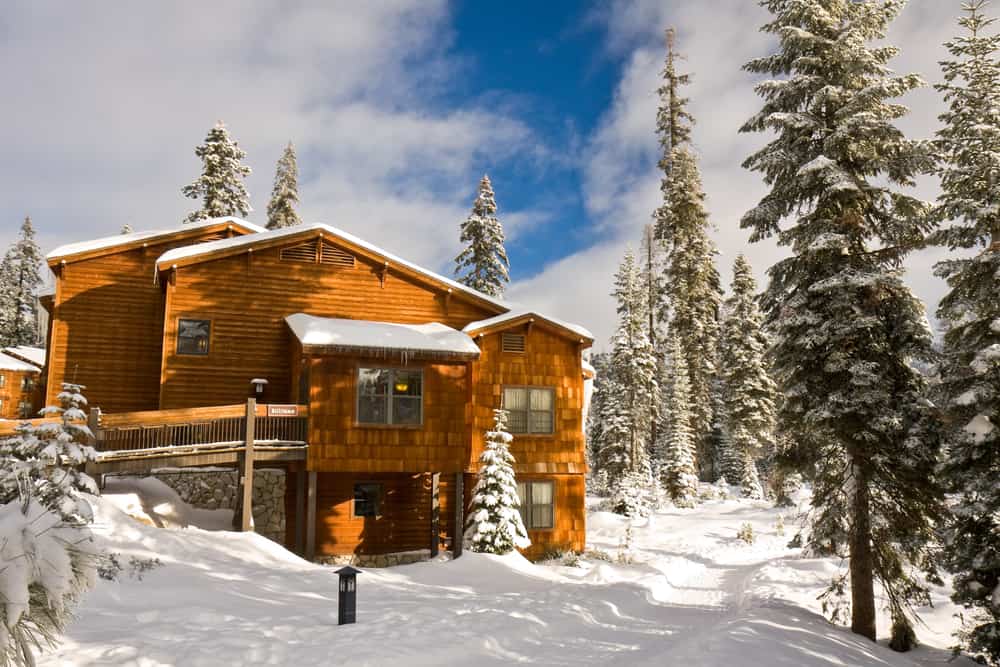 Unlike Yosemite, there aren't a lot of winter lodging options in Sequoia.
You can stay at Wuksachi Lodge, but this is almost always booked out months in advance. You can try for reservations here.
Your best bet in the park is Montecito Sequoia Lodge. This charming hotel is perfect as all meals are included (breakfast, lunch, and dinner) and excellent so you never have to worry about leaving the park to grab your next meal.
It's lovely in winter as there's a Jacuzzi open all night long so you can rest in the warm water with the crisp mountain air brushing past and, if you're lucky, light snow falling on your face. You can also rent or store your ski equipment here if you're planning to do some skiing in Sequoia NP. There are also fireplaces in the common spaces if you want to warm up between hikes or just relax and read a book.
>> Book your stay at Montecito Sequoia Lodge today!
Other Winter Things to Do in Sequoia
Sledding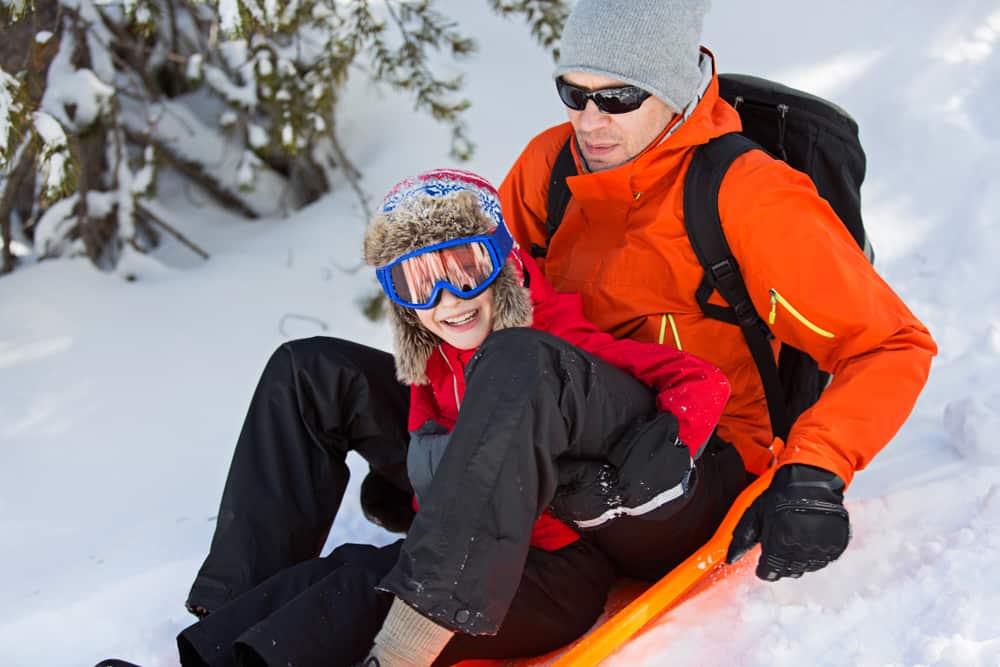 There are two designated snowplay areas: Wolverton and Grant Grove.
Wolverton is located at 7,250 feet elevation and has sledding hills and you can also rent or buy gear at the Wuksachi Lodge for snow fun!
Grant Grove at 6,600 feet elevation has several areas for snowplay including Big Stump and Columbine; both are located technically in Kings Canyon National Park but they are so close they are often lumped in with Sequoia as the parks are co-managed. The Grant Grove Market rents and sells snow gear if you didn't bring your own.
Cross-Country Skiing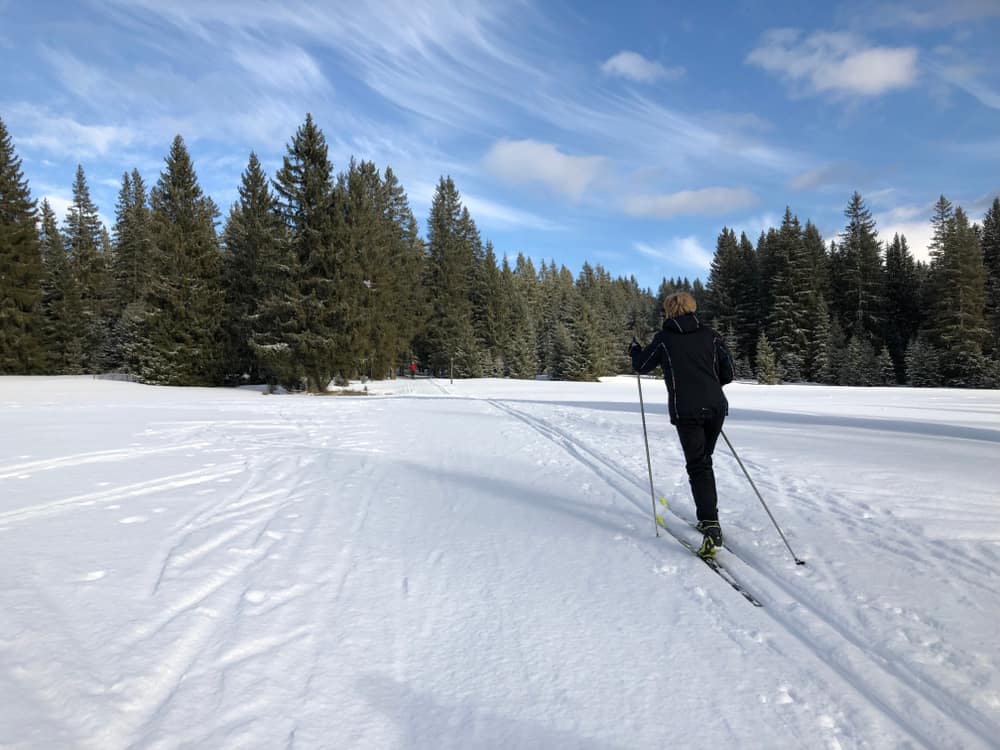 When there's enough snow, much of the park is open to cross-country skiers!
The Giant Forest and Grant Grove are the two main starting points for ski trails in the area. You can buy a map of ski trails online or at the visitor center before embarking.
If you don't have your own cross-country skis you can rent them at Wuksachi Lodge in Wolverton or Grant Grove Market in Kings Canyon.
Guided Snowshoe Walks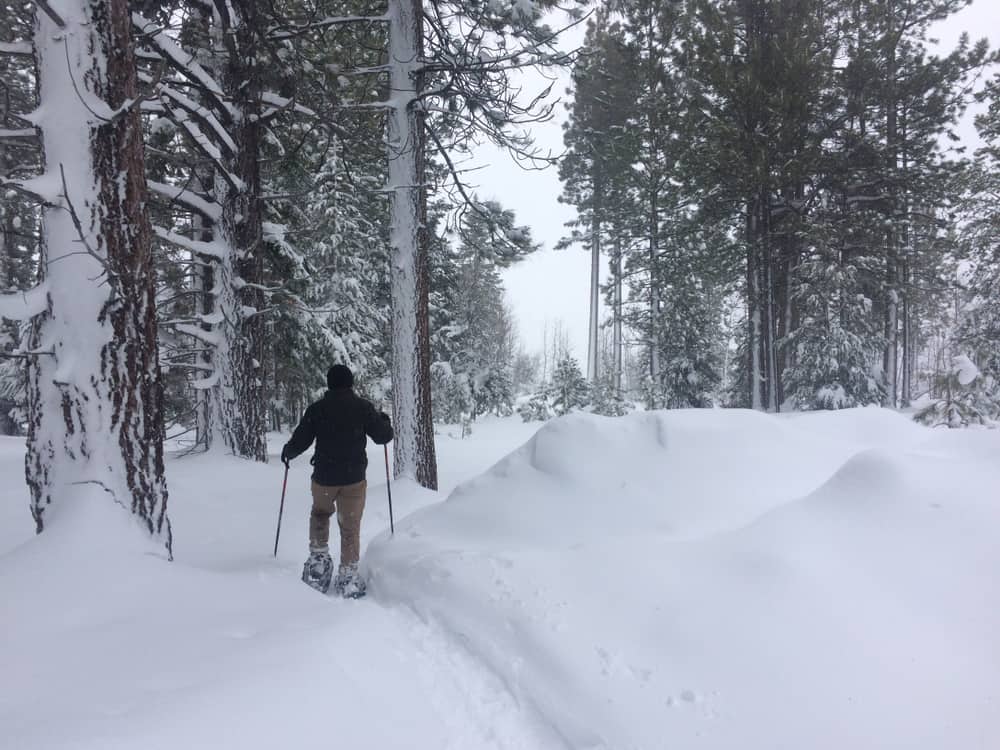 If it's your first time snowshoeing and you're feeling apprehensive, don't worry! Sequoia NP offers ranger-led snowshoe walks on Saturdays and Sundays during the season. They provide snowshoes, but you must provide all winter gear (warm clothing, waterproof boots, and warm layers).
Expect snowshoe walks to be moderately difficult and not suited for young children. There is an age limit of 10 and up due to both the size of the snowshoes that are available as well as the difficulty of the snow hikes.
The walks last around 2 hours and cover anywhere from 1.5 to 2 miles of ground. Check the event calendar for guided snowshoe hike info as well as other winter activities in Sequoia
Final Tips for a Safe Winter Trip to Sequoia National Park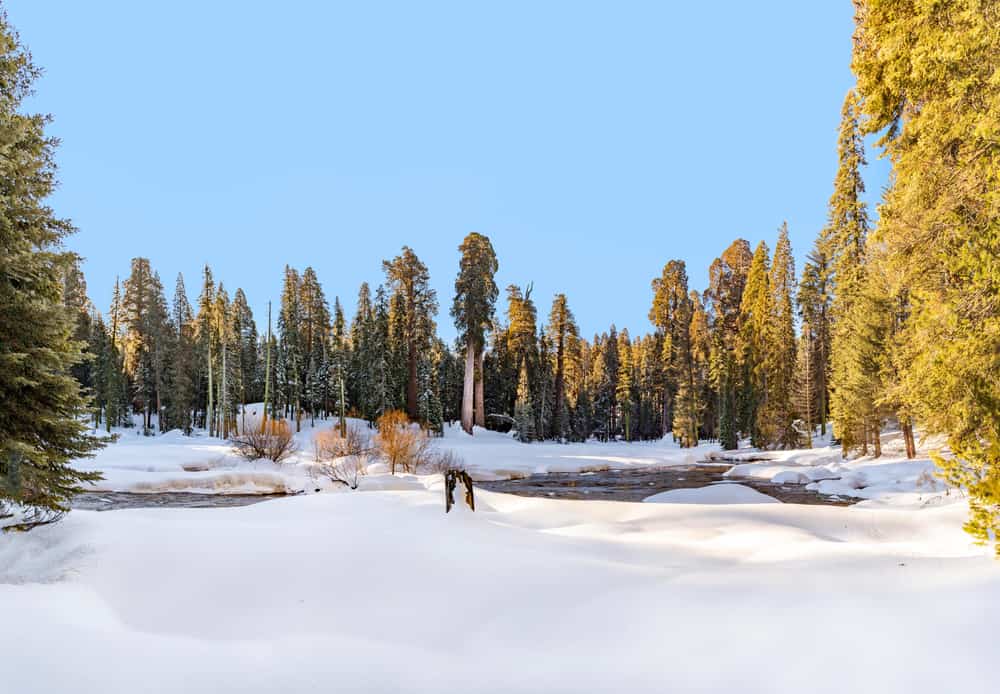 Remember that Sequoia National Park is a high-elevation mountain setting where winter conditions are rapidly changing. Sudden snowstorms of more than a foot of snow are possible.
Hope for the best but prepare for the worst. Always have plenty of warm winter clothing and make sure it is waterproof to help mitigate the risk of hypothermia. Be prepared to can your plans of winter hiking or snowshoeing if too much snowfall makes trails dangerous. Always check in with a ranger if you're unsure.
Be sure you are comfortable putting on tire chains and driving in winter weather conditions before planning a trip to Sequoia National Park in winter as the roads can easily get covered in snow and quite treacherous.
Pin This Sequoia National Park in Winter Guide!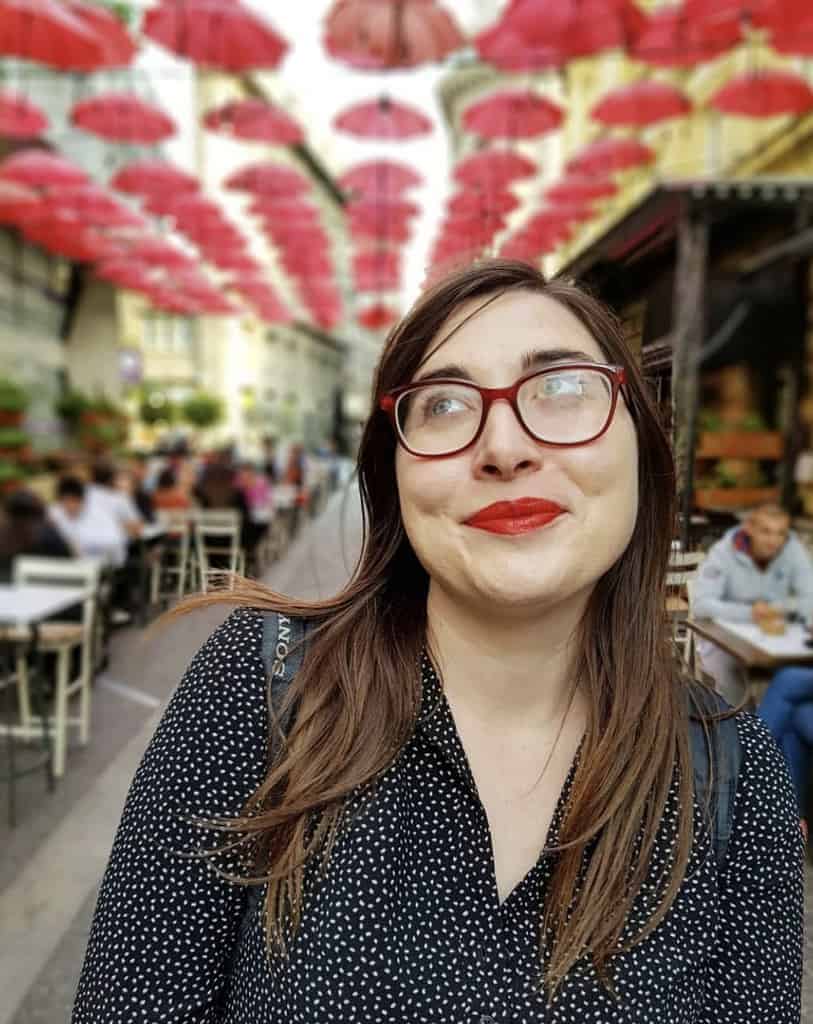 Allison Green is a travel blogger, writer, and podcaster who grew up in the Bay Area of California. She has spent time living in New York, Prague, and Sofia, but has returned to live in the East Bay. She has traveled to 60 countries before the age of 30 while running several digital travel publications. Her writing and podcast have been featured in Forbes, CBC Canada, National Geographic, the Huffington Post, and CNN Arabic, amongst others. She's obsessed with bouldering, houseplants, other people's pets, and anywhere she can see the ocean.