There's no better feeling when the frozen flakes, no two alike, first alight in the sky. When the first ruffles and shakes of trees have brought thin, powdery snow to the ground. When a cup of hot cider warms your hands, then your stomach, then your heart.
If you ever find yourself thinking these thoughts or longing for winter months in California, Big Bear's winter season offers much to do: from free or cheap to a little pricier.
If you live in Southern California and you are looking for a place to get your adrenaline pumping on insane slopes or have a more low-key vacation and rest your feet with a hot cinnamon apple cider, Big Bear in winter is the place to be.
The following activities are some, but by no means all, of the few amazing activities you can expect to do and see during the winter in Big Bear.
Grab a cup of hot cocoa, cinnamon apple cider, or even mulled wine (hey-o!), and enjoy these recommendations.
Where to Stay in Big Bear in Winter
I've done the legwork for you and found several super-cozy cabins and places to stay perfect for a winter trip to Big Bear. Here are my top choices, though you can check the entire post of Big Bear cabins here.
Top Choice: A-Frame With Mountain Views
Note: This post contains affiliate links, which earn me a small commission at no extra cost to you if you make a purchase using one of these links. Thank you for supporting this free content!
4 guests
2 bedrooms (2 beds)
A retreat in nature doesn't get much better than this gorgeous, pet-friendly A-frame Big Bear cabin!
The beautiful living area's large windows offer a once-in-a-lifetime view of Bear Mountain, and guests will be able to warm their bones by the fireplace on colder days.
The décor and furniture are all very tasteful and in perfect harmony with the surrounding nature.
The house also features 3 bathrooms, a large deck with a barbecue meal, ample seating, and a spectacular view of trees and mountains, and even a jacuzzi tub in the master bathroom – you'll be enjoying the scenery through the bathroom window in style!
The loft swing is a beautiful place to relax, and each of the two bedrooms is as elegant as it is comfortable.
The house is located in Moonridge, and Snow Summit, The Village, and just about everything else you could be interested in seeing is only a short drive away.
>>>
Check this Big Bear cabin on Airbnb
<<<
Past guests say:
"Our family just adored this cozy cabin! It exceeded all of our expectations…super clean, well-maintained, fully stocked kitchen, quiet and peaceful neighborhood, etc. We will definitely stay here again!"
Runner Up: The Honey Bear Cabin
6 guests
2 bedrooms (3 beds)
The Honey Bear Cabin takes a decidedly modern approach, and the end result is one of Big Bear's most incredible rental cabins.
Huddle around the fireplace on a chilly winter evening or sit outside by the fire pit – you're guaranteed to be warm and comfortable no matter the time of year.
The combination of elegant furniture and the quintessential hardwood cabin floor and walls make for a beautiful combination, one made even more potent by the incredible forest view from the windows and 2 decks.
Outside, you can fire up a delicious barbecue, go for a scenic hike mere minutes from the cabin, or walk to the lake for the most incredible sunset in all of Big Bear.
The name of the game with this rental is privacy – you'll have great connectivity to plenty locales and landmarks, as The Village is a bit over 5 miles away, all while enjoying a quiet vacation.
>>>
Check this Big Bear cabin on Airbnb
<<<
Past guests say:
"We loved this stay! The location was perfect, quiet area, beautiful cabin with extra special touches."
Runner Up: Bearadise
6 guests
3 bedrooms (3 beds)
The name of this cabin tells you everything you need to know – blending beautiful design and breathtaking landscapes, this A-Frame is one of the ultimate Big Bear Airbnbs.
Thanks to the window and French doors, the entire cabin is drenched in natural light and offers a relaxing view of the yard area.
Between the two floors, 3 heated bedrooms, and 2 bathrooms, everyone gets their fair share of privacy at Bearadise.
You can kill an evening with a good book in the reading nook of the loft, or watch a movie by the wood-burning stove – you're in for a treat either way.
In the back yard, there's plenty of room for everyone to get together and cook up a barbecue and enjoy the clean air.
Best of all, you can hop in your car and get to Big Bear Lake, Boulder Day Park, and Snow Summit in no time at all.
>>>
Check this Big Bear cabin on Airbnb
<<<
Past guests say:
"The cabin was the highlight of our trip, it was beautiful and super quiet. 10/10 recommended!!! The host is super nice and sweet and give very fast response."
FAQ for Visiting Big Bear in Winter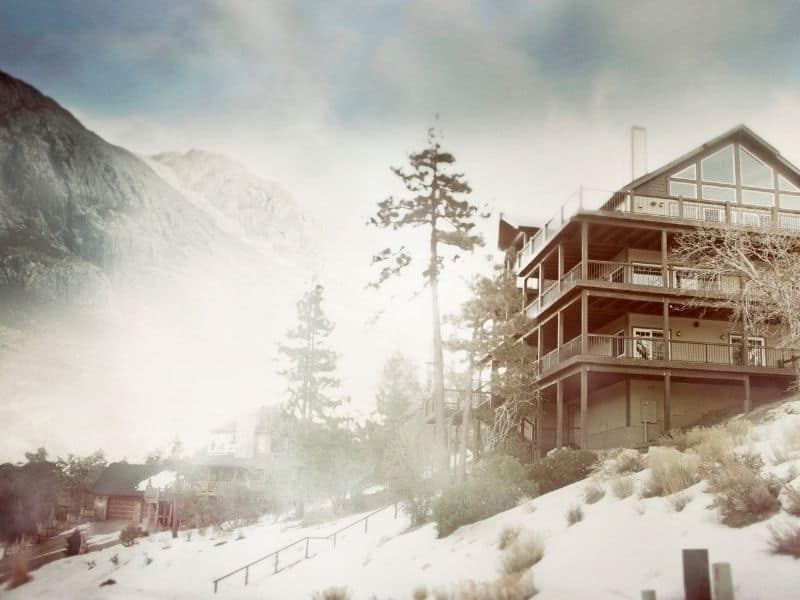 What do I need for Big Bear in winter?
I have a full list of recommended gear at the bottom of the post, but in short: waterproof outerwear like a parka and snow pants, snow boots with Yaktrax or other gripper, a camera, any snow sports equipment, and plenty of winter accessories to keep you warm.
What months does it snow in Big Bear?
Big Bear sees snow throughout several winter months. Generally, it snows between late November and early April, but the peak snowfall is around January and early February. However, note that this is all weather-dependent and climate change has been wreaking havoc on several California snow destinations, so it's hard to say for certain. Late January is probably your safest bet.
What is there to do in Big Bear in winter?
That's exactly what this post will answer, but in short: skiing, snowboarding, snow-shoeing, winter hiking, helicopter and ziplining tours, fishing, shopping, dining, relaxing in cozy cabins and so, so much more!
7 Woodsy Mountain Things to Do in Big Bear in Winter
Hit the slopes for some skiing and snowboarding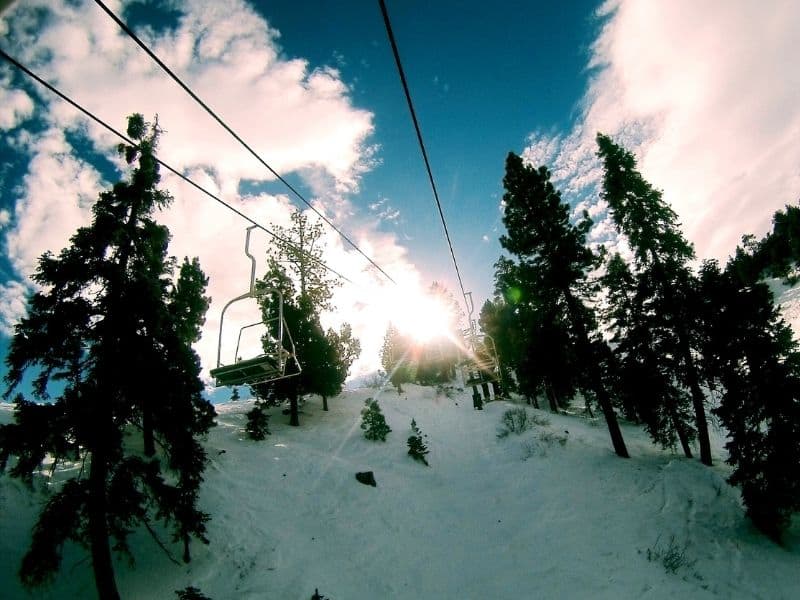 Big Bear is beloved for its outdoor activities during the winter season.
People flock from as close as San Bernardino, California, to as far as Sweden and Switzerland, for a chance to shred the slopes of Big Bear!
Home to 8,400 feet (8,805 feet at its peak) of winter mountain trails, Big Bear Mountain Resort offers skiing and snowboarding on more than 20+ different trails.
With eight ski lifts, a terrain park, two half-pipes, and plenty of backcountry skiing and snowboarding, Big Bear Resort offers unparalleled skiing and snowboarding, all with a laidback, relaxed vibe.
Are you feeling tired of riding at Big Bear Mountain Resort's mostly terrain-park laden slopes?
Take the shuttle bus, which runs every half hour, over to Snow Summit Resort, Big Bear Mountain Resort's sister mountain site.
Boasting 11 lifts and a wonderful chateau for reading, relaxing, and grabbing a brew or bite, Snow Summit is an ideal place for either action and adventure or rest and relaxation — the choice is yours!
Dine somewhere along Big Bear Boulevard's many cozy eateries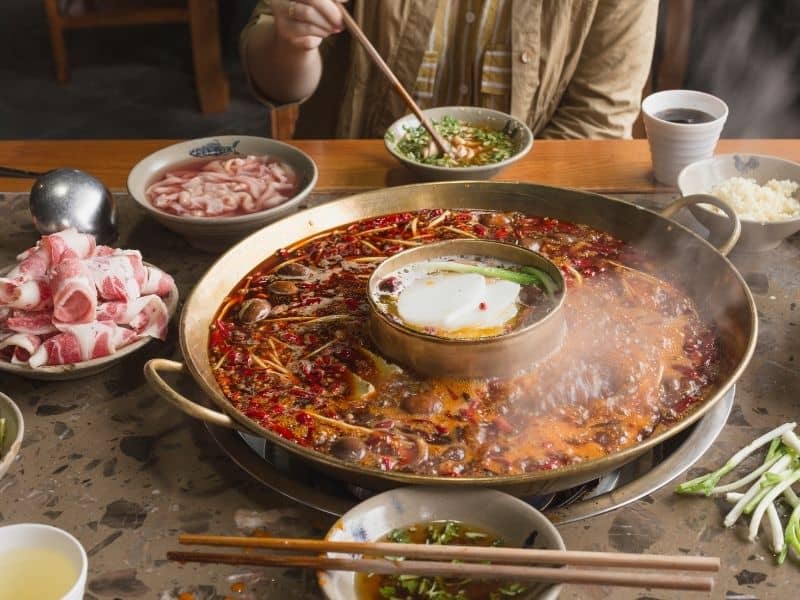 Big Bear Lake is home to a surprising amount of diverse cuisines… we are in Southern California, after all!
If you have an appetite for something great to eat, chances are Big Bear has it.
Whether you are craving Sichuan-style Chinese hot pot (my forever pick), Mexica cantina-style eateries, Texan barbeque, or even home-style comfort food, follow along Highway 18, also known as Big Bear Boulevard, and you are likely to find every type of cuisine you could desire.
Big Bear Boulevard even has a Bowling Barn, complete with a pub, restaurant, and bowling alley, for both the young and young at heart (or in my case, the incurably competitive yet not remotely athletic).
Of course, if you are not feeling like spending a pretty penny or you're dealing with some picky eaters, fast food is also available. With a Pizza Hut, Taco Bell, McDonald's, KFC, and Carls Jr. in town, there is food for everyone on Big Bear Boulevard. Indoor heating is included!
Snow-shoe or hike the many winter trails off Big Bear Lake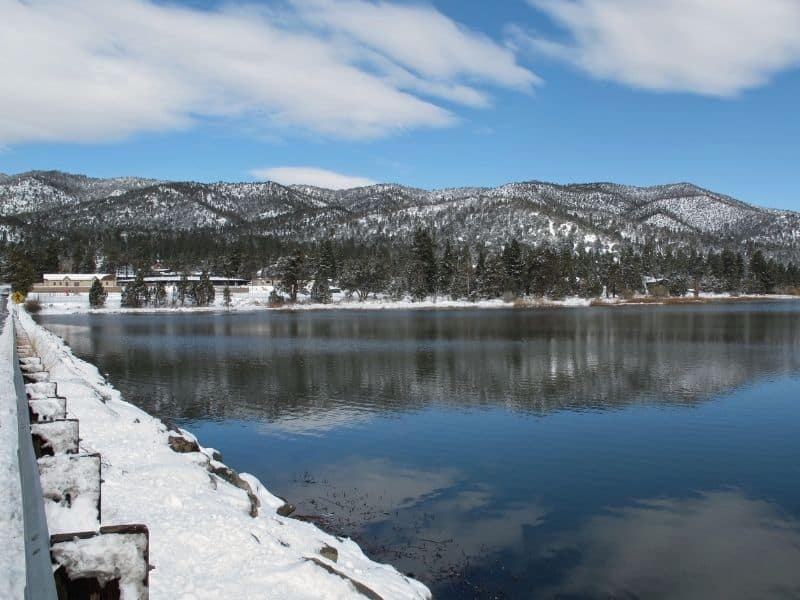 After grabbing a tasty lunch at many of the diverse eateries off Big Bear Boulevard, take a short walk through many of the meandering roads.
Big Bear is a living and breathing mountain trail: the entire city is built at the base of the lake with trailheads leaping up from every corner of the lake.
Most of the mountain hiking trails can be found off Highway 18, such as Pine Knot Trail, but some trails are tucked away in what appears to be residential neighborhoods, in case you are seeking privacy.
With over 20+ well-maintained and trafficked trails, and many other backcountry trails for skilled winter hikers, Big Bear Lake offers unparalleled access to the evergreen trees and large boulders nestled and sprawled across this small country town.
Not a confident snow-shoer, or a bit worried about getting lost? I recommend going with a guide your first time snow-shoeing for added safety, knowledge, pointers, and fun!
Due to elevation, hikers and snow-shoers will want to make sure check conditions, bring plenty of water, and wear sunscreen due to sun exposure and the 8,000-foot elevation at which Big Bear resides (trust me, as someone who's gotten burned many a time in her life, nothing beats a high elevation sunburn!)
Shop in "the Village", Big Bear's premier shopping area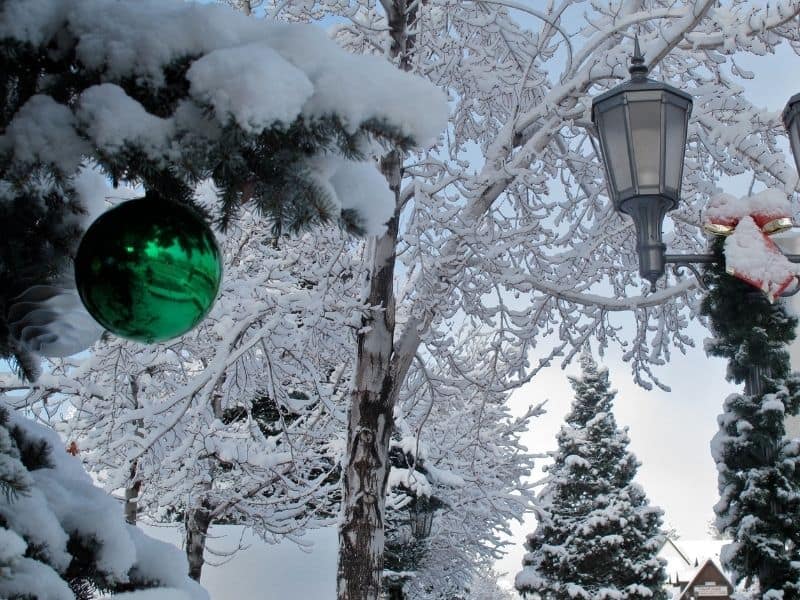 Winter in Big Bear is an ideal place and time to spend with loved ones, especially around the holiday season.
With over 120 local vendors on site, according to Big Bear Lake Village Business Association's website, "the Village" (as locals affectionately call it) is home to splendid antique shops.
These shops sell everything from wood-carved bears and home-made glass-blown artifacts; these are just two tempting souvenirs to bring home for the holidays, which also make fantastic gifts if you're doing some last-minute Christmas shopping.
Check out the Himalayan Handicraft Collection for a great shopping experience learning about Himalayan yak wools, where you can find woolen sweatshirts and beautiful handicrafts from Nepal.
Perhaps you are not interested in shopping for Nepalese souvenirs? Nevertheless, the Village also has experiences a little closer to home.
With a movie theater that plays local films, as well as ice cream shops and great eateries, the Village has some other great places to shop and eat.
If you are looking for a particularly rugged shopping and eating experience, check out Fire Rock Burgers and Brews off Pine Knot Avenue and Big Bear Lake Boulevard. You will find this lively and entertaining eatery at the edge of the Village.
Make your way to the Village for some shopping, and be a part of this lively and fun community full of the best things to do in Big Bear in winter!
Marvel at the skies and the earth at Big Bear Lake Solar Observatory and Discovery Center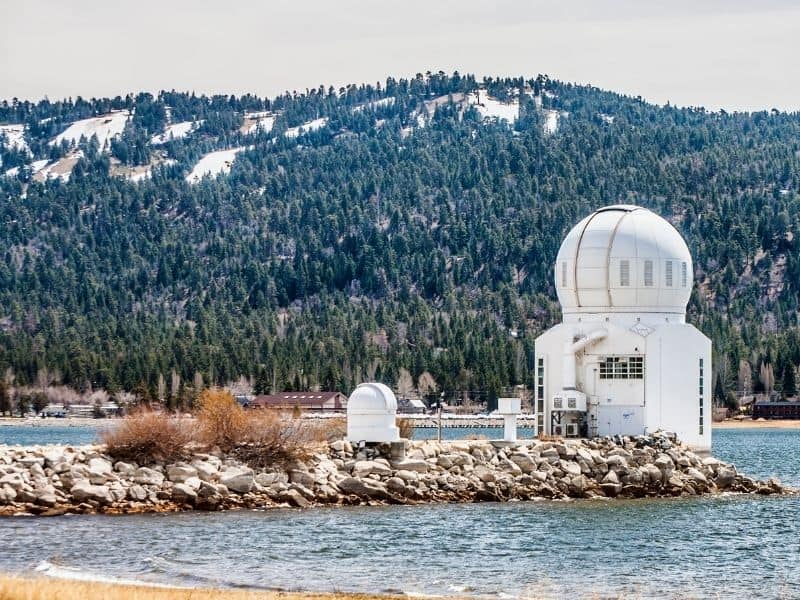 Winter in Big Bear is an excellent time to see the stars and some of the natural wonders of the world.
Just a short 5-mile drive outside of Big Bear Lake's main thoroughfare is Big Bear Lake Solar Observatory in the city of Fawnskin.
Located off Highway 38, Big Bear Lake Solar Observatory offers tours to learn more about the telescopes used to discover and study space weather, solar surface magnetic structures, and other sun and star-related educational information.
Be aware: on the tour, which is part education and part entertainment, participants will find themselves climbing three flights of stairs to the top of the observatory (so it's not ADA-accessible).
For those that are willing and able to climb the three flights of stairs, they will be rewarded with a view of the world from the top of this dome-shaped window to the stars.
In addition, Big Bear Discovery Center, also conveniently located off Highway 38, offers a complete educational experience and access to local trail maps, planning guides, and hikes to nature, trails, wildlife, flora, and fauna located in Big Bear Lake.
Learn more about taking care of our forest in Big Bear Lake's Nature Discovery Zone, a place for children specifically 2-7 years old to discover more about the nature that surrounds Big Bear.
Prep your gear for the start of Big Bear's winter fishing season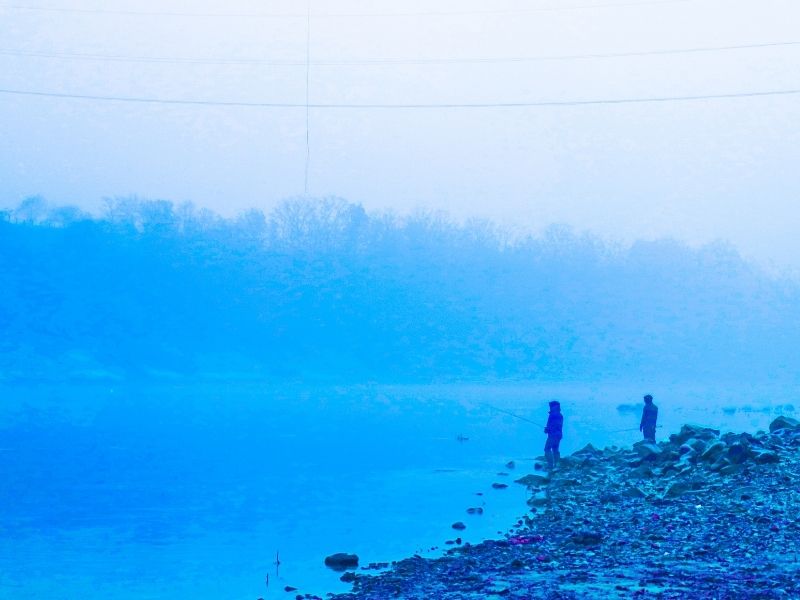 Though it may be cold outside, Big Bear Lake rarely freezes over.
With temperatures hovering around the low to mid-10s to low to mid to high-40s Fahrenheit in the winter, Big Bear's winter fishing season is still in full swing.
Just off North Shore Drive and Highway 18, near the dam that marks the entrance and exit to Big Bear City, is a lightly traveled and sparsely densely populated clearing near the shore of Big Bear Lake. This is a perfect place for fishing thanks to its ample parking and light foot traffic.
When water temperatures are 40 degrees or above, trout and other fish tend to congregate in the waters, so visitors will likely find greater fishing yield in the middle of the day.
Trout tend to be the fish of the season in Big Bear in winter. Visitors will want to layer up, bring a thermos of their favorite hot beverage, and don a water-resistant parka to cover their torso and keep warm. Then, fish away!
Transport yourself through a winter wonderland by jeep, helicopter, Segway, or zipline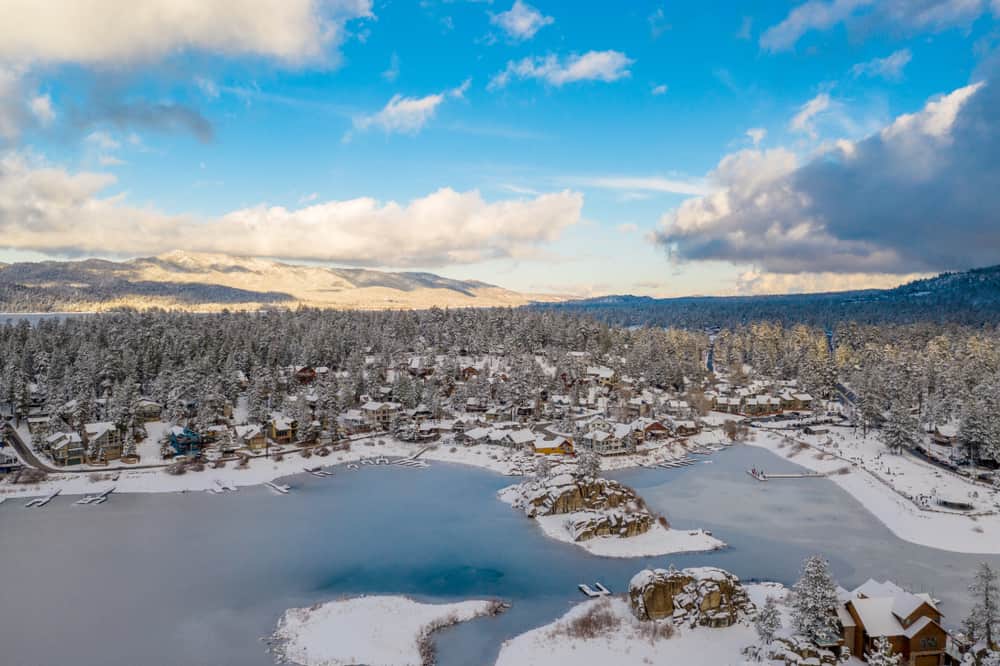 If you want to get a different point of view –literally! — Big Bear offers views of wildlife from the ground, sky, or through the trees.
Take a 4×4 Jeep tour with Big Bear Jeep Experience where you can take a 2-hour tour. Options include a kid-friendly, intermediate, or advanced sight-seeing tour of Holcomb Valley's Mining area or various trails of your choice.
If you are a little more adventurous, take an advanced rock crawling tour, but make sure to hold on to your seat! These trips can be really bumpy!
If you prefer an aerial view, Helicopter Big Bear offers tours seven days a week, including holidays, for seven to 45 minutes of air time. You'll need a reservation, so book online here.
Soar above the San Gorgonio mountain range, the Mojave Desert, and the Santa Ana Canyon among other beautiful locales in the Big Bear region for the best winter views you can imagine. Reservations are needed, so make sure to do a quick search of "helicopter big bear" prior to reserving your trip.
For a more adrenaline-pumping way to see Big Bear, take a zipline through Big Bear! This zip-line tour is a fast-paced way to see the landscape while soaring through the trees.
With more than nine high-flying adventures, visitors can take a look at Big Bear's national forest while coasting through the air at high speeds. Gloves, helmets, harness, and of course, an instructor are included to ensure your safety.
For a more grounded experience, Segway tours are also available for first-come, first-serve reservations.
Winter Tips for Visiting Big Bear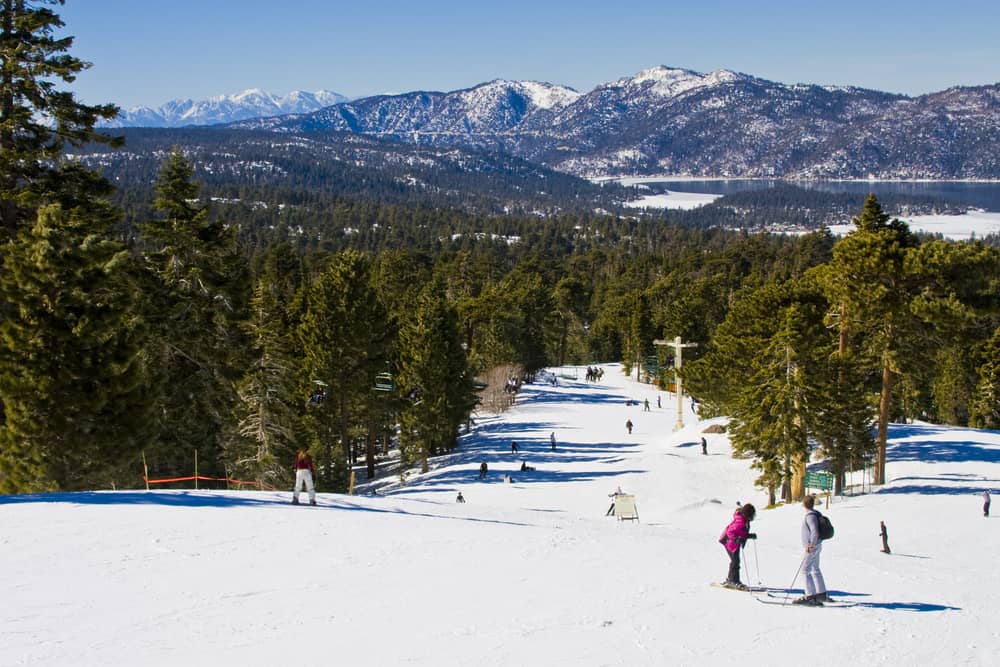 While Southern California is just "down the hill" (as locals say) from Big Bear, it boasts mild 60 to 70-degree Fahrenheit temperatures year-round.
Meanwhile, Big Bear tends to hover between 22 degrees Fahrenheit and 40 degrees Fahrenheit.
Occasional wind tends to pick up at night time, making the temperature hover in the low to mid-teens Fahrenheit, but otherwise, visitors can expect to bring warm shoes, a parka or coat for rain or light snow, and warm gloves and a hat to stay warm.
For visitors coming in to town during the snow season, California's Highway Patrol (CPH) requires visitors to carry snow chains with on the car.
While the CPH does not regularly enforce usage of chains, it's for your own safety. So a day or two after a heavy snowfall, visitors will want to visit their local hardware store to ensure they have snow chains for traction on the road.
These chains may wind up being unnecessary depending on road conditions, but it is always helpful to have a back-up plan, given that the roads may not be salted or cleared off from fresh snow and light ice.
Otherwise, have the time of your life! Winter is beckoning, and you need only drive "over the hill" to find it. Come to Big Bear in the winter, and enjoy the fresh cool air that feels a world away from the forever-summer of Los Angeles!
What to Pack for Big Bear in Winter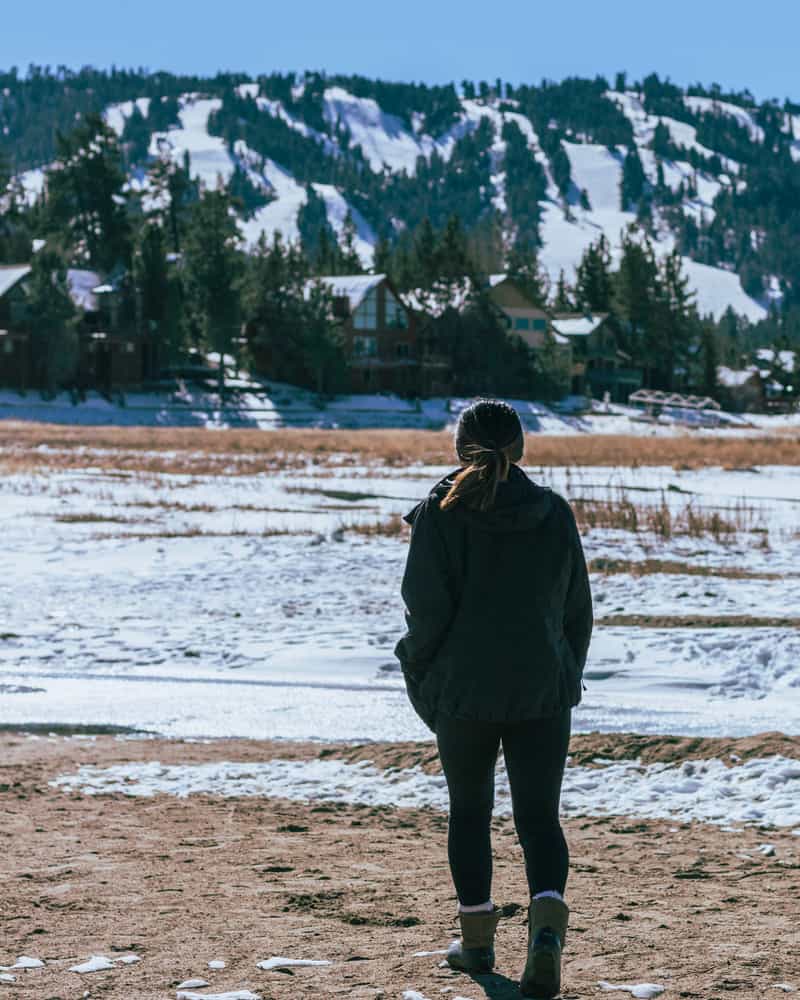 Waterproof Parka: In the snow of Big Bear Lake, you'll want something like this wonderful North Face parka. I've had this one for ten years and it's held up beautifully from everything to biking in NYC in polar vortexes to visiting north of the Arctic circle in Tromso and Abisko and snowshoeing and husky-sledding. It'll certainly do you well in Big Bear in winter!
Waterproof Pants: If you're doing any winter hiking, skiing, sledding, snowboarding, or snow-shoeing you'll want waterproof pants: trust me, jeans or regular pantsjust won't do!
Thermal Layers: Underneath whatever clothes you choose your ear, you'll likely need some thermal layers to keep you warm in the Big Bear winter cold.
Snow Boots: For snow boots, I suggest these cute and cozy Sorel boots, which are waterproof and warm but also have plenty of traction. Add some Yaktrax to the bottom for grip on icy surfaces and pathways when you're navigating Big Bear Village. These are a godsend!
Winter Accessories: No matter what the temperature, winter accessories like a hat, gloves, and scarf are always a good idea! They help you layer and protect your most sensitive parts (ears, head, fingers) from the cold.
Snowshoes: Nearly all trails in Big Bear in winter will require proper snowshoes (different than snow boots!) if you want to do some winter trekking. Exceptions exist depending on the snowfall level, but for the most part, you'll want snowshoes, especially if there's been fresh snowfall.
Camera: You'll want a camera to capture all that California winter beauty! I use and love my Sony A600! It's mirrorless, so it's lightweight and perfect for a high-quality camera that won't weigh your pack down.
Headlamp (and extra batteries): Big Bear in winter can get dark early — and quickly. Bring a headlamp in case any hikes or snow-shoe excursions take longer than expected or if you are planning any sunset hikes. This Petzl headlamp is highly-rated and affordable.
Pin This Winter in Big Bear Guide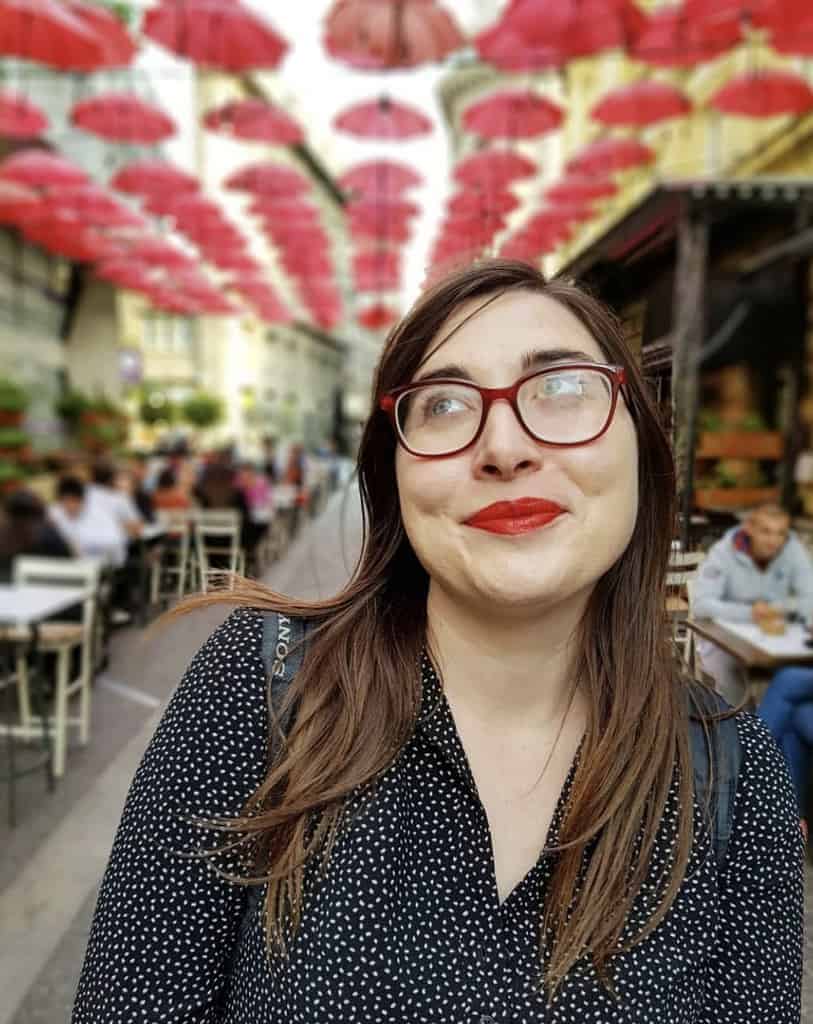 Allison Green is a travel blogger, writer, and podcaster who grew up in the Bay Area of California. She has spent time living in New York, Prague, and Sofia, but has returned to live in the East Bay. She has traveled to 60 countries before the age of 30 while running several digital travel publications. Her writing and podcast have been featured in Forbes, CBC Canada, National Geographic, the Huffington Post, and CNN Arabic, amongst others. She's obsessed with bouldering, houseplants, other people's pets, and anywhere she can see the ocean.