Get out of your winter blues and into the magic of Yosemite! While world-renowned Yosemite is typically a sought-after summer camping destination, there's a special magic to its frost-covered hikes in the winter months.
The scent of pine and freshly-brewed coffee in a Thermos swirling with the morning winter fog on a hike around a frosted peak is the perfect way to satiate that dead-of-winter adventure craving!
If you're looking for a winter getaway that's active and full of beauty, this is your sign to make your way to some wintery Yosemite hikes.
(Just be aware that planning a trip to Yosemite in winter takes some forethought — we have a full guide on how to plan a winter Yosemite trip here!)
Even though quite a few of its famous hiking spots are closed, such as the entirety of the Tuolumne Meadows region, there are still absolutely stunning (and safe) trails to venture up during these colder months.
We're talking hikes to radiant frozen waterfalls, multi-hued peaks, and solemn forests, all under a layer of snow. Best of all, winter hikes in Yosemite are suitable for all different hiking levels and abilities (with the right gear).
Whether you spend a week in Yosemite or just visit on a Bay Area weekend getaway, this guide will help you find the perfect winter hike for your adventuring needs!
The Best Yosemite Winter Hikes
Lower Yosemite Fall
Note: This post contains affiliate links, which earn me a small commission at no extra cost to you if you make a purchase using one of these links. Thank you for supporting this free content!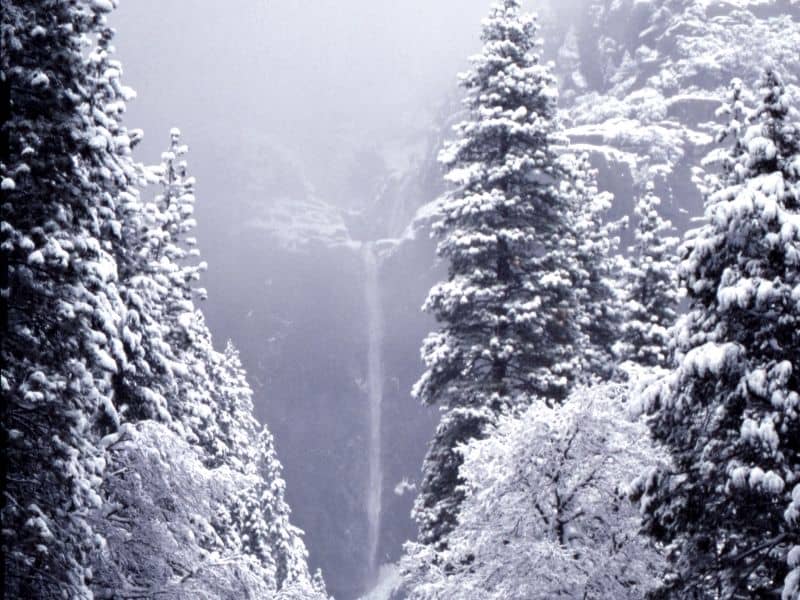 Distance: 1 mile round trip
Difficulty: Easy
Total Elevation Gain: 50 ft
The Lower Yosemite Fall Trail is an extremely accessible way to get a glimpse of the tallest waterfall in North America with the sharp scent of wintery pine thrown in.
If you're looking for a stunning view without the incline, make your way to this spot!
Imagine peacefully wandering through a solemn forest, surrounded by snow-coated trees. The trees part, and you're enamored with a massive waterfall right above you, pouring over the majestic peaks you saw on the drive in.
Note that in winter there should be some water flowing from Yosemite Fall, so long as there as already been some winter rain and snowfall; however, it won't be flowing anywhere near as fast as it will in late spring, at peak conditions!
This flat loop is filled with beautiful forests along the way. It's the perfect hike to start with to avoid extreme ice and stretch your legs out after the long drive in.
Starting at the Valley Visitor Center, you'll find the beginning of the trail at shuttle stop #6. Once you get there, you simply follow the loop to begin your journey towards the majestic falls.
If you only wish to see the waterfall without less hiking, you can simply follow the path clockwise, then turn around once you get there. You'll still get the stunning view, but it will be a lot quicker.
If you prefer a longer hike to absorb the ethereal atmosphere, you can start counterclockwise, or just continue walking past the waterfall. This takes you deeper into the forest and the magic of Yosemite!
The east part of the loop is also wheelchair accessible in the right weather conditions.
Mirror Lake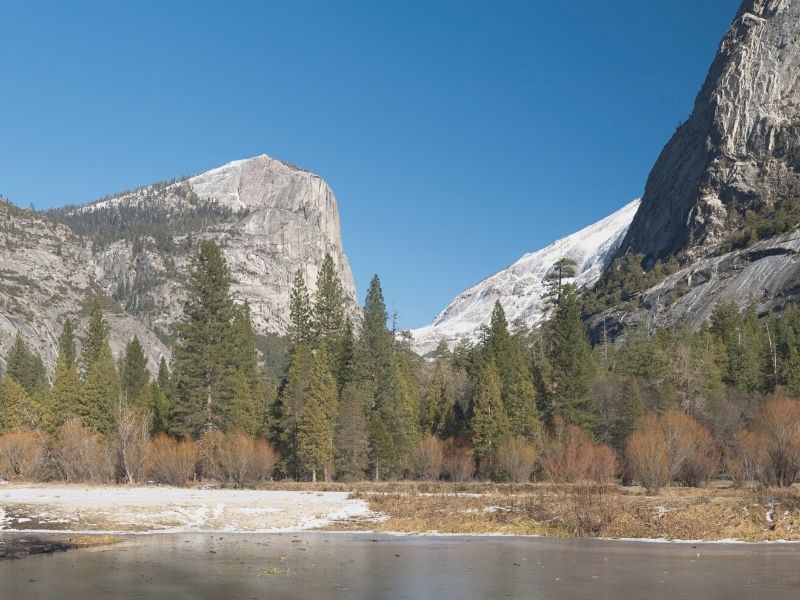 Distance: 2 miles round trip (to and from lake), 5 miles (if you want to hike the loop around the lake)
Difficulty: Easy to moderate, depending on where you turn around
Total Elevation Gain: 100 feet
Mirror Lake is the perfect way to get up close and personal with Half Dome and some of its neighboring peaks.
This hike winds you through dramatic frosty forests, up enough inclines that you'll get a bit of a workout, and ends at the very base of Half Dome.
If the water is not frozen, you'll find it reflected back to you in a clear as crystal lake, but if it's frozen over, you won't quite get the mirror effect.
You can even add on a bonus round by doing an extra loop around the lake, for a longer winter Yosemite hike, soaking in Half Dome in all its majestic winter glory.
This trail starts at shuttle stop #17, otherwise known as Mirror Lake Trailhead. Once you park, you'll stroll down a paved road for about a mile.
Once you reach the end of the paved road, you get to decide whether you want to stop there and take in the magical view or see what else the wilderness has to offer by taking the dirt trail on your right.
This trail will take you even deeper into the solitude of this winter wonderland, drawing you into even more magical forests with glimmers of the peaks peering through.
It leads around Tenaya Creek, over two bridges, and finally brings you back to the start of your breakaway adventure!
Although Mirror Lake dries out during certain years, it is still worth the trek to absorb the wonder of Half Dome from an intimate perspective, even if the "mirror" part of the lake is in name only!
If you want to get into the grit of the environment without the commitment of a treacherous climb, this is the spot for you.
The paved part of this trail is also wheelchair accessible in the right weather conditions.
Artist Point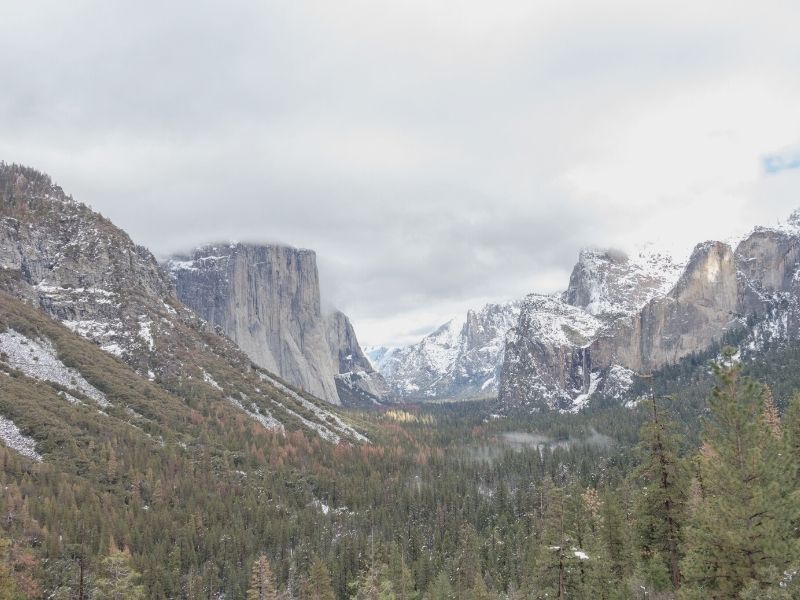 Distance: 2.4 miles round trip
Difficulty: Moderate
Total Elevation Gain: 740 ft
If you're looking for a more adventurous rendition of the popular Tunnel View, this is your place!
Artist Point feels like you're stepping into a picture— you get to be a part of this grand collection of peaks in front of you.
You are part of the magic, entranced by the magnetic power of El Capitan and Half Dome.
Head over to the most likely crowded Tunnel View, park there, then counterintuitively walk in the opposite direction of the view.
There you'll find the trailhead for Pohono Trail, where you can begin this hike.
Start your trek through the solitude of the trees (and possibly snow) and savor the tranquil vibes.
Continue following the trail signs until you reach a parting of the trees to reveal the enchanting peaks spread out at your fingertips.
You can head back smugly knowing you found a secret gem hidden behind the tourists!
Yosemite Valley Loop Trail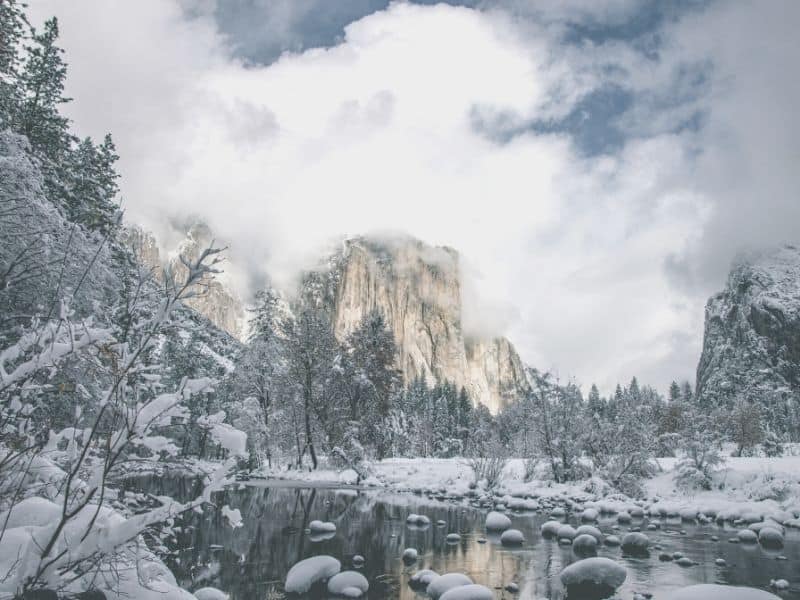 Distance: 7.2 mile half loop or 11.5 mile full loop
Difficulty: Moderate
Total Elevation Gain: Generally level
Imagine entering the heart of Yosemite, getting to soak in the sculpture-like peaks rising around you, surrounded by the most magical scented trees and sparkling snow dancing around you.
This peaceful trail leads you through that exact place, where you can truly take your time meditating on the magic of the forests, valleys, and mountains. It's basically a sampler of all the most iconic spots in the park.
There are many ways to access this trail as you make your wintry drive through Yosemite Valley. Whether you choose to wander onto the path as you please or make it an official hiking destination, you'll find supernatural views.
If you want to intentionally hike this path, make your way towards Lower Yosemite Falls. From there, wander your way west along the bike path.
Eventually, you'll come to signs for the Valley Loop Trail, where you'll begin your adventure.
If you wish to only hike the half-loop (which is equally stunning), stroll across El Capitan Bridge and follow the trail eastward towards Yosemite Village.
Enjoy the solitude as El Capitan rises above you. This majestic peak may just take your breath away.
Continue your journey through sun-lit snow-swept fields framing the stony peaks. You'll soon find yourself in a forest that rivals Narnia with the majestic mountains rising above in multicolored glory.
From this serene space, you should also be able to identify other wonders, such as Bridal Veil Fall, Yosemite Falls, and many others.
You may even get lucky enough to view the warm glow of Horsetail Fall's Firefall from the trail in mid-late February!
If you wish to experience this mystical spectacle, make your way towards Devil's Elbow or the El Capitan Shuttle-Stop #4 around sunset.
Under the right conditions, you'll see the piercing red streams flowing from the east side of El Capitan!
This loop is also wheelchair accessible in the right weather conditions.
Vernal Fall and Nevada Fall Trails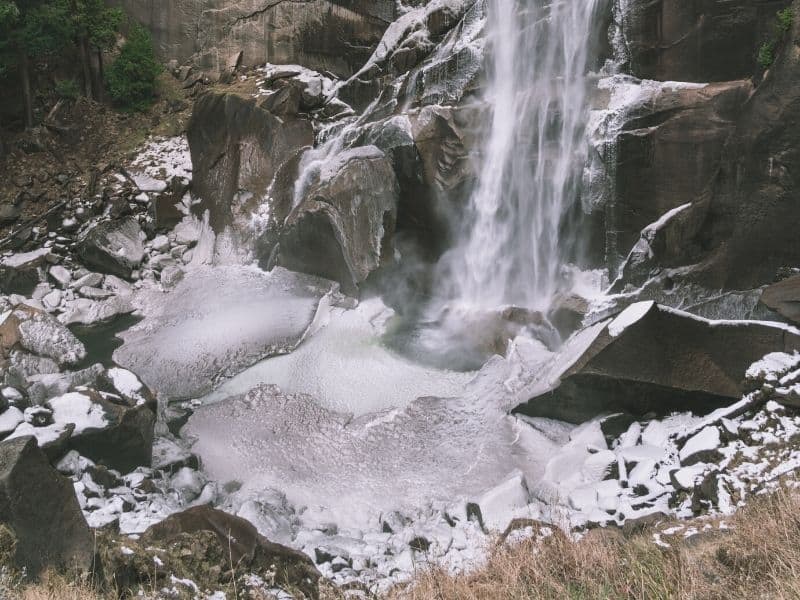 Distance: 7.4 miles (Vernal Fall) or 10.4 miles (Nevada Fall)
Difficulty: Strenuous
Total Elevation Gained 1500 ft (Vernal Fall) or 2000 ft (Nevada Fall)
If you're a more experienced hiker looking for a wintry challenge, the Vernal Fall and Nevada Fall Trails are the perfect picks! Get ready for a great workout in an atmosphere that rivals the Alps.
Also known as the Mist Trail to John Muir Trail, this iconic hike goes up icy ridges and snowy cliffs, providing dramatic views of overflowing waterfalls.
Although the icy scenery is stunning immaculate, do note that parts of the trail are closed during the winter due to its dangerous conditions.
If you still want to embody your inner adventurer spirit and brave the ice and snow, start off on the John Muir Trail until you reach a fork at Clark Point.
The right fork to continue along the JMT is gated shut. From here, you'll continue on your otherworldly hike on the left fork until you hit the Mist Trail junction. From there, you have two options.
You can either turn left, following this path to the dark cliffs of Vernal Falls, or you can turn right to view the icy sheets of Nevada Falls.
If you're feeling especially in your hiker zone, you can check out both! Either way will transport you to a magical winter haven.
Please note this hike is not for the faint of heart. Be sure to check out the regulations, recommendations, and closures on nps.gov before embarking on this journey.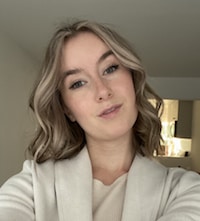 Kalyn is a writer, editor, and travel addict. She gets her inspiration from venturing deep into the grandeur of the California wilderness. When not working on her latest piece, she can be found chasing sunrise at a national park, practicing yoga, or learning about spiritual formation.