Yosemite National Park in the Sierra Nevada Mountains is a beautiful place to visit no matter the time of year, and a winter getaway to Yosemite is no exception.
From high alpine hiking to amazing scenery, Yosemite is a dream come true for outdoor-loving people, and it's not a surprise that Yosemite figures high on many USA national park bucket lists!
I used to live and work in Yosemite National Park, and I'm still yearning for the park's majestic snow-peaked mountains and rushing waterfalls.
Having worked in Yosemite year-round, I can attest that winter in Yosemite is a particularly unique and awe-inspiring time!
There is an amazing amount of things to do in Yosemite in winter, from snowshoeing to cross-country skiing to winter hikes.
Yet nothing beats the quiet stillness of simply observing the beauty of the park that the snow brings: the marvel of viewing a frozen waterfall or a snow-capped sequoia.
First things first, let's get you prepared for your adventure!
A Brief History of Yosemite National Park
Note: This post contains affiliate links, which earn me a small commission at no extra cost to you if you make a purchase using one of these links. Thank you for supporting this free content!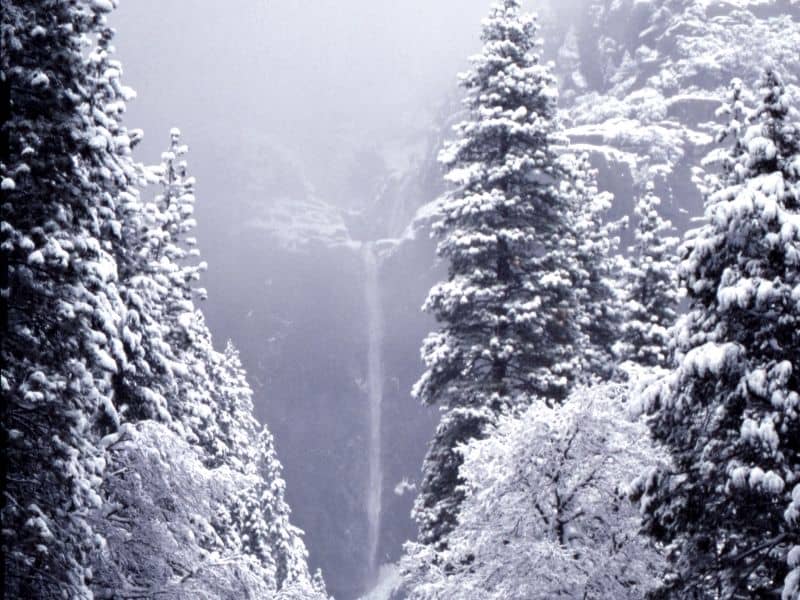 The area we now know as Yosemite is brimming with a rich history from its original Native American inhabitants (the Ahwahneechee tribe).
The Ahwahneechee Native Americans are thought to have lived in the Yosemite Valley area for over 7,000 years.
NPS historians believe that the Ahwahneechee tribe were a branch of the Miwok tribes which were found in what is now called the greater Bay Area.
The Ahwahneechee also interacted and intermarried with Mono and Paiute tribes who lived further east.
The National Park Serviced forced the Ahwahneechee off their land when it became a national park in 1890. By 1935, the Ahwahneechee were completely resettled from the Yosemite Valley and threatened with legal action and fines if they moved back into their ancestral lands.
When visiting Yosemite, treat it both with reverence and with awareness that you are visiting stolen land.
Weather in Yosemite in Winter
When visiting Yosemite in winter, keep in mind that Yosemite Valley is located at 4,000 feet above sea level, so you're a lot more likely to experience winter storms, heavy snowfall, and temperatures below freezing.
We recommend waterproof outer layers such as a waterproof jacket and , as well as warm socks, a beanie, multiple layers, sturdy boots, and gloves.
You may also want to bring snowshoes, skis, or a snowboard, though gear rentals are also available. Also, be cautious and always remember trails are icier in the early morning and evening.
Best Time to Visit Yosemite in Winter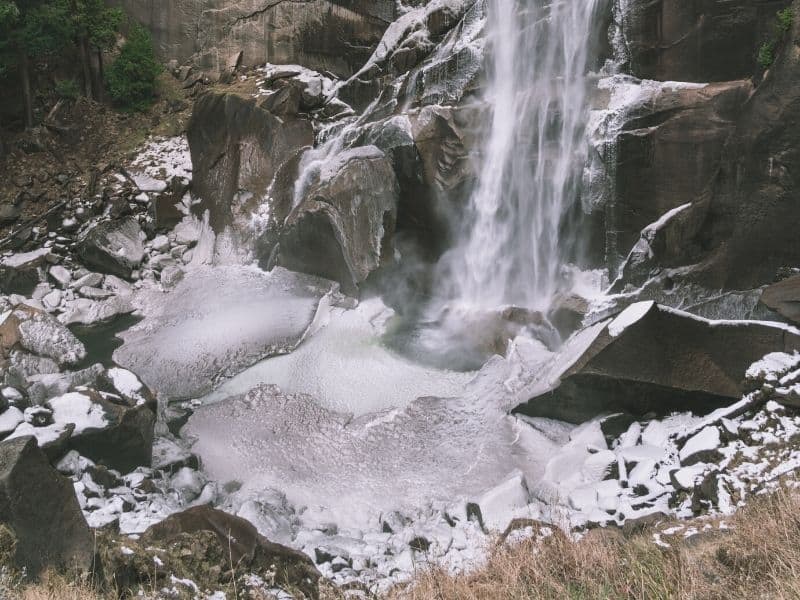 Is December a good time to visit Yosemite?
December in Yosemite is an excellent time to visit the park, as there is a lot of wintry holiday activities ranging from ice-skating to snowshoeing and more.
Christmas in Yosemite is a particularly festive time! The lodges are usually quite decorated for the holiday season and so you can really get into the holiday spirit when you visit Yosemite in December.
Is January a good time to visit Yosemite?
January is a great time to visit Yosemite if you want to visit after the Christmas and New Year's rush.
You'll experience lower prices, a calmer atmosphere, and winter scenery in the park, though a bit of the festive atmosphere will be gone. January in Yosemite is definitely cold, but it is beautiful and peaceful!
Is February a good time to visit Yosemite?
February is a fantastic time to visit Yosemite for many of the same reasons as January: fewer crowds, lower prices, and still plenty of beautiful winter scenery.
In mid-February, you may get to see the famous "Fire Fall" when Horsetail Fall lights up like a beautiful waterfall of fire as the sun's rays light it up.
What to Pack for Winter in Yosemite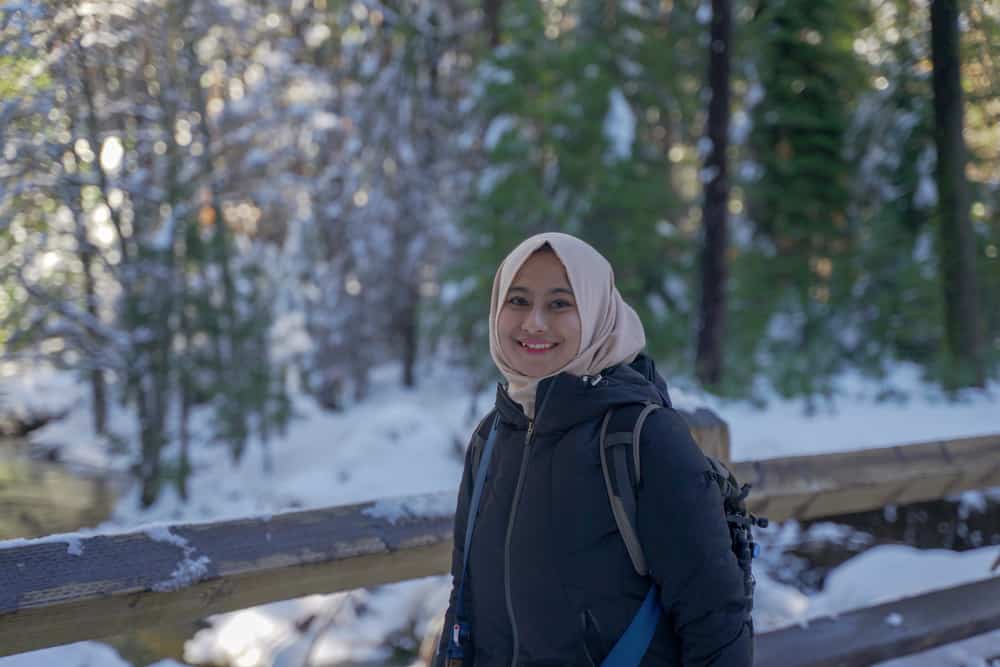 Waterproof Parka: In the snow of Yosemite, you'll want something like this wonderful North Face parka. I've had this one for ten years and it's held up beautifully from everything to biking in NYC in winter to visiting north of the Arctic circle in Tromso and Abisko. It'll certainly do you well in Yosemite in winter!

Waterproof Pants: If you're doing any winter hiking, skiing, sledding, snowboarding (basically, anything more intense than just checking out viewpoints you can drive to) you'll want waterproof pants: trust me, jeans just won't do! 
Thermal Layers: Underneath whatever clothes you choose your ear, you'll likely need some thermal layers to keep you warm in the Yosemite winter cold.
Snow Boots: For snow boots, I suggest these cute and cozy Sorel boots, which are waterproof and warm but also have plenty of traction. Add some Yaktrax to the bottom for grip on icy surfaces and pathways. These are a godsend!
Winter Accessories: No matter what the temperature, winter accessories like a hat, gloves, and scarf are always a good idea! They help you layer and protect your most sensitive parts (ears, head, fingers) from the cold.
Snowshoes: Nearly all trails in Yosemite in winter will require proper snowshoes (different than snow boots!) if you want to do some winter trekking. Exceptions are paved low-elevation areas like Lower Yosemite Falls Trail, but for the most part, you'll want snowshoes, especially if there's been fresh snowfall.
Camera: You'll want a camera to capture all that California winter beauty! I use and love my Sony A600! It's mirrorless, so it's lightweight and perfect for a high-quality camera that won't weigh your pack down.
Headlamp (and extra batteries): Yosemite in winter can get dark early — and quickly. Bring a headlamp in case any hikes take longer than expected or if you are planning any sunset hikes. This Petzl headlamp is highly-rated and affordable.
Road Closures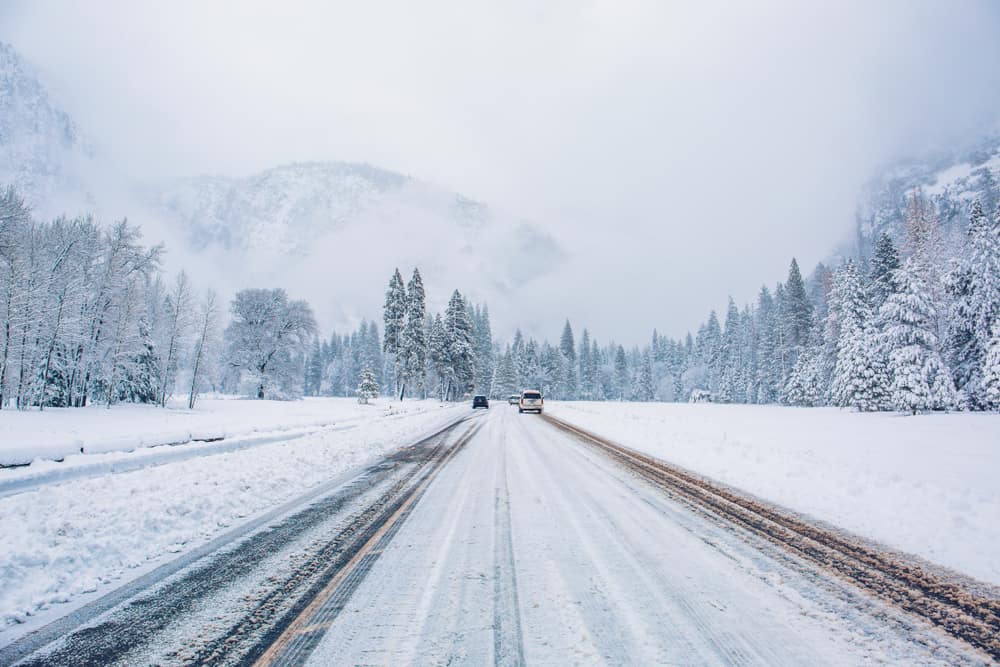 There are road closures to consider when planning a winter trip to Yosemite, as not all sites are accessible in winter in Yosemite National Park due to the high elevation and heavy snowfall.
Tioga Pass (aka Tioga Road) is always closed for the winter and does not reopen until spring. This means that the entire Tuolumne Meadows area is inaccessible until the road reopens.
Glacier Point Road also closes, usually at some point in November. It closes at Badger Pass Ski Area. For 2022, Glacier Point Road will be closed all year for maintenance work.
Mariposa Grove Road is closed to all but those with disability access placards (this is a year-round closure, not a winter-related closure).
However, you can park at the Mariposa Grove Welcome Center and walk 2 miles into the Mariposa Grove. Keep in mind this is tougher in winter!
Check the Yosemite National Park Service page for up to date road closures and alerts. The free shuttle runs all year round (when not impacted by Covid-19).
Typically, the following roads are open year round unless snowfall creates hazardous road conditions: Wawona Road (Highway 41), El Portal Road (Highway 140), Big Oak Flat Road (Highway 120), and Hetch Hetchy Road (between 8 AM and 5 PM).
Note: You should also bring tire chains and know how to use them! Snow chains are often required on all Yosemite roads, weather depending.
Is it Worth Visiting Yosemite in Winter?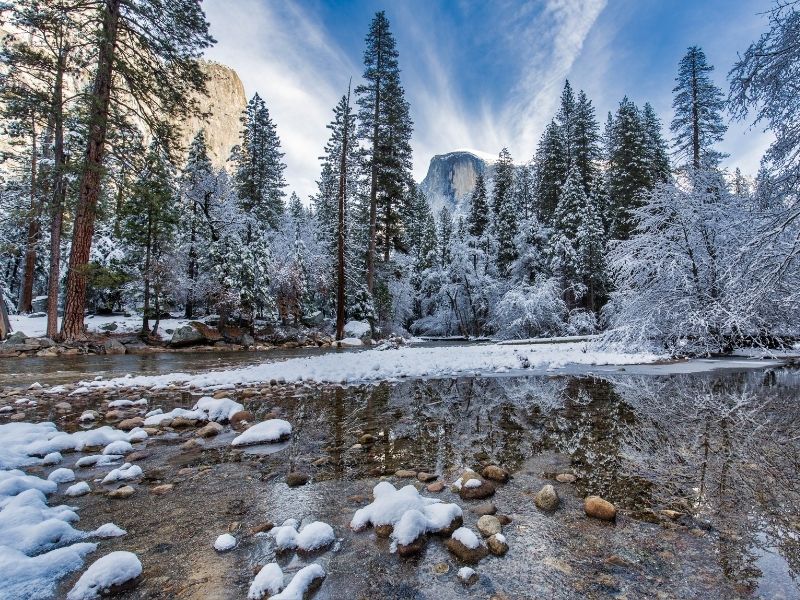 Despite these road closures, there are still many great Yosemite winter adventures at your fingertips, so don't be put off from a winter road trip to Yosemite!
The road into Yosemite Valley is typically always open, and there is not always much snow on the valley floor.
Also, snowplows regularly sweep the roads of the valley and Wawona area. So, here are some spots to check out.
Best Spots for Hiking in Yosemite in Winter
Snow Creek Trail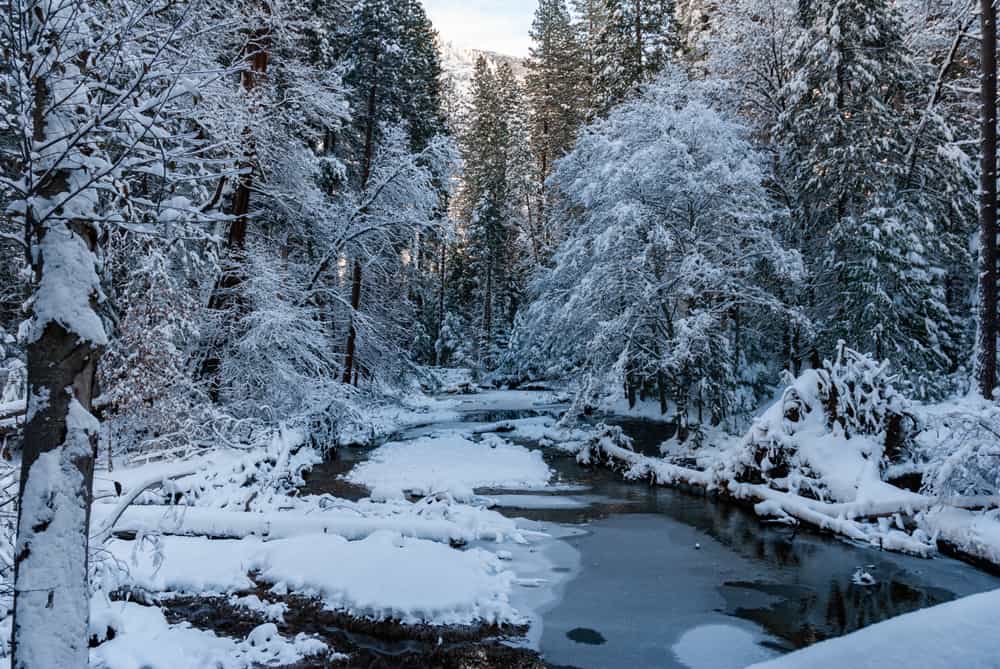 For experienced winter backpackers, check out Snow Creek Trail.
There are limited backpacking options in Yosemite for the winter season, so this is a great choice. It is 9.4 miles of difficult hiking. You'll definitely want to bring snowshoes.
There is no water available on this trail so bring plenty with you. Also, bear canisters and wilderness permits are always required in Yosemite.
In addition to that, this trail is a bit more treacherous than other trails accessible in the valley. It has some drop-offs and is very steep in parts. So watch those ankles and stay alert.
It is an amazing hike that rewards one with views of Half Dome, Clouds Rest, and Quarter Domes. Access to the trail is via Mirror Lake Trail (shuttle stop #17).
Lower Yosemite Falls Trail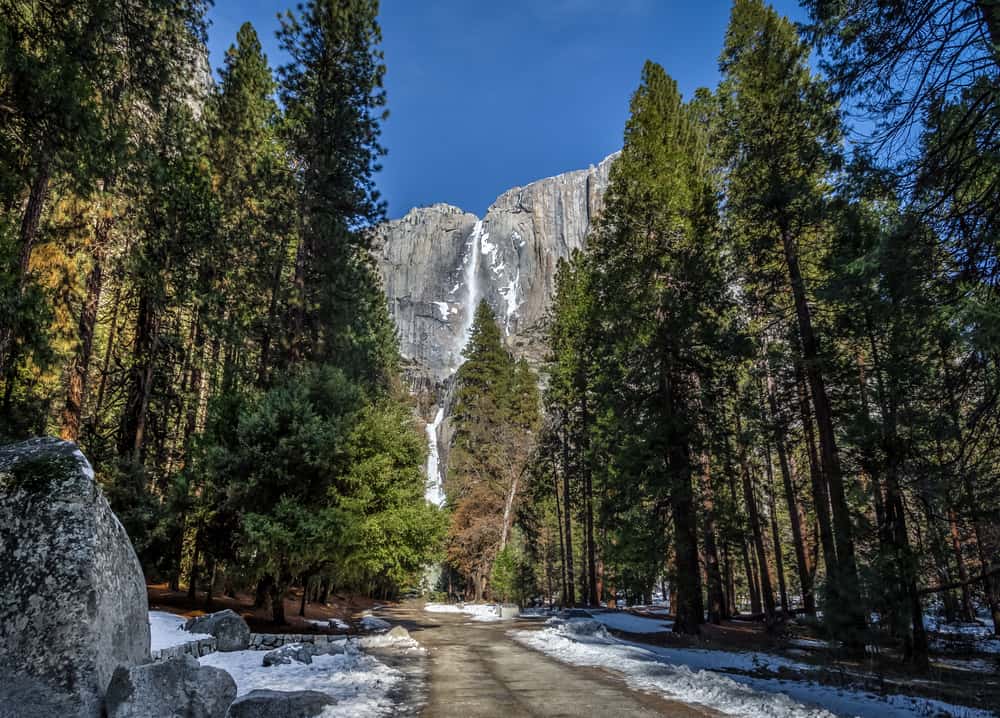 Another great stop is the Lower Yosemite Falls trail.
It is easily accessible even in the winter months in Yosemite since it is paved and often plowed, and it has water flowing throughout much of the winter season.
Sometimes it will be a trickle or, after snowfall, a bit more of a flow. You can see the current flow status on the NPS Webcam.
Columbia Rock and Upper Yosemite Falls Trail
Even just a hike up to Columbia Rock, just 1 mile up (2 miles round trip), is a great choice with excellent views.
Or, if you're an experienced winter hiker, you can climb the 7.2-mile round trip hike to the top of the falls via the Upper Yosemite Falls trail.
The bottom of the trail gets sunlight during the day so it is often free of snow and ice.
As you climb higher, however, this is not so, so you'll want to be careful and wear appropriate footwear for the hike.
Yosemite Falls trail is accessible at Camp 4 (the rock climbers camp).
Valley Loop Trail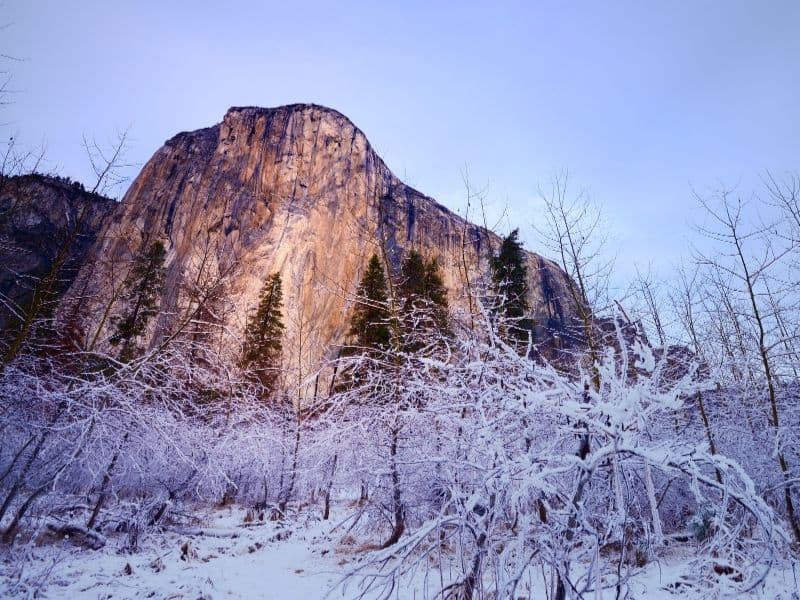 From Camp 4, you can also access the Valley Loop Trail.
It is 11.5 miles round trip for the full loop, or 7.2 for the half loop. Keep in mind that this trail can be snowy and icy!
Bring those snowshoes (rentals available) and remember that route finding can be difficult in the snow.
Vernal Falls and Nevada Fall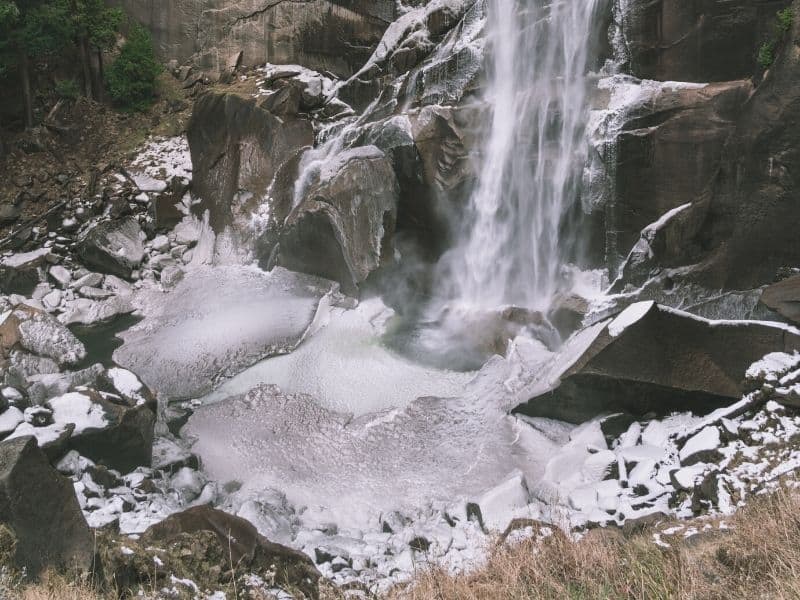 Another winter hike option is the hike to Vernal Falls and Nevada Fall. However, the route that takes the Mist Trail up is not open year round.
You'll have to reroute like this (see NPS website) to access the top of Nevada Fall.
Where to Stay in Yosemite in Winter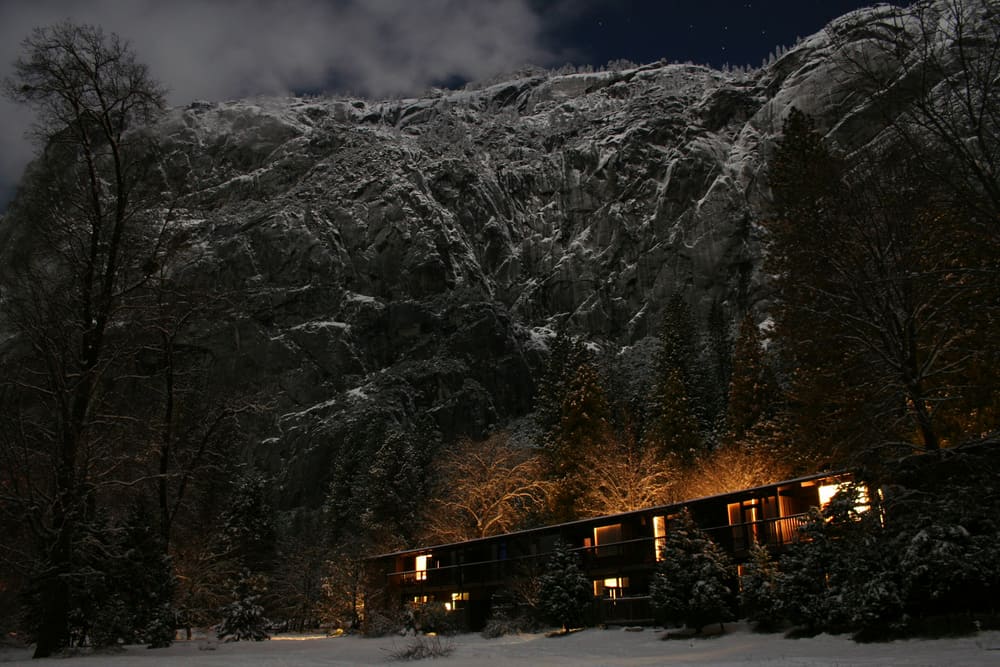 In addition to these hikes and others, there are great lodges to stay in, plus heated canvas tents and cabins.
Yosemite Valley Lodge is a wonderful choice for where to stay on a Yosemite winter trip — if you can book it. Rooms book up quickly, so book it in advance.
Every single room has a balcony with sweeping Yosemite views, perfect for enjoying a cup of coffee with epic winter scenery stretched out in front of you before starting your day. A restaurant, bar, lounge area, 24/7 reception, ATM, and free WiFi are all located on-site.
Check details and book your stay at the Yosemite Valley Lodge early, before it sells out!
The Ahwahnee is a great choice if you're looking for a little more luxury during your stay — this is a 4-star hotel right in Yosemite National Park! It also sells out early, so book it well in advance.
On-site, there is an incredible restaurant, gorgeous views of Half Dome right out front of the door, a trail behind the hotel that brings you right to Mirror Lake, and a giant fireplace to lounge in front of at night when the temperatures drop — making it one of the coziest Yosemite winter accommodation options.
Curry Village is a great choice for those on a budget. Here, your choices are cabins and canvas-wall tents to stay in, if a pricier lodge is out of your budget. Stay in the heated cabins or canvas wall tents at Curry Village.
Book those in advance as these sell out quite quickly too — frankly, as does everywhere in Yosemite (in winter, too!), with 3 million visitors a year and limited accommodations!
When is the "Fire Fall" in Yosemite?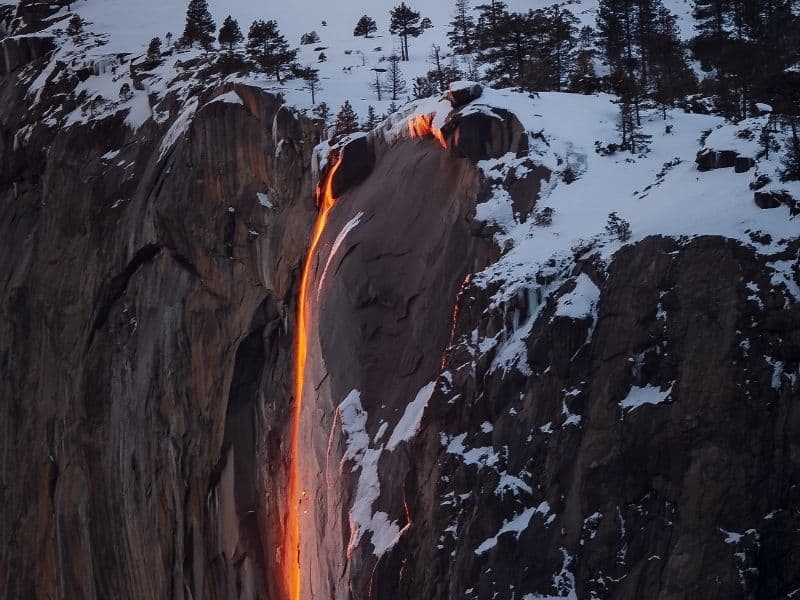 Another hike available near Yosemite Falls trail is the opportunity to view Horsetail Fall which only flows in winter.
It is 1.5 miles to the El Capitan picnic area where you will find the viewing area. For the most epic experience of Horsetail Fall, visit in mid-to-late-February.
This is when you can expect to see the "fire fall". The setting sun lights up the fall so it appears to be on fire. It is absolutely stunning.
Other Things to Do in Yosemite in Winter
Ice Skating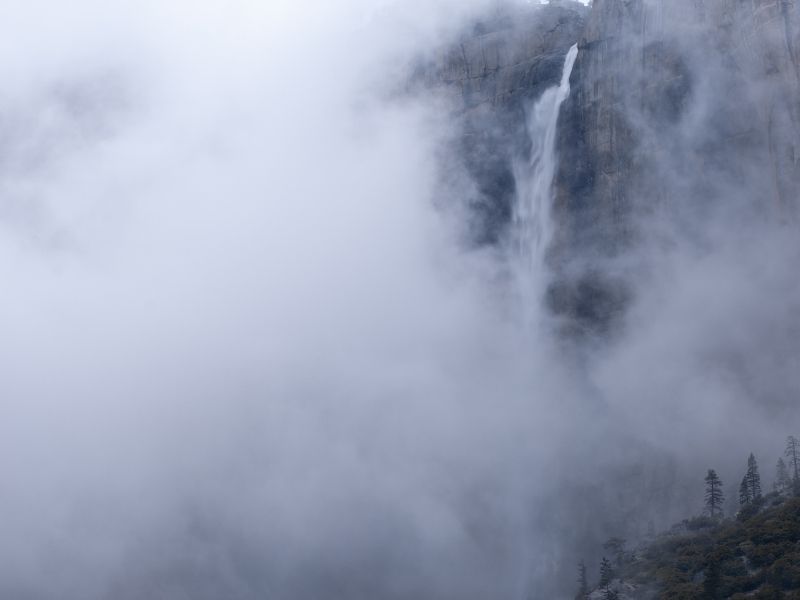 Be sure to check out Half Dome Village Ice Skating Rink when visiting Yosemite in winter!
This is an incredible Yosemite winter activity option, as where else can you enjoy the privilege of skating with views of Half Dome?
Skate rentals are available and they have fire pits to warm up by. Also, it is open at night for a lovely time under the twinkling lights!
Skiing and Snowboarding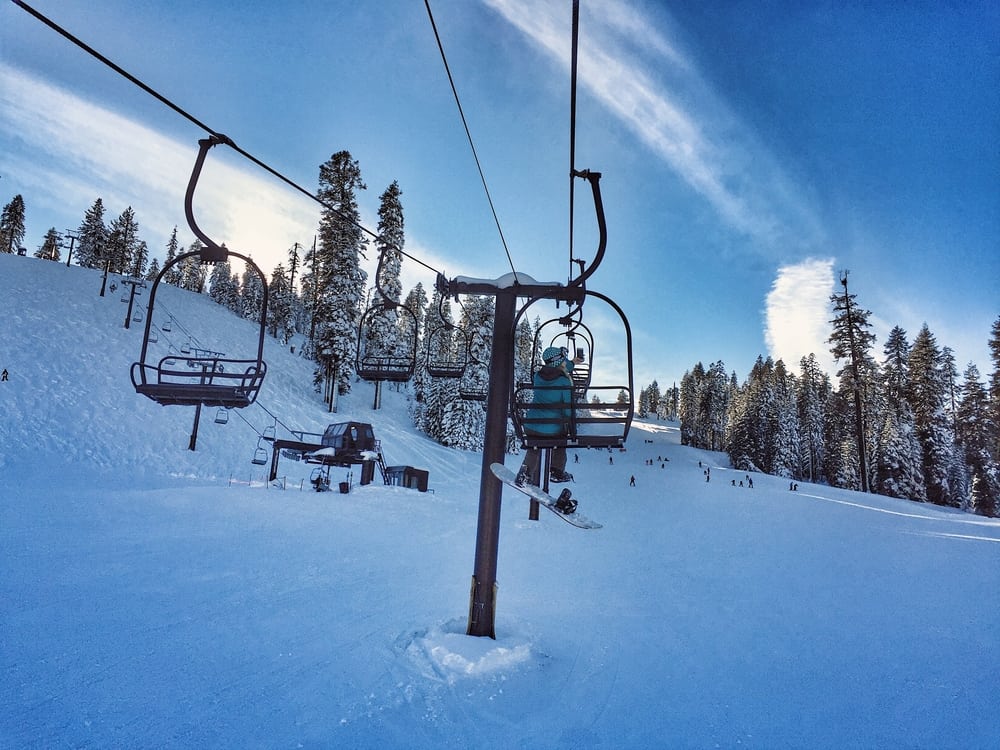 You can also head to Badger Pass Ski Area to ski and snowboard at Yosemite Ski and Snowboard Area.
It is a small snow park with intermediate and beginner slopes which you can access via a chairlift, plus snow tubing and snowshoeing.
This is one of the few places in the park that you can enjoy downhill skiing, so if you're a skier, you'll want to bring your gear!
Read here for more information on Badger Pass Ski Area.
Another great snow play area is the Crane Flat Snow Play Area which is located off of Big Oak Flat Road (near where people driving from San Francisco would enter the park).
Cross-Country Skiing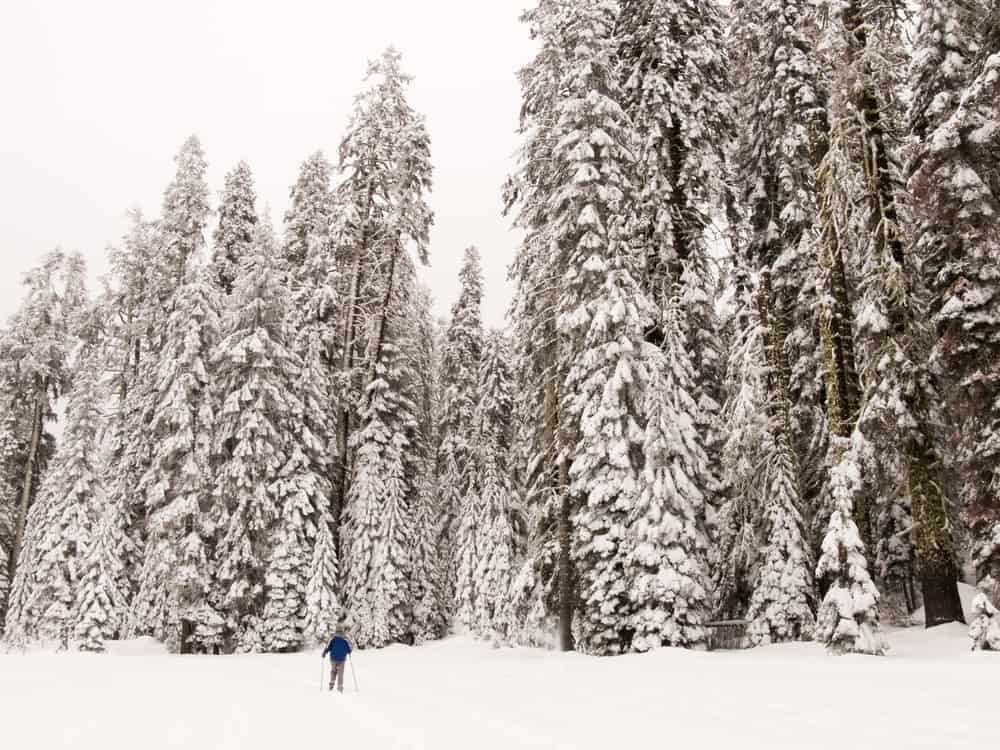 For those wanting to cross country ski, try the well-maintained route from Yosemite Ski and Snowboard Area up to Glacier Point, 21 miles round trip.
There is a ski hut at Glacier Point for you to warm up in with some food or hot chocolate. Many choose to stay at the Glacier Point Ski Hut overnight for this trip.
Make reservations early as it fills up quick!
For those with advanced backcountry skiing or snowboarding skills, you can also up the ante and head to the Ostrander Lake Ski Hut. This is a great location with a stone hut built in 1943.
It is alongside Ostrander Lake and wonderfully picturesque. Spots are extremely limited with reservations available by lottery only. If selected, you will sleep in one of 25 bunk beds – no luxury here, but it's well worth it for the views!
Museums and Yosemite Chapel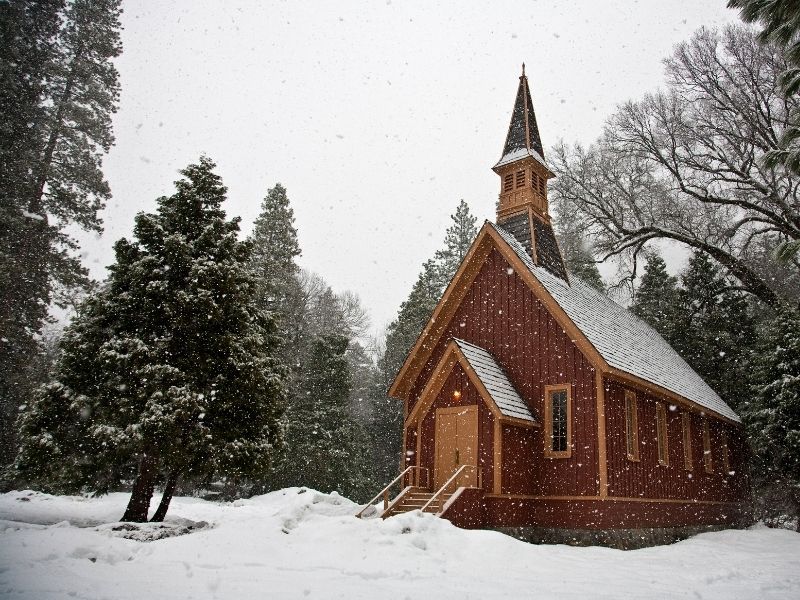 The museums of the park are open in winter and are a great place to warm up if you're feeling chilly!
Head to the Ansel Adams gallery or the Yosemite Visitor Center exhibits, among others.
Don't miss the Yosemite Chapel as well — it's especially beautiful when it's covered in snow!
Tunnel View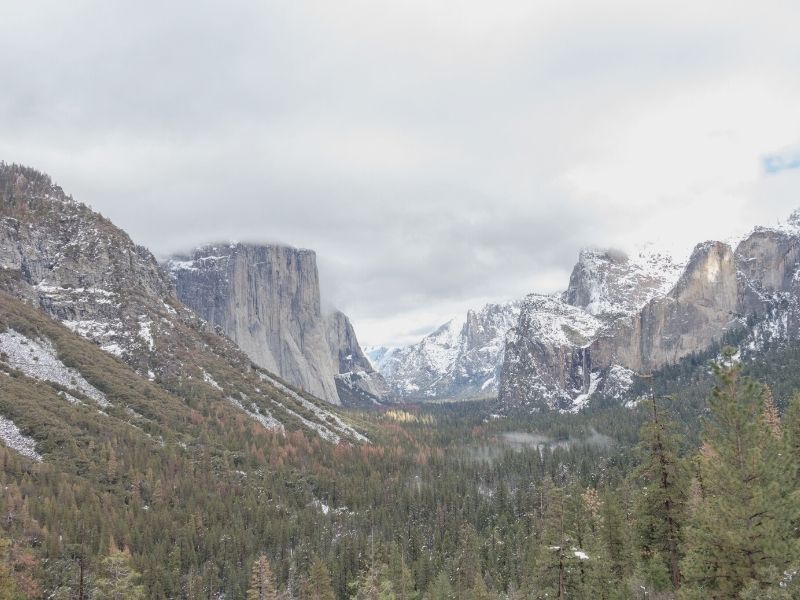 ​While many winter hikes in Yosemite are rather treacherous except for experienced winter hikers, the park does have many scenic overlooks that require very little hiking or walking at all.
Tunnel View is one such overlook, where you'll get a gorgeous panoramic view of the park without the hike!
Mariposa Grove in Winter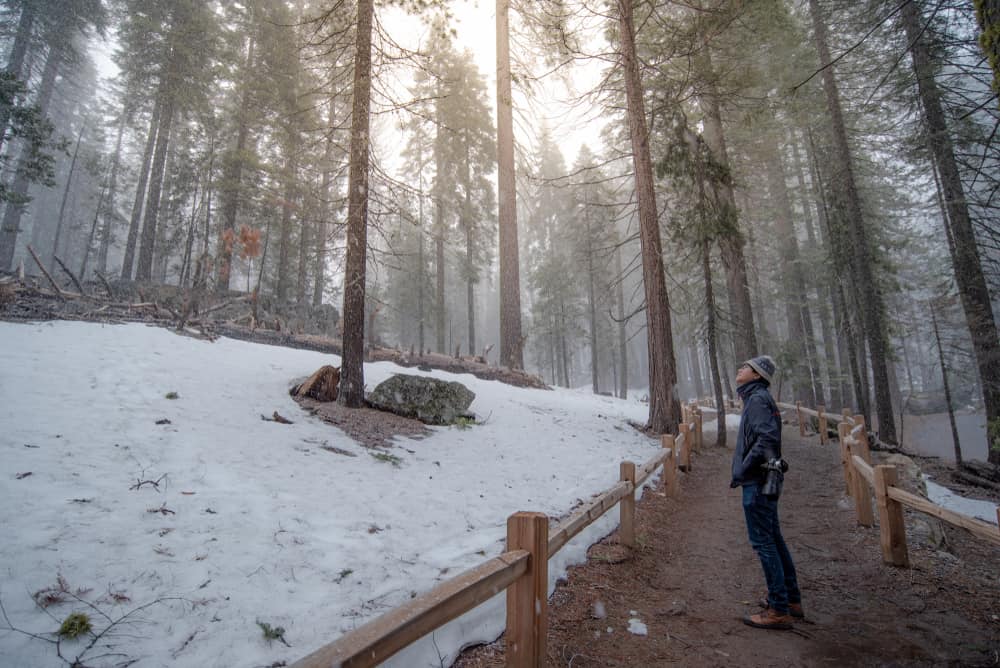 In addition to these wintry Yosemite Valley area activities you can also head to the Mariposa Grove of Giant Sequoias.
Mariposa Grove Road is closed to vehicles except those displaying disabled parking access placards.
However, you can park at the small parking lot at the south entrance (or take the shuttle from the valley) and snowshoe or ski the 2 miles in.
It's absolutely worth the extra effort to view the massive sequoias. They are the largest trees by volume in the world and among some of the oldest trees in the world! It's hard not to feel reverent amongst these giants.
The Mariposa Grove has the famed "California Tunnel Tree", as well as, "Fallen Monarch", and the 3000-year-old "Grizzly Giant". They used to allow cars to drive through the "California Tunnel Tree", but now it's foot traffic only.
There are a few options for hikes in the Mariposa Grove. Do the Big Trees Loop (.3 mi.), Grizzly Giant Loop (2 mi.), Guardians Loop (6.5 mi.) or Mariposa Grove Loop (7 mi).
Winter Camping in Mariposa Grove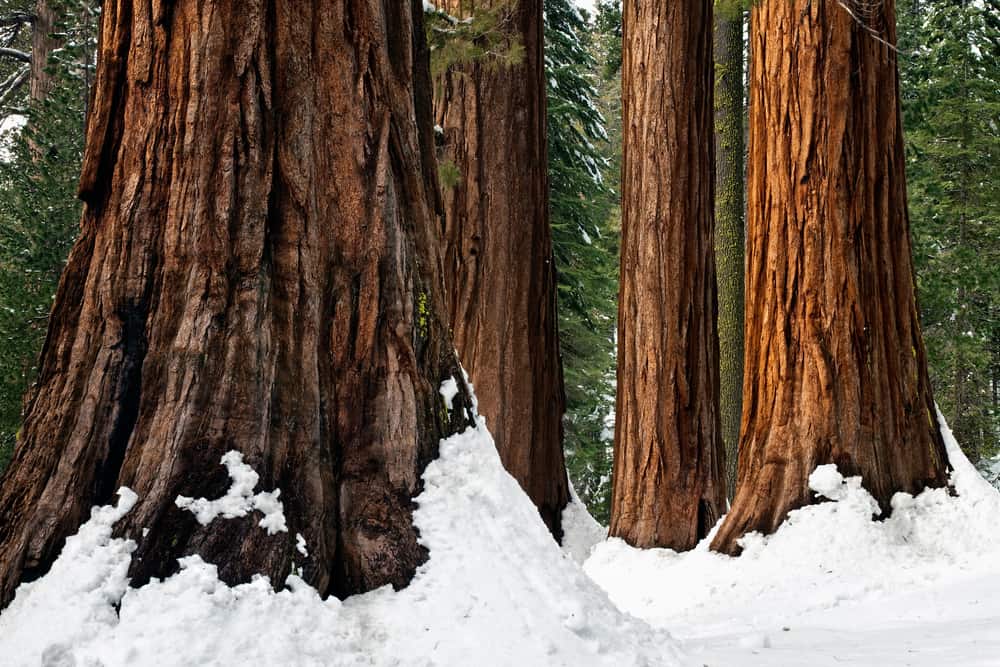 Also, camping is available from December 1 to April 15.
This is awesome because you have the opportunity to actually sleep beneath these behemoth trees! Water and restrooms (pit toilets only) are available at the arrival area.
Camping is allowed above the Clothespin Tree which is about 2 miles from the trailhead at Mariposa Grove Trail. Wilderness permits are required.
Wawona in Winter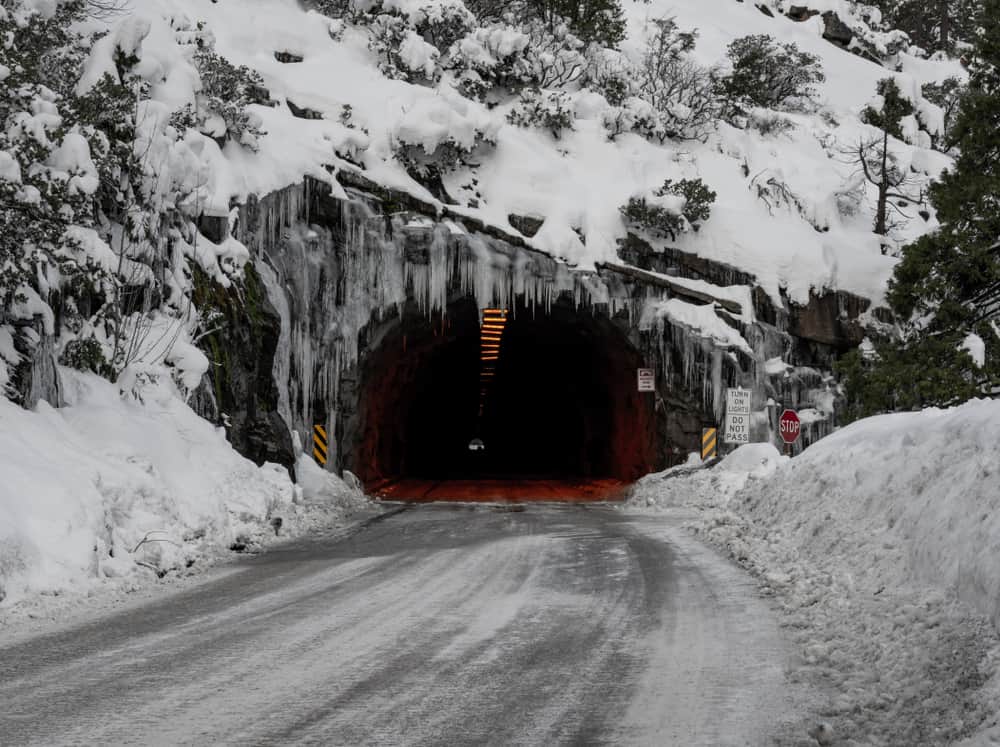 Wawona is quite quiet in winter, in general, which is great if you are looking for seclusion while visiting Yosemite in the winter.
Where to Stay in Wawona
There are some great places to stay in this area.
Try Tenaya Lodge, which also rents snowshoes for snowshoeing around the lodge. They also have an indoor ice skating rink and sledding runs.
In addition, they have a great spa for some pampering — making this a fantastic winter Yosemite option, especially if the Yosemite Valley options have booked up (as they often do).
If Tenaya Lodge is booked up, check out Narrow Gauge Inn, which features a restaurant with seasonal cooking and local wines (complete with fireplaces to add to the winter coziness).
It offers cozy rustic rooms with lots of wooden details, and its namesake: a historical narrow gauge steam train located right next door to the property.
Cabins in Wawona
There are also a number of private cabins for rent available in Wawona.
My two top picks would be this cozy cabin with a private hot tub and this highly-rated 4-bedroom cabin great for larger groups.
Winter Activities in Wawona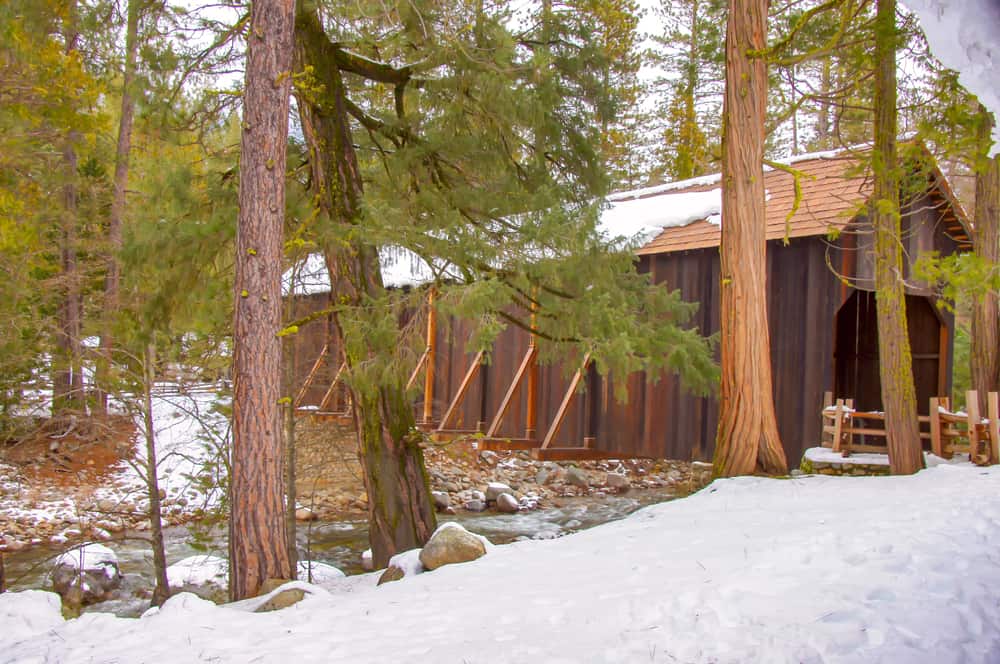 Snowshoeing and Cross Country Skiing
The Wawona Hotel area has some great opportunities for snowshoeing and cross country skiing.
Check these out via the Wawona Meadow Loop (3.5 miles) or Swinging Bridge Trail (1.5 miles). Or, head all the way to the beautiful Wawona Covered Bridge to see it covered in snow.
Sledding and Snow Area
Goat Meadow Snow Play Area in the Wawona area is also a great option.
It is located just outside of the South Entrance Station of the park, so it's a good option for those coming from Southern California or Los Angeles.
You will find many people sledding there! It's great for families.
Pioneer Yosemite History Center
Additionally, you can visit the Pioneer Yosemite History Center year-round — at least parts of it.
Walk around the buildings for a peek into Yosemite history. However, the interiors of the buildings are closed in winter.
Yosemite Etiquette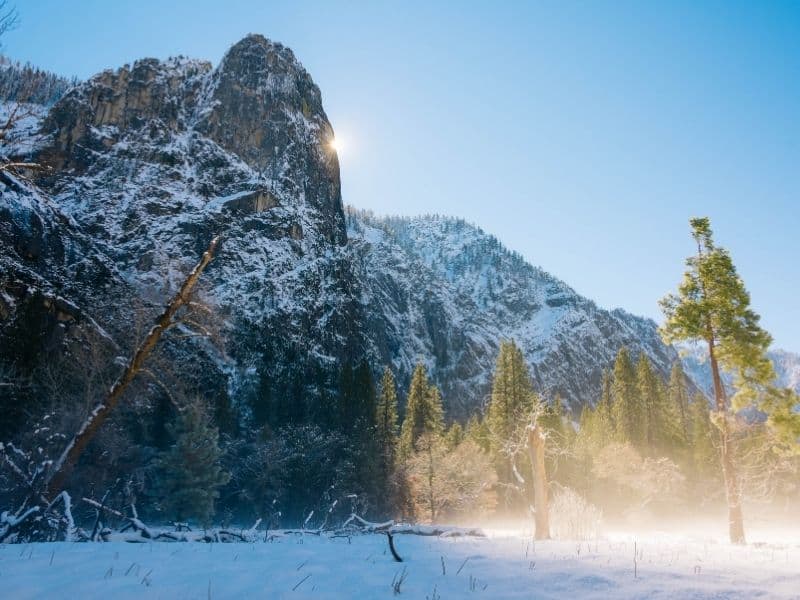 Always remember to care for the land you are visiting. You are a visitor, so leave it better than you found it. Clean up after yourself. Do not leave trash anywhere. Throw it away or carry it out.
Be conscientious and remember this is sacred land that used to be home to Native Americans who were driven from their home. Respect that. Practice "Leave No Trace" principles. You can find them here.
Closing Words on Visiting Yosemite in Winter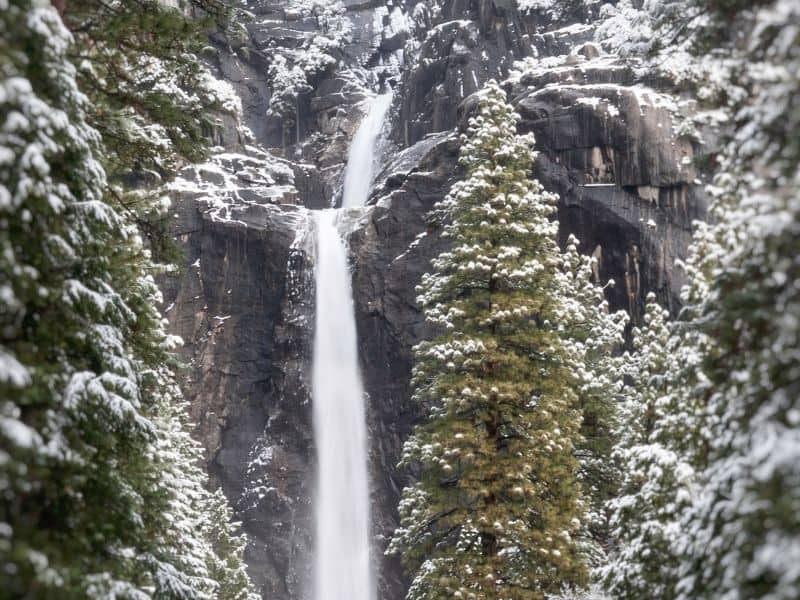 Some people think Yosemite shuts down in winter, but it is actually still quite active. Plus, you get to experience a wondrous national park in a unique way.
Feel the brisk winter air on your skin as you traverse this mountainous, magical snowy landscape. You will have a great time skiing, hiking, or relaxing by the fire at a lodge.
Be prepared for the cold, make plans thoughtfully, and have fun! Yosemite in winter is not to be missed!
Be kind to the land and be well.
Other Resources for Visiting Yosemite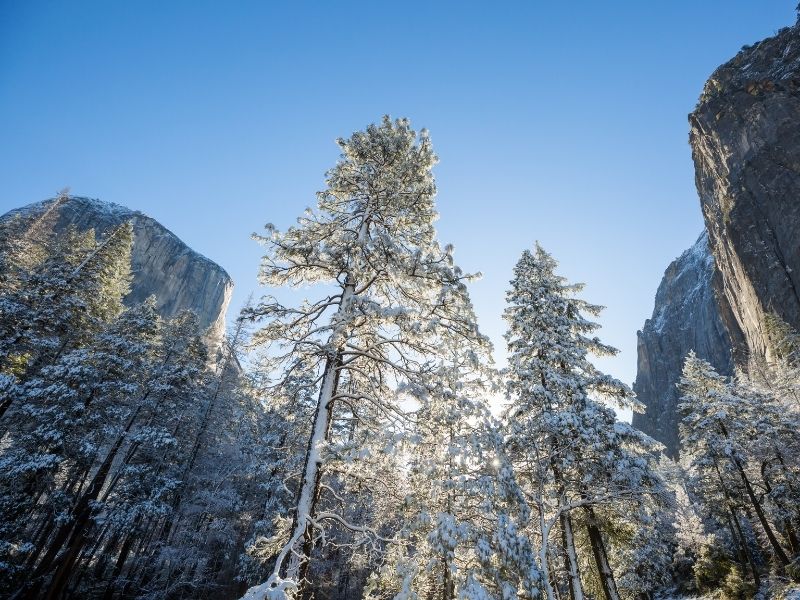 Our resident Yosemite expert has written several guides to visiting the park, including this guide to Yosemite in fall, the best hidden gems in Yosemite, and a guide to spending two days in Yosemite.
Other Yosemite content on this site includes this guide to finding the best views in Yosemite, this one-day Yosemite guide, and this guide to easy Yosemite hikes.
However, keep in mind that the above content is summer and early fall focused and may not be applicable if visiting Yosemite in winter, when many roads are closed and trails are impassable to all but expert hikers.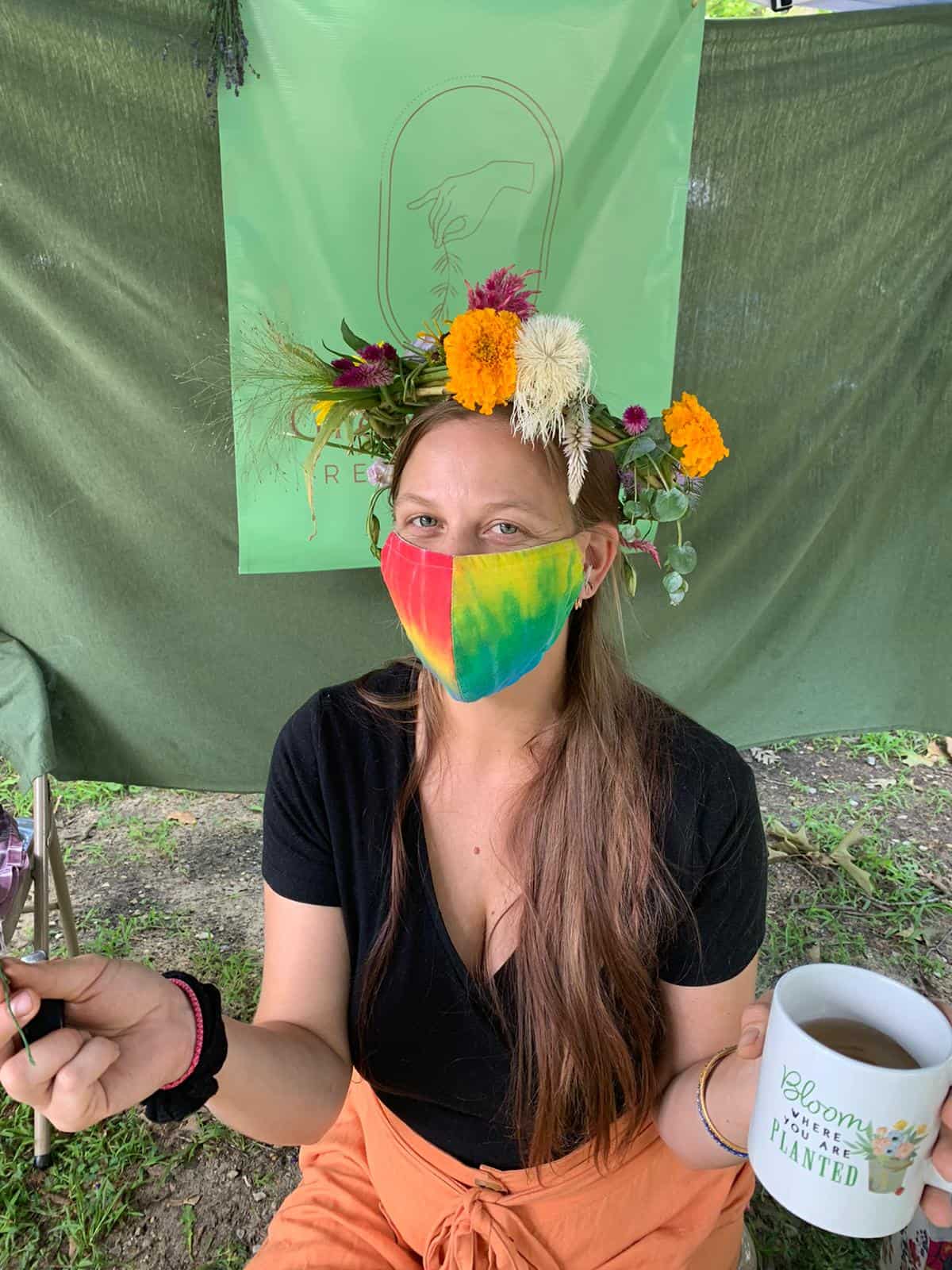 Allison is a writer, herbalist, musician, and lover of nature. She is an avid traveler and backpacker, having traveled throughout most of the United States and through parts of Asia and Europe. She has lived in Hawaii, Philadelphia, New Jersey, Boston, and of course, California. Allison has lived in California for 5 years, working on farms and in Yosemite National Park. She has been all over the state, enjoying many cities and of course, the many amazing outdoor wonders California offers. She currently resides in Aptos, Santa Cruz County, CA.