In a place as beautiful as Yosemite National Park, it's hard to use superlatives.
However, I think that some of Yosemite's greatest sights lie not in Yosemite Valley, but along Tioga Road. You shouldn't miss it when visiting Yosemite!
Tioga Road is also known as Highway 120 or State Route 120. It connects the Western Sierras to the Eastern Sierras through its highest point at Tioga Pass, at over 9,943 feet.
If that sounds ridiculously high, it is! Tioga Pass is actually the highest mountain pass in all of California.
But Tioga Pass is way more than just a convenient route over one of the toughest terrains in California. There are countless wonderful stops along Tioga Road as you road trip Yosemite!
For the purpose of this post, we're assuming that you're starting the route inside Yosemite National Park via Big Oak Flat Road.
There's an entrance at Big Oak Flat just past Hetch Hetchy Reservoir, which most visitors from the Bay Area would enter through.
From Big Oak Flat Road, you'd then head east once you hit the turn for Tioga Road.
However, you may be doing this route in reverse if you are heading from the Eastern Sierras, like from Mammoth Lakes or June Lake.
In the case that you're coming from the east side of the Sierras, you would start Tioga Pass in Lee Vining, and you'll want to reverse this Tioga Road itinerary.
When to Drive Tioga Pass
Note: This post contains affiliate links, which earn me a small commission at no extra cost to you if you make a purchase using one of these links. Thank you for supporting this free content!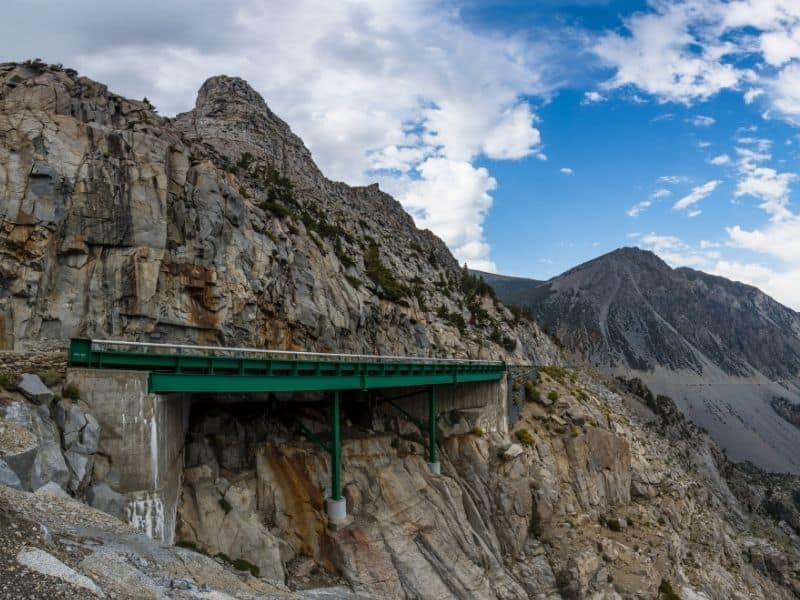 It's important to note that Tioga Pass is not an all-season road. Remember that Tioga Pass is the highest highway pass in California!
Tioga Road closes after snowfall makes the road too dangerous to pass. The exact closure date varies depending on the year and weather conditions, but the decision is made by the National Park Service.
However, as a general rule, the closing date for Tioga Road is somewhere in November, and the opening date is typically in late May, but it may be as late as early June.
The facilities in Tioga Pass are only open in the summer, roughly June through August. September is already getting towards the end of the "season" for many facilities along Tioga Road.
When I drove Tioga Pass in mid-September, the Tioga Pass General Store was open but the grill there was closed, and the Tuolumne Meadows campground would close a few days later, around September 20th.
What to Know Before Driving Tioga Pass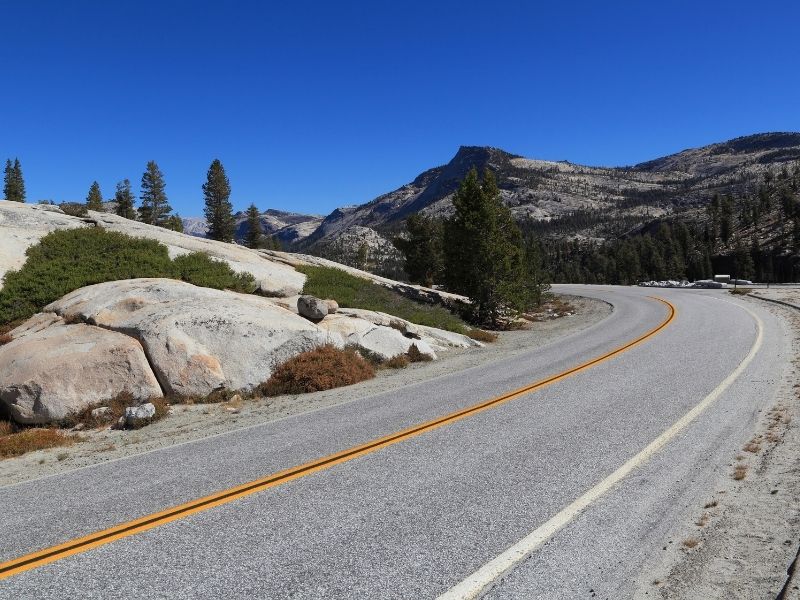 Tioga Pass is, well, obviously a mountain pass — that means there are drop-offs on your side as you navigate this mountain road.
Be sure that you are alert and feeling well enough to drive its entirety, particularly if you are the only driver in your party. This is not a road for distracted driving!
Never park in the road for any reason: even spectacular views. There are plenty of pullouts along Hwy 120 where you can park safely.
The speed limit for Tioga Pass is generally 35-45 mph. If you drive slower than the speed limit, or if you notice 5+ cars trailing you, it's a good idea to use one of the turnouts to allow faster cars to pass.
Use your turn signal to indicate that you are pulling over as simply braking as you pull over could lead to an accident.
Also, this is a high mountain road, with frequently changing road conditions. There are many places where there is a high potential of rocks in the roadway.
Sometimes there will be signs to warn you, but there can also be some rocks where you wouldn't expect it. Keep your eyes open and ahead!
Best Stops Along Tioga Pass Road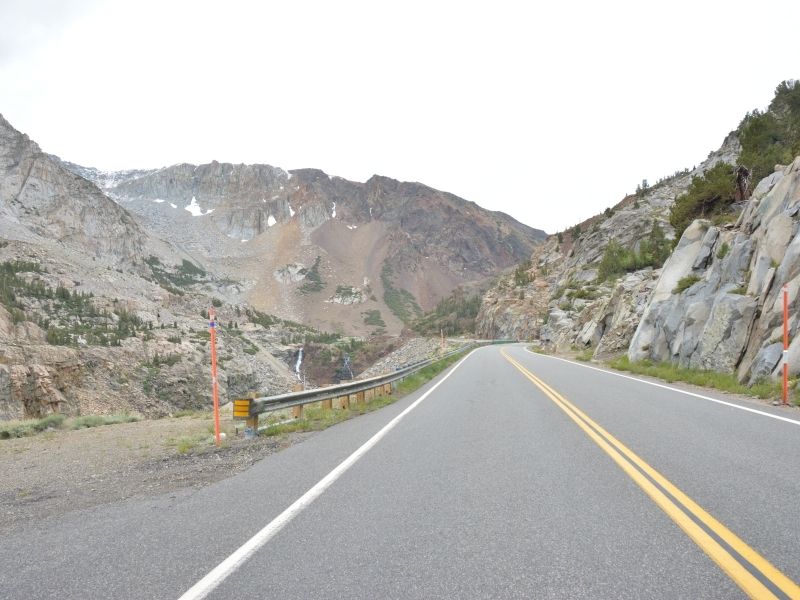 Crane Flat
Crane Flat isn't a sight to see so much as it is a place to ensure you have everything you need for a day driving Tioga Pass.
This is where you should gas up and ensure you have all you need for a day out on the road!
Note: Currently the bathrooms are closed at the Crane Flat gas station due to Covid-19, so if you need to use a restroom, there are some at the next stop along Tioga Road, Tuolumne Grove, just a few minutes' drive ahead!
Tuolumne Grove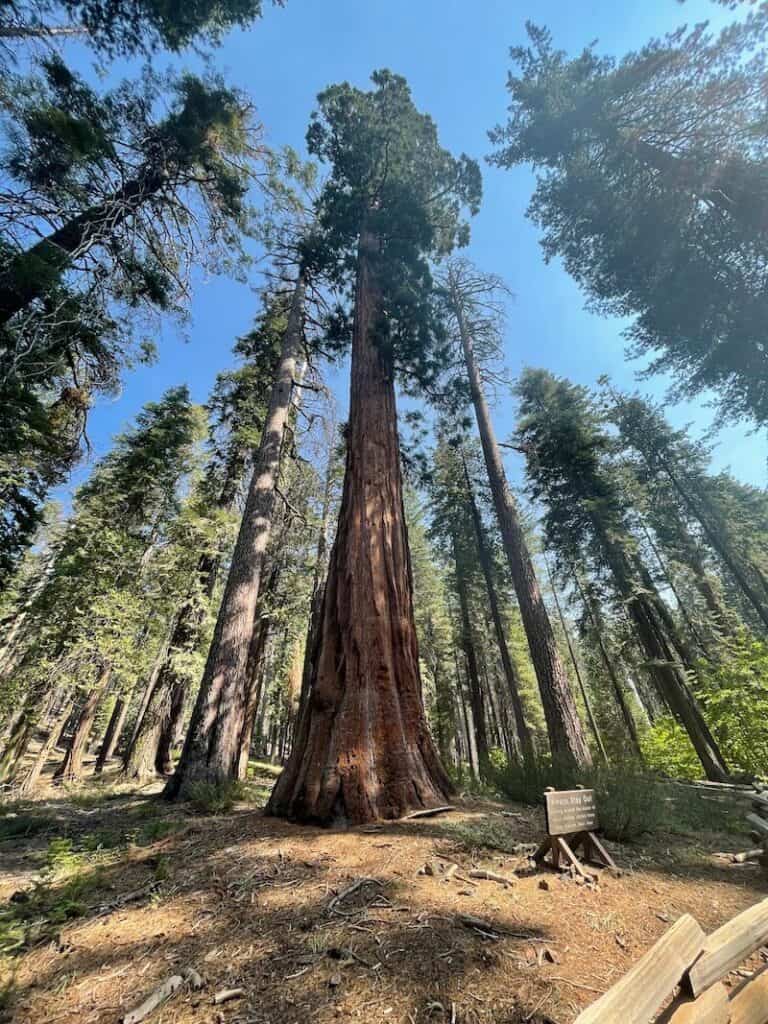 The next stop along Tioga Road is the beautiful and peaceful sequoia grove, Tuolumne Grove.
It is home to about 25 giant sequoias, far fewer than its more famous cousin, Mariposa Grove, but far quieter as a result!
The hike down to Tuolumne Grove is deceptively easy, as it is paved and you don't notice the descent.
Just remember that what goes down must come up! It's about 400 feet of elevation loss and gain to the first tree.
Also, be aware that the sign at the Tuolumne Grove trailhead can be confusing as it doesn't tell you the full length of the hike.
The hike to the first giant sequoia in Tuolumne Grove is about one mile one-way (two miles return). This is a good place to turn around for beginner hikers (frankly, this is the prettiest tree in the grove).
If you want to make the hike a little longer and harder, then you can continue on to the loop (unpaved) to see the Dead Tree Tunnel, Fallen Giant, and a few more beautiful giant sequoias.
If you continue along the loop, it makes the entire hike about 3.5 miles with about 600 feet of elevation change throughout.
Olmsted Point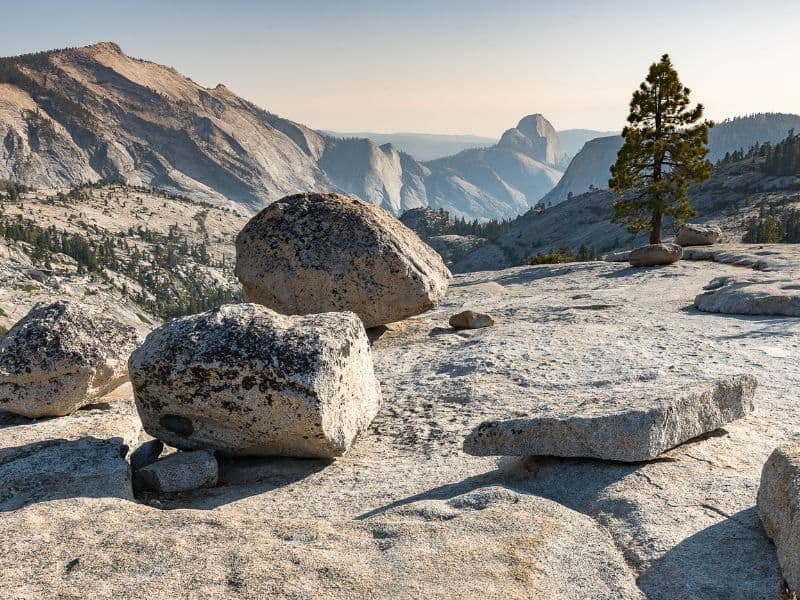 As you continue the scenic drive along Tioga Road, you'll come across one of the best views in all of Yosemite!
Be sure to pull over at Olmsted Point; don't miss this stop and its incredible vistas!
From Olmsted Point, you have a fantastic view of Clouds Rest and Half Dome in front of you, facing south.
You'll also spot the gorgeous high alpine Tenaya Lake (your next stop!) off to the east like a brilliant shimmering jewel.
Tenaya Lake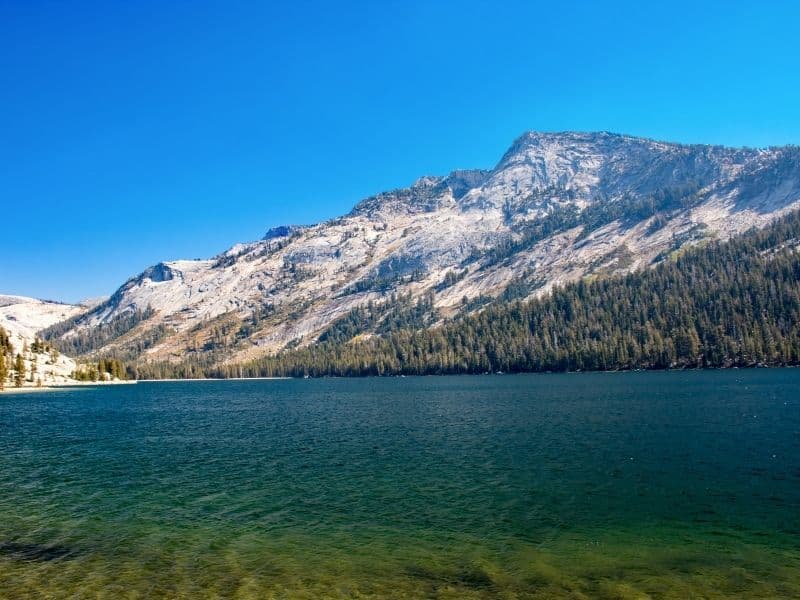 The next stop on Tioga Road is the beautiful Tenaya Lake, one of the lowest-effort, highest-reward stops on this Tioga Road itinerary!
You can pull over at any of the turnout areas along Tenaya Lake, but I suggest parking at its eastern edge so that you can be close to the trailhead to hike along its edge.
The Tenaya Lake trail skirts the edge of the lake that is furthest from Tioga Pass, with scenic views all the way and virtually no noise from the highway.
The Tenaya Lake Trail is quite easy, about 3.4 miles via an out-and-back trail with just under 200 feet of elevation gain along the trail.
However, while the hike is easy, do remember that you are at over 8,000 feet of altitude at this point, so your stamina will not be quite what it is at sea level.
Take your time and drink plenty of water to ensure you continue to feel well for the rest of this Tioga Pass road trip.
Tuolumne Meadows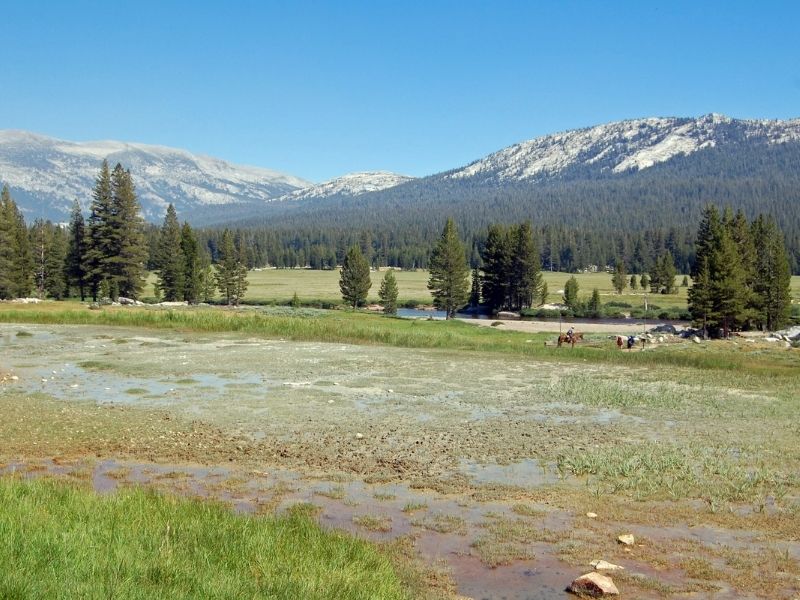 Next up is the gem of Tioga Pass, and perhaps the reason why most people drive this route in the first place: the impossibly beautiful Tuolumne Meadows in Yosemite's High Country.
From the Tuolumne Meadows Visitor Center parking lot, there are a number of hiking trails you can embark on.
One of the most popular ones is the Soda Springs Trail, just across the street from the Visitor Center. It's a 1.6-mile out-and-back trail with only about 50 feet of elevation change, so it's quite easy.
You can also walk along the Tuolumne River along a portion of the Glen Aulin Trail (which tracks along the Pacific Crest Trail!). If you visit earlier in the season, such as June or July, you'll see beautiful wildflowers along the trail.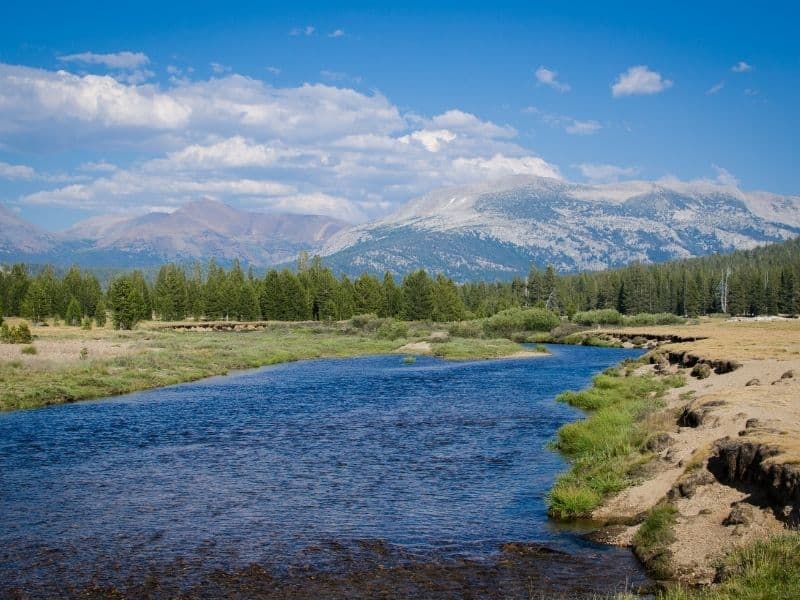 The full hike to the Glen Aulin High Sierra Camp is 12 miles out-and-back with 1,200 feet of elevation gain.
This is where you'll find people resting from a day of backpacking Yosemite's backcountry or perhaps even thru-hiking the PCT!
If you're just doing a one day trip along Tioga Road, I wouldn't suggest walking this in its entirety! I'd recommend turning back around the 2-mile mark, as the hike grade gets more intense around mile 3.
However, if you do do the full hike, you'll be able to see impressive waterfalls like Tuolumne Waterfall and White Cascade.
Insider Tip: There is a gorgeous campsite at Tuolumne Meadows. Generally half of this campsite is available for reservations online via nps.gov, and half is reserved for walk-ins. However, due to Covid, they have switched over to a reservation-only system.
Lembert Dome and Dog Lake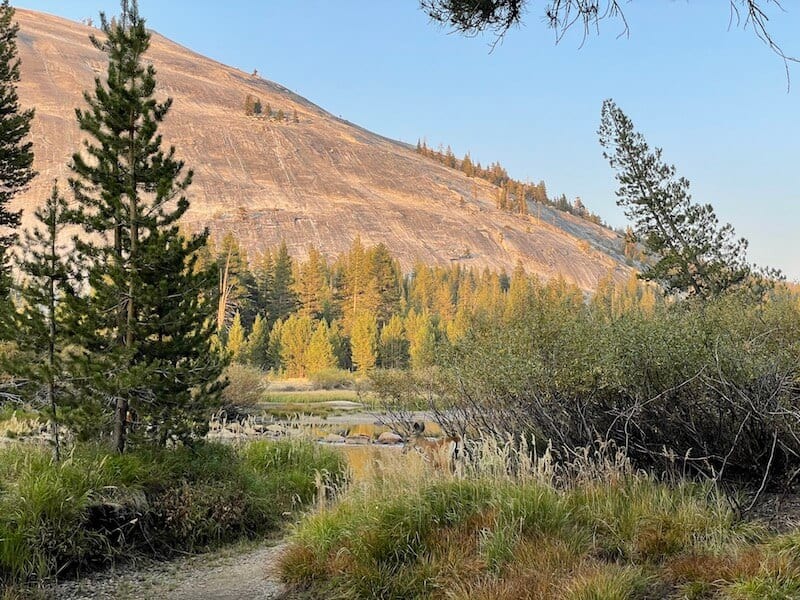 Not far from Tuolumne Meadows, you'll find the impressive Lembert Dome towering over Tioga Road.
Believe it or not, you can hike to the top of this dome! It's a 3.7-mile hike with 846 feet of elevation gain if you hike up the dome, which peaks at 9,420 feet!
Note that if you hike up the dome, there is a lot of scrambling (climbing on rock with hands and feet, but no equipment is required).
This may not be a good fit for your comfort level, though climbers will feel very comfortable making it up the dome. If that's not you, feel free to skip hiking up the dome.
However, you can also just do the Lembert Dome Loop and skip scrambling up the dome. You can also make a detour to the beautiful Dog Lake off the Lembert Dome loop.
It's a peaceful and beautiful lake that doesn't get a lot of attention or crowds.
Tioga Lake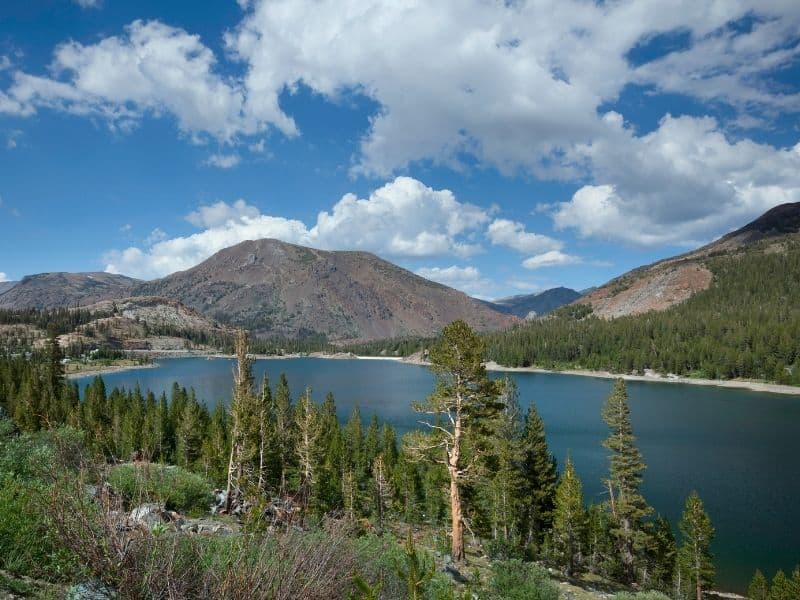 Before arriving at Tioga Lake, you'll technically exit the park via the Tioga Pass Entrance.
Don't worry — if you plan to go back through Yosemite, you can without paying an entrance fee again.
Tioga Lake is absolutely beautiful and it's a great place to stop for a picnic or just to stretch your legs.
Ellery Lake
As you continue your descent towards Lee Vining, there's one final high-country lake to admire, just a short drive from Tioga Lake.
Ellery Lake is able to be admired just off the road, so it's a great quick stop before finishing up your Tioga Pass road trip.
Lee Vining
Once you reach Lee Vining, you will have descended to 6,837 feet of altitude and you'll be at the end of Highway 120. 
But wait… there's just a bit more on this Tioga Pass road trip.
It's tradition to stop at Whoa Nellie Deli for a fuel-up before your next and final stop!
Mono Lake
The last stop on this Tioga Pass road trip is Mono Lake!
You will have already seen it a bit from the road, but let's go to its most scenic part: the Mono Lake South Tufa Area. 
This is where you can most easily see the impressive tufa formations from this popular viewpoint. They look otherworldly!
Where to Next After Tioga Pass?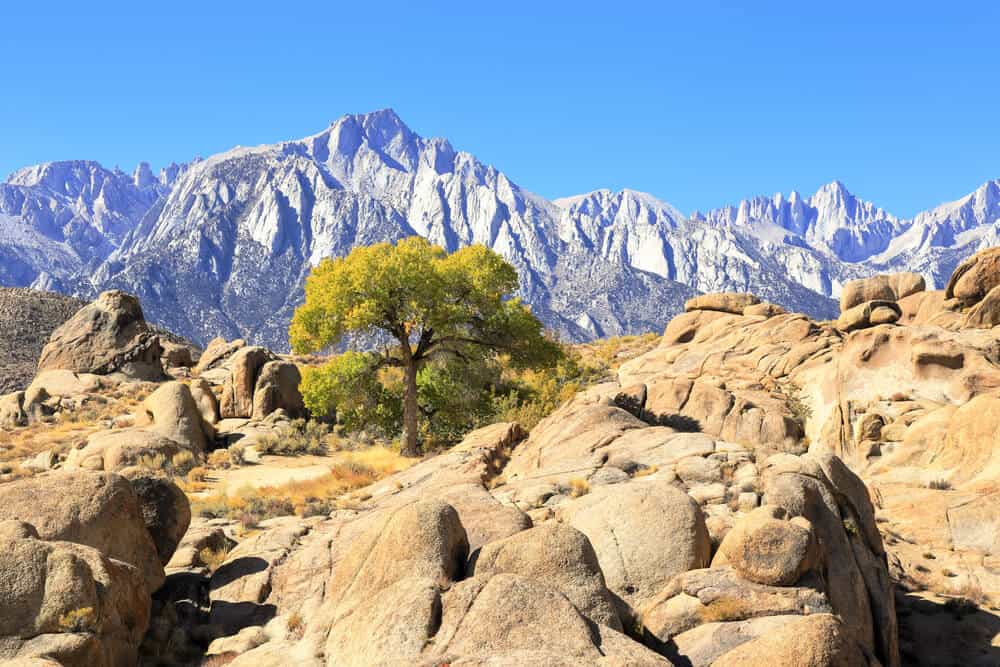 If you've crossed Tioga Pass and are now along the Eastern Sierras, there are so many places you can continue your California road tripping!
Head south on Hwy 395 for an epic road trip through the Eastern Sierras culminating in Death Valley National Park (or perhaps Las Vegas).
You'll have views of the Sierra Nevadas the entire way, culminating in a view of Mt. Whitney which you can see from Lone Pine and the Alabama Hills.
Alternatively, head north to make your way to Lake Tahoe, one of the most beautiful places in California, or you could head northeast of Lee Vining to Bodie State Historic Park for one of the coolest ghost towns in California.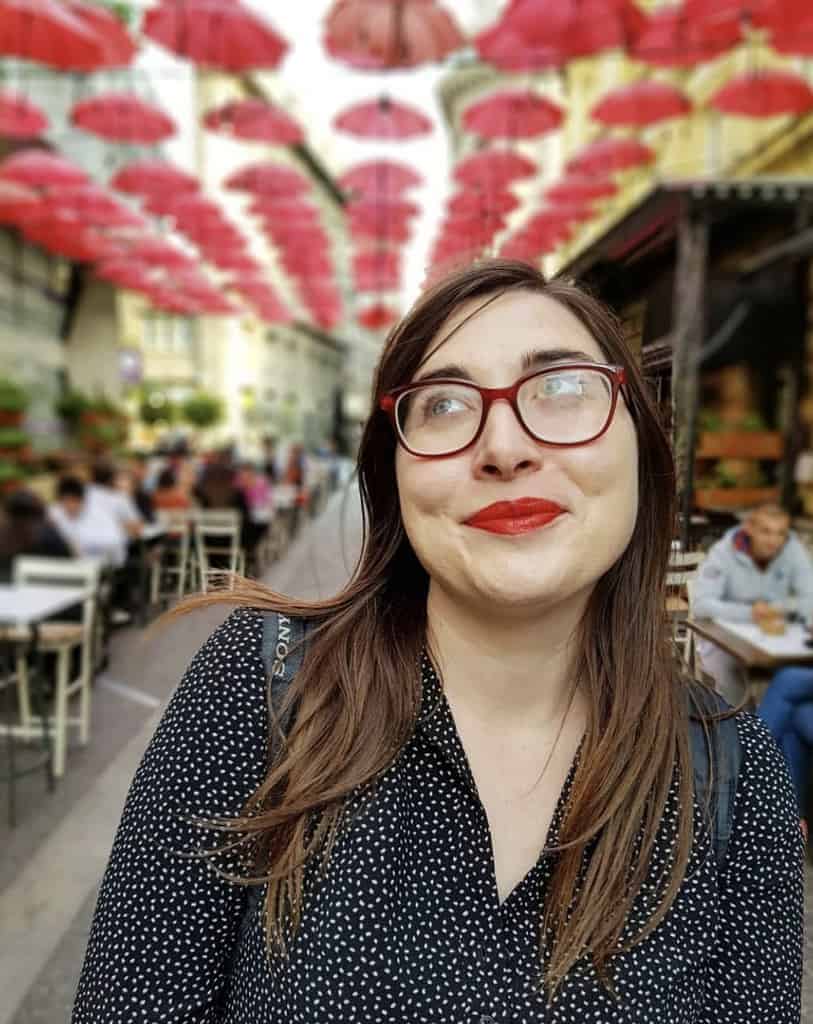 Allison Green is a travel blogger, writer, and podcaster who grew up in the Bay Area of California. She has spent time living in New York, Prague, and Sofia, but has returned to live in the East Bay. She has traveled to 60 countries before the age of 30 while running several digital travel publications. Her writing and podcast have been featured in Forbes, CBC Canada, National Geographic, the Huffington Post, and CNN Arabic, amongst others. She's obsessed with bouldering, houseplants, other people's pets, and anywhere she can see the ocean.