California is a beautiful state perfect for exploring on a romantic weekend away!
The state has got it all: Pacific Ocean views, stellar wineries, and boundless opportunities for active adventure.
A romantic getaway in California can be anything from exploring the wilderness of the state's nine national parks to exploring fine dining and luxury hotels.
Here are our favorite California romantic getaways in Northern and Southern California!
Romantic Getaways in Northern California
Napa Valley
Note: This post contains affiliate links, which earn me a small commission at no extra cost to you if you make a purchase using one of these links. Thank you for supporting this free content!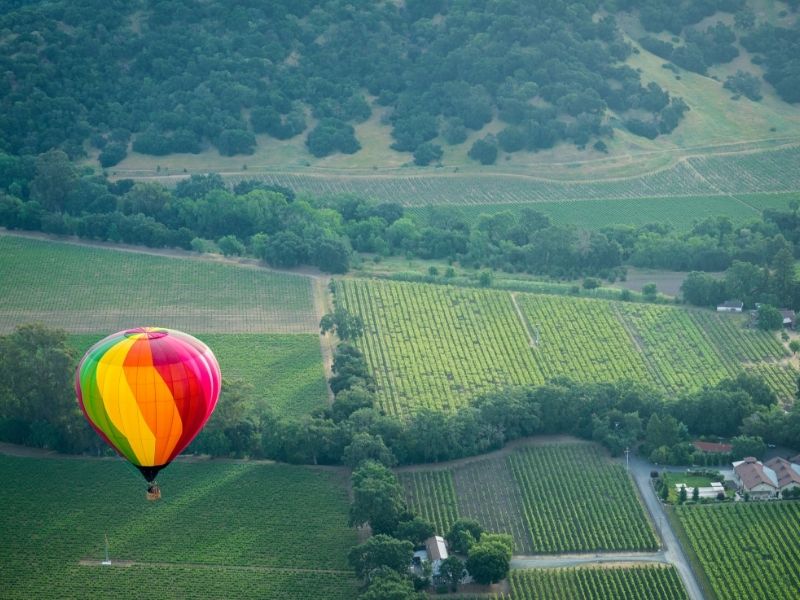 Napa Valley is California's best-known wine country, with an impossibly high number of beautiful wineries and tasting rooms to choose from. 
It's not surprising that this is a popular romantic weekend destination for people from the Bay Area and other parts of Northern California!
Napa Valley is a massive region that covers several towns, including Napa itself, St. Helena, Yountville, and Calistoga: each with its own specialty to offer.
Napa is the most urban of them all, offering excellent dining as well as outdoor activities along the Napa River.
Calistoga is the most rural and "small town", but it still has plenty to offer in the way of culture with an impressive art gallery scene.
Meanwhile, Yountville is the fine dining capital of Napa Valley (hello, French Laundry!) and St. Helena is chic and full of wonderful boutique hotels and great places to go wine tasting.
There's plenty to do in Napa Valley besides drink wine, though! Hit the hiking trails, go up in a hot air balloon over the vineyards, or visit the museums and galleries that give Napa its sophisticated edge.
WHERE TO STAY: If you want the ultimate in luxury in Napa Valley — Solage, an Auberge Resort, is the obvious choice!

Everything just screams luxury, from the Michelin-starred restaurant to the full-service spa including the traditional Calistoga mud bath and mineral water soaks.

They have gorgeous rooms with perks like fireplaces, soaking hot tubs, private patios, and more. The outdoor pool area is stunning, and there's also a sauna and hot tub for relaxing.
>> Check availability, reviews, and photos online here
Sonoma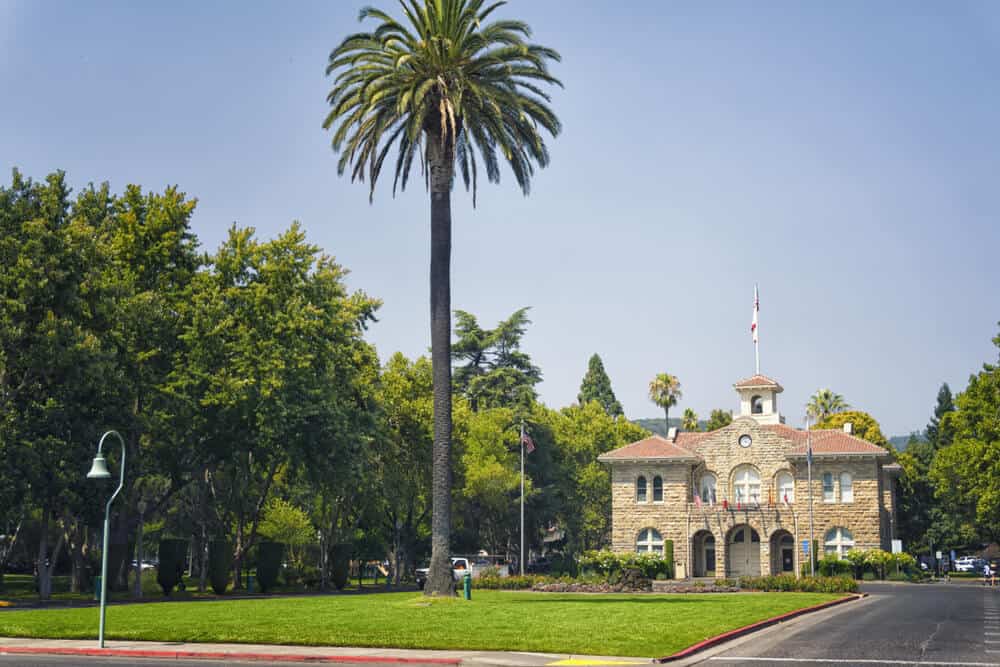 Sonoma County also has a phenomenal wine tasting scene, but in this section, we'll focus specifically on the city of Sonoma.
Sonoma is a wonderful place to base yourself for wine tasting exploration on a romantic weekend in California.
The best thing about Sonoma is that you can access so many world-class wines by foot, since Sonoma Square is a wonderfully walkable area full of tasting rooms (and crave-worthy restaurants to help sober you up in between tastings!).
Sonoma is also interesting for the history-oriented couple, as the Sonoma Mission is located right on the edge of Sonoma Square!
WHERE TO STAY: Just outside of Sonoma in neighboring Boyes Hot Springs is the beautiful Fairmont Sonoma Mission Inn & Spa.

This inn has it all: an 18-hole golf course, full-service spa, on-site fine dining, geothermally-heated swimming pools, and a bar featuring over 50 wineries.

Rooms are extremely romantic, and you can pick from options such as having a fireplace, a spa bath, or a balcony in your room.
>> Check availability, reviews, and photos online here
Healdsburg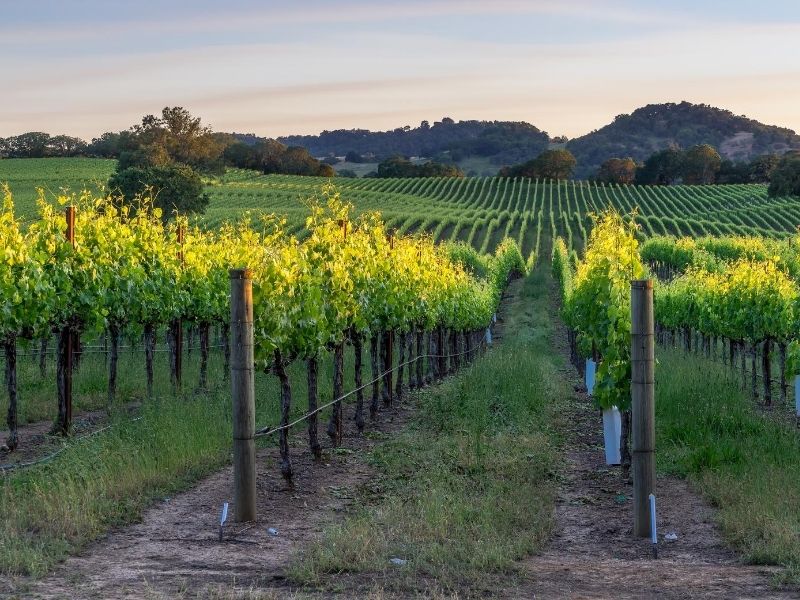 Healdsburg is another Sonoma County stand-out, home to the world-renowned Dry Creek Valley AVA that is home to some of the world's best Zinfandels.
Like the city of Sonoma, Healdsburg is also extremely walkable with tons of phenomenal tasting rooms within the downtown area, as well as restaurants.
While you could definitely walk your way through a tasting experience in Healdsburg, though, I urge you to get out to the vineyards: the area along Dry Creek Road and Westside Road is home to some phenomenal wines. 
Healdsburg is also home to the Russian River, where you can go on a kayaking adventure or just admire the views.
WHERE TO STAY: Dream of staying on an actual winery? You can at Montage Healdsburg, a gorgeous boutique hotel and winery.

The room rate isn't cheap, but it's pretty priceless to wake up to sunrise over the vineyards.

The hotel offers a garden, terrace, sauna, hot tub, and best of all — each room has floor-to-ceiling windows of the vineyards and rolling hills of Healdsburg.
>> Check rates, availability, and photos online here
Big Sur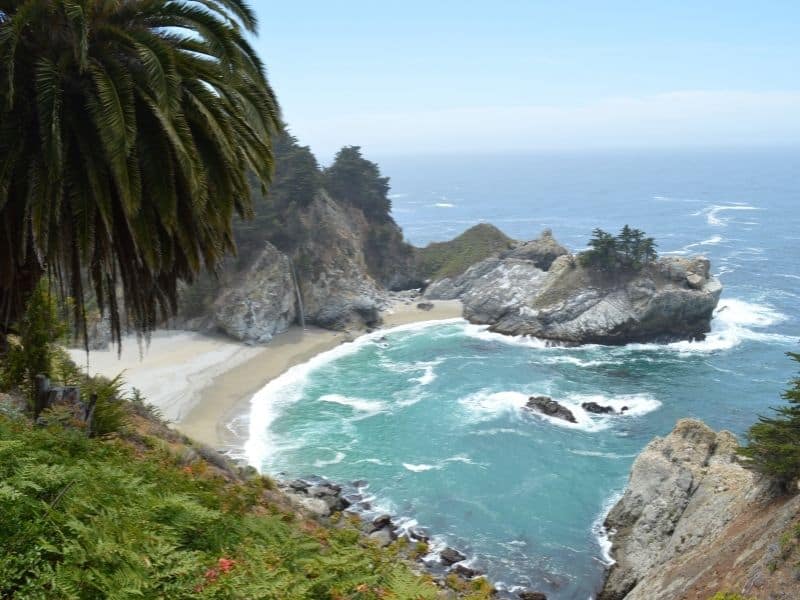 Brilliant Pacific ocean views with turquoise water everywhere you look, redwood forests nestled along the coast, waterfalls tumbling off of cliffs, and rugged coastline offering stunning views virtually everywhere you go?
Hello, Big Sur: no wonder you're a top choice for romantic weekend getaways in Northern California.
Big Sur refers to both the region as well as the teeny-tiny town that is smack-dab in the middle of the region along the Pacific Coast Highway.
I suggest basing yourself in one of the romantic hotels in Big Sur and then going on hikes and day trips by day and relaxing amongst redwoods at night — perhaps even glamping amongst them!
WHERE TO STAY: For the ultimate luxurious experience, choose Alila Ventana Big Sur. It will blow your mind (and, to be fair, your wallet).

This adults-only resort takes up 160 serene acres and offers amenities such as Japanese baths, two heated outdoor pools, luxurious spa, and even an on-site art gallery. 
>> Check availability, rates, and photos online here
Monterey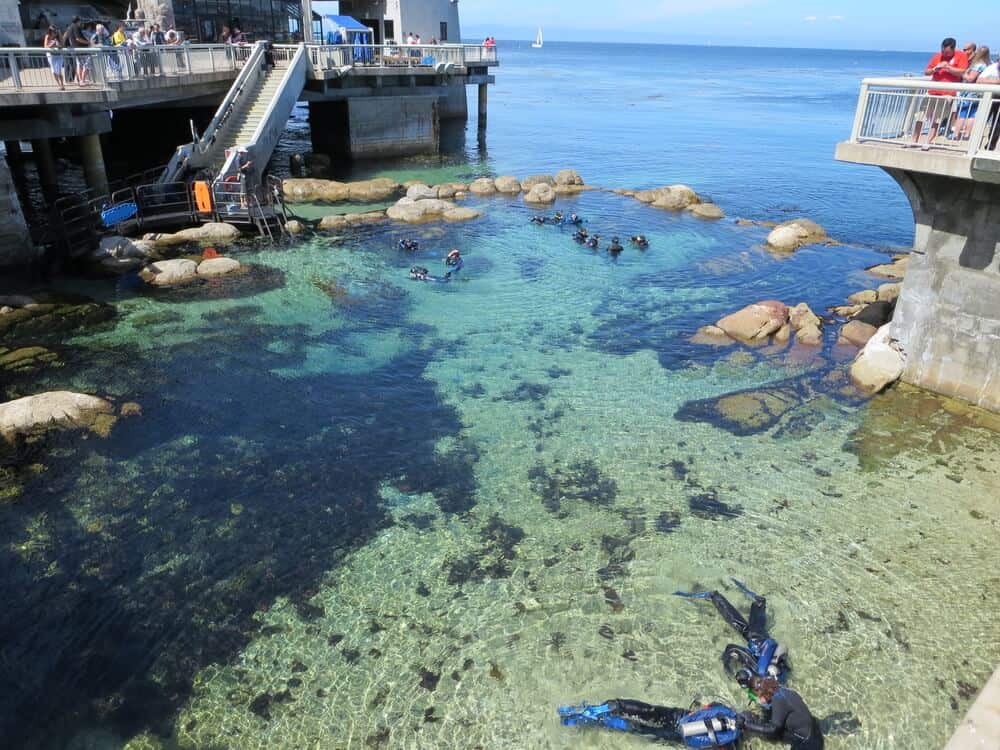 Monterey along California's Central Coast has long been a favorite destination for weekend getaways from the Bay Area.
It's also a wonderful place for romance if you're looking for an adventurous couples retreat in California!
For the aquatically-inclined, you can dive amongst the beautiful kelp forests, go out on a whale-watching adventure, marvel at all sorts of wildlife in the Monterey Bay Aquarium.
For those who prefer to stay on land, there's 17-Mile Drive and its epic (and epically priced, admittedly) Pebble Beach Golf Course.
That's not to mention the ample hiking opportunities at Garrapata State Park and Point Lobos State Nature Reserve, and lots of historic buildings downtown to explore, such as Cannery Row and the Old Fisherman's Wharf — which offers plenty of oceanfront dining!
WHERE TO STAY: For the ultimate romantic Monterey getaway, look to the Portola Hotel & Spa. 

The lobby is like an enchanted forest, with real trees reaching towards the glass-paneled ceiling and plenty of chairs to relax on amongst the chairs.

That welcome only continues in the beautifully designed rooms, which evoke ocean vibes and have gorgeous spa-style bathrooms.
>> Check availability, rates, and photos online here
Half Moon Bay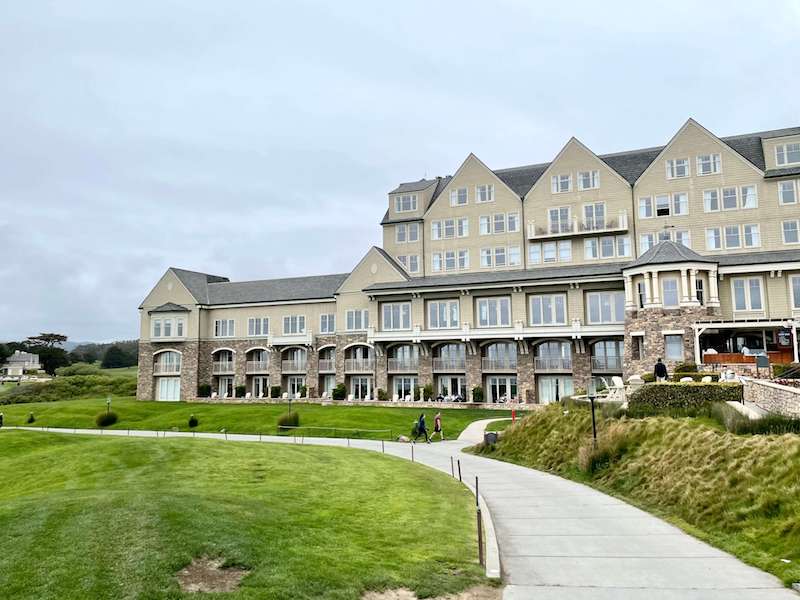 Half Moon Bay is the perfect place for a romantic weekend trip from San Francisco! 
It's a short drive from the city, but it feels a world away — especially if you stay at the marvelous Ritz-Carlton, perched on a bluff above Manhattan Beach.
Besides staying in style, there's plenty to do in Half Moon Bay, including sampling beers at the two local breweries, visiting one of the many beaches, horseback riding on the beach, having an amazing meal at Sam's, or watching the surfers go wild on some waves!
WHERE TO STAY: IT doesn't get better than the Ritz Carlton in HMB! Warm yourself around the fire pits (some on private balconies) outside while admiring your oceanfront vistas.

Alternately, head for some TLC and pampering inside with some spa treatments in their world-class wellness center — maybe a couple's massage?

And of course, for golf lovers, one of the most famous courses in the world is right in front of the Ritz! Even if you're not a golfer, it's fun to watch.
>> Check rates, availability, and photos online here
Mendocino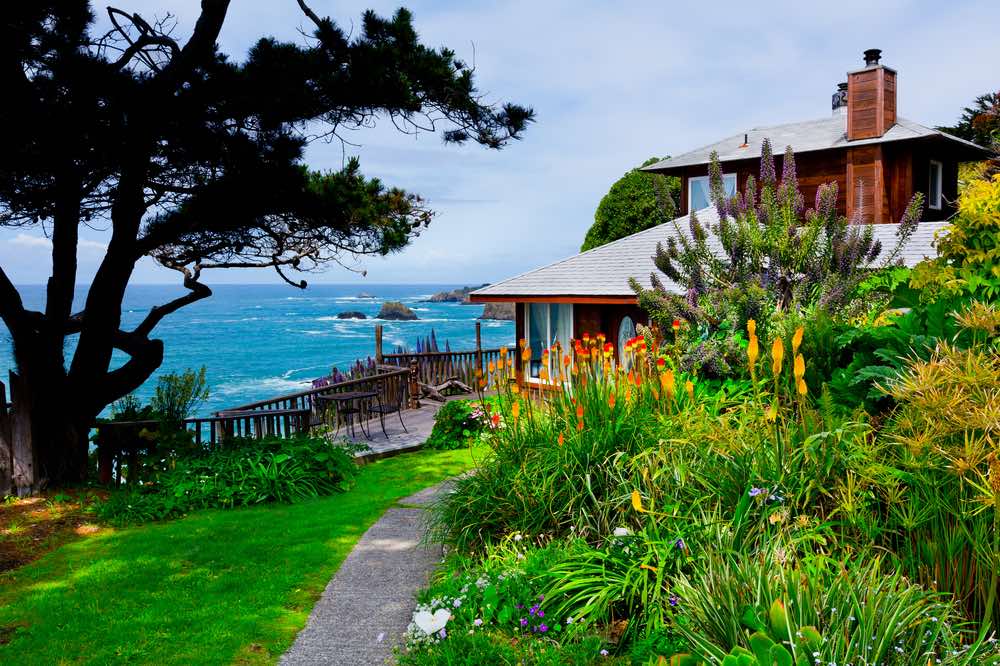 The charming town of Mendocino is way up there on the Northern California coast, but it's an amazing place for a California romantic getaway nonetheless!
Come in the winter for winter storms and whale-watching, or visit in the summer for beaches and breezy oceanfront hiking with a side of lighthouse spotting.
There are lots of cozy cottages available for rent in Mendocino, as well as beautiful inns and guesthouses.
WHERE TO STAY: Romance in Mendocino is all about soaking up the town's small town vibes! You won't find ultra-luxury here, but you will find gorgeous B&Bs with Victorian-era touches.

Headlands Inn is a fantastic place for a romantic stay in Mendocino, with beautifully presented breakfasts and romantic touches like fresh flowers, chocolates, and real fireplaces!

The English garden is a great place to relax between sightseeing in Mendocino, and don't miss their daily afternoon tea!
>> Check prices, availability, and reviews online here
Carmel-by-the-Sea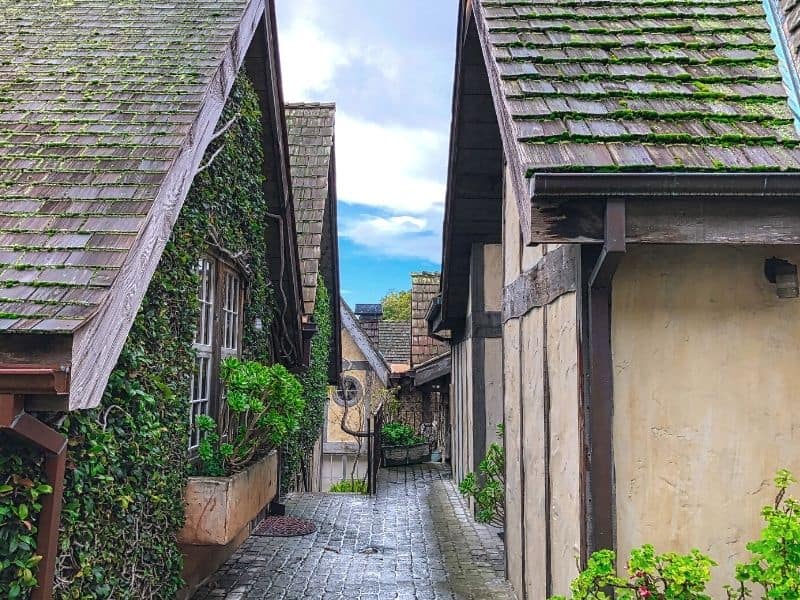 Located adjacent to Monterey, Carmel-by-the-Sea is the best of Central California in one fairytale-esque small town.
It's just a short drive away to world-class wineries in the Carmel Valley area, for a more laid-back, less expensive wine tasting experience than you'd find in Napa or Sonoma.
You can also use Carmel as a jumping-off point to explore the Big Sur coastline and go hiking in Point Lobos or Garrapata or any of the other wonderful state parks and preserves that dot the coastline.
WHERE TO STAY: True to the Relais & Chateaux brand, L'Auberge Carmel looks like a literal French chateau (castle)!

This historic hotel has been around since 1929, but it's been kept up beautifully throughout the years, with its Provencal detailing and beautiful outdoor patio, as well as its over-the-top gorgeous rooms.

There are all sorts of perks if you want to stay here for a romantic Carmel weekend getaway! We're talking massages either in their spa center or in-room, a gourmet restaurant worthy of an anniversary splurge, and the hotel is within walking distance of Carmel Beach for a romantic sunset stroll. 
>> Check availability, prices, and reviews online here
Lake Tahoe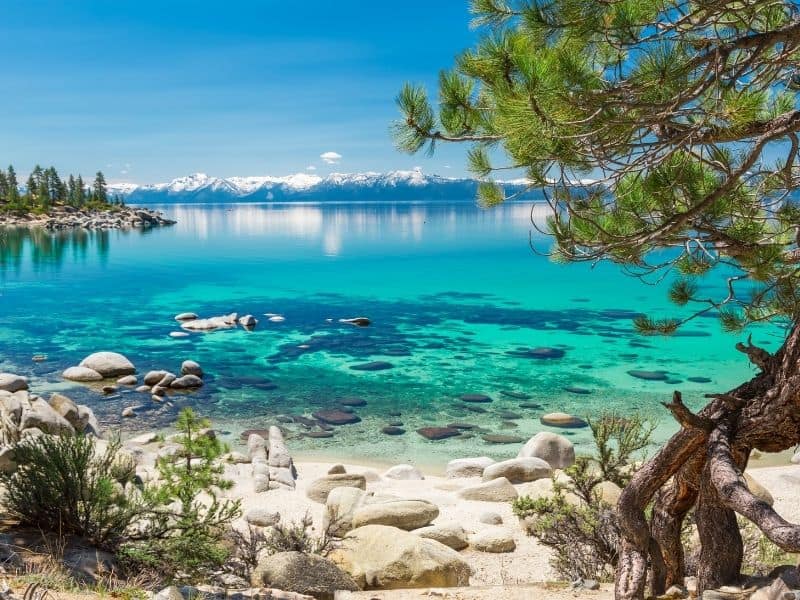 The beautiful Lake Tahoe region is a wonderful place for a California couples getaway if you're looking for some adventure!
Lake Tahoe is so different depending on the time of year, but no matter when you go, it offers plenty of fun things to do in California for couples.
Visit in summer for all sorts of lake activities, from kayaking and canoeing to paddleboarding and even wakeboarding. 
Or visit in the winter for a snowboarding or ski trip… or just rent a cabin to admire the natural beauty of the snowy white scenery from the comfort of a warm Jacuzzi!
WHERE TO STAY: The Ritz-Carlton never disappoints, and that continues to be true for this Lake Tahoe resort, which is an all-season romantic getaway winner.

Enjoy the ski-in, ski-out setting in winter or use it as a jumping off point for lake and hike adventures in the summer.

No matter the time of year, make the most of the treatments offered at the spa, enjoy the fine dining on-site, and relax in your massive rooms, complete with gas fireplaces and marble bathrooms.
>> Check prices, availability, and reviews online here
San Francisco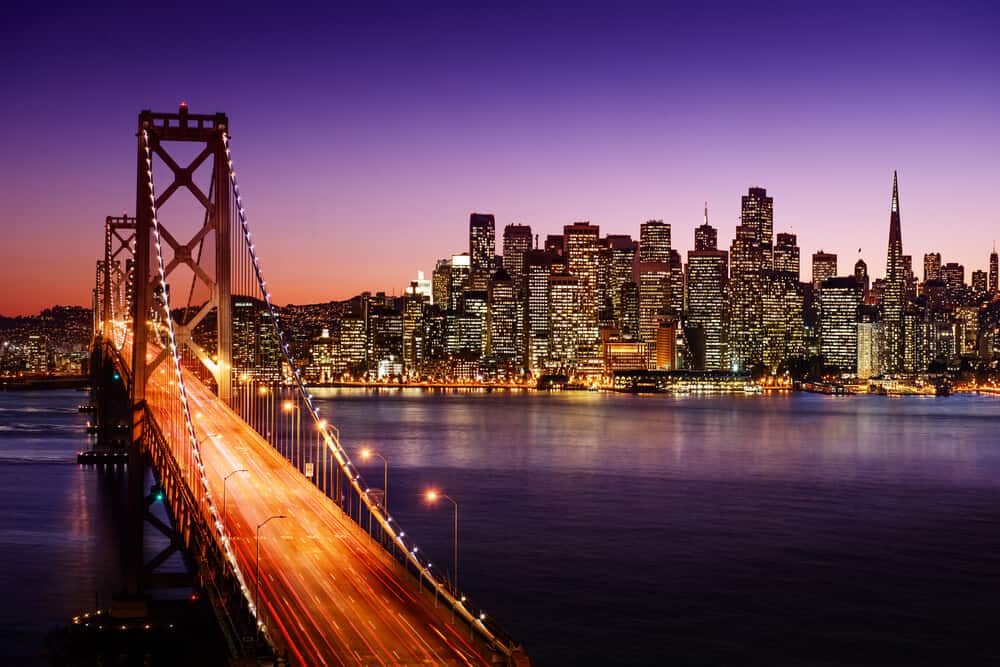 San Francisco is perhaps one of the most romantic cities in California!
Everything about the city has a beautiful edge to it: from the Golden Gate Bridge to the hilly landscape to the Victorian architecture, San Francisco offers a romantic California getaway for every kind of traveler.
Enjoy fine dining at one of the many Michelin-star restaurants in the city, visit the world-class art museums like the deYoung and the SF MOMA, or explore on an urban hike throughout the city's many hills.
WHERE TO STAY: The Four Seasons Embarcadero near the Ferry Building is wonderful for a romantic weekend in San Francisco.

The amenities are world-class: breathtakingly beautiful modern rooms, gourmet dining, in-room massages, a spa center, a 24-hour fitness center, yoga classes. You'll never want to leave!

Plus, it takes up the top 11 floors of a 48-story building, so basically, every single room will have an impeccable view of the skyline and the Bay. Swoon!
>> Check availability, prices, and reviews online here!
Yosemite National Park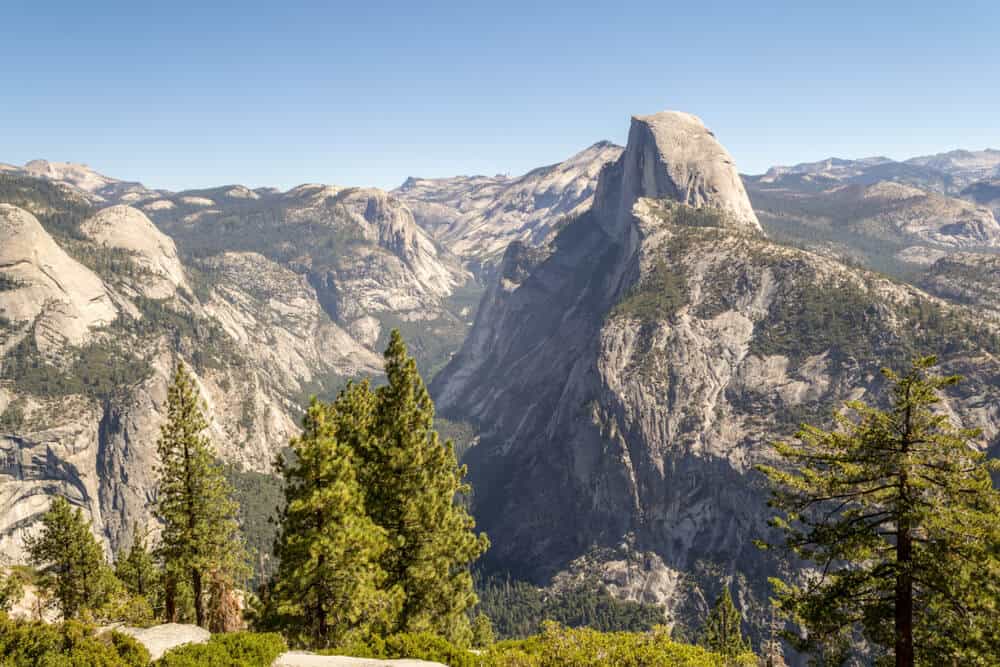 If you think of outdoor adventure when you're trying to plan a couples getaway in California, Yosemite is a no-brainer!
Just three hours from the Bay Area is one of the most spectacular places in the entire state, and if nature is your love language, then surely Yosemite is one of the most romantic places to go in California.
The best thing about Yosemite is it offers beauty no matter what way you experience it.
Whether you tackle some easy hikes in Yosemite like Cook's Meadow and Lower Yosemite Falls or go a little more high-octane with the deceptively-named Four Mile Hike or some high-altitude hikes in Tuolumne Meadows, the views are unreal no matter where you go.
Even if you don't hike, you can drive to many of the best views in Yosemite, like Olmsted Point or Glacier Point (only requiring a brief walk, barely a hike). 
WHERE TO STAY: Located in Yosemite itself, the Yosemite Valley Lodge is a wonderful choice for where to stay on a Yosemite weekend getaway — if you can book it.

Rooms book up quickly, so book it in advance! Every single room has a balcony with sweeping Yosemite views, perfect for enjoying a cup of coffee with epic scenery before starting your day.

A restaurant, bar, lounge area, 24/7 reception, ATM, and free WiFi are all located on-site.
>> Check availability, prices, and reviews online here!
Romantic Getaways in Southern California
Santa Barbara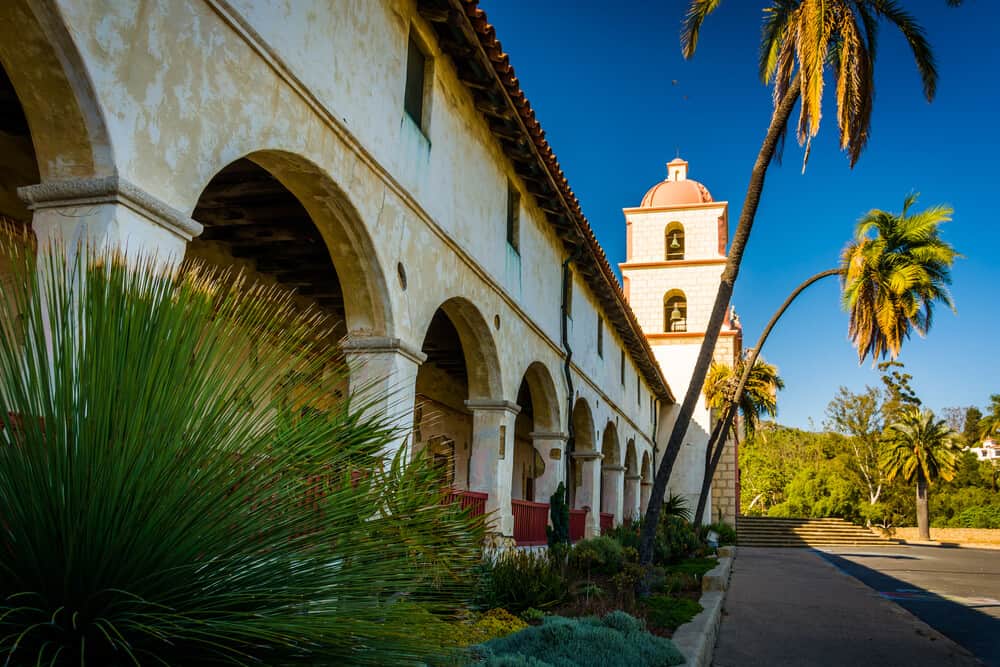 Of all the romantic destinations in California, where better than the aptly-named "American Riviera"?
Spending a weekend in Santa Barbara offers everything a couple's trip needs: phenomenal restaurants perfect for a romantic dinner, gorgeous boutique hotels great for relaxing poolside, and sandy beaches perfect for long romantic walks.
And if it's even possible to get bored in Santa Barbara, don't fret: there is excellent wine tasting just a road trip away!
Where to Stay: For a lovely and luxurious place to stay for a romantic weekend away, the Santa Barbara Inn is an obvious choice!

This beautiful, chic boutique hotel has beachfront access and its own pool, and it's located in the vibrant neighborhood of West Beach, one of Santa Barbara's best areas.
>> Check availability, prices, and reviews online here
Laguna Beach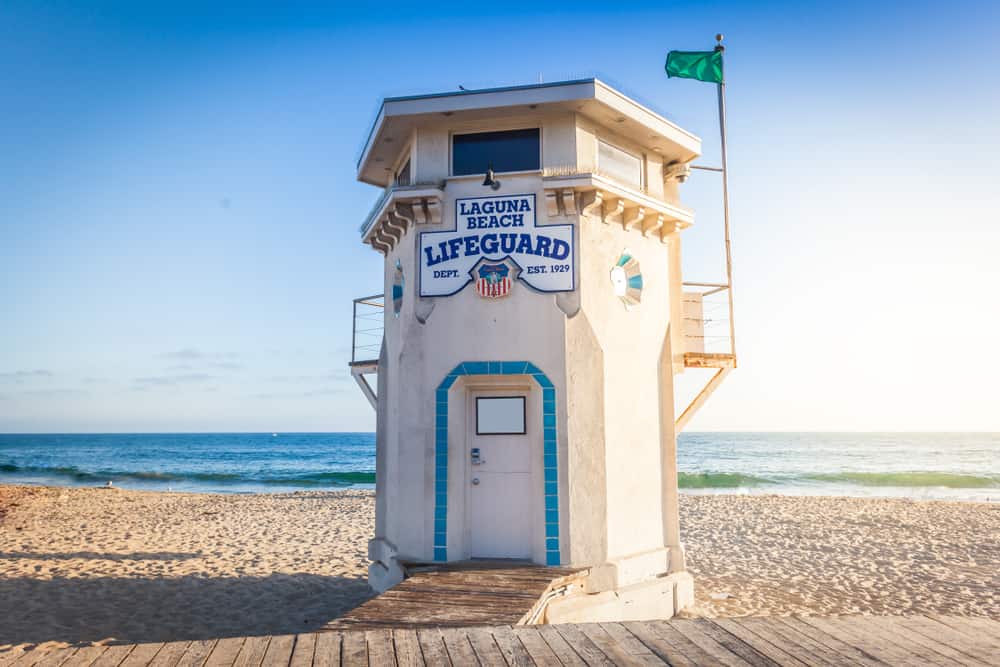 The beautiful beach town of Laguna Beach is the perfect place to spend time with your significant other. 
Whether you're soaking up the artsy ambiance of this artistic town, admiring the spectacular views of the sunset from the beach or the bluffs, or embarking on an epic hike in Crystal Cove State Park, Laguna Beach is a great California getaway for couples.
Where to Stay: Hello, romance — I mean, the Surf and Sand Resort.

Their pool and cabanas are nothing short of a dream, especially with the views of the Pacific in the background.

The rooms with an ocean view are spectacular, with simple but beachy clean lines that don't distract from the views, which really deserve to be center stage!
>> Check availability, prices, and reviews online here!
Malibu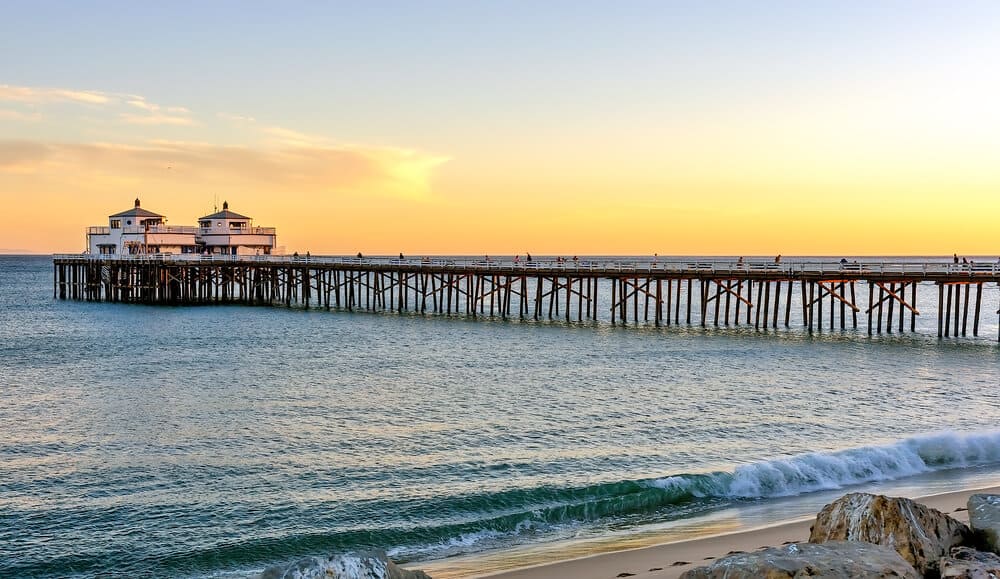 Malibu is a perfect place for anniversary getaways in California. It's romantic, it's exclusive, and it's home to some of the most epic sunsets California can offer… which is saying something!
There's something against the blue waters of the Malibu coastline striking against the rolling hills behind it.
It makes Malibu at once both the ultimate hiking destination and the ultimate beach destination, and you can do both in a day quite easily — and finish up the night with a sunset on the beach and an epic meal.
Plus, you can even do it as a day trip from LA, no overnight stay required!
Where to Stay: A stay in Malibu will not be cheap, but it will be amazing!

One of the most luxurious places to stay is the Calamigos Guest Ranch & Beach Club. Located in the mountains on a 200-acre property, it also has its own private beach club for the best of both worlds.

With several pools and a spa, it'll be hard to tear yourself away!
>> Check availability, prices, and reviews online here!
Los Angeles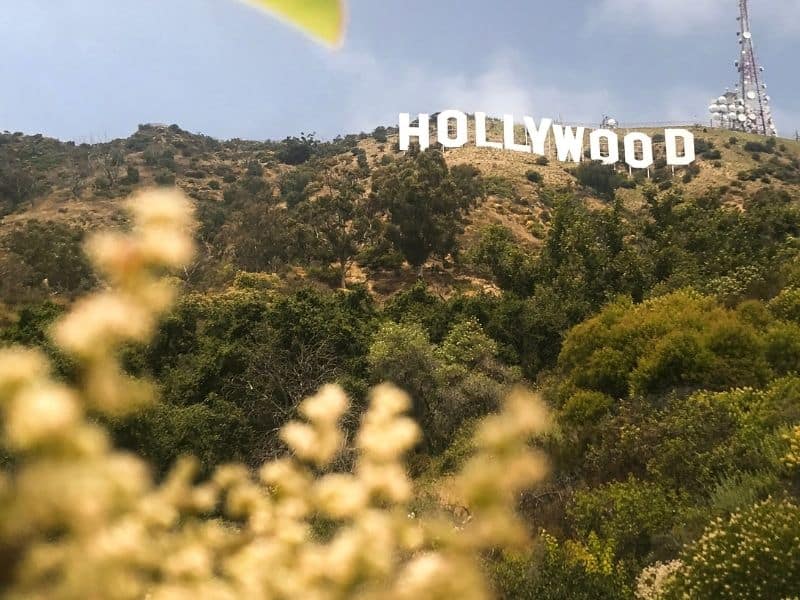 If you love big cities, Los Angeles is one of the best California getaways for couples!
The city feels endless, and so do the possibilities: from checking out all the best sunset spots in LA to wandering around Hollywood to diving into its incredible food culture to hiking around the city, LA has it all.
Romance is best when its tailored to the one you love, and that's what makes LA one of the most romantic places in California: you can find virtually any way to connect over a shared interest in this marvelous city.
WHERE TO STAY: For a romantic getaway, The Kimpton Everly has all that you'd want to for the perfect couples trip in Los Angeles.

We're talking a year-round rooftop outdoor pool and a rooftop terrace with views of the Hollywood Hills and sign!

Rooms are spacious and cozy with modern amenities and luxe toiletries, plus things like cozy bathrobes.
>> Check availability, prices, and reviews online here!
Palm Springs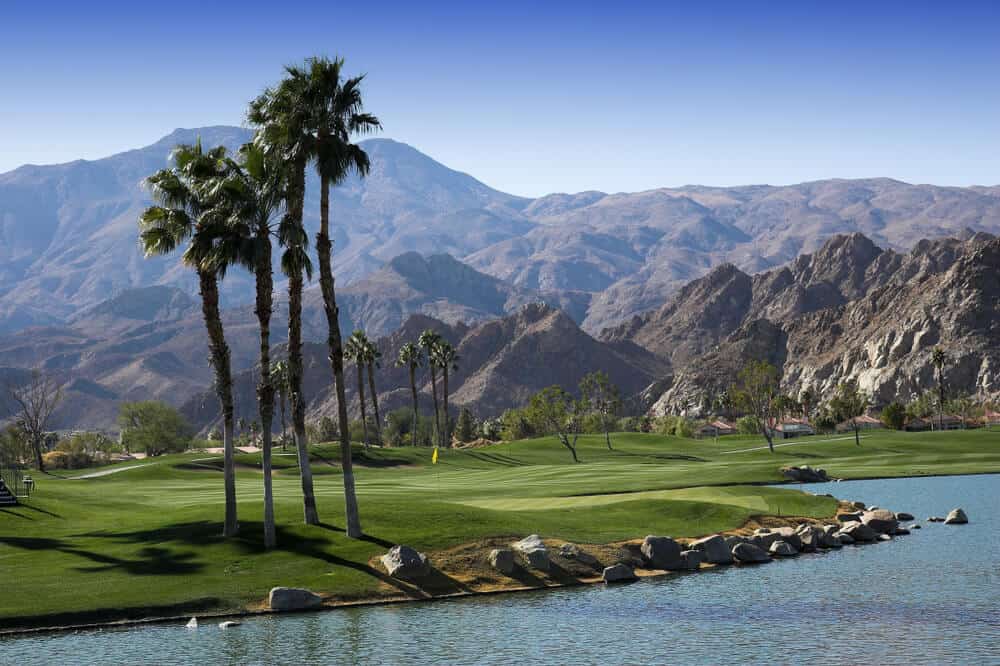 Spending a weekend in Palm Springs is the perfect relaxing California getaway for couples if you just want to unwind!
Visiting Palm Springs is all about poolside hangs (preferably in a cabana) and living that mid-century modern fantasy in one of the amazing vacation rentals or resorts the city has to offer.
Palm Springs is squarely in the California desert, so the activities you can do in Palm Springs depend a great deal on what time of year it is. 
There are a number of amazing hikes in Palm Springs… but you'll definitely want to wait for winter (or at least late fall or early spring) to enjoy them!
WHERE TO STAY: For the ultimate romantic getaway in Palm Springs, L'Horizon Resort & Spa is where it's at. 

Luxe pool surrounded by cabanas and lounge chairs, framed by palm trees and mountains? Of course. 

On-site restaurant with amazing dining? Obviously. Spa center complete with hot tub? You got it. You get the picture.
>> Check availability, prices, and reviews online here
San Diego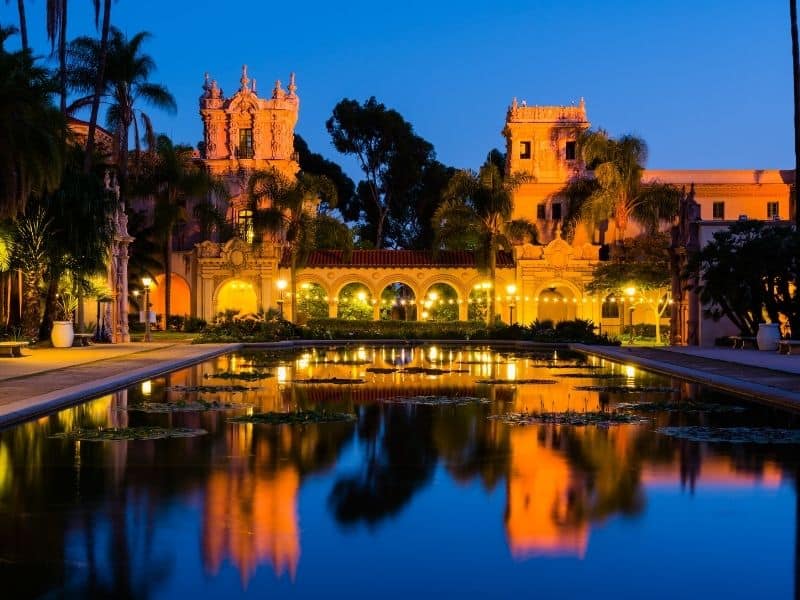 San Diego, "America's Finest City," is definitely one of the most romantic trips in California you can take!
Get your date night on and set out on a sunset harbor cruise with a drink in hand to watch the city lights sparkle on as the night sinks in, eat your way through Little Italy, or wander through the impossibly large Balboa Park (larger even than Central Park!).
Prefer a little more active in your adventure? Go sea kayaking in the sea caves of La Jolla or even go snorkeling to see the sea life from their perspective! You can also go for a beautiful hike in Torrey Pines State Preserve.
WHERE TO STAY: For a charming place to stay on a romantic getaway, opt for La Jolla over San Diego proper.

The beautiful Pantai Inn in La Jolla offers unique, Balinese-inspired rooms with sweeping views of the Pacific Ocean. Each room comes equipped with a kitchenette and spacious seating area.

Best of all, it's just a 5-minute walk to La Jolla Cove and its sunsets and water activities!
>> Check availability, prices, and reviews online here!
Temecula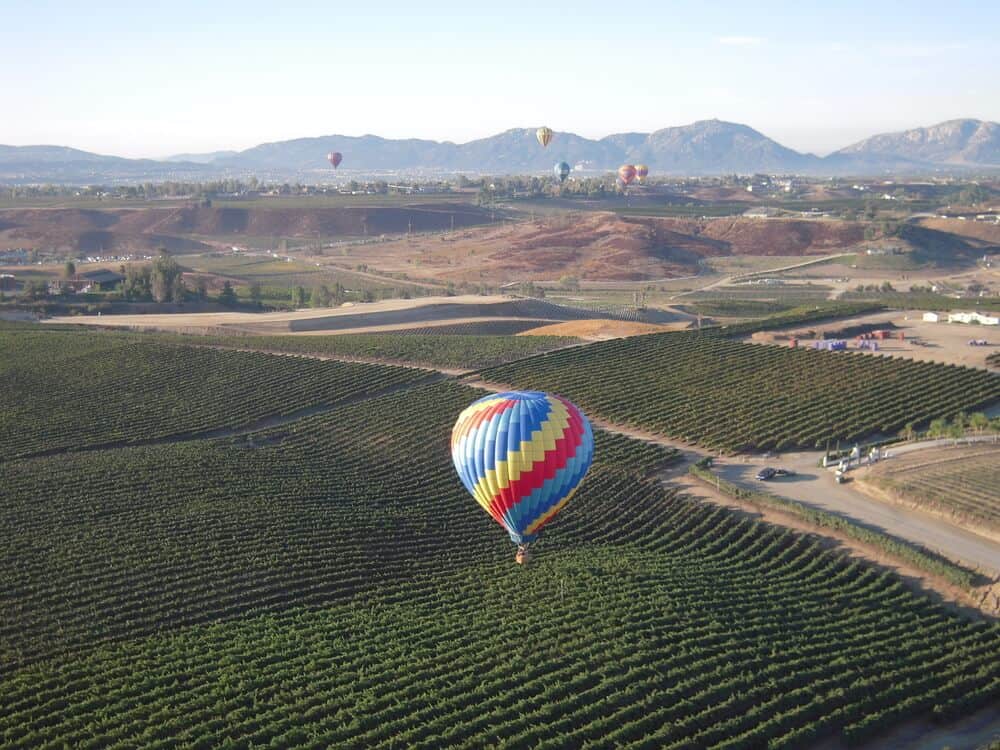 The lovely town of Temecula is nestled right between San Diego and Los Angeles, making it one of the most perfect romantic weekend getaways in Southern California!
It's one of my favorite small town California destinations for a number of reasons… but #1 has to be its wine!
Also, like Napa, Temecula is a place where you can go hot air ballooning over the vineyards — making it a great anniversary idea in Southern California (or even a great engagement idea) if you're looking for a special way to express your love.
WHERE TO STAY: Want to stay at a lovely resort with spa amenities to really relax and unwind? The South Coast Winery Resort & Spa is the place to stay in Temecula for you!

Just a 15-minute drive away from Old Town, enjoy 38 acres of winery grounds with an on-site bar and restaurant, pool, spa, and wellness center.

Each room has their own spa bath to enjoy so you can sip some local wines while you enjoy the tub. In the winter, light the fireplace in your room for a cozy feel, and in summer, relax on the private patio.

For extra indulgence, hit the GrapeSeed Spa, which offers luxury spa treatments with a free glass of wine — all with gorgeous views of Mount Palomar in the distance.
>> Check availability, prices, and reviews online here!
Paso Robles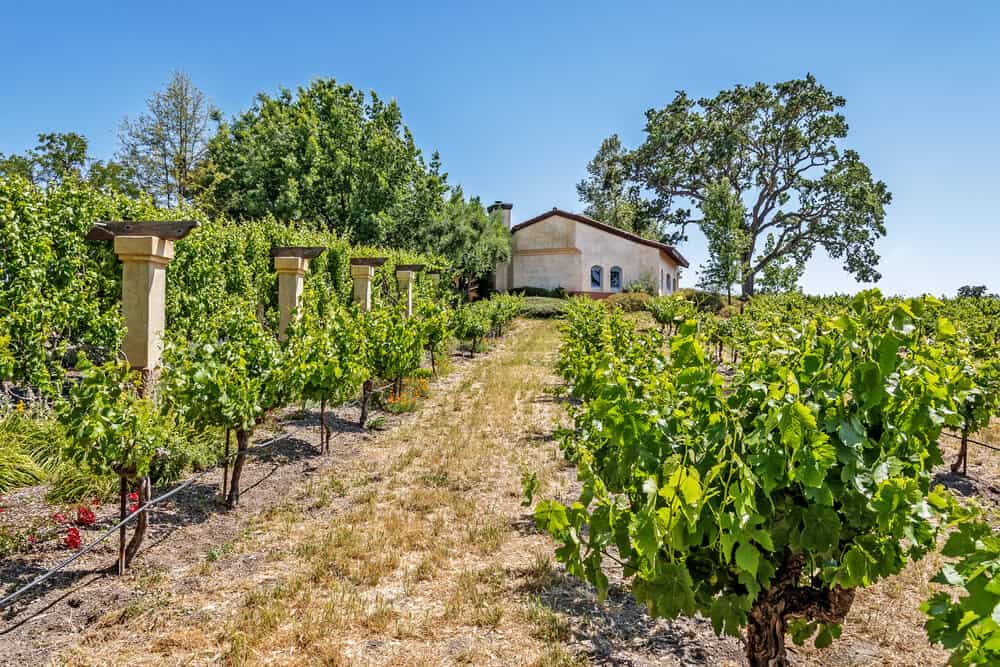 Yet another Wine Country romantic getaway (what can I say? Nothing says romance like a vineyard), Paso Robles is a wonderfully fun place to spend the weekend with your partner.
Besides exploring all the vineyards, Paso also has a great dining scene and vibrant downtown area with ample shopping and entertainment options.
Plus, there are plenty of fun day trips to keep you busy, such as visiting San Luis Obispo or Morro Bay.
WHERE TO STAY: For an upscale and romantic stay, Hotel Cheval is a luxury boutique hotel in the heart of downtown Paso and it's guaranteed to make you feel like you're living in a classic film from the 1940s.

If you're looking for a unique and gorgeous environment to stay in, look no further. Hotel Cheval is all class, no sass with a fireplace to boot!
>> Check prices, reviews, and availability online here!
Ojai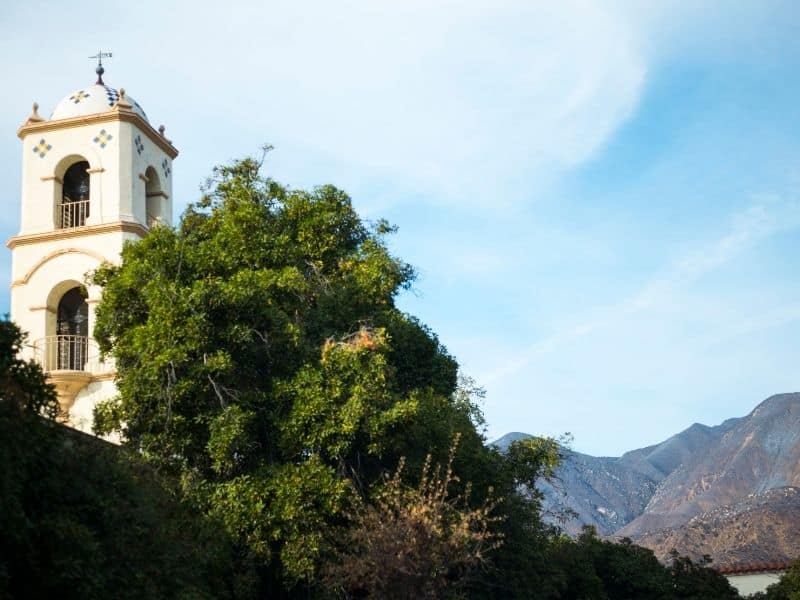 A great romantic weekend trip from Santa Barbara, the lovely town of Ojai is a great little escape from the norm.
Ojai has a beautiful Mediterranean climate and is famed for its sunsets, which strike beautifully against the mountain ranges that frame the town.
There are plenty of great hikes in Ojai as well as lovely boutique hotels to relax at and enjoy a more low-key California weekend getaway for couples.
WHERE TO STAY: One of the best places for a romantic stay is the Ojai Valley Inn.

It's so big and has so much to offer that it's a trip all in itself. Golf, restaurants, massage: the hotel is absolute luxury at its best.

The location is unbeatable, the rooms are spacious and romantic, and you'll find yourself practically unwilling to check out. You've been warned!
>> Check availability, prices, and reviews online here!
Joshua Tree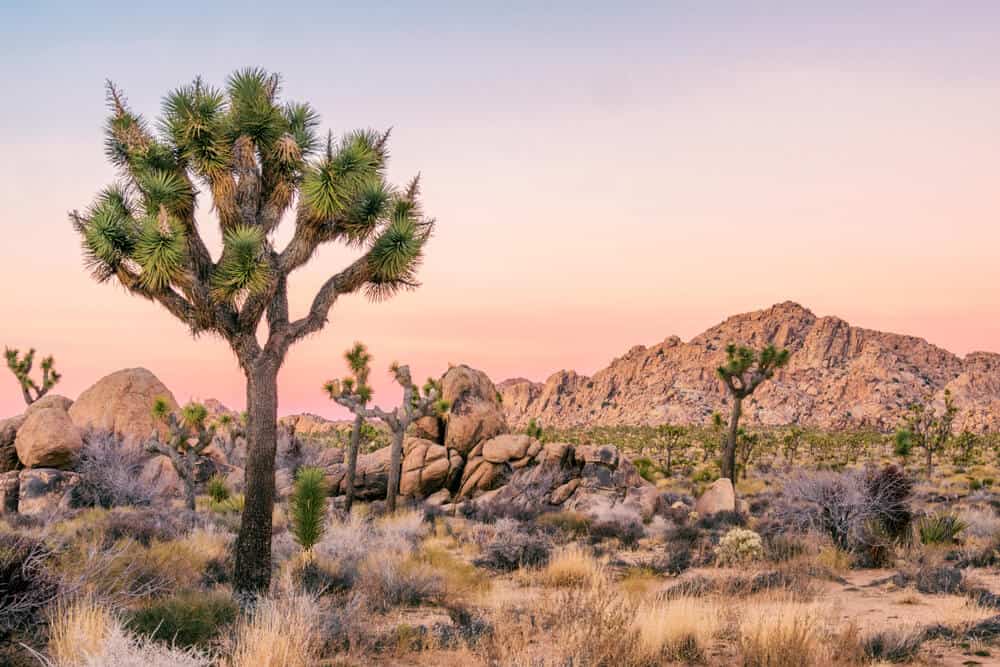 If you love nature and stargazing, then camping in Joshua Tree is a wonderful vacation for couples in Southern California.
Joshua Tree National Park is an International Dark Sky Park, meaning the stargazing opportunities here are world-class. 
Be extra romantic and bring a telescope for you and your partner to share!
Not so into camping? There are also tons of wonderful Joshua Tree vacation rentals that are relaxing and romantic places to unwind between hikes amongst the mystical-looking Joshua trees.
WHERE TO STAY: For the perfect romantic couples trip, look at Sacred Sands. This chic guesthouse has everything you want!

From gorgeous bedrooms with Moroccan-inspired decor to private patio areas with an outdoor bathtub and lounge area, you'd be forgiven for never wanting to stay beyond the walls of Sacred Sands during your stay in Joshua Tree…

But if you do, all the park amenities are close at hand! 
>> Check availability, prices, and reviews online here!
Solvang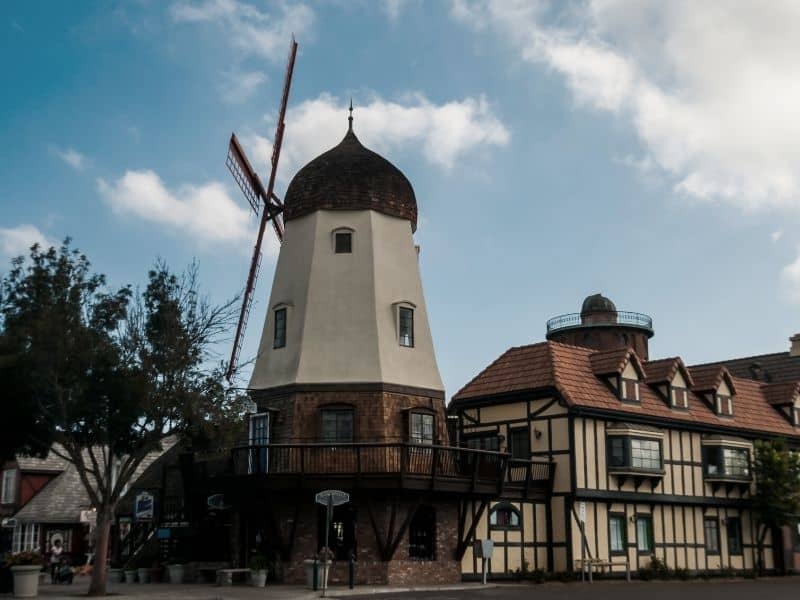 The charming Danish town of Solvang is a great romantic getaway from Santa Barbara or Los Angeles, offering distinct European vibes and excellent wines all in one little town.
Solvang also has gotten a fancy glow-up recently after it blossomed into fame from its Sideways cameo, so now you'll find all sorts of boutiques, galleries, and restaurants that you wouldn't have previously.
And if pastries are your love language, don't miss Solvang's famous aebelskivvers!
Where to Stay: Solvang is all about that Scandinavian vibe, so why not stay somewhere with modern Danish design?

For a traditional Danish-style place to stay, the Mirabelle Inn offers upscale, characterful rooms in what looks like a literal chateau in downtown Solvang!
>> Check availability, prices, and reviews online here!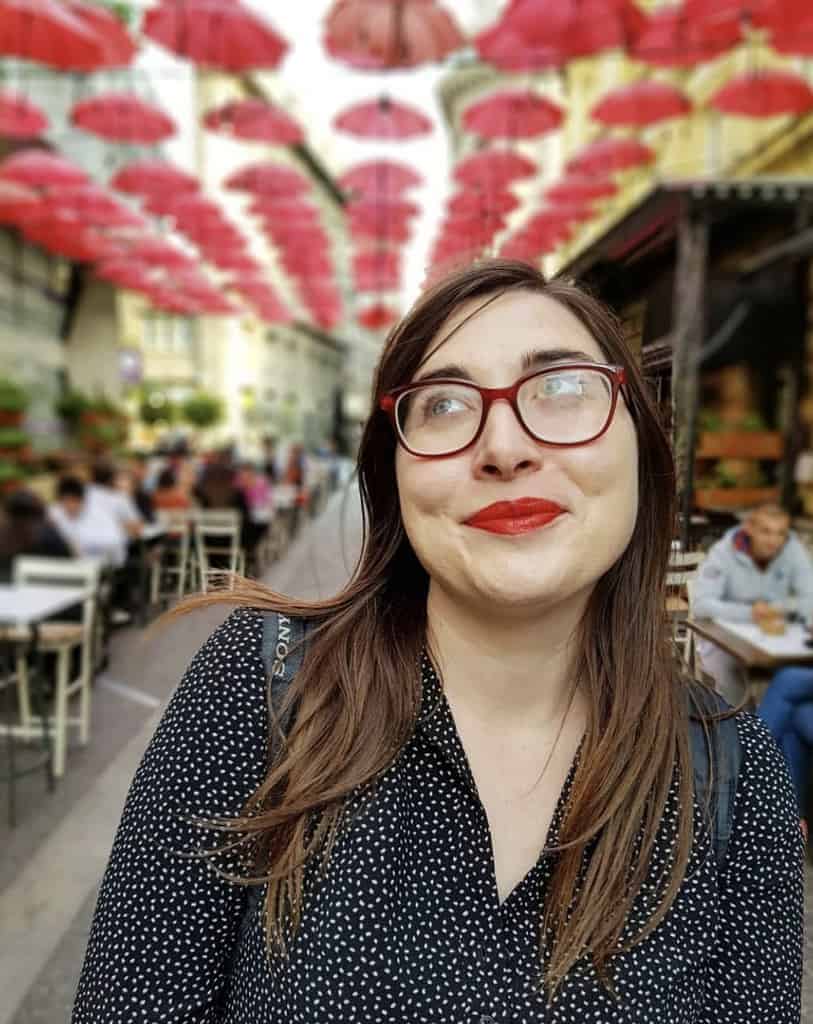 Allison Green is a travel blogger, writer, and podcaster who grew up in the Bay Area of California. She has spent time living in New York, Prague, and Sofia, but has returned to live in the East Bay. She has traveled to 60 countries before the age of 30 while running several digital travel publications. Her writing and podcast have been featured in Forbes, CBC Canada, National Geographic, the Huffington Post, and CNN Arabic, amongst others. She's obsessed with bouldering, houseplants, other people's pets, and anywhere she can see the ocean.