What's the best way to experience Joshua Tree? As close to nature as possible!
We absolutely love Joshua Tree, and we've written a lot about its epic photo spots and crafted perfect one-day and two-day itineraries for visiting the park, as well as a complete guide to visiting the park.
But if you don't know where to stay in Joshua Tree, let me suggest skipping the typical resort or upscale Airbnb for an opportunity to go glamping in Joshua Tree!
You'll get to enjoy desert sunrises and sunsets, stargaze in an internationally-recognized dark sky destination, and make the place you stay a memorable, integral part of your Joshua Tree getaway.
Whether you want a true Joshua Tree glamping experience like staying in an upscale, spacious tent, an over-the-top memorable stay in a stargazing dome, or a more comfortable stay in a luxury Airstream, trust me: there's a perfect Joshua Tree glamping option for you!
Joshua Tree Glamping: Yurts and Luxury Tents
The Wonder Valley Yurts
Note: This post contains affiliate links, which earn me a small commission at no extra cost to you if you make a purchase using one of these links. Thank you for supporting this free content!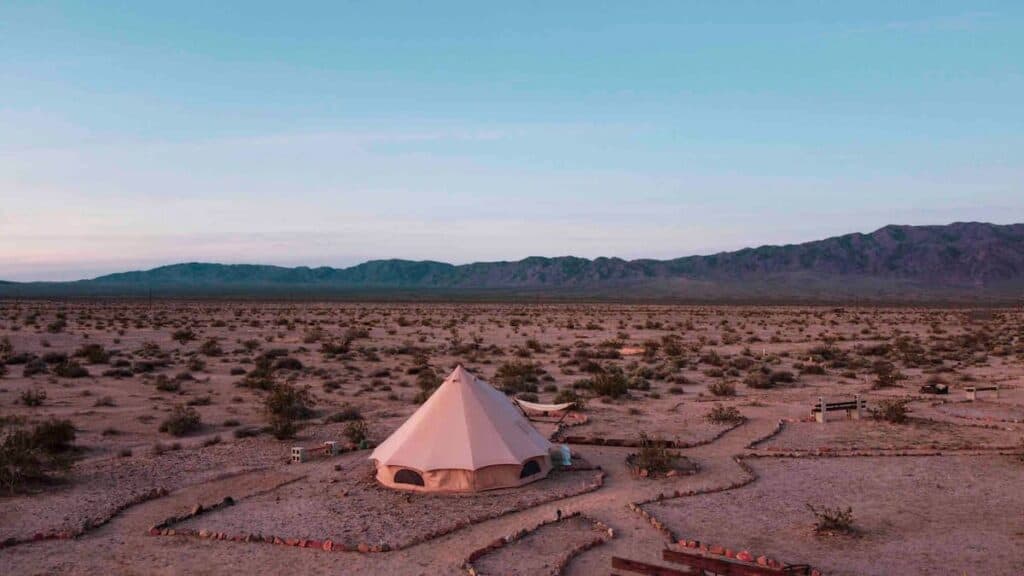 These beautiful yurts in the middle of the desert landscape are the perfect Joshua Tree glamping destination for someone who wants to be close to nature yet also have all their creature comforts close at hand.
These glamorous yurts have plenty of space with an eye on design: think comfortable leather couches to stretch out on with a book, pops of color in the form of beautiful rugs and details, and plush beds to sleep on.
Meanwhile, plenty of wonderful amenities are literally in your backyard, including an outdoor shower, fire pits, wood decks for relaxing on, BBQs to make a fabulous outdoor meal, and hammocks to relax on.
This is the perfect place to stay if you want to be off-the-grid yet still have some creature comforts. There is solar power which will allow for lights and USB charging, though don't expect to be able to charge anything which requires an outlet.
Likewise, there is no refrigeration available, but this Joshua Tree glampsite does offer coolers, so just BYO ice and all will be good!
The location is in Wonder Valley, near the East Entrance which is less crowded, as it's closer to Twentynine Palms as opposed to Joshua Tree town. This is perfect if you're an early bird who wants to make a beeline to the park for sunrise hikes before the crowds hit Joshua Tree!
Book a glampsite at The Wonder Valley Yurts on Airbnb!

If this site is booked up on your hands, check the other yurt on the property.
Past guests say:
"This was exactly the retreat I needed during these crazy times! The yurt and bed were really comfortable. The stars looked amazing! Super peaceful and I felt safe."

"Great chill space, that felt covid safe with thoughtful touches. If it's wintertime, definitely bring extra blankets… I hope to come back in the summer time!"
Joshua Tree Tents with Pool
These simple yet elegant glamping tents in Joshua Tree offer great value and an unbeatable location.
There are 5 tents on the compound, as well as two bathrooms complete with showers with hot water. Also on the compound are a huge pool for swimming, a deck area, a patio, a BBQ to use, and five gorgeous desert acres to explore in privacy.
Some of the tents have two twin beds, others offer a queen, so check for the type of bed setup you'd like while picking your Joshua Tree glamping spot! Each tent comes with a bed and small kitchenette, as well as access to all the shared spaces.
The location couldn't be better: less than a mile to Joshua Tree town and two miles to the park entrance itself! Now that's location, location, location.
There are five tents available to book with similar amenities, just different bed setups: Twin Bed 1, Twin Bed 2, Queen Bed 1, Queen Bed 2, and Queen Bed 3.
Past guests say:
"If you are thinking about staying here DO IT!! This was such an amazing stay. It was in a great location and had AMAZING amenities. It had an amazing shower and bathroom area. I love to camp so I appreciated the hot water and the plumbing. The common area was so entertaining and beautiful. The tent was everything and more. 10/10 I definitely recommend."
"Needed a trip to unplug and this unique stay was more than I expected. It's a great place to just feel like you're away from the city but not civilization."
JTHAVEN Bubble Stargazing Tent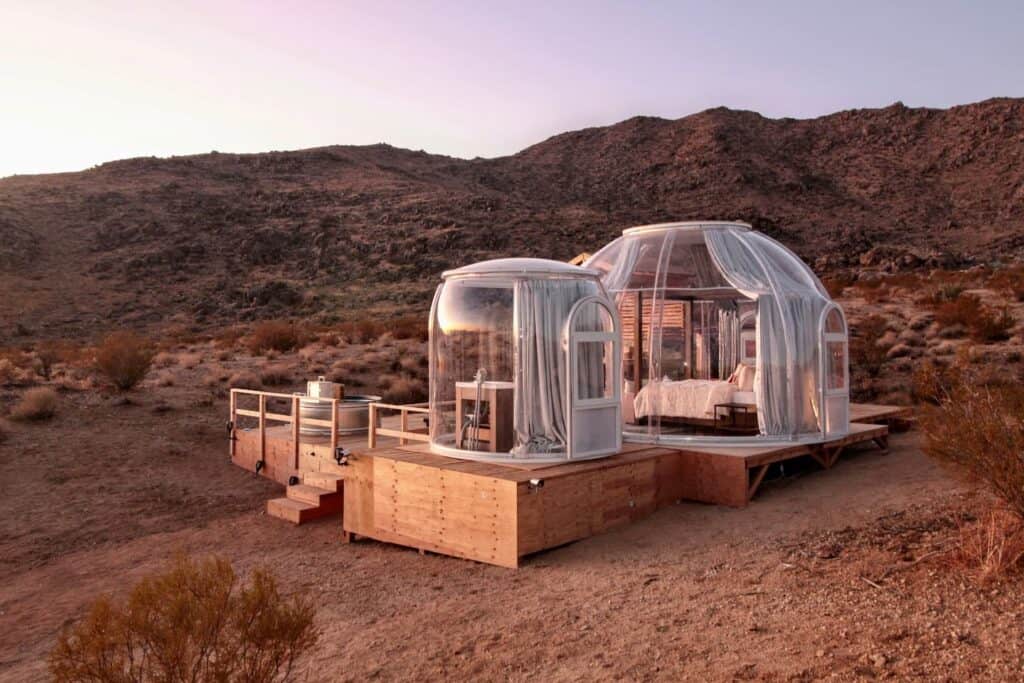 This gorgeous stargazing bubble is the ultimate special occasion glamping Airbnb in Joshua Tree!
There are two bubbles on-site: one is a bedroom with a comfy queen bed with a sink-into-sleep memory foam mattress, whereas the other right nearby is a half-bath. There is an outdoor shower as well with propane heat so you can take a warm outdoor shower if you wish!
The dome is great for stargazing, but should you decide you want to sleep in and not be woken up by the sun, you can close the blinds for privacy — same goes for the bathroom, though considering it's a 30-acre private lot about 10 miles from Joshua Tree National Park, you probably don't have to worry about privacy!
The bubble can be heated in the winter with a space heater as well as a heating pad for the bed for a guaranteed warm night's sleep out in the desert.
Note that the Stargazing Bubble is off-grid, so power is limited. There is an outlet to charge a phone or computer, but there is no heavy-duty power appliances like a refrigerator, etc.
However, you can bring a cooler and cook on the outdoor BBQ island, which also has a stove in case you don't feel like grilling.
Note that you can also bring your pet for a $50 fee.
Past guests say:
"Very unique stay. Perfect for a little getaway! Romantic little place. Joshua tree is beautiful and this cute little bubble house pushed it to the next level. This will always be a memorable stay to me."
"Coming here I already knew this place was going to be amazing, but actually staying the night and experiencing the beauty of Joshua tree at night combined with the transparent walls was magical. 10/10 would recommend. I was worried it would be too cold during February but the heated blanket did wonders."
THE MOON dust Black&White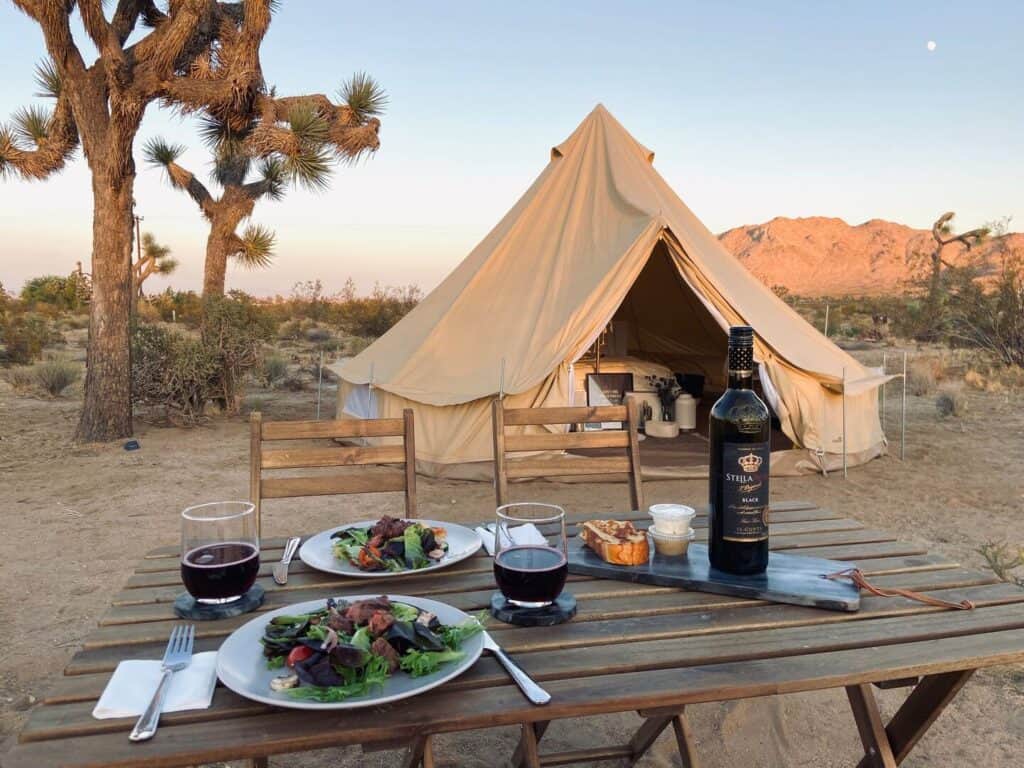 Set on 2.5 beautiful acres of high desert landscape scattered with Joshua trees, this gorgeous Joshua Tree glamping destination is affordable luxury in a nutshell.
Enjoy a spacious 16 foot tent with a queen bed and gorgeous design (as well as a heater to keep you warm on unexpectedly chilly desert nights).
However, you also have access to a spacious outdoor area with a cowboy tub for cooling off in, a fire pit, a picnic table complete with BBQ and cooler (BYO ice), a lovely hammock and lounge area, and best of all — a heated (private!) outdoor rain shower!
Note that this is off-grid property, so do read the instructions carefully so you canbe fully equipped before arriving. For example, you'll need to BYO charcoal, drinking water, and propane (the indoor heater uses propane, so bring a few canisters of propane if you think you will need to use the heater!). There is cell service, but no electricity, so relax and unplug!
Past guests say:
"We had a wonderful stay here! It was beautiful and quiet, yet close enough to civilization if needed. Juan was very quick to reply when I had a question too which was lovely. Our favorite feature was definitely the shower!"
"This is the place you want to stay if you're looking for a comfortable outdoor experience. We had the best time here. Gorgeous views and just the most serene surroundings. Very private and natural. So awesome!!"
Celeste Safari Tent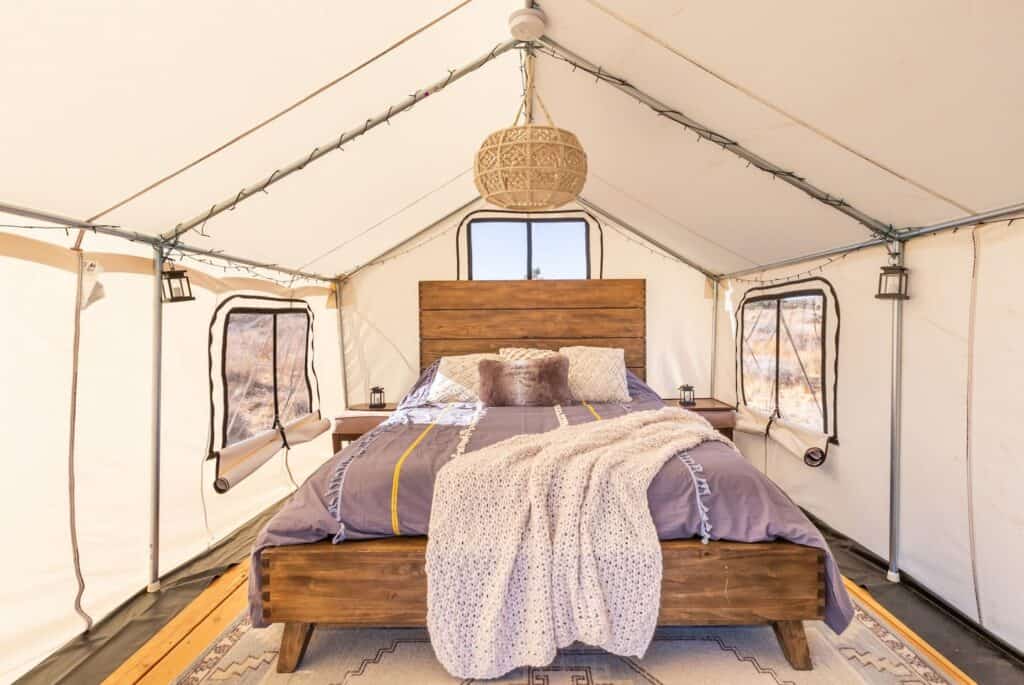 This cozy tent is the perfect spot for glamping near Joshua Tree National Park! The spacious safari tent can fit a queen bed and bookcase full of books and games, as well as having space for your own personal items.
There isn't electricity, but there is romantic lighting provided by solar power, so you can stay up reading in bed if you'd like. The tent is a beautifully designed but basic set-up, so the amenities outside are what really shines.
The tent comes with its own porch with chairs for sitting out an enjoying a cup of coffee, and also on-site is a miniature tipi, a BBQ area, outdoor dining areas (including benches built around a Joshua tree!) hammocks, and outdoor games like horsehoes and Frisbee.
But my absolute favorite part of this property is the king canopy bed outdoors which is perfect for both nighttime stargazing and lazy siestas in the afternoon sun.
Past guests say:
"My stay ways only for a night, and camping is not my favorite thing to do because I get super scared at night, but the level of comfort and security I felt made it less scary. Would definitely stay again. The hosts responded quickly to anything I needed and fixed the small issues I had."
"Such a special spot! Easy to find, excellent directions, beautiful area and accommodations."
Lazy Sky Glamping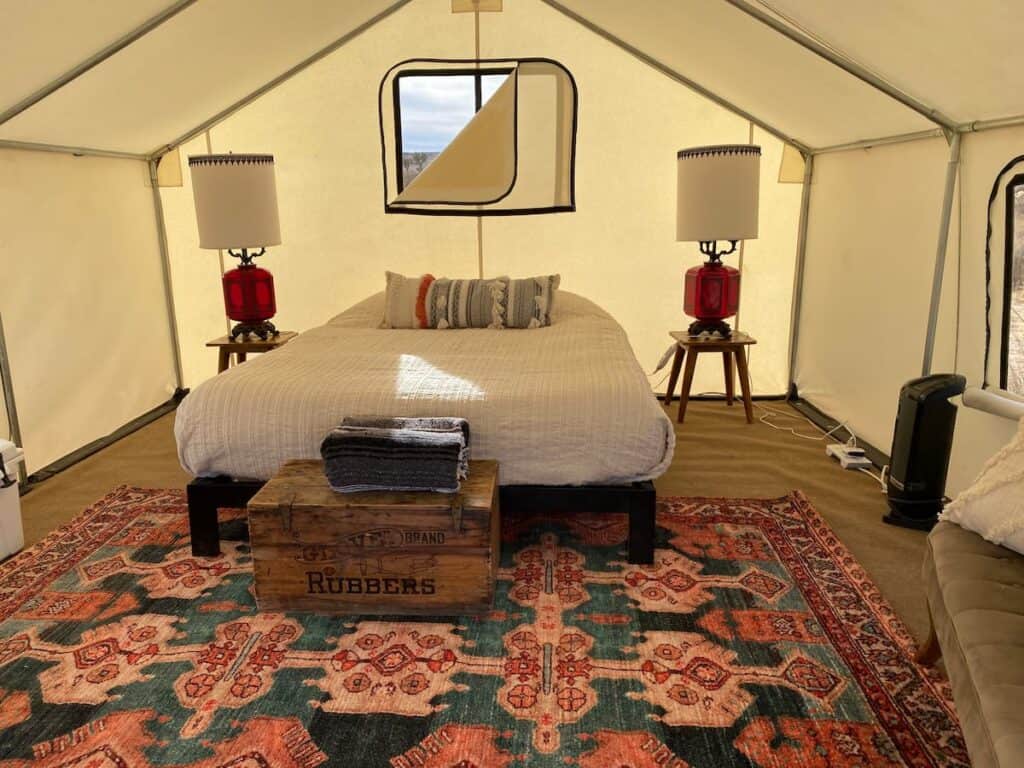 For a cozy time glamping in Joshua Tree without breaking the budget, Lazy Sky is a great option. Their glampsites are cozy yet minimalist, so you're not using up your budget on anything you don't need.
Each cozy canvas tent is quite spacious and comes with a queen bed and a sitting area for enjoying a book or a cup of coffee. There is also a heater provided as it can get a bit nippy in the desert at night, even in the summer!
Your personal glampsite also comes with a fire pit with chairs to relax around at night, as well as your own hammock for relaxing.
There is a shared kitchen area as well as a shared bathroom area, so this is not the place to go if you are seeking complete solitude.
But if you're traveling with a group of your own friends and can rent out the place, or if you don't mind sharing a few amenities with fellow travelers, this is a great choice to save on your Joshua Tree getaway.
Past guests say:
"The place was amazing! My boyfriend and I stayed in the Glamp tent and we loved it. The shared spaces such as the bathroom and the kitchen were super clean! We loved the wagon at the entrance which we used to carry our things to our tent. The tent itself was huge, and way nicer than we could have ever imagined. The private bonfire area in front of each tent and the hammock were great additions to the area. Overall, I would definitely recommend to family and friends. If you're thinking about staying here, do it! You'll love it as well!"
"An amazing place for stargazing and spending some time in nature! Super thoughtful amenities and very generous with common space. Never felt crowded or a bother to others. Felt very comfortable and safe. Stayed in January so brought some extra blankets but our tent had a few plus a space heater. Very helpful and very comforting. Cannot wait to come back again! Already planning a spring trip. Thank you Annie, Tony and Josh!"
Joshua Tree Glamping: Airstreams & Trailers
Wonderlust Airstream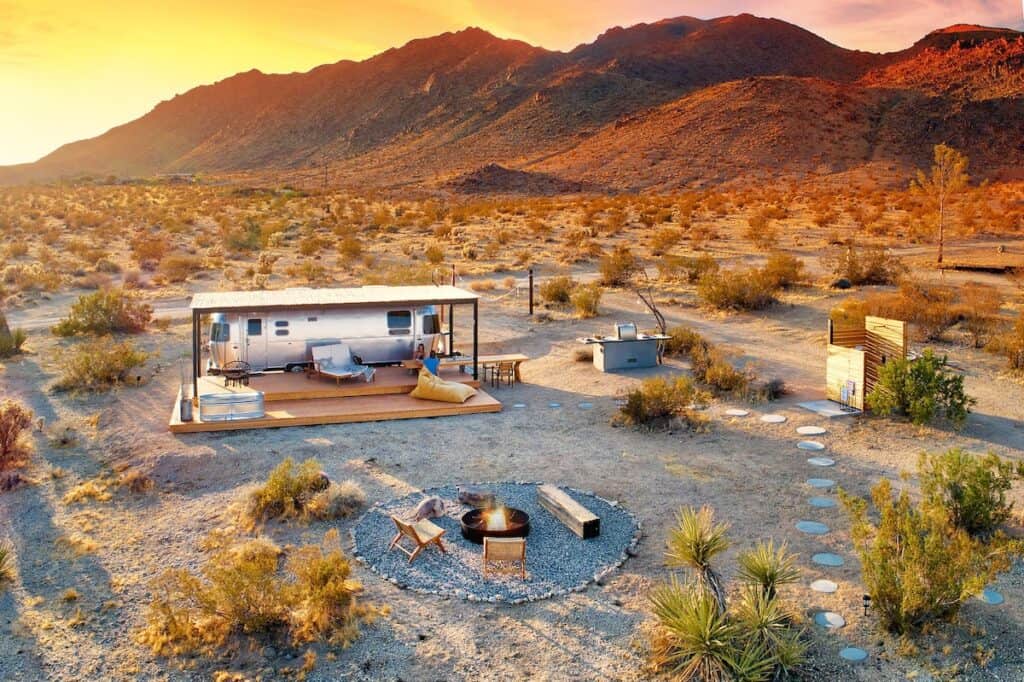 It truly doesn't get better than this Joshua Tree Airstream!
Close to the park and to downtown Joshua Tree, there is so much to see and do around this Joshua Tree glampsite that you'd be forgiven if you didn't spend much time at home… but that'd be a shame, as this is truly one of the best options for glamping in Joshua Tree there is.
While the interior is absolutely beautiful, with lots of airy white details and linens that make the space seem even larger, the outdoor area is what really draws your attention and makes this place truly special.
It's got it all: fire pit, outdoor shower, grilling area, outdoor dining, covered patio, and a back deck with a hot tub and cowboy tub.
The interior is no slouch, either. You've got a full kitchen with a fridge with freezer, a gas stove, an oven, a microwave, a Nespresso machine, and all the pots and pants and cutlery you'd need to rustle up a delicious meal.
The bathroom is also fully equipped with a toilet and shower, toiletries, and towels for a squeaky-clean Joshua Tree glamping experience.
Book this beautiful Joshua Tree glamping Airstream on Airbnb!
Past guests say:
"The Wonderlust Airstream was simply amazing! We spent two days enjoying the property's many features, and exploring the National Park nearby. Dan (co-host) was incredibly friendly, responsive, and knowledgeable! The Airstream / BBQ area was fully-furnished with everything you need for cooking – you need nothing but the main ingredients! Towels & robes for the jacuzzi are provided, as well as separate towels for the shower inside. Lovely little touches such as extra blankets, soap, shampoo & conditioner, cooking spices, oils & vinegars, coffee & tea, etc made us feel like we had a Bed & Breakfast all to ourselves, on a super trendy Airstream! Treat yourself and book this trip!"
"The Wonderlust Airstream is quite the experience! Breathtaking views of the nearby mountains, gorgeous sunsets and star-filled skies. The amenities make the stay cozy and comfortable. Very close proximity to Joshua Tree National Park and town center. Highly recommend!"
Magical Airstream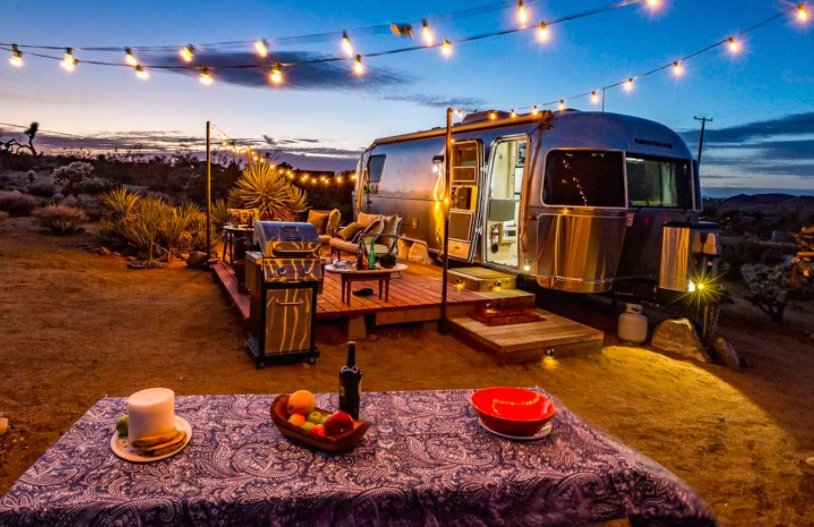 If you really want to up the glamping factor while staying in Joshua Tree, this Magical Airstream is really just that: magic. It will change the way you think about spending a night out in the desert!
Located near to the entrance of Joshua Tree National Park as well as downtown Joshua Tree, this charming Airstream trailer fits everything a group of four could need: from a fully-stocked kitchen to convertible seating and beds for four inside.
Given its cozy and quiet location, it makes for an amazing solo retreat spot as well if you're looking to unplug for a solo stay!
The interior is exceptionally cozy for its small size, and what it lacks in space, it makes up for in its location and outdoor features, including a spacious deck area, gas grill, outdoor dining table, and a propane fire pit!
Past guests say:
"It truly was magical. The best experience that I have had with an Airbnb. The hosts were so great and the place had all the amenities and then some! I'm so glad we were able to get away from the craziness and have a few days of leisure and nature!"
Airstream Oasis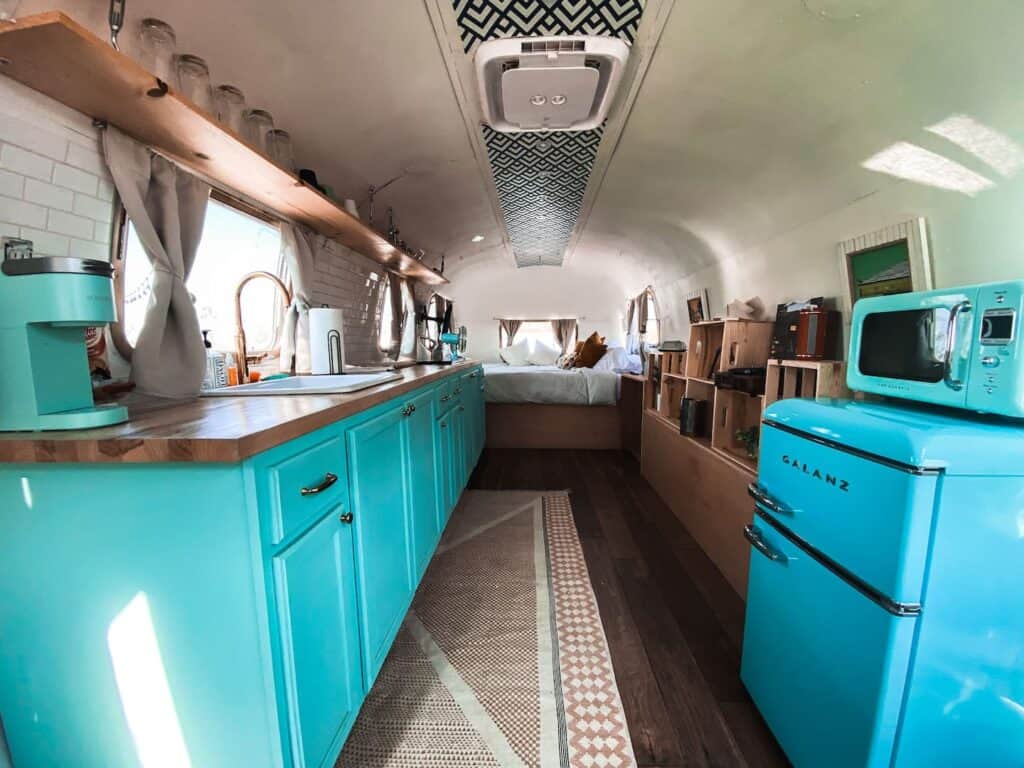 This cheery Airstream getaway is the perfect Joshua Tree glamping destination for those who want to stay in comfort while still enjoying nature.
The Airstream is ultra-modern with a lovely turquoise blue design which adds color and whimsy to your stay. There is a spacious bed on one end of the Airstream, where the other end has a nice breakfast nook for enjoying a delicious meal cooked in the massive, well-equipped kitchen.
The Airstream also has A/C if it's hot in the summer, as well as WiFi if you need to catch up on any work while you're glamping.
But where this Airstream shines even harder is on its outdoor offerings. Think a hot tub, a cool-down cowboy tub in summer (which has been converted into a fun ball pit in winter!), an Astroturf lounge area, an 8-person hot tub, an outdoor shower, and a canopy bed for enjoying afternoon naps.
Best of all, pets are welcome for a modest $15 pet fee!
Past guests say:
"This was a great spot to stay at. Very spacious for 2 people and pet-friendly — my pup had a blast running in circles and relaxing on the canopy. The camper is very secluded and private. Everything is very clean and well taken care of. The hosts are very quick at responding to any questions/issues! 10/10, would highly recommend!"
"This place is beyond amazing. It was everything and more, and was a birthday celebration for my fiancé to remember. Will be back again!!"
Luxury Desert Camping for Two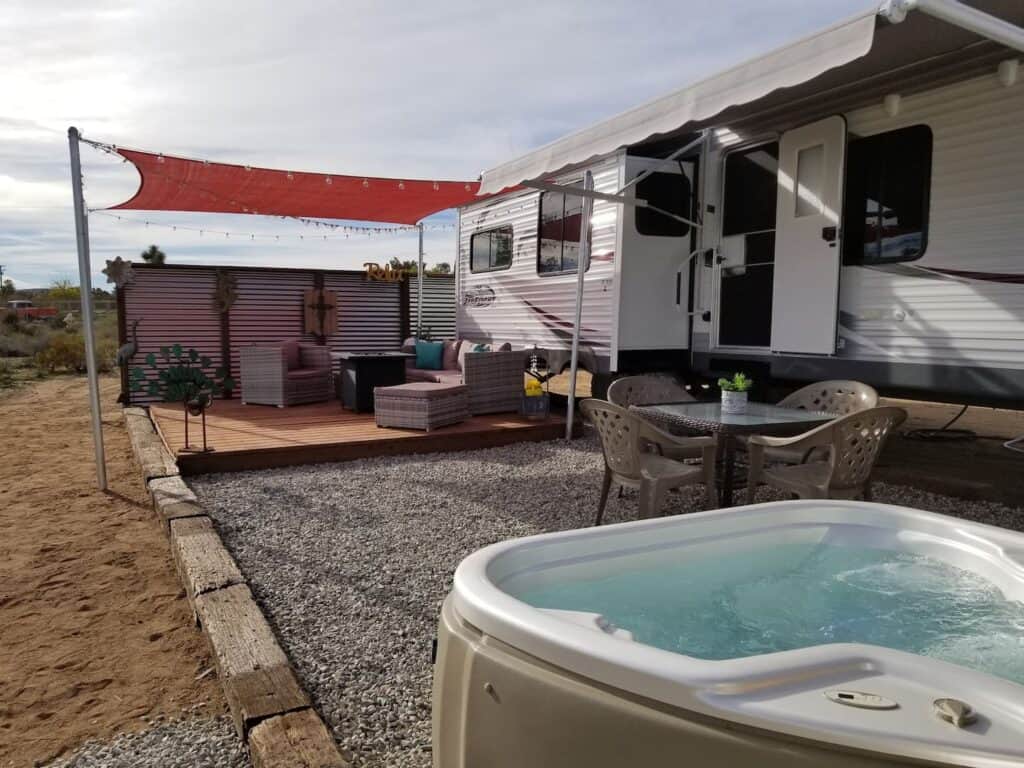 This cozy RV stationed in the middle of the desert is laidback luxury writ large: really large!
This camper is quite spacious: in fact, the interior truly looks like a home, not a camper, complete with a faux fireplace and a leather sofa and armchairs!
The bedroom is also really beautiful and cozy, with desert-themed bedding that pays homage to the beautiful Joshua Tree desert landscape around it.
Of course, all the creature comforts from an RV that you'd expect, you have, including a separate, fully hooked-up bathroom with a toilet and shower.
There's also WiFi, a fridge/freezer, a 3-burner gas stove, oven, microwave, heat & AC, hot water, TV, and a stereo with surround sound (hello movie night with microwave popcorn!) The kitchen is well-stocked with virtually all you need to cook up an epic meal.
And of course, there's also a spacious outdoor area, with a covered patio with plenty of seating, an outdoor dining area, a propane grill, a gas fire bit, and best of all — a hot tub to soak in at night and take in the starry desert sky!
Past guests say:
"I recommend this place to anyone that wants to get away from the city and stargaze in a hot tub. Joshua tree is only a couple of minutes away so this location is very convenient if you're looking to explore the rocks. Lorre and Teresa's hospitality is something to brag about as they are quick to respond and helpful if needed. I would definitely book this place again!"
"Such a perfect spot! We had such a great time and always looked forward to returning back to the RV after a long day. The outdoor set up is outstanding! Thanks so much for everything Lorrie & Teresa. Highly recommend!!"
Color Trip Trailer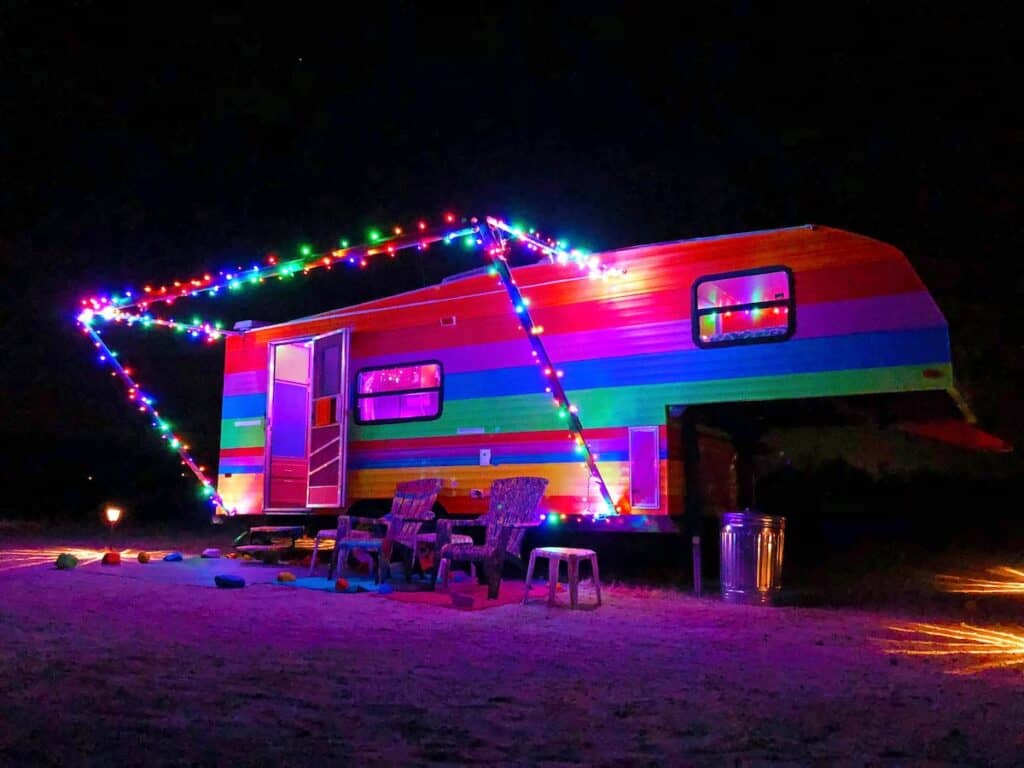 If you love to live life in Technicolor… or if you're looking for an epic spot for some Instagram pictures that no one else has, head to the epic Color Trip Trailer for a true burst of color in your life!
Literally every inch of this Airbnb is coated in color, making it a marvelously cheery place to spend a few days out in the desert with a pal or even solo.
Just across from Joshua Tree National Park and a few miles east of downtown Joshua Tree, this Airbnb not only brings it in terms of design but also location.
The trailer is fully equipped with all you'd need for a cozy desert stay, including a "cowboy pool" for cooling off in the desert heat, a bedroom, bathroom with shower and toilet, a kitchen with gas stove, fridge, coffee maker, central heating, A/C, and more!
The outdoor space is lovely and lit up so that it's colorful even at night! It comes with a cowboy pool (complete with a rubber ducky, obviously), a front patio with plenty of seating, a charcoal grill, and a fire pit to warm up on cool desert nights as you stargaze in the dark sky paradise that is Joshua Tree.
Book this colorful glamping camper in Joshua Tree on Airbnb!
Past guests say:
"Really fun vibe for a trip to the desert! Close to the park entrance and a fun outdoor set up for enjoying the sunset 🙂 I recommend this place for sure"
"Patrick is a great host and responds quick if you need him! He has instructions on how everything around the RV works if you need any help! The lights and the sky are magical!"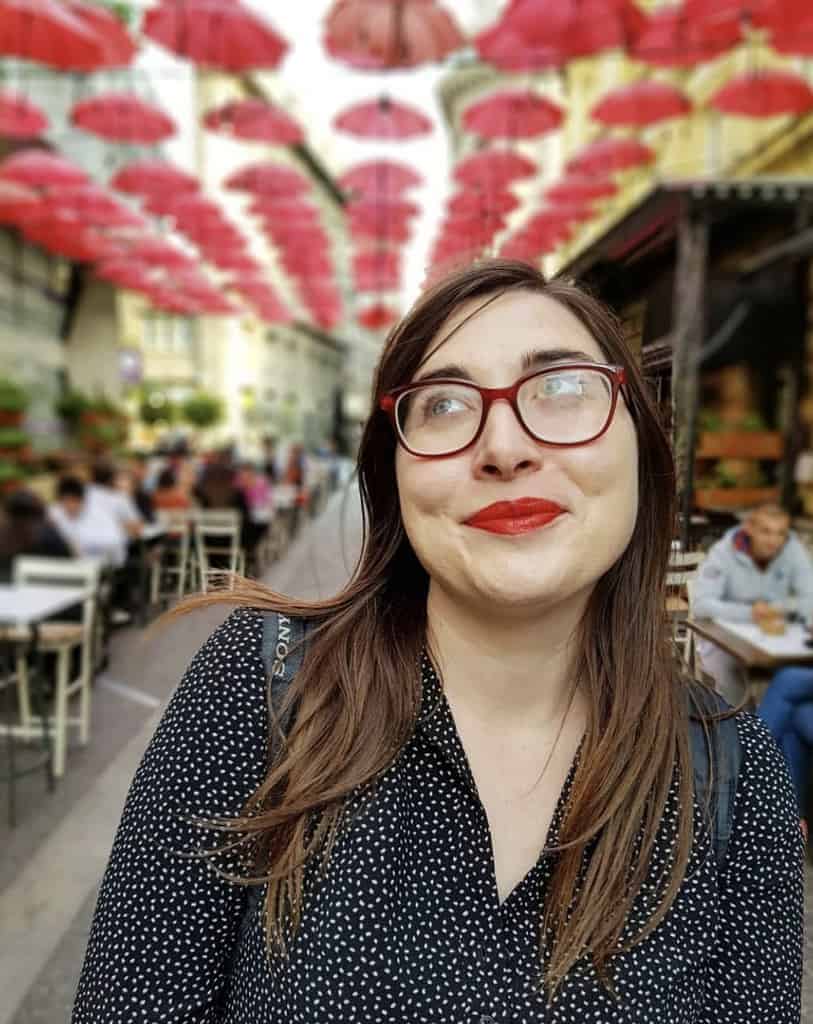 Allison Green is a travel blogger, writer, and podcaster who grew up in the Bay Area of California. She has spent time living in New York, Prague, and Sofia, but has returned to live in the East Bay. She has traveled to 60 countries before the age of 30 while running several digital travel publications. Her writing and podcast have been featured in Forbes, CBC Canada, National Geographic, the Huffington Post, and CNN Arabic, amongst others. She's obsessed with bouldering, houseplants, other people's pets, and anywhere she can see the ocean.