For a city so famous for its hills, is it any surprise that hiking in San Francisco proper is a thing?
San Francisco has some of the best in-city hiking I have seen. From Golden Gate Park, the Presidio, and Twin Peaks, there are plenty of options to get in a great hike in San Francisco.
In this post, we're focusing on hikes within San Francisco's city limits. See our articles on East Bay Area hikes, Bay Area hikes (North + South Bay), Marin County hikes, or Santa Cruz hikes for other hikes in the nearby area!
Take a break from the action of the city to hang out with some trees, vistas, or the sea, to refresh your mind by enjoying these lovely hikes in San Francisco.
Preparing for San Francisco Hikes
It is good to keep in mind that the weather changes quickly in San Francisco at times due to the microclimates of the city and of course, our good friend Karl the Fog.
It can go from cold and windy to suddenly warm and sunny, and vice versa, in the blink of an eye.
Be sure to pack layers, check the weather, and always bring a day pack, even in an urban setting (you never know!).
Always carry water, food, a headlamp, first-aid, and extra clothes.
The Best Hikes in San Francisco
SF Hikes in Golden Gate Park
Note: This post contains affiliate links, which earn me a small commission at no extra cost to you if you make a purchase using one of these links. Thank you for supporting this free content!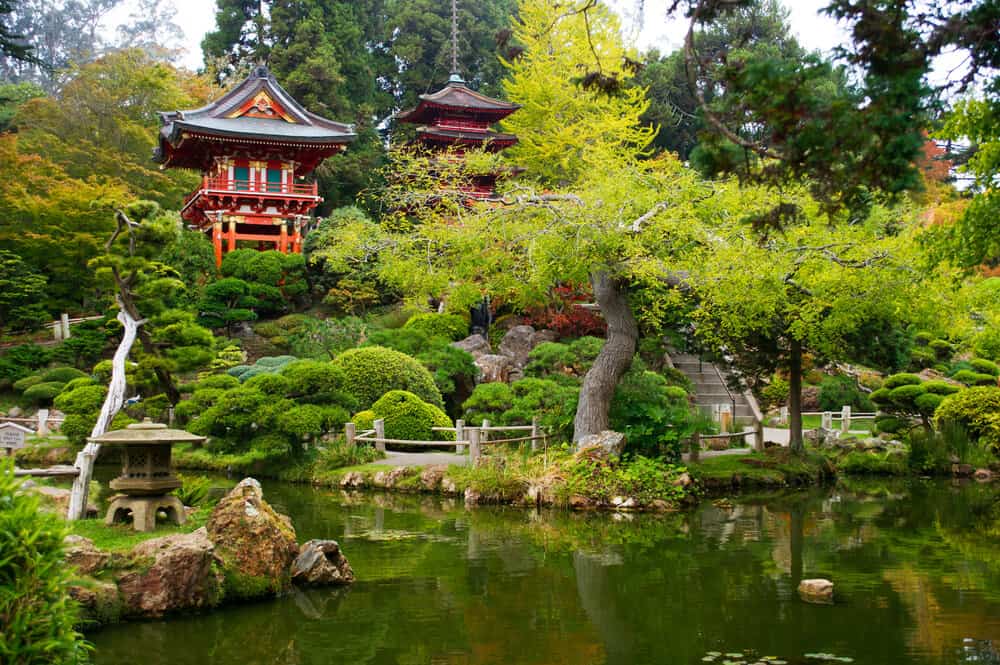 Golden Gate Park is one of the largest city parks in America!
It opened in April of 1870 and spans over 1000 acres within close proximity of the famous Haight-Ashbury neighborhood.
There are numerous trails, museums, botanic and Japanese gardens to explore… plus some other fun finds like the Dutch Windmills and paddle boating on Stow Lake.
Plus, you can see real American bison at the Bison Paddock!
The park is even larger than NYC's famed Central Park, so it is certainly filled with other fun surprises and hours of walking.
Quick note for those unfamiliar with the city: No, you cannot see the Golden Gate Bridge from here!
You have to go north to Golden Gate National Recreation Area — we will cover that next.
For now, please yourself to check out these picks for hikes in Golden Gate Park. There may not be Golden Gate views, but these San Francisco hikes are sure to get your blood pumping in all the best ways!
Golden Gate Park Loop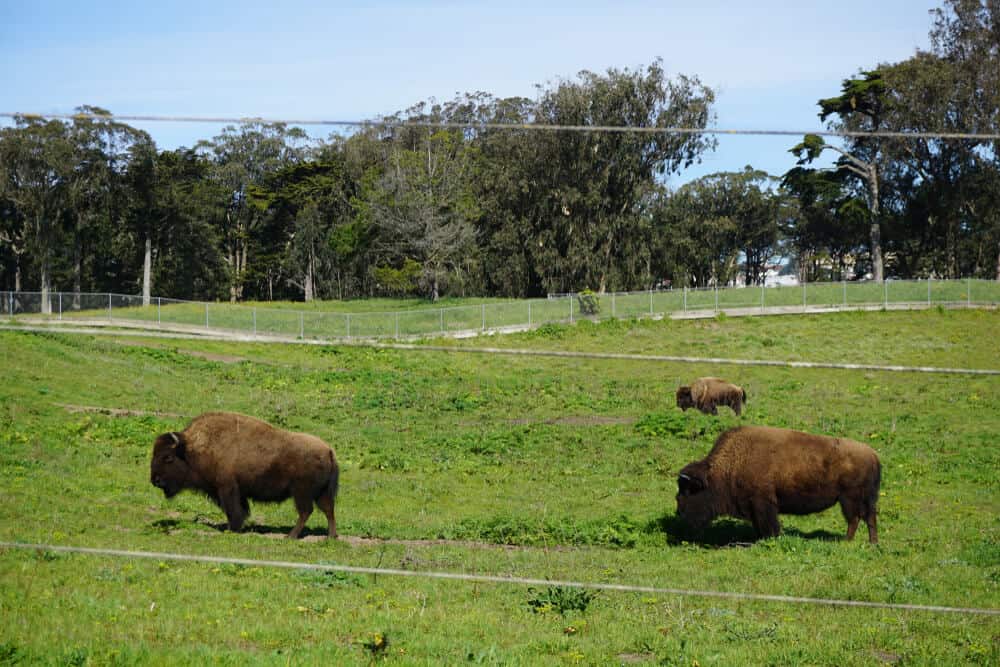 Length: 6.3 miles
Difficulty: Easy
Route Type: Loop
This is a great route through the heart of the action within Golden Gate Park.
Enter on the southside of the park at the Botanical Gardens. This will allow you to head past the museums, the Japanese Tea Garden, the Rose Garden, and more.
Plus, this easy hike takes you on a walk past the Bison Paddock, a couple of manmade lakes, and the charming Strawberry Hill. You can also rent bikes at Strawberry Hill if you'd like to rest up on the hiking and switch to cycling.
Dutch Windmills Hike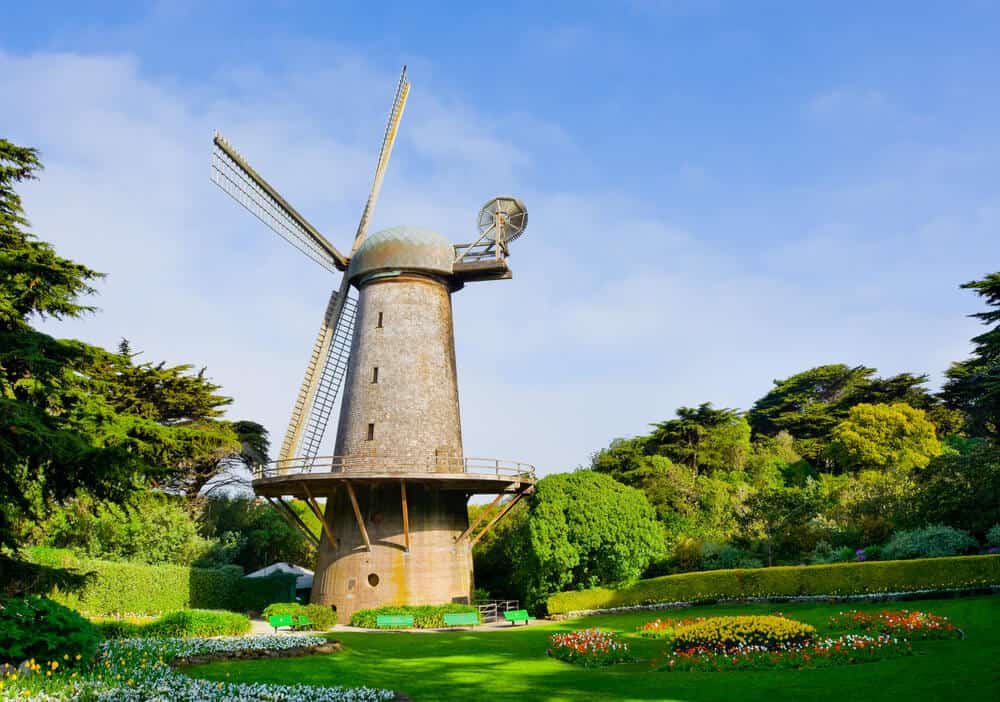 Length: 1.4 miles
Difficulty: Easy
Route Type: Out and back
Enter on the south end of the park beginning at Murphy Windmill. Follow the trail north to the Dutch Windmill.
Hike past the Beach Chalet Fields. You will go past The Beach Chalet Brewery and Restaurant which you may want to add into your day — it's a nice reward for a hike well done!
Once you return from your hike, you'll be near Ocean Beach, so this hike allows for easy beach access and beach fire pits as another great way to celebrate after completing a SF hike.
Panhandle and Music Concourse Loop
Length: 3.7 miles
Difficulty: Easy
Route Type: Loop
Check out this awesome walk through a great part of the park!
It takes you past the DeYoung Museum (an amazing art museum) which has an observatory (no fee) for excellent views of the park.
You also get walk through the music concourse, which is a really cool area of the park.
To extend your hike, head left (south) at the edge of the panhandle instead of right (north) to check out Hippie Hill, which has multiple routes to lead you back to the music concourse.
SF Hikes in Golden Gate National Recreation Area
Golden Gate National Recreation Area manages land north and south of the city, as well as within city limits.
This is where you go if you want to see the Golden Gate Bridge and some amazing coastal views, especially on the California Coastal Trail.
Plus you can always walk across the Golden Gate Bridge: perhaps the most classic San Francisco walk of all!
Lands End Trail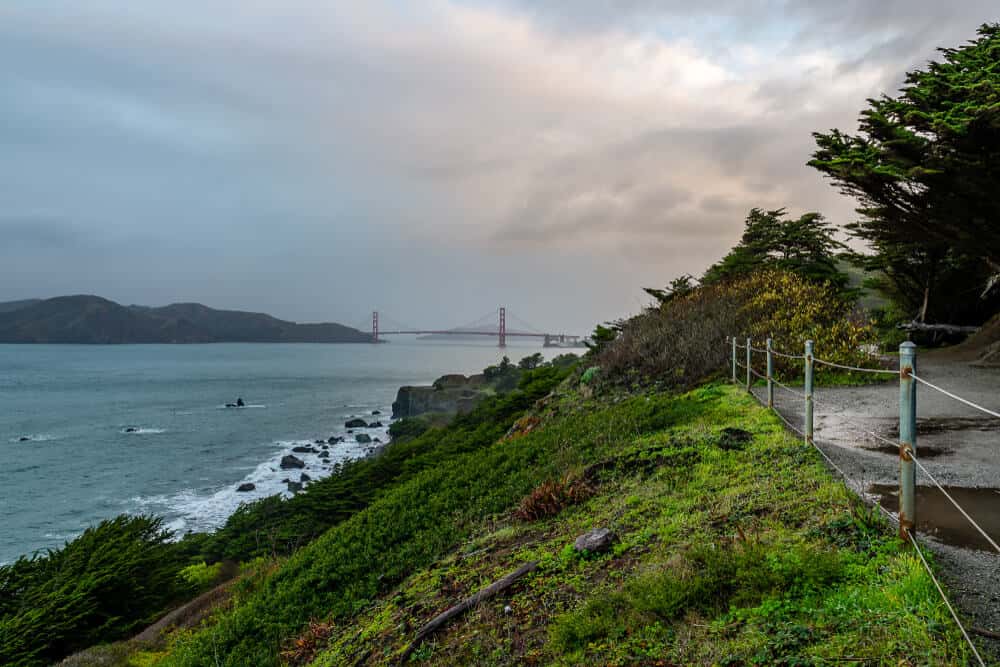 Length: 3.4 miles
Difficulty: Moderate
Route Type: Loop
This route is a famous trail in San Francisco and it's on our list of one of the most Instagrammable places in the city.
Situated on a rocky bluff overlooking the Pacific Ocean with views 30 miles long up and down the coast, Lands End is a beautiful destination for this San Francisco hike. This includes views of the Golden Gate Bridge, of course, as well as the unique Land's End Labyrinth rock structure!
The trail also has a lot of history as you traverse it for those interested in knowing a bit about the past of San Francisco.
The Sutro Baths are an especially popular hidden gem in San Francisco along this hike, the ruins of what was once a saltwater bathhouse. Hike among dark cypress trees and grassy cliffs, and be sure to check out the beautiful view from Point Lobos.
Turn this trail into a 4.4 mile out-and-back route by starting at Lands End and heading towards the Golden Gate Bridge on the California Coastal Trail.
Enjoy excellent vistas, wildflowers in spring and early summer, and an up-close view of the Golden Gate Bridge all along this hike.
You can also check out Baker's Beach, the Batteries, and Marshall's Beach for some more views and maybe a spot to take a rest with a picnic lunch.
Ecology Trail and Lover's Lane Loop/Presidio Loop Trail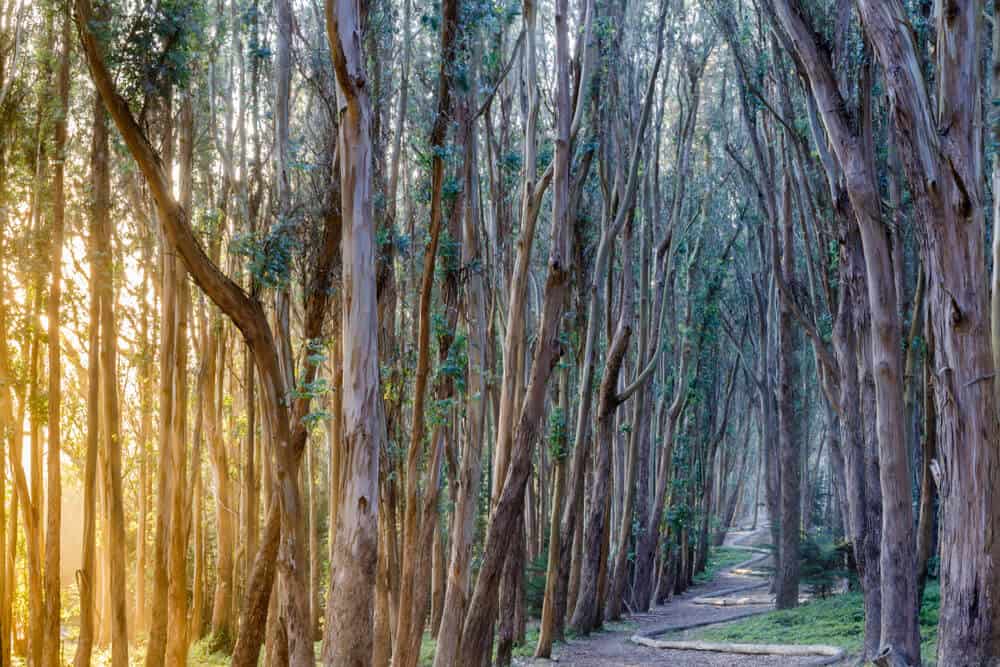 Length: 2.0 miles / 6.1 miles
Difficulty: Easy / Moderate
Route Type: loop
These San Francisco hikes have two options to allow for your energy level. Both start at the parking area near the Clubhouse.
It is a pretty urban hike with some opportunities for forest bathing under eucalyptus trees. You can enjoy wildflowers, grassy fields, and see some of the history of the Presidio.
Go past Mountain Lake and the San Francisco National Cemetery along the way. You can continue along Lover's Lane Loop and the Presidio Loop to extend the hike further.
The Palace of Fine Arts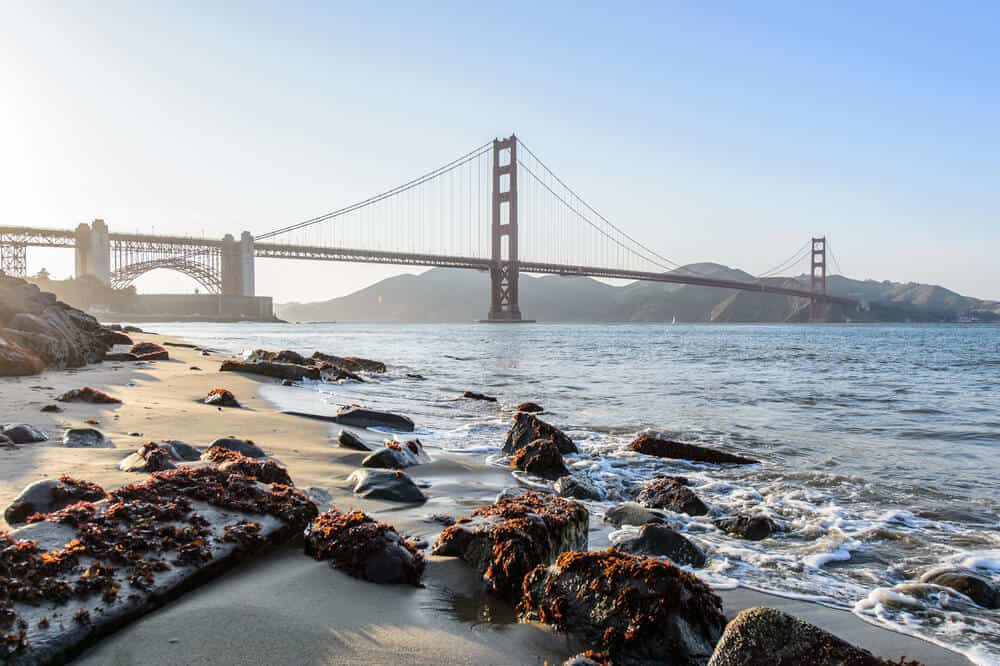 Length: 3.9 miles
Difficulty: Easy
Route Type: Loop
Enjoy a hike past the beautiful Palace of Fine Arts. It is seriously awesome if you like architecture!
Walk past Crissy Field and appreciate the opportunity to hike on the beach if you wish… though don't expect to sunbathe in San Francisco, basically ever.
Crissy Field is all about enjoying excellent views of the Golden Gate Bridge and the Bay. Plus, it is dog friendly!
Add a stroll across the Golden Gate Bridge to turn this easy trail into a moderate 7-mile loop. You would do well to time this hike with sunset — it's an epic sunset spot.
SF Hikes in Twin Peaks Park (SF Parks and Recreation)
Twin Peaks is a must-visit spot in San Francisco. There is a road leading to the top of the mountain with a few trails winding through the park.
You can hike, bike, or drive up. See wildflowers like lupine, grassy hills, and coastal scrub. It is home to the mission blue butterfly, an endangered species, which you might be lucky enough to see.
This is the only place in the city these butterflies have survived! You will be lucky to see one, and please — absolutely do not touch them under any circumstances!
Eureka Peak and Noa Peak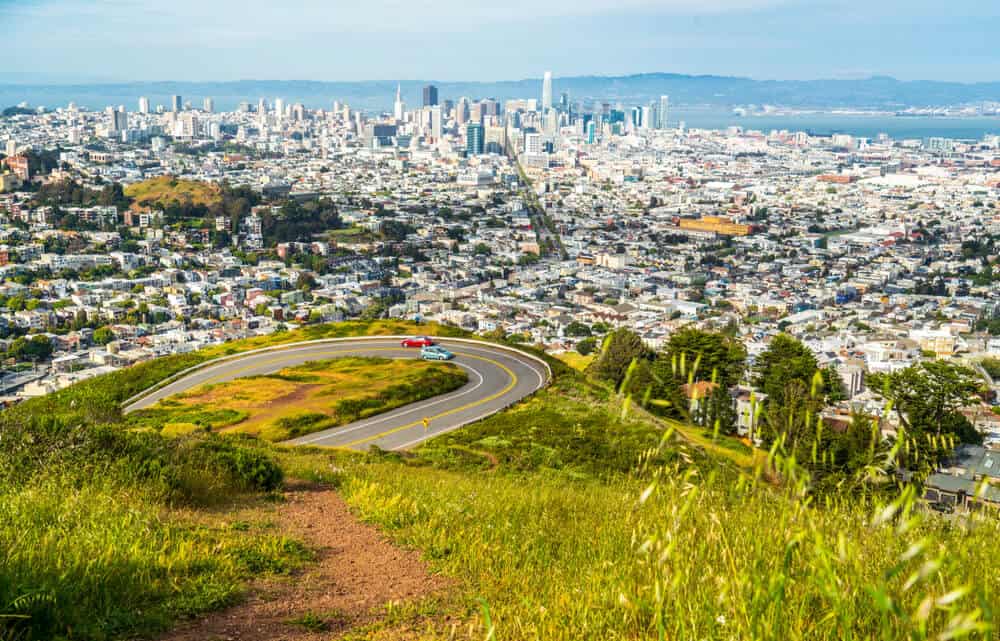 Length: 0.7 mi.
Difficulty: Moderate
Route Type: Out and back
Follow this trail network to ascend the two peaks that make Twin Peaks!
Enjoy a 360-degree panoramic view of San Francisco and the surrounding Bay Area. It's absolutely stunning.
Creek to Peaks Trail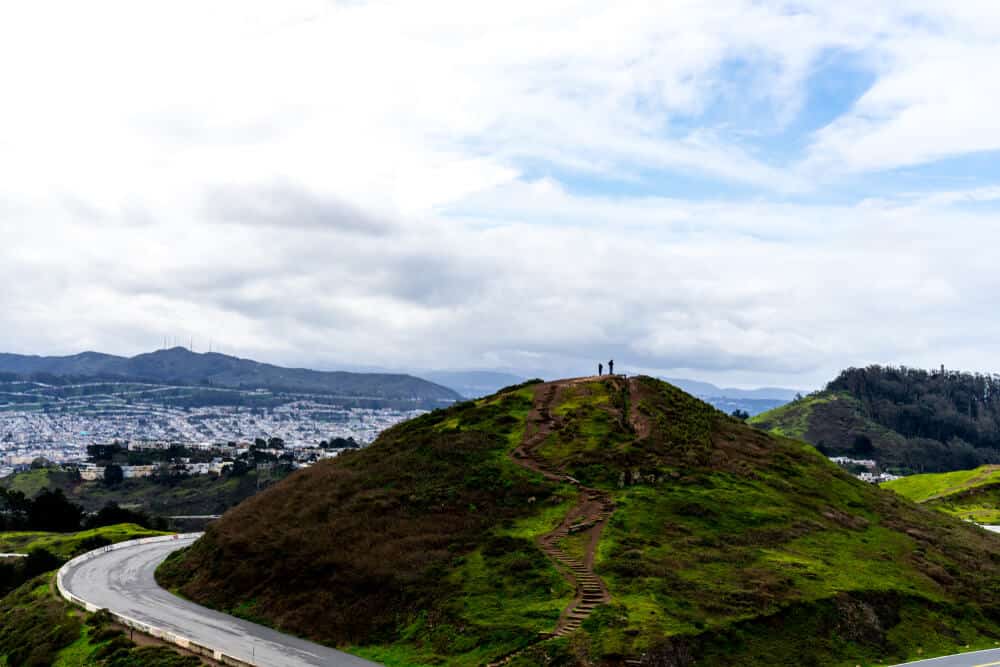 Length: 3.6 miles
Difficulty: Hard
Route type: Out and back
This San Francisco trail really gives you the opportunity to find an oasis in an urban environment!
The hike up to Twin Peaks begins in Glen Canyon Park. This park features rocky grass, scrublands, and the dreamy Islais Creek. Plus, depending on the season, you might find wonderful wildflowers in this lush area.
Head up the Islais Creek Trail to Twin Peaks. Not to be missed!
***
Beyond the heavy hitters of hiking in San Francisco, there are still a few great places to escape for a hike within city limits.
Check out these additional options for hikes in San Francisco:
Lake Merced Loop in Lake Merced Park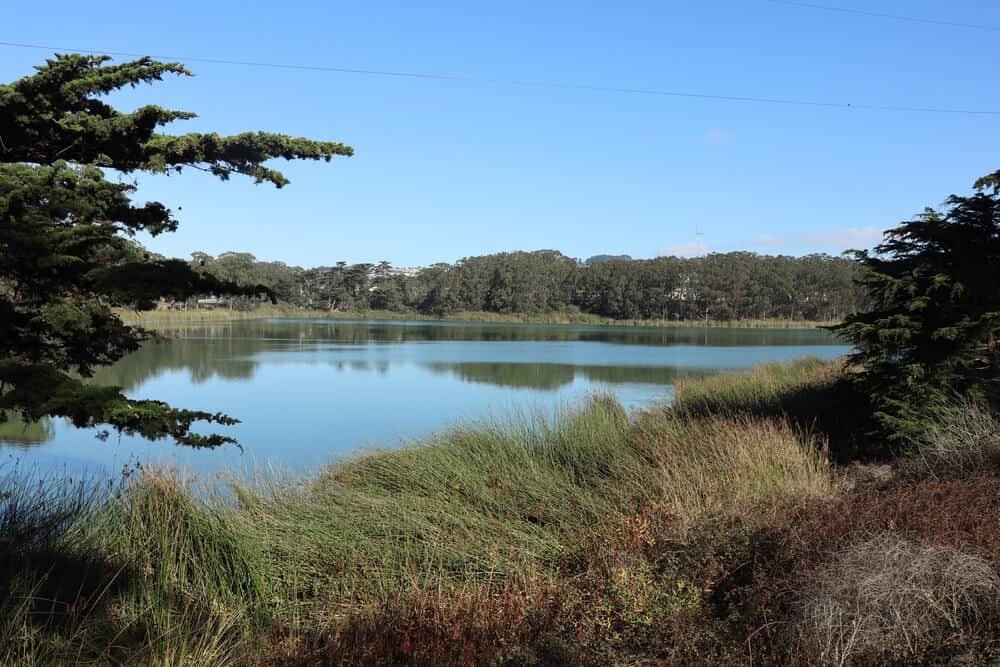 This is an easy 4.5-mile loop trail with nice lake views and wildflowers. It intersects with the Bay Area Ridge Trail which is still being fully established.
It will eventually be 550 miles long, and 380 of them are already complete. When finished, it will connect 75 parks in the area!
You can also access Fort Funston Coastal Trail easily from this area. Another great sunset spot and easy hiking along the coast.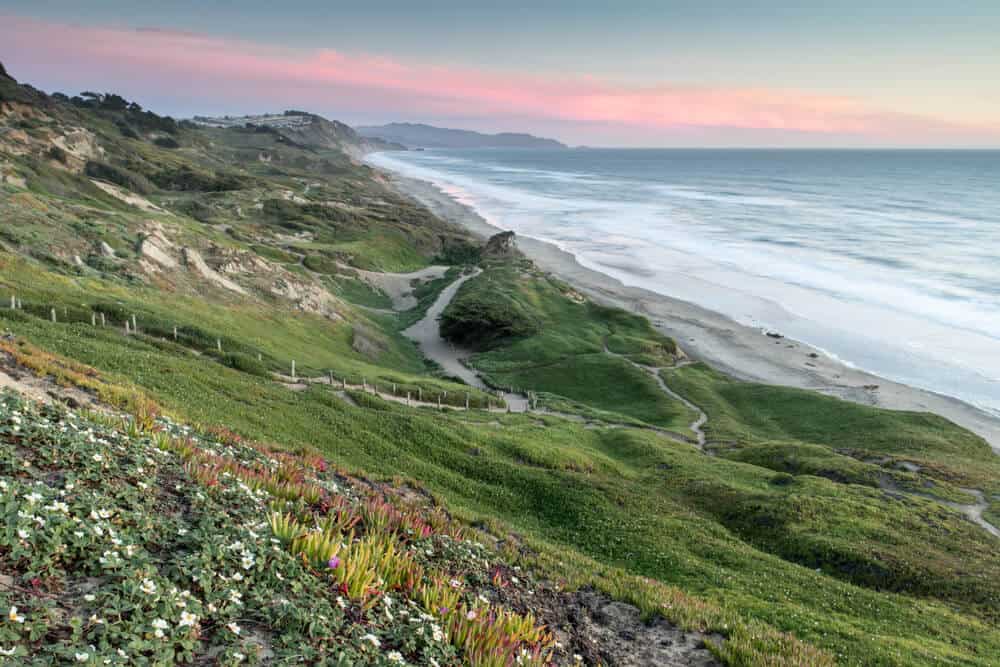 The Bay Trail
The Bay Trail on the southeast portion of the city runs 15.8 miles into Daly City.
You can walk along a beach, through parks or past the Navy Yard.
This is a choose your own adventure out-and-back trail. Hike as far or as little as you want and check out another part of the city!
Bay to Breakers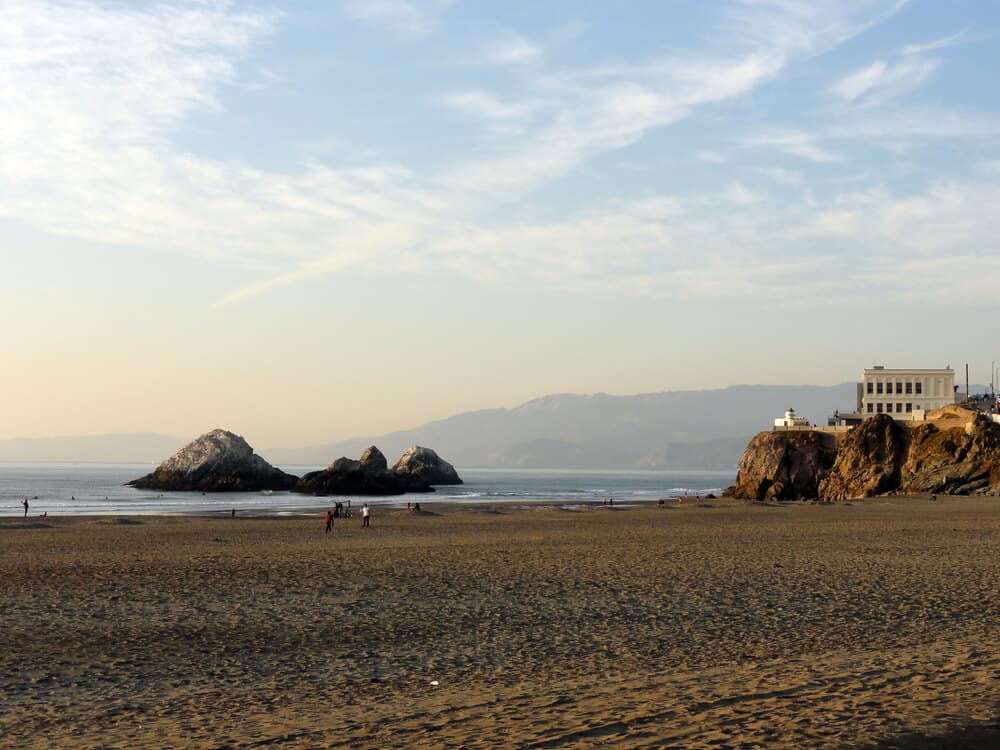 If you want to do a fully urban hike, check out the famous Bay to Breaker route!
Bay to Breakers is one of the world's largest footraces in the world, so this route may be especially appealing to fans of running. It's also the site of a popular
Head from the SF Bay to the breaking waves on the beach of the Pacific Ocean. This route will take you right through the heart of San Francisco past some of the most defining San Francisco landmarks.
Go past the Ferry Building and Union Square, and you'll see City Hall and the SF Museum of Modern Art (SF MoMA), continue past the famous "Painted Ladies" (Full House) through Haight-Ashbury into Golden Gate Park and out onto the end point at Ocean Beach.
It's a full-spectrum, urban hike through San Francisco!
***
When it comes to San Francisco, it is certainly located on some of the most beautiful land in America. Its proximity to the Pacific Ocean allows for the unique experience of crashing waves on a beach in an urban setting.
Another awesome thing about hiking in SF is that it does not take much effort to end up in a spot that allows for some respite from the hustle and bustle of a metropolis like San Francisco.
When it comes to responsibility, you have an obligation to keep these parks beautiful and enjoyable for all. Clean up after yourself and maybe even pick up a little trash along the way.
We all do our part in caring for the planet and can help out our shared spaces a little more. When you enter a new neighborhood, community, or city, always respect their land and their property. You are a visitor, so be grateful for the opportunities you have to travel and see new places. So grab your day pack and enjoy your time in San Francisco.
Pin This Guide to Hikes in San Francisco City!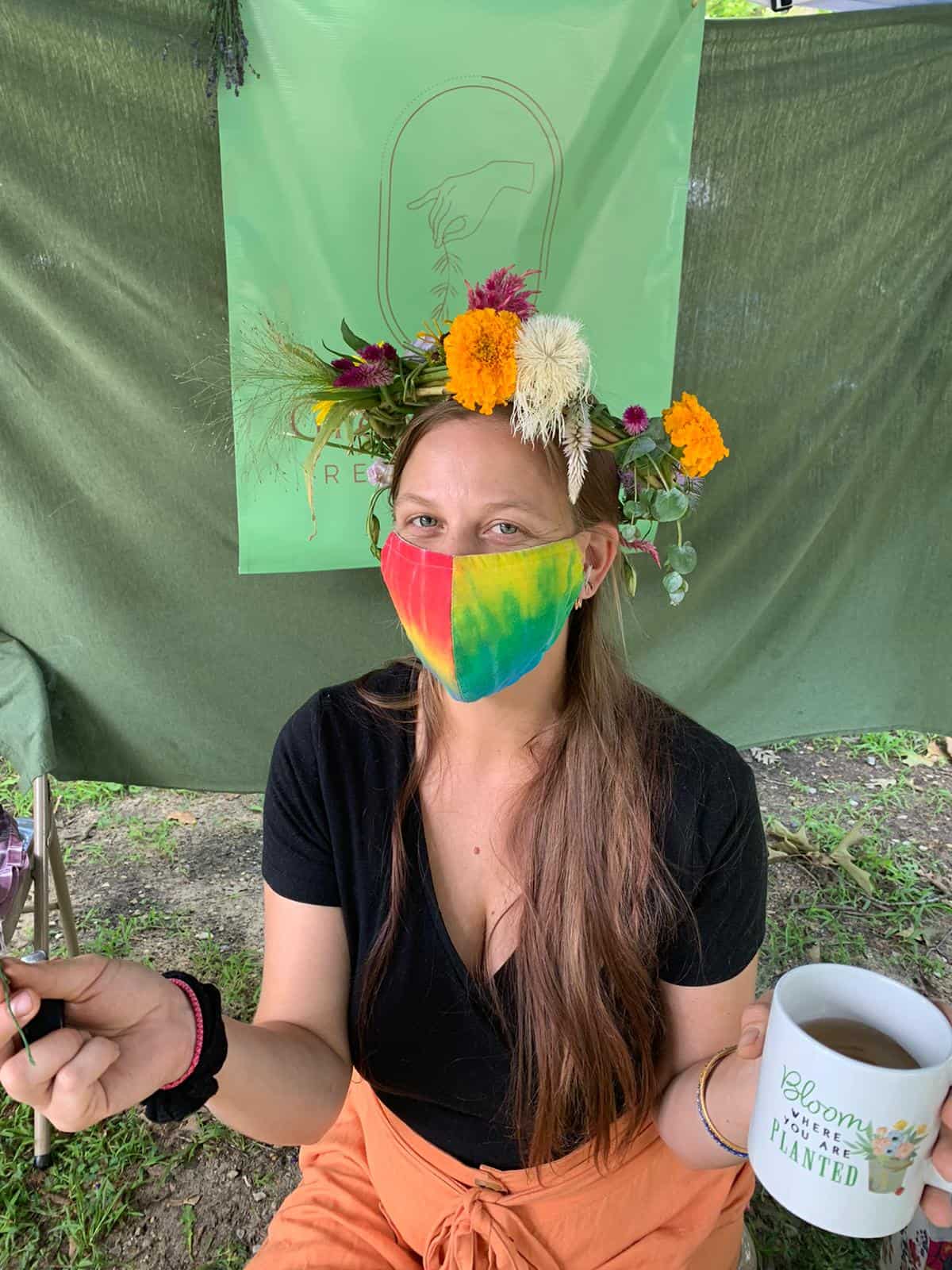 Allison is a writer, herbalist, musician, and lover of nature. She is an avid traveler and backpacker, having traveled throughout most of the United States and through parts of Asia and Europe. She has lived in Hawaii, Philadelphia, New Jersey, Boston, and of course, California. Allison has lived in California for 5 years, working on farms and in Yosemite National Park. She has been all over the state, enjoying many cities and of course, the many amazing outdoor wonders California offers. She currently resides in Aptos, Santa Cruz County, CA.