Santa Cruz is not only a beach and surfing destination, but it also has some of California's best hiking. It's easy to find adventure within Santa Cruz proper and the surrounding vicinity.
From coastal hiking to redwood forests, any adventurer is sure to find excellent locations for short and long hikes. Choose from difficult, moderate, or easy hikes near Santa Cruz to find the perfect adventure for you.
Any time you go on a hike, even a short day hike, it is good practice to bring a day pack. Carry with you the following items: rain gear, food, water, first aid, etc. (see the daypack gear list at the bottom of the article for specific recommendations).
Be prepared, and always, always, always carry out what you carry in. Leave these natural lands better than you found them.
Santa Cruz Hikes in Nisene Marks State Park
Note: This post contains affiliate links, which earn me a small commission at no extra cost to you if you make a purchase using one of these links. Thank you for supporting this free content!
Quick Park Info: Great for hiking and biking. Other activities include mushroom hunting, wildflower spotting, and birdwatching. Kid-friendly hikes available, and dog-friendly hike on leash on Aptos Creek Fire Road ONLY. There are restrooms and picnic areas. A fee is required.
Maple Falls
Length: 7.7 mi.
Rating: Moderate
Route type: Out and back
This Santa Cruz hike is a personal favorite of mine: it winds through the redwood forests of Nisene Marks State Park and is absolutely beautiful. It is a welcome refuge from the busy town of Santa Cruz as it is located 10 miles from town, off Aptos Creek Road, in Aptos, CA. It's not to be missed.
This trek will take you through groves of redwood trees, past mushroom-laden patches of pine needles. Find yourself wandering across creeks and bridges, and finally to the beautiful Maple Waterfall!
Old Growth Loop
Length: 1.3 mi.
Rating: Easy
Route Type: Loop
This short hike will give you the best of what Nisene Marks has to offer in an easy package.
It takes you through old-growth redwood trees, new-growth redwoods, and across the Aptos Creek.
Especially in February, expect to find mushrooms like chanterelles, morels, boletes, agarics, and more! The mushroom hunting in this park is top-notch. Also, keep an eye out for banana slugs!
West Ridge to Five Finger Trails
Length: 19.9 mi.
Rating: Easy
Route Type: Loop
While it's rated as easy, this Santa Cruz hiking trail is quite long so be prepared and start early.
Come prepared. Bring plenty of water and food, an extra pair of socks, rain resistant gear, and a headlamp. Because of the length of this loop, you don't want to get stuck in the dark without a headlamp (just in case it takes longer than you may anticipate)!
Start on the fire road and head to Big Slide Trail to reach Five Fingers Trail. This trail is secluded and also features a waterfall.
Note: There was a landslide on this trail, but don't worry, there are ropes to help you navigate down the slide.
Wilder Ranch State Park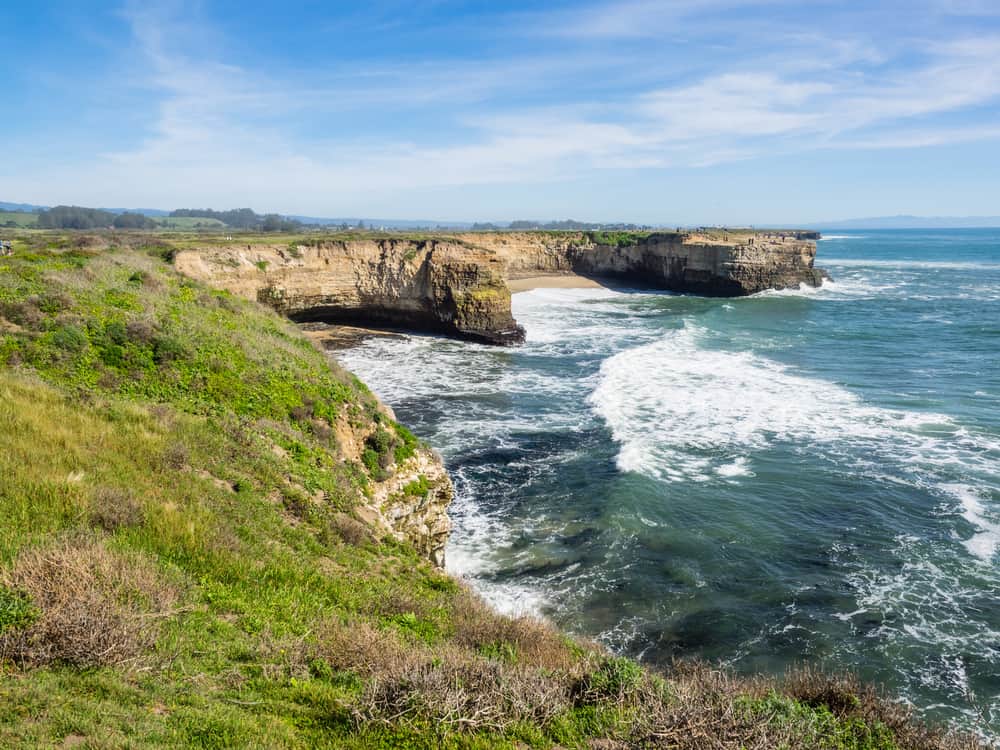 Quick Park Info: Hiking and biking abound. No dogs allowed. Equestrian friendly. Best for sealife viewing, birdwatching, wildflower spotting. Picnic areas and restrooms are available, as is drinking water. There are also equestrian-only campsites.
Enchanted Trail Loop
Length: 5.1 mi.
Rating: Moderate
Trail Type: Loop
This trail gives one a fabulous opportunity to view wildflowers like Indian paintbrush and aster, and it takes you through the Enchanted Forest.
Take the East Baldwin Trail to reach the trail and avoid extremely dense forest. Expect ocean views, redwood trees, and beautiful creek crossings.
Four Mile Beach Trail
Length: 1.2 mi.
Rating: Easy
Trail type: Out and Back
Four Mile Beach is an easy out-and-back trail leading to scenic Four Mile Beach.
It begins at Route 1 and descends down onto a lovely beach. Bring a picnic or go for a swim!
Caution: This beach is for strong swimmers only, as tides are strong at this beach.
Check the tide charts and go at low tide to catch tide pools where you can view anemones, sea slugs, and starfish. There will be wildflowers to enjoy as well!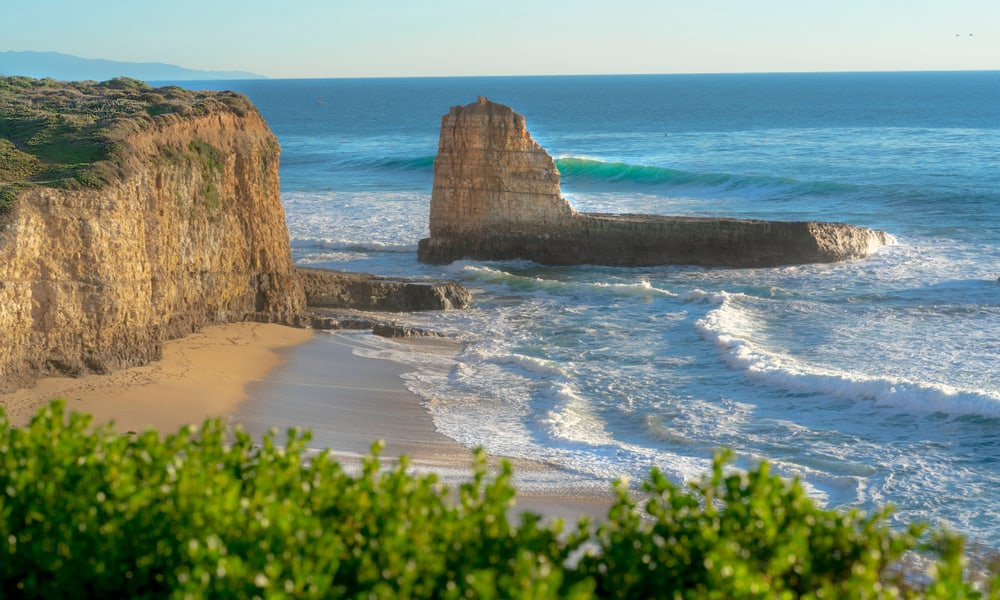 Single Track Trails Loop
Length: 13.1 mi.
Rating: Difficult
Trail type: Loop
This next pick is a popular trail for mountain bikers, but it is a great hike as well.
It's largely forested, but it also gives some ocean views. It is narrow in parts and has a lot of uphill climbing. It's totally worth the workout as it is a beautiful hike!
Henry Cowell Redwoods State Park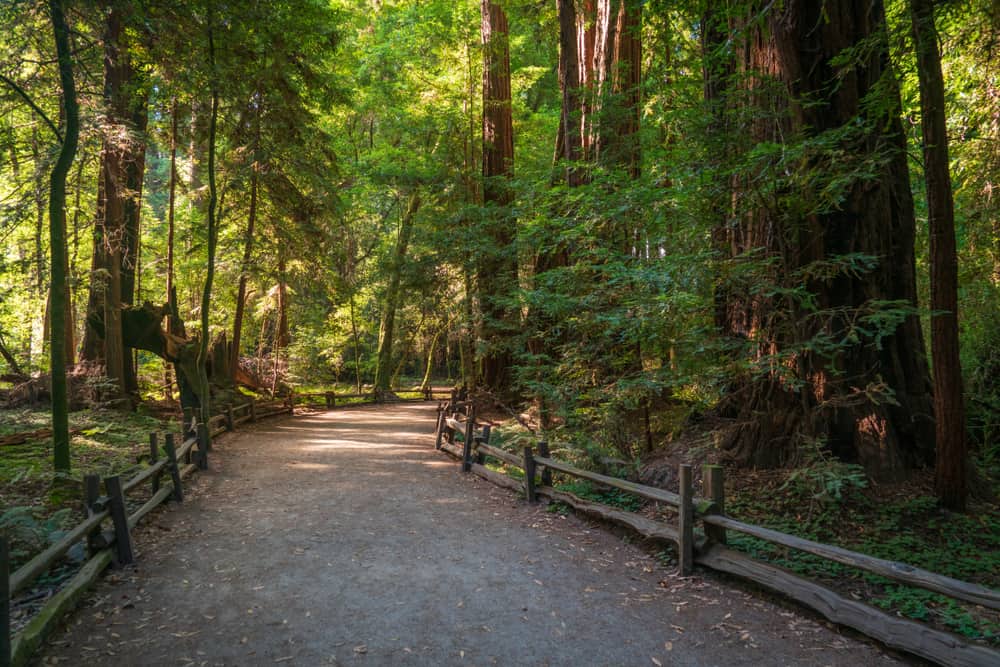 Quick Park Info: Great for hiking, biking, and camping. It's equestrian friendly! Great for bird watching, mushroom hunting, wildflower spotting. Restrooms and drinking water are available. A fee is required.
Cape Horn Loop
Length: 3.5 mi.
Rating: Moderate
Trail type: Loop
A great trail that is fairly easy. Enjoy redwood forest and creeks on this scenic Santa Cruz Hike.
Henry Cowell has very well maintained trails which makes for easy walking to view the trees, mushrooms, ferns, and countless other plant life.
Fall Creek to Lime Kilns Trail
Length: 4.8 mi.
Rating: Easy
Trail Type: Loop
This is a nice, easy hike through the old-growth redwood forest of Henry Cowell Redwoods State Park.
It's great to experience this Santa Cruz hike with kids due to its easy rating!
It's especially enjoyable as you have the opportunity to hike next to water as you walk along Falls Creek and check out ruins from the mill.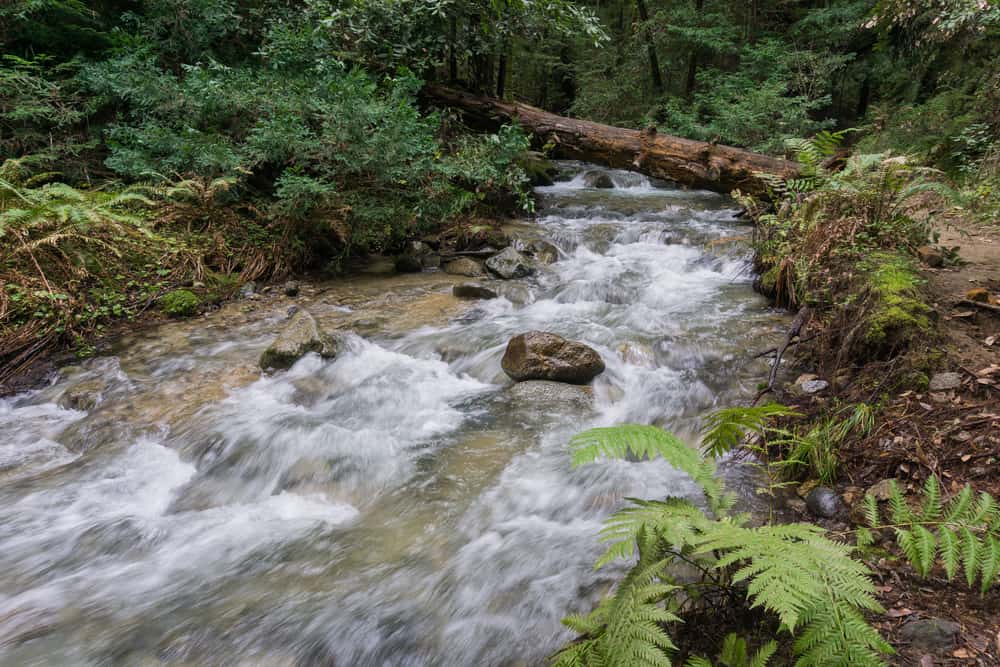 Redwood Grove Loop Trail
Length: 0.8 mi.
Rating: Easy
Trail Type: Loop
This is a must-do Santa Cruz hike if you want to get the full experience of the big trees and old growth of Henry Cowell.
The famous Fremont Tree is on this short loop. Bring your headlamp so you can see when you step inside this tree! Also, there is a gorgeous redwood tree that is 277 feet tall and 1500 years old which you can see on this hike near Santa Cruz.
Four Crossings
Length: 5 mi
Rating: Difficult
Trail Type: Loop
This Santa Cruz hiking trail features multiple river crossings, so bring a map. It may not be passable during the rainy season, as the water may rise too high to cross. Be prepared to abort and go back if that's the case.
However, it is a great hike when the conditions are right! Enjoy the exploration of the San Lorenzo River Gorge and the fascinating fungi you may come across.
Big Basin Redwoods State Park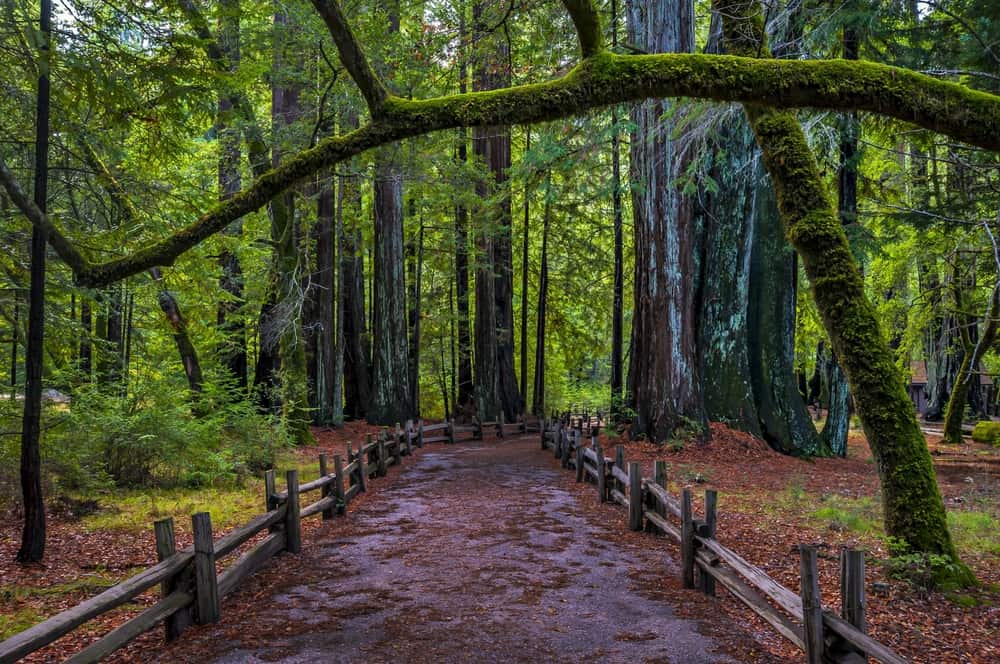 Note: As of time of writing, Big Basin State Park is closed after suffering damage in recent fires. Check here for the most up-to-date information.
Quick Park Info: Hiking, biking, horseback riding, and camping are great here. Also good for birdwatching, wildflower spotting, and mushroom hunting. Picnic areas, restrooms, showers, drinking water, and camp store are available. Fee required, but only to park at headquarters.
Sequoia Trail
Length: 4.3 mi.
Rating: Moderate
Trail type: Loop
This is a lovely, fairly flat hike in Santa Cruz through the redwoods with the added bonus of sequoia trees! You will have the opportunity to view wildflowers as well.
Also, there is an opportunity to check out the scenic Berry Creek Falls. It's a great hiking trail in one of the best parks on the California central coast.
Skyline-to-the-Sea Trail
Length: 25.2 mi.
Rating: Difficult
Trail type: Point to Point
You will want to arrange a ride or park a vehicle at both trailheads if in a group of two or more. This trail can be done in one day if you have the stamina. Some backpack it and camp overnight.
It is not so much of a wilderness experience, as it is not far from the road most of the time. However, it is a good hike if you want a long hike that starts in the redwood forest, passes Berry Creek Waterfall, and ends at the Pacific Ocean.
Redwood Trail
Length: 0.6 mi.
Rating: Easy
Trail type: Loop
Yes, this is an easy trail, but it's worth the trip as it features massive tress that are over 1500 feet tall, including "Mother of the Forest".
Hike this short loop and enjoy birdwatching, wildflowers, and ancient redwood forest.
More Santa Cruz Hikes
The following is a short reference list of other great places to check out:
Mount Madonna County Park
Quick Park Info: Hiking, biking, camping all available. Equestrian friendly and dogs allowed on leash. Enjoy birdwatching, wildflower seeking, and mushroom hunting. There are picnic areas and drinking water. Enjoy yurt camping and archery here! Restrooms and showers are available. A fee is required.
Mount Madonna is a lovely park with a plethora of activities and features an amphitheater. It is especially fitting for big groups.
There are 14 miles of trails extending through redwood forests, grassy meadows, and chaparral.
Sierra Azul Preserve Open Space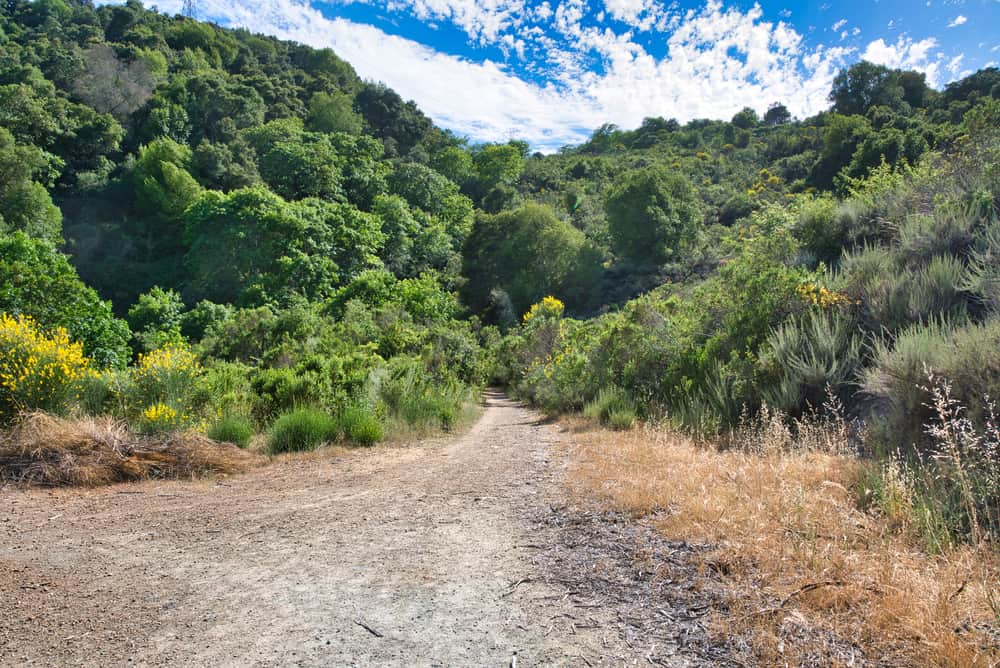 Quick Park Info: Great for hiking and biking. It's ADA accessible, kid-friendly, and equestrian-friendly. Dogs are permitted on leash. Enjoy wildlife viewing, bird watching, and more. There are restrooms available and there is no fee.
This hiking area is in San Jose, about 40 minutes from Santa Cruz. It features 15 miles of hiking trails and Mount Umumhum, one of the tallest peaks in the Santa Cruz Mountains.
There are trails for every adventure desire, ranging from half a mile to 12 miles. It is a beautiful location featuring chaparral, oak forests, and steep ravines. It allows one to explore beyond Santa Cruz and check out San Jose before or after a hike.
Manresa State Beach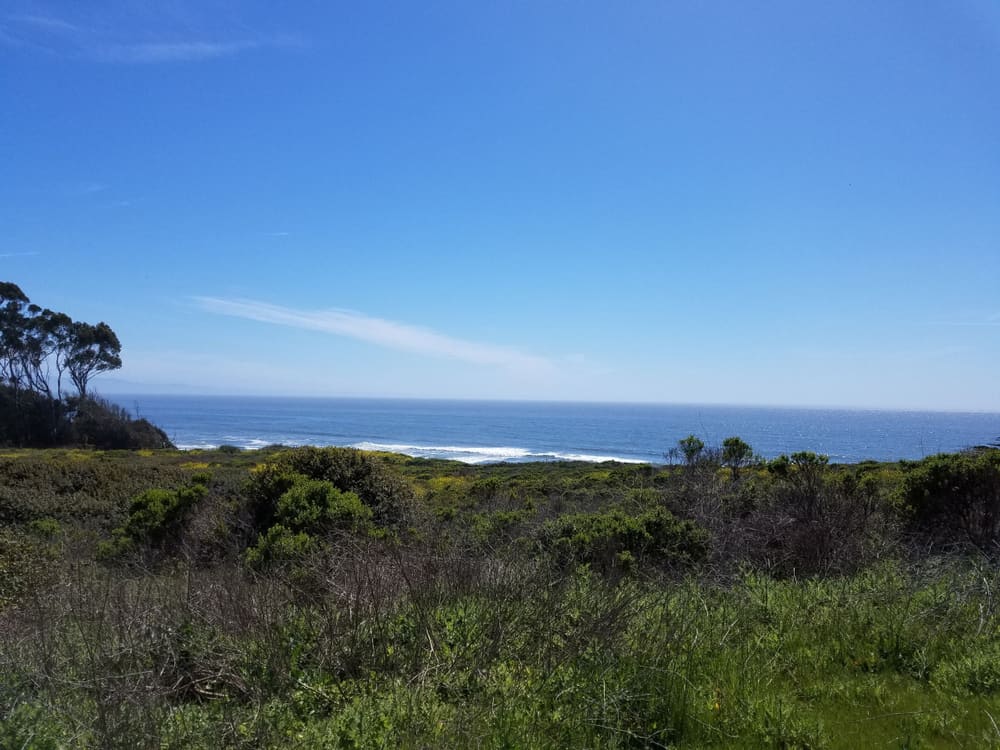 Quick Park Info: Hiking, camping, walking dogs on leash all allowed. Enjoy sealife viewing, birdwatching, and coastal walks. Restrooms and showers are available. Fee required.
Come to this beach to relax and picnic or take a hike along the beach. It is a popular, remote beach camping spot.
The sites are walk-in only, but it is not far from the parking area.
You will enjoy eucalyptus trees and a view of the Monterey Peninsula. Great for watching the sunset in the sand amongst cliffs.
***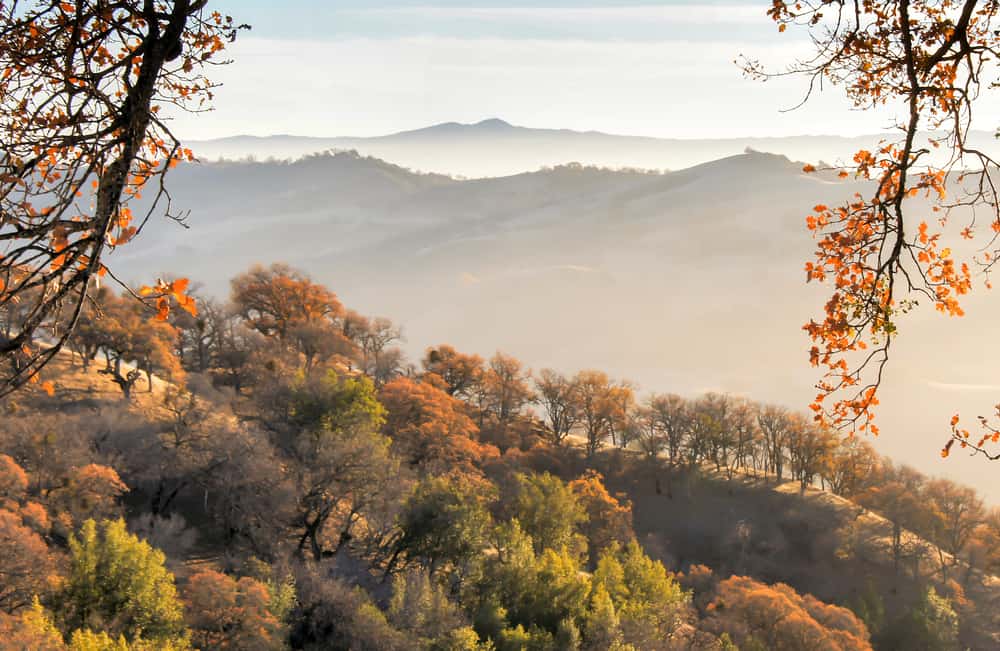 This is but a short list of the outdoor adventure activities you will find in the Santa Cruz area, if you can believe it: the true list of options is endless.
California's Central Coast is a wonder, full of redwood forests and ocean views.
Take a hike along the cliffs and beaches of Highway 1, or venture east to bathe in the trees.
Any option will allow for the enjoyment of moving your body and connecting to the planet. It is a beautiful world. Enjoy her many gifts.
What to Pack for a Hike in Santa Cruz: Day Pack Gear List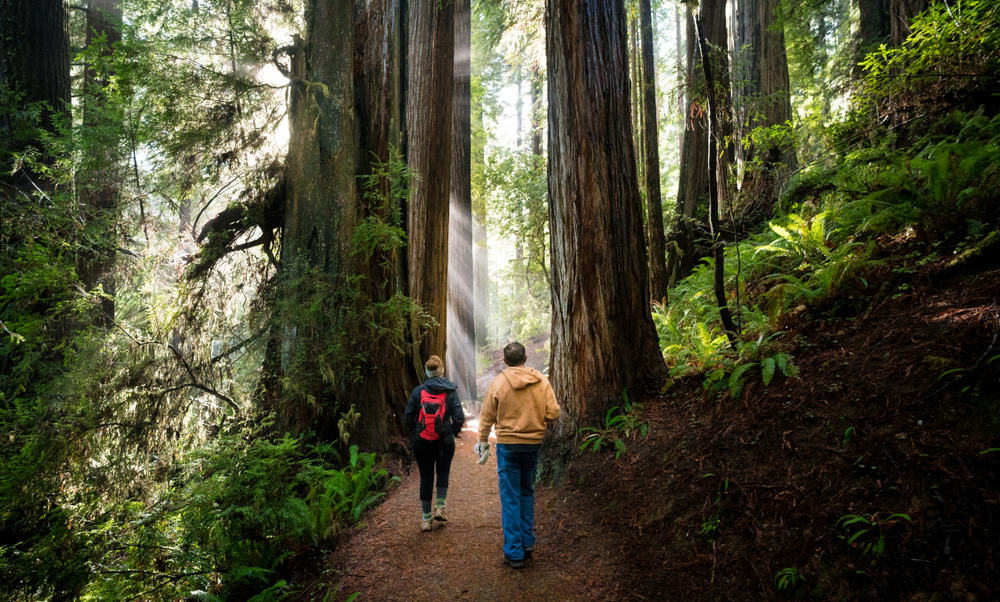 Day pack: A compact day pack is helpful to have when backpacking so you can easily put everything you need accessible and handy.
Water: Bring plenty of water in a reusable bottle for any shorter hikes. If you plan to fill up from any creeks or streams along the way, you'll definitely want a water filter/water bottle set-up, I recommend the GRAYL Geopress which filters out viruses, bacteria, particles, and microplastics.
Food: All of these Santa Cruz hikes are day hikes with the exception of the Skyline-to-the-Sea trail if you break it into two parts, so you'll just need some snacks. I recommend protein bars, nuts, or other high-density snacks that give you a lot of energy for their weight.
First aid kit: You'll want to pack a small kit with the things you need — but in my opinion, it's better to buy a pre-made first aid kit as it'll likely cover things you might forget. I recommend this HART Weekend First Aid kit.
Map: Pick up a paper map from the ranger station at any of the listed hikes, or download the trails in advance on maps.me so you can access them offline if you get service. If you do the latter, make sure your phone is fully charged or you bring an external battery pack.
Compass: In an absolute worst case scenario, it's essential to have, and it weighs next to nothing.
GPS: This offline GPS tracker with the ability to emit an SOS call is essential packing if you plan on hiking solo on any of the longer hikes.
Knife: A classic Swiss army knife is a must-have while hiking.
Extra socks: A spare pair is useful in case yours get wet while wading through streams/creeks or walking alongside beachside trails.
Weather appropriate gear: Pack in thin, breathable layers. For winter hiking, it's easier to modulate temperature if you have one thin thermal, one sweater, and one outer layer, rather than having one thick jacket. For summer hiking, even if it seems like it'll be hot, bring a thin outer layer to cover you in case fog rolls in or elevation makes things cooler.
Rain gear: It's great to have a thin, lightweight rain poncho like this one in your hiking bag just in case the weather turns sour while you're out
Headlamp (and extra batteries): Just in case you end up taking a longer-than-expected hike, you'll definitely want to pack a headlamp and some spare batteries to go with them. This Petzl headlamp is highly-rated and affordable.
Sunscreen: Wear this no matter what — even on a cloudy day!
Sunglasses: Necessary on trails with lots of exposed path.
Hiking boots: You'll absolutely need good hiking shoes if you do anything more than an easy hike! I own and love my pair of Ahnu Sugarpine hiking boots and recommend it for other women – especially if you have wide feet like I do! For men, I've heard good things about the KEEN Durand boot.
Sunhat: To keep sun off your face – I recommend a packable hat like this one which has a strap so it won't blow off in guests of wind and you can easily wear it on your back when you don't feel like wearing it on your head.
Hiking poles (optional): These lightweight trekking poles from Black Diamond will help you keep your footing on muddy or sandy stretches of trail.
Pin This Santa Cruz Hikes Guide for Later!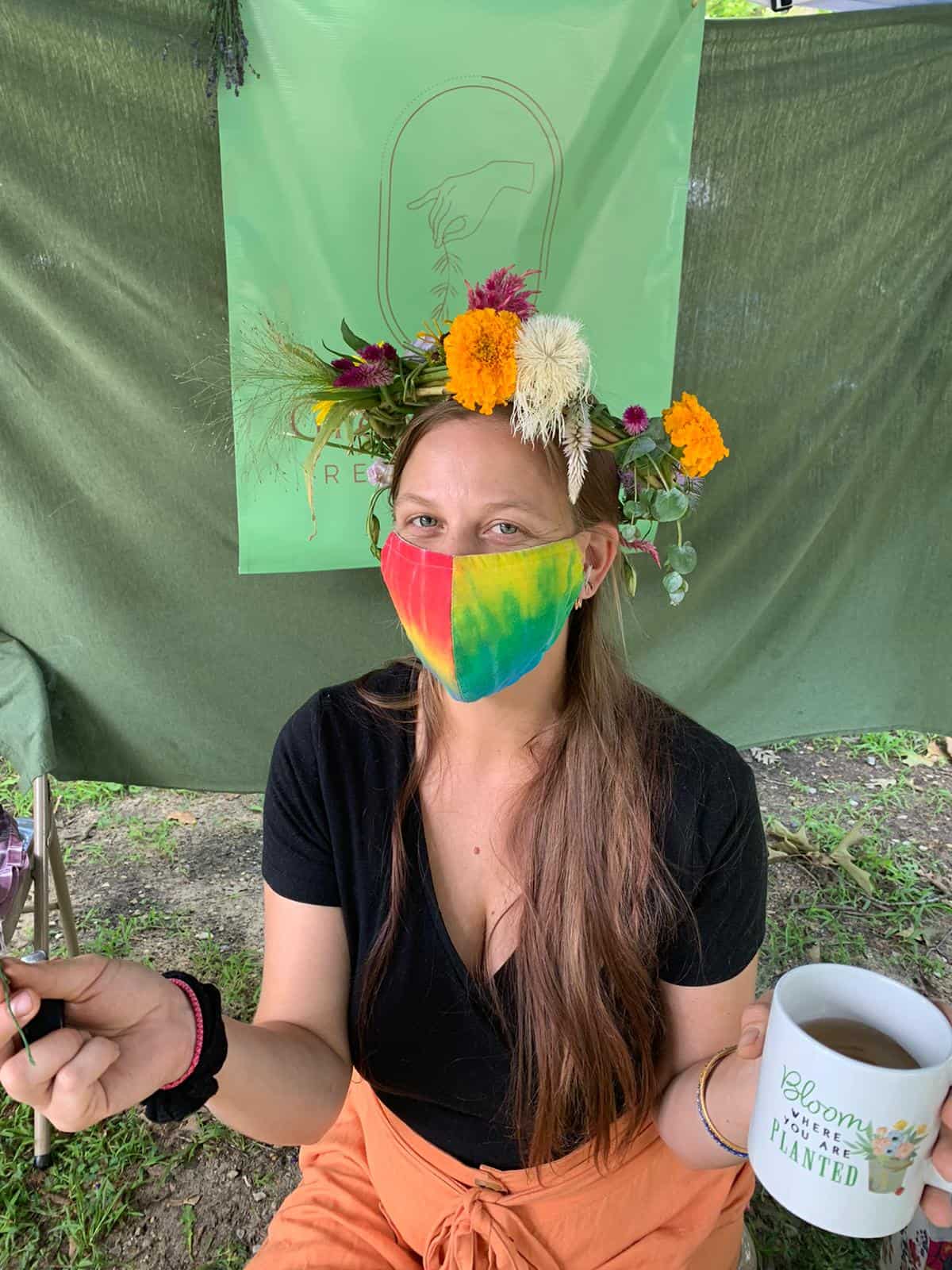 Allison is a writer, herbalist, musician, and lover of nature. She is an avid traveler and backpacker, having traveled throughout most of the United States and through parts of Asia and Europe. She has lived in Hawaii, Philadelphia, New Jersey, Boston, and of course, California. Allison has lived in California for 5 years, working on farms and in Yosemite National Park. She has been all over the state, enjoying many cities and of course, the many amazing outdoor wonders California offers. She currently resides in Aptos, Santa Cruz County, CA.