NOTE: Sequoia National Park is currently closed due to the ongoing fires in Kings Canyon and Sequoia. Read more here.
Home to some of the tallest trees in all of the world, Sequoia National Park is a force to be reckoned with.
When you're not walking amongst these gentle giants, you can be scrambling up mountains and taking backcountry expeditions.
Sequoia tends to get overlooked in comparison to California's other iconic national parks because of the false narrative that it's just a collection of tall trees.
Now don't get me wrong, these tall trees are a wonder in their own right, but there is so much more the park has to offer than just its namesake Sequoias!
The bottom line is simple. You can enjoy a variety of breathtaking views with less of the crowds that you'll find at other California national parks like Yosemite and Joshua Tree. See for yourself by grabbing a friend and exploring some of these otherworldly hikes.
There's so much to see in Sequoia, so lace up your hiking boots, grab your camera, and get ready to explore all the best hiking trails in Sequoia National Park!
Easy Hikes in Sequoia National Park
General Sherman Tree Trail
Note: This post contains affiliate links, which earn me a small commission at no extra cost to you if you make a purchase using one of these links. Thank you for supporting this free content!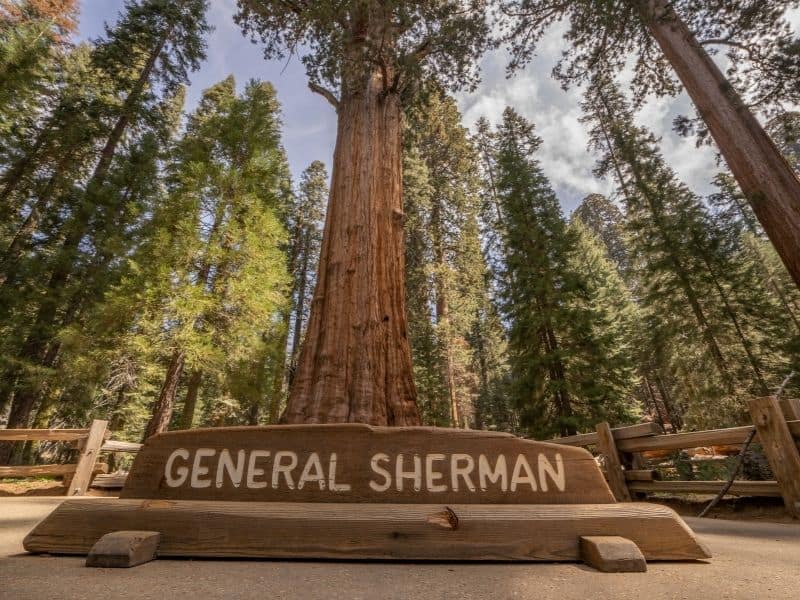 Distance: 1.2 mile loop
Difficulty: Easy
Elevation Gain: 196 feet
Trail Conditions: Paved; read hiker updates here on AllTrails
If you're coming to explore Sequoia National Park, you need to make time to visit the General Sherman Tree!
What's that saying… go big or go home?
Well, you're in luck because the biggest (I'm talking both overall mass and width) Sequoia tree in the world doesn't take much effort to find, and the hike to this towering giant is one of the easiest in the park.
The trail does have a short steep section that may be challenging for some who aren't used to hiking at high elevations. If you can brave the hill back up to the parking area, it's worth the short slog to see the biggest tree in the world!
The General Sherman Tree stands at an impressive height of 275 feet with a diameter of nearly 37 feet around! You will feel like an ant next to this monster and look kind of like one in your photos, too!
To get to the parking area, head north on Generals Highway. Take a right onto Wolverton Road and follow the helpful signs to General Sherman. The parking area can fill up quickly during the summertime, so it might be beneficial to hop on the park's shuttle bus instead of scouting for a parking spot!
The trail to General Sherman Tree is completely paved, making it rather easy for all skill levels, but just keep in mind that there are a few staircases along the way to get you down to the tree's base, so it's not completely an accessible hike.
For those looking for something wheelchair accessible, fret not, as you can still visit the tree by parking in the lot directly next to it!
The General Sherman Tree trail tends to get busy — and understandably so, with the monstrous beauty waiting at its end! — so arrive early to beat the crowds.
Want to keep the momentum going? Branch off to the Congress Loop Trail below after you've spent some quality time with the ever-growing wonder.
Congress Loop Trail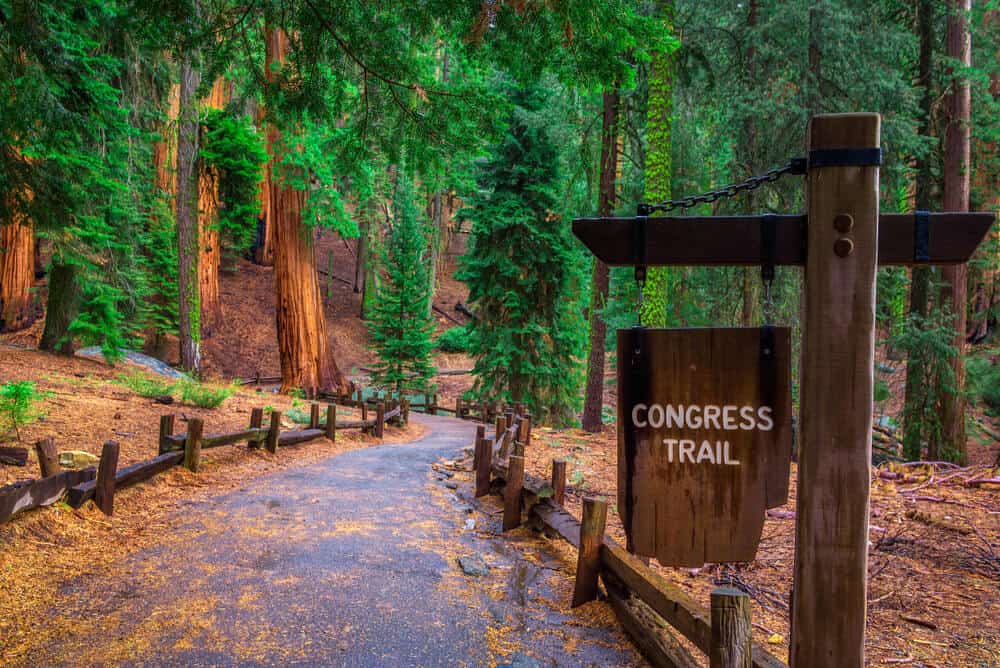 Distance: 3.3 miles
Difficulty: Easy
Elevation Gain: 495 feet
Trail Conditions: Various, check hiker updates on AllTrails
The Congress Trail is one of the many scenic trails through the Giant Forest.
Begin this trail at the General Sherman Tree, and follow signs to continue onto the Congress Trail.
This easy 3-mile loop will bring you deep into the Giant Forest while guiding you past the towering McKinley Tree and General Lee Tree.
The loop will end back at the General Sherman Tree, where you can continue back to the parking area.
Crystal Cave Trail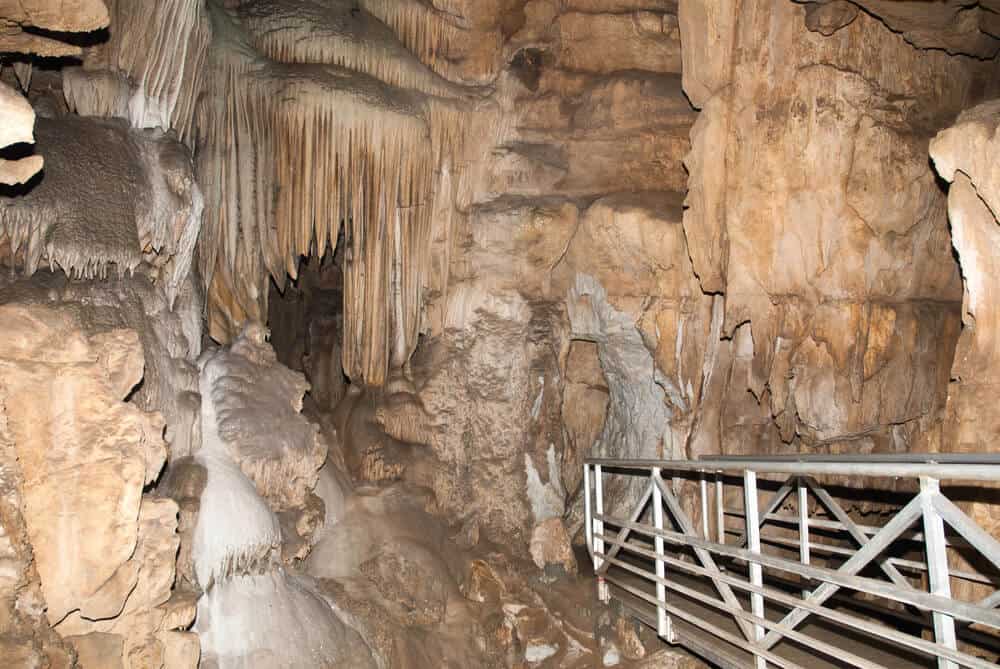 Distance: 0.8 miles
Difficulty: Easy
Total Elevation Gain: 291 feet
Trail Conditions: Paved and accessible by tour, read hiker updates on AllTrails
Escape the heat of summer and hide out on the Crystal Cave Trail for the afternoon. The Crystal Cave parking area is at the end of Crystal Cave Road. The turn for this road is about 8 miles from the Hospital Rock Picnic Area on Generals Highway.
Crystal Cave isn't like most Sequoia national park hikes, but rather, it is a fun guided excursion to go caving in one of Sequoia's many natural caverns.
Since this is a guided trip and visitors are not allowed to tour the cave alone, you must make reservations. Book your tickets to tour Crystal Cave at least 48 hours in advance to save your spot (you can book online here).
The tour lasts about 45-minutes and guides guests along a fascinating loop that requires less than a mile of walking. Along the trail in Crystal Cave, which is one of the park's many marble karst caves, you will encounter magnificent stalactites and mounds of stalagmites!
Don't worry about bringing a flashlight, you will be provided one before entering the cave. Just remember to dress for the outdoors and bring an extra layer to keep you warm.
Moro Rock Trail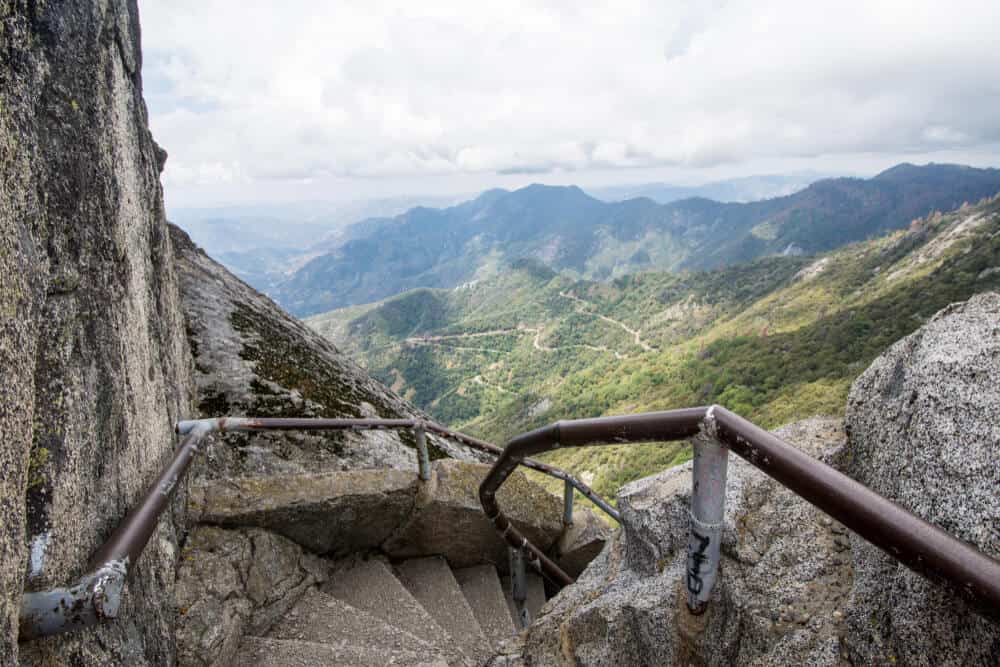 Distance: 0.5 miles
Difficulty: Easy/Moderate
Total Elevation Gain: 187 feet
Trail Conditions: Mostly stairs, read hiker updates on AllTrails
You'll be able to spot this bad boy while driving along the Generals Highway and if you think it looks awesome from a distance just wait until you get up close and personal.
Its convenient location makes it a hotspot for foot traffic and the extensive view is perfect for watching the sunrise (or sunset) so expect to see other visitors regardless of the time of day. But don't let that deter you from climbing the 350 steps up to its panoramic overlook.
The Moro Rock Trail is a favorite of locals and visitors alike! The trailhead is on the Crescent Meadow Road. There isn't much parking here, and during the busy season, hikers must use the shuttle bus to access the trailhead.
You've probably spotted the iconic granite face of Moro Rock standing proud above the foothills at 6,725 feet. You don't need to be an accomplished climber to get on top because the NPS has laid 350 steps to make it an easily accessible lookout!
However, this may not be the best hike in Sequoia National Park for folks with a fear of exposure. Although the trail is short, it's quite steep and narrow, making it a daunting task for travelers who are afraid of heights. Though the viewpoint is fenced in, it may trigger sensations of discomfort for some.
The good news is that any time you need to stop and rest along the trail, you'll have unlimited access to vistas that go on for miles.
However, if you're able to make the short quarter-mile hike up, you'll be generously rewarded with 360-degree views of the surrounding mountain landscape!
Once you arrive at the top, you'll be mesmerized by the snow-peaked mountain range usually coated with a layer of haze.
Try to time this hike for the morning or even for sunset (bring a headlamp if visiting at sunset to make the hike down safer). Not only will the trail be a little less trafficked, but you won't have to bake as intensely under the hot California sun!
Crescent Meadow Loop Trail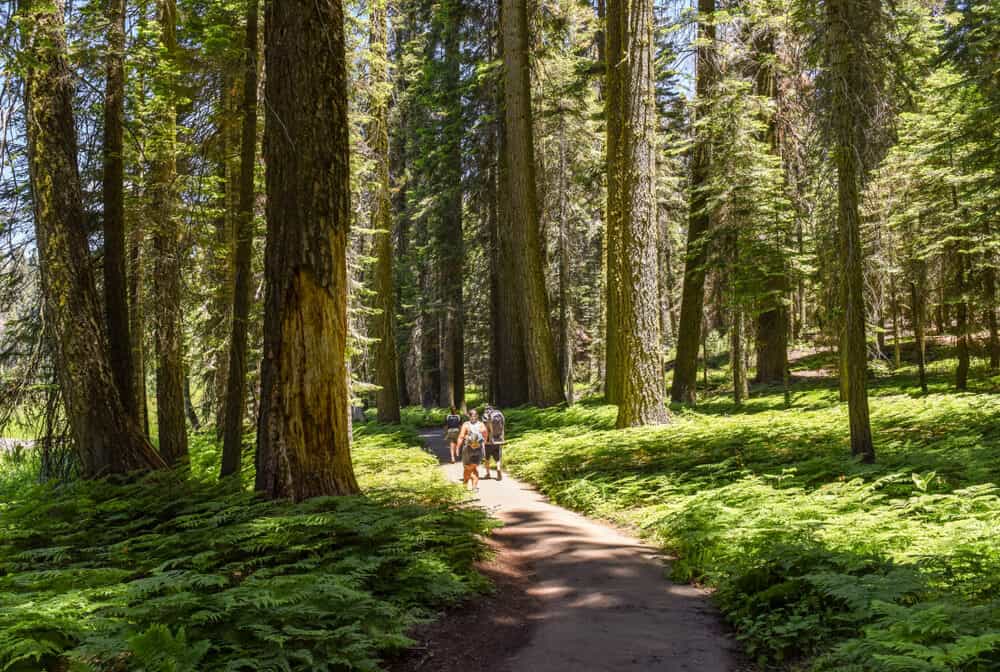 Distance: 1.7 miles
Difficulty: Easy
Total Elevation Gain: 157 feet
Trail Conditions: Well-kept, read hiker updates here on AllTrails
The loop around Crescent Meadow is usually approached from the trailhead at the end of the Crescent Meadow Road.
Like the trail to Moro Rock, this trailhead can only be accessed by shuttle bus at certain times during the busy season. If visiting Sequoia in winter, though, this won't be a problem!
This 1.7-mile loop begins by leading hikers past a number of magnificent sequoia trees. There are plenty of opportunities in the park to get a closer look at some of the giant trees, so please remember to stay on the designated trail here.
Once you have arrived at Crescent Meadow, you have entered prime bear and deer grazing territory. Along the trail, you'll also pass by Tharp's log, which is a fallen Sequoia converted into a cozy woodland cabin!
With little elevation gain and mostly even terrain, this Sequoia National Park hiking trail is perfect for those who are new to hiking or out with a group of younger explorers.
Big Trees Trail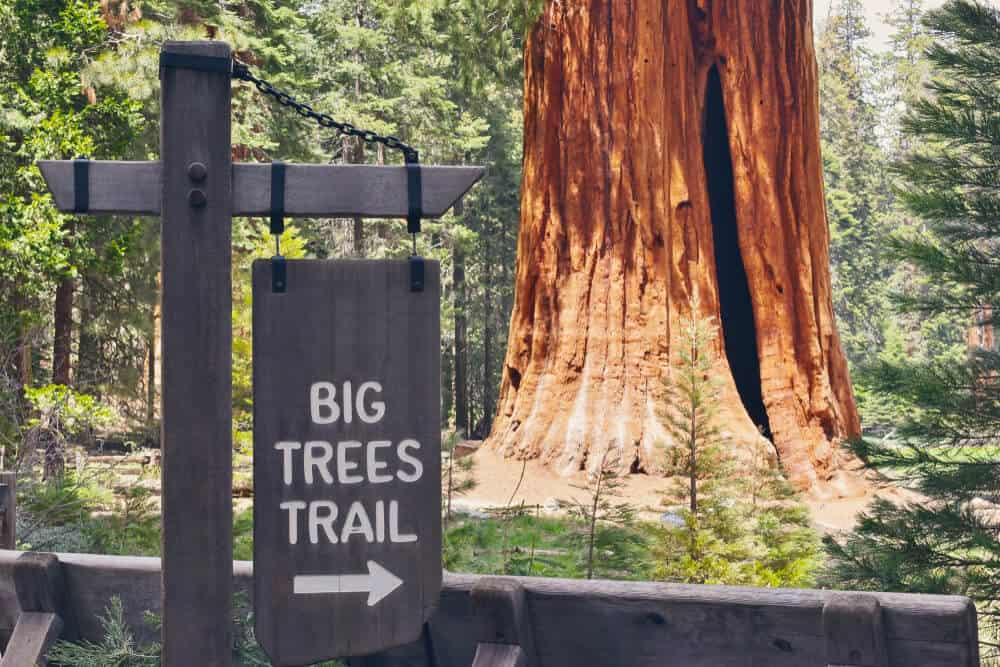 Distance: 1.3 miles
Difficulty: Easy
Total Elevation Gain: 114 feet
Trail Conditions: Well-kept; check AllTrails for hiker updates
The park is named after the iconic sequoia trees for a reason so it's only right that you dedicate some time to walk amongst these colossal titans.
After a history brief from the Giant Forest Museum, you're ready for the world-famous Big Trees Trail.
Hikes like the Big Trees Trail are perfect for those looking for a relaxing experience or needing a break from the rather difficult trails that call this park home.
The moment you step on the boardwalk all of the troubles of everyday life will seem minuscule in comparison to the serene giants that surround you.
This scenic hiking loop is a little over a mile long and provides a wonderfully relaxing escape into nature. Hikers of all levels will love this trail, as it's one of the best hikes in Sequoia National Park.
The scenic trail features interesting interpretive displays as well as ample opportunities to get an up-close look at the sequoia trees. If you enjoy bird watching, this is a perfect place for front country viewing!
To explore the Big Trees Trail, you can park in the large parking area across from the Giant Forest Museum. You can even leave your car here for the day if you plan to use the shuttle bus to access other trailheads.
Learn as you go with educational displays peppered along the trail to help visitors better understand and appreciate these wonderful trees.
Beetle Rock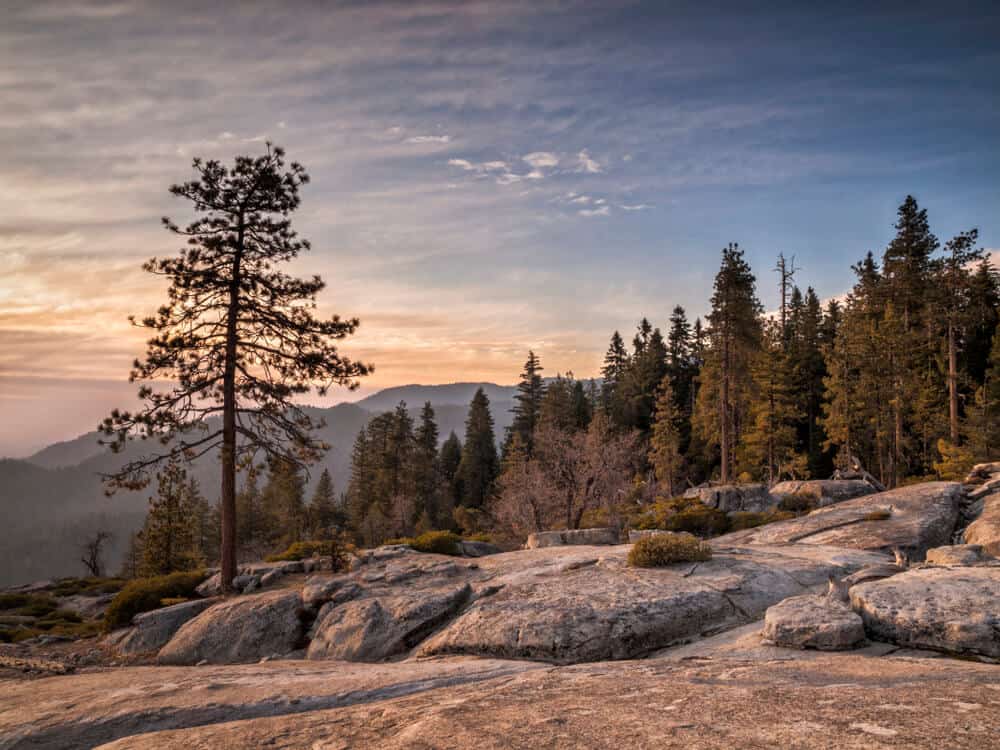 Distance: 0.5 miles
Difficulty: Easy
Total Elevation Gain: 18 feet
Trail Conditions: Paved, but not super well-kept; read hiker updates on AllTrails
One of the best sunrise views in Sequoia National Park is from Beetle Rock. And the best part is, the trail is easy enough for all experience levels!
The paved trail begins at the large parking area across from the Giant Forest Museum. Although it is paved, taking a stroller may be a bit challenging due to large cracks and other damage to the pavement.
Follow the path to the amazing rock formations. This is a perfect place for kids and adults alike to climb around on the rocks and explore!
This trail is great to do in addition to the Big Trees Trail since they are nearby each other.
Moderate Hikes in Sequoia National Park
Little Baldy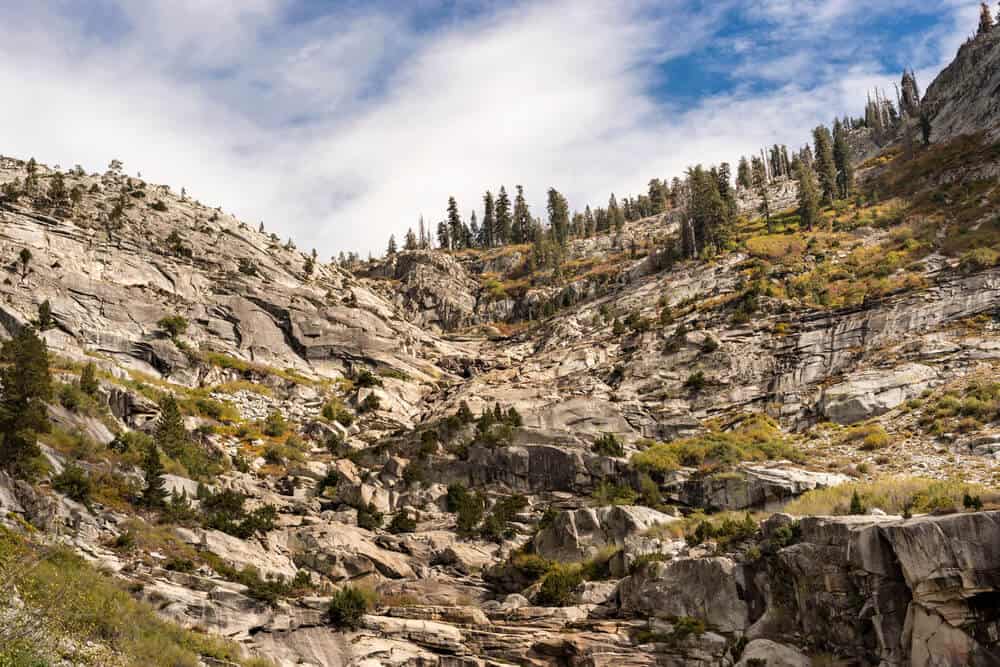 Distance: 3.3 miles out-and-back
Difficulty: Moderate
Elevation Gain: 793 feet
Trail Conditions: Various, check hiker updates on AllTrails
If you love wildflowers and mountain views, you will also love an early-summer trek up to the summit of Little Baldy. From the top, you will be rewarded with epic views of the Western Divide with colorful wildflowers guiding you the whole way there!
The Little Baldy Trail is a popular 3.3-mile out and back hike that will take about 2 hours to complete.
If you want a little more of a challenge, the Big Baldy Ridge Trail is 5.5 miles round trip and includes 1,391 feet of elevation gain.
Trail of the Sequoias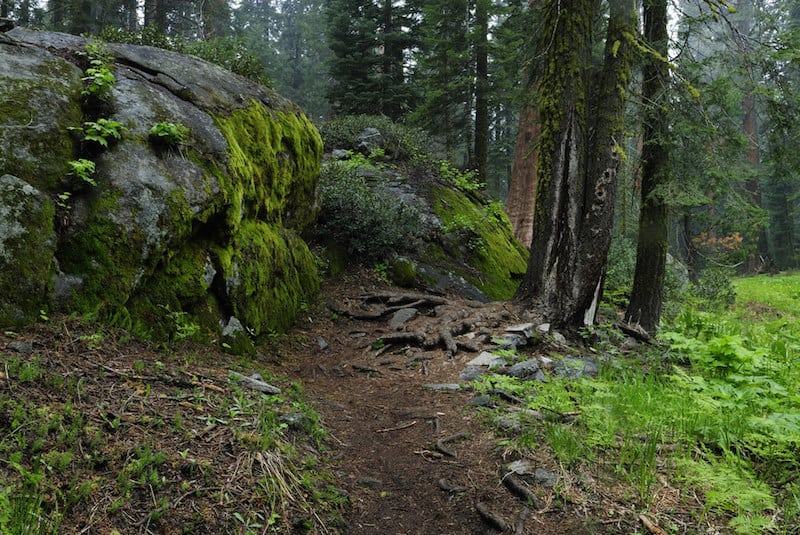 Distance: 6.3 mile loop
Difficulty: Moderate
Elevation Gain: 1,300 feet
Trail Conditions: Various; read more here
This hidden gem falls in the shadows of its neighboring trails, Big Trees and General Sherman, making it the ideal place to admire the park's namesake without the crowds.
In fact, you have a much greater chance of running into wildlife like black bears than you do encountering another person along your stroll.
Take in all the Giant Forest has to offer as you make your way along a plateau of biodiversity and listen to the sounds of untouched nature.
Along your walk, you'll notice signs under many of the sequoia trees as they have been named to add focus to their unique features.
Have your pick between Crescent and Huckleberry Meadow for a peaceful picnic without a soul in sight.
If there is any place that you can be one with nature, this is it.
It is important to note that although black bear sightings are common in the area, they are not a danger to you as long as you give them their space, make them aware of your presence, and avoid provoking of any kind.
Marble Falls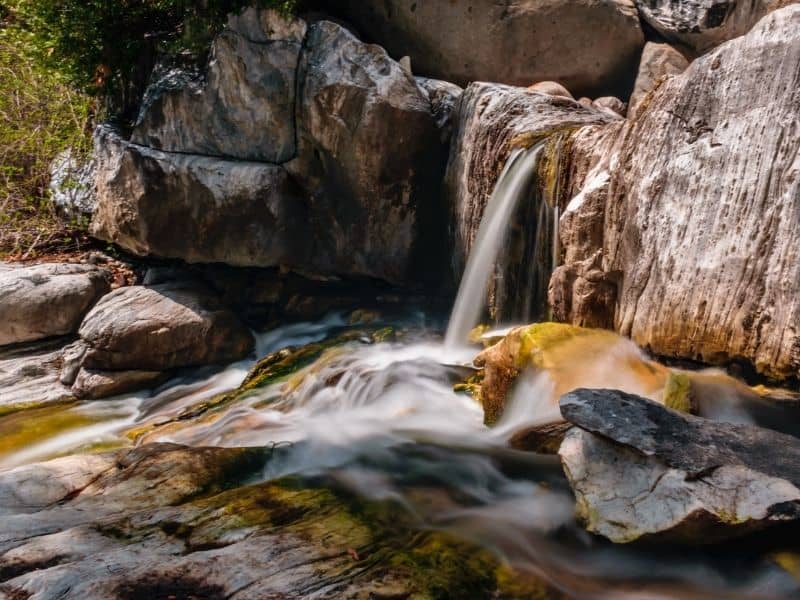 Distance: 7.4 miles out-and-back
Difficulty: Moderate
Elevation Gain: 1,627 feet
Trail Conditions: Various; read hiker updates on AllTrails
Like all waterfall hikes, the best time to visit is in spring when the water is gushing and wildflowers are in full bloom, but this gorgeous Sequoia National Park trail has some killer views to admire at any time of year!
Start your trek at the Potwisha Campground and listen to the peaceful sounds of the Kaweah River as you zig-zag your way up the side of the canyon (gaining nearly 2,000 feet of elevation in the process).
Watch your step to avoid tripping on loose rocks but don't forget to stop and look around at the many lush viewpoints along the way.
You'll know you are approaching the falls when you hear the enthusiastic flow of water pouring seventy feet down into a massive pool.
If you're feeling adventurous, scramble your way up to the upper falls for a different perspective.
After taking in the sights, your legs will be happy to know that your journey back is a gradual downhill slope.
Hospital Rock to Potwisha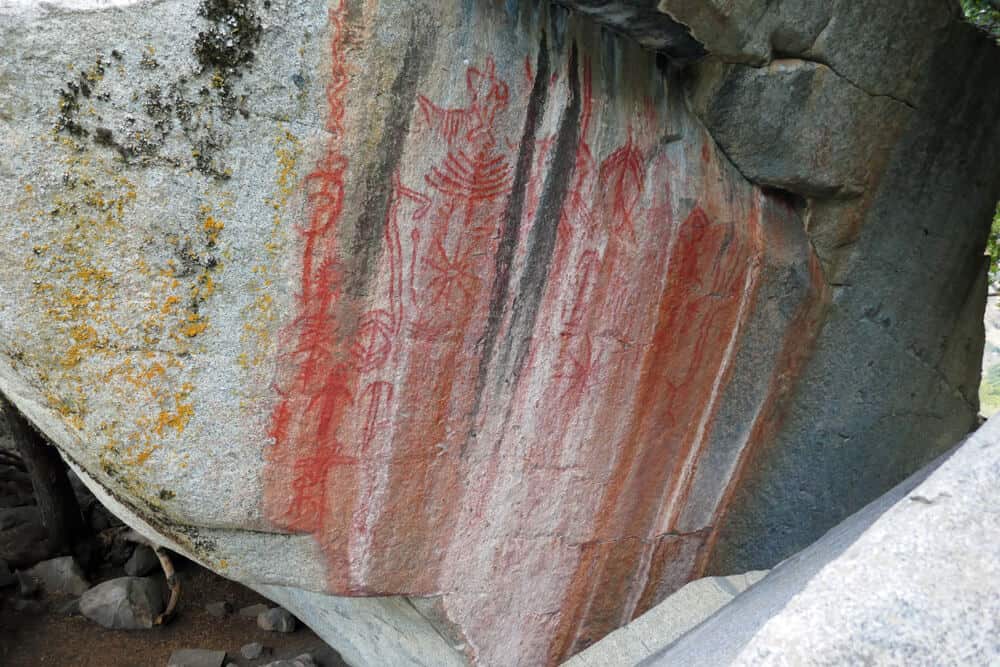 Distance: 4.9 miles
Difficulty: Moderate
Elevation Gain: 987 feet
Trail Conditions: Various, check hiker updates on AllTrails
This is the perfect Sequoia National Park hike to do in the springtime before the heat of summer settles into the foothills!
Begin this hike at the Hospital Rock Picnic Area, where there is plenty of parking. Then, use the crosswalk to get to the tail on the other side of Generals Highway. Hospital Rock is at the beginning of the trail.
This is a sacred Native American site, so please be respectful and do not touch or take anything from the park (frankly, you shouldn't do that anywhere in the park, but especially not here) or mark or vandalize the petroglyphs.
The site is special to the Mono (Monache), Yokuts, and the Tubatulabal tribes, all of whom once lived on the land that is now Sequoia National Park. As with many of our beautiful national parks, there is a sad truth behind it: the removal of Native people from the land.
As you hike, you'll see many points that tell the story of the long Native history on this land. Notice the bowl-shaped carvings in the stone? These were created over many years of grinding acorns for cooking in a pestle and mortar fashion. This location is also home to a beautiful panel of Native-drawn pictographs.
The trail then continues down to the Kaweah River. This is a popular swimming access trail. However, the snowmelt from the Sierra Nevada Mountains makes swimming here very dangerous during high water. Use your best judgment and be safe!
Follow the trail along the river. The trail will eventually connect to the Potwisha Campground Overflow Parking. Here, you can turn back to the trailhead. It is an option to park a second car in the overflow lot for a shuttle, but be aware that entrance fees to the park are charged per car.
Tokopah Falls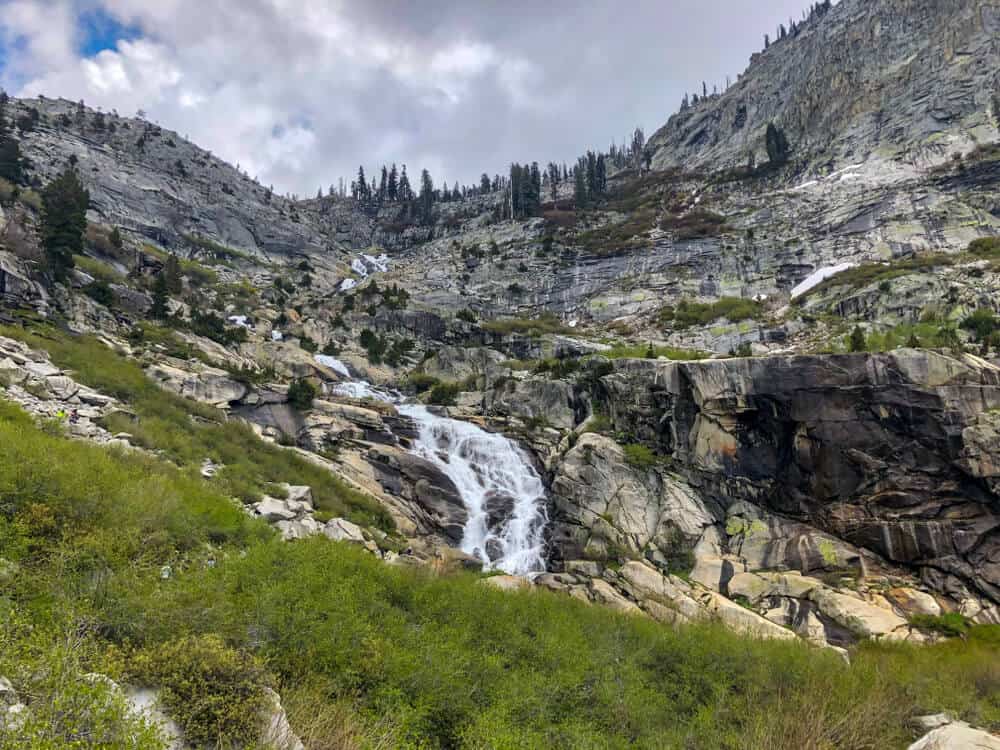 Distance: 3.8 miles
Difficulty: Moderate
Elevation Gain: 639 feet
Trail Conditions: Check hiker updates on AllTrails
Who doesn't love a beautiful waterfall hike?
Tokopah Falls is a cascading waterfall in the Lodgepole Area of the park. The best time to see this waterfall is the springtime or early summer. Once the summer heat peaks, the waterfall historically dries up to almost a trickle.
The moderate 4-mile out and back Tokopah Valley Trail to the falls begins at the Lodgepole Parking Area.
The trail hugs the Middle Fork of the Kaweah River before arriving at the beautiful 1,200 ft falls that cascade over the impressive granite walls.
Difficult Hikes in Sequoia National Park
The Lakes Trail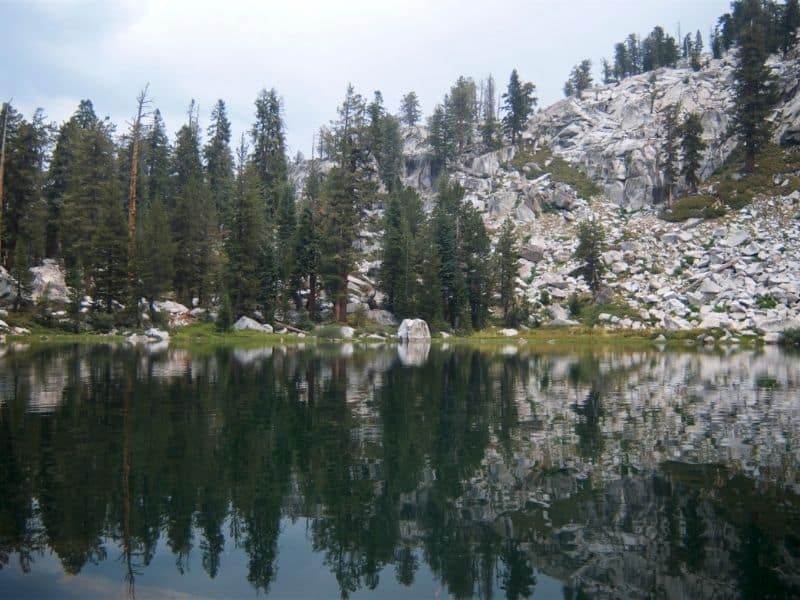 Distance: 14 miles out-and-back
Elevation Gain: 3,759 feet
Difficulty: Hard
Trail Conditions: Various; read hiker updates on AllTrails
The Lakes Trail is popular amongst backpackers and hikers alike, as it is long enough to take up a full day and beautiful enough to keep people begging for more.
Although strenuous, there is no doubt that this trail is 100% worth the effort as it features four of Sequoia's most magnificent lakes located along the upper limits of Tokopah Valley.
The first lake you'll come across is Heather Lake, named after the bright pink heather plants that surround it, and a great turnaround point for those feeling the burn.
Admire Aster Lake from a distance as you make your way up to Emerald Lake and its variety of pre-established campsites.
However, the real showstopper is at the top where you'll find the largest and most picturesque of all the lakes, Pear Lake.
Reward yourself with lunch along its rocky shore as you take in the views or set up camp for a night of stargazing along the tranquil waters.
Alta Peak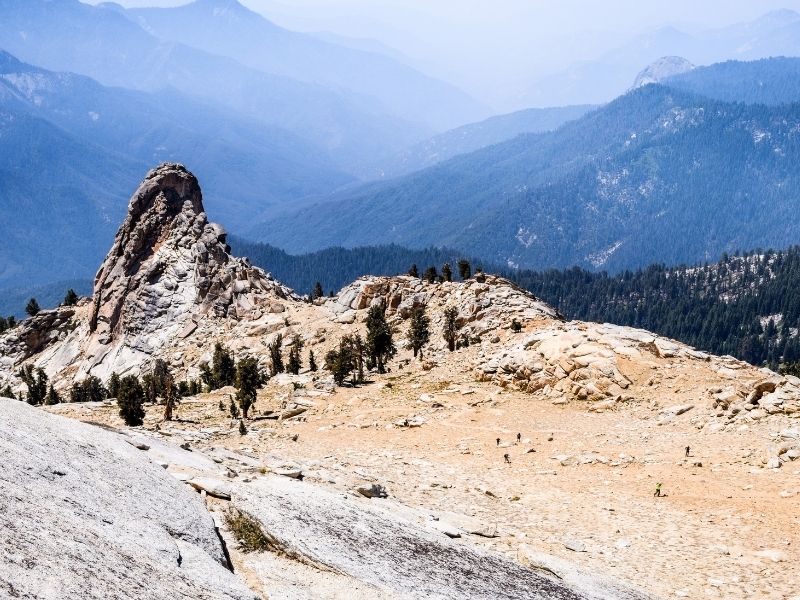 Distance: 14.9 miles out-and-back
Difficulty: Hard
Elevation Gain: 4,064 feet
Trail Conditions: Various, check hiker updates on AllTrails
The hike to Alta Peak is definitely a strenuous one, but the views along the way are some of the finest motivators and the panoramic view at the top is the grand prize.
If you plan your time right you can easily conquer the trail in one day but many opt for a two-day excursion to really appreciate every step of the way.
Prepare to be oohing and aahing for most of your journey as you venture through Panther Gap, trek along the cliffside of the Middle Fork Kaweah valley, and take in the awe-inspiring views of the Great Western Divide.
And just when you think to yourself that it can't get any more beautiful than this, Alta Peak will have you questioning everything that you know with its out-of-this-world views extending from the Sierra Crest to the Kaweah Peaks.
Franklin Lakes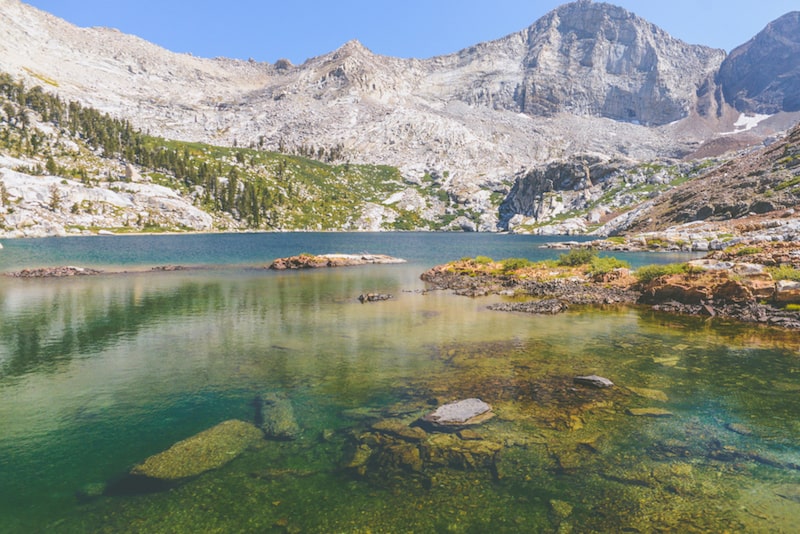 Distance: 11.2 miles out-and-back
Difficulty: Hard
Elevation Gain: 3,458 feet
Trail Conditions: Various; check AllTrails for hiker updates

Pack your bags and head out on a 2-3 day journey up to Franklin Lakes with its waterfront camping and (somewhat) easy access to Franklin Pass.
Don't forget your bear spray and to hit up the ranger station for an overnight permit before embarking on your adventure.
The trail begins along a flat path but picks up quickly to a continuous incline the rest of the way. Luckily, there are plenty of scenic places to stop and catch your breath.
You may be tempted to pitch up your tent as soon as you come in contact with active campsites, but push on until you arrive at Franklin Lakes to score a lakeside site.
Not only is this the more picturesque option, but your only water source is the lake itself so the closer the better.
Since you've made it this far, you won't want to pass up the opportunity to climb an added 2.8 miles to the breathtaking views of Franklin Pass.
At the summit, you will find lakes in every direction (totaling out at 10 superb lakes) so feel free to explore every corner as you admire the view of Mt. Whitney in the distance.
Mineral King Trail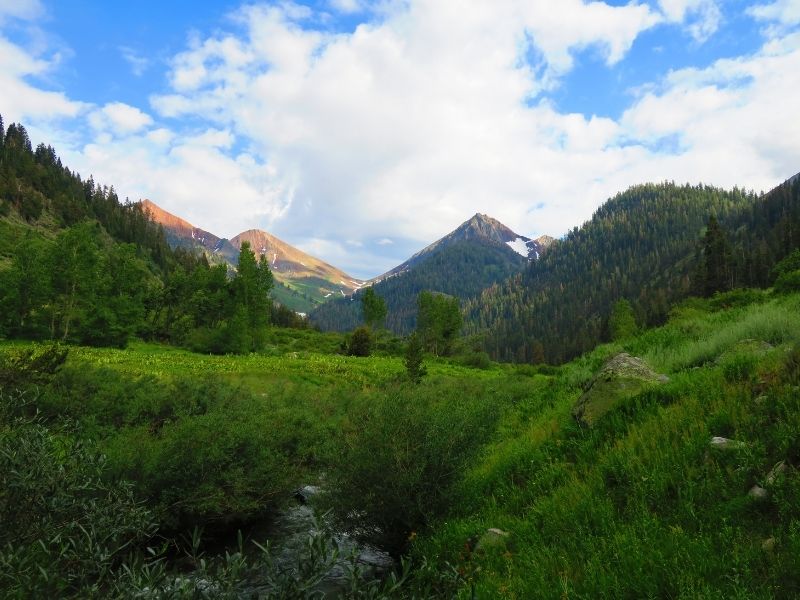 Distance: 49.9 mile loop
Elevation Gain: 11,489 feet
Difficulty: Very Hard
Trail Conditions: Various; read hiker updates on AllTrails
Yes, you read that right! The Mineral King Trail is a whopping (nearly) 50 miles long, intriguing experienced backpackers from near and far, but that doesn't mean interested hikers can't explore the trail chunk by chunk.
On average, backcountry campers take about six days to accomplish this stunning feat, and permits are required before starting your journey.
You will be required to scramble up rocks and push your legs up steep inclines, so you'll want to make sure you are in good shape and sporting comfortable hiking shoes.
Each day, you'll encounter a view more beautiful than the last as you make your way around gorgeous alpine lakes and breathtaking canyons.
The trek may be long, but you'll be constantly rewarded from the very start of your days as you sip instant coffee from your lakeside (or canyonside) campsite while the sun rises.
Note: This tough Sequoia National Park hike is only hikeable in the late spring and summer months due to road closures. The trail is due to open at noon on May 26, 2021 as. per the NPS website, but that is subject to change due to weather or other conditions.
***
Wander among some of the most magical ancient giants while hiking Sequoia National Park!
Located at the foothills of the Sierra Nevada Mountains in California, Sequoia National Park is a must-see outdoor destination!
Otherworldly in appearance, this picturesque national park has many hiking trails, scenic rivers, alpine lakes, and mountain views.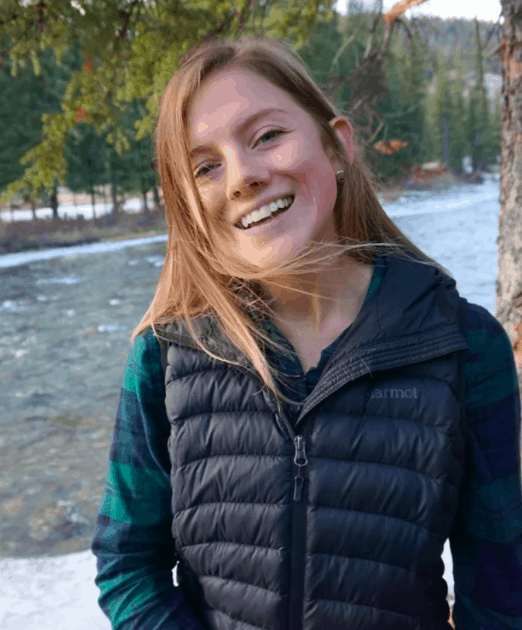 Emily is a freelance travel and outdoor recreation writer from Big Sky, Montana. Her adventurous spirit has led her to the high peaks of the Sierras and the largest wilderness areas in the lower 48. When she's not writing, Emily can be found backpacking, road tripping to outdoor destinations, climbing, or rowing whitewater.