NOTE: Sequoia National Park is currently closed due to the ongoing fires in Kings Canyon and Sequoia. Read more here.
Sequoia National Park, or "the land of giants" as it's often referred, will make you feel like you're wandering through a fairytale and leave you in complete awe!
Located at the foothills of the Sierra Nevada Mountains in California, Sequoia National Park boasts endless mountain views, epic whitewater rivers, and, of course, Giant Sequoias.
Sequoia trees can only grow between 4,000 and 8,000 ft elevation, so don't be surprised to find that every inch of the park isn't completely covered in these beasts. The spectacular groves that the Giant Sequoias grow in are spaced throughout the park and are accessible by car and foot!
There's so much to see in Sequoia National Park, so lace up your hiking boots, grab your camera, and get ready for two days of adventure: here's your perfect Sequoia itinerary!
Getting to Sequoia National Park
Note: This post contains affiliate links, which earn me a small commission at no extra cost to you if you make a purchase using one of these links. Thank you for supporting this free content!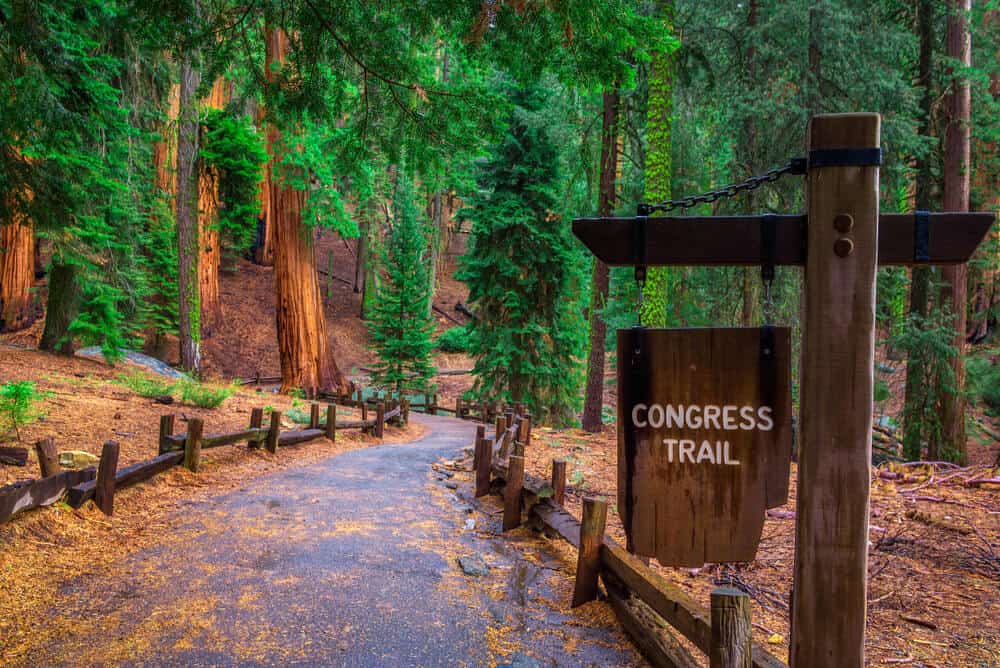 Most people drive to Sequoia National Park from Los Angeles or San Francisco, but Los Angeles is about an hour closer.
If you're flying in and planning to visit Sequoia National Park and Yosemite together, which I recommend as they're quite close together, I suggest renting a car at LAX if you don't have your own. You can continue on to other national parks like Joshua Tree and Death Valley easily based in Southern California as well.
Not sure where to get the best deal on your rental? I've rented cars dozens of times through various search engines and have settled on Discover Cars as the best car rental search engine – it searches over 500 trusted rental companies to find the cheapest price for your rental! Compare prices for car rental from Los Angeles here.
Sequoia National Park Itinerary: Day 1
Welcome to Sequoia National Park!
You will be accessing the park through the Ash Mountain Entrance Station at the foothills of the Sierra Nevadas: the perfect start to any road trip to Sequoia National Park!
There are no Giant Sequoias here, but still plenty of exciting attractions to explore.
Bring plenty of water to start out the day if you're traveling in summer. Midsummer temperatures can reach well above 100 degrees F! Don't worry, as we work our way up into the mountains, temperatures will become more bearable.
Insider Tip: Be advised, entering from this part of the park is not recommended for vehicles over 22 ft in length. Larger vehicles are encouraged to use the Big Stump Entrance to the north to avoid the sharp switchbacks along the winding mountain road.
Once in the park, use the pullout at the Sequoia National Park sign and take the short trail down to the river for the first stop on your Sequoia National Park itinerary.
This is a great place to get an up-close look at the Kaweah River. The river's flows are powerful, especially in the spring and early summer, so use extreme caution at its banks!
Editor's Note: If you only have one day in Sequoia National Park, get an earlier start and combine all of Day 1, skipping the Giant Forest Museum, with General Sherman and Congress Trail from Day 2
Tunnel Rock
Follow Generals Highway about 2 miles from the Sequoia National Park sign. You will pass the visitor center, which is a great place to stop to buy a hiking map and get current park information.
Soon after, there will be a parking area on the side of the road. Walk over and check out Tunnel Rock. It's amazing to think Generals Highway used to direct traffic right under it!
Hospital Rock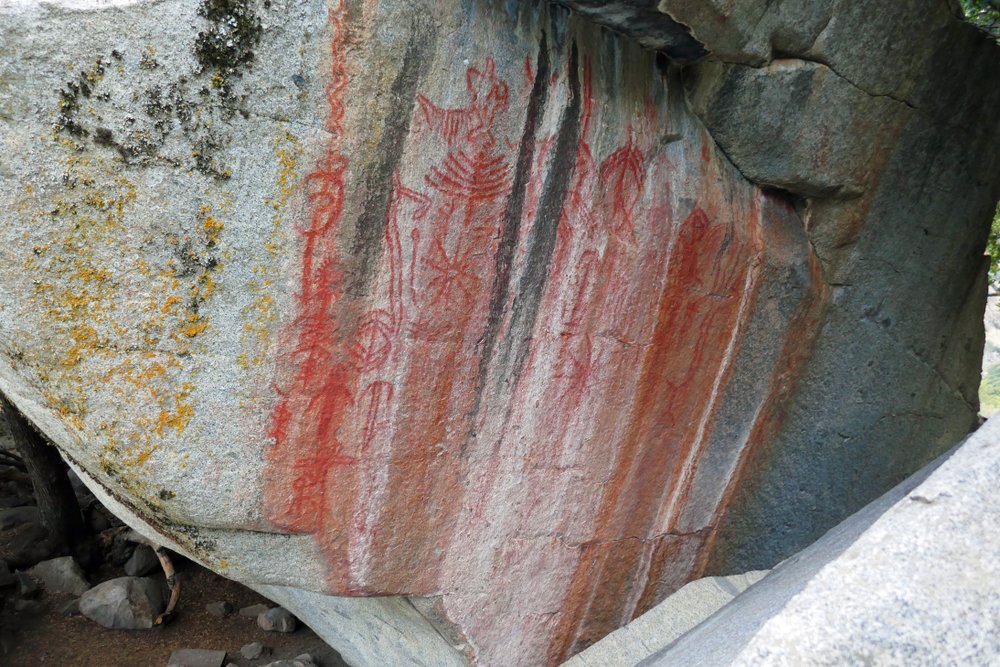 Rocks are kind of a theme on this leg of the trip! Park in the large lot at the Hospital Rock Picnic Area to check out Hospital Rock right across the street.
This is a sacred Native American site, so please be respectful. Notice the bowl-shaped carvings in the stone?
These were created over many years of grinding acorns for cooking in a pestle and mortar fashion. This location is also home to a beautiful panel of pictographs.
If you're interested in hiking a bit further, the Hospital Rock Trail continues down to the Kaweah River.
Crystal Cave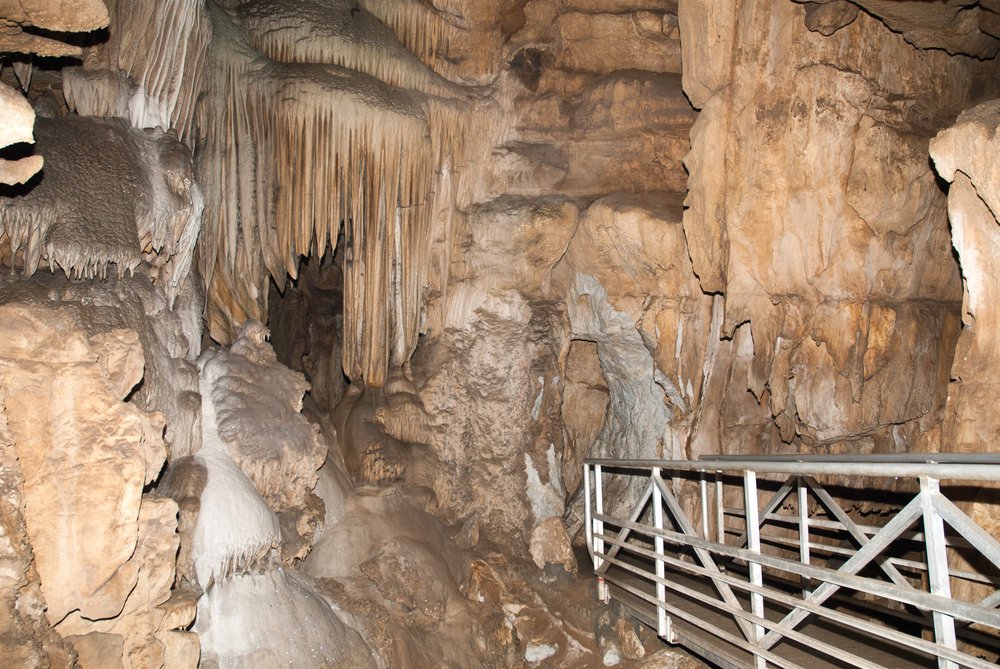 Time to leave the heat behind and drive into the mountains where it's a little cooler.
The road will switchback and is best taken at a slow speed. Along Generals Highway, you will pass multiple scenic turnouts. Take advantage of the opportunities to stop and enjoy the view!
Follow Generals Highway from Hospital Rock for about 8 miles until you reach Crystal Cave Road on the left.
Crystal Cave is a fun guided excursion to spelunk one of the park's many natural caverns. Book your tickets to tour Crystal Cave at least 48 hours in advance to reserve your spot. The tour lasts about 45 minutes and guides guests along a fascinating ½-mile loop.
Moro Rock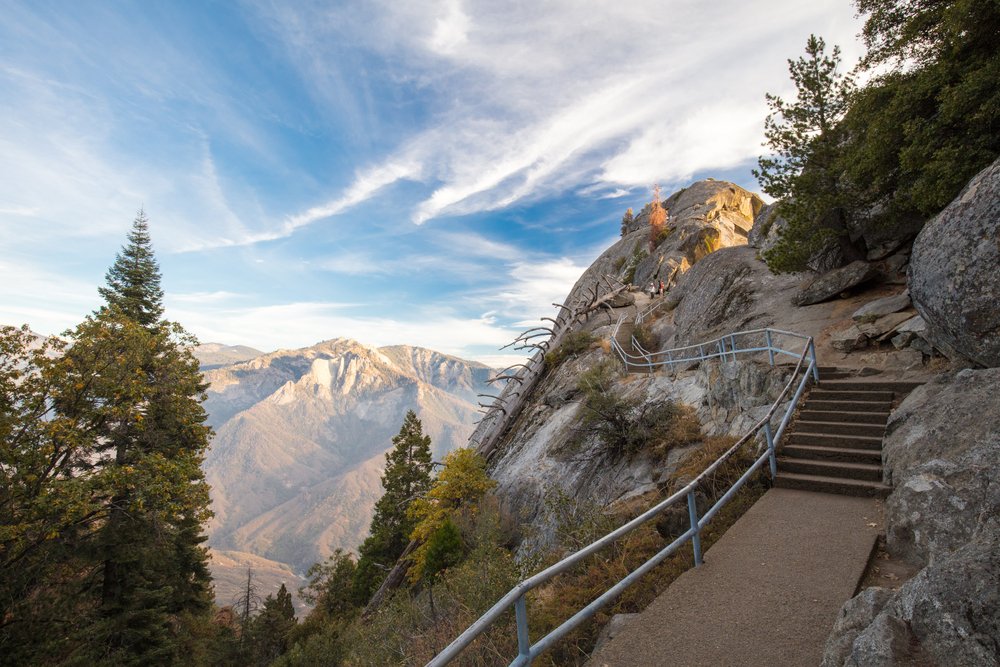 The moment you've been waiting for… Giant Sequoias!
Those big trees you heard so much about will begin to make an appearance as you continue on Generals Highway. After about 6 miles, turn right onto Crescent Meadow Road and follow signs to the Moro Rock Trailhead.
You've probably spotted the iconic granite face of Moro Rock standing proud above the foothills at 6,725 ft. You've had a good look, and now it's time to stand on it!
You don't need to be an accomplished climber to get on top because the NPS has laid 350 steps to make it an easily accessible lookout.
However, this may not be the best hike for folks with a fear of heights or exposure. Although the viewpoint is fenced in, it can trigger sensations of discomfort for some.
If you're able to make the short ¼ – mile hike up, you'll be generously rewarded with 360-degree views of the surrounding mountain landscape.
Tunnel Log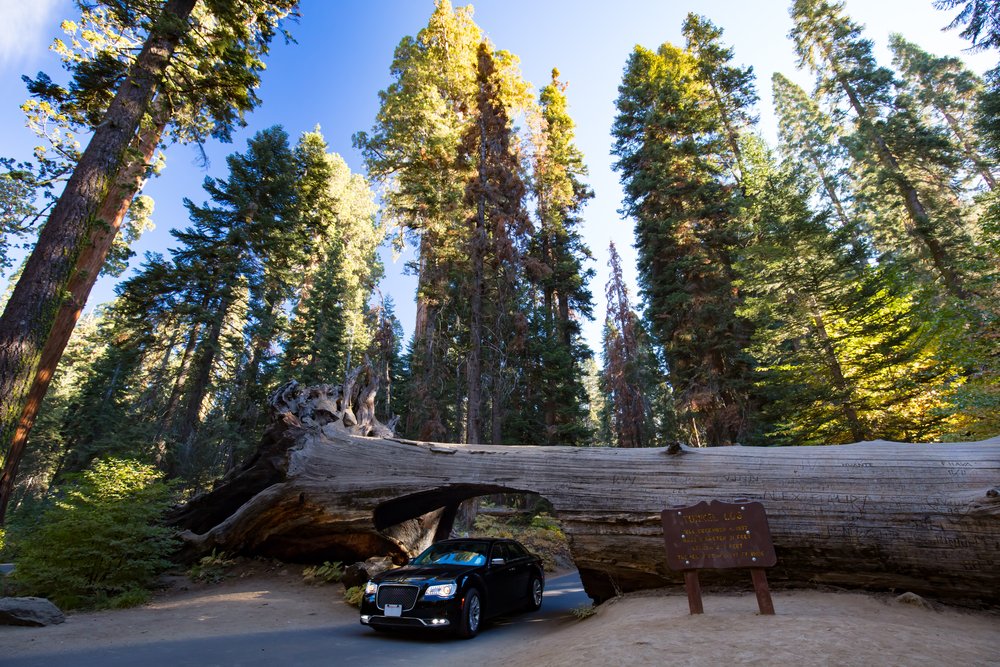 We're continuing on the Crescent Meadow Road toward Tunnel Log! This neat tunnel carved out of a fallen Sequoia makes for a great op of you and your road-tripping rig.
You were looking for the standing Sequoia that you can drive underneath? You're not the only one.
This is a popular inquiry, but you won't find that attraction here. The tree you're thinking of once stood in Yosemite National Park, but fell over in 1969!
Crescent Meadow and Tharps Log
This 1.7-mile loop begins at the parking area at the very end of the Crescent Meadow Road, and it leads hikers right through a beautiful Sequoia Grove.
This is a great area to spot deer and bear grazing in the meadow area. Along the trail, you'll pass by Tharp's log, which is a fallen Sequoia converted into a cozy woodland cabin.
Giant Forest Museum
Head back toward Generals Highway after your fun adventure through Crescent Meadow and park in the Giant Forest Parking Area.
Take the short trail to the Giant Forest Museum to learn a little more about these massive trees you have been encountering!
Big Trees Trail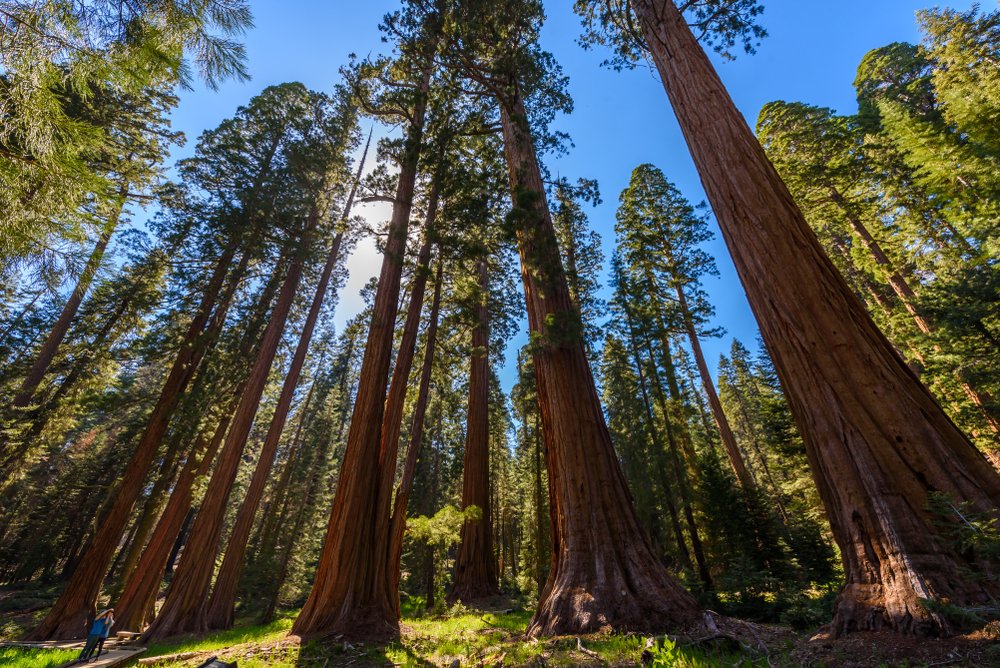 Now that you're fully educated on the history and biology of the Giant Sequoias, you're ready for the Big Trees Trail. This scenic hiking loop is less than a mile and provides a wonderfully relaxing escape into nature. The trailhead is located near the parking area.
Time to rest up for another fun day in Sequoia National Park. There are many beautiful campgrounds as well as conveniently located lodges right inside the park. We recommend staying near the Lodgepole Area for a convenient starting point. The sunset in a Sequoia Grove is unlike any other. Enjoy!
Sequoia National Park Itinerary: Day 2
Rise and shine! The Sequoias are waiting and are surely glowing in the early-morning lighting.
Today we are starting off with a couple of sights in the Giant Forest before heading north on Generals Highway.
Beetle Rock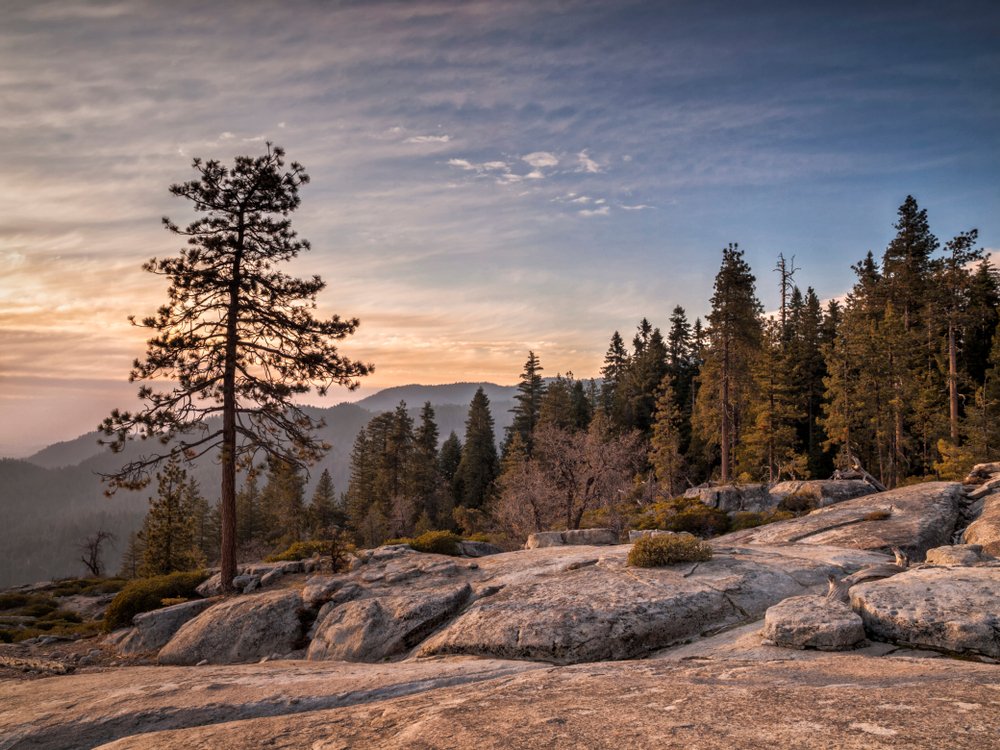 The morning views from Beetle Rock are magnificent.
Only a short 3-minute walk from the Giant Forest Parking Area, this is a spectacular viewpoint to hang out at while drinking your morning coffee.
General Sherman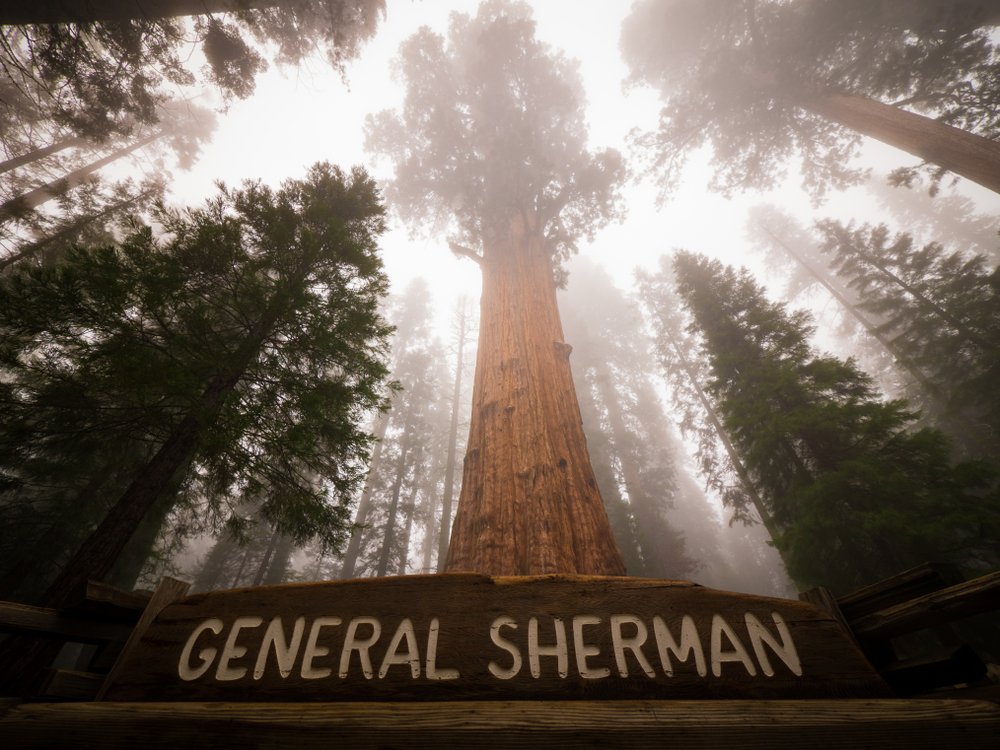 Ready for a visit to the biggest tree in the entire world?
The General Sherman Tree stands at an impressive height of 275 ft with a diameter of nearly 37 ft around! You will feel like an ant next to this chunk and look kind of like one in your photos.
To get to the parking area, head north on Generals Highway. Take a right onto Wolverton Road and follow the helpful signs to General Sherman. The hike to General Sherman is an easy ½-mile walk down a paved trail. Along the way, you'll pass many of the area's other giants!
Congress Trail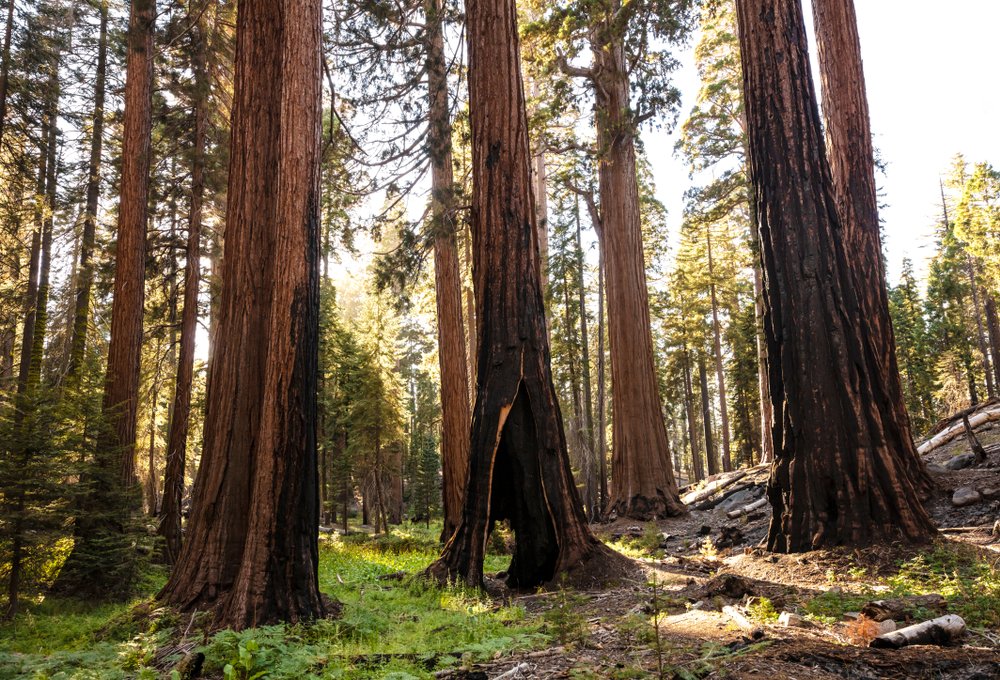 We know you can't wait to explore even more of the Giant Forest. From General Sherman, follow signs for the Congress Trail.
This easy 3-mile loop will bring you deep into the Giant Forest while guiding you past the towering McKinley Tree and General Lee Tree. The loop will end at the General Sherman Tree, where you can continue back to the parking area.
Remember, only take memories and photos of these beautiful groves. Leave all Sequoia and Sugar Pine Cones where they have fallen.
Tokopah Falls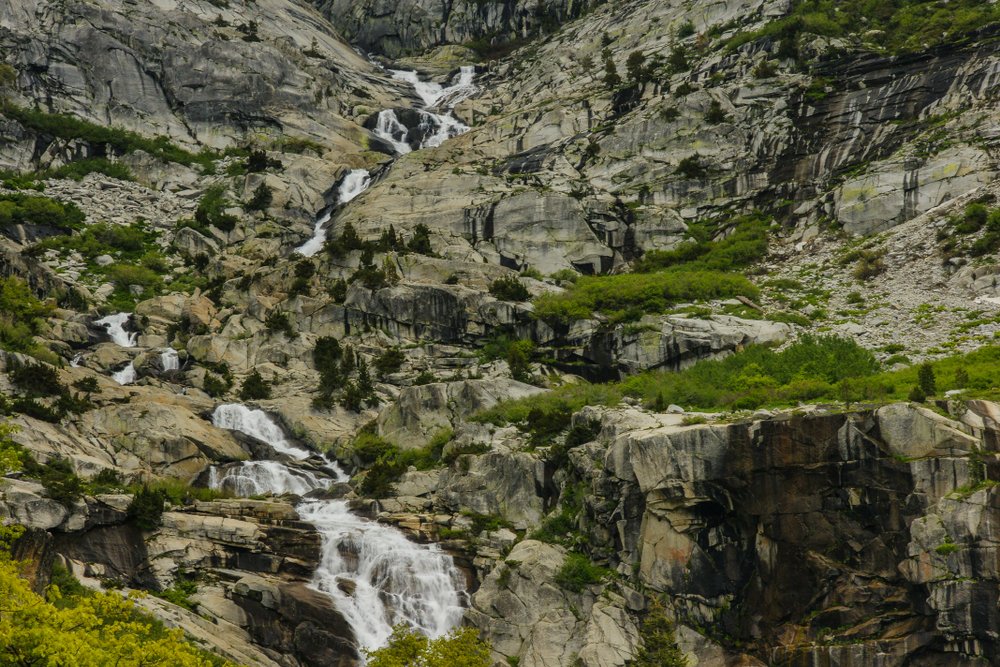 Back on Generals Highway, we're headed over to the Lodgepole Area. This area has camping, hiking trails, river access, concessions, a visitor center, and even hot showers!
The moderate 4-mile out and back Tokopah Valley Trail to Tokopah Falls begins from the Lodgepole Parking Area. The trail hugs the Middle Fork of the Kaweah River before arriving at the beautiful 1,200 ft falls that cascade over the impressive granite walls. In late summer, this waterfall usually dries up completely, so its best to time this one for early in the season.
After your hike, grab a treat at the Lodgepole Market and Grill before heading off to your next site. You've definitely earned a little time with your feet up!
Halstead Meadow Picnic Area
You've done quite a bit of hiking today! Halstead meadow is a perfect place to stop along Generals Highway to set up camp chairs or a hammock to relax in.
This is also a popular place to spot deer and bear. Keep your eyes peeled!
Little Baldy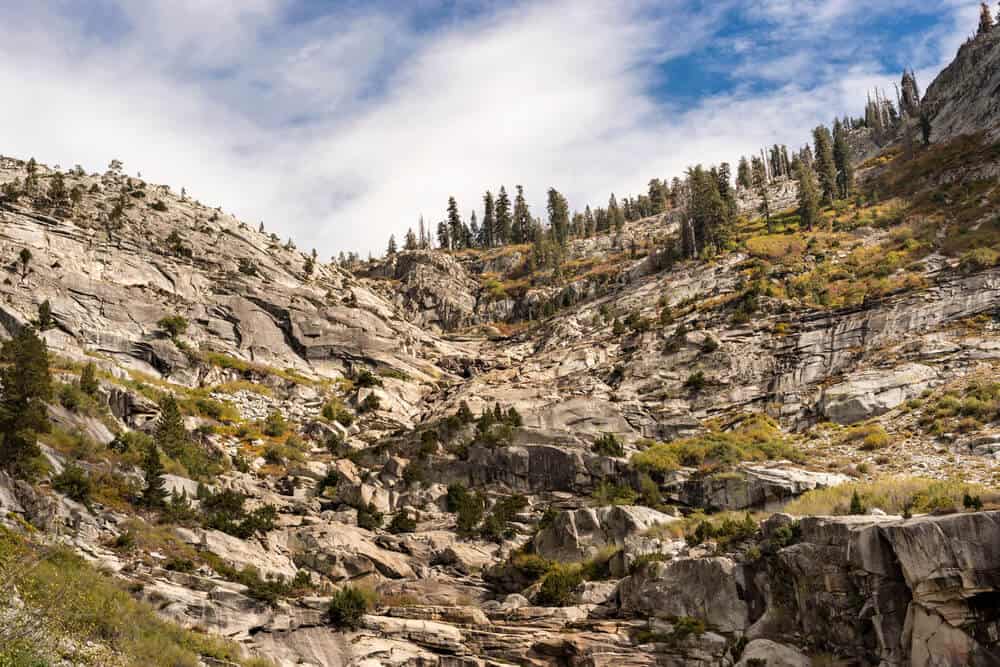 There's one more hike on the list for today, and wow are the views of the Western Divide at the top worth the trek!
The Little Baldy Trail is a popular 3.5-mile out and back hike that will take about 2 hours to complete. Soak in the scenery on your hike while reminiscing on all the memories you've made following this Sequoia National Park itinerary
***
This is where we leave you to discover your next adventure — either in Kings Canyon National Park as you head north or on your way back home after enjoying a short visit to Sequoia National Park. Happy trails!
Pin This Sequoia National Park Itinerary for Later!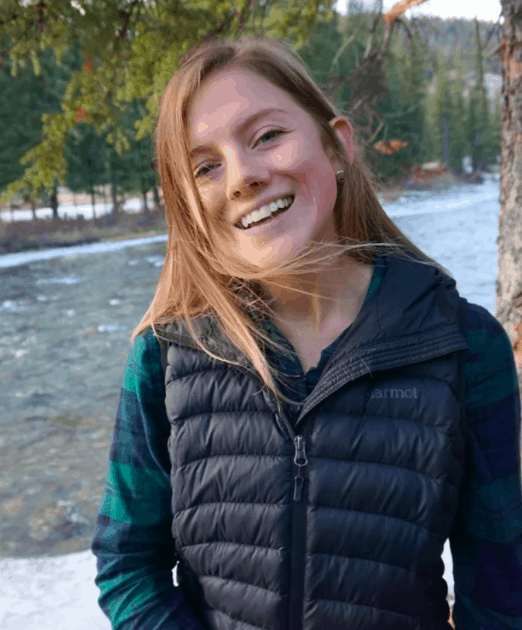 Emily is a freelance travel and outdoor recreation writer from Big Sky, Montana. Her adventurous spirit has led her to the high peaks of the Sierras and the largest wilderness areas in the lower 48. When she's not writing, Emily can be found backpacking, road tripping to outdoor destinations, climbing, or rowing whitewater.