Orange County comprises of more than what it's renowned for.
Besides riding rollercoasters at Disneyland and surfing at popular coastal areas like Laguna and Huntington Beach, Orange County offers various hiking trails for those who want to go for a stroll or lace up their hiking boots for something more challenging—either way, there's an Orange County hike for everyone.
While you might think that SoCal's nature is drab and you'll encounter nothing but desert land, the arid climate supports the unique ecosystem of wildflowers, cactuses, reptiles, and more. It's likely you'll catch sight of these species on a hike in California!
These are some of the best day hikes in the OC that range from easy to hard and will offer variety in its elevation, scenery, and wildlife. Easy means that you can go at a leisurely pace and you won't be battling steep inclines, and hard means that your heart rate will go up and you'll likely break out a sweat.
The Best Orange County Hikes
Canyon Acres Trail to the Top of the World (Aliso and Wood Canyons Wilderness Park, Laguna Beach)
Note: This post contains affiliate links, which earn me a small commission at no extra cost to you if you make a purchase using one of these links. Thank you for supporting this free content!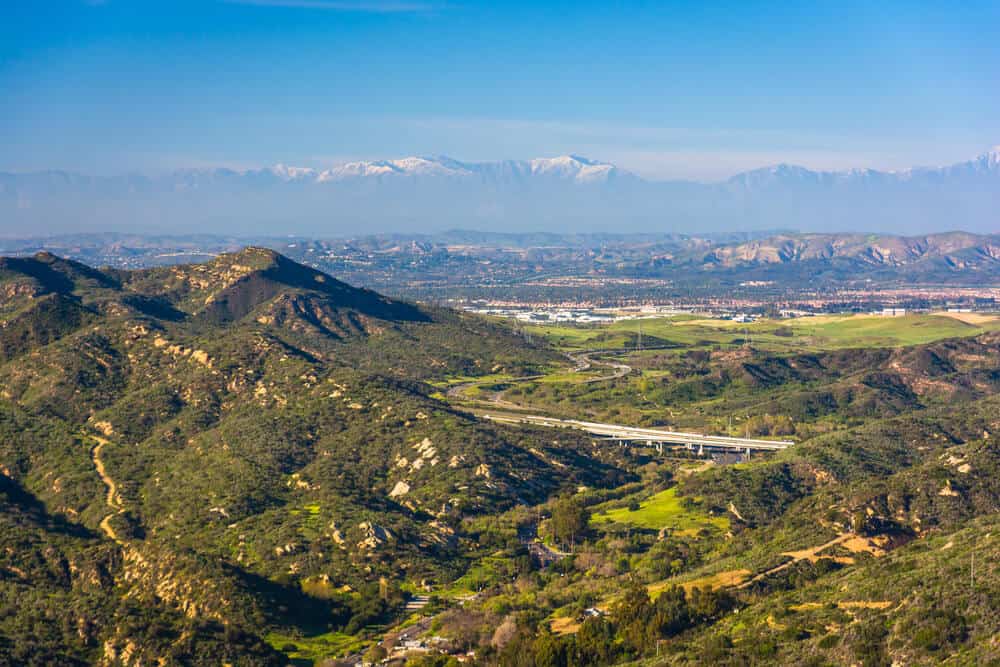 Distance: 2.4 miles
Time Required: 2 hours
Difficulty: Hard
Parking: Free parking is located in the neighborhood at the end of Canyon Acres Drive. There is limited parking along the side of the street. Alternatively, there is free parking along Alta Laguna Boulevard (by Alta Laguna Park) at the summit of the hike if you desire to go straight to the views.
Trailhead Address: 580 Canyon Acres Dr, Laguna Beach, CA 92651
On a clear day, which is not hard to come by in Southern California (except during "June Gloom"), the Top of the World will offer you spectacular views of Santiago Peak of Saddleback Mountain, Mount Baldy—the highest peak of the San Gabriel Mountains, and the endless views of the Pacific Ocean surrounding Laguna Beach.
Begin your journey on the paved path to the left of the yellow "END" sign located at the end of Canyon Acres Drive. This paved road will transition into a dirt path. Continue straight to the gate that marks the official start of the trail.
You will begin your ascent and soon reach a fork in the road—veer left if you wish to take on an added short distance (it's not any easier or less steep) that will loop back to the main Canyon Acres Trail; otherwise, continue straight up the main path. Avoid small side trails (you'll pass by another one on your right) and proceed straight along the wider path that takes you uphill.
After you've surmounted most of the incline, you'll reach the end of the Canyon Acres Trail that intersects with West Ridge Trail (a trail sign will indicate this). Make a right and continue until you reach a junction. Turn left and follow the curved path to the top where you'll find a bench to sit and relax on as you enjoy the views at the Top of the World.
There are alternate (and longer) ways to hike up to the Top of the World (via West Ridge Trail or Wood Canyon Trail), but the shorter way up is by Canyon Acres Trail. While shorter typically means easier, it's evidently not the case for this hike. And that's exactly what makes this hike so appealing to many. The views make the steady and steep incline to the Top of the World worth it.
Notes:
El Moro Canyon Loop Trail (Crystal Cove State Park, Laguna Beach)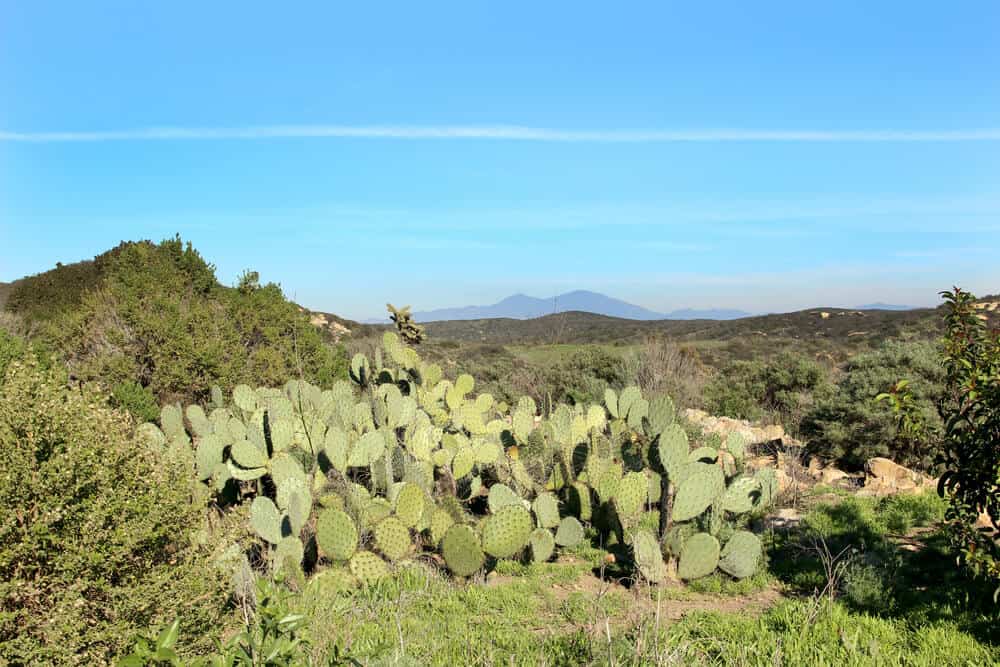 Distance: 5 miles
Time Required: 2 hours
Difficulty: Moderate
Parking: $15 fee at El Moro Canyon parking lot by El Morro Elementary School. Download the Passport Parking App on your smartphone to pay. Additional parking locations and fees information in the surrounding area can be found here.
Trailhead Address: 8471 N Coast Hwy, Laguna Beach, CA 92651
This hike will lead you to glorious views of the ocean blue. There's no shade on this trail, so as always with hiking in Orange County, wear sun protection and stay hydrated. The nice thing about this trail is that it's so close to the coastline that the sea breeze will keep you feeling refreshed throughout the hike!
A common route for this hike starts along El Moro Canyon Trail past the Crystal Cove State Park Moro Campground and across the wooden bridge (by the visitor's center) to a junction at which you turn right to climb up a steep hill called the BFI Trail.
As you reach the ridgeline, you'll be instantly rewarded with panoramic views of the manicured, luxury estates that fill the crescent-shaped terrain of Emerald Bay. The lush greenery that teems this community enriches the hues of its embracing sea—it's an idyllic scene that you can't help but stop to gaze at.
As you surpass the initial climb, bear left along the ridge to Moro Ridge Spur. Continue straight until you reach another junction and turn left onto East Cut Across Trail a.k.a. I Think I Can Hill Trail.
At this point, you'll begin your descent to the bottom of the trail—turn left onto Moro Canyon Trail and you'll find yourself back at your starting point. Alternatively, you can hike in reverse (at the first junction, continue straight up Moro Canyon Trail instead of right to the BFI trail)—the sweeping views will be saved for last, and you'll end your hike with ease as you descend the ridgeline.
In the spring and early summer seasons, the trail will bloom with the vivid colors of California's wildflowers, and you might also see cute rabbits sunbathing along the path!
For more info on what to do in Crystal Cove State Park, read this comprehensive guide.
Notes:
Weir Canyon Trail (Weir Canyon Wilderness Park in Santiago Oaks Regional Park, Anaheim)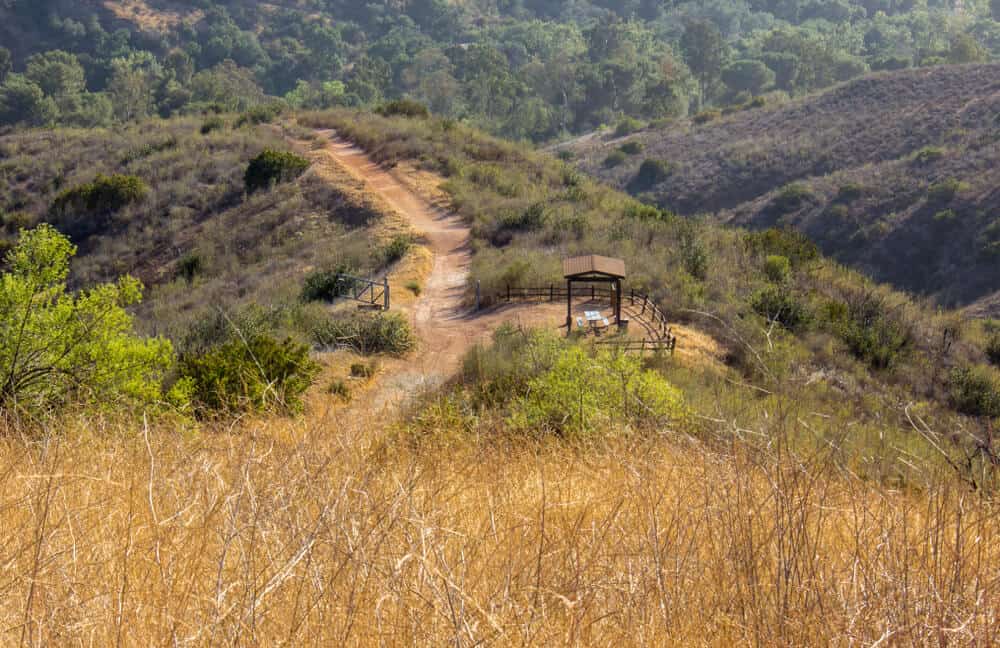 Distance: 3.5 miles
Time Required: 2.5 hours
Difficulty: Moderate
Parking: Free street parking in the residential neighborhood of the trailhead address or in the cul-de-sac of 7091 Ave De Santiago, Anaheim, CA 92807 (an alternate entrance that begins on Old Weir Canyon Trail).
Trailhead Address: 6984 E Overlook Terrace, Anaheim, CA 92807
Despite the surrounding suburbia, hiking along this scenic route will make you feel like you've escaped civilization!
At the foot of the Santa Ana Mountains is the Weir Canyon Trail that takes you up and down hills throughout its loop to diversify your trek. In the springtime, nature is in full bloom, which makes this hike an ideal wildflower viewing spot.
A welcome sign marks the official starting point and the clockwise loop will take you up the Old Weir Canyon Trail/Anaheim Hills Riding and Walking Trail and around Weir Canyon Trail back to the entrance.
The steepest part of the hike is at the beginning where you'll reach the highest viewpoint that will offer you 360-degree views of the mountains (Saddleback Mountain, Santa Ana Mountains, and in the far distance on a clear day—the peaks of the Angeles National Forest).
The path itself is easy to follow as it is wide. It's a family-friendly hike as it does not include overly strenuous climbs because of its frequent downhills that offer respite from its slopes.
Notes:
Quail Loop Trail, Quail Hill, Irvine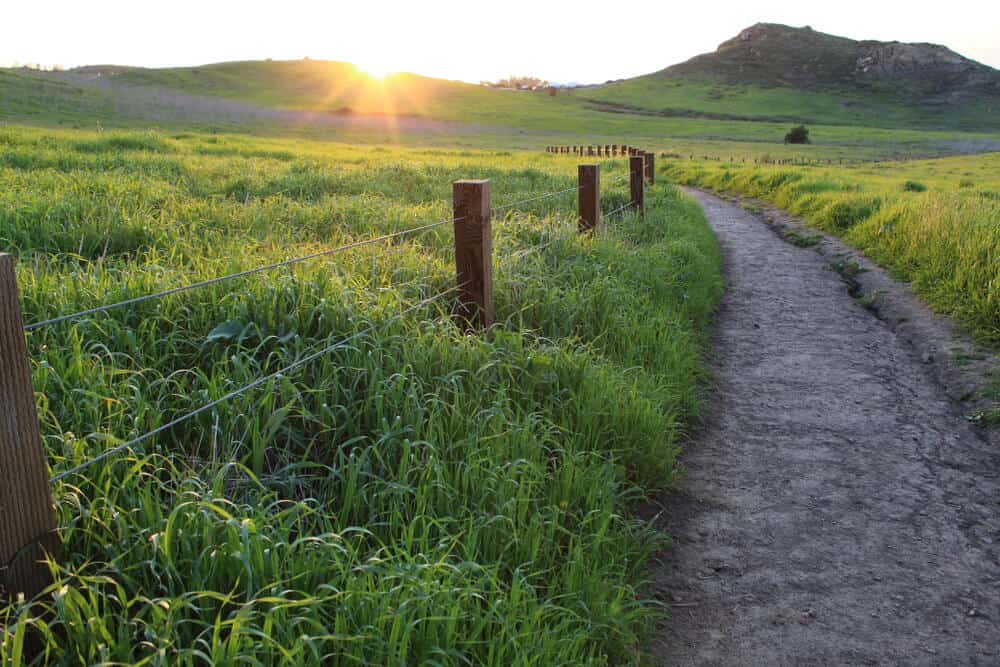 Distance: 1.8 miles
Time Required: Up to 1 hour
Difficulty: Easy
Parking: Free parking at the lot by the trailhead and more within walking distance located across the street.
Trailhead Address: 34 Shady Canyon, Irvine, CA 92603
If you're searching for a quick and easy Orange County hike, Quail Hill Trail is a family-friendly loop that allows dogs as long as they are leashed.
This trail is part of the Irvine Ranch Natural Landmarks (Orange County's only National Natural Landmark), which preserves its land and natural habitat. It's great for seeing wildlife like roadrunners and quail, but there's nothing dangerous.
The trail is easy to follow. Start at the marked trailhead located by the middle of the parking lot and take a left at the junction to loop around the well-marked path until you are back at the trailhead. During the hike, you will be able to stop at a vista point at which you can soak in the extensive city views and mountainous backdrop.
The fascinating part of this hike is that it offers a free self-guided cell phone audio tour that explains prominent features of the trail. For more information on how to access the audio tour, please visit the Irvine Ranch Conservancy website here. The wide, open landscape of Quail Hill makes the hike an overall pleasant and relaxing experience that is fit for anyone.
Notes:
Peters Canyon Loop Trail (Peters Canyon Regional Park, Orange)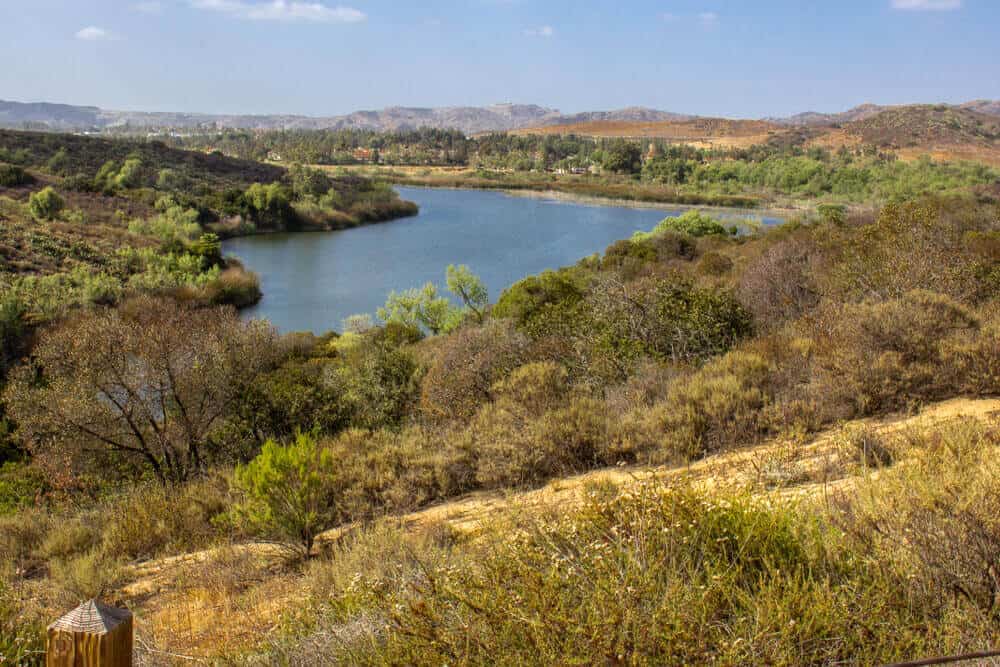 Distance: 5.9 miles
Time Required: 2 hours 30 minutes
Difficulty: Moderate
Parking: $3 parking fee at the trailhead parking lot. Pay with cash or card at the lot's kiosk and you'll receive a ticket that you must leave on your car's dashboard. There is also free street parking available a block away from the park entrance near Chapman Hills Elementary School.
Trailhead Address: 8548 Canyon View Ave, Orange, CA 92869
This popular, well-maintained OC hiking trail offers a bit of everything: undulating terrain, shade, wildlife viewpoints, the Peters Canyon Reservoir, and on a clear day, you can see the peaks of the Angeles National Forest.
Early in the hike, you will encounter your steepest slope at which you'll reach an elevation of 683 feet at its peak. While the incline appears intimidating from afar, it's doable as it is a very short uphill.
After the summit, you'll begin your descent on East Ridge View Trail, which will lead you through ups and downs along the way. The hike invites you through a few different trails and varied scenery to accompany it, which makes the trail an overall exciting and challenging (but achievable) journey to take on.
Notes:
Pin This Guide to Orange County Hikes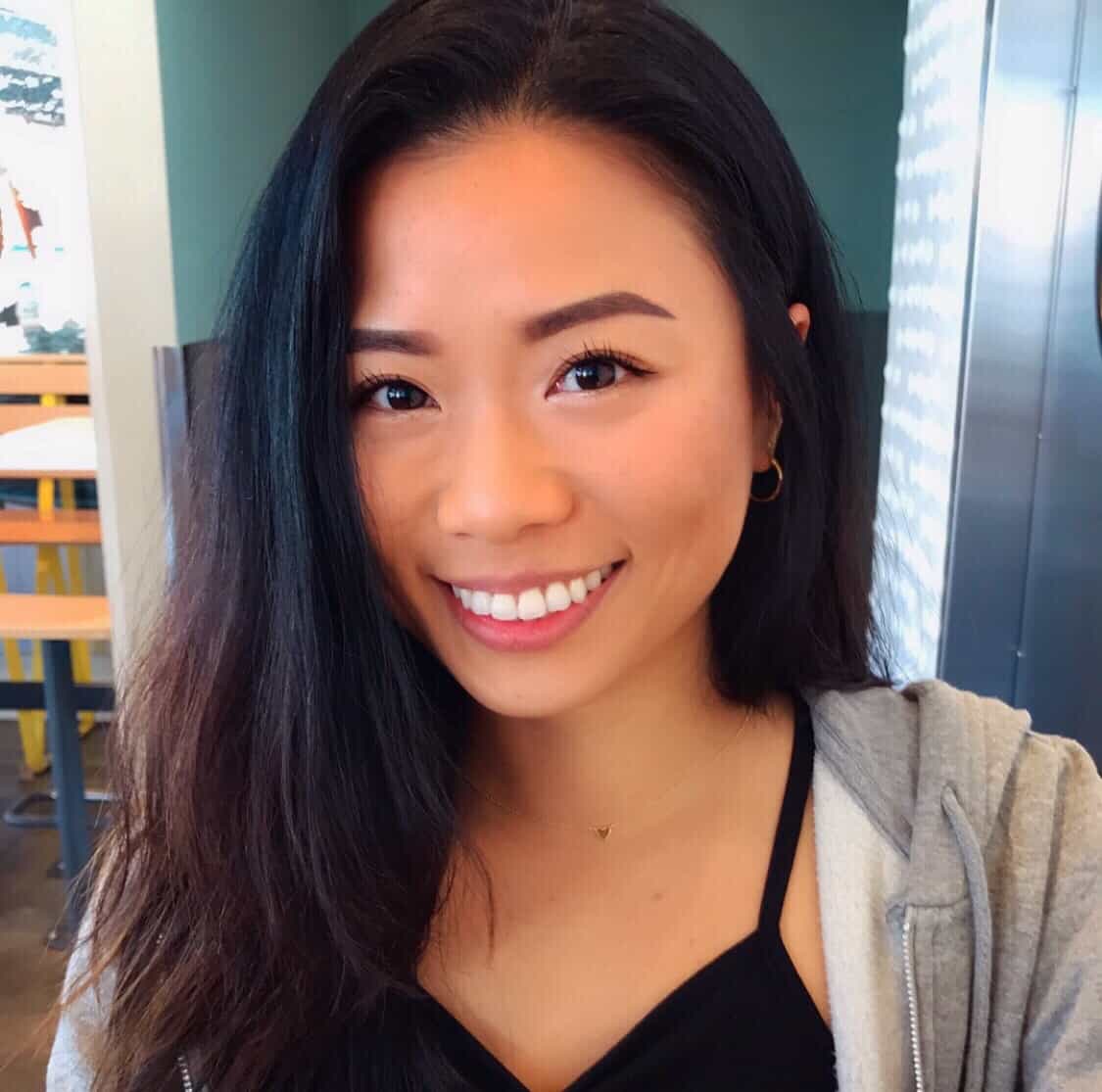 Lianne quit her 9-5 job in 2018 and moved to the bustling city of LA for a change of pace. Having lived in a quiet, secluded part of the East Coast most of her life, her life on the West Coast has since pushed her outside her comfort zone and inspired her to always take "the road less traveled." Travel has played a key role in her personal development, and she believes everyone can reap the extraordinary benefits of exploring life beyond borders.