The five islands that make up Channel Islands National Park each boast their own set of unique features but there is one thing they have in common… raw beauty!
Located off the mainland of California, the islands don't get nearly as many visitors as California's other eight national parks, so the untouched nature you will see here is truly one of a kind.
Plus the journey it takes to get here, whether it be by boat or plane, only adds to the awesome experience! (We cover how to get to Channel Islands National Park in this travel guide here).
So pack your bags, reserve your tickets ahead of time and get ready for an adventure of a lifetime. Just remember to leave no trace!
Best Channel Island National Park Hikes: Santa Cruz Island
Note: This post contains affiliate links, which earn me a small commission at no extra cost to you if you make a purchase using one of these links. Thank you for supporting this free content!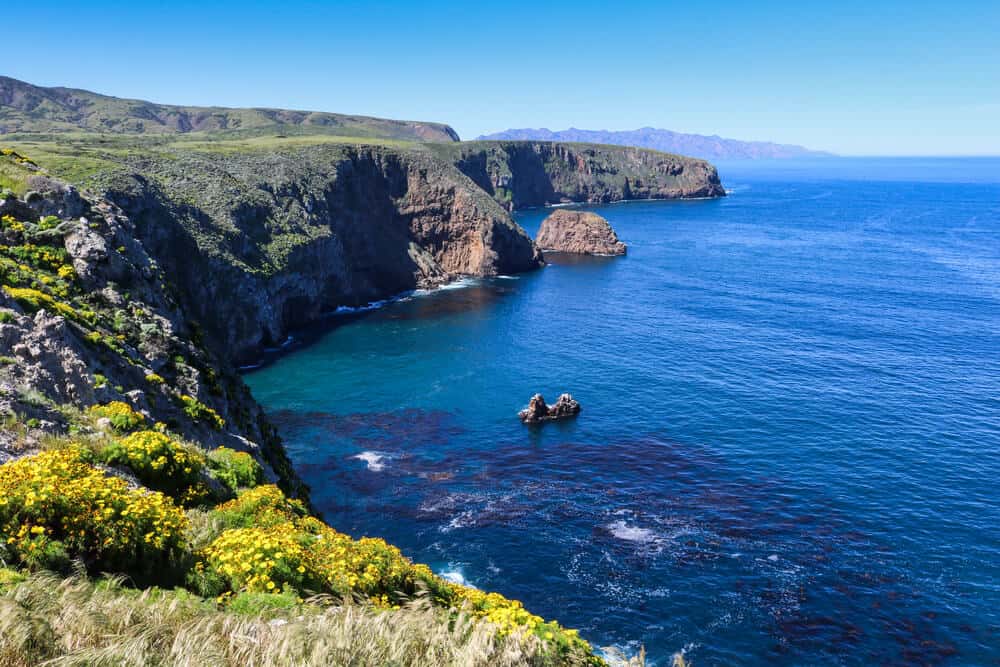 This is definitely one of the more popular Chanel Islands to hike and explore as it is one of the largest and closest to the mainland.
So if you're envisioning a desolate island all to yourself, think again. However, just because it's busy doesn't mean it lacks beauty. (I mean, do you think people would be flocking here if it did?)
Some of the best Channel Islands hikes call this island home and with just one visit you are sure to fall in love!
Book your boat ride, take the one-hour trip over to this magical island, and let the adventures begin!
Insider Tip: Reserve camping ahead of time to ensure a spot or you may be waving the island goodbye before sundown.
Smugglers Cove
Distance: 7.7 miles
Trail Type: Out and back
Elevation Gain: 1,400 feet
Difficulty: Moderate
Trail Conditions: Check hiker updates on AllTrails
If you only have a day trip planned, this is the perfect Channel Islands hike to see a little bit of everything Santa Cruz has to offer, both inland and coastal.
But be sure to keep an eye on the time if you're day tripping, so you don't miss the last ferry back! The hike can be quite strenuous in certain areas and those downhill slopes, that feel like a great break at the moment, also means an equally steep incline on your way back.
The views, however, make it all worth it. Picnic under a massive cypress tree, admire Anacapa Island out in the distance, check out the island's centerpiece, Montañan Ridge, and of course relax on the vast shores of Smugglers Cove.
Potato Harbor to Cavern Point
Distance: 4.9 miles (to Cavern Point, option to add on Cavern Point Loop for an additional 1.4 miles)
Trail Type: Loop
Elevation Gain: 603 feet (+292 feet if doing Cavern Point Loop)
Difficulty: Easy (Moderate if adding Cavern Point Loop)
Trail Conditions: Check hiker updates on AllTrails
You could call this a hike within a hike, bringing two popular trails together into one trek across the island. If time is an issue you can always choose between Potato Harbor (inland) or Cavern Point (coastal), but it will probably be one of the hardest decisions you have to make.
I highly advise starting your journey at the Potato Harbor Trailhead to minimize uphill battles and there is also a great chance you will run into some of the adorable island foxes, which are a motivator if I have ever seen one.
No matter how cute they may look, even if they hop up on their back legs and do the Puss in Boots routine, do not feed them.
After taking in the valley views, you'll know you have reached the end (or top) of Potato Harbor when you reach a high cliff that overlooks a dramatic cove. You could easily spend the rest of the day in awe here, listening to the waters crash upon the walls of the cove but push on towards Cavern Point.
If coastal views are what you're after, Cavern Point Loop is happy to supply them with a long stretch of bluffs that somehow become more beautiful with every step.
Best Channel Island Hikes: Anacapa Island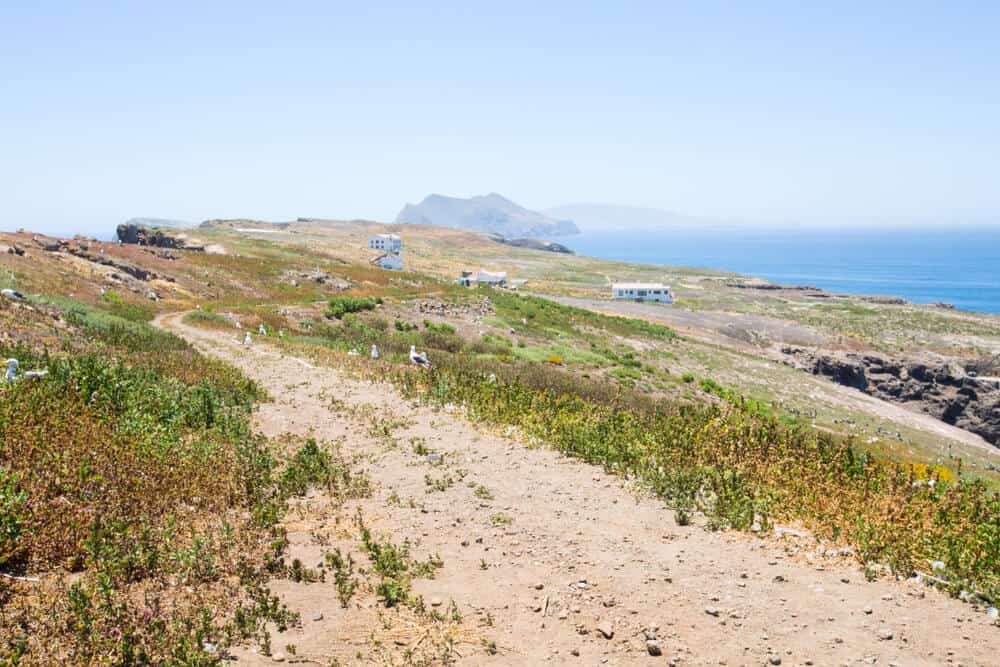 Although Anacapa Island is the second smallest of the bunch, its close proximity to the mainland and 2 miles' worth of trails make it a great place for a day trip.
You can easily cover all the bases in one visit, so you won't feel like you are missing anything because you're not!
The boat ride to this island is a little less than an hour but if you're lucky enough to stop for marine sightings, like blue whales and dolphins, the ride can pass the hour mark so plan your time accordingly.
Make sure to stretch your legs because when your boat docks, you will need to ascend 157 steps up the side of a cliff to get onto the island itself.
Don't forget to wear sunscreen! There is little to no shade on the island.
Heads up, this is an unofficial bird sanctuary. Be prepared to see birds everywhere… A LOT of birds. So if you were particularly impacted by seeing Hitchcock's The Birds, this may not be the best Channel Island to hike on!
East Anacapa Island Trail
Distance: 2.4 miles
Trail Type: Loop
Elevation Gain: 380 feet
Difficulty: Easy
Trail Conditions: Check hiker updates on AllTrails
As you make your way along the trail, you'll notice that your steps make a figure-eight throughout the island.
Regardless of which direction you take first, you will start your hike with the stunning views of the historic lighthouse that was built in 1932.
Feel free to get a closer look, but try not to get too close because if that foghorn blows, your ears will be sorry!
From here you will need to decide which path to take first, but there's no need to put too much thought into it. (I promise you will get a chance to see it all.)
With that being said, you will either start or finish your trip at Pinniped Point and Cathedral Cove.
As you make your way to Pinniped Point you will hear the sounds of barking seals floating through the air. When you arrive at the point, you can look down at an abundance of seals relaxing and enjoying the day.
Cathedral Cove can sometimes have seal sightings as well, but the real highlight here is the cove's unique rock formations.
At the halfway point you will arrive at the iconic Inspiration Point. Look out over the breathtaking (dare I say inspiring?) views of the two, primitive Anacapa Islands and fan-favorite Santa Cruz Island and feel the stress of everyday life melt away.
Best Channel Islands Hikes: San Miguel Island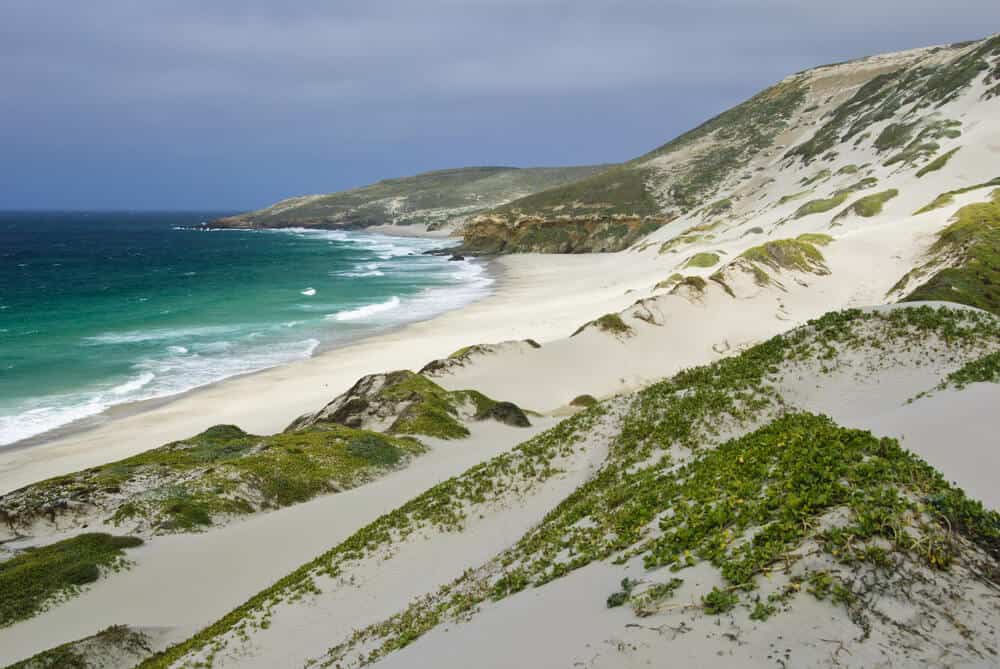 The westernmost island is most susceptible to strong winds and fog, making it the most difficult of the islands to get to and the intense conditions' limit on transportation means if you plan to visit this island, you will be staying for a few days.
Keep in mind that this island is not for the faint of heart. Those new to camping should not attempt to jump right in and take on San Miguel Island. The lack of crowds and feeling of desolation can sound very tempting, but only veteran hikers and campers should consider this quest.
Methods of transportation include a 4-hour boat ride or one hour by plane.
Point Bennett
Distance: 13.8 miles
Elevation Gain: 1,500 feet
Hike Type: Out and back (Ranger-led only)
Difficulty: Moderate / Hard
If you are up for a challenge (and I mean if you've made the journey to San Miguel, you clearly enjoy your fair share of obstacles), embark on the 14-mile, ranger-led trail across the island and up to Point Bennett for out of this world views.
Get your heart pumping right off the bat as you take on the steep incline through the canyon and up to the ranger station.
Due to the fragile conditions of the land, any exploration past this point must be done with a ranger. Although you won't have the thrill of venturing on your own, having a ranger with you means you'll get to learn about the island along your journey!
You will pass through many of the island's highlights like the Caliche Forest, Green Mountain, and the abundance of sea cliffs along the way.
As the sounds of barking pinnipeds draw nearer, you'll know you are approaching Point Bennett. Here you will see the most diverse collection of pinnipeds, from the northern fur seal to the elephant seal, to the California sea lion, and so on.
Add in the stunning views of the vast ocean and you may never want to leave!
Learn how to arrange a ranger-led hike of San Miguel Island via the NPS website.
Best Channel Island Hikes: Santa Rosa Island
Known for its abundance of beaches, you will feel like you have docked on an unknown tropical paradise as walk along the well-maintained pier and onto an island with the perfect combination of sand and greenery.
Santa Rosa is the second-largest of the islands but is not nearly as busy as Santa Cruz thanks to the fact that the ferry ride there can be about 3 hours long. (Heads up, It is a pretty bumpy ride!)
This is also why those who make the trip to Santa Rosa usually plan to stay for a couple of nights at one of the 15 campsites.
Backcountry camping is also available for the more adventurous.
The island has absolutely no amenities which adds to the primitive island vibes but it also means you will need to plan accordingly. Pack lots of water, food, and anything else you may need during your stay.
Lobo Canyon Trail
Distance: 4.8 miles
Trail Type: Out and Back
Elevation Gain: 413 feet
Difficulty: Moderate
Trail Conditions: Check hiker updates on AllTrails
Put on your hiking pants and get ready for the strenuous hike through Lobo Canyon. The immense and diverse beauty here is worth every second. Besides, with so many stunning sights to see along the way, there is no bad place to stop and give your feet a break.
There are stunning views, except at points along the 4 miles of dirt road that lead up to the canyon, but its lack of luster only makes arriving at the canyon that much more impressive.
As you begin to walk through the canyon you will have the best kind of sensory overload. Listen to the sound of birds sing and tree frogs chirp as you admire live oaks, Spanish moss, rare plants, and waterfalls within the wind-carved, sandstone walls.
Just when you think it can't get any better the canyon opens up to a perfect little sandy beach cove. Stop here for a picnic and take in the beauty of the aqua blue waters.
Okay so now you have fallen in love, with thoughts of the vibrant canyon fluttering around in your head, but you just don't have the time (or energy) to take the 12-mile trek. You're in luck! If you set up your hike with a ranger you can hop in their vehicle and knock off 8 miles of on-foot travel.
Best Channel Island Hikes: Santa Barbara Island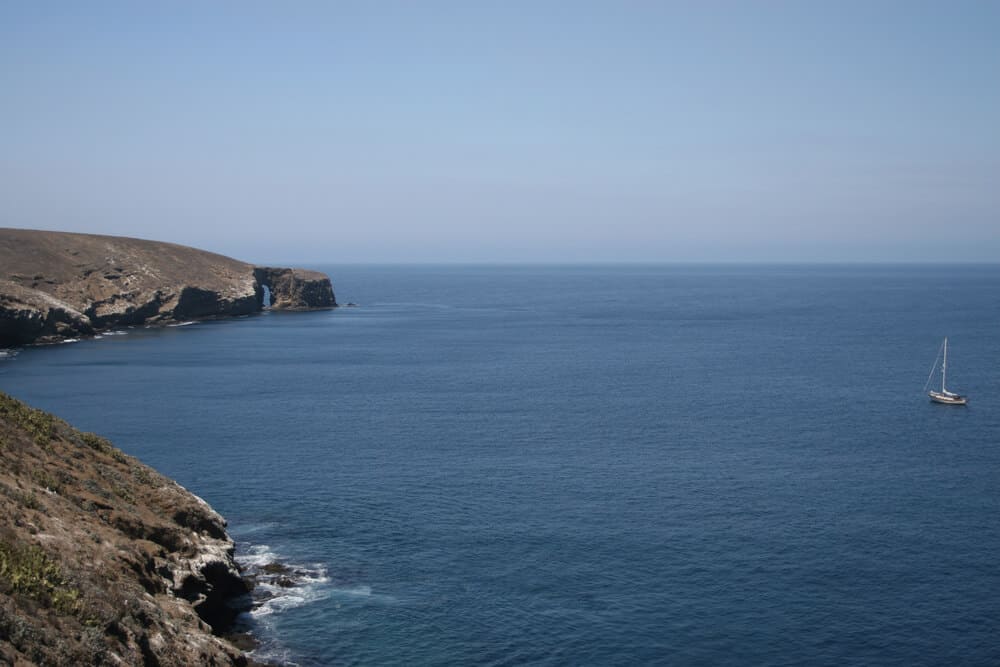 Santa Barbara may be the smallest island within the park (it's only one square mile!) but don't let that fool you. There is a nice selection of trails available with coastal views, a mountain peak, and sea lions galore.
The boat ride over is about 3 hours long and the journey doesn't end there. Once you arrive at the island you will need to climb a steel ladder up the cliff followed by 131 long steps before reaching the top.
It is important to note that there are no amenities on the island and no access to drinkable water.
Santa Barbara Island Loop Trail
Distance: 5.5 miles
Trail Type: Loop
Elevation Gain: 1,082 feet
Difficulty: Moderate
Trail Conditions: Check hiker updates on AllTrails
With a little over 5 miles of trails in total and so many wonderful places to explore, the best way to see all Santa Barbara has to offer is by making your way around the entire island!
Your first stop will be to Arch Point where you can admire wildflowers in bloom and the 130-foot arch surrounded by coastal views.
Next up is Elephant Seal Cove followed by Webster Point. Both are perfect places to observe barking sea lions, elephant seals, and harbor seals in all their glory.
After you've stretched your legs, you will start your ascent up to Signal Peak, the highest point on the island, for breathtaking, panoramic views of the coast and Sutil Island out in the distance.
Don't forget to say goodbye to your new pinniped friends at Sealion Rookery on the way back to the landing cove!
Pin This Guide to Channel Islands Hiking Trails!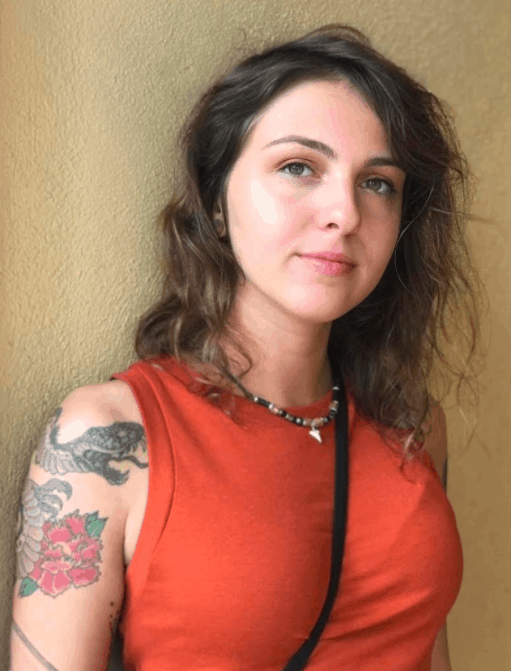 Nicole is a freelance travel writer who lives in Upstate NY, but her heart lies in the beautiful state of California. She loves to travel to new destinations, eat at all the best local restaurants and explore all the world has to offer. Her favorite place is just about anywhere where snow-peaked mountains can be seen in the distance.