The Golden State is famous for many things — its sky-scraping sequoias, its awe-inspiring mountains, its stunning beaches — but for some reason, people forget about all the beautiful waterfalls in California.
Sure, McWay Falls in Big Sur may come to mind, but there are several hidden gem waterfalls in California few people know about that are well worth adding to your California bucket list.
This post will cover both the most well-known waterfalls in California such as those in Big Sur and Yosemite as well as a few secret waterfalls in California that only a California native — or seasoned California explorer — would likely know!
Map of California Waterfalls
Here are 17 bucket list-worthy waterfalls in California to chase!
McWay Falls
Note: This post contains affiliate links, which earn me a small commission at no extra cost to you if you make a purchase using one of these links. Thank you for supporting this free content!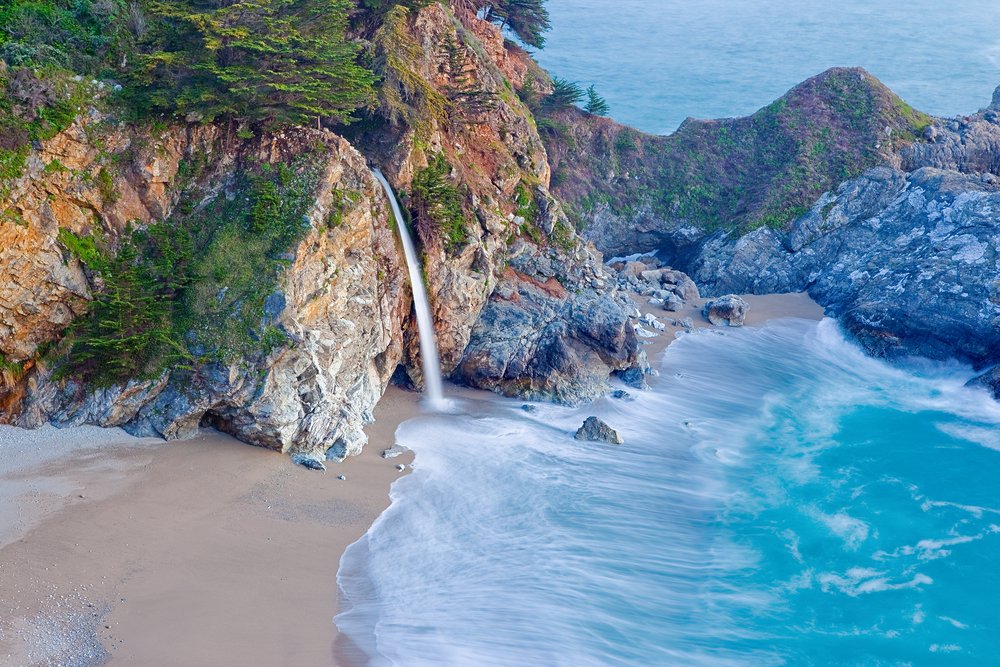 When you think of waterfalls in California, "that waterfall that falls into the ocean" may come to mind! What you might not know is that California actually has several waterfalls that go straight into the ocean, and that this specific phenomenon is called a tidefall. 
This waterfall along the coast of Big Sur, California, is one of the most iconic and photographed waterfalls in California.
At 80 feet tall and easily accessible, not necessitating a lengthy hike unlike some California waterfalls (especially since it's right off the PCH) this is a must-see for waterfall chasers in California.
The trail is only half a mile long in each direction with little elevation gain, about 50 feet, making it easy for inexperienced hikers. You can find parking (for a fee) off of Highway 1 at Julia Pfeiffer Burns State Park, about 40 miles south of Carmel-by-the-Sea.
Yosemite Falls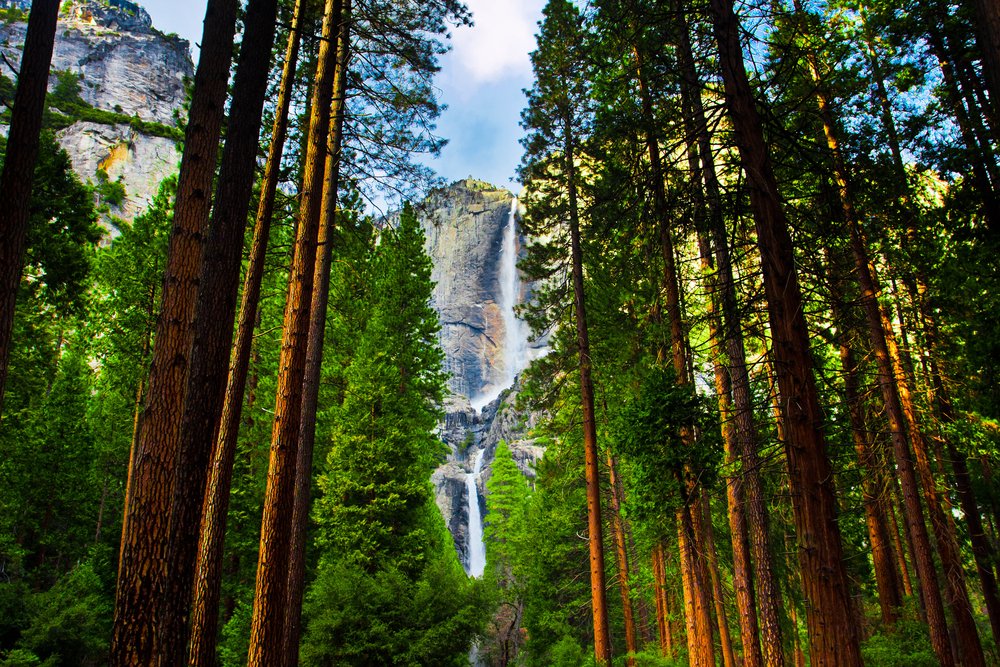 The tallest waterfall in California by a long shot at a whopping height of 2425 feet (739 meters), Yosemite Falls cascades beautifully through the mountains of this famous National Park.
It has three cascades, but its longest single drop is still well over a thousand feet of drop! You can break the falls into Upper Yosemite Fall (at 1,430 feet), the middle cascades (at 675 feet), and Lower Yosemite Fall (at 320 feet)
There are too many trails that offer stunning views of Yosemite Falls to enumerate in a quick overview post like this one.
Most people opt to do the shorter 2-hour hike to Lower Yosemite Falls, which still gives you a thundering view of the rest of the waterfall, but the brave and fit make the 8-hour hike to the top of Upper Yosemite Falls — be sure to read up on the hike before going, as it's a difficult one!
Horsetail Fall (aka 'Firefall')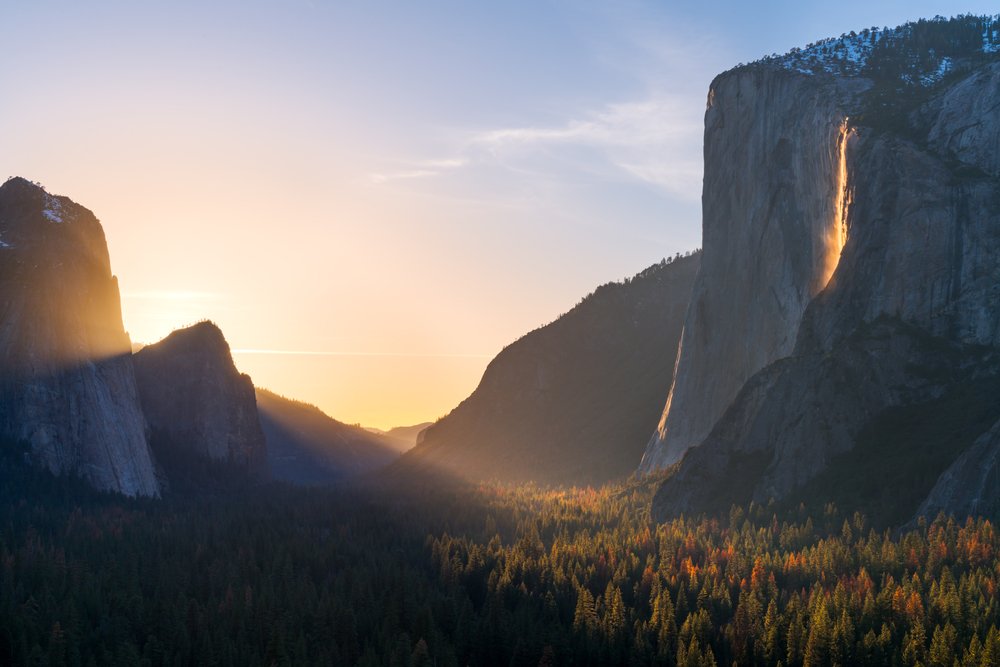 Yet another stunning waterfall in Yosemite National Park, Horsetail Fall is a must-see when in the park.
This waterfall is best known for being the 'Firefall' — a phenomenon which only occurs in Yosemite in winter for only a few weeks each year, usually near the end of February, where the combination of the sun's angle as it sets ends up setting the needle-thin, 500-foot waterfall ablaze.
Even if you don't happen to get lucky enough to see the 'Firefall' as its called, it's still worth visiting at any time of year. I've never been lucky enough to see the firefall for myself, but if you're keen to photograph it, this is the most extensive guide I've read on capturing the phenomenon!
Nevada Fall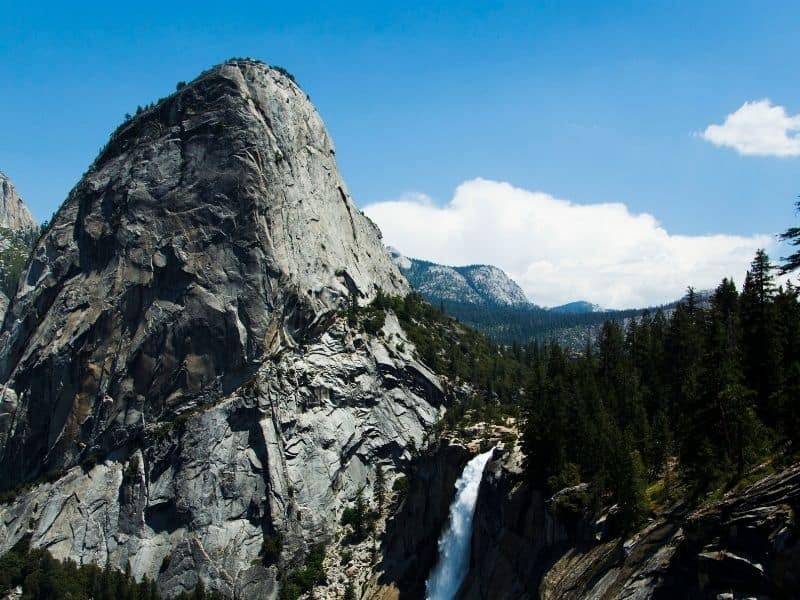 Despite the name, Nevada Fall is very much in California, not Nevada! It's named that because Yosemite is in the Sierra Nevada range, and Nevada means snowy in Spanish (so Sierra Nevada essentially means 'snowy mountain' in Spanish).
Nevada Fall is nearly 600 feet tall and is one of the most impressive waterfalls in Yosemite National Park — a tall order, indeed (pun fully intended).
To get there, it's best to go via the Mist Trail (same as Vernal Fall, which uses the same trail) and to do the two waterfalls simultaneously. For info on combining the two waterfalls into a single day 6.2-mile hike, read here.
Bridalveil Fall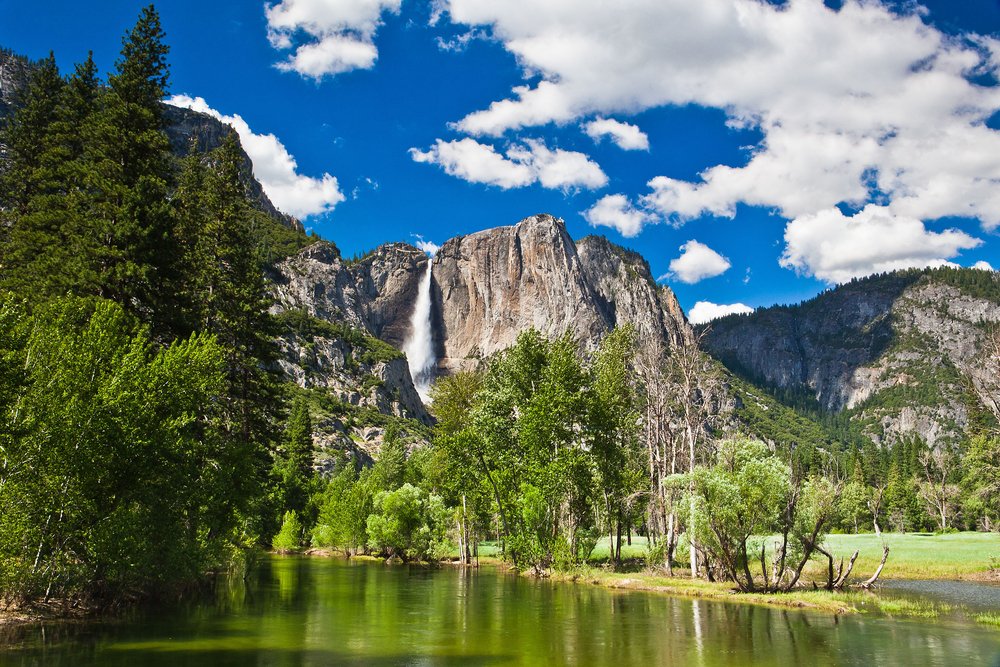 Fanning out like – you guessed it – a bridal veil over the Cathedral Rocks, this stunning waterfall is another Yosemite itinerary must.
It was made famous by Ansel Adams' beautiful photograph, which is on display at the Museum of Contemporary Photography in Chicago.
Bridalveil Fall drops 616 feet into the valley below, creating a stunning sight. Its raw beauty and powerful flow are best captured in spring (as most California waterfalls are due to snow melt — and yes, it snows in California, quite a bit — we do have mountains as well as beaches, after all!).
Vernal Falls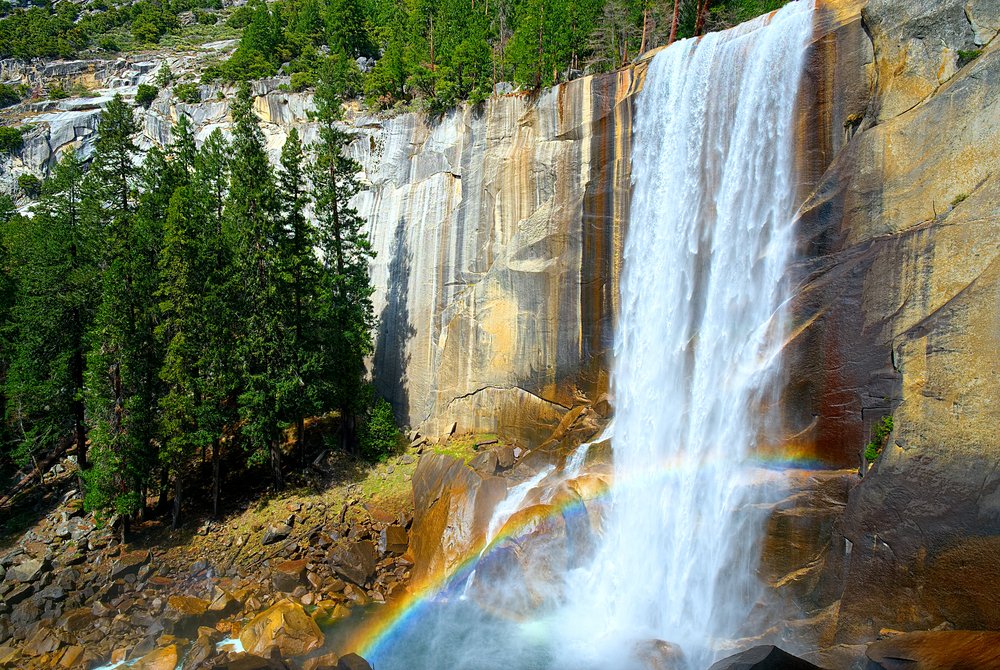 The final Yosemite waterfall on this list, I promise! But Vernal Falls is a California waterfall must-see. At a height of 317 feet tall, it's one of the taller waterfalls in the park and is extremely impressive.
There's a 3-mile hike you can take to Vernall Falls (read more here), but there are also great views of the falls without as much of a hike. You can get a great view at the Vernal Fall footbridge, located about one mile from the beginning of the Mist Trail trailhead.
You can forge on from there to do the whole hike – one of the most iconic in Yosemite – or stop here for photographs and still feel recharged yet accomplished.
Better yet, combine it with the above Nevada Waterfall for a longer but totally worthwhile hike combining two of California's most beautiful waterfalls!
McArthur-Burney Falls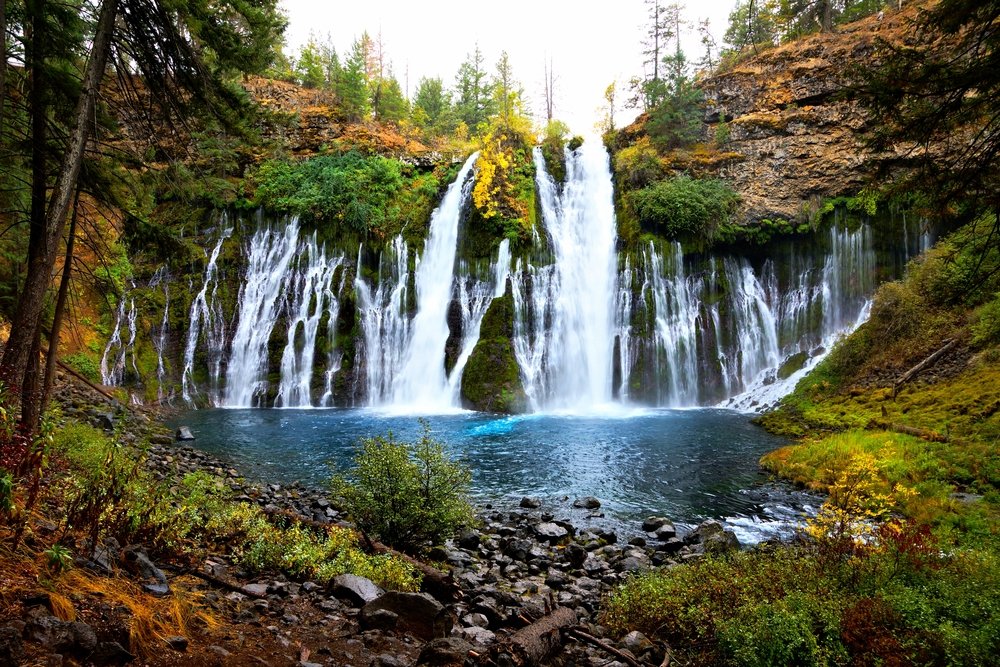 This stunning waterfall is located just off the Pacific Crest Trail — the one made famous by Cheryl Strayed's incredible memoir, Wild — but is more commonly visited by campers and road trippers than serious hikers.
It's located in the far north of Northern California, north of Redding and close to Mount Shasta. There is ample parking (paid with a $10 fee for upkeep), and then it's just a short walk to the falls, making it one of the more easily accessible waterfalls in California, especially since it's a perfect stop on many Northern California scenic drives!
Alamere Falls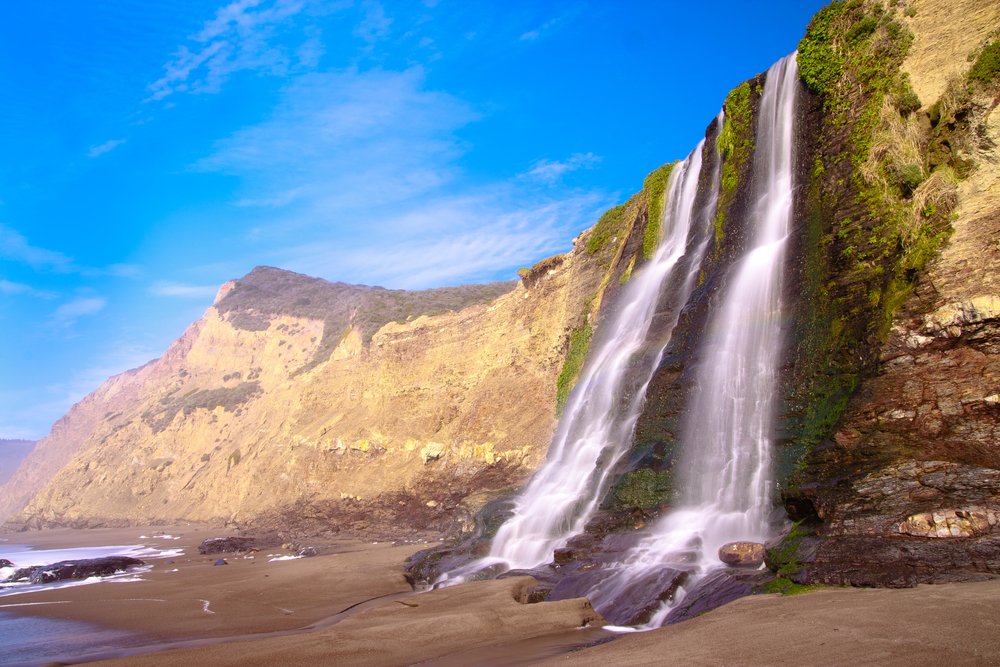 Yes, there's another tidefall in California, this one in Point Reyes National Seashore in Marin County — just a bit north of San Francisco. It's called Alamere Falls but people often call it the 'Point Reyes waterfall' since it's in the jurisdiction of the Point Reyes National Seashore.
However, as beautiful as the falls are, they do require ample cautioning. This is definitely no easy hike! It's a 13-mile roundtrip hike, which can be punishing in the summer heat, and there are many search and rescue missions conducted each year to help tired hikers who underestimated the hike.
Another safety note: do not use the so-called 'Alamere Falls Trail' which is unmaintained and unsafe! Go via the NPS sanctioned trails instead, and make sure you're prepared to make the hike safely — be sure you're visited during the proper tide times as well!
Faery Falls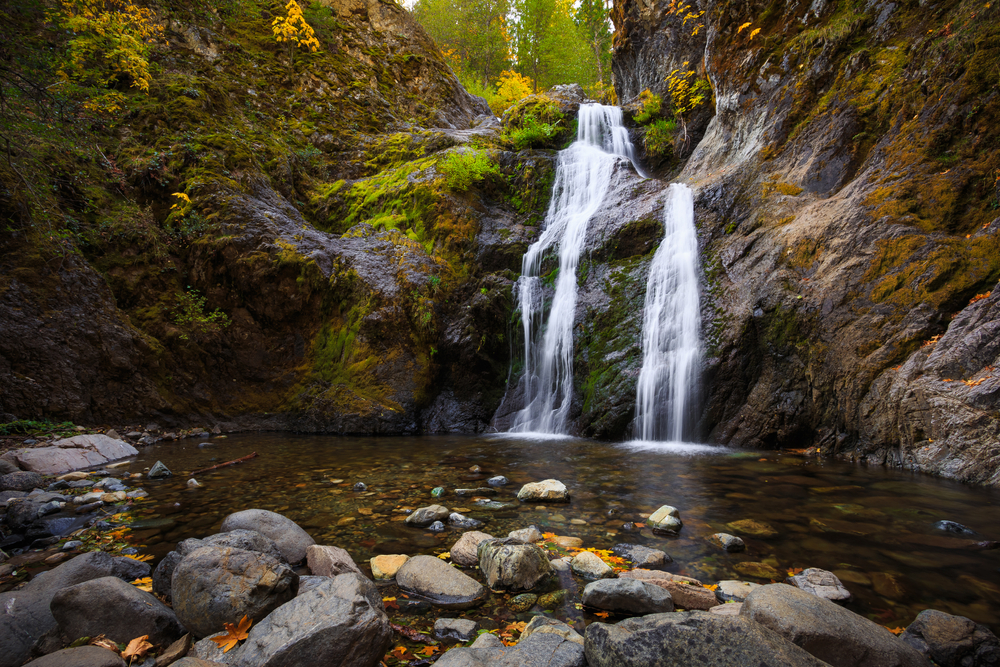 The magically named Faery Falls in Shasta-Trinity National Forest look, well, like something out of a fairy-tale.
While they're not extremely tall — a mere 50 feet or so — their setting is absolutely wondrous.
The hike is rather easy. There's a parking lot nearby and then it's a 45-minute hike (1.4 miles return) with only about 250 feet of elevation gain, making it a great choice for beginner hikers and families. It can be a bit tough to find the trailhead, which is unmarked, so read here for some details.
Rainbow Falls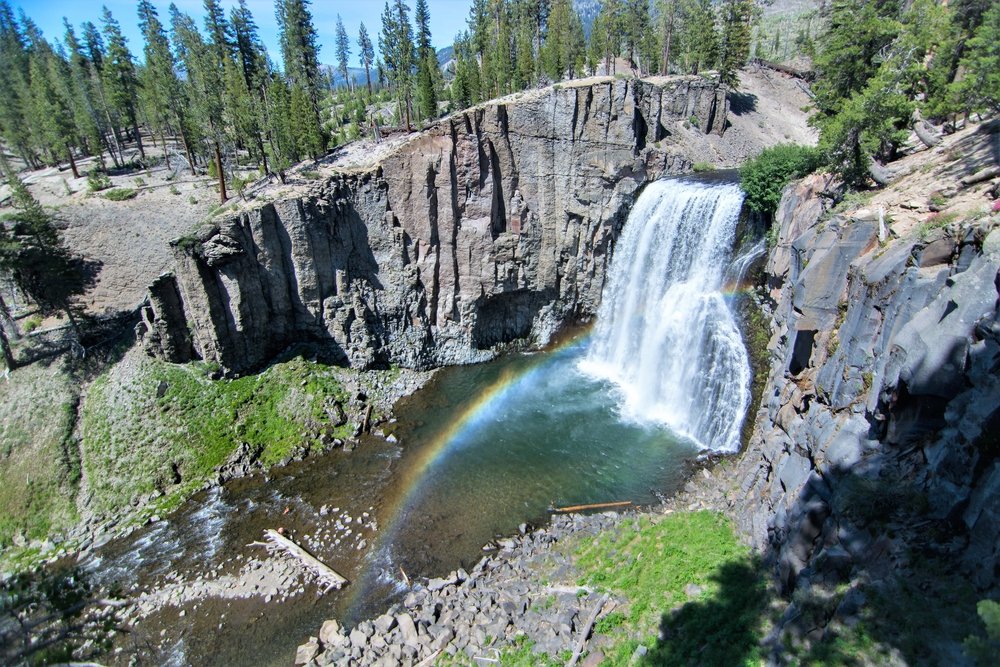 The Rainbow Falls can be found in Mammoth Lakes in Southern California, standing 101 feet tall and roaring at a thunderous pace.
It's named Rainbow Falls for the impressive amounts of mist it constantly emanates, which leads to you being able to see rainbows nearly daily. Your chance of spotting the 'rainbow' in the Rainbow Falls is best around midday, when the sun is at its peak.
You can get there via a mandatory shuttle ($8 for a day ticket) during the peak season or via your own personal car during the off-season. You can also hike via the Devils Postpile Trail, which is about 6 miles long (return) or 8 miles if you continue on to the Lower Rainbow Falls.
From the nearest trailhead, at Red's Meadow Pack Station, it's about a 2.5-mile return hike. Despite the short distance, keep in mind the altitude, so the hike can be a bit deceptively strenuous!
Brandy Creek Falls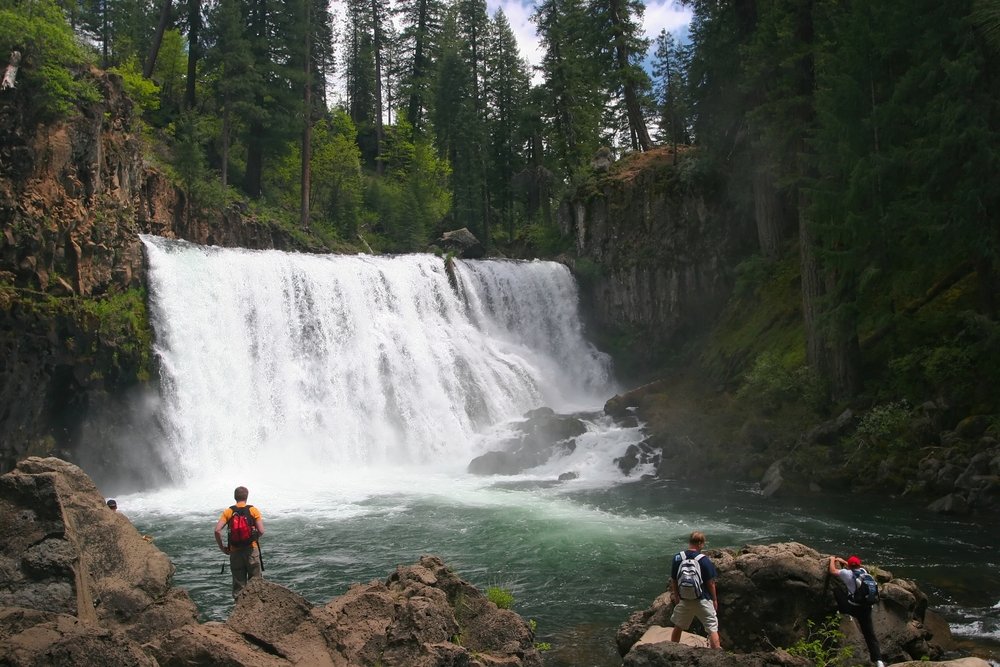 This lesser-known California waterfall located in Whiskeytown, CA (um, hello, can I live there please?) is actually one of four waterfalls in the Whiskeytown National Recreation Area.
This one cascade shown is 24 feet, but there are five gorgeous cascades along the way making its total height about 100 feet.
But there's also Boulder Creek Falls (138 feet tall), Whiskeytown Falls (the largest at 200 feet long), and Crystal Creek Falls. The latter is a manmade waterfall that's easily accessible for those who don't want to hike far (only 0.3 miles and flat and accessible). For more information on the waterfalls in Whiskeytown, read here.
Berry Creek Falls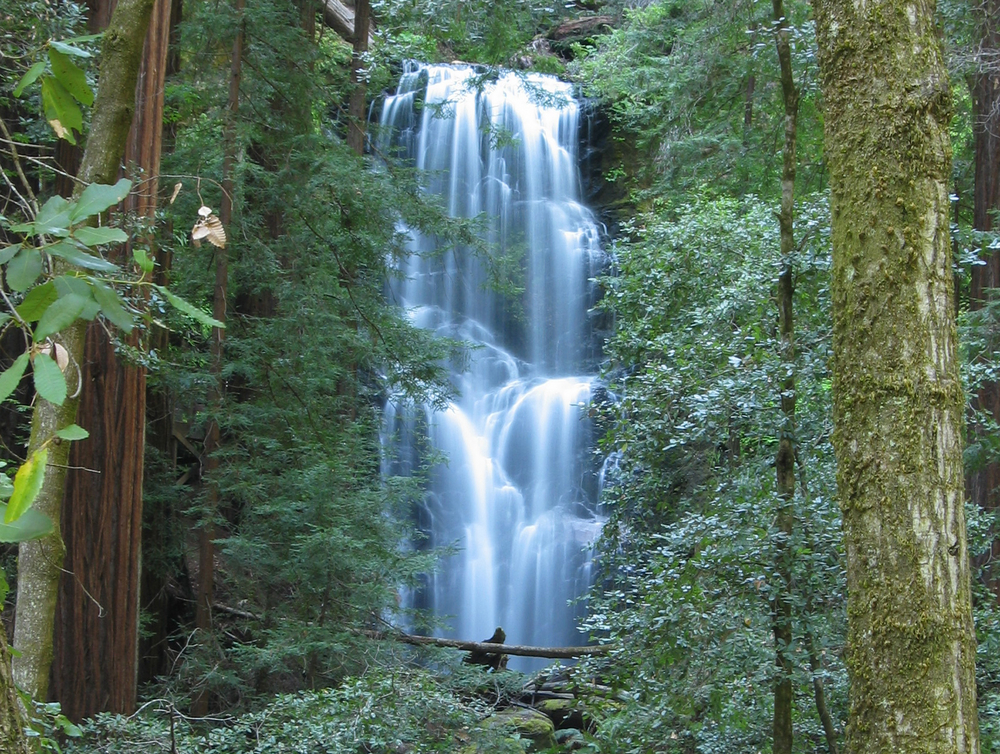 The stunning Berry Creek Falls can be found in Big Basin Redwoods State Park near Santa Cruz, south of San Francisco.
The State Park requires a $10 day use fee, but it's well-worth it. There are four waterfalls inside the state park, but the largest and most famous is Berry Creek Falls.
This is a long hike, so be advised that it's pretty much an all-day affair. It's a 9-mile hike with 2,100 feet of elevation gain: for most people, it should take about 6-7 hours not including breaks. The hike is incredible though, and very much about the journey and not the destination as you are surrounded by ancient redwood trees and stunning birdlife throughout.
For more information on the hike, read here.
Potem Falls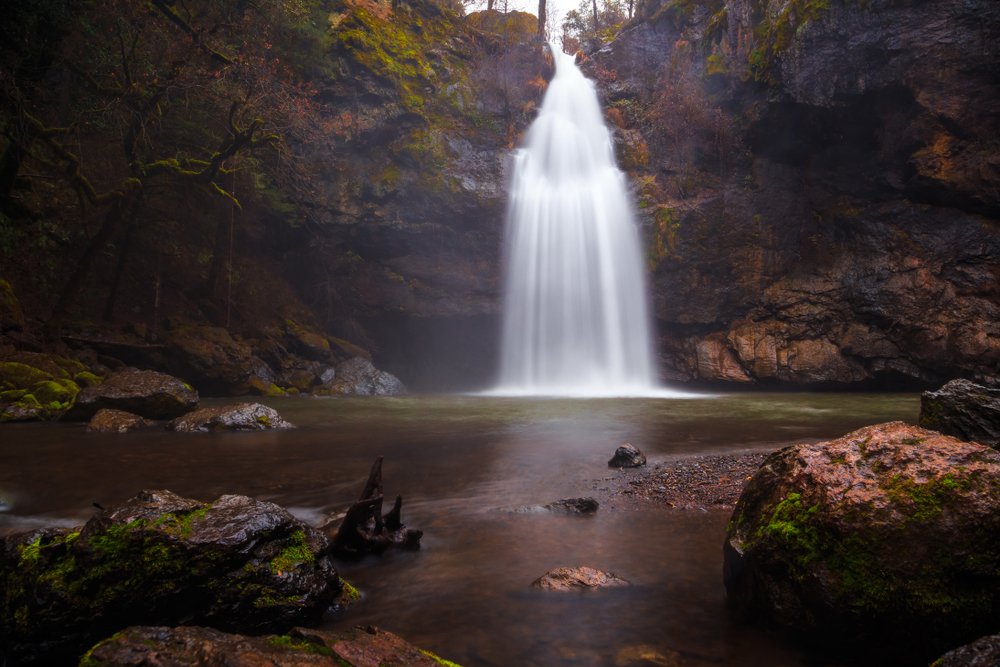 Potem Falls is a lesser-known California waterfall which can be found in the Shasta Trinity National Forest.
At 70 feet tall with an enormous reservoir at the base that practically begs you to swim once you arrive. It's a 30-minute hike, so not too demanding, but there is limited infrastructure and signage so read up on getting there before you go!
McCloud Falls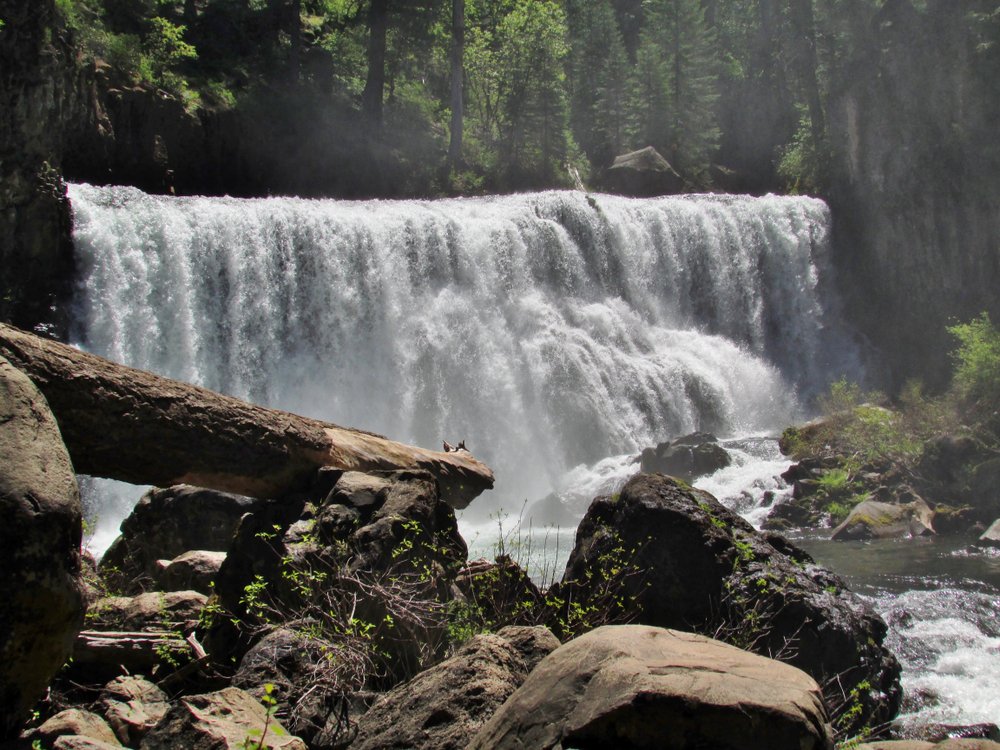 Located also near Shasta Trinity National Forest, not too far from Potem or Burney Falls, McCloud Falls is also worth adding to your California waterfall bucket list.
With three cascades roaring thunderously and beautifully along McCloud river, you can take an easy 3.8-mile roundtrip hike along the river's edge seeing the three stages of the waterfall.
However, if you're not much of a hiker, it's also a perfect waterfall in California to visit as you can just drive up to it since it's along a paved road and you can just walk a few minutes to see the viewing spots!
Mossbrae Falls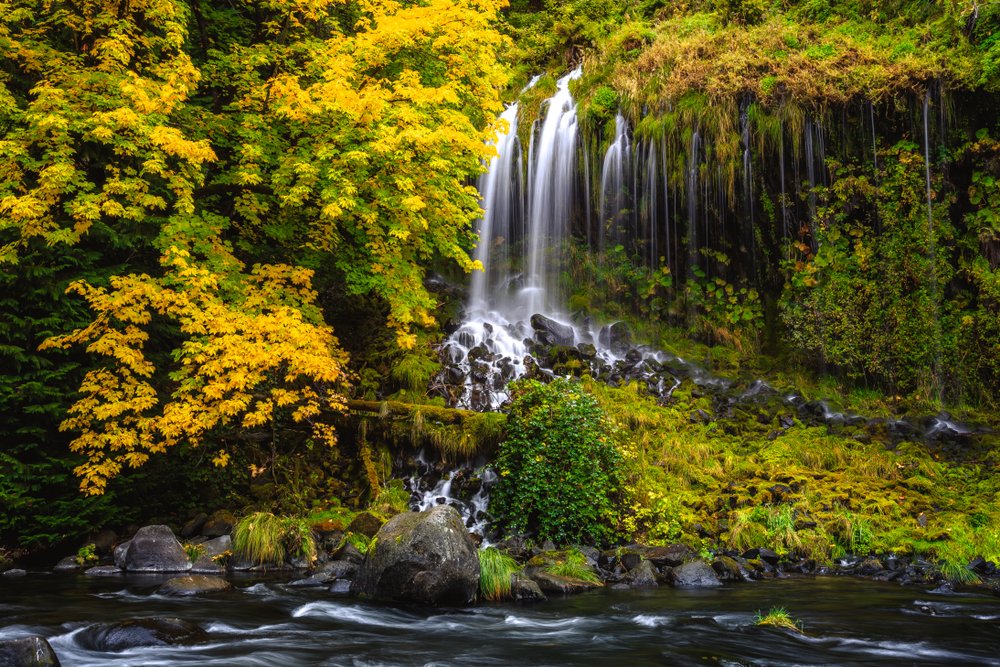 For a waterfall straight out of a fairytale, with none of the crowds of other waterfalls (…. mostly because it's not technically open to the public but more on that in a minute), the hidden gem of Mossbrae Falls is located in Dunsmuir, where a creek flows into the mighty Sacramento River.
It's not particularly tall – only 52 feet – or powerful, but it is extremely beautiful the way the waterfall filters through the mossy, lush bank and down into the river below.
I will note here that access to Mossbrae Falls is currently not permitted, as there is no official trail and you have to walk along train tracks (private property) to get there.
I haven't done the hike, so I'm referring to this post here which details exactly how to get there should you choose to do so with the caveat that A) it is technically illegal and B) there are at least 100 stock images of Mossbrae easily accessible so clearly it's a hike many people do regardless.
There are plans to build a trailhead here to eliminate the trespassing issue, as locals do want people to visit these beautiful falls and the town actively markets them… but it's not currently built yet. I'll let you make what you want of the presented information, but I wouldn't necessarily recommend it as hiking along the train tracks is dangerous.
Feather Falls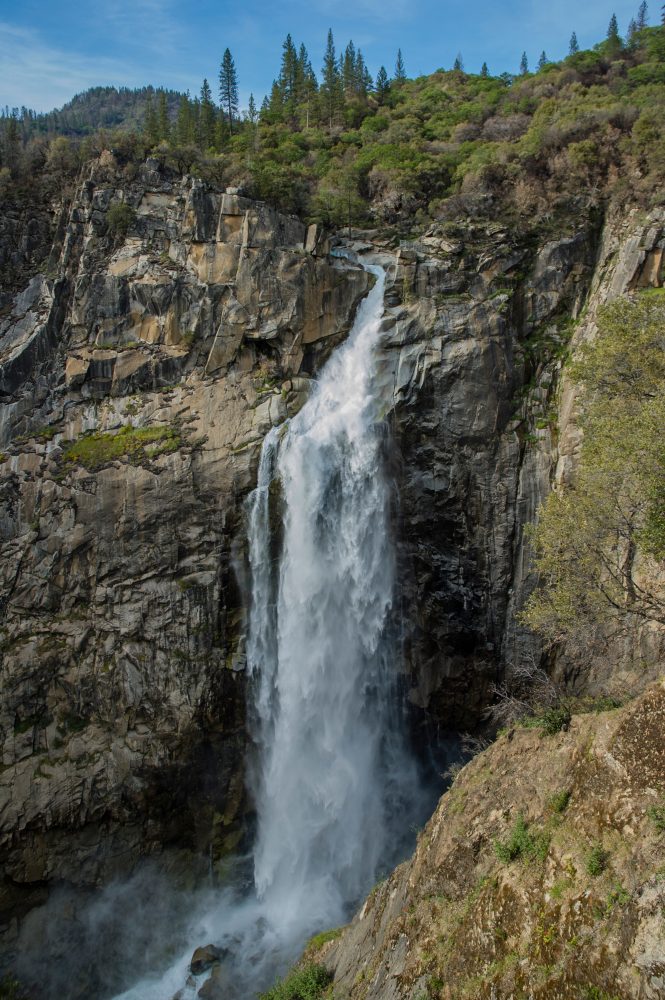 Located outside of Oroville, CA, the beautiful Feather Falls stretches a whopping 400 feet in a single drop. It's located north of Sacramento, close to Chico.
The trail to the top and back is an 8-mile loop made more difficult by the fact that there is a 1,700 foot elevation gain — so definitely be prepared for a difficult hike and bring plenty of water.
It is one of the lesser-known California waterfalls so if you're looking for an impressive view without the crowds, this is a great one!
Eagle Falls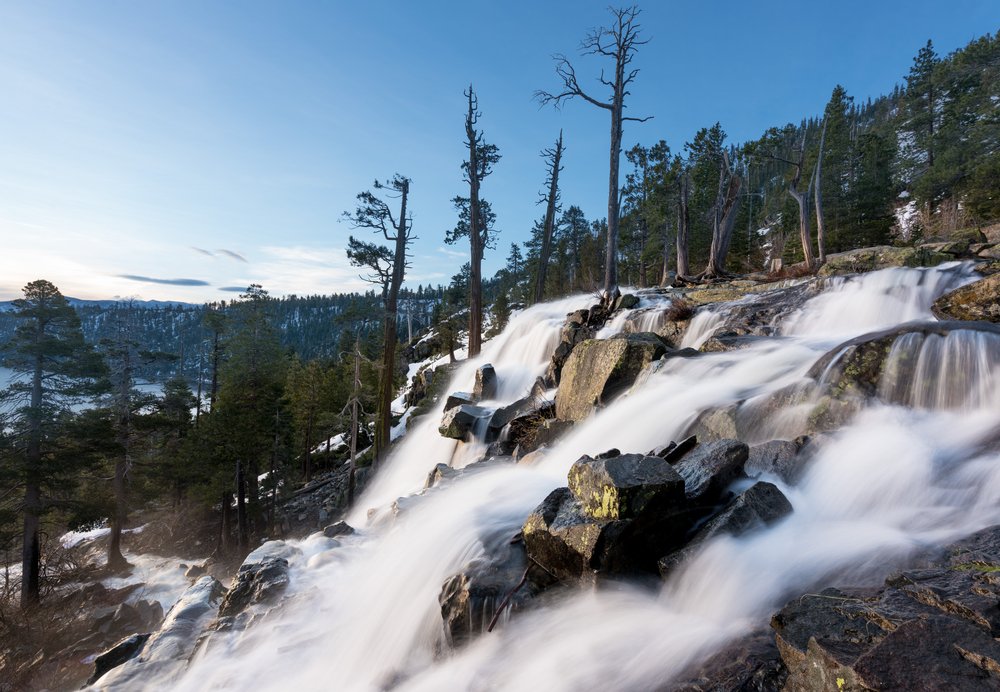 The Lake Tahoe region is home to a number of waterfalls — I mean, high elevation plus plenty of snow does equal tons of gorgeous waterfalls in the right season, right?
But one of the most impressive waterfalls near Lake Tahoe is definitely Eagle Falls, with its sweeping view of the Emerald Bay part of Lake Tahoe.
It's not a particularly large waterfall, but it doesn't require a long hike (about 2 miles roundtrip from the parking lot where there is a $10 fee) and the views combining the waterfall and Lake Tahoe in the background are, in a word, stunning.
You can make the hike easily when visiting Tahoe in summer — if you're visiting Tahoe in winter, you'll have to dress properly with the right footwear (either snowshoes, crampons, or snowboots, depending on snow or ice conditions).
Pin These California Waterfalls for Later!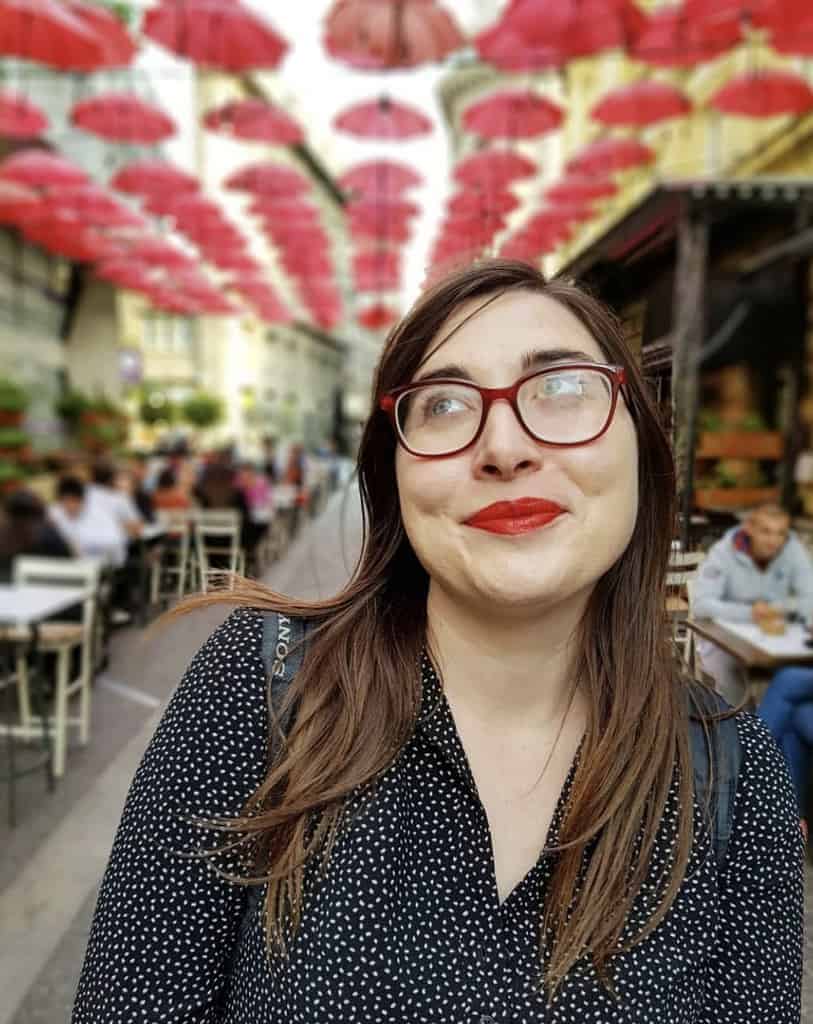 Allison Green is a travel blogger, writer, and podcaster who grew up in the Bay Area of California. She has spent time living in New York, Prague, and Sofia, but has returned to live in the East Bay. She has traveled to 60 countries before the age of 30 while running several digital travel publications. Her writing and podcast have been featured in Forbes, CBC Canada, National Geographic, the Huffington Post, and CNN Arabic, amongst others. She's obsessed with bouldering, houseplants, other people's pets, and anywhere she can see the ocean.