Planning the perfect Pacific Coast Highway road trip can be super intimidating. There are so many incredible places to stop along the way that you can almost get paralyzed by choice!
I've driven stretches of the Pacific Coast Highway more than I can count. At least twice a year, my family drove the PCH from San Francisco to Santa Barbara, experiencing all the wonders of Monterey, Big Sur, and the Central Coast as we made our way down to my dad's family in Santa Barbara.
I've grown acquainted with the Northern California part of the PCH, spending time in Jenner, Gualala, Mendocino, and Sea Ranch as I made my way towards Crescent City at the end of California's stretch of the PCH.
And of course, I've done the LA to San Diego drive through Orange County's most famous beach towns a handful of times, making it safe to say that I know the PCH like the back of my hand.
I know many people don't have a lot of time on vacation, whether they're visiting California on a trip from another state or from abroad, or even if they're a Californian just looking to travel around their home state.
So I've created this 7 day Pacific Coast Highway itinerary to give you a taste of all the best the PCH has to offer!
My Pacific Coast Highway Itinerary: 7 Days with Flexible Options
Note: This post contains affiliate links, which earn me a small commission at no extra cost to you if you make a purchase using one of these links. Thank you for supporting this free content!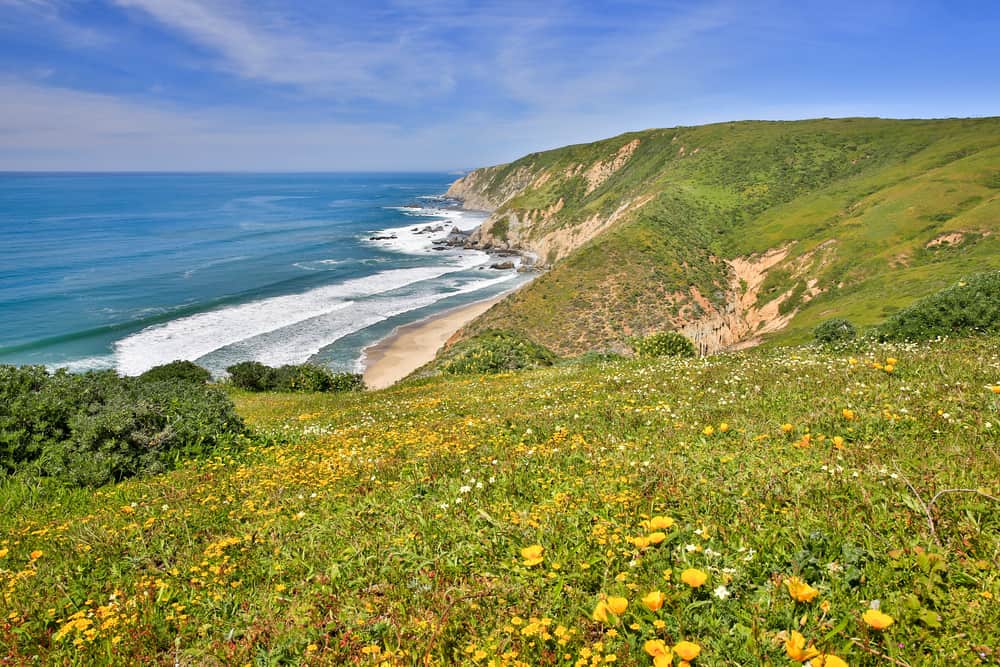 This Pacific Coast Highway itinerary takes 7 days and starts in San Francisco, loops up a bit North to see some of the best sights north of San Francisco, then spends the rest of the time heading south and ends in San Diego.
This means this PCH itinerary moves at a fairly quick clip, with one-night stays rather than two-night stays where you can stop and really get the feel for a place.
I do this so you can cover the most ground, but if you want to travel a bit more leisurely, you can cut the part of this 7 day PCH itinerary where we go North, and you can end the trip in Los Angeles, not San Diego (this may be better for rental car returning, anyway!
The first two days really have you hit the ground running with lots of driving while you have your highest energy!
The driving times are longer on day one and two, but then for days three through seven, they level off to tops 3 hours in a day (not accounting for traffic… which can definitely throw a wrench in things!)
Day One of Your PCH Itinerary: San Francisco to Mendocino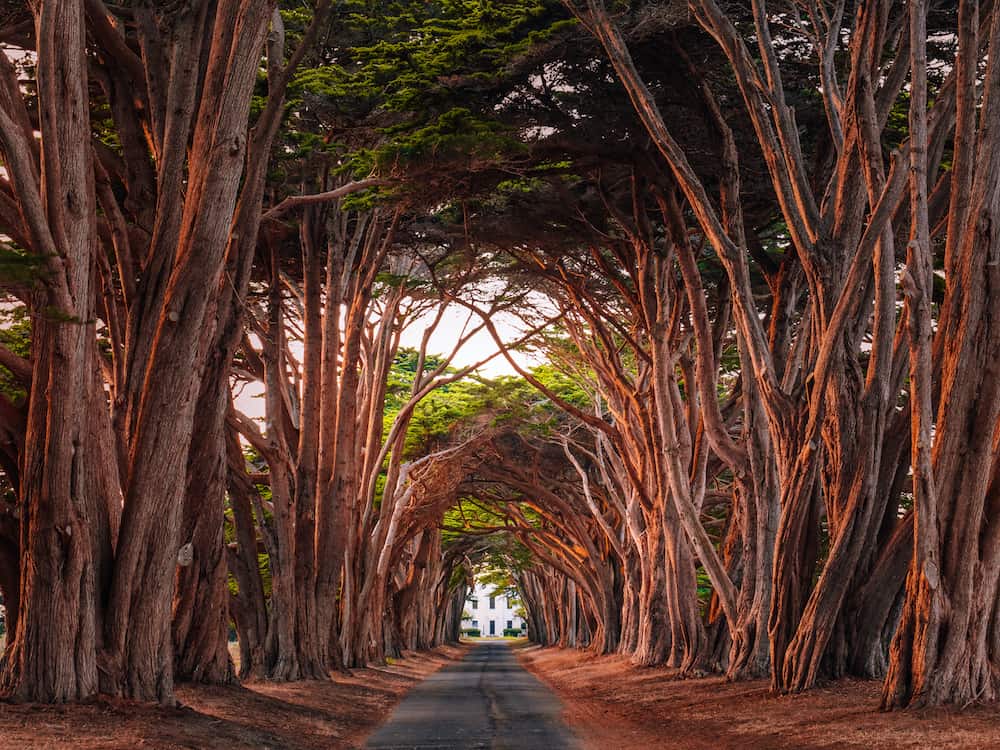 Driving Time: 4 hours
Stops: Muir Woods, Point Reyes, Sea Ranch, Point Arena Lighthouse, Mendocino
This part of your itinerary has you making the drive up North along Highway 1, and I'm having you skip a few sights on this part of the trip because you'll take the same road back down south to continue your PCH trip.
I have it structured this way because most people start their trips in San Francisco and there is very little in the way of major airports north of San Francisco, with the exception of Sacramento, but that's not on the coast anyway and won't help you out much.
So you'll skip some sights on day one as you head up north to Mendocino, but don't worry, you'll hit them on your way back!
Muir Woods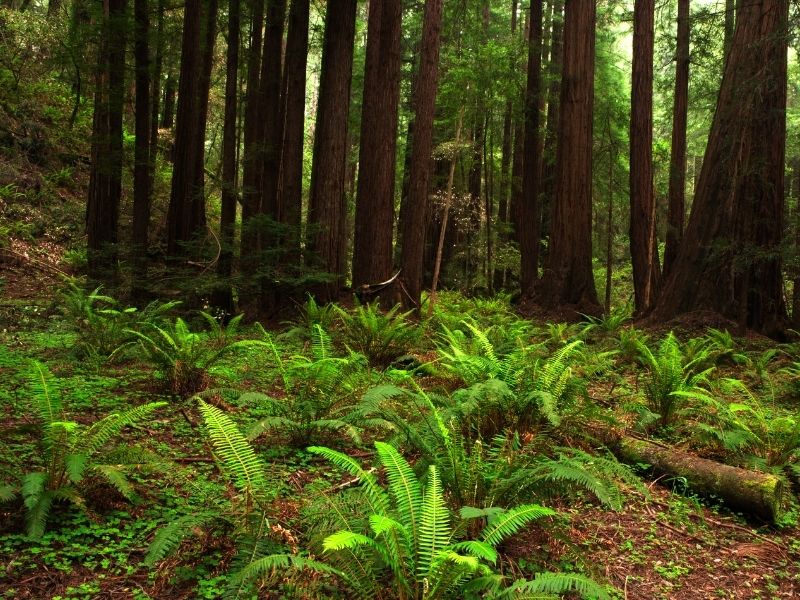 Your first stop on this PCH itinerary is just about 30 minutes north of San Francisco in the Marin Headlands.
On the way, you may want to stop and see some of the best views of the Golden Gate Bridge, which can be seen from points in Marin.
There are a lot of great places to see the redwoods near San Francisco, but Muir Woods is one of the closest and most beautiful.
Be sure to book your parking pass early or you risk not having a spot to park, as this is one of the most popular San Francisco day trips and road trip spots in the North Bay!
All the trails in Muir Woods are beautiful, but if you're just looking to do a short hike before getting back in your car and heading up the coast, I'd pick either (or both!) the Muir Woods trail or the Hillside Trail, which take 20-30 minutes each to complete.
Point Reyes Lighthouse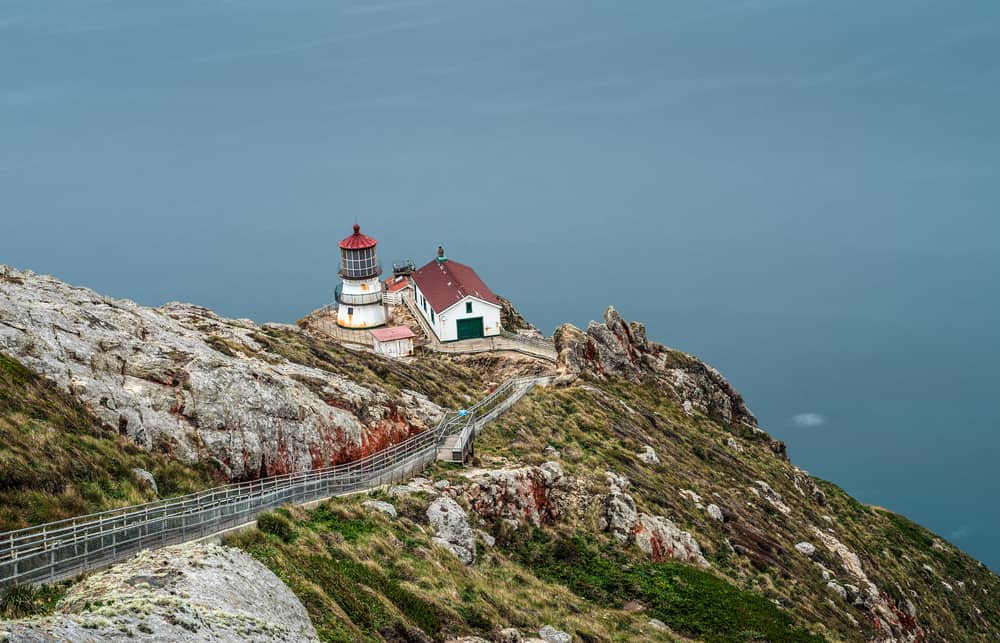 While not technically on the Pacific Coast Highway, a little side trip to Point Reyes National Seashore and its gorgeous lighthouse on the coast is well worth the detour.
Head through Inverness and make a stop at the Cypress Tree Tunnel for some fantastic photo opportunities!
In this area, you'll find the Leaning Tree, Sea Lion Overlook, and South Beach Overlook which are all great photo spots on this PCH itinerary.
While the hike to Alamere Falls is absolutely beautiful, on this itinerary we don't have time for it (though you could do a shorter Point Reyes hike) but save it for a return trip to Point Reyes!
Sea Ranch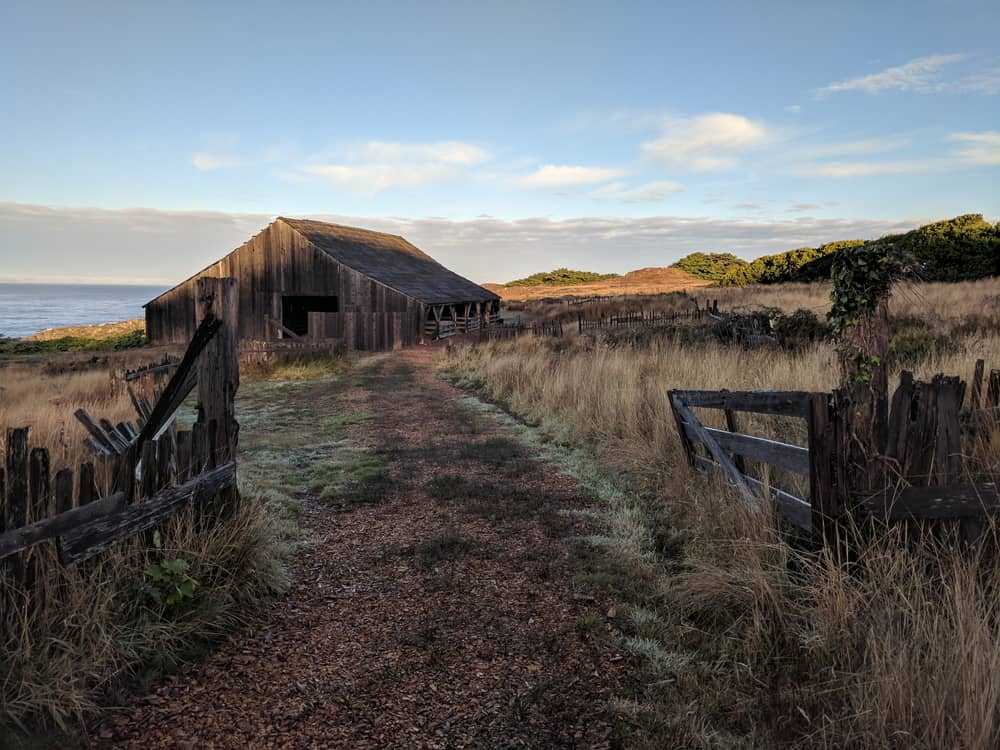 Continue up north for a while until you hit the beautiful, rustic seaside town of Sea Ranch, one of the most unique places in California.
Sea Ranch was the home to an architectural movement in the 1960s that focused on homes blending in with the natural scenery rather than standing out and augmenting it. All the homes are privately owned, and they agree to certain principles of architecture in order to build here.
There are several places on the National Register of Historic Places, including Condominium One, where the Sea Ranch architectural movement began, as well as the oldest building in Sea Ranch, the Black Point Barn
Point Arena Lighthouse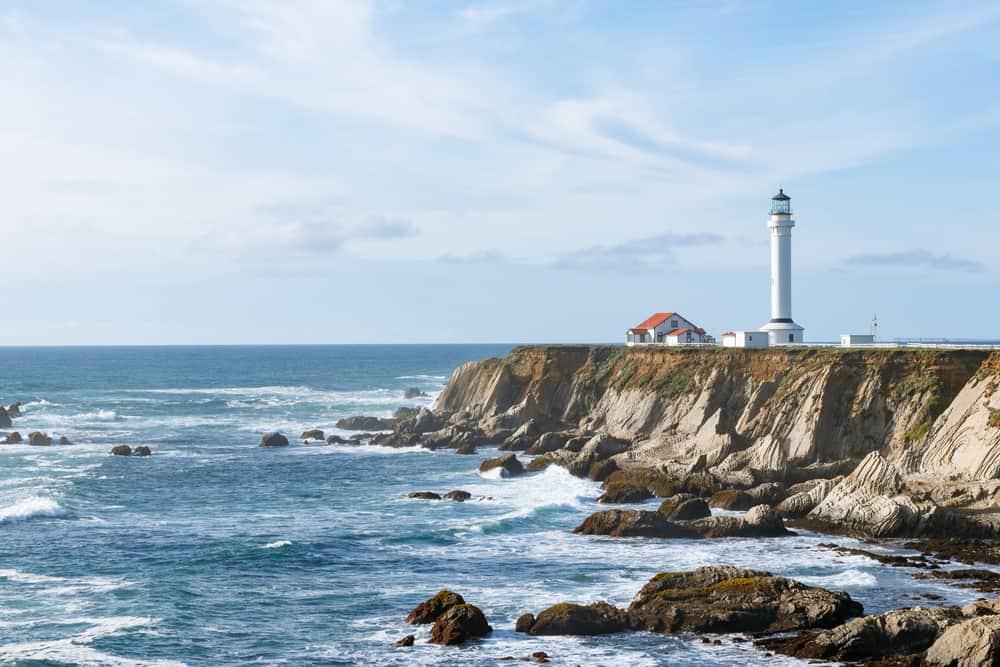 Continuing up the coast along the PCH, on the way to your final stop for the day in Mendocino, you'll come across the beautiful Point Arena lighthouse, one of my favorite lighthouses in California.
Standing 115 feet tall, it's one of the tallest lighthouses in the state. While visiting, you can take a guided tour of the lighthouse tower, explore the grounds on foot, or browse the history at the museum dedicated to the lighthouse.
It's the second-to-last stop on your first day of this Pacific Coast Highway itinerary, which ends in Mendocino. However, you could also opt to spend the night here in the Keeper's Quarters!
If you want to stay the night here instead of Mendocino, you can book your room online here — and do it quickly, as it often books up well in advance!
Mendocino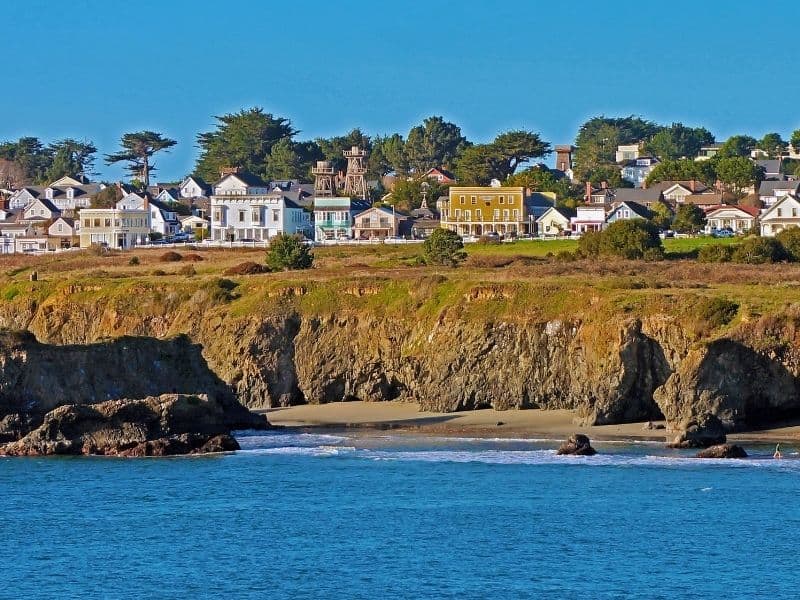 Mendocino is one of the most beautiful and serene places on the Northern California coast, and it's a great place to end the first day of your Pacific Coast Highway road trip.
Spend the afternoon strolling on the beach and keeping an eye out for whales spouting off in the distance. You could also drive up a bit to the beautiful 1909 lighthouse Point Cabrillo Light Station, which looks like something out of a Wes Anderson movie.
Other options include heading to Russian Gulch State Park for a hike to the Devil's Punchbowl or a hike on the Fern Canyon Trail.
Finally, if you arrive in Mendocino early enough, you can do a wine tasting at Navarro Vineyards & Winery. If you're too late to visit any of the vineyards, you can always check out the MendoVino Wine Bar in town and ask for something local!
Day Two of Your PCH Itinerary: Mendocino to Pacifica
Driving Time: 5 hours
Stops: Fort Bragg, Gualala, Jenner, Bodega Bay, Stinson Beach, Pacifica
On the next day of your Pacific Coast Highway road trip, we'll briefly head north to Fort Bragg for a walk on its famous Glass Beach before backtracking down the North Coast of California, stopping off in a few places we skipped yesterday.
Yes, some views of the coastline will be the same, but every place on this day's itinerary is brand new.
After heading up to Fort Bragg, we'll loop back down towards San Francisco, stopping in Gualala, Bodega Bay, and Stinson Beach on the way back to the city, and then we'll stop for the night south of San Francisco is the charming oceanfront town of Pacifica on the San Francisco peninsula.
It's a long drive today, so load up your playlist with your best road trip tunes and get ready!
Fort Bragg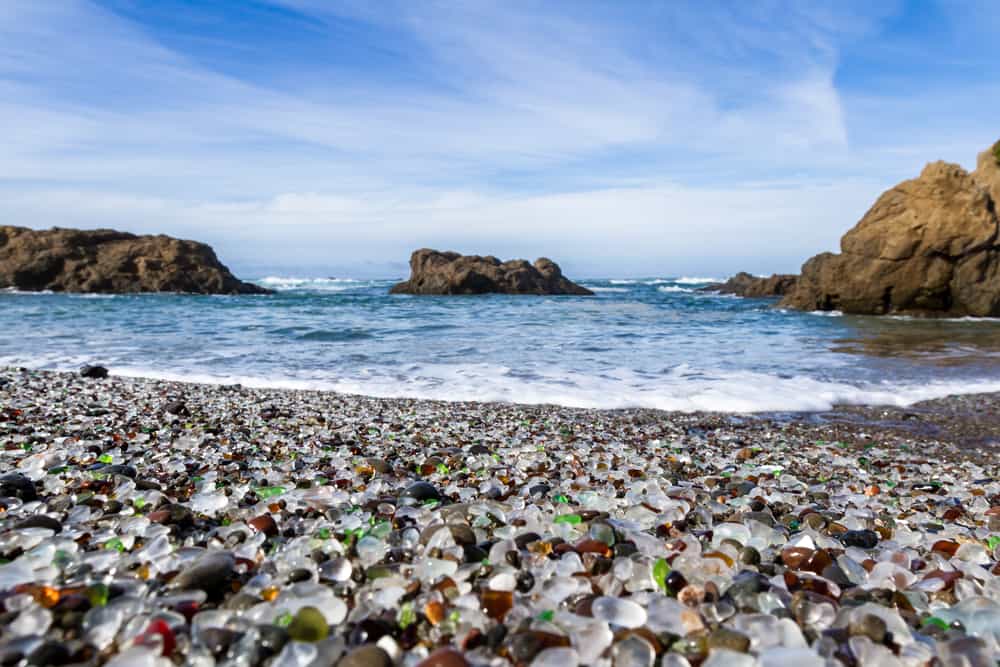 Not far from Mendocino is a beautiful place called Fort Bragg, where you'll find Glass Beach located in MacKerricher State Park.
Unfortunately, Glass Beach is not quite as beautiful as it once was, as people have been stealing the larger and more beautiful pieces of glass.
The glass does not get replaced quickly, as the sea glass was originally there from the city dump, which closed in 1960. New bits of sea glass only wash up here randomly, as with any other beach, so it doesn't get replaced as quickly as people take it away.
Do not take any glass away from the beach if you visit: it's illegal for one, but for another, it also ruins it for future visitors.
Despite these words of warning, I still recommend you stop in Fort Bragg before continuing on with this PCH road trip.
Gualala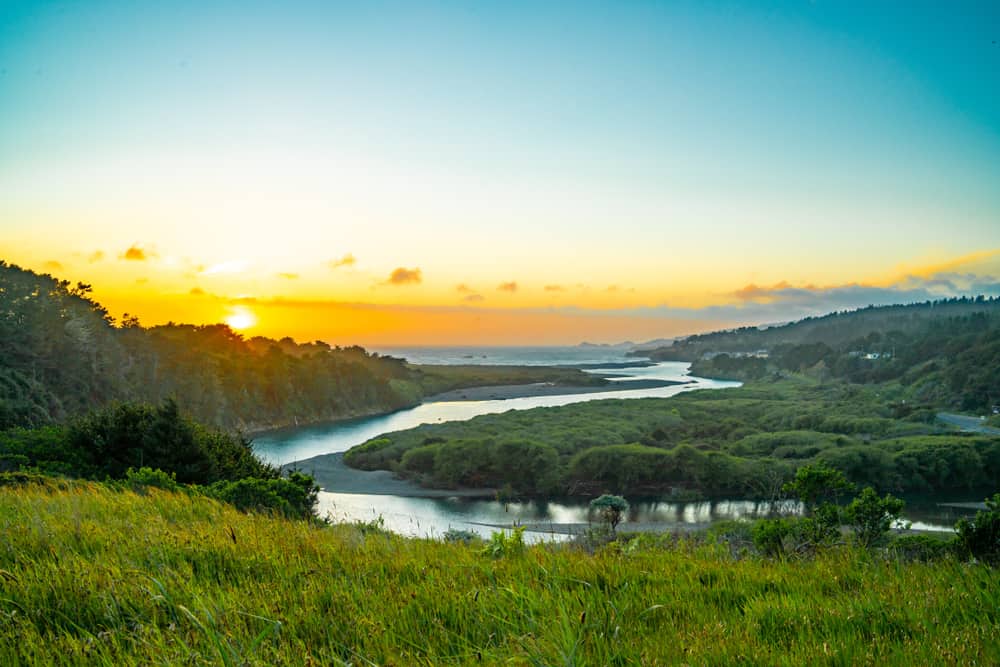 As you start heading back down towards San Francisco, once you pass the lighthouse you stopped at in Point Arena and before you hit Sea Ranch, you should make a brief stop in the cute town of Gualala on the Sonoma coast.
Take a short hike and stretch your legs on the Gualala Bluff Trail which starts at Gualala Point for some beautiful views. If you got an early start, you could also rent a kayak for an hour of paddling around the Gualala River.
Jenner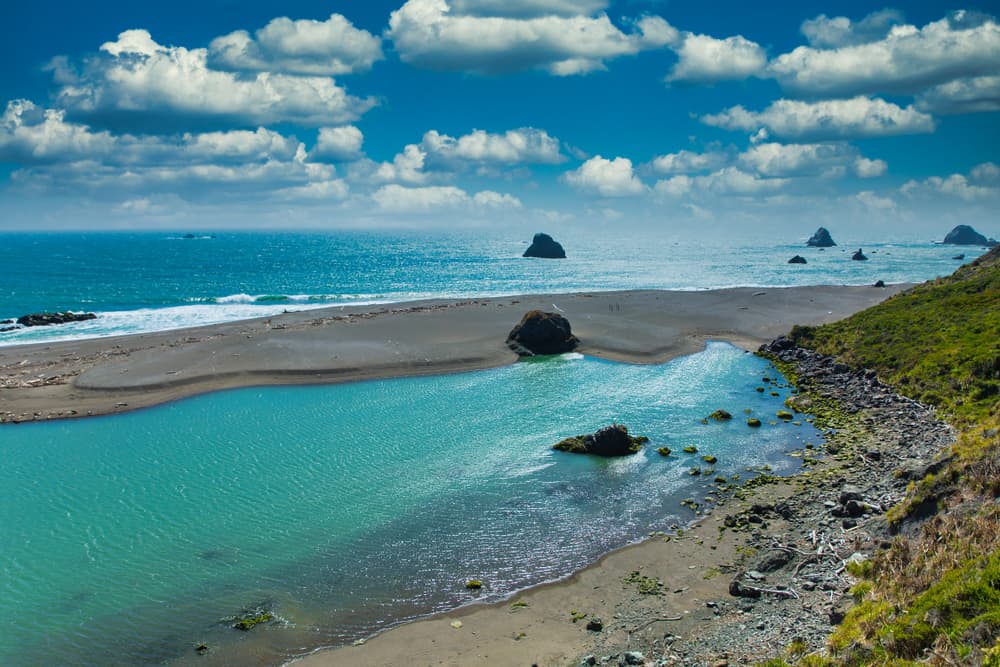 Continuing south, you'll hit one of my favorite beaches in California: Jenner Beach in the lovely town of Jenner-by-the-Sea.
This is a magical place on the Pacific Coast Highway where the Russian River empties out into the sea, creating two distinct beach areas.
Jenner Beach is wild and wonderfully rugged, with sea stacks everywhere you look and lots of driftwood washed up onshore. On the southern side, you'll find lovely Goat Rock Beach, which has a keyhole arch and other rock formations out in the ocean.
I suggest stopping for lunch at the beautifully-located The River's End, and have a delicious seafood lunch overlooking the Pacific and the Russian River.
It's a bit pricy, but the food is of excellent quality and the views are truly impossible to beat.
Bodega Bay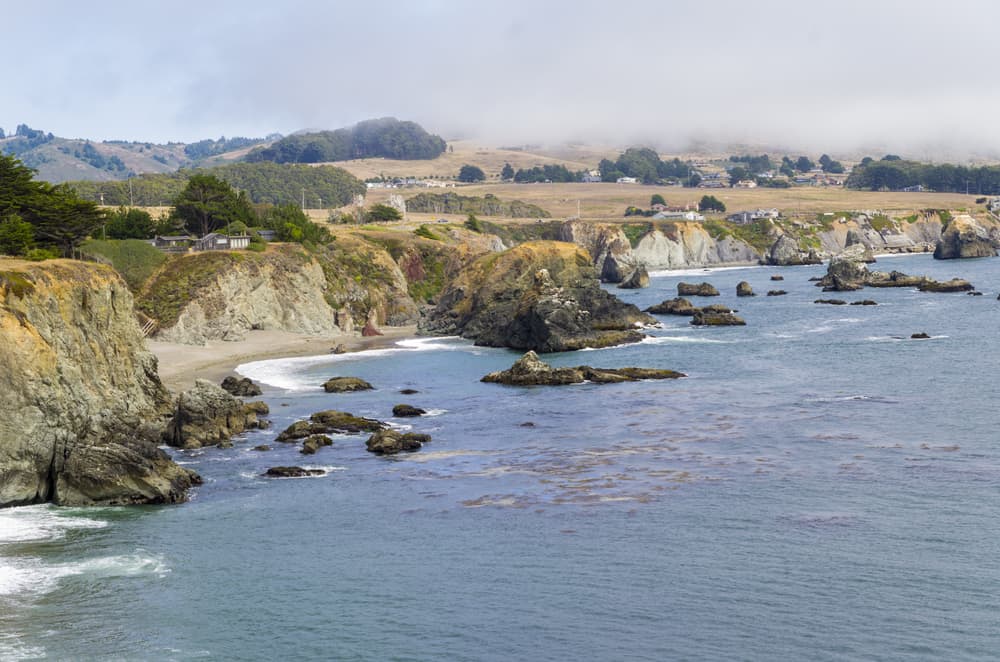 If you get a funny feeling of deja vu upon arriving in Bodega Bay, it's likely because you recognize it from one of the most famous horror films of all time: Alfred Hitchcock's The Birds.
Don't worry, though: I've been to Bodega Bay more times than I can count and I've never found the birds to be any more annoying than usual.
While in town, visit the pretty Saint Teresa of Avila Church, which is the oldest church in continual use in all of Sonoma County! It was in the movie The Birds, but it was also one of the subject of Ansel Adams' photography series here.
You can also look for whales on Bodega Head peninsula (best from October through April) or take a self-guided Hitchcock filming locations walking tour.
Stinson Beach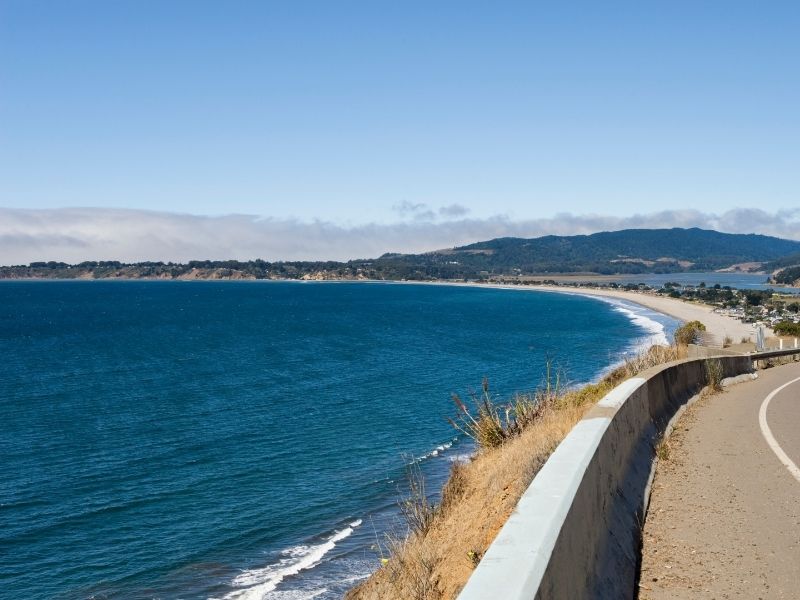 Stinson Beach is a fantastic stop on your way back towards San Francisco — it's one of the most beautiful places in Marin County.
There aren't a ton of beaches that are great for swimming around SF, as the water tends to be cold and the weather foggy.
Stinson is one of the warmer areas around San Francisco, so while you'll still get chilly waters, there's a better chance you'll have a hot day suited for sun bathing and maybe even a quick dip if you're brave!
Note that Stinson Beach has rip currents and has had its share of shark attacks (though this is, of course, quite rare: for swimmers, it's a rate of one attack per every 738 million beach visits, so you're about 52 times more likely to win the lottery than get bitten by a shark).
Always check for signage or ask the lifeguard on duty if there are any special flags for the day.
Pacifica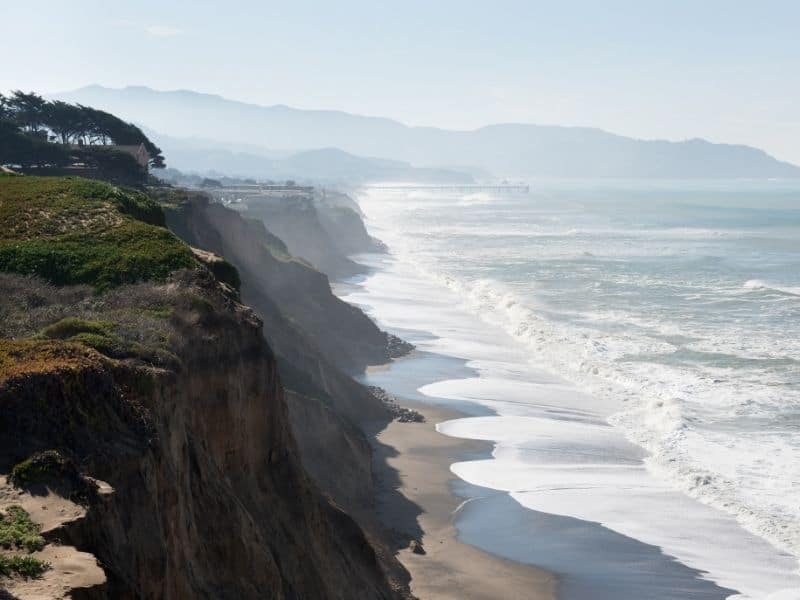 End the second day of your PCH road trip in beautiful Pacifica, a California coastal town on the San Francisco peninsula with gorgeous bluffs and views of, well, the Pacific!
Just 12 miles south of San Francisco, Pacifica is the perfect place to relax for the rest of the afternoon and enjoy a delicious dinner before hitting the hay for the night.
If you have the time and energy for a hike, make it to Mori Point. This beautiful area is home to lots of wildflowers and views which stretch all the way to the Marin Headlands and Point Reyes on a clear day.
For dinner, head to Moonraker which serves delicious seafood with beautiful sunset views!
Day Three of Your PCH Itinerary: Pacifica to Monterey
Driving Time: 2 1/2 hours
Stops: Moss Beach, Half Moon Bay, Pescadero, Santa Cruz, Capitola, Monterey
Moss Beach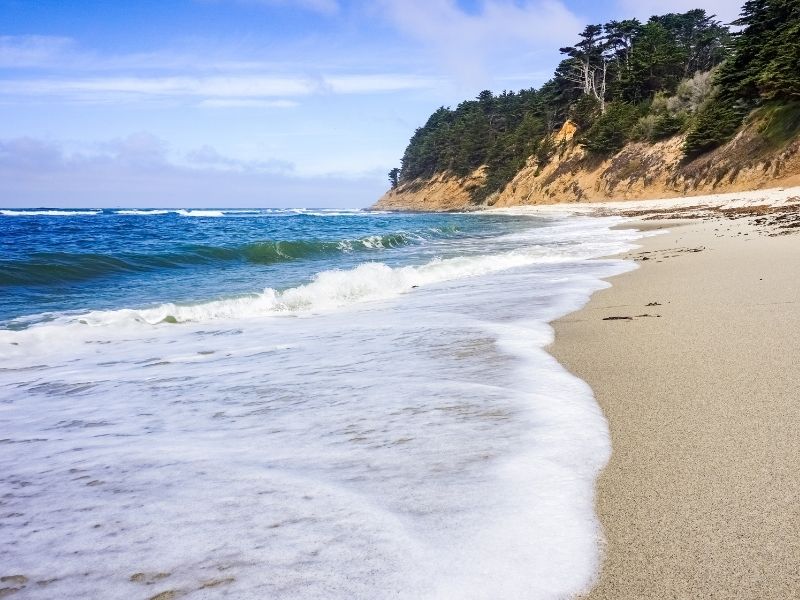 Your PCH road trip continues!
Head south on Highway 1 about 6 miles and make a quick stop in Moss Beach: one of my favorite beaches on the San Francisco peninsula.
Walk along Montara State Beach or Moss Beach for beautiful views and fine golden sand, or make a quick stop at Fitzgerald Marine Reserve to check out the tide pools if you're able to sync your visit with low tide.
Grab a beachfront breakfast at Caffé Mezza Luna and caffeinate up for a day of beautiful driving and sightseeing! Your driving time is only 2.5 hours today, though, so you have more time to relax and unwind between stops.
Half Moon Bay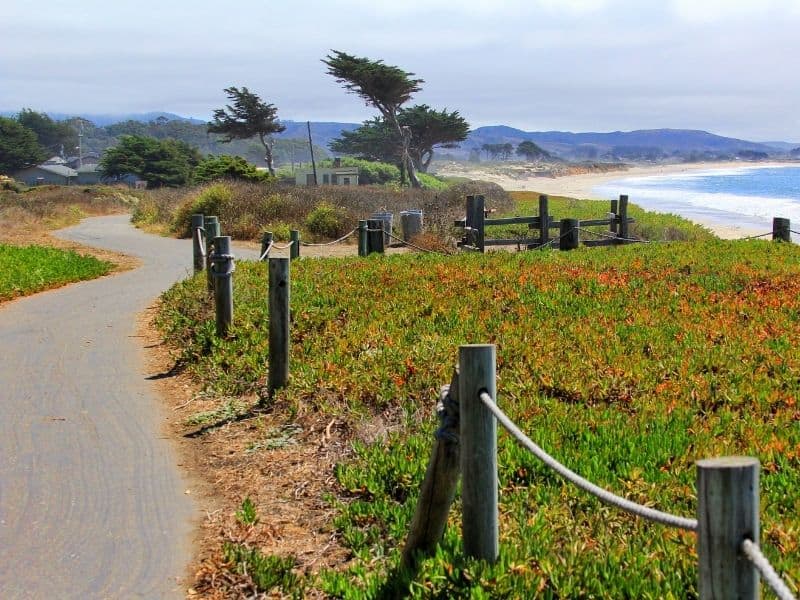 Before arriving in the town of Half Moon Bay, make a quick stop in Dunes Beach.
It's one of the four beaches that make up Half Moon Bay State Beach, and it's absolutely stunning.
If you got a late start or are more of a lunch person than a breakfast person, there are a few good spots to grab a bite to eat.
Sam's Chowder House is famous for its chowder and cioppino (San Francisco's most famous dish), and Barbara's Fishtrap is said to have the best fish and chips in all of California!
Pescadero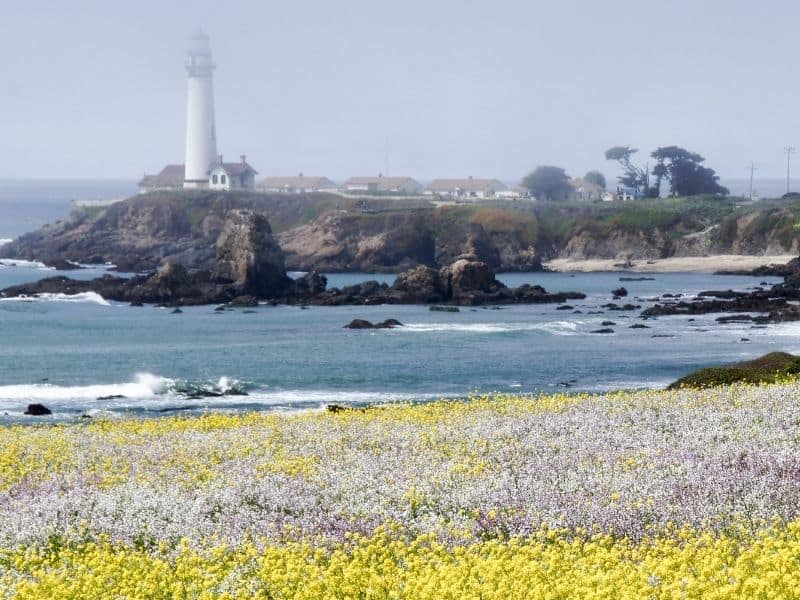 Famous for its Pigeon Point Lighthouse and Pescadero State Beach, the charming town of Pescadero is your third and final stop on the San Francisco Peninsula on this PCH road trip.
Besides its lighthouse and eponymous beach, you can meet the goats at Harley Farms Goat Dairy and buy some local goat cheeses (try the goat cheese cheesecake!).
You should also wander down Bean Hollow State Beach, and explore the small-but-charming boutiques and antique shops in Downtown Pescadero.
Santa Cruz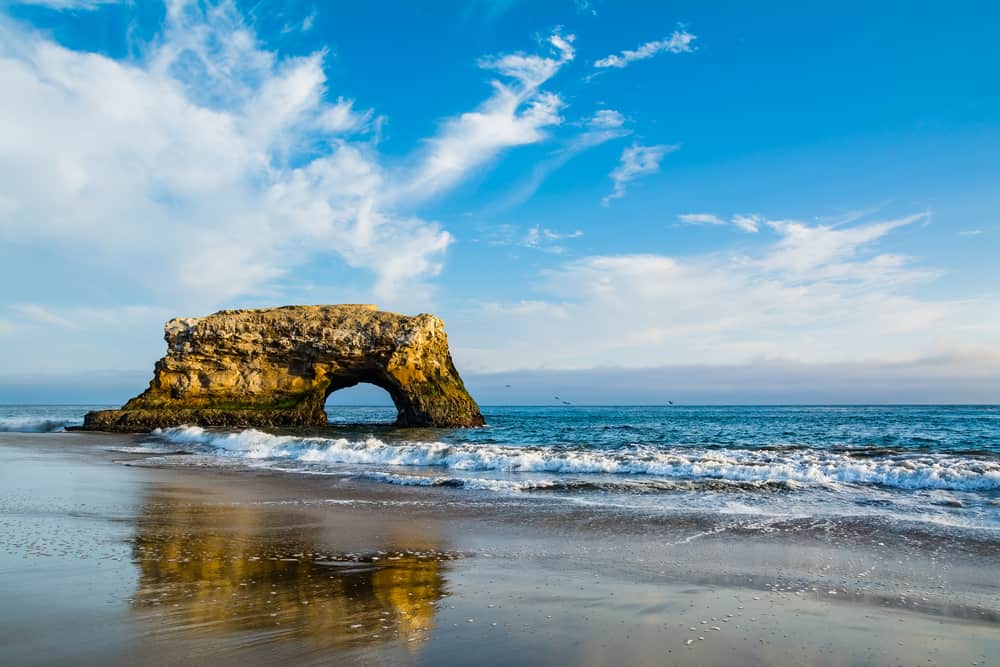 Next up is the funky beachside city of Santa Cruz, famous for its boardwalk and a wooden roller coaster, The Big Dipper, which dates back to 1924.
Be sure to drive down West Cliff Drive, go for a scenic walk in the scenic Natural Bridges State Beach, and if the timing is right, visit the Monarch Butterfly Grove in the state beach where the monarch butterflies migrate each year from mid-October through December.
Be sure to pay a visit to the Surfing Museum located in the historic Mark Abbott Memorial Lighthouse.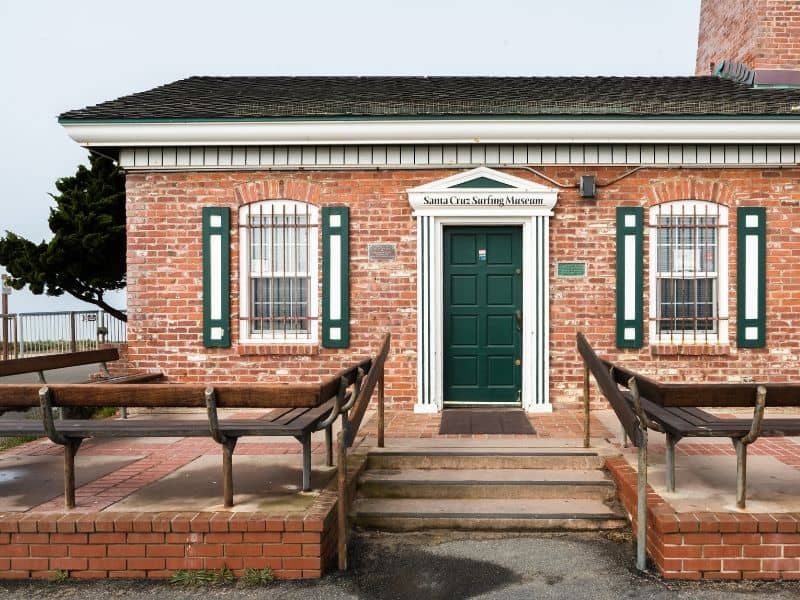 If you haven't had lunch yet, grab some boardwalk-side tacos at Las Palmas and enjoy them with a view of the beach!
If time permits, go for a walk in the redwoods in nearby Henry Cowell Redwoods State Park before returning to the PCH and its coastline to head to the next spot on this Pacific Coast Highway itinerary.
Capitola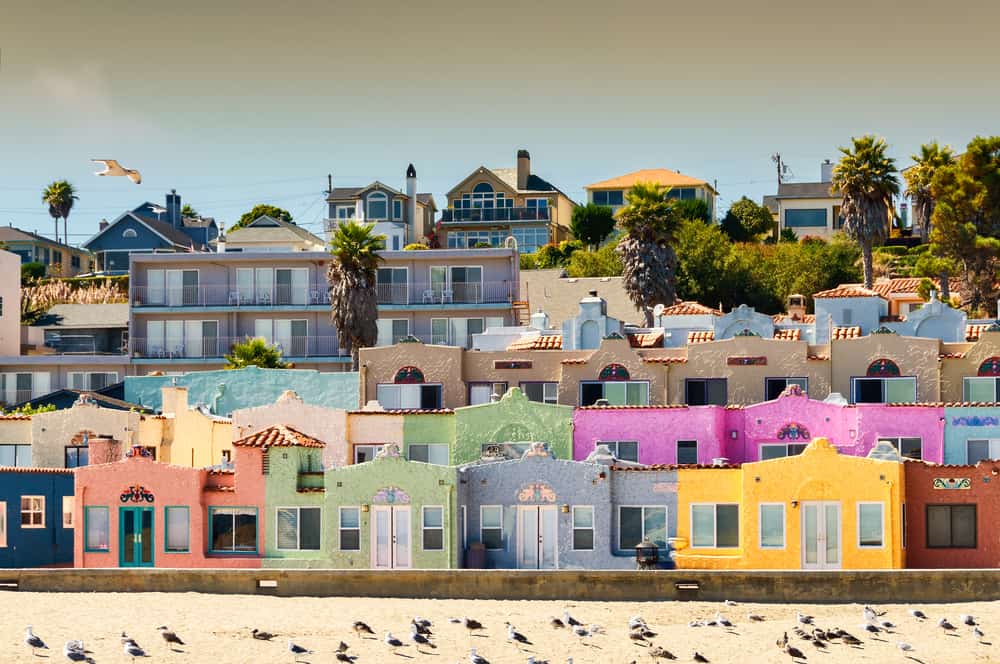 Just a little bit south of Santa Cruz is the colorful beachside community of Capitola, best-known for its colorful collection of coastal condominiums which together make up the Venetians, a place officially designated part of California's Historic Landmarks Register.
Its colorful houses practically scream to be photographed!
Besides that, you should take a walk on the beach and visit the North Pier for its sweeping views on a sunny day!
Monterey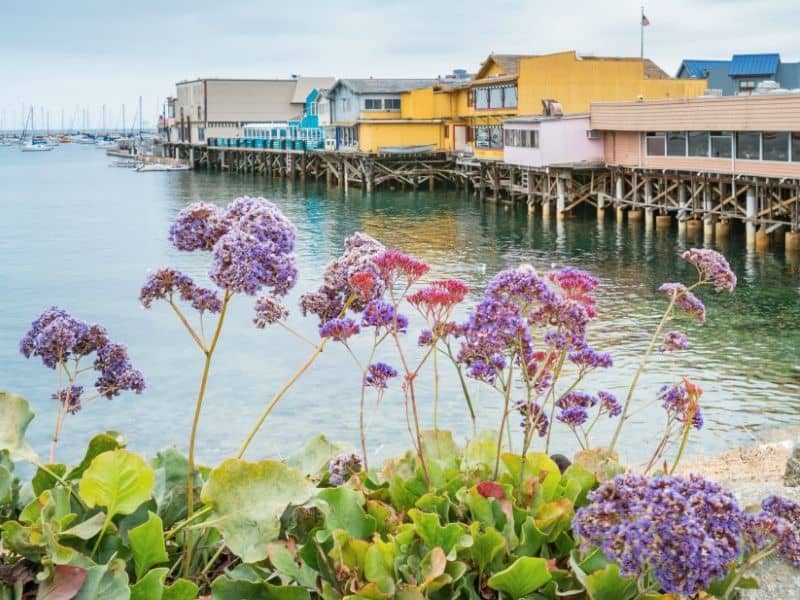 The last stop on today's PCH road trip itinerary is also one of my favorites: Monterey!
Made famous by John Steinbeck's seminal novel Cannery Row, you can visit the historic real-life Cannery Row which is now a renovated and up-to-date tourist area along Monterey's waterfront.
The Old Fisherman's Wharf is also a wonder to visit, and you can't miss a trip to the Monterey Bay Aquarium, one of the best aquariums in the world!
For dinner, check out the wine bar and bistro at A Taste of Monterey for a lovely meal with even lovelier views. Looking for a vegan option? Head to El Cantaro for vegan Mexican fare!
Day Four of Your PCH Itinerary: Monterey to Cambria
Driving Time: 3 hours
Stops: Pebble Beach & 17 Mile Drive, Carmel-by-the-Sea, Point Lobos, Bixby Creek Bridge, Pfeiffer Beach, Mcway Fall, San Simeon, Cambria
Monterey
Start your day with a whale-watching adventure! Wake up around 8 AM to get ready and have a quick breakfast at your hotel before heading down to the wharf at 9 AM for a stunning day out whale watching on the Monterey Bay.
Whales absolutely love the cold water in the Bay year-round, and so at different times of the year, you'll see different sorts of whales migrating through: species include orcas, humpback whales, blue whales, and more!
There are currently small group restrictions due to Covid-19 safety guidelines, so there are only a few spots per boat tour — book well in advance to make sure you nab one.
After your whale watching tour, head out to the north gate of 17 Mile Drive for one of the most scenic drives in California!
17 Mile Drive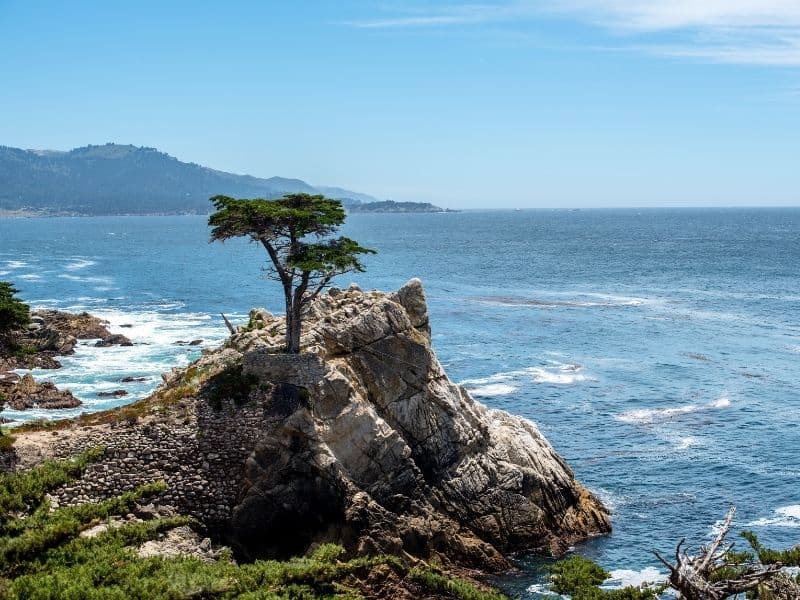 17 Mile Drive is a privately owned stretch of road which is absolutely worth the $11 per car admission price.
Grab a map at the gate to find the best locations to stop along the way. My personal favorites are Spanish Bay Beach, the Lone Cypress Tree (shown above) and Seal Rock.
If you want to grab a picnic to-go, hit the Pebble Beach Market for some snacks and light meal opinions.
Alternately, you can grab a bite to eat at one of the Pebble Beach restaurants:The Bench, the Spyglass Grill, or Roy's are all options. All of these are on the pricier side, but they'll deduct your $11 admission from a lunch purchase that meets their minimum spending amount ($35.)
Alternately, you can wait for a sit-down meal in Carmel, which has a ton of great options.
Carmel-by-the-Sea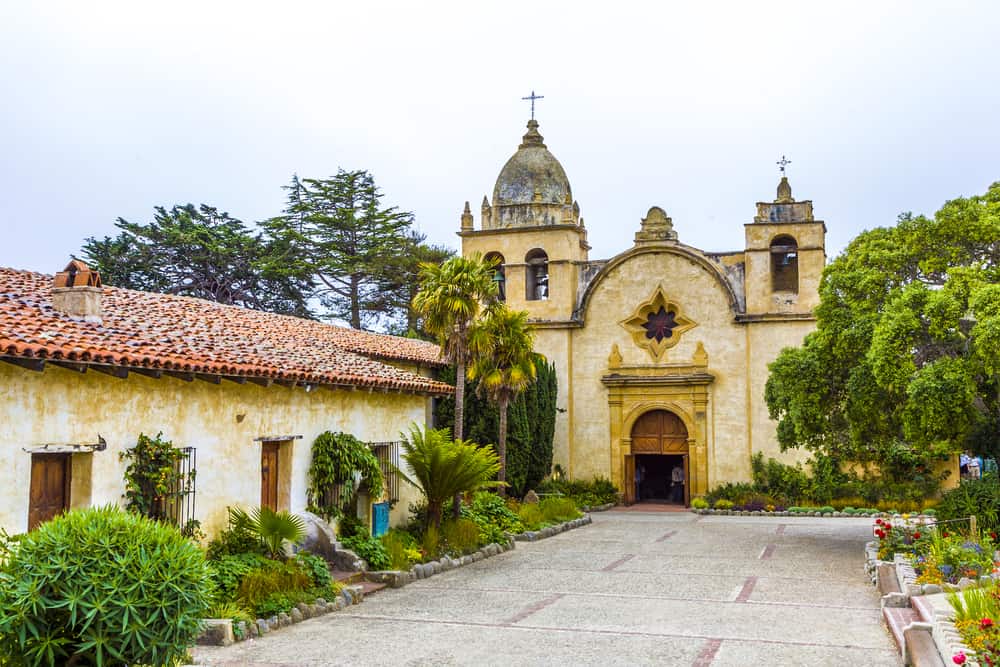 Not far from the end of 17 Mile Drive is the fairytale-esque seaside village of Carmel-by-the-Sea.
Head to Carmel River State Beach and take a walk on the beautiful Carmel Meadows Trail. It's a short but extremely scenic walk and a great chance to stretch your legs before spending more time in the car.
Be sure to walk around Downtown Carmel and check out the beautiful architecture of the village, which houses art galleries, coffee shops (I recommend Carmel Valley Roasting Company which, as the name suggests, roasts their beans in-house!), and restaurants.
Be sure to stop by the 1700s-era Carmel Mission Basilica for which the village is named!
Point Lobos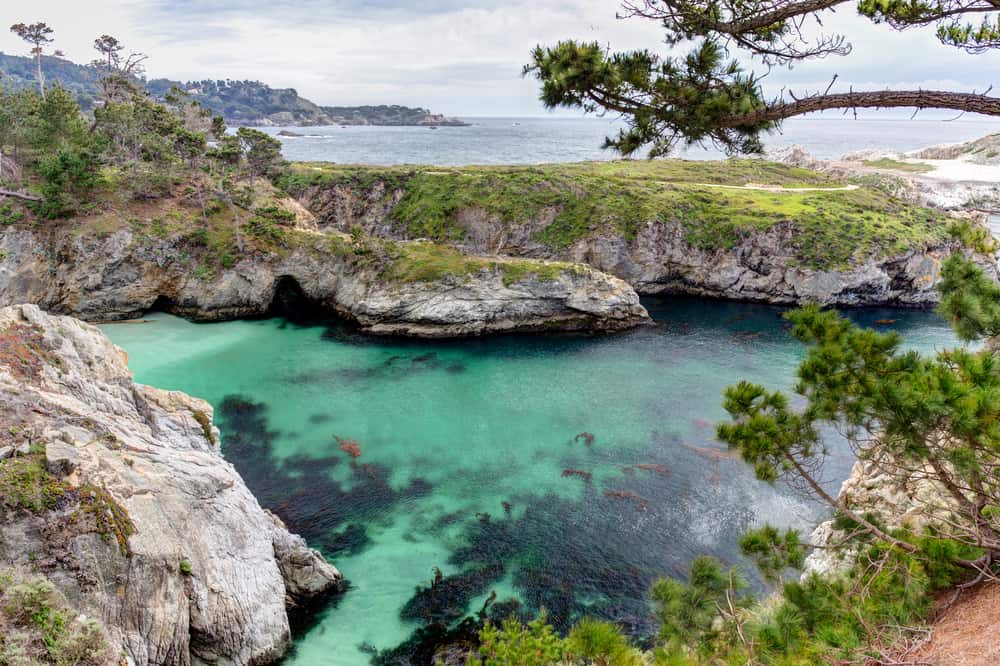 Welcome to Big Sur!
Just 3 miles south of Carmel-by-the-Sea is this beautiful scenic state park. Pay a $10 fee for parking and then head on one of the trails!
We'll keep it short today since there is a lot still left to see on this day of your PCH road trip, but there are a ton of great Big Sur hikes in this area.
I suggest the 0.8-mile Bird Island trail which takes you around my personal favorite part of Point Lobos, China Cove.
But there are tons of other trails you can take! I just recommend leaving the park area no later than 3 PM so you can still see the rest of the sights on today's PCH itinerary without stressing the time.
Bixby Creek Bridge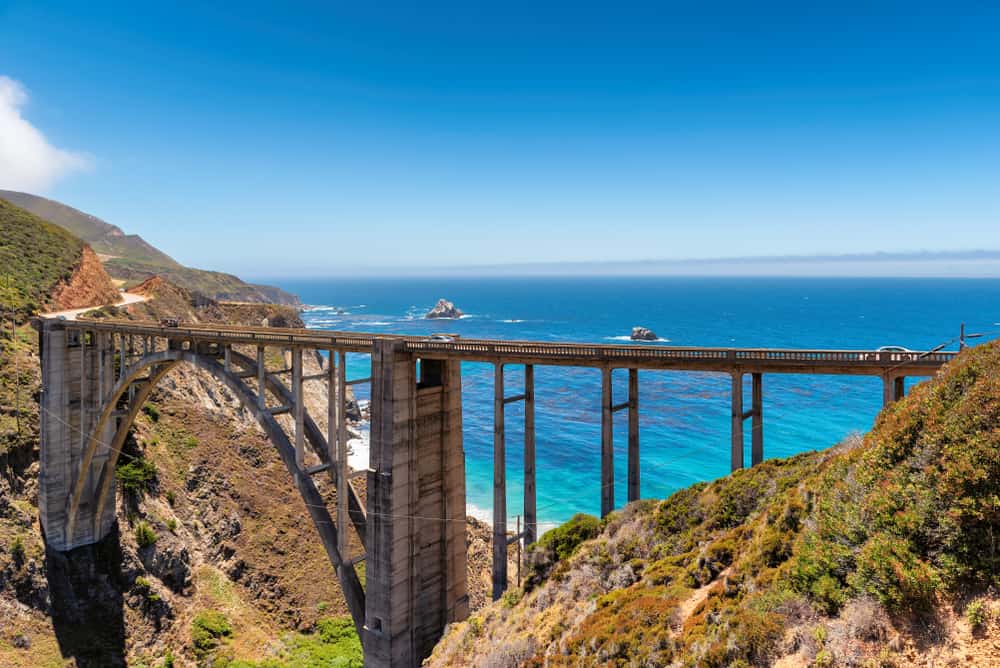 As you drive south on this California coast road trip, it's truly impossible to miss one of California's most scenic places: the Bixby Creek Bridge!
I recommend having your GPS set for this place so you have advance warning and can slow down so you can pull over and get the best views of the Bixby Creek Bridge, which are located on the north side of the highway.
Note: Never block the road when you park!
You'll only need about 10 minutes here to snap photos and enjoy the beautiful landscape.
Pfeiffer Beach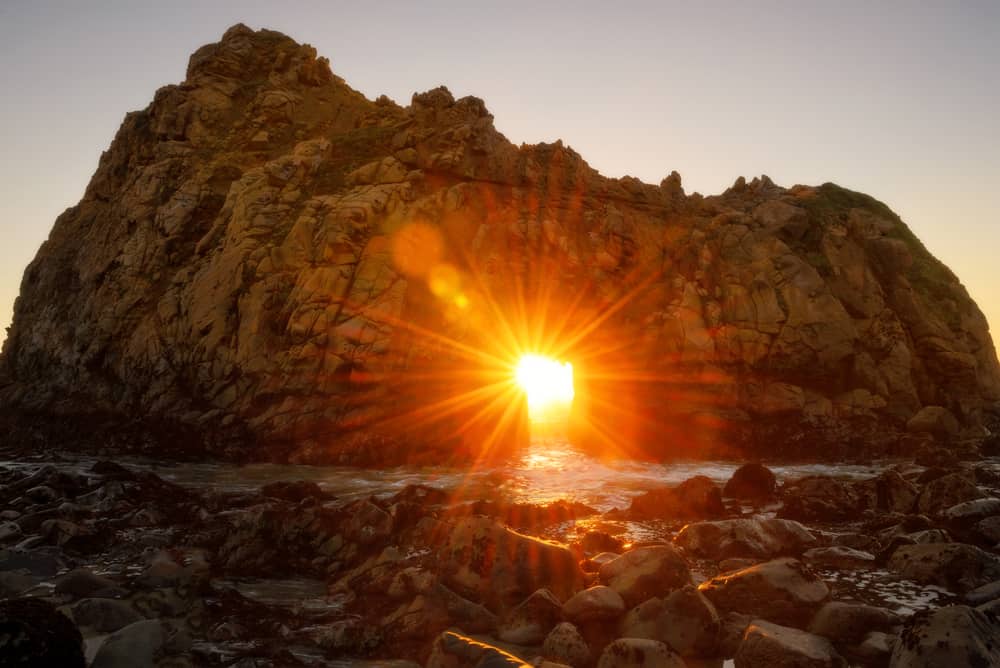 Located in the town of Big Sur is the beautiful Pfeiffer State Beach, one of the most-visited places in Big Sur for a reason — it's also known as the Purple Sand Beach for its uniquely colored sand!
Park in the day-use lot and pay the $10 entrance fee: It's well worth it, and it keeps the state beach maintained.
Talk a walk on the beautiful beach and look at the stunning Keystone Rock, a perfect rock arch that looks like a little keyhole was carved in the middle of it.
The beach is large, so even if it's busy, there are plenty of places to spread out and enjoy while keeping a safe distance from other people.
Mcway Fall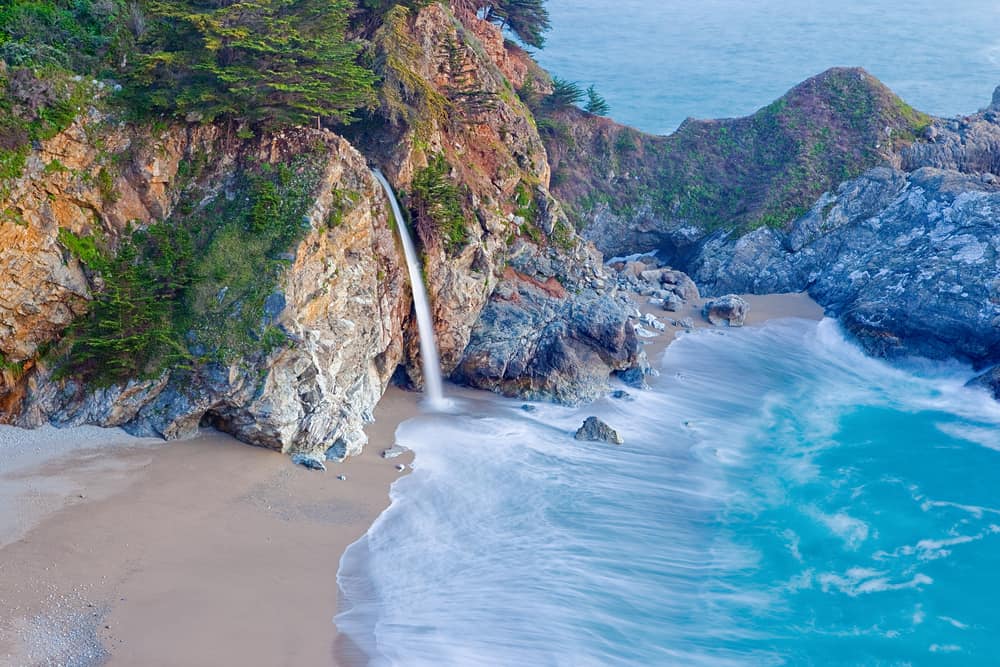 Now, enter Pfeiffer State Park, another one of the California parks system. You'll have to pay another $10 per car for an entry fee, but this helps maintain the parks and the beautiful area, so it's worthy very penny.
Most people come to this park to see the stunner Mcway Falls plunge into the Pacific Ocean. The best news is that it's a very easy hike!
The McWay Falls Outlook Trail is only 0.65 miles and will take you directly to the falls!
This is a highly popular tourist attraction, so mask up and keep your distance.
If you want to stretch your legs a little further and ditch the crowds, hit the Partington Cove Trail which is only a one-mile round trip hike.
This stunner offers ocean views from the trailhead and leads down to the rocky surf below. No swimming is allowed at the bottom, but the views are beautiful!
San Simeon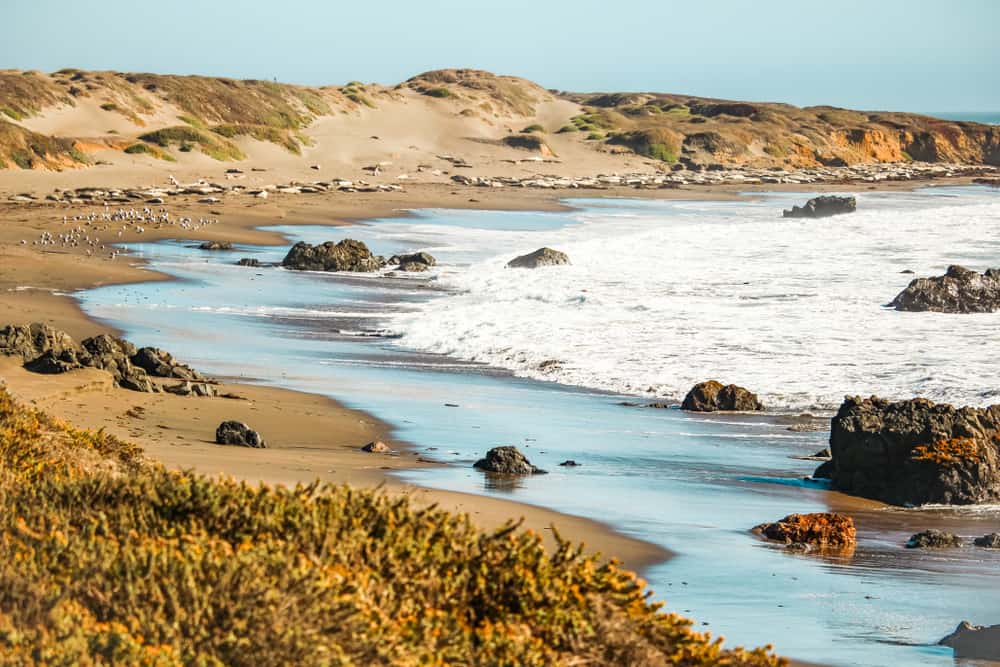 The town of San Simeon is small but contains two highly sought-after California attractions: Hearst Castle and Elephant Seal Vista Point. Both are definitely worth a stop!
Hearst Castle tours just reopened as of May 11, 2022, after being closed for more than two years due to Covid, so that's definitely a place you should visit.
Elephant Seal Vista Point is another great place to visit throughout the year. These enormous mammals lounge on the beach in San Simeon, enjoying their rebound from being on the endangered species list.
In November through March, it's birthing season, so you may even get a chance to see some adorable elephant seal pups!
Head on your way to Cambria, your final stop on this day of your PCH road trip, with an optional detour at Piedras Blancas Light Station on the way.
Cambria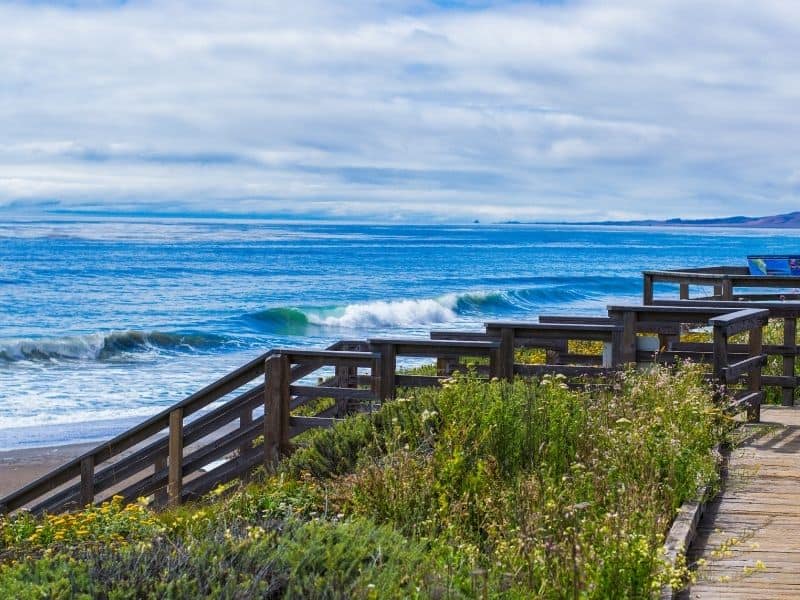 End the day in the scenic small town of Cambria, watching the sunset from Moonstone Beach!
If you have time for a hike, you could do a quick one on the Bluffs Trail, located in the Fiscalini Ranch Preserve.
Relax and unwind a bit in your accommodations, then go out and have an upscale dinner paired with local wines at either Madeline's Restaurant & Wine Tasting Room or Black Cat Bistro.
Where to Stay: The charming Cambria Beach Lodge is located just across from Moonstone Beach, offering a beautiful sun terrace with a sunset view. Rooms are large with lovely beachy decor, with a seating area and en-suite bath. Best of all, sunny yellow bikes are available for free to guests!

Another great option is Creekside Inn in downtown Cambria located right on Main Street, a 5-minute walk from downtown. Rooms are spacious and clean and the prices are really affordable. Plus, there's a hot tub on site for guest use!
Day Five of Your PCH Itinerary: Cambria to Santa Barbara
Driving Time: 3 hours
Stops: Morro Bay, San Luis Obispo, Pismo Beach, Solvang, Santa Barbara
Morro Bay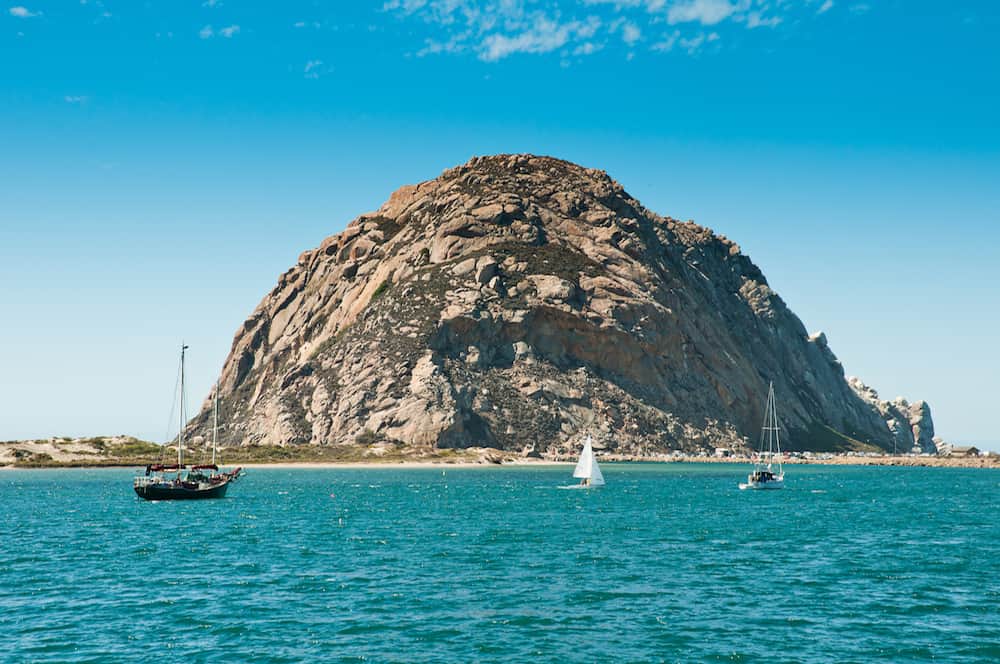 Trust me… you will see the small town of Morro Bay way before you arrive in it, heralded by the extremely massive (and vaguely terrifying) Morro Rock standing out obscenely largely in the waves.
This cute town along the Central Coast is best known for its massive Morro Rock, an ancient volcanic formation nicknamed "The Gibraltar of the Pacific," staggering nearly 600-feet tall.
Besides gaping at Morro Rock in a combination of awe and terror, you can check out the sea otters (who hang out around the Pier), take a walk in the nearby Elfin Forest and walk its boardwalk, or stroll the Marina Peninsula Trailhead boardwalk.
San Luis Obispo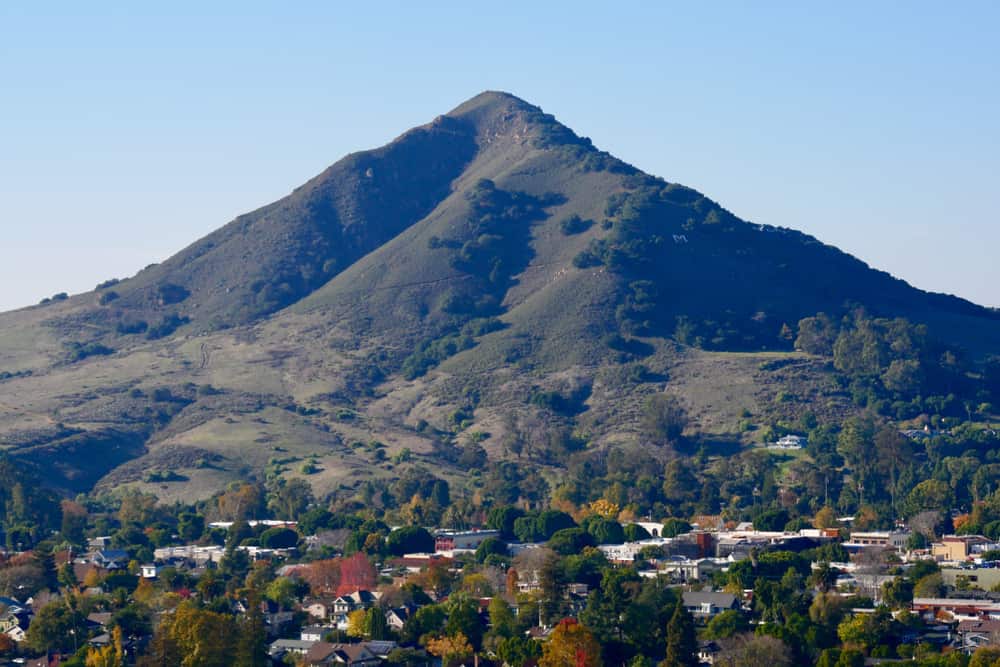 Next up is San Luis Obispo!
Stop for lunch in the absurdly quirky Madonna Inn, a place which basically defines kitschy-cool with 110 rooms all packed full of character and uniqueness. It's super over-the-top and it's a ton of fun.
While you could definitely alter this PCH itinerary a bit to stay the night here in a quirky themed room, if you want to follow this day to-the-letter, we'll just have lunch in the absurd, all-pink steakhouse, Alex Madonna's Gold Rush Steak House.
While in SLO, you could detour to Paso Robles for some of Central California's best vineyards, but that'd likely require spending an overnight here and adding a day to this PCH itinerary.
Pismo Beach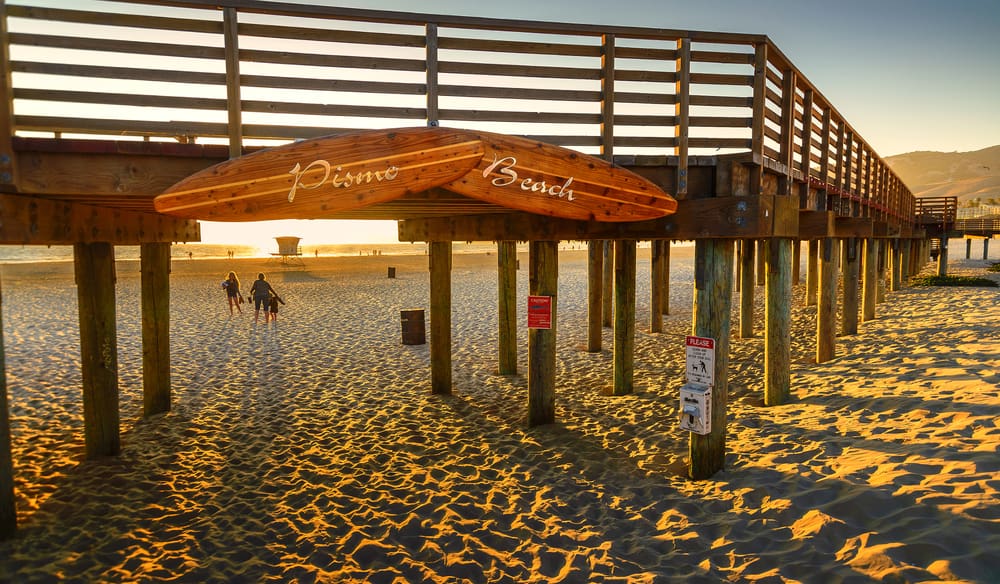 Pismo Beach is a famous surf spot and has wonderful beachy laid back vibes. While we'll make a short stop here, there is a ton of things you could do here if you wanted to spend more time enjoying Pismo Beach!
If you happen to visit between October and February, check out the Monarch Butterfly Grove. This is where, each year, migrating butterflies take up a temporary shelter in the town's eucalyptus trees to survive the cold winter.
You can also walk in the pretty wetlands of Chumash Park: it's dog-friendly and a great place to go if you're bringing your four-legged friend on your PCH road trip.
You can watch surfers on Pismo State Beach or also head to Oceano Dunes Natural Preserve nearby to enjoy some time in California's coastal sand dunes!
Solvang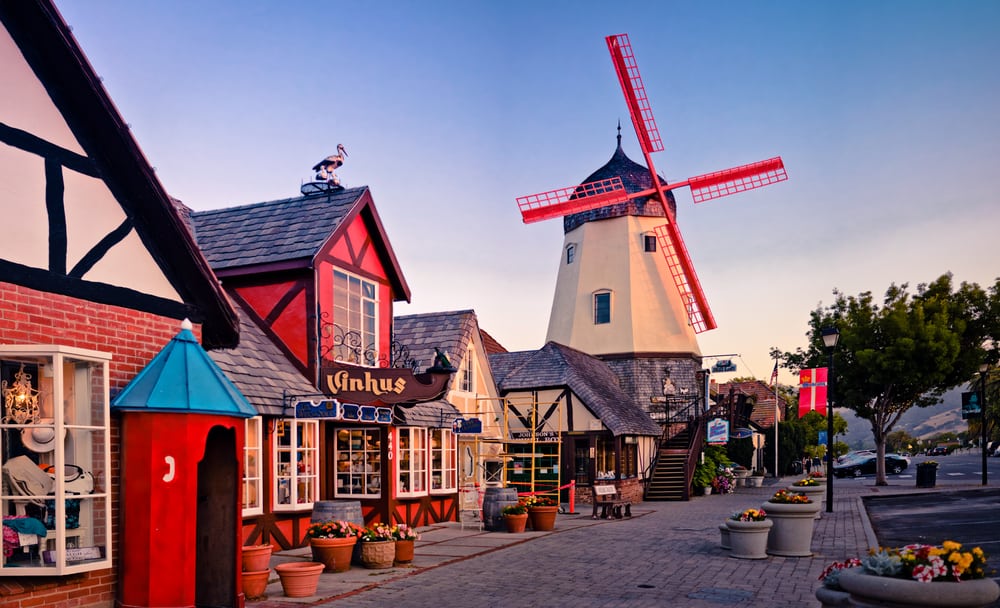 Admittedly, this involves a detour off of the Pacific Coast Highway, but I assure you, it's well worth it!
The tiny town of Solvang was established by Danish immigrants and it was designed to look like a Danish village. There's even a replica of Copenhagen's most famous statue, the Little Mermaid!
While in Solvang, you must go to an authentic Danish restaurant/bakery just to try æbleskiver (my favorite is at Solvang Restaurant).
You can also visit the charming Elverhøj Museum of History & Art or just walk around the cute downtown of Solvang with all its beautiful art galleries.
If you're interested in California's missions, check out the Santa Inés Mission, which dates back to 1804.
Santa Barbara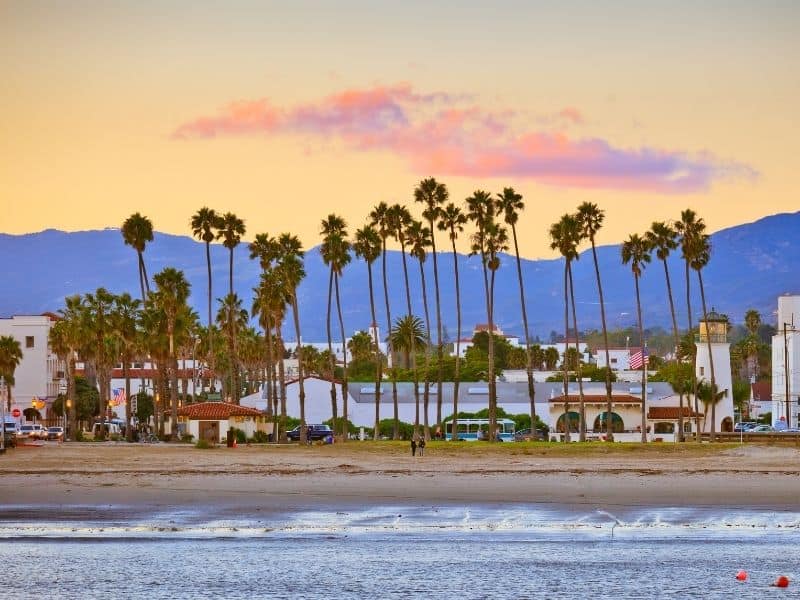 Finally, you'll end your day in Santa Barbara, a relaxed city that marks the end of California's Central Coast.
While you could easily base yourself in Santa Barbara for several days and explore all around the wineries and great day trips in the area, we'll quickly hit the highlights of your a quick visit to the city, and hope you plan a return trip another day!
Be sure to check out the cool Funk Zone neighborhood: home to boutique wine tasting rooms, third-wave coffee shops, and hip art galleries. I consider it to be the Brooklyn of Santa Barbara, but with distinctly California vibes. I love it.
If you're a wine fan, this is a great time to sip your way along the Urban Wine Trail: a cool self-guided walk that includes over 20 different tasting rooms from wines all around Santa Barbara county. Since you'll overnight here, you cand rink to your heart's content (just don't get hungover for another big day tomorrow!).
The area around the beautiful Stearns Wharf pier is great for a sunset stroll and beach views.
If you're a history buff, check out the historic Mission Santa Barbara, which dates back to the 18th century.
For dinner, you have a world of options! Keep it casual with Bibi Ji (tasty Indian food inspired by Indian street snacks) or La Super-Rica Taqueria, or have a more classic waterfront seafood meal at Brophy Bros.
Where to Stay: Accommodations in Santa Barbara are not cheap, but the Eagle Inn in West Beach (a 10-minute walk from central Santa Barbara) offers some of the best value just a short walk from the ocean!

For a little more luxury, the Santa Barbara Inn is a beautiful, chic boutique hotel with beachfront access and its own pool, also located in West Beach.
Day Six of Your PCH Itinerary: Santa Barbara to Long Beach
Driving Time: 2 1/2 hours
Stops: Ventura, Oxnard, Malibu, Santa Monica, Venice Beach, Redondo Beach, Long Beach
Ventura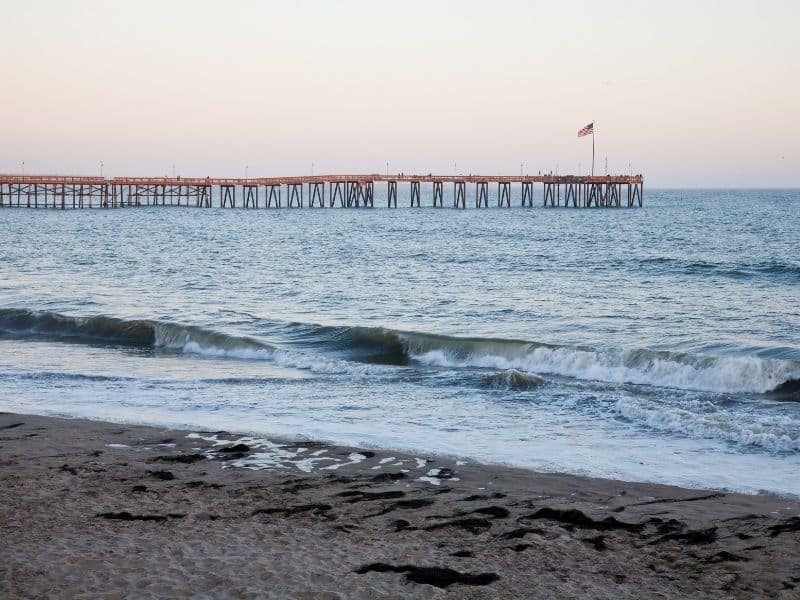 Ventura is beloved for its beautiful 1,700-foot-long Ventura Pier: it has a restaurant, snack bar, and bait shop where you can try to cast off on the pier.
There are also tons of great beaches, including San Buenaventura State Beach, which has 2 miles of pristine coastline as well as sand dunes to enjoy.
Note that as it's a state beach, there is a $10 fee to get in, which pays for the maintenance and upkeep of this pristine park!
Oxnard & Channel Islands National Park (optional one day addition)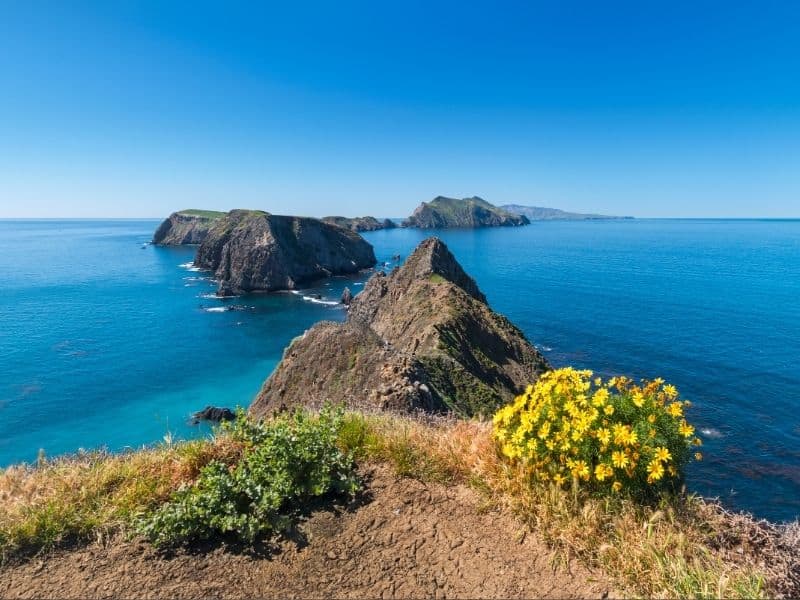 Make an optional stop in Oxnard if you want to use it as a jumping-off point to the country's least-visited national park: Channel Islands National Park.
If you do, I recommend breaking the itinerary here and adding one more day to your PCH itinerary so you can do some of the best Channel Islands hikes.
You can reach the Channel Islands from Oxnard Harbor via a variety of boat services which are detailed here on the NPS website.
Malibu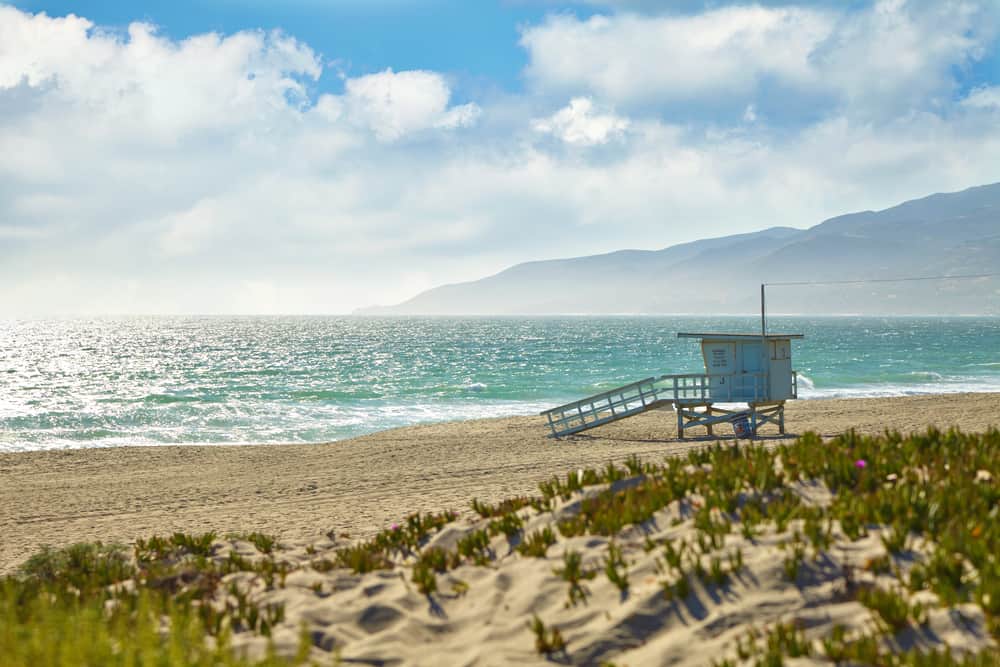 Before entering Los Angeles, you'll drive through the glitzy celebrity hideaway of Malibu, which is home to some of the best beaches in the state!
There are several stunning beaches in Malibu; I'll list a few worth the trip. First up is Zuma Beach. It has an $8 entry fee, but it's worth it since there's tons of parking… not necessarily the case elsewhere in SoCal!
Point Dume State Beach is also lovely and less crowded than Zuma Beach
Finally, El Matador State Beach is absolutely stunning… but it's also rather popular and it can be super hard to find parking here.
There are also lots of great things to do in Malibu and great hikes as well, but you may not have enough time to do that all if you're doing the Pacific Coast Highway in 7 days!
Santa Monica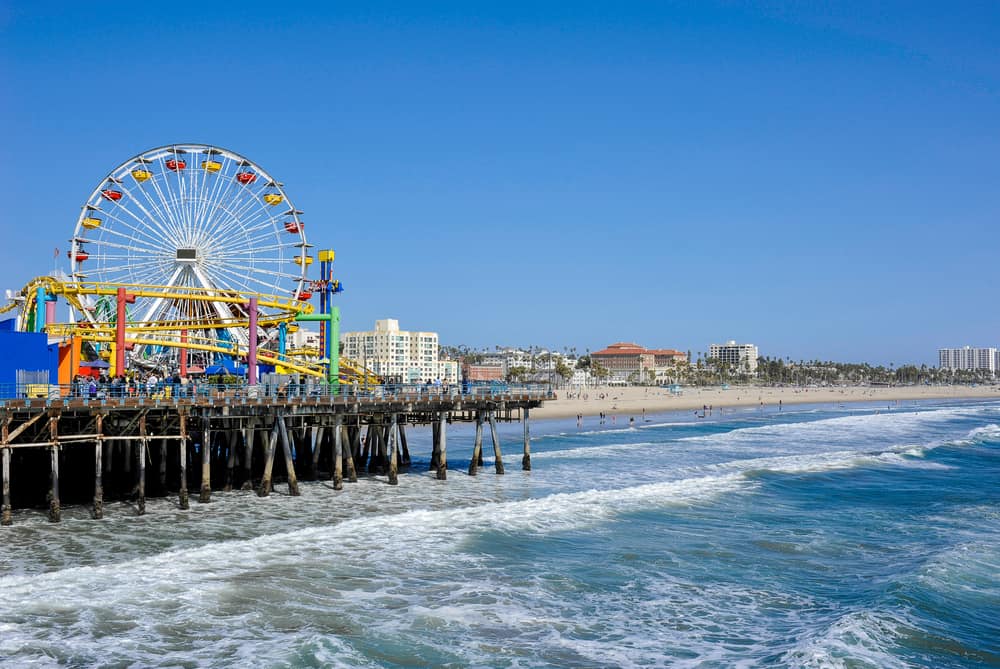 "All I wanna do is have some fun / Until the sun comes up over / Santa Monica Boulevard," Sheryl Crow sings, and trust me when I saw that it's nearly impossible to visit this part of California without this song getting stuck in your head for, potentially, days.
Of course, you have to walk down the Santa Monica Boardwalk. It's a great place to people watch and stretch your legs, and it's fun to wander around the amusement park on the pier and see its iconic Ferris wheel.
If you're getting hungry, I recommend stopping for oysters and seafood at the casual but tasty Santa Monica Seafood Market & Café!
Venice Beach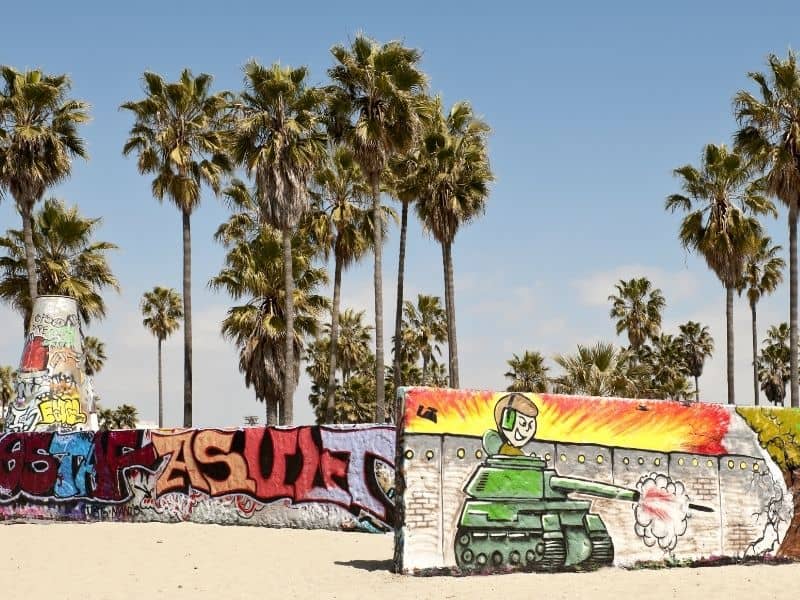 While driving through LA, you have to stop at Venice Beach and its boardwalk!
Be sure to spend enough time here to walk the Venice Beach Boardwalk and admire all the crazy buskers — rent a bike for even more fun and a different way to sightsee after so many days driving the PCH.
Take a photo with the Venice Beach sign, take photos with the Venice Beach Pride lifeguard station, and wander around the canal area — yes, this place was named Venice for a reason!
Redondo Beach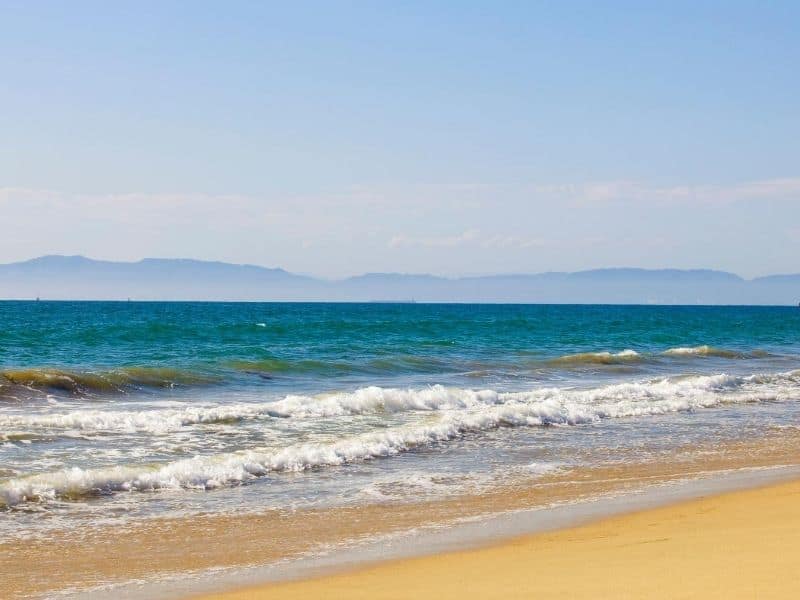 As you continue driving south of Los Angeles towards Orange County, you can't miss a stop at the chilled-out Redondo Beach.
Check out the south end of the beach near Palos Verdes — you're almost sure to see dolphins playing in the waves out here.
You can take a stroll on the Redondo Beach pier, which you can use as a departure point for all manner of aquatic fun! go on a harbor cruise or a whale-watching cruise (in winter/spring season) or rent a kayak or stand-up paddleboard.
Long Beach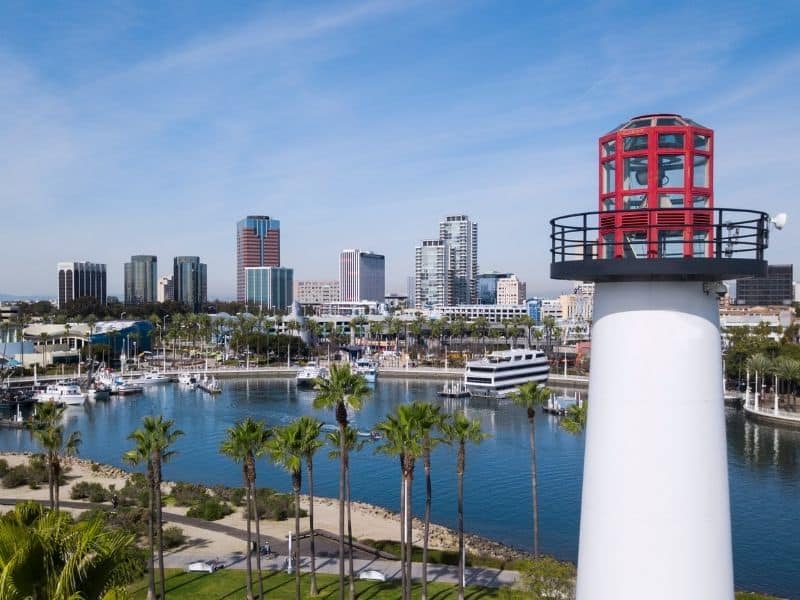 End the second-to-last day of your Pacific Coast Highway road trip in beautiful Long Beach, California.
Don't miss the RMS Queen Mary (seen in Arrested Development), a former ocean liner that's been turned into a museum ship. It's super cool!
You can also visit the Aquarium of the Pacific which has a lot of cool and interactive exhibits, great if you're traveling with kids or if you weren't able to visit the Monterey Bay Aquarium earlier on this PCH trip.
You should also try to visit the Museum of Latin American Art, featuring modern and contemporary works of art from Latinx artists.
Day Seven of Your PCH Itinerary: Long Beach to San Diego
Driving Time: 3 hours
Stops: Huntington Beach, Newport Beach, Laguna Beach, Carlsbad, Encinitas, La Jolla, San Diego
Huntington Beach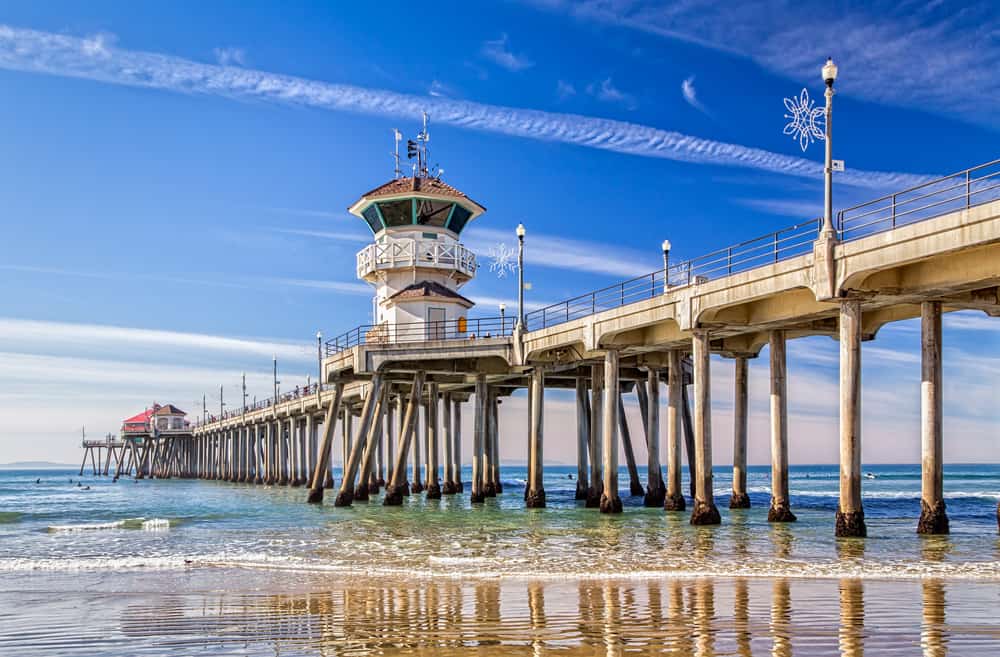 We're now in Orange County and nearing the end of this PCH road trip! First stop today is Huntington Beach, which is home to one of the famous piers in the world!
Nearly half a mile long, this wooden pier is one of the longest piers on the entire West Coast USA.
Stroll the entire pier and stop at Ruby's for a diner breakfast on the pier, or a mid-morning milkshake (no judgment here!).
Other great stops near Huntington Beach include the Bolsa Chica State Beach and the Bolsa Chica Ecological Reserve, a beautiful coastal wetland that is great for birdwatching!
Newport Beach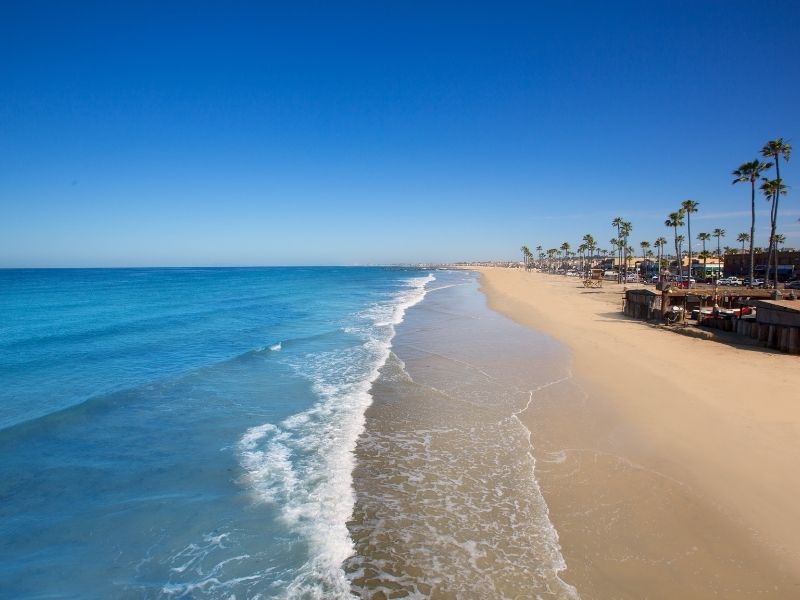 The city of Newport Beach is also famous for its piers, Newport Beach Pier and Balboa Pier, the later of which has a nostalgic amusement park beachside with a Ferris wheel to boot.
The harbor area is also a great place to walk around and imagine a life where you can afford to park a boat here!
For the best beaches, there. area few to choose from: Corona del Mar State Beach is great for relaxing and swimming, and the Wedge is better for surfing (or surfer-watching, my favorite sport!) and boogie boarding due to its waves.
If you want some indoor time and to get. a bit of culture, you can also check out the Orange County Museum of Art which focuses on modernist and contemporary art.
Laguna Beach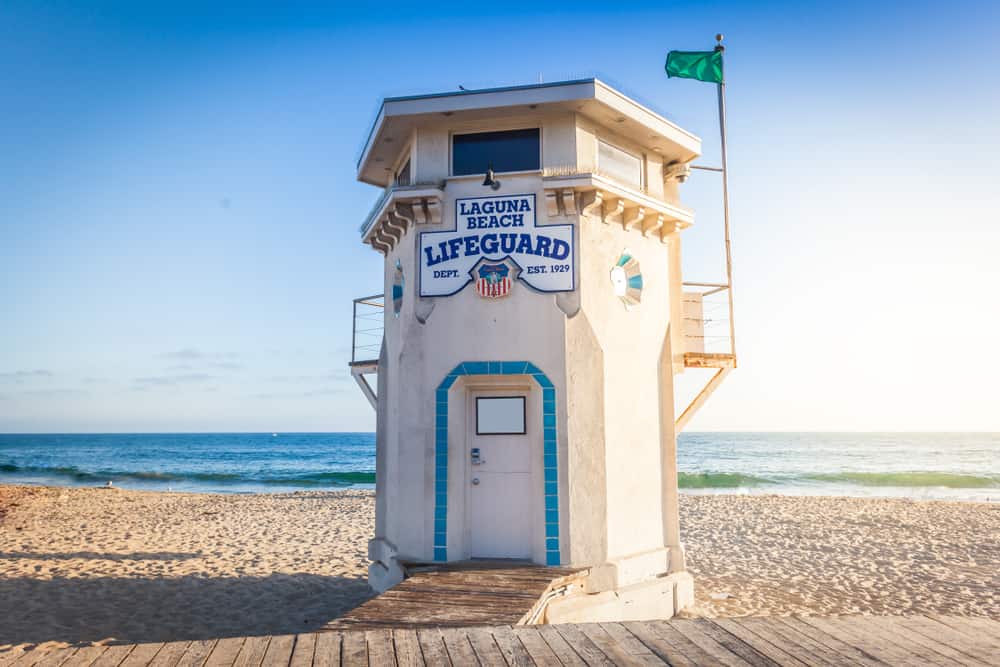 Laguna Beach is one of the prettiest stretches of beach and coastline (plus pretty hikes) in Orange County — if not all of California!
It's well worth a stop along your PCH road trip, especially if you're a beach bum or a reality TV aficionado who wants to see just where some of most the notorious reality TV Californians were filmed.
Be sure to walk along Main Beach. If you're there during low tide, search for tidepools and all the marine life critters who call these pools home.
You can also follow the boardwalk along Main Beach to reach Heisler Park.
For something different after so much beach time, head into town and check out Laguna Beach's 70+ independent art galleries: great for window shopping!
If you want to go for a dip, just north of Main Beach, you'll find the lovely Diver's Cove.
This area has calm waters that is home to lots of undersea life. Bring your own snorkel (I recommend this affordable set with a carrying case) or you can rent one from a nearby dive shop.
Carlsbad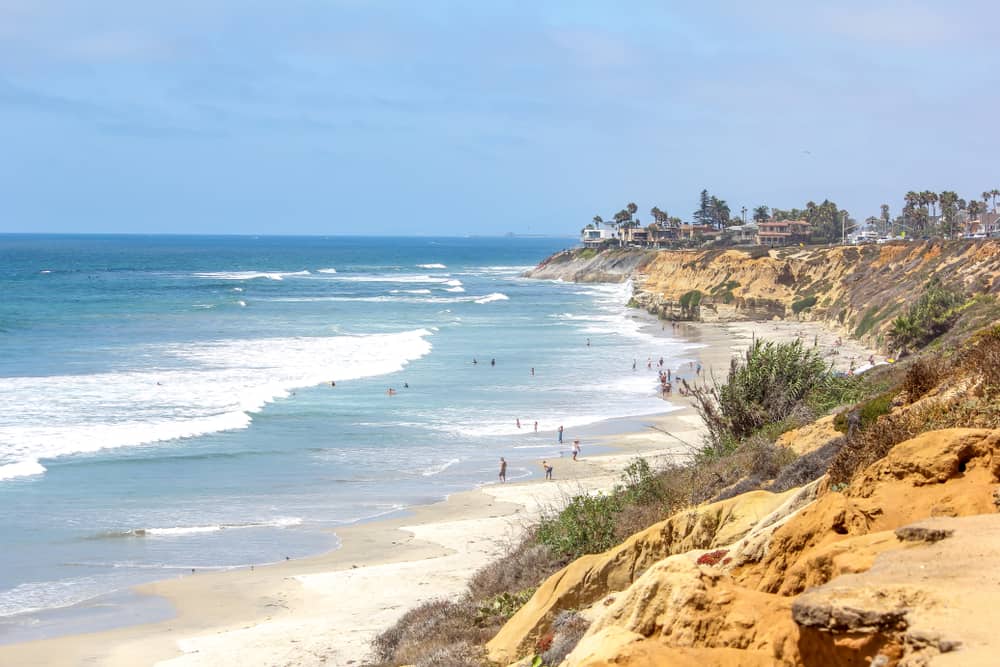 We're really nearing the end of your Pacific Coast Highway road trip, but some of the prettiest coastline is still in store!
Don't miss stunning Carlsbad and its bluffs located on the State Beach.
Other attractions in Carlsbad include LEGOLAND (a must-visit if driving the PCH with kids) as well as the Flower Fields which bloom in March through May.
Encinitas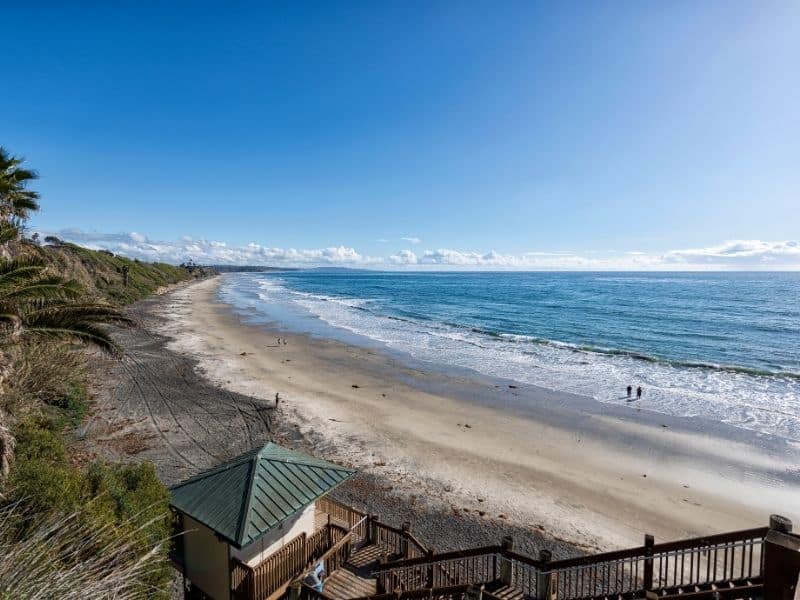 Save time for a small stop in Encinitas to visit the San Diego Botanic Garden.
It also has a beautiful stretch of coastline with two state beaches: Moonlight State Beach and San Elijo State Beach. Both are worth a visit, but I think the latter is prettier.
Just a bit south of the city but before you reach La Jolla, there's also some cool hiking through a slot canyon which can be done in Annie's Canyon Trail.
La Jolla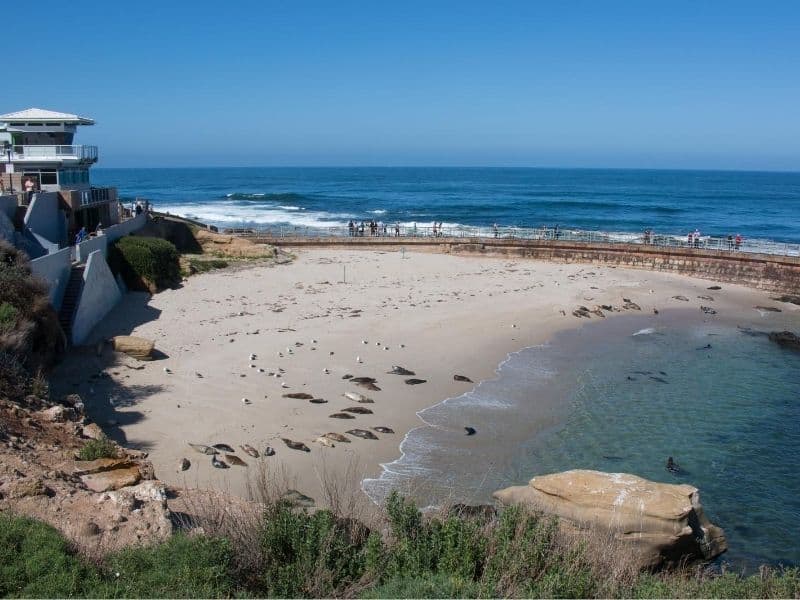 Just before reaching San Diego, you'll drive through the chic suburb of La Jolla, where there are some of the best beaches in San Diego County.
The most scenic place in this cute mini-city is Torrey Pines State Nature Reserve. It's home to 2,000 acres of coastal landscape full of marine life and wildflowers. It's one of the last wild beaches in all of Southern California.
Park within the gates for a $20 fee to access the nature reserve, though parking down the street is free.
The best hike is the Hike the pretty Torrey Pines Beach Trail Loop, an easy 2.3-mile hike that should take a leisurely hour to complete. From this loop, you may see whales if the season is right – they tend to migrate through this region in December and April.
Another great hike is the Guy Fleming Trail. It has incredible views over the beach from its panoramic point. It's a short trail, only 0.8 miles each way, so you can walk it and back in less than 30 minutes.
You should also visit the La Jolla Cove, which is home to a lot of boisterous seals and sea lions, but also has a 6,000-acre underwater park great for snorkeling!
If you want to get active after so many days in a car, try sea cave kayaking! I've heard of kayaking, and I've heard of sea kayaking, but I've never heard of sea cave kayaking before!
On this small group tour, you go kayaking and explore some sea caves off the coast of La Jolla with a certified guide to keep you safe. Prebook tickets as space is limited!
San Diego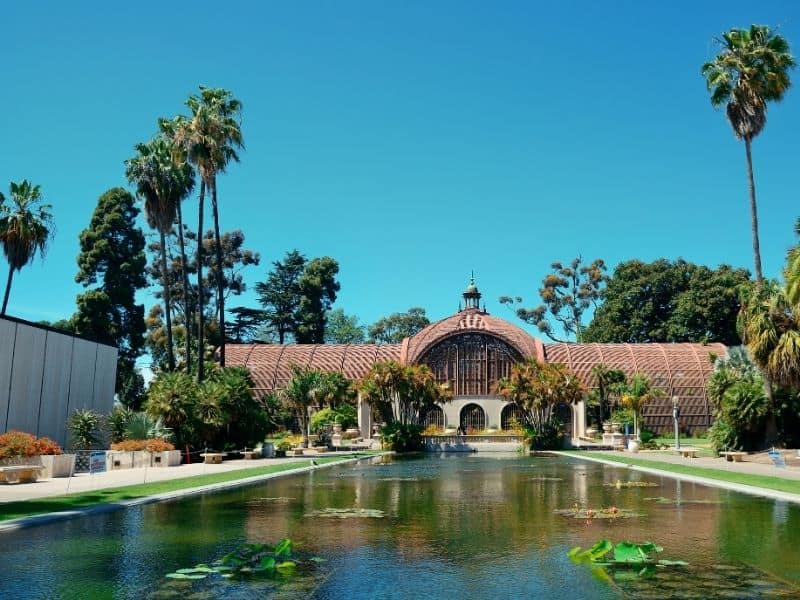 Finally, after nearly a thousand miles of driving, you'll reach stunning San Diego!
You could spend a day in San Diego exploring or extend your trip a bit and spend 3 days in San Diego getting to know it better.
This is the end of the road, quite literally: next up is Mexico (Tijuana is literally just 15 miles away!).
There's so much to do in this lovely city. No matter how long you stay in San Diego, you can't miss the impressive Balboa Park: home to 16 museums and 16 gardens, all gorgeously constructed and landscaped.
Don't skiop the Japanese Friendship Garden inside the park: it's so beautiful and serene.
If you're driving the PCH in winter or early spring, you may get a chance to go whale-watching!
Every year between (roughly) December through April, gray whales migrate within just a few miles of the city (and sometimes their babies as well!).
Due to the limited time window and lowered capacity for social distancing purposes, you'll want to pre-book your whale watching cruise well in advance.
While in San Diego, take advantage of the amazing Mexican food here. The best places are Carnitas Las Michoacanas for Morelia-style carnitas tacos and La Fachada for its delicious birria (Jalisco-style braised goat) tacos.
Pin This Pacific Coast Highway Itinerary!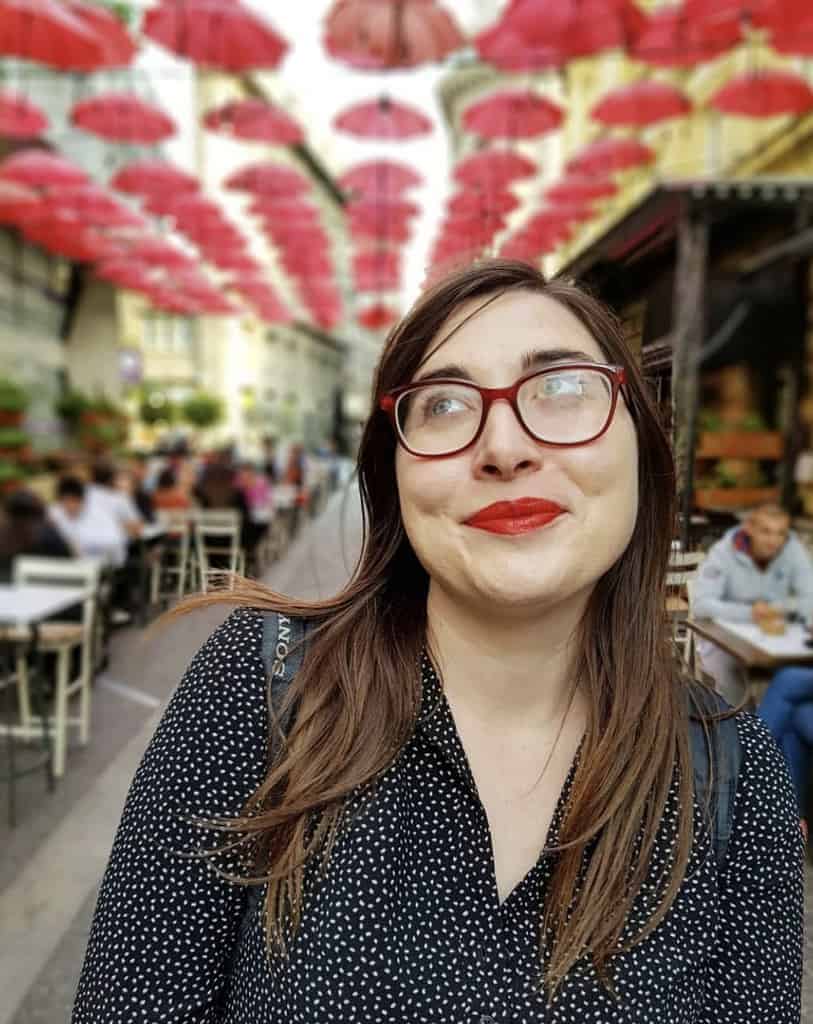 Allison Green is a travel blogger, writer, and podcaster who grew up in the Bay Area of California. She has spent time living in New York, Prague, and Sofia, but has returned to live in the East Bay. She has traveled to 60 countries before the age of 30 while running several digital travel publications. Her writing and podcast have been featured in Forbes, CBC Canada, National Geographic, the Huffington Post, and CNN Arabic, amongst others. She's obsessed with bouldering, houseplants, other people's pets, and anywhere she can see the ocean.