Morro Bay is the place you go when you want to escape the troubles of everyday life and hide away by the water, so if relaxation is what you're after, you will find it here!
There is just something about the famous Morro Rock out in the distance, the playful otters around every corner, and the constant smell of freshly cooked seafood that puts you in a trance.
And considering its sleepy fishing village vibes, Morro Bay is overflowing with city-like amenities such as its lively downtown strip with late-night bars, trendy restaurants, and shopping galore.
To make things even more relaxing for you, here is a list of 14 amazing things to do in Morro Bay so you can just sit back and take it all in.
Where to Stay in Morro Bay
Note: This post contains affiliate links, which earn me a small commission at no extra cost to you if you make a purchase using one of these links. Thank you for supporting this free content!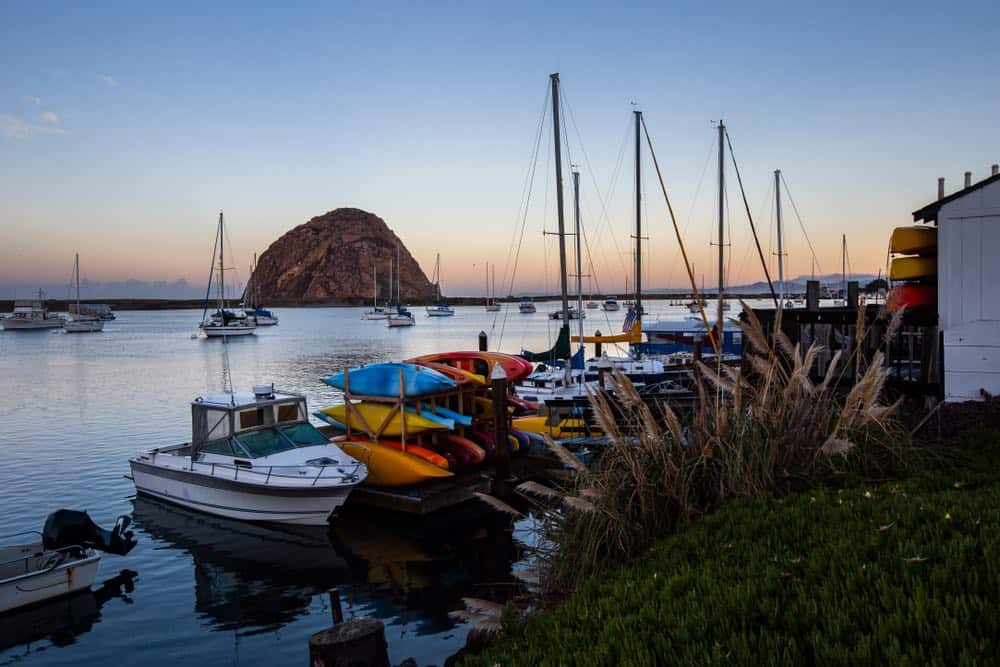 Mid-Range: The stunning Inn at Rose's Landing has the best views in town! It's right on the Embarcadero, with a front-and-center view of Morro Rock. The rooms are spacious with a modern flair, and the terrace has great views of the bay and the famous rock!
Budget: For a more budget-friendly option, the cheap and cheerful Pleasant Inn has that renovated vintage motel vibe with updated rooms, great prices, and a solid location.
Best Things to Do in Morro Bay, California
Check out Morro Rock.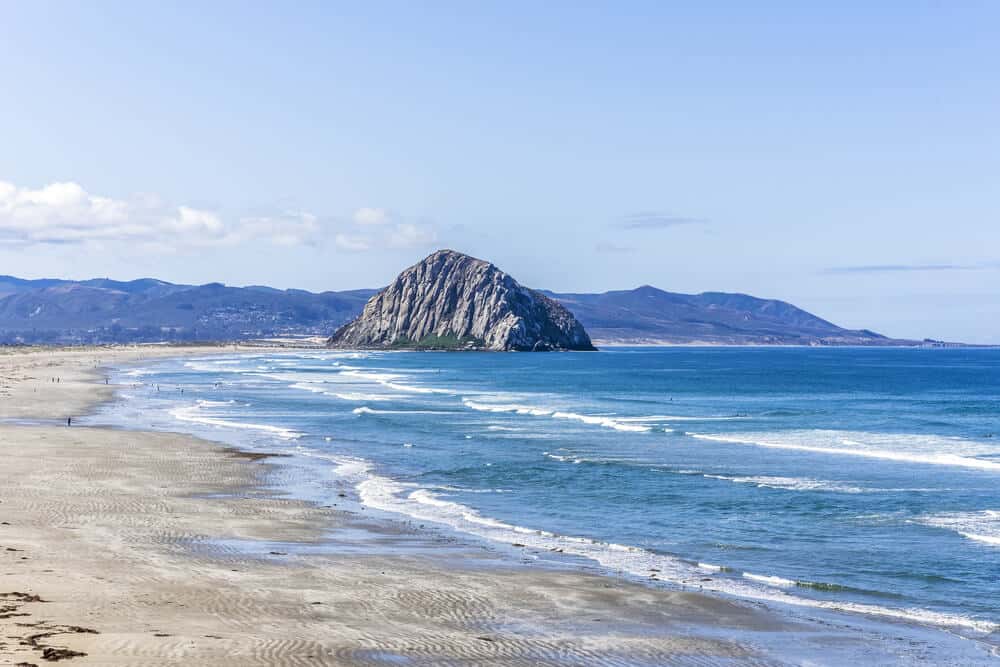 Well, this one was obvious. No trip to Morro Bay would be complete without paying a visit to this iconic natural wonder!
The good news is that the viewing opportunities of Morro Rock are endless. The towering 580-foot rock has a way of making itself known, so you'll find that it basically follows you wherever you go.
Still, that doesn't mean you shouldn't take the time to get up close and personal with this historic landmark!
Yes, it catches your eye when you're walking along the Embarcadero and it calls your name from the sandy shore of Morro Strand Beach, but those who go out of their way to venture to its base are instantly rewarded.
Enjoy the Harborwalk.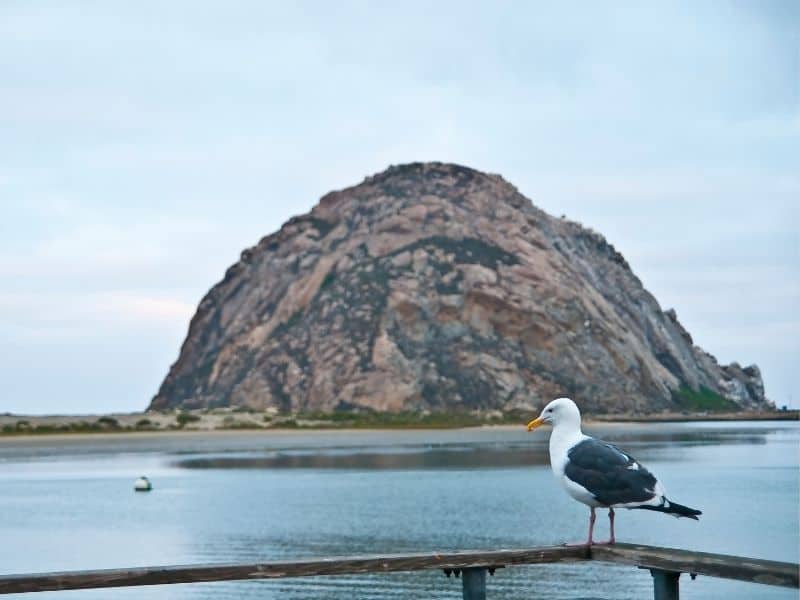 The easiest way to reach "The Rock" is by walking along the Harborwalk, which is a picturesque 0.5-mile paved trail.
It's gorgeous from start to finish, with its sweeping views of the bay and frequent sea otter sightings as you walk this seaside path.
Take your time as you wander past remote sandy shores while listening to the calming sounds of crashing waves and birds overhead. 
Go for a kayak.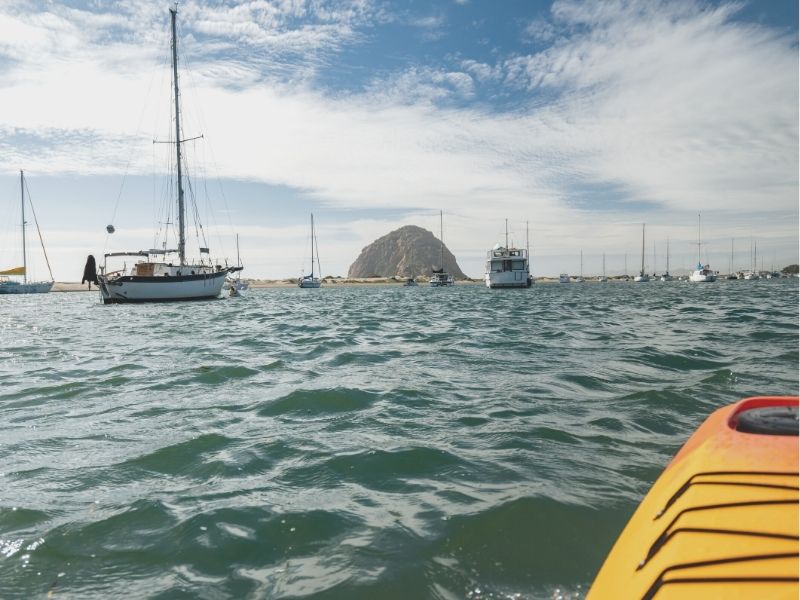 Another great option is to grab a kayak rental at Tidelands Park and paddle your way to the long-stretching sandpit that divides Morro Bay from the Pacific Ocean for the best Morro Rock viewing that money can buy.
You'll also get to go past otters, sea lions, and all sorts of other Morro Bay local wildlife!
Check out Morro Rock from a unique perspective.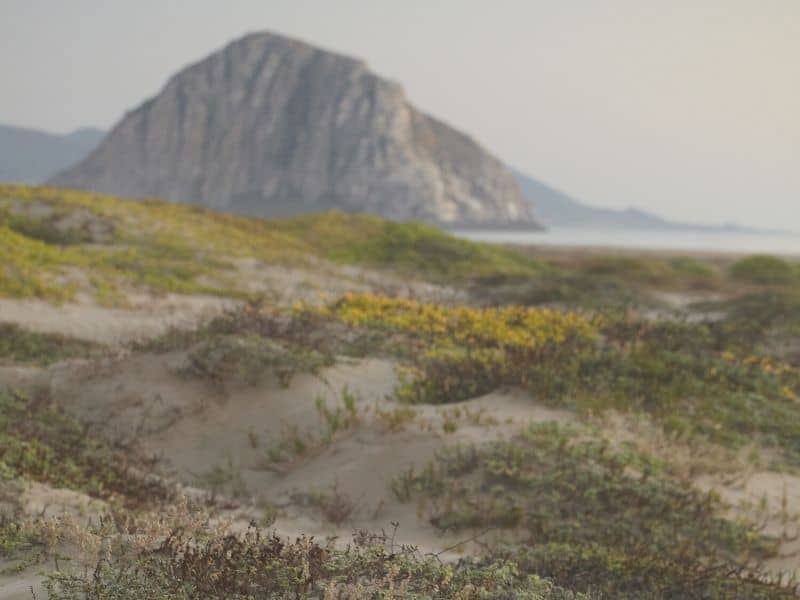 To put things into perspective, head up to Montaña de Oro State Park where you can hike atop giant cliffs for panoramic views of Morro Bay and its famous rock.
There are also gorgeous views of Morro Rock from the dunes on the northern side of the rock.
And when you find yourself having trouble pulling away from this beautiful mound of past volcanic activity, consider having dinner at one of the restaurants known for its stellar rock views like Blue Sky Bistro or Harbor Hut.
Explore Morro Bay State Park.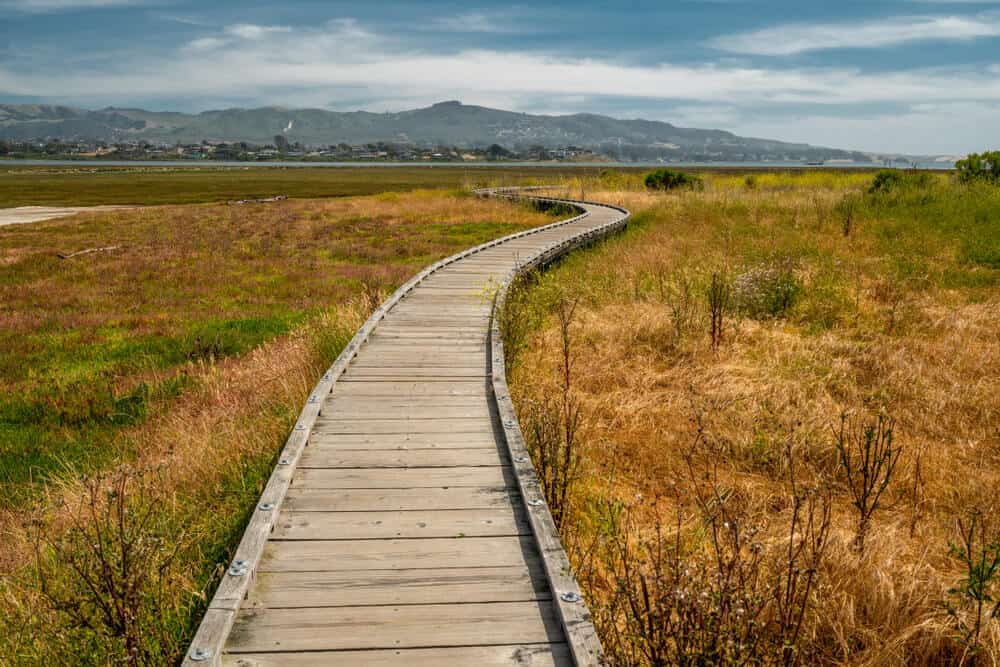 Home to that famous rock everyone can't stop talking about, Morro Bay State Park is one of the most notable places to visit in the area so it only makes sense that there are more things to enjoy here than rock gazing!
Quite frankly, you could easily spend an entire weekend within this park alone, hopping from one leisurely activity to another, but just make sure you save enough time for all the other lovely things you can do here.
For starters, the charming Marina has everything you could possibly need for a relaxing day thanks to its large variety of watercraft rentals and cozy cafe serving tasty treats for when you need a pick-me-up.  
And of course, you can spend those peak sunlight hours bathing it all in from the park's sandy shores but if you have trouble sitting still like I do, there are plenty of hiking trails to wander off on.
Climb up hills that provide breathtaking views of the bay, take a leisurely stroll to the quarry, keep your eyes peeled for native bird species while biking through the heart of the park, or simply marvel at the serenity as you walk along the edge of the Morro Estuary Natural Preserve.
But wait — there's more. The park even has its own 18-hole golf course and driving range so you can always play a round while taking in the stunning views of the bay. Talk about the best of both worlds!
Nestled along one of the cliffs overlooking the bay is the park's Museum of Natural History where you can learn all about the habitats that surround you — but more on that later.
Like I said, there's a lot to do. If you have your heart set on enjoying all the exciting opportunities that the park has to offer, consider pitching a tent at one of the 134 available campsites and let the good times keep rolling!
Hang out along The Embarcadero.
Exploring the downtown area of a new town or city is always a given, but when that downtown area is located along a waterfront it becomes an absolute must!
I mean, who doesn't love having everything right at their fingertips? I'm talking boutiques, gift shops, restaurants, cafes, bars, museums, galleries, and so much more all with nonstop views of the glistening Morro Bay.
And speaking of the bay, there are so many ways that you can get out on the water!
Whether it be on a fishing charter, bay cruise, yacht rental, whale watching trip, or the popular Sub Sea Tour with its underwater observation deck, there's an aquatic adventure with your name on it.
I won't get into too much detail when it comes to restaurants only because I'll be going in-depth a little further on, but I highly recommend you plan to have dinner along the Embarcadero.
Just picture it. The intoxicating smell of fresh seafood combined with the breathtaking sight of waterfront views (hello, Morro Rock!) and the sound of gentle waves out in the distance.
The only thing that could be better would be watching the sunset over the water in the process — and that can be arranged!
Work up an appetite for dinner or burn off the calories from lunch (or both. I wouldn't blame you. There are really just too many great restaurants to choose from), by hopping from one adorable shop to another but don't expect to make it out of there without laying out some cash.
It is only right that a handful of the shops boast a nautical theme, but if you aren't looking to take the bay home with you, there are plenty of other options to choose from like handcrafted items and artisan bath and beauty products!
And last but definitely not least are the pieces of artwork that pepper the boardwalk, created and sold by local artists themselves, so do your walls a favor and buy a piece to show off to all of your house guests.
Relax on Morro Strand State Beach.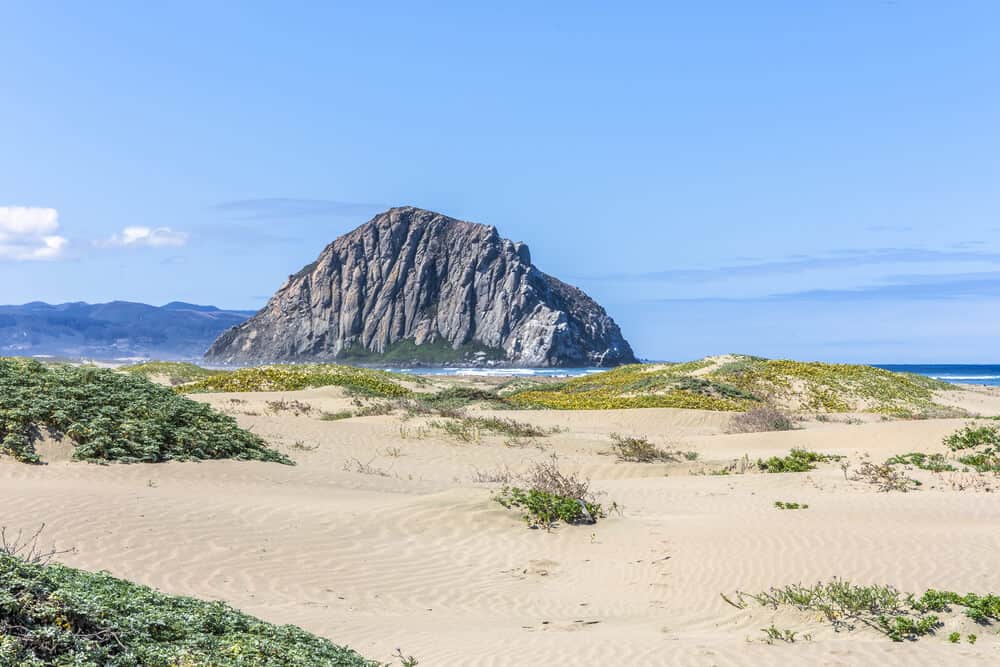 Stretching out over 3 miles of stellar beachfront, you can't go wrong with spending some time relaxing on the sandy shores of Morro Strand State Beach.
I usually wait until the very end to mention if camping is available, but the answer is yes and I am just too excited to contain myself about it!
This is not your typical woodsy campground with a dirt campsite. No, this is camping beach-style with sand and waves right outside your door (or tent flap).
Now that I got that out of the way, we can move on to some of the fun ways to spend your time on the beach. The most obvious choice, which also happens to be one of the best choices, is to lay out your towel and soak in the sun.
But the more adventurous soul will be happy to know that the beach is also the perfect destination for classic surfing and kite surfing thanks to the nearly constant wind that sweeps over the strand.
Go fishing or check out the tidepools.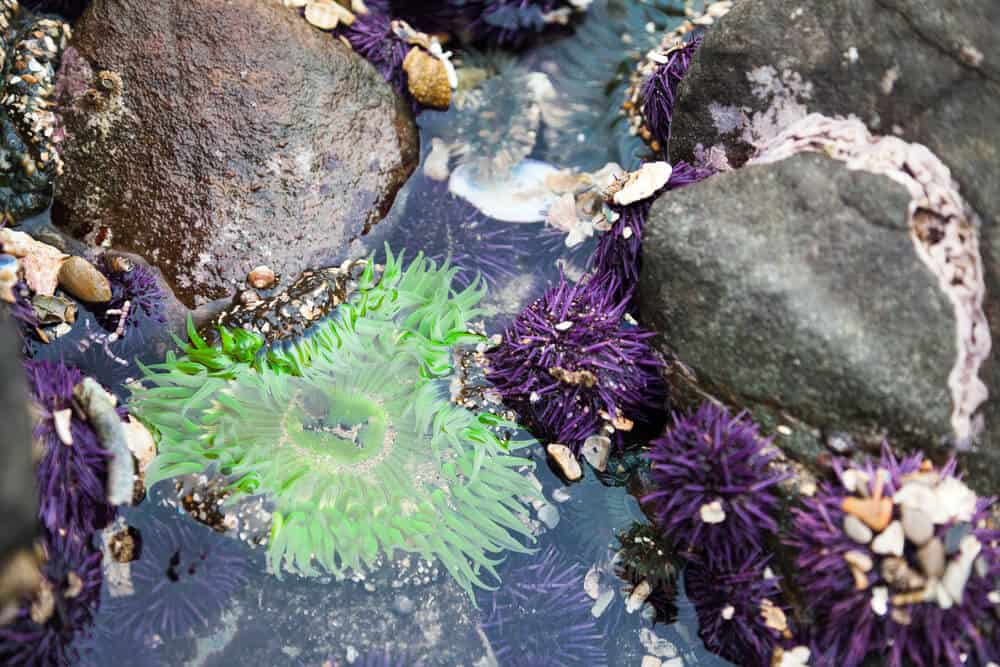 Surfing and sunbathing not your style? You can always rent a rod and walk down to where the water meets the sand for a day of fishing or head to the northern rim to explore some tide pools.
It is important to mention that although it can be fun to check out creatures like snails and urchins that hang in these tide pools, at no point should you ever disturb them.
Also, always look at tide tables before heading out or you could end up stranded.
Visit a museum or two.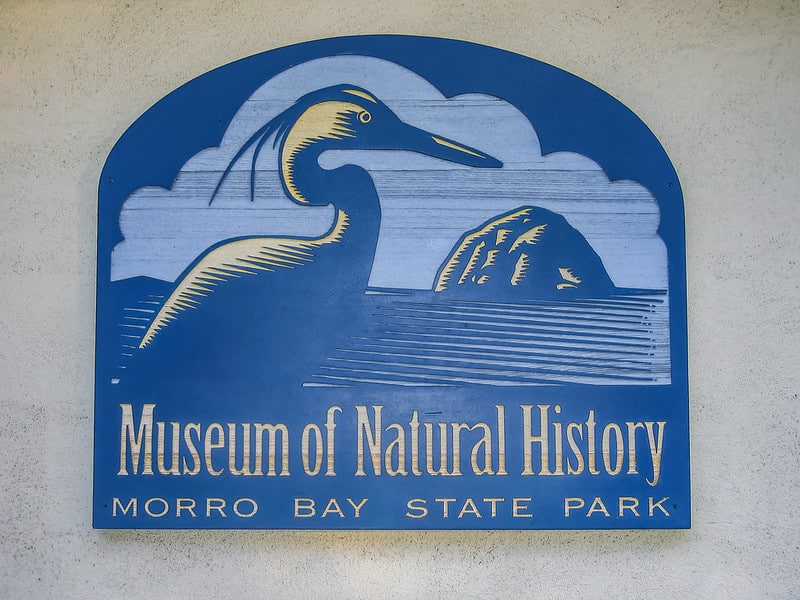 Museums are a great way to pass the time, learn something interesting, pique a new interest, or even keep you entertained on a rainy day, and even the small coastal town of Morro Bay has plenty to offer.
The most popular is the Museum of Natural History, mainly because it is located in the even more popular Morro Bay State Park and boasts a killer view of Morro Bay.
With admission for as little as $3, the museum is affordable for just about any budget and the interactive exhibits are both exciting and informative!
Learn about how your actions, as well the actions of mankind as a whole, have impacted and continue to impact the habitats of the area and what you can do to make a difference.
Check out the bulletin to see what upcoming activities are available for an even more immersive experience with options like nature walks, lectures, and more.
Another fun museum to visit is the Morro Bay Maritime Museum where you can walk amongst a fleet of giants like the 1927 tugboat known as "Alma".
It is an amazing experience to get up close and personal with the submarines that played a significant role in life-changing events like the Cold War and World War II.
For something lighter, head over to the Morro Bay Skateboard Museum to see how skateboarding has evolved over the last hundred years or swing by Judy's Sewing and Craft Museum to admire antique machines.
Walk through El Mrro Elfin Forest.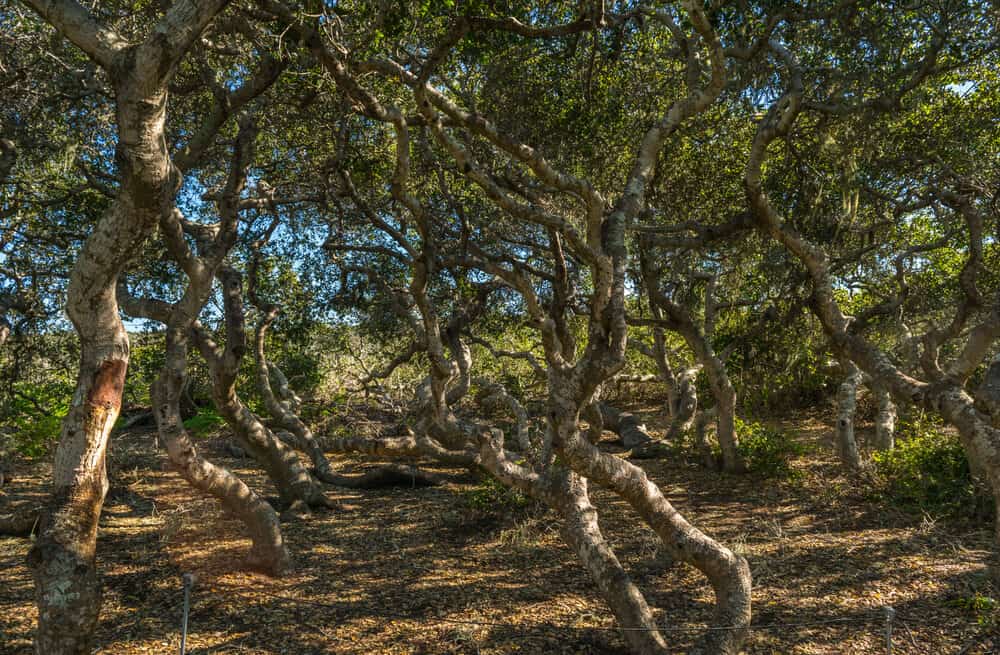 Unlike most California destinations with ancient oak trees, the El Moro Elfin Forest houses the babies of the bunch, with the tallest oak being a measly 20 feet.
So although you won't be surrounded by towering giants, it is still a pretty cool feeling to walk amongst miniature oaks, since it is such a rarity!
You have plenty of options when it comes to exploration depending on how much time you have and/or how much energy you have stored for the adventure.
If you are making a quick trip, you can take the mile-long boardwalk loop around the outskirts of the park to get a feel for the oaks while also benefiting from the nonstop views of Morro Bay.
With a bit more time and a small dose of stamina, you can branch off the boardwalk to a variety of viewpoints like Bush Lupine Point.
There, you can get a clear view of Morro Rock in the distance and hang with the abundance of marine birds that call the area home.
Take photos at Montaña de Oro State Park.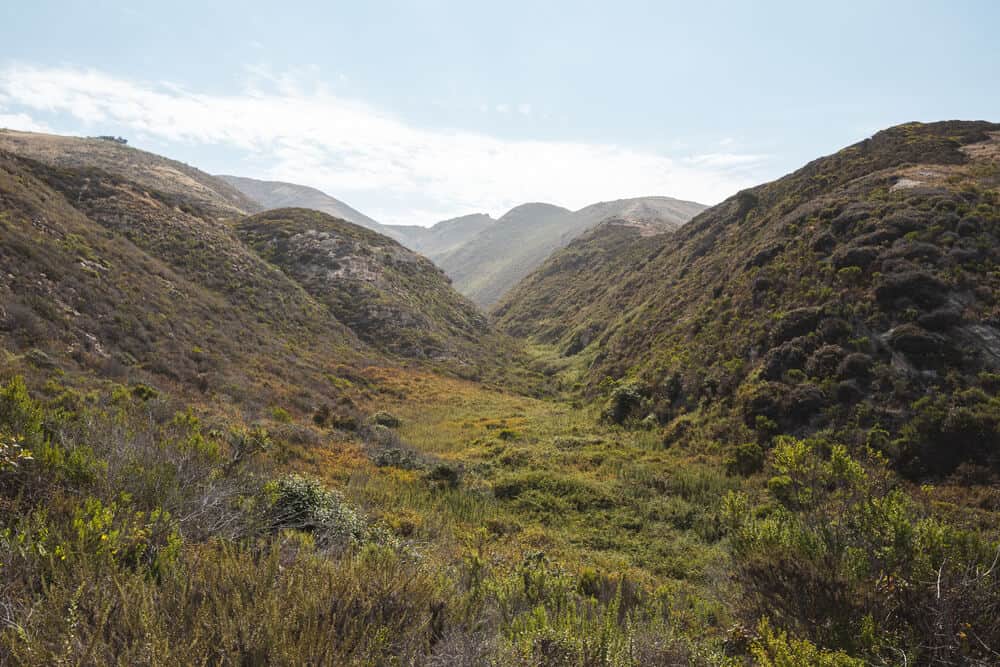 You don't need a fancy setup to score a nice photo in Montaña de Oro State Park thanks to its appealing natural lighting, scenic viewpoints, and just overall picturesque vibe.
…. but you may have to work for it. There are a plethora of beautiful spots in the park to create a picture-perfect moment, but most of them require a bit of hiking.
For example, the Valencia Peak Trail is a grueling 4.5-mile journey with an elevation gain of over 1,200 feet.
It'll all be worth it once you reach the top, though, when you are greeted by panoramic views of Morro Bay and a unique view of the famous Morro Rock!
However, trails like the Bluff Trail earn instant gratification, thanks to the adorable wooden bridge at its starting point leading to ocean views, multiple coves, coastal bluffs, tide pools, and more.
Explore some of the local coves and beaches.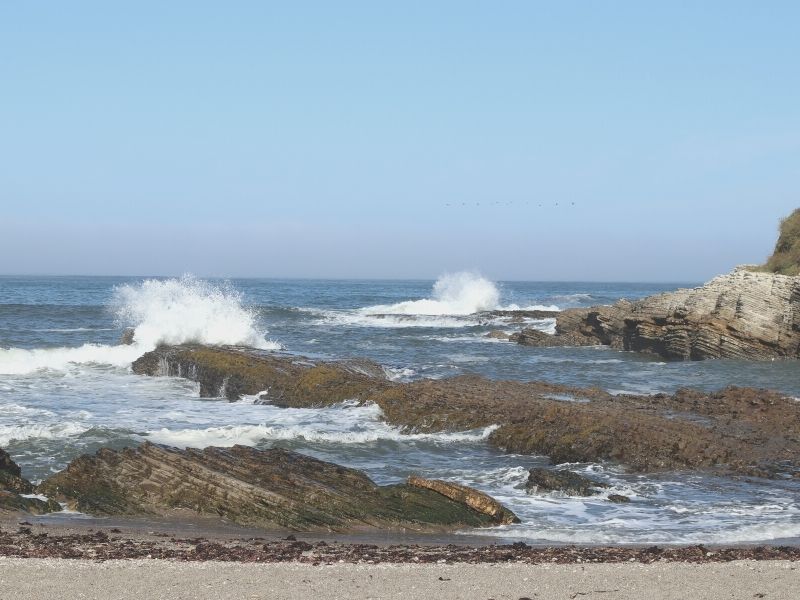 If you are not in the mood for hiking, that's okay too. There are a handful of peaceful coves that can be easily accessed without much effort and they offer amenities like free parking, picnic areas, and restrooms.
The most popular of the bunch is Spooner's Cove Beach as many of the hiking trails start here, so be prepared for crowds but keep busy by exploring tide pools.
Sandpit Beach is a fun place to watch surfers do their thing while digging your feet into the ridiculously soft sand, but I would stay out of the water if I were you because sharks are often spotted here.
Hazard Canyon Reef is considered to have the absolute best tide-pooling opportunities in the state of California so if you like staring at small sea creatures, this is the place for you.
But if complete and utter seclusion is what you're after, make the drive down to the southern edge of the park to reach Coon Creek Beach and spend the day exploring tide pools and caves in solitude.
However you decide to spend your day, don't forget to swing by the Spooner Ranch House for a self-guided tour through this historic 19th-century house, a quick peek in its humble museum, and a keepsake from its gift shop.
Stroll through an art gallery.
It only seems right that you pop into a few of the art galleries peppered around considering Morro Bay's rich artistic presence and thriving community of local artists.
I mean just look at the 20+ murals that line the streets, with displays dating back to 1982, depicting things like the city's history, culture, natural wonders, and marine life.
There is even a map labeled the Morro Bay Mural Mile so that visitors to Morro Bay can visit each and every mural that has been created with ease.
While you are taking the tour of these vibrant murals, pop into one of the largest art galleries on the Central Coast, Art Center Morro Bay, where you can admire the work of local artists by day and enjoy live music by night (occasionally).
If you are into funky home decor, you have to check out the Arteffects Gallery with its exquisitely detailed, handmade lampshades, unlike anything you've ever seen before.
But really the list could go on forever. There's By The Bay Gallery with its fancy jewelry, Fiona Bleu Gallery with its eccentric pieces, Forever Stoked with its nature-based designs, and so much more.
Attend the Avocado Margarita Festival.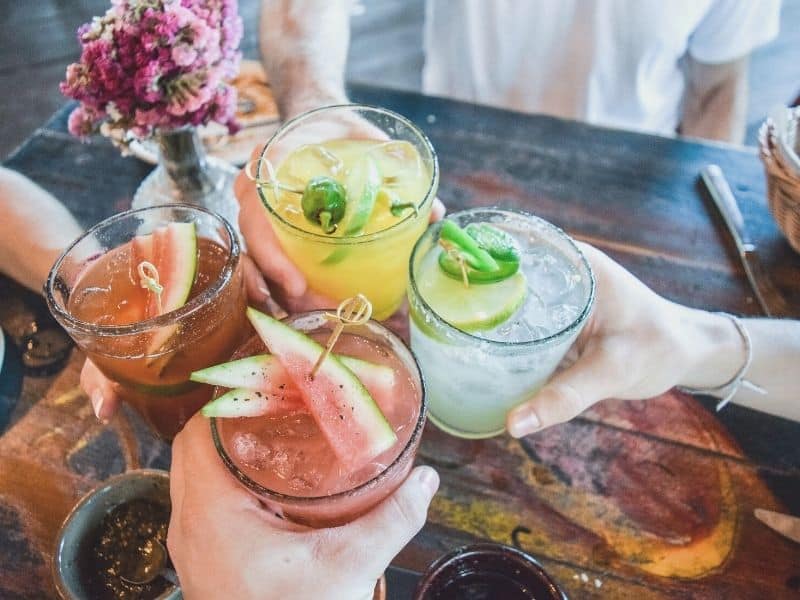 Need I say more? The Avocado Margarita Festival is held the second Saturday of September and if you haven't settled on dates yet, I highly recommend you plan your trip to coincide with this awesome event.
To clear things up, this is not an avocado-flavored margarita festival (although that is probably one of the drink options).
This is a food festival with avocado attributes, a drinking festival with every flavor of margarita you can think of, a music festival with lots of live music, and a good old-fashioned street festival where you can get your shop on.
And one lucky winner will score a year's supply of avocados! (To be delivered monthly. Don't worry, you won't have to figure out what to do with a year's worth of avocados. Although you could probably make the world's largest bowl of guacamole.)
But in all seriousness, you won't be enjoying just any avocado-infused meals while you are attending the festival!
In fact, the city's best chefs spend weeks creating the most amazing dish possible in hopes to win the competition for the tastiest meal, so get ready for a slew of mouth-watering options.
From classic margaritas to "build your own" and everything in between, you can lose your mind with the endless variety of options.
But if you are not a margarita fan (gasp), have no fear as there are plenty of other cocktail and beer options scattered amongst the many drink stalls. (There is even a hard kombucha section!)
Bust a move on the massive dance floor or simply enjoy the large variety of sounds from over six bands as you walk amongst the many local vendors scoring unique keepsakes to bring back home.
Watch for local wildlife.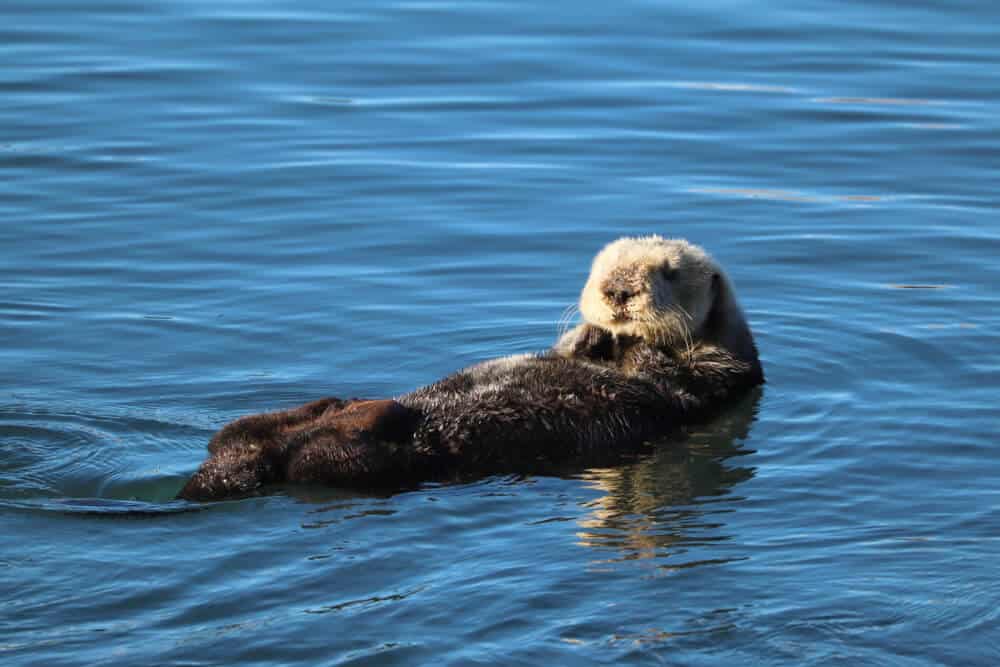 You don't have to try very hard (or at all really) to spot wildlife in Morro Bay but there are definitely certain areas that see more cute critters than others.
One of the most frequent and beloved sightings in Morro Bay are otters… just doing what otters do best: being absolutely adorable.
And I mean… You can't not smile when looking at a playground of adorable otters! So get ready for your cheeks to be burning at the dock located in front of the Great American Fish Company.
If you happen to get lucky enough to be visiting when the otters are in their mating season, you will be blessed by the magical sight of baby otters nestled in their mothers' arms.
Sea lions are also in abundance, so if it looks like those rocks are moving out in the distance or that bark doesn't sound quite like a dog, then there is definitely yet another herd basking in the sun.
You may have noticed that I mentioned the Morro Estuary Natural Preserve, but if you didn't know, an estuary is a sanctuary for birds.
So it would only make sense that there are a large variety of birds that can be found here!
Stuff your face with seafood.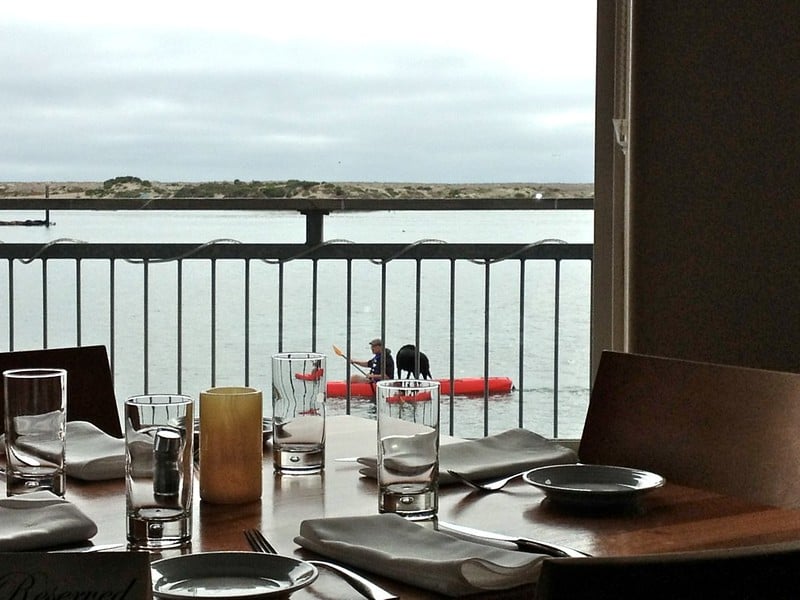 Okay fine, you can get seafood at just about every restaurant in Morro Bay, but there are a handful of places that truly stand out amongst the rest and you need to know about them.
Known for having some of the freshest and tastiest seafood in town, Tognazzini's Dockside even goes a step further by offering an adorable outdoor patio where you can bring your furry friends and listen to live music while you dine.
Take things up a notch with a glass of wine from The Galley Seafood Bar and Grill's extensive wine list as you marvel at the exceptional ocean view and pick from a menu filled with fresh catches from local fishermen.
But make no mistake. If you are looking for a bowl of piping hot clam chowder, you have to go to Dutchman's Seafood House where they have been perfecting the dish since 1986.
Planning for an elegant date night? Look no further than Windows On The Water which does in fact have windows on the water, so you can enjoy the unparalleled views of Morro Rock and Morro Bay.
Just don't forget to make reservations because everyone is dying to try their award-winning halibut!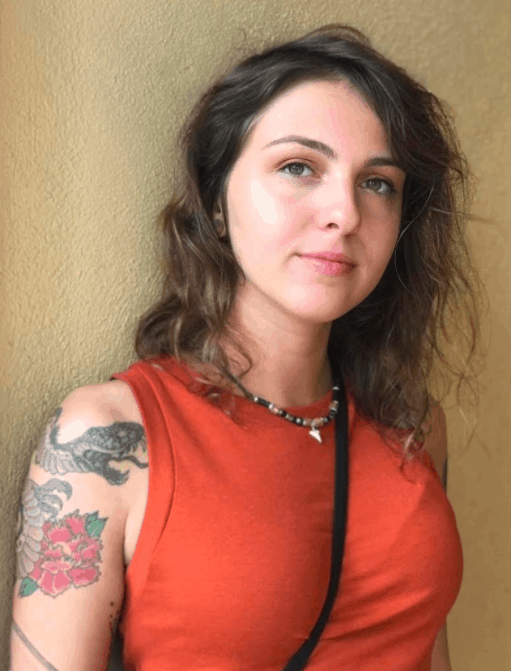 Nicole is a freelance travel writer who lives in Upstate NY, but her heart lies in the beautiful state of California. She loves to travel to new destinations, eat at all the best local restaurants and explore all the world has to offer. Her favorite place is just about anywhere where snow-peaked mountains can be seen in the distance.