San Luis Obispo has the bragging rights of being called one of the "Happiest Places in America"!
Tucked right California's Central Coast region, San Luis Obispo is located halfway between Los Angeles and San Francisco. If you plan on making that bucket list road trip down the Pacific Coast Highway, you must stop in this cool city along the way!
San Luis Obispo, also known as "SLO" by the locals, is a dynamic place to explore. SLO has great eateries, a few very fun neighboring towns, and a variety of outdoor adventures to choose from.
Your SLO explorations can bring you to wine country, the beach, or downtown in a matter of minutes: here are the best things to do in San Luis Obispo for every kind of traveler.
Things to Do in San Luis Obispo
Book a room or eat a meal at the eclectic Madonna Inn.
SLO has something for everyone. You could rent an Airbnb near Avila or Pismo Beach, stay in a quaint bed-and-breakfast, or do San Luis Obispo in a classic way by staying at the iconic Madonna Inn!
The Madonna Inn is a landmark that is on every Californian's bucket list. It is such a unique place to stay that has a ton of personality that you will notice right when you walk through those pink doors!
The original owners, Alex and Phyllis Madonna, created this place with fantasy in mind, hoping to strike a balance between luxury and comfort. They wanted their guests to feel comfortable, but also completely wowed at first sight… and the Madonna Inn strikes that exact balance.
Every single room in the Madonna Inn is decorated completely differently. It would take you 110 trips to see each eccentric style and theme! Some of the unique room names include the Love Nest, Yosemite Rock, Austrian Suite, and Bridal Falls… and this is just a small sampling of the rooms!
The Madonna Inn also has a bakery that is famous for its pink champagne cake and an incredible restaurant, Alex Madonna's Gold Rush Steak House, with a fully pink dining room!
Editor's Note: We'd always stop here for a meal on the way down the PCH to visit my family in Santa Barbara — or if not for a full sit-down meal, at least to sneak in to use some of the best bathrooms you'll find all down the coast!
Insider Tip: Don't forget to grab a famous "goblet" in your favorite color from their gift shop to mark your visit if they're available: they are a big deal to score as a souvenir and are often sold out!
Note: This post contains affiliate links, which earn me a small commission at no extra cost to you if you make a purchase using one of these links. Thank you for supporting this free content!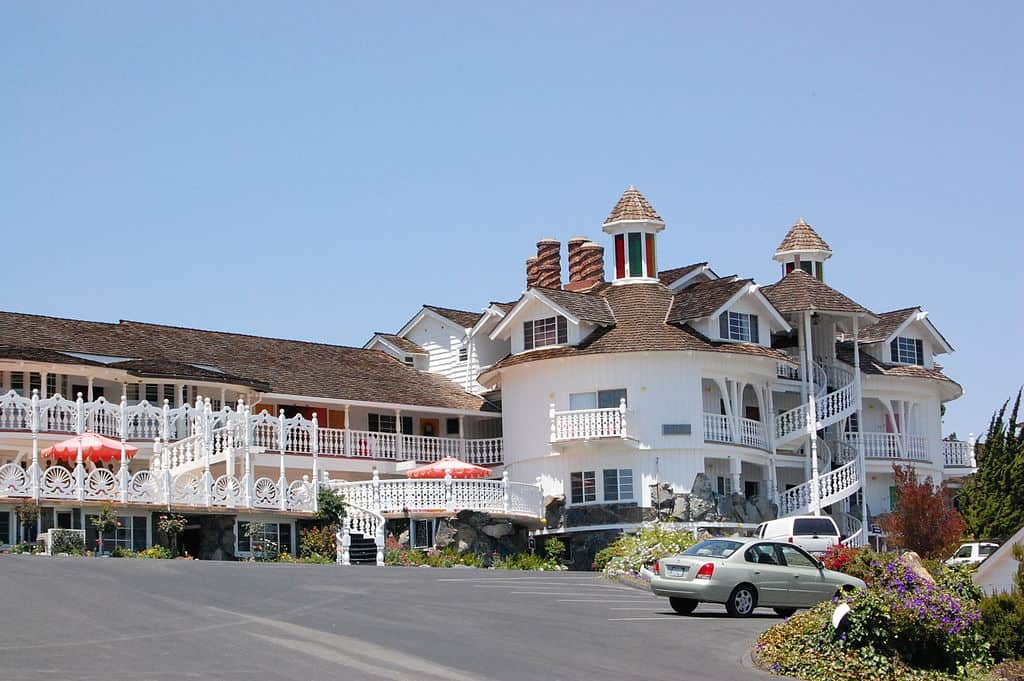 Visit SLO's wine country.
San Luis Obispo is known to have some of the most pleasant climate in the United States, with 285 "mostly sunny" days per year. Since temperatures rarely rise above 90 degrees or dip below freezing, this place is a dream.
This superb climate and nutrient rich soils make nearby Edna Valley the perfect place to grow cool-climate grapes for producing award-winning wine.
There are two main wine countries in the SLO area to choose from:
The big wine country destination is in nearby Paso Robles, named the "Best Wine Region in the West" in 2016 by Wine Enthusiast magazine! Paso Robles is about a 30-minute drive from SLO and offers incredible wine tours and tastings. Paso Robles even hosts a major annual Wine Festival in May, so don't miss it!
The other main wine area is the San Luis Obispo Wine Country which consists of Edna Valley and Arroyo Grande.
Edna Valley has over 27 tasting rooms, each having a unique character and incredible views of the scenic valley, rolling hills, and grand mountains.
One of the most popular wineries in SLO is the Edna Valley Vineyard that boasts an 18 Barrel Flight experience that features 3 of their most exclusive and tasty wines!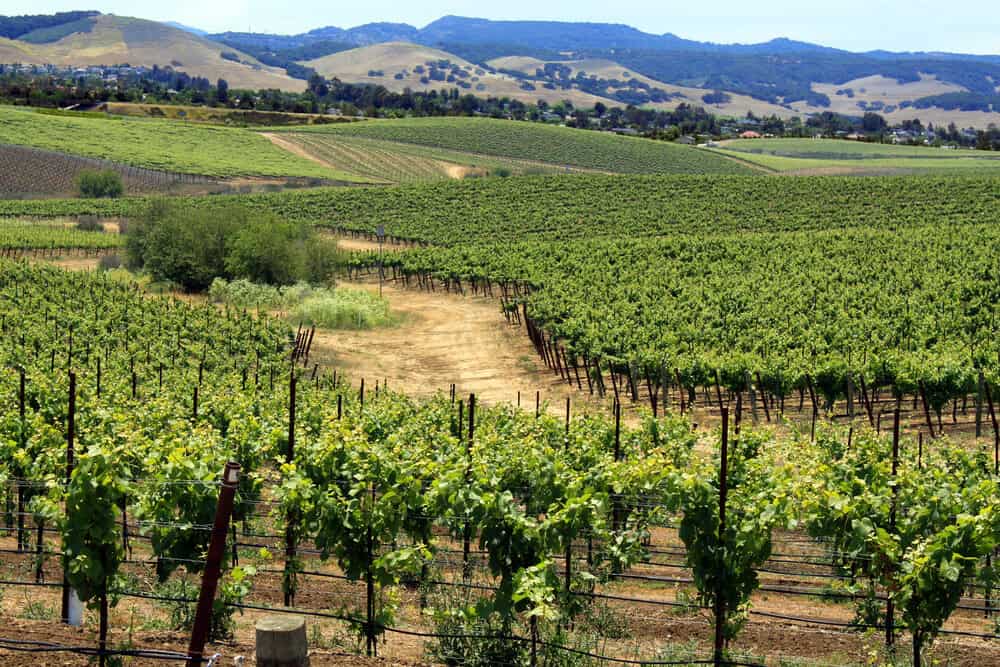 Enjoy farm-to-table fare.
With incredible climate and growing conditions, SLO is a leader in agriculture as a way of life.
You will likely run into a roadside produce stand on your drives around town. Be sure to make a stop, talk to the farmers, and ask questions. They might even invite you to their farm to see things up close!
If you are lucky enough to stay in SLO over a Thursday night, you must head to the Downtown SLO Farmers' Market on Higuera Street between Osos and Nipomo streets.
This is an experience that every family member will enjoy and is truly a must-see gem of the SLO area!
The SLO Farmers' Market has been open since 1975 every Thursday from 6-9 PM. You will find famous BBQ, fresh produce, and live entertainment. It is a mix of street fair, delicious produce, and mingling with the local farmers.
Note: The Farmer's Market is currently not operating at this time due to Covid-19.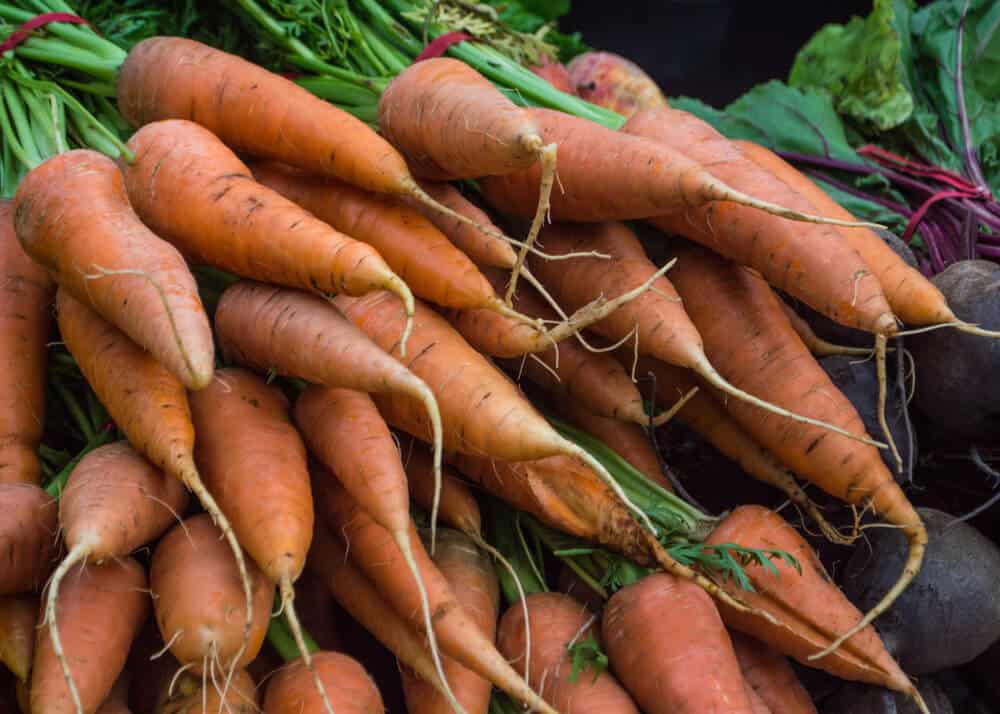 Check out the quirky Bubblegum Alley.
After exploring all the nutritious food at the farmers market, don't forget to walk by Bubblegum Alley on Higuera Street! It is a 70-foot-long alley that is lined with chewed gum, stuck up a 15-foot-high wall!
This alley is most definitely not as appetizing as the beautiful produce of the market, and definitely not for the germaphobe, but it's an entertaining thing to do in SLO nonetheless.
Bubblegum Alley is still a pretty quirky stop that makes for some great selfie-taking to post to Instagram for fun memories of your trip. The alley is located halfway between Garden Street and Broad Street on Higuera.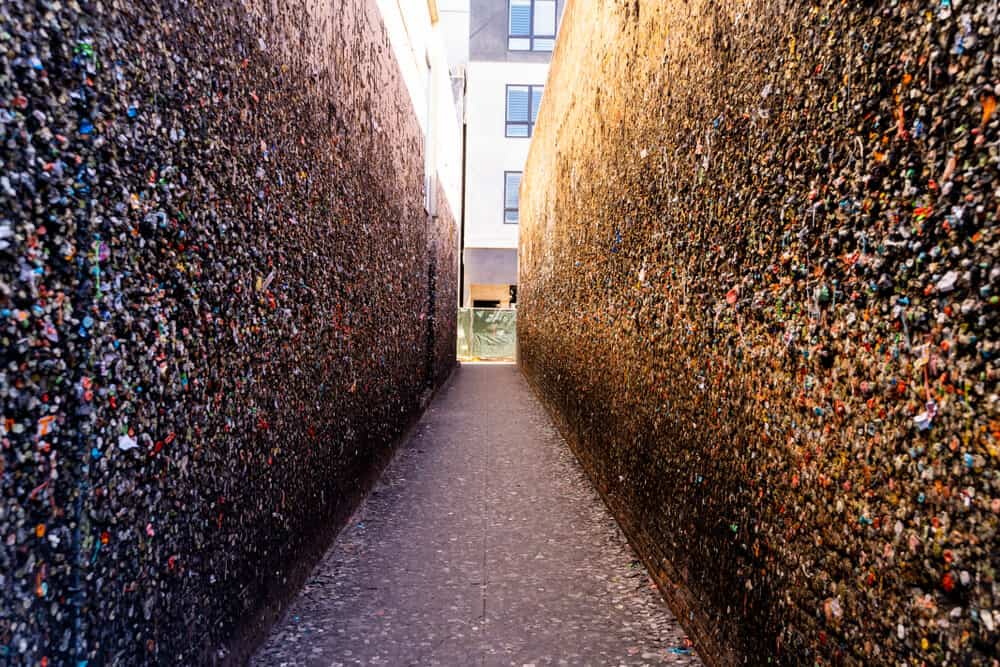 Eat like a local.
San Luis Obispo is a hot spot for outstanding culinary adventures with many of our nation's top chefs at the helm.
When you put together the city's unique local elements, you see why this place is so special for food: coastal fishing bringing in fresh seafood, a climate perfect for both agriculture and wine, and a stunning location influenced by its position between San Francisco and Los Angeles.
Farm-to-table eating and supporting local farmers are a regular way of life in San Luis Obispo, so hit the local restaurant scene to do just that.
Try Luna Red for some delicious crispy rockfish tacos and some flavorful paella. Alternately, make a reservation for San Luis Obispo's Best Restaurant of 2020, Novo Restaurant and Lounge.
Novo is the big sister to Luna Red and has held the honor of having the best outdoor dining in SLO for the past 17 years due to its location right on San Luis Creek!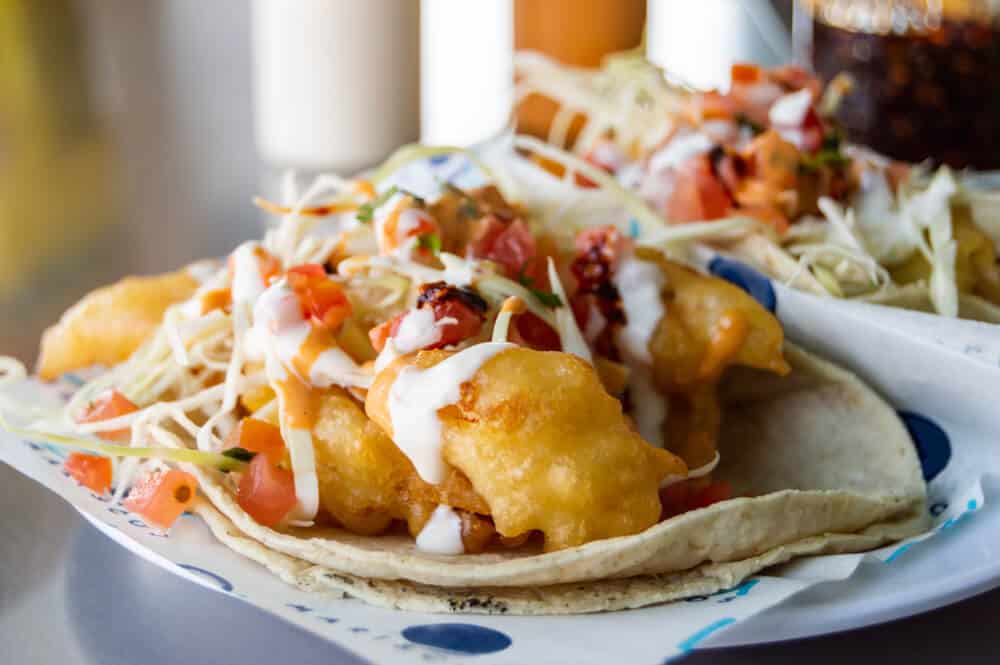 Visit the historic Mission San Luis Obispo de Tolosa.
One of the most popular tourist attractions in San Luis Obispo is the Mission San Luis Obispo de Tolosa, built in 1772.
California has a series of missions that consist of 21 historic religious outposts that were established by Franciscan missionaries from Spain from 1769 to 1833, in the attempt to convert California's Native population to Christianity.
Even you are not a history buff, it is still a gorgeous place to visit and get a glimpse of 18th-century Spanish religious architecture. The Mission is beautiful to photograph, with impressive gardens and a unique architectural style.
However, frankly, the missions do not do the best job of grappling with their colonial legacy and the violence — both cultural and physical — done to the Native populations of California, which the missions represent.
For perspective on this, I suggest reading this excellent academic take on the missions by Tizziana Baldenebro.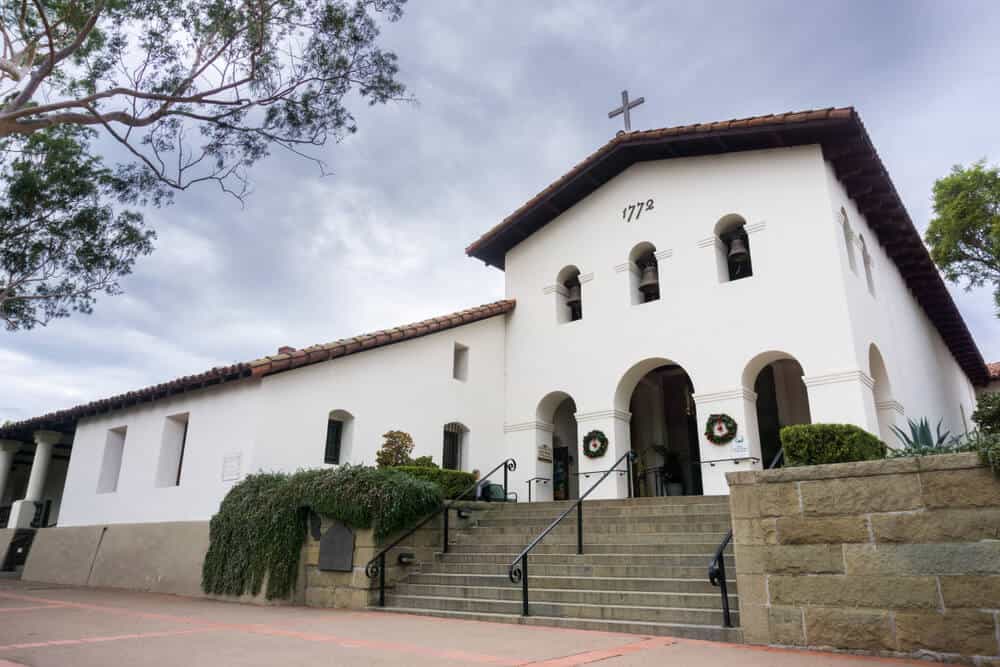 Head to the nearby beaches.
There are so many gorgeous views and unique coastline spots less than a half hour's drive from SLO, so you can get out there and explore all without driving too far from town!
The beautiful Avila Beach is about 10 miles from the heart of SLO. It's the perfect dog-friendly spot if you are looking to picnic, enjoy a bonfire, or enjoy the pier and promenade area and stroll by all the cool shops.
This charming beach town even has its own Central Coast Aquarium for some family fun!
Alternately, the Pismo State Beach is a short 15-minute drive from SLO and has a lively downtown and pier area for you to explore.
This 17-mile-long beach features beach volleyball and has some excellent waves to try your skill at surfing or boogie boarding.
You can even camp on one of the 103 campsites on the Pismo State Beach North Campground which is located on Dolliver Street!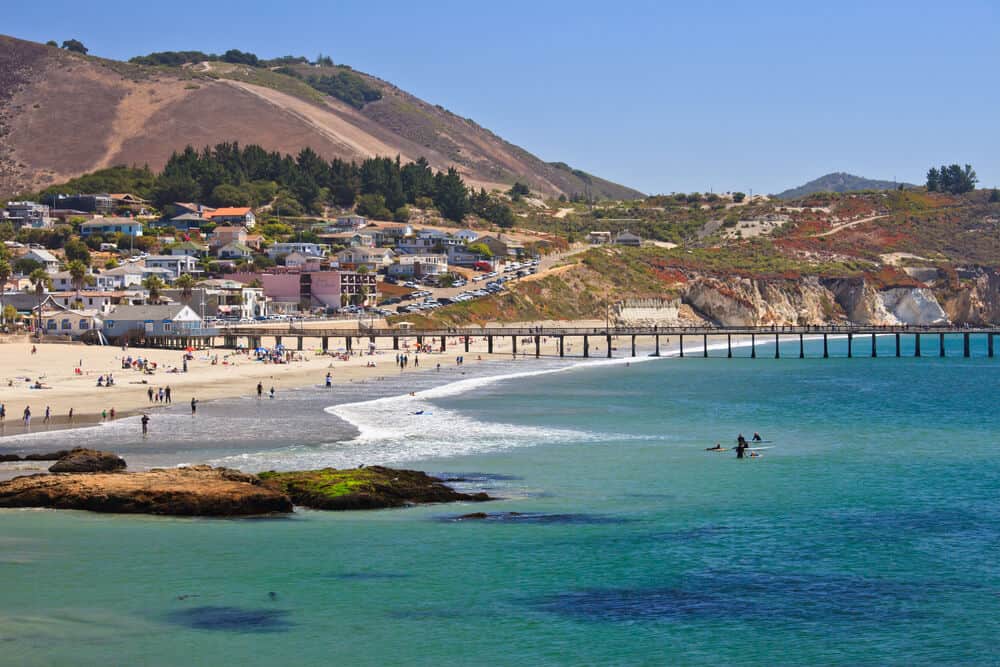 Visit the otherworldly Morro Rock.
If you've ever seen pictures of California's Central Coast, you have likely seen a picture of the iconic, enormous Morro Rock sitting just off the coast.
If you want to drive a little bit further to see the famous landmark, head to Morro Bay, about a 25-minute drive from the SLO area.
This photogenic rock sits within Morro Bay State Park, which is home to many lagoons, trails, and a bird-rich saltwater marsh area. It's great for hikes, bird-watching, and picnics.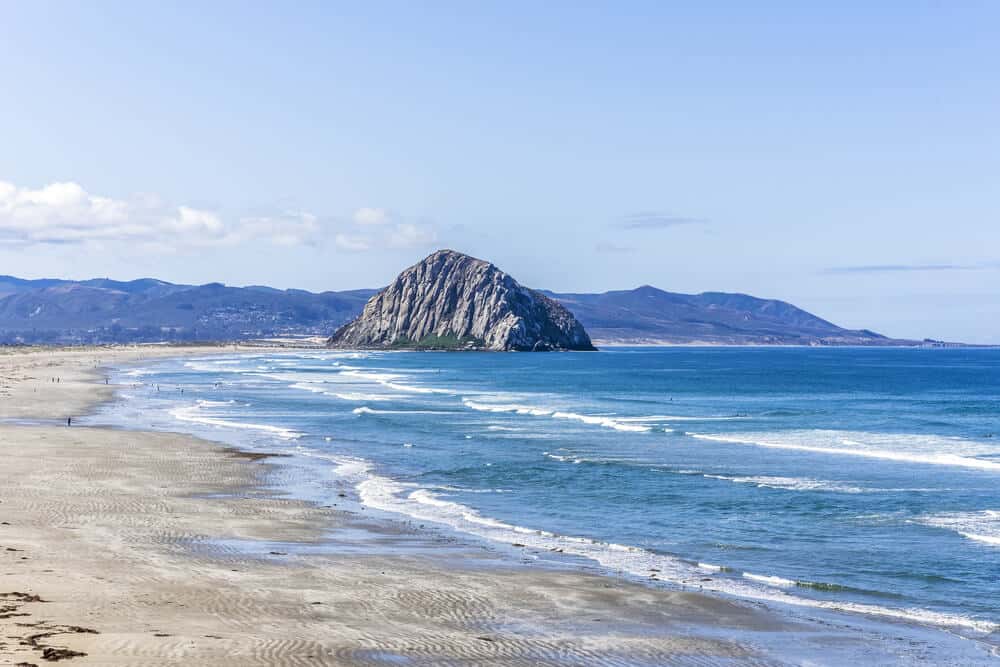 Where to Stay in SLO
The forever-classic Madonna Inn offers an impossible variety of quirky rooms, each with their own personalized theme and decor.
Don't miss visiting the hot pink steakhouse or walking around their gorgeous grounds!
Each room has its own style, so be sure to check your room's photos before you book — that's all the fun!
I don't know why you'd want to stay anywhere else, but if you can't get a room at the Madonna Inn for some reason, I'd suggest the beautiful yet minimalist San Luis Creek Lodge for great design in a wonderful location.
***
San Luis Obispo will give you a taste of California living with a charming small-town feel. Trust me: this trip down the PCH is well worth your time!
Pin This Guide to Things to Do in San Luis Obispo!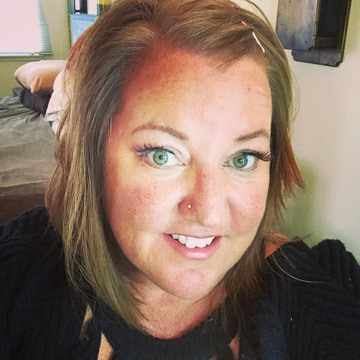 Rosie Queen is a travel blogger and creative writer who grew up on the South Side of Chicago. She has spent time living in Indianapolis, Dayton, New York City, London, Orlando, Boston, and most recently, Huntington Beach, CA. Rosie has been blessed to travel most of her life while being deeply involved in the performing/pageantry arts. She has enjoyed adventures in 48 U.S. states, Japan, Thailand, Mexico, Paris, London, Canada, and the Caribbean. Rosie is obsessed with her dogs, color guard/marching band, national parks, and traveling.