San Francisco is one of the most beautiful cities in America, from the Golden Gate Bridge to the Bay.
With all the gorgeous sites to see, it's not surprising that it's one of the best towns for people who want to sweep that special someone off their feet.
Date night in San Francisco can mean a wide range of different things, from the no frills to the downright decadent.
Finding the perfect San Francisco date idea for you and your partner can be rough if you don't know where to go!
These options below are perfect for fans of a little California romance – from the obvious to the unexpected.
Take a stroll down the Golden Gate Bridge.
The Golden Gate Bridge is one of the most iconic pieces of city architecture in the world, and it's absolutely ah-mazing for a date night stroll. The bridge's pathways are well-lit friendly for casual walks as well as bikers.
A big perk of walking down the Golden Gate is that you get amazing views of the bay, not to mention some of the best sunset views out there.
If you're into Insta (or your partner is), grab your phone or camera — you'll love having photos of this special SF date night!
Note: This post contains affiliate links, which earn me a small commission at no extra cost to you if you make a purchase using one of these links. Thank you for supporting this free content!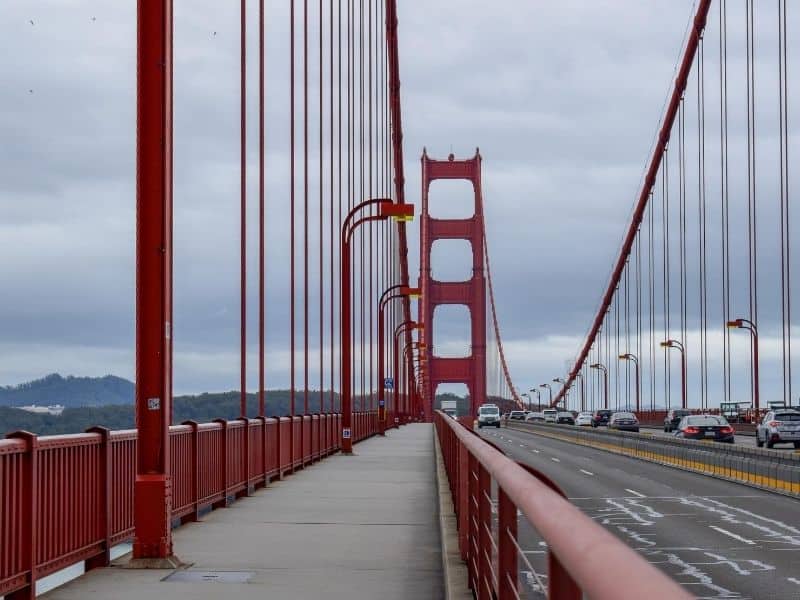 Go swing hunting.
Did you know that there are a bunch of hidden swings throughout the city of San Francisco?
It's true, and those swings can be found everywhere in the city—most commonly in public parks. They are open secrets and make for a fun treasure hunt — the perfect romantic thing to do in San Francisco.
You can often find swing locations online to start your hunt, but the only way to make sure you know they're there is to discover them yourself.
After all, some are removed from time to time… and others are still being built! But that what makes part of the fun.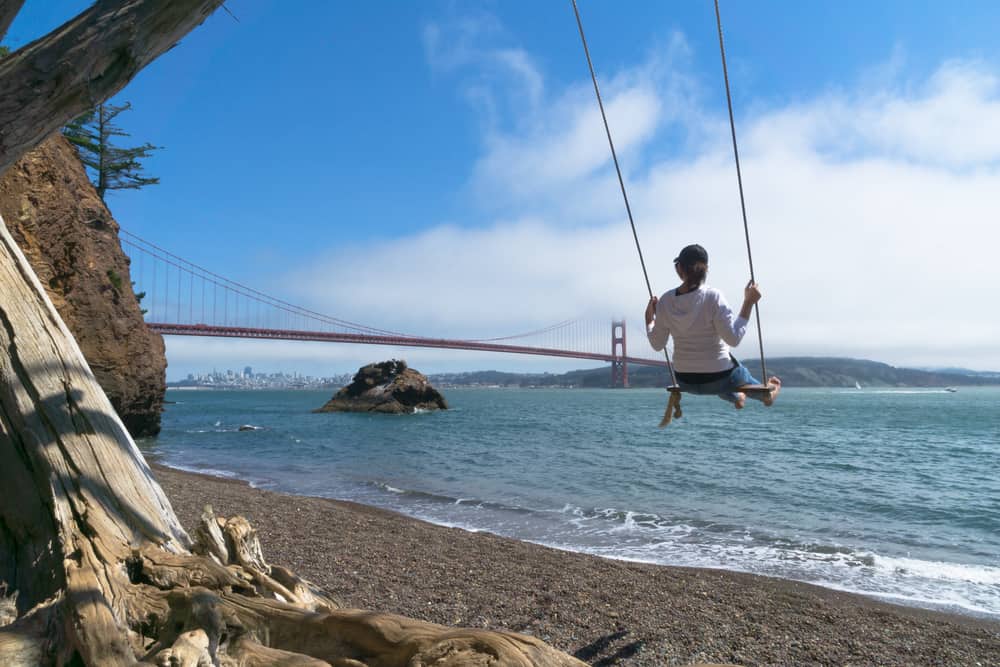 Go wine tasting and redwood walking.
If you're looking for a daytime date idea that gets you out of the city, treat your partner to a full day exploring beautiful redwoods in Muir Woods followed by wine tasting in Napa Valley.
This full-day tour picks you up in San Francisco and whisks you away to the redwood trails of Muir Woods followed by a whirlwind tour through Wine Country.
You'll visit the charming small town of Glen Ellen, the bustling area around Sonoma Plaza (where you can enjoy lunch at a restaurant or BYO picnic lunch), Napa, and Schellville.
It includes tastings at three wineries in distinct regions of Wine Country, so you'll get to experience a nice sampling of the different terroirs that make up Sonoma and Napa.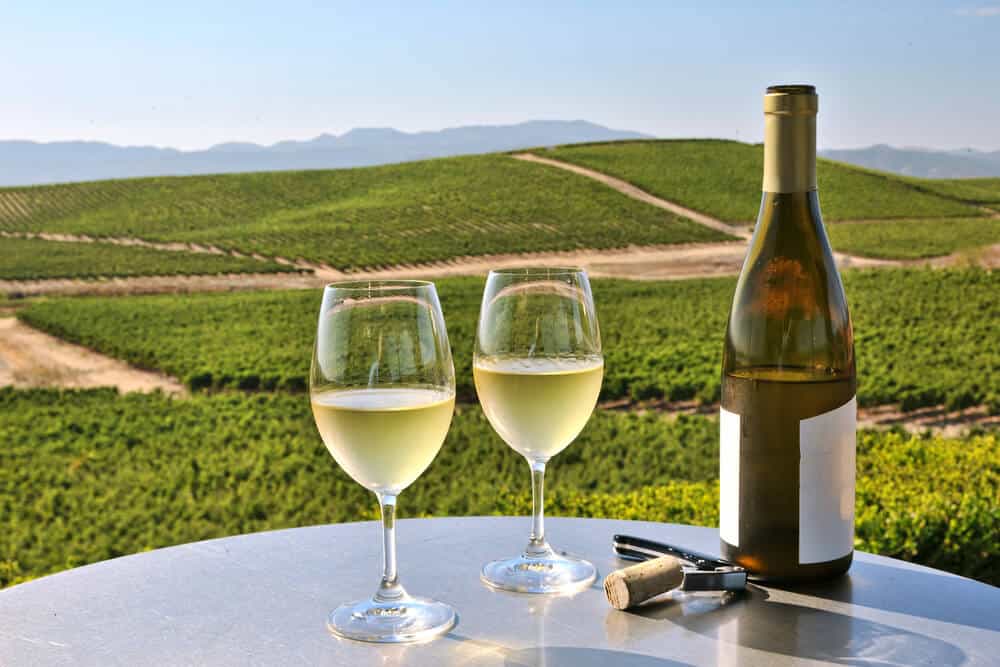 Hit up Black Sands Beach.
Black Sands Beach is technically located just across the Bay in Sausalito, but trust me, it's worth crossing the Golden Gate for this!
It's famous for its dark-colored sand (which recalls an Iceland vibe) and its epically romantic vibes. The beach is one of the most popular places to go for a date near San Francisco, simply because it's secluded and makes for a memorable time.
Like most other places that have a beachy vibe, the swimming is great and it's a perfect place for a romantic picnic and sizing each other up in your swimsuits!
Tip: If you both want to be in your birthday suit, the area to the left of the stairs is clothing-optional! Just make sure your date's on board.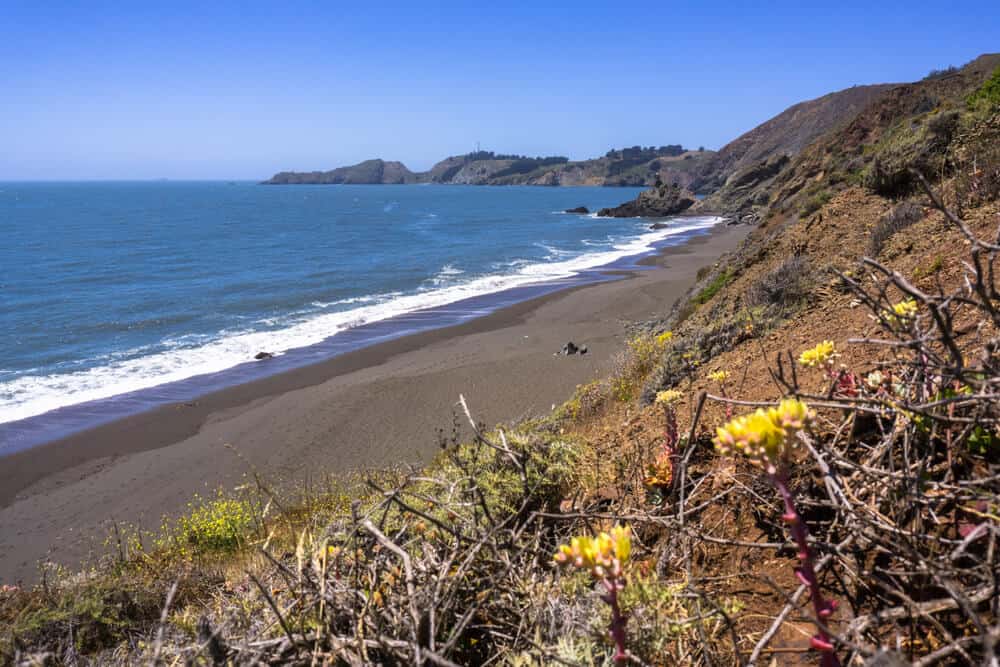 Check out the bargains at TreasureFest
Does your date love to thrift shop? If so, TreasureFest will be their bargain-hunting destination of choice.
TreasureFest used to be the Treasure Island Flea Market, but it's since relocated to the Marin Center in nearby San Rafael.
Along with pretty neat and quirky vendors, you can also get some good deals. Oh, and nearby? Plenty of great food vendors to pick from!
Note: TreasureFest is currently closed for Covid-19 reasons — we'll let you know when it resumes!
Eat your way through the Farmer's Market at the Ferry Building.
San Francisco's weekly Saturday farmer's market at the Ferry Building is legendary!
Though there are tons of veggie and fruit stands at the market, don't assume that you're just there for the produce. The Ferry Building is an artisan food market hall with tons of options,
Along with tons of farm-raised veggies, honey samples, and eggs, you can also get some local favorites, like Blue Bottle Coffee, Acme Bread, Cowgirl Creamery, and Dandelion Chocolate.
It's definitely a change from the typical restaurant date people expect to have!
Want to make it even more romantic? Pack up all you want for a picnic and bring it to one of San Francisco's many piers along the Embarcadero for a delicious picnic by the water… just be sure to bring a jacket (or be willing to share yours!).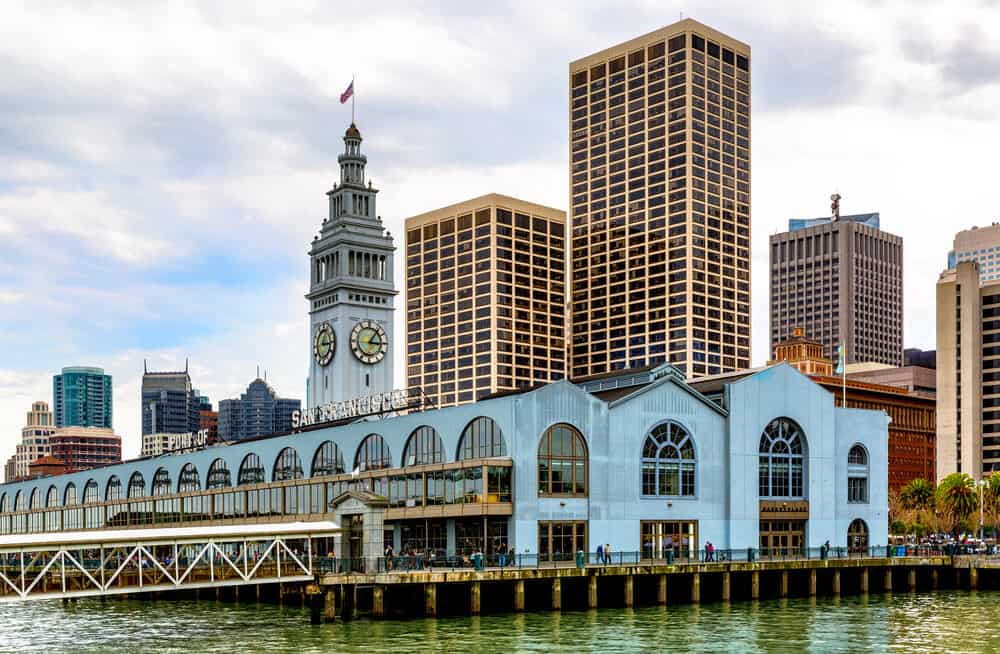 Do an experience on Airbnb.
You don't have to be an out-of-towner to enjoy an Airbnb experience in San Francisco. In the past couple of years, the app started to offer up experiences ranging from wine tastings to photoshoots to hidden city tours and more.
You never know what Airbnb vendors will come up with in a city as wild and crazy as San Francisco.
My picks? Drag Queen Bingo, a hiking and meditation tour of the Presidio, and taking a pottery class together (extra points if you act out the scene from Ghost… or don't, that sounds like a great way to make everyone uncomfortable!)
Go to After Dark at the California Academy of Sciences.
This museum. inGolden Gate Park is normally filled to the brim with younger kids, all of them screaming and shrieking.
If you want to avoid kids (and who doesn't during date night?) and enjoy interesting stuff at the museum, go to an After Dark event!
These nighttime events let you sip on cocktails, chat with other adults (21+ only) and also tour the museum under a different theme every time!
Note: These events are temporarily closed due to Covid-19, but check the website here to see when they return!
Take a tour of Alcatraz.
Alcatraz is one of the most notorious defunct prisons in American history, primarily because "the Rock" was nearly impossible to escape.
Fans of true crime might also know that this prison held notorious gangster Al Capone, while horror fans are aware that this prison is reportedly haunted.
Both daytime and nighttime tours are available, so if your date is up for a walk on the dark side, this is a good way to do it. Who knows? Maybe Capone's ghost will photobomb a shot!
Plus, many Bay Area locals have never been to Alcatraz, so even though it seems lke a touristy thing to do, it may be the first time for either you and your date!
There are several combo ticket options that allow you to do a city tour plus visiting Alcatraz — these are easier to book in advance than Alcatraz tickets on the official website, which often sell out many weeks in advance, such as an Alcatraz + City Tour or an Alcatraz + Muir woods tour.
If you're planning a more impromptu date, I strongly suggest this Golden Gate Bridge cycling tour combined with an Alcatraz ticket!

If you don't want to go inside Alcatraz, but you do want to learn the history and see it from the water, there's also this Escape from the Rock 90-minute bay cruise.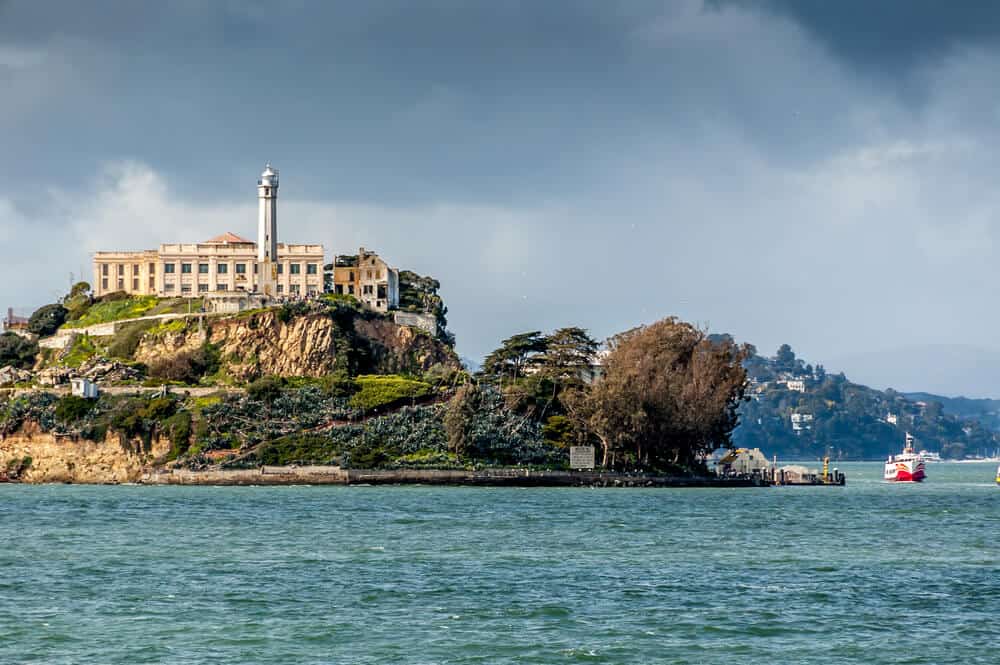 Do a food crawl at North Beach.
North Beach might be more noted as a historical district, but don't be fooled: it's not all Victorian buildings and 1920s architecture. This district has a great array of different restaurants and hotspots that you can check out!
Food fans who want to try out a lot of different foods, check out the newest trendy restaurants, and maybe grab a cocktail or two would be wise to try this out.
When doing a food crawl, make sure that you order smaller plates that you can share — that's most of the fun!
Pretend you're in Italy in the Palace of Fine Arts.
Want to give your date the romance of Rome, but don't quite have the budget to do so? The Palace of Fine Arts is a good substitute!
The Palace of Fine Arts is an open-air palace that has remarkably Roman-inspired architecture, complete with a rotunda and colonnades.
Don't go expecting art per se, but rather beautiful architecture on a gorgeous manmade lake (where turtles often poke up their heads to say hello!). It's a great picnic spot.
If you want to get some really good photos together, we suggest visiting here during the golden hour. The gold from the sun really enhances the material that the rotunda is made of, and it'll make your couple's photos look stunning!
Hit up an Off The Grid event.
No, we're not suggesting that you party out in the middle of woods with a bunch of hippies… unless you're into that.
Rather, Off The Grid is a food truck organization that's devoted to helping food trucks spread the delicious goodness that they're meant to offer!
An Off The Grid event features a slew of San Francisco's top food trucks, all within walking distance of one another. It doesn't get any more California than a food crawl via everyone's favorite mobile restaurants.
Deep dive into Chinatown.
San Francisco's Chinatown is one of the best in the world, especially when it comes to unique architecture, cultural hotspots, and historical significance.
People who want to wow a date with their culinary prowess can flaunt their knowledge of traditional Chinese dishes, while fans of photography can usually find a great place to snap a shot anywhere here.
There is no right or wrong way to enjoy this district! It's all great, and there's always something new to discover here.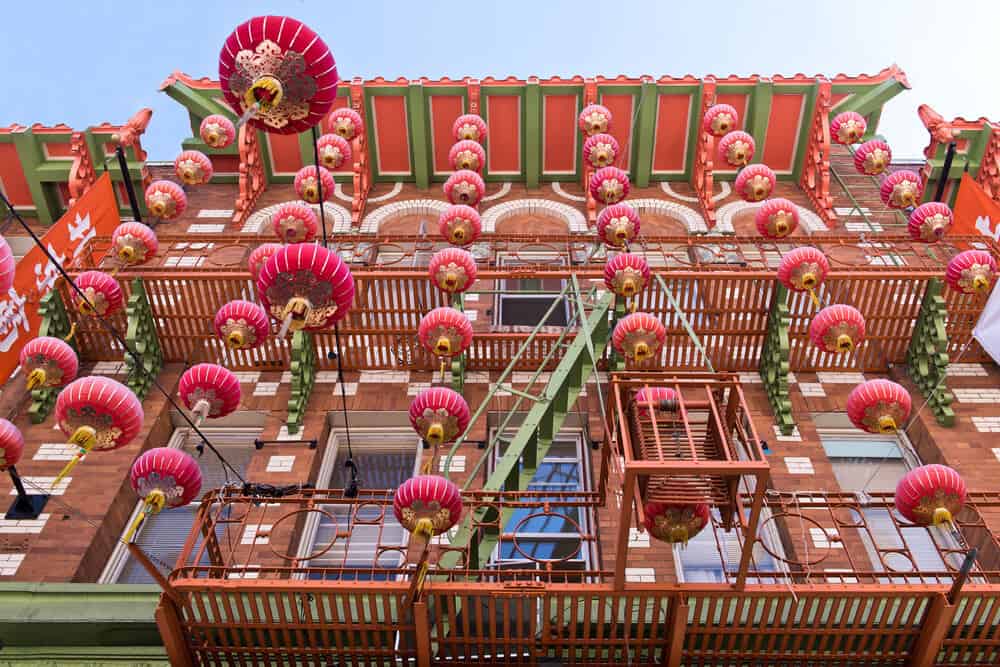 Wine and dine your partner in the park of your choice.
Here's something that you need to be aware of in San Francisco: this is one of the most lenient cities in America when it comes to public drinking (and, as the ever-present aroma of a particular inhalable greenery in the air will suggest, a certain other substance as well).
In other words, the trope of wining and dining a beautiful date in the park can be a legitimate thing here – particularly during these Covid days.
There are plenty of picnic baskets that come with a wine carrier built into it. Isn't it about time you got to use that neat little perk?
Even if you don't drink, there's still something romantic about sharing sparkling apple cider in a glass with your date with a great spread of local San Francisco treats.
Dolores Park in the Mission is a perennial favorite picnic spot, but there are so many other great parks in the city, such as Crissy Field and the Presidio.
Booze it up at Anchor Brewing.
Craft beers are all the rage, and that's good news for people who love to sip some good suds. Anchor Brewing's brewery has been around since 1896 and remains a San Francisco hotspot because their beer is just so darn good.
You can take a tour of the brewery and learn about how they make their beers, or you can check out their sips at their public taps. Truthfully, most people love the tour simply because you actually feel like you're walking through history here.
If you're smart and book ahead, you might be able to book a time that syncs up with food trucks. Since they have a deal with the brewery, they make it possible to do tastings and also get those delicious food truck tacos everyone loves!
Book a cruise around the bay.
Let's just face it. The San Francisco Bay looks incredible and is one of the sights that people travel from around the world to see. Rather than just look at the Bay, why not experience the bay through a sea-faring fun time? It's doable — and far less expensive than you likely think!
The cool thing about booking a cruise around the bay is that you get a lot of options. Want to get a 2-hour tour? Great, it's done. Luxury sunset catamaran? All yours.
What if you want to split a brunch buffet while the cruise ship makes its rounds on the bay?
Also doable, though you might want to check if your date's good on boats — motion sickness on a date isn't exactly mood-setting!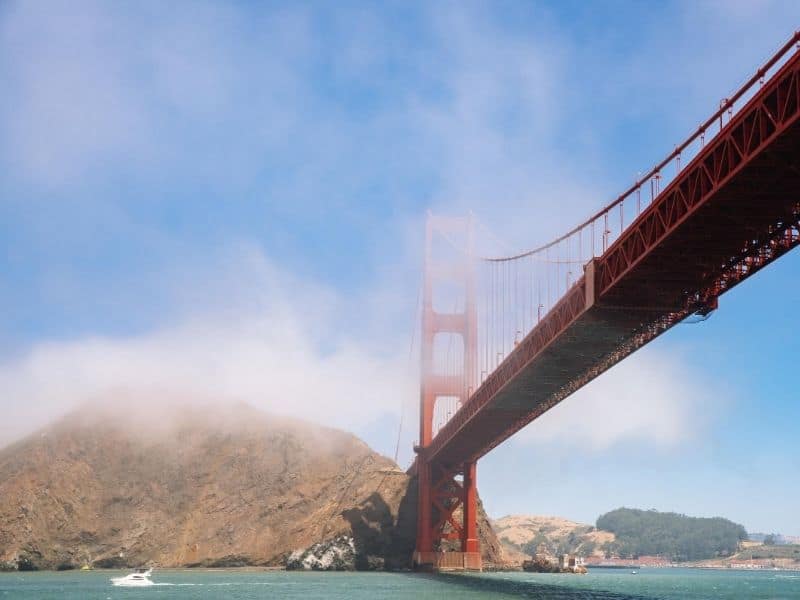 Pin This Guide to San Francisco Date Ideas!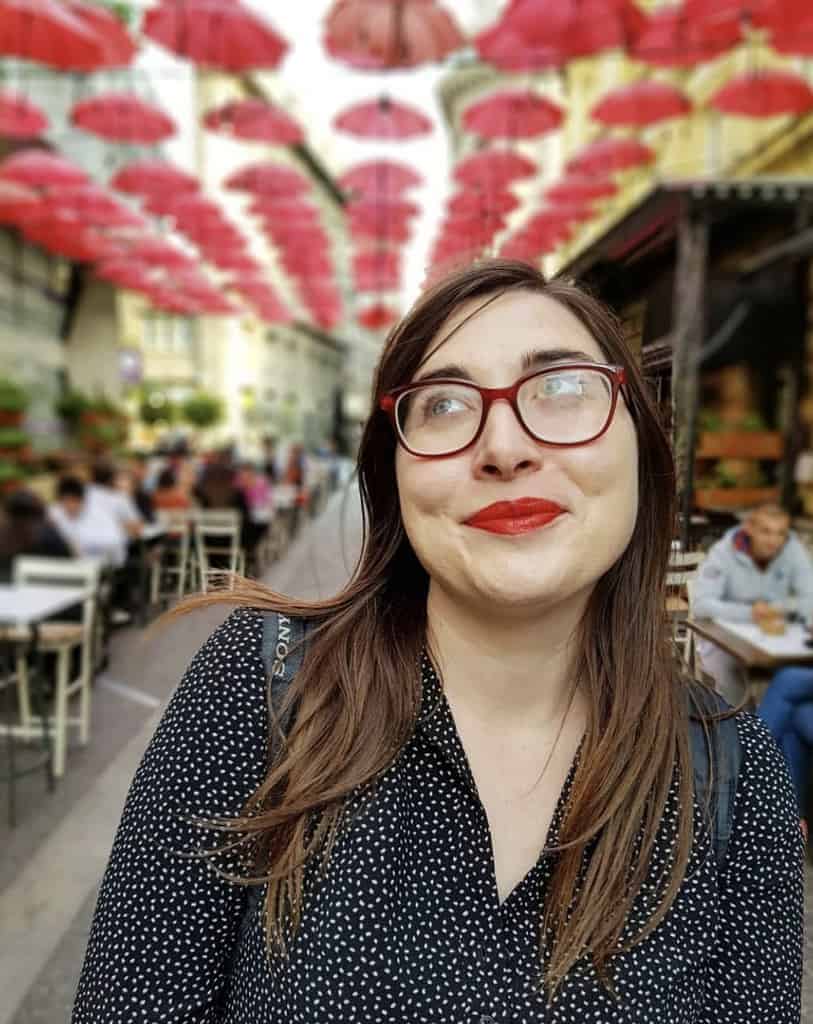 Allison Green is a travel blogger, writer, and podcaster who grew up in the Bay Area of California. She has spent time living in New York, Prague, and Sofia, but has returned to live in the East Bay. She has traveled to 60 countries before the age of 30 while running several digital travel publications. Her writing and podcast have been featured in Forbes, CBC Canada, National Geographic, the Huffington Post, and CNN Arabic, amongst others. She's obsessed with bouldering, houseplants, other people's pets, and anywhere she can see the ocean.