Nicknamed the "Happiest City in America", it doesn't take long to figure out how San Luis Obispo earned its title.
If you can't feel the bliss the second you walk within city limits, a weekend in San Luis Obispo ought to do the trick!
For starters, San Luis Obispo is perfectly located between the bustling cities of San Francisco and Los Angeles, so it makes for a great stop amongst a lengthy road trip.
But this isn't one of those places where you can grab a bite to eat and keep pushing — San Luis Obispo will pull you in for a while.
The city of SLO is filled with exciting activities, adorable lodging accommodations, and an endless supply of gourmet eateries, so it is only right that you bunker down for a weekend in SLO to take it all in!
Where to Stay in San Luis Obispo
Apple Farm Inn
Note: This post contains affiliate links, which earn me a small commission at no extra cost to you if you make a purchase using one of these links. Thank you for supporting this free content!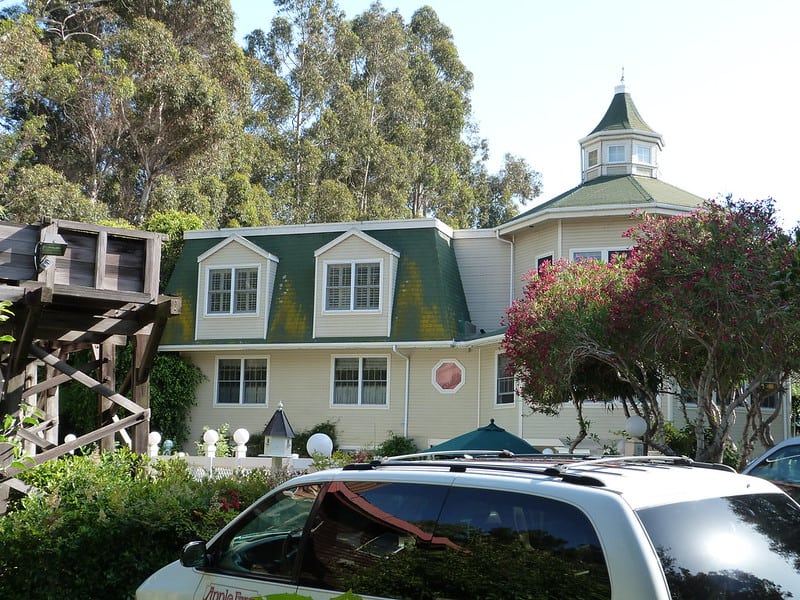 You will love everything about the Apple Farm Inn and the good news is that there are accommodations available to suit every budget!
In fact, the farm is broken down into three unique buildings that boast their own special qualities.
The Apple Farm Inn will keep you cozy with their gas-lit fireplaces, the Trellis Court Motel is the perfect place to rest your head at an affordable rate, and the Millhouse is available for people who want to take things up a notch (think soaking tub and private balcony.)
Not to mention the fact that one of the tastiest restaurants in San Luis Obispo is located right on-site and offers up a seasonal menu that will make it impossible to skip breakfast.
Have your pick between the famous Apple Farm Buttermilk Pancakes or a savory biscuits and gravy. Not feeling the breakfast menu? Build your own breakfast burrito or opt to dive right into lunch with a mouth-watering Apple Farm burger.
Just make sure to swing by the marketplace during your stay because this farm creates everything from scratch including soaps, juices, jams, wines, and so much more!
Madonna Inn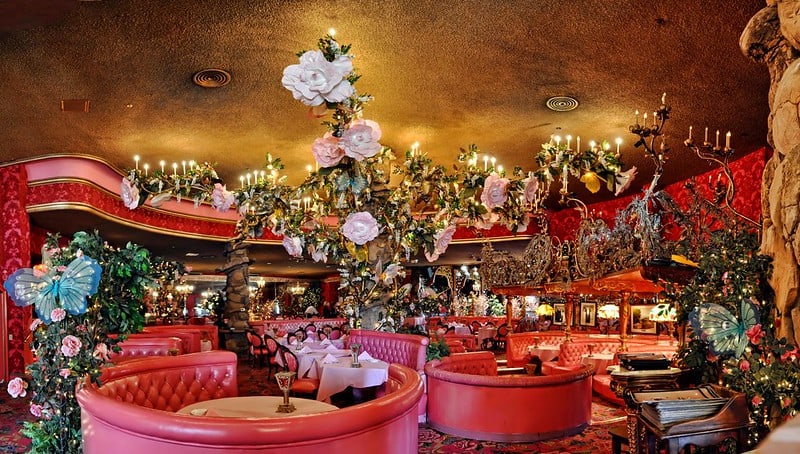 There is no place that is more "over the top" than The Madonna Inn and while some may find the overflowing amount of decor to be tacky, it really is part of the appeal.
So don't come here expecting to find modern luxury, but rather embrace its flashy style while you indulge in a rock waterfall shower, because YOLO.
I mean seriously there won't be an inch of the room sporting anything but ridiculously bright colored walls and carpet, but it sure makes for a memorable experience.
And besides, when you get to enjoy the breathtaking views of California's hilltops while soaking in a heated pool, there really isn't much to complain about.
Plus, you will never have to worry about going hungry because the inn has four restaurants located on the property with the fan-favorite being Alex Madonna's Gold Rush Steak House, which is decorated in hot pink and is utterly delightful.
Expect to pay an arm and a leg at this joint but just know that the food is totally worth it. But if spending fifty bucks on a steak isn't your cup of tea, the Copper Cafe is just as tasty and half the price.
San Luis Creek Lodge
Nestled in the heart of downtown, the San Luis Creek Lodge happens to be one of the most convenient lodging options in the area but that isn't even its greatest appeal.
This chic lodge screams California style with a combination of bohemian and farmhouse accents that are sure to dazzle all of its guests.
From the local artwork displayed in every room to the gas fireplaces keeping you warm at night, the San Luis Creek Lodge is as cozy as it gets.
And just knowing that you will always wake up to complimentary HoneyCo coffee and fresh pastries, is enough to start every day on the right foot… Especially when you have all of San Luis Obispo right at your doorstep!
The Kinney
You have to give Hilton a round of applause for their creation of The Kinney SLO or better yet, show your appreciation by booking a stay at this stylish hotel during your next trip to San Luis Obispo.
Some people get put off by the thought of staying in a nationwide establishment simply because they want their trip to be filled with new experiences, but I promise you that the Kinney is anything but ordinary.
The whole place was designed to give campus-like vibes (without all of the drunken college kids of course) so there is no shortage of fun things to do here whether it be sipping on craft beers or trying your hand at a game or two.
I can't even begin to tell you how adorable the rooms are… Just know that the endless supply of local pictures will have you staring in awe at your ceiling before you get out of bed each morning.
Oh! And If you didn't catch on from the whole craft beers bit, the Kinney has a bar (an extremely popular one if I may add) named Leroy's that keeps the good times rolling with an impressive tap list, a classic pub food dinner menu, and simple brunch options that get the job done.
SLO Brew Lofts
I feel like I should just start by saying that this lodging option is in fact located within a brewery… and who said that dreams don't come true?
But with that being said, SLO Brew Lofts is not the place for early birds nor the person who prefers an evening of peace and quiet.
The lofts are located right above the taproom (and if you aren't there until closing what are you doing here anyway?) and the building is located smack dab in the middle of the entertainment district.
So it is safe to say that this accommodation sees its fair share of loud evenings!
The good news is that there is nothing like a beer to help put you to sleep and SLO brews has one of the finest selections around with brews ranging from a Pink Lemonade Lager to a Mustang IPA.
And wait until you see the rooms! Each of the six rooms boasts a spacious living room with a fireplace plus an interior design that will be sure to knock your socks off. Not to mention that some of the lofts even offer special amenities like a private rooftop deck!
Day One of Your Weekend in San Luis Obispo
Fuel up at Kraken Coffee Co.
If you are a coffee lover like myself, then chances are that your interest in breakfast usually migrates towards the local coffee shop and the good news is that the Kraken Coffee Co. has it all!
For starters, this cozy little cafe is located just minutes away from your first activity of the day so you can start your adventure the moment the caffeine kicks in.
But the most important detail obviously revolves around the quality of the coffee and I am here to give the place a (double) thumbs up.
And while we are on the topic, I should also mention that their breakfast menu is to die for. Who am I kidding? Everything about this place is impressive.
Sip on a macchiato while you swoon over their freshly baked cinnamon rolls or slurp down a nitro cold brew as you stuff your face with a jam-packed breakfast burrito.
Spend the morning at Avila Beach.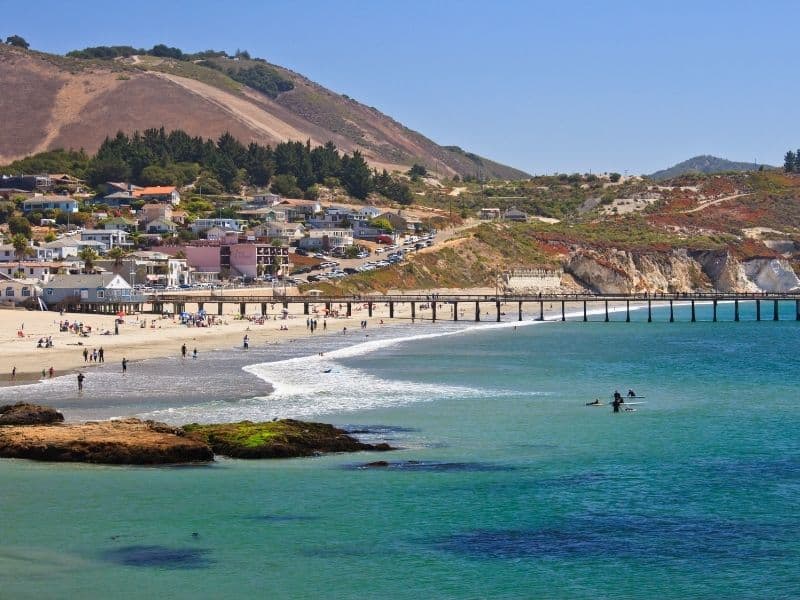 It is only right that you stop by one of California's famous beaches when visiting the Central Coast, and you can't get much better than the picturesque views that await you at Avila Beach.
You definitely won't need a play-by-play for this activity as it is meant to start your weekend with ease so feel free to just kick back, relax, and enjoy your time in the sand.
Just make sure you save some time to go for a stroll down the Avila Beach Pier. Bring your wallet, because you won't be able to stop yourself from shopping amongst the town's many waterfront shops!
Mingle with the farm animals.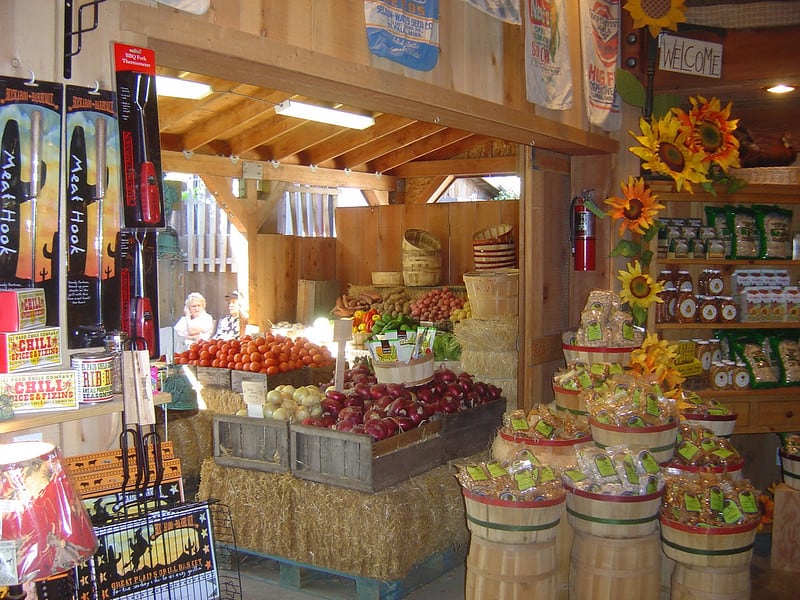 You would be a fool not to swing by the Avila Valley Barn while you were in the area, and it is not just because you can spend the entire day here hanging with the farm animals at no cost at all.
So when you get bored (if that's even possible) of petting the lambs, you can enjoy some of the farm's other fun activities like navigating through the seasonal corn maze and picking your own fresh fruit.
And boy do they have fruit! I am talking about peaches, raspberries, apples, blackberries, apricots, and even the rare olallieberries.
Plus, varying U-pick seasons (and California's year-round fabulous weather) also means that there is pretty much never a bad time of year to visit this humble gem.
But be prepared to walk out of here with your hands filled because the smells coming from the bakery are almost as intoxicating as the mouth-watering aroma that the chicken shack and smokehouse give off.
Swap out your sit down meal for a food tour.
Do you ever visit a new city and become instantly overwhelmed by the plethora of restaurant choices that all seem too delicious to pass up?
Yeah, me too. And that's where the Taste of SLO Downtown Walking Food Tour comes into play.
Who says you have to settle for one restaurant when you can enjoy a little taste of everything with the help of a food tour and it just so happens that Taste of SLO takes you to the best of the best! 
Your guide will take you to five one-of-a-kind restaurants that demonstrate what San Luis Obispo is all about.
And the best part is… everything is included!
From the savory meals to the baked goods, to the beer, wine, and cocktails, prepare to fully indulge over the course of the next three hours. You deserve it!
Leave your mark on Bubblegum Alley.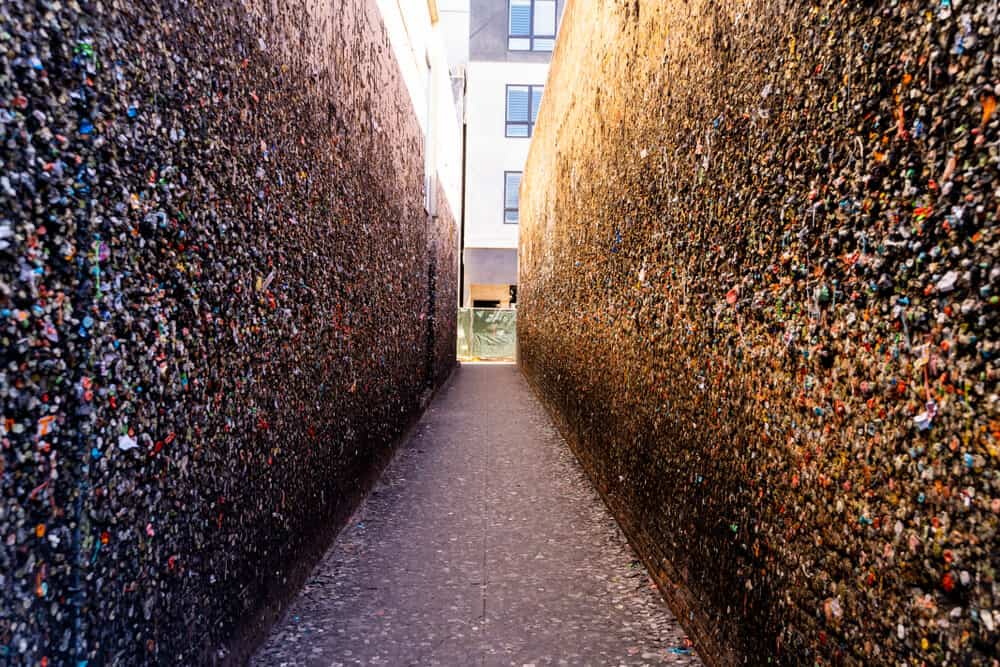 Ah yes, Bubblegum Alley. A strange attraction that somehow made its way to fame regardless of the fact that it is made up solely of random people's chewed-up bubble gum.
But who am I to judge? You know what they say… when in San Luis Obispo, stick your chewed-up bubblegum on the wall???
The history behind the alley is kind of all over the place, but the outcome remains the same.
Call it an unusual way to bring the community together, but it does so undoubtedly. There is even a gumball machine within the store closest to the alley influencing new visitors to give it a go!
Even if adding a piece of gum sounds too gross to consider, you have to at least go for a walk amongst its towering, gum-filled walls just to see what all of the fuss is about.
Have some OHV fun at Oceano Dunes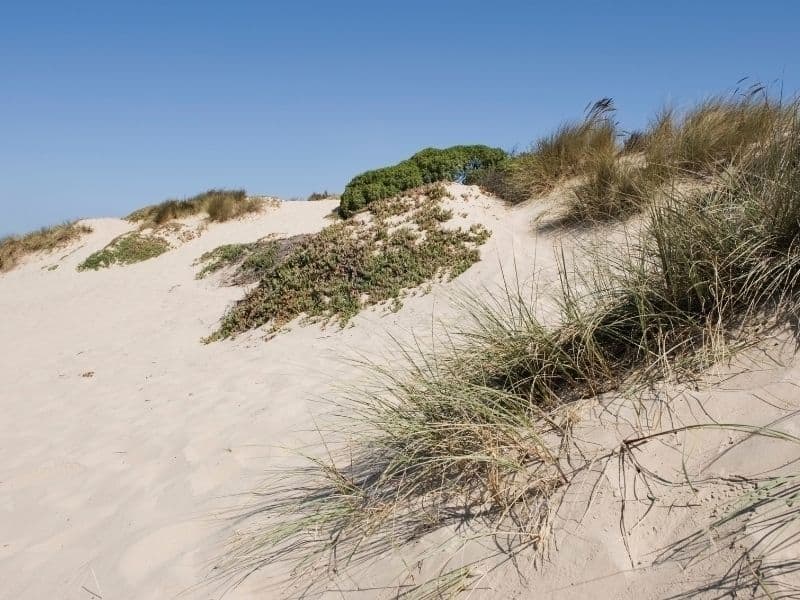 You will find plenty of places to rent ATVs near the Oceano Dunes, since it is the only one of California's state parks that allows for this kind of beachfront recreation but when in doubt, head over to Arnie's.
Once you have secured an OHV to your liking, make your way over the wide-sweeping dunes where you can have endless fun amongst its 3,600 acres.
In reality, you could take on this sandy wonderland in any four-wheel vehicle, but there is just something about riding in a dune buggy that takes the experience to the next level!
Just don't get crazy and try this feat in a two-wheel vehicle. You will get stuck. Thanks for coming to my TED Talk.
Enjoy the perfect meal at Novo.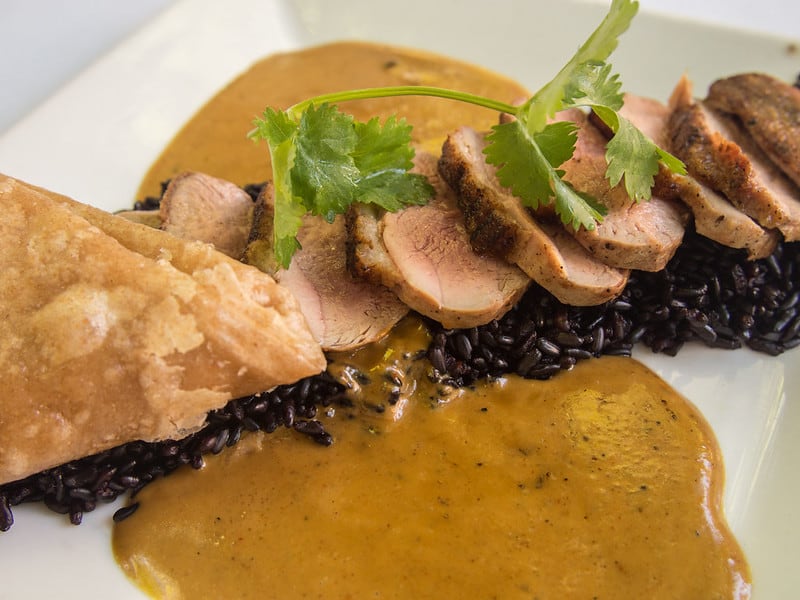 You know Novo is going to be good when you go to their website to check out the menu and you have to pick between all ten of them.
I mean seriously, who has a late lunch menu? I'm not complaining — I am just in awe.
Anyways, we are here to talk about dinner, and talk about it we shall. But I just want to start by saying that you are going to end up rolling out of here, so just keep that in mind before you put on a pair of your tightest skinny jeans!
Start your evening with pork carnitas sopes or fresh avocado-shrimp spring rolls before diving into a heavenly main dish made up of duck breast or a rack of lamb.
Pro tip: If the weather allows it, sit outside. Novo wasn't named Best Outdoor Dining of 2021 for nothing!
Watch the sunset over the water.
To be fair, there is no bad place to watch the sunset in California, but Shell Beach is just one of those peaceful places that can make anything that much better.
And besides, it only seems right that you start and end your day amongst the state's famous sandy shores!
But I am going to let you in on a little secret. Shell Beach is actually made up of nine small beaches that are perfectly surrounded by towering bluffs.
So if someone beats you to the sunset spot, you can always hop over to one of the other beaches to have the views all to yourself!
Day Two of Your Weekend in San Luis Obispo
Grab a quick bite at the Libertine Coffee Bar.
Okay I know what you are thinking, and I promise I am not just trying to pump you up with caffeine all weekend long (unless you're into that), but Libertine Coffee Bar's breakfast menu is perfect for a quick, pre-hike meal.
Plus, if you find yourself running a bit behind schedule, just about all of the menu items can easily be taken on the go like the breakfast burrito, the crossiantwich, and the bag of tots. Seriously, they always come in a bag. They are pretty much made to be on the go!
But before all of my coffee lovers lose their minds… Yes, the coffee is also delicious. You didn't think I would just leave you hanging, did you?
Climb to the top of Bishop Peak.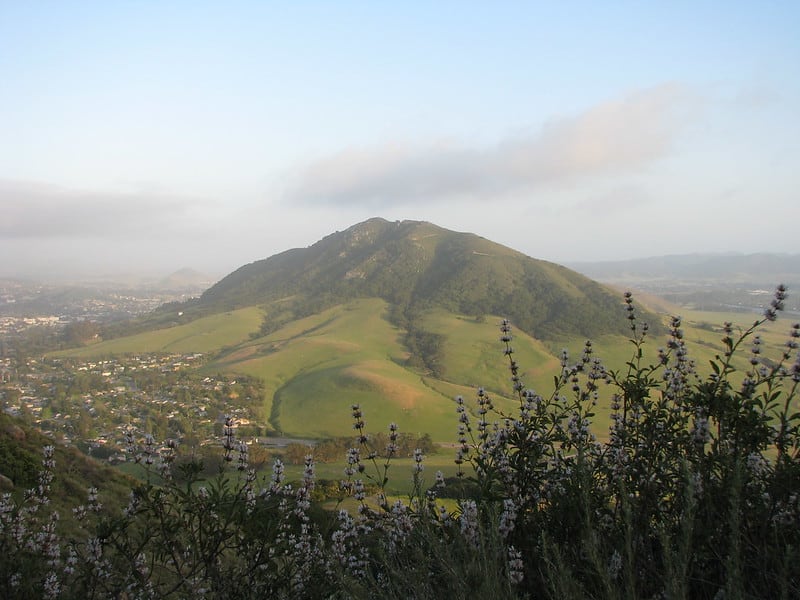 If you didn't hike to the top of Bishop Peak, did you even really visit San Luis Obispo?
Lucky for you, this question doesn't have to haunt you for the rest of your days because I have managed to find a way to fit it into your busy SLO weekend plans.
Some background info: Bishop Peak is the tallest of California's Nine Sisters and before you say you have no idea what I am talking about, let me explain.
The Nine Sisters are a series of volcanic Morros but most people usually only associate this natural wonder with the famous Morro Rock.
Bishop Peak is an exciting sister, not only because it's the tallest, but because it is hikeable (from either Highland Drive or Patricia Drive, among others), and there are a couple of routes to choose from depending on your experience level.
But regardless of which option you pick, you are going to work up a sweat. Just know that the wide-sweeping views that await you at the top will make every step of the journey worth it!
Treat your body to a hot spring soak.
Although you don't need an excuse to treat yourself on vacation, completing San Luis Obispo's famous hike is all the more reason to spoil your body with a soaking at the Sycamore Mineral Springs Resort and Spa.
And while many hot springs resorts preach relaxation but ultimately offer a place for you to sit in a hot tub with a bunch of strangers who may or may not get too close for comfort, everything about Sycamore was designed with privacy in mind.
That's right. When you reserve an afternoon at the hot springs, you will have earned yourself your own private, hillside hot springs tub.
Plus, if you are traveling with a group of six people, you can always opt for the Oasis Waterfall Lagoon.
This option can easily hold up to twenty people so just imagine the serene space you could enjoy with a small group of friends!
Pig out at Taste! Craft Eatery.
You have had quite an eventful morning so go ahead and reward yourself with one of their unique cocktails like the King of Clubs or the Woo Girl.
Just make sure you save enough room for lunch because I have a feeling you will be indulging!
At first glance, the menu can be overwhelming with its endless choice of sliders, macs, Brussel sprouts, and salads, but once you realize that you can mix and match these items that feeling instantly turns into pure joy.
Taste! Craft Eatery knows how hard it is to pick a meal so they made things a bit easier for you by giving diners the option to pick up to four items from the menu to create a perfectly portioned size plate.
But if I am being honest, you will still probably have to give this menu a twice-over because there are just too many tasty options to pick from!
Take a (wine) tour of the Edna Valley.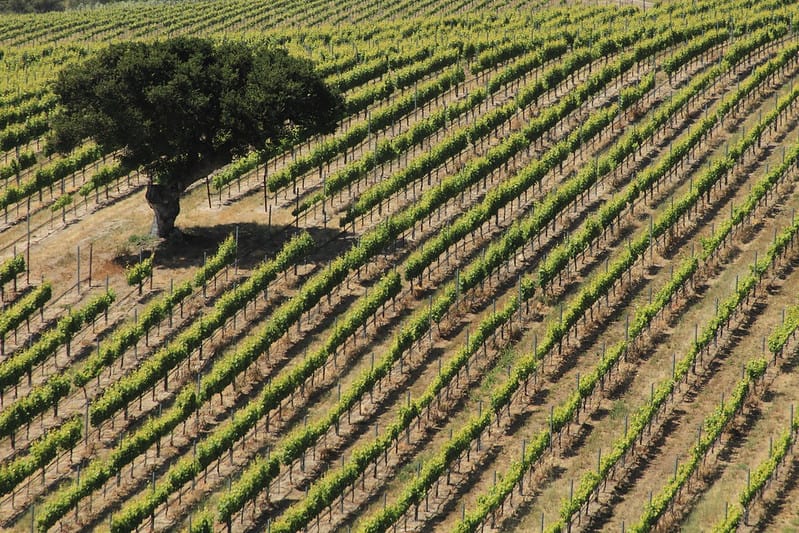 Who needs Napa Valley when you can enjoy the hidden gem that is the Edna Valley?
Don't answer that. We all need a little Napa Valley in our lives but you get the point.
The Edna Valley is a great alternative boasting over two thousand acres of vineyards and nearly thirty tasting rooms for visitors who want to savor the extraordinary flavors of California's wine country without all of the crowds.
Regardless of where you end up in the valley, you are bound to have a good time, but if you are looking for suggestions (which I am guessing is why you are here), I highly recommend checking out Laetitia where you can take in views of the Pacific Ocean while you sip.
You also can't go wrong with playing a game of cornhole during your tasting at Biddle Ranch Winery or ordering a flight of award-winning Chardonnays from Talley Vineyards.
Eat a true Italian meal at Giuseppe's Cucina Rustica.
One look at Giuseppe's Cucina Rustica's menu and you know that they aren't messing around. I mean, the appetizer section alone will have your brain in knots as you try to decide between the wagyu beef meatballs and a flash-fried calzone.
But the real struggle comes with choosing a dish amongst the fifteen scrumptious kinds of pasta and the plentiful amount of main courses.
Seriously, how does one choose between lamb lollipops and ravioli di zucca?
And don't even get me started on the wood-fired pizzas!
Catch a late-night show at the drive-in.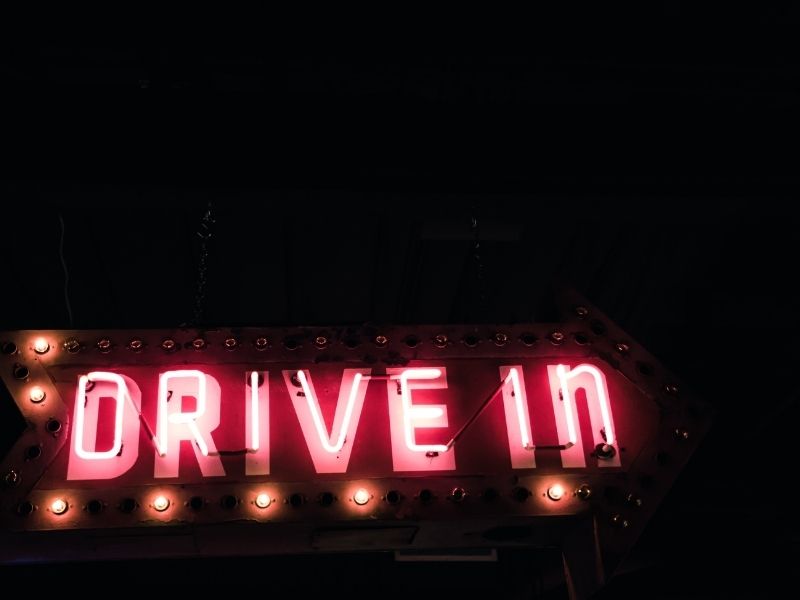 Watching a drive-in movie is a cool activity in its own right, but the Sunset Drive-In takes it a step further by being one of the last remaining drive-in movie theaters in all of California.
So not only are you enjoying one of the nation's latest releases, but you are also immersing yourself in a part of the state's vibrant history!
Besides, with a whopping cost of ten dollars a person (which grants access to a double feature I might add), there really isn't a better way to catch a late-night show!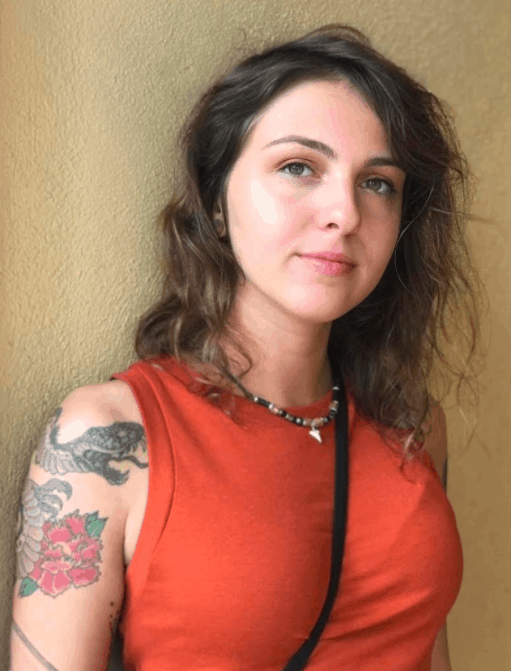 Nicole is a freelance travel writer who lives in Upstate NY, but her heart lies in the beautiful state of California. She loves to travel to new destinations, eat at all the best local restaurants and explore all the world has to offer. Her favorite place is just about anywhere where snow-peaked mountains can be seen in the distance.