From rocky coasts to breathtaking sandy ones, Northern California's beaches genuinely have it all!
The rugged and beautiful Pacific coastline is unlike any other in the United States, and there's a reason that people flock to it not only from all over the USA, but from all over the world.
This post covers all of the Northern California beaches that you truly won't want to miss out on!
No matter what type of beach you're looking for (yes, including those that are more secluded!), this list has something from everyone.
Keep in mind that Northern California beaches differ quite a bit from Southern California beaches. Many are more rugged and rocky, as opposed to SoCal's sandy beaches.
Northern California also has a foggier, cooler climate and so many beaches are not the best for sunbathing — but they are wonderful for walking, admiring, and watching the sunset.
Be sure to read any posted signage at the beaches. I've noted the beaches that are notorious for rough wave conditions, but the signs posted at beaches will be the most reputable source of information on the safety of each individual beach.
Without further ado, here are all of my favorite beaches in Northern California, from Big Sur up to the Oregon border.
Monterey County Beaches
China Cove Beach
Note: This post contains affiliate links, which earn me a small commission at no extra cost to you if you make a purchase using one of these links. Thank you for supporting this free content!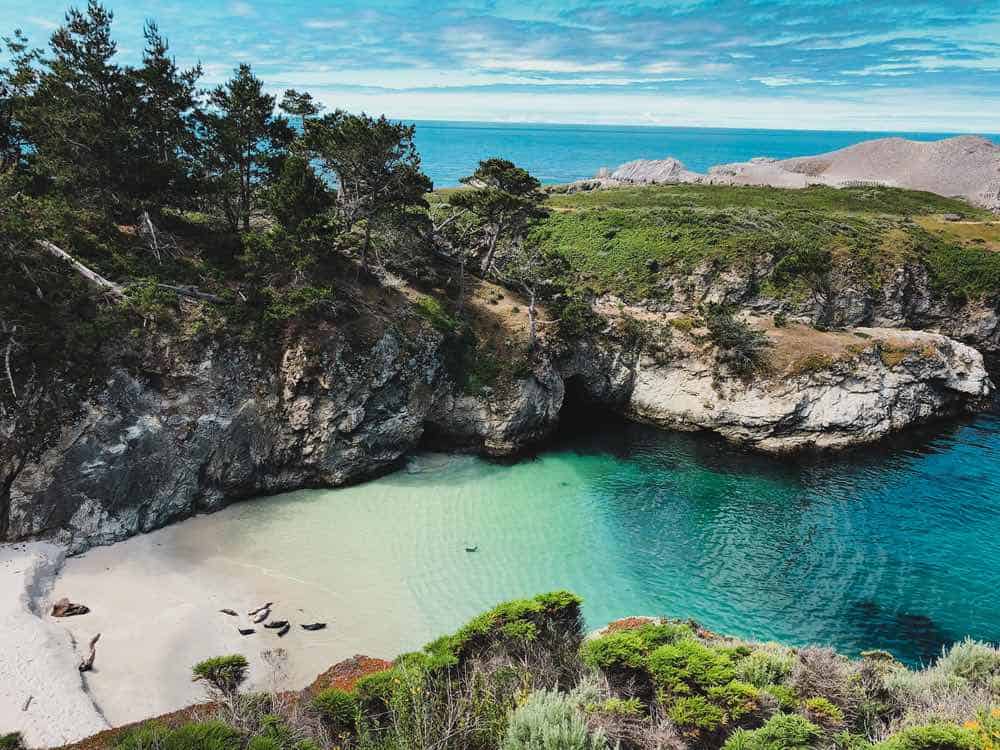 China Cove Beach is a small, secluded cove just outside of Carmel-by-the-Sea, California.
The beach is located inside Point Lobos State Natural Reserve, so there are many hikes in the area.
It's a great beach to visit for travelers who aren't the biggest fan of crowds, as it's usually quite tranquil, since you have to take a short hike on the Bird Island Trail to reach it.
If you love exploring, then you'll love China Cove Beach. At low tide, a beautiful rocky archway and turquoise seas offer impeccable views that will truly take your breath away.
Note: This cove is closed during the spring during seal pupping season, but you can check it out from above year-round.
Carmel River State Beach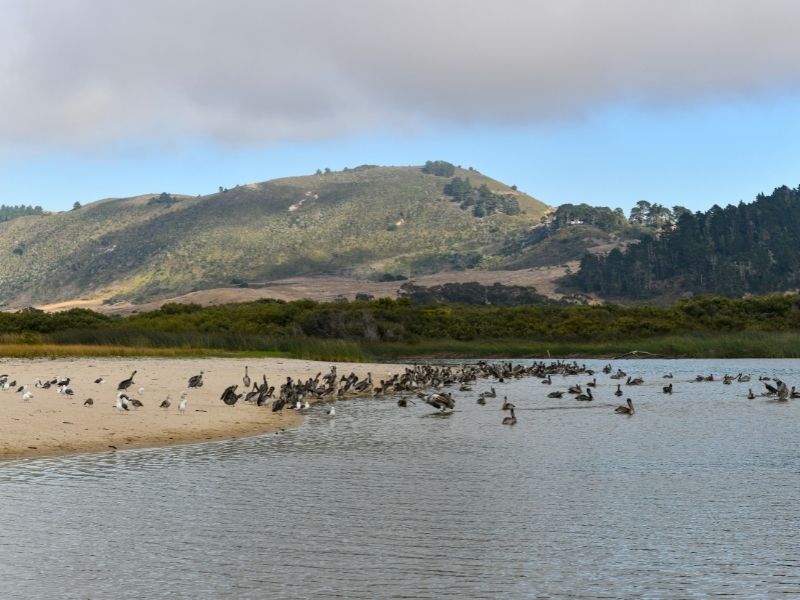 Located in a state park, Carmel River State Beach is a beautiful mile-long beach with a beautiful lagoon. Many people love visiting this beach, mainly to go bird watching because birds in the area tend to migrate here.
Monastery Beach is also part of this state beach, a fantastic place to go scuba diving in California!
However, with both beaches, be incredibly careful with walking near the ocean or wading — these beaches are notorious for their extremely powerful current.
With parking and restrooms, both Carmel River State Beach and Monastery Beach are well-developed beaches to visit in Northern California.
Zmudowski State Beach
Zmudowski State Beach on Monterey Bay is one of the top Northern California beaches to visit for those who love fishing.
Many equestrians also love visiting here because horses are allowed to walk right along the waterfront.
Unfortunately, the currents are powerful at Zmudowski State Beach, which is why it's primarily used for fishing. It's far too dangerous for any type of water sport, including something as simple as swimming.
Santa Cruz County Beaches
Shark Fin Cove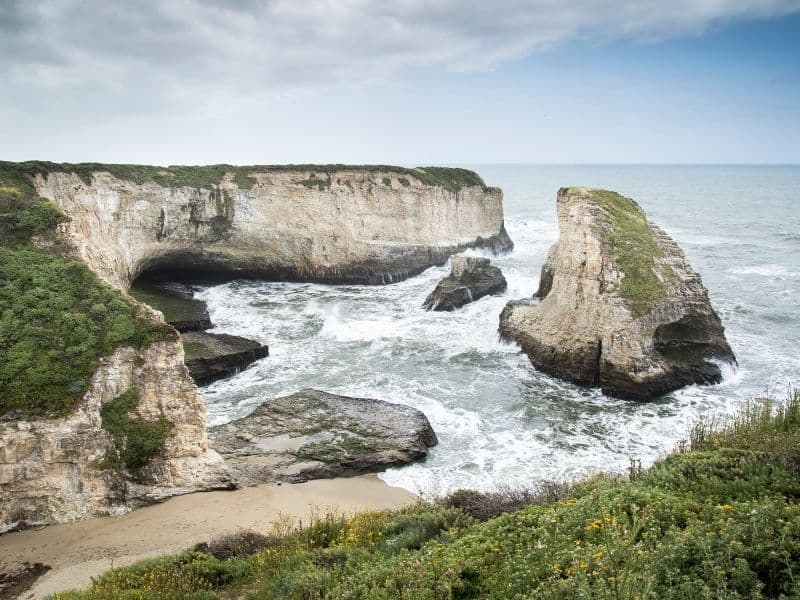 Shark Fin Cove is in Davenport, California, and is also commonly referred to as Shark Tooth Beach. As you might imagine, this beach is most popular because of its fantastic rock formations, including one that looks like a giant shark fin!
In addition to Shark Fin Rock, Shark Fin Cove has a sea cave located right along the beach. At certain times of the day, there's no water in the cave, allowing visitors just to walk right in and photograph the beauty inside.
Four Mile Beach
Located right in Wilder Ranch State Park, Four Mile Beach is one of the largest beaches in the area and has impeccable sunrise and sunset views.
While it may not be precisely four miles in length, it is only a four-mile drive from Santa Cruz to get here!
In addition to surfing, swimming, and bird watching, this is an amazing spot to go for hiking and mountain biking with ocean views. Plus, it's free to park here, unlike some other beaches on this list.
La Selva Beach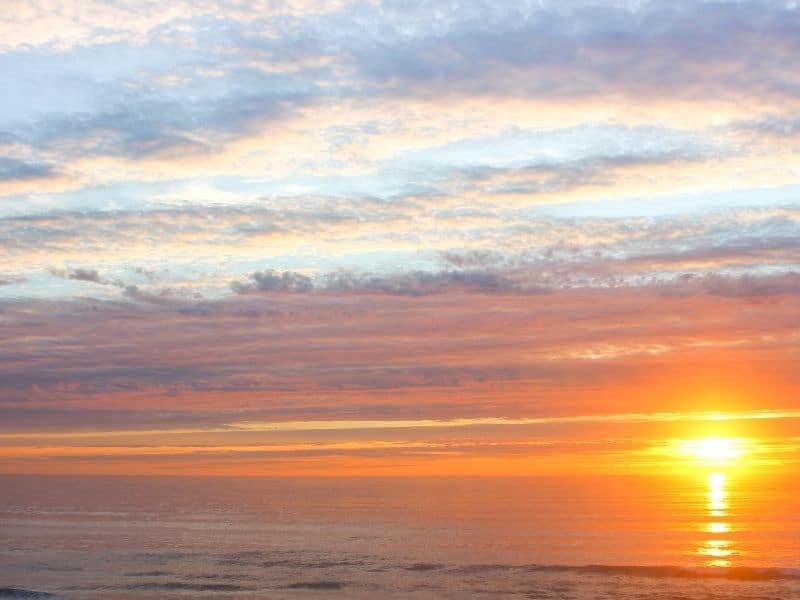 La Selva Beach in Watsonville, California, is a private beach that's open to the public.
It's super easy to get there from Manresa State Beach, so you can see two beaches in one visit. You do have to pay for parking to park there.
Because of the currents at La Selva Beach, this is not a place to go swimming.
Instead, popular activities at La Selva Beach include sunbathing, relaxing, and walking along the water's edge. Note that La Selva Beach doesn't have lifeguards, but it's truly tranquil.
Wilder Beach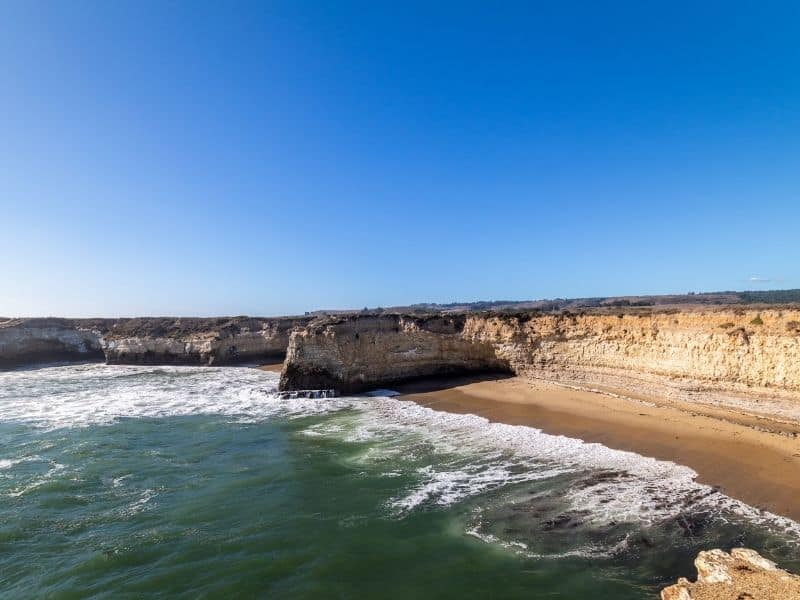 Wilder Beach is in Wilder Ranch State Park. Unlike other beaches on this list, this isn't one that you can walk right up to and relax on.
Instead, this beach is part of a natural reserve that you can see from a distance. Luckily, there are a few viewpoints, including one from the famous Old Cove Landing Trail.
After checking out the views of the beach from the trail and viewing platforms, travelers often visit the nearby ranch and gift shop.
There are also mountain bike trails if that's more your style than hiking. There's a small parking fee, but it's well worth it.
San Mateo County Beaches
Manhattan Beach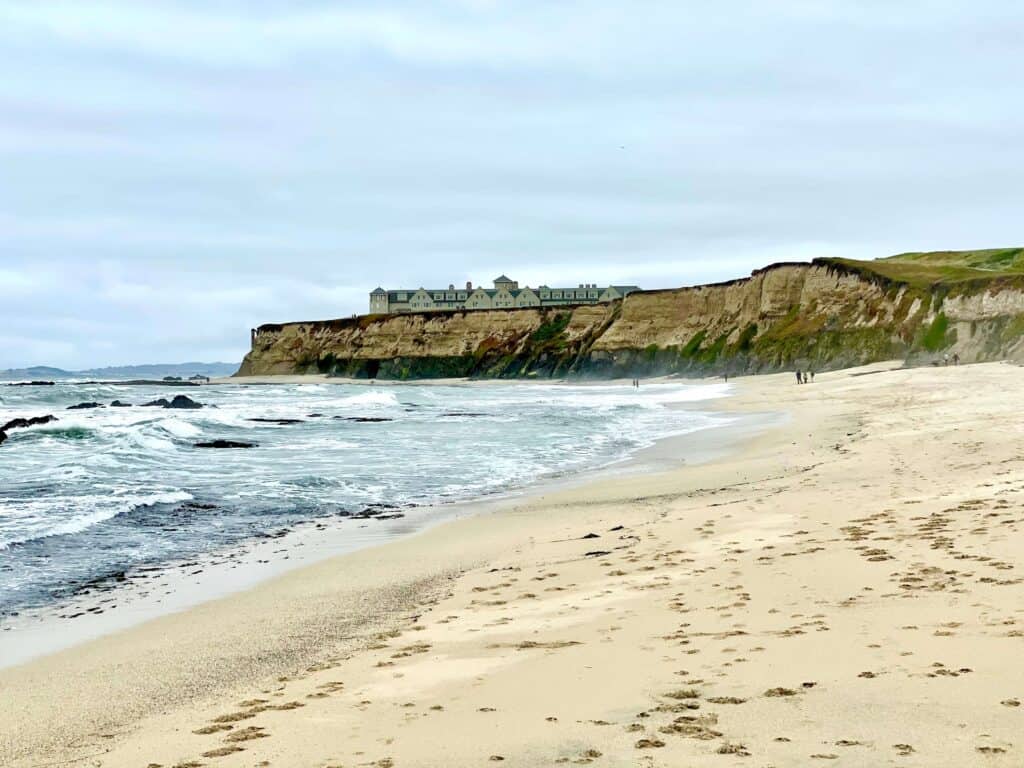 Often considered one of the best beaches in the entire Half Moon Bay area, Manhattan Beach is one that you won't want to miss.
It's right next to the Ritz-Carlton bluffs and takes a little under a mile of walking to get to.
There's free street parking in the area, and you have to take stairs to get down to the beach, but the views are incredibly worth it.
For the best time to visit, consider coming early in the day so that you can witness the beauty all by yourself in a more secluded setting.
Gray Whale Cove State Beach
For amazing trails and cliff views, look no further than Gray Whale Cove State Beach.
Located within driving distance of both Pacifica and Montara, this beach is incredible because of its beauty. However, if you don't like heights, this may not be the beach for you!
To get to the beach, you do have to walk on a steep (but very worth it) trail right to the Pacific Ocean. As the name suggests, this is a great beach to go to for spotting gray whales.
There's also a picnic area with an overlook on the bluff, the perfect spot to stop to watch the sunrise or sunset.
Pacifica State Beach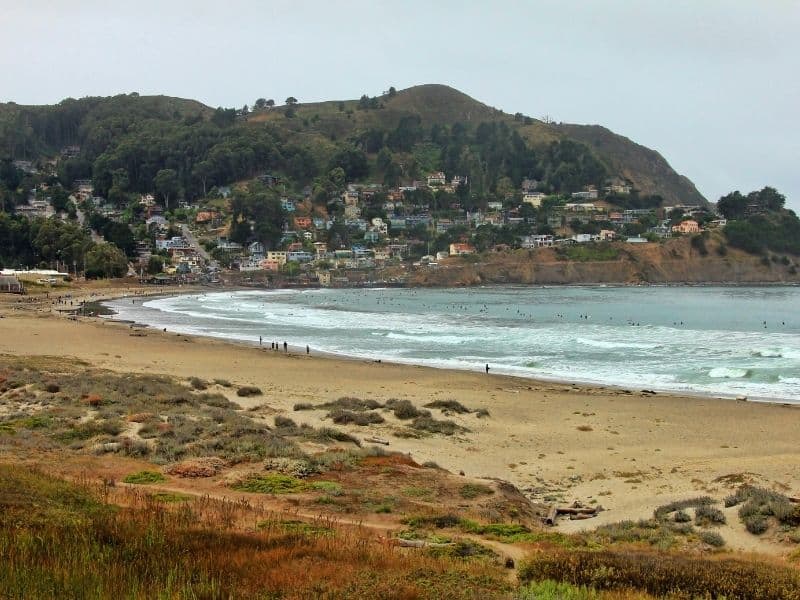 Pacifica State Beach may not be that long at less than a mile of beachfront, but it has bright blue coastlines. Plus, it's shaped like a crescent!
It's open just during the day and is one of the most popular beaches in the Pacifica area.
For an unforgettable experience, come to the beach right when it opens to catch the sunrise along the coast in the distance.
Unlike some other beaches on this list, leashed dogs are allowed to visit. There's also a small parking fee if you'll be driving there.
San Francisco Beaches
Baker Beach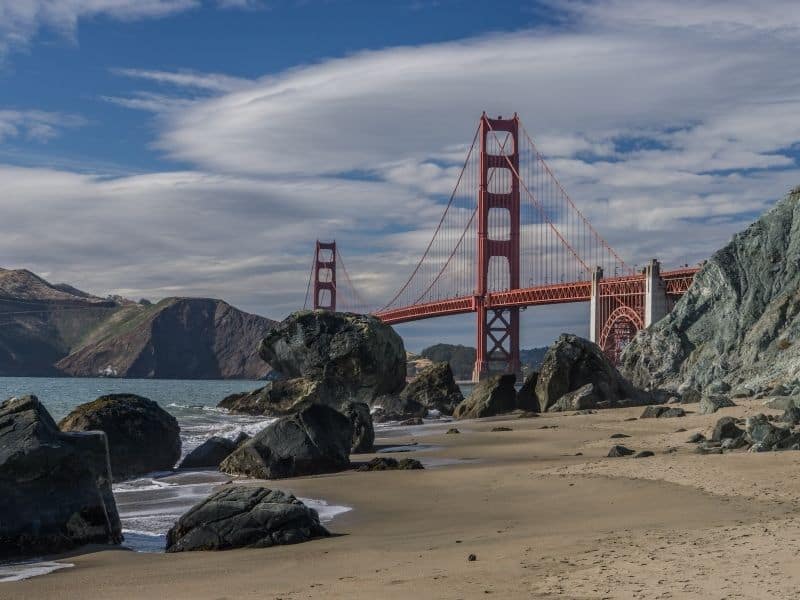 Baker Beach is one of the most famous beaches in Northern California, having one of the best views in San Francisco of the Golden Gate Bridge.
In fact, many of the famous Golde Gate Bridge photos you've taken were most likely taken right from this very beach!
It has really rugged rocky areas and cliffs but is most well known for its great views.
This isn't the best spot to go swimming (San Francisco beaches are cold!) but does have amenities, including restrooms and picnic spots.
Head to the trails right nearby to escape the crowds because this tends to be a busy beach.
Note: The northern edge of Baker Beach is clothing-optional!
Fort Funston Beach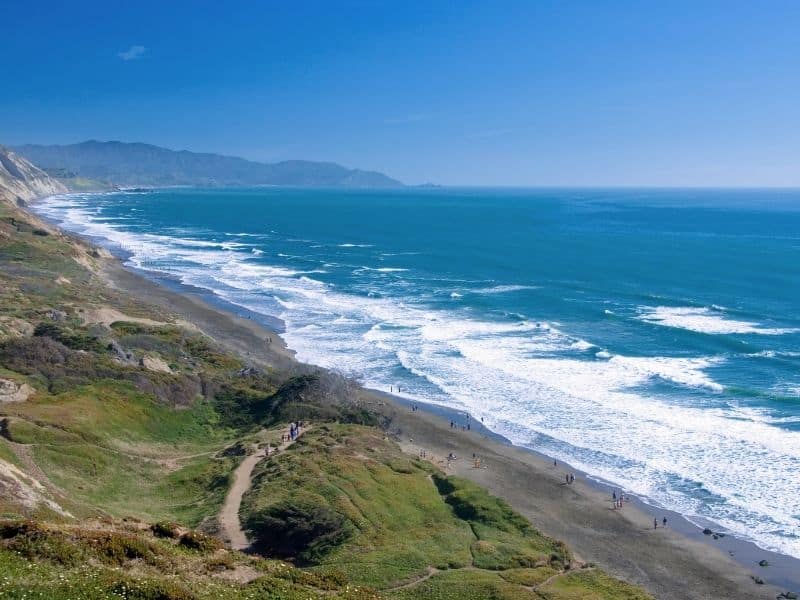 Fort Funston Beach in San Francisco has strong currents, but the waves are beautiful and great for photographing.
Because of the currents, it's another beach in northern California that isn't an excellent spot for swimming.
Even though you can't swim here, there are tons of other fun things to do, including hang gliding, walking, and just taking in the views. Plus, the walkway to the beach offers coastal panoramas the whole way!
Many locals like to say it's San Francisco's prettiest underrated beach.
Crissy Beach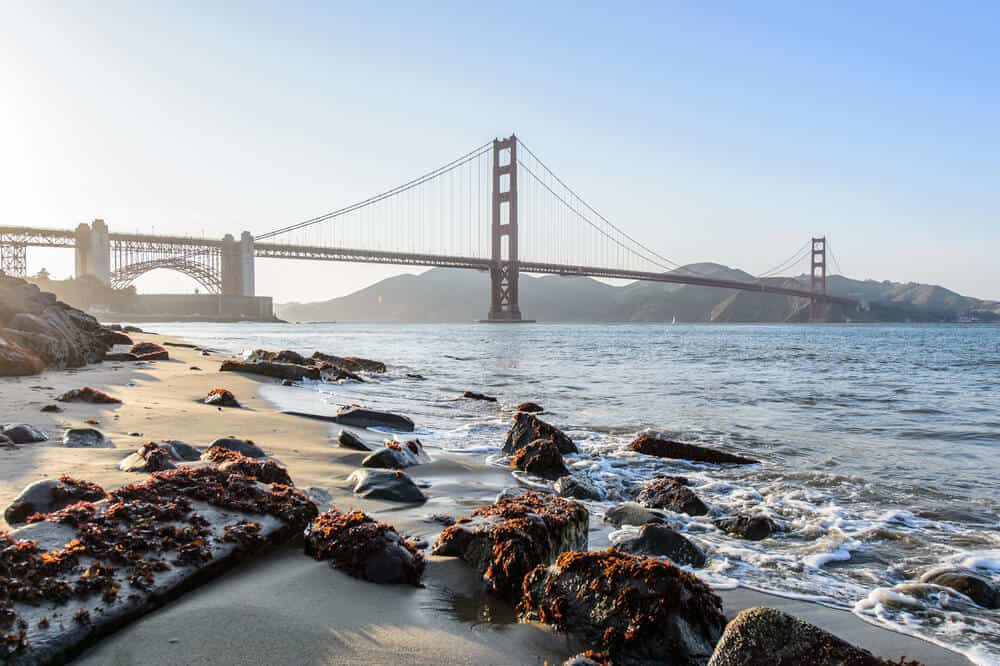 Crissy Beach, also sometimes referred to as Crissy Field East Beach, is another beach with views of the Golden Gate Bridge.
This beach is more visited by locals but still can get pretty busy, especially during peak seasons and times of the day, and especially on a windy day when the kitesurfers come out in full force!
Known for being a spot to come for those who want to be active with a view, Crissy Beach is usually filled with people having a good time, jogging, hanging with friends, or having a picnic in the picnic table area.
You can also dip your toes in here if you want!
China Beach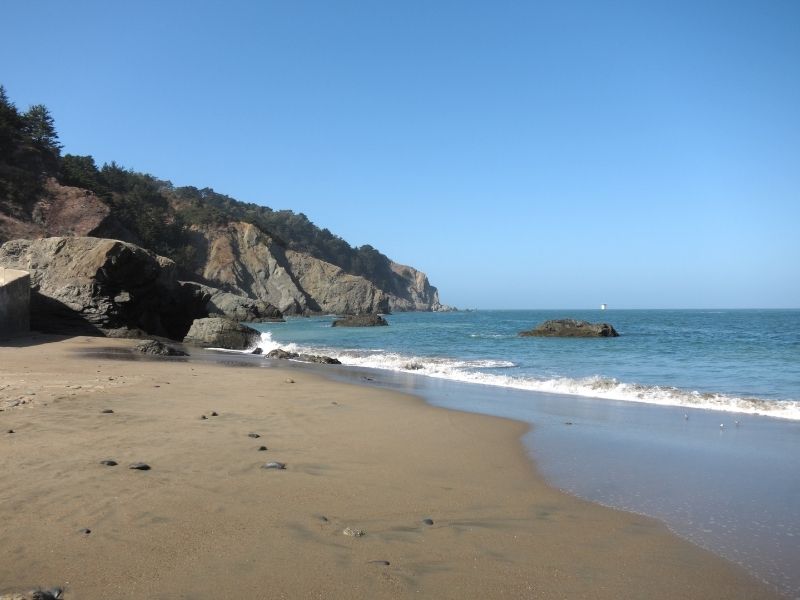 China Beach is a gorgeous beachy area with cliffs near the Sea Cliff neighborhood of San Francisco.
It got its name because it was popularly used by fishermen from China as a camping site for quite a while, and the name stuck.
It's a tiny cove beach with an excellent picnic area and beachy spots where you can relax and sunbathe.
Plus, the viewpoints that it offers of Golden Gate Bridge and the Marin Headlands are pretty exceptional too.
Ocean Beach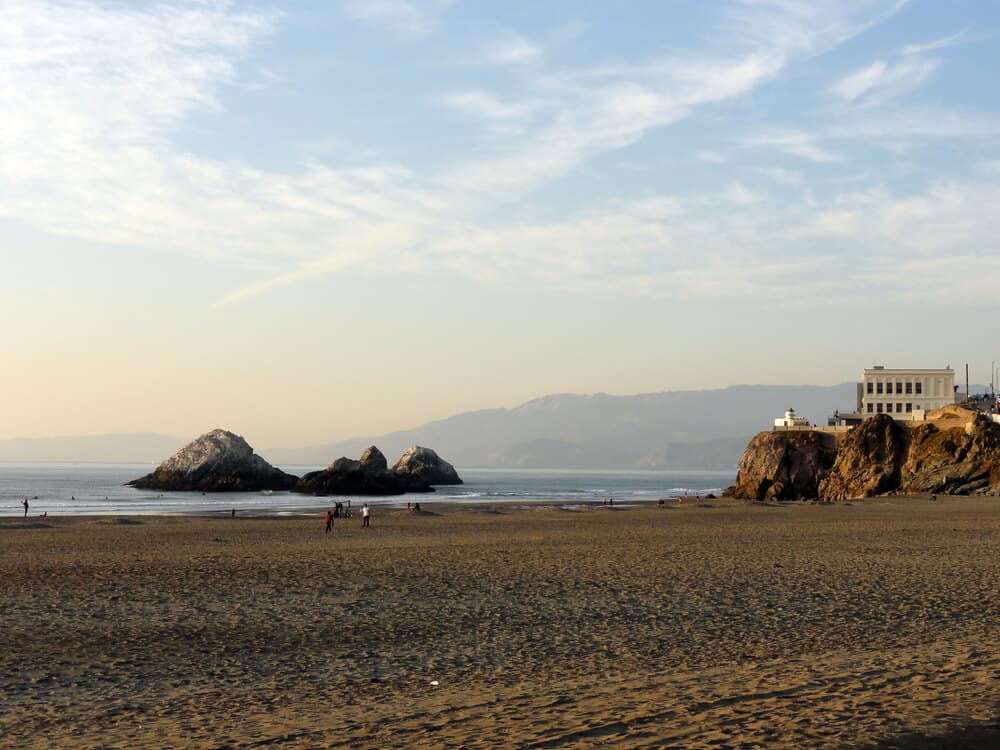 Located near Golden Gate Park, Ocean Beach is one of those underrated beaches where you can truly enjoy watching the birds while listening to the waves crash in the distance.
It's about 3.5 miles long, so there's tons of space for you to seclude yourself.
Ocean Beach is a beach that's often overlooked by tourists, making it a great spot to go for tranquility compared to other beaches in the area.
It's an excellent spot for coastal walks and outdoor activities, but the waves are pretty strong, so it's not a good place for swimming or surfing.
Marin County Beaches
Rodeo Beach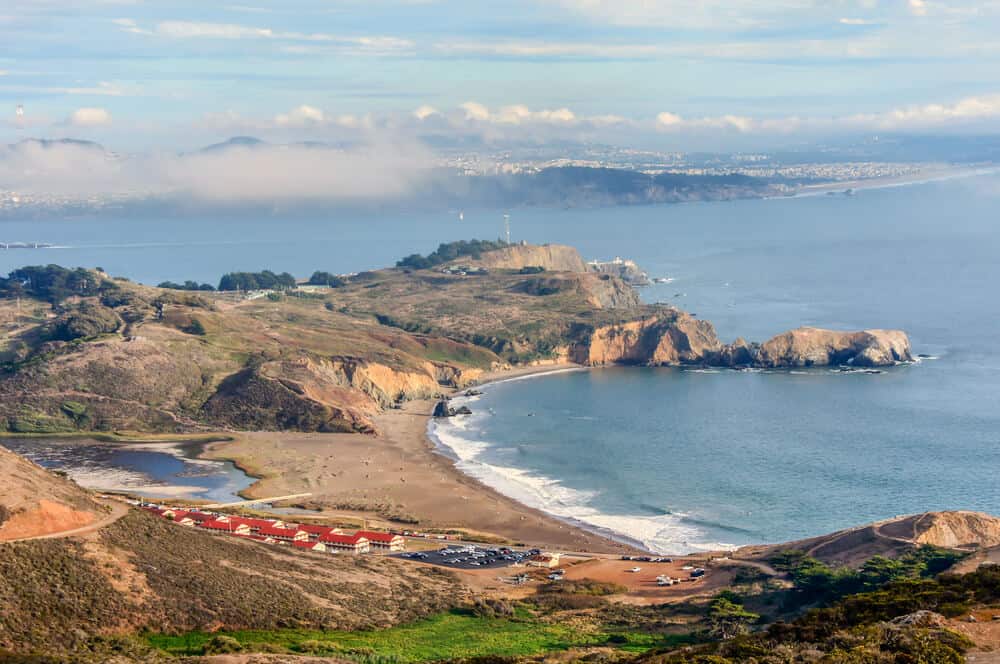 Rodeo Beach has a unique landscape; this stretch of sand features water on both sides, making for an incredibly one-of-a-kind beachy experience in northern California.
It's located inside the Golden Gate National Recreation Area and is a short drive from the Golden Gate Bridge.
In addition to all the water, what makes this beach so well visited is the incredible rocks here, as well as the barracks from the former military installation here.
If you visit and look down, you'll see rocks in all colors, including red and green, and it's all completely natural.
If you look closely, you may even find carnelian and other stones in the sand.
Muir Beach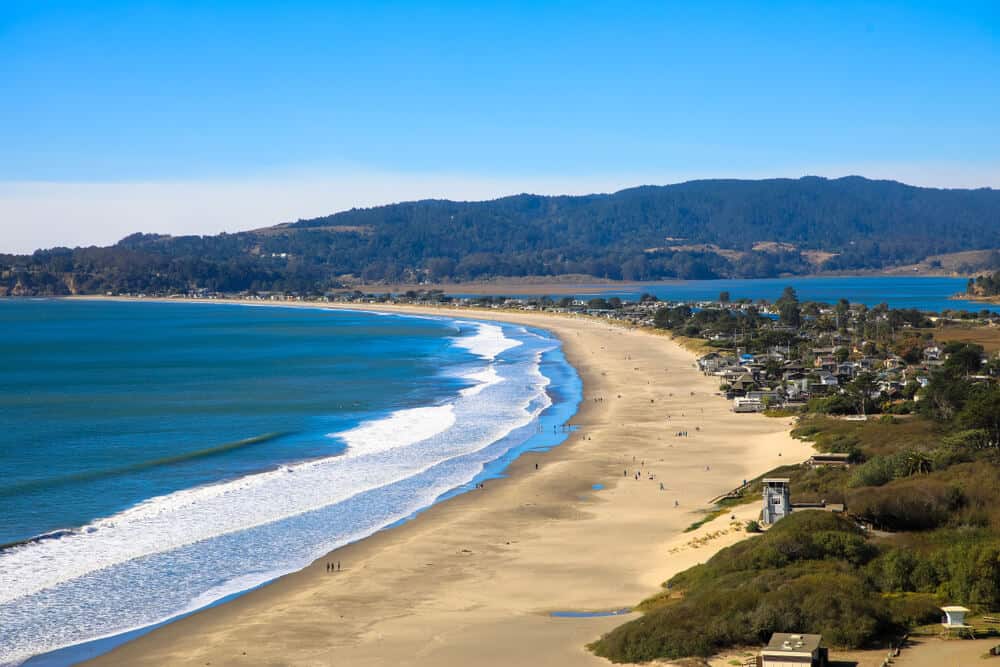 For pure quietness, head to Muir Beach, a tranquil cove area often frequented by the locals.
It's right on the Pacific Coast near the popular Muir Woods, another great destination in the area.
Because there are no lifeguards, this is one of the beaches that you want to be careful at if you dip your toes in.
This is also a spot that butterfly enthusiasts will love; it's a popular spot for monarch butterfly spotting in the fall when they start to migrate!
Stinson Beach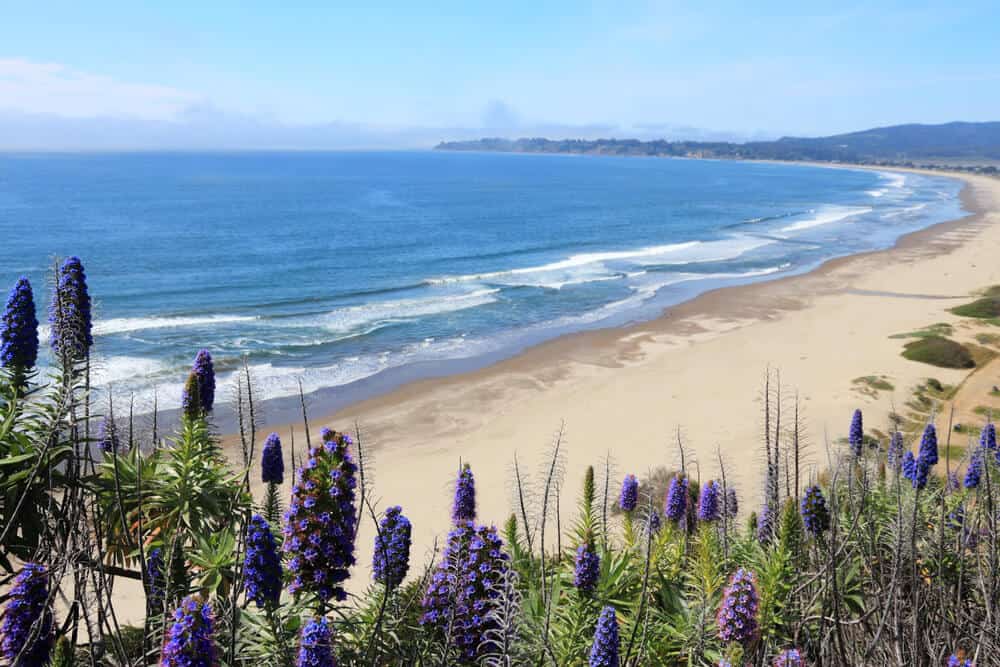 Most well known for being one of the best swimming beaches in all of northern California, Stinson Beach is worth visiting for its incredible waves and white sand.
Plus, it's completely free to visit (there's no entry fee), and parking is also free.
In addition to swimming, Stinson Beach is amazing for fishing, relaxing, bouldering, and walking along the beach. You can also go surfing!
If you visit in the summer months, then you'll also be able to grab some snacks at the summer snack bar.
Sonoma County Beaches
Goat Rock Beach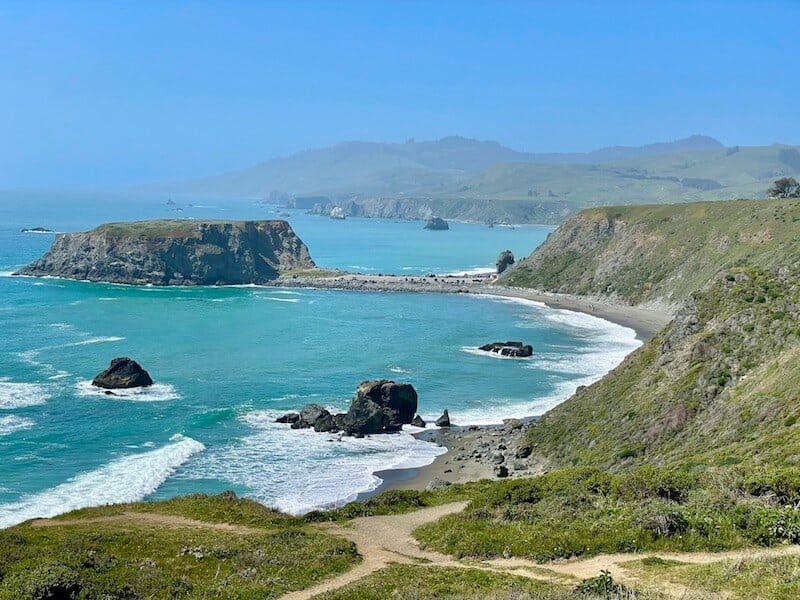 Goat Rock Beach in Jenner, California, is a highly accessible beach with scenic views of the beautiful blue Pacific Ocean.
Many people visit here just to walk along the water's edge, take in the views, and breathe in the fresh air.
It's a sandy beach near the Russian River, featuring many amenities, including picnic tables, restrooms, and more.
Visit during the summer to potentially see seal pups; just remember to keep your distance!
Jenner Beach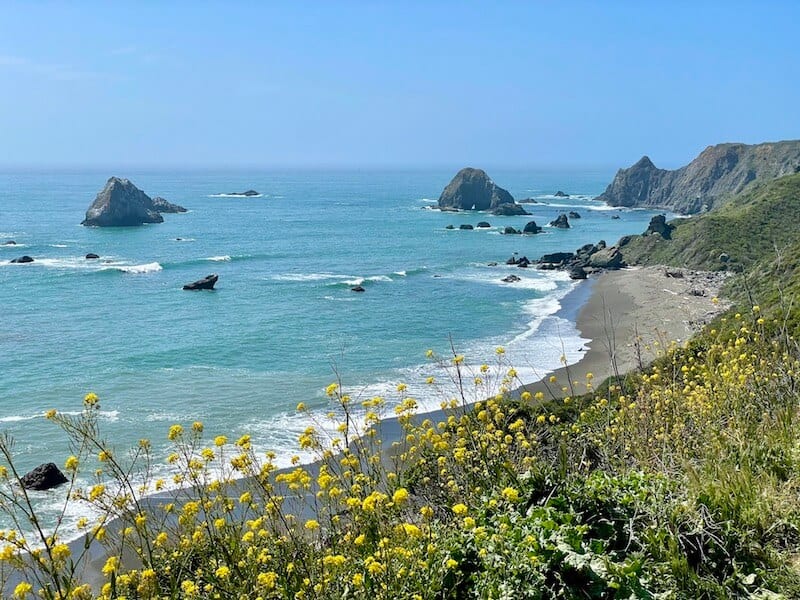 Jenner Beach is also located in Jenner, California, at the place where the Russian River empties into the Pacific Ocean!
To get there, you do have to walk along a steep path, but once you see the view, you'll be happy you took that walk!
It's often referred to as a driftwood beach because there are usually lots of logs and branches filling the sand.
By standing on the beach, you can look out and see great rocky formations and true beauty. The beach is relatively long, so you can usually find a little spot just of your own away from other people.
If you're visiting here, be sure also to visit Goat Rock Beach nearby!
Portuguese Beach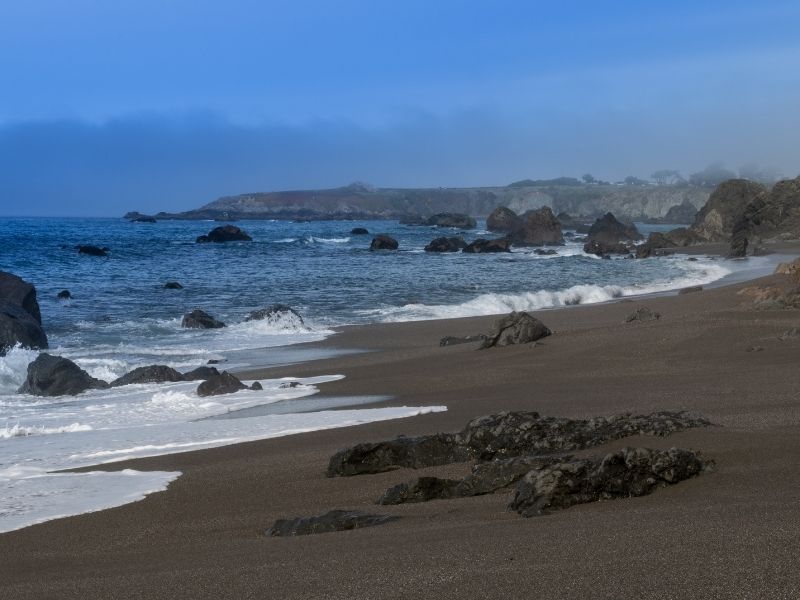 Portuguese Beach is one of those classic beaches that you think of when you think of northern California.
It's surrounded by rocks, cliff faces, and interesting geological formations. The most popular things to do there include fishing, and dogs are allowed!
As one of the larger sandy beaches that you can find in this area of California, Portuguese Beach is filled with secluded areas.
Because the water at Portuguese Beach is so cold, you can't swim here. The rip currents are also pretty strong here!
Mendocino County Beaches
Glass Beach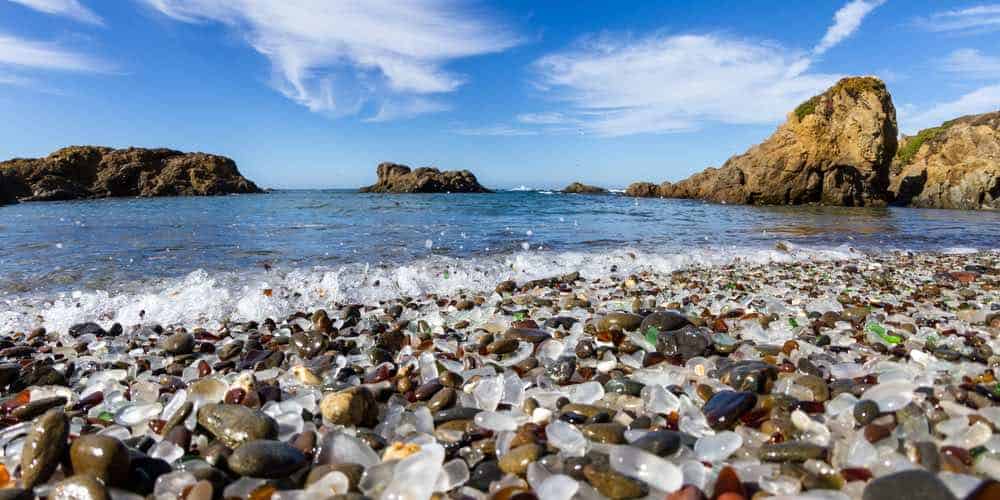 Glass Beach is in Fort Bragg and is extremely well known — perhaps the most well-known beach in Northern California! It's located in MacKerricher State Park.
Just like the name suggests, Glass Beach is filled with sea glass. Keep in mind that it is illegal to take sea glass from this beach because it's part of a state park.
While the sea glass is the main draw for many people visiting Glass Beach, the park is also great for hiking and exploring. Some of the trails even lead to other sea glass beaches in the area, so you can make a whole day of it.
MacKerricher State Park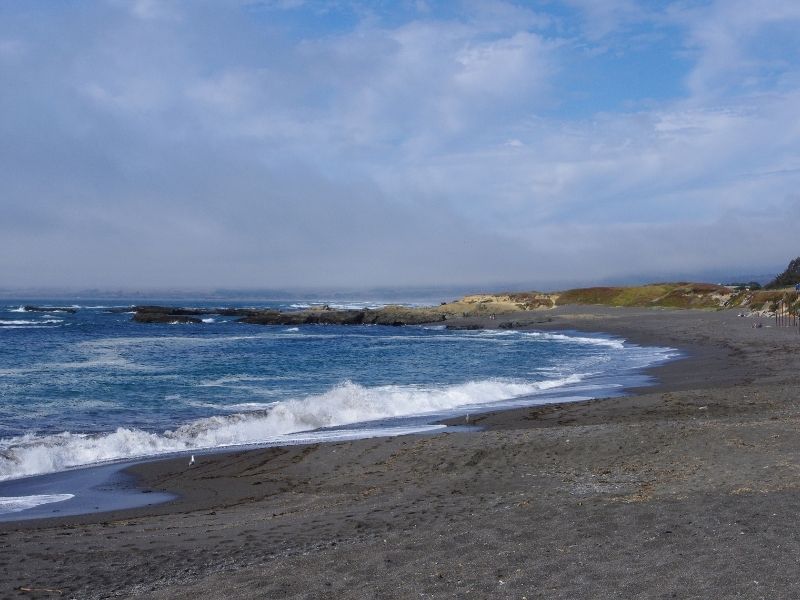 MacKerricher State Park near Fort Bragg is massive and covers 9 miles of the Pacific coast.
If you're looking for diversity in a northern California beach, look no further than here. Across the 9 miles, you can find tons of different terrains.
In addition to the beach, there are headlands, dunes, and wetlands. There are even tide pools!
Lots of animals can be found here too, including birds and seals. Be sure to keep your distance!
Trinidad State Beach
Trinidad State Beach is an excellent pet-friendly NorCal beach that's pretty underestimated!
With breathtaking ocean views and a trailhead or two, this is one place you'll accidentally spend the entire day at.
The best spot at Trinidad State Beach is called College Cove. There are great tide pools here and fun rock formations, in addition to tons of wildflowers and bluffs. Visit during low tide for a great experience.
Humboldt County Beaches
Moonstone Beach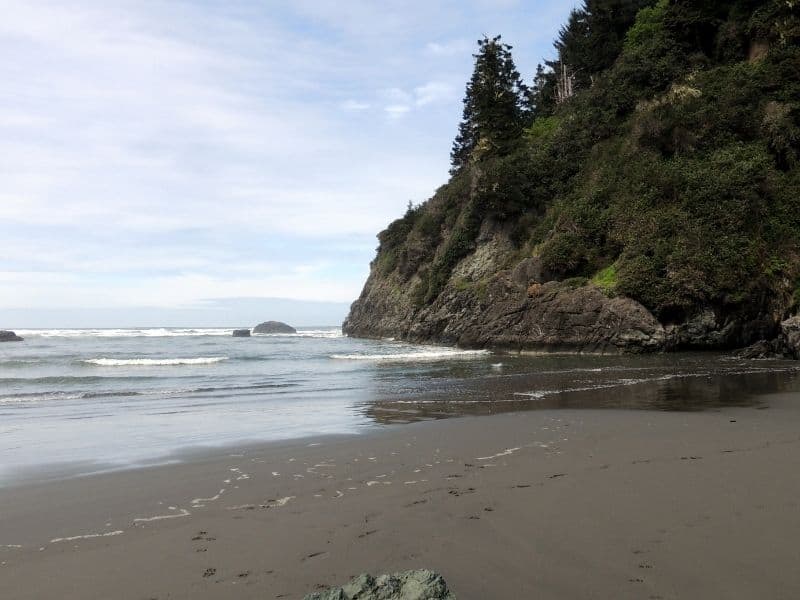 Moonstone Beach is most well known for being a natural escape because of its stunning rocky coast.
With tide pools, a boardwalk, and tons of wildlife, Moonstone Beach is definitely one that should be at the top of your list when it comes to Northern California beaches.
Moonstone Beach is also a great spot for boating and surfing if you love adventure sports. Come in the early morning to watch the sunrise for a treat!
Head away from the famous boardwalk if you want to steer clear of crowds.
If you get hungry while visiting, you can enjoy a spectacular view of Moonstone Beach from Moonstone Beach Bar & Grill!
Luffenholtz Beach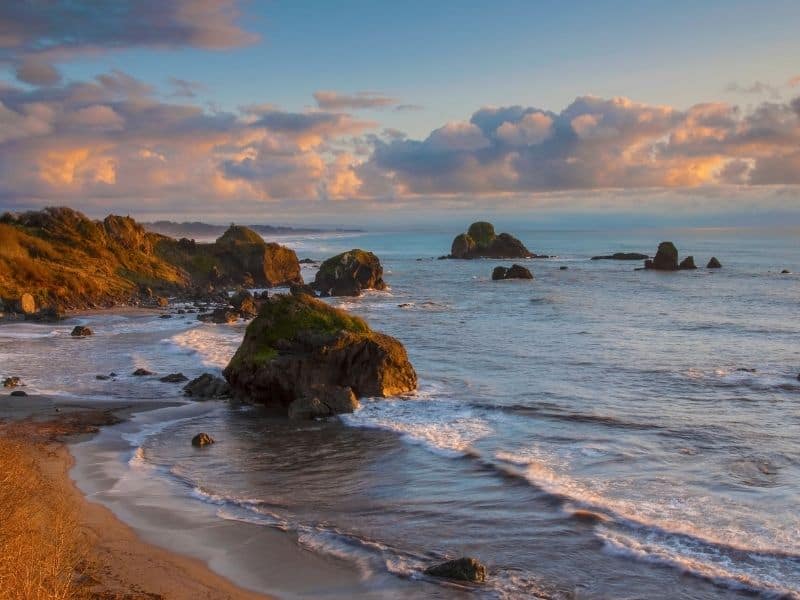 Luffenholtz Beach is pretty underrated despite its incredible panoramic views of the Pacific Ocean.
Located near Trinidad, this park has many great viewpoints and even features great amenities like a picnic area.
Be sure to walk along the trail to get some of the best overlook spots at Luffenholtz Beach.
While this isn't the best spot to go swimming, it's excellent for hanging with friends, taking photos for memories, and having a picnic.
Houda Point Beach (Camel Rock)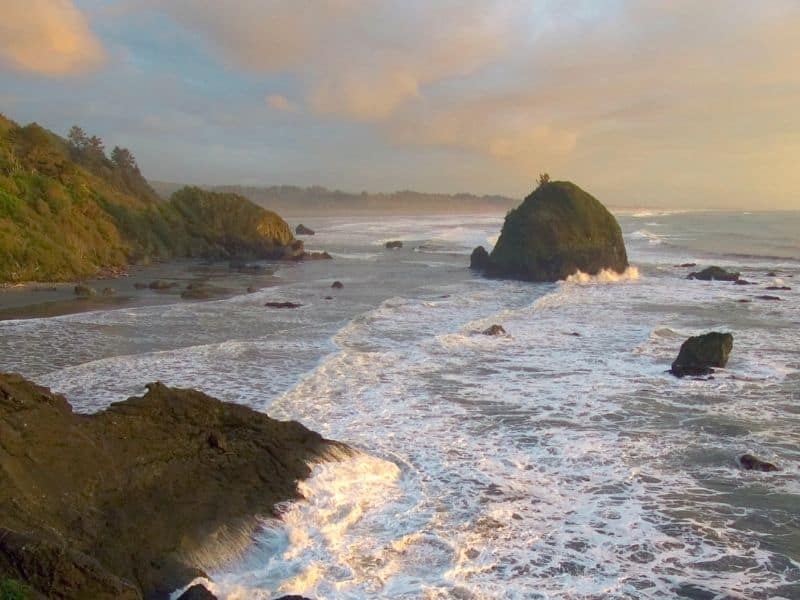 This beach has incredibly picturesque spots, no matter the time of year! It's not that far from Trinidad and has a great short trail that leads to it.
Be on the lookout for the main attraction, Camel Rock, which is very photogenic!
There are other rocks that are visible in the area too, but none are quite as popular as Camel Rock.
Whether you're there to take some pictures or just relax, Houda Point Beach is perfect.
Centerville Beach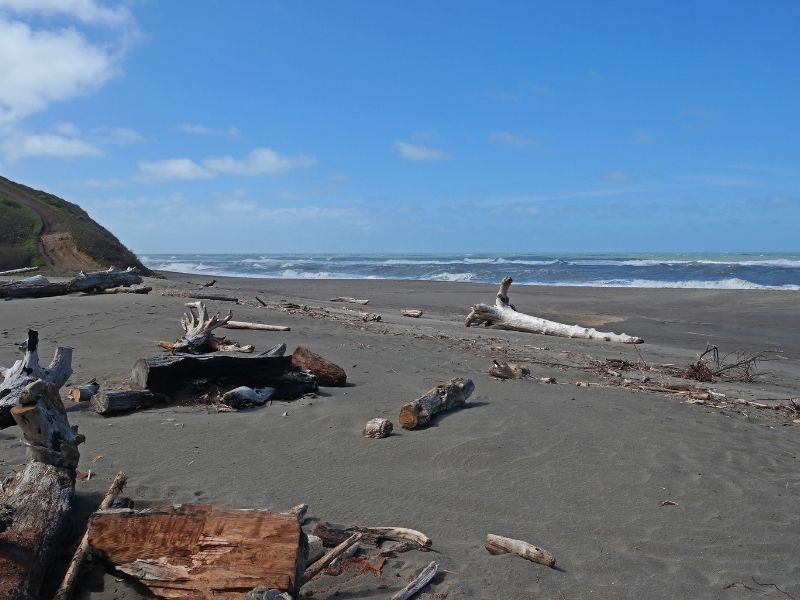 Centerville Beach is one of the longest beaches in Humboldt County!
It's easy to find a secluded spot, making it a more tranquil option than the others in the area. Avid bird watchers will feel right at home at Centerville Beach.
Camping is not allowed at this beach, but you are allowed to bring your animals, including horses.
ATVs are also allowed to drive right along the sand, so if you love going on outdoor adventures, Centerville Beach is the place!
While here, be sure to stop by the white cross, which is impossible to miss – it marks a sad California landmark where a shipwreck occurred.
Del Norte County Beaches
Klamath Beach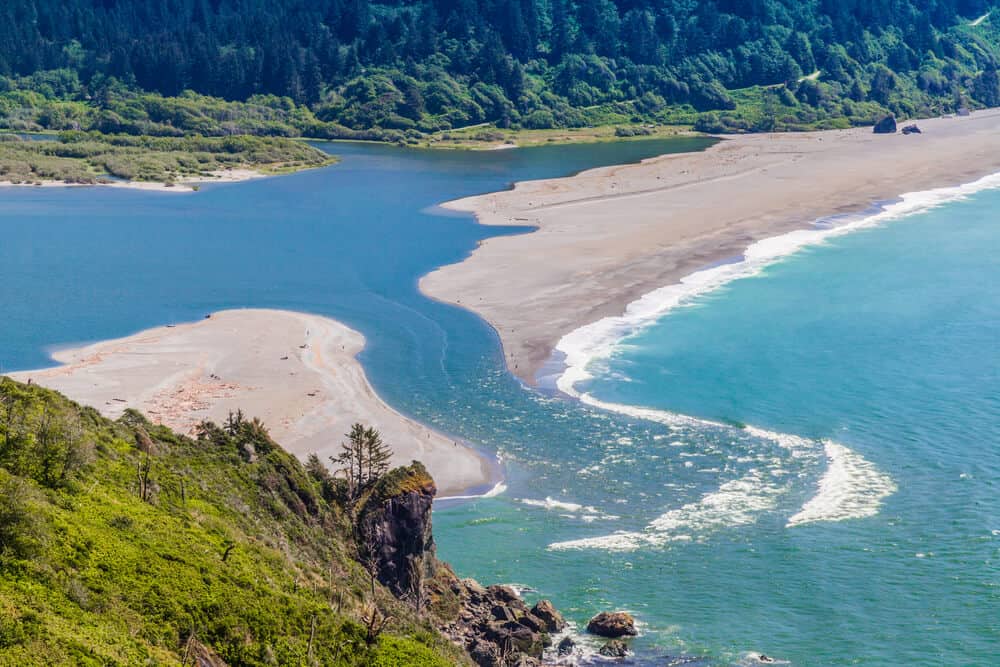 No other sunrises or sunsets compare to the ones travelers can witness at Klamath Beach in Klamath, California!
It's located near the Klamath River and is actually a beach you can swim in, though you may only want to do that in the warmer months!
In addition to swimming, Klamath Beach is perfect for fishing, canoeing, and bird watching.
Amenities are pretty abundant here, too, with restrooms, a campground, and even free parking.
Depending on the time of year you visit, you may have to walk through marshy spots to get to the beach.
Hidden Beach
As the name suggests, Hidden Beach is a genuinely tranquil beach that isn't often visited in California because many people don't know about it.
This cove beach is often overlooked because a hill covers it from the other side. Because there's a hill, there is a bit of a walk to get down; another reason that it's probably not often crowded.
There are trails, picnic amenities, and even restrooms at Hidden Beach. There are three hikes to get down to the beach, but you can choose whichever one is best for you.
The easiest one is from the Trees of Mystery. Each trailhead has free parking!
Tolowa Dunes State Park
Tolowa Dunes State Park is massive at 5,000 acres! There are many beach areas in addition to sand dunes and wetlands.
Because it's a state park, wildlife can also be seen throughout, including tons of different bird types.
Due to it being located near the Oregon border, temperatures usually don't get higher than the 70s, so the water may be pretty cold.
Dress appropriately if you visit here, even in the summer. The beaches here are great for walking and exploring the great outdoors!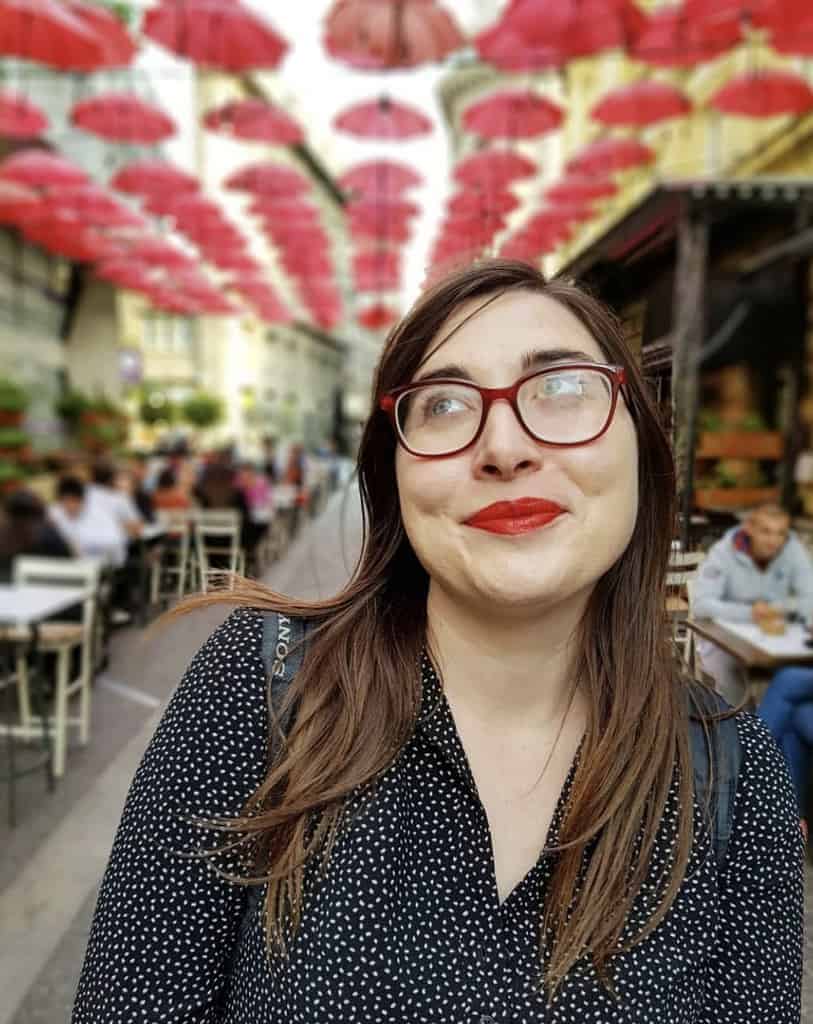 Allison Green is a travel blogger, writer, and podcaster who grew up in the Bay Area of California. She has spent time living in New York, Prague, and Sofia, but has returned to live in the East Bay. She has traveled to 60 countries before the age of 30 while running several digital travel publications. Her writing and podcast have been featured in Forbes, CBC Canada, National Geographic, the Huffington Post, and CNN Arabic, amongst others. She's obsessed with bouldering, houseplants, other people's pets, and anywhere she can see the ocean.