Catalina Island is a rare tropical-feeling gem just a boat ride away from the California coast.
Right off the SoCal shore, you can escape to a dreamy paradise of pastel houses, divine restaurants, and luscious hikes!
Whether you're looking for a luxurious weekend getaway from the fast-paced Southern California life or a jam-packed itinerary full of thrills and adventures, a weekend on Catalina Island offers everything you could imagine!
But first: let's talk about how to get there, and where on the island you're heading.
Catalina Island has two ferry terminals. One in Avalon, which is far more popular, with many more amenities. The other is in Two Harbors, which is less crowded but has fewer amenities.
Since these are very different parts of the island and transportation between the two is limited, the terminal you pick will shape your weekend in Catalina.
For this reason, this Catalina weekend itinerary is really two itineraries in one: one set of options if you choose Avalon and another if you choose Two Harbors!
Getting to Catalina Island
To the town of Avalon
Note: This post contains affiliate links, which earn me a small commission at no extra cost to you if you make a purchase using one of these links. Thank you for supporting this free content!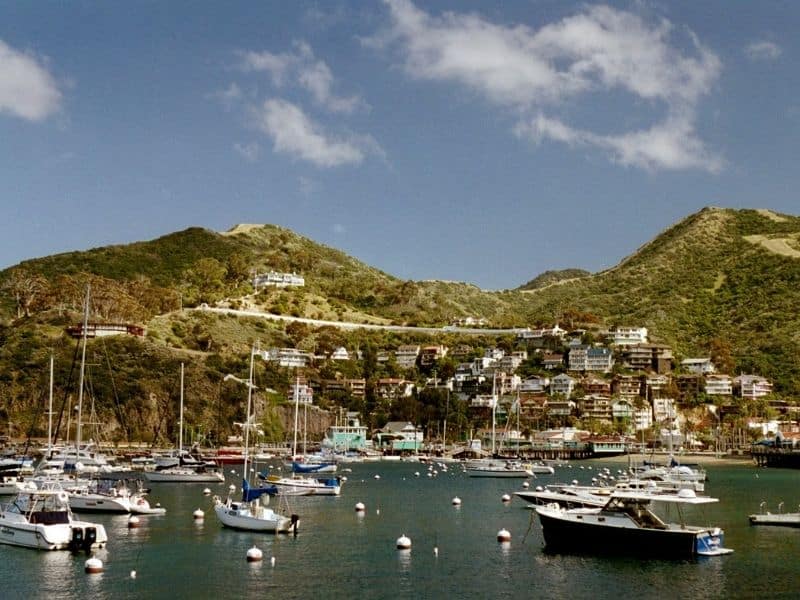 The Catalina Flyer is the primary way to get from the mainland to the island.
This luxurious boat speeds across the crystal ocean for about an hour and 15 minutes, taking you far away from the crowded Southern California beaches.
This boat leaves precisely at 9 AM, so you'll want to get there about 20 minutes early. It's so easy to miss it due to morning traffic, which is legendary in Southern California, so give yourself plenty of extra time!
You'll board this magical boat in a cozy side street of Balboa Island, and parking can be found at the Balboa Pier Lot for $28.15 per day.
Once you board the boat, you can settle in for the gorgeous journey across the ocean!
If you're feeling extra adventurous, you can venture up to the top deck of the boat. There, you'll be able to walk around and get a full view of the crystal ocean and California coast.
Be sure to hold onto something while walking around though, it's very windy and bumpy up there!
Although it is a stunning trip, make sure you have motion sickness pills in case you get seasick on your trip. The ocean can be choppy!
To the town of Two Harbors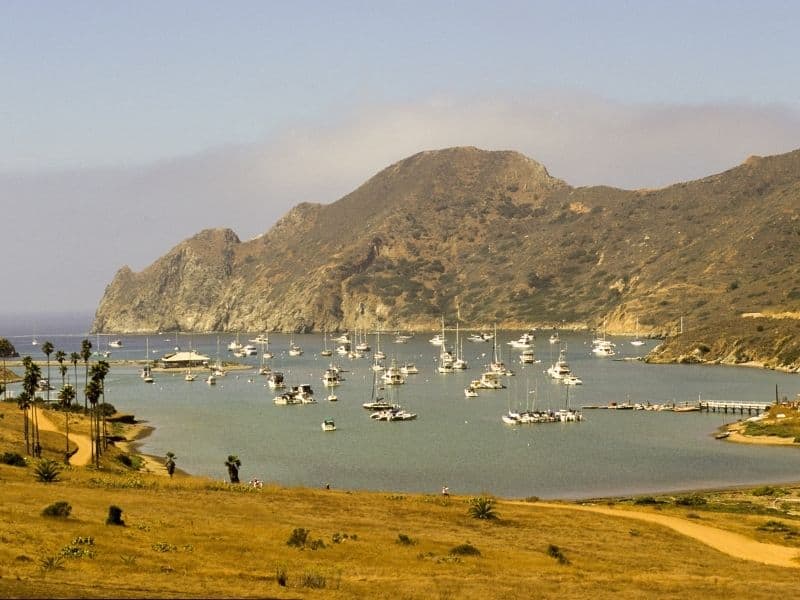 If you're a rugged adventurer heading to Two Harbors—the more wild side of the island—head on over to the Catalina Express at San Pedro Port.
This ferry leaves at 8:45 AM, so try to arrive and park in the San Pedro Port Parking around 8:20 AM at the latest.
This parking is only $19 per day — a good deal cheaper than the parking at Balboa Island — and is located right across from the Catalina Express dock.
From there, you'll board your ship and venture across the stunning sea. Watch the city life of SoCal melt away in the distance as the wilderness expands to embrace you.
Here, you will find many adventures and energizing moments as you exist among the wilderness and wildlife alike!
Day One of Your Catalina Weekend Itinerary: Avalon
Have a tasty breakfast before leaving for Catalina Island.
As it is an early boat ride, stop by one of these aesthetically-pleasing and delicious Orange County cafes! It will be your last taste of SoCal culture before entering into your otherworldly wilderness getaway.
Herst Coffee Roasters is located in Lido Marina Village near the beginning of the Balboa Peninsula. It has a clean, bougie aesthetic, divine coffee, and European-style pastries, perfect for a pre-travel coffee and snack.
If you want to sit down for breakfast prior to leaving, head on over to Balboa Lily's. This charming cafe will make you feel like you're sitting in a classy French cafe in the middle of Paris!
It's the perfect spot to have a luxurious, peaceful breakfast for a good price. Its charming vibes and extensive beverage menu are enough to appease the pickiest of coffee drinkers.
Try their honey lavender latte with a breakfast bowl or yogurt parfait for a satisfying breakfast!
There are also drinks and snacks offered on the boat, but they're on the pricier end and may not feel appealing while you're bouncing over the choppy waves.
Arrive on Catalina Island.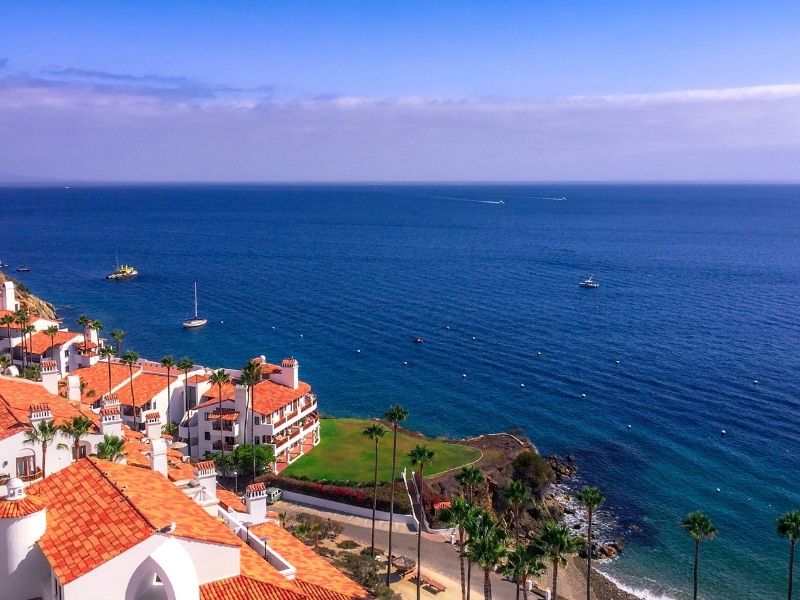 Once you step off the boat, you'll find a charming island reminiscent of Hawai'i!
Bright-colored buildings and lush green trees drape over a mountainous backdrop, welcoming you into another side of California that is often overlooked.
Everything feels retro on Catalina Island, from the restaurants to the beach shops to the locals!
This is one of the few places in Southern California where you can find a down-to-earth beach town that isn't overcrowded with tourists: a truly peaceful escape from the rush of Los Angeles.
Catalina is home to a variety of fun things to do! From shopping to hiking to zip-lining, you'll find it all here.
Whether you're feeling adventurous or just want a chill weekend away from it all, there's an activity catered to you.
Wander around Avalon.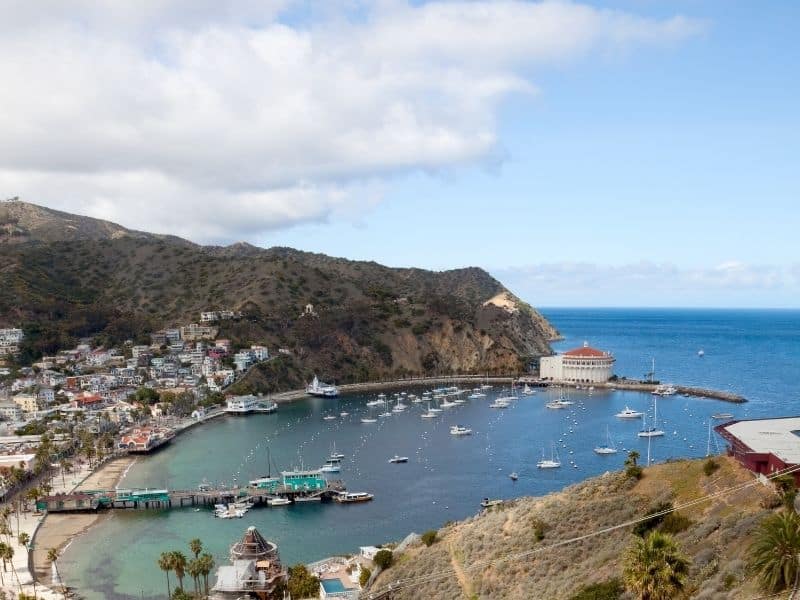 When you arrive in the quaint town of Avalon, take a pause to wander around the town and enjoy the fresh sea air.
Avalon is easy to wander around relatively quickly while still absorbing the island vibes. Allow yourself to get lost in the pastel buildings winding up the mountain.
Feel free to wander into any shops along your walk. There are plenty of beach town souvenir shops lining the winding roads, as well as plenty of places to grab snacks.
If you wish to wander a bit further, begin following the main road. It wraps around out of the town and up towards the mountains so you can explore the nature.
Near the top of this road, you'll see the vast expanse of deep blue ocean, boats embarking on adventures, and a beautiful view of the crimson-roofed Avalon Casino. This is truly an energizing walk that will revive your spirit.
Have a tasty lunch.
Make your way over to Cafe Metropole in downtown Avalon for a scrumptious sandwich!
This extremely aesthetic shop has any type of sandwich you could think of from cold sandwiches to pressed sandwiches to pitas!
You can choose to stay in this bright shop to eat, head back to your hotel to savor it, or carry it over to munch on during a hike around the gorgeous island.
There are also some beautiful benches on the edge of the ocean right across from the shop where you can eat, taking in the bustle of the town and the calm of the sea.
Take a scenic afternoon hike.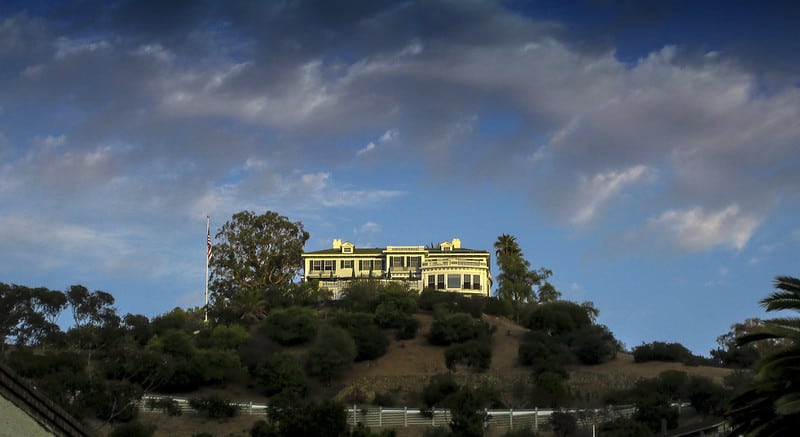 Catalina is not only known for its charming town and beaches, but its luscious wilderness to explore. In fact, there are over 165 miles of trails throughout the entire island!
You can make your way through these at either side of the island (and possibly even seeing bison if you're on the Two Harbors side of Catalina!).
If you're staying in Avalon, for an afternoon exploration, make your way to the stunning Mt Ada Loop.
This 3.75-mile hike takes you along the shore up the peak, allowing you to spot some of the most stunning views on the island.
Make your way to the Pavilion Hotel back near the pier you sailed into. There, you'll find the trailhead.
You'll follow this whimsical trail up along the edge of the sea, taking in the fresh air and crystal-clear views. This trail loops around through lush nature and breathtaking views.
If you take it slow, you may be able to see rich colors painted across the sky, melting into dusk and the sparkly lights of Los Angeles.
Finish your hike with some stunning pictures of the town, the sea, and the stars.
Have a magnificent seafood dinner.
After your stunning hike, make your way to Bluewater Grill right on the pier! Although on the pricier end, this seafood is worth the view.
From your table on the pier, you can be enchanted by the vast amount of sea and stars surrounding you, with boats dotting the dark night as well.
This restaurant has everything from perfectly cooked fish to burgers and salad— pretty much anything you could want for a satisfying dinner.
Savor every bite at this magical space, then head over to Sailor's Delight Ice Cream Shop next door to grab a scrumptious dessert for your walk back to your hotel.
Where to Stay in Avalon
Hotels
If you're seeking a resort-style experience just steps away from the beach, Pavilion Hotel is for you!
While maintaining the more casual vibes of the island, Pavilion adds a touch of luxury with its beach, wine and cheese reception, and stunning rooms. They also offer discounts for island activities!
This is best if you want to stay by the beach and town of Avalon versus venturing into the full-on wilderness of the island. Get ready to relax with a hint of adventure here!
Camping
If you want to truly embrace your adventurous side and enjoy the luscious solitude of Catalina's wilderness to the fullest, camping is your best option.
There are a variety of stunning spots for you to start your retreat. If you wish to have the full camping experience without lugging your gear across the ocean on a boat, both Hermit Gulch and Two Harbors provide tent cabins.
Hermit Gulch is located on the Avalon side of Catalina. It provides tent cabins for a nicer experience in the wilderness. This spot is especially nice if you wish to stay near the vibrant town of Avalon and all its adventures while still getting out in the wilderness.
Day Two of Your Catalina Itinerary: Avalon
Fuel up for a big day of adventure.
Wake up bright and early to grab a light breakfast before your big adventures of the day!
Wander over to Toyon Grill on the opposite side of the cove. If you're feeling especially ambitious, you can wake up for a sunrise walk around the shore on your way to get food.
Grab a hot coffee for the chilly sea breeze and pair it with a healthy smoothie or a protein-packed bacon and eggs breakfast.
Enjoy your stunning view of paradise paired with your delicious food before heading back towards your hotel to prep for your adrenaline-packed adventure.
Go ziplining through the eucalyptus forests.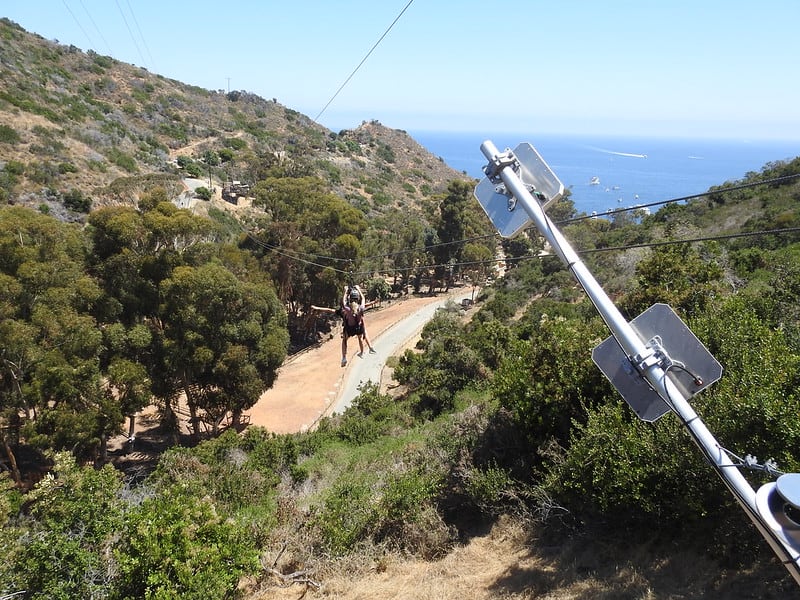 Start your morning off with a jolt of adventure — ziplining through the canopy of Catalina!
This tour flies you over a luscious canyon through a tropical breeze and over spa-scented eucalyptus trees. It's a thrilling adventure you won't want to miss with some stunning views of the town!
Imagine literally feeling like you're flying through a tropical paradise, photograph-worthy views around every turn. This 2-hour experience is just that!
Be prepared to arrive there 20 minutes early to fill out paperwork before soaring over the beautiful landscape. The tour starts at 10 AM.
Have a tasty final meal in Avalon.
After your fun flying adventure, make your way over to Coyote Joe's for some spicy Mexican food.
Wander past the center of town and down one of the side streets to pop into this hole-in-the-wall place.
Enjoy the local ambiance as you savor a filling burrito or massive salad. This place feels very down to earth but has absolutely stunning food.
Take a scenic semi-submarine ride.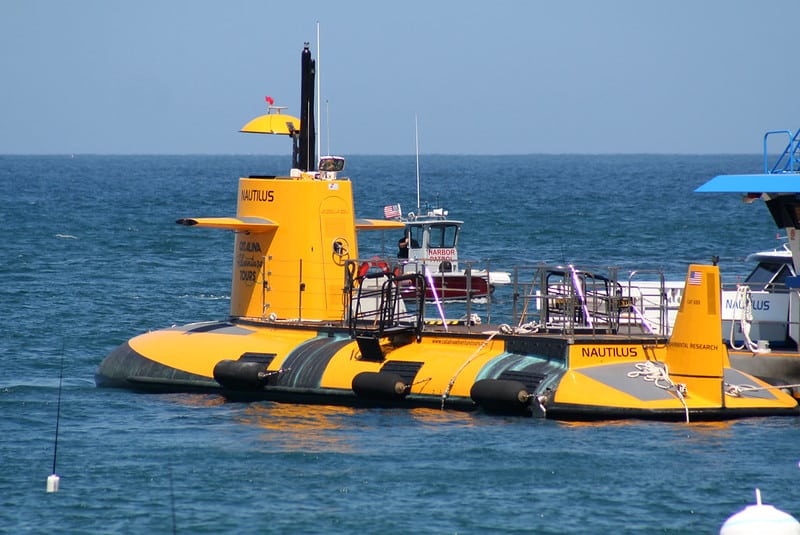 Before heading back to the mainland, explore the ocean life of this wild island — without ever getting wet!
Dive under the sea on the undersea semi-submarine expedition, seeing a whole other side of Catalina Island.
Wander over to the Green Pier near the center of town. Here, you'll board the Nautilus semi-submarine that carries you into the enchanting ocean world.
Enjoy entering another world of peaceful blue waters and colorful fish swimming all around you. During this 45 minute tour, you'll encounter a variety of sea creatures in the wilderness.
Peering out your private window, you may even see dolphins swim by! Be sure to take plenty of pictures to savor being immersed in this rare otherworldly experience.
Day One of Your Catalina Itinerary: Two Harbors
Grab breakfast before your boat ride.
If you're looking for a refreshing early morning breakfast before embarking on your journey to the wild, The Breakfast Bar is your spot.
This Long Beach restaurant opens at 6 AM, giving you plenty of time to fuel up for your trip. Sit down and savor some coffee paired with pretty much any egg combo you could imagine or a stack of pancakes.
This cute café gives you one last taste of busy civilization before escaping to your wilderness paradise!
Take a hike.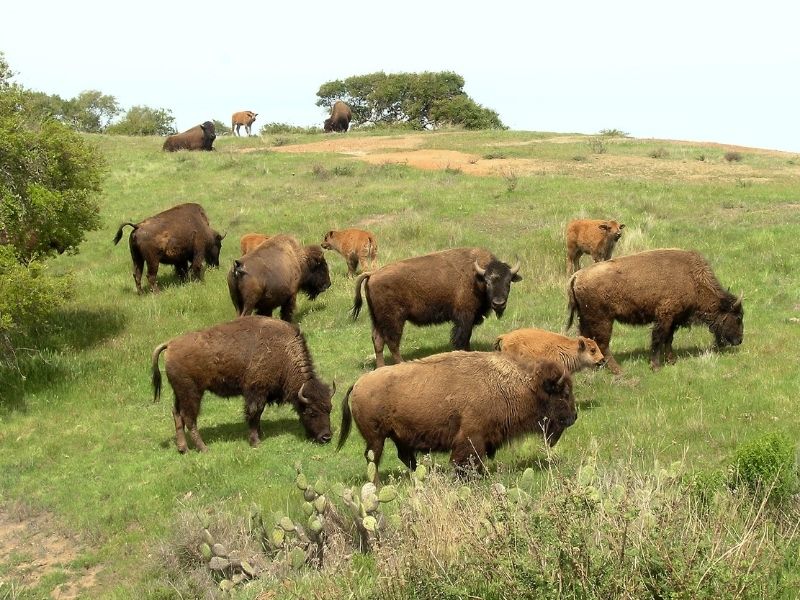 After dropping off your stuff at your chosen accommodations (we'll get to that in a second) and getting a hiking permit (free at the Visitors Center), it's time to adventure across the wilderness, embracing your inner explorer!
The journey from Two Harbors to Parsons Beach allows you to see both the Catalina inland wilderness and the fresh coastal views!
Not only will you be surrounded by a meditative atmosphere of sea and wilderness, but you may also spot wildlife unique to the island, such as the infamous Catalina bison!
Before hitting the trail, be sure to pack plenty of supplies, such as snacks, water, even more water (seriously, bring a lot of water), sunscreen, sunglasses, a hat, hiking poles (if you wish) and lunch.
You can grab lunch at the local Two Harbors General Store before trekking across the wilderness.
This hike is about 6 miles and averages about 2 hours 30 minutes (one way), so it's best to be prepared.
Start off your journey through this stunning wilderness on Banning House Road heading northeast. This will turn into the Trans Catalina Trail, which will then turn into West End Road.
Enjoy your hike among the wildflowers and wildlife, searching for any rare animals you might see on your way to the shore. Breathe in the fresh air and savor your time away from city life.
After many miles, you'll reach Parson's Beach Trailhead on your right. You'll follow that trailhead all the way down to a stunning view of the sea surrounded by wilderness—the ocean in its rawest form.
Once you're done savoring the cliffs and sea, make your way back to the Parson's Beach Trailhead.
From there, make a left onto West End Road and make your way back to the wild town of Two Harbors, just in time for dinner and a stunning sunset.
Have a delicious dinner to fuel up after your hike.
After your wild west exploration, treat yourself to the delicious Harbor Reef Restaurant.
Located near the General Store (the one near the shore, not the one more inland) and right across from the cove, this restaurant will provide that perfect laid-back wilderness ambiance.
This restaurant has a variety of options for every preference, from steak to fish to pasta! Sit down with your dinner and drink of choice and unwind as you watch the sunset over the edge of the sea.
Grab a delicious dessert from the restaurant before heading back to your accommodations or campsite to rest up before another full day of adventuring!
Where to Stay in Two Harbors
Hotels
If you wish for a more wild adventure but still want a step above camping, Banning House Lodge is the spot for you.
Located on the wild and serene side of the island in Two Harbors, Banning House Lodge fits the more secluded, adventurous vibe. Complete with no WiFi, this is perfect for a full-on retreat from civilization!
Banning House Lodge offers 3 lovely retreats away from reality hidden in the Catalina wilderness— the lodge, Villa Santa Cruz, and Villa Santa Rosa.
Although there is no internet connection, Banning House Lodge does provide wine and cheese upon arrival, a delicious complimentary breakfast, and 15% off diving equipment rentals, promoting the more adventurous spirit in you!
Villa Santa Cruz and Villa Santa Rosa are charming bungalows surrounded by the serenity of nature.
They have the same amenities as the lodge, plus hold 8 guests each and have some of the comforts of home, such as a washer, dryer, and dishwasher!
This is perfect if you're looking for an adventurous family or friend retreat.
Camping
Two Harbors Campground is located at you guessed it, Two Harbors. This campground provides a full-on glamping experience with both tent camping and tent cabins.
Along with the cabin tents, this location has a grocery delivery service! As it is in a more serene yet isolated side of the island (aka, away from major restaurants), this is a lovely amenity.
This is the perfect spot if you truly do want to get away in the wilderness, but still have the comforts of civilization.
If you really want to be one with the isolated wilderness for the weekend, embracing your inner hippie, check out one of Catalina's primitive camping sites: Parson's Landing or Black Jack Campground.
If you want to explore the wilderness surrounding Two Harbors, head over to Parson's Landing.
If you're more into the luscious area of Avalon, make your way to Black Jack Campground. Both are surrounded by plenty of trails and wilderness.
Day Two of Your Catalina Itinerary: Two Harbors
Have a quick breakfast at your hotel or campsite.
Lucky you, breakfast is provided at the Two Harbors hotel mentioned earlier! If you're camping, you can grab something in town or cook your own meal.
Pack up on some protein to replenish after your long trek yesterday and enjoy some delicious complimentary coffee before making your way towards the sea!
Go for a beautiful snorkeling excursion.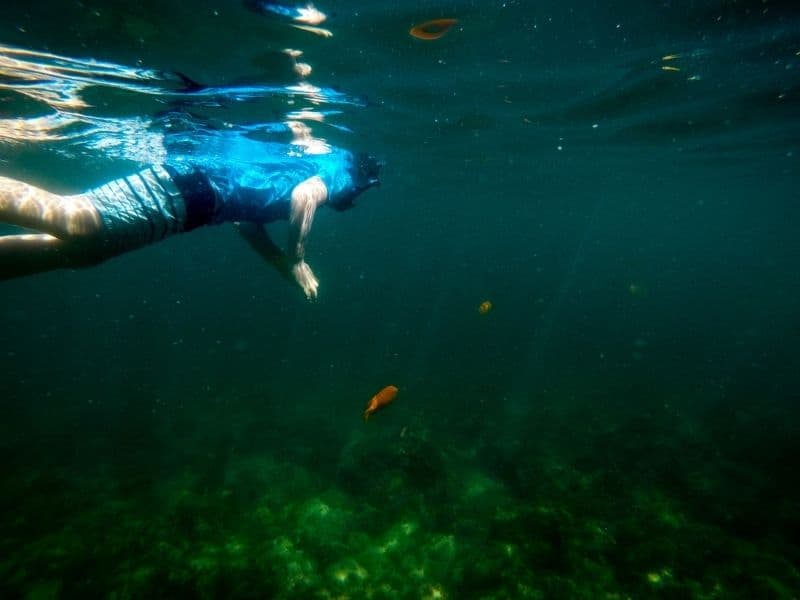 After a long day of trekking across the wild Catalina terrain, take a break to relax by snorkeling in the harbor!
Get ready to be surrounded by California wildlife as you take a dip in the crystalline waters of the Pacific.
Make your way to the Two Harbors Dive and Recreation Center to rent some equipment before heading out into the sea. Be sure to take advantage of any of those hotel discounts you got!
From there, you'll head over towards the peaceful shores of Two Harbors, soaking in the meditative ambiance before diving under the sea, experiencing a whole different side of the island.
If you're not a fan of going under the sea, you can also rent a paddleboard, simply swim in the luxurious waves, or lounge out on the beach, soaking in all the relaxing vibes of this hidden gem.
Eat up after your swim.
Make your way to Harbor Sands for a delicious last meal in this wondrous island!
Choose from a variety of poke, Mexican food, salads, or sandwiches—whatever makes you feel replenished after your adventure across the island.
Savor one last view of the calming shores paired with a well-cooked meal before prepping to make your way back to the ferry.
Take a quick last glance at Two Harbors.
If you have any extra time after lunch before packing and heading out at 2:55 PM, take some time to simply wander around the wilderness around the town of Two Harbors. It possesses a rare beauty!
Pause and remember your favorite spots, creatures, scents, and sights from the island. What do you want to savor when you're back in the bustle of daily life?
Heading Back to the Mainland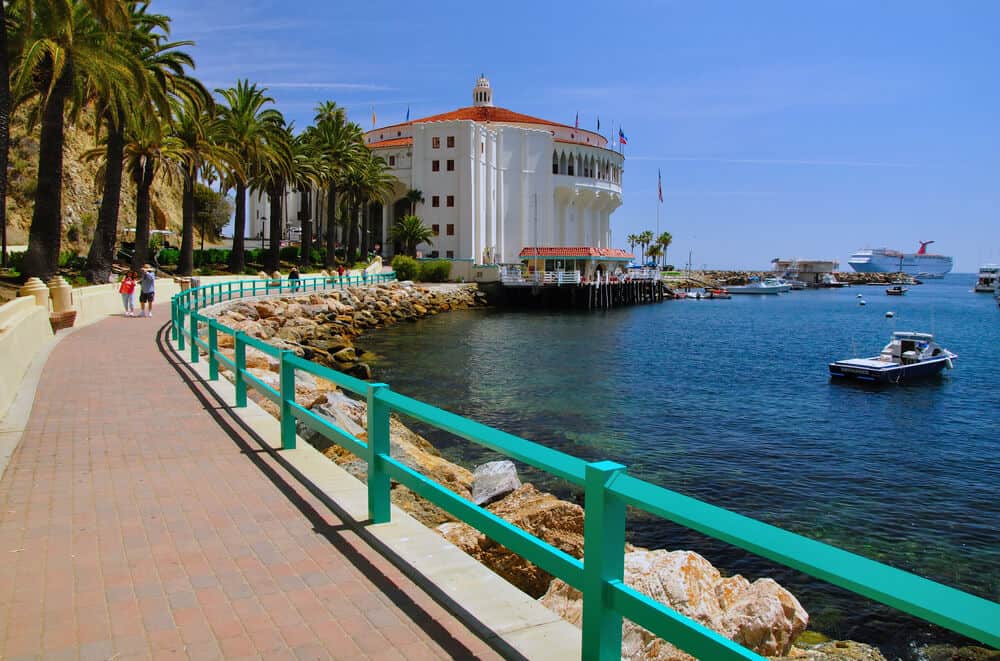 After exploring both land and sea on Catalina, it's time to leave this paradise and sail back to the mainland.
Enjoy your journey across the glassy sea once more as you depart at 4:30 PM in Avalon, or 2:55 PM in Two Harbors. It's definitely recommended that you get there early though to not miss the trip back!
Once you get back on the mainland, head over to The Lighthouse Cafe (Balboa) or Padre (Long Beach) for one last seaside meal.
These charming restaurants have seafood, tacos, breakfast for dinner (at The Lighthouse Café), delicious drinks, and so much more!
Say your last goodbyes to the fresh salty air and rejuvenating ocean vibes before heading back to reality!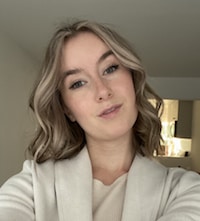 Kalyn is a writer, editor, and travel addict. She gets her inspiration from venturing deep into the grandeur of the California wilderness. When not working on her latest piece, she can be found chasing sunrise at a national park, practicing yoga, or learning about spiritual formation.