When you hear about Los Angeles, what's the first thing that comes to mind? Disney, Hollywood, and the beach?
You've hit the nail on the head, to an extent. The thing about LA is that it is a sprawling metropolis home to over 10 million inhabitants, and this densely populated hub comes with a lot.
While LA has its iconic theme parks and lavish sandy shores, most people fail to recognize how rich and diverse the culture is here. LA is home to many ethnicities, which makes the city a melting pot of Mexican, Korean, and Thai cultures, to name a few.
To be truly immersed in the abundance of customs, art, and history that make up LA, you would need to reside here for the long run. As this is not a feasible option for everyone, I've curated this 2 day Los Angeles itinerary that will acquaint you with the city enough to appreciate its multiculturism.
This guide will not take you to Disneyland or Universal Studios (these theme parks take up to an entire day—or even up to four days for Disney!).
What it will do is will highlight the novelties that LA has to offer that will pave the way for a unique experience for your first time. Don't worry—this LA itinerary will still take you to some of the can't-miss tourist attractions!
How This LA Itinerary Works
Note: This post contains affiliate links, which earn me a small commission at no extra cost to you if you make a purchase using one of these links. Thank you for supporting this free content!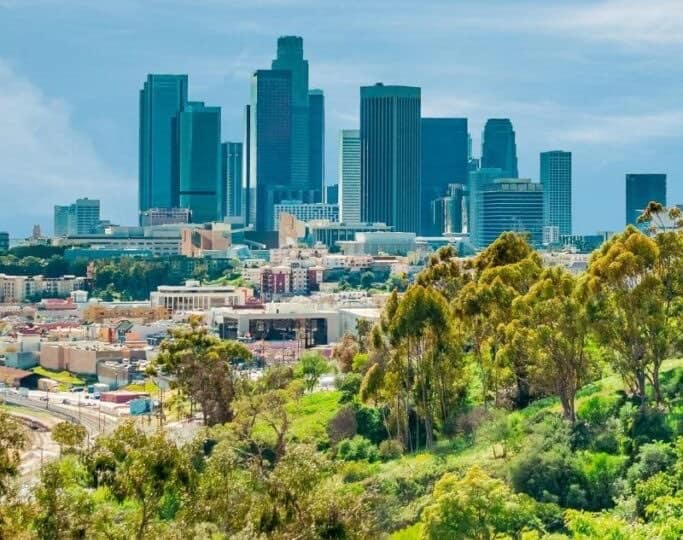 Something everyone knows about LA is just how bad its traffic gets!
Due to how densely populated the city is and its lack of public transportation, it's nearly impossible to drive in LA and not be stuck in traffic (though we have done our best to write a guide to public transit in LA, should you be brave/masochistic enough to try it!)
I've kept this in mind as I've built this guide, but it's best to be mindful of the time when you're visiting certain places, especially during rush hour in LA (between 7-9 AM and 4-7 PM).
My best tip for navigating through traffic is to always check Google Maps well in advance before you travel from one destination to the next!
Lastly, LA is a foodie city that has many of America's iconic dishes, so make sure you come hungry, because you will be eating your way through your 2 days in LA!
Day 1 of Your Weekend in LA Itinerary: Exploring West Los Angeles & Malibu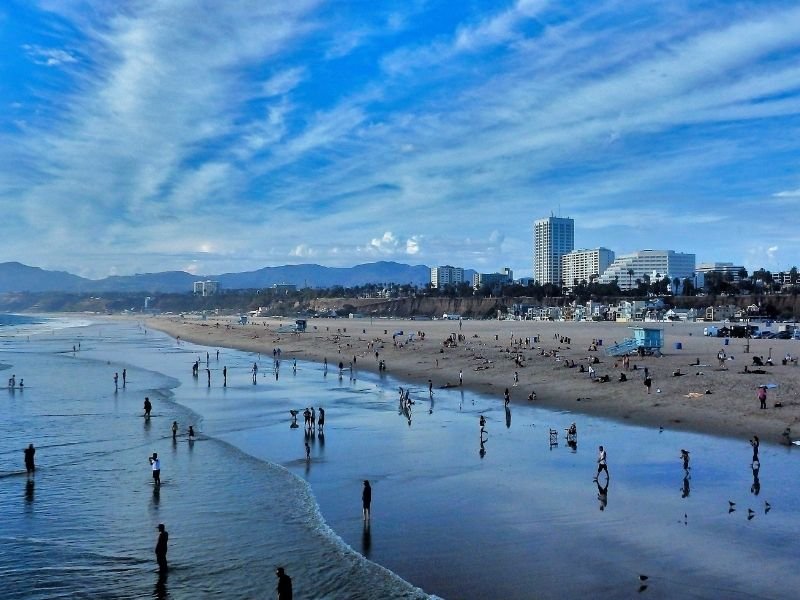 Your first day in LA will be centered around enjoying the coast with its gorgeous beaches and ocean views, which best encapsulates the relaxed and liberal culture of LA!
Fuel up on carbs and coffee
A large component of traveling is exploring and indulging in different cuisines, so what better way to start off your first day in LA than to eat carbs?
Lodge Bread is an organic, whole-grain bakery that has mastered their sourdough bread making. They even mill their own flour!
Unlike your ordinary, thin slice of processed bread from your local grocery store, their hearty, thick-cut slices of toast are dressed with generous spreads that will satisfy your sweet tooth, which pair perfectly with a cup of coffee.
If you're not feeling something sweet, you can opt for savory toast or a sandwich instead.
Their menu changes seasonally, but if they have it, please try their sourdough cinnamon roll—the bread is light and fluffy while the cinnamon flavor is infused at just the right amount in every bite. The sweetness and density of this treat is well-balanced, and not to mention the size of this roll is huge.
You might (or might not) want to share this with your friend. If you can't stomach all of their bread (I know it's a lot of carbs in one sitting), you can order an entire, freshly-baked loaf with you to-go.
Address: 11918 Washington Blvd, Los Angeles, CA, 90066
Parking: Metered street parking.
Stroll the harbor and admire the plentiful views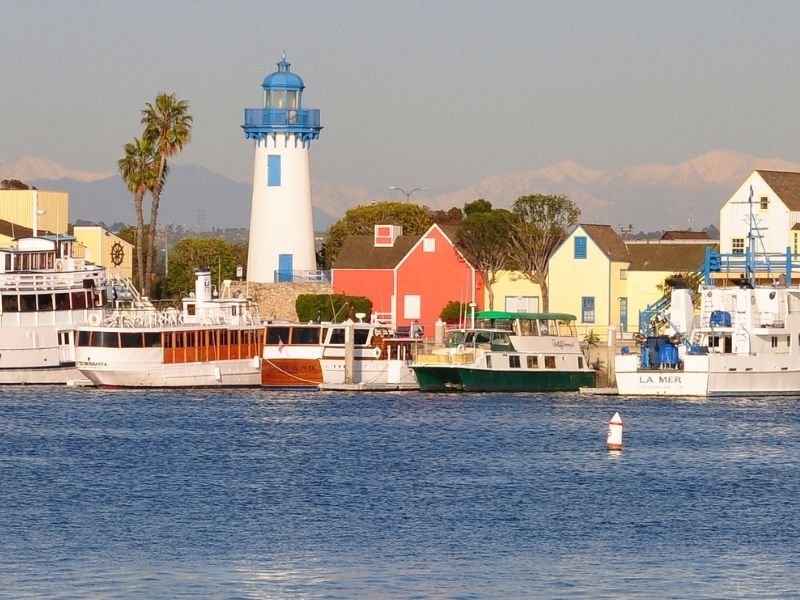 Fisherman's Village is a peaceful, quaint seaport known for its expansive harbor views. Roughly 10 minutes from Lodge Bread, you'll find yourself at one of LA's unexpected pleasures.
Walk along the marina and take in the sights of the charming lighthouse, sailboats and yachts, pelicans, and sunbathing seals. I love the allure of the promenade in that it invites you to stretch your legs and saunter alongside the sea and its accompanying New England-style shops.
Not only that, you can also rent boats, jet skis, kayaks, paddleboards, and more—if you want to get even closer than you already are to the ocean. This town is known for its free live concerts every Saturday and Sunday afternoon year-round (weather permitting) as well as its dining cruises.
Address: 13737 Fiji Way, Marina del Rey, CA, 90292
Parking: Parking lot fee is $1 per 20 minutes with a daily maximum of $15; two hours free with validation.
Visit the best sights of Venice Beach.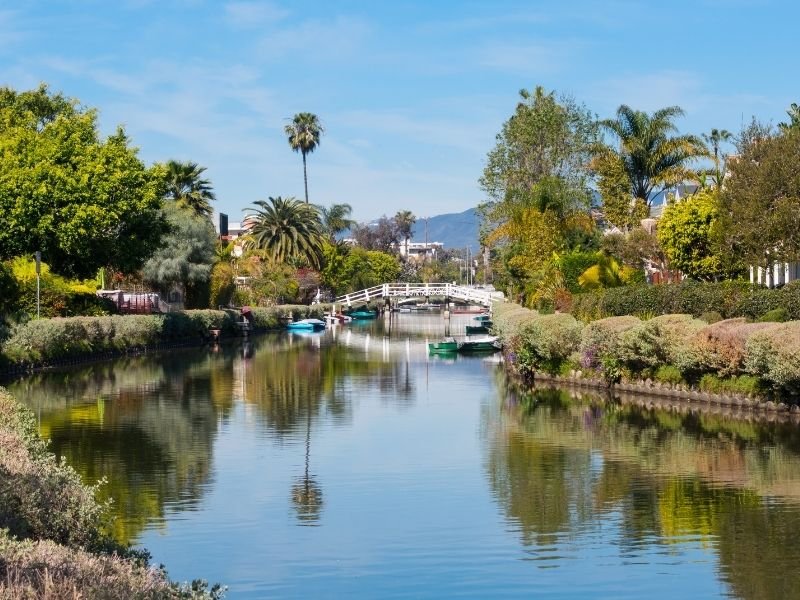 Just another 10-minute drive and you've arrived at a Venetian-inspired historic neighborhood with canals, arched footbridges, and slim paths carved out along the perimeters of the waterways that invite you to enter a scene straight out of a storybook.
Today, the Venice Canals are just a portion of the original development. It originally consisted of seven canals that opened in 1905, and later, a subset of connecting canals.
It was built as a pedestrian-friendly community that became a destination spot for tourists to ride gondoliers and swim while its residents traveled through the canals by canoe or boat. Due to the growth of the automobile industry in the 1920s, the original canals were filled and paved over into roads to adapt to the space needed for the surge in vehicles.
The present-day Venice Canals still resembles the Italianate culture in its infrastructure and architecture. When you get there, you'll be able to wend your way along the footpaths and admire the charm of each estate close-up.
Tip: If you have time, come back at sunset for a stunning view of the sunset reflecting on the waters of the canals.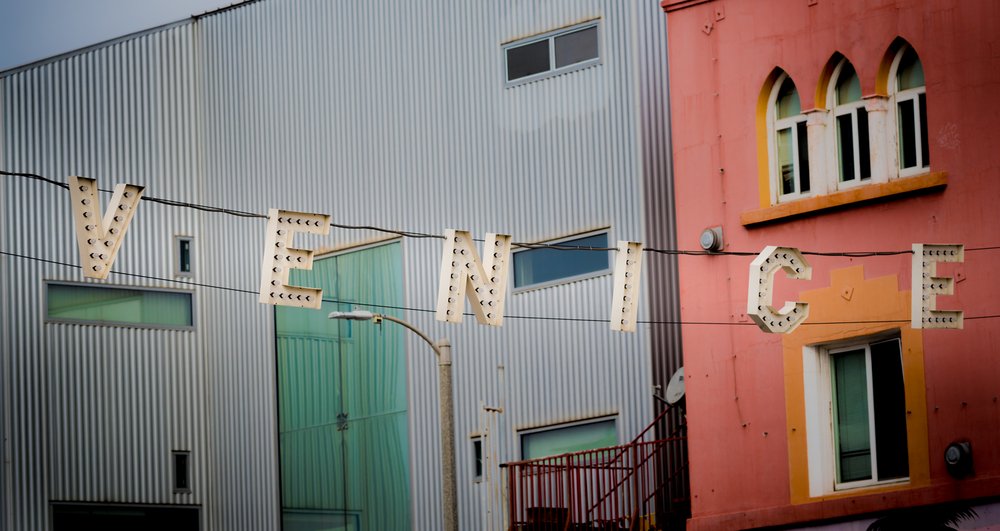 Next up: Take in the sight of—and of course, snap a photo of—the renowned Venice Sign. If you want that "Instagrammable" shot, you can stand directly beneath the sign for a photo!
Because of the scramble crosswalk at this intersection, you can wait for all the traffic lights to turn red and no cars will be able to pass through. Only pedestrians can travel through this intersection during this cycle, and you're permitted to cross the street diagonally too.
At this point, you'll see that you're just steps away from Venice Beach and the Venice Beach Boardwalk. This beach is bristling with energetic and eccentric characters and colors.
When I say colors, I'm referring to its art murals that span the entire surface area of buildings, as well as its graffiti and sculptures—they're everywhere.
Venice has its own self-guided art tour and map you can use to locate each of its artwork, and if you have a creative side, you can bring your own paint and legally add your own design to the Venice Art Walls.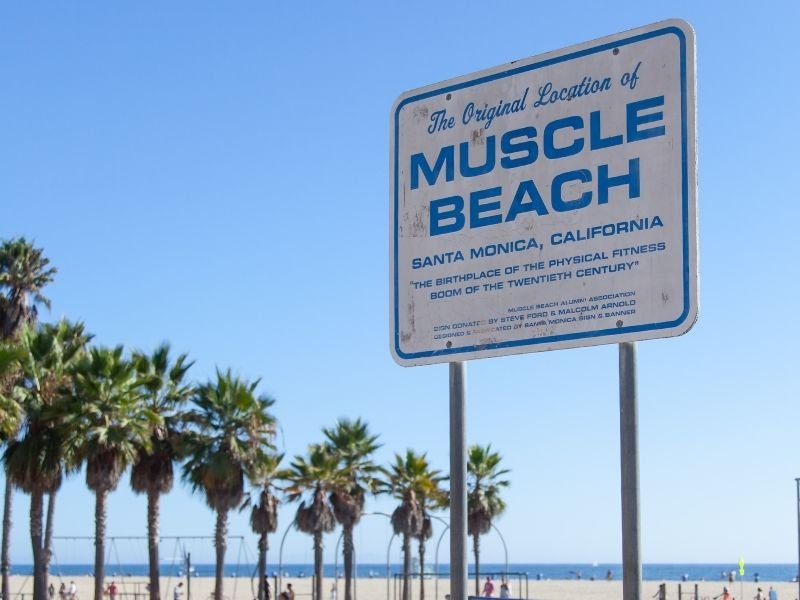 The last must-see while you're here is quintessential to LA's fitness culture: the Venice Muscle Beach that has been in existence since 1951!
Despite its name, it's actually not the original Muscle Beach that is located just a couple miles north in Santa Monica, but similar to its predecessor, it still serves as an outdoor playground for bodybuilders, gymnasts, and acrobats.
Interestingly, celebrated athletes like former bodybuilder Arnold Schwarzenegger had trained at this gym.
It's quite admirable—human beings and their dedication toward building extraordinary strength (you might witness some Herculean beings with ripped physiques here!). 
Note: California has a homelessness crisis, therefore, there are many homeless people and recreational drug users that live at the beach. But like any public space, especially in a city, be cautious of those around you.
People won't bother you if you don't bother them. Just be wary of street sellers who might approach you here. I politely decline or ignore them, and then I go on my way without harm.
Some might be pushier than others, but my recommendation with handling any city hawker is to not give them attention and keep walking.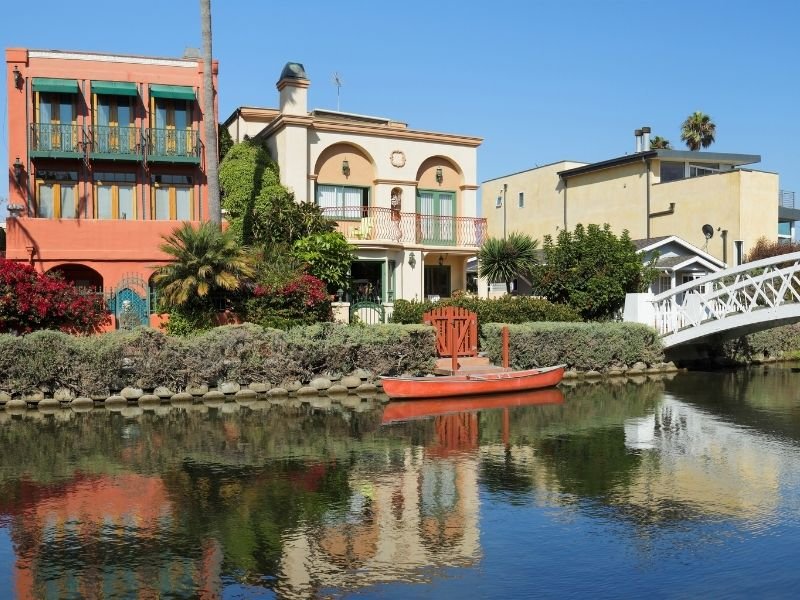 Venice Canals Address: Since there isn't a designated entrance, you can enter the canals at any street. Search "Venice Canals" on Google Maps to see the pinpointed location (Venice Canals, Venice, CA 90292).
Venice Sign Address: Pacific Ave & Windward Ave, Venice, CA 90291
Venice Beach and Boardwalk; Muscle Beach Venice: 1800 Ocean Front Walk, Venice, CA 90291
Parking: Free street parking or Venice Beach parking lots located along S Venice Blvd; prices vary between $5-$15 per day. I recommend staying parked nearby the Canals, and then walk to the remaining destinations mentioned above.
For more information about visiting Venice and the locations mentioned above, check the Venice website here.
Grab a pick-me-up and shop along Abbot Kinney Boulevard.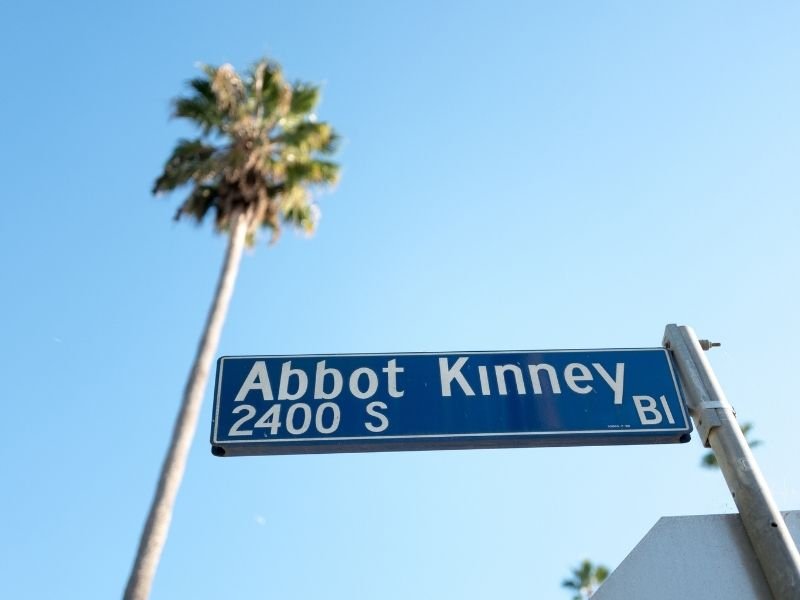 Abbot Kinney Boulevard is absolutely worth checking out, even if you're on a budget or don't want to shop.
You can easily walk from store-to-store along this mile-long street to go window shopping, or just take a gander at all the art murals present in this community.
I found that there were stores that I couldn't help but walk into because I was so enticed by their unique design and interior decor!
Some stores occupy century-old bungalows while others inhabit modernized spaces with a clean, minimal aesthetic. I love how this street is not only pleasing to the eye, but the atmosphere is very relaxed and welcoming.
I recommend grabbing a coffee at Blue Bottle Coffee or an iced lemonade from Lemonade if you want a refreshing drink instead.
It might be too early for dessert, but if there's no such thing as "too early" in your books, then you must try the ice cream from Salt & Straw or the donuts from Blue Star Donuts (or at least come back later to try some!).
Blue Bottle Coffee Address: 1103 Abbot Kinney Blvd, Venice, CA 90291
Lemonade Address: 1661 Abbot Kinney Blvd, Venice, CA 90291
Salt & Straw Address: 1357 Abbot Kinney Blvd, Venice, CA 90291
Blue Star Donuts Address: 1142 Abbot Kinney Blvd, Venice, CA 90291
Address: Abbot Kinney and N Venice Blvd, 90291
Parking: Free street parking with a two-hour limit or public parking lots located throughout the area.
Enjoy all-day brunch food at Urth Caffé.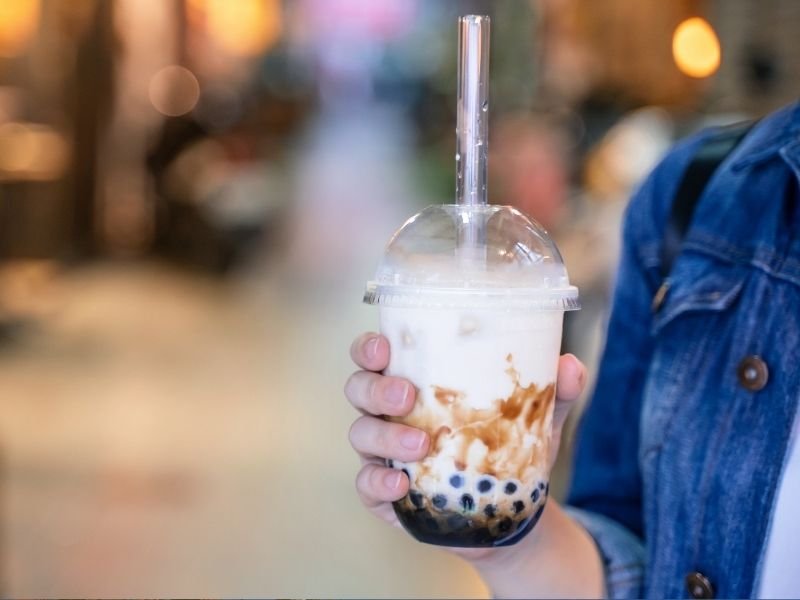 When I first ate at Urth Caffé, I experienced extreme indecision because I wanted to eat and drink everything.
I'm not only a breakfast and lunch girl, but I specifically love a good sandwich or panini, and they have both!
The food here really hit the spot for me. It also has an expansive coffee menu that includes a variety of juices, smoothies, and boba (if you're unfamiliar with boba, it's a sweet blended or shaken tea with tapioca pearls).
It's easy to order from here too. You can grab a menu near the entrance, order at the front, and seat yourself wherever you want. You'll be given a number to take with you to your table so a server will bring your food to you.
Overall, it has a very casual and comfortable vibe, and I enjoyed my meal outside on their patio.
Don't forget to order a dessert—yes, they have an unbelievable selection of cakes, pies, and pastries too. I suggest their fruit tart if you want something on the lighter side, or their tiramisu or chocolate cake if you prefer something more decadent. 
Address: 2327 Main St., Santa Monica, CA 90405
Parking: Free street or metered parking
Spend some time in Santa Monica.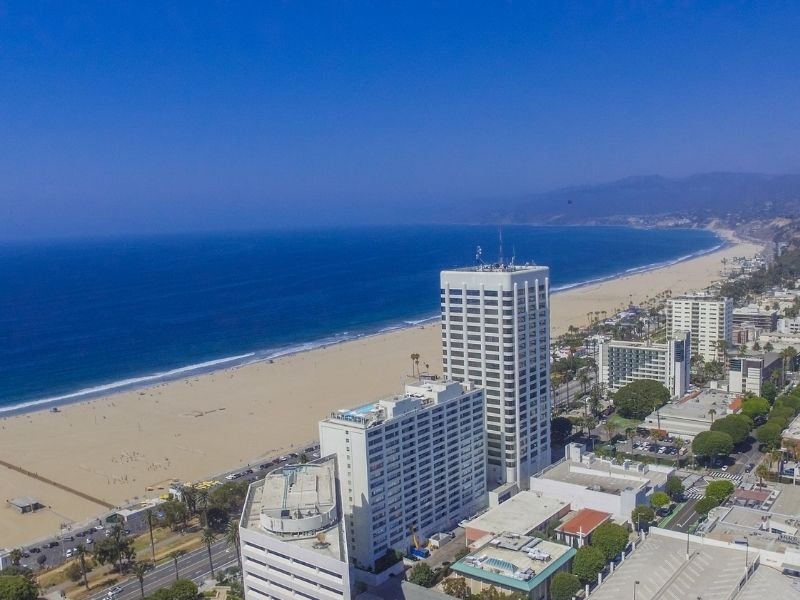 Third Street Promenade is the major shopping and entertainment mecca of Downtown Santa Monica.
The energy here is lively, and the strip is blocked off from cars, so it makes touring the area very easy!
I recommend starting off at the outdoor shopping center, Santa Monica Place, and then walking down 3rd Street from there. 
Before you continue exploring the promenade, I highly recommend making a slight 4-minute detour up Santa Monica Boulevard to Philz Coffee.
I know, it might seem like caffeine overkill at this point, but their coffee is very different from the standard cup of coffee you find from chains like Starbucks.
Their blends and roasts are rich and full of flavor, and you can tell the barista to customize your coffee with spices like cinnamon or cardamom.
If you want to further elevate your brew, ask for it "Philz Way" or the "House Way"—it's indulgent and sweet, and worth the splurge (the price per cup ranges from $3.60-$4.60, depending on the size).
If you're not sure what to order, I recommend their most popular drink, the Iced Mint Mojito.
Now, back to Third Street—there's a little bit of everything here, from high-end to affordable fashion, as well as an array of dining options.
If you're not too stuffed from lunch at this point, I recommend stopping by The Gallery (located on 3rd Ct near the corner of Arizona Ave); it's a unique two-story indoor and outdoor dining and hang out spot that's reminiscent of the '90's mall food court era.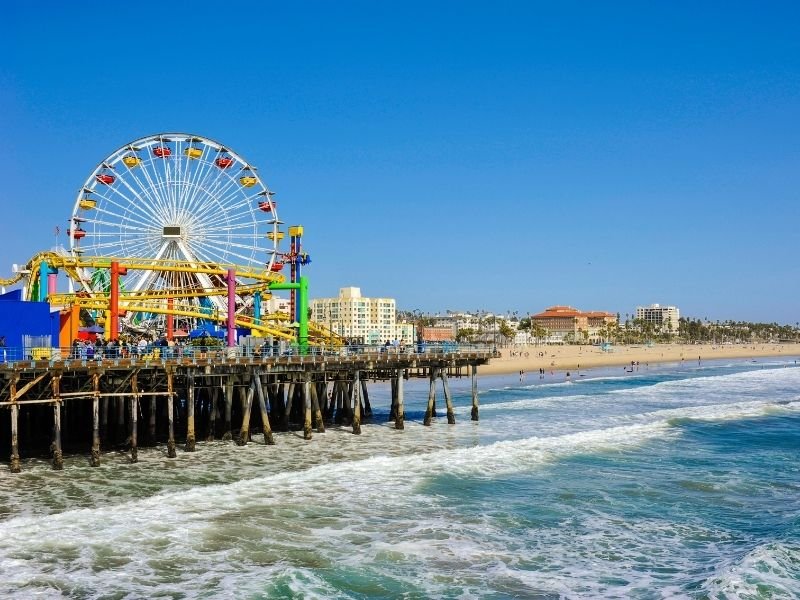 Once you've finished perusing downtown, head toward Ocean Ave to the famous Santa Monica Pier.
You're less than a mile walk away from the beauty of the oceanside as well as the renowned amusement park, Pacific Park.
If you're not big on amusement parks, you can still enjoy the bustle of the pier and can snap some pretty shots of the Ferris wheel with the beach and ocean backdrop.
Downtown Santa Monica/Third Street Address: 1351 3rd Street Promenade, Santa Monica, CA 90401
Santa Monica Place Address: 395 Santa Monica Pl, Santa Monica, CA 90401
Philz Coffee Address: 525 Santa Monica Blvd, Santa Monica, CA 90401
The Gallery Food Hall Address: 1315 3rd Street Promenade, Santa Monica, CA 90401
Santa Monica Pier/Pacific Park Address: 200 Santa Monica Pier, Santa Monica, CA 90401
Parking: Public parking lots free for the first 90 minutes, then rates vary depending on the day and duration of parking. I recommend staying parked nearby 3rd Street, and then walk to the remaining destinations mentioned above.
For more information about visiting Santa Monica and the locations mentioned above, check the Santa Monica website here.
Enjoy fresh seafood and watch the sunset in Malibu.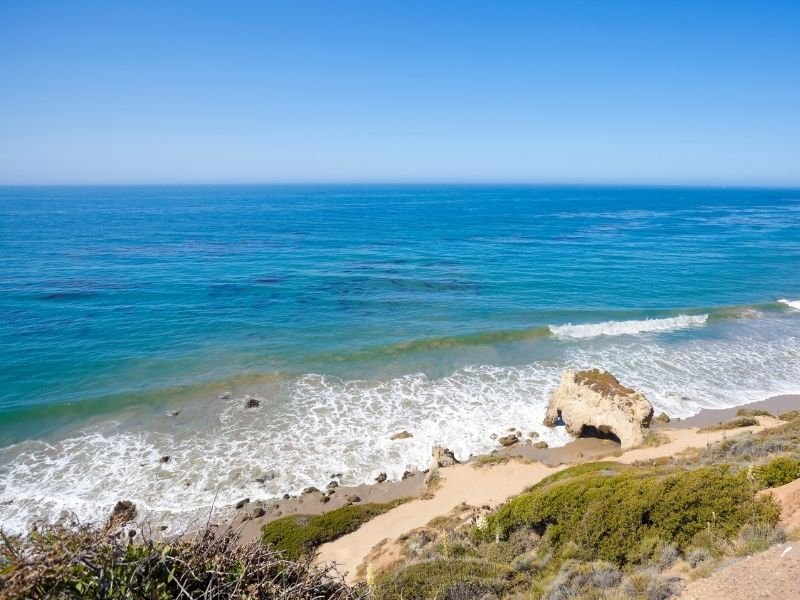 Depending on traffic, it's anywhere between a 25-45-minute scenic LA drive from Santa Monica to Malibu.
While it may seem like an iffy way to spend a weekend in LA, trust me. The drive is part of the journey!
It's an incredible, scenic drive along the famous Pacific Coast Highway (PCH) that makes the distance worth it. The constant coastline and ocean views make you feel like you're on a road trip to paradise.
Besides, the time it takes you to drive will be just enough time for you to build up your hunger again for dinner at the Malibu Seafood Fresh Fish Market & Patio Cafe.
The seafood here is one of the freshest I've had, and you just can't come this close to the sea without trying what the ocean has to offer. The fish and chips are a must, as well as their grilled fish tacos.
Because of the popularity of this place, there will be a long line, but their service is quick and not to mention you'll get to enjoy your meal on their outdoor picnic tables with the gorgeous ocean view.
If you can't find a seat, I recommend taking your food to-go and eating it on the beach just 10-15 minutes away at your next destination: El Matador Beach.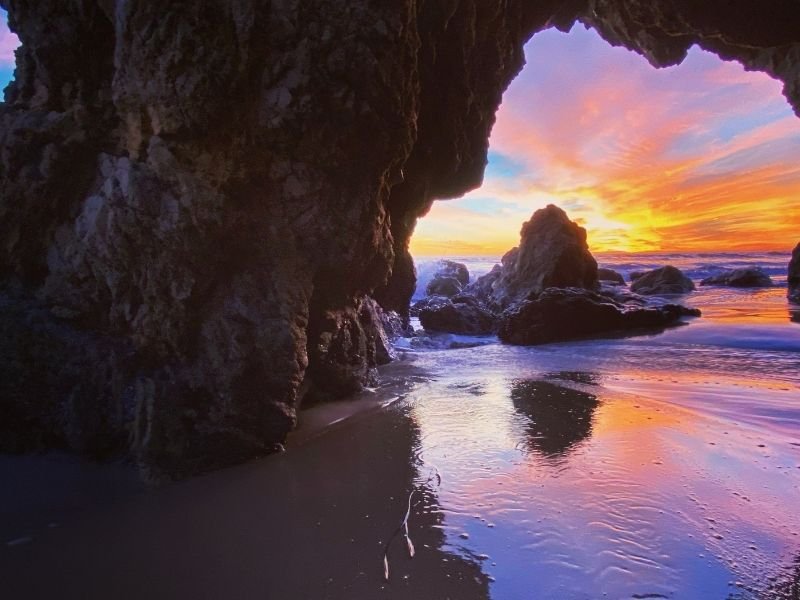 The sunset at El Matador Beach is breathtaking. As soon as you arrive, you'll understand why. The landscape of this beach is more than just the expected sand and ocean—it has beautiful, large rock formations and caves.
When you enter the beach, you will have to descend a trail and a few sets of stairs. If you don't want to take the extra steps, you can grab a picnic table at the top of the bluff by the parking lot instead and still enjoy the picturesque sunset views.
Malibu Seafood Address: 25653 Pacific Coast Hwy, Malibu, CA 90265
El Matador Beach Address: 32200 Pacific Coast Highway, Malibu CA 90265
Parking: Limited free parking at the lots for both Malibu Seafood and El Matador Beach, otherwise, park along PCH for free but pay attention to parking signs.
Day 2 of Your Weekend in LA Itinerary: LA's Neighborhoods
Your second day will take you more inland to experience the melting pot of cultures of LA. You'll get to explore a lot of history, art, and a variety of delicious cuisines.
Soak in the sweeping city views as you hike Runyon Canyon.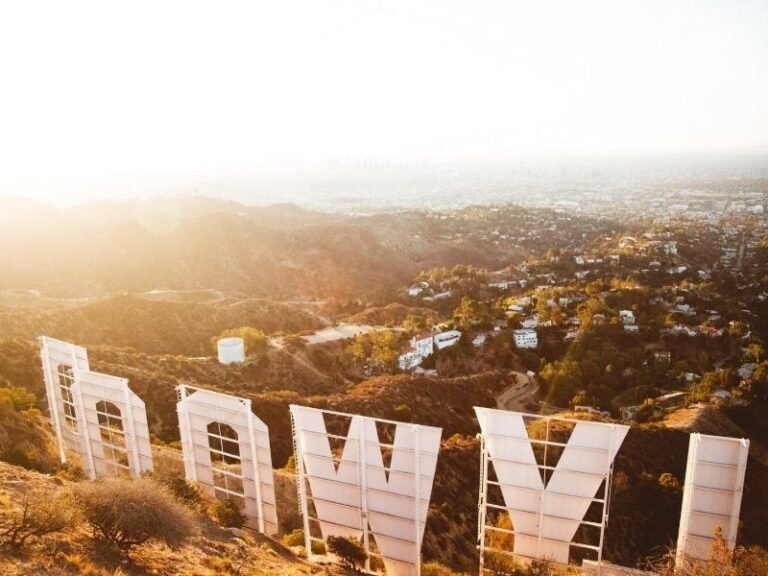 Runyon Canyon is a popular hike for both residents and tourists, so it will be busy, but it's a short and doable LA hike that is a perfect morning activity to start your second day of this weekend in LA itinerary!
The trail takes you on a 2.7-mile loop with a steep incline at the start, but the path will level out thereafter. Make sure you bring enough sun protection and water to stay hydrated because there's not much shade and it's generally hotter inland.
Beyond the city views, you'll also be able to see the famous Hollywood Sign, which is something every first-timer can't miss as part of their sight-seeing journey in LA.
Address: 2000 N Fuller Ave, Los Angeles, CA 90046
Parking: Free street parking near the trail entrance, but due to the hike's popularity, make sure to go early.
Enjoy some authentic Northern Thai food for lunch.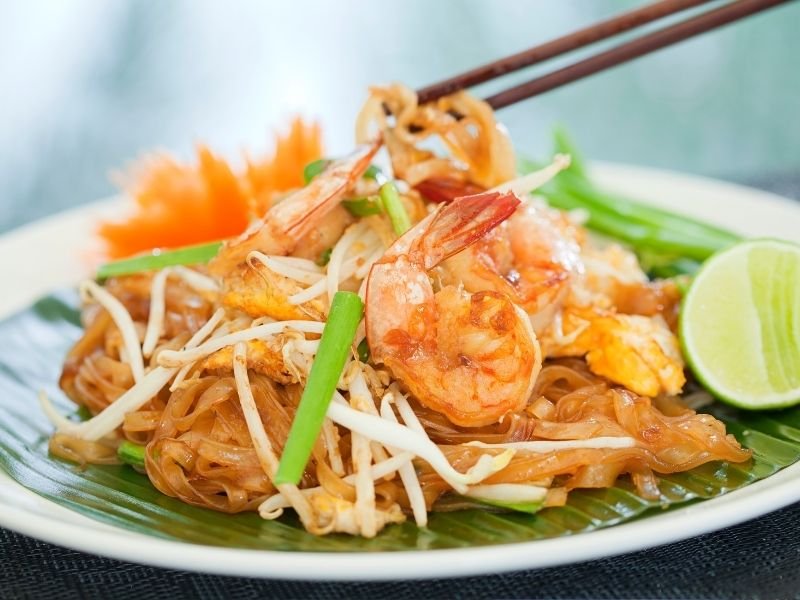 It's post-hike and you're likely starving after your excursion through the canyon, so head east about 10-15 minutes to refuel on some delicious and affordable Thai food at Pailin Thai Cuisine.
Thai food is likely not the first type of cuisine that comes to mind when you think about LA, but there's a reason why you should come here!
This family-owned restaurant is just one among the 60+ Thai restaurants in this area of East Hollywood, and it's actually located in what's called "Thai Town," which came into its official designation in 1999 by the LA city council.
Thai Town is the world's first and only enclave that was established solely to pay respect to and promote the history, culture, and identity of the Thai community.
With that said, it's home to the largest Thai population outside of Thailand and therefore boasts some of the best and most authentic Thai restaurants in America.
If you're unsure of what to order, try the pad thai, papaya salad, and the Panang curry. There is a lot of flavor and spice to their dishes, so if you can't handle spicy food, just tell them to adjust the spice level for you.
… Or grab a classic In-N-Out Burger.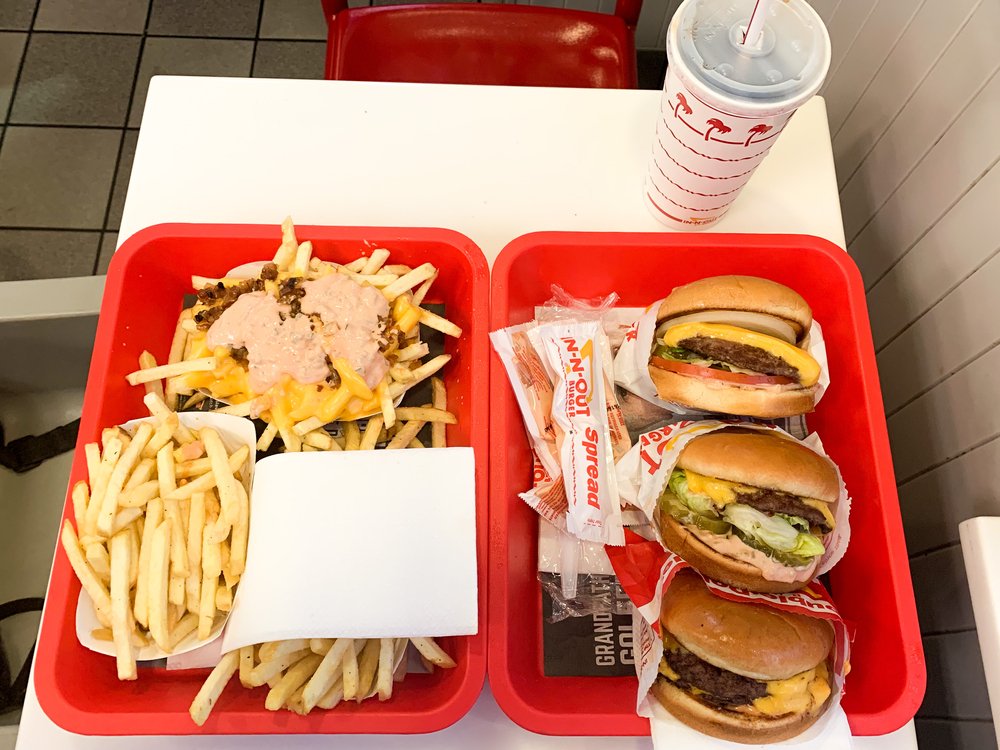 If Thai food really isn't your thing (although I strongly recommend you give it a try), there's always the celebrated burger joint nearby: In-N-Out.
They only have locations in the west and southwest states of the U.S., so if you've never had it, all I have to say is… you gotta have it.
In my opinion, it's better quality, less greasy fast-food and the service extremely quick. For your first time, I recommend ordering a classic cheeseburger and fries "animal style." This means it's added with their signature sauce that has a salty and sweet tang (basically like Thousand Island dressing), cheese, and caramelized onions. The combination just works, trust me.
Pailin Thai Cuisine Address: 5621 Hollywood Blvd, Los Angeles, CA 90028
In-N-Out Address: 7009 Sunset Blvd. Hollywood, CA 90028
Note: Before you head to the next destination, feel free to tour through the Hollywood Walk of Fame and check out the TCL Chinese Theatre.
Explore Beverly Grove: The Original Farmers Market and The Grove.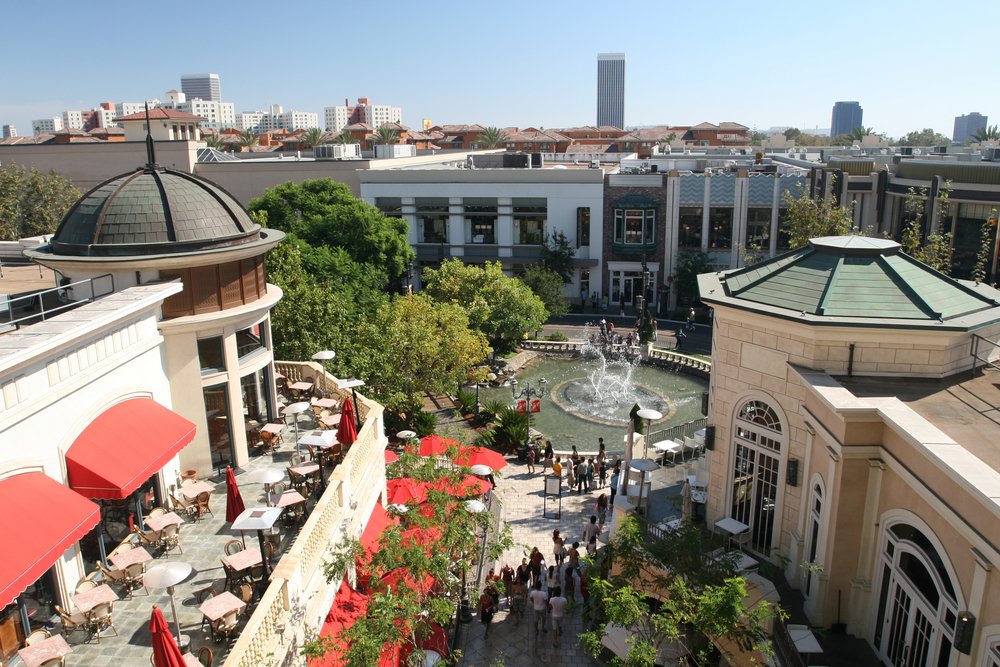 The Original Farmers Market carries a rich history—dating back to the 1880s, the land served as a dairy farm, and then an oil company; thereafter, the space was used as a sports stadium and then a baseball field.
By 1934, it became a successful farmers market and has since increased in size and popularity to become the top tourist attraction in LA today.
This market is enormous and packed with gourmet groceries, restaurants of various cuisines, specialty foods, and even non-food shops from books to clothing to houseware.
There's so much to see here, so it's easy to spend a lot of time here browsing (and eating)!
If you're able to pull yourself away from all the splendor of goods, walk a few minutes over to the retail and entertainment complex, The Grove.
If you're tired of shopping and browsing retailers at this point, you could skip this, but I think it's worth checking out because of how gorgeous it is and how close you are to it already.
Similar to the "dancing" water light and fountain shows at the Bellagio in Vegas, The Grove has its very own show displayed every hour at the fountain located next to the movie theater with accompanying feel-good classic music.
Additionally, you can tour the property on a '50s-style double-decker trolley, which is unique and unheard of for a shopping district.
The Original Farmers Market Address: 6333 W. 3rd St. Los Angeles, CA 90036
The Grove Address: 189 The Grove Dr, Los Angeles, CA 90036
Parking: Parking rates are enforced at the market's lots, but you can receive 90 minutes free validation with a purchase from a merchant or two hours free from select grocers.
Tour the Los Angeles County Museum of Art (LACMA).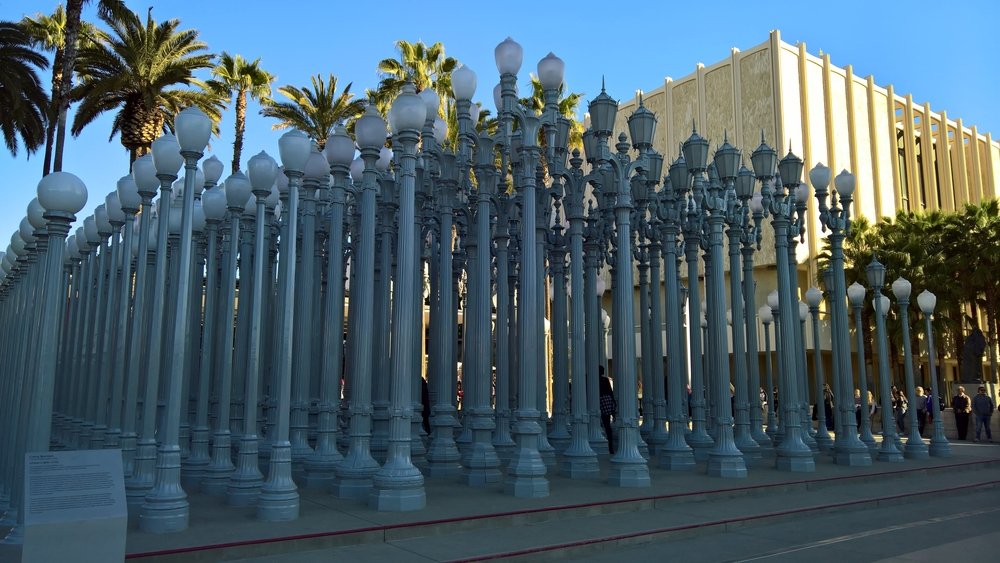 LACMA is the largest art museum in the western U.S. that showcases more than 142,000 pieces that are reflective of the ancient times to the present-day.
Its collections change from time to time, but you'll see everything from American and Latin American art, Asian art, Greek and Roman art, Islamic art, and more. Tickets are $25 for adults.
Since museums generally take a full afternoon to tour, you can skip this, but if you want to make time for checking out at least one museum, I recommend LACMA or The Broad in Downtown LA mentioned later in this itinerary.
Address: 5905 Wilshire Blvd. Los Angeles, CA 90036
Parking: $16 at the Pritzker Parking Garage on 6th St. east of Fairfax Ave. Additional parking information can be found here.
View the "Urban Light" sculpture.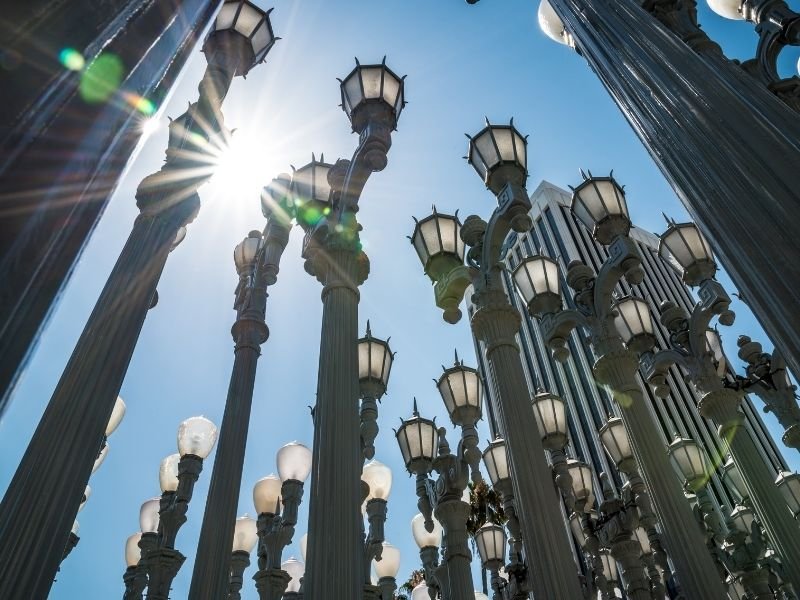 Established in 2008, Urban Light is a public contemporary art structure that was created by the late artist Chris Burden.
It consists of 202 historic street lamps from the 1920s and 1930s that were originally spread throughout Southern California and was collected by Burden over the span of 20 years.
It's free to view and open 24 hours; the lights turn on every day at dusk and turn off at dawn!
Tip: the best time for viewing (and taking photos of) these lights is at sunset and at night.
Address: 5905 Wilshire Blvd. Los Angeles, CA 90036
Parking: Free street or metered parking nearby.
Check out the Broad.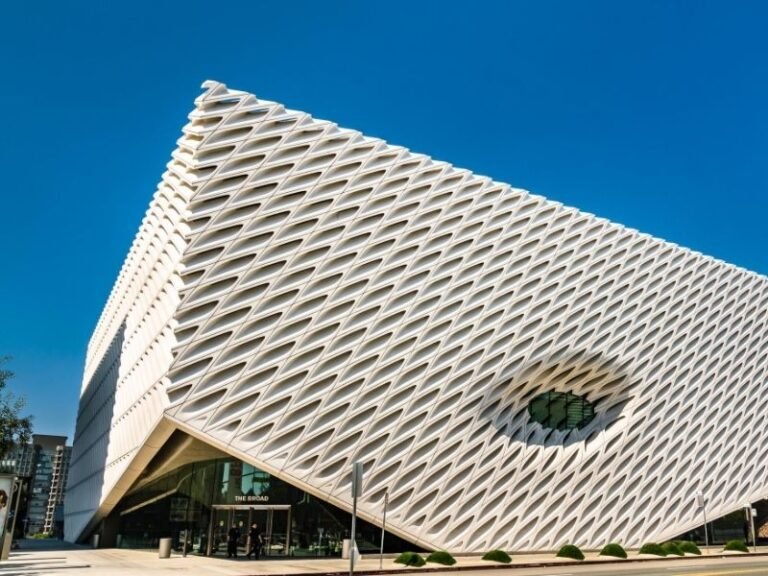 The Broad is a contemporary art museum that displays art from the 50s to the present. Even if you don't have much knowledge or understanding about art, its exhibits are easy to admire.
My favorite exhibit of The Broad is Yayoi Kusama's Infinity Mirrored Rooms; it's an interactive display that you can literally step into and you'll be surrounded by mirrors with flashing LED lights–the experience was magical!
With the more popular exhibits like Kusama's, it will require you to schedule and reserve your visit in advance to guarantee entrance, otherwise, you can visit the museum as soon as it opens to sign up for the exhibit's viewing as it will be available on a first-come, first-serve basis.
General admission is free, including its guided tours.
Address: The Broad, 221 S. Grand Avenue, Los Angeles CA 90012
Parking: Available underground, beneath the museum. $17 for 3 hours with museum validation, $5 for each additional 15 minutes, and a $27 daily maximum. Additional parking information can be found here.
Admire the Angels Flight Railway.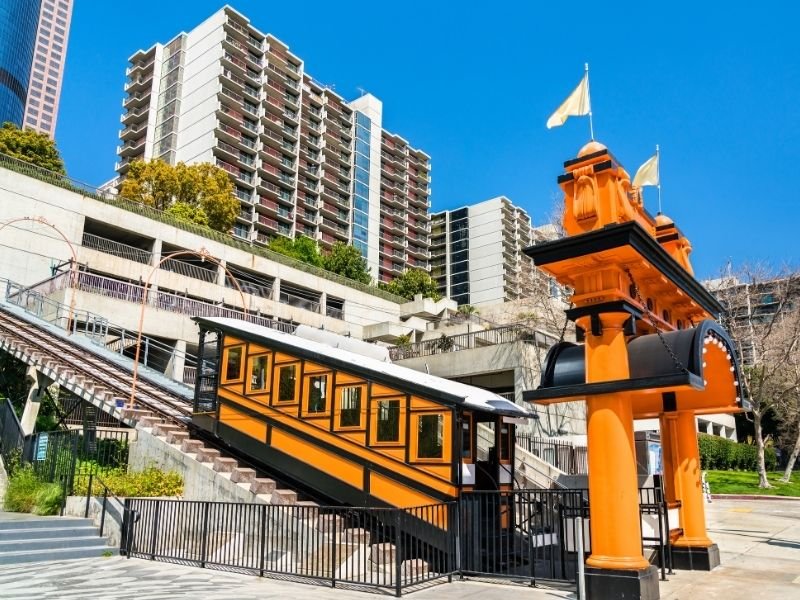 The Angels Flight Railway was built in 1901 and is the world's shortest railway—it takes less than 50 seconds to ride up the hill. Originally, it served to aid pedestrians in traveling up and down one of the steepest slopes in downtown LA. It has since remained a historical landmark, and has been featured in many Hollywood films (it was featured in the box office hit La La Land).
The fare is only $1.00 each way, or you can purchase a special round-trip ticket for $2.00 as a souvenir.
Address: 351 S Hill St, Los Angeles, California 90071
Parking: Parking garage at 308 Hill St. $3 for the first 90 minutes, $2 for each 15 minutes after, and a maximum of $25.
Tip: I recommend parking at the Grand Central Market Parking Garage while you can walk to the next couple destinations as they are all in close proximity to each other.
Browse and shop at the Grand Central Market.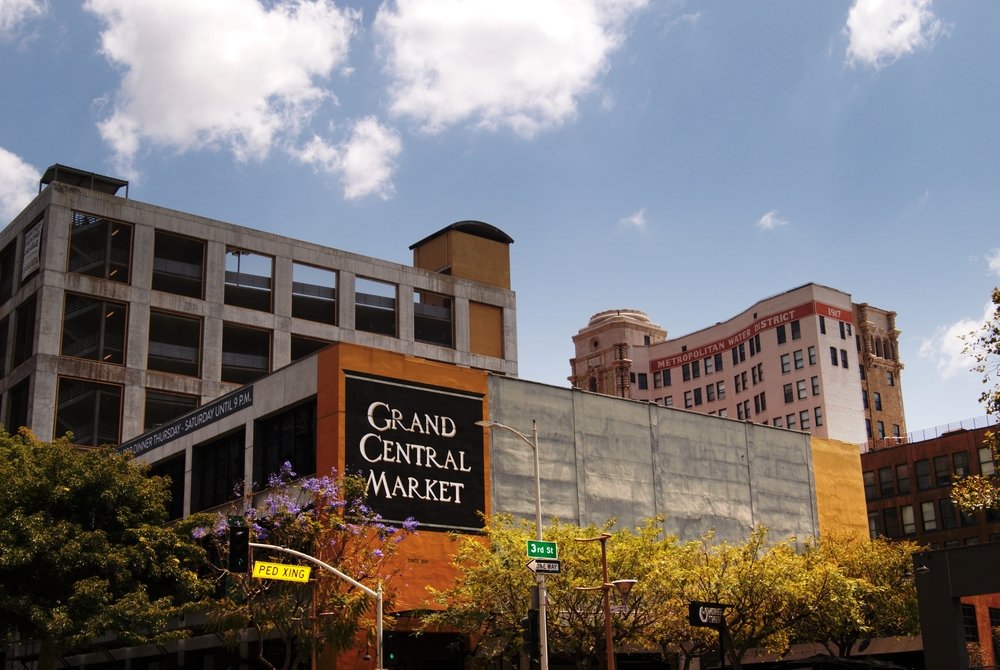 Directly across the street from the Railway is The Grand Central Market and has been in operation since 1917.
This open-concept hall has cuisines from all over the world to choose from that range from traditional to modern-style food. This is the best time to grab your late afternoon or pre-dinner snack!
Since you'll be entering the market from the back entrance, you can't miss the huge, bright neon art display on the wall to your left, as well as all the other neon signs scattered throughout the venue—it's certainly a sight to see!
Address: 317 S. Broadway, Los Angeles, CA 90013
Admire the interior of the Bradbury.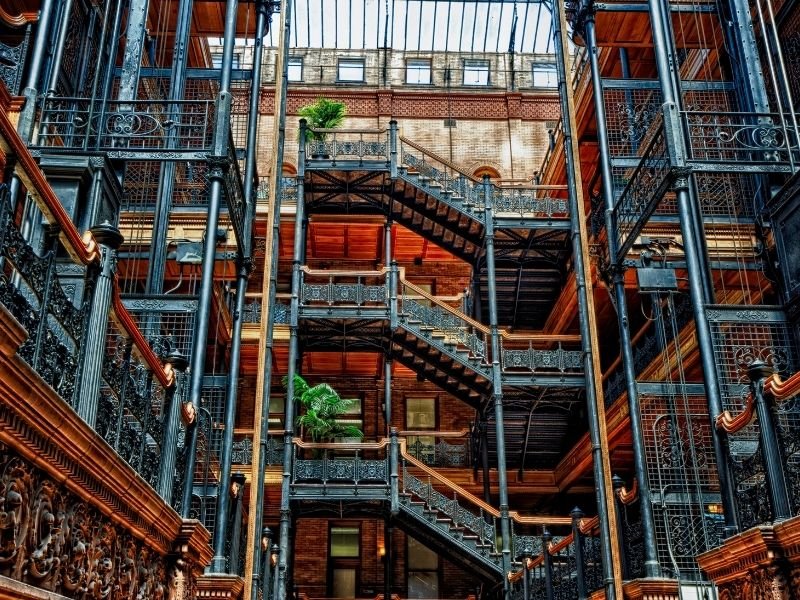 After you've had your fill of goodies, exit the market from its front entrance (you can walk straight through the market from the back where you entered to the front) and view the stunning interior of the Bradbury Building.
This building has been maintained since 1893—more than 100 years ago—and during the day, the sunlight cascades through its skylight windows onto its Victorian-style iron railings, illuminating the beauty of its ornate architecture. You won't be able to walk up the stairs, but it's still worth viewing from the first floor.
It's free to enter and should only take you 5-10 minutes to view.
Address: 304 S. Broadway, Los Angeles, CA 90013
Check out The Last Bookstore.
Just a short 5-minute walk down S Spring Street, and you've arrived at The Last Bookstore.
This independent bookstore is the largest new, used, and rare book and record store in California, and I could easily stay here all day.
It's a bookworm's dream, and its books are displayed in the most unconventional but mystical ways using vaults, tunnels, and labyrinths.
Definitely do not miss out on the second floor, where the labyrinth and tunnel are, as well as a couple of novelty and vintage art shops that are worth checking out. 
It's one of the best bookstores in LA for a reason!
Note: The store is currently charging a $5 entrance fee that can be used toward your purchase. If you don't buy anything, the $5 will be returned to you in the form of a gift card. The store is charging this entrance fee as a precaution for Covid-19 to maintain crowd control for the time being.
Address: 453 S Spring St, Los Angeles, CA 90013
Explore Little Tokyo and Japanese Village Plaza.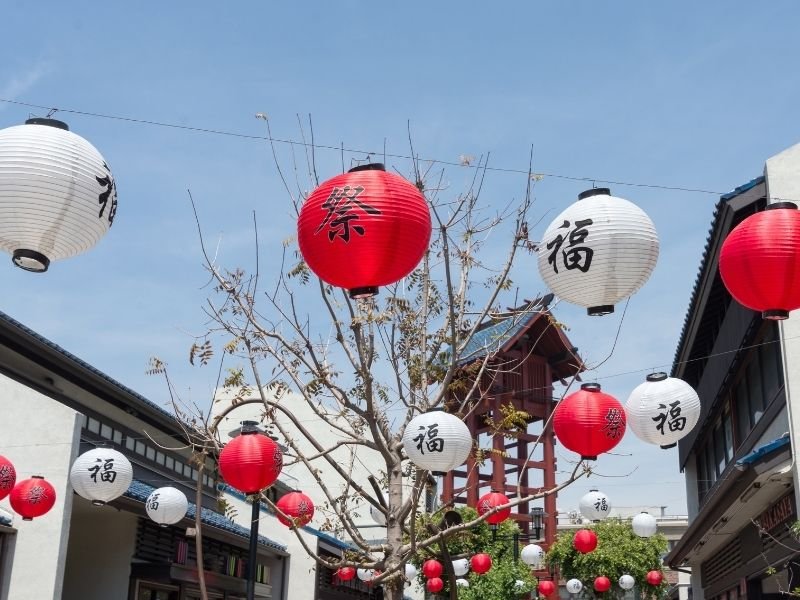 Another one of LA's historic and multicultural neighborhoods that you must visit is Little Tokyo.
This district has its own festivals, shopping centers, a cultural and community center, a theater, as well as the Japanese American National Museum.
The Japanese Village Plaza of Little Tokyo is embellished with Japanese paper lanterns, art pieces, and each building has the architecture of the traditional Japanese-style roof.
Inside, you'll encounter a range of Japanese gift shops, a grocery market, clothing and beauty stores, and restaurants.
Be sure to also check out the Hompa Hongwanji Buddhist Temple!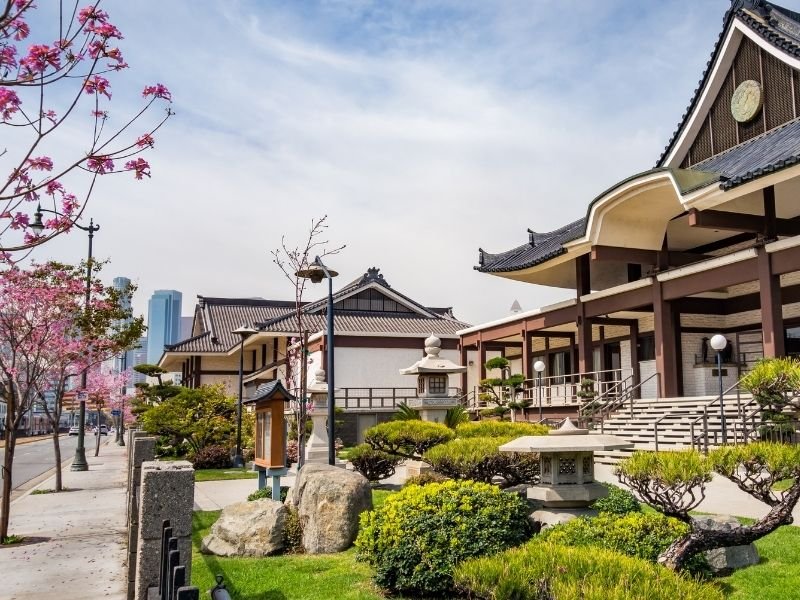 There's a lot of shops here, but I highly recommend you make sure to stop by the Bunkado Gift Shop to grab yourself a souvenir.
If you want a snack, take out some delicious mochi from the Fugetsu-Do Bakery Shop and the softest, flavorful steamed buns and pastries from Yamazaki Bakery.
Japanese Village Plaza: 335 E 2nd St, Los Angeles, CA 90012
Bunkado Gift Shop: 340 E 1st St, Los Angeles, CA 90012
Yamazaki Bakery: 123 Japanese Village Plaza Mall #3908, Los Angeles, CA 90012
Fugetsu-Do Bakery Shop: 315 E 1st St, Los Angeles, CA 90012
Parking: The village is about a 15-20 minute walk from The Last Bookstore, so I'd recommend just keeping your car parked at the garage at the Grand Central Market. Otherwise, you can park at the Japanese Village Plaza parking lot at 111 S. Central Ave., Los Angeles, CA 90012. It's $2.00 for every 15 minutes, and the maximum is $10.
Note: As mentioned in Day 1, the homeless population is high in Los Angeles.
Central Downtown (near The Last Bookstore), Little Tokyo, and the Arts District all surround Skid Row, which is a district known for its homeless population.
It's not the safest area, so I recommend avoiding walking through this neighborhood!
Explore the murals of the Arts District.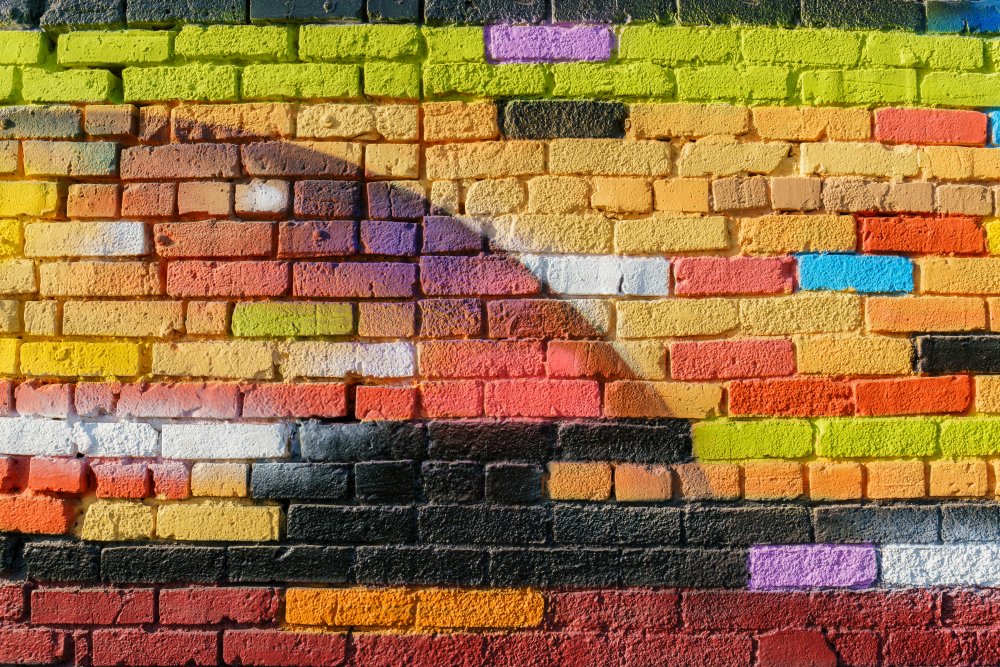 Adjacent to Little Tokyo is LA's Art District, and it is chock-full of murals.
Because it would take a long time to see every mural, I recommend exploring and checking out at least a few while you're in the area!
I suggest using this comprehensive map created by Jenn Lloyd who has been living in this district for six years and has scouted out all the amazing artwork in this neighborhood.  
After that, chill out and grab a drink from Angel City Brewery or the Arts District Brewing Company.
Arts District Address: S Alameda St and E 1st St, Los Angeles, 90012
Angel City Brewery: 216 S Alameda St, Los Angeles, CA 90012
Arts District Brewing Company: 828 Traction Ave, Los Angeles, CA 90013
Dinner option 1: Enjoy a fancy rooftop dinner in downtown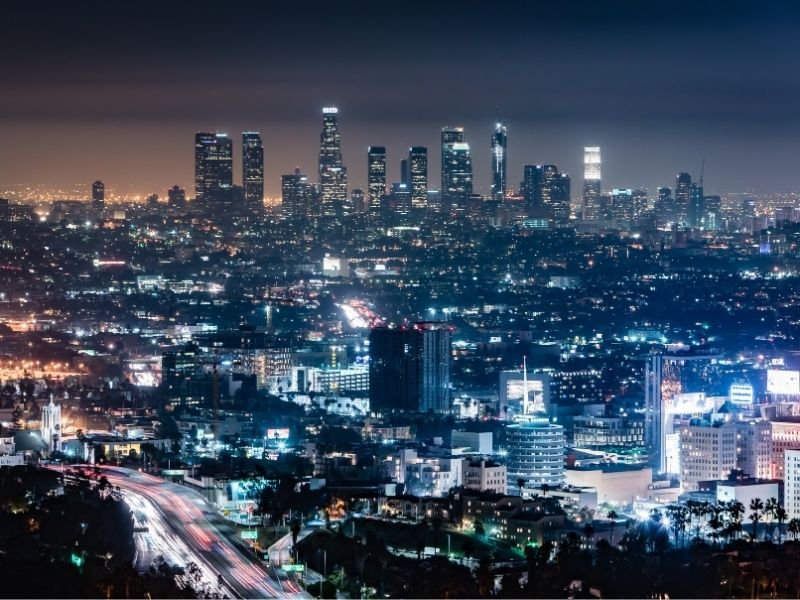 If you're feeling glamorous and want to splurge, I recommend dining at the French rooftop restaurant, Perch.
It offers an elevated dining experience with views that are best enjoyed at or after sunset when the nightlife is awake, and its city lights glow all around you!
The ambiance, service, and food are outstanding, and you get what you pay for with its portion sizes. This place is very popular, so I strongly recommend booking a reservation in advance to secure a table.
Its highest priced dish is $44, but on average, their main dishes average at $30.
Address: 448 S Hill St, Los Angeles, CA 90013
Parking: Valet parking is $13.
Dinner option 2: Fill up on delicious Korean barbecue in Koreatown.
Kang Ho-dong Baekjeong has consistently been rated as one of the best traditional Korean barbecue restaurants in Koreatown, LA.
If you're traveling with a group of friends and want to experience a much more casual and laid-back dining experience, Korean barbecue is the way to go!
Even if it's only you and another person, it's still just as enjoyable of an experience (just order less or select a combo meal).
The restaurant carries high-quality meats, and they will refill your banchan (the variety of tasty side dishes that accompany the barbecue meat) without an extra cost. The culture of Koreatown itself is relaxed and fun, and it's a place to socialize and hangout. 
In general, I never leave Korean barbecue without feeling like I'm in a food coma, but if you have room for dessert (or have a second stomach for dessert), I recommend some light and refreshing Korean-style shaved ice down the street at Oakobing.
Kang Ho-dong Baekjeong Address: 3465 W 6th St #20, Los Angeles, CA 90020
Oakobing Address: 3300 W 6th St, Los Angeles, CA 90020
Parking: Free street parking nearby, or valet parking in the Chapman Plaza complex. I recommend finding street parking around the area, even if it means you have to circle around the neighborhood a few times because the valet service is not great and it is overpriced.
Dinner option 3: Enjoy some of the best tacos you'll ever have.
If you're looking for something quick and cheap that is still delicious, tacos will be your go-to in LA. You'll likely have noticed by now how many taco trucks, stands, and restaurants there are in LA.
Tacos are a staple here, and a huge part of the food culture. Because there is an abundance of taco places (and not to mention, no two tacos are the same; there are so many styles!), I can't recommend just one place.
With that said, my top 3 recommendations in downtown are: Guisados, SonoraTown, and last but not least, The Original Carnitas Michoacan (it's a little bit of a stretch to get here, so it's technically not in downtown, but it's open 24 hours and it's the perfect, inexpensive late-night joint)
Guisados Address: 541 S Spring St #101, Los Angeles, CA 90013
SonoraTown Address: 208 E 8th St, Los Angeles, CA 90014
The Original Carnitas Michoacan Address: 1901 N Broadway, Los Angeles, CA 90031
Where to Stay in Los Angeles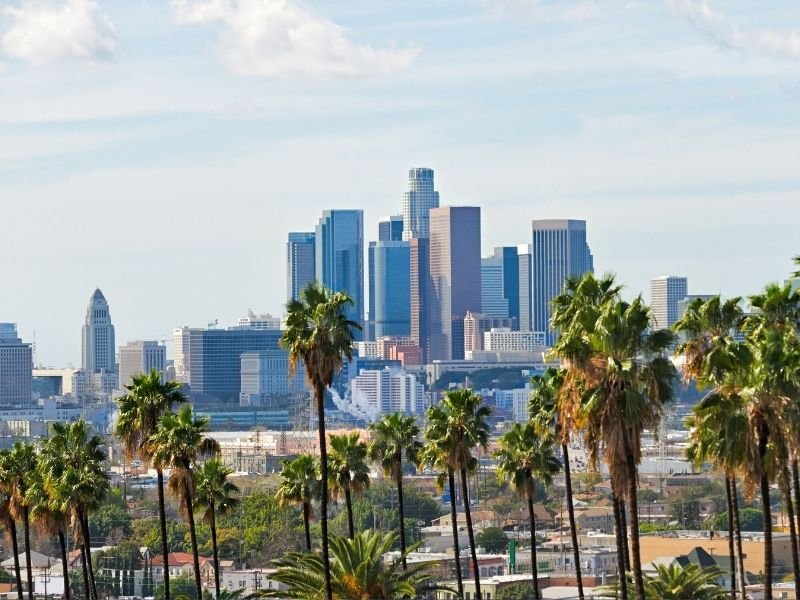 Based on this itinerary, your best bet is to stay in a central location between West LA and Downtown. I recommend areas like Culver City, Mid-Wilshire, Central LA, and even a little south of Hollywood and West Hollywood are ideal.
In general, staying at a hotel in LA will be expensive. Downtown and the Westside areas like Santa Monica and Venice are especially pricey for hotels.
Hollywood is also expensive because it is a touristy area. Keep in mind that this is not always the case, because much of what constitutes expensive depends on the time of year you come and your budget. 
BOUTIQUE & CENTRAL | Palihotel Culver City
For a conveniently located boutique hotel, I suggest staying at the beautiful Palihotel Culver City. 
It's located just about halfway between west LA and downtown LA, so it's the perfect middle ground for this weekend in LA itinerary — never too far from anywhere on this list!
The hotel itself is beautiful, with bold color and vintage details that give it major Wes Anderson vibes.
The rooms themselves are chic and cozy, offering you plenty of space and a pleasant aesthetic at a great price.
HOLLYWOOD STYLE | The Kimpton Everly
I love the Kimpton's brand of hotels — beautiful but reasonably priced compared to many luxury offerings.
The Kimpton Everly has all that you'd want to 'gram the perfect stay in Los Angeles and more — we're talking a year-round rooftop outdoor pool and a rooftop terrace with views of the Hollywood Hills and sign.
Rooms are spacious and cozy with modern amenities and luxe toiletries, plus things like cozy bathrobes.
There's also a bar and restaurant on site in case you're exhausted after a day of sightseeing and just want to stay close to home.
When to Visit Los Angeles
I recommend visiting LA during the spring between April to May, and in mid-to-late September to October, as you'll still be able to enjoy good weather and you'll likely avoid scorching heat waves during these times.
If you don't mind the heat, July and August are generally the hottest times of the year but you'll without a doubt experience endless sunshine and clear skies every day, which perfect for visiting the beach.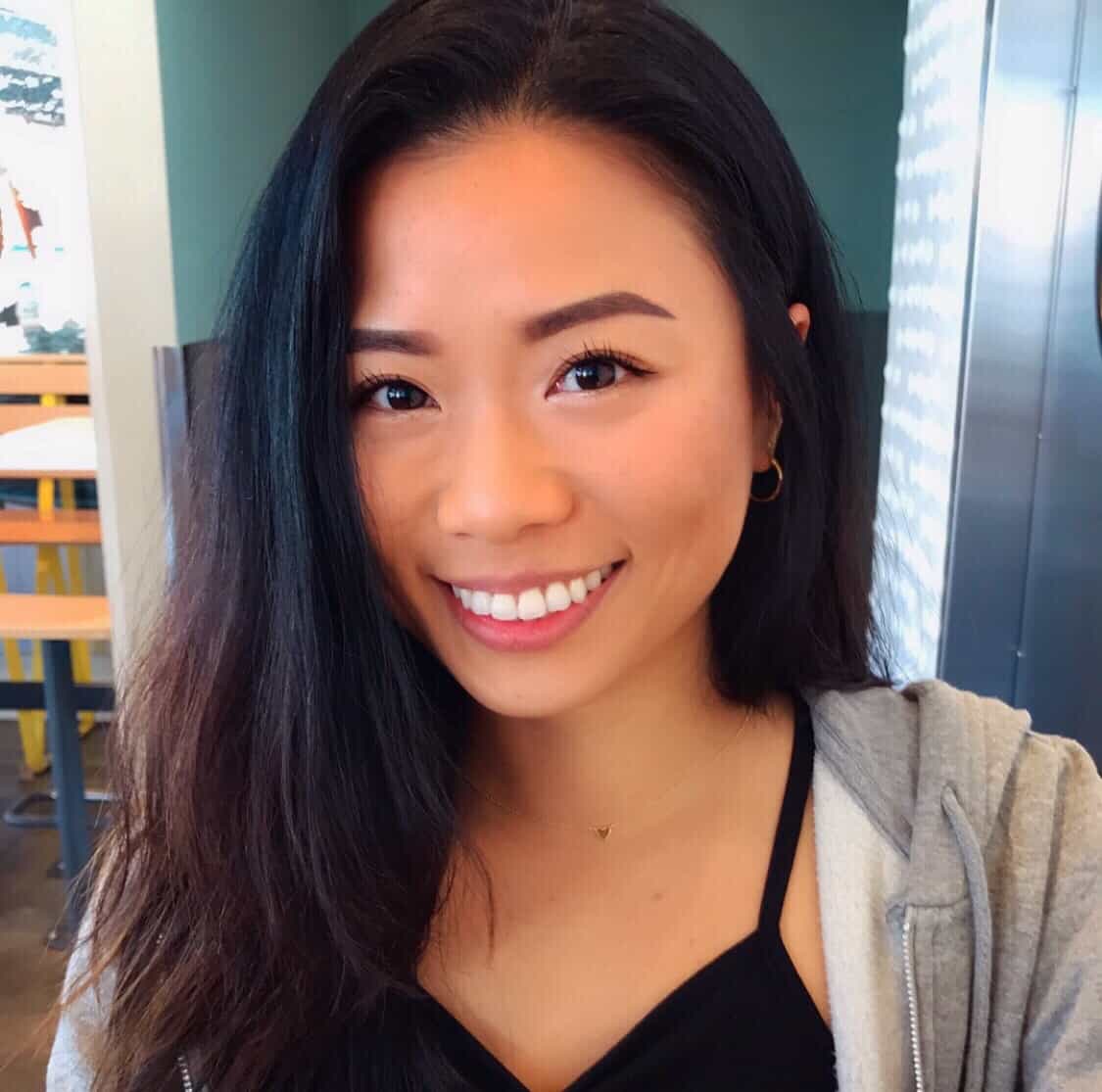 Lianne quit her 9-5 job in 2018 and moved to the bustling city of LA for a change of pace. Having lived in a quiet, secluded part of the East Coast most of her life, her life on the West Coast has since pushed her outside her comfort zone and inspired her to always take "the road less traveled." Travel has played a key role in her personal development, and she believes everyone can reap the extraordinary benefits of exploring life beyond borders.