Although there's no snow in Los Angeles, it's still a wonderful place to live or visit during the holiday season.
In fact, the warm climate allows those looking for holiday festivities even more options. 
Not sure what to do when it comes time for Christmas in Los Angeles? Here are our recommendations!
Note: These dates are for the 2021 season and have not been updated with 2022's dates. You can use this guide to further research these events, and we will update the post once the 2022 dates are announced!
See The Holiday Lights
Note: This post contains affiliate links, which earn me a small commission at no extra cost to you if you make a purchase using one of these links. Thank you for supporting this free content!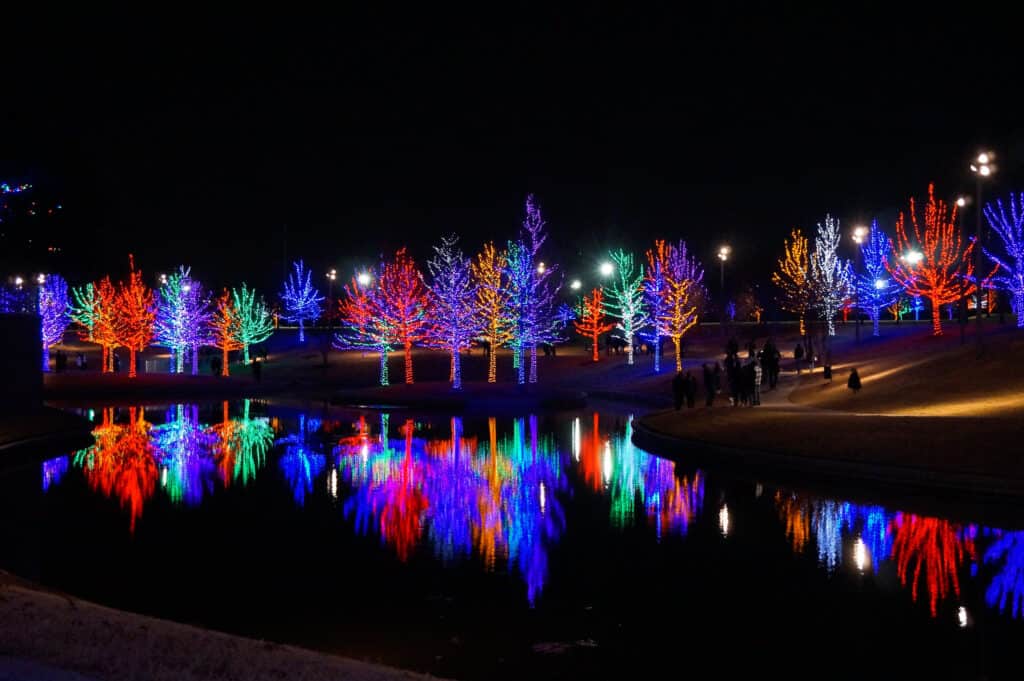 LA has its very own light show running from November 12, 2021 – January 16, 2022, at the Los Angeles County Arboretum & Botanic Garden.
This world-renowned light spectacle will combine lights, art, and music to give Angelenos a night they'll never forget.
This is definitely an event for all ages, but be sure to get your tickets early. Tickets go fast and the event boasts a sold-out run!
Insider Tip: Can't attend this or missed out on tickets? There are plenty of other places to see Christmas lights in Los Angeles!
Join Your Favorite Characters at Universal Studios Theme Park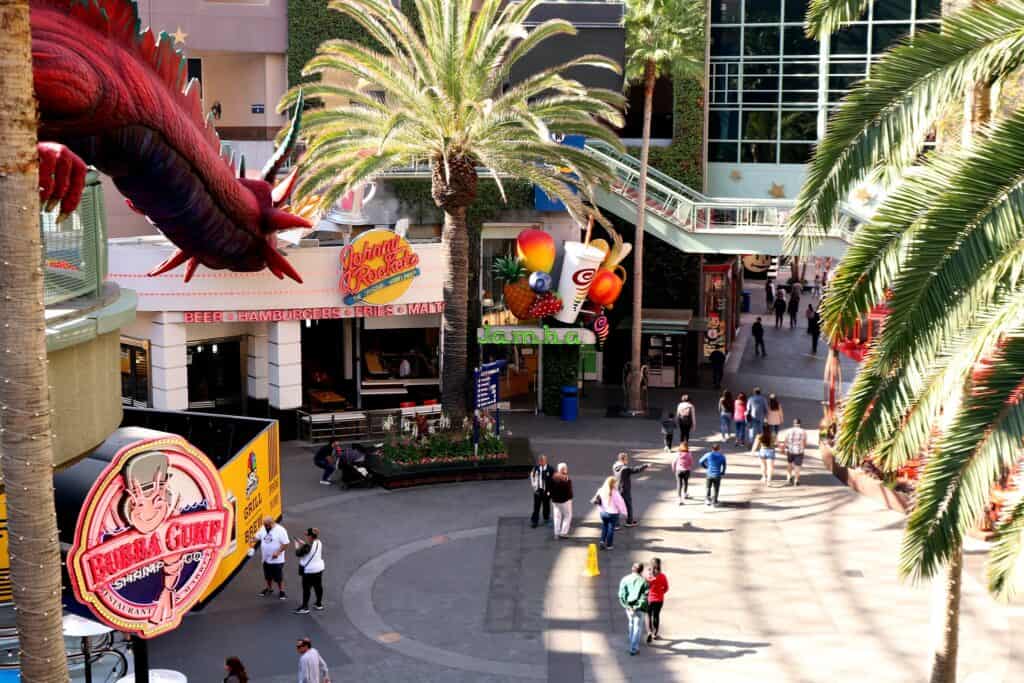 Halloween isn't the only holiday for which Universal Studios gets a makeover! The holiday season brings magic to the theme park as well.
In The Wizarding World of Harry Potter part of the park, guests can enjoy the following perks during the Christmas holidays:
A hot butterbeer as they walk between attractions.
Festive themed food at Three Broomsticks.
Listen to the a cappella sounds of holiday classics sung by the Hogwarts Frog Choir…
And shop for the Harry Potter lover in their lives at themed stores!
The Grinch even gets his own holiday makeover (much to his chagrin.)
All visitors can enjoy a tree lighting ceremony each night at the Grinch-themed, 65 foot-tall tree where The Grinch, his dog Max, and the Whos will make an appearance several nights a week!
Glide Across the Ice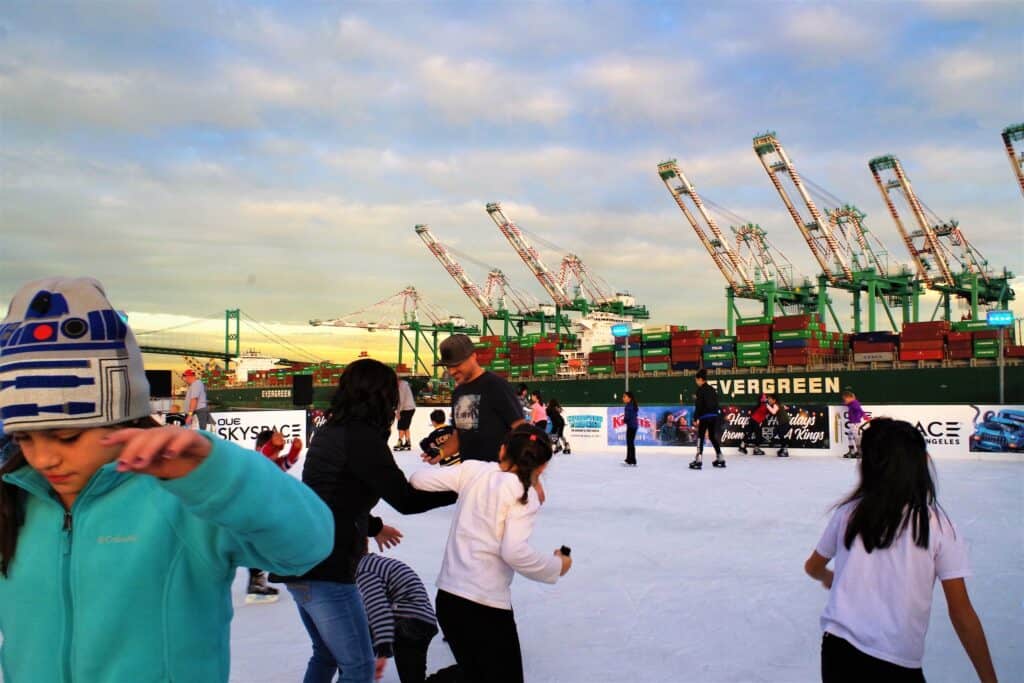 Los Angeles offers several options for those that want to don their ice skates and cruise around.
With multiple outdoor rinks put in place around the city, you're sure to find the best and closest option for you.
Bundle up at night, or skate in a tee shirt and shorts during the day.
You can even get in a bit of skating at Dodger Stadium where the team will be hosting multiple holiday-themed events including ice skating from November 26 – December 31 for $16 a person.
Catch a Performance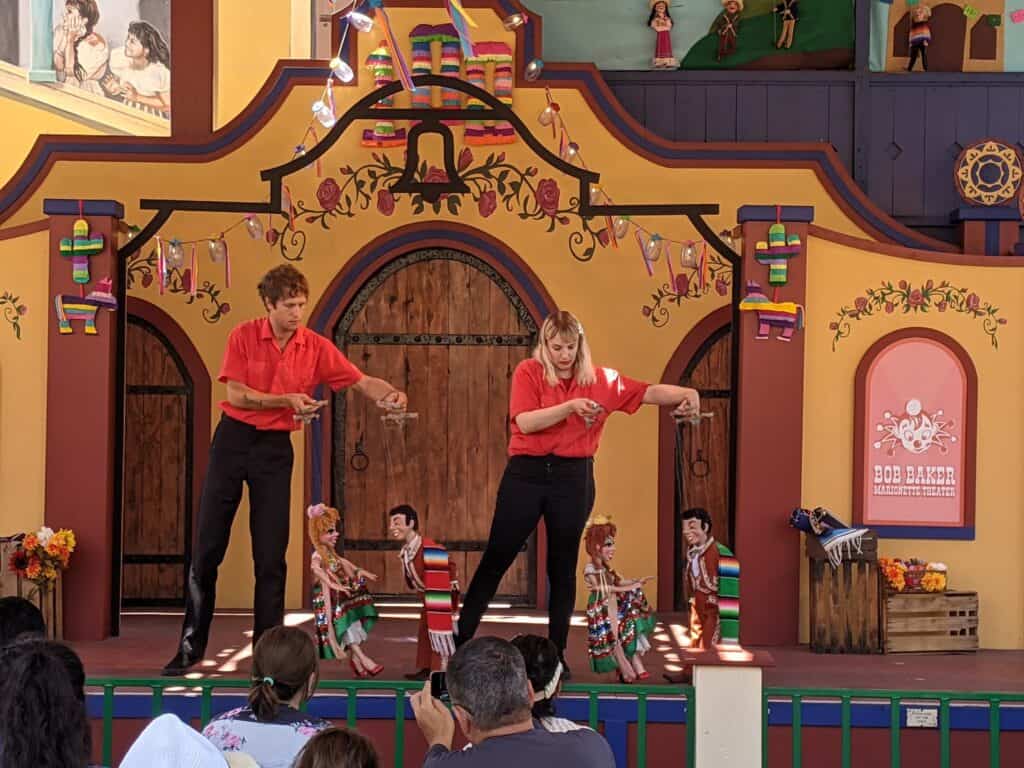 What is the holiday season without a performance of The Nutcracker?
The Bob Baker Marionette Theater brings the holiday cheer this year with their adaptation of this classic story.
Over 100 handcrafted puppets will entertain the audience as they do the dance of the Sugarplum Fairy to the sounds of the Nutcracker band.
You'll want to be sure to stick around after the show to enjoy the theater's tradition of free ice cream for everyone.
Tickets are on sale now with a classic "theater seating" option or a new "Criss-Cross-Applesauce" floor seating option.
Shred Powder in the Mountains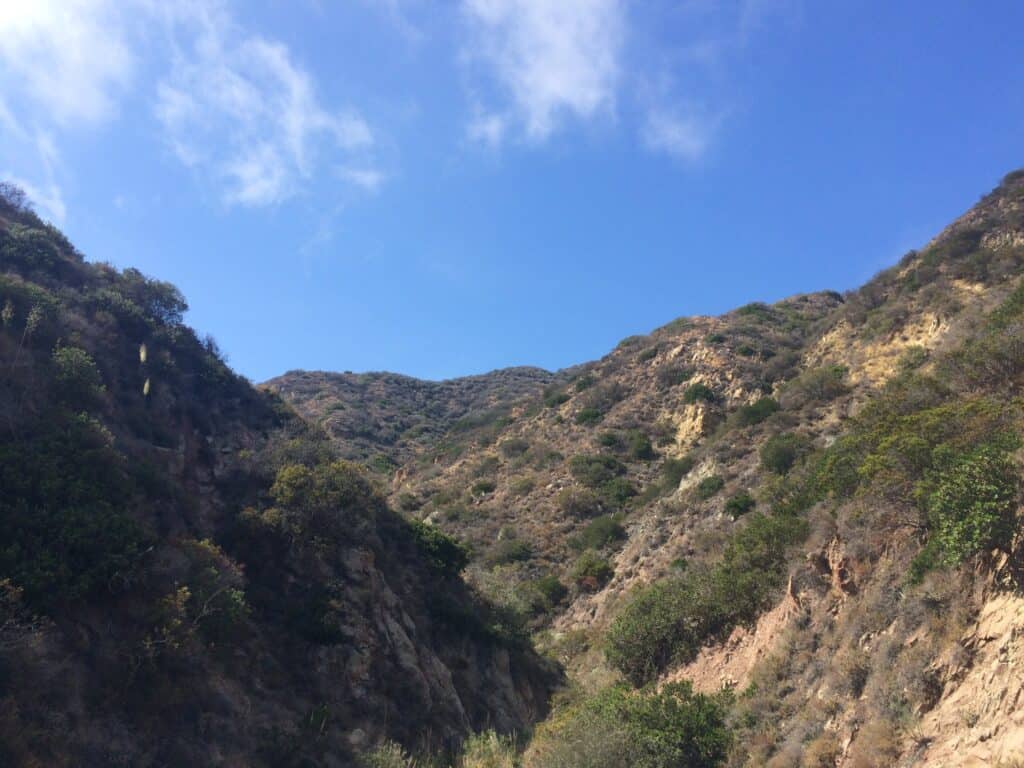 Los Angeles is a truly magical place where you can be in shorts and a T-shirt during one part of the day and in a snowsuit on your skis, board, or snowshoes during the other half.
The mountains surrounding Los Angeles are home to a multitude of winter options when it comes to hitting the slopes or trudging above the snow.
Yes, it may not snow in LA, but it does snow near LA!
If it's a warm day by the coast, pack your surfboard and surf in the morning and snowboard or ski at night!
Cruise Around in the Comfort of Your Own Vehicle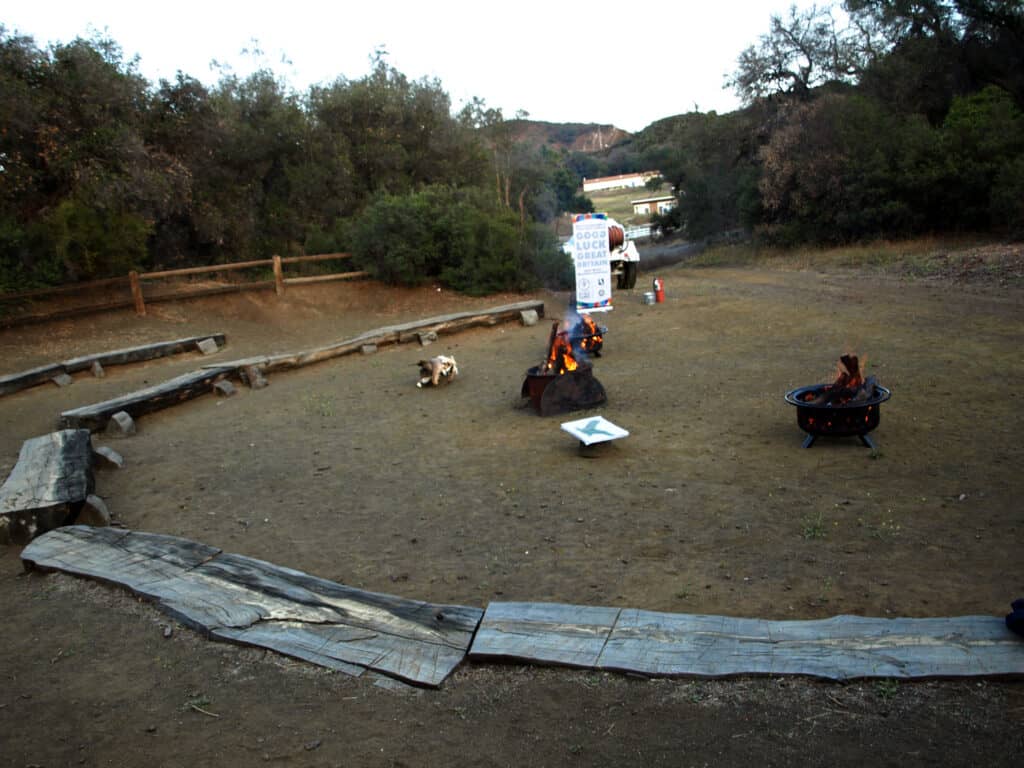 Pack your own hot cocoa and a cozy blanket for your passengers and head to King Gillette Ranch and drive down the Holiday Road.
There are lights! There are giant gingerbread people! There are decorations! There are giant menorahs! Even polar bears!
There's truly something for everyone on this holiday drive.
Be sure to get your tickets early as the calendar fills up quickly.
Santa, Mrs. Claus, and Elves will also be in attendance!
Get Rocked with the Trans-Siberian Orchestra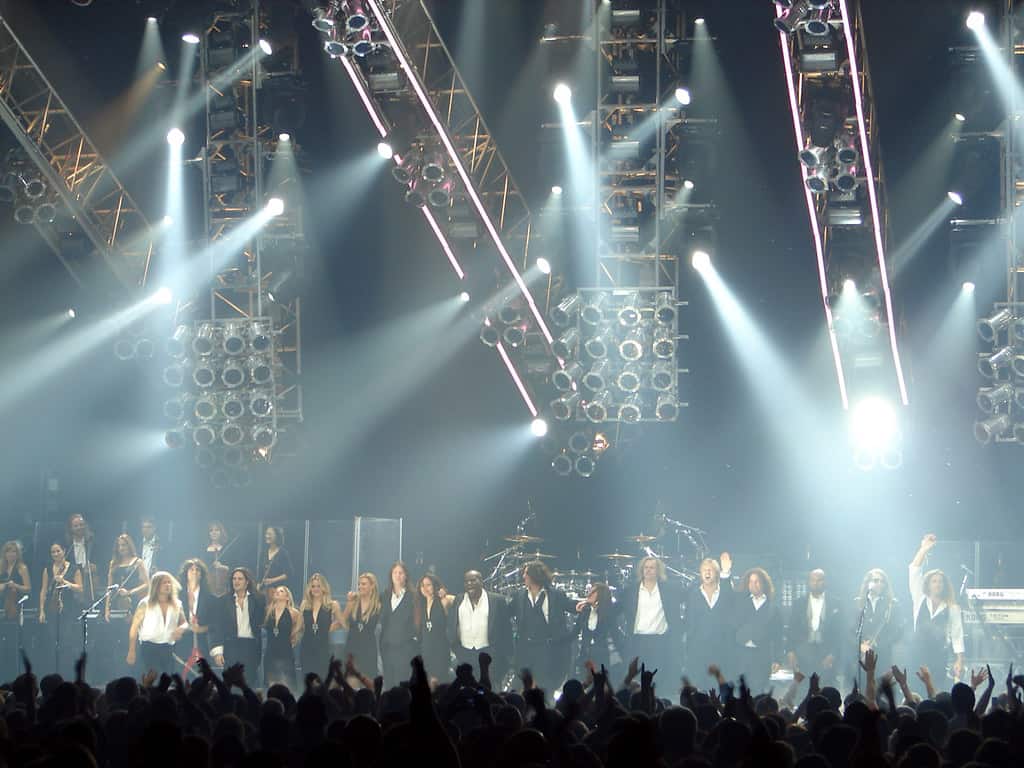 The Trans-Siberian Orchestra has long been a favorite for those that love Christmas music with a rock-y edge.
In 2021, they'll be appearing on Saturday, December 4 to bring you all the wailing guitar solos during "Carol of the Bells" that you didn't know you needed.
The orchestra will be performing at the Toyota Arena and tickets are on sale now.
Celebrate the Arrival of Santa Claus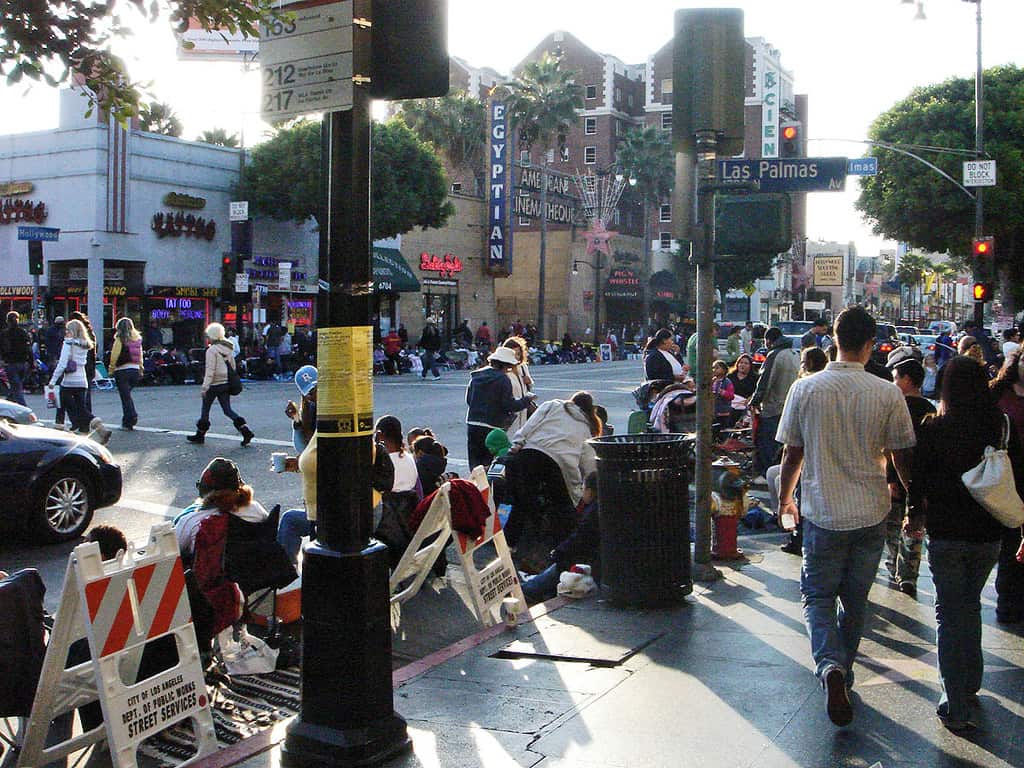 Watch the arrival of Christmas happen live when The Hollywood Christmas Parade strolls through downtown Los Angeles.
While the parade itself is free, many may still be too full from their Thanksgiving meals to make the trek down to 2350 Sunrise Street on November 28 at 5:00 PM to enjoy the parade live.
But that's ok! It will also be televised for those that aren't able to check out the festivities in person.
Along with a multitude of marching bands and your favorite characters dressed in their holiday best, Cyndi Lauper will be performing as the crowd cheers on the arrival of St. Nicholas.
Raise Your Voice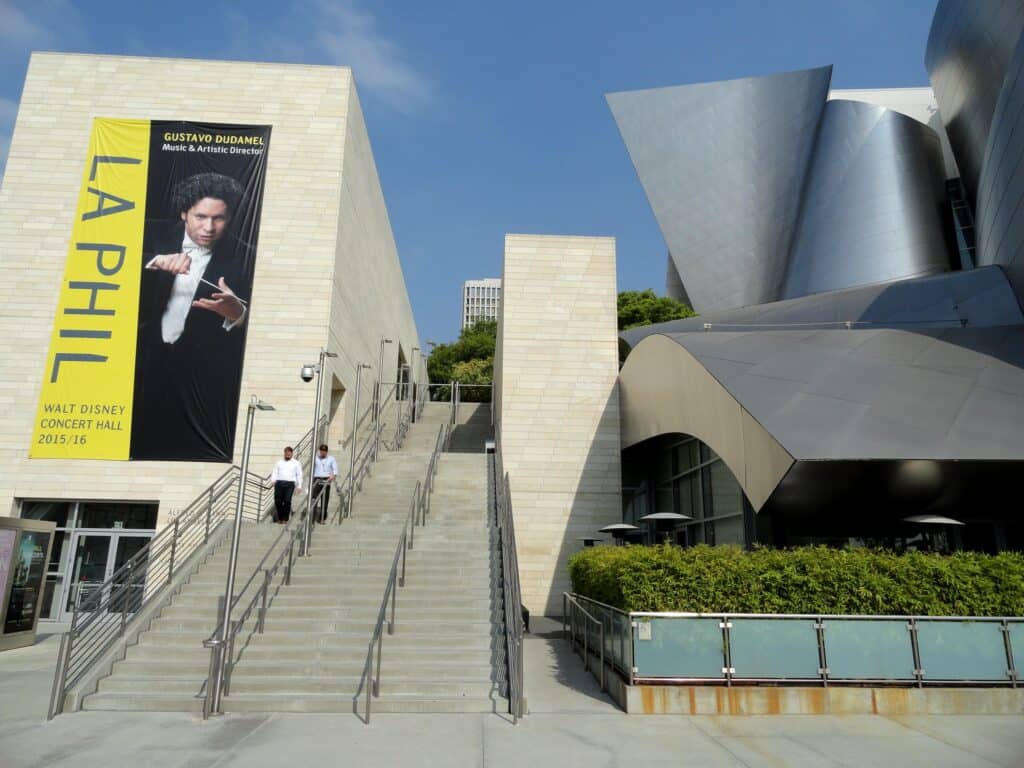 Join in the joyful noises of the holiday season with The Los Angeles Chorale as they bring the songs of the holiday to The Walt Disney Concert Hall on Saturday, December 18.
Backed by a giant pipe organ and a jazz combo, the singers will take you on a holiday journey that you can join in on with song after song of classic hits.
Watch a Favorite Holiday Movie with Surround Sound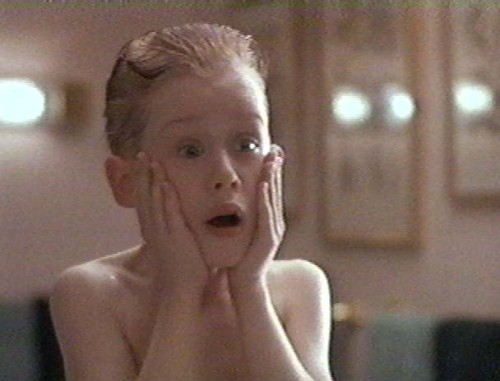 If you're a fan of Home Alone (and really, who isn't?) then you should absolutely join the Los Angeles Philharmonic Orchestra as they present the backing music to this classic Christmas movie.
Join the orchestra on December 11 or 12 as they play the full score by John Williams as the film screens behind them. Doesn't get much more surround sound than that!
Take a Walk Through the Forest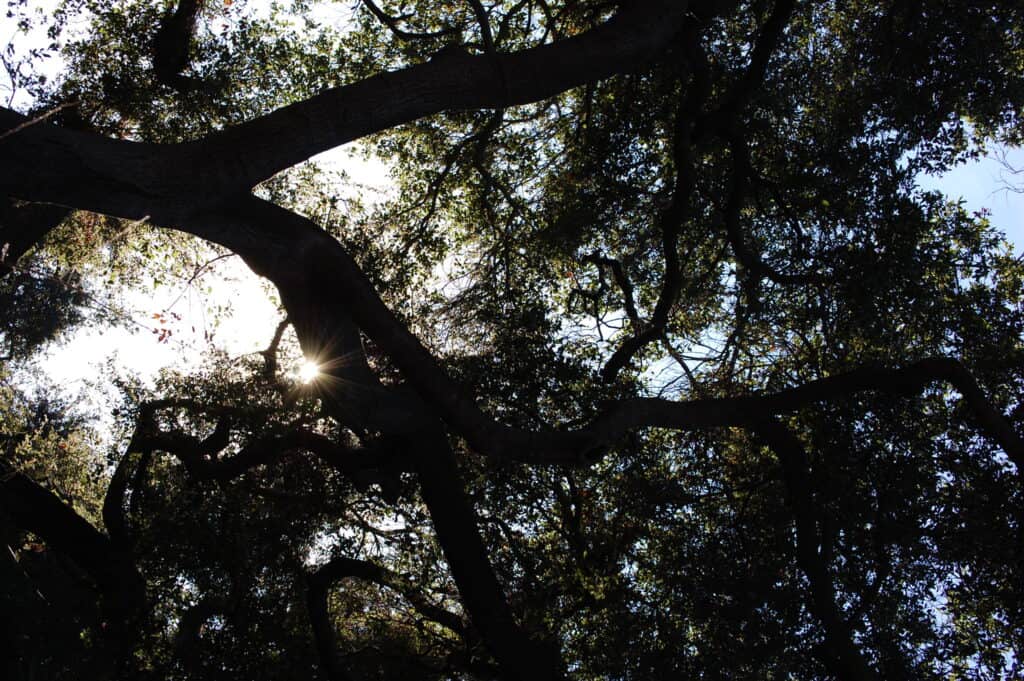 The enchanted forest that is!
Following a COVID-induced cancelation in 2020, Enchanted: Forest of Light is coming back beginning on November 21, 2021, and ending January 10, 2022.
The Descano Gardens will be taken over by art installations, glowing lights donning various plants and trees, with surrounding sound effects.
Many fan favorite installations will be back including sculptor Tom Fruin's multi colored stained glass house which will be joined by a multitude more of the iconic tiny houses in the rose garden.
Tickets are on sale now.
Take a Trip to the Coast For a Different Kind of Light Show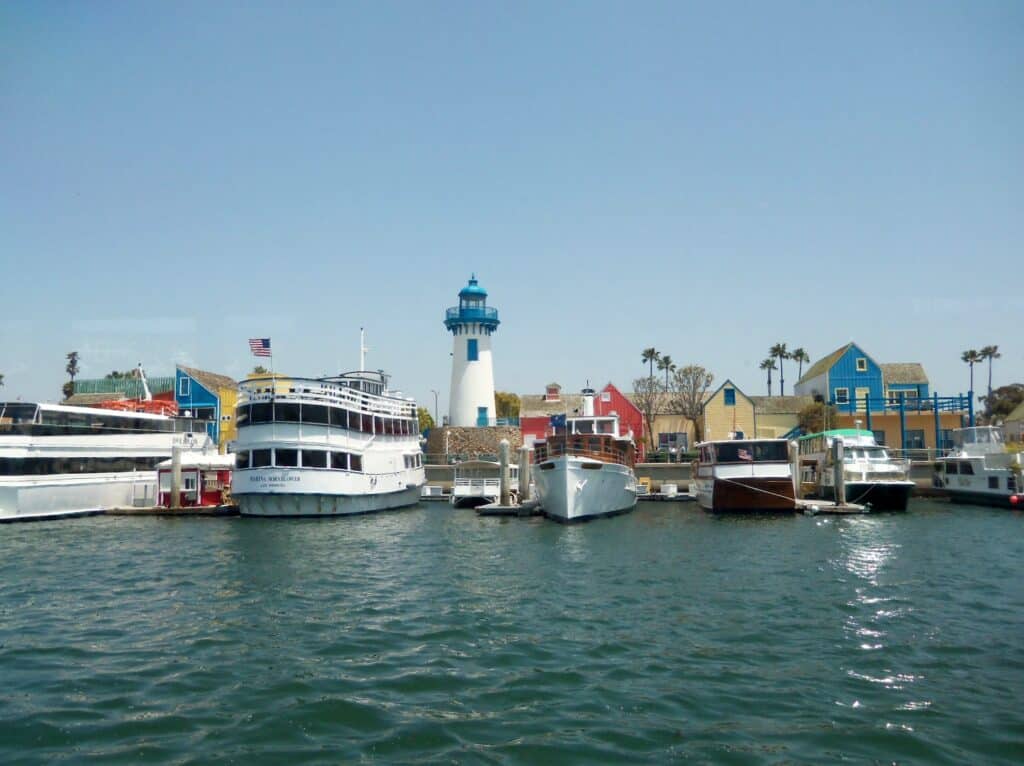 Shipping off in Marina Del Rey is the holiday SoCal classic, Boat Parade.
Attendees are encouraged to bring a blanket or camping chair to Fisherman's Village or Burton Chace Park to watch 70 boats sail around the harbor decked out with holiday lights and themed decorations.
They compete with one another for bragging rights for categories such as Best Theme, Best Animation, Best Band, Best Lights, and several more.
Along with the parade, there will be fireworks at 5:55 PM to mark the beginning of the show.
The parade itself starts at 6:00 PM.
Be a Party Animal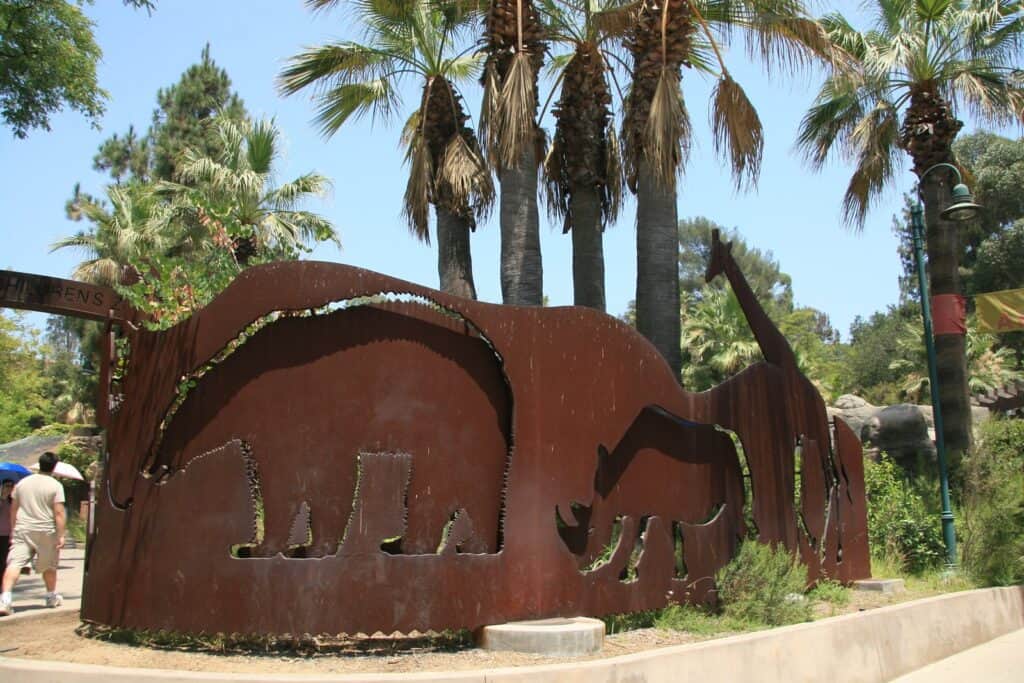 Possibly one of the best holiday activities is Zoo Lights when the L.A. Zoo stays open late and illuminates the night.
Visitors will be wowed and dazzled by the lights and music as you walk around viewing the animals in this once-a-year opportunity.
The zoo also promises to base some of its displays on the creatures that live within its walls.
Some of the coolest new additions include the zoo's tunnel which is decorated with sparkling lights, Chinese lanterns, and a full wall of mesmerizing lights.
Hang Out With A Giant Mouse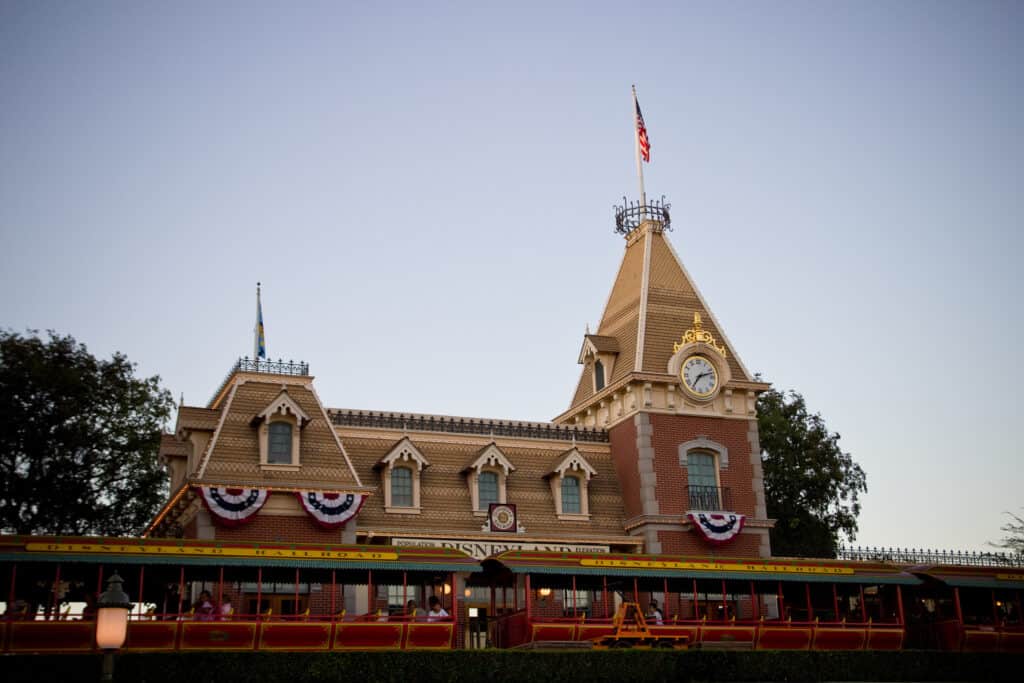 If Universal Studios isn't your thing, maybe a trip to Disneyland is more your cup of tea.
The theme park puts up the tinsel on Main Street every year from November 12th to January 9th.
Along with the Main Street makeover, many fan-favorite rides get the holiday treatment as well and the entertainment goes holiday style with new nighttime shows.
You'll see areas like Cars Land covered in decorations and a snowy scene at Sleeping Beauty Castle where icicle lights will dot the castle along the sides.
Even the It's a Small World ride gets the holiday treatment with decorations lighting up the outside of the timeless attraction.
Take a Stroll With Your Family
Walk down Woodland Hills' famous Candy Cane Lane where you can see eight blocks covered in lights.
For more than 60 years, homeowners at Lubao & Oxnard Streets have pulled together to dress their homes to the nines with the brightest lights and coolest holiday-themed decorations.
Be sure to put it on your calendar because it's a limited showing between the second Saturday in December until the end of the year.
Catch a Holiday Flick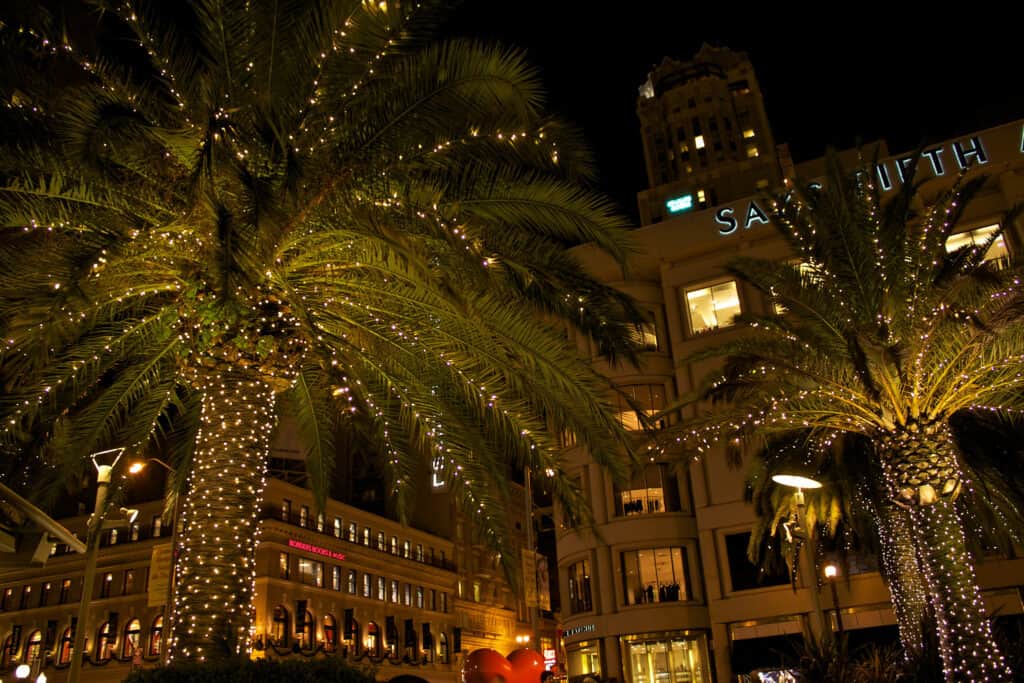 Head to Yuletide Cinemaland through the magical twinkling light tunnel that is comprised of over 20,000 lights.
As you stroll past Victorian-era homes decorated for the holiday season, you can stop for photos with the whole family while you keep your eyes peeled for a sighting of the jolly man himself, Santa Claus.
The event also shows two different holiday films each night such as Elf, Home Alone, A Christmas Story, and many more. Check their website because this event takes place on select nights between December 4th and December 26th.
Don't Let Christmas Be a Drag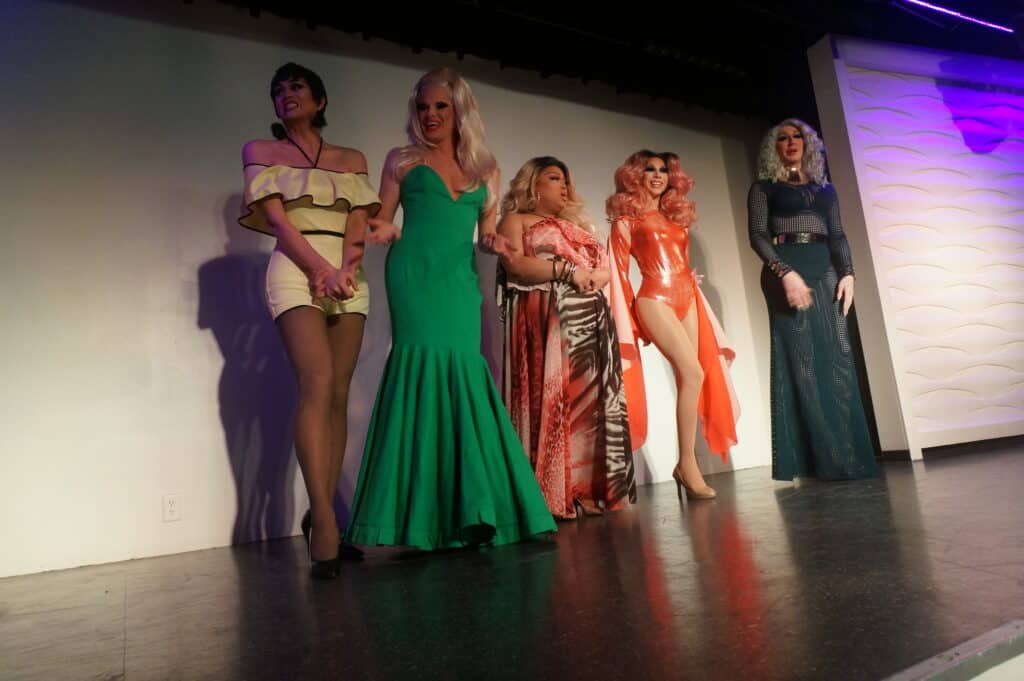 The queens are coming to save Christmas!
Featuring an all-star lineup of queens from Logo TV's RuPaul's Drag Race, you'll be entertained by your favorite queens as they perform along to the holiday classics.
The show will include Willam, Denali, Sasha Velour, Shea Coulee, and many, many more!
The show will take place at the Los Angeles Theater with tickets already on sale.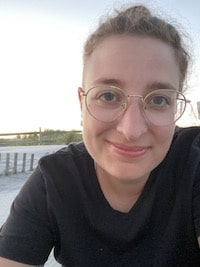 Britta DeVore is a travel writer and hiking enthusiast based in Southern California by way of Brooklyn. Relocating to California has given her the best opportunities to explore the wonderful West and share her experiences with others. You can find more of her work and travel guides at WildBum and her travel account, @trektonowhere