Growing up in the San Francisco Bay Area, snow in California was an event, not something that simply happened each winter.
Occasionally, it would snow on nearby Mt. Diablo in the East Bay, and we (and virtually every other family in the area) would drive up to the top of the mountain to enjoy some rare snow play close to home.
More often, seeing snow in California meant a long trip to Lake Tahoe, where there was more than enough snow for all of Northern Californians to enjoy.
However, there are a lot more wonderful winter getaways in California than just Tahoe — and in this post, I'll let you know all the best places to find snow in California.
So California snow enthusiasts, get ready: here are all the best places for snow in the Golden State!
Where to Find Snow in Northern California
Lake Tahoe (Various Counties)
Note: This post contains affiliate links, which earn me a small commission at no extra cost to you if you make a purchase using one of these links. Thank you for supporting this free content!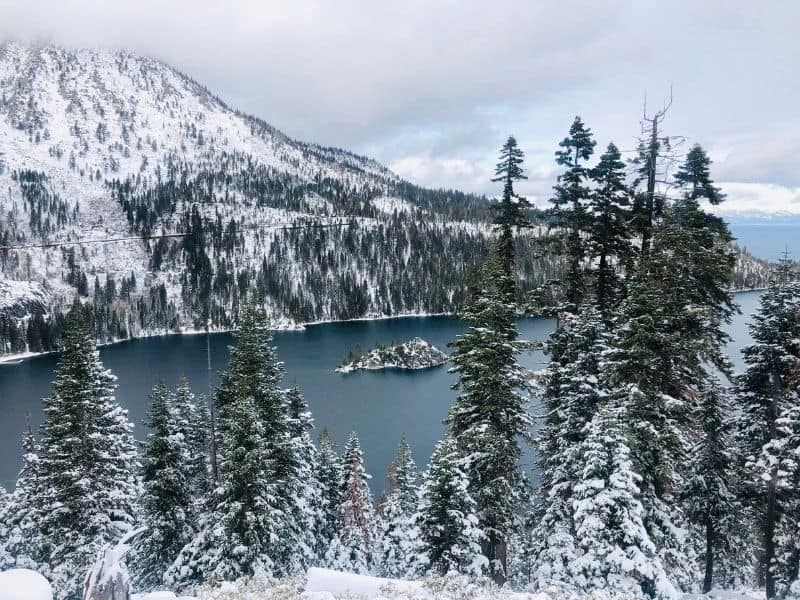 Where is the most snow in California? There are quite a few places in California that see epic snowfall, and one of those places is around the Lake Tahoe area.
On average, the area around Lake Tahoe sees roughly 215.4 inches of snow a year (about 18 feet), and up to 500″ at its highest elevation areas!
As a result of this massive amount of snowfall, the area around Lake Tahoe is home to countless resorts, which offer an impossible-to-comprehend number of skiing and snowboarding runs to enjoy.
But even if you're not a fan of winter sports, you can find tons of things to do in Lake Tahoe for non-skiers in the winter season. Winter hikers will particularly enjoy the area!
There are so many places around Lake Tahoe that would make a great base, but the most busting is certainly South Lake Tahoe, close to beautiful state parks, lakeside walks, and world-class mountain resorts like Heavenly (home of the famous scenic gondola!).
Truckee (Nevada County)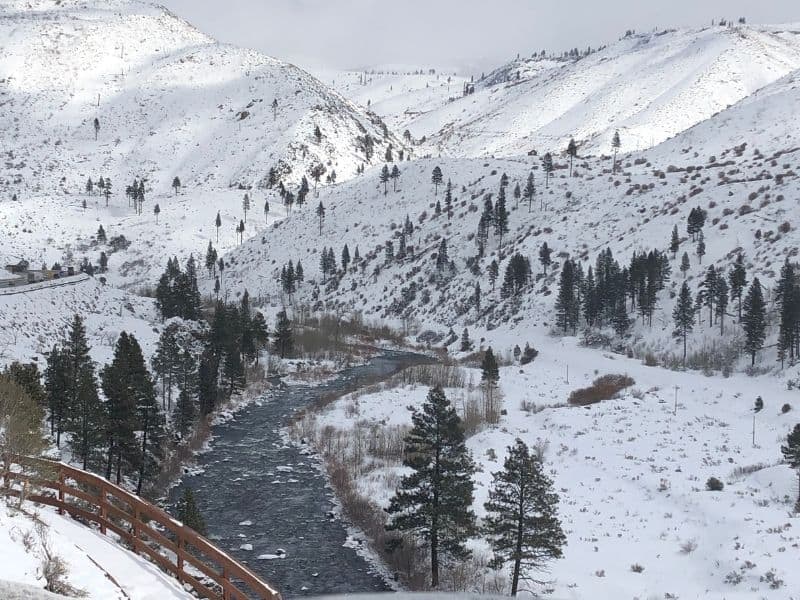 Truckee is located north of Lake Tahoe and is a popular destination for skiers and snowboarders looking to enjoy some winter sports.
In fact, Truckee receives about 204.3 inches of snow per year — making it the snowiest city in the United States according to Extreme Weather: A Guide and Record book by Christopher C. Burt!
Truckee can also get extremely cold, and it has often been the coldest place in the nation on any given day! Its lowest temperature ever recorded was -28 °F. So much for California being a land of sun, sand, and surf!
Truckee is located nearby Donner Lake, which is an absolutely beautiful place during the winter time of year, when there is so much snow on the ground that it coats the trees and makes the houses nearby look like they're in a fairy tale.
If you're looking for one of the best places to go skiing or snowboarding in California, Truckee is a great base.
There are several ski resorts in the greater Truckee area, including Northstar, Olympic Valley, and Alpine Meadows, and you'll never run out of runs to choose from.
Mount Shasta (Siskiyou County)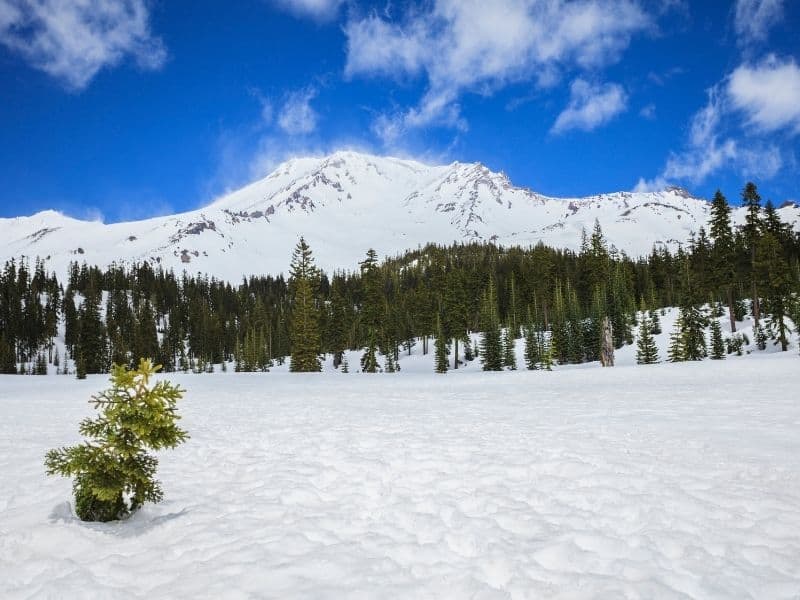 The charming mountain town of Mt Shasta sees about 60 inches of snow annually, spread across about 50 days of annual snowfall.
Up on the mountain of Mount Shasta, there's even more snow! A typical season at the Snow Bowl is about 98 inches (9 feet) of snow, at an altitude of around 7,600 feet above sea level where you'll find the ski area.
Mt. Shasta has a burgeoning ski scene and is growing in popularity as a winter destination in California, so it's a great place to go in Northern California for some skiing if you're trying to escape the Tahoe crowds.
Lassen Volcanic National Park (Several Counties)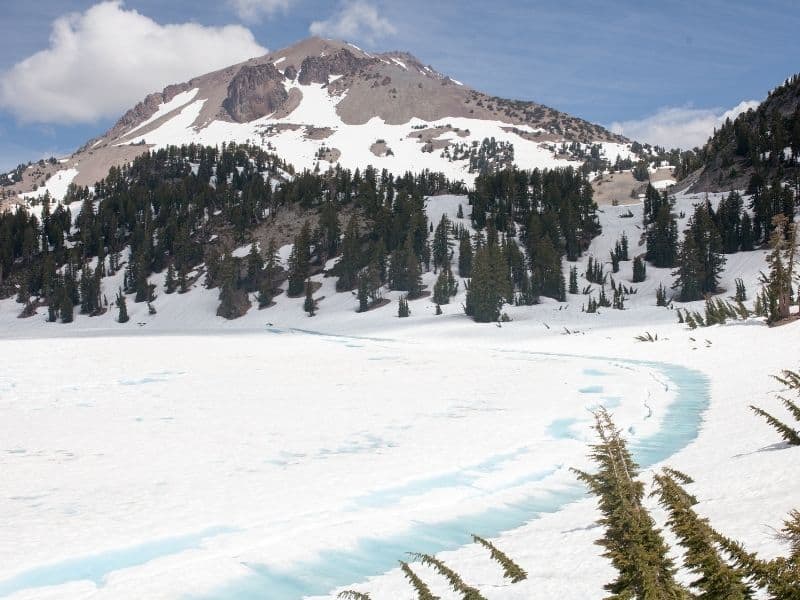 Lassen Volcanic National Park is yet another place where you can frequently find snow in California — on average, 142 days a year have at least an inch of snow on the ground!
Lassen Volcanic National Park is one of the snowiest places in all of California, with high levels of snowfall throughout the park.
The Southwest Entrance Visitor Center records about 430 inches of snow per year, and the area around Lake Helen on Lassen Peak is about 600-700 inches per year (per Ski Mountaineer)… take that, Lake Tahoe!
Nevada City (Nevada County)
It doesn't snow that often in Nevada City, but it does occur a few times a year, due to its proximity to places like Truckee and its altitude at around 2,500 feet.
But Nevada City is such a fun and underrated place that I feel obligated to include it here nevertheless!
Nevada City only gets about 15 inches of snowfall annually, which is small potatoes compared to the Tahoe area and Shasta/Lassen area, but it's still a lot of snow for California!
The Nevada City downtown area is a lot of fun and is really cute when it's all decked out for winter, which makes it one of my top choices for winter getaway in California after it's snowed there.
Luckily, Nevada City is still rather under-the-radar, so you can easily plan a last-minute snow getaway there after you've seen it that it has snowed there recently!
Where to Find Snow in the Western Sierras
Note: By "Western Sierras", I am referring to the corridor of the Sierra Nevadas that is more easily accessed by points west of the mountain range (such as I-5), as to distinguish it from the Eastern Sierras (Highway 395).
This is not a term that is widely used but I find it helpful when breaking up California by region as places like Yosemite and Sequoia don't fit into the Northern/Southern/Central California paradigm cleanly.
However, being that the access points are on the west side of the Sierras, these destinations are typically easier to get to by car from the coastal metropolises in both Northern and Southern California than their Eastern Sierra counterparts — which is why I categorize them differently!
Yosemite National Park (Several Counties)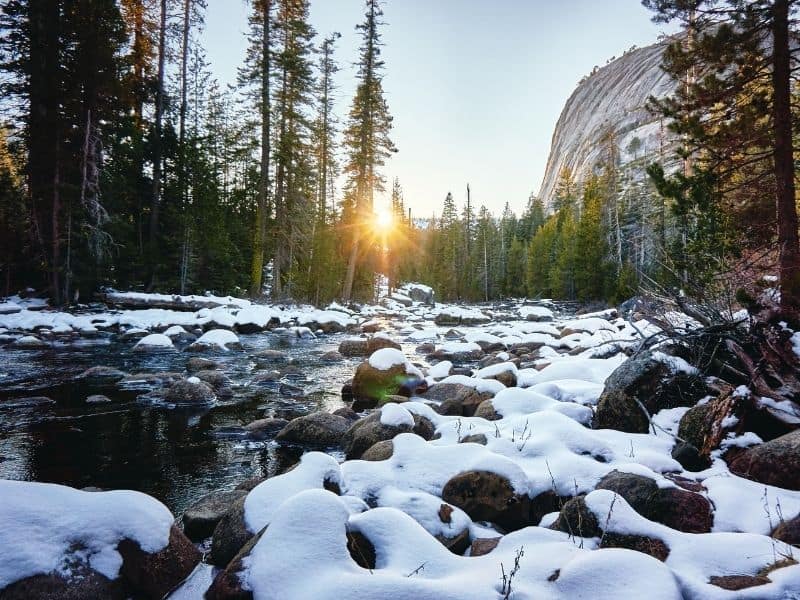 Yosemite National Park in winter is a true delight. The crowds of summer are thinned to a small trickle, and snow regularly blankets the evergreens in Yosemite Valley and the sequoias of Mariposa Grove.
Yosemite National Park sees about 36 inches of snow annually in Yosemite Valley, and much more at higher elevations in the park like the Tuolumne Meadows area.
Most of the park enjoys a thick blanket of snow between the months of November and April, so it's fairly guaranteed that you can enjoy a snowy California winter getaway in Yosemite during this time of year!
Note that many parts of Yosemite National Park are closed during winter due to hazardous road conditions. In particular, Tioga Pass is completely closed, which is the throughway through the Sierra Nevadas which connects the west side of the park to the east side.
Many Yosemite highlights — Glacier Point, Taft Point, Tuolumne Meadows, etc. — are along Tioga Pass, so you would have to return in another season to be able to visit this section of the park.
Sequoia National Park (Tulare County)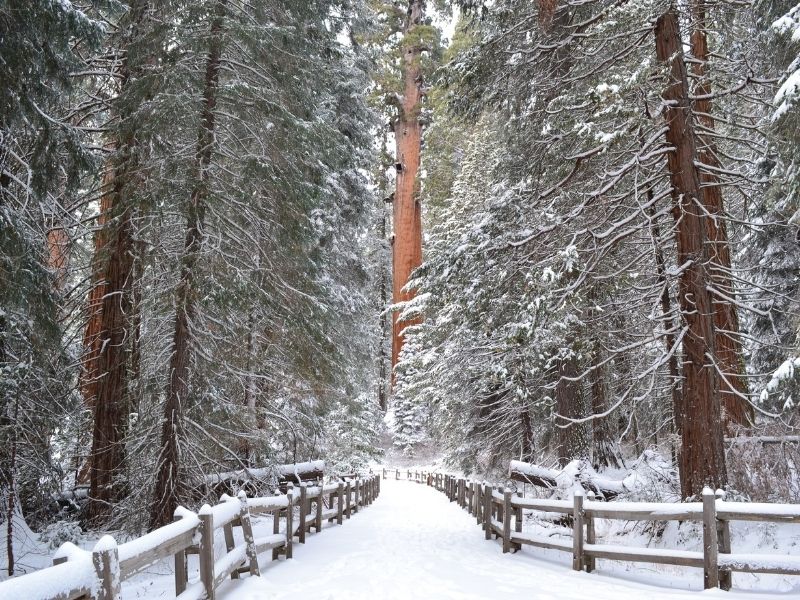 The beautiful Sequoia National Park is another stunning national park set amongst the Sierra Nevadas, which is pretty much a guarantee for seeing snow in California!
It's located very close to the next California winter getaway on this list, Kings Canyon, and both places are easily visited on the same trip.
Sequoia National Park sees about 40 to 45 inches of snow in the sequoia groves, which means you have a fairly good chance of seeing some of the largest trees on earth coated in a jacket of snow!
Kings Canyon National Park (Fresno & Tulare County)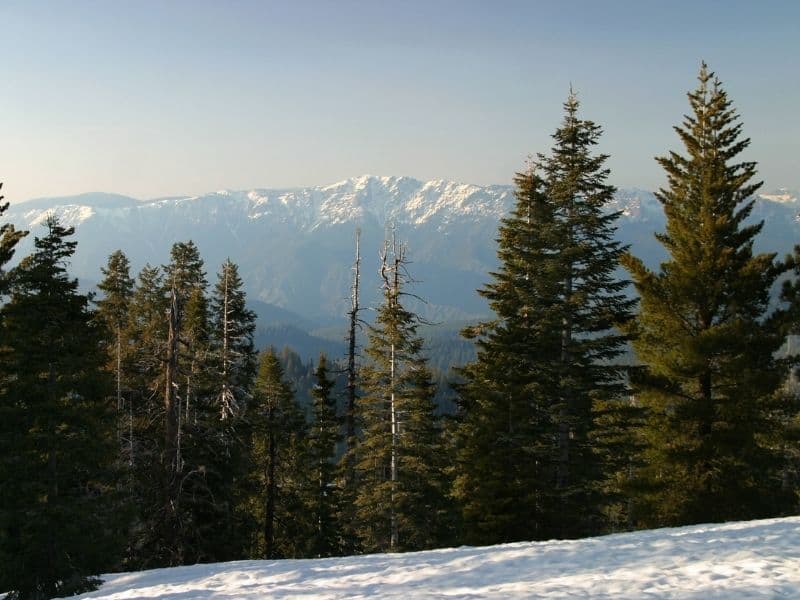 Adjacent to Sequoia National Park, Kings Canyon is another great winter getaway in California that is a little quieter than Sequoia.
Kings Canyon sees a similar level of snowfall to Sequoia, around 40-45 inches per year in the middle elevations that make up most of the park.
As a result, Kings Canyon becomes a popular place in California in winter for sledding, snowshoeing, tubing, and other snow play activities.
Where to Find Snow in the Eastern Sierras
Mammoth Lakes (Mono County)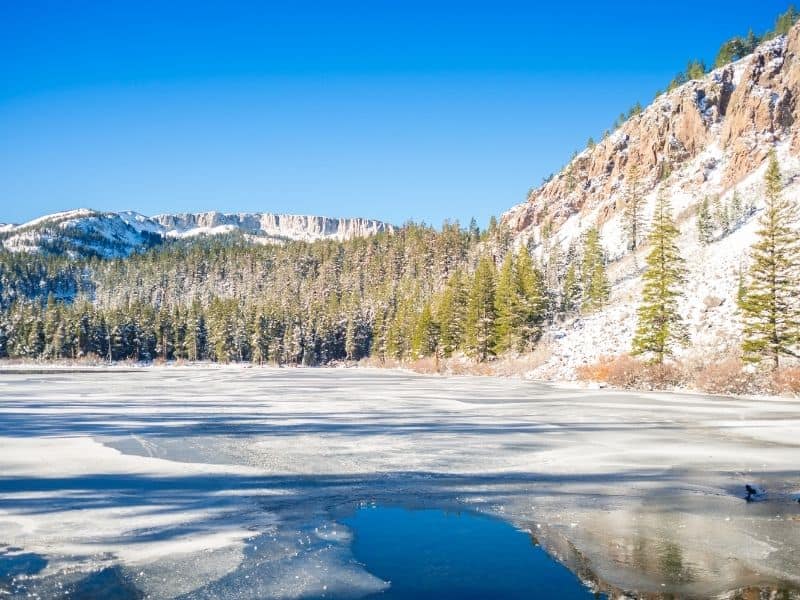 Mammoth Lakes (and its ski area, Mammoth Mountain Resort) is a massively popular winter getaway destination for Californians seeking snow!
There is a lot to do in Mammoth Lakes in winter (so much so that I have an entire post on it!). Skiing and snowboarding are the obvious main activities, but there's a lot to do in Mammoth in winter even if you don't partake in downhill winter sports.
Go X-country skiing around the Tamarack Cross Country Ski Center, ice skating at the Mammoth Ice Rink, or simply eat and drink your way around town!
June Lake (Mono County)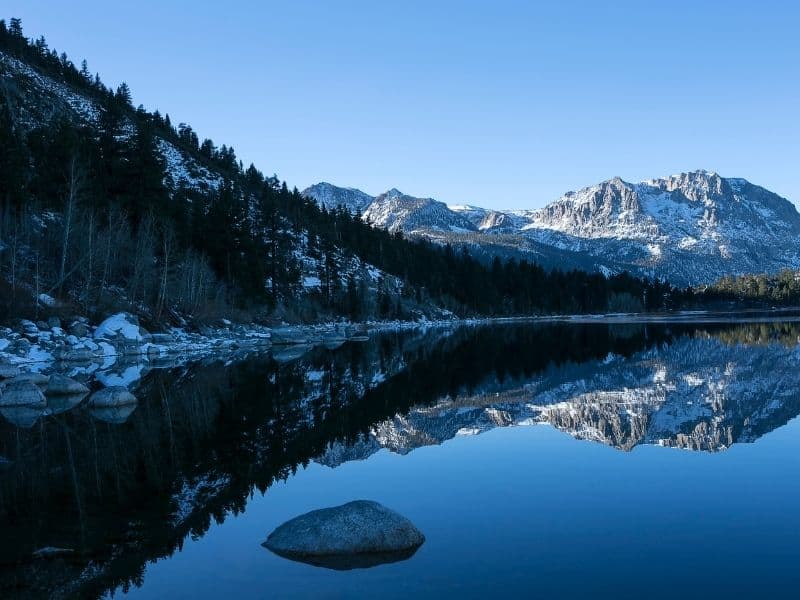 June Lake is a popular destination year-round — beach time in summer, foliage in fall, and fresh powder in the winter!
It's quieter than Mammoth Lakes but it's not far away at all — only about 20 minutes by car — so it's a great alternative to the buzz and hubbub of Mammoth in winter.
The June Mountain Ski Area has plenty of ski runs appropriate for all levels, so you don't have to compromise here.
Convict Lake (Mono County)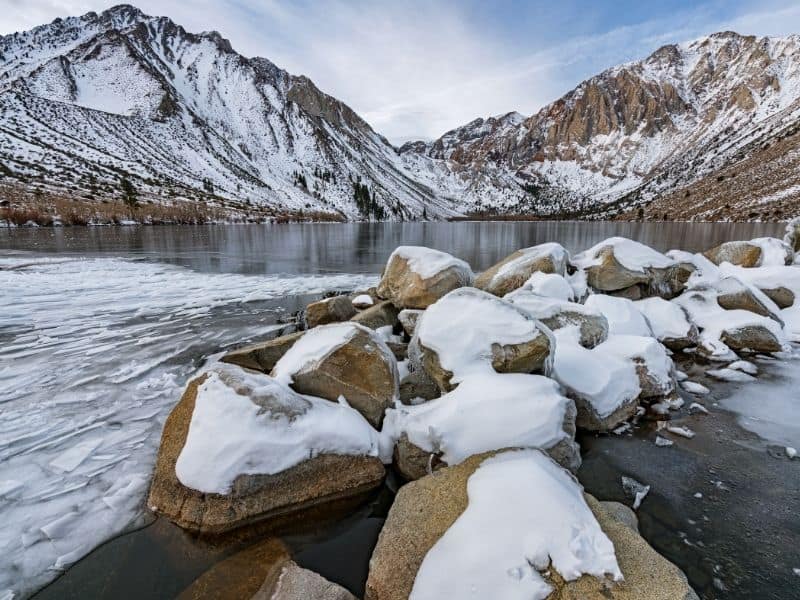 The beautiful Convict Lake area of Mono County is a great place for peaceful, quiet snow days.
If you're doing a Mono County road trip, covering places like Mammoth and June Lake, don't miss a little side trip to Convict Lake in the winter!
Be sure to bring your snowshoes for a lakeside walk!
Where is There Snow in Southern California?
Mount Baldy (San Bernardino County)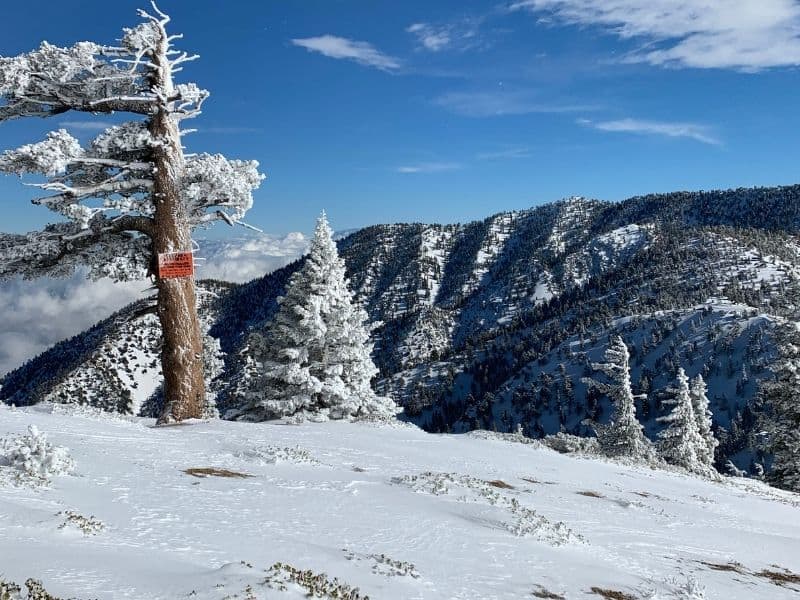 The peak of Mount Baldy is a popular winter wonderland for people from Los Angeles looking to get a little snow in their lives!
Just a 45-mile drive from L.A., no wonder Mt. Baldy is a place for Angelenos to experience a little bit of snow during the winter months!
There are ski lifts on Baldy that will take you to downhill ski runs, as well as a snow tubing park accessible via the Sugar Pine chairlift.
The Sugar Pine chairlift will also bring you to the Top of the Notch restaurant at nearly 8,000 feet, where you can enjoy a stunning view of San Bernadino, LA and San Diego from above!
It's the perfect day trip from LA in winter if you are looking for a snowy getaway.
Running Springs / Snow Valley Mountain Resort (San Bernardino County)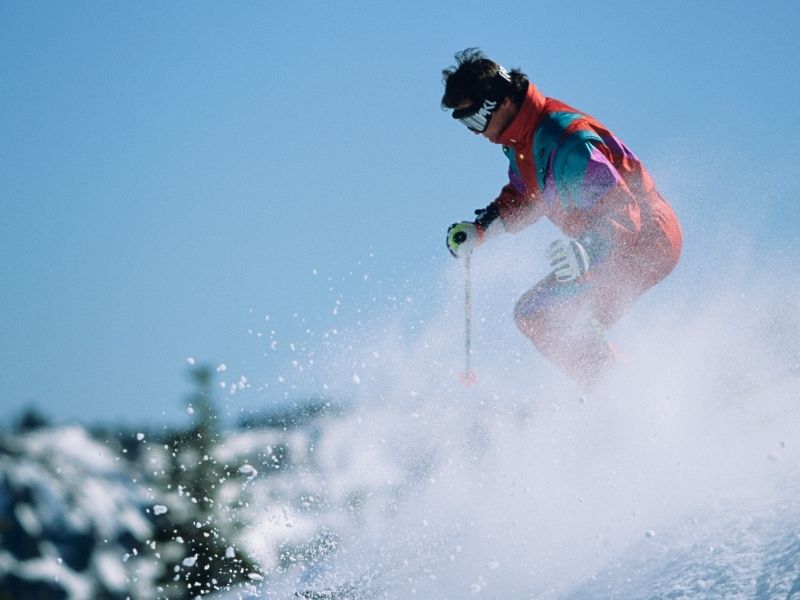 This is a local favorite ski resort area: it actually receives the most natural snowfall in all of Southern California!
It's also a great place to learn to ski, as it's considered to have the best terrain for beginner skiers.
But it's not just all for beginners — there are long intermediate runs (more than a mile of uninterrupted skiing!) as well as plenty of steep runs for advanced skiers, such as the Slide Peak area.
Big Bear Lake (San Bernardino County)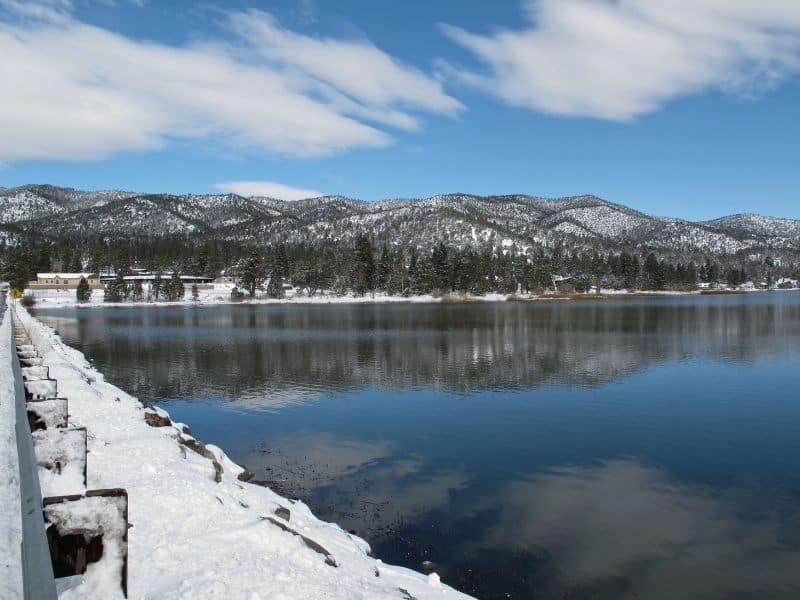 If you're wondering "where can I snowboard in California" — Big Bear in winter is the place for you!
Big Bear Mountain Resort is a great area for all manner of winter sports: snowshoeing, downhill skiing, cross-country skiing, etc., but it is most renowned for its snowboarding.
Snow Summit Ski Area is one of the best areas for skiing and snowboarding yearround, as it has the most consistent snowfall in SoCal due to its advanced snowmaking abilities.
Another popular place in Big Bear is Magic Mountain with its Alpine Slide, a fun bobsled experience in winter (normally water slides in summer!)
The Big Bear Snow Play area is a great spot for people to try snow tubing and what they call "glow tubing" — aka night tubing with lots of colorful lights basking the snow play area in gorgeous colors!
Lake Arrowhead (San Bernadino County)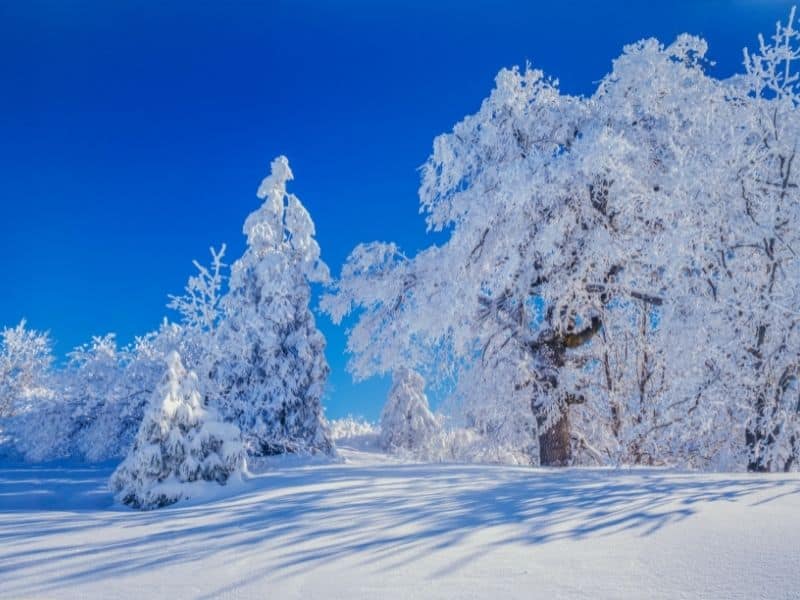 The beautiful mountain town of Lake Arrowhead is a great place to enjoy a snowy winter getaway in Southern California. It's a popular destination for Angelenos looking for a little spot of fun in the snow!
Lake Arrowhead gets about 40″ of snow a year, so there is a decent chance that you will see some snow during a winter trip to Lake Arrowhead!
If you're not a skier or a snowboarder, but you do want some fun in a wintry environment, Lake Arrowhead is the perfect weekend getaway from Los Angeles.
Mountain High Resort / Wrightwood (Los Angeles County)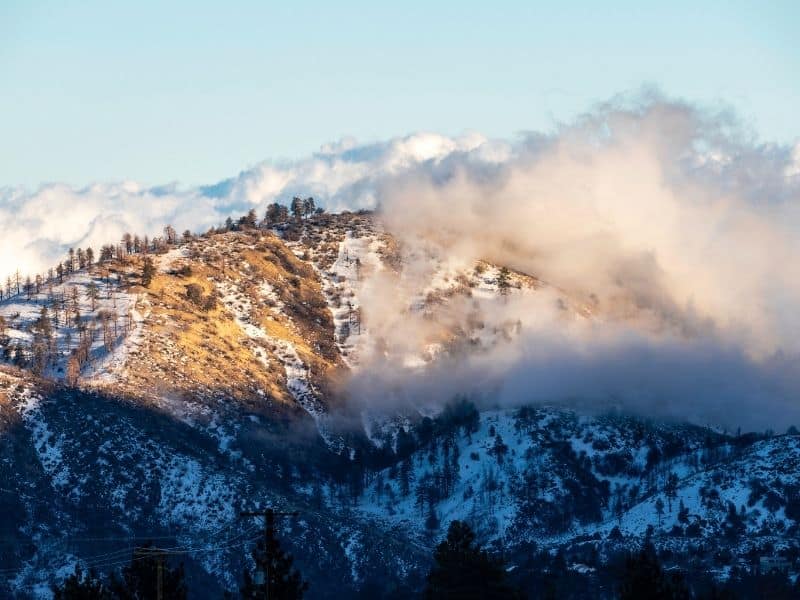 If you're looking for snow in Los Angeles county proper, head to Wrightwood and its ski resort, Mountain High Resort.
Located in the San Gabriel Mountains, this is one of the easiest snowy getaways to access from downtown LA (just an hour and a half drive).
Its short distance away means it's easy to get away for just a morning or afternoon if you want!
Idyllwild (Riverside County)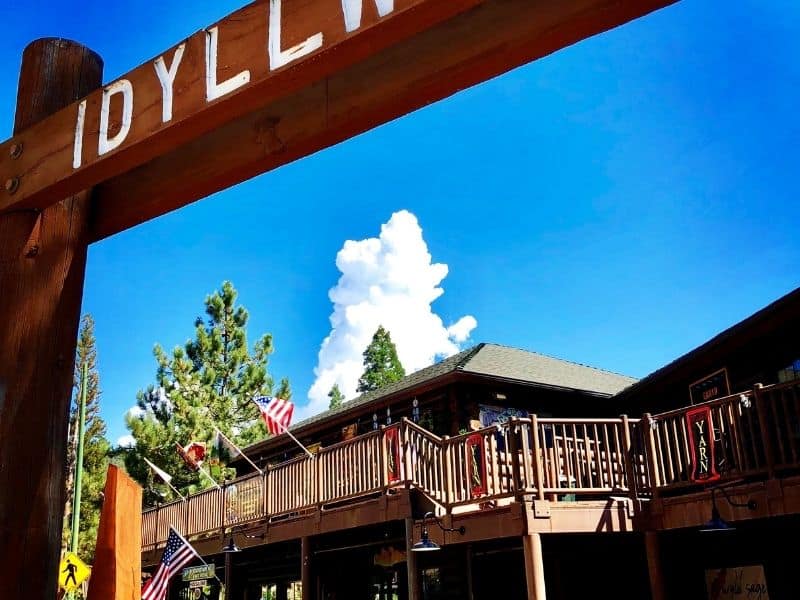 The mountain town of Idyllwild is, well, idyllic in the winter! Located over 5,000 feet above sea level, Idyllwild gets occasional snowfall — about 30 inches of snow per year.
That's not enough for any skiing or snowboarding, of course, but if you are looking for a winter cabin getaway with some snow to gaze out on (with a cup of hot chocolate in hand!), Idyllwild is a fantastic choice.
It's much quieter in Idyllwild in winter than in these other snowy getaways in California, and so if you are just looking to see snow (and maybe do a short winter hiking trail) rather than shred some powder, it's a good choice for seeing snow in Southern California.
Mount San Jacinto (Riverside County)
Palm Springs is more associated with desert vibes and poolside hangs, so it may not come to mind when thinking of a winter getaway in SoCal!
However, don't overlook it for a little splash of snow in California! Palm Springs is home to the Palm Springs Aerial Tramway, which will bring you near the top of Mount San Jacinto.
The peak of Mount San Jacinto sits at over 10,000 feet, so as a result, there is often snow over much of the mountain. Bring a sled and the family and make a day of it before crashing in sunny Palm Springs overnight!
Mount Pinos / Los Padres National Forest (Ventura County)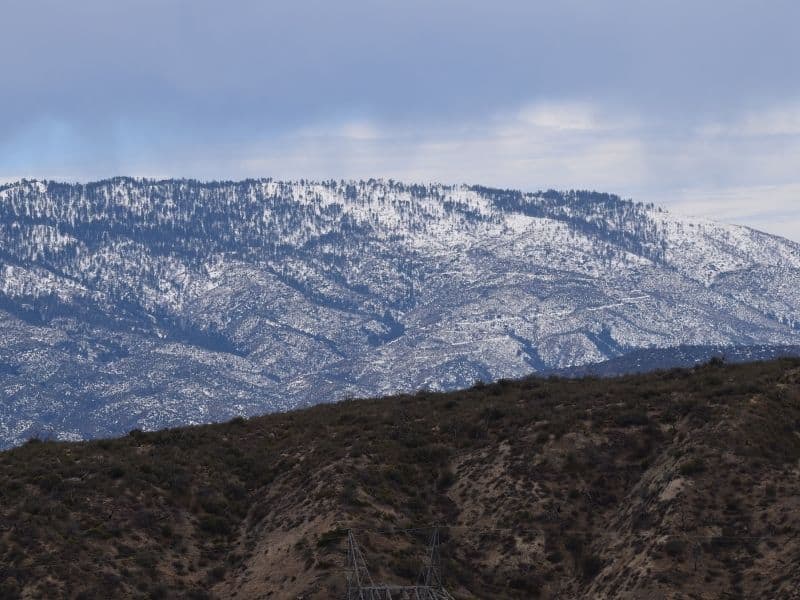 The peak of Mount Pinos as well as other mountains such as Frazier Mountain in Los Padres National Forest gets a huge amount of snow each year.
Mt Pinos gets anywhere from 3 to 7 feet of snow a yeardepending on storms!
This is a great snow destination for people living in North Los Angeles as it is only a 1.5-hour drive to Frazier Park from around the Burbank area!
Julian (San Diego County)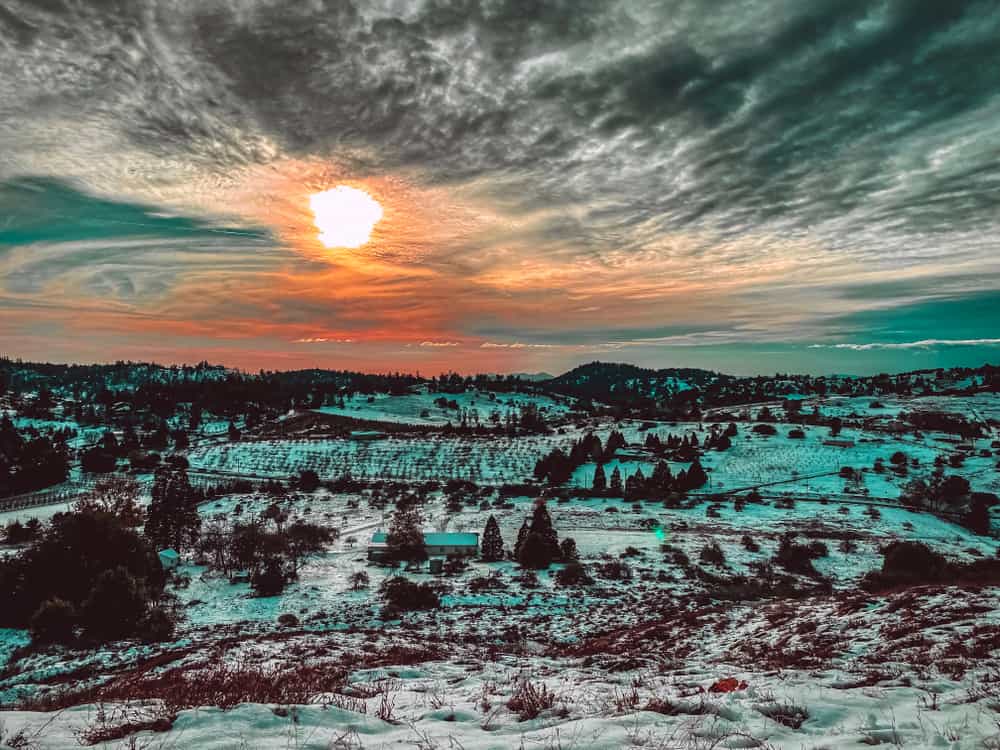 Many people don't realize that San Diego county can get snow, but there are a few places in the area that get a decent amount of snowfall!
It snows in the small mountain town of Julian, about 24 inches of snow per year. While Julian tends to be more well-known for its apple picking in fall, it's also a charming winter destination, especially after some snowfall!
Mt. Laguna (San Diego County) 
The last destination on our list is beautiful Mt. Laguna, the closest place near San Diego to play in the snow at less than an hour's drive from downtown!
At an elevation of 6,000 feet above sea level, Mt. Laguna gets a decent amount of snowfall each year — about 13 inches per year.
It's not a huge amount, definitely not enough to ski on, but it's a fun place to bring the family to build a snowman or play in some fresh powder if you're in search of a wintry day trip from San Diego!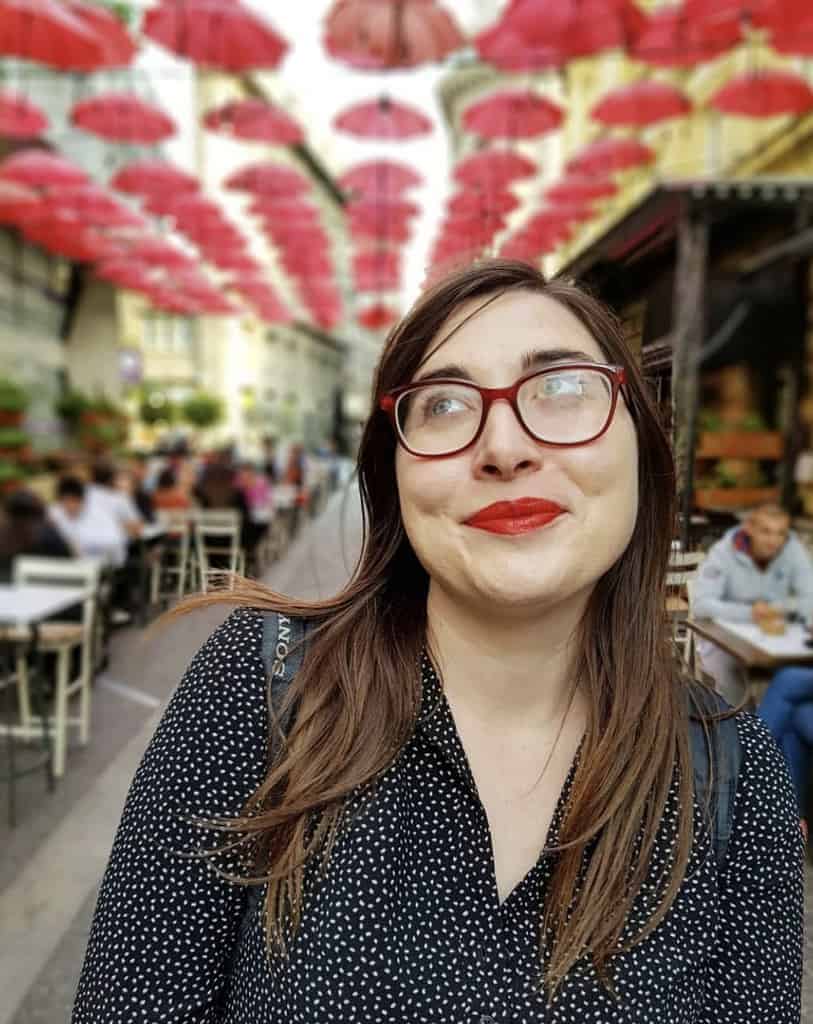 Allison Green is a travel blogger, writer, and podcaster who grew up in the Bay Area of California. She has spent time living in New York, Prague, and Sofia, but has returned to live in the East Bay. She has traveled to 60 countries before the age of 30 while running several digital travel publications. Her writing and podcast have been featured in Forbes, CBC Canada, National Geographic, the Huffington Post, and CNN Arabic, amongst others. She's obsessed with bouldering, houseplants, other people's pets, and anywhere she can see the ocean.