San Diego is a beautiful location to visit at any time of the year — and San Diego at Christmas is extra wonderful!
While the sunny beaches of San Diego may not automatically make you think of Christmas time, you will find that San Diego offers a lot of great activities in the Christmas season.
I mean, what other place can you go see Santa and then head to the beach for a day in the sun?
Christmas in San Diego offers you summer and winter vibes all in one! You might enjoy some traditional California beach activities and then head to a tree lighting, or visit a holiday light festival.
There is no shortage of delightful things to do in this area and this list will help you to plan your Christmas trip to San Diego!
Note: At the time of writing (September 2021) all of these activities are planned to occur. Of course, there is an ongoing pandemic, so some events may be canceled or modified. We have included a link to each event so that you can double-check for any changes or cancellations before making a plan.
Christmas in San Diego: Events & Activities to Add to Your Calendar!
Spend the holidays at Legoland.
Note: This post contains affiliate links, which earn me a small commission at no extra cost to you if you make a purchase using one of these links. Thank you for supporting this free content!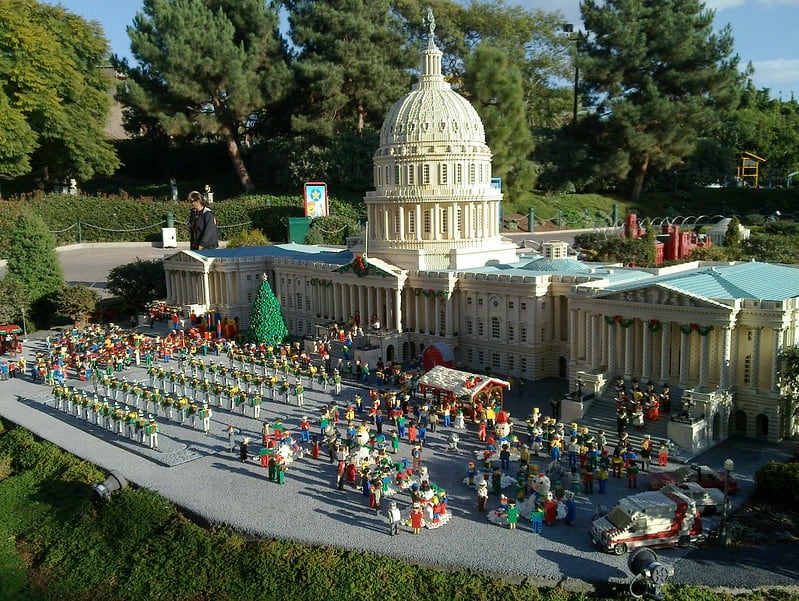 Website: Holidays at LEGOLAND
LEGOLAND is already a lot of fun at any time of the year, but it is at its best during the holidays — especially if you're spending Christmas in San Diego with kids!
You will get to see Santa, the Toy Soldier, and Gingerbread Man as well as other LEGO character favorites. There are 400 LEGO ornaments on display on the huge tree, and you can witness the tree lighting nearly every day!
The Holiday Light Show happens throughout the holiday period as well, including life-size LEGO Santa visits on his sleigh with his LEGO reindeer!
There is even a LEGOLAND Castle Hotel that you can stay in during your visit for a memorable holiday night! Enjoy the holiday cheer with a LEGO twist.
Visit Encinitas for the holiday street fair.
Website: Encinitas Holiday Street Fair
Encinitas is a wonderful surf town not far from San Diego, and while it may be famous for its surf breaks and sunsets, Christmas is also a great time to visit this charming California coastal town!
This massive holiday street fair offers 450 booths manned by local merchants and downtown retailers. Yes, 450!
You can wander this street fair to buy unique gifts, see the sights, and of course — enjoy some local food and drink!
There is live music in the Lumberyard Courtyard and you can take your kids to the Kids Zone for some fun while you are shopping!
Of course, being in Southern California, there's plenty of dog-friendly amenities! If you're bringing your pup shopping with you, drop them by the Dog Zone for a visit so they can take a break from the shopping!
There are 40+ restaurants serving delicious food out on the street and you will love the festive atmosphere of this charming holiday shopping venue!
Tune into a radio show of the classic Grinch tale.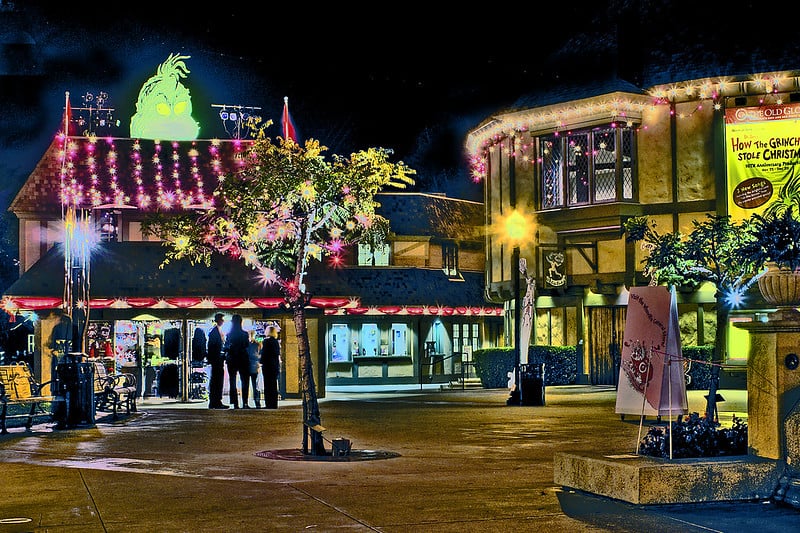 Website: How the Grinch Stole Christmas at The Globe Theater
This production is usually live, as per San Diego Christmas tradition, but in 2021 it will be produced for the radio — just like the old days of Charles Dickens!
This is a delightful production that is handled with perfection by the Globe Theater group. Your kids and family will enjoy this production even if you can't see it live due to world events.
This is a classic story that really comes to life when the Globe Theater produces it. This classic tale shows what the Christmas spirit is all about — it's pretty much guaranteed to make your heart grow three sizes!
Watch the Little Italy Tree Lighting ceremony.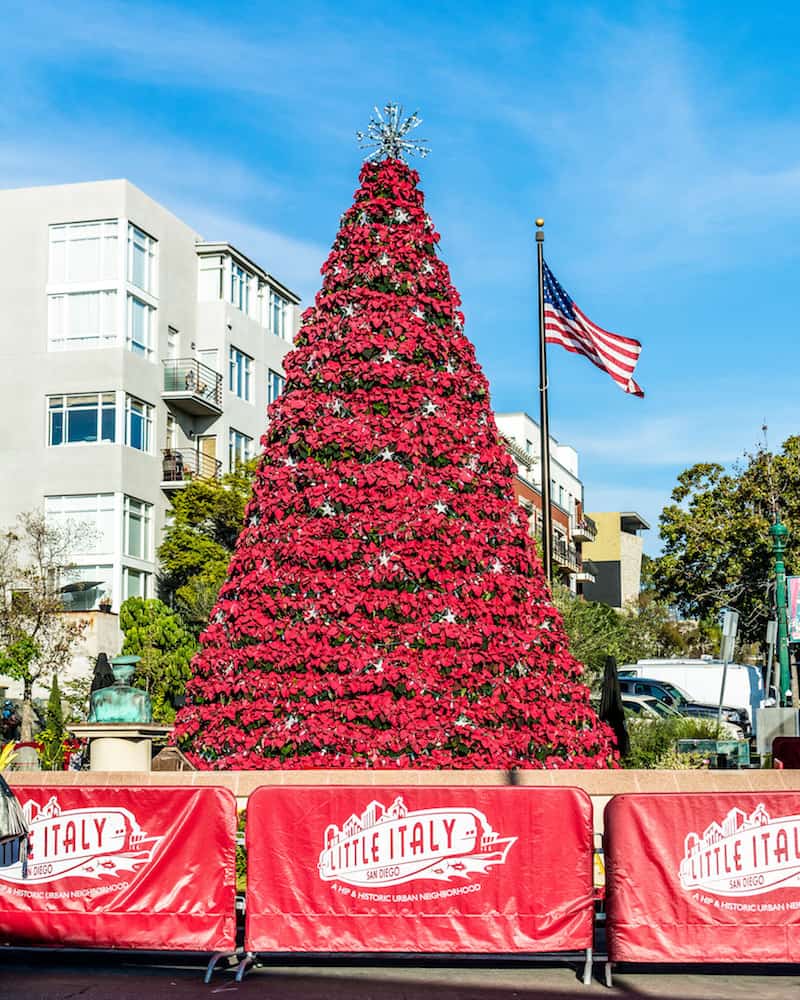 Website: Tree Lighting in Little Italy
The tree lighting in Little Italy is always a delight, and it's a San Diego Christmas tradition for a reason.
Come here to enjoy the beautiful weather during this 45-minute event which culminates in the lighting of a 30-foot-tall Christmas tree!
People who attend will be treated to a musical performance as well as a performance of 'Twas the Night Before Christmas!
You can shop around Little Italy's Holiday Market in the hours leading up to the event or enjoy shopping and dining in the area afterward!
There are few lighting ceremonies that are as beautiful as this one and visiting the Holiday Market at Little Italy is well worth the effort.
The Christmas Village here is also very enjoyable for all ages and you and your family will have lots of fun during your visit!
Watch the San Diego Bay Parade of Lights.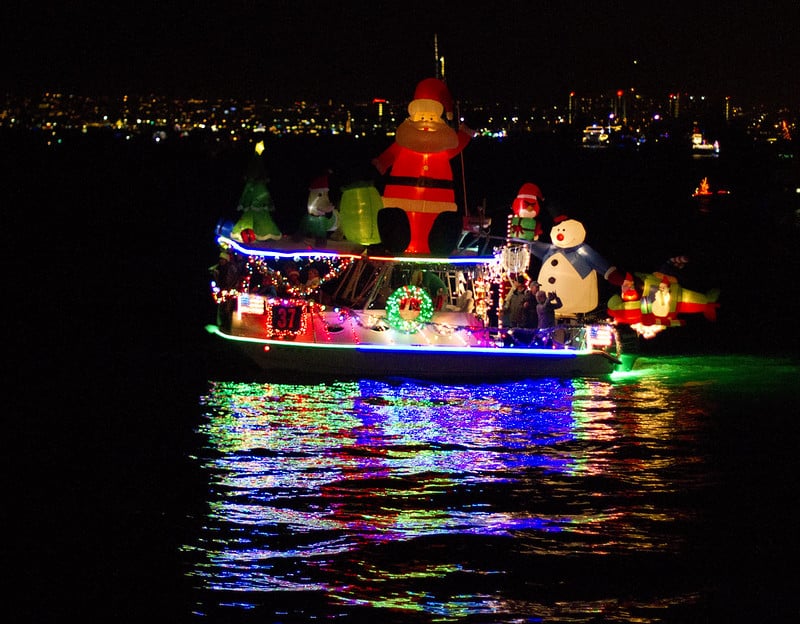 Website: Parade of Lights
On December 12th and 19th, 2021, don't miss the San Diego Bay Parade of Lights, starting at 5:30 PM on each night!
This is one of the most beloved San Diego Christmas traditions, with over 100,000 attendees each year!
As it's outdoors, it's an easy way to celebrate this charming San Diego holiday tradition in a socially distant way.
The parade will go along the bay to Cesar Chavez Park and then out to Coronado Island, giving you plenty of places to catch the parade.
Spend Christmas by San Diego's Seaport Village.
Website: Seaport Village Events
This is one of the most fun San Diego events during the Christmas season!
You will love getting to see Santa in his 'business casual' look — dressed in boardshorts, riding up on a jet ski to visit the kids! He might also be surfing on certain days.
Besides Santa crashing in on a surfboard or jetski, there are other Christmas activities to enjoy, such as children's crafts as well as live street performers and a holiday parade.
This is a really fun beachy location that offers great Santa-related activities as well as photo opportunities with beach Santa on many days of the week!
You will love the crafts fair and shopping options in the area as well as the dining opportunities to be had in the Seaport Village.
Visit the delightfully festive Bates Nut Farm.
Website: Bates Nut Farm
A nut farm may not immediately come to mind as a place to spend your San Diego Christmas time, but Bates Nut Farm takes up the mantle and celebrates Christmas right!
Bates Nut Farm offers a Polar Express hayride and a great craft and vintage market for all your Christmas shopping needs!
There are snow pony rides as well as a petting corral for the kids. Face painting is always an option and there are stalls selling soaps, art, crafts, and food.
This is a really fun rural location to enjoy Christmas near the beach and you will love the delightful weather paired with holiday cheer and holiday shopping!
Bates Nut Farm sells all kinds of nut varieties as well — some toasted and candied for extra Christmas cheer — and you will love being able to shop for these snacks in one location.
Bonus: they make excellent stocking stuffers!
Watch the zoo lights twinkling.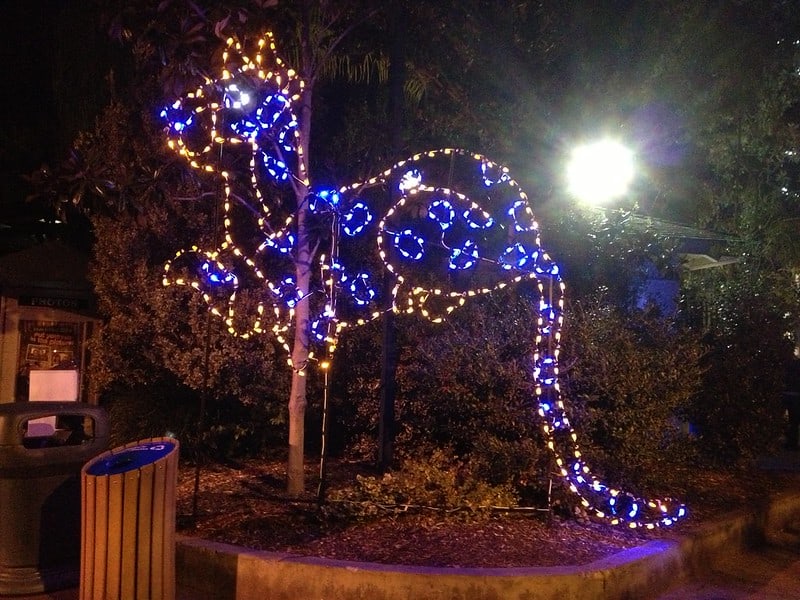 Website: San Diego Zoo Lights
Fondly known as "Jungle Bells", this lighted display event takes place at the San Diego Zoo and offers festivities, lighting shows, and more!
While of course, you will be able to see your favorite animals, you can also wander through the light displays and enjoy live music when you visit this Christmas event at the San Diego Zoo!
Check out the Zoo's restaurants and food stands if you get peckish, or shop for gifts at the Zoo's stores to get a jumpstart on your holiday shopping!
This is the place to get clever and unique animal-themed gifts that you cannot get anywhere else — great for shopping for any kids in your life!
This is a location that offers family fun for all ages and you will be glad that you chose this location for your San Diego holiday plans.
Attend the Holiday Bowl.
Website: Get Tickets to the Holiday Bowl
The Holiday Bowl is a very fun San Diego Christmas event for kids and adults alke — if you can get tickets!
There is a fun balloon parade that takes place before the football game, plus marching bands, drill teams, and of course, the huge Holiday Bowl balloons!
Your kids can wave at Santa during the parade and they will be wowed by the overall pageantry of the day.
There is also a Christmas tree lighting that will take place before the game begins!
This is a one-stop shop for every holiday experience and you will love getting to take part in all of the fun.
Petco Park is a really nice location that hosts all of the events that are scheduled leading up to and after the Holiday Bowl.
Ice skate to the sound of the ocean waves.
Website: Skating By the Sea
There are not many places where you can listen to the ocean's waves while ice skating under palm trees… but as we've established in San Diego, Christmas looks a little different!
This is a fun holiday activity that you can enjoy at Hotel Del Coronado each and every year!
Bring your family, friends, or date to enjoy the sea air, watch the sunset, and skate on the beautiful skating rink that is made for the holiday season.
Eat a meal at Frostbite, which is the lounge and restaurant by the rink, or enjoy reserving seats near one of the fire pits with full food and beverage services!
You can get holiday snacks, drinks, and more as you enjoy the ocean breeze and watch the activity on the skating rink.
Bonus: Part of the proceeds from each reservation is given to the Make-A-Wish foundation, making this a feel-good event in more ways than one!
Play in some (real) snow!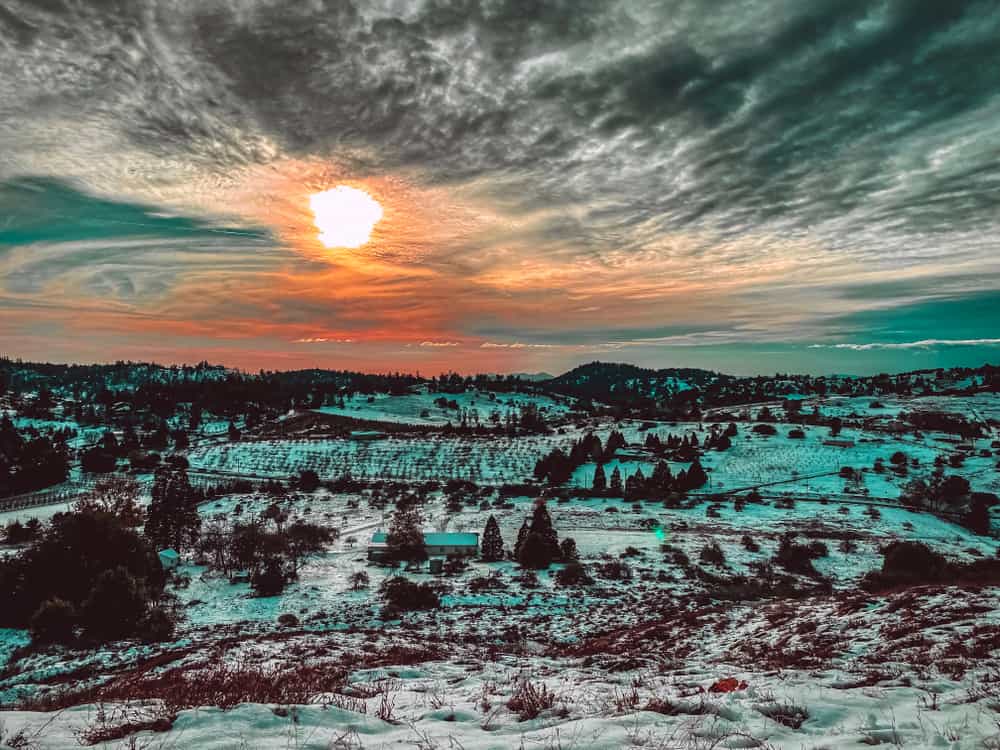 Website: Snow Locations near San Diego
If you are up for a little drive, you can take your family to the snow near San Diego (yes, it snows in Southern California!).
There are numerous locations about an hour or so from downtown that offer snow at this time of the year.
Remember though — snow is a natural phenomenon and is not guaranteed, especially in December, when winter is just getting started. Check the forecast before heading out and expecting snow!
You will find snowboarding, skiing, and more at many of these locations and there are many legal turnouts if you want to just stop and enjoy the snow.
Visit Julian which is a quaint little town full of history, shops, and riding stables, or go to Mt. Laguna for snowshoeing!
You can even stay overnight in many of these locations at a mountain lodge near town.
There is something really special about leaving the beach and driving such a short distance to enjoy lovely powdery snow and some cozy hours around the fire as the snow falls!
Enjoy the holiday spirit of Balboa Park.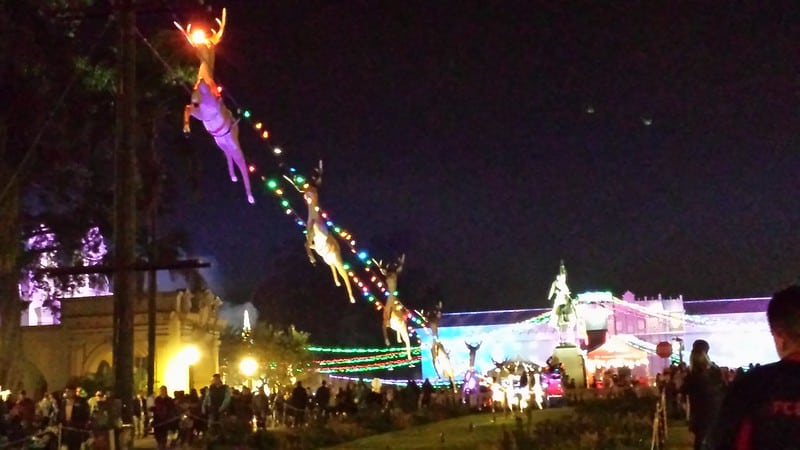 Website: Balboa Park December Nights
This event has been held for more than 40 years in Balboa Park! The traditional environment is a street fair complete with kid's activities and food trucks and vendors.
Pandemic precautions have led to a scaled-back version, so now for 2021, this is planned to be a ticketed drive-thru event with access to food trucks and vendors.
You will still be able to enjoy the Christmas spirit and pick up crafts and snacks, but some of the festival atmosphere will be missing until things return to normal again.
If pandemic restrictions loosen up, expect the museums in the area to be open during the festival nights, a tree lighting ceremony, and a focus on the multicultural nature of the fair.
This is a really special gathering that is not like any of the other venues that offer street fairs during this time of year in and around San Diego.
Check out the Christmas lights in Del Mar.
Website: Del Mar Christmas Light Drive Through
This is a delightful experience that people of all ages will love!
You can load up the car with friends and family and head to the Holidays in Your Car event.
You will see one and a half miles of beautiful light displays, some of which move and are accompanied by music. Enjoy a holiday laser light show, 40-foot-tall displays, and lots of holiday music as you drive!
There are more than 1 million LED lights on display at this location and you and your kids will be charmed and awed by all the sights that there are to see when you visit!
Del Mar is a beautiful location and you can spend the whole day in this beach community and save the light show for last.
There is no shortage of great food, cozy wine bars, and more in this location if you want to make a day trip out of your Christmas lights adventure in this area.
See the Nutcracker… on wheels!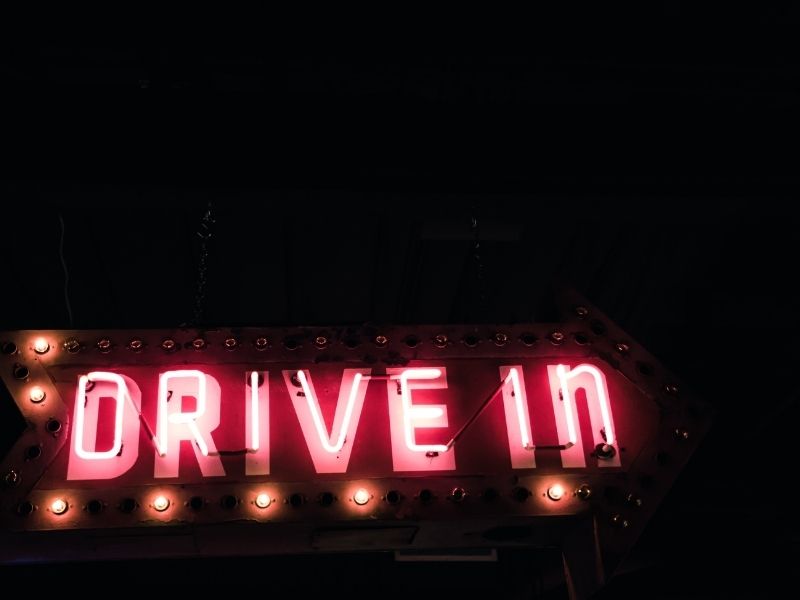 Website: Drive-in Nutcracker Ballet
No Christmas is complete without seeing The Nutcracker live.
With this clever socially distanced version of the theatre experience, you and your loved ones can enjoy the action as this classic is performed in front of you!
There are 30 parking spots per show and you can see everything from the vantage point of your vehicle.
There are VIP seats as well as general admission seats and the cost is per vehicle. Bring as many people as you can fit into your car and enjoy this Christmas classic without worries!
You can bring portable chairs, blankets, and your own popcorn if you wish and enjoy this unique rendition of a holiday classic.
Have a festive stay in Coronado.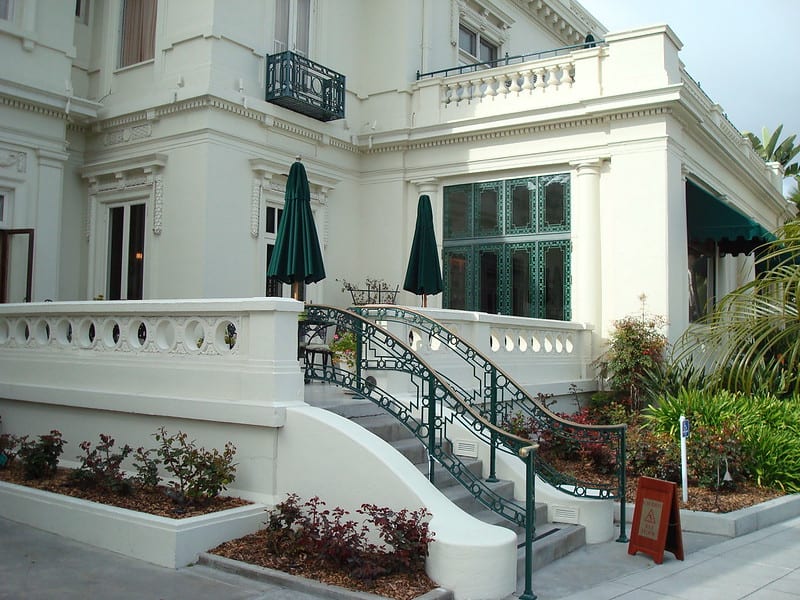 Website: The Glorietta Bay Inn
The beautiful Glorietta Bay Inn in Coronado offers Victorian charm, cozy rooms, and a great location to partake of the seasonal goings-on in this area!
This is a historic hotel that makes you feel like you have stepped inside a snow globe!
As a bonus, you will be able to walk to all kinds of local events that are taking place on Coronado Island during the holiday season!
Head across the street to the beach during the day, then get changed for some delightful dining, cozy wine tastings, or holiday adventures later in the evening.
This can be the perfect place to have a little getaway that feels like it was cut right out of a Hallmark movie!
***
Spending the holiday season in places that have sunny, beach-worthy weather year-round may seem a bit odd.
However, the Christmas season near the beach is just as fun as it is when you are in a snowy location, and you will love all the creative ways that San Diego celebrates Christmas!
There is no shortage of holiday fun to be had in this area and you will love the combination of sunny vacation and Christmas holiday that you can experience here.
If you have never spent Christmas at the beach, you need to plan to spend this year's holiday season in San Diego, just to get a taste of what is so special about a visit to San Diego during Christmas!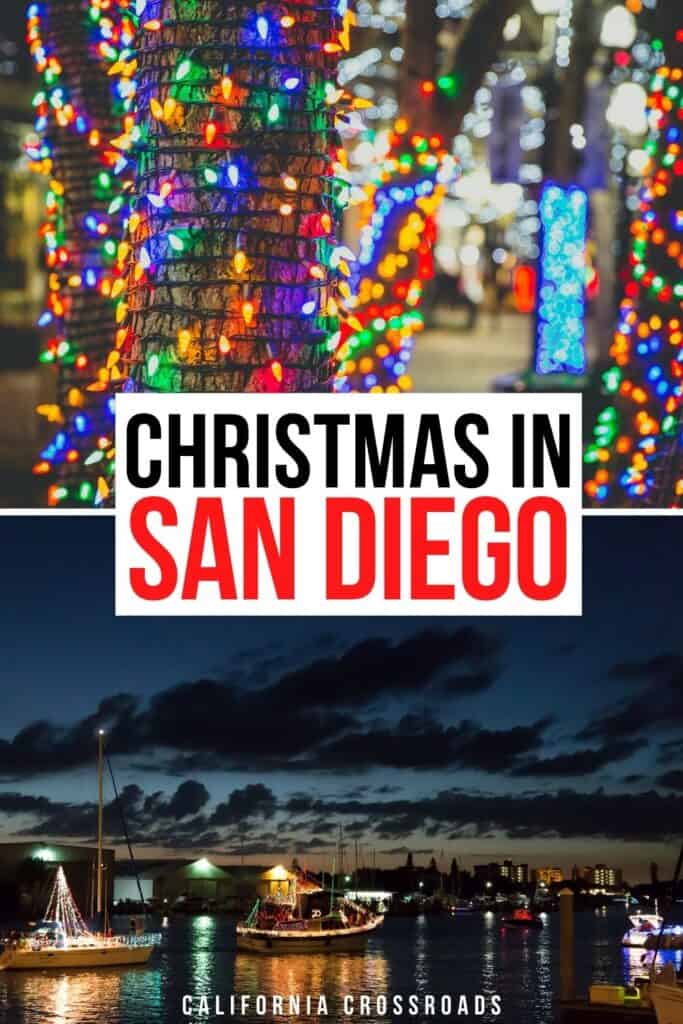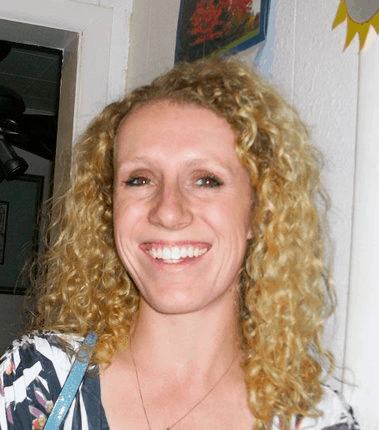 Brianna York has spent many years of her life traveling for work and pleasure, and grew up in Oregon in the gorgeous Pacific Northwest. She embraces each new place she visits and makes the most of seeing all the best that each city or place has to offer.  She is a published author and competes with her Arabian Show horses all over the United States. She embraces each day like a new adventure and is always ready for new experiences!