Festive decorations, snowy mountain peaks, and winter wildlife: contrary to popular belief, winter in California is a real thing.
Depending on where you are in the state, winter may mean feet of snow or it may mean slightly cooler temperatures and chilly nights. It's as varied as you get!
I've gathered this list of awesome places to travel in winter in California. Some are snowy, some are sunny but with cool winter perks.
I've split the list in two parts: snowbird destinations and sunny destinations, so you can decide how you want your California winter getaway to be!
Winter Temperatures in California
Wondering what the average winter temperature in California is?
Well, California is an enormous state with so many different climates, so it's impossible to give you an answer to such a broad question.
Instead, I'll give you a quick rundown of expected temperatures in a handful of California destinations in winter (using January as the month for reference).
Average highs and lows in January are as follows for the following California destinations. As you can see, it varies wildly!
San Francisco: High of 58° / Low of 47° with 8 days of rain
Los Angeles: High of 68° / Low of 49° with 4 days of rain
San Diego: High of 66° / Low of 50° with 4 days of rain
Yosemite National Park: High of 48° / Low of 28° with 8 days of snow
Lake Tahoe: High of 44° / Low of 26° with an average of 68 inches of snow
Mammoth Lakes: High of 40°F / Low of 15°F with an average 43 inches of snow
Winter in California: Snow Destinations
Lake Tahoe
Note: This post contains affiliate links, which earn me a small commission at no extra cost to you if you make a purchase using one of these links. Thank you for supporting this free content!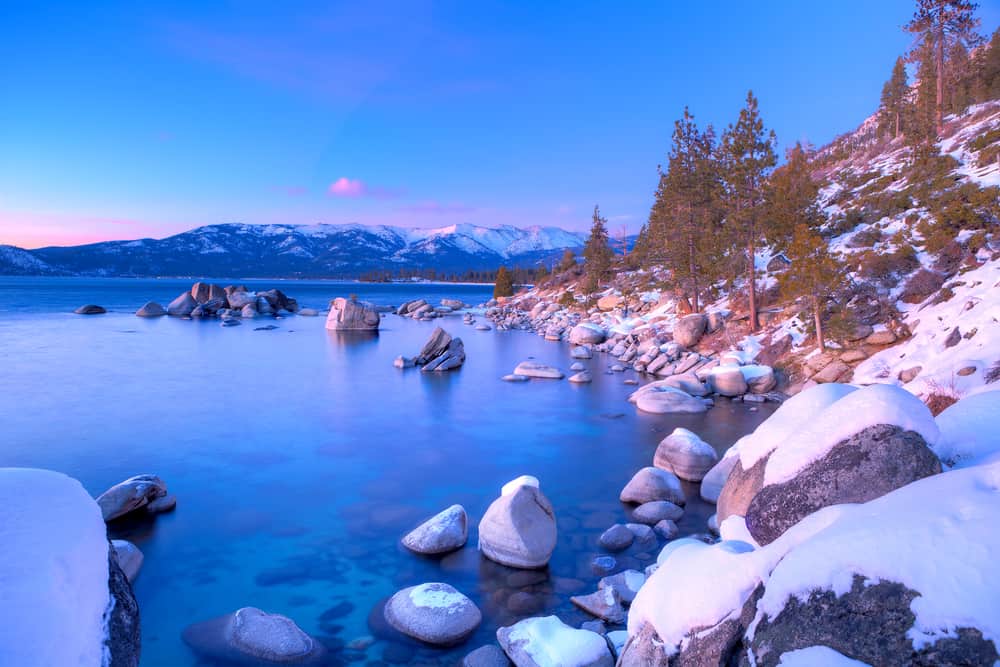 No California winter would be complete without a trip to Lake Tahoe. I mean, the Winter Olympics even decided to host the 1960 Winter Olympics here: what more proof do you need that winter in California can be totally epic?
Skiing and snowboarding are the main attractions in Tahoe in winter, but that doesn't mean you can't enjoy the other winter fun activities that Tahoe has to offer!
Finding a rental cabin and relaxing by a fireplace as the winter scenes pass by your window is a great way to relax and unwind during a cold winter week, especially after a busy day hitting the nearby slopes.
Heavenly Mountain Resort is one of the most famous resorts in South Lake Tahoe, and it's one of the best places to spend winter in California.
Even if you're not here to ski, with its festive Heavenly Village with its holiday decor and overhead gondolas, you'll find yourself getting in the winter spirit.
Truckee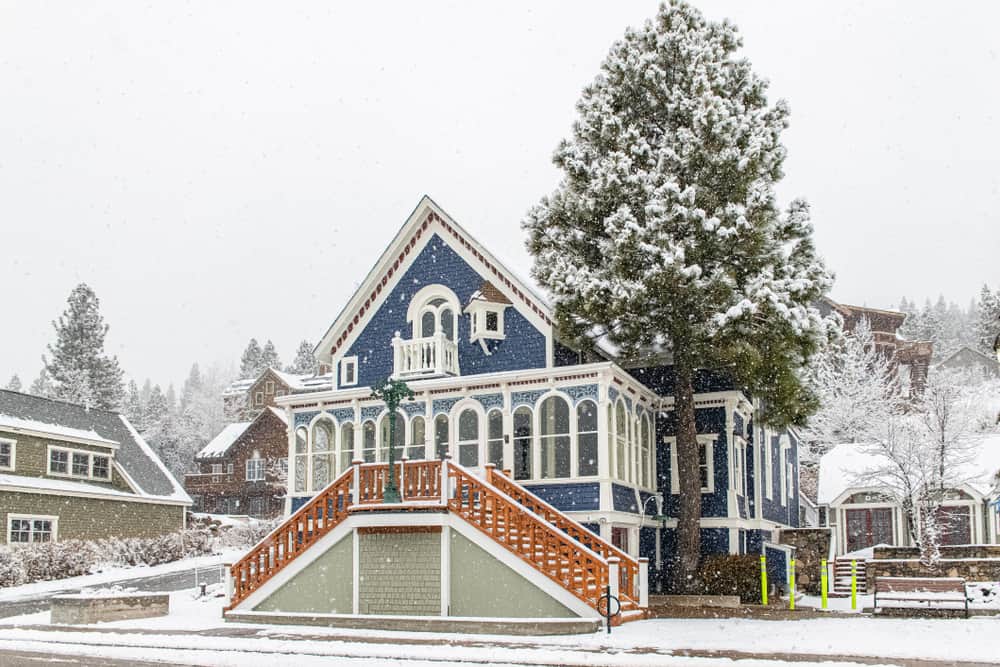 Located a 25-minute drive from the north shore of Lake Tahoe, Truckee deserves its own spot on this roundup of excellent California winter destinations because it's worthy of a getaway in its own right, not just for its proximity to Tahoe!
And fun fact: Truckee is one of the snowiest places in all of California!
There are so many things to do in Truckee during the winter that it would be hard to do all of this in a day — so make it a weekend trip from the Bay Area, or tack it on to a long trip to Tahoe and other destinations in Northern California.
Backcountry skiing is a fun activity for skiers looking for something different than a normal ski run at a resort, like you'd find all over Tahoe. Led by a guide, you can explore the wilderness of Truckee on skis and enjoy the snowy outdoors.
Of course, there are also plenty of groomed ski slopes that you can partake in, at resorts like Northstar Resort and Palisades Tahoe.
Another activity that you can take part in is snowshoeing: this activity can even be done at night for a lunar tour of the Truckee wilderness!
Want to experience winter a little differently? How about snow biking (also called fat tire biking)?
This is a fun winter activity that is being offered at Northstar Resort and is an interesting adventure for those who miss the summer bike riding adventures.
Big Bear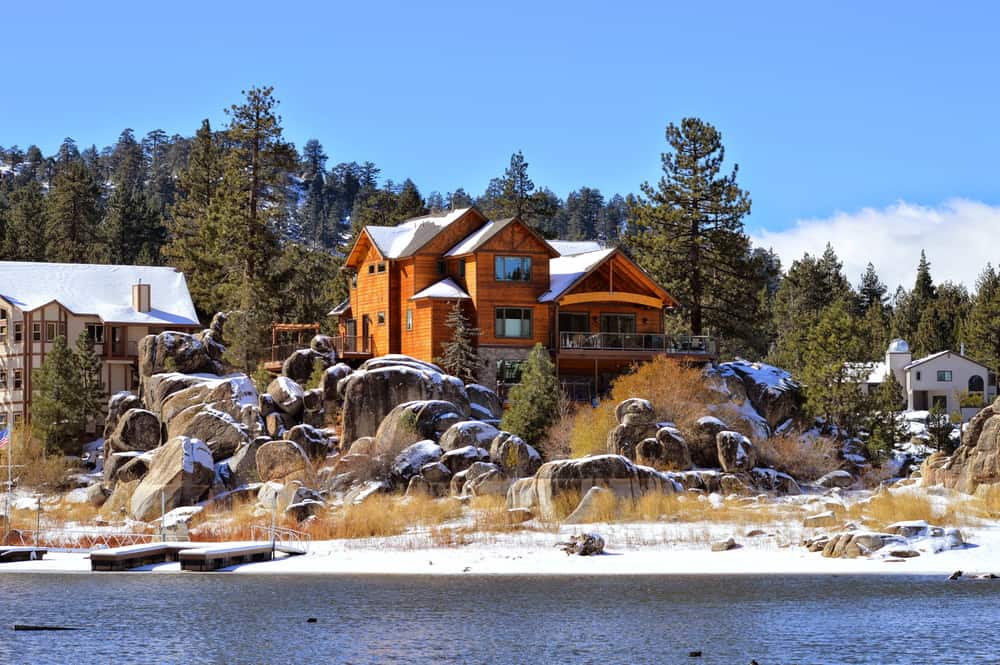 Snow in Southern California? You bet!
Big Bear in the winter is one of the top ski destinations for Southern California. Not too far from the sun and sand along the Pacific Ocean, Big Bear awaits for a snowy winter in California adventure.
Renting a fun cabin in Big Bear with friends is a great way to really experience all that Big Bear has to offer and to escape from it all.
Big Bear's temperatures are nearly perfect with highs in the 40s and lows in the 20s during the winter, and sunshine nearly year-round (when it isn't snowing some fresh powder, of course) which leads to lots of wonderful bluebird days.
Of course, winter sports are a top attraction for Big Bear, with skiing and snowboarding runs for all levels.
Ready to escape and enjoy some fun in the snow in Southern California? Check out Big Bear.
Mammoth Lakes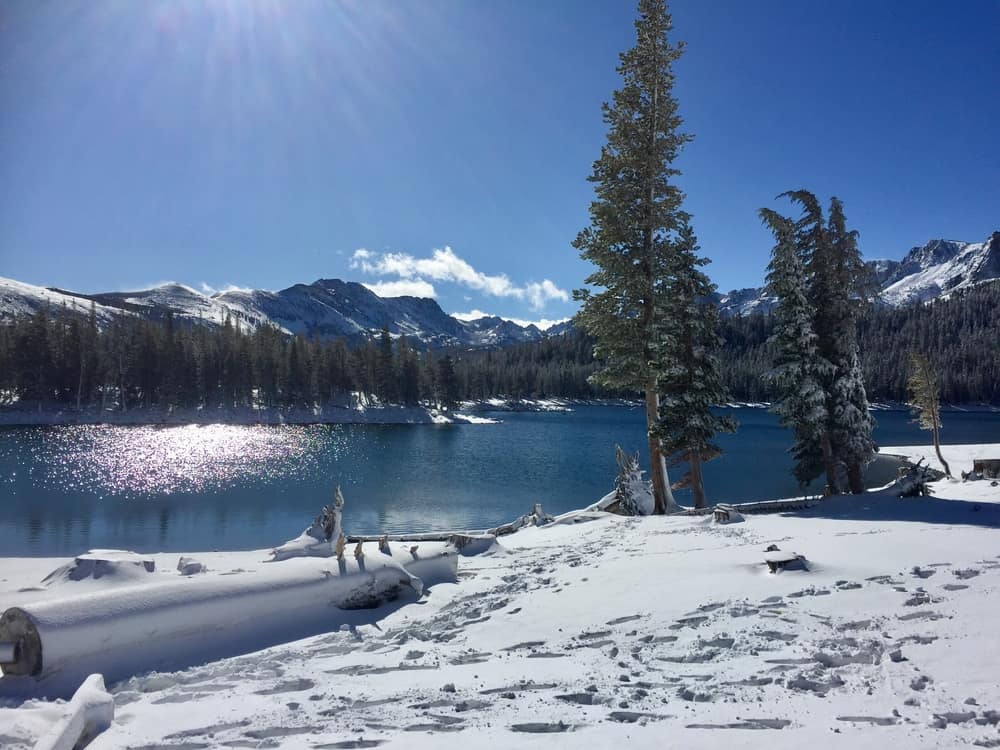 Mammoth Lakes in winter is a true wonderland! Mammoth is a world-famous ski destination, and few places in California get more snow than Mammoth Mountain during the winter.
There are endless miles of cross-country skiing paths as well as great downhill runs for skilled skiers and snowboarders.
For the kids (or kids at heart), Mammoth also offers tubing and sledding for a fun way to explore the mountain and the wintry terrain while also having a thrilling ride down the hill, for those who don't know how to ski or simply don't enjoy it.
Of course, you can bring your own sled and find a hill yourself to go down, or you can go down a hill that they have designed for sledding.
Ice skating is also a popular activity at Mammoth, and you can enjoy renting some skates and taking them out on the Mammoth Ice Rink.
Idyllwild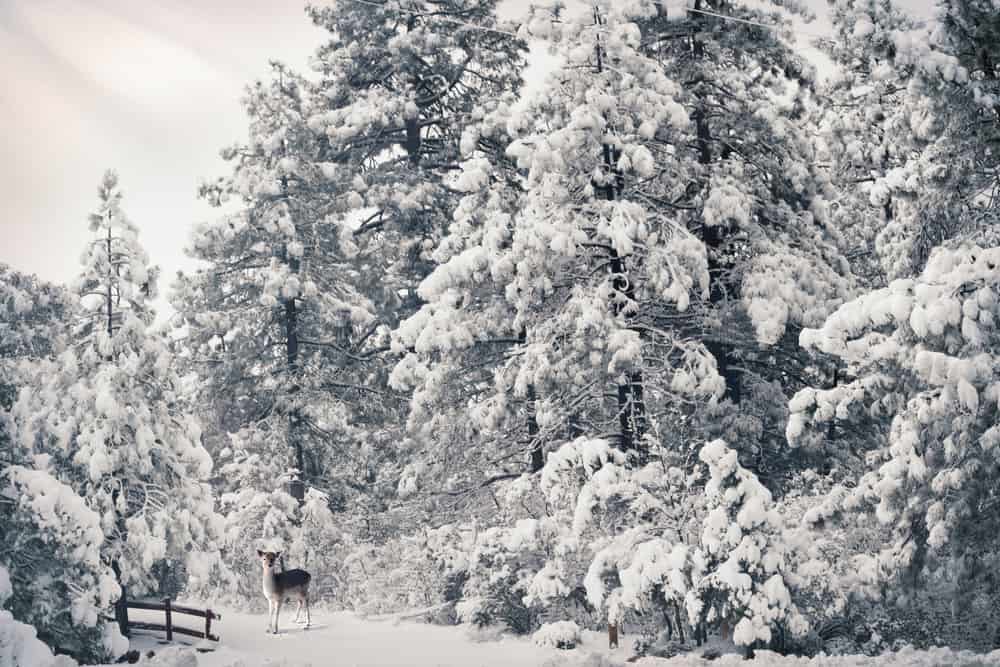 Not too far from the sun in Palm Springs and San Diego lies Idyllwild, an idyllic winter in California escape in a charming mountain town.
It's located about one mile in elevation (just like Denver), so the mountain positioning means that Idyllwild is a great winter getaway for those living in sunny destinations nearby in Southern California.
Nothing is a more relaxing getaway than a peaceful cabin getaway among the snow-covered trees and a setting that allows you to truly escape from it all.
A winter hike is a great way to explore the region and there are many trailheads close by that can allow you to explore this mountain getaway. Bring some snow boots!
It is also great to visit many of the shops nearby as the downtown area of Idyllwild is really cute and full of great boutiques, cafes, and restaurants.
Hot Creek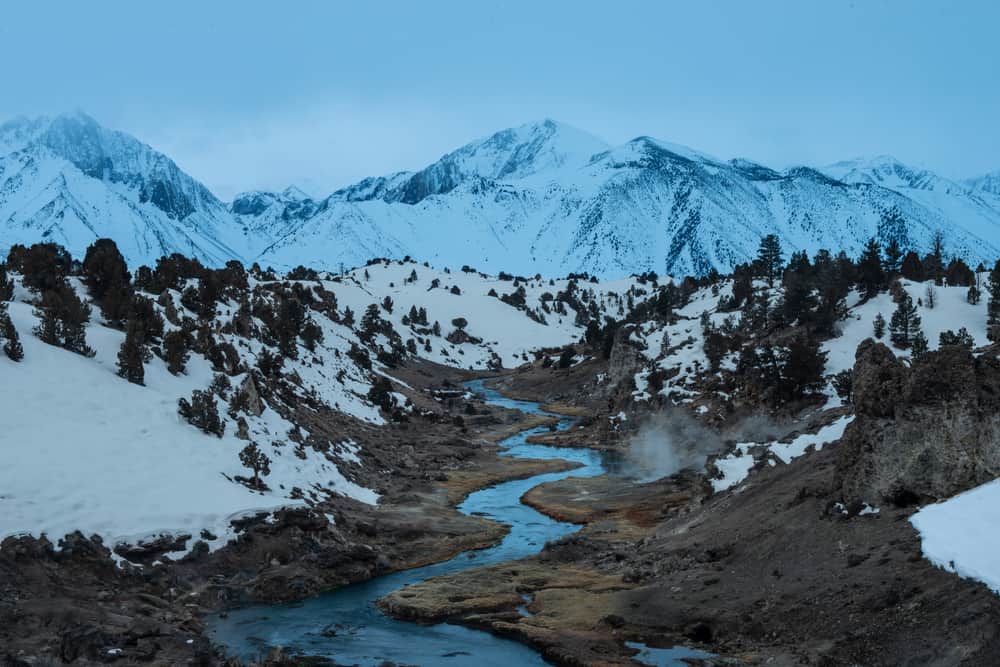 Who says you can't fish in the winter? At Hot Creek near Mammoth Lakes, this is a reality, as the creek is fed by the warm waters of the hot springs, keeping the creek liquid rather than frozen over despite its snowy scenery.
The heat from the springs also keeps the entire creekside free of snow, as it melts practically on contact, so you can easily stand by the creek and fish for hours without getting cold from standing in the snow!
You may think that you escaped to Yellowstone or even Iceland with the fumaroles and geysers, but this is all California!
Trout is very popular to try to catch during the winter months; however, note that it is very difficult to actually succeed in catching and outsmarting fish here! Also note that it is catch-and-release only, so unfortunately, you won't be able to eat your catch!
The creek is easy to get to by snowmobile or cross-country skis and it's a warm escape from the cold winter in nearby Mammoth (though note that you can't swim in the water, despite how inviting it may seem, due to the potentially unstable temperatures).
Hot Creek is a fisherman's California winter paradise!
Yosemite National Park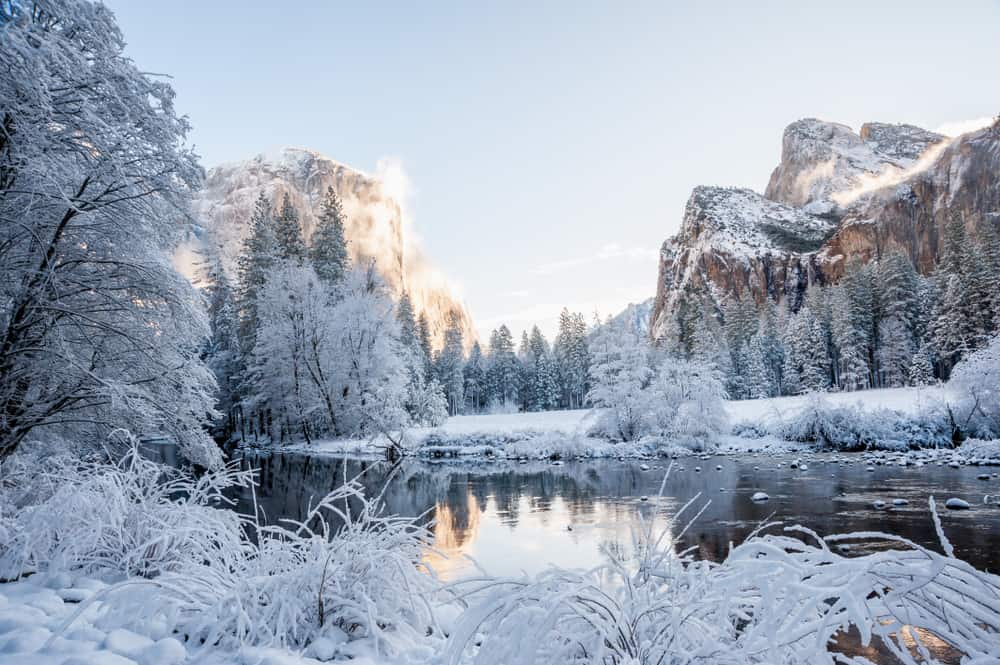 There is something magical about Yosemite in the winter.
The sparse crowds make it feel like the grand park is all yours, and you can see it in one of its most beautiful settings with snow glistening at the top of Half Dome and a fresh layer of powder in Yosemite Valley.
It is important to note that Tioga Road is closed during the winter and the drive to Glacier Point is also impassable in the winter, but that shouldn't stop you from visiting the rest of the park.
Even though it is snowy, that doesn't mean Yosemite Falls will stop flowing if there's been enough rain!
Walk the easy loop around Lower Yosemite Falls (accessible in winter) and marvel at the winter wonderland that surrounds you while listening to the waters of this majestic waterfall.
Lassen Volcanic National Park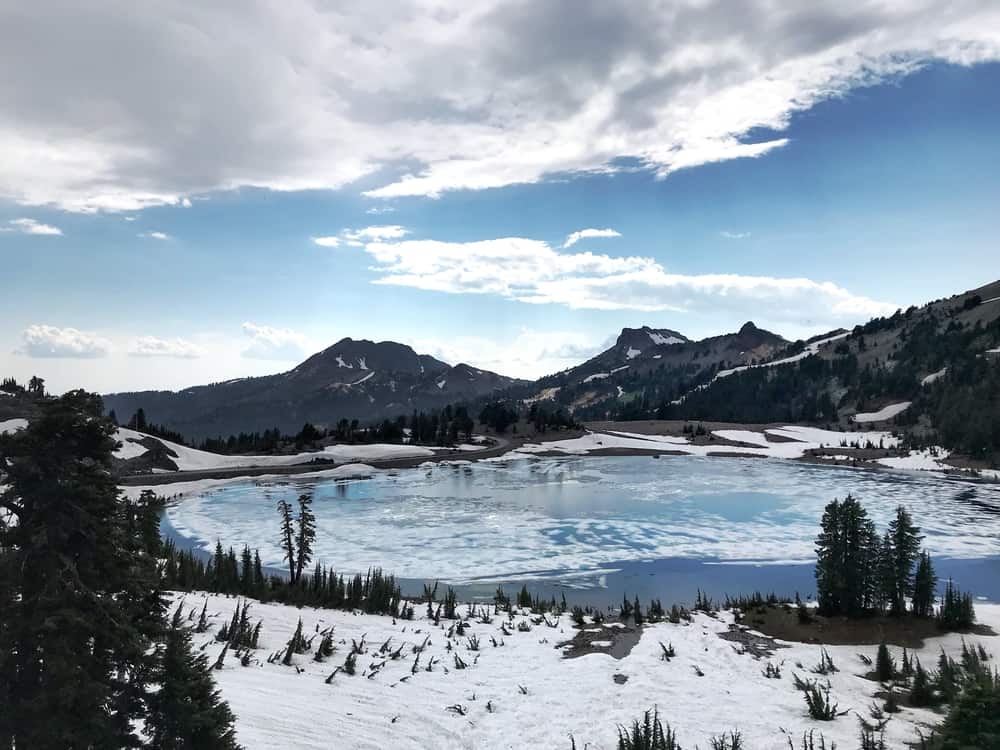 Note: After much devastation from the 2021 Dixie Fire, only a small fraction of Lassen Volcanic National Park is open this winter. Check updates on the NPS website here.
Lassen Volcanic National Park is also a great escape for the winter, but plan carefully — this park can see a lot of snow!
Typically, the road to the southwest corner of the park as well as Manzanita Lake remains open during the winter, which provides for picturesque scenery with the snow-covered Lassen Peak in the background.
Snowshoeing and cross country skiing are popular winter activities at Lassen.
There are two marked snowshoe trails, one at Loomis Plaza at Manzanita Lake and one at the south entrance near Kohm Yah-mah-nee Visitor Center. On the weekends, there's also a ranger-led snowshoe walk.
The visitor center is open year-round to answer all your questions and to find out what is open during your visit.
Sequoia National Park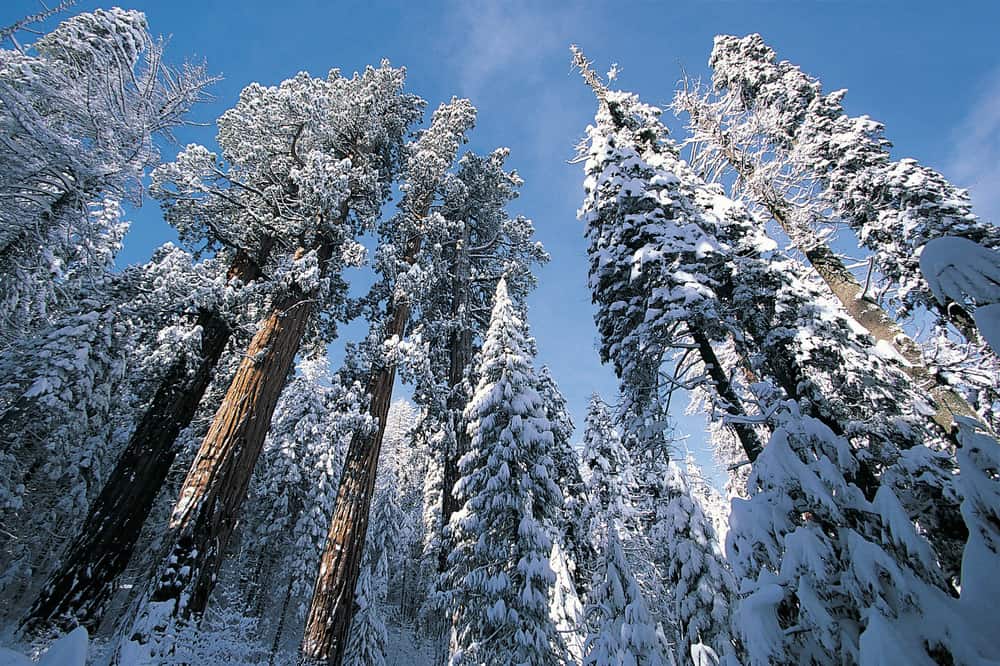 Note: Sequoia National Park partially reopens after the KNP Fire on November 11, 2021.
The arboreal giants at Sequoia National Park look like glorious forests of Christmas trees during the winter months when it snows at Sequoia National Park's high elevation!
Wolverton Meadow Snowplay Area is a great stop for those who love the snow: this is the highest-altitude winter recreation area located within a California national park. It enjoys an altitude of 7,280 feet, so there's plenty of snowfall in the winter, typically!
This used to be a small ski resort, but it closed in 1994. Today, while you can't go downhill skiing, there are wide open slopes that local families come to in order to sled down the hills and play in the snow.
Cross-country skiing, sledding, and snowshoeing are all popular activities at Seki in winter, and items can be rented at Wuksachi Village, so if you don't have the right gear or don't want to drag it with you, don't worry. Wuksachi Village will have you covered and allow you to enjoy these fun activities.
You can also cross-country ski, sled, and snowshoe at Big Stump near Grant Grove Village.
Mount Shasta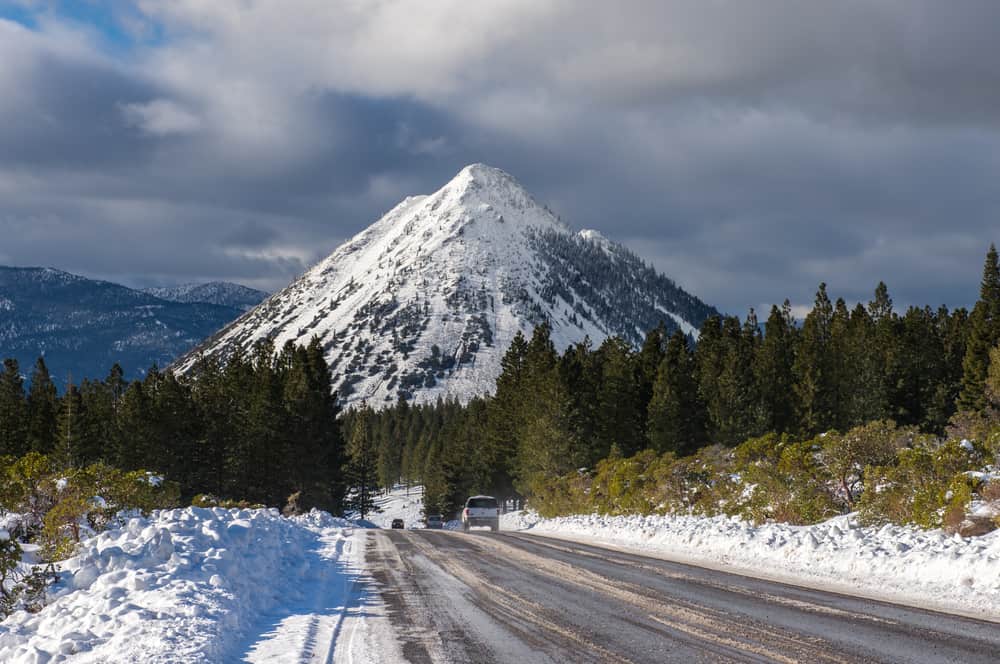 Northern California's Mount Shasta can be challenging to get to in a snowy winter, but the trek to get there is well worth the trouble!
One of the best things to do, especially for those who enjoy snowshoeing, is the Castle Dome snowshoeing trail at nearby Castle Crags State Park.
This snowshoe trail is 2.8 miles (quite a workout in snowshoes!) but the beautiful crags are well worth the journey.
A longer trail that can be accessible by cross-country skiers or more skilled snowshoers is Bunny Flat.
The trail is 6.5 miles, so it's definitely not for beginners, but it allows you to explore more of the less adventured areas of Mount Shasta.
It's a great winter location to explore to get away from the more traveled areas of Mount Shasta for those who have the skills and stamina!
Travertine Hot Springs (and other Mono County hot springs)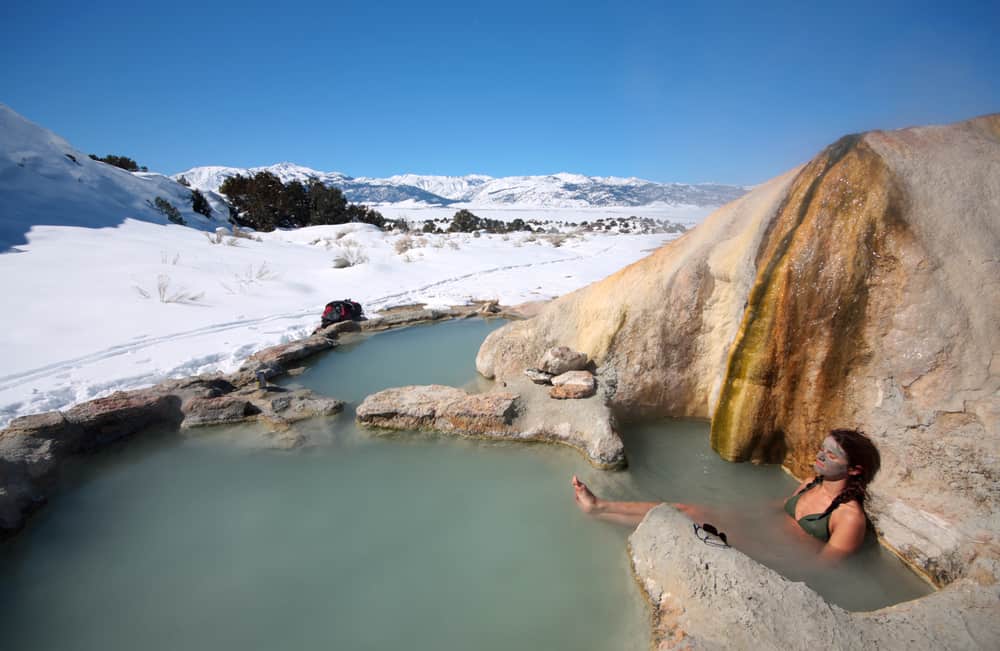 What better says winter than a day relaxing in the hot springs?
The relaxing, soothing waters of the Travertine Hot Springs are even more relaxing during a cold winter day.
Easily accessible off of Highway 395 in Mono County, Travertine is a great stop. Bonus, it is also ADA-accessible so that all visitors can enjoy the warm waters.
Be aware that some visitors like to enjoy the hot springs in their uh, birthday suit, others in their bathing suit, so be prepared for some potential nudity! It is California, after all.
Also the cooler, winter months could lead to busier tubs, so it is common to have to share a tub when it is busy. It is a relaxing time and well worth the visit whether you have company or not!
There are several other hot springs in California nearby, including Wild Willy's and Hilltop, so if Travertine is busy there are options!
Just note that many of the roads to the hot springs are unmaintained in winter, so if there is heavy snowfall, they may not be accessible to all cars.
Winter in California: Sunny Destinations
San Diego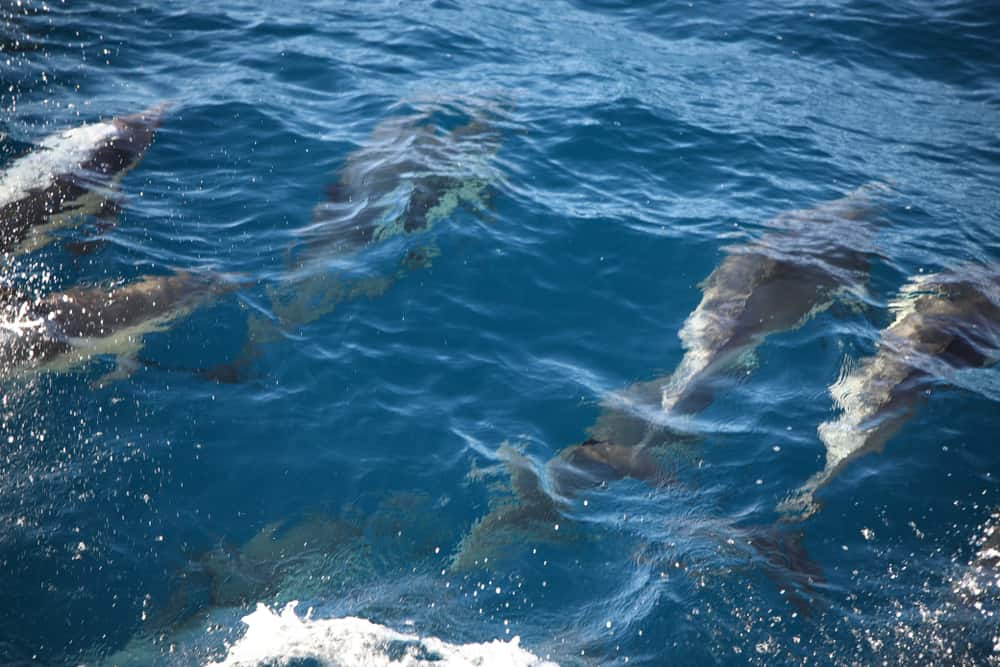 Why visit San Diego in the winter? It's whale season!
Beginning in December and lasting until April, majestic gray whales pass San Diego and the vicinity on their journey from Baja California to Alaska, which makes this time of year a great time to visit San Diego! You're also almost certain to see some dolphins as well!
It's a great place to have fun in the California winter sun and to catch a glimpse of these beautiful creatures.
Arrange for a whale watching adventure to get a full experience and to have a better chance to see one of these whales up close. I recommend this well-reviewed and inexpensive whale watching tour.
You can also catch these whales off in the distance on land at the Torrey Pines State Reserve (bring your binoculars!)
You can hike around Torrey Pines to get up close to the ocean from some beautiful sunny hiking trails and to find a spot to watch for these whales as they pass by.
Death Valley National Park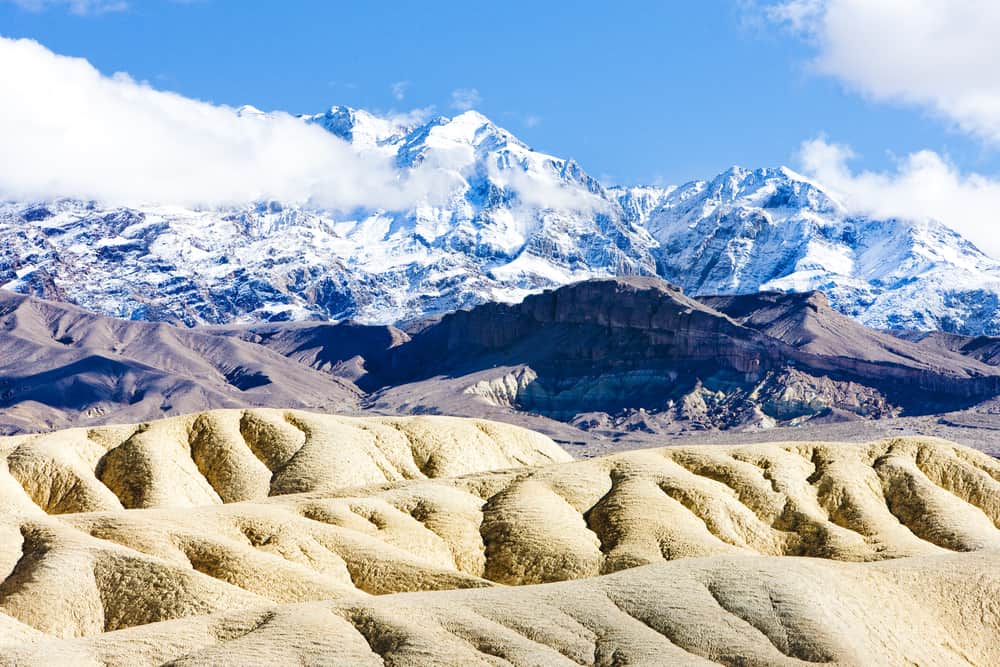 Winter is probably the best time to explore the trails at Death Valley National Park as the summer temperatures can reach up to 130 degrees — not exactly conditions for a peaceful hike.
Winter in Death Valley is much more manageable with temperatures in the 60s and 70s, which is an optimal temperature to explore the trails.
And if you thought there's no chance in hell of snow, you might be surprised! High peaks in the park might even be covered in snow if you get there at the right time of the year.
Keep an eye on the tallest peak, Telescope Peak, which gets snow relatively frequently due to its 11,000-foot altitude.
Mosaic Canyon is a great four-mile hike to enjoy during this season to truly enjoy the beauty of the park that might not be seen during the hot summers.
The hike takes about two-and-a-half to three hours and is rated moderate.
Disneyland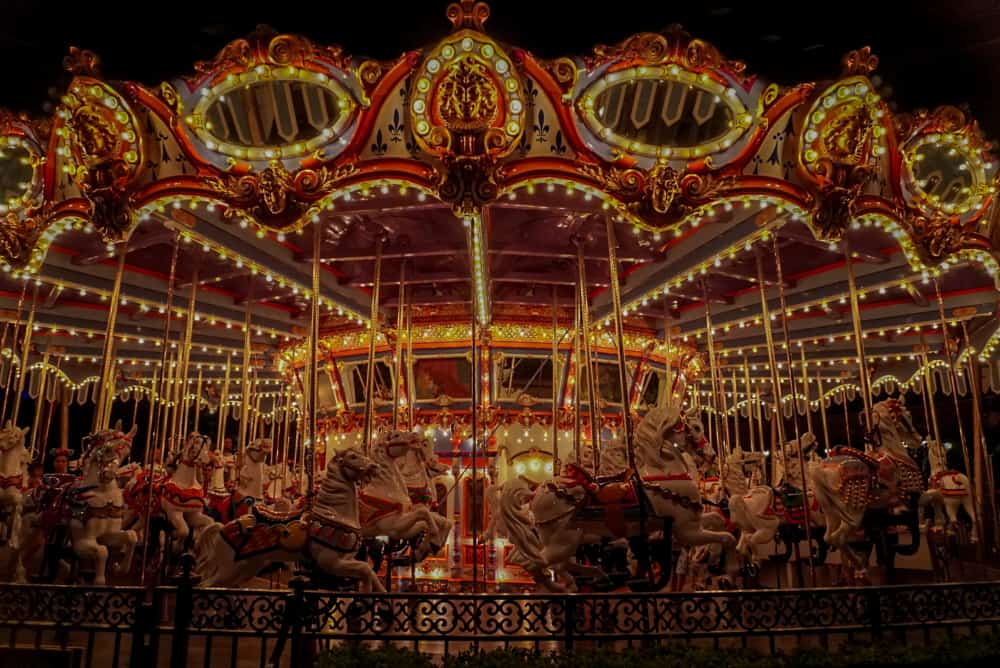 Does it get any more magical than Disney for Christmas?
After all, Christmastime is "the most wonderful time of the year," and no place is more wonderful to visit during this time of the year than Disneyland!
World of Color: Season of Light is a must-see evening light and sound spectacular where sky fountains shoot high into the air and snowflakes add to the magic that only Disney can create.
Of course, no visit to Disneyland would be complete without a parade and the holidays do not disappoint when it comes to a Disney parade!
See Disney characters and floats bedazzled for the Christmas season and for kids, take note that the parade always has a visit from Santa!
Napa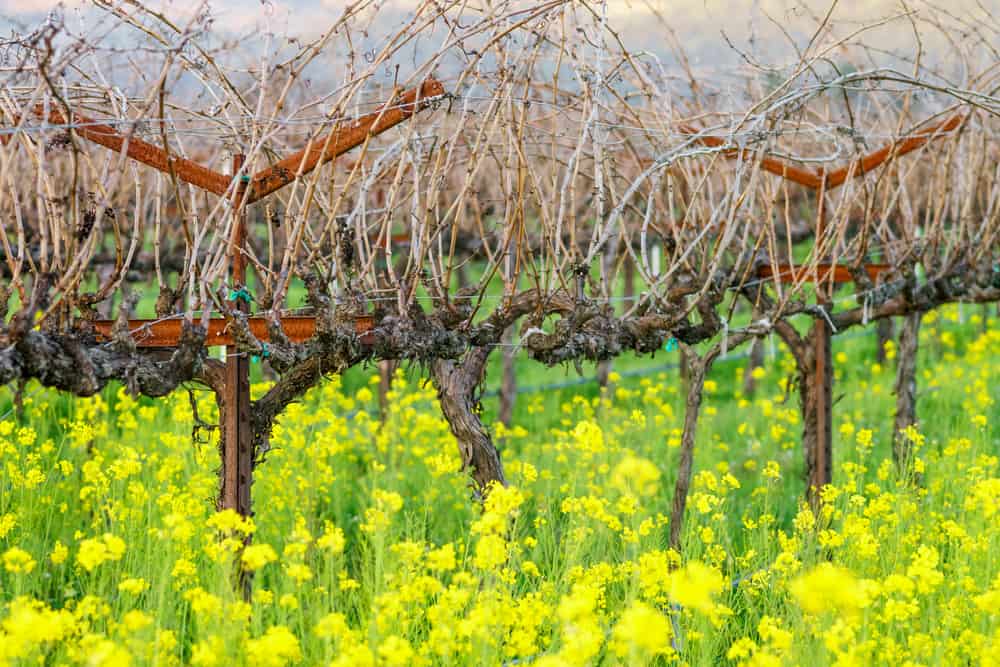 Wine lovers can prepare to have a jolly time in Napa in the winter as they pick their presents for their loved ones (or themselves), with tasty Pinot Noir, Cabernet Sauvignon, Chardonnay, and other varietals that suit their tastes.
The vineyards themselves are beautiful at this time of year too: while the grapes are gone, harvested and preparing for the next season, yellow mustard flowers line the rows between the vineyards, adding a colorful flair to the landscape
Holiday Village is a fun pop-up event during the winter season (note: no events are announced for 2020 at present). Meanwhile, the wineries have twinkling lights and holiday gifts perfectly suited for the wine lover on your list.
Holiday light tours are also popular attractions during the Christmas season in Napa Valley. The Christmas Faire in Calistoga is also a great stop and a place to be filled with holiday cheer.
Tree lighting ceremonies are also popular attractions during this time of the year — check each town in Napa County for the timing of the ceremonies.
Sonoma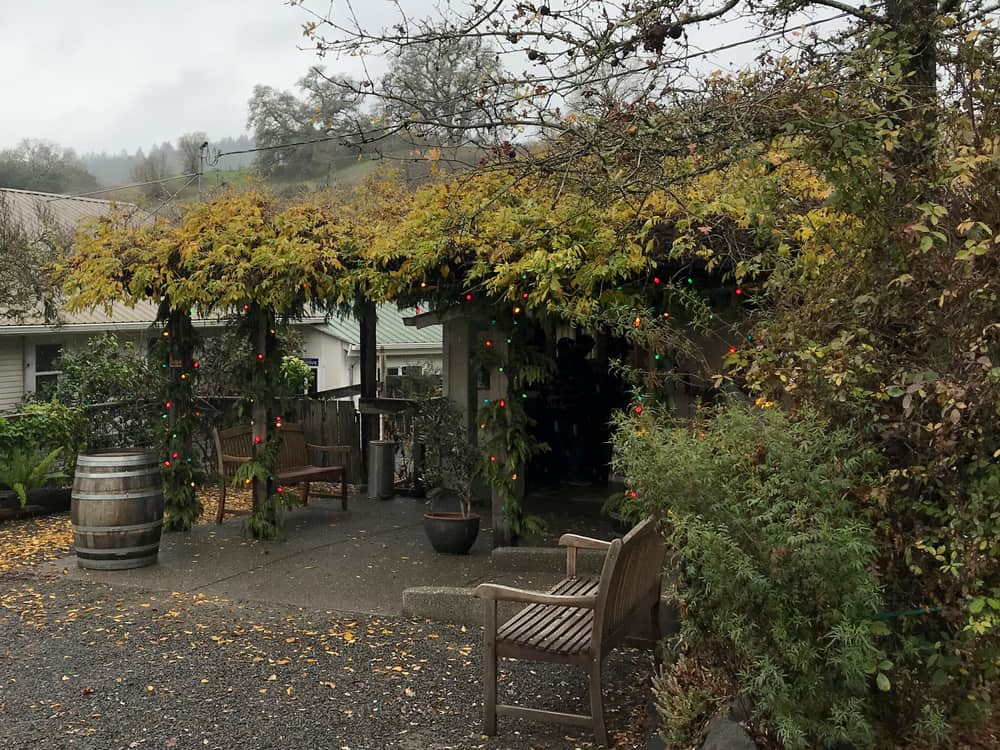 If you're looking for a place to enjoy California's Wine Country but want something a bit less fancy and a little more low-key than Napa, check out Sonoma in winter!
Napa's neighbor to the west is decidedly more rural and casual, and there are a lot of fun rustic ways to celebrate the winter season.
The vineyard tasting rooms are decorated for the holiday season and often have a roaring fire going in the fireplace or outdoor fire pits.
And all along the coast, Dungeness crab season roars into full swing — the best can be found in lovely Bodega Bay. This is also a great place for whale watching as the whales continue their seasonal migration!
San Francisco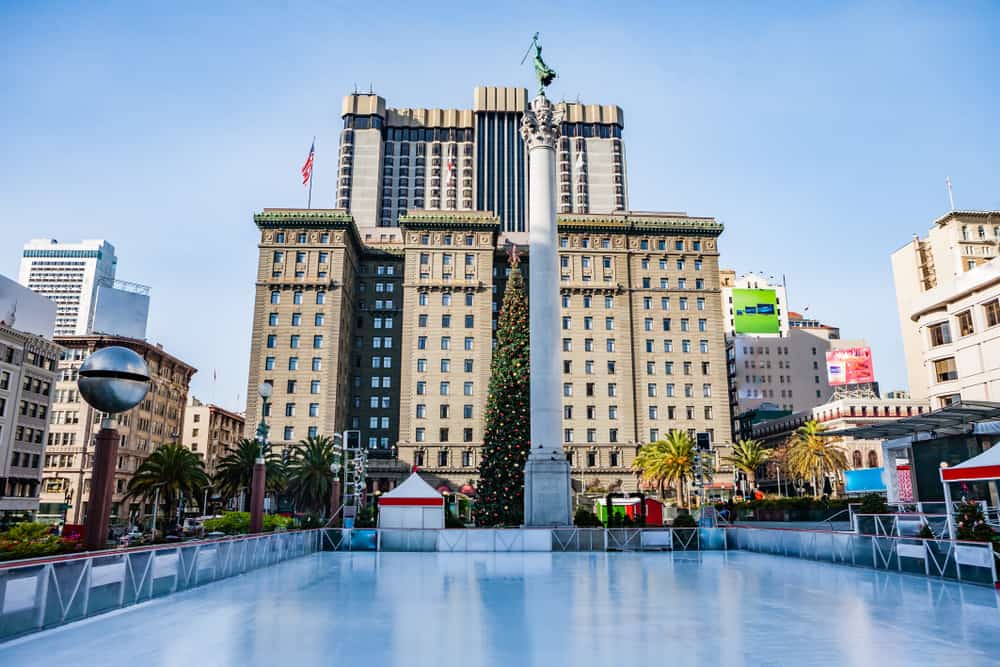 Ah, San Francisco — one of the best places to spend winter in California!
Paradoxically, many winter days in San Francisco can outshine the city's summer days, which can be some of the gloomier days of the year!
Days in the 60s and 70s Fahrenheit aren't unusual for the city in winter, so it's a nice place to go for a spot of warm-ish weather while still also enjoying a festive environment.
The area around Union Square is great during the holiday season, with a giant ice skating rink, a huge Christmas tree, and tons of lighting and decorations to get you in the holiday spirit to do some shopping in the area.
But aside from Christmas decorations, San Francisco in winter is also a great time to get outdoors and enjoy some of the local hikes such as out to Land's End or even having a wintry beach bonfire at the Ocean Beach fire pits.
Just be sure to layer up!
What to Pack for Winter in California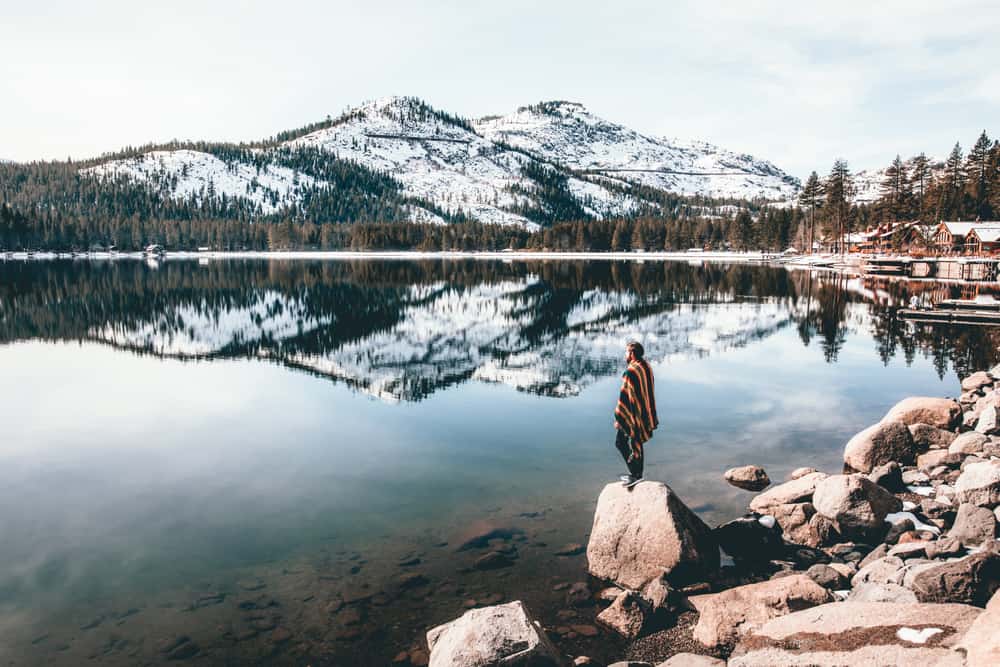 Clothing: This will depend quite a bit depending on where you are going, so you'll have to tailor it based on where your destination is.
For places like Tahoe, you'll want at least 2 undershirts (synthetic or wool, long sleeve), 2 pairs of long underwear, 1 fleece or wool outer layer, a waterproof warm jacket, waterproof pants, beanie, gloves, and 3 pairs of socks.
For places like San Diego and San Francisco, you can dress much milder: think jeans, light sweaters, cardigans, and light jackets for chilly evenings.
Winter Accessories: No matter where you go, winter accessories like a hat, gloves, and scarf are always a good idea!
Breathable layers like fleece. Unless you're doing tons of winter sports, fleece is the go-to fabric of choice for Californians in winter. Nearly every Californian has a North Face fleece dedicated for days out hiking!
A waterproof jacket. In the winter, there's a decent chance of rain in Northern California as well as snow in the mountainous areas. You'll want a comfortable waterproof jacket in case there's any rain in the forecast.
I love my Marmot rain jacket because it's breathable (hello underarm zips!), cozy, and goes with everything – and there are tons of colors to choose from. In the snow, you'll want something like this wonderful North Face parka.
Hiking/Snow boots: You'll absolutely need good waterproof hiking or snow shoes if you're spending a lot of time outdoors! For snow boots, I suggest these cute and cozy Sorel boots that will keep your feet dry and toasty all day long.
For non-snow hiking, I own and love my pair of Ahnu Sugarpine waterproof hiking boots and recommend it for other women – especially if you have wide feet like I do! For men, I've heard good things about the KEEN Durand boot.
Camera: You'll want a camera to capture all that California winter beauty! I use and love my Sony A60! It's mirrorless, so it's lightweight and perfect for a high-quality camera that won't weigh your pack down.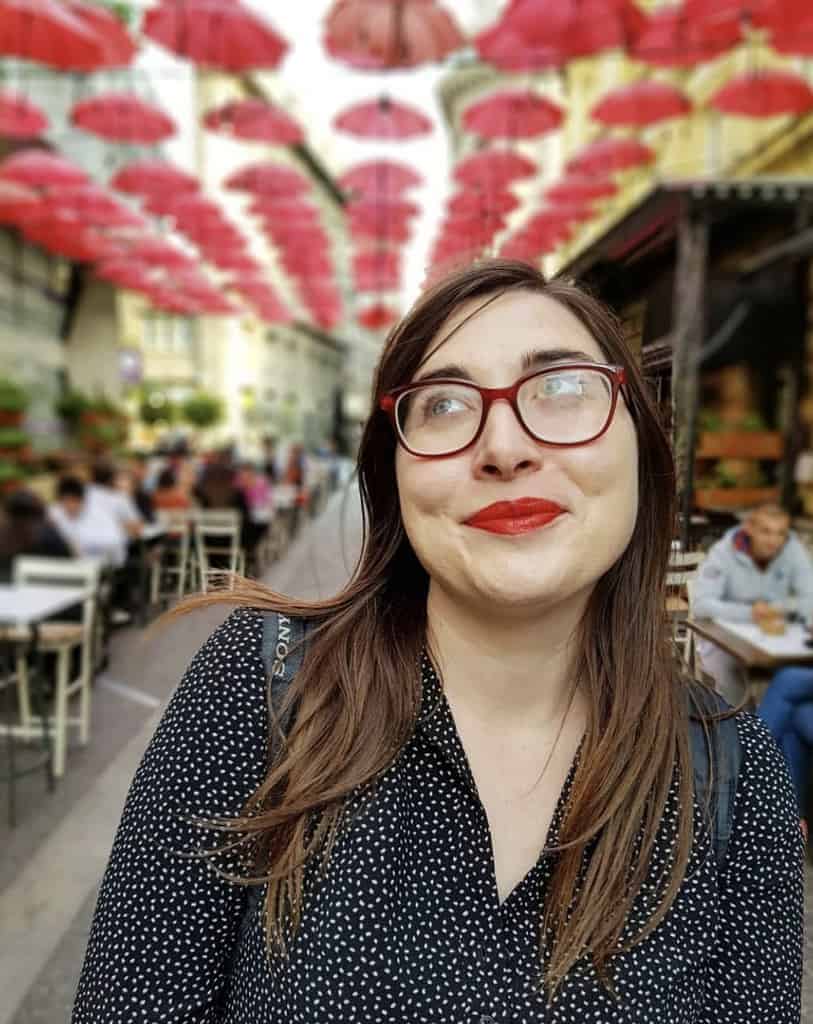 Allison Green is a travel blogger, writer, and podcaster who grew up in the Bay Area of California. She has spent time living in New York, Prague, and Sofia, but has returned to live in the East Bay. She has traveled to 60 countries before the age of 30 while running several digital travel publications. Her writing and podcast have been featured in Forbes, CBC Canada, National Geographic, the Huffington Post, and CNN Arabic, amongst others. She's obsessed with bouldering, houseplants, other people's pets, and anywhere she can see the ocean.