Napa Valley is a beauty any time of year, but personally, I'm an extra big fan of Napa in the winter.
The wineries get dolled up all festive for the holidays, fireplaces are roaring, and the Cabernet — delicious all year round — hits just a little bit more satisfyingly.
If you're wondering if it's worth visiting Napa in winter, my answer is a resounding yes!
Why Visit Napa Valley in Winter?
Note: This post contains affiliate links, which earn me a small commission at no extra cost to you if you make a purchase using one of these links. Thank you for supporting this free content!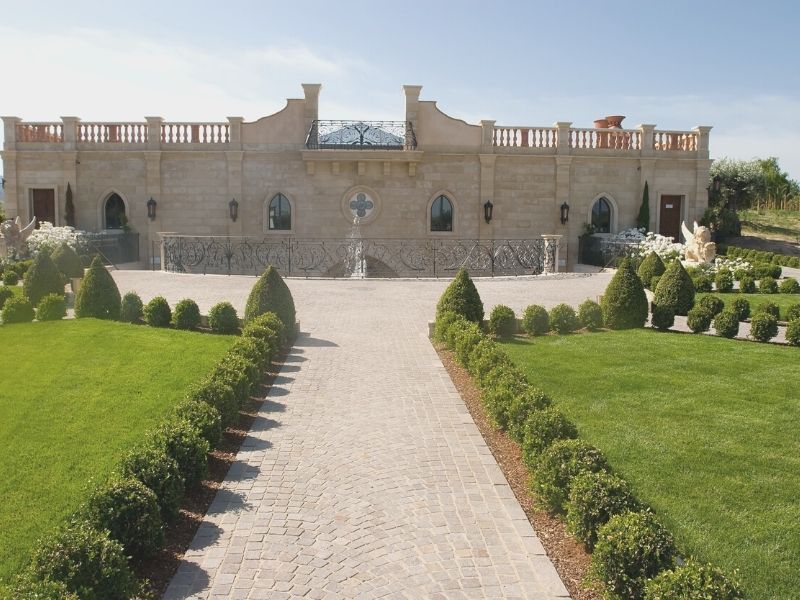 First of all, it's less crowded — and also, importantly, less expensive, with hotel prices significantly lower than they are in peak season.
Many people are distracted by the endless holiday parties or put off by the chillier weather, leaving Napa little-visited compared to its peak season during the harvest season.
Secondly, Napa weather in winter is mild. Like, really mild. Average highs are around 58 degrees F throughout the winter, with lows of 39 degrees at night.
Personally, I love that combination: warm sunny afternoons followed by a chilly night nestled around a fireplace is what winter means to me as a born-and-bred Northern Californian!
Yes, it does rain in the winter months — an average of 8-10 days a month in the winter — but most of what you do in Napa in winter is indoors anyway, so it won't ruin your spirits.
Not sure if a Napa winter getaway is right for you? Here's what you can do in Napa in winter that will hopefully change your mind!
Fun Things to Do in Napa in Winter
Enjoy "Cabernet season".
Napa's post-harvest season is nicknamed "Cabernet season", and it runs from mid-fall to spring.
As someone who suffers from SAD, I'm all in favor of replacing winter with Cabernet season on a permanent basis. Just saying.
Cabernet season is all about cozy fireplaces, going on wine tours and getting to meet the winemakers, and of course — sipping a generous glass of Cabernet Sauvignon at the end of a long day of sightseeing!
Take advantage of the Winter at the Wineries passport.
During the winter time, lots of wineries offer special deals this time of the year to compensate for the lower crowds.
Calistoga has a Winter in the Wineries Passport available from December through February, which allows you to taste and tour 15 different wineries in Napa Valley.
This is a great way to experience the best of California wine country without blowing your budget.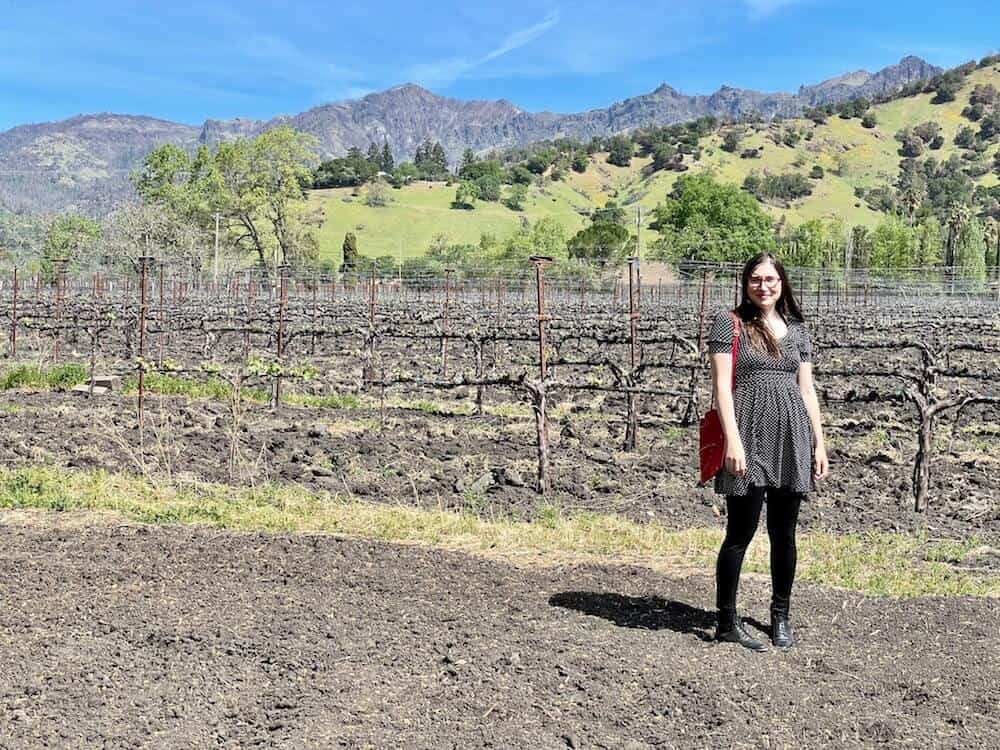 Go on a wonderful wine tasting tour.
Of course, it's not a trip to Napa — in winter or otherwise — without a wine tour!
Wine tours in Napa are available all year round and are a great way to get to experience a variety of wineries without the overwhelm of picking the best wineries in Napa. Leave that to the pros!
This small-group wine tour is an affordable and excellent choice if you are traveling alone or as a couple.
It includes stops at several wineries (note that tasting fees are not included) and a tasty picnic lunch, a knowledgeable guide, as well as transportation so you don't need a designated driver!
If you're traveling with a larger group or you just prefer privacy for a special occasion, you may want to opt for a private wine tour. These can be surprisingly affordable, especially if you have a larger group.
They'll create a bespoke, customized wine tour including 3-4 wineries throughout Napa and/or Sonoma, including hotel pickup and dropoff in Napa (or Sonoma, Marin, or San Francisco) and all transportation, as well as an experienced guided.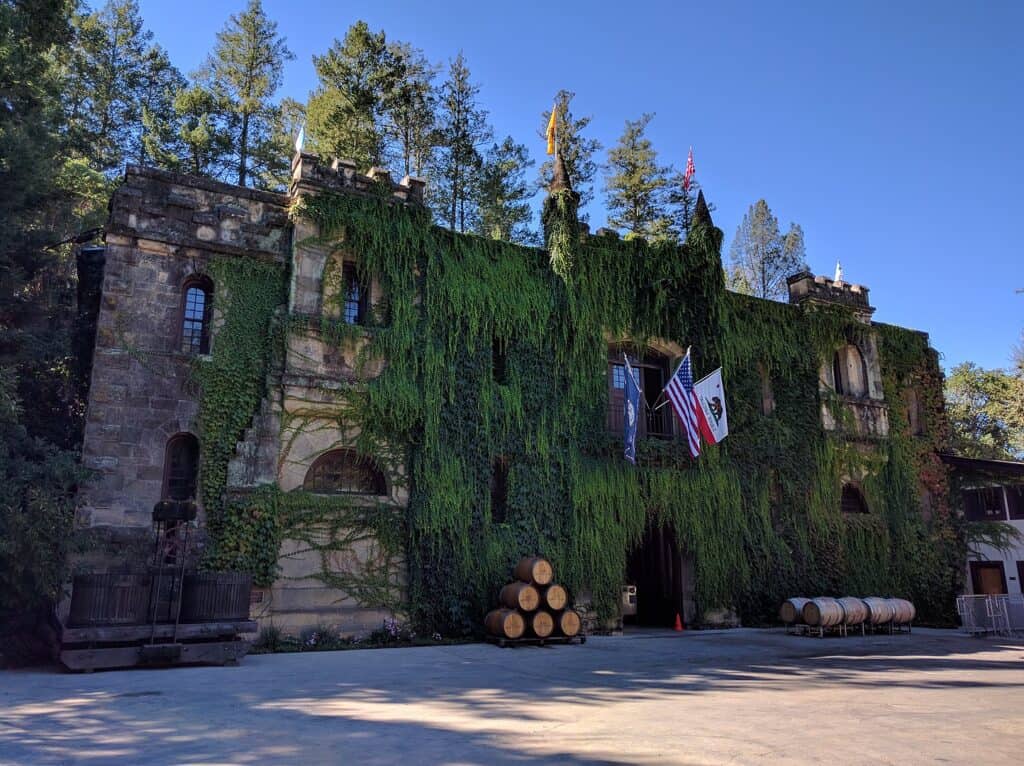 Image: Grendelkhan, CC BY-SA 4.0, via Wikimedia Commons
Enjoy the festively decorated tasting rooms during the holiday season.
If you are visiting Napa in December, you'll have a great chance to check out all the wonderful holiday decorations (which is why we think Napa makes a great Christmas in California destination!).
It may not snow in Napa (although occasionally, Mt. St. Helena will get a tiny dusting), but that doesn't mean Napa lacks the holiday spirit.
A few of the most festive wineries are Castello di Amoroso, Far Niente, and Robert Mondavi, but most larger wineries — and many smaller ones — will get into the spirit with some lights and a fireplace to relax around.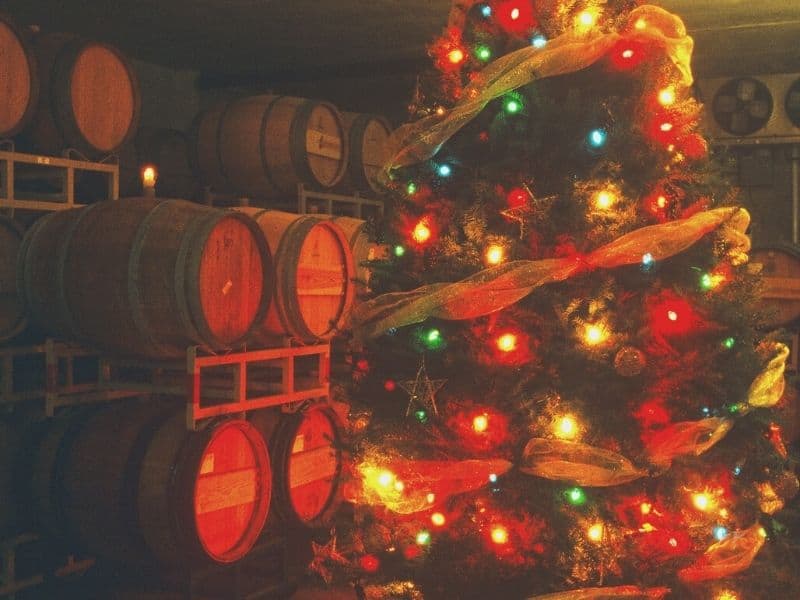 Take a hot mud bath at a Calistoga spa.
Of course, one downside of visiting Napa in the winter is that there may be occasional rainy days.
But on a rainy day, what better way to bliss out and forget the dreariness outside than by enjoying a spa treatment inside?
One of the coolest things about Napa Valley is that it is home to Calistoga at the northern end of the valley, which has geothermal activity bubbling beneath the surface.
What does that mean for you? Volcanic mud baths!
Calistoga's mud baths are particularly effective since they are a mix of mineral-rich hot spring water and volcanic ash that was created after Mt. St. Helena erupted millions of years ago.
The restorative powers of Calistoga's mud baths are no secret: the volcanic mud in Calistoga has been used in healing practices for thousands of years.
The original inhabitants of the land now known as Calistoga, the Onasatis tribe (renamed the Wappo tribe by Spanish settlers) are thought to have settled in Calistoga at least 4,000 years ago, partly for the mineral water resources.
There are several wonderful mud baths in Calistoga where you can enjoy a relaxing mud bath.
Dr. Wilkinson's has been family run since 1952 and is one of the classic, no-frills options. For a more upscale option, Solage Auberge is a fantastic place for a mud bath and more.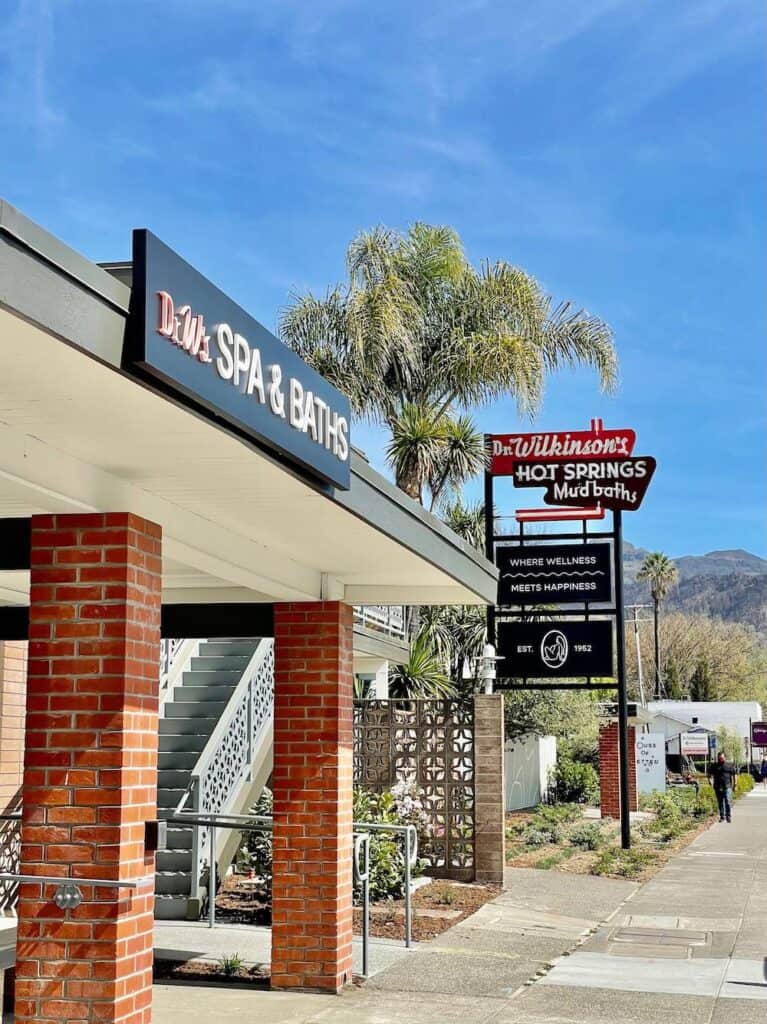 Admire the lights in Yountville.
If you're wondering which town in Napa Valley has the most Christmas spirit, it's got to be Yountville, hands down!
Starting on November 21 at 6 PM, there will be a Christmas tree lighting ceremony — and after that, the holiday magic — aka the Festival of Lights — begins in Yountville!
Stay at a hot springs resort.
Besides mud baths, there are also lots of wonderful hot springs resorts you can stay at during your time in Napa.
An affordable option is Golden Haven Hot Springs which has a mineral water indoor pool that guests and two Jacuzzis that guests can use.
Another option is the more upscale Indian Springs Resort, which has a large outdoor mineral-rich thermal pool, as well as a wonderful spa center (you can also do mud baths here!).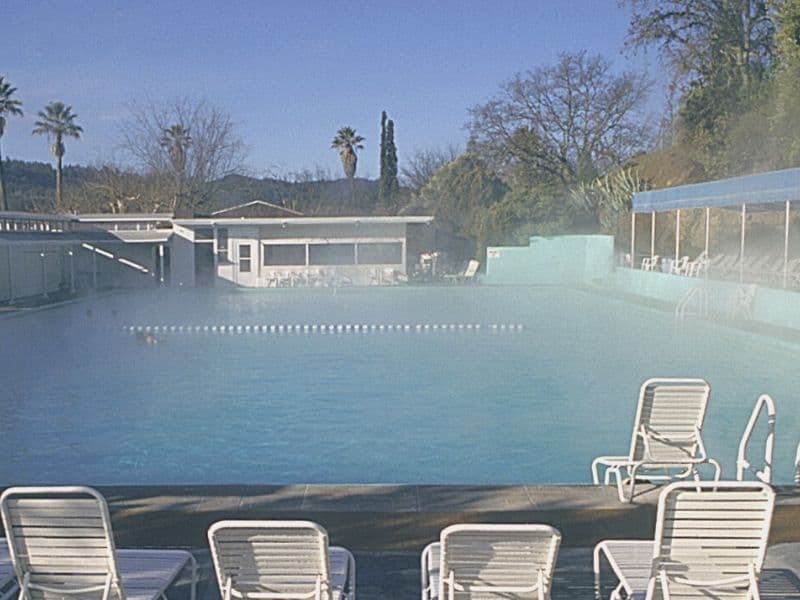 Marvel over a Michelin-starred meal.
Napa is a Michelin star-studded area, and there are so many wonderful places you can visit for an insanely good meal.
Of course, there's the world-famous French Laundry in Yountville, with its 3 Michelin stars.
However, there's also the lesser-known The Restaurant at Meadowood which also has 3 Michelin stars (and a fraction of the difficulty in securing a reservation).
La Toque, Kenzo, Bouchon, and the Restaurant at Auberge also each have one Michelin star.
Here is a full list of Michelin-rated restaurants in Napa to choose from!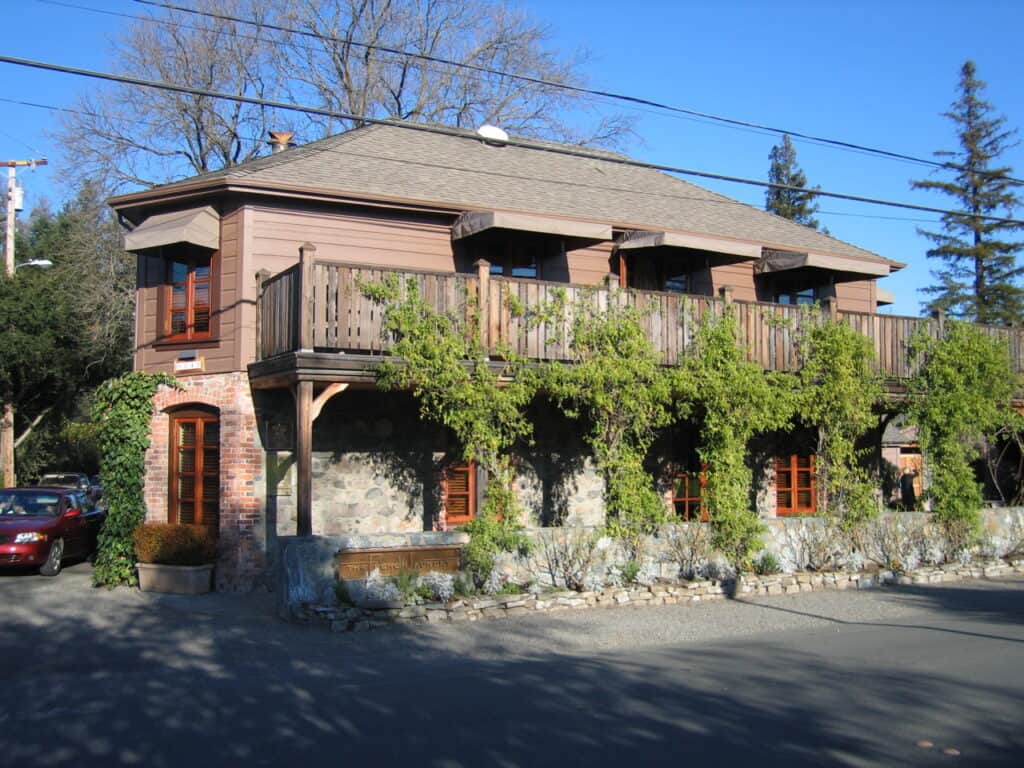 Visit for the Lighted Art Festival.
From January 8 to 16, 2022, the Lighted Art Festival will be taking place in Napa.
From 6 PM to 9 PM on weekdays and 6 PM to 10 PM on weekends, downtown Napa sparkles with all sorts of light art!
There will be light sculptures, light art, a lit-up art walk, video art, and all sorts of other illuminated festivities during these hours!
The exact locations for where the different pieces of public art will vary, but you'll find most of it around Downtown Napa, the Oxbow area, and the CIA (Culinary Institute of America).
Wander around charming downtown St. Helena.
Downtown St. Helena is full of Northern California small-town charm, and it's one of my favorite towns in the Napa Valley area.
There are lots of great boutiques here perfect for Christmas shopping, tasting rooms to duck into, and cafés serving up a great cup of coffee in a cozy environment.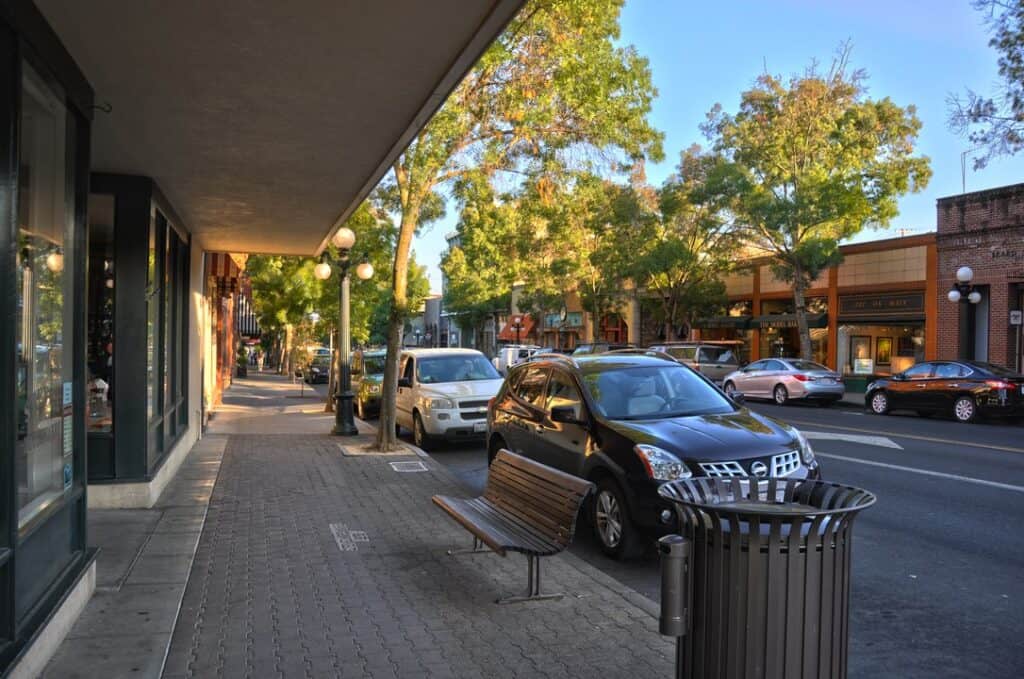 Browse the boutiques of downtown Napa.
While St. Helena is a great place to shop, Downtown Napa definitely has it beat.
If you still need to do your Christmas shopping, Downtown Napa is a great place to buy some unique gifts!
Take a ride on the Napa Valley Wine Train.
If it's rainy and dreary out, a great way to spend the afternoon is taking the Napa Valley Wine Train, being served a delicious lunch while you admire the vineyards.
It's a great way to get a glimpse of the Napa Valley area, as the train whisks you around some of the most scenic parts of the valley.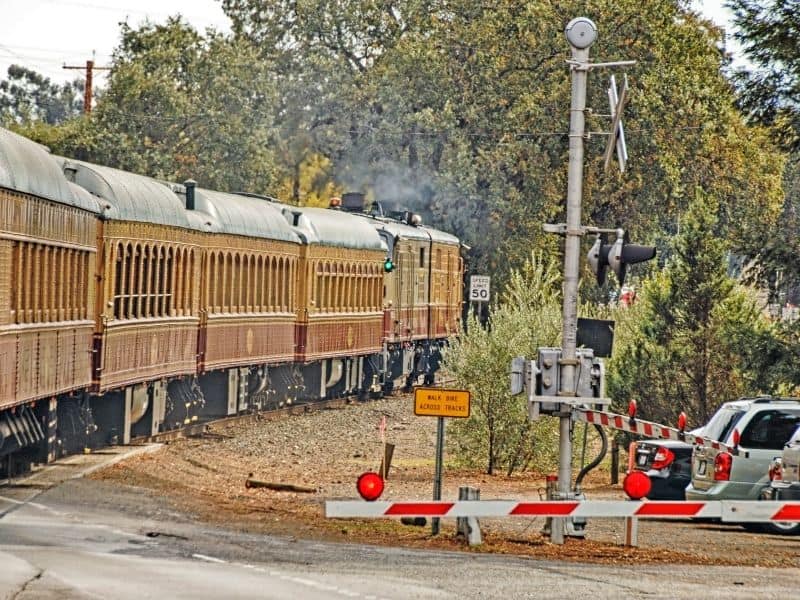 Tour the Castello di Amorosa.
The beautiful Castello di Amorosa is a great place to spend a wintry day in Napa!
Not only does it get beautifully decorated for the holiday season, there is nothing more exciting than touring a medieval-inspired Tuscan-styled castle set in the middle of the vineyards!
Note that access to Castello di Amorosa is available by appointment only, so book in advance if you want to come here.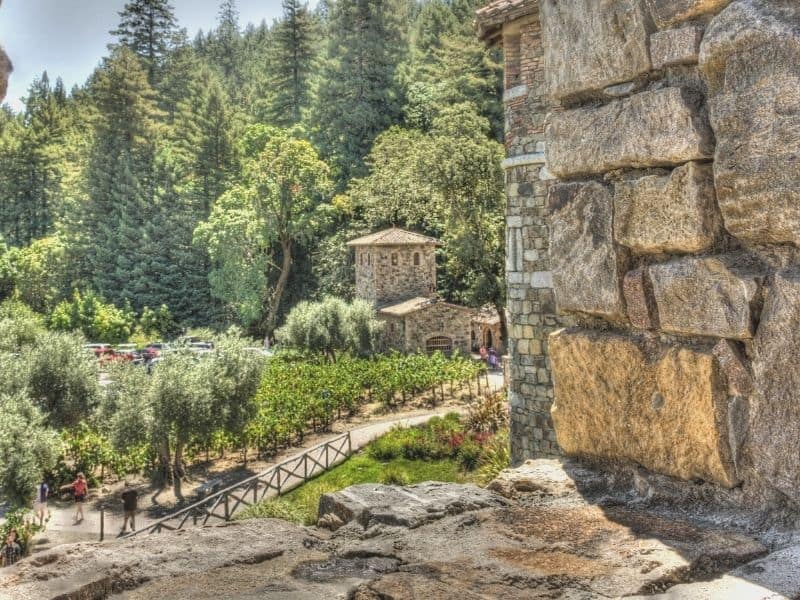 Take a hot air balloon ride over the vineyards.
Yes, you can still take a hot air balloon ride over Napa in the winter!
While this is weather-dependent and may be canceled in case of rain or inclement weather, there's still an opportunity to soar above the vines and see Napa from a new perspective.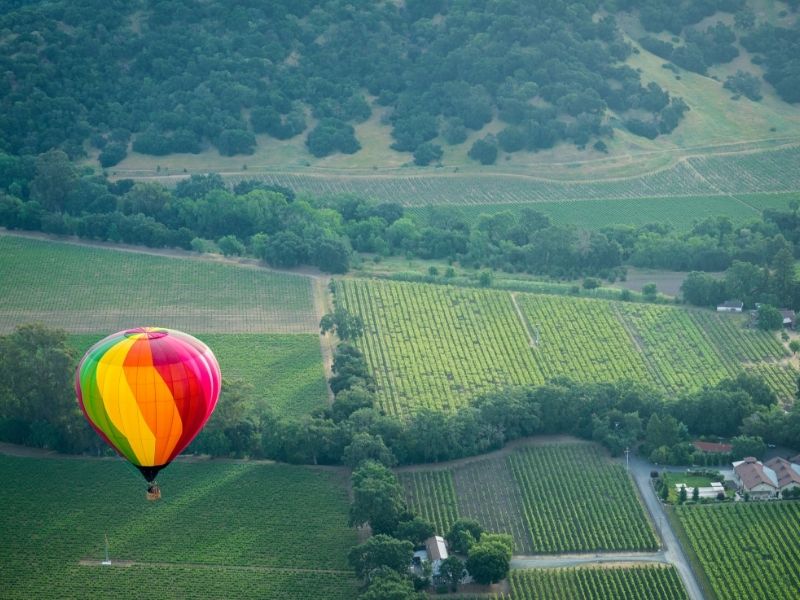 Admire the beautiful mustard flowers.
One of my favorite things about visiting Napa in the winter is the beautiful mustard flowers that start to pop up between the lines of grapevines in late January and early February.
Much of this post has focused on great things to do in Napa in December, but don't worry if you're visiting Napa in January or February: who needs Christmas lights when you have bursts of yellow joy popping up everywhere in the fields?
Mustard flowers have a symbiotic relationship with the grapevines, providing nourishment and protection as well as beauty, so admire away!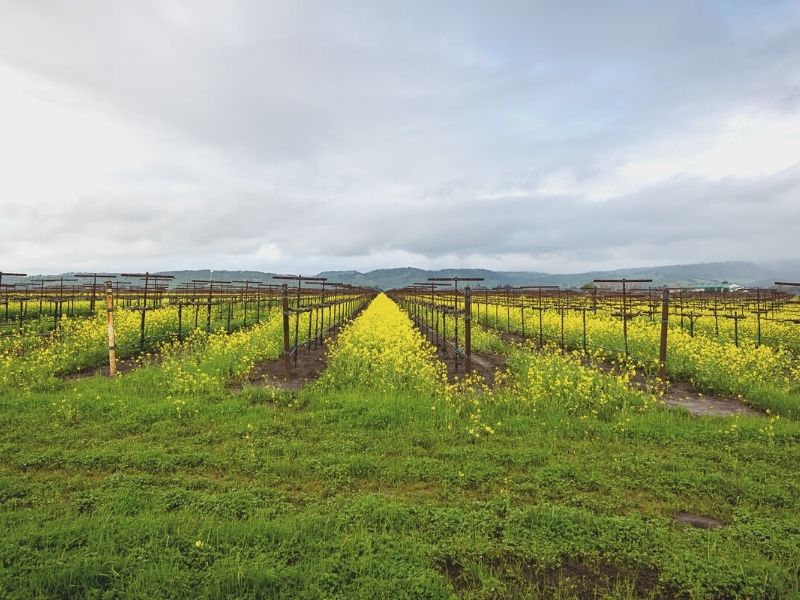 Bike along the Napa River.
As I mentioned, Napa in winter is often quite sunny.
While I've given you plenty of ideas for what to do in Napa on a rainy day, odds are you'll actually have at least one bright and sunny day to enjoy in Napa.
If you have a great weather day, I strongly recommend renting a bike and going for a spin along the Napa River!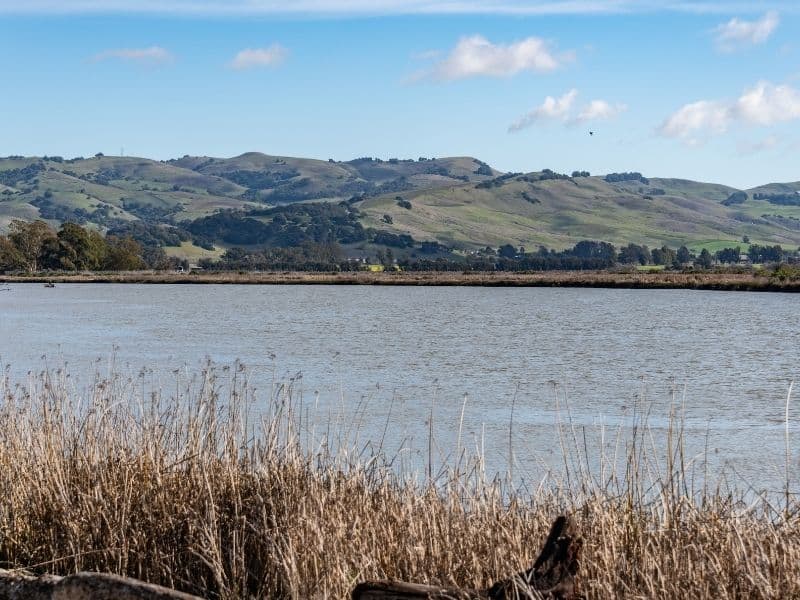 Or bike along the Silverado Trail.
If you prefer to stop at some wineries along with your biking trip, opt for the beautiful Silverado Trail, which is a winding backcountry road dotted with dozens of wonderful wineries.
While you'll have to watch your consumption if you are biking, there's no harm in stopping by a winery or two as you make your way down a portion of the Silverado Trail.
Just make sure you know your limits, and don't take any shame in spitting or stopping after a sip — it's how the pros do it!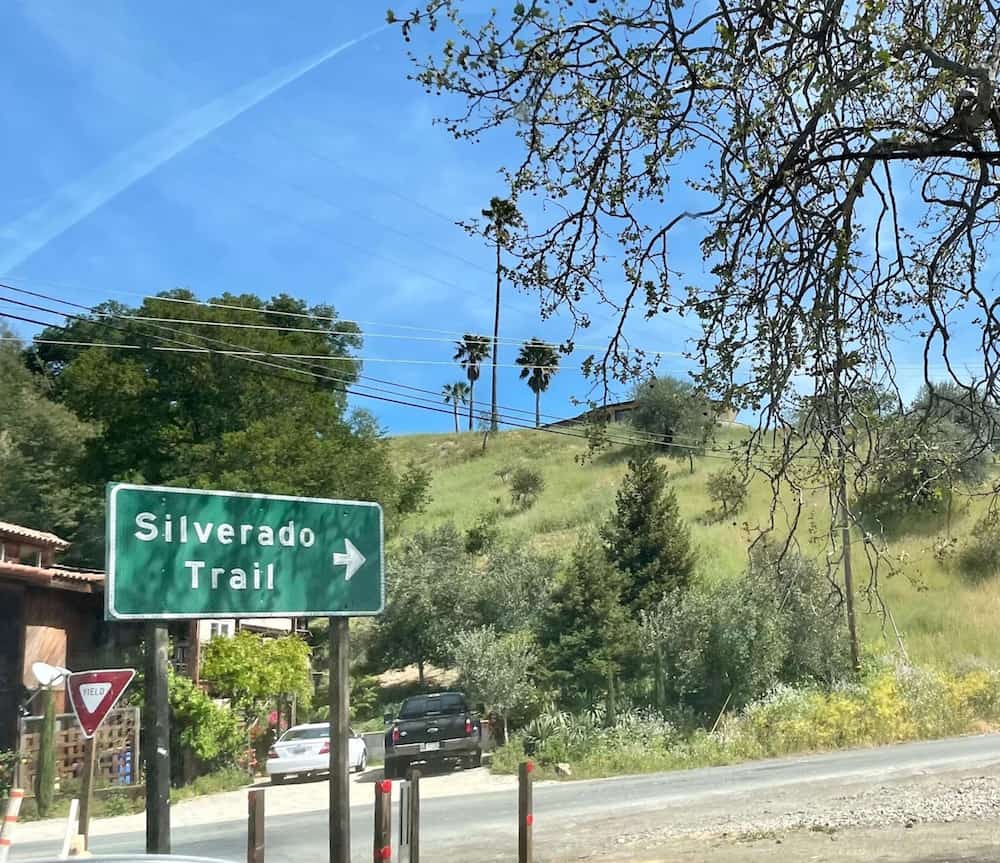 Get your foodie on at Oxbow Public Market.
The Oxbow Public Market is one of the best places to visit in Napa, rain or shine, winter or summer!
Grab a cup of coffee or a bag of beans to take home at Ritual, cheese at the Oxbow Cheese & Wine Merchant, chocolates at Anette's, or oysters at Hog Island.
And those are just four options of the nearly two dozen vendors who offer their delicious wares here!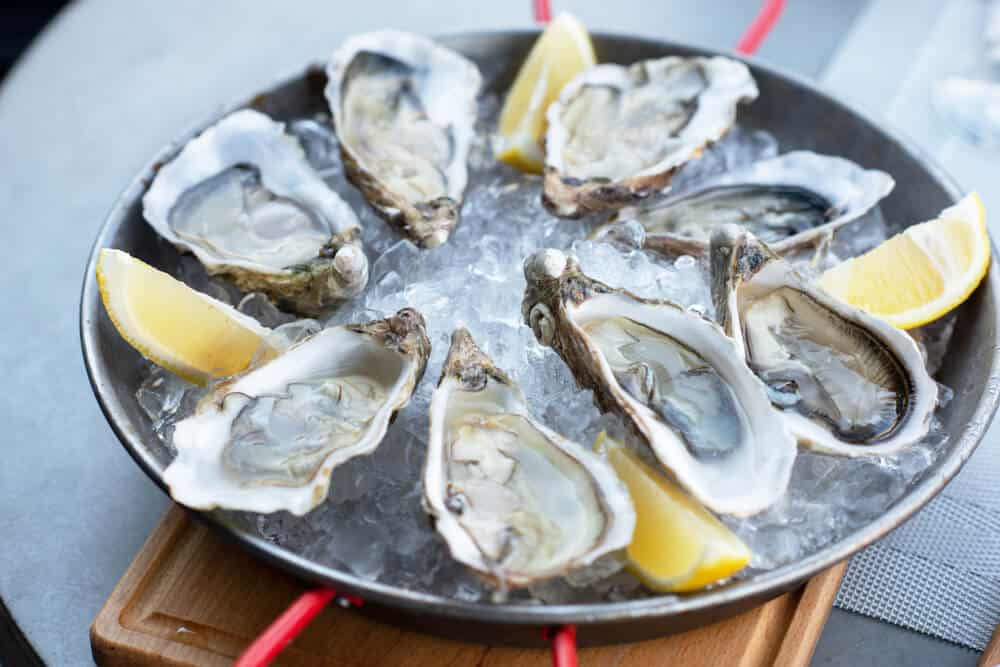 Indulge on budget during Restaurant Week.
Love to eat? Be sure to visit Napa during Restaurant Week!
Typically, Restaurant Week takes place over the course of one week near the end of January; however, in 2021, Restaurant Week ended up being more like a month long and featured each Napa Valley city for one week.
The announcements for Restaurant Week 2022 have yet to be made, but check back here for updates.
Where to Stay in Napa
LUXURY RESORT | If you want the ultimate in luxury in Napa — for a special occasion or just to treat yourself — Solage, an Auberge Resort, is the obvious choice!
Everything just screams luxury, from the Michelin-starred restaurant to the full-service spa including the traditional Calistoga mud bath and mineral water soaks.
They have gorgeous rooms with perks like fireplaces, soaking tubs, private patios, and more. The outdoor pool area is stunning, and there's also a sauna and hot tub for relaxing.
It's also super close to luxurious wineries like Chateau Montelena so it's a great fit for a wine-themed getaway.

>> Check availability, reviews, and photos online here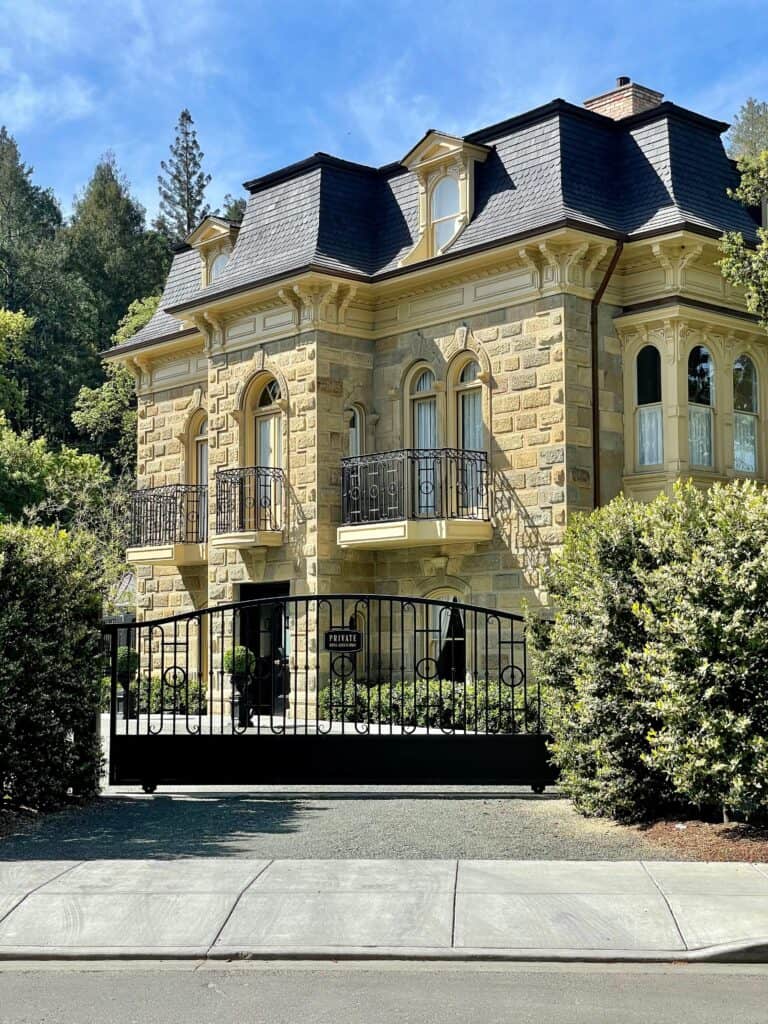 HISTORIC LUXURY | For a luxurious place to stay in Calistoga that is in a historic property (literally on the national landmark registry!), The Francis House is a fantastic and beautiful choice.
It's a very small boutique hotel, so you can rest assured that they pay attention to every last detail.
The rooms are beautiful and have every last amenity you could want, and the property has an outdoor swimming pool, an infrared sauna, a garden, a fire pit, a library, and a freaking SALT ROOM (my favorite thing on the planet).
It's pretty much heaven. They do have spa treatments and massages, but they do not offer mud baths here, so do take note of that.
However, there are lots of great places within walking distance of the Francis House that offer just that, so it's not a dealbreaker.
>> Check availability, reviews, and photos online here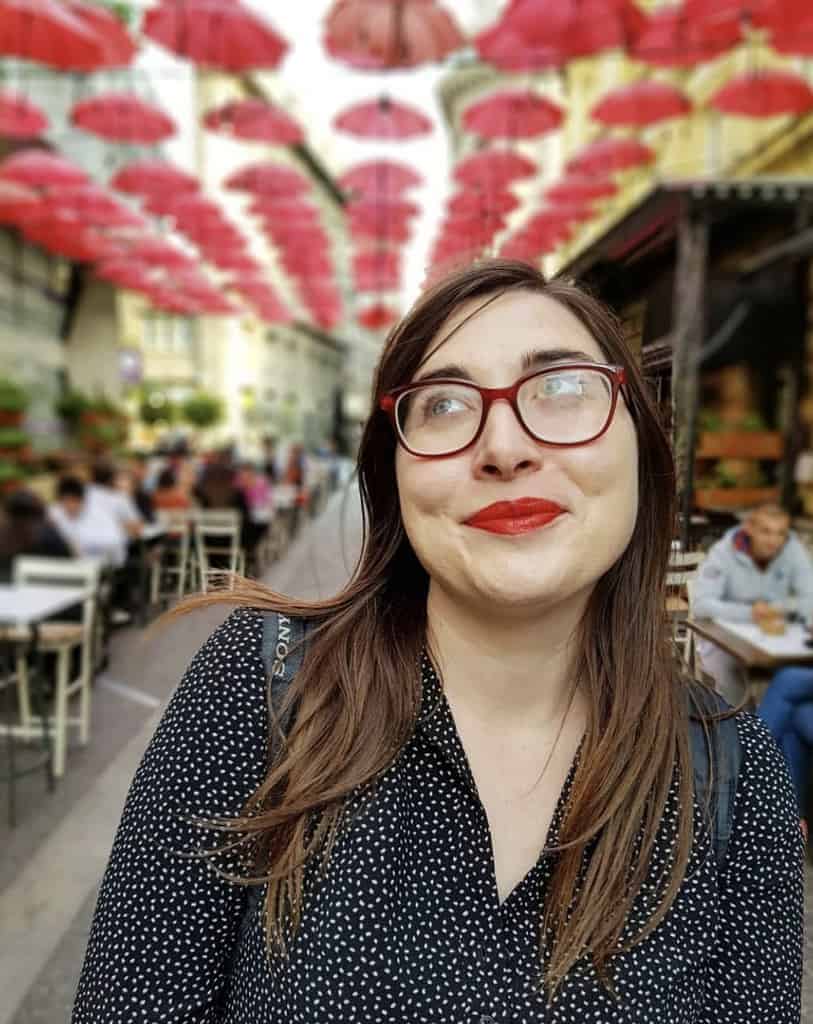 Allison Green is a travel blogger, writer, and podcaster who grew up in the Bay Area of California. She has spent time living in New York, Prague, and Sofia, but has returned to live in the East Bay. She has traveled to 60 countries before the age of 30 while running several digital travel publications. Her writing and podcast have been featured in Forbes, CBC Canada, National Geographic, the Huffington Post, and CNN Arabic, amongst others. She's obsessed with bouldering, houseplants, other people's pets, and anywhere she can see the ocean.