If you think a Hwy 395 road trip is no more than the byway to get you from Los Angeles to the ski slopes of Mammoth Mountain, think again. This historical corridor has a bounty of unique and fascinating Eastern Sierra road trip stops along Highway 395 (less commonly known as US 395).
From mountain trails to natural hot springs, there's something for everyone along this route. An Eastern Sierras road trip on Hwy 395 begins near Hesperia in the south and extends north — all the way to the US and Canadian border.
While we won't cover all that a US 395 road trip would entail in this post, we'll focus on the part along the Eastern Sierras, which is simply stunning! The fertile Owens Valley and towering mountain peaks provide the perfect backdrop for an unforgettable road trip.
Where to Start Your Highway 395 Road Trip in the Eastern Sierras
Note: This post contains affiliate links, which earn me a small commission at no extra cost to you if you make a purchase using one of these links. Thank you for supporting this free content!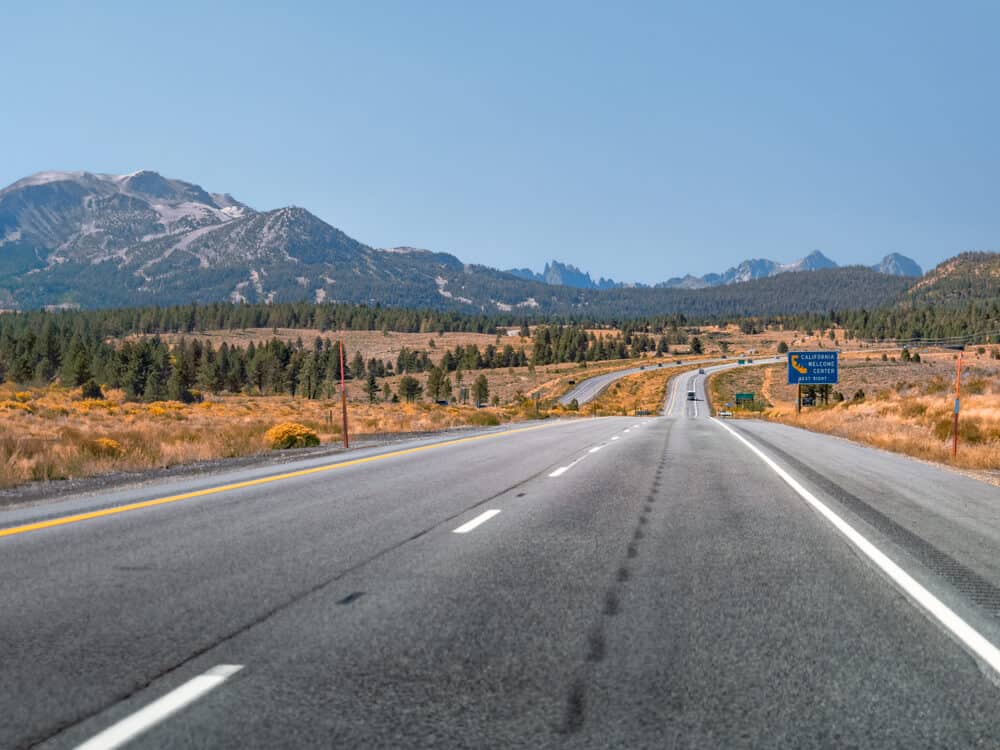 Depending on where you start, you'll likely connect to Hwy 395 in the area of Inyokern, roughly 4 hours from San Diego and just 2 hours and 30 minutes from Los Angeles.
This post will assume you are starting in LA when measuring distances and run from north to south, after which point you can backtrack however you like. However, you can adjust it for any departure point: Los Angeles is just the most common starting point, and a great place to rent a car if you are flying in and doing this trip from LAX.
Not sure where to get the best deal on your rental? I've rented cars dozens of times through various search engines and have settled on Discover Cars as the best car rental search engine – it searches over 500 trusted rental companies to find the cheapest price for your rental! Compare prices for car rental from Los Angeles here.
Either way, you can tank up for your trip at Coso Junction, 30 miles north of Inyokern.  There is a pleasant little rest area with clean bathrooms, a gas station, and a general store for anything you may have forgotten. 
If you're taking this road trip in the summer, it can be very hot. A road trip along Highway 395 has more than its fair share of steep grades, so be sure you've topped off on coolant for your vehicle.
Alternatively, if you take this road trip in the winter, make sure you bring chains for your tires — and most importantly, that you know how to use them!
Highway 395 Road Trip Itinerary: 10 Perfect Eastern Sierra Road Trip Stops Along the Way
Stop #1: Fossil Falls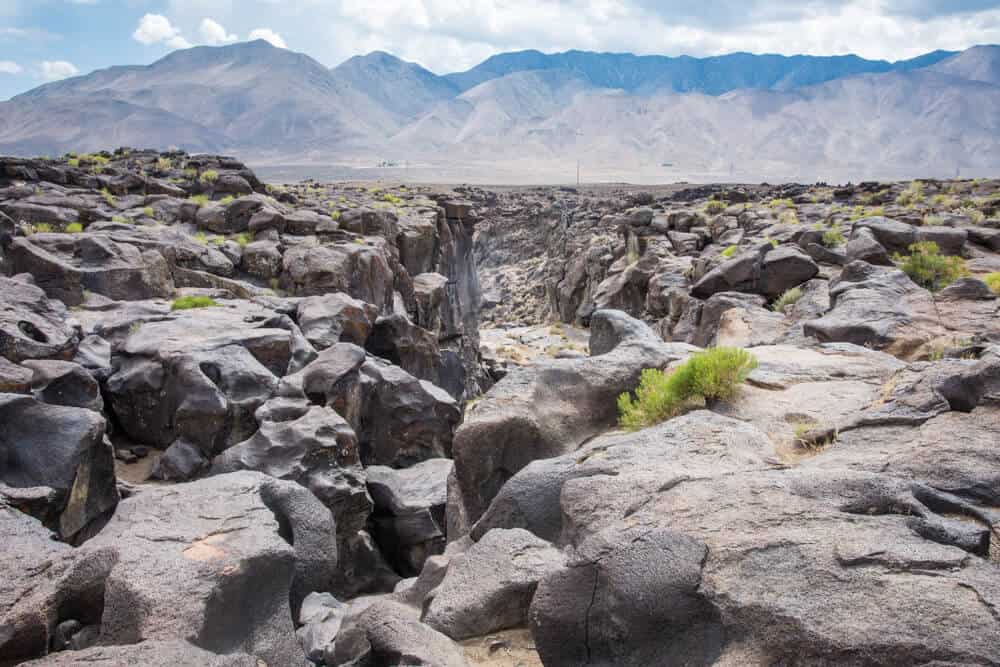 (2 hours 15 mins from Los Angeles)
Shortly after you pass through the small town of Pearsonville, you'll see a sign on the right, pointing to Fossil Falls. 
When you turn onto the road to Fossil Falls, you will probably think that there is nothing out there; continue a short distance to the small parking lot. There are restrooms and some information about the site, but not much else as far as amenities go.
Fossil Falls is a highly unusual area of volcanic rock that once had a river running through it.  This deep canyon of smooth rock was created by erosion and glacial runoff thousands of years ago.
As you explore this captivating landscape, look for petroglyphs and shards of obsidian left by the Native Americans who inhabited this region decades ago. The hike is only 0.2 miles and is an easy walk from the parking area. 
Stop #2: Museum of Western Film History
(3 hours from Los Angeles)
As you continue your drive north on this Hwy 395 road trip, you'll reach the quaint little town of Lone Pine. This charming community is essentially the gateway to the Sierras. 
As soon as you roll into town, make a left-hand turn onto Inyo Street, which takes you to the museum. 
This intriguing museum is not to be missed!  Showcasing a myriad of information and memorabilia from Western films old and new, this place is bound to spark your curiosity.
They also have special events and on-going exhibits featuring actors like John Wayne and Gene Autry. 
There is a $5 donation for adults but free admission for children under 12 and those active in the military.  You can also bring your pets into this museum as long as they are leashed!
Stop #3: Alabama Hills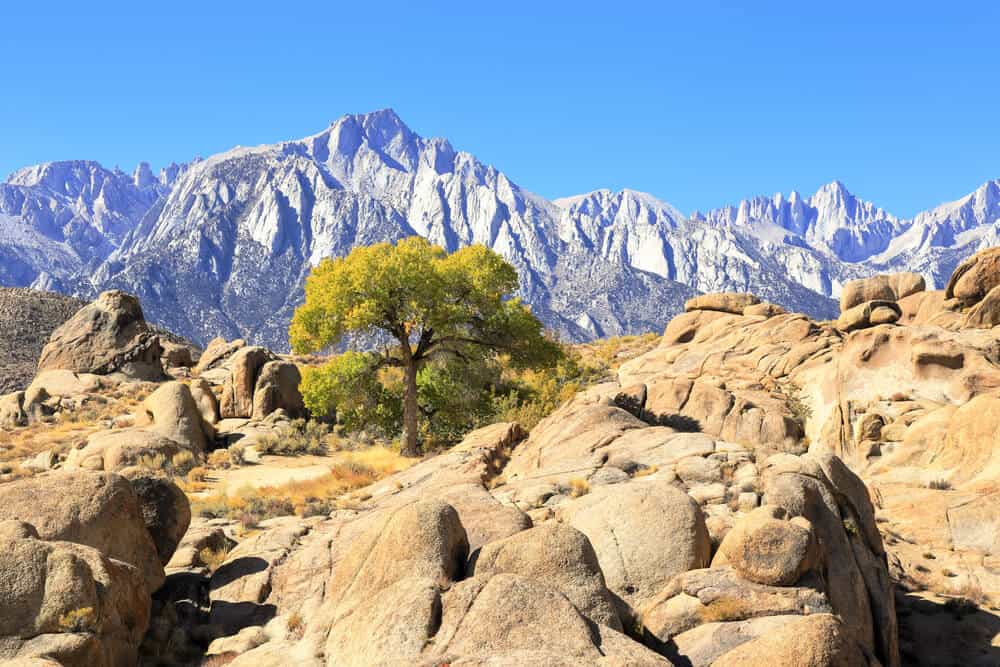 (3 hours 10 minutes from Los Angeles)
Less than a mile from the museum on Hwy 395, you'll turn left (west) onto Whitney Portal Road. 
Proceed 2.7 miles along this road then turn right onto Movie Flat road. With striking views of Mt Whitney dominating the background, the foreground presents an enchanting array of rock formations, these are the Alabama Hills.
These hills have been the setting of countless cowboy and western films like The Lone Ranger and How the West was Won.
The main roads are designed for regular passenger vehicles, but there are also numerous OHV and hiking trails. 
Whether you decide to drive through the maze of rock formations admiring the scenery from your car, or take a walk on one of the hiking trails, this area is accessible to anyone.
Insider Tip: Be sure to bring water since there is none available at this location.
Stop #4 Erick Schat's Bakery and Bishop City Park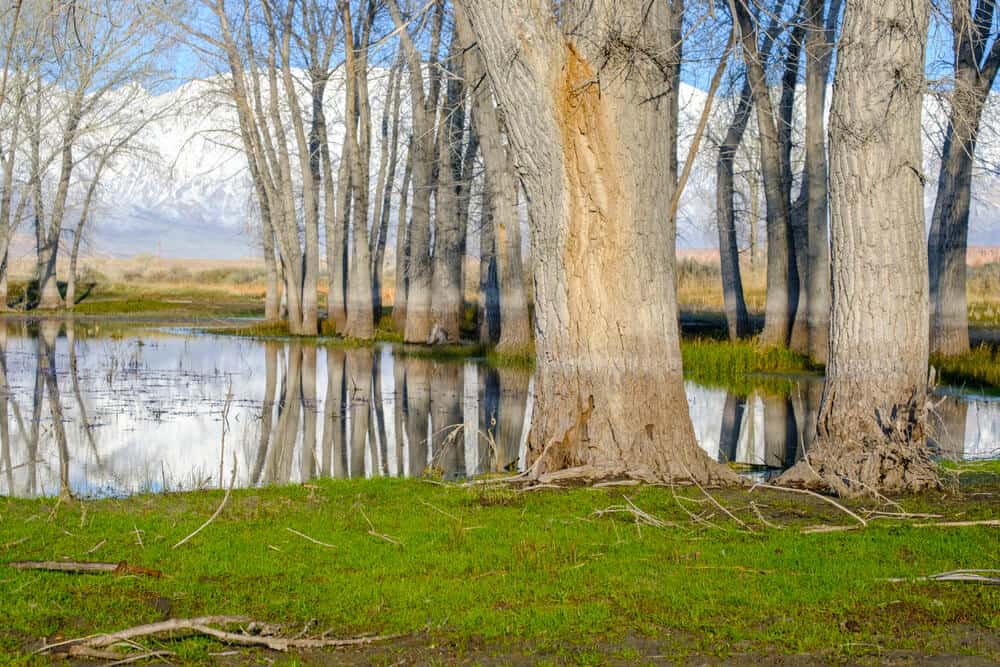 (3 hours 45 minutes from Los Angeles)
After progressing north on Hwy 395, passing through Fort Independence and Big Pine, you'll arrive in the small city of Bishop.  By this time you're probably thinking of either filling your belly with food, or stretching your legs from the drive. 
Even if you are not hungry, I encourage you to pay a visit to the famous Erick Schat's Bakery. As you cruise through Bishop, be on the lookout for the bakery on your left across the street from Bishop City Park, there is parking in the back.
Erick Schat's Bakery is famous for its Sheepherder Bread dating back to the California Gold Rush. They have a variety of tasty breads and pastries that are baked on-premises. Most visitors either grab a loaf or two of the Sheepherders bread to take home or order one of their scrumptious sandwiches to go.
There is outside seating in front of the bakery, but I recommend crossing the street and walking over to the park. There is a lovely pond and plenty of shady picnic tables to sit and relax. 
Here you will find walking paths to stretch your legs, playgrounds for the kids to get their wiggles out, and a designated area for pets to run around and get some relief.  There are also restrooms.
Stop #5 Rock Creek & Little Lakes Valley Trail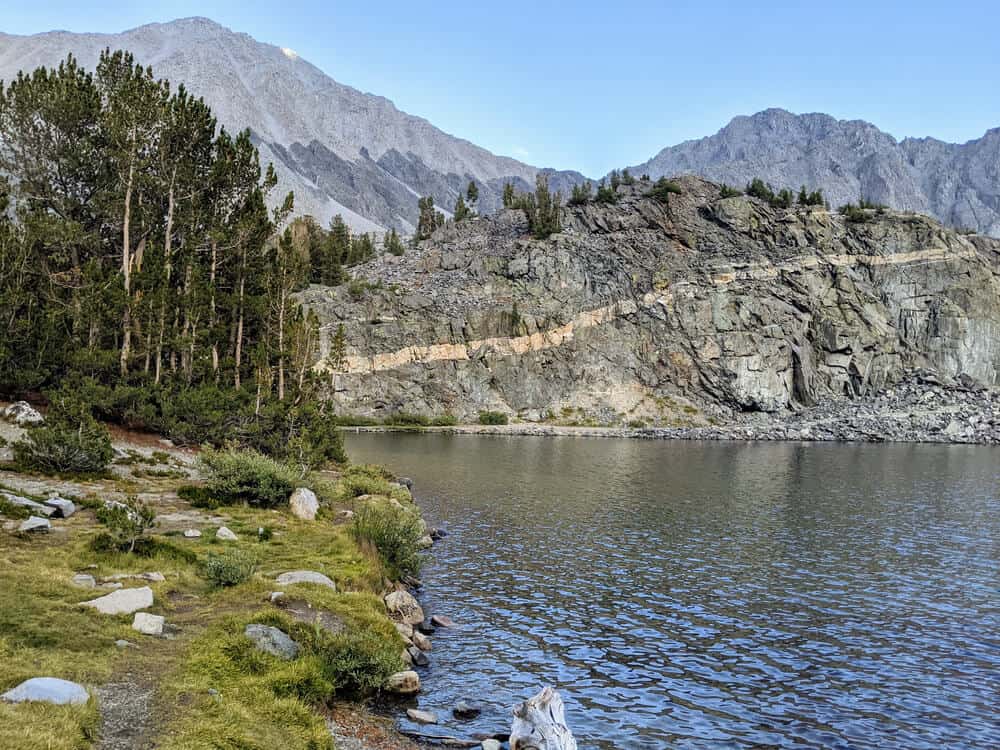 (4 hours 45 minutes from Los Angeles)
As you leave Bishop to continue your road trip, Hwy 395 veers toward the left and continues north with panoramic views of the mountains and valley. 
After about 23 miles you'll see signage for Rock Creek Road pointing left toward the mountains, turn here. 
Head up the mountain on Rock Creek Road until you reach its terminus at the Mosquito Flat parking area. This is where the Little Lakes Valley trail begins. Keep in mind that Rock Creek Road may be closed for winter travel depending on snowfall.
There is a reason this trail is called the gem of the Sierra's, the scenery! It's a well-known fact that if you want to get to the alpine lakes and breathtaking vistas of the Sierra Nevadas, you're going to have to work for it.
Not this trail! Instead of having to hoof it up from the valley floor, you can drive up to this trailhead clocking in at an altitude of 10,367 ft. What's more, you only have to hike 0.2 miles to reach Mac Lake, the first of many breathtaking lakes adorning this trail.
Bring water and sturdy hiking shoes for this trail. To avoid altitude sickness, hike slowly and stay hydrated.
Do not leave food items (or anything scented at all for that matter — even chapstick, sunblock, or scented toilet paper or tampons!) in your car; instead store food in the designated bear-resistant lockers at the trailhead. Make sure you consult the map and information board before heading out and stay on the trails
Stop #6 Tom's Place & Crowley Lake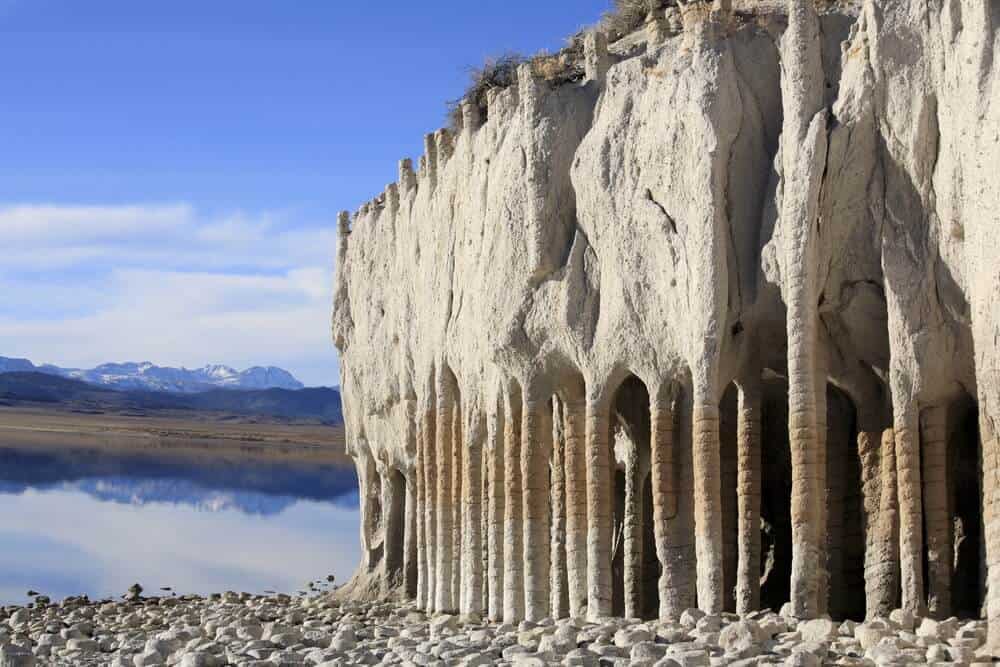 (4 hours and 15 minutes from Los Angeles)
Ten miles back down the mountain you'll intersect Crowley Lake Road right before you turn back onto Hwy 395; you'll see Tom's Place on your left. (It will be on your right if you're coming from Hwy 395)
Originally constructed in 1917, Tom's Place reeks of nostalgia and days of old.  The restaurant serves breakfast, lunch, and dinner; and the bar is bound to have your favorite beer or spirits.
There's a general store with camping and fishing supplies and a restroom for customers. There is spacious seating in the restaurant and at the bar, alternatively there is a comfortable patio area out front.
Sit back, relax, and enjoy a meal while eavesdropping on the adventure stories being shared by locals, anglers, and weary backpackers.
Afterward, be sure to check out Lake Crowley with its bizarre but beautiful stone columns. Its otherworldliness is spectacular and will remind you a bit of Icelandic landscapes.
Stop #7: Hilltop Hot Tub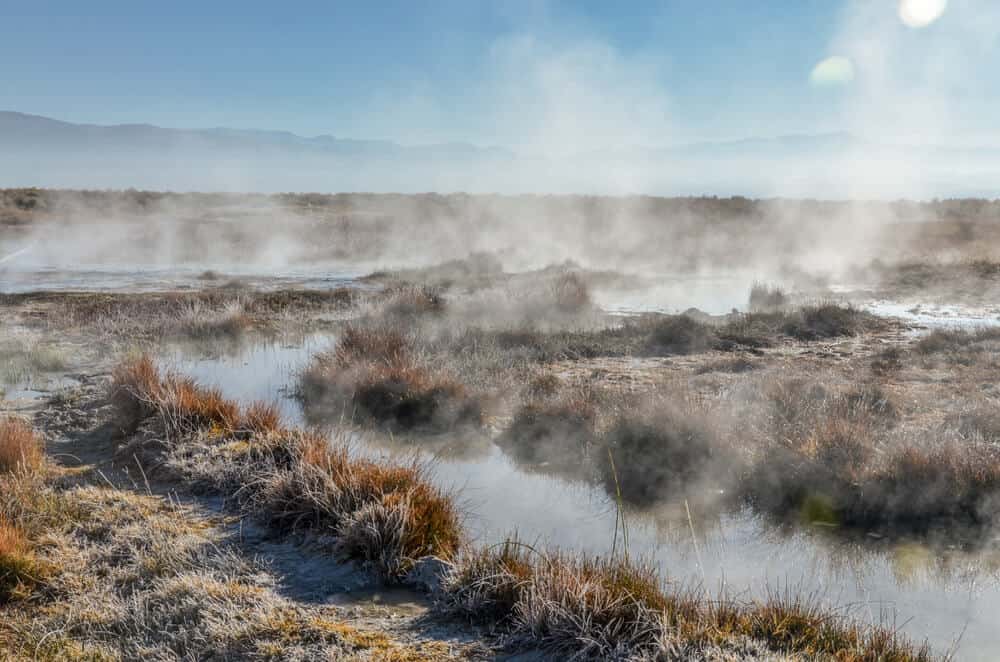 (4 hours 30 minutes from Los Angeles)
I can't think of anything more enjoyable after a long hike than soaking in a natural hot spring; especially at sunset with panoramic views of the mountains and valley!
Luckily, beautiful Mono County has so many natural hot springs all up and down the region, with many of them not at all far from Highway 395.
Just about 10 or so miles north of Tom's Place on Hwy 395, you'll see a little green church, make a right-hand turn here onto Benton Crossing Road. Travel 3.5 miles to a dirt road on your left leading to the parking lot.
From the parking area, it's a short walk to this impressive hot spring. A cement tub has been constructed for a cleaner and more enjoyable soaking experience, but there are also natural springs all around the area from which steam will be rising on a cool day.
The water temperature is usually around 100 degrees but it can fluctuate, so always put a toe in first to test it. It's a perfect place to relax and unwind.
Bring a swimsuit, towel, and water; pack out any trash.
Stop #8: Convict Lake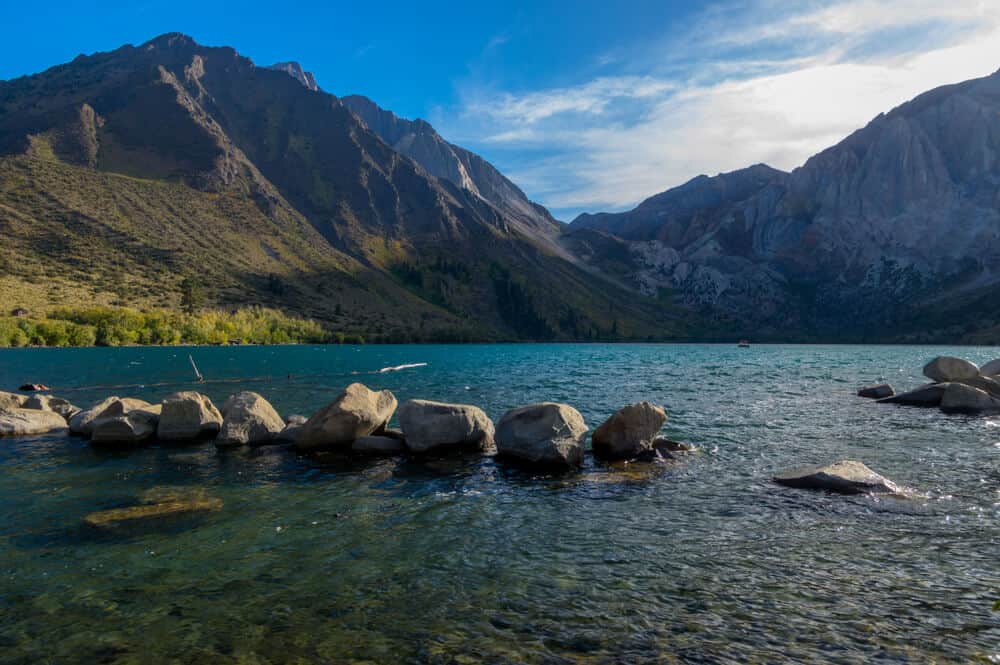 (4 hours and 35 minutes from Los Angeles)
If hot springs are not your cup of tea, Convict Lake is assured to delight you.
Set in the shadows of magnificent Mount Morrison, this turquoise-blue lake affords plenty of recreational opportunities without the crowds of nearby Lake Crowley.
The turn onto Convict Lake Road is the very next left after Benton Crossing; Convict Lake is 3 miles up ahead.
This jewel of a lake is great for fishing, boating, hiking, and swimming. Nestled in amongst the grandiose peaks, you'll find picnic areas, restrooms, a campground, and a resort with amenities like a restaurant and boat rentals.
The water is crystal clear and perfect for swimming on a hot summer day. This is also an epic spot for fall foliage if the timing is right!
Stop #9 Mono Lake Tufa State Natural Reserve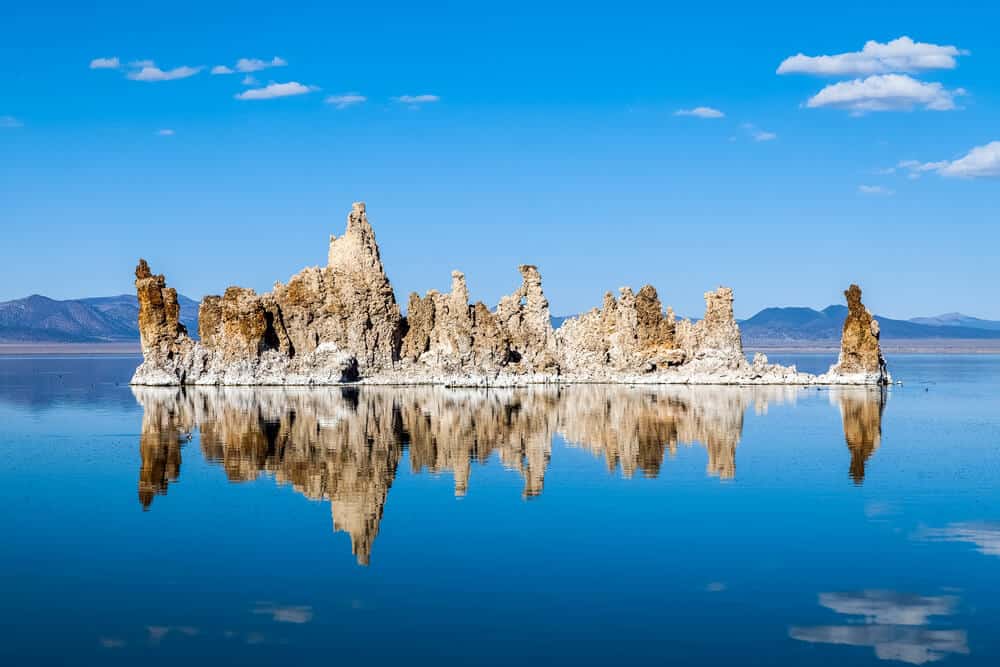 (5 hours from Los Angeles)
Mono Lake is not to be missed! 
Continuing north on Hwy 395, you'll pass the turnoffs for Mammoth Lakes and June Lake before arriving at Mono Lake Tufa State Natural Reserve. 
You'll know you've arrived when you see the curious-looking spires known as "tufa towers" emerging from the lake.
You can swim in this lake or enjoy it from the shores. Mono Lake is home to a variety of bird species and is perfect for birdwatching, photography, and hiking.
The mysterious landscape and other-worldly features of this area are like nothing you've seen before.
Stop #10: Bodie Ghost Town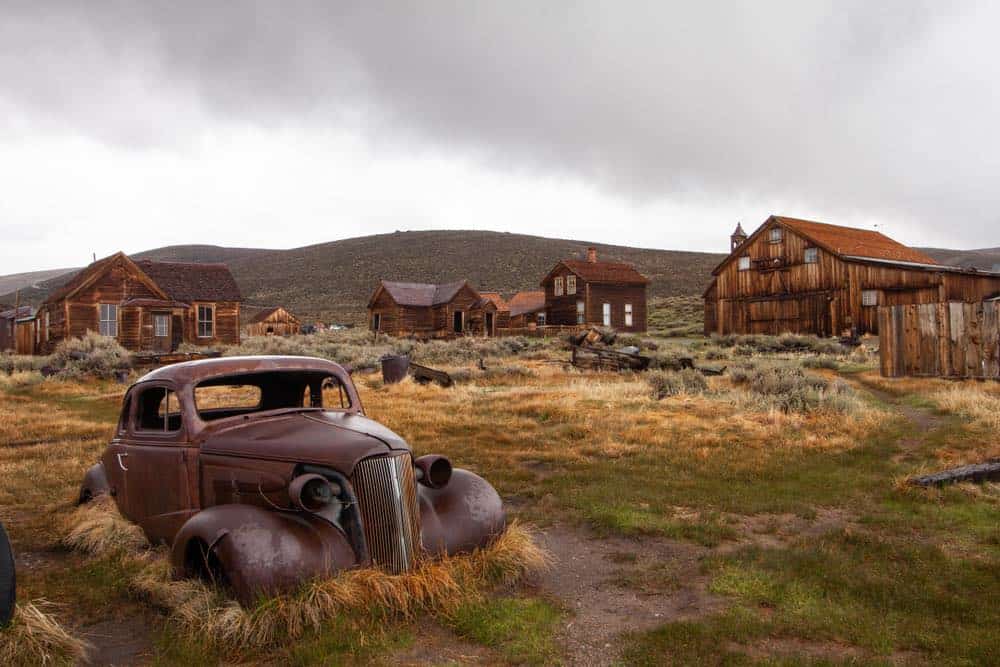 (5 hours 30 minutes from Los Angeles)
From Hwy 395, you'll need to turn right onto Route 270 heading east. After 10 miles you'll arrive at Bodie Historic Park.
As you approach this well-preserved ghost town you may feel as though you've gone back in time. There is a nominal entrance fee of $8 for adults and $5 for children. 
This National Historic Landmark has areas to explore seemingly untouched since the 1870s.
Leftover from the California Gold Rush, you'll find a schoolhouse, barbershop, church, and saloon amongst other structures in various stages of dilapidation. 
You can walk around the town looking at old-time relics through windows and sunlit gaps in the wooden structures. There are no services in this ghost town, but there are some restrooms.
***
Whether you plan on continuing north on Hwy 395 into Nevada toward Lake Tahoe, or do a tailspin back to Mammoth or Los Angeles, these epic road trip stops on Highway 395 are not to be bypassed.
Take your time as you drive and ingest the history, majesty, and natural phenomena of this area on your next Eastern Sierra road trip.
Pin This Eastern Sierra Road Trip Guide to Highway 395!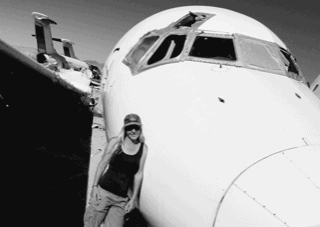 Kristina Ritchie is a writer and who was born in Australia and grew up in Africa. She was educated at Western Connecticut State University before finding her home in Southern California. She writes creatively on a variety of topics, mostly on travel and adventure writing. Having visited over 15 counties and 48 states, along with thousands of miles on the trail with a backpack, Kristina continues to explore and write as often as possible.