Have you been looking forward to a winter vacation far away from the peaks and valleys of life?  Find your mood peaking at Mammoth Lakes in winter!
Surrounded by a mountain with an 11,000-foot peak, Mammoth Lakes is warm and inviting in the wintertime, making it a great escape for active skiers and laidback winter enthusiasts alike.
This town founded on a thousand-year-old lava complex has a relaxed small-town feel, coupled with beautiful amenities for the traveler looking for a great California winter getaway. 
With snow arriving as early as November and staying until as late as June or even July, Mammoth Mountain is a wonderful place to grab winter by the horns and live in a snowy paradise. 
Not surprisingly, Mammoth also offers a huge variety of activities in the winter.  What follows are some of the most amazing winter activities Mammoth Lakes (and Mother Nature) has to offer!
11 Epic Things to Do in Mammoth Lakes in Winter
Shred the slopes of Mammoth Mountain
Note: This post contains affiliate links, which earn me a small commission at no extra cost to you if you make a purchase using one of these links. Thank you for supporting this free content!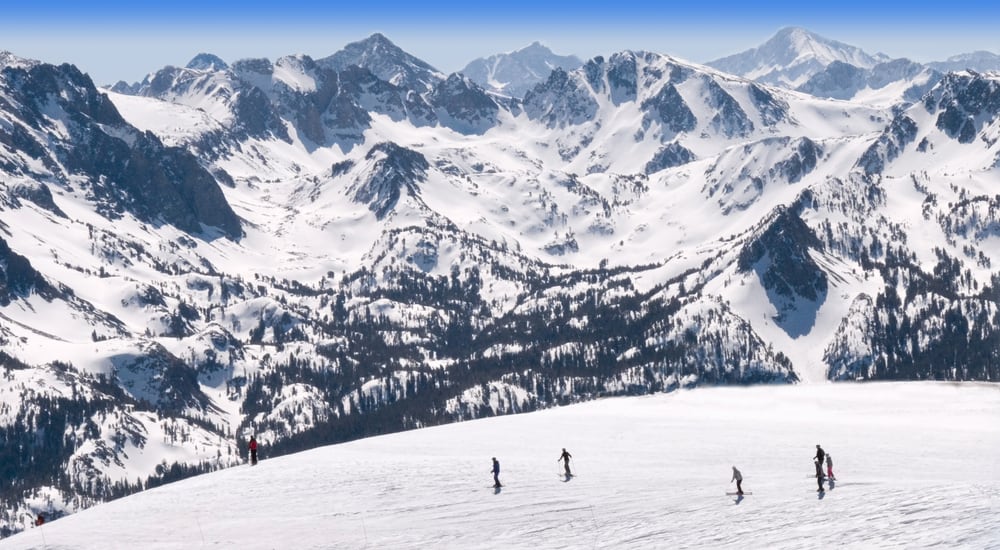 Mammoth Mountain is not named for its epic slopes it offers skiers and snowboarders or because it was founded on thousands of old geologic rock and volcanic rock formations, but it does offer both!
In actuality, the name most likely came from an old mining company which operated in the area during the 19th century, but hey, it sounds cool, right?
Mammoth Mountain is also home to 3,500 acres of forest land for individuals to ski and snowboard on, which is the main draw for visitors to Mammoth Lakes in winter. 
You could visit Mammoth in winter for a week and still not finish skiing all the trails on this mountain! Some trails are as short as three minutes, and others take as long as 40 minutes to ski or ride down. There is truly something for everyone here.
With an average of over 400 inches of snow a year and over 300 days of sunshine a year, Mammoth Mountain is a ski bum and snowboard addict's winter paradise for bluebird days!
If you do choose to come ski for more than a week, make sure to buy a season pass.  Day tickets can cost up to $79 for adults aged 23-64, making skiing in Mammoth Lakes quite pricy. With child's tickets, ages 5-12, costing $32, hitting the slopes as a family can rack up to be expensive. 
Consider buying a season pass and staying for a week or more to maximize your money and experience's worth.  Once you do spend money, enjoy the ride – you will not forget this powder paradise!
Grab the golf clubs for winter golfing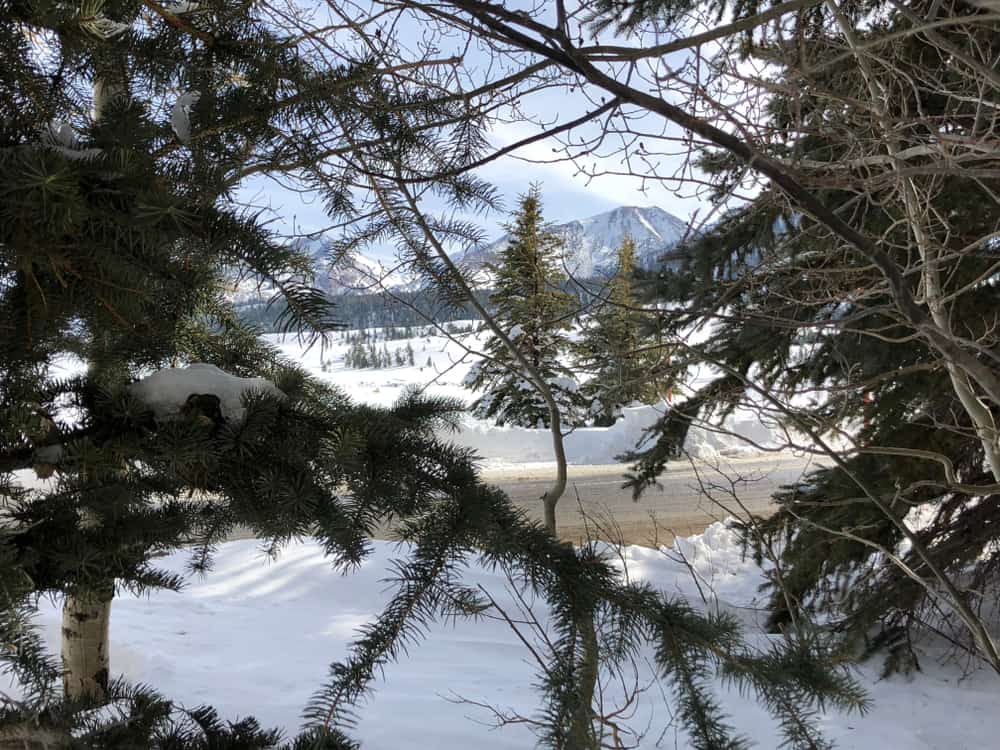 It may sound counterintuitive to golf in the winter, but Mammoth Lakes in winter boasts splendid views. 
With the average temperature hovering in the mid-forties during the day with plenty of sunshine, grab a North Face jacket, ditch the golf cart, and walk the 18-holes for a tremendous workout that will keep you warm and admiring the views of the surrounding mountains all day. 
Sierra Star Golf Club offers 18-hole golfing at a par 70 course, while Snowcreek Golf Course offers 9-hole golfing at a par 35. 
With the Snowcreek Golf course, golfers will be treated with views of the Eastern Sierra Mountains, while Sierra Star Golf Club offers views of still mirror lakes, evergreen trees, and rolling hills and mountains as a backdrop.
If golfers are willing to drive 40 minutes a bit out of Mammoth to nearby Bishop, drivers (no pun intended!) will be rewarded at Bishop Country Club. 
With views of the White Mountains and Eastern Sierra Mountains, Bishop Country Club also offers bunkers, a driving range lit at night for an evening round of golf, a chipping area, and putting greens for practice.
Rise above the rest with a gondola ride up Mammoth Mountain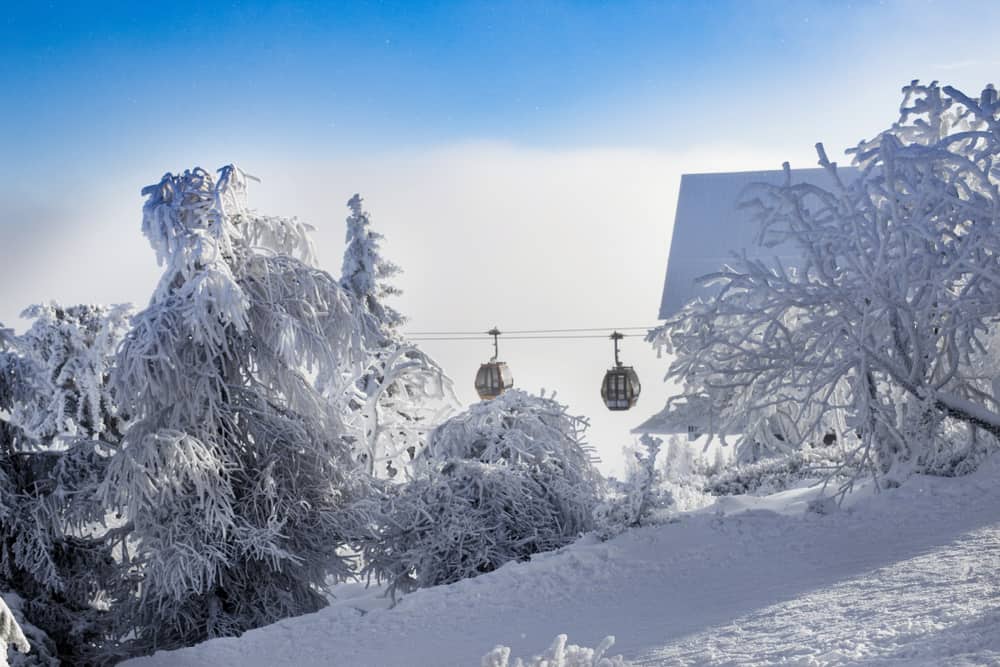 Want the best view of Mammoth Lakes in winter?
Take a scenic cable car trip up the mountain on Mammoth's Scenic Gondola ride.  At an elevation of 11,053-foot, check out the stunning views of the surrounding lakes and winter landscape from the top.
While there, visitors can enjoy a treat at Eleven53 Café — how does a hot cocoa and an epic view of Mammoth sound?
With 360-degree views of the valleys, peaks, and town below, the Scenic Gondola ride might be the best way to see the entirety of Mammoth Lakes in winter as well as the Eastern Sierra Mountain ranges in the background — without the fuss of carrying all your snow gear.
The ride usually takes about 10-15 minutes each way, and it is advised to layer up for colder temperatures as the gondola reaches the top of the mountain. 
Adult prices range from $23-$30, tickets for youth aged 13-18 cost $22, and up to two children, both ages 7-12, can ride for free with paying adults. 
For the more adventurous and athletic, there is also a hiking path that takes visitors from the top to the bottom of the gondola. You will likely want snowshoes for this!
Either way, enjoy the ride up, down, or both ways. The views do not disappoint in the least!
Ride away on a Sno-Cat tour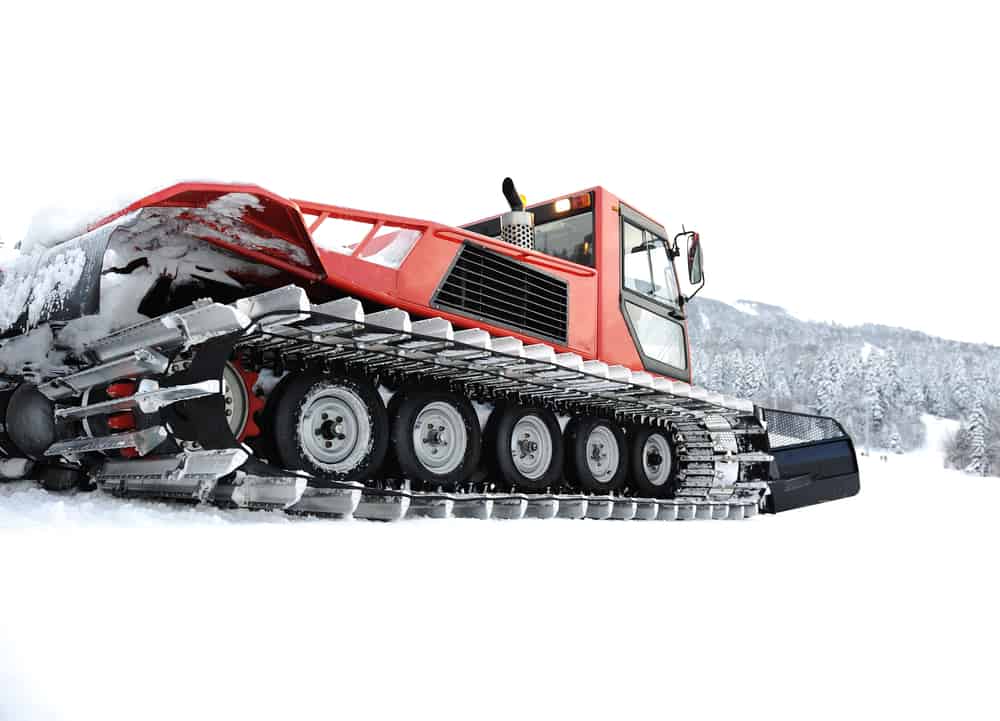 Just because it is cold outside doesn't mean you should stay at home by the fire the entire time you're visiting Mammoth Lakes in winter if you're not a skier or snowboarder. There's a lot you can do without hitting the slopes!
Mammoth Mountain offers a variety of vehicles for those wishing to experience sightseeing of the stunning landscapes that Mammoth Lakes in winter offers, for those who don't know how to or don't want to ski or snowboard. 
If visitors feel like being in a heated vehicle but exploring the great winter outdoors, a Sno-cat tour is available! This Sno-cat tour can seat up to twelve people, and the company offers tours in the morning at 8 AM and also at mid-day at 11:30 AM from Friday to Sunday and on select holidays.
Take this snowcat tour to Minaret Vista to see the Minarets, Ritter Range, and other scenic spots on Mammoth Mountain. All these views and more are in store for those who feel like the comfort of a heated, indoor vehicle to sightsee Mammoth Mountain in winter!
End the tour at the vista with a toast and spread of delicious food, such as wine, cheese, and charcuterie platters.  Are children coming along?  Not to worry: while wine may be off the menu, hot cocoa, fruit, and cheese are available for the kids, too!
Snowmobile your way through backcountry slopes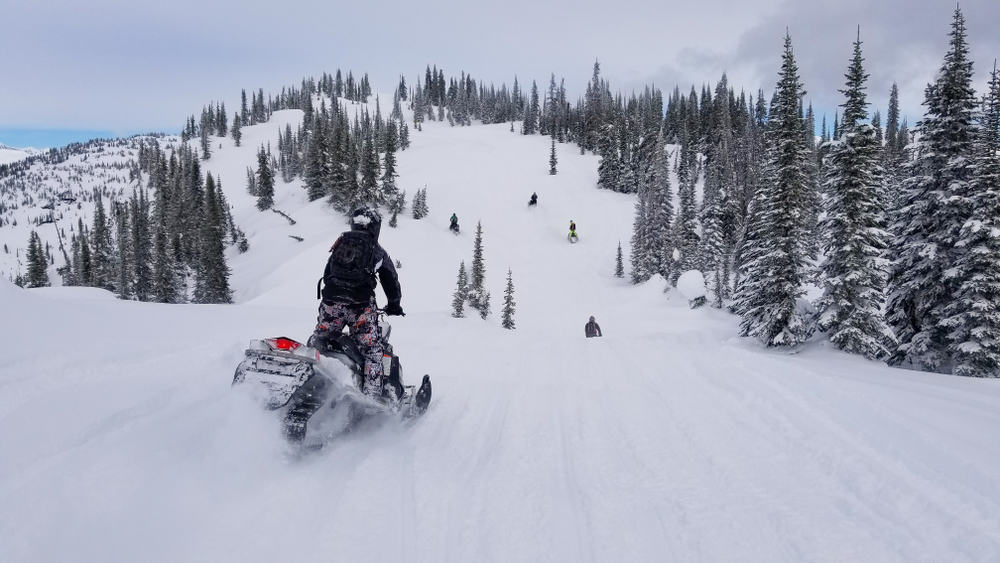 For those wishing for a more outdoorsy experience and an active way to see the area's nature in winter, Mammoth Lakes also offers snowmobile tours. Guided snowmobile excursions take visitors through snow-covered meadows and evergreen-laden mountainside slopes. 
Snowmobile tours are open seven days a week from 8 AM – 4 PM from December 10, 2020 to April 2021, with weather and conditions permitting up until late spring. 
Single person snowmobile tickets can be somewhat pricey, but Mammoth Mountain offers one and a half and one-hour tour for reasonable prices when you bring a buddy, date, or family member along with you! 
You bring your warm clothes, and they will provide the snowmobiles, helmets, and guides.  Grab a snowmobile and take a deep breath of clean, crisp, and quiet winter white while you weave your way through spectacular mountain backcountry trails.
Relax and unwind with a deep tissue apres-ski massage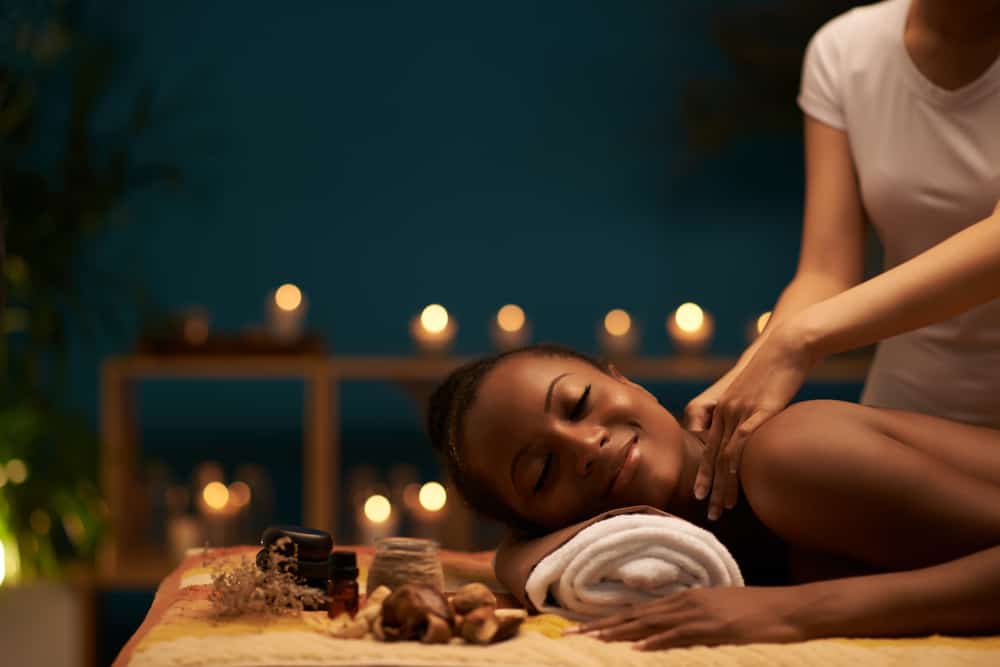 For those wishing for all the beauty of nature without all the cold, Mammoth Mountain offers a soothing, relaxing, and deep apres-ski massage. 
Whether you've spent a fun full day of exercise on the slopes, enjoyed the quiet views of beautiful mountains while hiking, or just need a massage after dealing with traffic to get to Mammoth, Sierra Nevada Resort & Spa as well as Snowcreek Athletic Club offer amazing massages as well as lounging areas within their resorts. 
In addition, both also offer a delicious array of dining options after your stay at the spa. 
Kick back, relax, and enjoy a bite at The Bistro East Restaurant at Snowcreek Athletic Club or at either Red Lantern, Jimmy's Taverna, or Rafters Restaurant & Lounge at Sierra Nevada Resort & Spa. 
After a long day in the cold, you deserve a treat — so enjoy these woodsy lodges for a treat of pampering and self-care!
Dive in to delicious brews and burgers at Mammoth Brewing Co.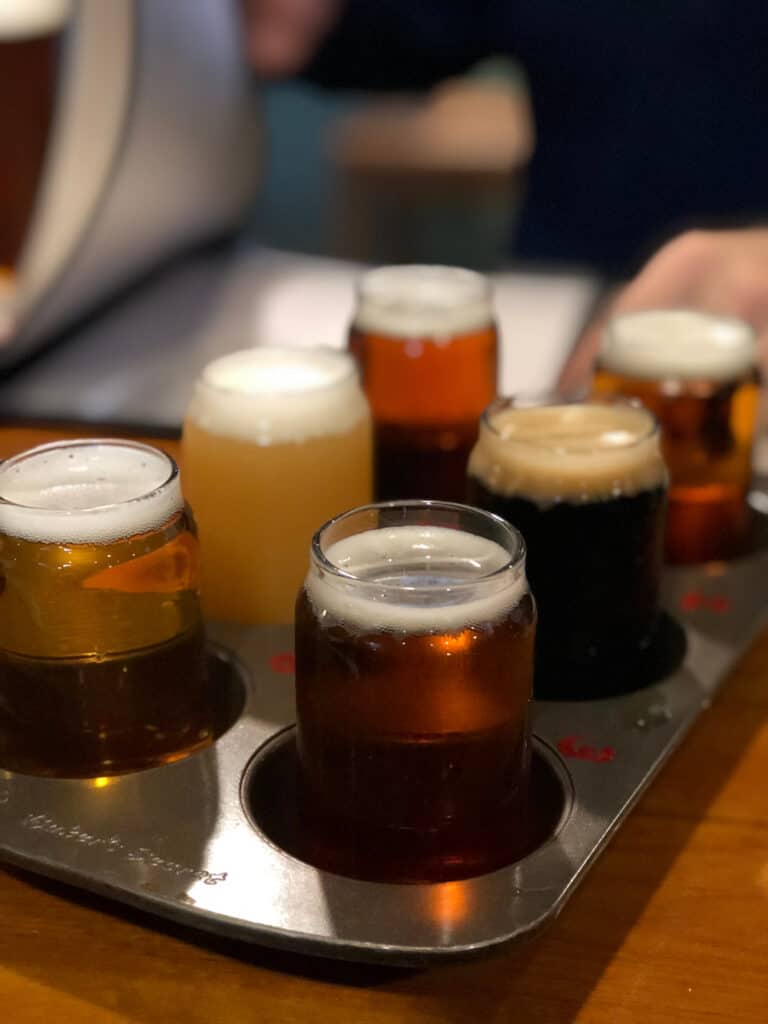 The fun-loving Mammoth Brewing Company sums up the personality of Mammoth Lakes perfectly: cheerful, rustic, and quirky, yet also inviting and friendly. 
With operating hours from 10 AM – 8:30 PM from Sunday to Thursday and staying open an hour later on Friday and Saturday, Mammoth Brewing Company is a wonderful place to start or end a day in Mammoth Lakes in winter, no matter the occasion. 
The Brewery crafts its own microbrews, and with 13 varieties of beers on tap, from cloudy IPAs, pilsners, Kolsch brews, and brown stouts, Mammoth Brewing Company has something for everyone. 
For visitors not interested in drinking alcohol, don't worry — you won't be left out. You can enjoy Mammoth Brewing Company's very own Imperial Root Beer brewed and sold at both the restaurant and brewery.
Perhaps you are hoping for something to eat as well? Just next door is The EATery, open from 11:30 AM – 8 PM on Sundays to Thursdays and an hour later on Fridays and Saturdays. 
Try the house-made pork rinds or the brewery bread fries for a taste of this restaurant's unique take on appetizers and finger foods. 
If you are desiring something a bit heartier, a few great options are the smoke stack sandwich, fish and chips, and their "Veggie Burger Damn Good Too" for those looking for lighter or veggie-friendly fare. 
Whatever your tastes may be, Mammoth Brewing Company and The EATery offers brews, views, and food for the whole family!
Break out the snowshoes for a winter hike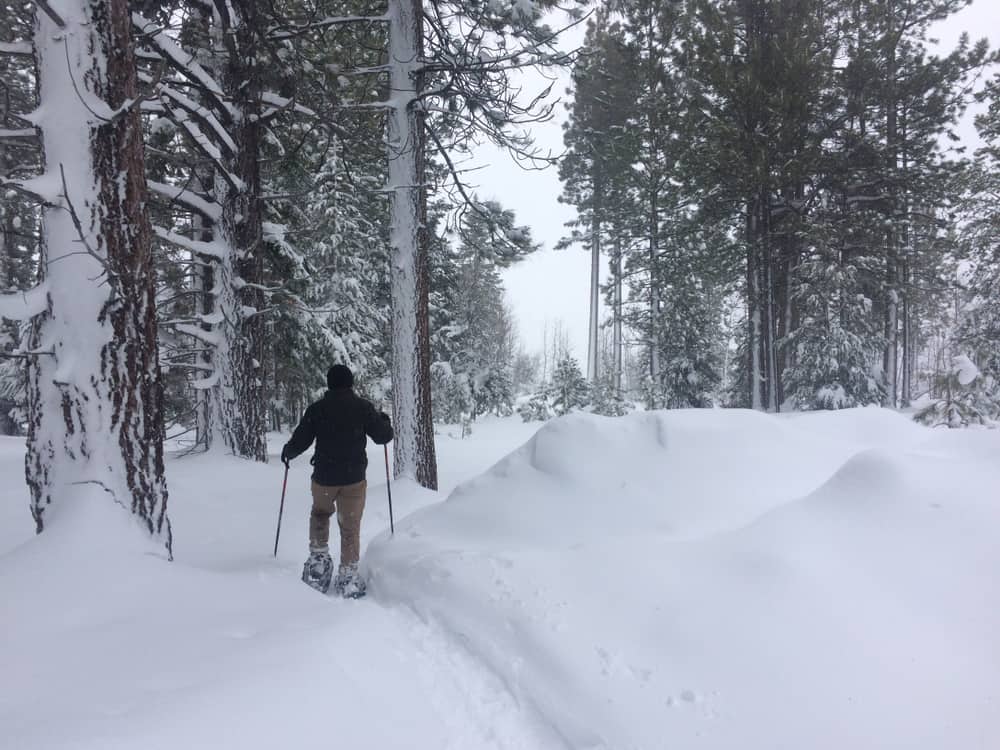 Want to get active outdoors while visiting Mammoth Lakes in winter but don't know how to ski or snowboard, or don't have the budget for a pricy ski pass? Snowshoeing is a phenomenal alternative!
Snowshoe rental is cheap (and buying your own snowshoes is an ultra-affordable yet fantastic investment) and best of all, winter trails are free!
You can rent snowshoes and disembark on different snowshoeing trails from Tamarack Lodge Ski Center, which is a great starting point for all your snowshoeing adventures in Mammoth Lakes!
Check out the nearby hot springs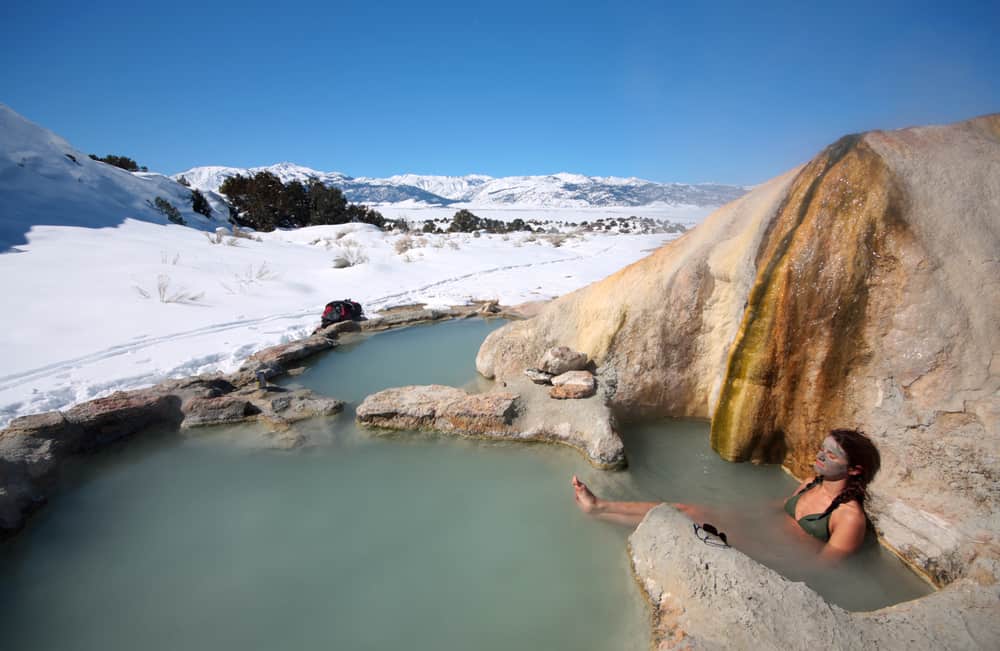 Mammoth Lakes is in Mono County, the county of California with some of the state's best hot springs!
There is no shortage of incredible hot springs waiting for you in Mono County, but Travertine Hot Springs and Wild Willy's are two of the most popular. A few more offbeat options include Rock Tub Hot Springs and Whitmore Hot Springs.
Nothing beats soaking in naturally heated geothermal waters while gazing out onto an epic view of the snow-covered Sierras while crisp winter air brushes against your face!
However, do be careful though to not go after a fresh heavy snowfall as these roads are not well-maintained in winter, and if you're going, try to go in the morning or on weekdays to have the best chance of getting to enjoy these hot springs in peace and quiet.
Enjoy a chill day in a cozy mountain cabin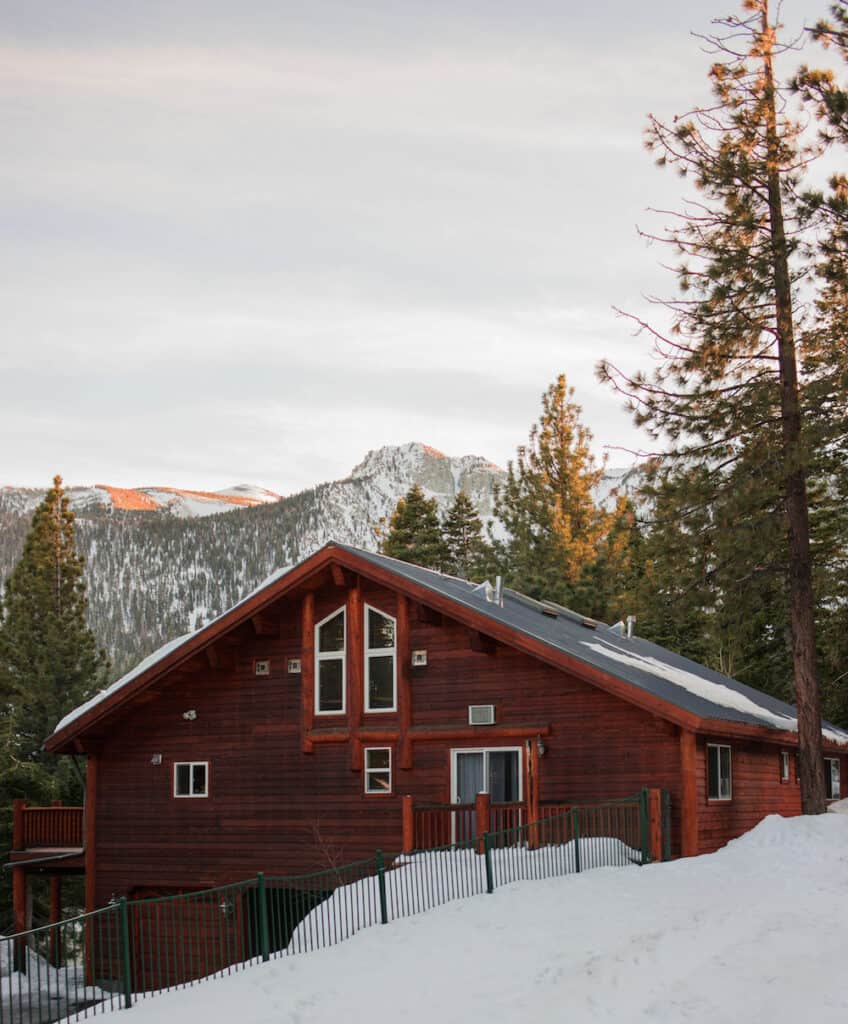 Of course, part of the fun of visiting Mammoth Lakes in winter is just relaxing and enjoying the beautiful cabins and condos in the area which promise a calm getaway from your everyday life.
Whether you opt for a Mammoth Lake condo or cabin or want a little more peace and quiet with these June Lake cabins just a 15-minute drive away, nothing is better than cracking open a bottle of California cabernet in front of your own fireplace after a long day on the slopes!
So get relaxing!
Go fishing in Hot Creek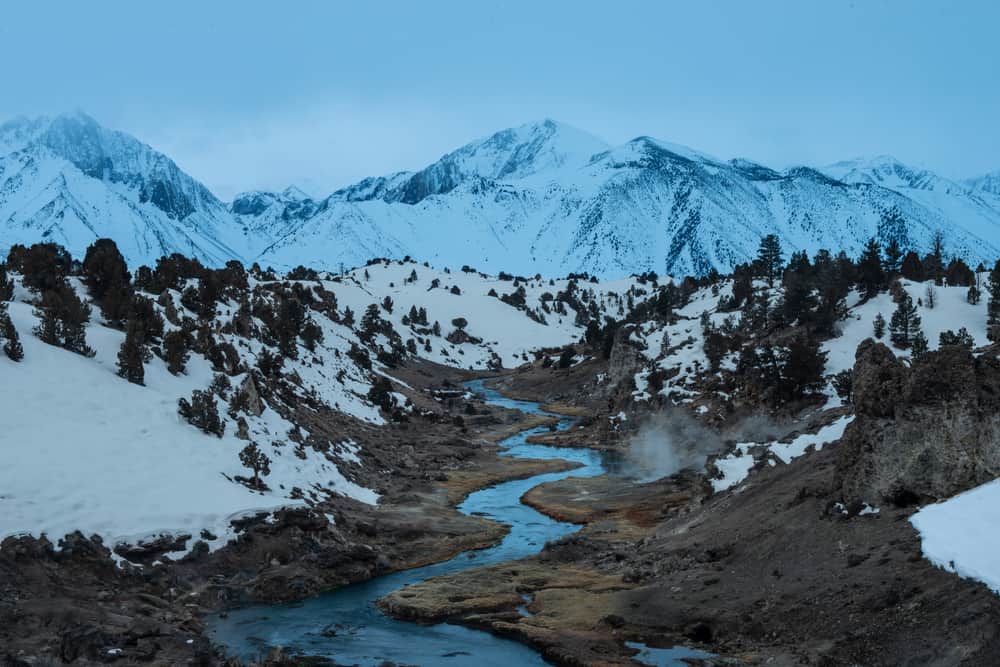 Wait… fishing in winter? It's absolutely possible, even when the rest of the landscape is totally snowed over, due to the unique geothermal waters at Hot Creek.
The heat from the geothermal waters manages to keep the banks of the creek totally free of snow (since any snow will melt practically on contact).
This means that you can stand by the creek and fish for hours on end without having cold feet standing in the snow, all while being surrounded by a gorgeously snowy landscape!
You may think that you escaped to Yellowstone or even Iceland with the fumaroles and geysers, but this is all California!
Most people try to catch trout in Hot Creek, but it's actually quite a difficult place to fish since most fish can see you coming due to the creek's depth and clarity. Also, note that Hot Creek is catch-and-release only, so unfortunately, you won't be able to eat your catch!
You can get to the creek easily by snowmobile, snowshoe, or cross-country skis. However, note that unlike the hot springs mentioned above, however inviting the creek may seem, you are not permitted to swim or bathe in it due to the potentially unstable temperatures of the geothermal magma-heated water.
Tips for Driving in Mammoth Lakes in Winter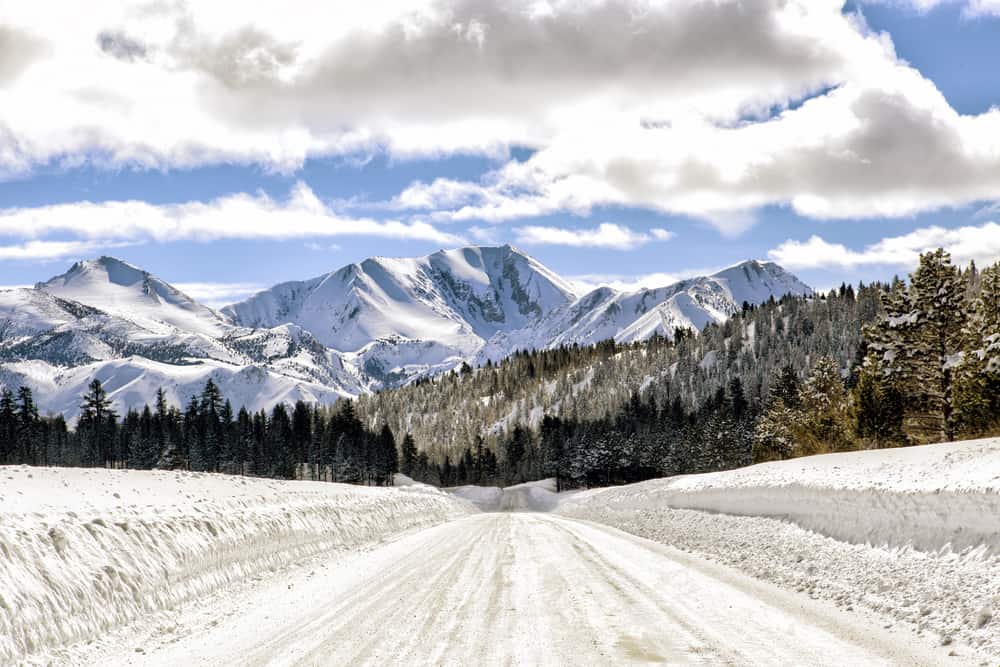 Because Mammoth Mountain tends to be covered in and layered with snow for most of the year from November until sometimes as late as July, it is important to be ready with all essential gear prior to driving up the mountain. 
Visitors will definitely want to bring snow chains.  Even though mountain roads are regularly salted and cleared to make way for vehicle traffic, the weather can be as warm as 63 degrees Fahrenheit one day and dip to near zero degrees Fahrenheit the next day… meaning black ice is possible.
Visitors will want to be prepared with extra car lamps in their car should they need it on a dark road at night, as well as a first aid kit, safety triangle or emergency flare, and warm blankets just in case your car doesn't make it all the way to Mammoth and you need to spend some time awaiting a tow.
Since Mammoth Mountain is located in the Eastern Sierra Mountains, it is important to travel by day so as to avoid the bulk of night driving in relative darkness due to its remoteness.  Bishop, a town 42 miles away from Mammoth, is the closest major city to Mammoth Lakes. 
Where to Stay in Mammoth Lakes in Winter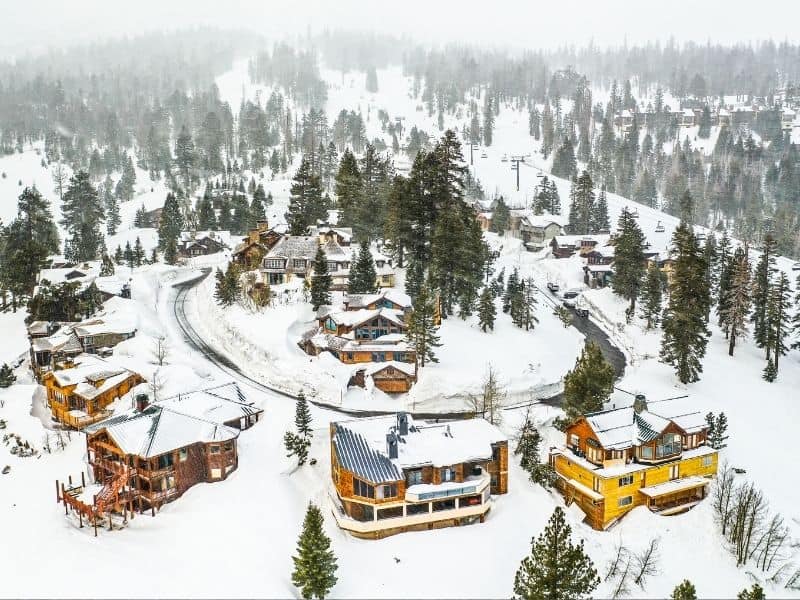 Luxury: The Sierra Nevada Resort & Spa
For a four-star stay complete with all the comforting amenities you'd dream of for a winter getaway, The Sierra Nevada Resort & Spa is a fantastic choice for a luxurious trip to Mammoth Lakes in winter.
If you're looking to get away from it all in a place that's fit for Hollywood stars who vacation here frequently, this is the place! On the premises, you'll find 3 different restaurants, a billiards room, miniature golfing, and an on-site spa with a steam room and sauna.
Some rooms come with fireplace complete with plush armchairs perfect for enjoying a glass of wine at the end of a long day, and others come with kitchens in case you prefer to cook a meal for yourself at the end of a day out.
>> Check details, photos, and reviews of the Sierra Nevada Resort & Spa here
Mid-Range: Stonegate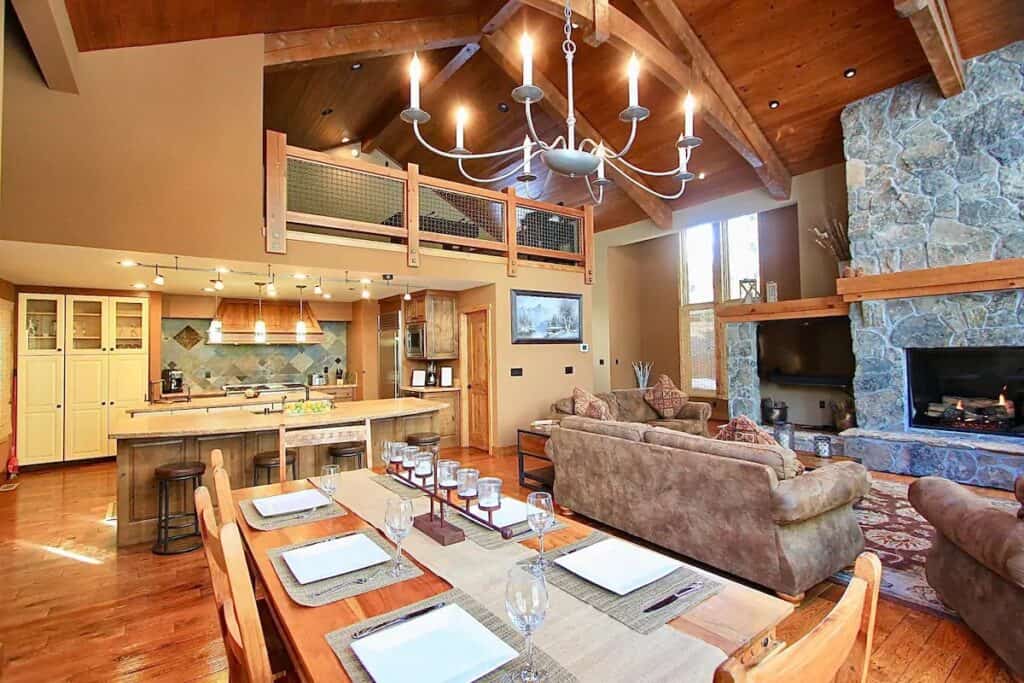 The Stonegate house epitomizes luxury with its incredibly spacious interior and every amenity you could possibly think of. It fits 14 guests in a 5 bedroom house, so it's great for large groups. The open floor design further emphasizes the size of the house, and there's more than enough room for everyone to move around.
The sitting area has a beautiful fireplace, perfect for quality time with your family and friends, and the gorgeous chandelier looming over the dining table will make you feel like you're in a fancy restaurant while eating.
Enjoy a round of foosball in the loft or fire up the Xbox in the den area. Stepping outside, you'll get a beautiful view of the property, a barbecue grill, and a jacuzzi.
You can hike around and explore, or get to a number of scenic landmarks by taking the shuttle. The house is located just by Sam's Woodsite, a popular venue for all manner of events in town.
>> Book this Mammoth Lakes cabin on Airbnb
Budget: Cozy Studio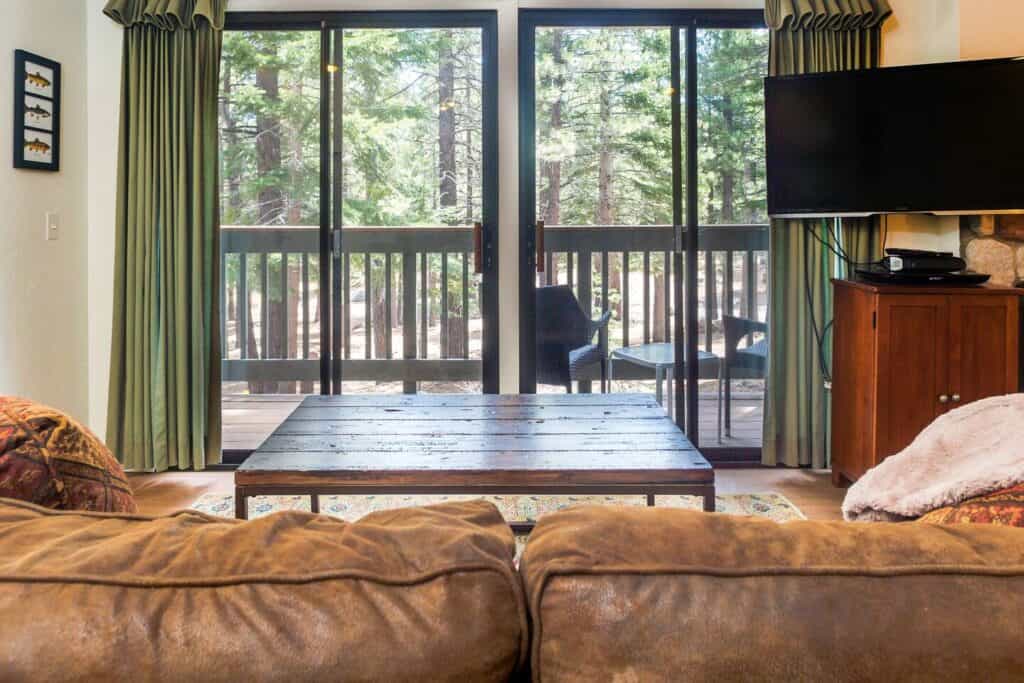 This comfortable and well-put-together studio apartment is the perfect hub of operations for exploring Mammoth Lakes in winter from your cozy home for two.
The interior is simple, yet elegant – the sleeping area is incredibly spacious, and you can step outside onto the deck through a glass door in the cozy and well-illuminated 'living' area. Walking along the large deck, you can see the surrounding forest in all of its splendor and enjoy a morning coffee.
The property is part of the Hidden Valley Complex, meaning you'll be within seconds of a hot tub, sauna, swimming pool, and spa!
>> Book this Mammoth Lakes Airbnb
What to Pack for Mammoth in Winter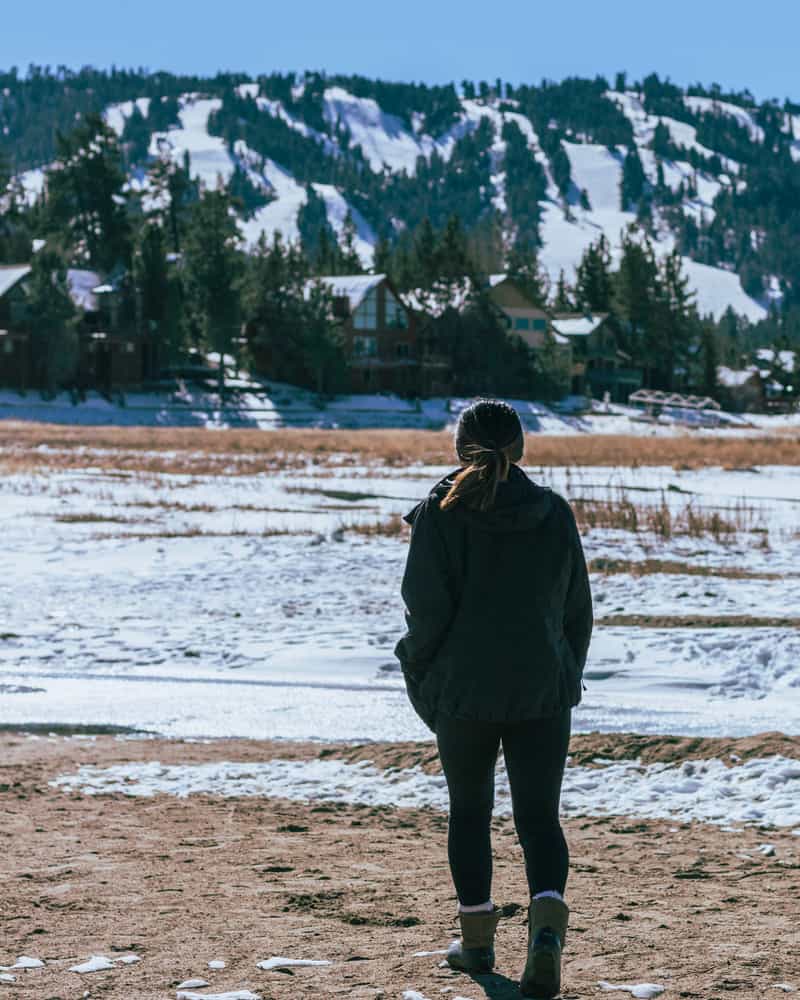 Waterproof Parka: In the snowy weather and freezing temperatures of Mammoth Lakes, you'll want something like this wonderful North Face parka. I've had this one for ten years and it's held up beautifully from everything to biking in NYC in winter to visiting north of the Arctic circle in Tromso and Abisko. It'll certainly do you just fine in Mammoth in winter!
Waterproof Pants: If you're doing any winter hiking, skiing, snowshoeing, snowboarding, etc. (basically, anything more intense than just a stroll around town) you'll want waterproof pants: trust me, jeans just won't do when you're dealing with snow this deep.
Thermal Layers: Underneath whatever clothes you choose to wear, you'll likely need some thermal layers to keep you warm in the Mammoth winter cold.
Snow Boots: For snow boots for walking around Mammoth Lakes town, I suggest these cute and cozy Sorel boots for women, which are waterproof and warm but also have plenty of traction. Add some Yaktrax to the bottom for grip on icy surfaces and pathways. These are a godsend!
Winter Accessories: No matter what the temperature, winter accessories like a hat, gloves, and scarf are always a good idea! They help you layer and protect your most sensitive parts (ears, head, fingers) from the cold. I love
Camera: You'll want a camera to capture all that California winter beauty! I use and love my Sony A6000! It's mirrorless, so it's lightweight and perfect for a high-quality camera that won't weigh your pack down.
Headlamp (and extra batteries): Mammoth Lakes in winter can get dark early — and quickly — due to the early sunset time plus the mountain horizon making it get darker even before that . Bring a headlamp in case any hikes take longer than expected or if you are planning any sunset hikes! This Petzl headlamp is highly-rated and affordable.
Alternatives to Mammoth Lakes in Winter
If Mammoth Mountain is too crowded for winter activities due to increased traffic during the holiday season, visitors would be wise to check out its younger and less-crowded, but equally beautiful sibling, June Mountain, a mountain a mere six and half miles away and 15-minute drive up the road from Mammoth Mountain. 
With fewer crowds and cheaper prices for mountain skiing and snowboarding than Mammoth Mountain, skiers and snowboarders will be rewarded with a more spacious experience of winter sports activities of the mountain landscape than at Mammoth Mountain during the peak winter holiday season.
We also have winter guides to nearby Yosemite National Park and as well as Sequoia National Park. Big Bear in winter is another great choice for a Southern California snow escape!
Final Thoughts on Visiting Mammoth in Winter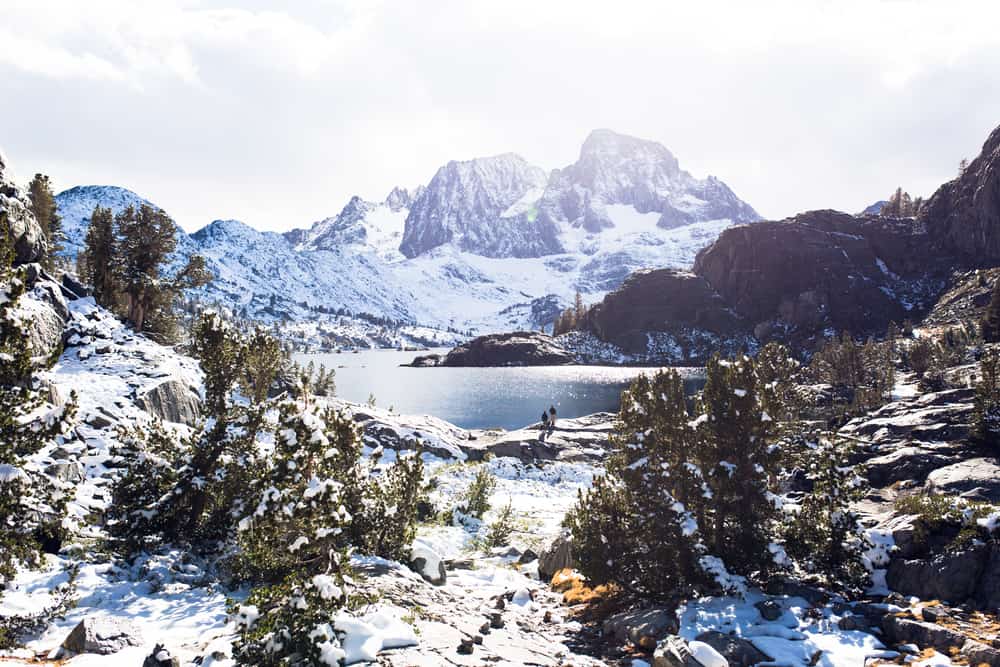 Either way, Mammoth Lakes in winter offers so much in terms of landscape, views, activities, food, and relaxation that half of the battle is just making your way up there. 
Once you are up there, sit back, relax, and breathe in the crisp mountain air.  Mammoth Mountain will be waiting!
Pin This Guide to Mammoth in Winter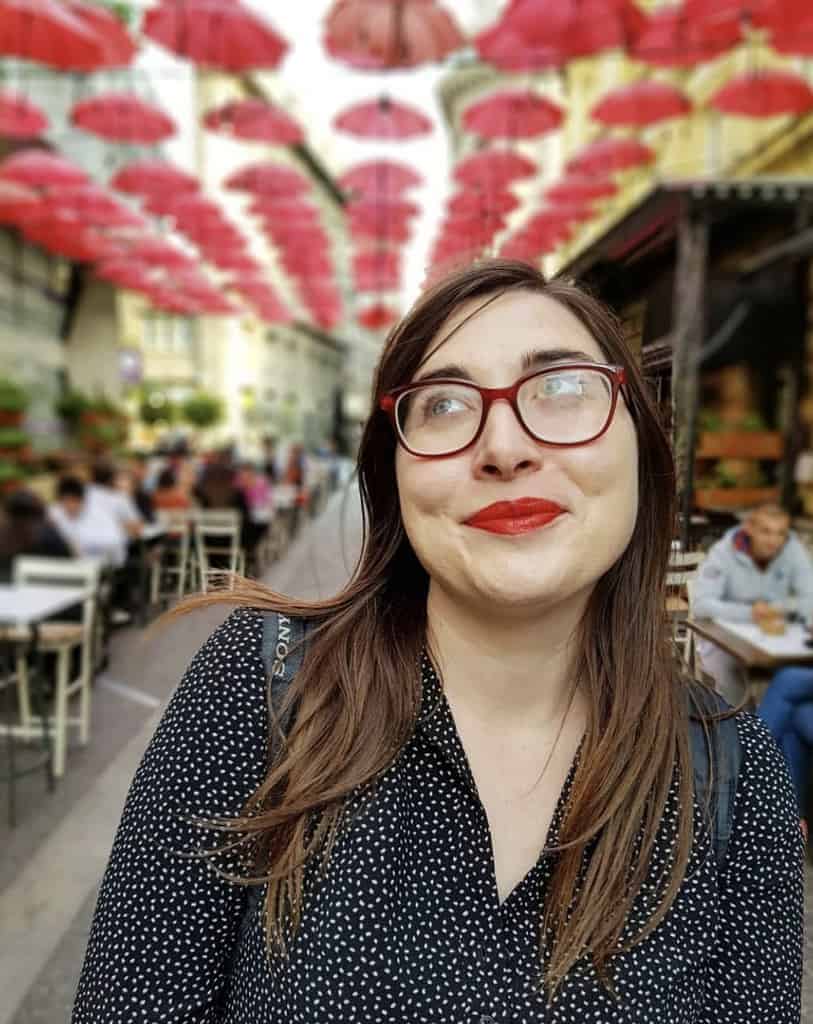 Allison Green is a travel blogger, writer, and podcaster who grew up in the Bay Area of California. She has spent time living in New York, Prague, and Sofia, but has returned to live in the East Bay. She has traveled to 60 countries before the age of 30 while running several digital travel publications. Her writing and podcast have been featured in Forbes, CBC Canada, National Geographic, the Huffington Post, and CNN Arabic, amongst others. She's obsessed with bouldering, houseplants, other people's pets, and anywhere she can see the ocean.