One of California's best all-season getaways is June Lake: one of the few places you truly see four distinct seasons in California the same way you do in other parts of the country.
In summer, June Lake is a gorgeous waterside getaway with tons of aquatic activities to keep you busy. In fall, June Lake erupts into a riot of orange, yellow, and red colors as one of the prime fall foliage spots in California.
In winter, June Lake is covered in a beautiful blanket of white snow which shimmers like crystals on bluebird days. And in spring, wildflowers poke through the melted blankets of snow, ready to start the cycle anew.
Note: This post contains affiliate links, which earn me a small commission at no extra cost to you if you make a purchase using one of these links. Thank you for supporting this free content!
Whatever season you choose to visit June Lake, a cabin getaway is in order! Luckily, there are a ton of wonderful June Lake Airbnbs and rentals so you can pick a phenomenal getaway on a budget that makes sense for you.
There are also June Lake cabins of all sizes, perfect for all sorts of groups — from circles of friends to extended family getaways, there's a perfect getaway for you.
Here is my curated list of the best June Lake cabins, all available on Airbnb for easy renting.
June Lake Airbnb: The Best Getaways & Cabins in June Lake
Silver Meadow House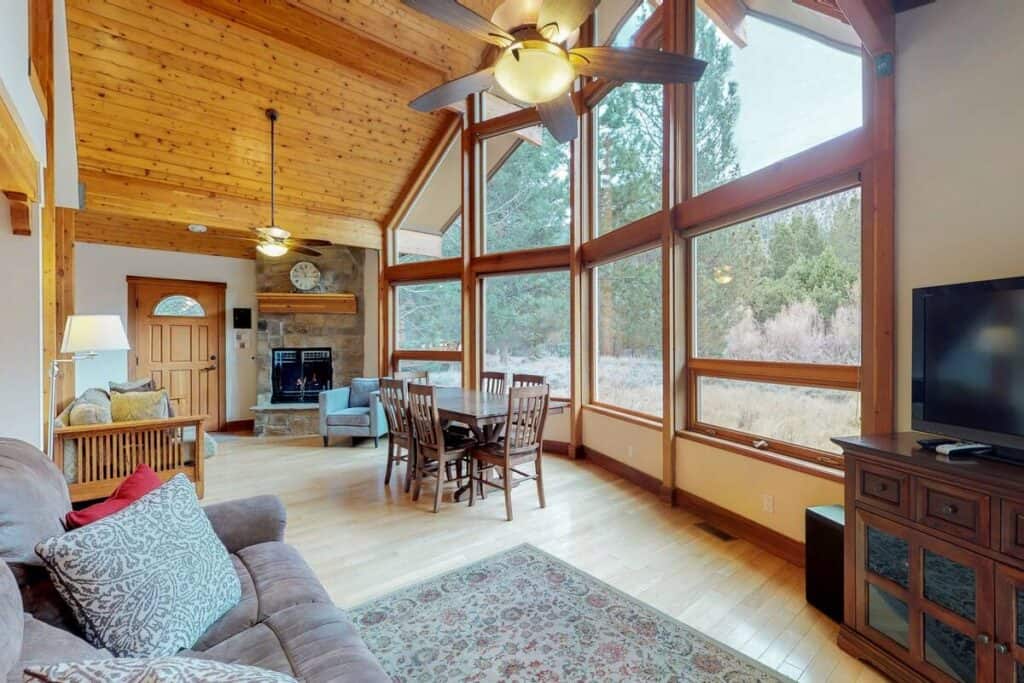 This incredible rental gives you a front-seat view of June Lake's most incredible landmarks!
Instead of watching TV, sit down on the sofa in the open-floor living area and marvel at the view from the ceiling-high windows – you can see Carson Peak and bits of Horseland Falls from here.
As a matter of fact, look through any window in the house, and you'll see nothing but mountains and green from all sides.
Couple this with the spacious interior and the year-round warmth, courtesy of the fireplace, and you have yourself a lovely June Lake cabin that'll never fail to put you at ease and make you forget your cares.
Located at Carson Peak's base, the house is close to both the June Mountain Ski Area and June Lake Loop, one of the best scenic drives in the state.
There's no shortage of outdoor activities to do in this area, no matter the time of year – you can take a swim in the nearby lakes in summer, or go snowboarding in the mountains in winter.
Also, since June Lake is only a few miles away (this June Lake Airbnb is actually closer to the also-beautiful Silver Lake), you can take care of your shopping and dining needs with a quick walk or drive.
>>>
Book your June Lake cabin on Booking here!
<<<
Past guests say:
"What a fantastic house! We so enjoyed our stay, and wish we could go back tomorrow! The house is spotlessly clean and spacious. We enjoyed cooking in the well-equipped kitchen. The gas fireplace was cozy on the cold fall nights. We loved the magnificent view of Carson Peak through the stunningly beautiful window in the great room. The hosts were prompt in their responses and very obliging and friendly. We heartily recommend this lovely place!"
Lake View Mountain Cabin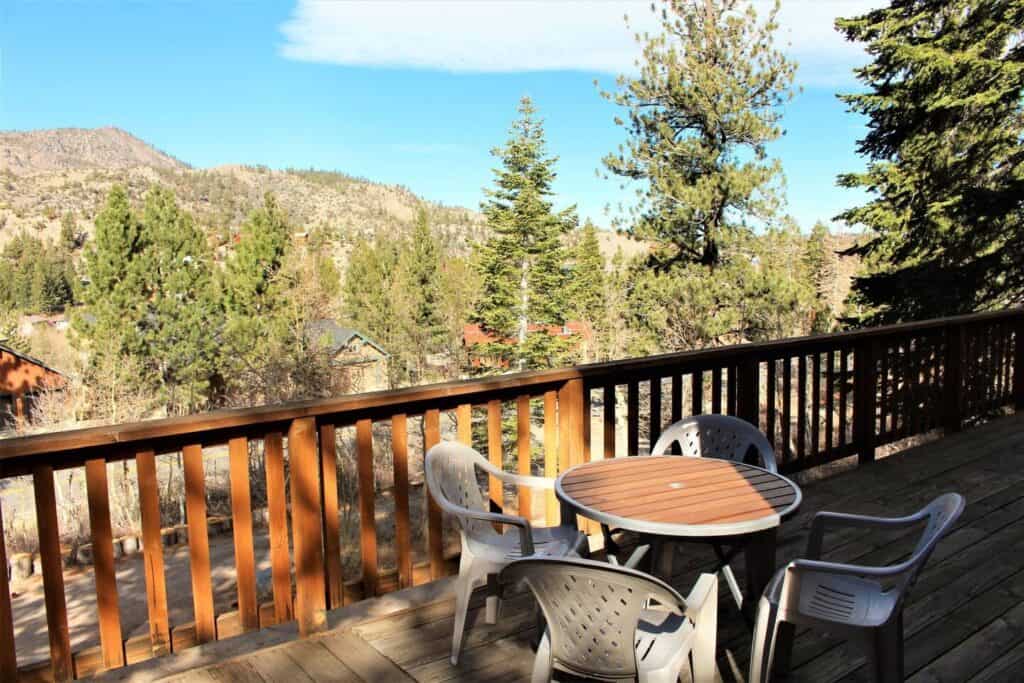 If you're looking to go on a quiet trip with a large family or group of friends, this rental is as good as it gets! It's a bit more rustic in design, as opposed to some of the other June Lake Airbnbs on this list which are a little more chic and modern, but it's as cozy as it gets!
On top of being roomy, the living room area has a fireplace, as well as DVD and Blu-ray players, making it perfect for a movie night. There's also a closet full of board games in case you feel like some old-fashioned fun!
Stepping out onto the deck, you get a beautiful view of Gull Lake and the pine forest, and you can fire up a BBQ grill here for a delicious outdoor meal — maybe even some trout you caught from the lake?
Since it's on the edge of the already-quiet June Lake Village, you can expect your stay to be peaceful and serene.
You'll be within walking distance of all the stores and other spots in town, all while being close to a variety of landmarks such as Yosemite National Park, Mono Lake, Bodie State Park, and many more.
Also, the house's large guest capacity is doubly convenient if you come in the winter with your kids – children under the age of 12 will be able to ski for free in the June Mountain Ski Area!
>>>
Book this June Lake cabin on Airbnb here
<<<
Past guests say:
"A great cabin! Super location for walking into the town of June Lake, less than 5 minutes to the parking lot of June Mountain, annnnnnd a great cabin for a couple of families spending some fun times together. There was even an empty growler from June Lake Brewery to take and fill up! The house was very well-stocked, I highly recommend this property, we would book it again, probably will!"
June Lake Pines Cabin 3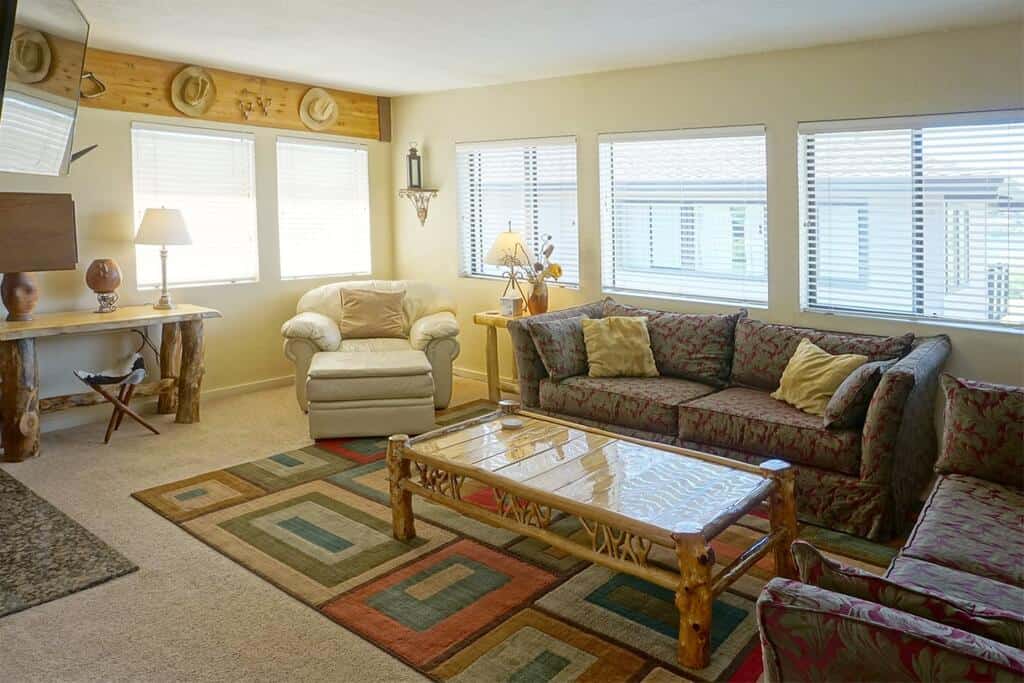 This beautiful condo provides you with an authentic and perfectly comfortable June Lake stay. 
The interior has just about everything you really need, including ample seats and bedding.
The area upstairs features an open concept floorplan with a comfy living room, a dining area that seats 6, and a nicely stocked kitchen to prepare your favorite family meals. 
The deck off of the living room has a BBQ grill for your use and seating space, ideal to catch the views and breathe the fresh mountain air.  The bedrooms are downstairs with a full bath and laundry area. The master features an awesome log bed and the kid's room has bunks. 
The cabin is in a bright corner, well-illuminated all through the day, and is surrounded by beautiful greenery. It's located steps away from the Village, June Lake, and Gull Lake, the perfect location for your family fun vacation. 
>>>
Book your June Lake cabin on Booking!
<<<
June Lake Interlaken 36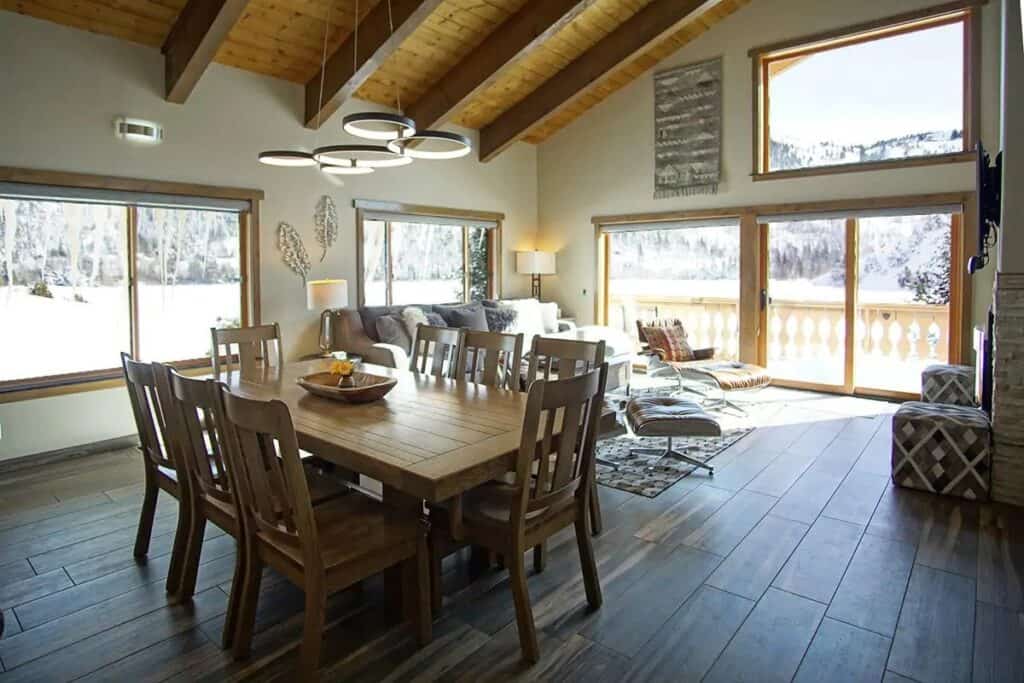 Combining a luxurious interior and an amazing location, the June Lake Interlaken 36 is a dream-come-true for any visitor to June Lake Village.
To the tiniest detail, every single aspect of the house is stylish – the furniture is as beautiful as it is comfortable, and not a single piece of decoration feels random and out of place.
The bedding is also very cozy, and the house even features the always-welcome second bathroom: priceless if you are traveling with a full group of 6!
As if that wasn't enough, the numerous large windows in the open area offer breathtaking views of Gull Lake, trees, and the mountains off in the distance, most notably Carson Peak.
You can get an even better look from the deck – this is the perfect spot to start and end your day in June Lake. The house also shines location-wise – it's quite close to June Lake Ski Resort and countless hiking trails, and you can easily get to town on foot.
>>>
Book this June Lake cabin on Booking
<<<
Past guests say:
"This condo is absolutely beautiful, clean, and newly renovated. The kitchen has everything you need and the living room is spacious. The views outside the huge windows are breathtaking. Absolutely recommend this place looking for a piece of nature and peace and a comfy place to stay."
Lucky Fish Cabin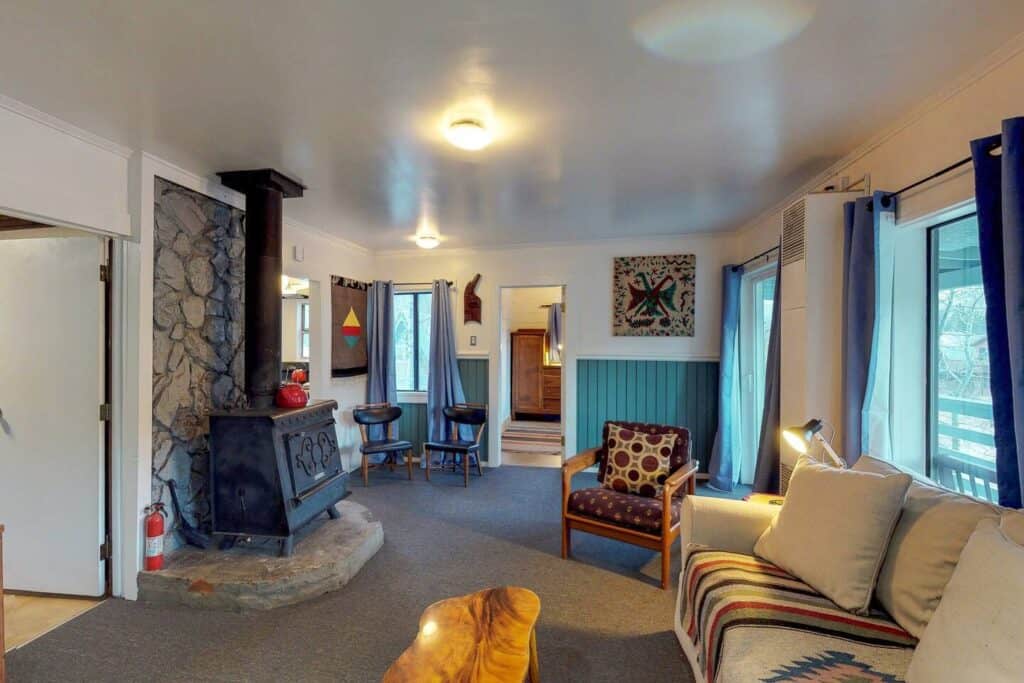 June Lake has no shortage of cabin rentals, but this one stands out thanks to its unique charm and character.
In keeping with the beauty of the surrounding nature, you'll be treated to a kaleidoscope of different colors from the moment you set foot inside – the interior has a definitive vintage, almost Southwestern feel that genuinely works in its favor.
The stove keeps the cabin warm all year round, and you can step out onto the deck to enjoy the view and prepare lunch on the barbecue grill.
It would be a shame if your pet were to miss out on the incredible June Lake area – thankfully, you can bring a dog to this property for a small additional fee, and it'll definitely appreciate all the running space!
June Mountain and Mammoth Mountain aren't too far off and are great for wintertime activities, and the nearby Gull Lake is great for fishing and water skiing – the shoreline view from this lake is one of the most beautiful visuals you can hope to see in June Lake!
>>>
Book this June Lake cabin on Agoda here
<<<
Past guests say:
"The cabin is charming — cozy and warm and was the perfect fit for our family of three for a long weekend. The views from the back and side porches are beautiful and we appreciated the open space next door to the house for sledding. The house is a block from the small downtown that has everything we needed, and a five minute drive to the mountain. We can't wait to return."
2-Bedroom Lakefront House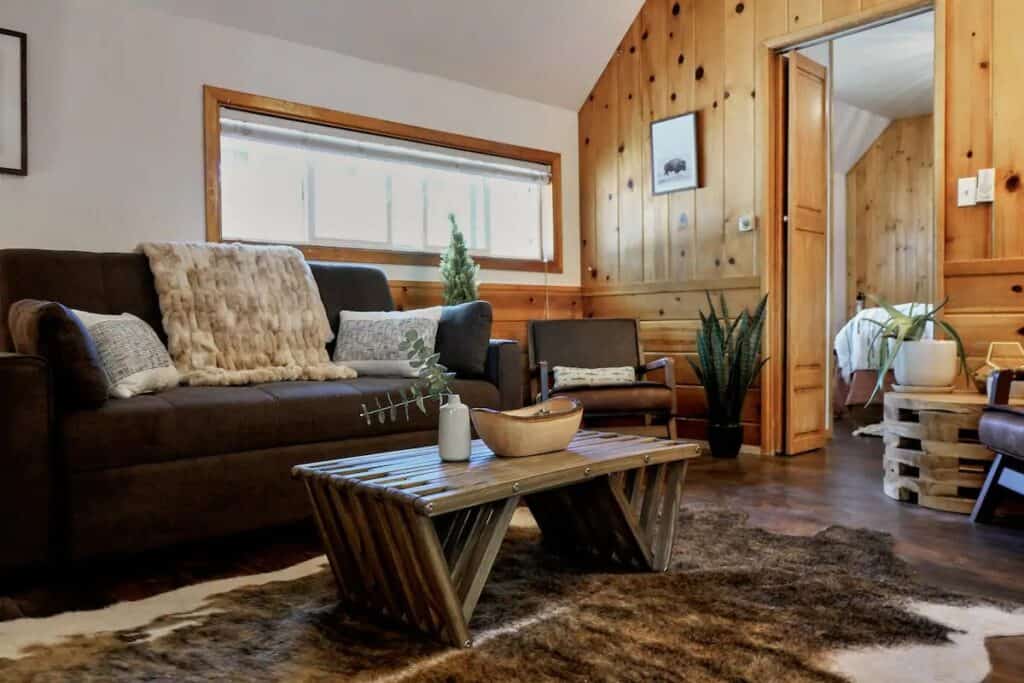 This house covers all the necessities and is close to all the action in June Lake to boot.
The interior design is rather simple, but effective – the bright wooden walls and the generally dark furnishings make for an eye-catching combination, along with the occasional pot and shrub.
Although this is classified as a boutique hotel, you will have access to your own private bathroom and cooking area, making it have basically the same feel as a cabin getaway, but with a little more support from the hosts.
On top of having a separate living and dining area, the house features large yard area and a patio with a barbecue grill for taking the party outside. You can walk to June Lake in a couple of minutes to run your errands, and take a 5-minute drive to get to Gull Lake and June Lake Ski resort.
A bit further away (still only 20 minutes by car) are Yosemite National Park and Mammoth Ski Resort. Overall, this is the perfect hub for outdoorsy guests who are into hiking, mountain climbing, swimming, and other activities.
>>>
Book this June Lake cabin on Expedia here
<<<
Past guests say:
"Close to Yosemite and right next to June Lake marina as well as a general store and breweries. Not really a cabin on a lake more small individual motel style. Grill and patio were fun and walking to swimming spots on Gull lake is about .5 miles."
Hidden Meadow Cabin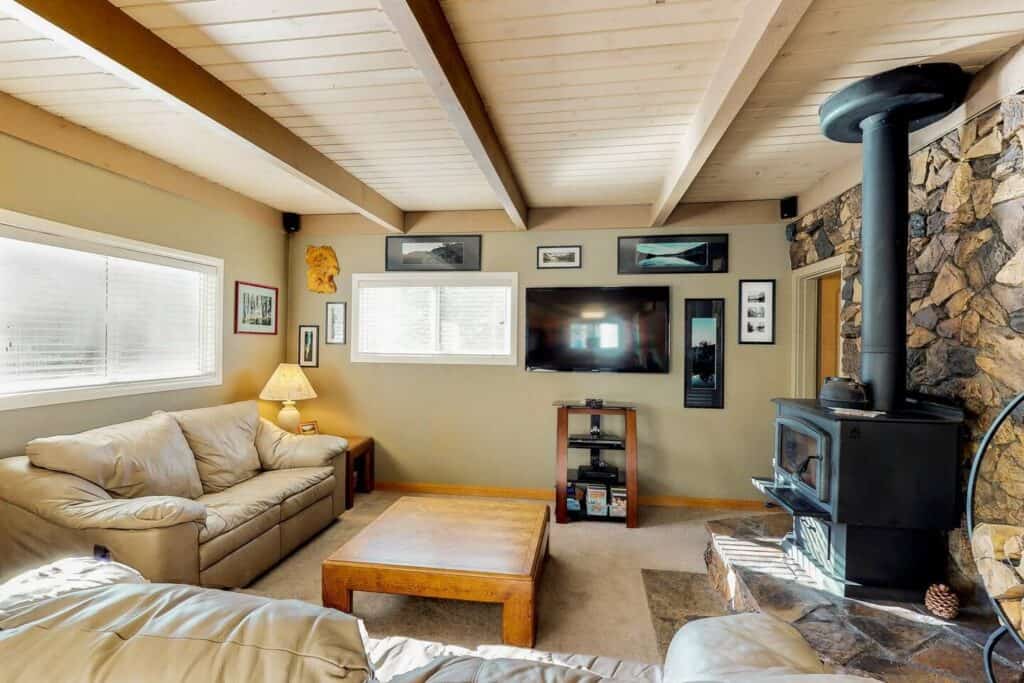 This cabin is a great pick for a larger group looking to connect with the great outdoors.
The interior's unique aesthetic and the inclusion of a stove make the cabin incredibly cozy and inviting, and the living room, dining area, and bedrooms all feel sufficiently spacious for a big group.
The rental is encircled by a large deck with a barbecue grill, which is a great place to prepare and eat lunch or just relax after a long day of outdoor activity.
Every place of interest in the June Lake area is very close – you can get to June Lake and Gull Lake on foot, and Clarks Canyon and Owens River Gorge aren't far either.
The best hiking option in the area is definitely one of California's crowning jewels, Yosemite National Park, with Ansel Adams Wilderness as a nice alternative.
June Mountain is great for wintertime activities, especially if your group has kids younger than 12, as they get to ski here for free!
>>>
Book this June Lake cabin on Booking
<<<
Guests say:
"Exactly how the pictures look like and the app makes it even easier to look around and get more info. Location is prime! Really close to the Marina and the local shops. Would definitely book this place again and make it an annual thing!"
Pin These Adorable June Lake Cabins & Airbnbs!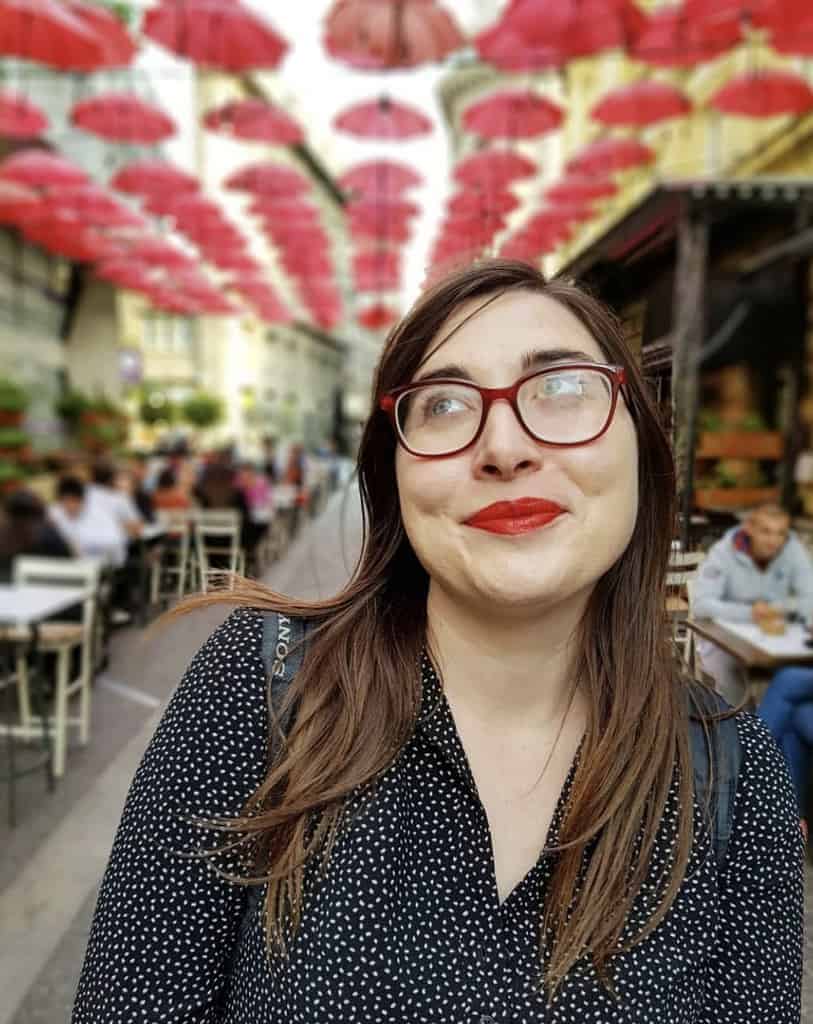 Allison Green is a travel blogger, writer, and podcaster who grew up in the Bay Area of California. She has spent time living in New York, Prague, and Sofia, but has returned to live in the East Bay. She has traveled to 60 countries before the age of 30 while running several digital travel publications. Her writing and podcast have been featured in Forbes, CBC Canada, National Geographic, the Huffington Post, and CNN Arabic, amongst others. She's obsessed with bouldering, houseplants, other people's pets, and anywhere she can see the ocean.