Trying to figure out where to stay in Death Valley?
It's a bit harder to decide where the best Death Valley accommodations are than you'd think.
For one, the park is the largest national park in all of the United States: that's a whole lot of space to spread out! So if you're only spending 2 days in Death Valley, location really matters.
For another, the accommodation inside the park is rather limited and quite expensive. If you landed on this page, you're probably curious about Death Valley Airbnbs… so the first thing to get straight is that you're not going to be able to stay in an Airbnb inside the park… but you can get quite close!
This Death Valley Airbnb guide focuses on 3 hubs: Pahrump, NV; Tecopa, CA; and Shoshone, CA.
Pahrump is the largest with the most options and also the cheapest, but it is the furthest away. Tecopa is the best combination of close to the park yet with plenty to do. Meanwhile, Shoshonei. sbasically at the park's front door, but it's a bit of a dead town.
My personal preference is Tecopa, but take a look through all these Airbnbs near Death Valley National Park to pick the best one for you!
Death Valley Airbnbs in Pahrump
Pahrump is located on the Nevada side of the California-Nevada border. It is not particularly close to Death Valley National Park, but it is a great stop-over for people en route between Las Vegas and Los Angeles and making a stop in the park.
If you want Mojave desert skies, budget Airbnb prices, and don't mind scenic drives into Death Valley National Park proper, Pahrump is the best choice.
It's 35 minutes' drive from Pahrump to Death Valley Junction, and another 30 minutes (so about an hour) to Furnace Creek.
However, if you value close park access, I recommend Tecopa or Shoshone.
The Peacock

NOTE: ALL PHOTOS ARE PROVIDED BY AIRBNB
Note: This post contains affiliate links, which earn me a small commission at no extra cost to you if you make a purchase using one of these links. Thank you for supporting this free content!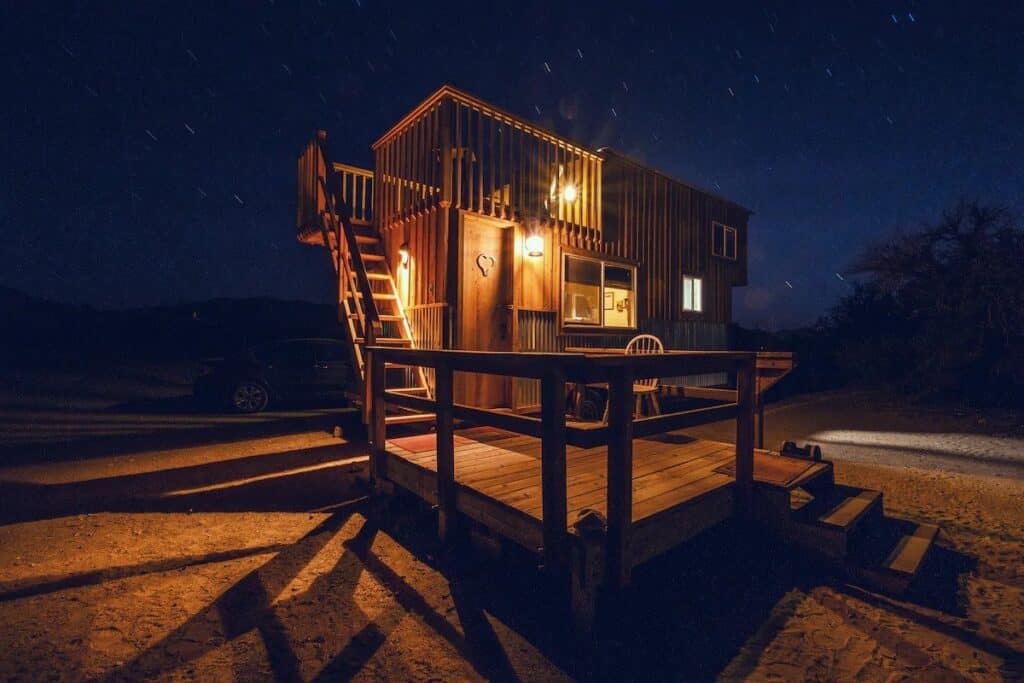 • 3 guests
• 1 bedroom (2 beds)
• Check here on Airbnb for details

This beautiful, pet-friendly house blends in perfectly with the desert ambient of the Mojave Desert thanks to its simple wooden design and brightly colored interior.
Despite its tiny size, the house manages to pull off a two-floor design on top of having a patio on the roof – this is an amazing place to enjoy your morning coffee or stargaze at night.
Aside from the second-floor bedroom, the house includes a kitchen & dining area with a great window view, as well as a bathroom with warm water access.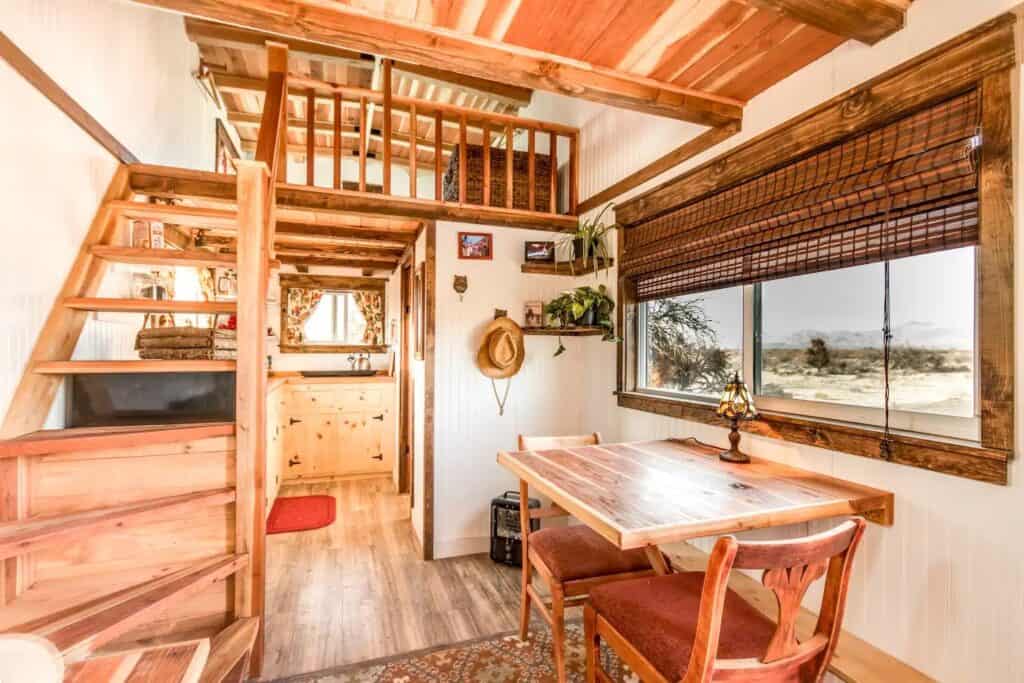 If you don't feel like cooking, you can talk to the host of the neighboring ranch house and enjoy 3 meals a day there – you can also book yourself a horse here and explore the desert the old-fashioned way.
The Peacock is located in Sandy Valley, an hour's drive from Las Vegas and around two from Death Valley.
This isn't necessarily the best Airbnb if you want to stay close to the park, but it's a great Death Valley Airbnb if you're planning a road trip between Las Vegas and Los Angeles and want a place to stay on the way. Other places in the area worth checking out are Goodsprings and Tecopa Hot Springs.
>>>
Book this Death Valley area Airbnb
<<<
Past guests say:
Such a cozy and fun experience. We also did horseback riding on the ranch the next day. What a memorable weekend. Definitely recommend staying here.
Cindy's Tiny House

• 5 guests
• 2 bedrooms (3 beds)
• Check here on Airbnb for more details

This charming little house is bound to evoke feelings of home with its cozy, unpretentious design and inviting atmosphere.
The interior of the house is beautifully lit, featuring plenty of windows, and the kitchen, living area, and bathroom come equipped with just about everything you'd expect to see.
To take in the wonderful desert ambience, you can sit outside on the spacious back patio or pace along the vegetable garden – these places are particularly relaxing at night, as you can get a clean, unobstructed view of the starry sky from here.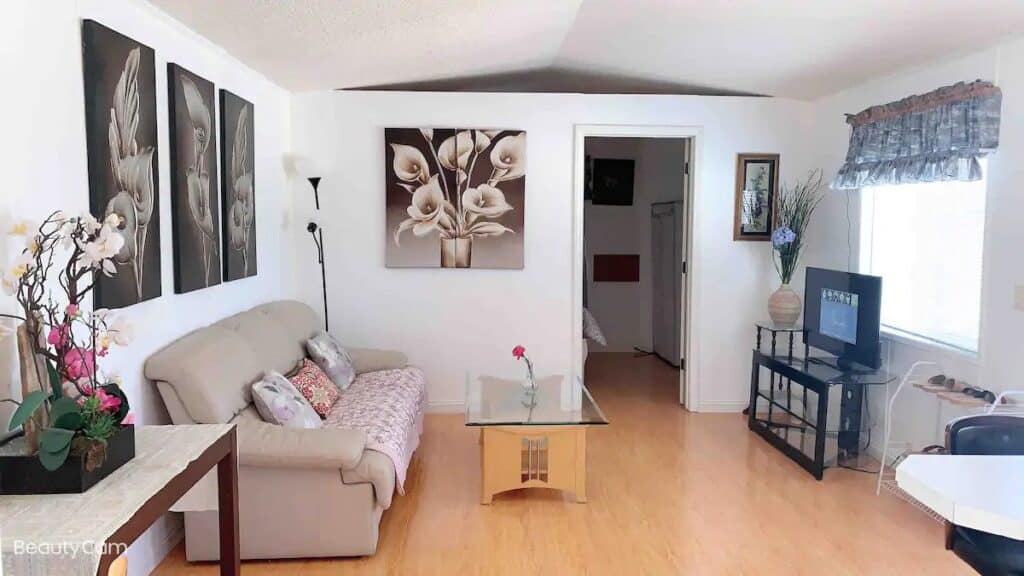 Located in the town of Pahrump, the house is only a short drive from several stores, restaurants, casinos, and even a golf course.
What's more, it's less than 30 minutes from Death Valley National Park Junction by car, making this the perfect base of operations if you plan on exploring the national park.
Be sure to check out the town's iconic wineries too!

>>>
Book this Airbnb near Death Valley here
<<<
Past guests say:
"Leon's place is sparkling clean! The beds are really comfortable and we loved how nice and soft the sheets are. The a/c works great. Leon responds quickly and is a great host. Love the place, very quiet and property is spacious."

Sun Cabin #1
• 3 guests
• Studio (2 beds)
• Check this Airbnb's details here

The Sun Cabin is the perfect romantic retreat for a couple looking to immerse themselves in the Nevada deserts.
The small studio contains everything you need, including comfortable bedding and an air conditioner to battle the Nevada heat.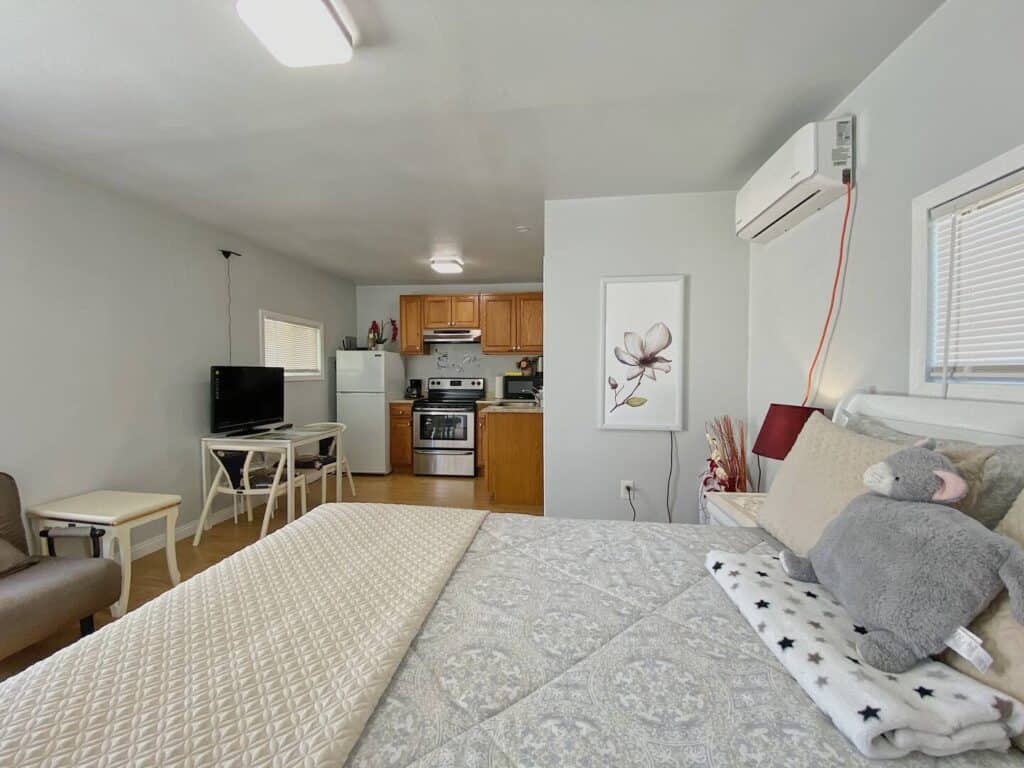 With that said, the real selling point here is the amazing patio – boasting a great view of the Nevada mountains off in the distance, this is the perfect place to crack open a bottle of wine, enjoy a delicious meal together, and soak in the view no matter the time of day.
The house is in Pahrump, meaning you can drive to Death Valley National Park in just over 45 minutes and to Las Vegas in a bit over an hour. The town is very peaceful, so you can expect your stay to be very quiet and serene.
Also, the rural environment is much easier on the wallet than staying at Vegas could ever be!

>>>
Book this Airbnb near Death Valley here!
<<<
Past guests say:
"The place I as exactly what I was expecting. Calm and quiet. Would definitely go again. The host is really responsible."
Goldfish Pond Guesthouse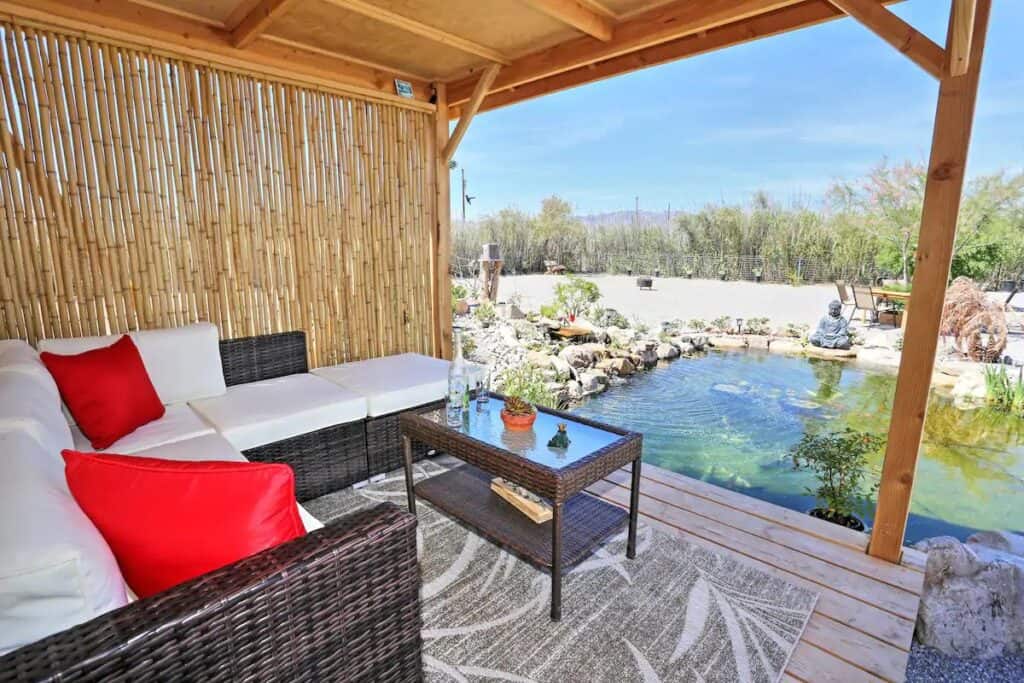 • 2 guests
• Studio (1 bed)
• Check details and prices on Airbnb

If you want to explore a number of Nevada's landmarks of interest but want to forget you're in the desert while resting, this is the place for you.
The interior is very stylishly put together without being too extravagant – nothing feels out of place, and there's plenty of room for two people to move around.
The crowning jewel of the property, however, is the gorgeous Koi fish pool located outside, as well as the backyard and cabana from which to relax and enjoy the view.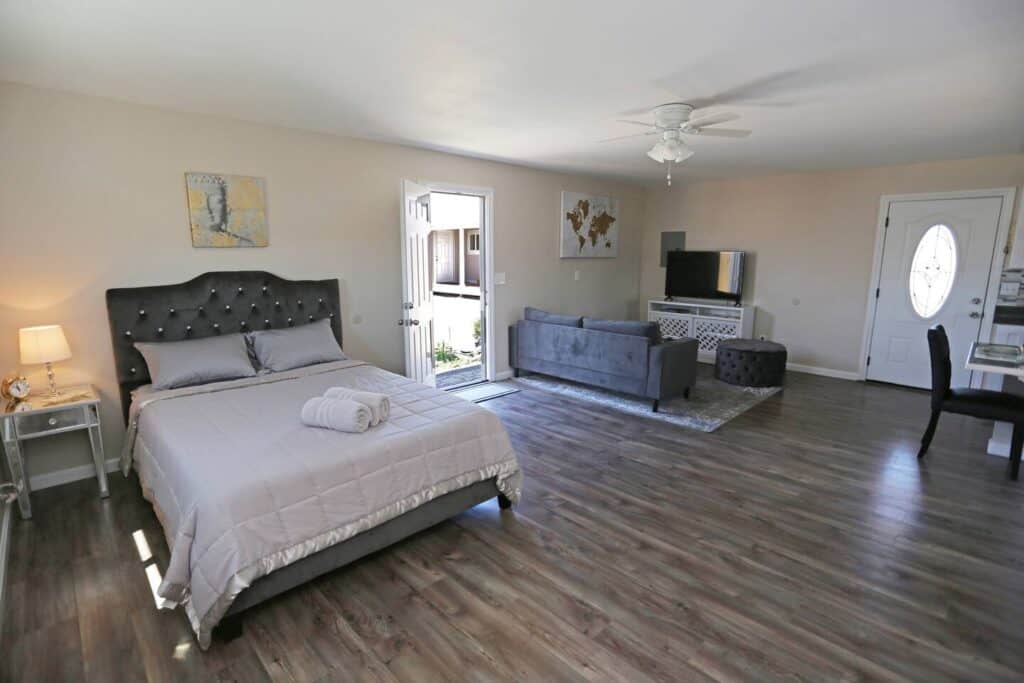 Combined with the abundance of flora surrounding the property, these features will make your desert stay feel a lot less arid.
A 15-minute drive from the Pahrump Town Center (which in turn means a 15-minute drive from just about everything you need in town), and only 50 or so miles from Death Valley National Park, this affordable rental is the perfect place to call home after a long day of exploring the desert.
If you ever need a change of scenery, just drive for an hour to Las Vegas and make a night of it!
>>>
Book this Airbnb near Death Valley
<<<
Past guests say:
"This place is amazing!! Bianca is a very gracious and responsive host, and the amount of care she has put into this outstanding place is obvious. I'd book it again with zero hesitation."
Sun Tiny House D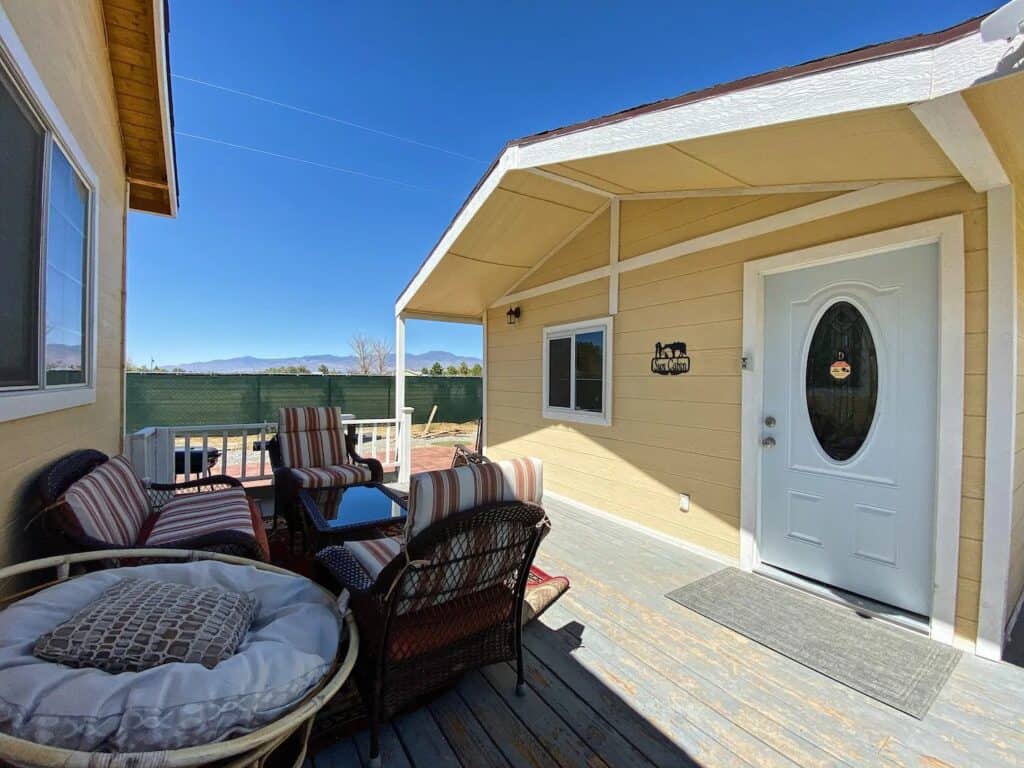 • 3 guests
• Studio (1 bed)
• Check details and prices on Airbnb

After a long day of exploration, all you really need is a comfortable bed and a nice view to wake up to.
The Sun Tiny House has you covered – with an interior that ticks all the basic boxes and a spacious patio for reading or enjoying your morning coffee, you couldn't ask for anything more.
Still, this house delivers with charming little details like an outdoor swing and a putt-putt course just outside.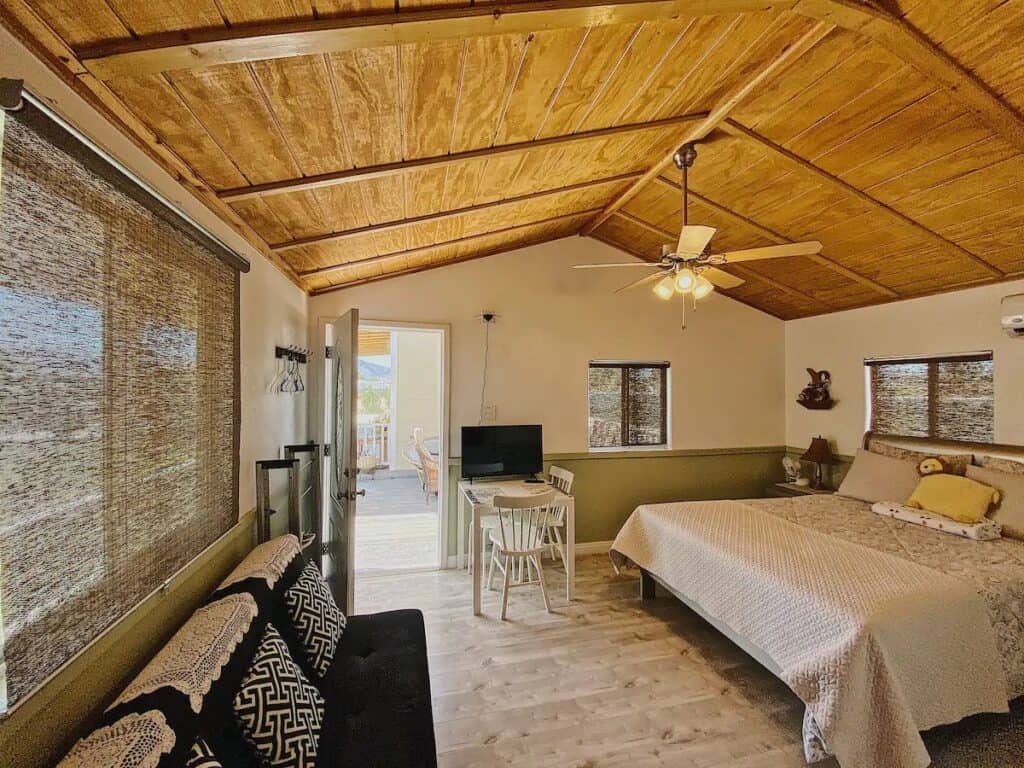 What's more, the flower and vegetable garden goes a long way in adding some color to your stay in the desert.
This house is the perfect pick for travelers in the market for a thriftier trip experience – it's located in the small town of Pahrump, so everything is nearby and affordable.

Death Valley National Park and Las Vegas are only about an hour away each, and the quick access to a number of highways makes Pahrump the perfect thoroughfare during your travels across the Mojave Desert!

>>>
Book this Airbnb near Death Valley!
<<<
Past guests say:
"Has everything you need and a swing as well!! This place was perfect for my quick weekend trip to Death Valley. About an hour to the entrance but very simple directions. Nice patio set up and comfy bed to unwind at the end of a long day."
Luxurious Private Casita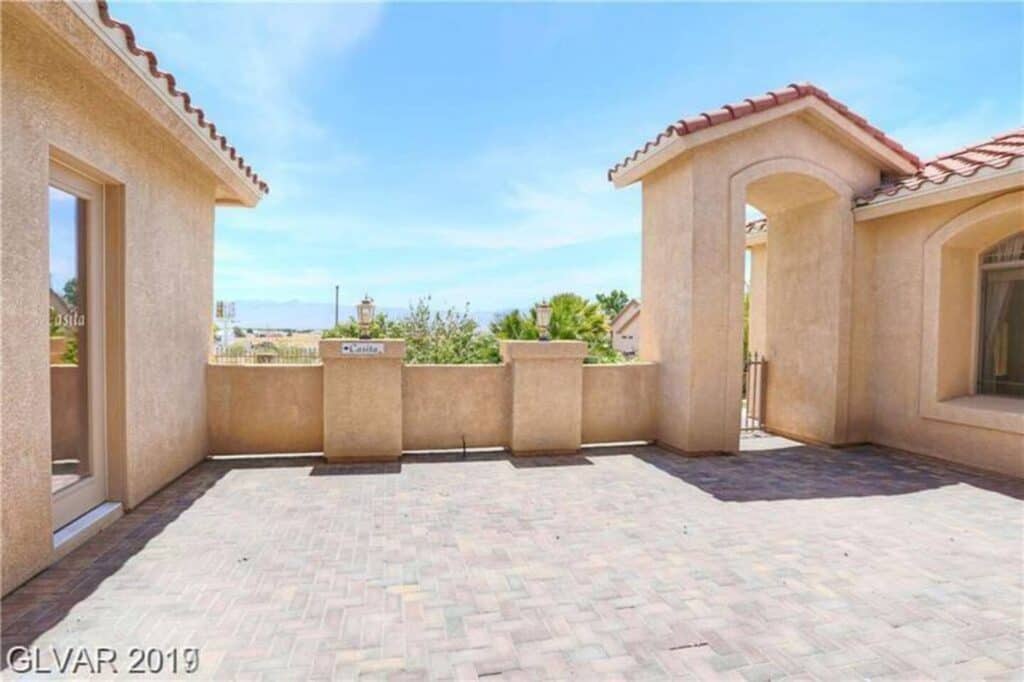 • 2 guests
• 1 bedroom (1 bed)
• Check prices and details on Airbnb

If you're looking for a rental that provides you with easy access to all the Mojave Desert highlights while still remaining relatively cheap, this charming casita is for you.
On top of your own private bedroom and bathroom, you'll have access to a community game room with a pool table, as well as a barbecue grill to heat up those already-hot Nevada afternoons.
If you'd like to keep cool, the covered patio offers a great view and is mostly shaded. Your pets are also welcome here, and they'll definitely appreciate all the space in the courtyard and back yard (which features its own host of outdoor games).

If you lead an adventurous nightlife, Pahrump's casinos are only 5 minutes away by car. Las Vegas and Death Valley National Park are obviously must-sees, and it only takes about an hour to get to each of them by car.
For something more local, check out the Pahrump Valley Winery and see if anything strikes your fancy.
>>>
Book this Death Valley Airbnb here
<<<
Past guests say:
"Could not recommend this place enough. Chris was thoughtful and an amazing host. Place was clean and comfortable."

Best Death Valley Airbnbs in Tecopa
The best thing about Tecopa is location, location, location…. and also hot springs.
There are countless hot springs in the Tecopa area, from natural ones to private. use ones, including some hot springs located in these Death Valley Airbnbs! Others include day passes to private hot spring facilities in town.
Tecopa itself is a cool town, with a brewery and lots of fun things to do while in town, making it a great base camp for those who want to stay close to the park yet want a little excitement.
Bottle Cottage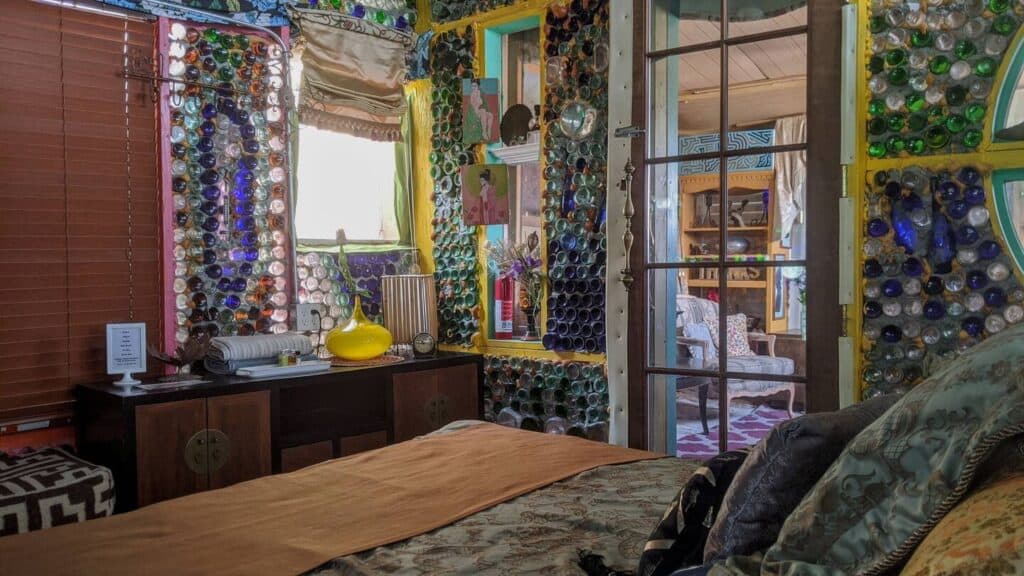 • 4 guests
• 1 bedroom (3 beds)
• Check price and details on Airbnb

This one-of-a-kind cottage takes the concept of bottle building and actually makes it work – the end result is a comfortable rental with some incredibly unique aesthetic choices.
Defying all your major design sensibilities, the interior is so retro it makes its way back around to being hip, and the paintings and "bottle windows" combine into a kaleidoscope of mesmerizing colors.
The outdoor segment is also partially enclosed, providing protection from the harsh sunlight on hotter days.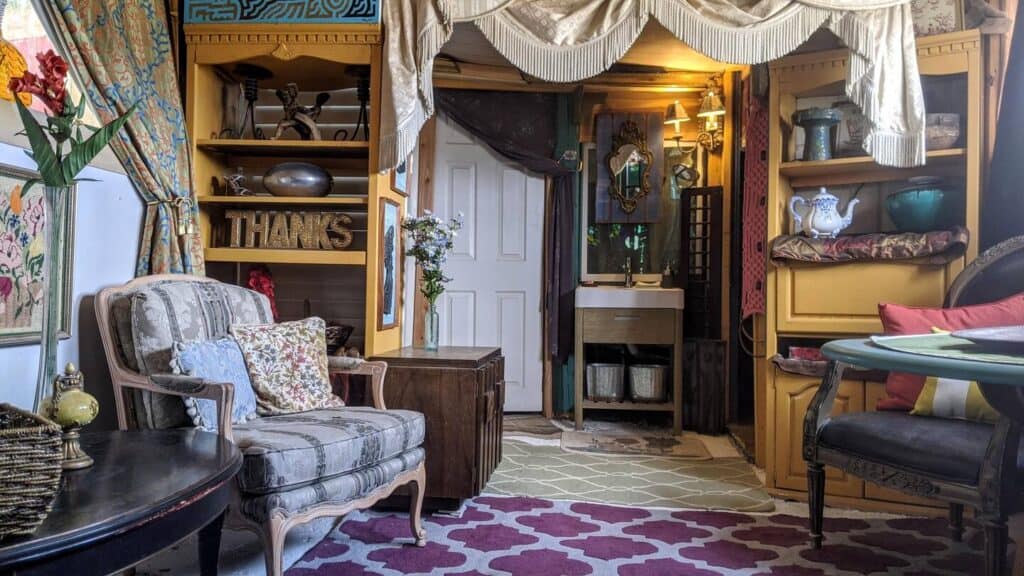 Offering a great view of the Amargosa Valley, staying at the Bottle Cottage is the quintessential desert experience.
Although you definitely need a car to go exploring or run errands, the upside is that just staying at the cottage or exploring the immediate surroundings is an adventure in and of itself.
At any rate, you're only a short drive from some amazing hot springs, and Death Valley National Park is just over an hour away.
>>>
Book this Death Valley Airbnb here
<<<
Past guests say:
"I'd recommend everyone to come stay here!!! The location and the art is one of a kind. So many things nearby to check out around the location too. Thank you again Carlos and Jack!"

Creamcicle "Cottage" Camper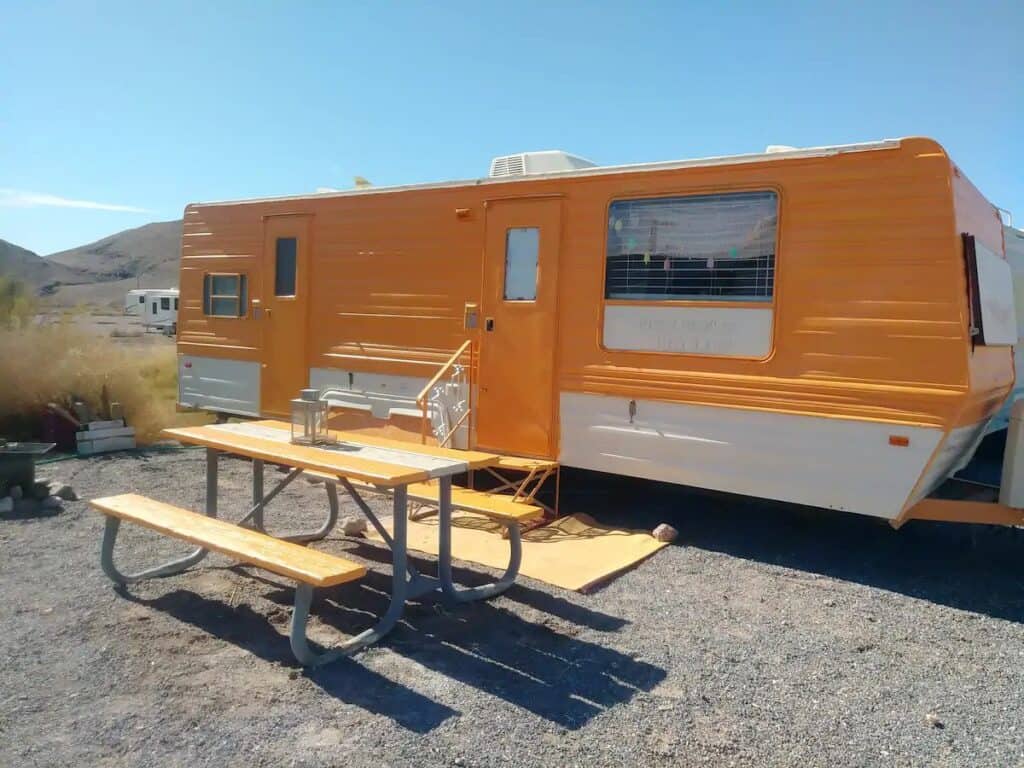 • 3 guests
• 1 bedroom (2 beds)
• Check out prices and details on Airbnb

This camper is a great pick if you're looking for minimalistic, affordable accommodation with beautiful surroundings.
With a comfortable bet, a small kitchen, and an outdoor seating area, you should be more than set – you won't be spending much time at the camper to begin with, given all the exploring you'll be doing.
The Creamcicle is part of a larger campground, so you'll also have access to the communal hot showers as well as hot springs (though it also has a shower of its own).
If it gets cold, you can huddle around the ring at night, and you can also rent a bike over at the hot springs kiosk to make your desert journey a bit easier.
The camper is located in Tecopa, and thanks to the campground, it offers the perfect mix of remoteness and connectivity.
It takes about an hour to drive to Death Valley National Park, and other places to visit include Ashmeadow Preserve, the Dumont Sand Dunes, The China Date Ranch, and many more.
>>>
Book this Death Valley Airbnb here
<<<
Past guests say:

"Perfect cozy little spot! Check-in was super easy, and they even turned on the AC in the RV ahead of my arrival. I loved the hot springs pools (yes even though it was 100+ degrees out!) at the campground. The RV was well supplied with kitchenware and they even have a cupboard full of snacks available for $2 on an honor system. Definitely enjoyed my stay!"

Cowgirls Ranch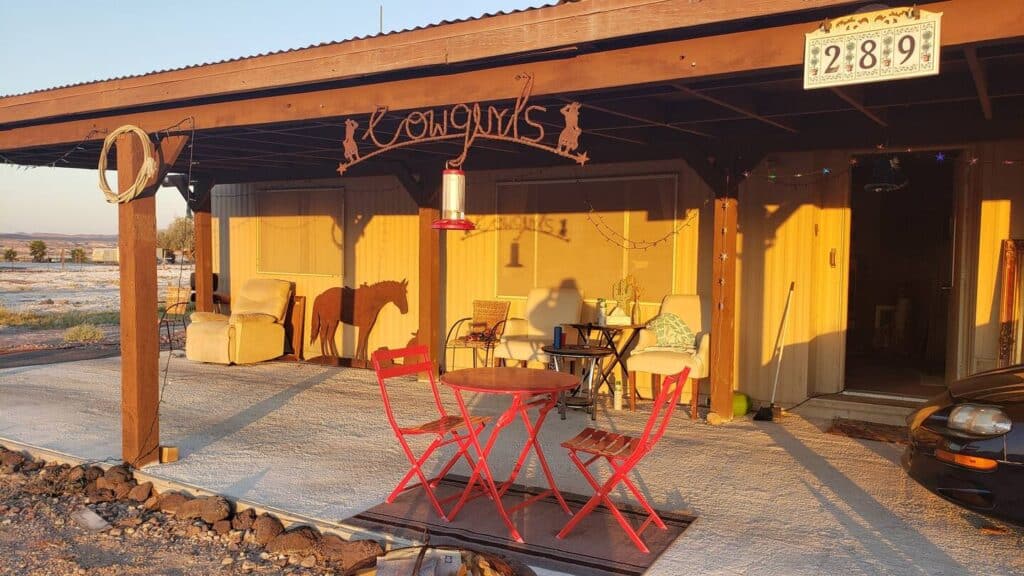 • 6 guests
• 3 bedrooms (4 beds)
• Check prices and details on Airbnb

The Cowgirls Ranch is truly unlike any rental in the Tecopa area.
Sunrises, sunsets, and starry skies are beautiful at the Ranch, and are best enjoyed from the comfort of the patio seating with a good book or a cup of coffee.
The house itself is very spacious, full of character, and constantly bright thanks to all the windows, but that's not all – mere steps from your room, you'll have access to your own private hot pool, rich in magnesium.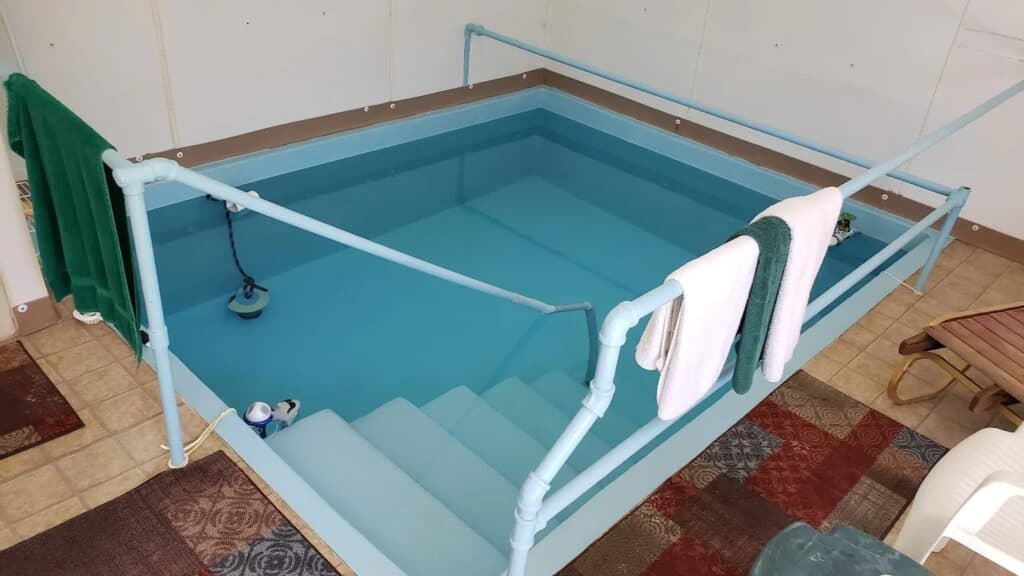 As the ranch can accommodate up to 6 people, larger groups of visitors will appreciate the access to 3 separate bathrooms.
The main perk of staying at a Tecopa Airbnb is all the quiet and privacy, and the Cowgirls Ranch is no exception.
Located a few miles from Death Valley and very close to the Tecopa Brewery, China Ranch, a great restaurant, and various trails, the Cowgirls Ranch is a strong contender for the best Airbnb in the entire Death Valley area.
>>>
Book this Death Valley Airbnb here
<<<
Past guests say:
"We spend a great time in Barry's place. The host was very responsive and explained everything clearly with little tip note in the house. The pool was fantastic and we were able to spent very relaxing and comfort 2 night there! Definitely a recommended place for people who want a relaxing trip!"

The "Hippie" Hut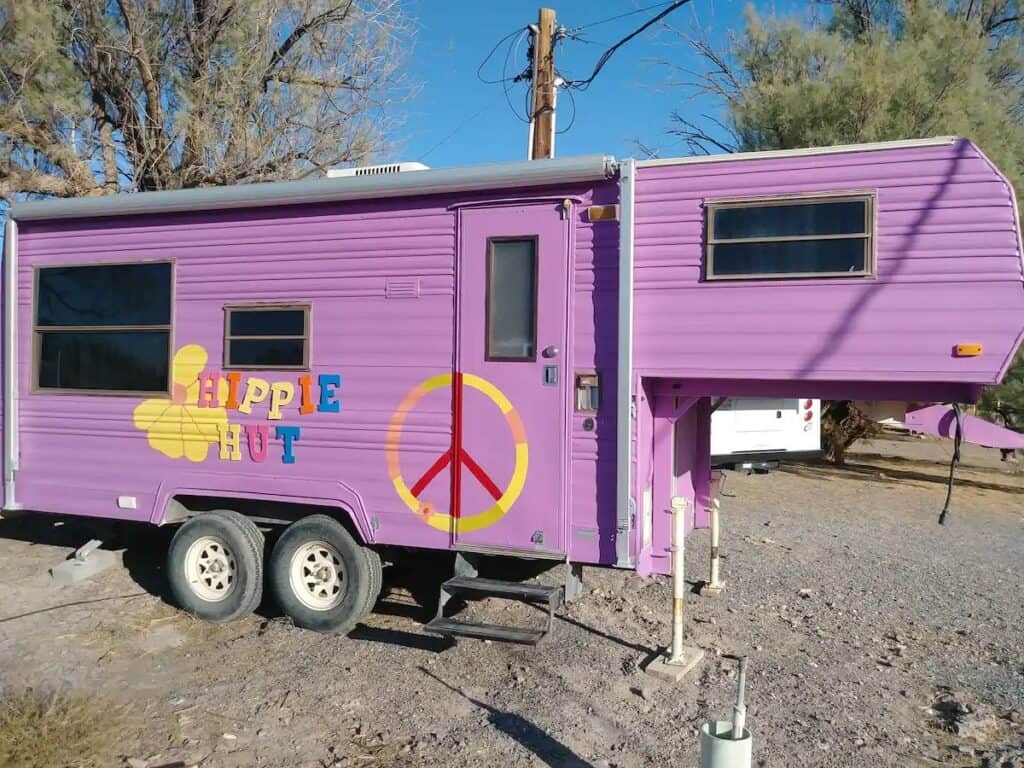 • 6 guests
• 1 bedroom (1 bed)
• Check prices and details on Airbnb

This blast-from-the-past camper will have you embracing the hippie lifestyle through and through – the interior features what you'd expect a camper to feature, plus a small rainbow-colored vinyl player, shag carpet, and drapery reminiscent of the psychedelic period
You can sit around the fire ring outside if it gets chilly, and there's a hot spring just across the street where you can take advantage of the unlimited hot water showers.
With barely any reception and internet service to be found, this is very much an off-grid experience in a lot of ways.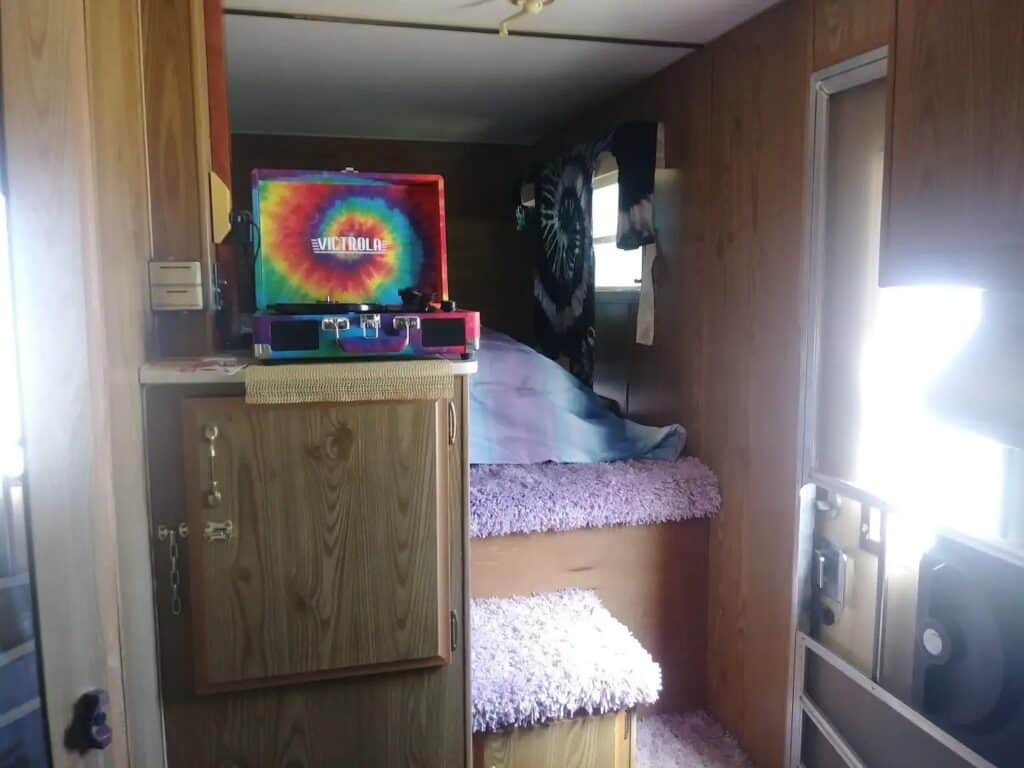 With only a couple of restaurants and little else in the Tecopa area, you'll be greatly incentivized to get out and explore.
Death Valley is a short drive away, so those looking to explore the national park without having to pay for a luxury oasis resort will appreciate what the Hippie Hut brings to the table.
To help you get around, the campsite rents out electric bikes for your convenience.
>>>
Book this Death Valley Airbnb here
<<<
Past guests say:
"The Hippie Hut was so groovy! I loved the spot. Sharon's special touches made it such a unique experience. I loved all of the positive sayings and affirmations, the tie dye, and especially the record player with hits from the 60s (The Isley Brothers are one of my favs!). The location was quiet and serene with great views and the Hot Springs were so relaxing! Highly recommend!"

Grand Design Trailer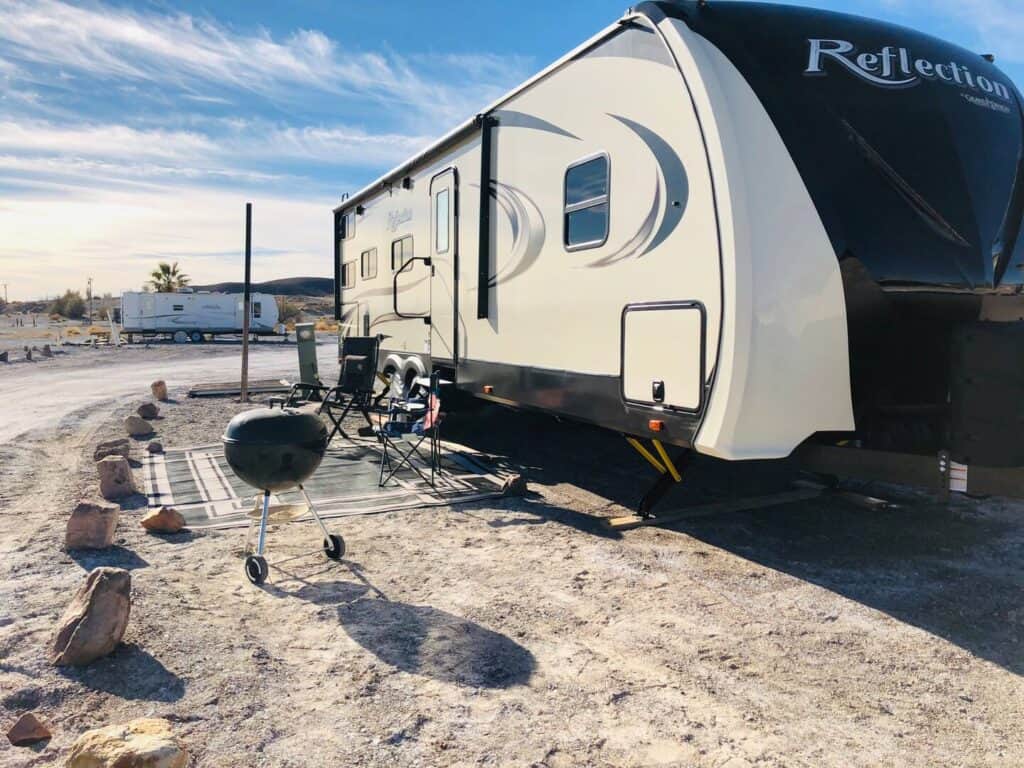 • 2 guests
• 1 bedroom
• Check prices and details on Airbnb

With an impressive interior and an amazing view of the Tecopa desert terrain, this is one of the best Airbnbs in Death Valley, hands down.
The predominantly wooden design is simple, yet elegant, and it perfectly matches the arid tone of the exterior.
Sitting just outside the trailer, you'll see a vast expanse of desert from all directions with mountains off in the distance, to start your day off on a high note.
Booking this rental also grants you access to Delight's Hot Springs Resort which is right next door.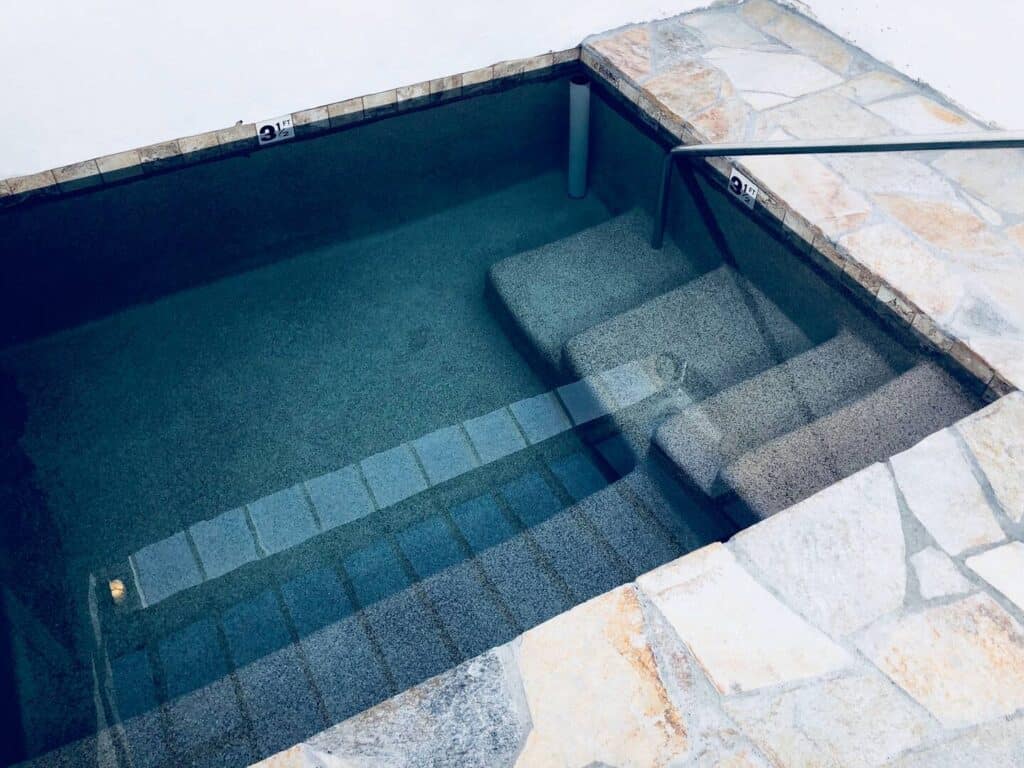 A five-mile drive separates you from Death Valley NP's entrance, which will likely be the highlight of your trip. Although you'll generally need a motorized vehicle to get around from here, various Tecopa staples such as the Brewing Company, library, and several hiking trails are all within walking distance.
If you want to fill up on gas, you can drive to the nearby Shoshone and continue your adventure from there.
>>>
Book this Death Valley Airbnb here
<<<
Past guests say:
"This place is so amazing I almost didn't want to review it and risk the rest of you booking it!"

Tecopa Sunrise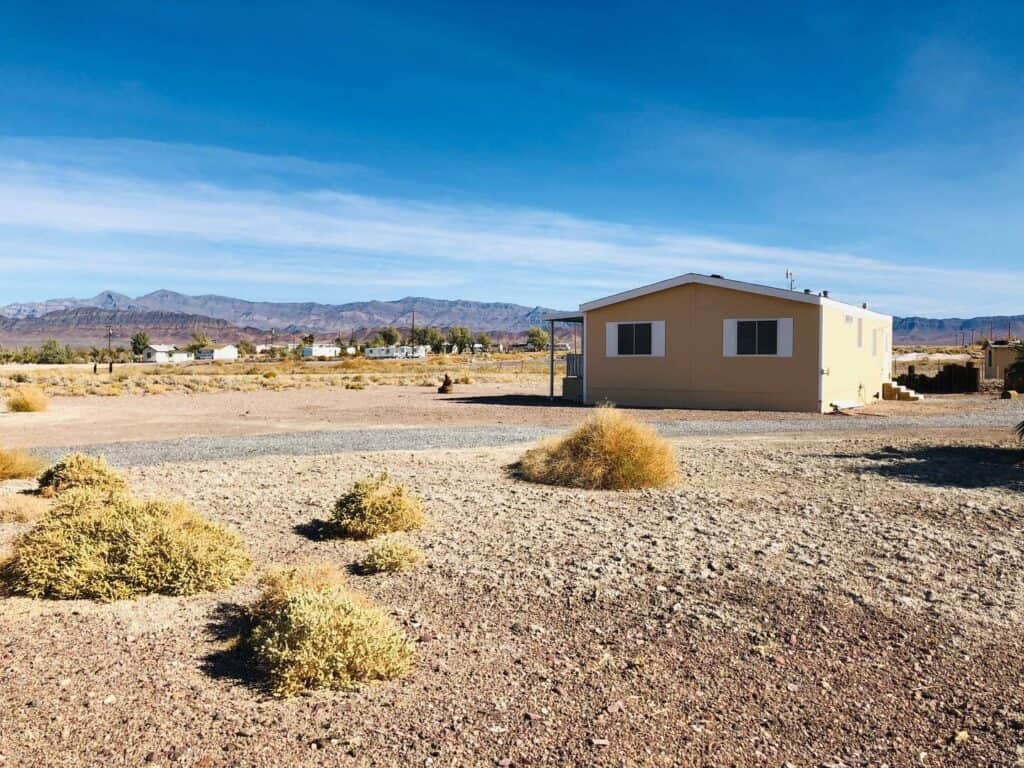 • 6 guests (8 with air mattress)
• 3 bedrooms (3 beds)
• Check prices and details on Airbnb

When it comes to providing comfort and great connectivity to landmarks of interest, Tecopa Sunrise certainly delivers.
The house itself is very homey and the beds large and fluffy, but what really stands out about this house is- its proximity to Delight's Hot Springs Resort.
Guests will get a pass to relax in the heated, mineralized water after a long day of driving across the Mojave Desert.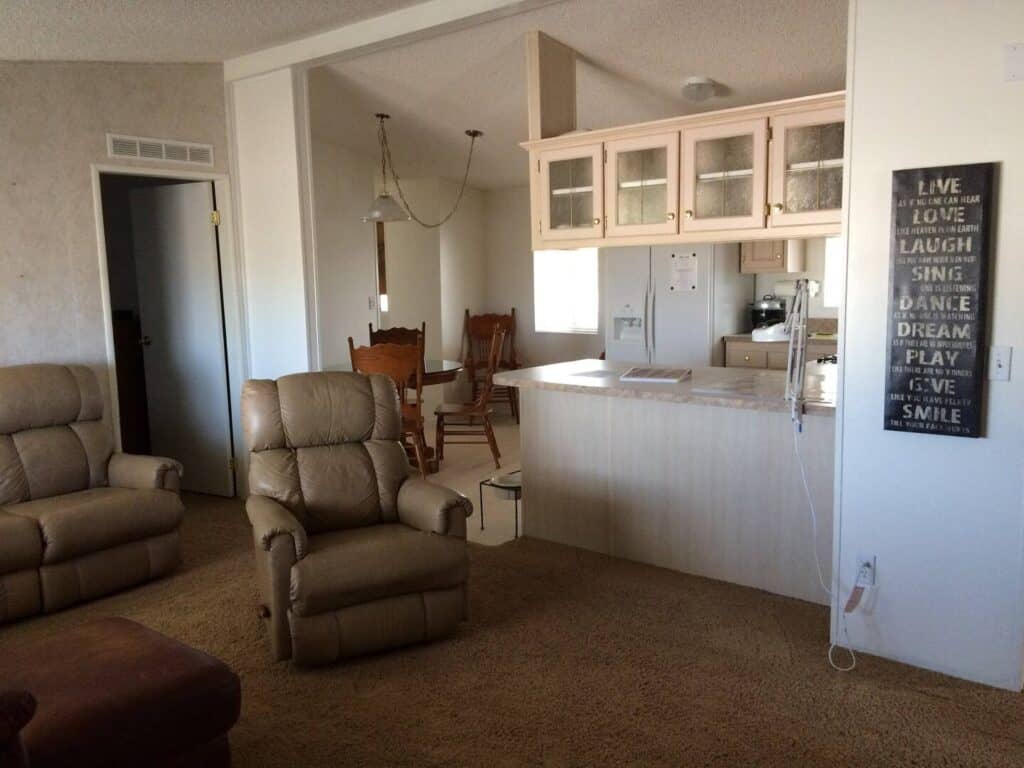 The lack of cell phone service oddly works to the house's advantage, as it gives you the opportunity to toss the phone for a few days and focus on taking in the incredible scenery.
The house is mere miles away from Death Valley and not far from the Tecopa Brewing Company, but you should consider prepackaging some food because the town is a bit barren in the shopping department.
This is a worthwhile tradeoff though, as you'll be close to Mojave's key landmarks and will have VIP access to an otherwise pricey hot springs service.
>>>
Book this Death Valley Airbnb here
<<<
Past guests say:
"A very comfortable spot with amazing desert views. The hot springs are incredible, Courtney provided so much useful information for visitors unfamiliar with the area. I would definitely recommend staying here if you're visiting Death Valley!"

Remodeled Cabin

• 4 guests
• 1 bedroom (2 beds)
• Check prices and details on Airbnb

This charming little miner's-cabin-turned-rental is a great place to stay in the Tecopa region.
With its spacious and well-illuminated interior, the interior has everything you need for a comfortable stay, and it also throws in a telescope for good measure, to let you experience the starry desert skies like never before.
Although the bathroom doesn't feature a shower, you'll receive a pass to Delight's Hot Springs Resort and you'll be able to relax in the Artesan Hot Springs.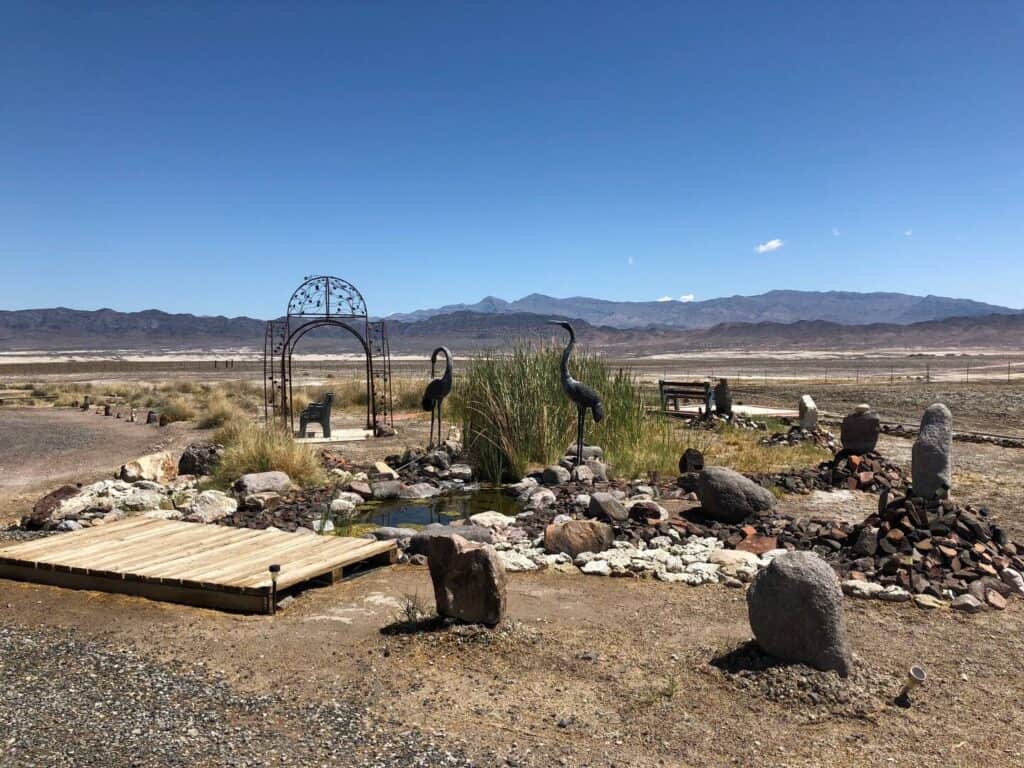 Another spot of interest would be the nearby tiny pond with a sitting area and stone animal statuettes – the view of the mountains off in the distance is incredible from here.
The location is ideal for exploration, as it's only 5 or so miles from Death Valley National Park, on top of being close to the few locales available in Tecopa.
If you'd like to stay someplace quiet and disconnect from the world for a while, you'd be hard-pressed to find a more serene option.
>>>
Book this Death Valley Airbnb here
<<<
Past guests say:
"Courtney's place was a perfect weekend getaway! While I originally booked it due to its proximity to Death Valley, exploring Tecopa and Tecopa Hot Springs was a main highlight of the weekend. The locals are extremely friendly and some of the best BBQ I've ever had is right next door to the cabin at Tecopa Brewing Company. If you're looking for a place near Death Valley, or even a place for a desert escape, book this cabin! I can't recommend it enough."
Best Death Valley Airbnbs in Shoshone
Shoshone is as close as it gets to where to stay in Death Valley: it's pretty much right outside the entrance!
For that reason, it makes it a popular place for Death Valley Airbnbs; however, Shoshone is small — basically an RV park and a few scattered houses in this town of 31 people!
If you prefer a little more liveliness, I'd suggest Tecopa – it's just a few more minutes away, so it's still convenient, but there's more going on there. However, if you just want proximity to the park and peace and quiet, Shoshone is your place!

Dutch's Retreat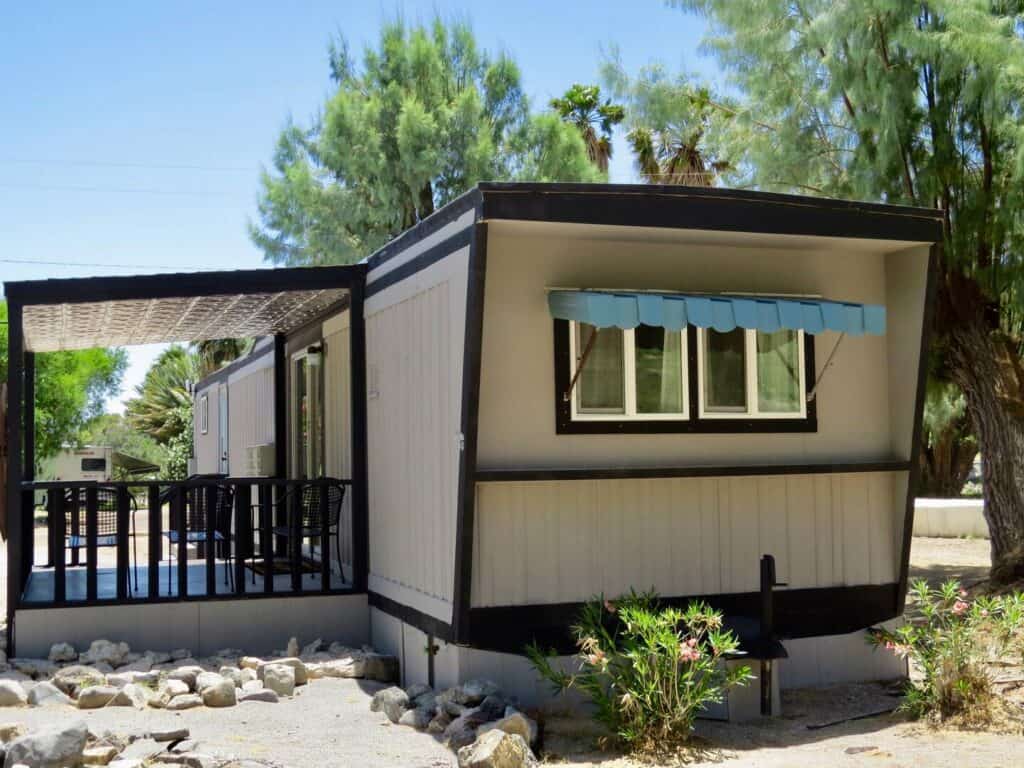 • 4 guests
• 2 bedrooms (1 bed)
• Check prices and details on Airbnb

Dutch's Retreat is perfectly suited for a family looking to go on a desert vacation.
With its open interior and smart furniture placement, you and your children can easily get around in this deceptively spacious house.
Outside, you can enjoy the beautiful combination of grassy greens and sandy greys as you relax on the patio.
Topping everything off is the large pond that makes the RV park feel like a genuine oasis in the middle of a desert, as well as all the tree-laden walkways.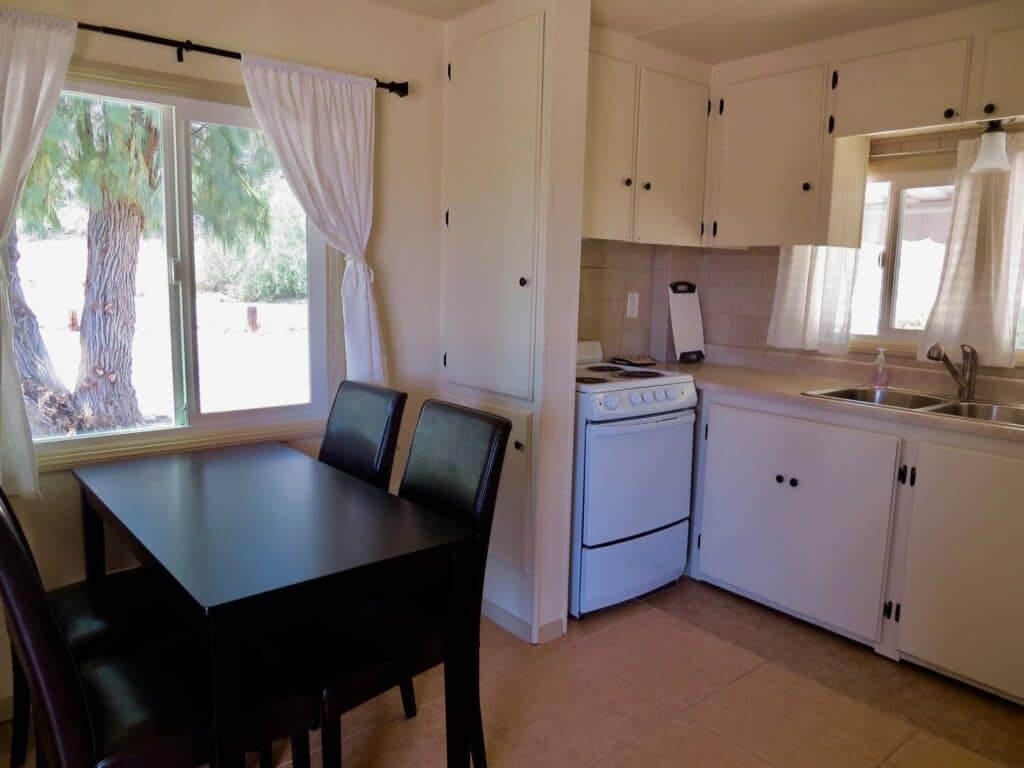 The south entrance to Death Valley National Park is only a mile away from your Shoshone retreat. You'll be able to run basic errands without a problem, and you can learn plenty about the history of the area at the Shoshone Museum.
Larger shops are a little harder to come by, but that adds to the experience – you're highly incentivized to go exploring and drive as far as the eye can see.
>>>
Book this Death Valley Airbnb here
<<<
Past guests say:
"Very generous hosts, and the RV is nice and spacious. The A/C works great! The local town is charming and it is on the the main road into and through Death Valley so it is impossible to get lost! Would definitely return."

Mojave Bunkhouse

• 8-10 guests (ask about cots)
• 2 bedrooms (4 beds)
• Check prices and details on Airbnb

Located in a scenic RV park, this rental is an amazing pick for a large group that wants to visit Death Valley in an Airbnb.
Aside from a large interior that can fit and sleep nearly half a dozen people, it's the RV park itself that's the main draw.
Featuring a large spring pool and lush greenery while still maintaining that Mojave Desert feel, the experience of staying here is one you won't soon forget. Follow one of several trails along the pond and see the endangered Shoshone Pupfish and Amargosa Vole.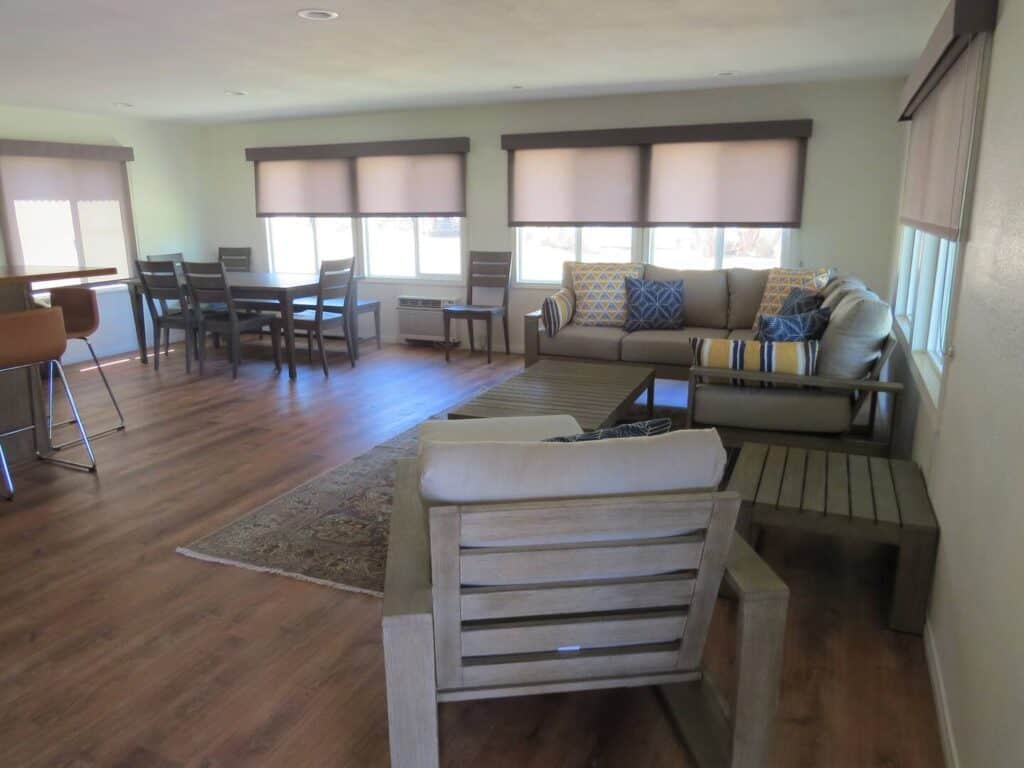 Besides being only a mile from the entrance of Death Valley National Park, you can learn plenty about the history of Shoshone and the Valley at the nearby museum.
The only catch is, you can't exactly go out on a whim and just walk to a well-stocked grocery store – you'll need a car to get to most places, whether due to heat, distance, or both.
At any rate, with so much to see and do in the area, you won't mind the extra miles one bit!
>>>
Book this Death Valley Airbnb here
<<<
Past guests say:
"Me and my family of 8 had a great time at Susan's house, the house was clean with all the amenities. We had a wifi issue on day one, but that too was sorted the next day. They have extra roll away beds which was very helpful. I would definitely recommend this place to my friends and family."
Pin This Death Valley Airbnb Guide!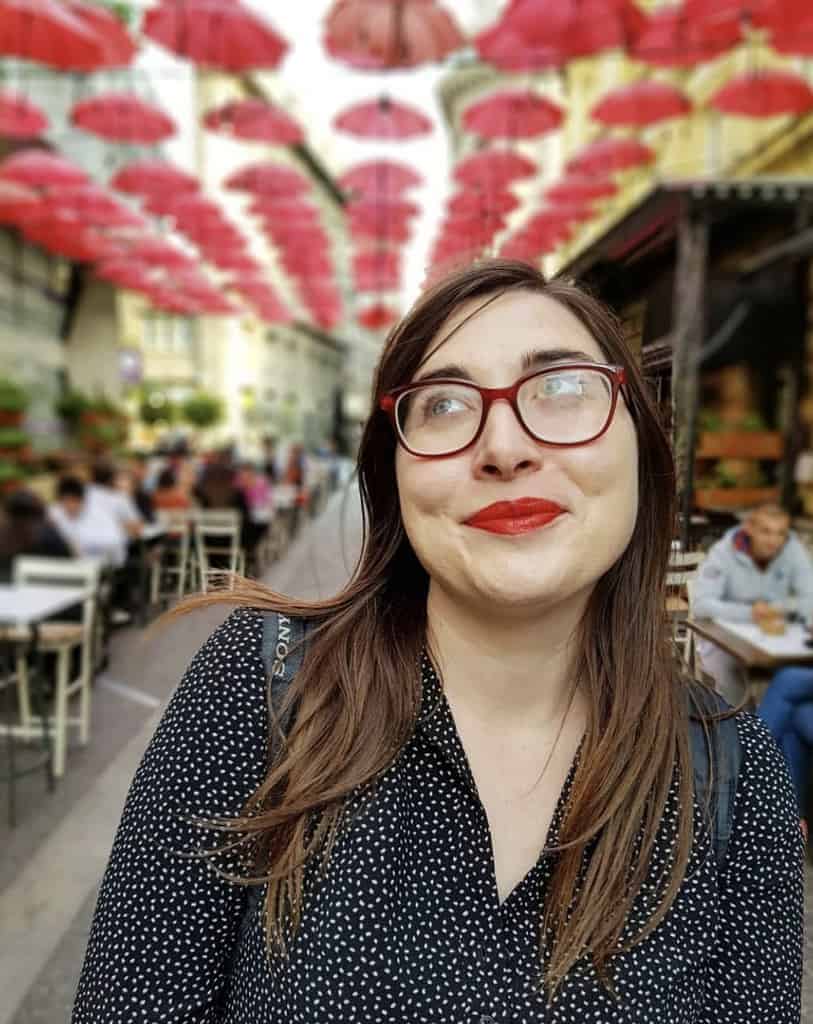 Allison Green is a travel blogger, writer, and podcaster who grew up in the Bay Area of California. She has spent time living in New York, Prague, and Sofia, where she currently calls home in between visits to California. She has traveled to 60 countries before the age of 30 while running several digital travel businesses. Her writing and podcast have been featured in Forbes, CBC Canada, National Geographic, the Huffington Post, and CNN Arabic, amongst others. She's obsessed with dogs, wine, and anywhere she can see the ocean.